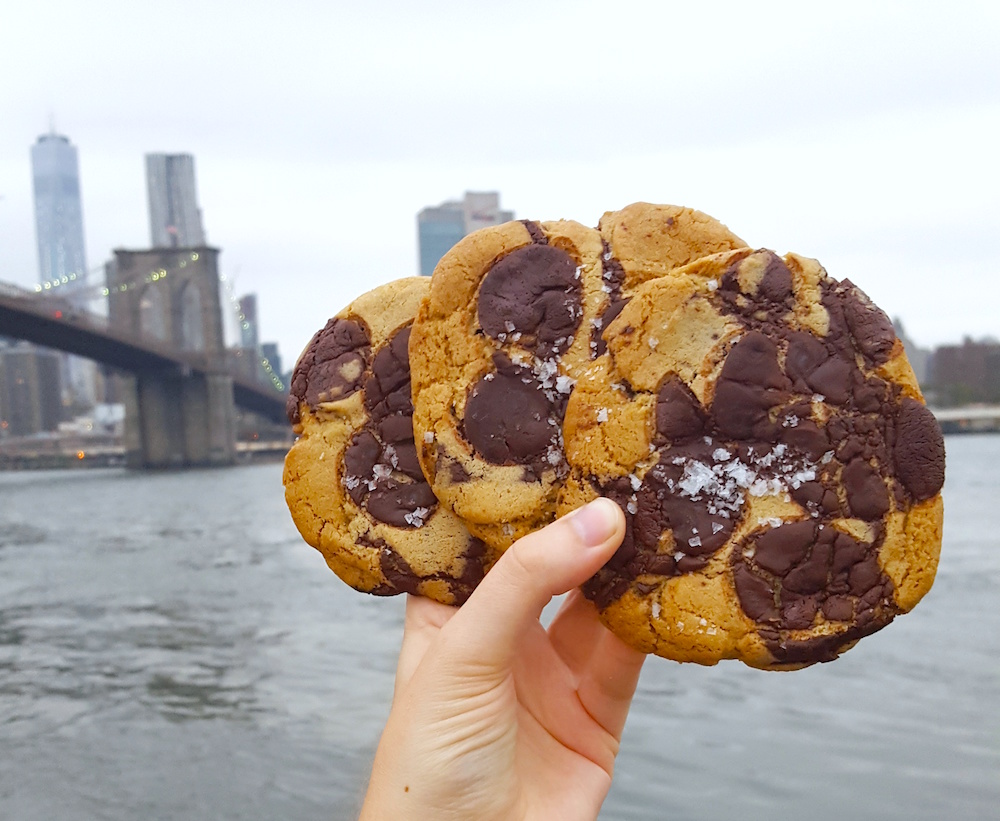 I'm sure it comes as no surprise that I have a major sweet tooth. I rarely post photos of sweets to my Instagram feed because I'm not a huge fan of "food porn" images, but behind the scenes I eat my fair share of baked goods. One of the perks of living in New York City is that I get to try treats from world-famous bakeries pretty much whenever I want (and when my budget allows it). After living in NYC for over a year, I've finally started making repeat visits to certain bakeries (I like to try new things, so I know a place is good when I want to revisit it).
Here are some of my all-time favorite bakeries in NYC. There are a few you've probably heard of through social media, but hopefully there are a few you've never heard of that you'll want to add to your bucket list!
Levain
Levain sells the most decadent cookies in NYC. They're roughly the same size as normal cookies, but about five times as fat. The insides are soft and ooze chocolate. Levain cookies aren't cheap, but if you plan on eating one fresh you'll need a pal to split one with (yes, you will feel sick if you eat a whole one yourself).
City Cakes
City Cakes sells a variety of baked goods, but my favorites are their half pound cookies. Yes, you read that right. A half pound of doughy, sweet goodness. A few bites of one of these cookies is all you'll need, so grab a few friends to split one with. The Nutella-filled macadamia nut cookie is phenomenal, as is the original chocolate chip.
Maison Kayser
Maison Kayser is a popular chain in NYC, and I'm hooked on their bread. I make my own loaf every week, but if I don't have time to bake bread one week I'll swing by Maison Kayser and pick something up. Their bread has few ingredients and the texture is incredible. They also sell a variety of pastries, but I personally don't think they're worth the money.
Sprinkles
I'm not usually a huge fan of cupcakes because most places put too much frosting on top. Sprinkles' cupcakes are ultra moist and rich in flavor (i.e. they don't just taste of sugar like you find at most bakeries). The chai cupcake is my all-time favorite, but I believe it's a seasonal flavor. Sprinkles has multiple locations around the city, as well as a cupcake ATM (which is so dang cute!).
Dominique Ansel
Dominique Ansel churns out some of the most creative baked goods in NYC. They're famous for their cronuts (croissant donuts) and cookie shots (a cookie cup filled with milk), and I've also sampled their chocolate layer cake and meringues before. If you want to enjoy your sweet treat in the bakery, swing by at an off hour to avoid the crowds. And if you want a cronut, get to the store as soon as it opens—they sell out fast!
Sweets by Chloe
by Chloe is a famous vegan chain in NYC know for its "vegan fast food." by Chloe is really good, but Sweets by Chloe is my favorite. Here, you'll find reasonably-priced vegan baked goods ranging from cakes to cookies to bars. The super thin and crunchy espresso chocolate chip cookie is an all-star, as is the apple coffee cake.
Milk & Cookies
By some beautiful stroke of luck, I know the person who runs the Milk & Cookies social media. Thanks to her, I've tried my fair share of goodies from this teensy bakery. The cookies here are unreal, and they're constantly making strange cookie creations (think cookie waffle ice cream sandwiches filled with local gelato). The staff here is super sweet (no pun intended), and will gladly help you decide what to order if you're torn between multiple treats.
Breads Bakery
Breads Bakery is synonymous to Nutella babka in this part of the world. Babka is a sweet bread-like cake that has swirls of Nutella and chocolate running through it. You can only buy babka by the loaf at Breads, but it's 100% worth it. The almond croissants here are also sinfully good, as are the cheese twists.
Maman
Maman is a French café and bakery with locations scattered around Manhattan and Brooklyn. Make sure to snap a few pictures while you're here, because their stores all look like they're straight from a Pinterest board. Whether you go the sweet or savory route, Maman's baked goods are to die for. The quiche is seriously good, as is the Nutella brownie and the croissants. Maman is a bit pricey, but it's a great place to treat yourself every now and then.
Milk Bar
Milk Bar is one of the trendiest bakeries in NYC thanks to its famous cereal milk ice cream and giant "compost cookies." Their Crack Pie is super gooey and almost nauseatingly sweet, and their cake truffles are incredible (go for the birthday cake truffle!). If you visit Milk Bar, skip the overpriced ice cream and head straight to the bakery case.
Dean & Deluca 
Dean & Deluca is an upscale grocery chain that was founded in 1977. Its original SoHo location still stands, and it's one of my favorite spots in the city. After perusing all the swanky food items on the shelves, head to the bakery section for the best chewy ginger molasses cookie of your life. It's as big as your face and tastes like the holidays. All of the baked goods I've tried here have been good, but the price and flavor of the molasses cookie can't be beat.
With winter in full swing, a trip to one of my favorite bakeries in NYC is in order. Lucky for me, I have plenty of friends who'll go with me! Nothing says friendship like chatting away over a slice of cake.
Tell me: What's your favorite baked good? A good brownie works magic on me.
Signing off,
Claire
More posts you'll love: