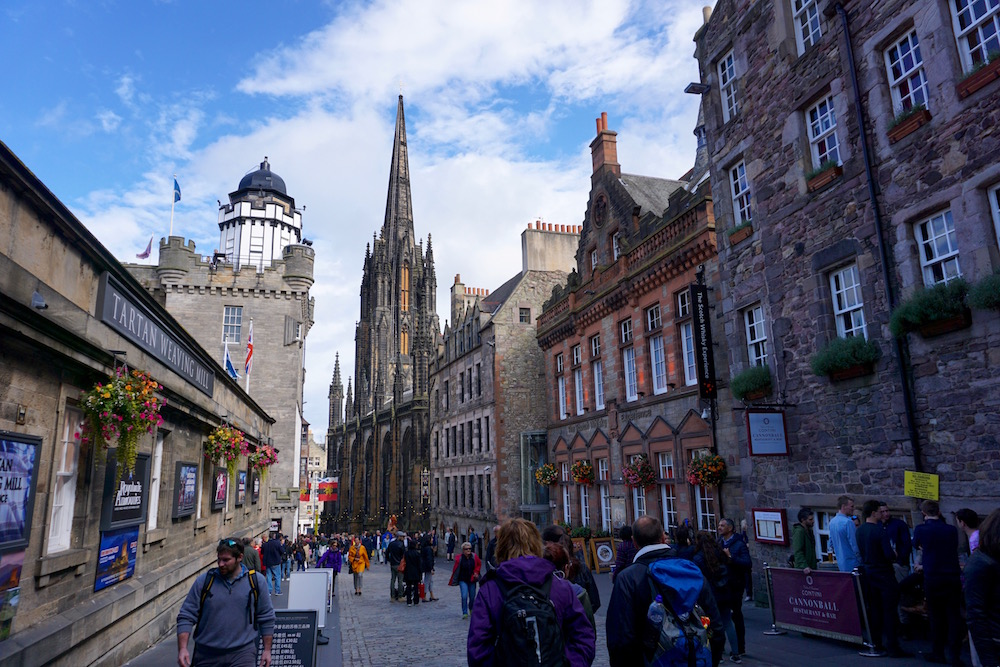 When planning my trip to Scotland, I didn't plan nearly as much for my time in Edinburgh as I did for my time in Glasgow. I stayed with my friend Flora in Edinburgh, and I hadn't seen her in two years, so I was more concerned with catching up with her than anything else. So before I visited her I jotted down a few things I wanted to do in the city and that was that.
My first night at her house, we sat down at the kitchen table and jotted down all the possible things we could see and do in Edinburgh, and I was honestly a bit shocked. For such a small city, there's so much to do! I've jotted down 15 of my favorite things to do in Edinburgh and I've tried to include a few things that you won't find on the usual Trip Advisor lists. If there's anything I've forgotten to share, please let me know in the comments! 
Visit Edinburgh Castle
Edinburgh Castle is easily the hottest attraction in the city, and while I enjoyed my visit, it wasn't my all-time favorite castle experience. Why am I putting it on this list? Because I know you'll visit it anyways, so I figured I'd get my two cents in.
The view of the city from the castle is insane, and the history of the place makes my head spin (in a good way!). The two main things I didn't love about the castle were: 1) all the people—holy cow were there a lot of visitors—and, 2) the lack of decoration inside the castle. It's very possible I visited on a particularly crazy day because the Fringe festival was going on when I visited, but regardless there were hoards of people in every single room I went into. So many, in fact, that it was difficult to read the placards in each room.
In regards to the lack of decoration in the castle, I don't think that would have bothered me had I expected it (which is why I'm filling you in now!). Since the castle hasn't been used by royalty for centuries, it makes sense that the interior wouldn't be decked out.
The moral of the story is that you should visit the castle as early in the day as possible and be prepared to use your imagination to see what the castle might have looked like in its heyday. If you visit with those two things in mind, you'll have a fab visit.
Visit Holyrood Palace
While I'm not keen to visit Edinburgh Castle again, I'd walk through Holyrood Palace again in a heartbeat. The palace is still used by Queen Elizabeth, and she stays here for one week every summer (she apparently throws a phenomenal garden party while she's in town). The palace is decked out to the extreme, and while there I found myself googling how much a solid silver chandelier would cost (quite a lot, unsurprisingly). The dining room was easily my favorite room in the entire palace, but I also enjoyed touring the rooms of Mary, Queen of Scots. As with Braveheart, I realized after touring Holyrood Palace that the CW's show Reign isn't anything like Mary's real life. Rookie mistake, I should've known!
After the tour of the palace itself was over, I walked out the back and was shocked to find myself in the remains of Holyrood Abbey. In all my research, I had somehow overlooked the fact that Holyrood Palace is right next to an old abbey. The roof is missing, but the walls are still intact. I can only imagine how beautiful the abbey must have been.
Holyrood Palace even has an art gallery, called the Queen's Gallery. It costs a small fortune to enter (maybe another 10 pounds onto your palace ticket), so I didn't visit. I've heard it's lovely though!
Hike Arthur's Seat
Arthur's Seat is a massive hill in the middle of the city that has arguably the best view of Edinburgh. Definitely make the hike in sunny weather (it's about 30 minutes up, depending on the route you take), otherwise it might be too cloudy for you to get a good view of the city. I've written more about Arthur's Seat in my post about the best views of Edinburgh, which you should give a read if you haven't yet.
Window Shop on the Royal Mile
I'm sure Edinburgh locals hate the Royal Mile, but it's so fun to visit as a tourist! It's shop after shop selling everything Scottish you could possibly want—tartan scarves made out of cashmere or wool, shortbread, fudge, all sorts of plaid outwear, and more.
My personal favorite discovery was butter tablet, which tastes like a praline cookie (like what you get in New Orleans), minus the chunky bits. Of course, everything sold on the Royal Mile is extremely overpriced, but if you're not interested in hunting for better bargains elsewhere, you might as well window shop here! I recommend walking down the Mile after you've visited the castle in the morning, though you'll run into lots more tourists while you're window shopping.
Walk up Calton Hill
Calton Hill is a bit of a hike as well, but the view is worth it. There are lots of buildings at the top that you can explore, and you can easily burn an hour here just taking in the view and trying to climb the Acropolis. For more info on the Hill, check out my blog post here.
Walk Through St. Andrews Square
St. Andrews Square is on the smaller side, but it's very pretty and has a nice green in the middle to rest your feet if you're tired. It's also a good place to hang out if you need a break from the crowds of the Royal Mile but don't want to walk too far away from the city center.
Visit Hopetoun House
Hopetoun House is quite the commute if you take the bus, but in a car it's only 30 minutes from the city center. I got such a thrill visiting the house since many scenes from Outlander were filmed here (can you tell I'm hooked on this series?). The house is nearly impossible to photograph because it's absolutely massive and is in a U shape.
Unlike other estate tours, visitors to Hopetoun House are given free reign of it. You can't enter the wing where the family currently lives, for obvious reasons, but you're otherwise able to go in and out of rooms as you please. In all honesty, I had goosebumps throughout the entire visit because it felt so weird to pass freely through someone's house! I plan on writing a more detailed post about the entire estate, so keep your eyes peeled for that.
Window Shop in Haymarket
I sincerely hope you enjoy window shopping, because there's a lot of it in Edinburgh. Haymarket has stalls set up in the center that sell all sorts of trinkets. I walked past a man selling what looked like curry out of a massive skillet, and I would have bought a bowl had I not just had lunch. Haymarket also has plenty of storefronts for you to go through if the weather's nasty and you don't feel like braving the stalls outside.
Tour Lauriston Castle
Lauriston Castle is the hidden gem of Edinburgh. The grounds are free to the public, and there's a cricket field out back that you're allowed to use (I saw lots of people playing when I visited!). The house, sadly, is not a real castle, but it's quite grand nonetheless. Parts of the house date back to the 16th century, but you'd never guess from the ritzy interior. An hour-long tour of the house costs a mere £5 and it's definitely worth going through. I'll do another post on Lauriston Castle soon as well, so stay tuned!
Visit a Museum
Next to window shopping, the majority of your time in Edinburgh will likely be spent in one museum of another. There are lots of great museums in the city, but I visited the National Museum of Scotland because I was interested in learning more about Scottish history. We're not taught anything about Scotland in the US, so I was eager to read more about it. I thought the museum's information cards were excellent—enough information to make you feel like you've learned something, but not so much that you can't concentrate long enough to read through all the way.
See St. Giles Cathedral
You can't visit Europe and not go into a massive medieval church of some kind. St. Giles has it all: stained glass windows, vaulted ceilings, and lots of history (the leader of the Scottish reformation, John Knox, preached here!). If the hustle and bustle of the Royal Mile is getting to you, pop into the cathedral and take a load off.
Wander Around Dean Village
My friend told me that Dean Village is the place to take your boyfriend if you want him to make a move on you. After wandering around the little village, I totally understood what she meant. If you were dropped into Dean Village from a helicopter, you'd have no idea you were actually in the middle of Edinburgh. It looks like a country town was plopped down into the city. Between the river running through the middle of the village, the cobbled stones everywhere, and the fairy tale-like houses, you'll really feel like you're in a different place altogether.
Walk Down Princes Street
You thought there weren't any more places to window shop in Edinburgh, didn't you? How wrong you were, young grasshopper. Princes Street has all the major retail stores and is just a 10-minute walk from the Royal Mile. If you're looking for local boutiques and quaint cafes, steer clear of Princes Street. I enjoyed walking along it since there are lots of brands I can't find in the US that Edinburgh has. There's also a Marks & Spencer grocery store on Princes Street, which I recommend hitting up for uniquely British snacks (the shortbread here is cheaper than the ones sold on the Royal Mile, too!).
Explore Princes Street Gardens
Princes Street Gardens is one of the many green spaces in Edinburgh, and it's easily one of the prettiest, too. You can see Edinburgh Castle from the gardens, and there are lots of other statues dotted throughout them as well. The Scott Monument is located in the gardens too, and you get a good view of the city from the top of it.
See the Royal Edinburgh Military Tattoo
If you can, visit Edinburgh in August because that's when all of its festivals are going on. It's absolute chaos on the Royal Mile all month, but it's all very exciting. Easily my favorite thing happening in August is the Royal Edinburgh Military Tattoo, which is a performance by various military bands from around the globe. The whole show opened with dozens of bagpipers and closed with a rendition of "Scotland the Brave" by all the bands. I saw the Tattoo my last night in Edinburgh, and it made my last night the best yet.
I can't recommend a trip to Edinburgh enough; there's so much to do here and the people are some of the nicest I've met on my travels. It's also home to some great cheap eats and lots of cute bakeries that are perfect to pop into after hitting up some of the busier tourist attractions.
Tell me: Do you prefer to plan your travel days ahead of time or do you prefer figuring out what to do each day the morning you wake up?
Signing off,
Claire
Love Scotland?