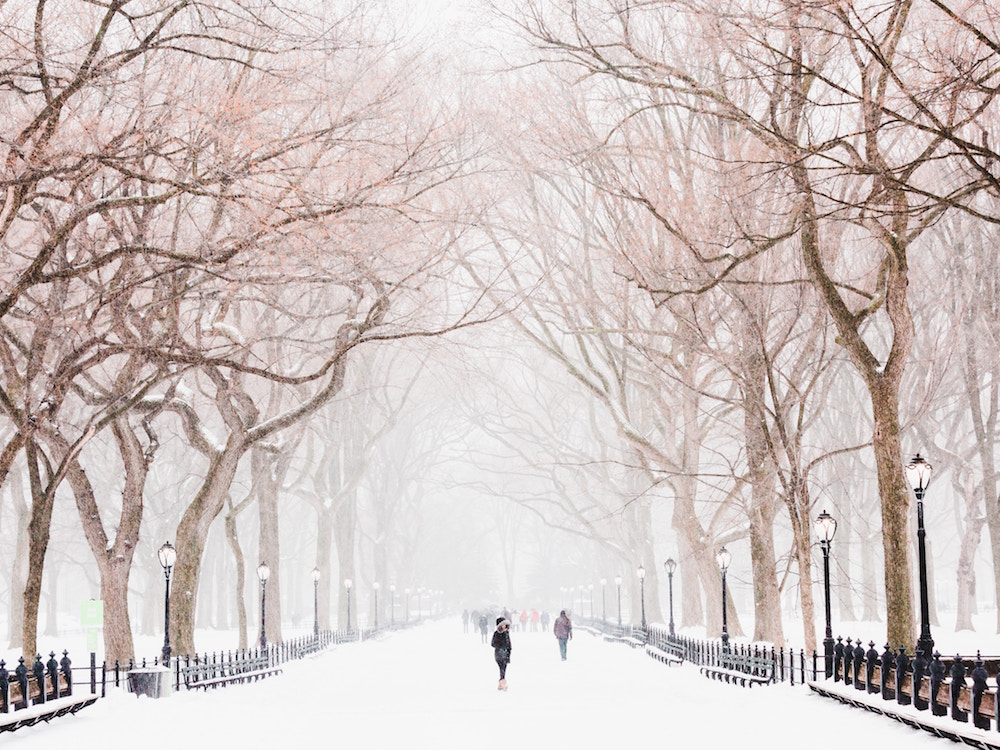 Last year, I was so excited to experience Christmas in NYC. I had so many things I wanted to do, like see as many Christmas trees as possible, go shopping at the holiday markets, and go to new cafes to try their winter drinks. You want to know how many things I ended up doing on my list? Not many. I let the crappy weather keep me indoors, and I really regret not celebrating Christmas in the city as much as I could have.
I'm determined to make this year different. I'm already making plans to see The Nutcracker and a few other holiday shows, and nothing is going to stop me from seeing the Rockefeller Christmas tree (so touristy, but I'm so excited!). Although NYC in December is downright dreary, the holiday lights more than make up for the gray skies. Here are my top 10 things to do in NYC during the holidays that will make even the grumpiest of Scrooges feel festive.
Bryant Park Winter Village
I walk past Bryant Park every day on my way to work, and it's one of my favorite spots in the entire city. In the summer, the park transforms into an outdoor movie theatre with movies every Monday night. In the winter, it's a seriously fun winter wonderland featuring dozens of booths crammed with every gift item imaginable, a skating rink, and a giant Christmas tree. The booths feature lots of local goods and tons of great food options. The Winter Village is packed on the weekend, so try and visit during the work week if possible.
Oogle the window displays
I'm a sucker for a good holiday display, and NYC stores go all out. Macy's, Saks Fifth Avenue, and Lord & Taylor are just a few of the stores with epic window displays. Last year I walked down 5th Avenue just looking at all the lights. Walk down 5th Avenue near sunset so you can get the full effect.
Go ice skating in Central Park
Central Park has two great places to skate. Wollman Rink is the more popular of the two, as it's near the Central Park Zoo (it's also a prettier area of the park to skate). Lasker Rink is further north and is cheaper than Wollman Rink. Both rinks are cash only and can get pretty busy, but you really can't get more festive than ice skating in Central Park in December. Wear your favorite ugly sweater to really get in the holiday spirit.
See the Rockefeller Christmas Tree
If you don't see the Rockefeller trees, did you even see NYC during the holidays? Rockefeller Center gets completely decked out for the holidays and also has an ice skating rink. Like the Central Park rink, the one at Rockefeller Center is overflowing with skaters on the weekend, so try and visit on an off time (although all the people do make for a lovely photo!).
Attend the Radio City Christmas Spectacular
This is one of the few holiday events I've yet to attend. A few of my friends have seen the Rockettes, and they raved about it. If you can get your hands on a ticket to the Radio City Christmas Spectacular, buy them!
Union Square Holiday Market
Open until December 24th, the Union Square Holiday Market is a must-visit NYC holiday attraction. Although I love Bryant Park, Union Square's market is much larger, making it an even better place to shop for Christmas gifts. If you get cold while you're shopping, pop into the multi-story Barnes & Noble across the street and see if they have any good books in the sale section.
See the Christmas Tree at the Met
The Met sneaks onto almost every NYC list I make because it's just that good of a museum. Even if you're not an art lover, pop in during the holidays to see the huge Christmas tree in the Medieval sculpture hall. The tree is 20 feet tall and an 18th-century Neapolitan nativity scene is at its base.
Attend The Nutcracker
The New York City Ballet puts on a terrific production of The Nutcracker. Tickets are a bit pricier (the fourth ring starts at $85), but it's an experience you can't miss out on. With only a two hour runtime, you don't need to worry about getting restless during the show.
Do a Free Christmas Movie Walking Tour
Free Tours By Foot is a company that sets up free walking tours around the world. I've done tours with them in New Orleans and Brussels and loved both immensely. If you're a Christmas movie fanatic, you'll love their Christmas Movie walking tour. It's only two hours long and takes you to places where famous scenes were shot for movies like Elf and Miracle on 34th Street.
See Hansel and Gretel at The Metropolitan Opera
I'm not totally sure why Hansel and Gretel is a holiday tradition at the Met Opera since it's kind of a violent story, but it's fun to attend nonetheless! If you've never been to the opera before, this is a good show to start with since it's in English. The runtime is a little over two hours, which is rather short for an opera. Make a night of it with a nice dinner beforehand and get ready to be amazed at the sheer talent of these opera singers.
It's not even December yet, and I'm already so excited for Christmas in NYC! Hopefully this list has a few activities that are within your budget. I'm aiming to complete at least eight of the 10 things on this list. Think I can do it? I managed to squeeze in a few of these festive activities last year, but I'm excited to see more of my city this season.
Tell me: What are you most looking forward to during the holidays?
Signing off,
Claire
More posts you'll love: