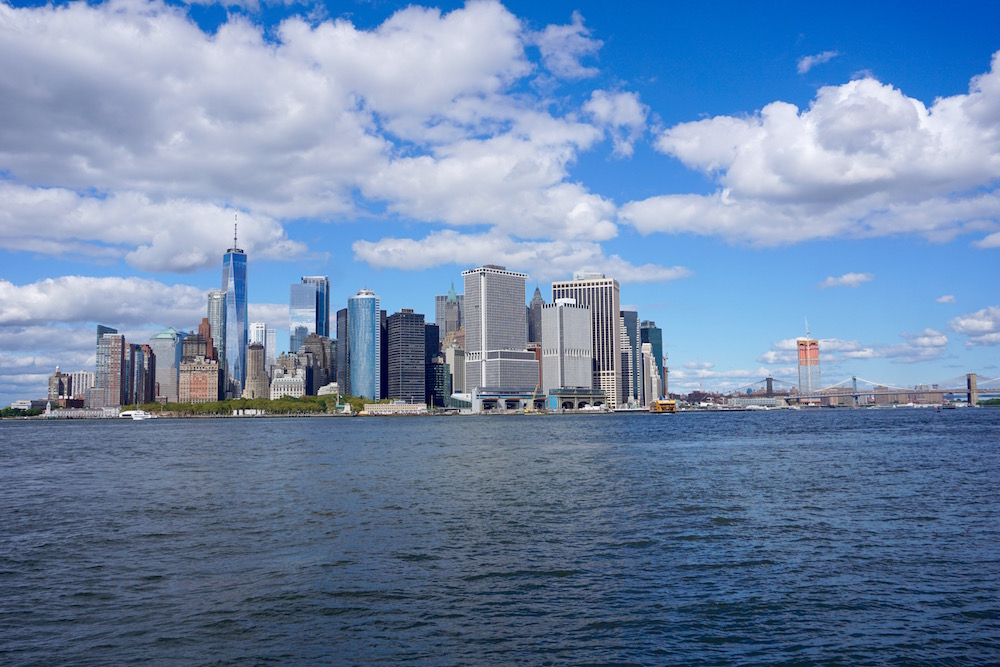 This summer, I made a bucket list here on my blog of all the activities I wanted to do while it was still warm out. I am so happy I made that list for a number of reasons. Obviously it helped me remember what all I wanted to do and had all the links and information in one spot for me to reference (and hopefully gave you some inspiration too!). But more than that, it was my standing reminder to get out of the house and enjoy NYC to its fullest.
While it probably seems like I'm someone constantly on the go, that's really not what my day-to-day life looks like. In reality, I go to work every day and come straight home unless I have an event that night. I typically don't make plans with friends during the week because I hate taking the late bus home and am someone who genuinely enjoys going to bed early. In short, I'm a homebody, and I've found that if I don't have weekend plans I'll just sit around at home doing nothing.
It's been my personal goal the last few months to make sure I spend as much time as possible in NYC to experience as much of the city as possible. To keep my momentum going and to enjoy fall while it lasts, I've jotted down yet another bucket list for this season. A few of these items have been on my to-do list for a long time, and I'm determined to finally check them off. If there are any noteworthy fall activities in or around NYC you think I'd like, please let me know!
Go apple picking
I know this is so cliché, but I'm dying to go to an apple orchard this fall. I kept meaning to visit one last year with the roomie, but between the big move and landing a job I was mentally exhausted and wanted to spend time in my new home. With an entire NYC fall under my belt, I'm ready to escape the concrete jungle for a bit and pick some apples. Last year I filled about half my freezer with homemade applesauce, and I have big plans for my apples this year too.
Take a weekend trip to Philly
Philadelphia was on my list of places I wanted to visit this summer, but it just didn't work out. There's just so much to do in New York in the summer, so I never made time to see Philly. I definitely want to visit before Thanksgiving rolls around and the weather gets unbearably cold. I loved my trip to Boston, so I'm sure I'll love Philly, too. I've never had a Philly cheesesteak before, so that will definitely be happening!
Participate in Open House New York
Open House New York is a weekend where most of NYC's museums and historic sites are open to the public for free. Last year, I visited Manhattan's oldest home, the Morris-Jumel mansion, and this year I want to explore a new part of the city. I never made it to Edgar Allen Poe's house last year, so that might be on my hit list this time.
Visit the MoMA
To be honest, I'm not a huge fan of modern art; it's very hit or miss for me. But I'm also not one to judge anything before I experience it, and since the MoMA is one of the most popular destinations in New York I need to see it. As a bonus, I think my friend can get me in for free through one of her work discounts, so I'm hoping to make this a group excursion. I actually prefer visiting art museums with friends so I can discuss the artwork with someone, so I have a feeling I'll enjoy our museum day!
Explore Flushing, Queens
I'm ashamed to say that I've only been to Queens once, and that was for a dinner with one of my coworkers. Queens seems like such an exotic, far away destination, but it's really not a big deal to get there. I've heard Flushing is pretty and has good restaurants, and I think it's about time I see what all the fuss is about.
Watch a Halloween parade
Although I was in Washington DC for the 4th of July, I didn't get a chance to see the parade. I'm not a huge fan of bar hopping on Halloween, but I still like to celebrate with friends so I think a Halloween parade is in order. I know the Village has a parade each year, but I haven't looked into any others in the city yet.
Walk the Greenbelt on Staten Island
The Staten Island Greenbelt is a series of forests and parks that's roughly three times the size of Central Park. It's supposed to be an amazing place to see to see fall foliage and has lots of trails for hiking. I'm not sure how intense the trails are, but anything that gets me into nature is fine by me! Now all I have to do is find a friend in the city who likes hiking…
Visit the Brooklyn Botanic Garden
One of my summer bucket list items was the New York Botanic Garden, which I visited in July and loved. The Brooklyn Botanic Garden is smaller I believe, but I've heard it's also great. I definitely want to visit before it gets too cool, because I want to see the fall blooms while they're still out. The garden is right next to Prospect Park, so I'll likely make a day of it and read in the park after I'm done in the garden. I know I've said it a million times on my Instagram, but if you've never visited the Prospect Park area, I highly recommend it! It's a cute area of the city and the park is gorgeous.
Finally eat at San Marzano
I've been meaning to eat at this Italian restaurant for almost a year now, and this fall it's finally going to happen for me. San Marzano is supposed to have incredible homemade pasta, and each of its pastas is only $9, which is an absolute steal.
Visit Beacon, NY
Beacon is a small town about 90 minutes away from NYC that's supposed to have lots of cute historic homes and a great arts district. The town has a large street fair every second Saturday of the month that showcases many local galleries. I grew up going to art fairs with my mom, so I know I'd love this event.
I'm not sure if it's because of all the holidays or what, but fall always seems like the shortest season to me. I've already texted some of my friends about dates we can check off some of my bucket list items, so I'm fairly confident I can do everything on this list.
If you find yourself sitting at home most weekends like I was, I highly encourage you to jot down a list of all the things you'd like to do in the next few months. Having a written list on hand is really helpful and it's a fun way to see more of where you live.
Tell me: What's one item on your fall bucket list?
Signing off,
Claire
Love NYC?