Like most people on this planet, I love a good meal. Although I prefer cooking for myself instead of eating out, I've tried my fair share of restaurants in the few months I've lived in New York. While I've had a few so-so meals, the vast majority have been stellar and it's taken a lot of self control to not keep revisiting the same places every weekend.
Below are just a few of the best NYC restaurants I'm currently obsessed with. They're all fairly inexpensive and the portions at many of these places are huge. Now let's tuck into the good stuff, shall we?
Barraca is a tapas place on Greenwich Ave that serves some killer Spanish-inspired brunch. The croquettes here melt in your mouth and are incredibly rich. I also recommend the Huevos con Chorizo (eggs with chorizo)—it sounds like a pretty basic brunch item, but the flavors are fantastic. Their brunch dessert is also amazing (it looks fairly underwhelming but is really good). It's a Spanish-style sundae with flan, ice cream, whipped cream, and churros. You'll definitely need to share it!
If you're not willing to splash out, visit at brunch or lunch to avoid the pricier menu items. Be warned though: they really shuttle you in and out of here, so don't expect to wait long for your food.
This place is the best of both worlds: great Chinese food and super affordable prices. This is a no-frills noodle place that's sure to fill you up. I've been here a few times, but my favorite dish so far has been the pork "Zha Jiang" hand-ripped noodles. The food here is served on styrofoam plates with plastic forks and comes out piping hot. If you're into hand made noodles (who isn't??), this is the place for you.
It's a blessing in disguise that this chicken and waffle joint is in Brooklyn, because I'm afraid I'd eat here way too often otherwise. Sweet Chick is a notch above the average chicken and waffle joint. Everything here oozes gourmet, including the prices ($18 for a plate of chicken and waffles!). With that said, it's some incredibly tasty food.
You can mix and match your waffles with the chicken, and can order them separately as well. Though why you'd come to a chicken and waffle place and only order one or the other is beyond me. If the Nashville-style chicken is on the specials board, order it! It's spicy enough to give you a nice kick without burning your tongue off.
https://www.instagram.com/p/BQQ1vYHA1_Y/?taken-by=costasarepas
This is a small joint near my office, and I'm loving it at the moment. Arepas are a South American dish that's essentially savory, often cheesy fillings sandwiched between ground maize dough. The meat arepas here are deceptively filling. You'll think you need two of them, but one will likely tide you over. Their soups are also good here, so if you need a little something extra I'd suggest splitting a soup with a friend.
The Halal Guys is the food cart in NYC. Though they have a few brick and mortar stores, their food carts are where it's at. For under $10, you can get a giant plate (and I mean giant) of chicken or gyro served over rice. Possible sides included falafel, hummus, and more. They're known for their white sauce, which is incredible, and their red sauce is super spicy. This is another plate you'll want to split with a friend because the portions are massive. If you're feeling extra thrifty, bring along your own Tupperware so you can save the leftovers for later!
https://www.instagram.com/p/BSeTQn-AZNb/?taken-by=tacombi
When I visit a restaurant two weeks in a row, I know I've found a gem. When my mom and aunt were visiting a couple weeks ago, I asked my coworkers where we should grab dinner. I kid you not, four separate people recommended Tacombi to me, that's how good it is.
The décor here is modern and sleek, but welcoming. The food isn't fancy, but tastes amazing. Truth be told, I can't remember much about the food I had in Mexico over one spring break trip in high school, but friends who have been to Mexico multiple times say that Tacombi's tacos are as authentic as you can get in the city.
Don't skip the chips and guac when you visit, and get some of the corn as well. All of the tacos I've tried have been good, but my personal faves are the fish taco and the chorizo taco. The tacos are small, but very filling.
I'm kind of ashamed to say this, but it took me six months of living in the city before I tried a New York slice. I'll pause for a moment while you judge me.
Prince St. Pizza is a well-known joint in SoHo and often has long lines out the door. Because there's no seating inside, the line moves really quickly. I highly recommend getting one of their pepperoni squares—a massive slice of pizza with the thickest pepperoni I've ever had. One slice is more than enough and really weighs you down, so don't plan on exercising after eating it.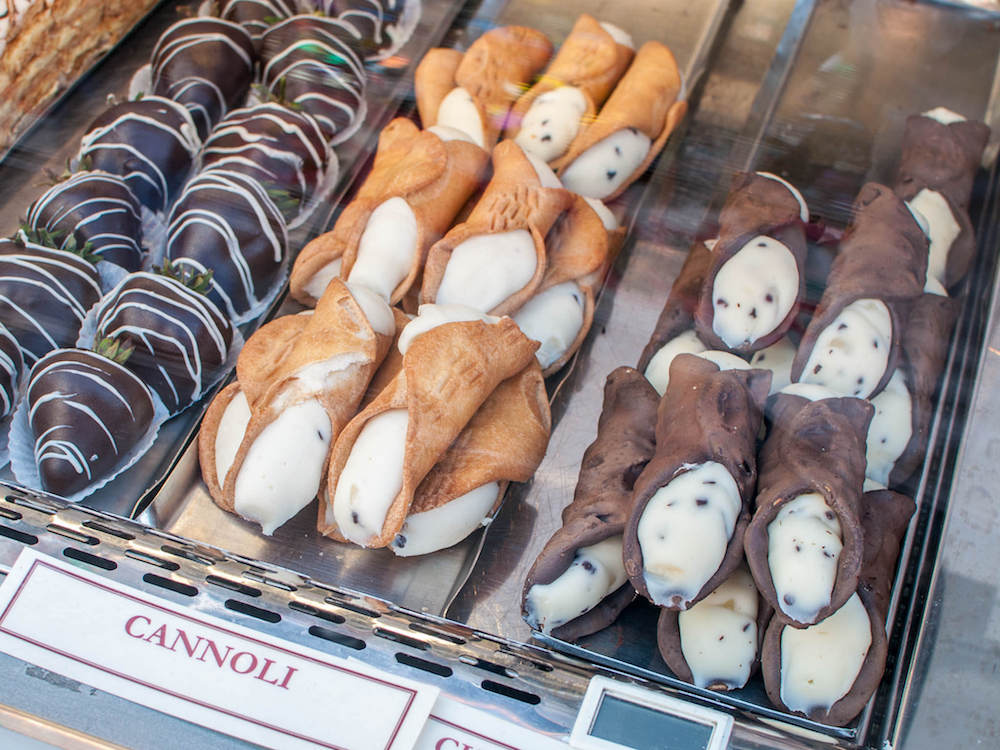 Normally I'd say to be wary of the restaurants in Little Italy, but La Bella Ferrara is a happy exception to this rule. Not to be confused with the larger, more touristy Ferrara Bakery and Café down the street, this gem screams "mom and pop shop." There's absolutely no decoration inside, just a display of every Italian baked good imaginable.
I recommend the classic cannoli (I get a mini one) and a sampling of their butter cookies. I've never gotten the same thing twice, so rest assured that everything is good here. However, you'll still be paying Little Italy prices, so have a wad of cash at the ready.
This is technically a cheat item because it's not a single restaurant, but I have a feeling you won't care. Urban Space calls themselves the "Market Makers," because they create pop-up food halls all around the city. My favorite pop-ups of theirs are in the summer, but their permanent Vanderbilt location is fun too. There's always a good mix of eats here ranging from lobster rolls to fried chicken to pizza to vegan goodies. Each space has varying numbers of participating restaurants, so there's always something new to try.
https://www.instagram.com/p/BS_V0L_gDvi/?taken-at=217660
Sorry all, this is another mildly tourist spot (I love being a tourist in my own city, what can I say?). Joe's lives up to the hype though and is definitely worth visiting. They're known for their soup dumplings, which are fairly large and are filled with—you guessed it—soup and chunks of meat (I prefer the pork dumplings).
Learn from my mistakes and eat the soup dumplings correctly. You're supposed to pick up a dumpling with your chopsticks, bite a tiny hole in it, and then pour the soup into the spoon given to you. From there you alternate sipping the soup and biting the dumpling.
Yes, it is as hard to do as it sounds.
Because I don't eat out a lot, there are still many eateries in NYC that I'm eager to try. I'm sure my list of current obsessions will change rapidly once I'm out and about more this summer.
Let me know if there are any great eats I've missed on this list! I'm sure there are many, so tell me which spots I should hit up next!
Signing off,
Claire