Flea markets are a huge part of Berlin's identity. There are so many Berlin flea markets to choose from, but today I'm sharing my top 5!
Growing up in Indiana, flea markets weren't really a thing. Obviously, I knew they existed and I knew some places where I could buy things second hand, but in general I can't say Indiana has much of a flea market culture. When I moved to NYC, I became more aware of the thrift shop / vintage store culture and spent more time exploring the world of second hand treasures. But living in Berlin has opened my eyes to the wonders of flea markets.
Flea markets here are a huge part of the local culture. Once winter has said auf Wiedersehen, flea markets pop up in local parks and squares every weekend. Some flea markets sell mostly junk, while others carry stunning antiques and furniture sets.
There are so many flea markets in Berlin to choose from that it can be tricky figuring out which are worth visiting. Hence my desire to write this shiny new list of my personal favorite Berlin flea markets for you all!
The Berlin flea markets I'm sharing in this post are just five wonderful ones of many. If I've overlooked your favorite flea market, please leave me a (kind) comment below! I'm always on the hunt for new markets to explore.
Disclaimer: Before I jump into the list of best flea markets in Berlin (according to me, myself, and I), I want to throw a quick disclaimer out there. Berlin is known for its flea markets. As such, there are tons here to choose from, and each market offers slightly different goods of varying quality. Many Berliners are partial to their local flea market, while others prefer to cast a wide net and explore beyond their neighborhood.
1. The Original Berlin Trödelmarkt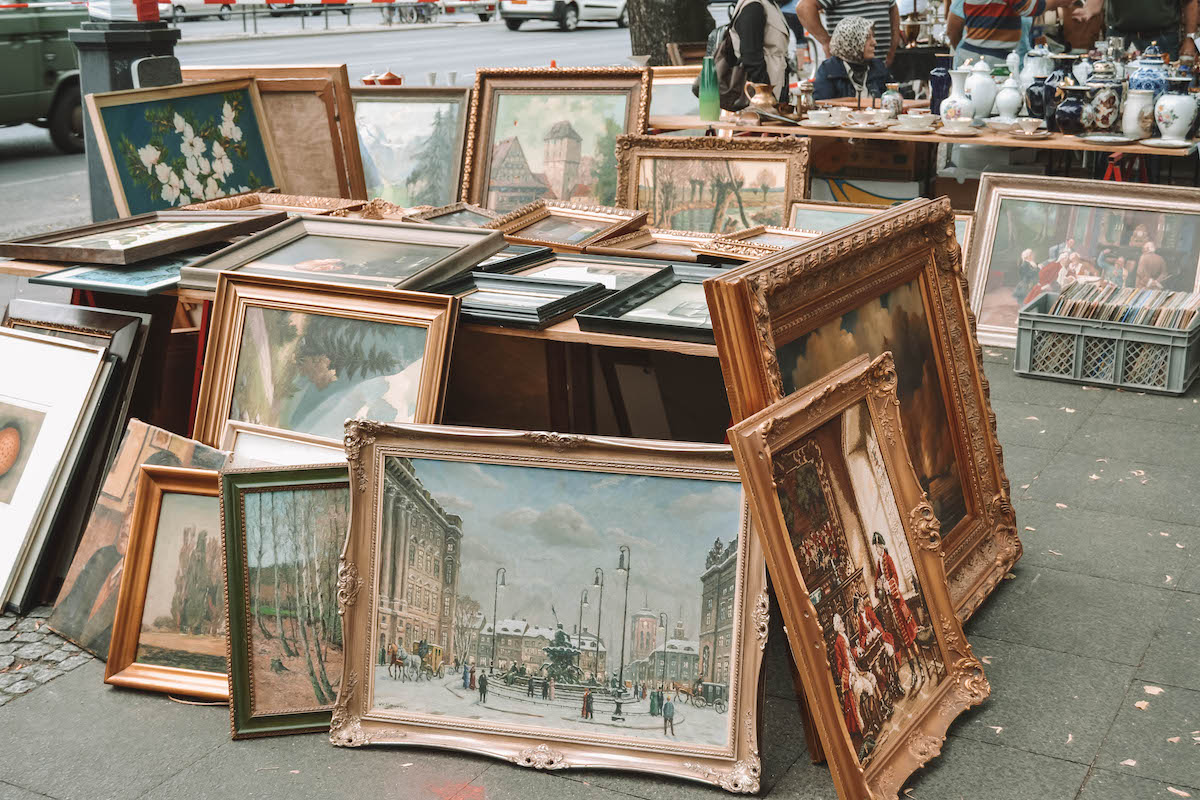 Location & Hours: S-Bahn Tiergarten, Saturday and Sunday 10am to 5pm
The flea market at the 17. Juni Straße is the first ever flea market I visited in Berlin, and it just so happens to be one of the oldest and best known in the city, to boot. I actually visited this flea market when I visited Germany on an exchange program in high school. When I moved to Berlin in 2019, I came back because I remembered how much I enjoyed the experience the first time I visited!
At this flea market, you'll find lots of porcelain, furniture, antique books, clothing, and other antique household items. The sellers here are mostly professionals, which makes it tougher (but not impossible) to haggle. But because the sellers are professionals the goods for sale are higher quality.
I stop by multiple times during the summer to see what's on offer and get inspiration for my own apartment. The flea market is right by Tiergarten Park, so you can make an event of your visit and stroll around the park afterwards if the weather is nice.
2. Boxhagener Platz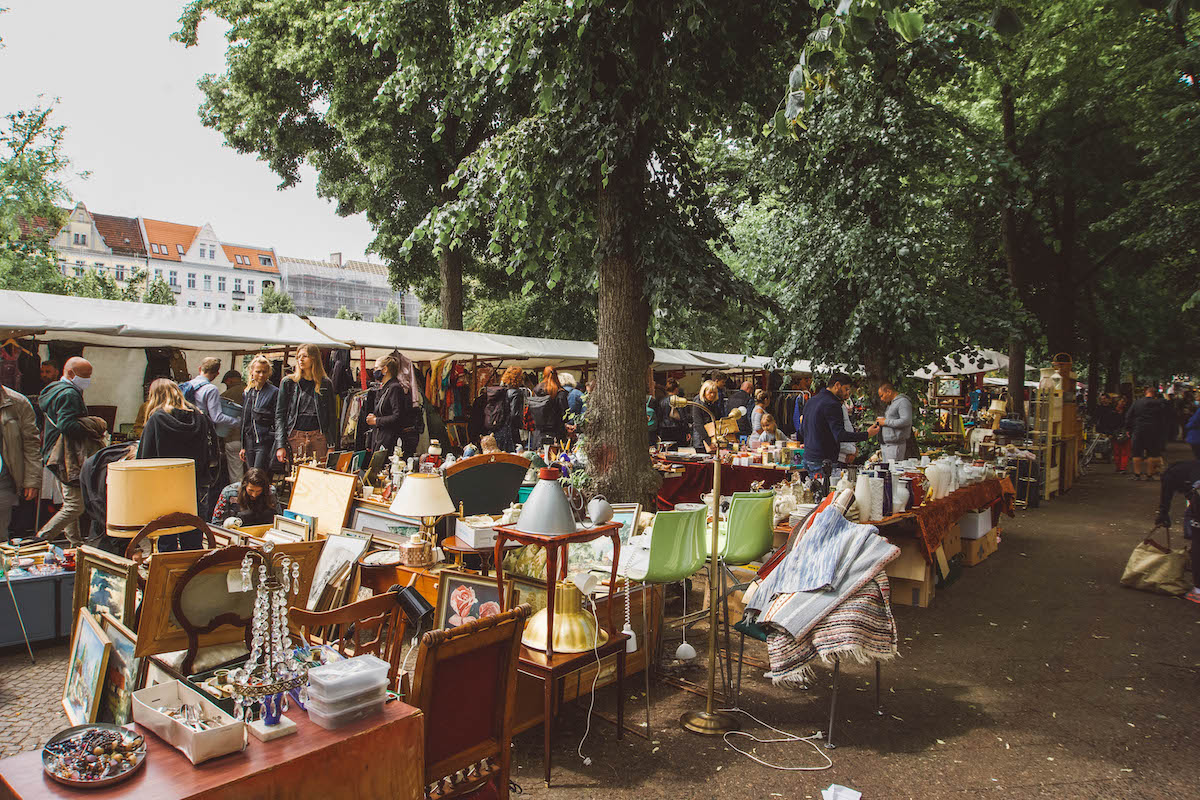 Location & Hours: Boxhagener Platz, Sundays from 10am to 6pm
Located in Friedrichshain, the flea market at Boxhagener Platz is more affordable than the flea market at Straße des 17. Juni and the items on offer are much more eclectic. Here you'll find lots of books (both new and antique) and vinyl records, as well as vintage clothing. There are also a few handmade jewelry and art stalls scattered around the square, which make this flea market stand out from the crowd.
You can definitely do some good haggling at this flea market, and the goods for sale are on the "normal" to "nice" end of the spectrum, with some junkier stalls thrown in or good measure.
This is the flea market I come to when there's something in particular I'm searching for (like a print or a piece of furniture) because I can afford the items for sale here, and I'm likely to find what I need here since there's such a large variety of goods for sale.
I should also note that Boxhagener Platz is lined with cute cafes and restaurants, including lots of vegan and vegetarian places. I like visiting the flea market at Boxhagener Platz in the morning and meeting friends for lunch in the area afterwards. It's such a relaxing way to spend a Sunday morning in Berlin!
3. Antique Market at Ostbahnhof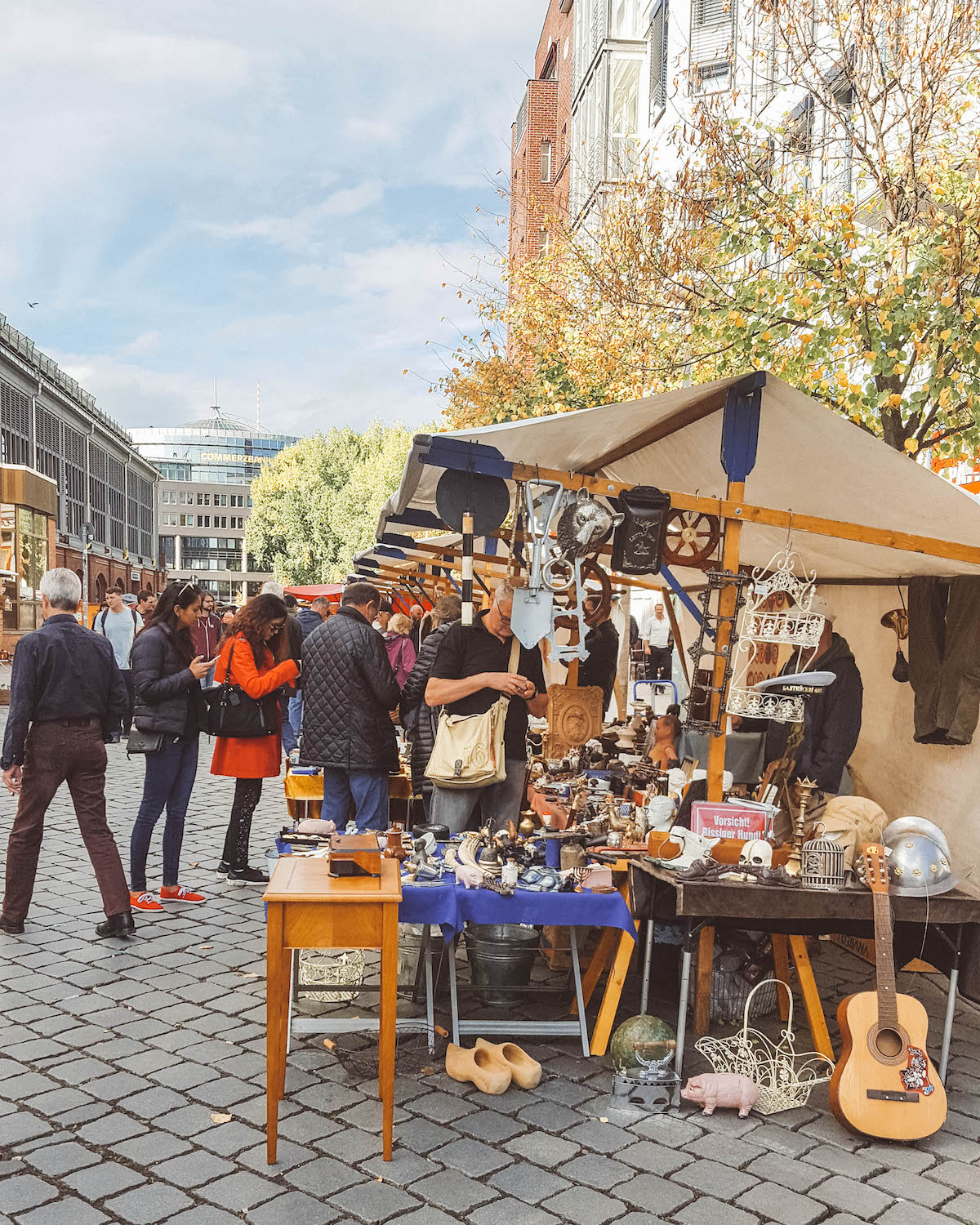 Location & Hours: Ostbahnhof, Sundays from 9am to 5pm 
The name of this flea market says it all. Here you'll find a variety of antiques and vintage items, including tons of stamps, artwork, household items, and coins. A few stalls sell furniture as well, but it's mostly smaller, portable items like chairs, stools, and lamps. I love visiting this antique market simply because there's so much variety.
There are lots of little trinkets on display, and it's fun to rifle through the bins of postcards from years gone by. There's not much to do in the immediate area, but since the antique market is right next to the Ostbahnhof station it's easy to hop onto the S-Bahn and continue your explorations from there.
4. Bode Museum Antiques & Book Market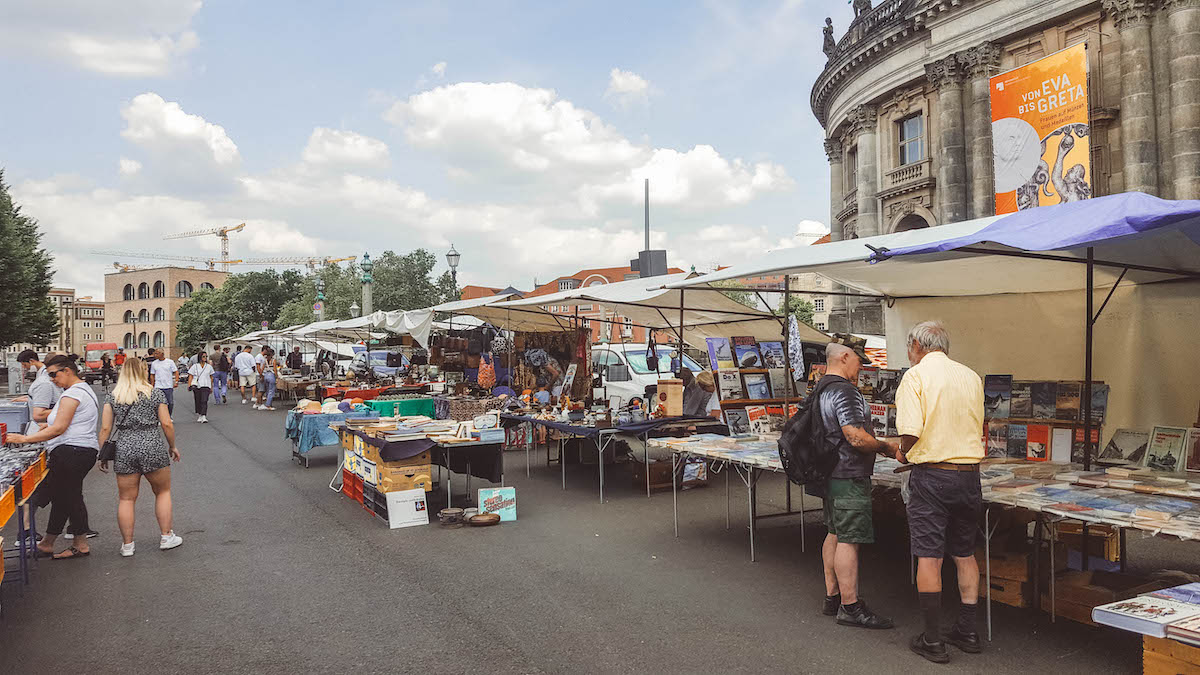 Location & Hours: Across from the Bode Museum, Saturdays and Sundays, 11am to 5pm
I'm continually trying to improve my German, and one of my favorite ways to do so is to read German novels (bonus points if the books were originally written in German rather than translated!).
The market near the Bode Museum on Museum Island has stall after stall chock-full of books, both in German and other languages. Many of the books are antiques, but you can find some newer titles as well — you just have to be willing to do some digging as the books are often sorted by price rather than author or title.
There are also many stalls selling vinyl records at this flea market, and plenty of other antiques are for sale. But the wide variety of books is what draws me to this flea market. There are few things in life as relaxing as rifling through piles of books to find the gems!
5. Kunst- & Trödelmarkt at Fehrbelliner Platz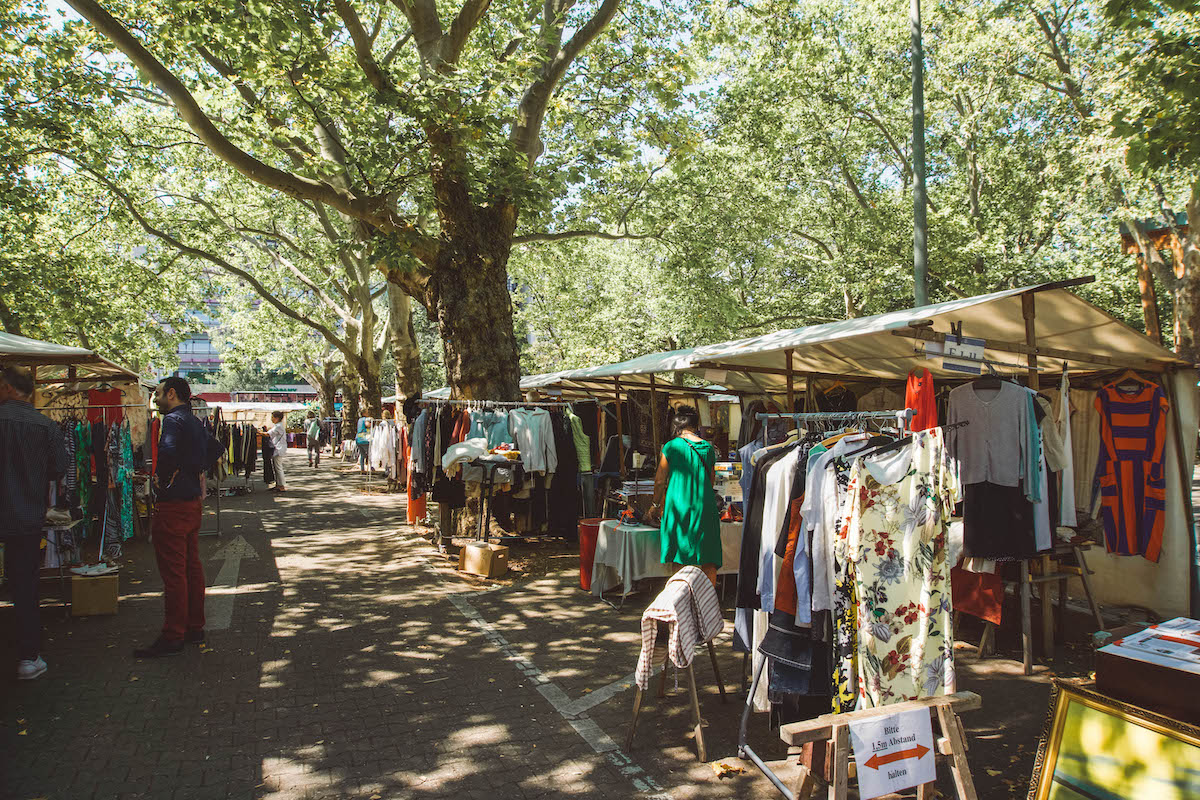 Location & Hours: Fehrbelliner Platz, Saturdays & Sundays 10am to 4pm
My first apartment in Berlin was a few stops away from the flea market at Fehrbelliner Platz, and I've visited many times since then in hopes of finding a few second hand items to decorate my white walls.
This is another great flea market to visit if you have a "normal" budget and aren't looking to drop a ton of cash on prints and other household goods. There are a handful of vendors here selling prints (woodblock prints, art prints, pages torn from old books, etc.), which I particularly love. There's also a decent number of stalls selling smaller furniture, such as desks, chairs, and stools.
Although fairly compact in size, there's a lot to discover at this flea market and you can definitely do some haggling if you're on the hunt for a good bargain. If you're visiting from the other side of the city, make a day of it and visit Charlottenburg Palace after you're finished at the flea market. The grounds are free to explore, and the palace is just a few subway stations away.
Even More Flea Markets in Berlin!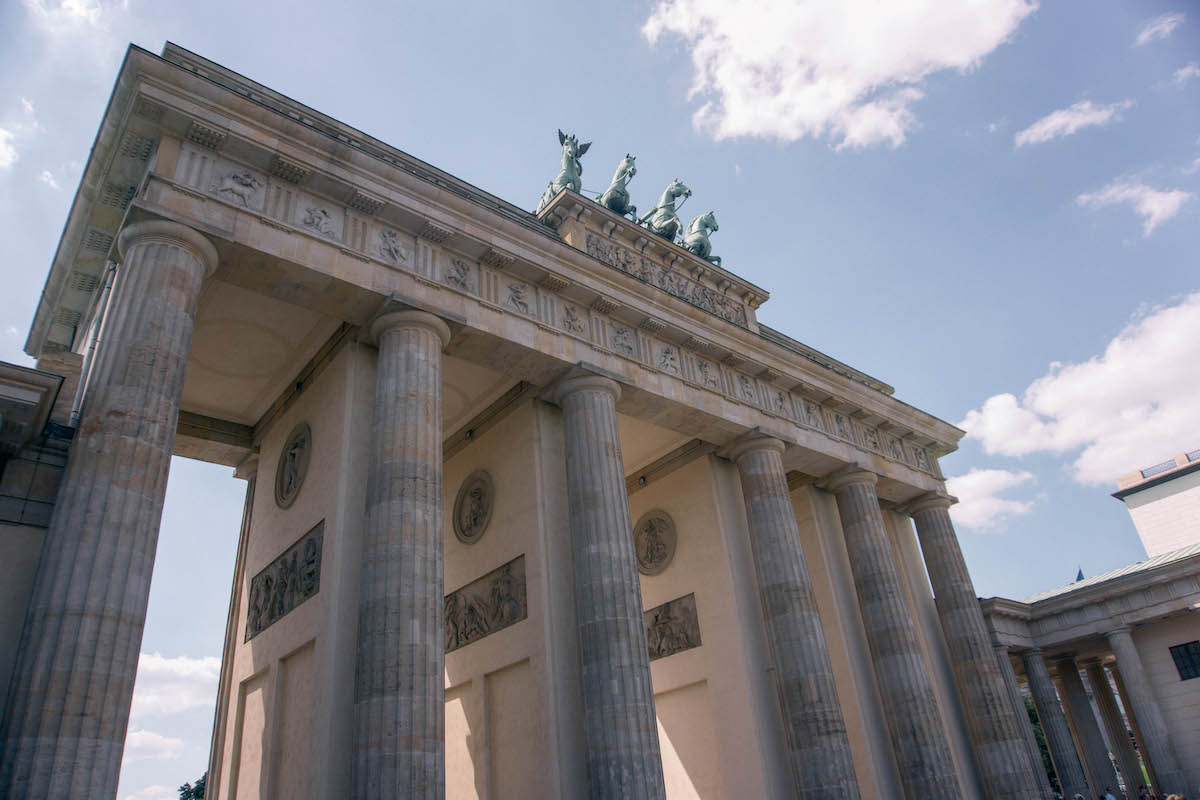 As I mentioned already, there are so many more flea markets in Berlin, Germany. Seemingly every Kiez has its own flea market, some of which operate every weekend while others pop up periodically throughout the year. Additional Berlin flea markets to add to your bucket list include:
Mauerpark Flea Market — I've been to this flea market multiple times, but it didn't make the above list because it's not my favorite for finding home goods or clothing. However, there are tons of food trucks here as well and the park itself is a great hangout spot on the weekends. Definitely be ready to haggle at this Berlin flea market though, because it's become more touristy in recent years and the sellers will definitely try to rip you off.
Nowkoelln Flowmarkt — This flea market takes place every other Sunday in Berlin's coolest neighborhood, Neukölln. The market is located along the Maybachufer Canal, so plan to stroll along the water after hunting for second-hand treasures.
Flea market at Rathaus Schöneberg — This town hall is best known for being the spot where John F. Kennedy proclaimed, "Ich bin ein Berliner." And, you know, for having a weekly flea market. This Berlin flea market is very hit or miss; sometimes you find some treasures and sometimes it's all junk. That's because most of the stalls are run by locals trying to make a few bucks on items they no longer want.
Tips for Visiting Berlin's Flea Markets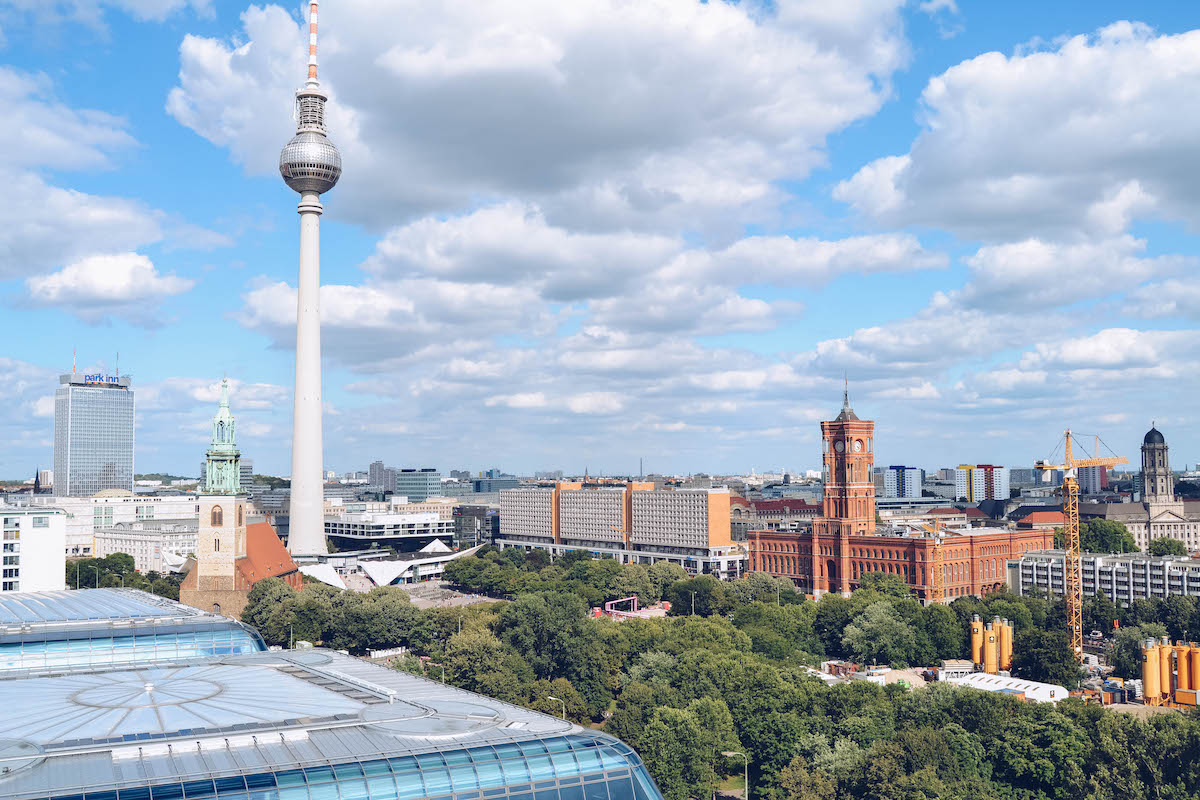 When Do Flea Markets Open in Berlin?
Most flea markets in Berlin operate spring through fall, while some of the bigger and better-known markets operate year-round, but with limited capacity and / or operating hours. Pretty much any flea market is guaranteed to operate on Sundays, while some are open Saturdays and Sundays.
I recommend doing a quick Google search of the flea market you plan on visiting to see if it's currently running — some operate every other Sunday, for instance, while others operate during specific months of the year.
When Are the Berlin Flea Markets' Hours of Operations?
It varies depending on the size and location of the market. As a general rule of thumb, most flea markets in Berlin operate on Sundays from 10am(ish) to 5pm(ish). Some open earlier, some close later, and a select few operate only every other week. Moral of the story: do a quick Google search to figure out when a certain flea market will be running.
What Should I Bring to the Flea Market?
I recommend bringing the following items with you on your visit to the flea market:
A reusable grocery bag to hold your treasures
Plenty of cash
A tape measure (if needed)
A list of any dimensions you need to keep in mind for prints, art pieces, etc.
A list of specific items you're looking for
Do I Pay with Cash or Card at the Flea Markets?
At Berlin's flea markets, cash is king! I've never once seen someone pay with a credit card. If you need to withdraw money from an ATM, look for a Sparkasse, Deutsche Bank, or Commerzbank en route to the flea market. Most bank branches have ATMs.
Do I Have to Speak German to Haggle at a Flea Market?
Not necessarily! It's helpful if you know basic numbers auf Deutsch, but if you speak English you'll be able to scrape by at the flea markets. 
Are There Any Weekday Flea Markets in Berlin?
None that I'm aware of! Flea markets are pretty much only open on weekends in Berlin.
What's the One Flea Market I Absolutely Must Visit?
If you're in Berlin for a short period of time and can only see one of the city's many flea markets, I recommend visiting the one at 17. Juni Straße (by the S-Tiergarten station). It's one of the biggest flea markets in Berlin, has really good quality stuff (which I can't afford!), and there's tons to look at.
Are Masks Required at Berlin's Flea Markets?
No, face masks are not currently required at the flea markets in Berlin. However, rules change frequently so be sure to check the government website beforehand and / or look for signs at the entrance of the flea markets stating any mask rules.
Ready to Haggle? 
As I mentioned before, this list is by no means all encompassing. But if you're looking to experience Berlin's flea market scene and aren't sure which are worth visiting, this list should give you some ideas. Drop me a comment below if there are any more flea markets in Berlin that you feel deserve a spot on this list!
Leave me a comment below with any questions you have about visiting Berlin, and don't forget to follow me on Instagram to keep up with my Germany adventures!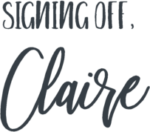 More Things to Do in Berlin: 
This post was originally published July 2021 and was updated May 2022.