Charlottenburg Palace is the largest palace in Berlin and should absolutely be on your bucket list! Here's everything you should know about the palace, including the top attractions of the palace and grounds, its history, opening hours, and so much more!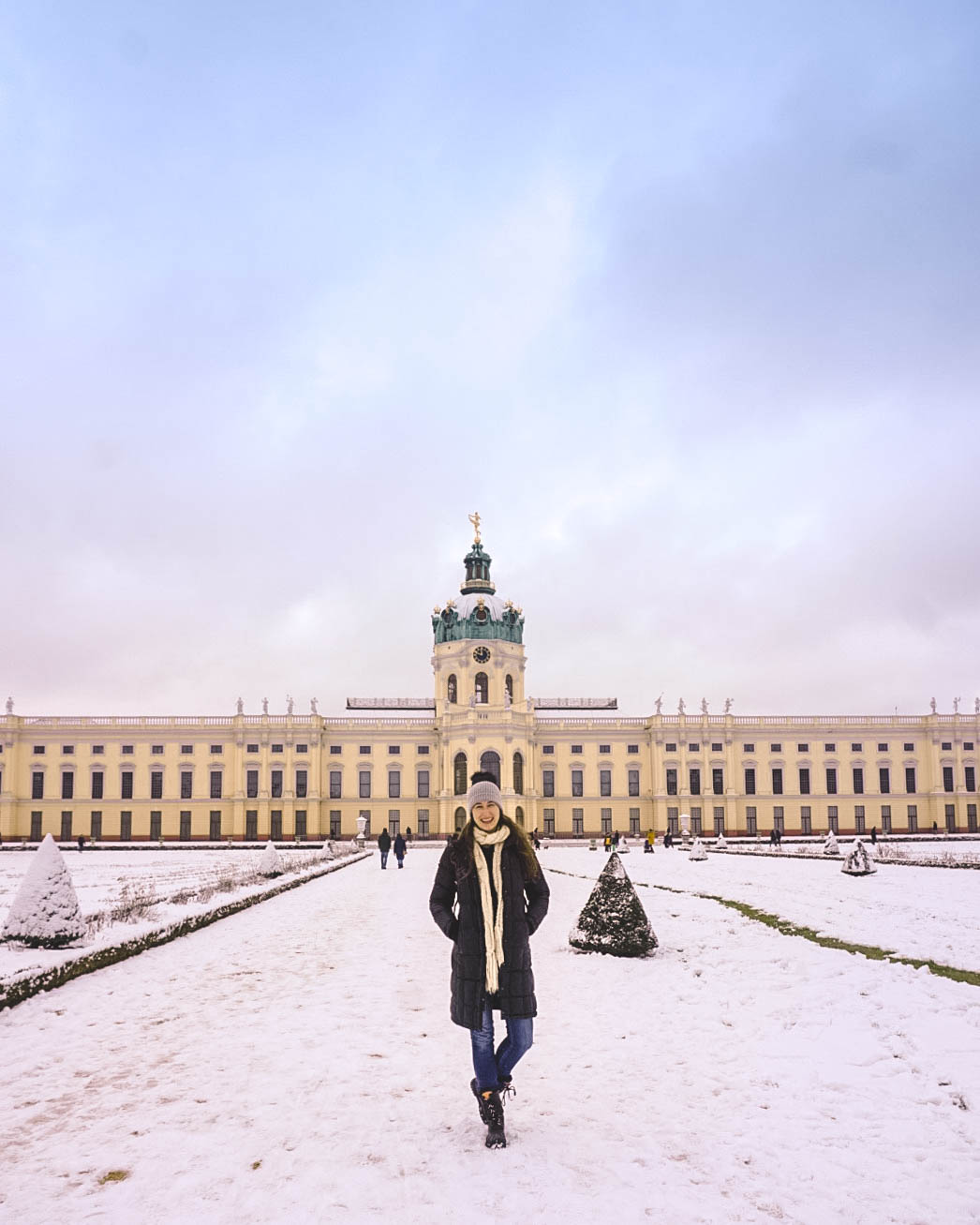 If you're a consistent reader of Tall Girl Big World, then you already know I have a thing with castles. Well, castles, palaces, stately homes, mansions — pretty much any historic residence tickles my fancy. In fact, I've planned entire trips around visiting specific castles! No shame here, I'm a history buff who loves to daydream that she was a princess in a past life.
It goes without saying that I was ecstatic when I learned that Berlin is home to a massive palace. Somehow during the research phase of my move to Berlin I completely overlooked Charlottenburg Palace. It wasn't until I moved into a temporary apartment near the palace that I learned it even existed. My daily walks through the palace grounds are some of my favorite memories of my first summer in Berlin!
I'm not sure if Charlottenburg Palace is truly an "underrated" Berlin attraction, or if it's just not marketed well online or what. Whatever the reason, the palace and grounds never seem very full whenever I visit (which is often). This is all to say that Charlottenburg Palace is a must-visit attraction when you're in Berlin.
I've popped all my top tips for visiting the palace in the post below, and have also included a brief history since that's what makes the palace so special, in my humble opinion.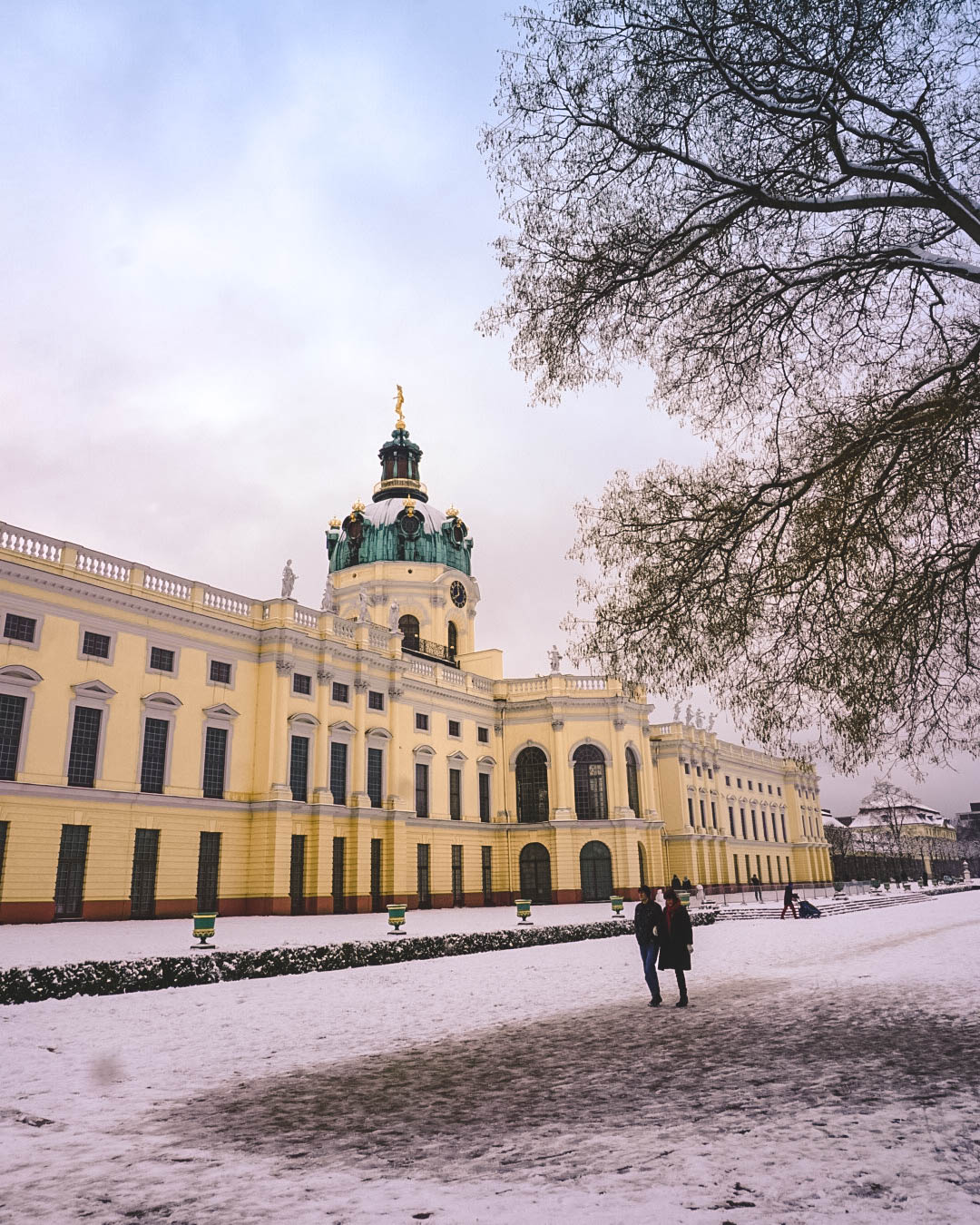 A Brief History of Charlottenburg Palace
Charlottenburg Palace (Schloss Charlottenburg) was built in 1699 for Sophie Charlotte. She was the wife of Friedrich III, the Elector of Brandenburg (who later went on to become King Friedrich I). The couple wed in 1684, and Friedrich III gifted Sophie Charlotte some land and an estate just outside of Berlin. This is where Charlottenburg Palace was eventually built, although the building was originally called Lietzenburg Palace.
The palace was built as a summer residence for Sophie Charlotte, and she referred to it as her "court of the muses." She loved music and the arts and often invited poets and other artists to stay at her summer residence. After Sophie Charlotte's untimely death at age 36, her husband renamed the palace and surrounding area Charlottenburg.
After her death, Charlottenburg Palace underwent renovations and eventually became an official state building. Nearly 100 years after Sophie Charlotte lived, another woman — Queen Louise of Prussia — left her mark on the place.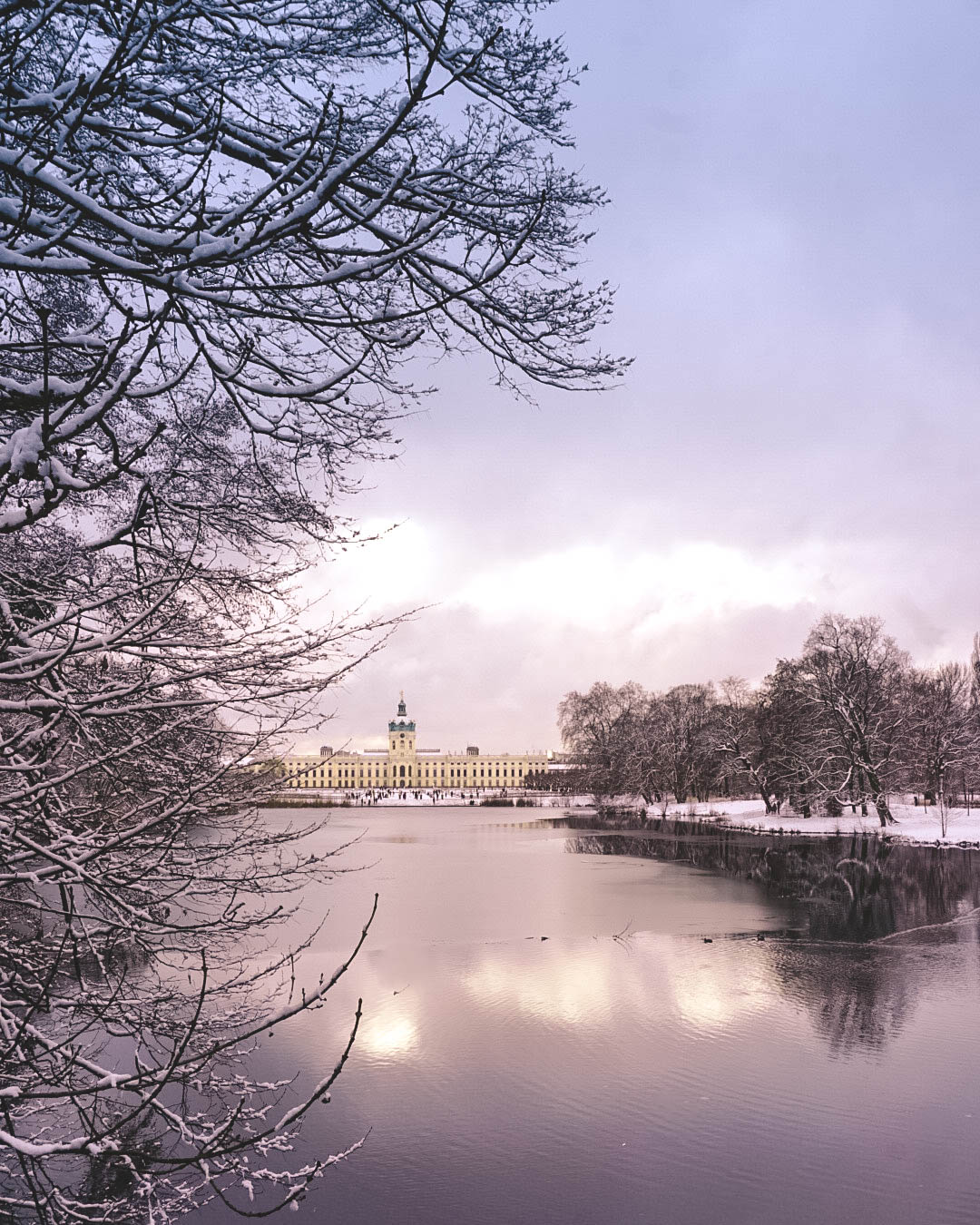 She made many alterations to the palace's structure and décor, although her influence on the palace isn't as widely publicized as its namesake's. Queen Louise was incredibly popular in her day; she lived primarily in the East Wing with her husband, King Friedrich Wilhelm III, and their social life centered around the palace.
From 1880 onwards, Charlottenburg Palace was no longer used as a royal residence and the grounds were opened to the public. The palace was heavily damaged during WWII and it has undergone major renovations in recent years to restore it to its former glory.
Today, Charlottenburg Palace is a sight to behold. Among other accolades, it has the largest collection of 18th century French paintings outside of France. And as Berlin's largest palace, it's well worth visiting while you're in the city!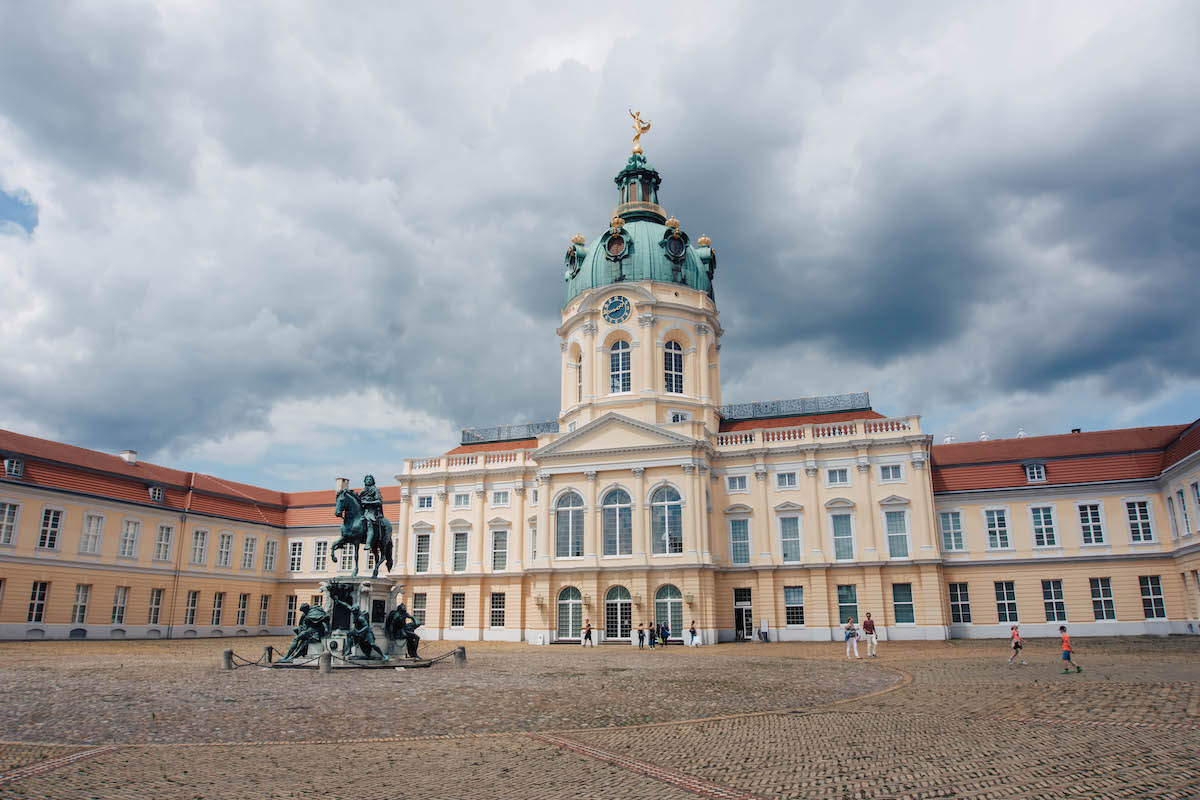 Highlights of Charlottenburg Palace
There are so many incredible things to see and do at Charlottenburg Palace. In addition to the palace itself, there are numerous buildings on the grounds to tour, as well as the palace garden and park. Some of my personal favorite sites at the palace include the following: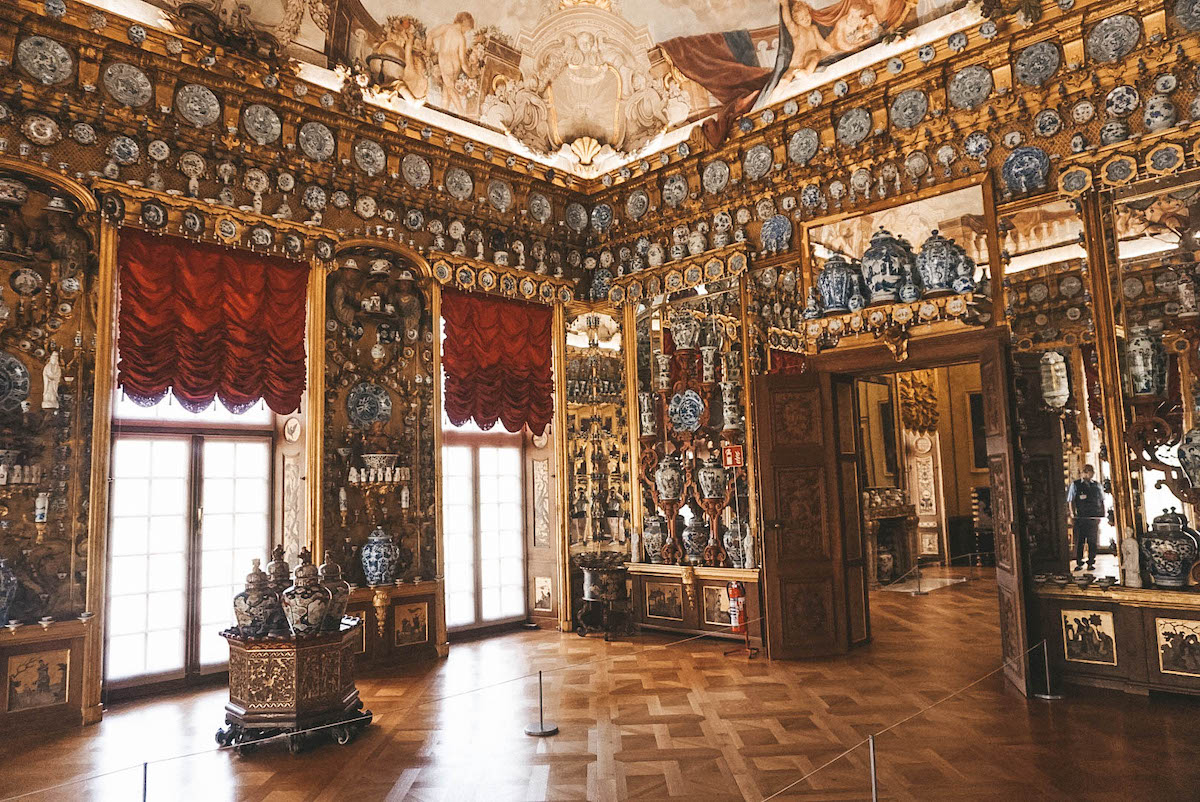 Porcelain Cabinet
Located in the Old Palace, the Porcelain Cabinet is one of the oldest and largest porcelain collections of its kind. Chinoiserie was extremely popular in the 18th Century, and the Porcelain Cabinet showcases the style beautifully. The porcelain collection was badly damaged in WWII, and just 2,700 pieces remain. What's on display is absolutely stunning, and the gold framing around many of the pieces adds to the opulence of the cabinet.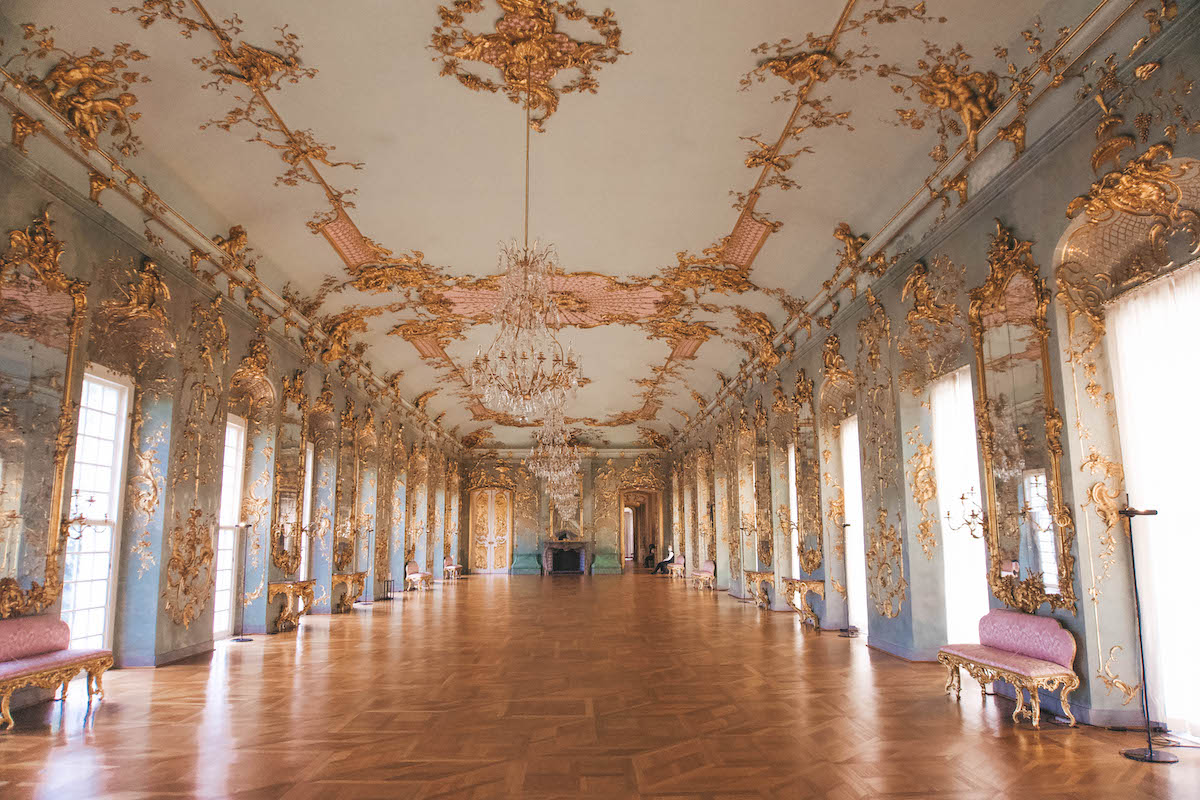 Golden Gallery
The Golden Gallery is a stunning rococo ballroom located in the New Wing of the palace. It's been remarkably well restored, and there are glass cases peppered throughout the space with priceless pieces of porcelain and other treasures.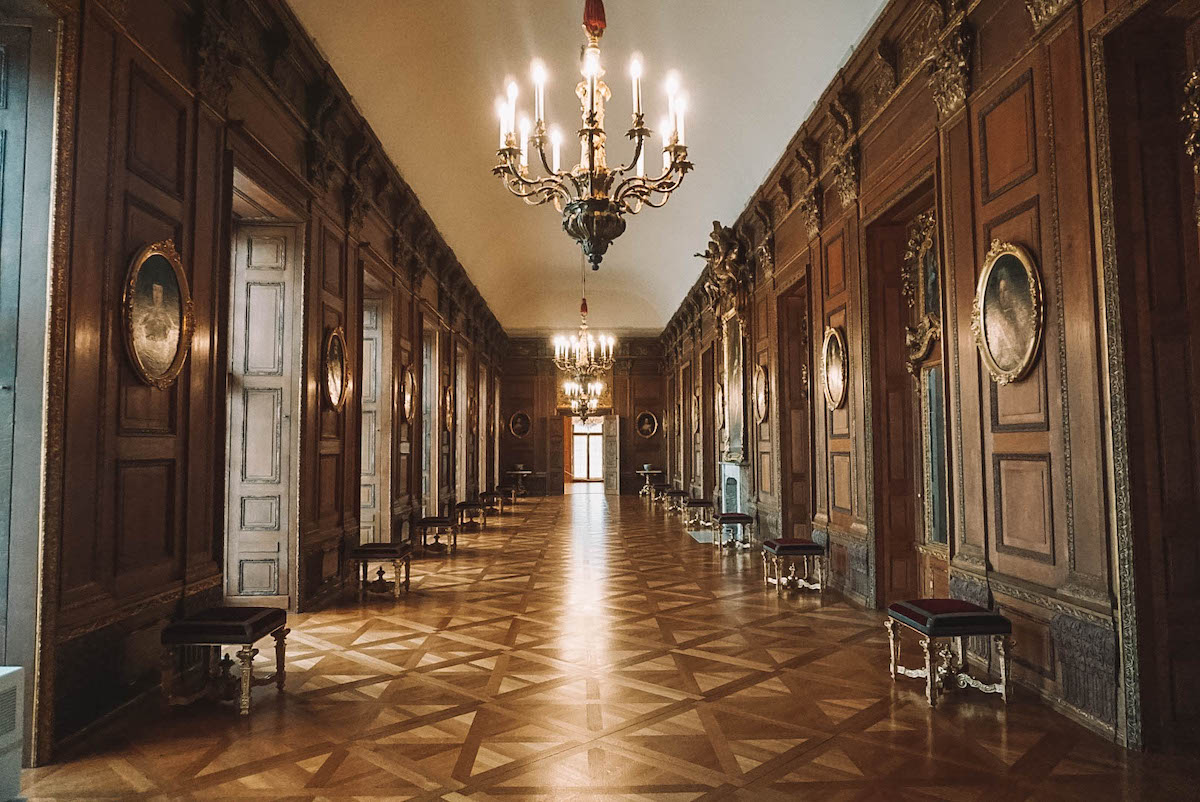 Baroque Parade Rooms
Charlottenburg Palace's parade rooms are gorgeous. This is where the king and queen would have conducted official business and had public audiences. As such, these rooms are the most opulent in the entire palace.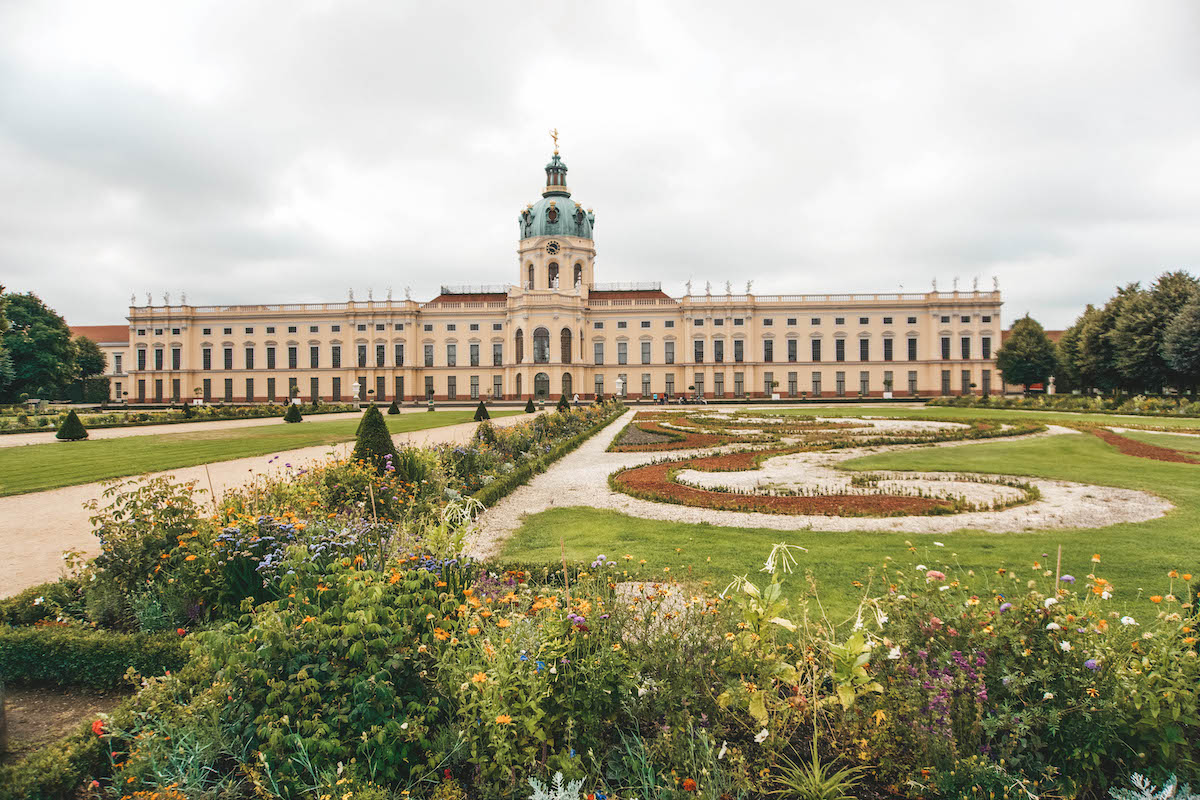 Palace Garden and Park
French landscape architect Siméon Godeau designed the garden and surrounding park. The extensive park is dotted with official buildings, playgrounds, and patches of woods. In the warmer months, there are even sheep that graze on the lawns to keep the grass short! Definitely take an hour or two to stroll through the garden and park and take in the sights. This is probably my favorite place in Berlin!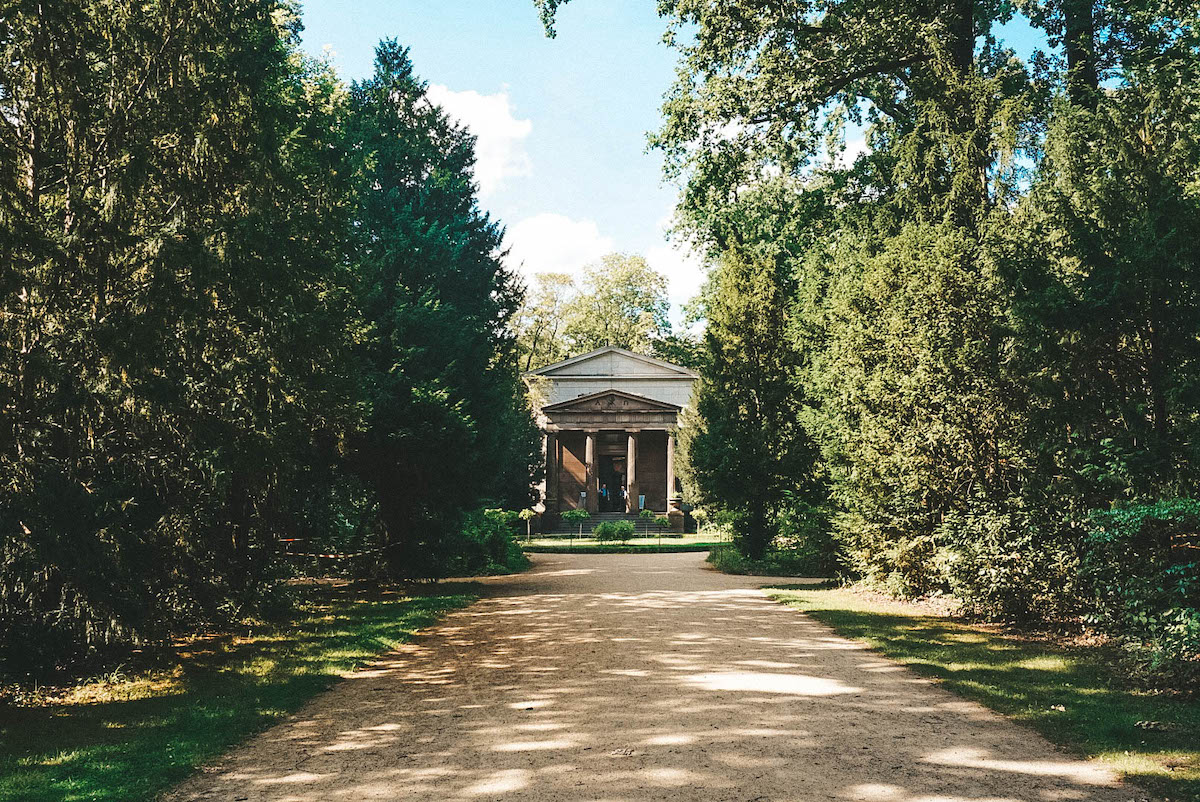 Mausoleum
You'll find the mausoleum on the grounds of the palace, near the garden. It was built by King Friedrich Wilhelm III for his wife Queen Louise, who died at age 34. Louise was much loved, both by her husband and the Prussian people. Inside the mausoleum, you can view her massive sarcophagus, as well as the burial site of Emperor Wilhelm I and his wife Augusta. Other royals are buried in the crypt below, but that section is not open to the public.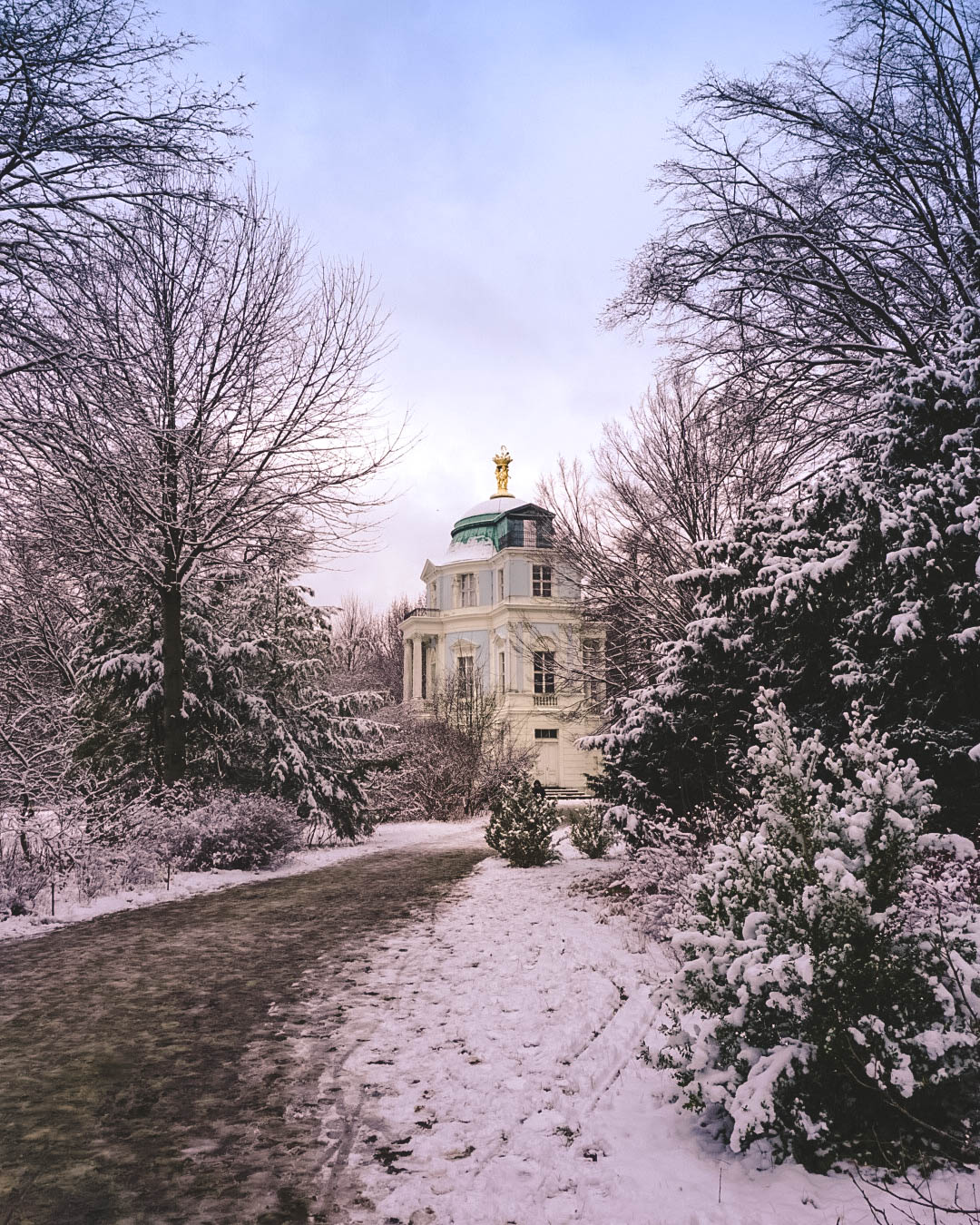 Belvedere Tea House
Also located in the park, near the Spree River. Don't let the name fool you! This "tea house" now houses the largest collection of porcelain from the German Königlichen Porzellan-Manufaktur Berlin (KPM). 
What's the Best Time to Visit Charlottenburg Palace?
I recommend visiting the palace in the warmer months, preferably summer or fall when it's dry. Although the palace itself is open year-round, the buildings on the grounds are closed from October through April due to the lack of visitors and the need for constant restoration work. However, Charlottenburg Palace is still worth visiting in the winter. In December, there's a Christmas market in front of the palace (one of the best in Berlin, actually!).
How to Get to Charlottenburg Palace
Getting to the palace is easy! Take the U7 to Mierendorfplatz, the U7 or U2 to Bismarckstraße, or the ringbahn (S41 or S42) to Westend. You'll have to walk about 10 minutes from any of these stations to get to the palace, but it's impossible to miss.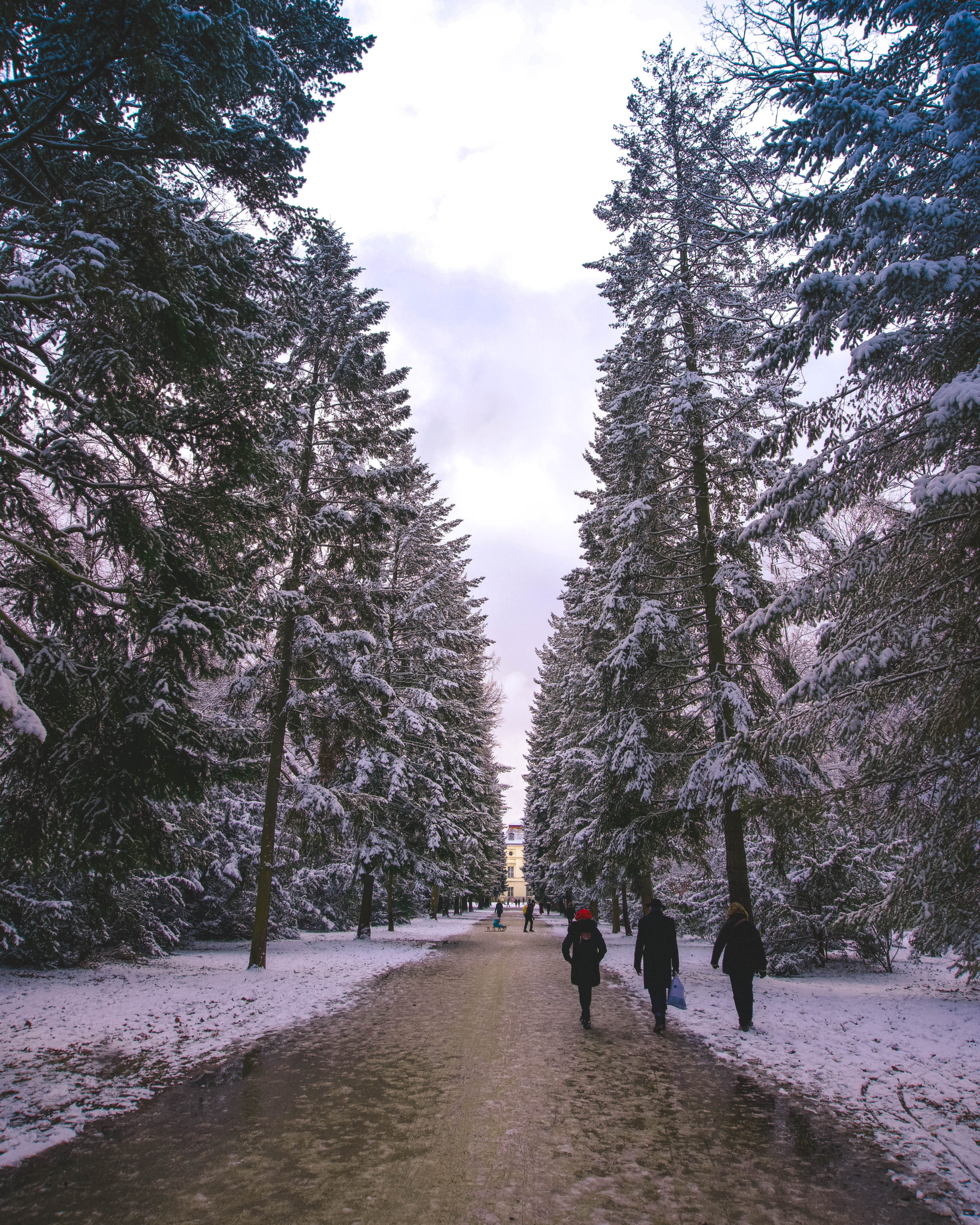 Where to Eat Near Charlottenburg Palace
There aren't many restaurants right by the palace, so you'll have to walk 10 to 15 minutes to find anywhere good to eat. However, the orangery at the palace has been transformed into a restaurant, so that's also an option. If you're willing to do some walking, some restaurant suggestions are:
Giro d'Espresso — Cute coffee shop with basic lunch options like quiche and pastries.
myThais — Really good Thai food in a cramped restaurant. Located near the U-bahn stations Bismarckstraße (U2/U7) and Deutsche Oper (U2).
2 Friends — Pretty solid burger options. Not expensive and quick service.
BioCompany — Local grocery store chain (think of it as the German Whole Foods or Trader Joe's). They sell pre-packaged wraps, sandwiches, salads, etc. and are a faster, cheaper alternative to a sit-down restaurant.
There are also bakeries on Wilmersdorferstraße (back by the U-Bahn station Bismarckstraße). You can buy pre-made sandwiches, rolls, and more at any Germany bakery.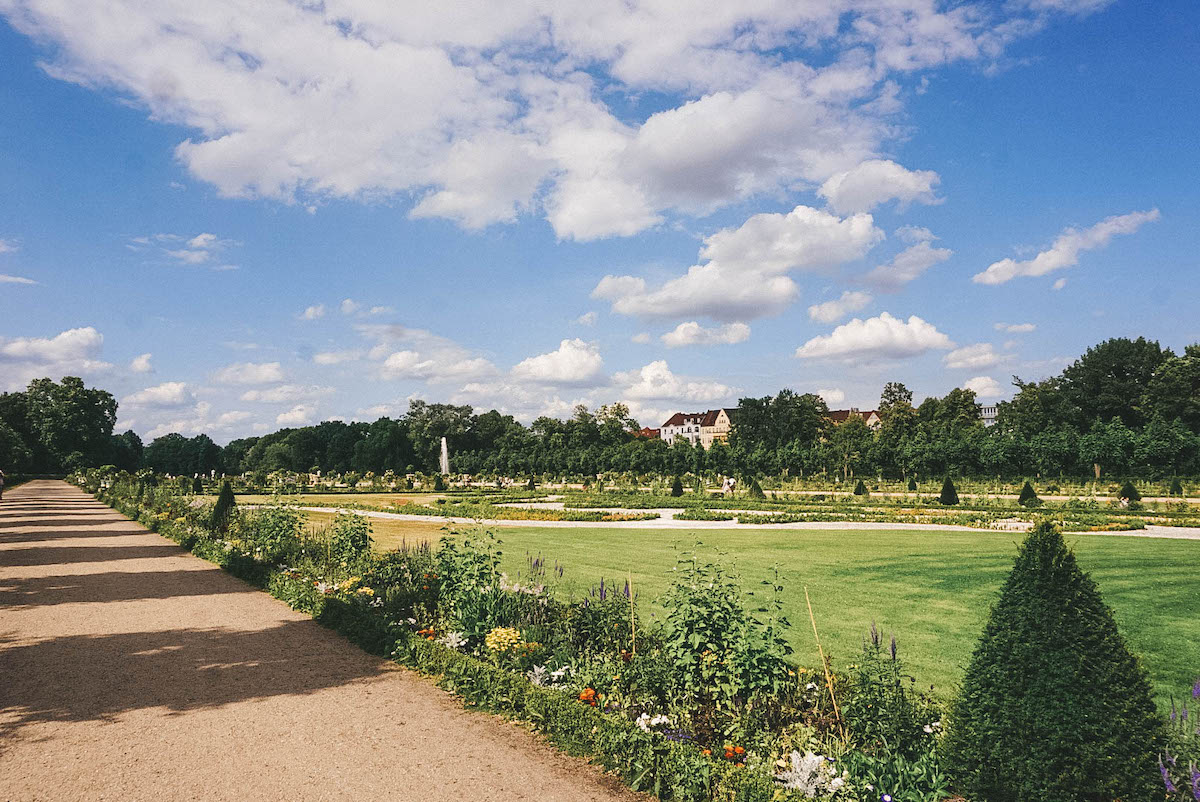 FAQs About Charlottenburg Palace
What's the admission price for Charlottenburg Palace? A single ticket to the Old Palace OR the New Wing costs 12 Euros. However, I recommend buying the Charlottenburg+ ticket, which costs 17 Euros and gets you into the entire palace and all the buildings on the grounds.
What does my ticket cover? If you purchase a single ticket, you may only visit the Old Palace or the New Wing. With the Charlottenburg+ ticket, you'll have access to the entire palace and the buildings on the grounds.
How long is my ticket valid? It's valid for a single day during the opening hours. However, you may only go through each wing of the palace and the buildings on the grounds one time.
Is an audio guide included in the ticket price? Yes! Your ticket includes an audio guide, which I highly recommend taking because there's not much to read throughout the palace. The audio guides come in numerous languages, so you should be covered no matter what your mother tongue is.
What are the opening hours? The winter season is November to March, and the opening hours are 10am to 4:30pm. The summer season is April to October, and the opening hours are 10am to 5:30pm. Note that the palace is always closed on Mondays.
Can you take photos inside? Yes! You may take photos inside but you cannot use flash (they're pretty strict about this).
Can I enter the buildings on the grounds? Yes, but only if you've purchased the Charlottenburg+ ticket. I HIGHLY recommend visiting all the buildings on the grounds as they're all unique and beautiful.
Can I leave my luggage at the front desk? No! If you need a place to store your luggage before hopping on your flight home, you're out of luck. However, small backpacks / bags can be left at coat check.
How much time should I spend at the palace? Personally, I could spend half a day at the palace, if not a little more. Once you're inside the palace, you can go through the rooms at your own pace and take as many photos as you want. Don't rush your visit, there's so much to see!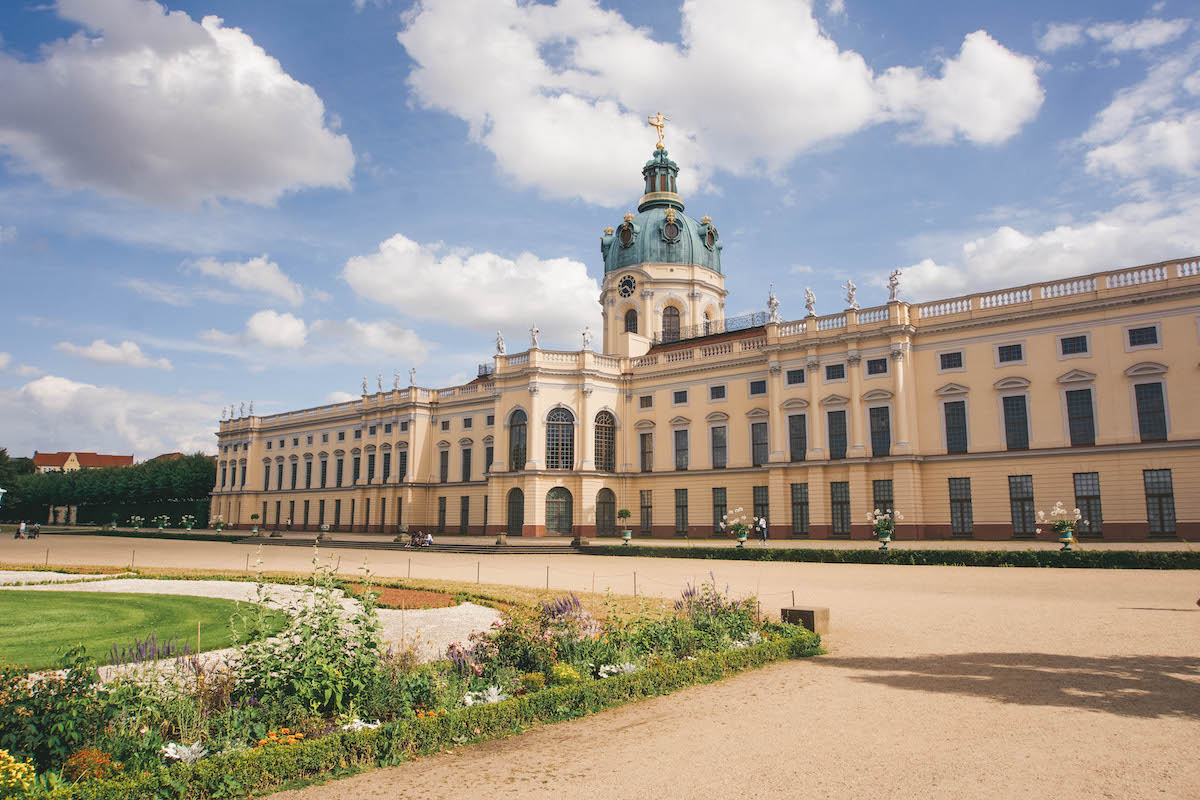 Tips for Your Visit
Wear comfy shoes — the palace itself is huge and you'll be doing a lot of walking around the grounds. There are no paved paths, just gravel and dirt, so dress accordingly.
Pack snacks and water — Like I said, the palace isn't by any great restaurants so you'll want to bring water and snacks with you to keep you going. The park is open to the public, so you can also pack an entire picnic if you wanted to!
Get there early — The palace and grounds fill up in the warmer months, so I recommend getting there as close to opening time as possible to enjoy the silence. With that said, I've yet to see Charlottenburg Palace packed so you don't need to worry about touring the place with hundreds of other people.
Ready to Pretend You're Royalty?
Oh my word, only I could write nearly 2,000 words about a palace. If you've read this far in the post, I sincerely hope you found it helpful for planning your visit to beautiful Schloss Charlottenburg. If you have any remaining questions about the palace, leave me a comment down below!
Tell me: What's your favorite historic palace / mansion / home that you've ever visited?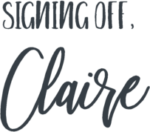 PS. I've included photos of Schloss Charlottenburg from various seasons, just so you can appreciate how beautiful it is year-round. Let me know what you think of the multi-seasonal photos, and if you'd prefer having having photos taken from a single visit!
More Things to Do in Berlin:
Save this post to Pinterest!