If you're considering a summer trip to Berlin, DO IT! Here are the top things to do in Berlin when the weather's nice that both locals and tourists love.
Summer is undoubtedly the best time to visit Berlin, Germany. Although seemingly everyone has heard of Berlin and knows the role it played in the tumultuous post-war years, I get the feeling it's not a top attraction in Europe. Too many people pass over this historic city for the likes of Paris, London, or Rome. But Berlin is absolutely worth visiting, too!
If you're considering a trip to Berlin in the summer, DO IT. I'd say you should plan on staying at least three or four days in the city, but you could easily spend up to a week here to allow for longer museum visits, day trips, and so forth.
To help you plan your trip, I'm sharing the top things to do in Berlin in the summer. The Berlin summer activities listed below are popular with locals and visitors alike and are some of my all-time favorite things to do in Germany's capital city.
Table of Contents
Click "show" to see the full table of contents for this post. You can jump around the post as desired by clicking on the individual sections listed below.  
When Does Summer Start in Berlin?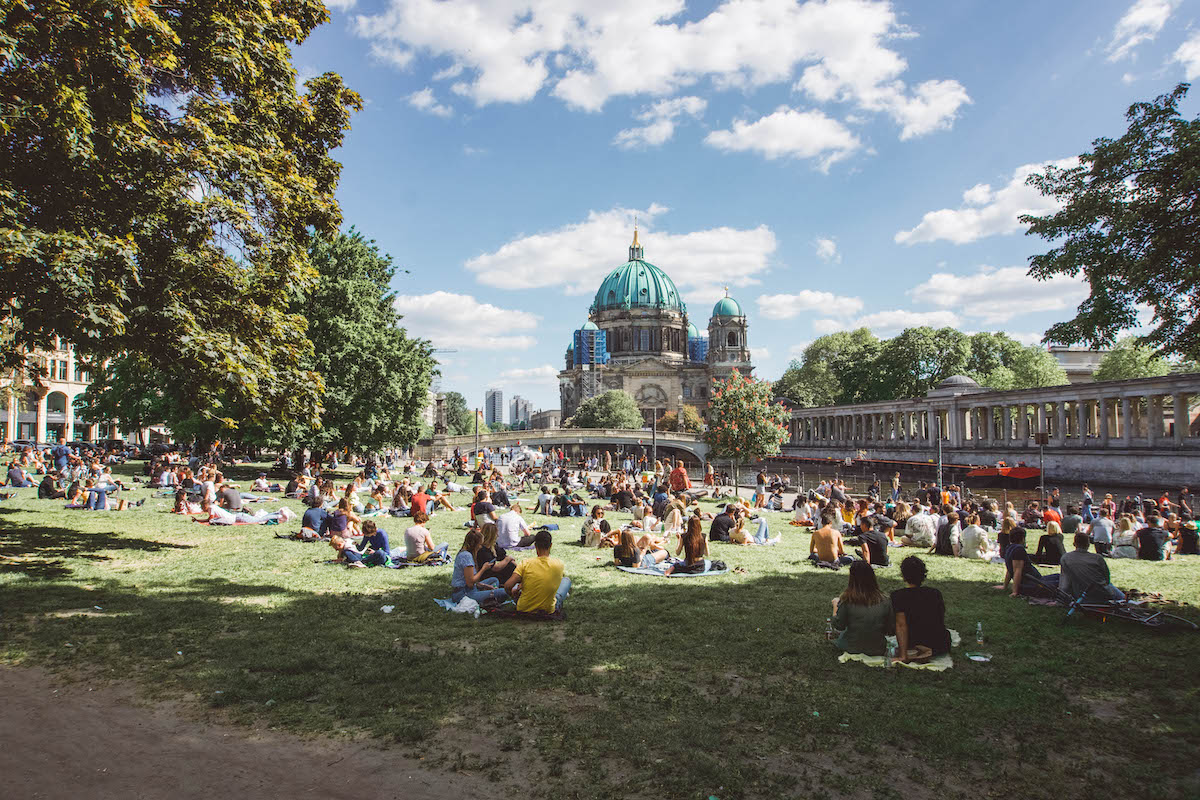 Summer officially starts in Berlin in June (June 21st, to be exact!). However, you can still expect fairly mild temperatures through June.
July and August are the two warmest months, but don't expect summer in Berlin, Germany to feel like summer in Italy, Greece, or any southern locale. Remember, Berlin is one of Germany's northernmost cities!
What's the Weather Like in Berlin in the Summer?
Berlin summers are usually quite mild, with mornings being chillier and the high temperatures of the days being reached around 1 to 2pm. In June, expect temperatures closer to 60ºF. By August, the weather will be closer to 70ºF.
However, even if you visit Berlin in the middle of the summer you'll still want to pack a pair of pants and a light jacket, just to be safe. Rain gear is also recommended as summers here can be wet!
See the City from the Spree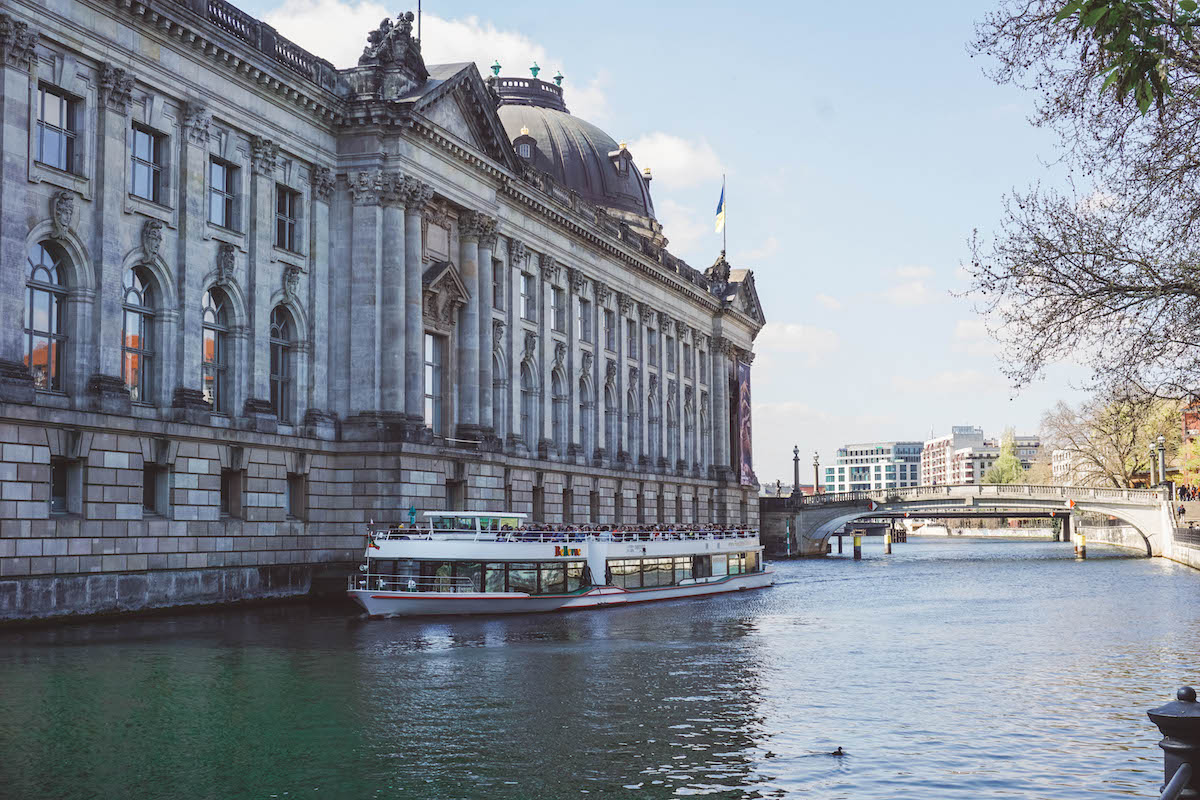 If you're visiting Berlin for the first time, a boat tour of the city is a must! The Spree is the best way to explore Berlin in the summer. You'll get to see the city's main attractions without having to spend hours on your feet.
Some Spree boat tours have live tour guides, while others offer audio guides in multiple languages. You can also opt for a day ticket for a hop-on, hop-off boat tour or a single tour that lasts anywhere from 1 to 3 hours. Choose whatever option is best for you!
Visit the Botanic Garden & Botanic Museum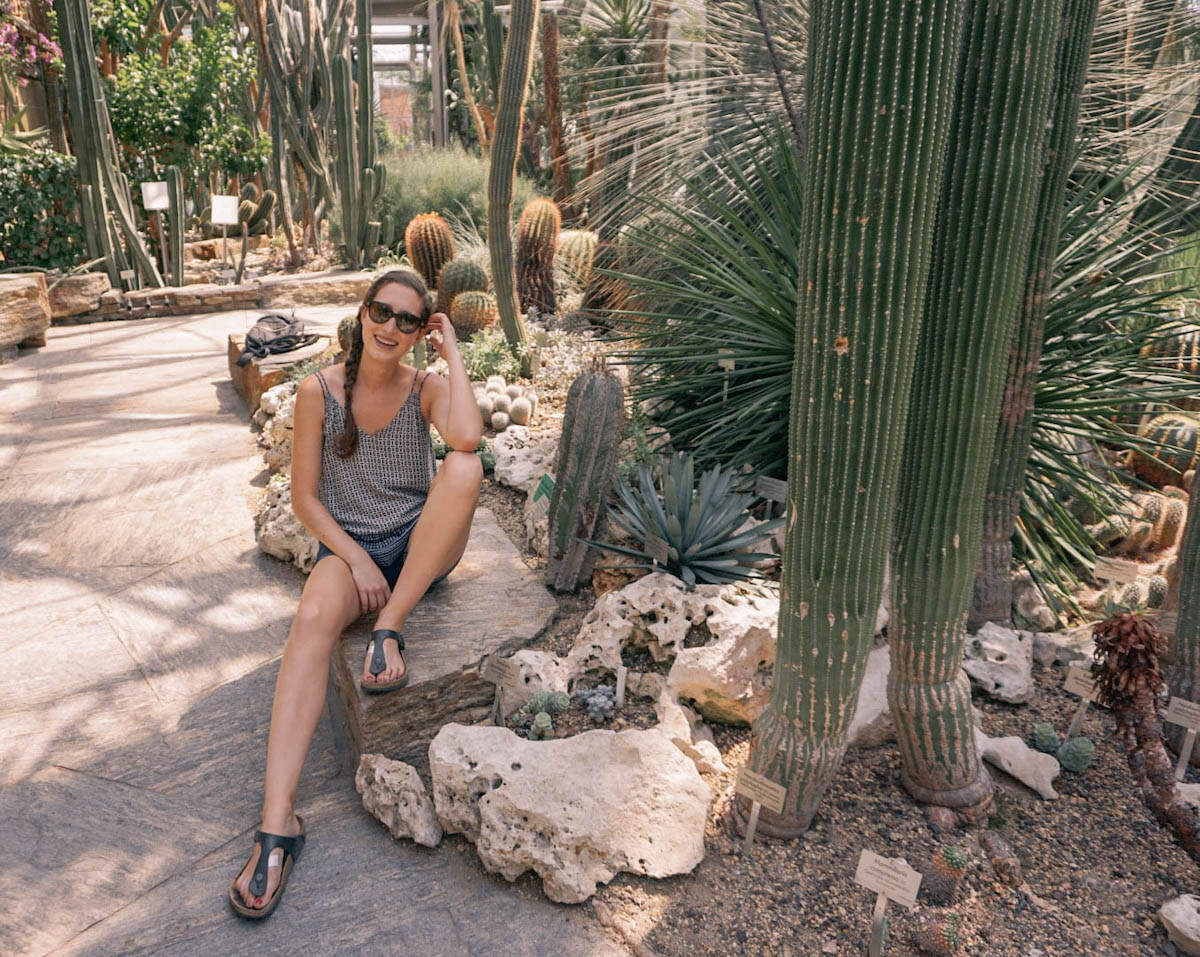 One of the largest botanic gardens in the world, Berlin's botanic garden and museum is home to over 20,000 species of plants. The grounds are massive, and the individual gardens are categorized by the kind of plants on display. I particularly loved the fragrance and touch garden as well as the medicinal plants garden.
There are also 16 lovely greenhouses on the property, with the 23-meter tall tropical greenhouse as the crown jewel of the garden complex. You could easily spend an entire afternoon here, and at just 6 Euros to enter this is one of the cheapest summer activities in Berlin.
Tip: The food sold within the garden is overpriced and not that good, and there aren't many restaurants in the surrounding area. Do your research ahead of time so you know where you'll be grabbing lunch, or eat a big snack beforehand.
Educate Yourself on a Walking Tour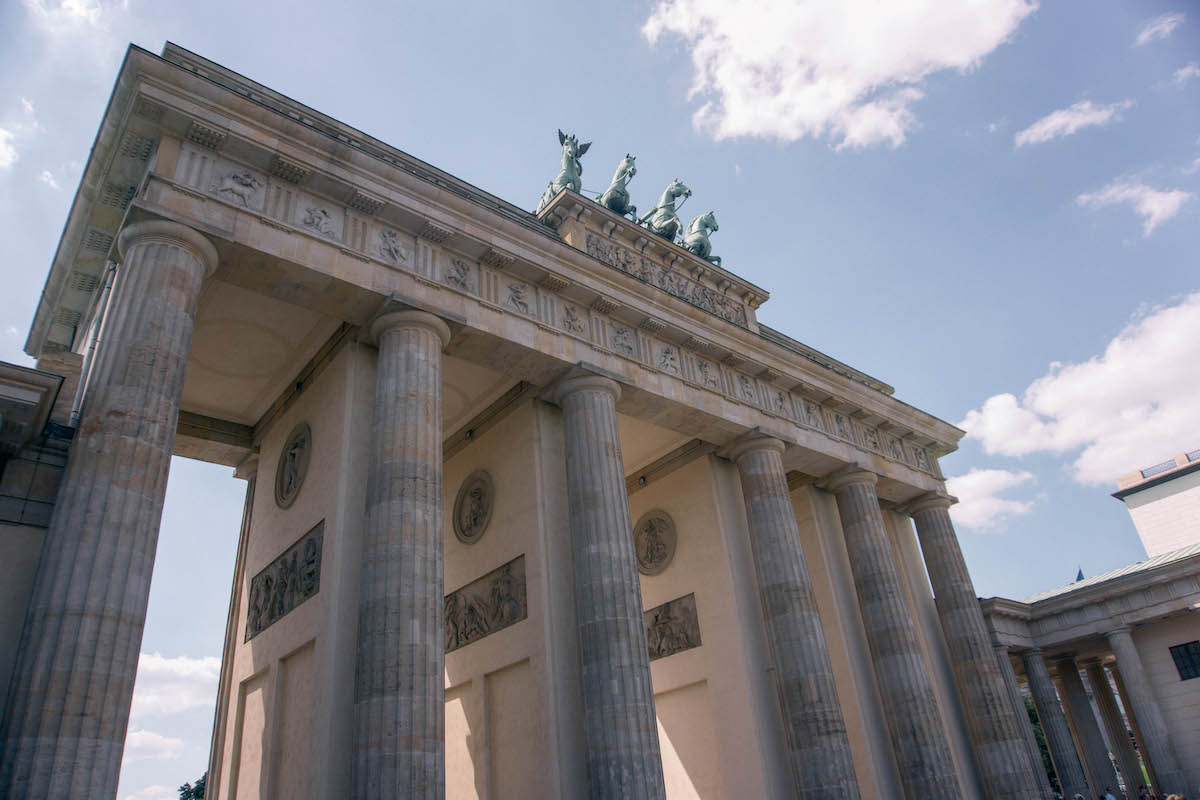 There are quite a few top-notch walking tours offered in Berlin — my favorite of which are totally free! I recently went on the Sandeman's free Berlin walking tour and thoroughly enjoyed it, although it focused primarily on WWII and the time of the Berlin Wall. Free Tours by Foot also offers a number of free Berlin walking tours. I've not yet taken one of their Berlin tours, but I've done tours with them in London, NYC, Belgium, and more and have always had a fantastic experience!
Explore Charlottenburg Palace & Grounds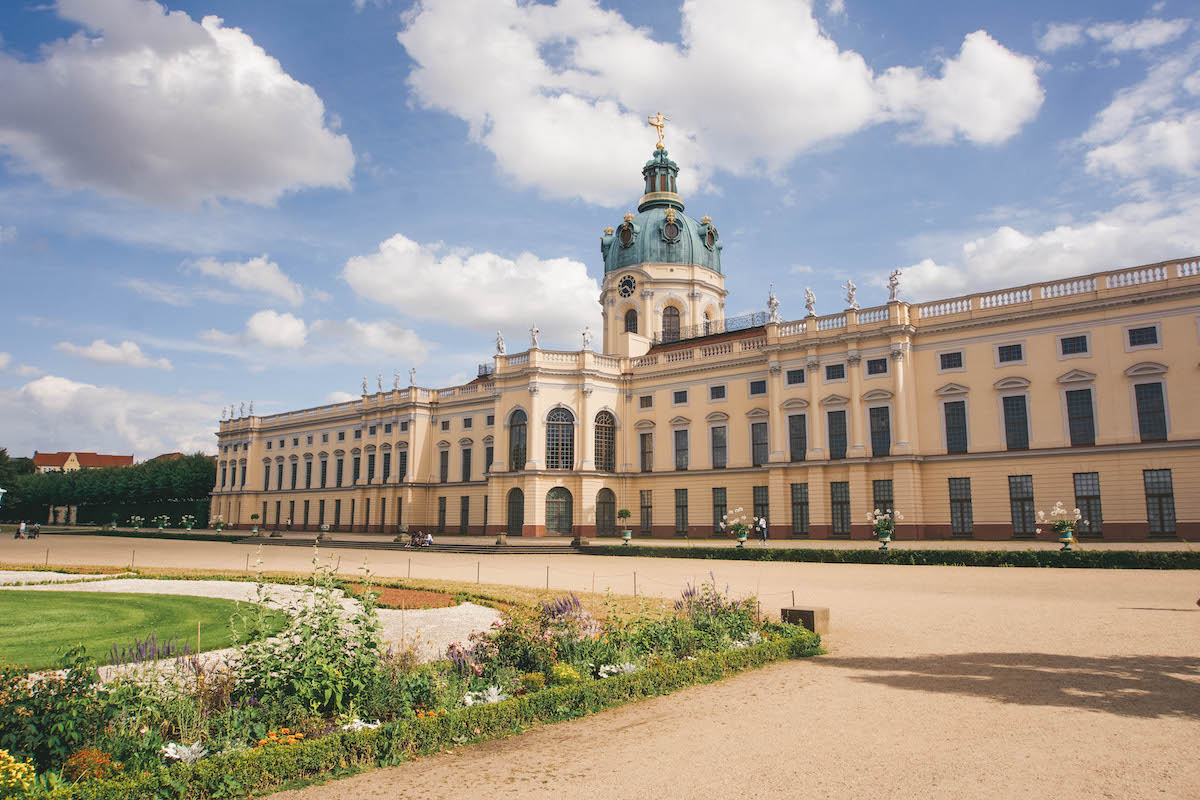 I was lucky enough to live across the street from Charlottenburg Palace my first summer in Berlin, and I used to walk around its gorgeous gardens every day after lunch. I have a soft spot for this stunning baroque palace, and I can't recommend it enough if you visit Berlin in the summer!
Charlottenburg Palace was completed in 1699 for Queen Sophie Charlotte of Hanover. When touring the palace, you'll see the staterooms, golden ballroom, and the silver vault, as well as the porcelain cabinet (I also weirdly have a thing for old porcelain — tell me I'm not the only one!). While exploring the grounds of the palace, be sure to stop by the mausoleum where Queen Louise is buried. You can also enter the Belvedere Tea House, which is filled with even more porcelain.
Stroll Through the Tiergarten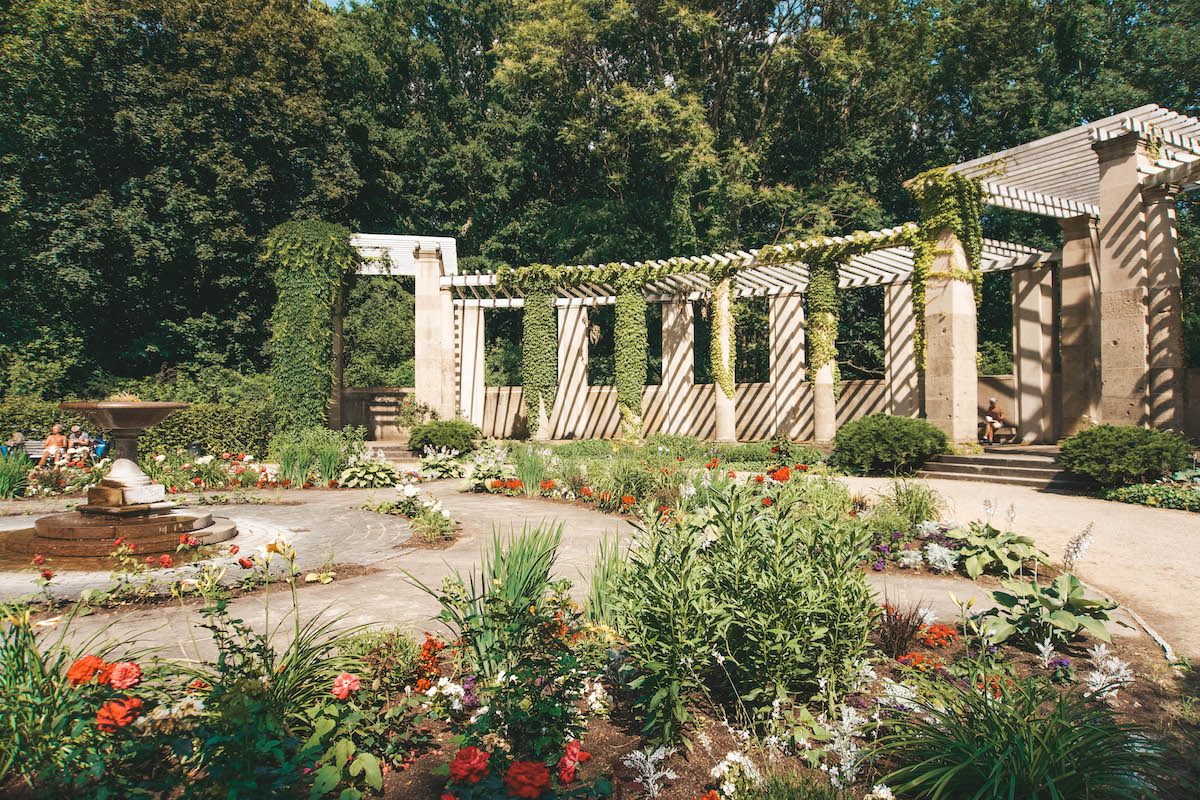 Walking around Tiergarten Park now, you'd never guess the number of times it's been redesigned or destroyed. It was originally the royal hunting grounds for Friedrich III, but it underwent a massive transformation in the 1830s after becoming a public park. The Tiergarten was all but destroyed in World War II, and following the war Berlin's residents cut down the remaining trees to use for fuel during a coal shortage.
Berlin's beloved park is now thriving once again and is the perfect place for strolling, sunbathing, and playing games. For an epic view of Berlin, head to the top of the Siegessäule (Victory Tower) in the middle of the park. There's also a beautiful rose garden in the park that's worth visiting in the warmer months. This is one of my go-to Berlin summer activities!
Walk Along the Landwehr Canal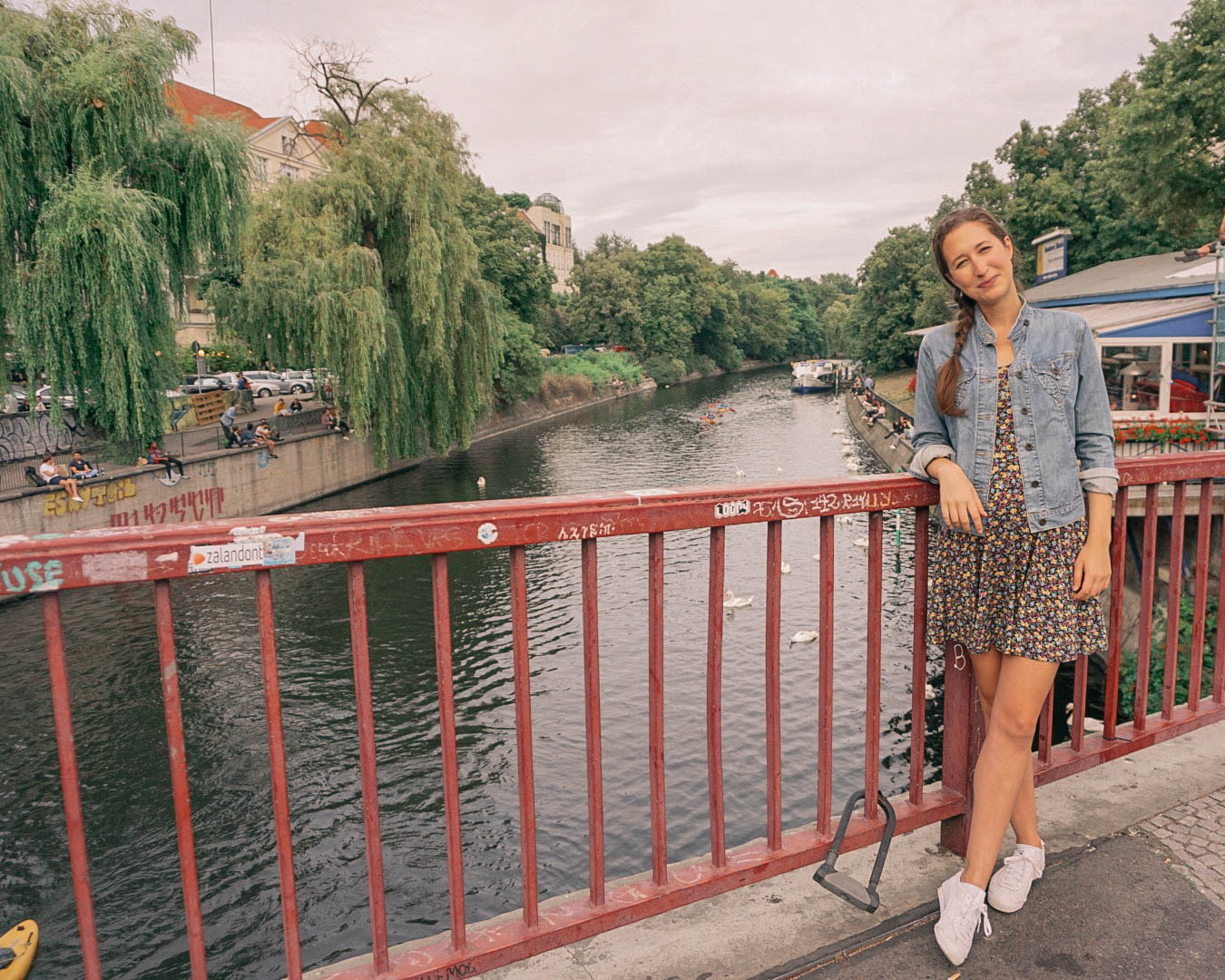 Don't want to shell out for a boat tour? Walk along the Spree instead! This is one of my favorite things to do in Berlin every summer because it's 1) free, 2) gets me outside in the sunshine, and 3) takes me through the heart of the city.
The Landwehr Canal runs parallel to the Spree for about 10 km in the heart of Berlin, and it's one of the nicest walks you can take in Berlin. In the summer, the stretch of canal located in the Kreuzberg neighborhood is packed with locals. Definitely hit up a Späti (a local convenience store), grab a beer or Apfelschorle, and lay out by the canal for a bit!
Haggle at the Flea Markets

Visitors and locals alike flock to Berlin's many flea markets during the summer. Although the flea market at Mauerpark gets most of the attention, there are so many other (better) flea markets across the city. The oldest flea market is on the Straße des 17. Juni, and it sells mostly higher quality furniture, porcelain, clothing, and so forth. The flea market at Ostbahnhof is known for its antiques (I've been a few times and have really enjoyed seeing what all was on offer).
Note that most flea markets are open only on the weekends. If you're serious about finding good deals, you'll want to get there before lunchtime since that's when most flea markets become super crowded. Also, bring cash. I've yet to find anyone who accepts credit cards at a flea market.
Eat Your Way Through Berlin's Markthallen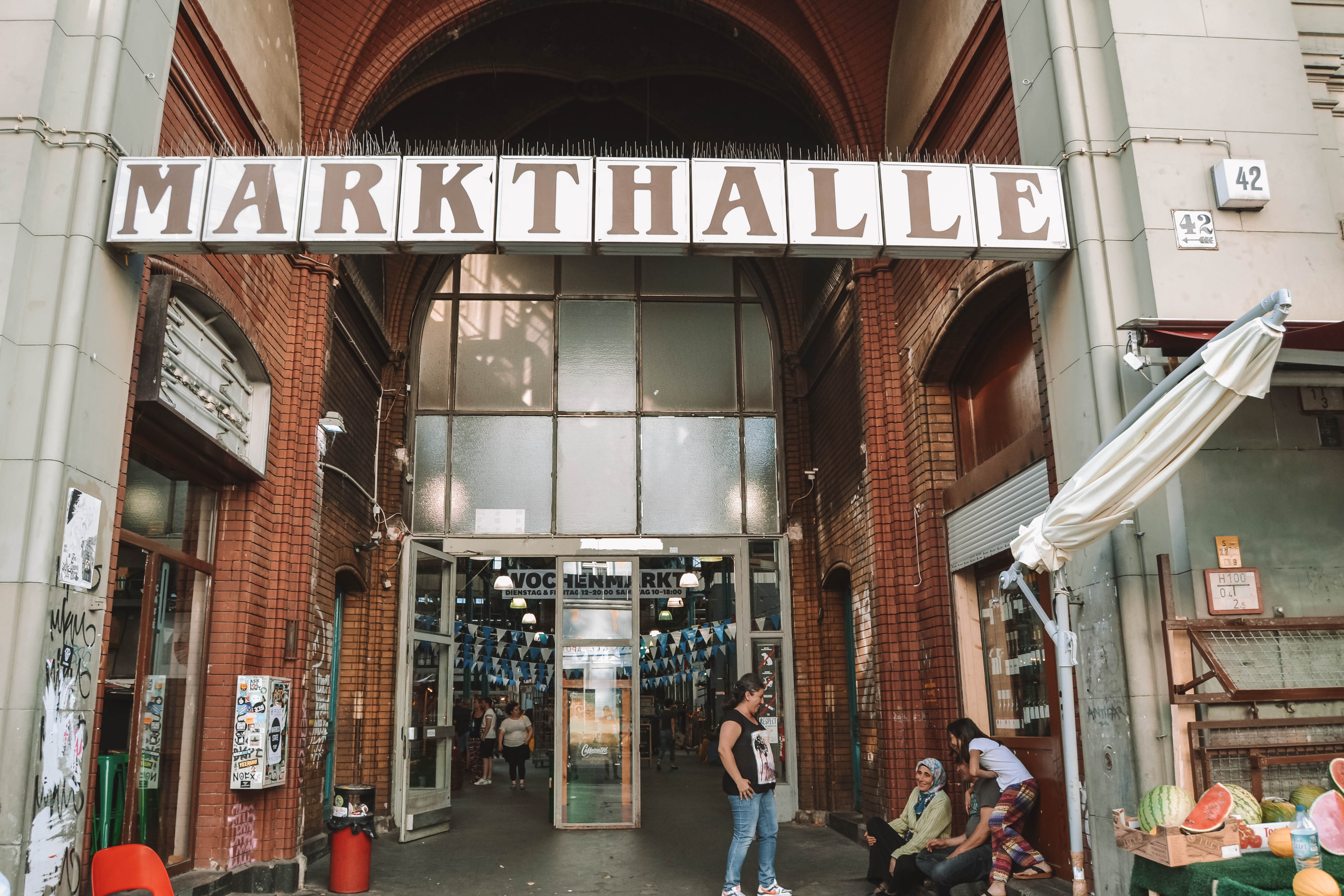 In German, a Markthalle is a covered food hall. Sometimes you'll find actual produce stalls selling fresh fruits and veggies, but more often you can expect food stalls selling inventive dishes inspired from a variety of cuisines.
Some food halls to visit this summer in Berlin include:
Markthalle Neun — The best known Markthalle in Berlin, located in Kreuzberg. It has a diverse selection of eats, and it hosts a Street Food Thursday event every week.
Arminiusmarkthalle — A lesser known Markthalle in Moabit. The beautiful building was erected in 1891 and adds to the dining ambience.
Marheineke Markthalle — Also in Kreuzberg. More of a true food market with bakery stalls, raw seafood, cheesemongers, and more.
Explore Berlin's Old Towns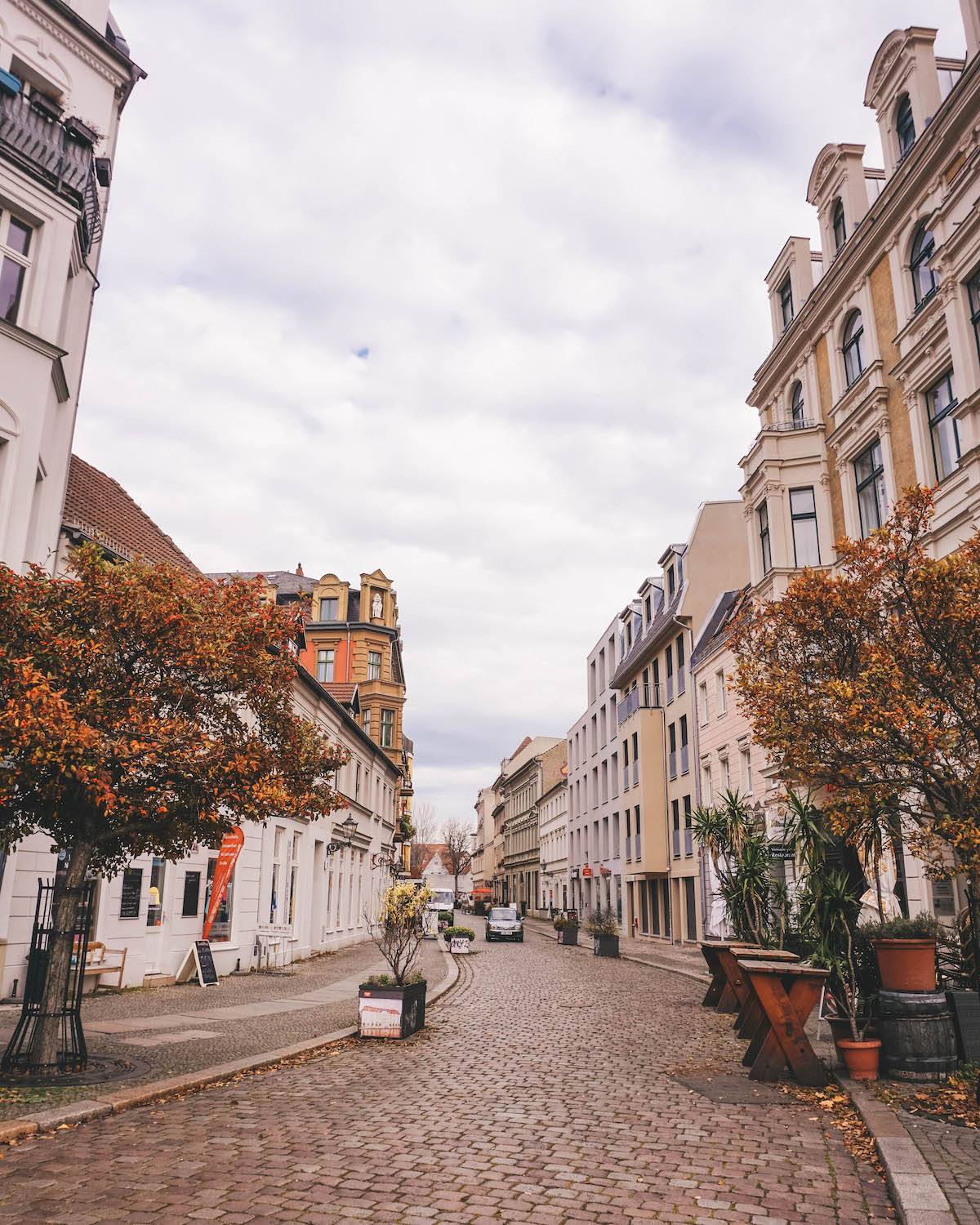 If you know where to look, it's easy to find half-timbered houses and picturesque villages within Berlin! Although small in size, Berlin's Old Towns in Spandau and Köpenick (pictured above) are fun to explore and are a lovely break from the bustle of the city center.
In Spandau, you'll find a network of cobblestone streets and fairytale homes that will plunge you back three centuries in time. Spandau's Altstadt is quite compact but definitely still has its village flair.
In East Berlin, Köpenick awaits, with its beautiful old town lining the waterfront. As you amble along those charming streets, it won't be hard to imagine what life was like in the 18th century. Just beyond the Old Town is Schloss Köpenick, which is a palace turned decorative arts museum.
Spend the Day at the Berlin Zoo

Opened in 1844, the Berlin Zoo is the oldest zoo in Germany and one of the best known in the world. It also boasts more animal species than any other zoo in the world! But as lame as it sounds, my favorite exhibit were the chickens — there were just so many varieties! The petting zoo was also quite cute, and we always have a fun time feeding the goats.
The only drawback of visiting the zoo is that you're not allowed to exit and reenter if you want to buy lunch elsewhere. The food at the zoo isn't good and it's incredibly expensive, so take that into account when planning your visit. I also recommend arriving early to beat the worst of the crowds.
Enjoy a Day at the Lake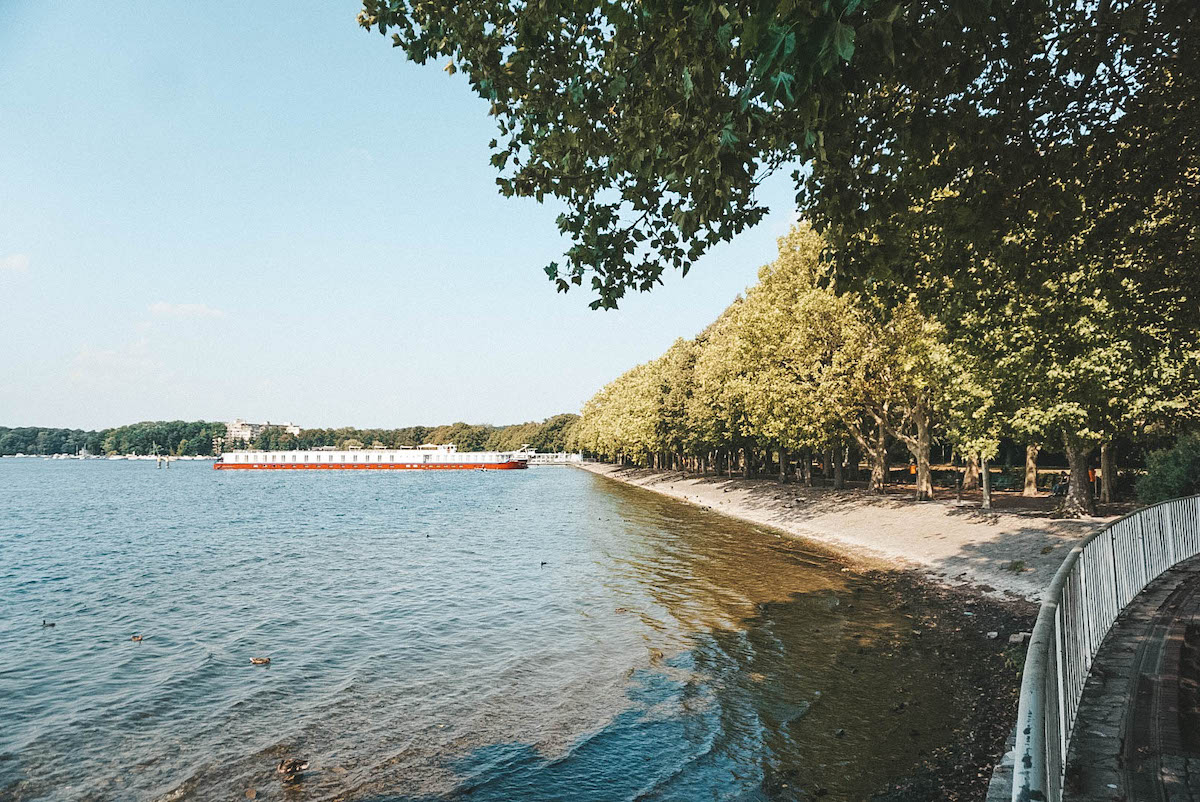 One of the things that surprised my the most when I moved to Berlin is the sheer number of lakes there are here. Berlin and the surrounding region of Brandenburg are known as the "land of 3,000 lakes." Needless to say, you have plenty of great options for a swimming day.
Some of the more popular lakes are Weißensee, Tegelersee, Krumme Lanke, and Schlachtensee. Do your research beforehand to find a lake that fits your needs and that's easy to get to. Keep in mind that you'll likely see nude sunbathers wherever you go! And you'll also want to bring your own drinks and snacks.
Read Up at Museum Island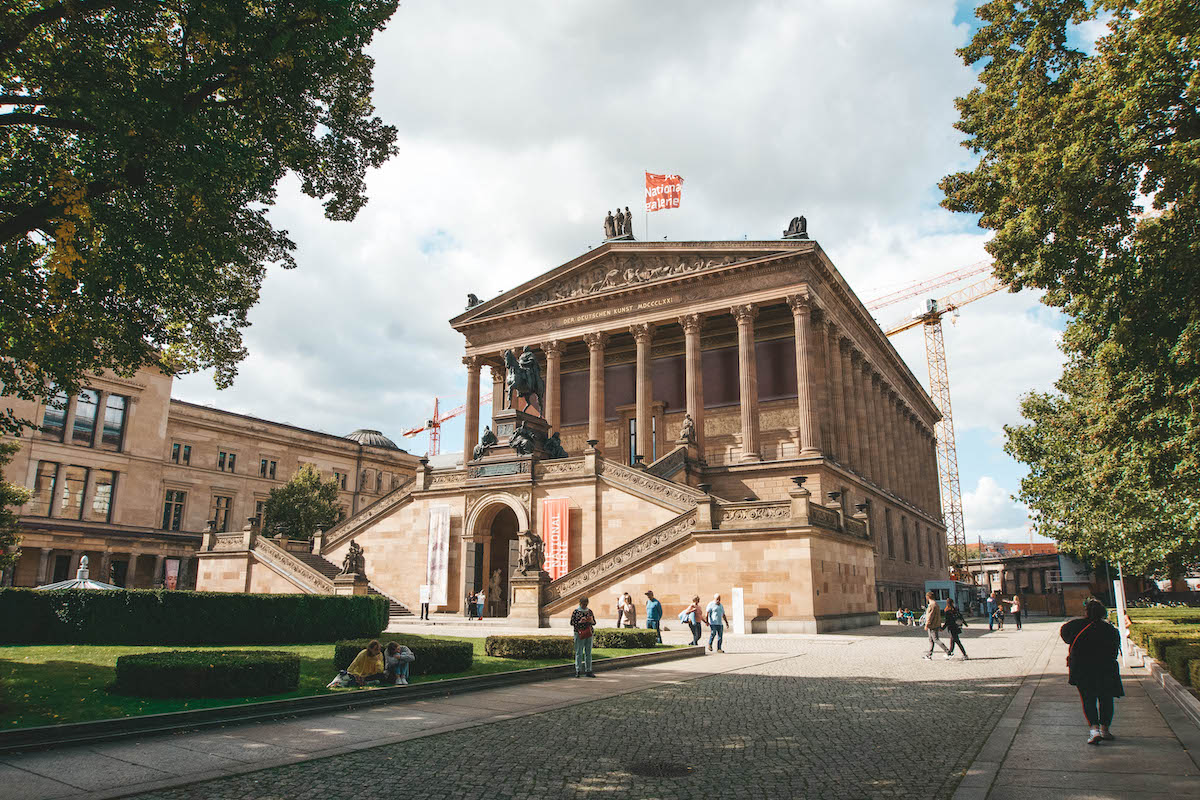 Museum Island is a UNESCO World Heritage Site that's made up of five world-class museums. The first museum built was the Altes Museum (Old Museum) in 1830. It was created to showcase historic pieces of art to the public. Over the next 100 years, the final four museums were built and the area was dubbed "Museum Island." Most of the museums were all but destroyed during WWII, so the buildings seen today are fairly new, all things considered.
Museum Island is a great summer activity to have tucked up your sleeve for rainy days. Summer weather in Berlin can be fairly unpredictable, so it's good to have some indoor activities planned.
Rent a Boat for a Day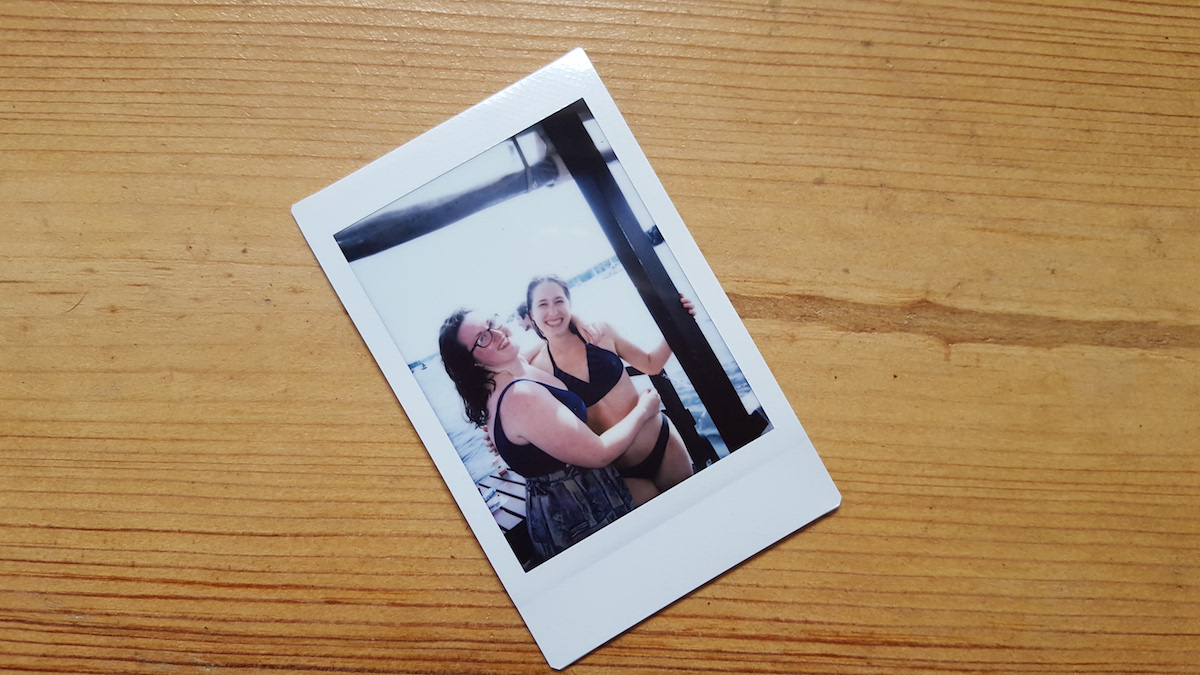 Although I love escaping to one of Berlin's many lakes on a hot day, I don't love how crowded the banks can get. My solution? Rent a boat with friends!
Boat rentals typically fill up early in the season, so be sure to book your day on the water well in advance. Some boat rental places have add-ons like coolers, bags of ice, and even snacks — to save money, bring your own! For a fun (and safe) day on the water, bring lots of water, snacks, and sunscreen. You'll also want to have a "designated driver" who doesn't plan on imbibing to steer the boat back to the marina at the end of the day.
Tip: For the best experience on the water, I recommend renting a boat from a marina on the outskirts of the city. Yes, it will take longer to get there via car or public transportation, but you'll have more peace and quiet this way.
Go Hiking in the Grunewald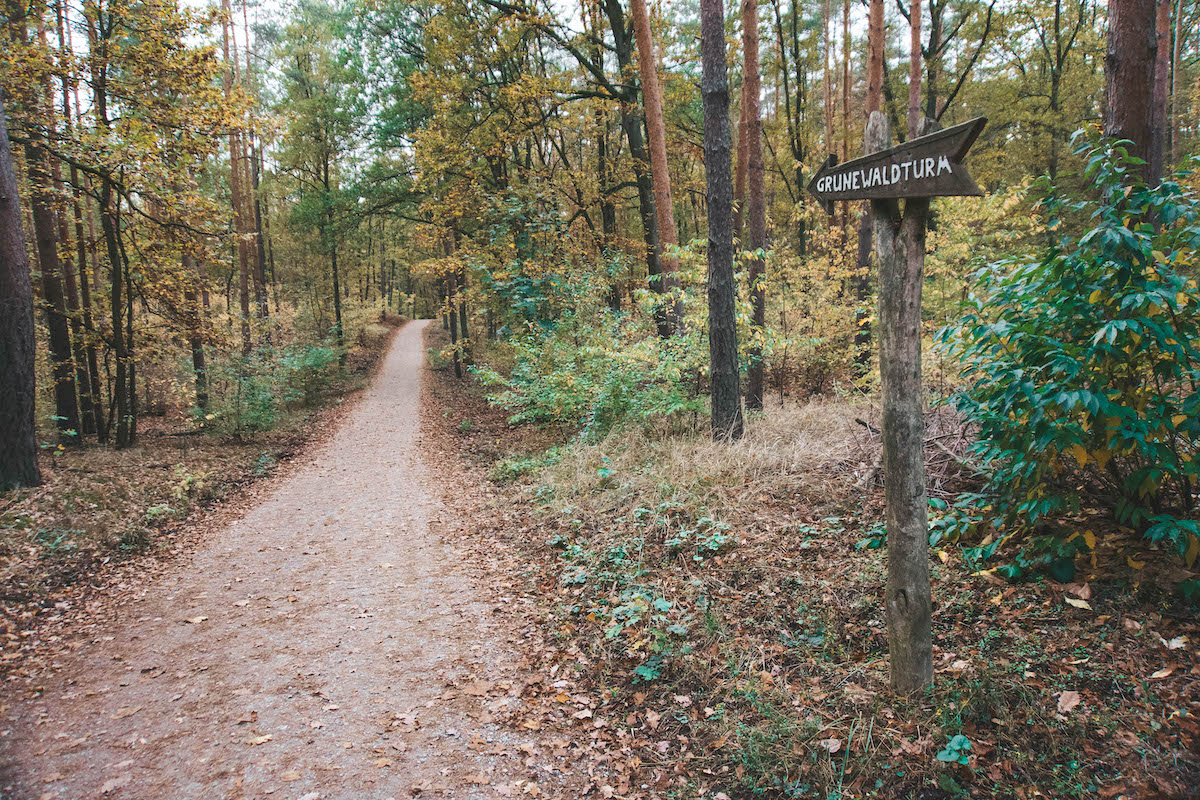 There are so many places to go hiking in and around Berlin, but I'm most familiar with the Grunewald and I love it there! There are so many cool spots to discover in the forest. Perhaps the best known is Teufelsberg, which is a hill topped by a Cold War-era listening station (it's no longer in use, thankfully).
There are also a few small lakes in the forest, and during the warmer months you may also run across sheep grazing in the meadow — one of the main reasons your dog should stay on the leash while you're exploring! You don't need proper hiking boots to visit the Grunewald, sturdy tennis shoes will do. Just be sure to pack water and some snacks in case you get hungry.
Eat Your Heart Out at Thai Park
One of my favorite discoveries last summer in Berlin was Thai Park. Every weekend between April and October, a gathering of Thai people set up tables in Preußenpark to sell their food. The food is typically prepped in advance and warmed up using hot plates, but everything I've tried here has been amazing. There's so much food to pick from, including plenty of vegetarian options.
You can come for a full meal, or just a quick drink or dessert. Bring cash with you as cards aren't accepted here. You may want to bring a picnic blanket as well since the park gets quite dusty in the summer.
Pay Your Respects at the Sachsenhausen Concentration Camp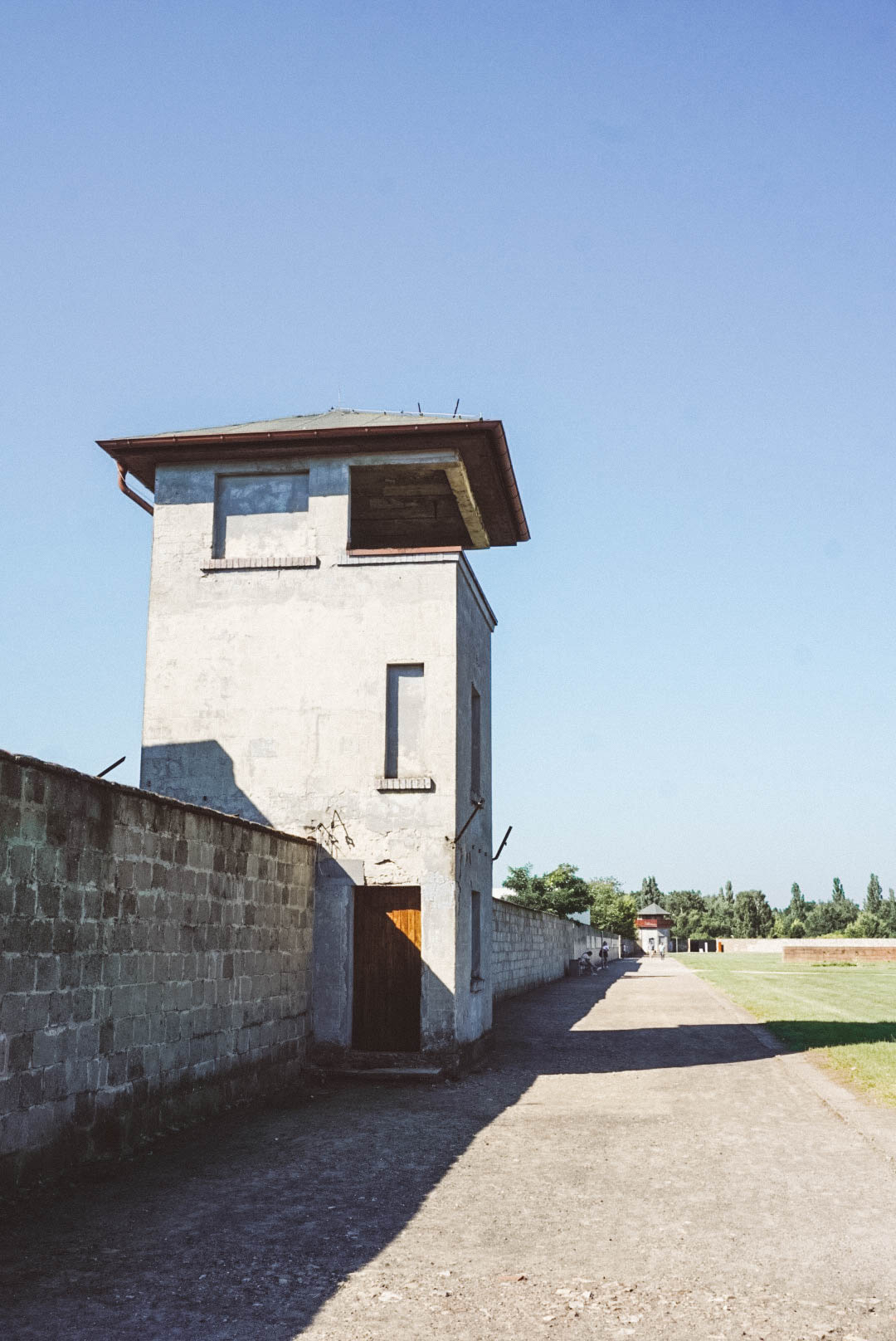 Sachsenhausen Concentration Camp is located on the outskirts of Berlin. It was conceived as the "ideal concentration camp" and played a central role in Hitler's Third Reich. It's estimated that more than 200,000 people were imprisoned here between 1936 and 1945.
Entrance to the exhibits and memorial at Sachsenhausen is free, but you'll have to pay for an audio guide (which I highly recommend getting). The exhibits at the former camp site detail the history of Sachsenhausen and the historic prison building has been almost wholly preserved and is open to visitors.
This is one of the best things to do in Berlin in the summer as you'll be exposed to the elements for the majority of your visit. That being said, you'll want to pack water and a few snacks when you visit. Just don't eat or drink anything inside the buildings!
Rest Your Feet at a Beer Garden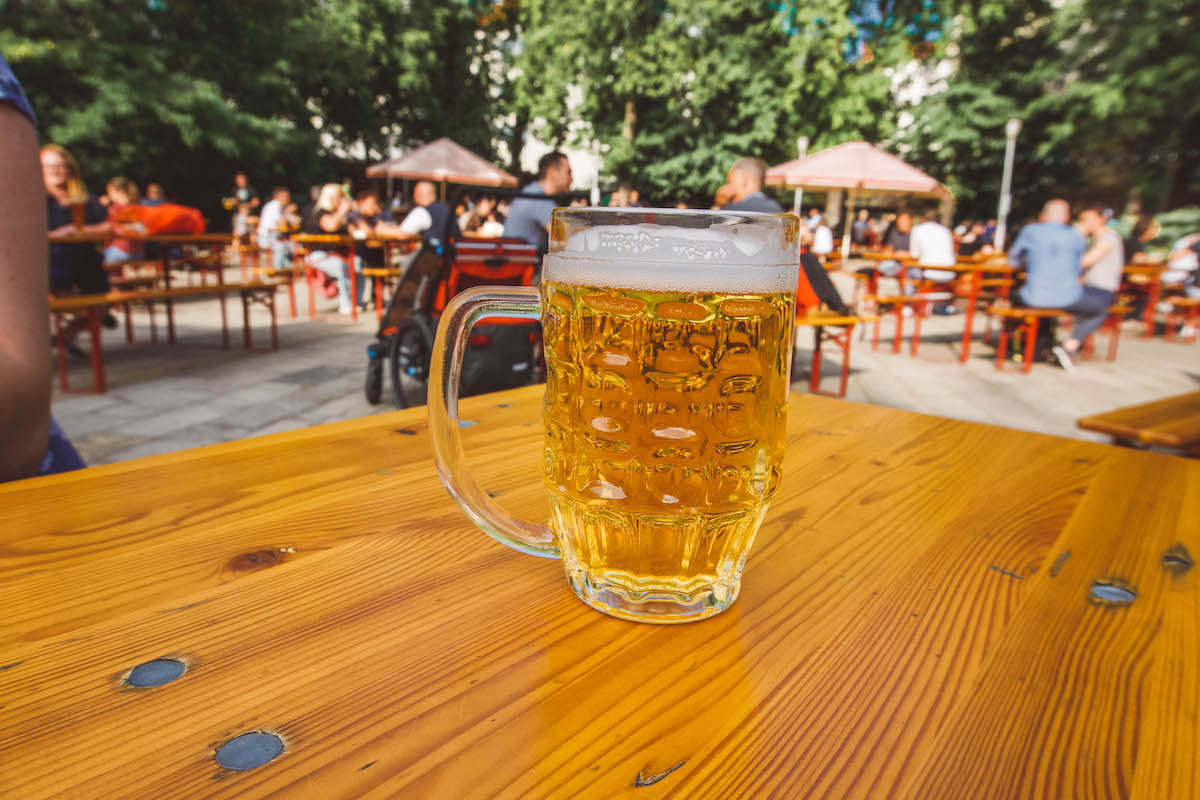 Even though I don't drink beer, I actually love visiting Berlin's beer gardens in the summer. The beer gardens here are super relaxed, and people of all ages come together to enjoy drinks and catch up with friends and family.
I typically order an Apfelschorle (carbonated apple juice) or a Radler (a lemonade-beer mixture), but if you drink alcohol there are plenty of beers on tap to choose from. Again, bring cash since many beer gardens are cash-only.
Tip: Youmay have to pay a deposit (called a Pfand) when you order your first beer. Once you return your empty glass, the money will be given back to you — they just don't want you wandering off with their glasses!
Window Shop Along the Ku'Damm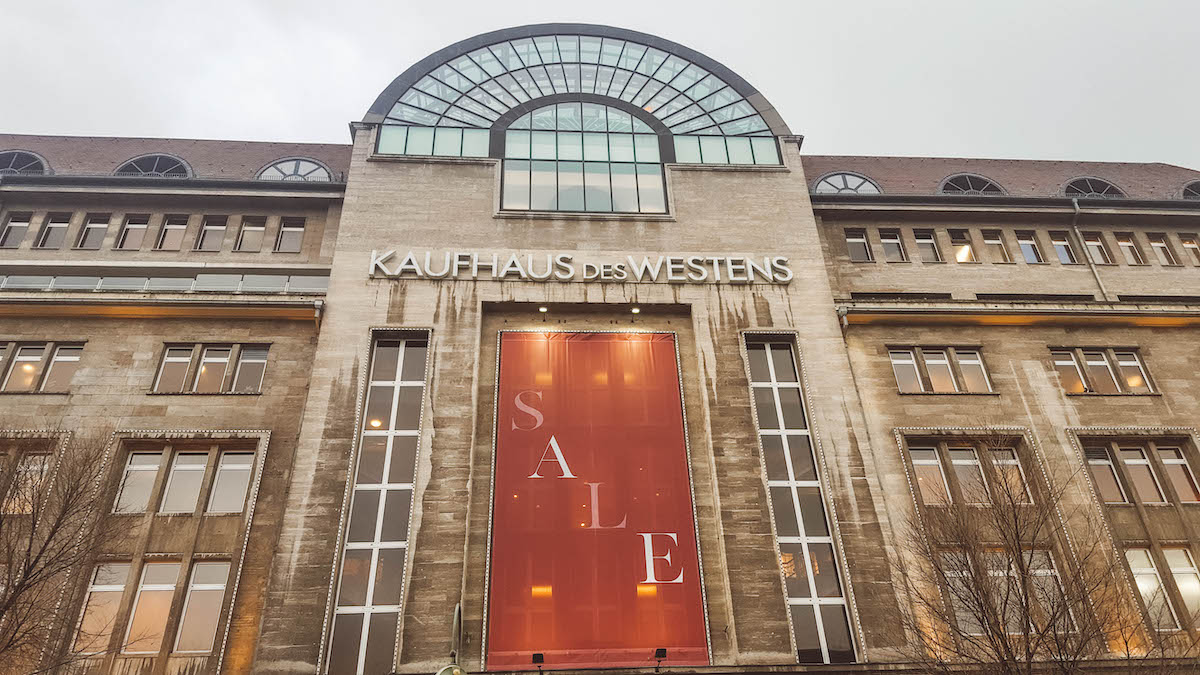 Short for Kurfürstendamm, the Ku'damm is a well-known shopping street in West Berlin that's jam-packed with shops and eateries. This is a great place to spend a summer afternoon window shopping!
While you're strolling along the Ku'damm, be sure to pop into the iconic KaDeWe (Kaufhaus des Westens). It's a well-known department store that was founded in the early 1900's. It's the second largest department store, after Harrods in London!
Tip: The Zoogilogisher Garten (Zoo) and Tiergarten Park are located off the eastern end of the Ku'Damm. Consider combining these Berlin summer activities for a full day's outing.
Treat Yourself to an Ice Cream Cone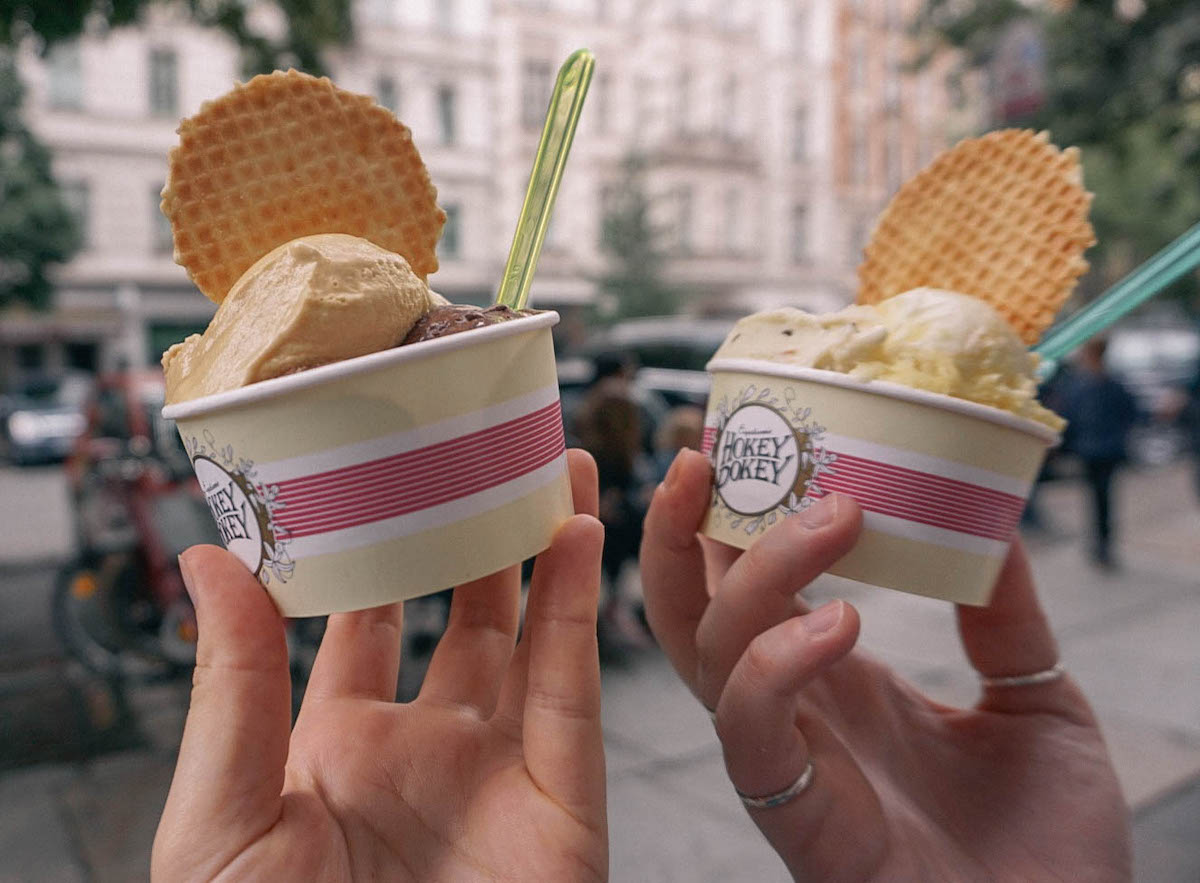 Did you really experience summer in Berlin if you didn't treat yourself to Eis at least once? Ice cream stores in Berlin pretty much close up shop as soon as cooler temperatures set in, so it's truly a treat to be able to buy ice cream in the summer! Some of my all-time favorite ice cream shops in Berlin include: Vanille & Marille, Lecko Mio, and Hokey Pokey.
For a more decadent ice cream experience, order Spaghettieis. It's vanilla ice cream that's been piped over a bed of whipped cream to look like spaghetti noodles, then topped with strawberry syrup and white chocolate shavings. A good ice cream shop will make it look hyper realistic!
Watch a Movie at an Open-Air Cinema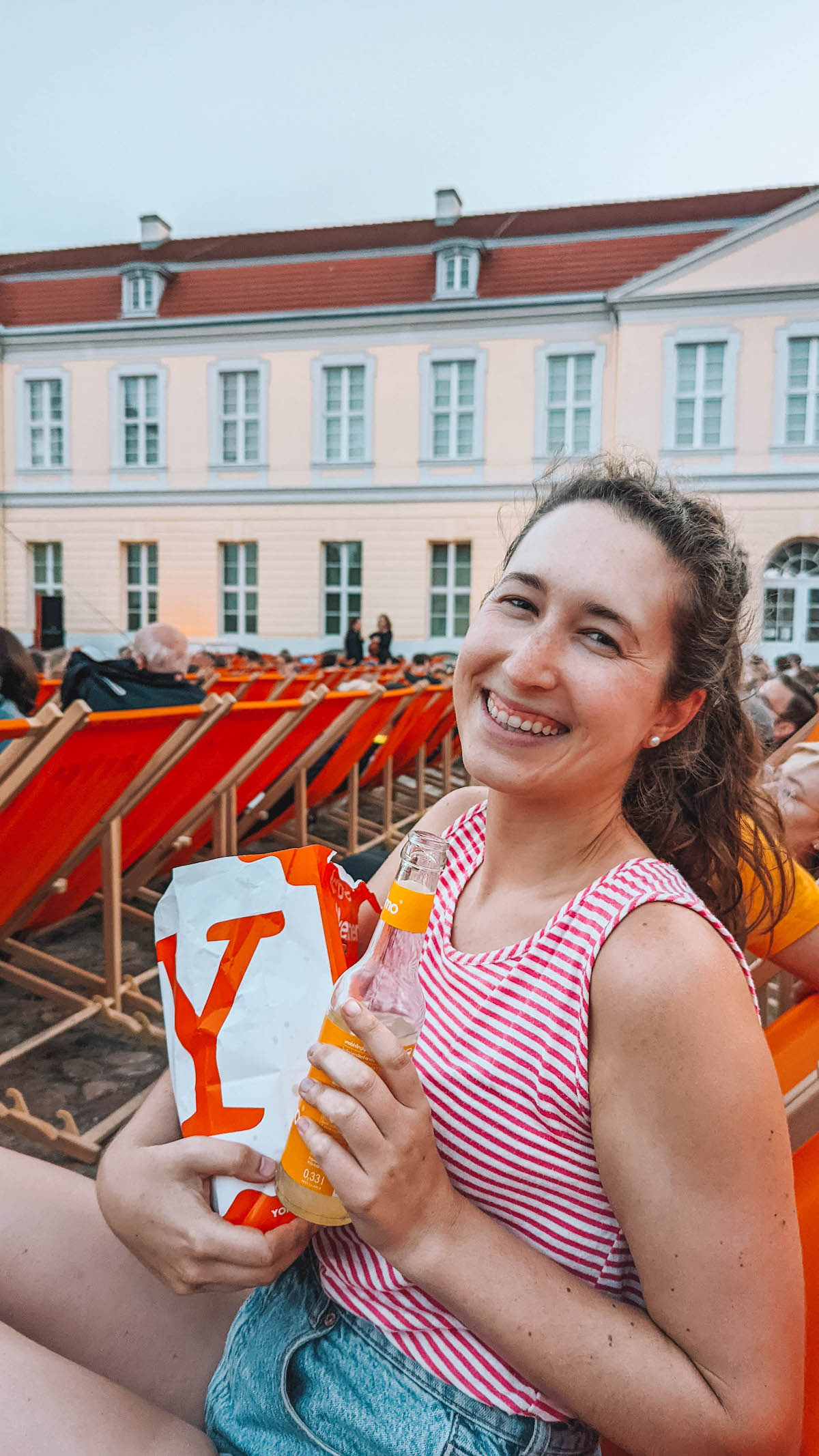 Open-air cinemas (called Freiluftkinos in German) are incredibly popular during the summer. There are tons of open-air cinemas scattered around the city, but two of the best are in Friedrichshain and Wedding. Last summer, I went to an open-air cinema in the heart of the city that was sandwiched in an alleyway between two buildings. A little odd, but definitely memorable!
When planning a visit to an open-air cinema, check their program online to see what movies they're showing soon. Plan to arrive at least 20 minutes early to ensure you have a seat (you may want to arrive a little earlier than that if you're going over the weekend). Bring bug spray and a sweatshirt, just to be safe.
Visit the "Gardens of the World"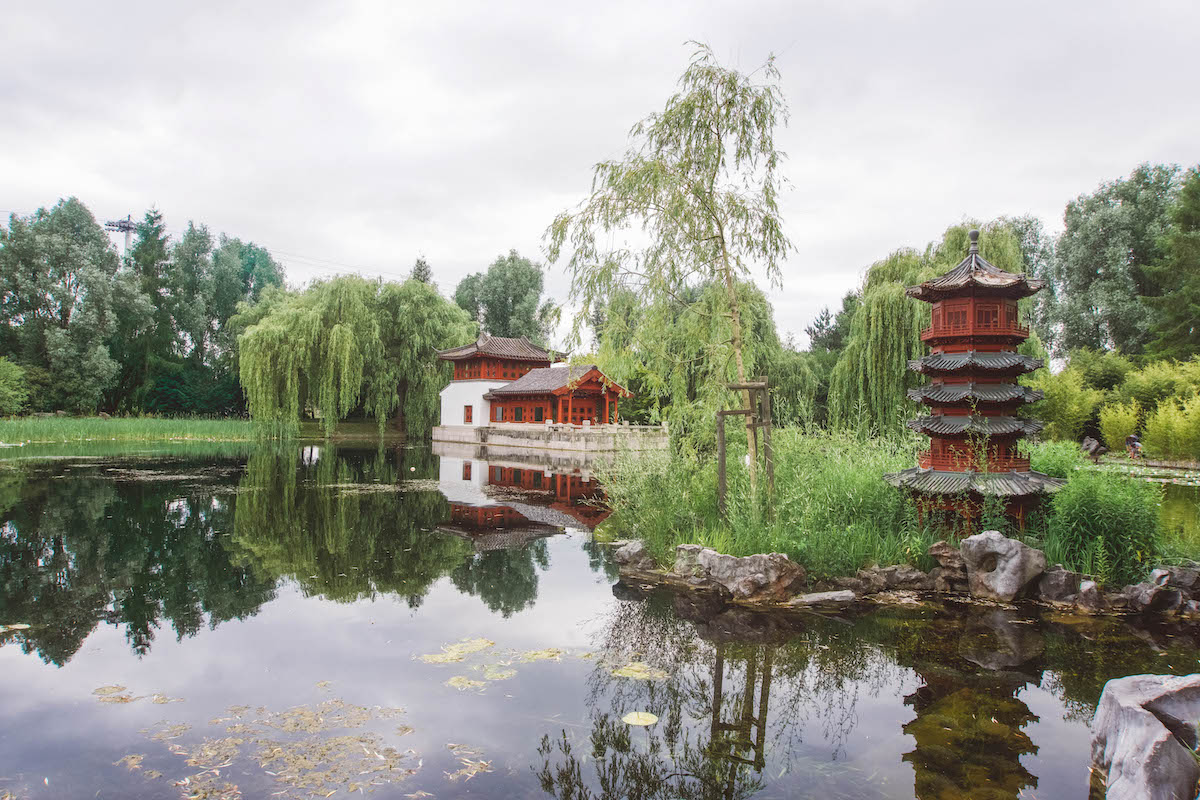 One of my favorite summer activities in Berlin is a trip to Gärten der Welt, or "Gardens of the World." Gardens of the World is located in east Berlin and is home to 10 international garden designs, including the largest Chinese garden in Germany. You can easily spend an entire day at the Gardens of the World, and I recommend bringing picnic supplies with you so you can lay out on the grass and enjoy the sunshine. To make the most of your visit, arrive in the morning so you can see most of the gardens before it really heats up.
Tip: The rose garden at Gärten der Welt is my all-time favorite in Berlin and I try to visit every year during the summer!
Indulge in Kaffee und Kuchen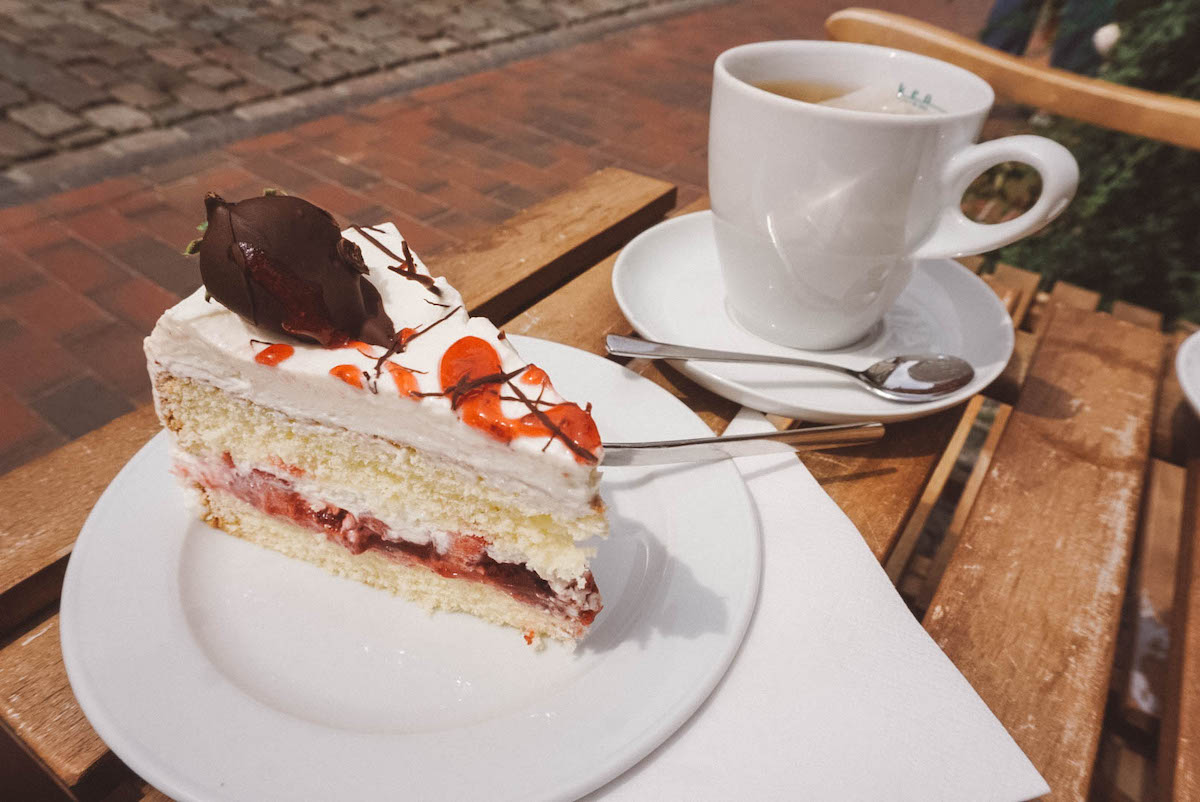 Come summertime, I love indulging in Kaffee und Kuchen on the weekends. The phrase "Kaffee und Kuchen" translates to "Coffee and Cake." Sundays are especially popular Kaffee und Kuchen days; whole cafes will be filled with locals catching up with friends or reading the daily paper over a generous slice of cake and a cup of (iced) coffee.
This is a great summer activity in Berlin as most cafes have outdoor dining. If you want to enjoy the fresh air but aren't up for a hike or a walk through the park, plop down at a cafe instead!
Pick a Neighborhood and Explore!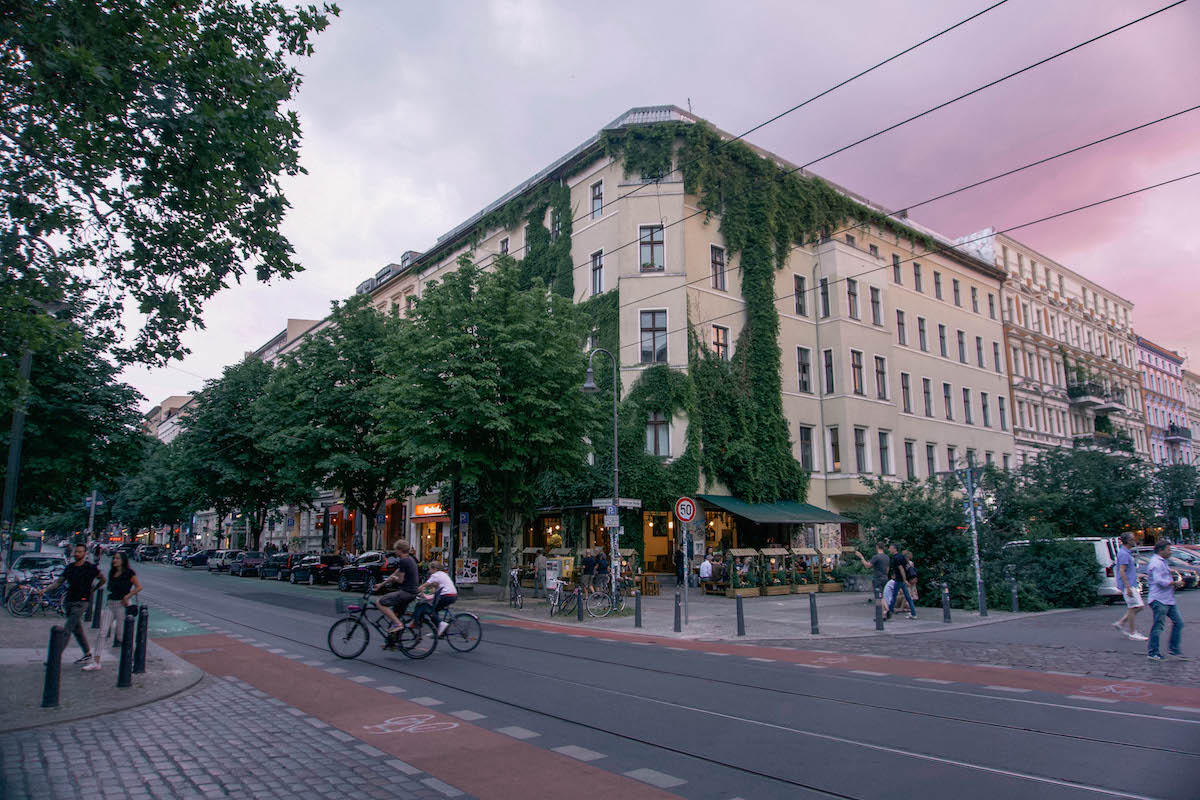 One of the best ways to experience Berlin is on foot. If a walking tour doesn't tickle your fancy, simply pick a neighborhood and explore from there. A few of my favorite neighborhoods in Berlin are:
Prenzlauer Berg — One of Berlin's prettier neighborhoods, with lots of local boutiques and cafes.
Mitte — Many of the main things to do in Berlin are located in Mitte, so be sure to explore a bit while you're in the area.
Tegel — Tegel is a sleepier neighborhood on the north side of the city, but it's one of my favorite places to visit in the summer. Tegel's old town area is so stinking cute, and I love walking around the lake when it's sunny.
Charlottenburg — Charlottenburg is best known for the stunning Charlottenburg Palace (also mentioned in this post). Besides visiting the palace, you can also do some serious shopping in Charlottenburg.
Take a Day Trip to Potsdam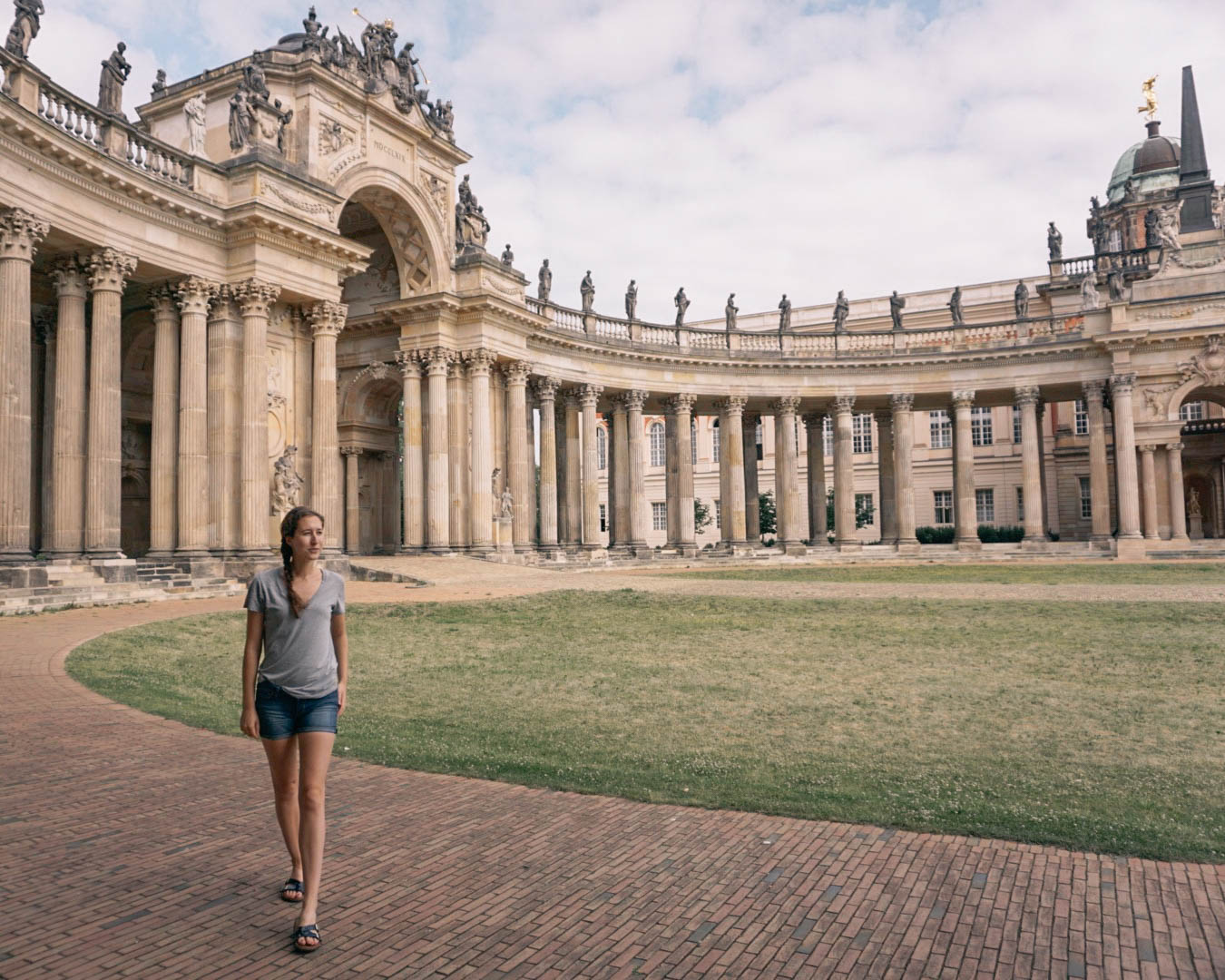 This last Berlin summer activity isn't actually located in Berlin, but I wanted to mention it since I love Potsdam so much. Potsdam is just 30 minutes away from Berlin via train and it has a little bit of everything to offer: lots of shopping, good food, and a castle complex called Sanssouci Park (my personal favorite thing to do in Potsdam!).
Plan on spending the entire day in Potsdam if you want to explore Sanssouci Park; it's absolutely massive, and there are almost a dozen castles and outlying buildings to visit while you're there. Note that you'll need to sign up for a time slot to visit the two most popular palaces, Sanssouci Palace and the Neues Palais.
Bonus: Free Things to Do in Berlin in the Summer!
Looking for even more things to do in Berlin this summer? In my experience, the best things to do are FREE! I have an entire guide on free things to do in Berlin, so check that out if you're traveling on a budget or simply want suggestions on what else to do in Germany's capital city.
Not all of the activities in that post are summer specific, but many are great no matter the season.
If you found this post on Berlin summer activities useful or have questions, drop me a comment below. And don't forget to follow me on Instagram to keep up with my adventures in Berlin and beyond!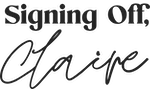 Even More Things to Do in Berlin: