Even though I lived in NYC for 3 years, I still found Berlin's public transport confusing when I moved here. Here's what you should know about getting around Berlin.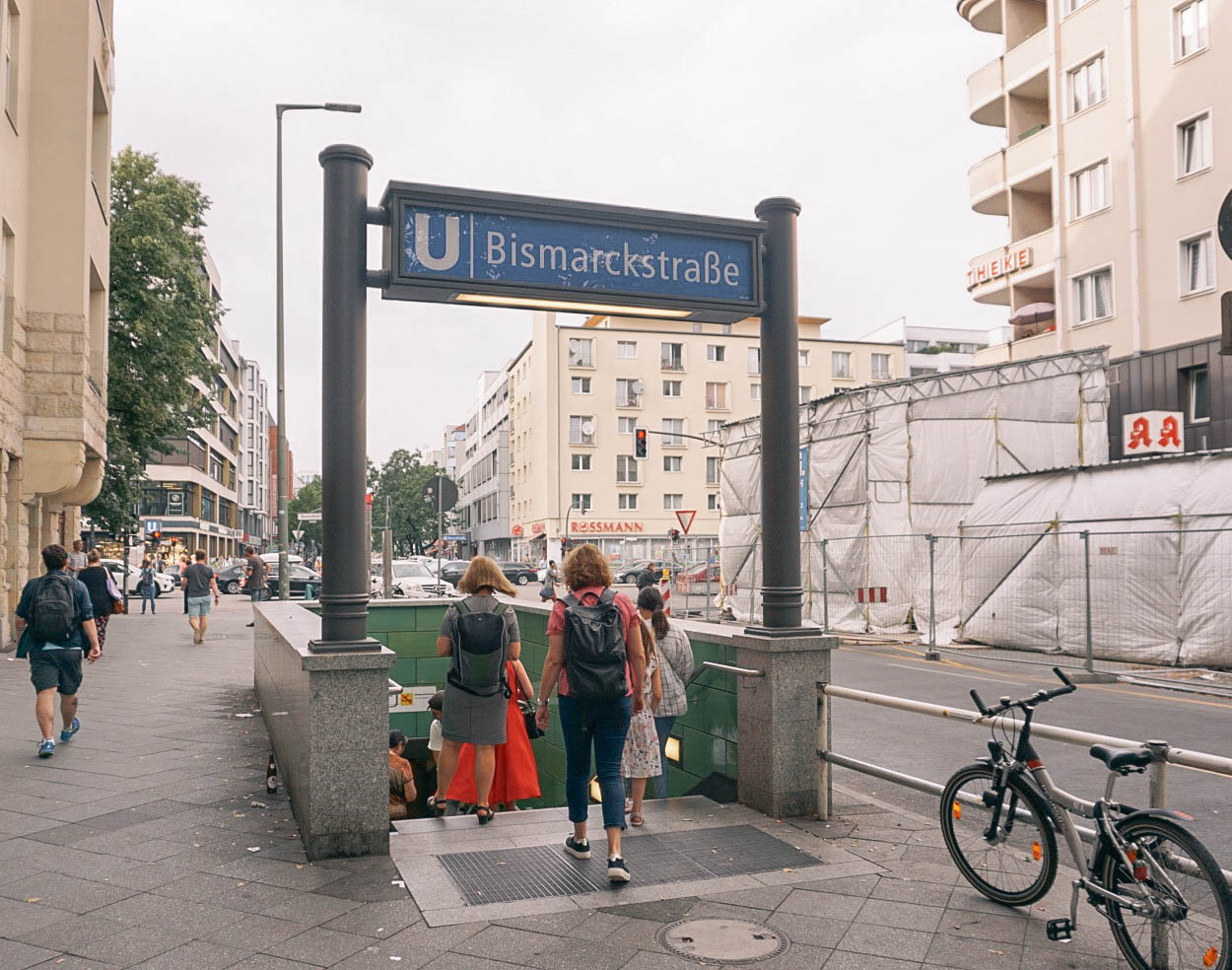 Having lived in New York City for three years, I didn't expect the Berlin public transport system to confuse me as much as it did. After navigating the Big Apple by myself, I figured I could handle whatever transportation Berlin had to offer. As it turns out, there are quite a few differences in the way public transportation works in Germany. I spent my first month in Berlin hopping on trains going in the wrong direction, buying the wrong type of tickets, and generally getting myself incredibly turned around when trying to meet friends for coffee in neighborhoods I thought I knew how to get to.
I know writing about Berlin's public transport isn't the sexiest of travel topics, but the friends who have come out to visit me since my big move have all been equally confused about how the subway system here works. After spending so much time writing down instructions for my friends on how to get from Point A to Point B within Berlin both safely and legally, I thought it was time I finally wrote a blog post about it. Because yes, Berlin's public transport is a smidge confusing at first and there are extra steps you must take in Germany when riding public transport that you don't have to do in the US.  
Types of Public Transport in Berlin
Before jumping into the logistics of buying tickets, I wanted to give you a quick run down of the types of public transport in Berlin. Depending on where you'll be staying in Berlin, you may wind up using all of Berlin's types of public transport during your visit. Lucky you! 
U-Bahn
The U-Bahn was the least confusing form of public transportation for me when I first moved to Berlin. It's similar to the NYC subway lines and runs almost exclusively underground. In my experience, the U-Bahn is one of the slower forms of public transport in Berlin because it runs locally (i.e. it makes more stops throughout the city). But because the U-Bahn makes more local stops, you rarely have to transfer from the U-Bahn to another form of public transportation. At most, you'll have to transfer to another U-Bahn line during your journey but that's easily done.
Note that U-Bahn lines are labeled as "U2," "U4," and so forth. U-Bahn stations are marked by a large U or are labeled as "U-Bhf [Station Name]." 
S-Bahn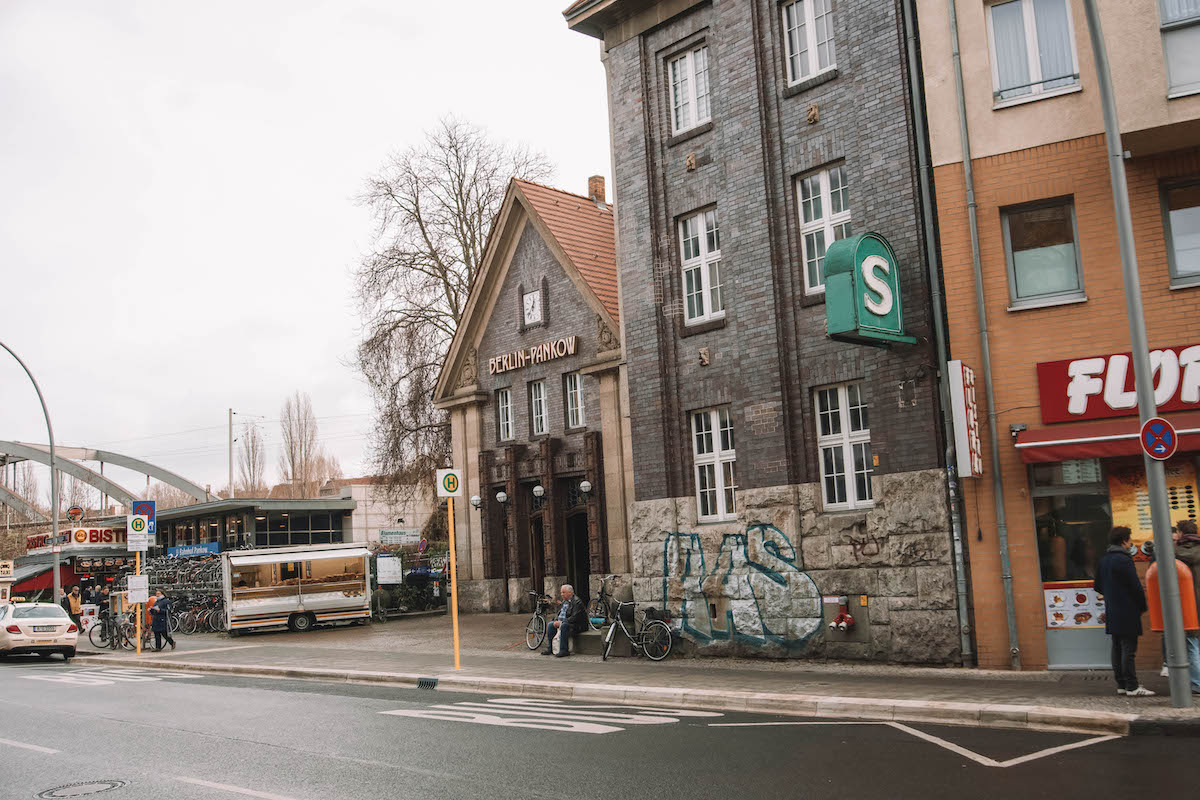 The S-Bahn runs primarily aboveground and is a quicker way to get around Berlin. One of the most useful S-Bahn lines is the Ringbahn, which is the line that circles the entire city (The S41 travels clockwise and the S42 travels counterclockwise). The only downside to the S-Bahn is that trains typically come every 10 minutes, whereas the U-Bahn comes more frequently.
Note that S-Bahn lines are labeled "S41," "S42," "S1," and so forth. S-Bahn stations are marked by a large green and white "S." S-Bahn stations and U-Bahn stations sometimes overlap, so it's possible to transfer from one form of public transport to the other.
Tram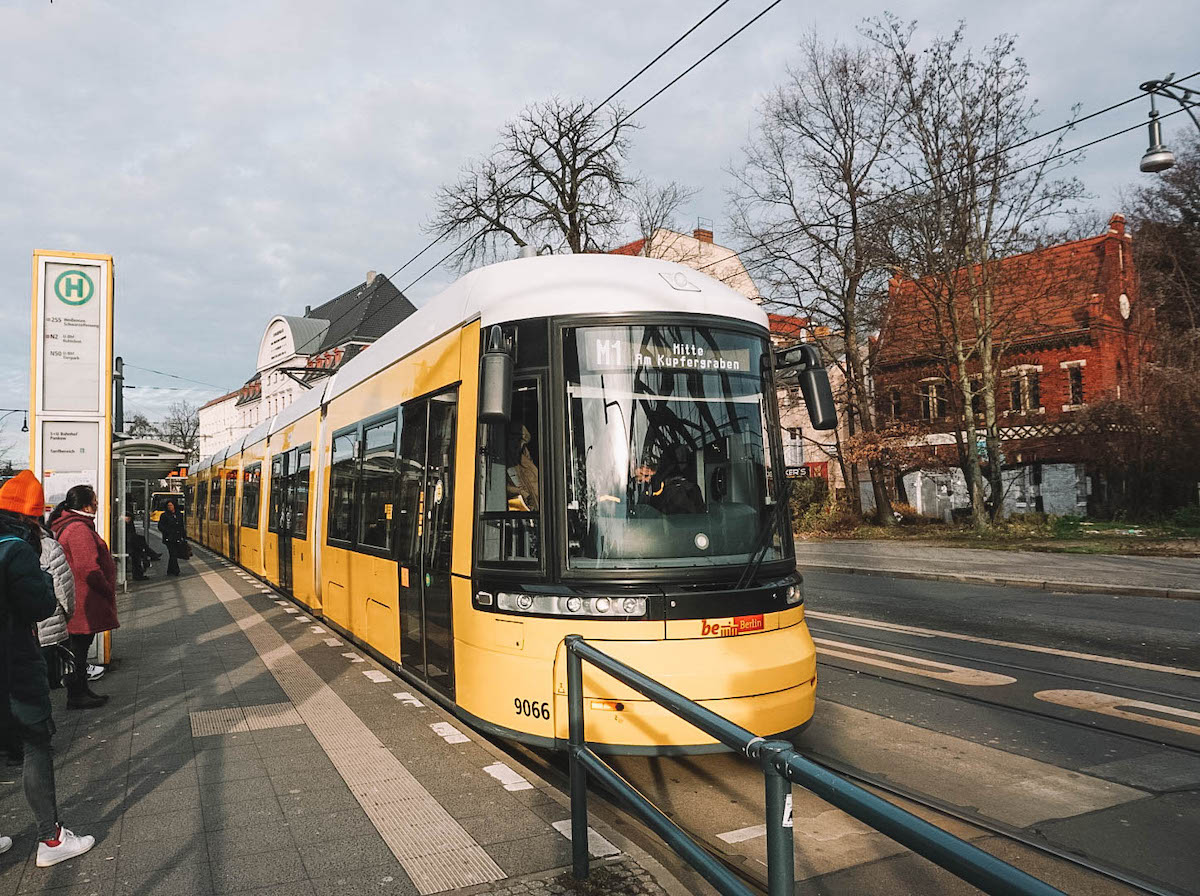 Berlin's trams are yellow streetcars that travel on the road on a special set of tracks. The tram system extends throughout the east side of the city and tram stops are easy to locate. You can buy tram tickets beforehand from ticket machines, or you can purchase tickets on the tram itself. However, you can only purchase tickets on the tram with cash and the machines often only accept small change.
Note that tram lines are labeled as "M1," "M2," and so on. 
Bus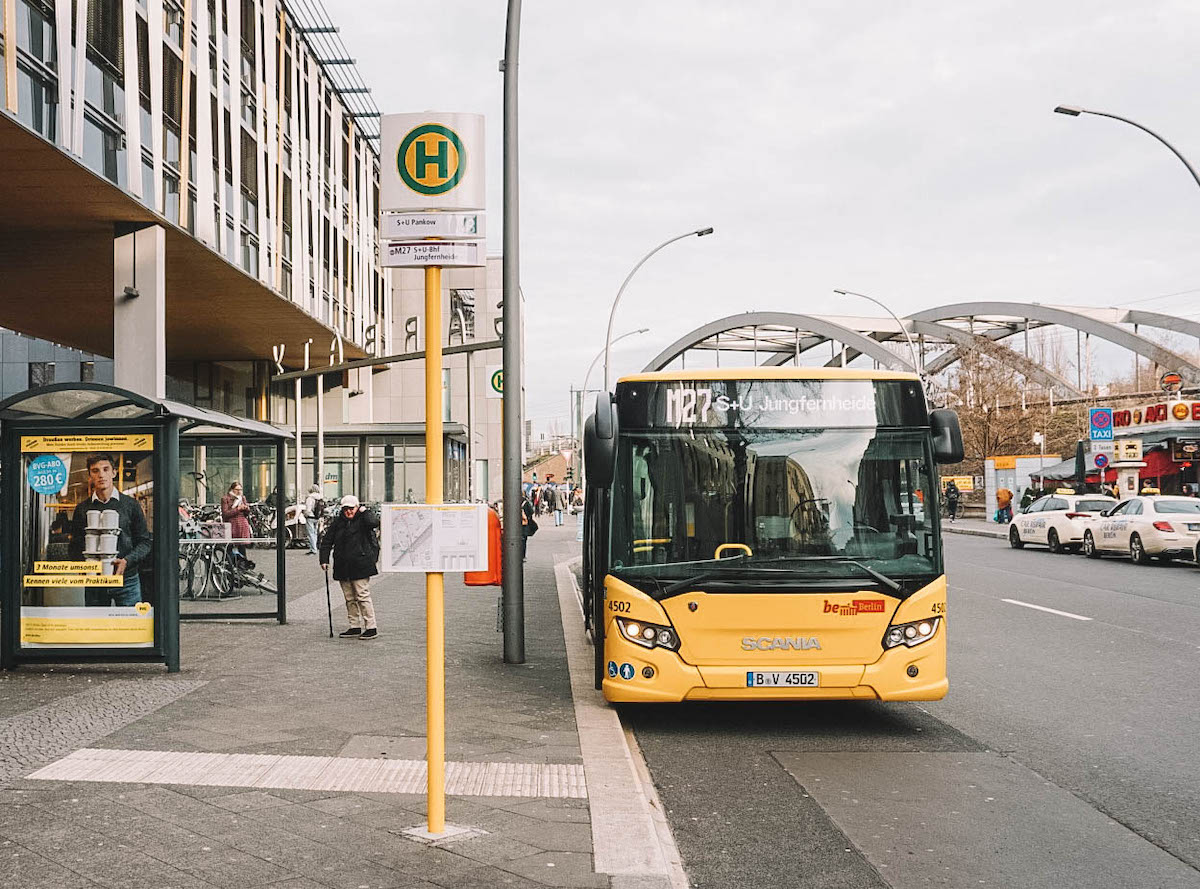 I don't use Berlin's bus system very much since I live on the east side of the city (busses are most prevalent in the west). But I find the bus system fairly easy to navigate nonetheless. Busses stop frequently and often fall behind schedule due to traffic. Most bus stops have electronic signs that list the expected arrival of the next bus, so if your bus is running late you'll at least be notified about it. You can't buy tickets at bus stops; you have to purchase tickets at an S-Bahn or U-Bahn station or give the bus driver exact change when you board the bus.
Note that bus lines have a variety of labels. Personally, I don't think knowing all the different bus labels matters, but you should at least know that bus lines marked with an "X," (i.e. "X9") run express. If you think you'll be traveling via bus in Berlin, I recommend confirming your route with Google Maps just to be sure you're hopping on the right bus. I think it's easier to navigate the S- and U-Bahns with the maps in the stations, but the bus maps are tricky to decipher.
Berlin's Public Transport Fare Zones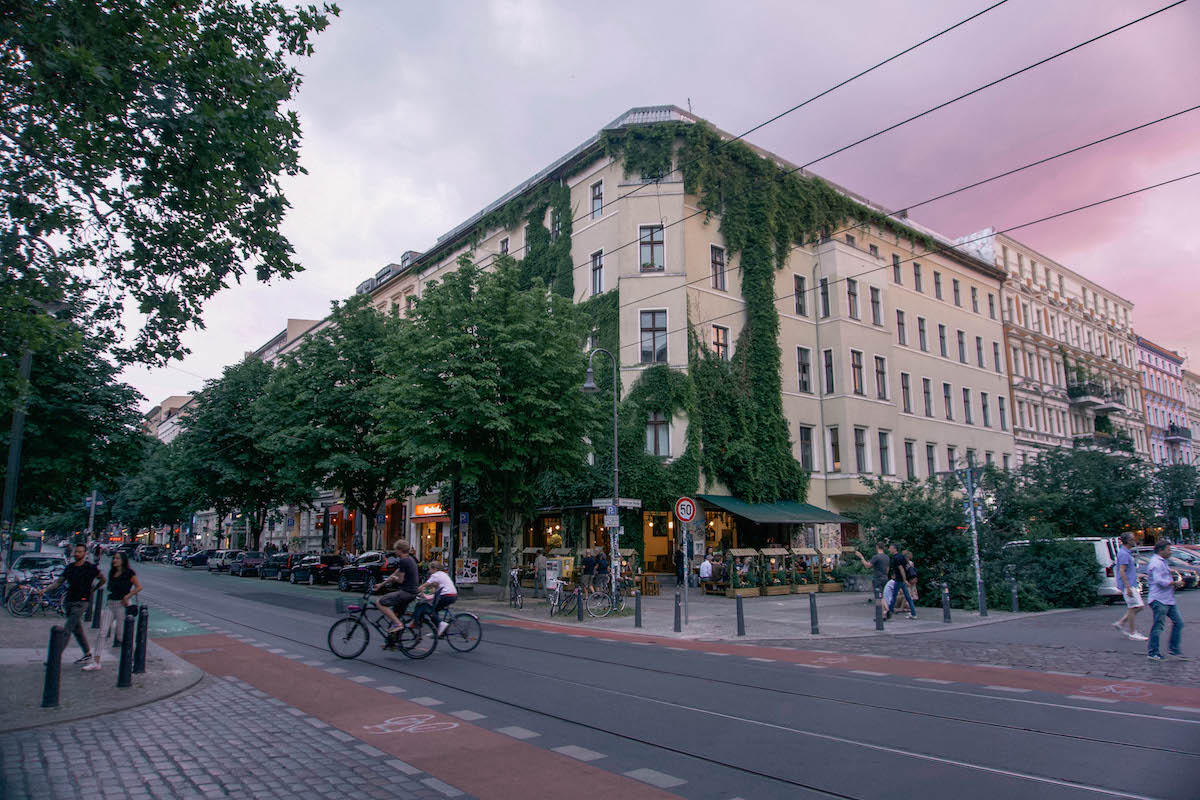 There are three fare zones in Berlin: A, B, and C. Most of Berlin's main attractions are within zone A, so you'll likely be fine purchasing an AB zone ticket during your stay. If you'll be traveling to Schönefeld Airport or Potsdam, you'll need a ABC zone ticket.
Ticket prices for Berlin's fare zones are:
One-way ticket for zone AB: 2.90 Euros
One-way ticket for zone ABC: 3.60 Euros
Day ticket for zone AB: 8.60 Euros
Day ticket for zone ABC: 9.60 Euros
You can find more details on Berlin's fare zones on Berlin's official website.
Buying Your Tickets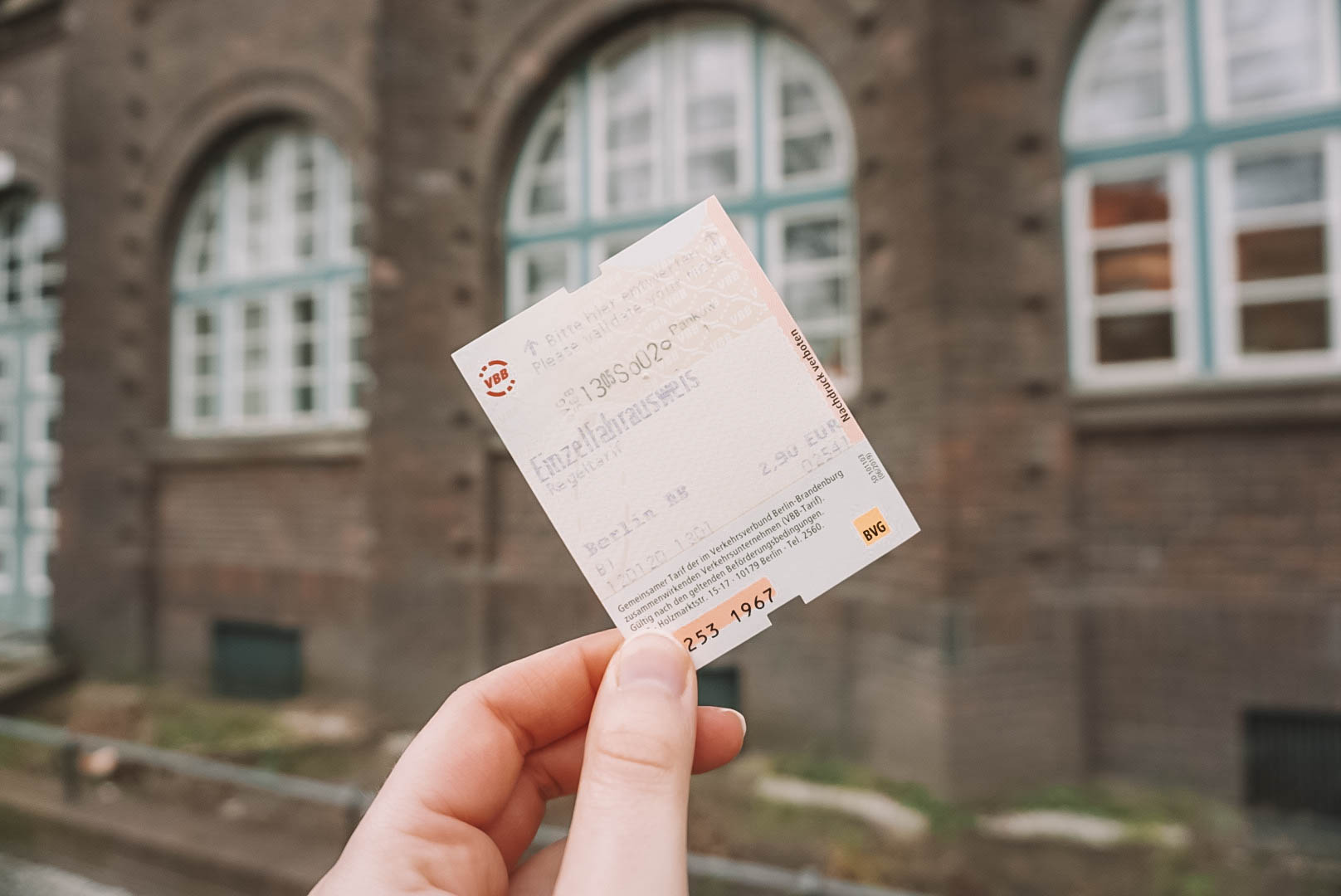 I'm not going to walk you through the step-by-step info on how to use the ticket machines because I know you're all smart enough to tackle that on your own. You can change the language on the ticket machine to your native tongue, and once that's done the machines are easy to use. I do want to go over a few key tips for using the ticket machines and what to do with your tickets once you've purchased them, though: 
Know which zone you'll be traveling through — When a long line forms at a ticket machine, it's usually because a visitor is hemming and hawing over what type of ticket they need to buy. Before jumping in line to buy your tickets, plan your route using one of the public transport maps in the U- or S-Bahn station you're in (the maps are typically pasted on the side of the ticket machine or are stuck in a display board in the middle of the platform). When in doubt, ask a local for help. Most Germans speak English and Berliners are actually so nice about giving directions to lost tourists.
VALIDATE YOUR TICKET! — Purchasing your ticket is only the first step. Once you've bought your ticket, you MUST validate it. To validate a ticket, you have to stick one end of it into a special machine; said machine stamps the date and location onto your ticket. If buying tickets in an S- or U-Bahn station, the validation machines will be located directly next to the ticket machine. Tram tickets can be validated on the tram, and bus tickets can be validated on the bus next to the driver.
No one will check that you've purchased tickets — The strangest thing about Berlin's public transport is that no one checks your ticket before you hop on. Instead, the city sends plainclothes officers onto the public transport to check that everyone on board has a ticket. Therefore, it's best to always buy a ticket before boarding the public transportation because you never know when you'll be asked to show your ticket.
And remember what I just said about always needing to validate your ticket? Well, if one of those plainclothes officers asks to see your ticket and you give them one that hasn't been validated, you'll be fined as if you hadn't bought a ticket. So buy a ticket, then validate it so you can rest easy.
Tickets can be used on all forms of public transportation — One last thing to note is that your ticket (whether you've purchased a one-way ticket, a day pass, a weekly pass, etc.) can be used on ALL forms of public transport within the fare zone you've purchased. This means you can transfer from the U-Bahn to the S-Bahn to the bus and so forth at your leisure.
You still with me? I hope this post didn't bore you too much! I know public transport isn't the most exciting topic in the world, but I wanted to get this blog post up for anyone who'll be traveling to Berlin. If you have any specific questions about using Berlin's public transport, leave me a comment down below. I didn't go into all the nitty gritty details because many aspects of the public transport in Berlin are intuitive, but I hope the main points I touched on above prove useful when planning your trip!
Tell me: Besides public transportation, what other logistic aspects of travel do you like to research before traveling to a new city?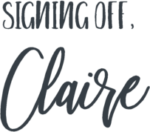 More posts you'll love:
Save this post to Pinterest!