Not sure what to do in Berlin this Sunday? The shops may be closed, but there's still brunch, flea markets, museums, and more to keep you entertained!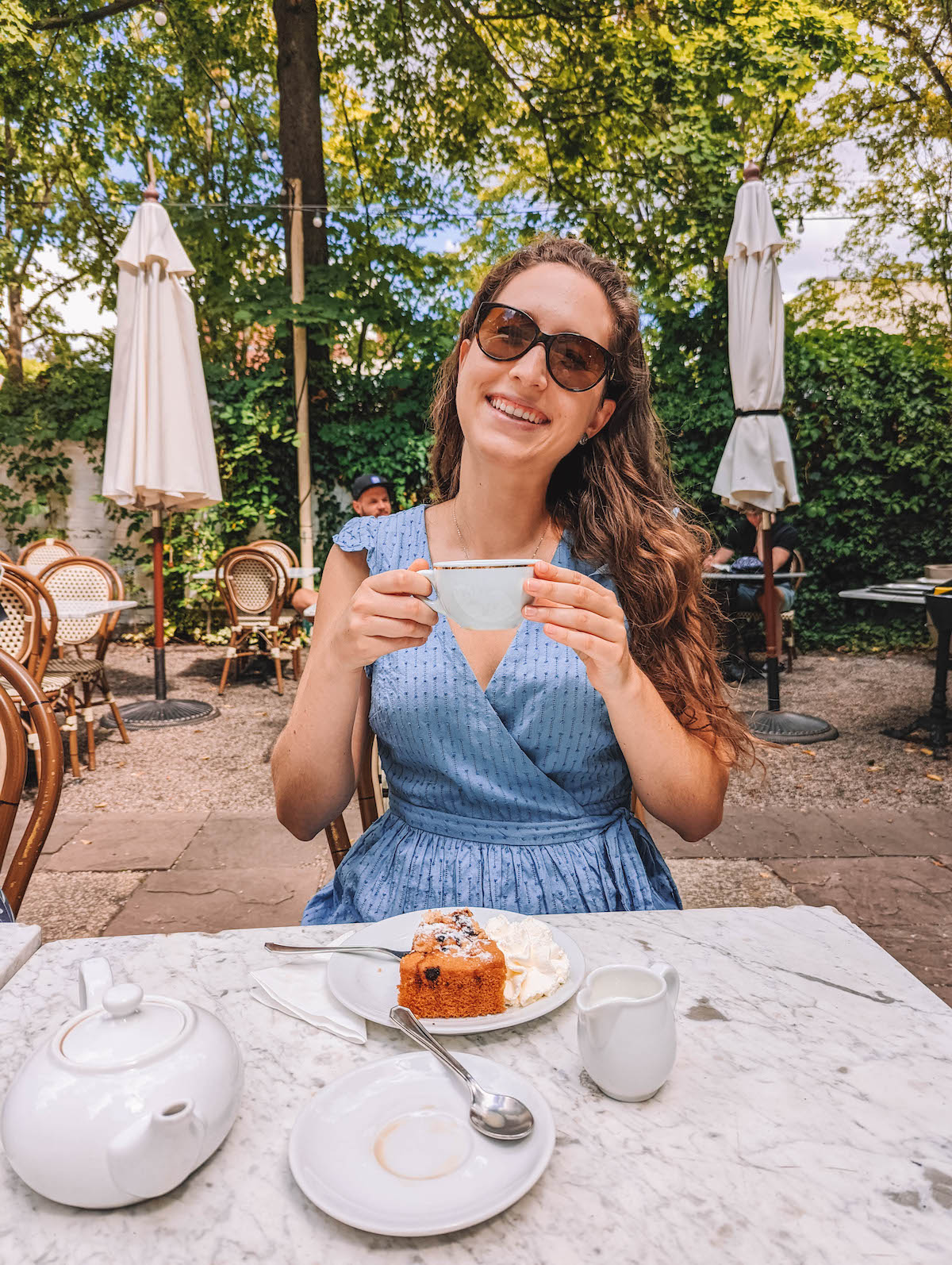 Navigating the differing hours of operation for shops, grocery stores, and main attractions in Berlin is confusing. I've lived here since 2019 and I still have to google which places are open on Sundays!
Because here's the thing: not everything closes down on Sundays in Berlin. Grocery stores and most retail shops are closed, yes. But museums, restaurants, and other tourist attractions remain open. (It's Mondays that are the problem!)
If you find yourself in Germany's capital city on a Sunday, there will be plenty to keep you busy! This list of Sunday activities in Berlin can be used no matter the season; some are indoor activities for the snowy or rainy days, and others are perfect for enjoying lazy summer Sundays.
Leave me a comment below if I've forgotten to mention your favorite thing to do in Berlin on a Sunday. I'm always on the hunt for new things to do and places to see!
Table of Contents
Click "show more" to see the entire table of contents for this post. You can then click any of the sections listed in the table of contents to hop around this blog post as desired.
1. Hit Up Some Flea Markets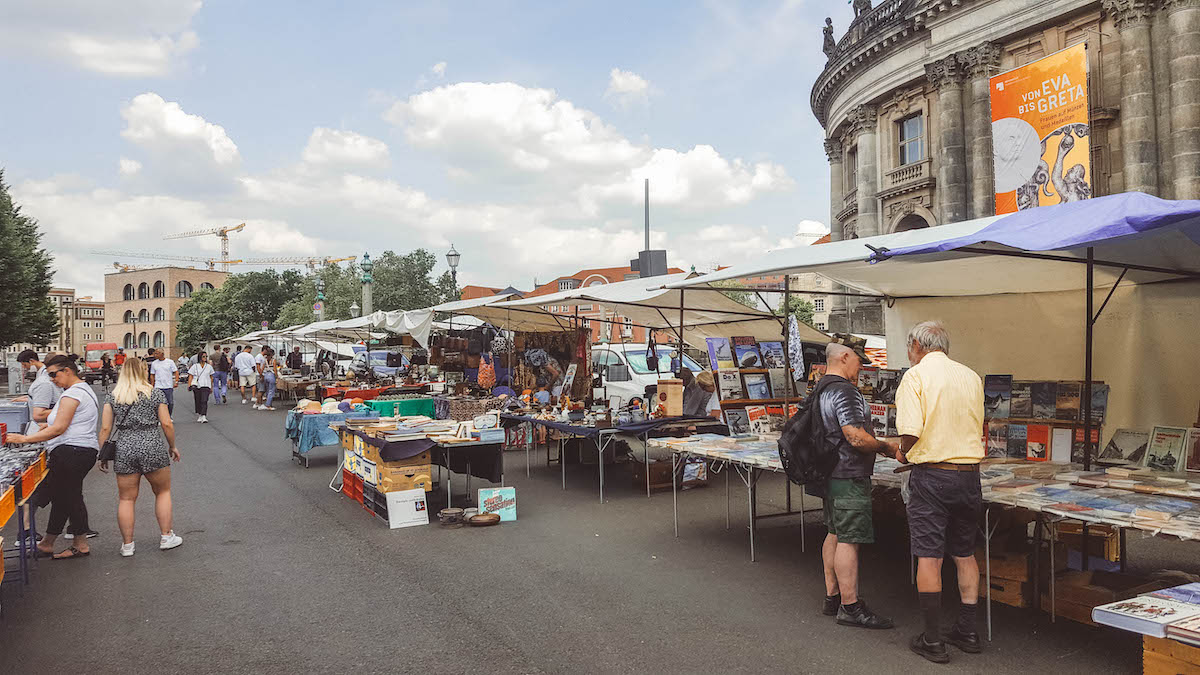 Going to a flea market is THE thing to do in Berlin on a Sunday! There are many Berlin flea markets open on Sundays, some of which run every week and others operate once a month or less.
Check to see if there's a flea market in your Kiez or hit up one of my favorites:
Original Berlin Trödelmarkt — Located by S-Tiergarten. This is the oldest flea market in the city and is great for finding antique furniture, porcelain goods, art prints, and books.
Ostbahnhof — Only open on Sundays and is strictly antiques (mostly collectible coins, foreign currency, and stamps).
Boxhagener Platz — Is more on the "normal" end of the pricing scale, with second hand clothing, books, art prints, and furniture for sale.
No matter which flea market(s) you visit this Sunday, bring cash and be prepared to haggle!
2. Enjoy a Leisurely Sunday Brunch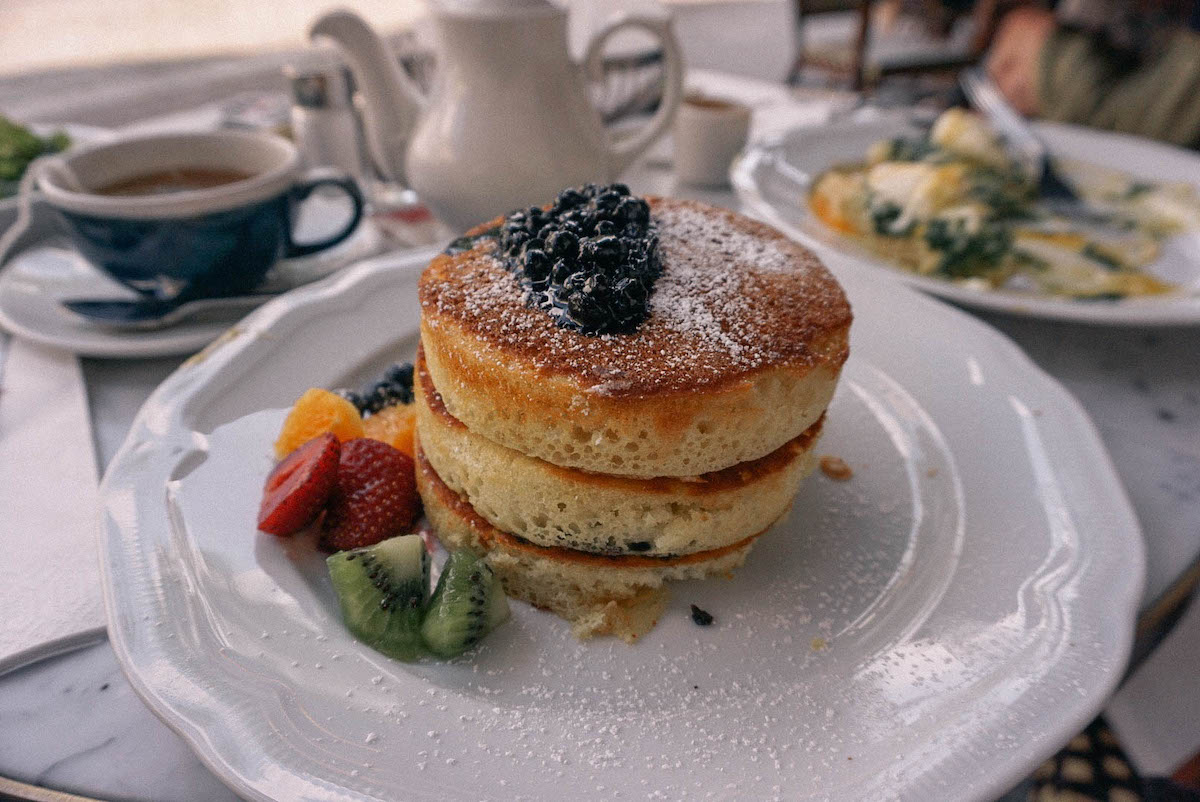 For the ultimate Berlin Sunday, enjoy brunch with friends after spending all your cash at the local flea market. There are stellar brunch spots in every neighborhood of the city, but areas like Prenzlauer Berg, Kreuzberg, and Friedrichshain are some of the most popular for brunching.
You may want to call ahead to your preferred restaurant to see if they accept reservations. Otherwise you could be stuck waiting outside for a table to free up!
If I listed all of my favorite Sunday brunch places in Berlin, we'd be here all day. However, my top faves are:
3. Get Free Entry on Museum Sundays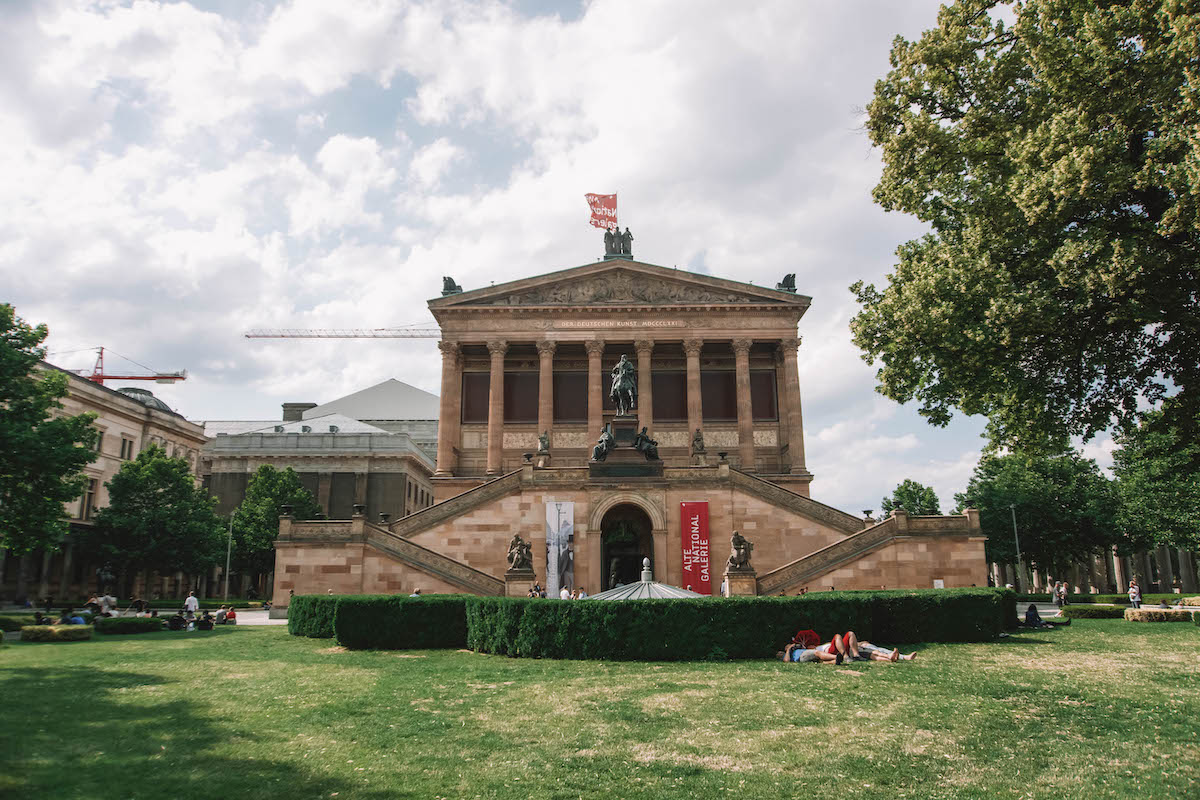 Most museums in Berlin are open every Sunday, but on the first Sunday of each month entrance many of the most popular museums in the city are free to enter.
If you're traveling on a budget or are a local who's been putting off a certain museum visit due to the cost, definitely take advantage of Museums Sunday!
Click the link in the sentence above to see which museums will be participating in Museums Sunday this year. Some of them are actually free all the time (such as the Futurium) while others are more expensive to enter (such as the museums on Museum Island).
And remember: if it's not the first Sunday of the month, THE MUSEUMS ARE STILL OPEN (putting that in all caps so no one is confused). So please take advantage of the city's amazing museums if it's in your budget because there are some stunning museums in Berlin!
Below is a quick summary of my favorite museums in the city:
4. Visit the Zoo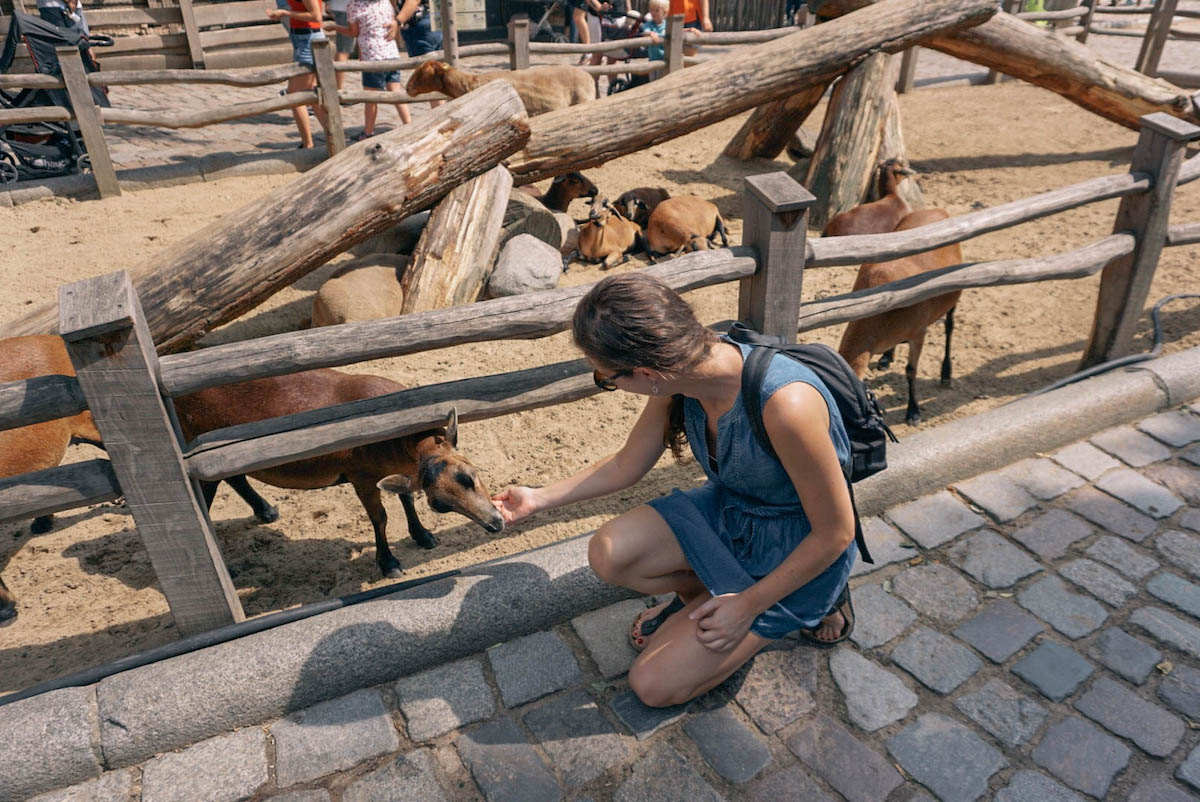 The Berlin Zoo is the oldest zoo in Germany and one of the best known in the world. It also boasts more animal species than any other zoo in the world!
You can easily spend half a day or more at the zoo. If you need a pick-me-up afterwards, treat yourself to a bubble tea from nearby ComebuyTEA.
5. Explore the Botanical Garden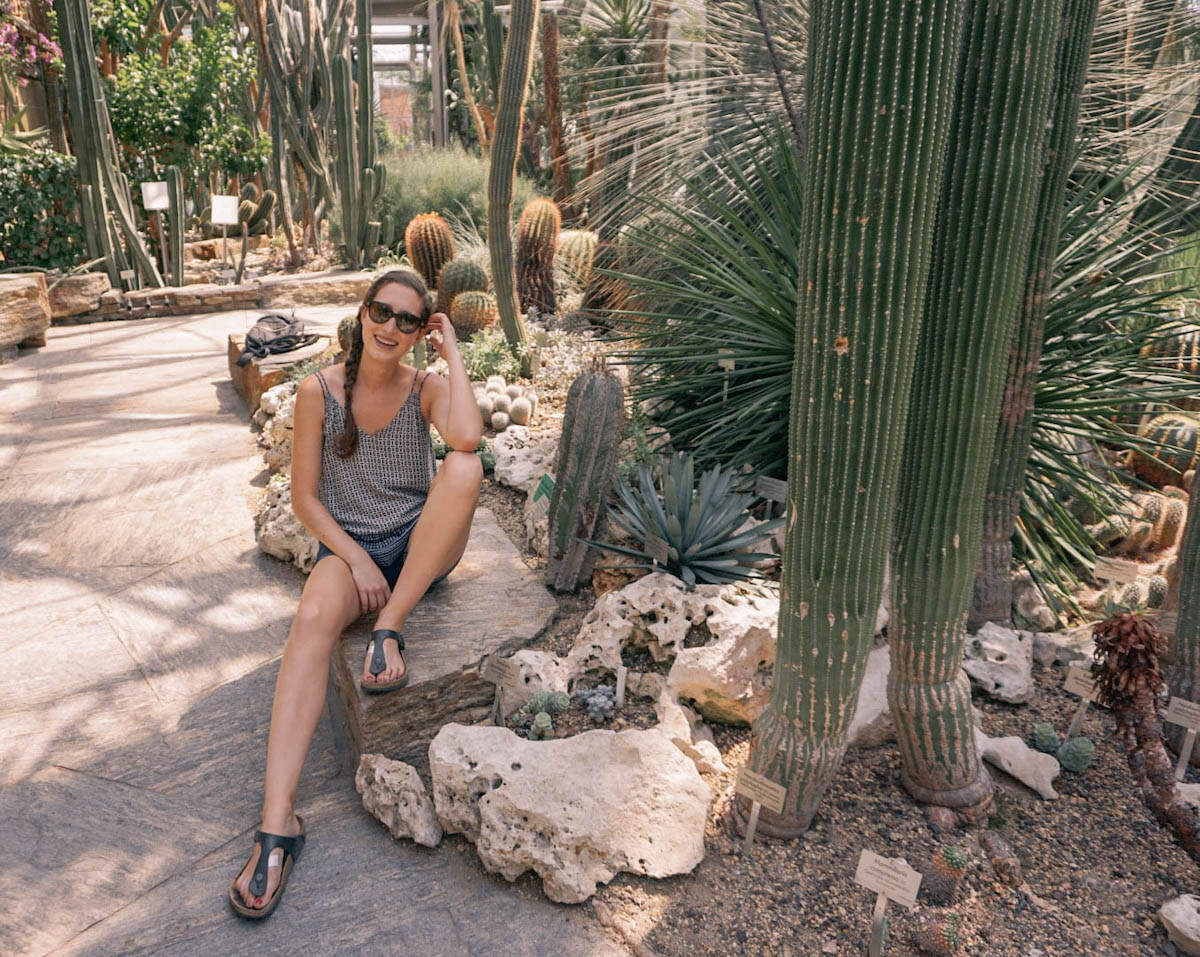 Berlin's botanic garden and museum is home to over 20,000 species of plants, making it one of the largest in the worls. There are 16 lovely greenhouses on the property, with the 23-meter-tall tropical greenhouse being the crown jewel of the garden complex.
You could easily spend an entire afternoon here, and at just 6 Euros to enter this is one of the cheapest things to do in Berlin on a Sunday.
6. Hike in the Grunewald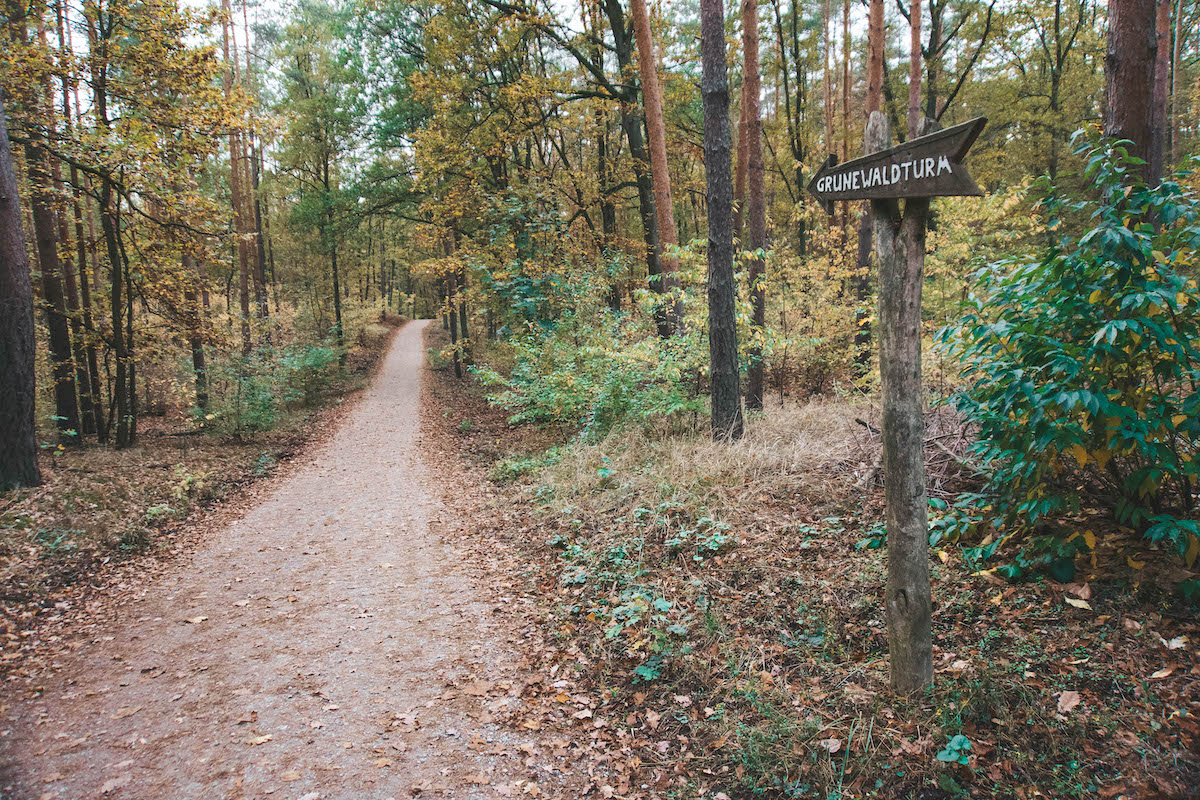 If you need a break from the hustle and bustle of Berlin this Sunday, hop on the S-Bahn and ride out to the Grunewald forest on the western side of the city. There are many walking and hiking paths in the forest, but the best known leads to the Teufelsberg, which is a hill topped by a Cold War-era Soviet listening station.
In my experience, you don't need proper hiking boots to visit the Grunewald, sturdy tennis shoes will do!
7. Cool Off at a Lake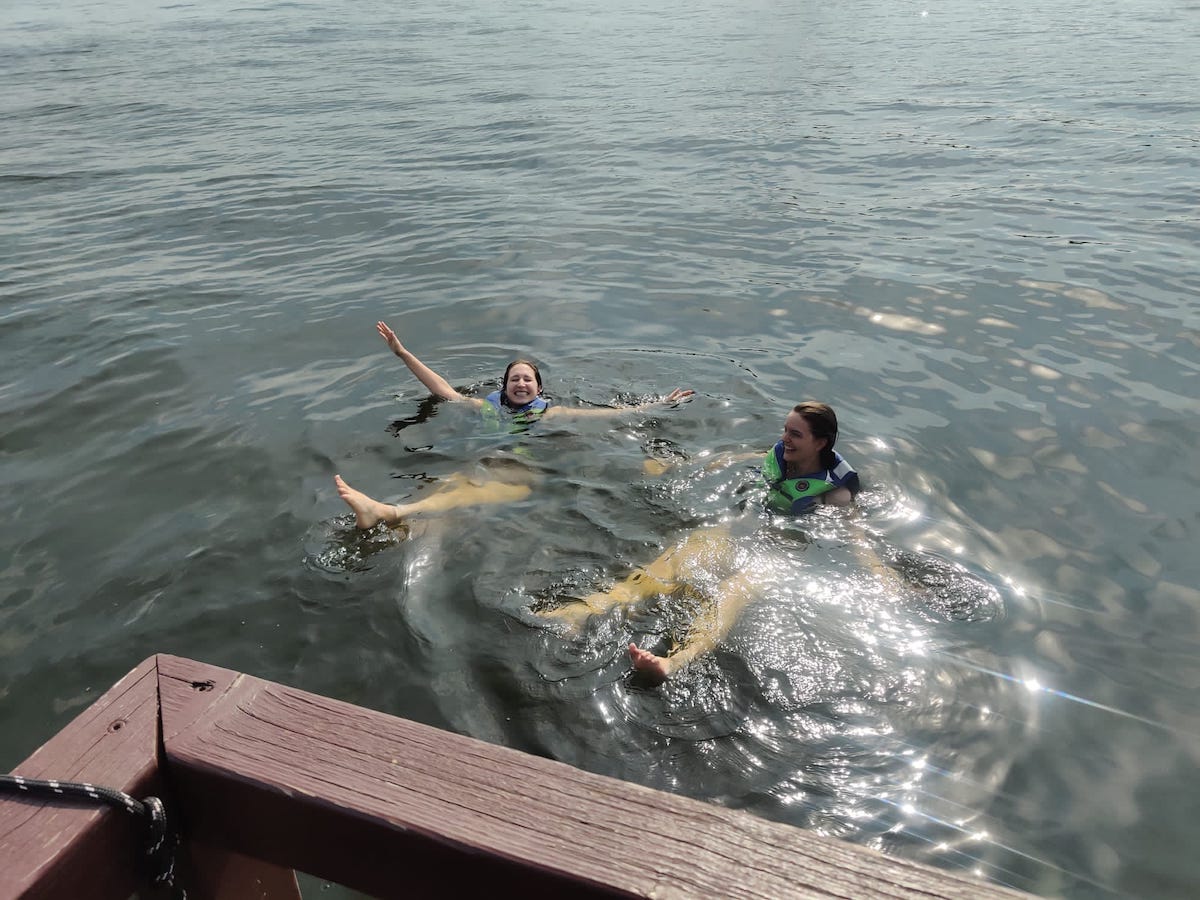 Berlin's summers are becoming increasingly warmer with each passing year. With no air conditioning in their apartments, many Berliners trek out to their favorite lake each Sunday to cool off.
Berlin and the surrounding state of Brandenburg are known as the "land of 3,000 lakes" — so you have lots of lakes to choose from! Some of the more popular lakes are Weißensee, Tegelersee, Krumme Lanke, and Schlachtensee. I love these lakes, but on Sundays they can be very crowded!
8. Tour Charlottenburg Palace & Gardens
I will find a way to mention Charlottenburg Palace in every single one of my blog posts until the day I stop writing them. It's my FAVORITE attraction in Berlin, Sunday or not.
The Palace was completed in 1699 for Queen Sophie Charlotte of Hanover. When touring the palace, you'll see the staterooms, golden ballroom, and the silver vault, as well as the porcelain cabinet.
If you don't want to tour Charlottenburg Palace, I still highly recommend walking around the gardens and park. The grounds are free to the public, and on Sundays you'll see families out on their afternoon walks, friends catching up over a delicious picnic spread, and many dogs happy to be outside with their humans.
9. Visit the Cathedral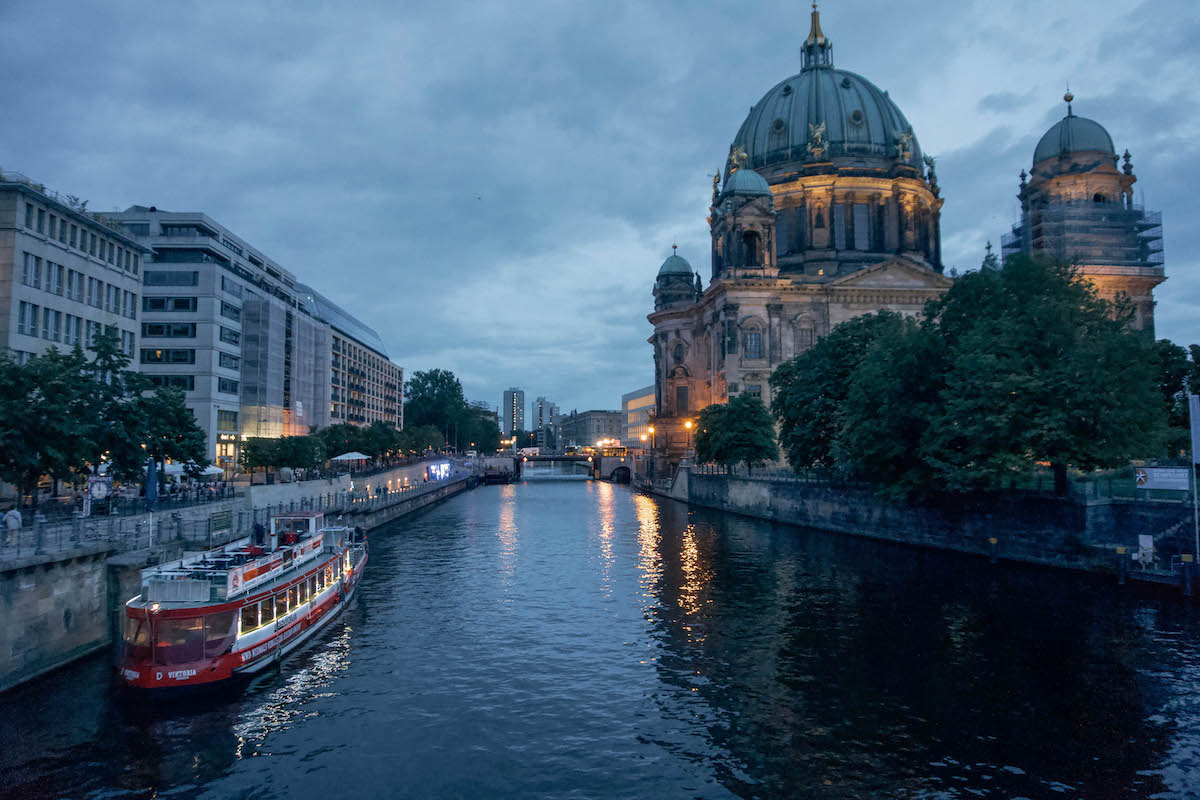 If you're pondering what to do in Berlin on a Sunday, might I suggest the most obvious choice?
Typically a visit to the Baroque-style Berlin Cathedral (Berliner Dom) includes entrance to the nave, the Hohenzollern crypt beneath the church, a small exhibit on the first floor detailing the architectural planning of the church, and a birds-eye view of the city from the top of the dome.
You can either pay to visit the cathedral during its reduced hours of operation this Sunday OR you could attend a service. Of course, you'd need to be respectful in the service (i.e. don't take photos or talk) but you would be able to experience a Lutheran church service in Martin Luther's home country. As a bonus, you'd see the nave of the Berlin Cathedral for free!
10. Chat Over a Samovar at the Tajikistan Tea Room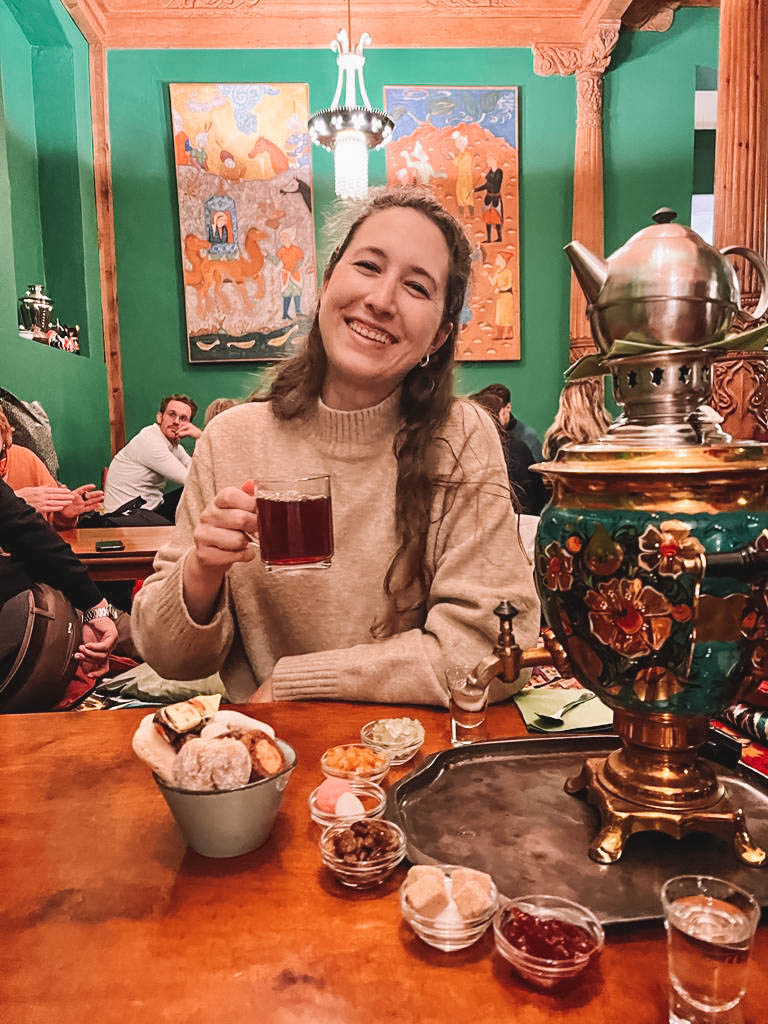 Tucked away off of bustling Oranienburger Straße you'll find the Tajikistan Tea Room (Tadshikishe Teestube). This stunning tea room was originally built as the Tajikistan pavilion at a Leipzig trade fair in 1974. In 2012, it was brought to its new home in Berlin.
There are some delicious Russian and Eastern European eats on the menu, but what you're really here for is the full Samovar experience. It includes a pot of what I'd call "espresso strength" black tea that you dilute with hot water and sip after nibbling on a piece of marzipan or candied citrus rind.
You're also provided with a shot of vodka to sip as a palate cleanser throughout your teatime. Definitely come with a friend or two as there's a good amount of tea to enjoy!
I recommend calling ahead to make a reservation on Sundays since it can get quite crowded. Note that there are seats on the floor (so fun!) plus a few tables; specify which area you'd rather sit in, if that's important to you.
11. See a Film at an Open-Air Cinema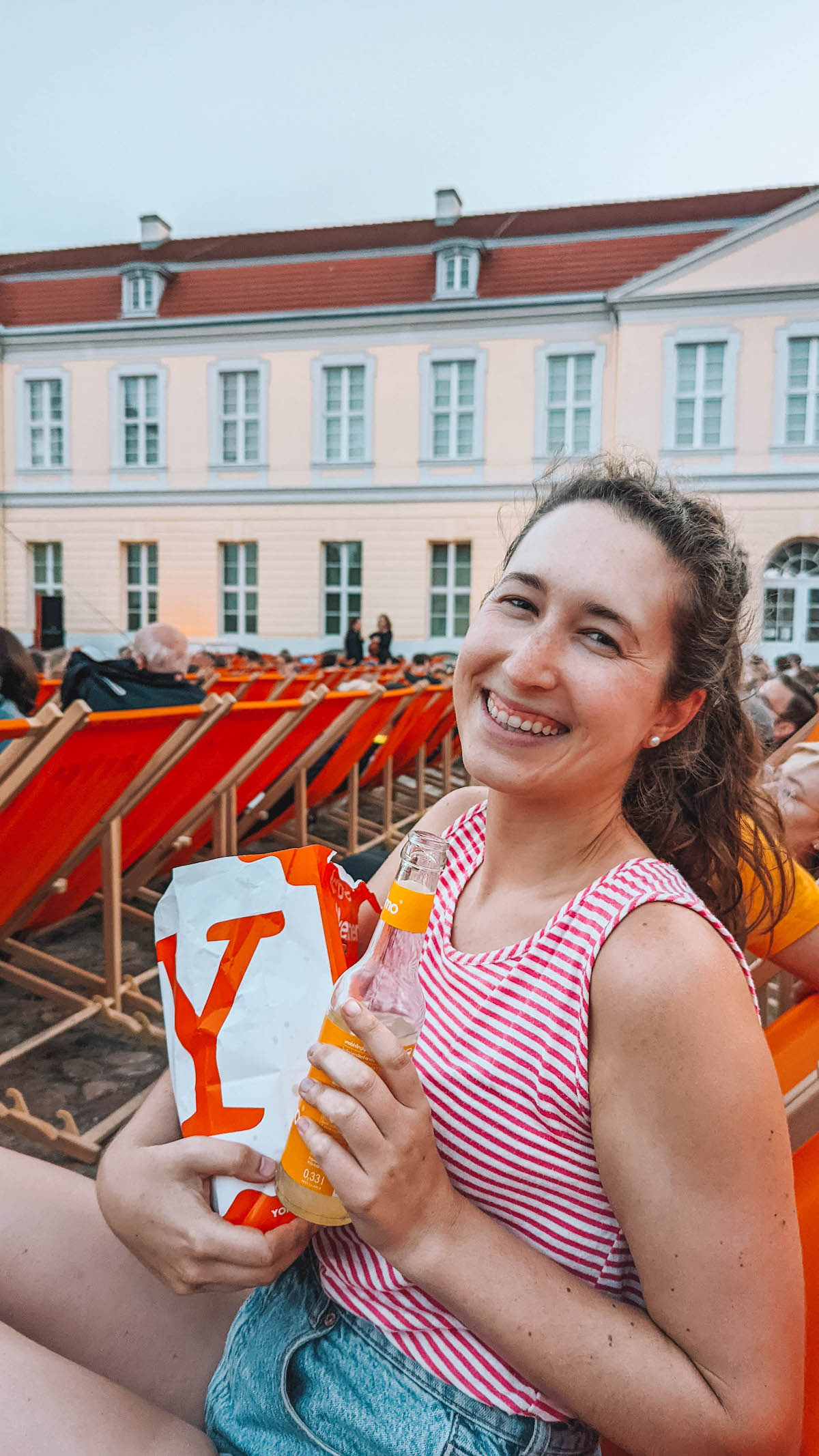 A wonderful way to spend a Sunday evening in Berlin during the summertime is watching a movie with friends at a Freiluftkino (open-air cinema). There are a number of larger open-air cinemas scattered around Berlin, but my two favorites are at Charlottenburg Palace and in Friedrichshain.
Check the program of your preferred open-air cinema to see what movie it's showing this Sunday. I recommend arriving at least 20 minutes early to nab a good seat. You can also usually bring snacks and drinks to enjoy throughout the movie!
12. Enjoy the Chaos That Is Mauerpark on a Sunday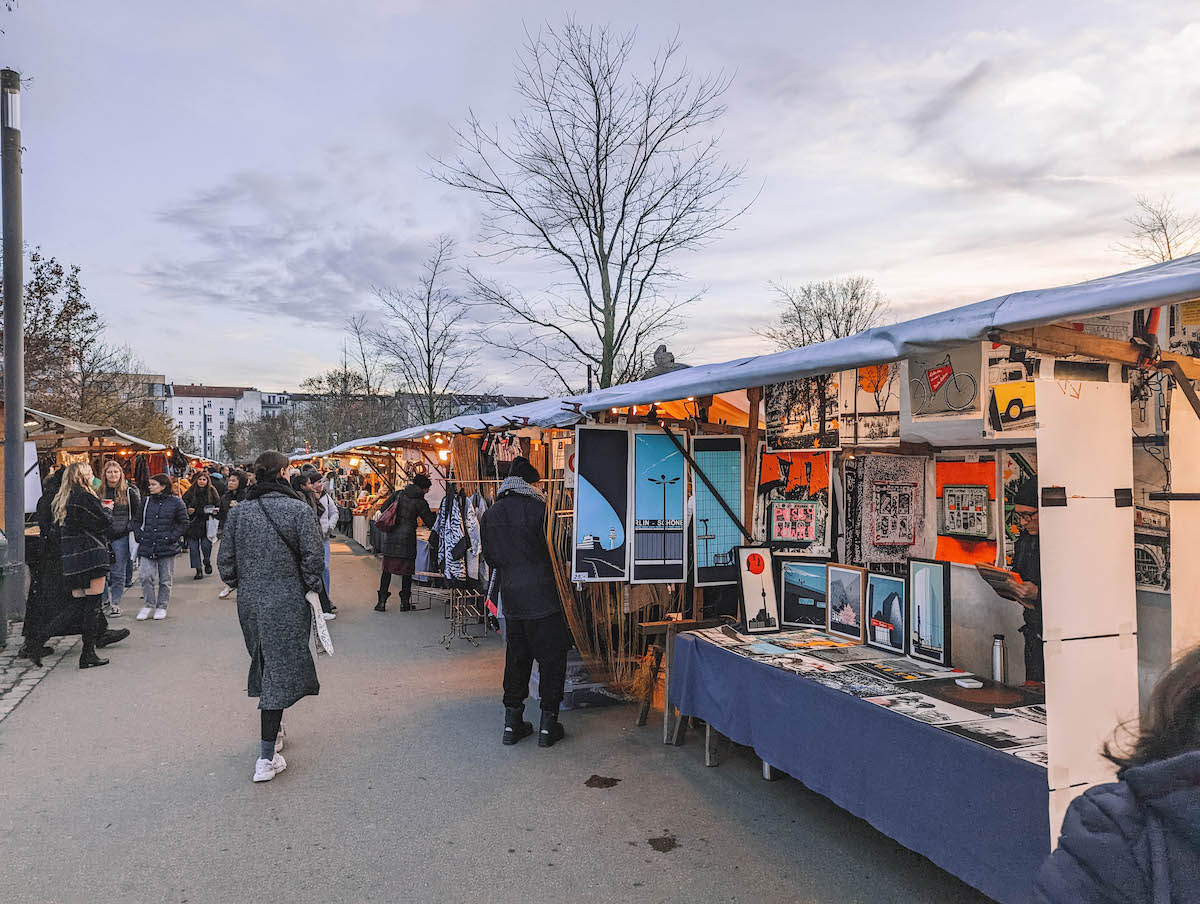 If you'll be in Berlin for a few days and are trying to decide which day is best to visit Mauerpark, it should be on a Sunday. Mauerpark has a lot happening on Sundays.
It's best known for its bustling flea market — which is part-flea market, part-craft fair at this point — but there's also karaoke at the amphitheater in the afternoon. (It's really hard to get a spot to sing, but a big crowd always gathers to hear the performances!)
Mauerpark is also a great spot to hang out with friends. Many locals hit up their local Späti (convenience store) beforehand to purchase a couple beers to enjoy on the slopes of the hill at Mauerpark.
Tip: If you're not from Berlin, I should warn you that Mauerpark is not at all pretty. But it's a now-vibrant park in what was formerly a death strip of the Berlin Wall, so it has a very special place in this Berliner's heart.
13. Eat Authentic Thai Food at "Thai Park"
On the weekends, Preußenpark transforms into Thai Park. A gathering of Thai people set up stalls to sell handmade Thai food and drinks.
You can come for a full meal, or just a quick drink or dessert. Bring cash with you as cards aren't accepted here.
After you grab your food, find a free spot in the park to dig in. I recommend bringing a picnic blanket or old towel to sit on as much of the park is bare dirt or grass.
Tip: On the opposite end of Preußenpark, you'll find the Fehrbelliner Platz flea market which is one of my favorites in the city!
14. Bike, Jog or Roller Skate at Tempelhofer Feld
Tempelhofer Feld was first a military parade ground, then an airport, and now it's a public park. The airport runways are still intact, and they're the perfect spot to bike, jog, or practice your roller skating.
15. See a Film at Babylon Theater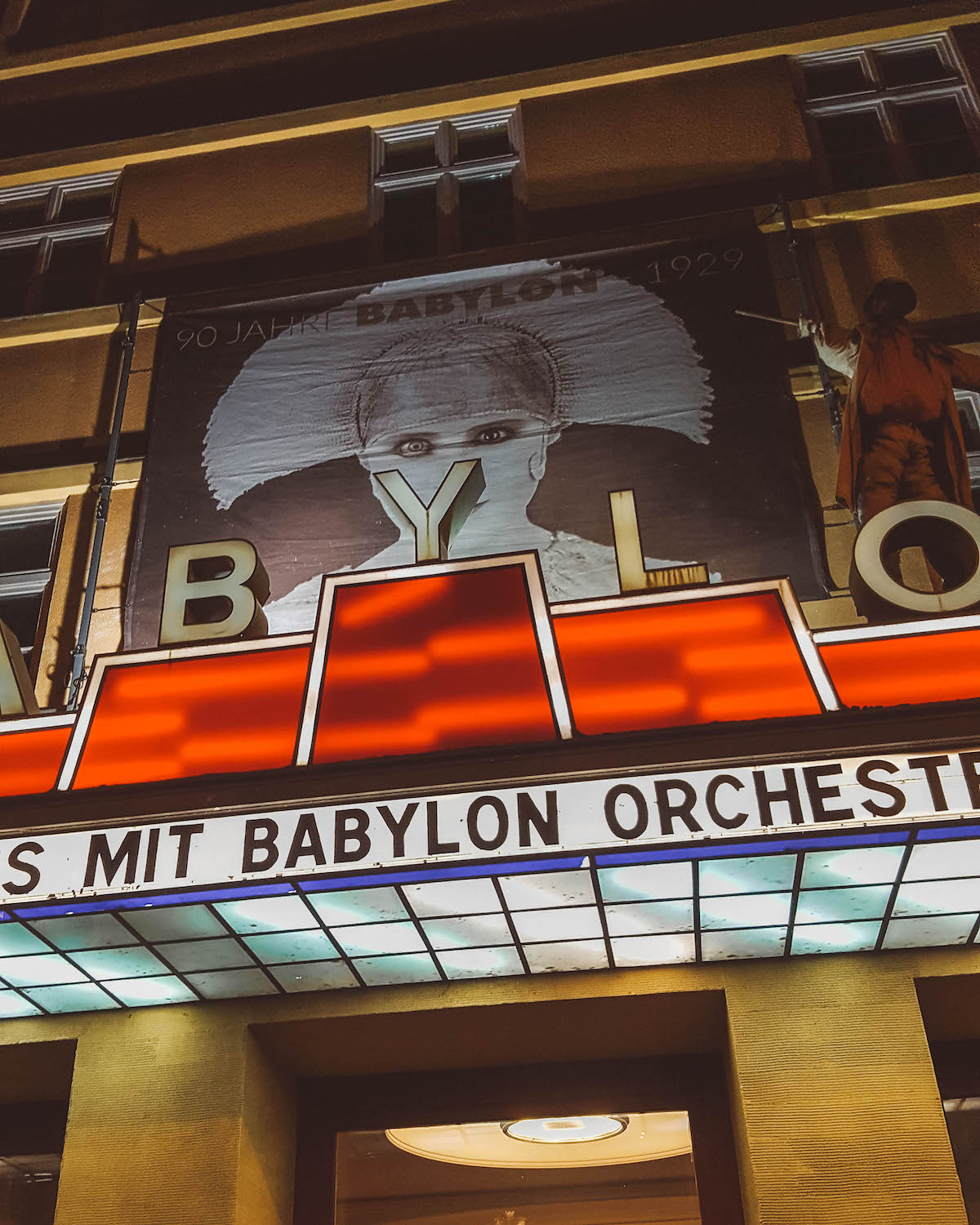 Oops! Yet another recommendation for movie goers. Can you tell I prefer to spend my Sundays in Berlin relaxing?
Baylon Theater was built in 1929 and was originally a silent movie cinema. Today, it's the oldest movie theater in the world that still houses its own orchestra!
Babylon no longer shows exclusively silent films, but that's what it's best known for. Be sure to catch a performance of Fritz Lang's Metropolis if it's scheduled. It's one of the best known German films and is worth seeing at least once in your life!
16. Relax at a Beer Garden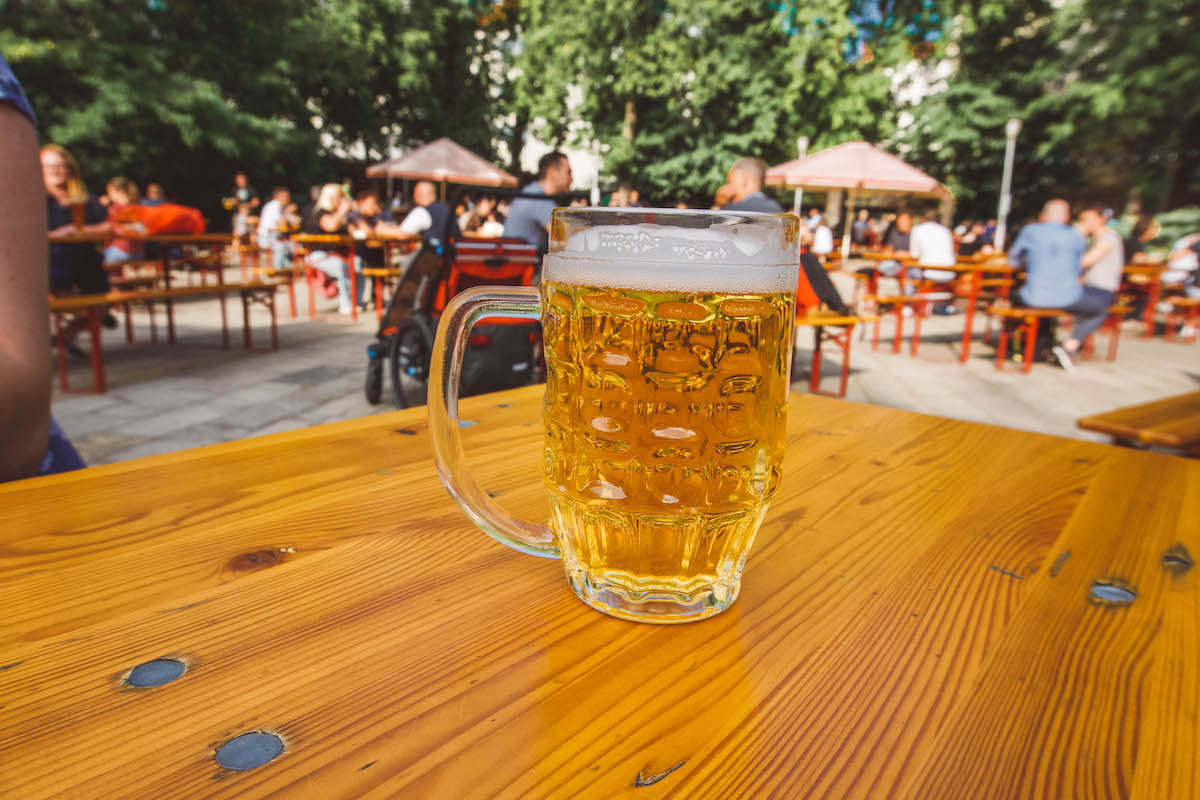 A chill Sunday activity in Berlin during the warmer months is catching up with friends over a pint of something fizzy at one of the city's many beer gardens.
I typically order an Apfelschorle (carbonated apple juice) or a Radler (a lemonade-beer mixture), but if you drink alcohol there are plenty of beers on tap to choose from.
Be sure to bring cash since most beer gardens are cash-only, and also note that you'll have to pay a deposit (called Pfand) when you order your first beer. Once you return your empty glass, the money will be given back to you.
17. Picnic in a Park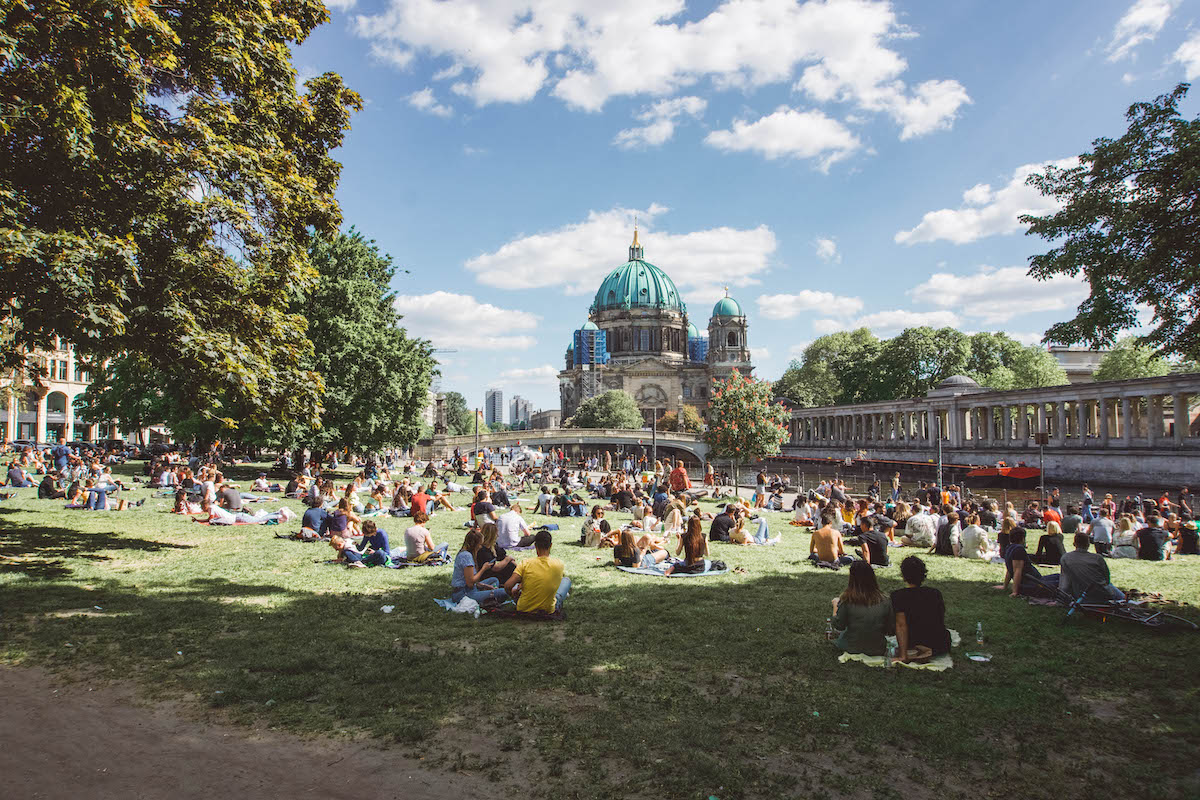 For being Germany's largest city, Berlin has so many gorgeous green spaces! Some of my favorite parks in Berlin include the Tiergarten, Charlottenburg Palace grounds, Monbijoupark, and Viktoriapark.
Pack a picnic to enjoy with friends, go for a walk, or bring a few treats to enjoy while reading a good book in the shade.
18. Climb the Victory Column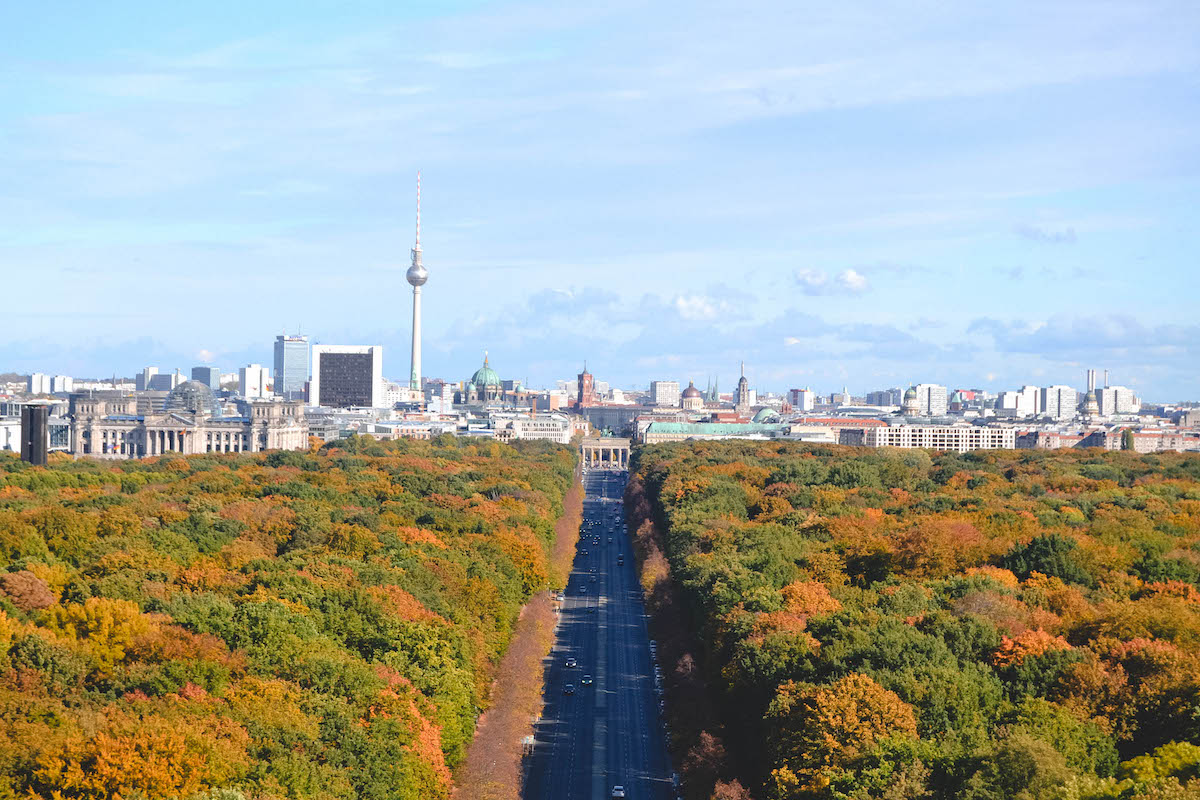 It took me three years, but I finally climbed the Victory Column (Siegessäule) in the Tiergarten and I'm kicking myself for not doing it sooner!
The Victory Column was designed by Johann Heinrich Strack. Construction began in 1865 and took eight years to complete.
As the name suggests, the Victory Column was built to commemorate Germany's victories against Denmark, Austria, and France in the 1860's. Symbols on the column that reflect this include the statue of winged Victory atop the column, the gilded gun barrels decorating the column itself, and the stunning mosaics by Anton von Werner in the colonnade.
After climbing the 285 steps to the top of the column (there's no elevator!), you'll be treated to a gorgeous view of the Tiergarten as well as an unobstructed view down Straße des 17. Juni to the Brandenburg Gate.
19. Hike a Portion of the Mauerweg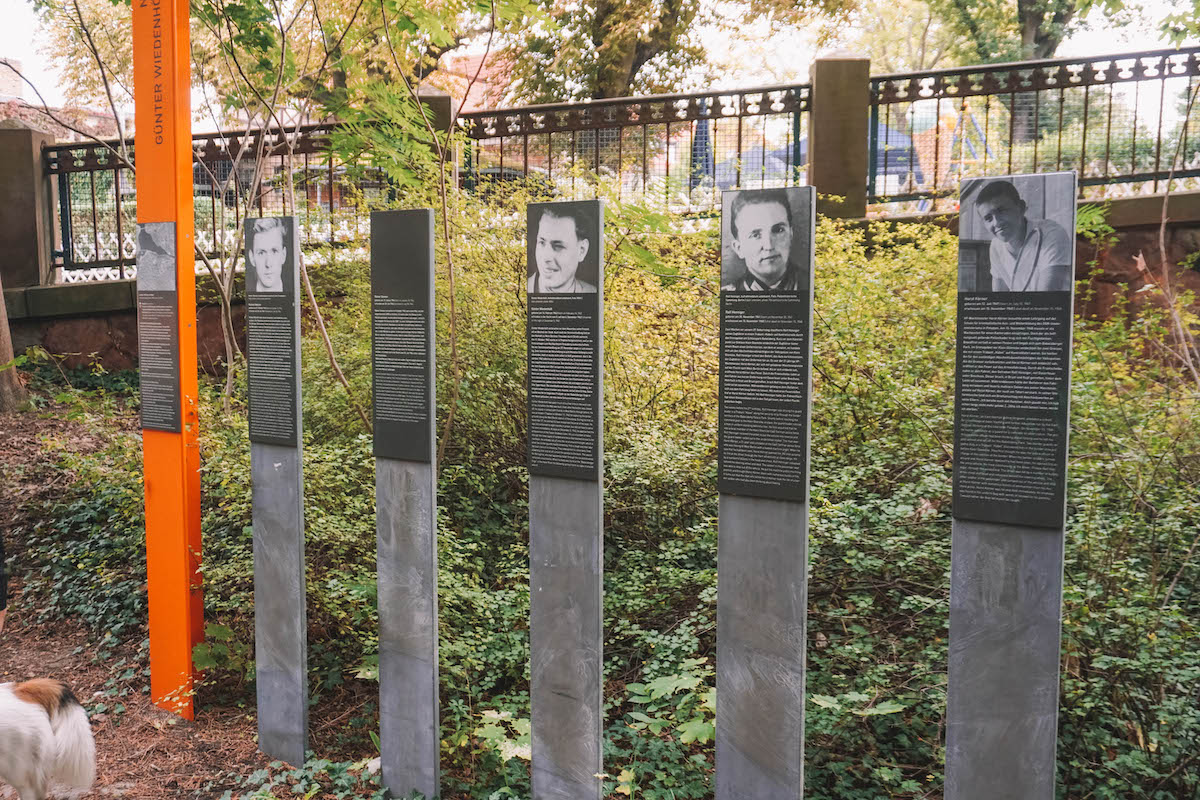 If you're trying to think of what to do in Berlin on a Sunday that's more off the beaten path, I recommend hiking a portion of the Mauerweg (Berlin Wall Trail).
The Mauerweg is a path (sometimes paved, sometimes dirt) that follows the former path of the Berlin Wall, which encircled West Berlin from 1961 to 1989 as a means of separating it from Soviet-controlled East Berlin.
The entire Mauerweg is roughly 160 kilometers (99 miles) in length. Obviously, no one can manage that in a single Sunday.
Lucky for us, the trail has been divided into 14 sections so you can tackle whichever section sounds most interesting or doable to you. The trail isn't always the prettiest — sometimes you wind up walking along what's now a busy street, and sometimes you're out in the middle of nowhere — but it's fascinating to see where the Wall once stood and compare it to the modern terrain.
20. Go on a Walking Tour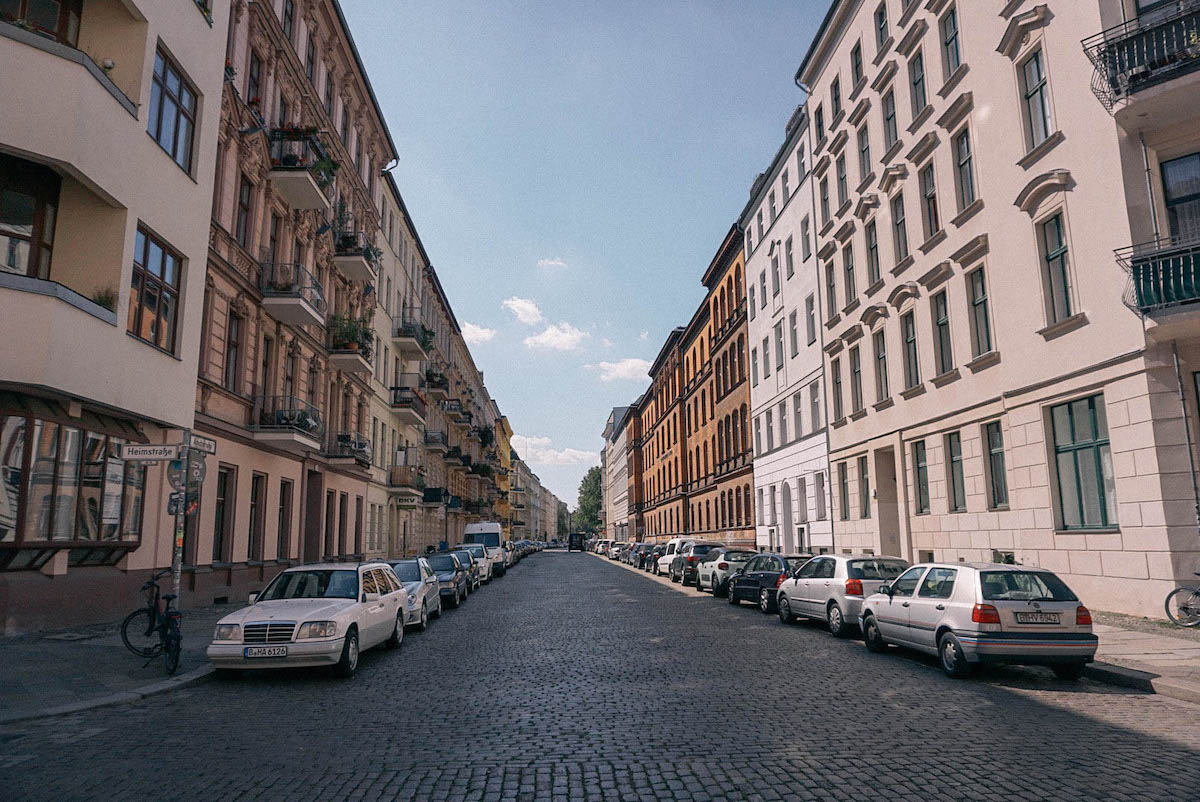 My final recommendation for things to do in Berlin on a Sunday is to go on a walking tour. Whether you're visiting from out of town or have lived here for years, there's always something fascinating to learn about Berlin's history or culture.
Sandeman's New Europe has a great free tour of Berlin that covers the top attractions in the city center. It primarily covers the city's GDR / post-Cold War history.
I can also recommend Alternative Tours Berlin for anyone wanting to learn more about the city's street art or other lesser known sights.
You can even tour the hidden courtyards of the city center!
Check out sites like GetYourGuide to find local tour guides offering walking tours of the areas of Berlin that you want to learn more about.
FAQs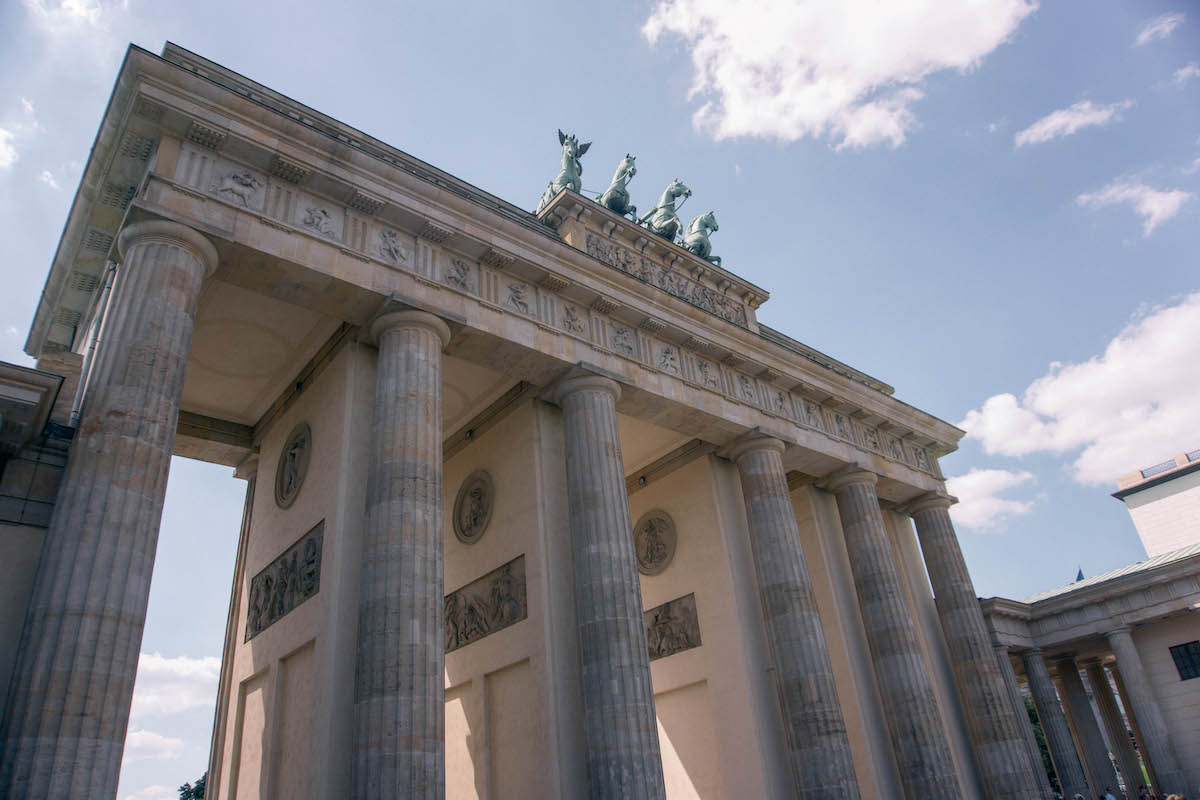 Are Stores Open in Berlin on Sundays?
Not usually, no. Businesses like grocery stores, drugstores, and clothing stores are closed on Sundays (although pharmacies typically have reduced hours of operation so if you need medication of some kind you should be able to get it).
Bakeries are usually open just in the morning, while cafes and restaurants are typically open, often with limited hours.
However, if you need to do some Sunday shopping in Berlin, "Open Sundays" take place a handful of times each year. The 2023 dates for "Open Sundays" are:
January 29
September 3
December 3
December 17
Are Museums Open in Berlin on Sundays?
Yes! Most museums will be open, but of course check the opening hours of the specific museum you want to visit to confirm.
Enjoy Your Sunday in Berlin!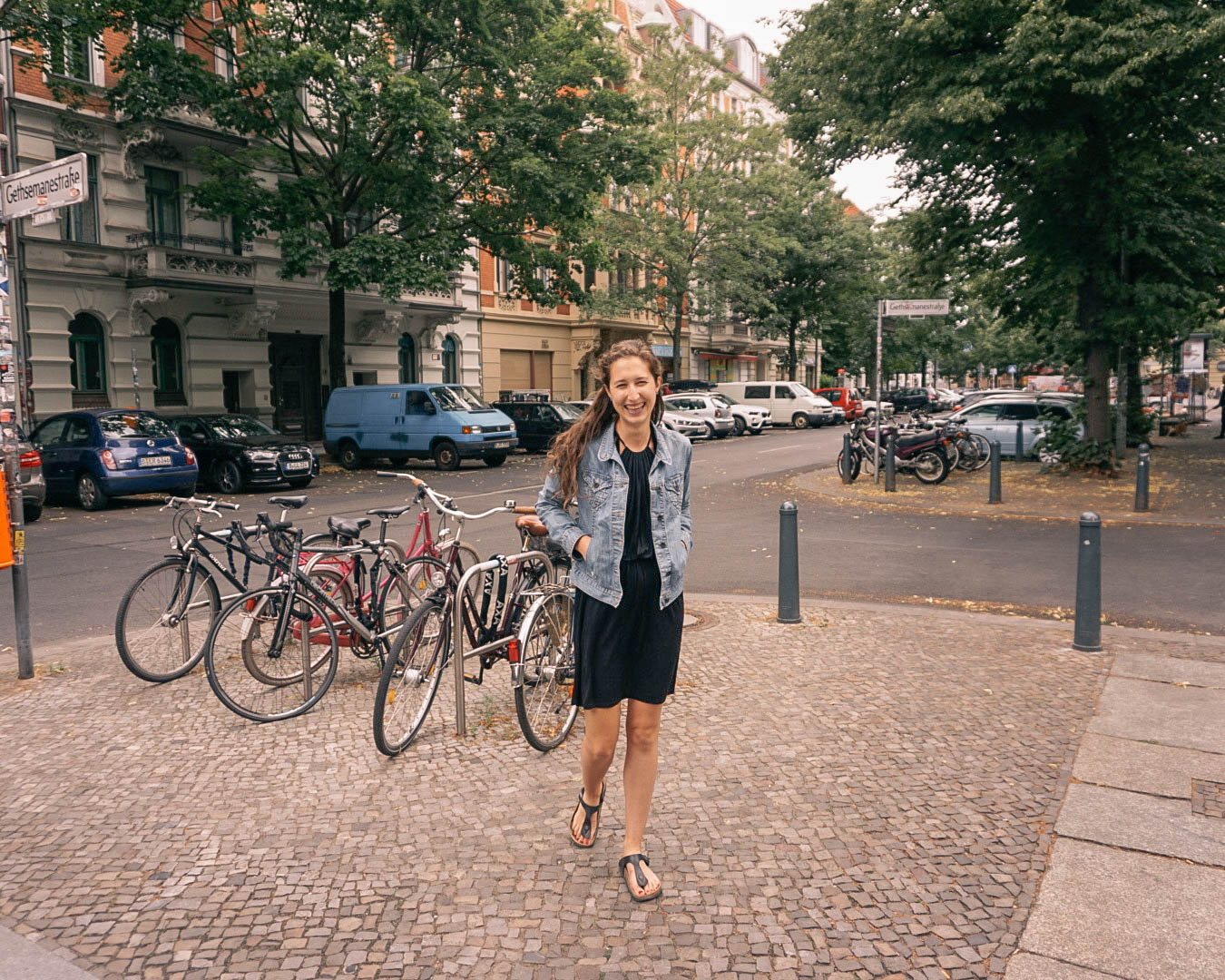 Are you surprised to learn how much there is to do in Berlin on a Sunday? Shops may be closed, but many of the top attractions are open!
Please leave me a comment below if you do any of the activities I've shared in this post, or if you have any personal recommendations to share.
Don't forget to follow me on Instagram to keep up with my daily adventures in Berlin and beyond!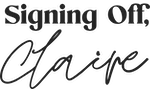 More Fun Things to Do in Berlin: