Don't let bad weather prevent you from exploring Germany's capital city! Here are Berlin's best indoor activities for rainy, snowy, and gray days.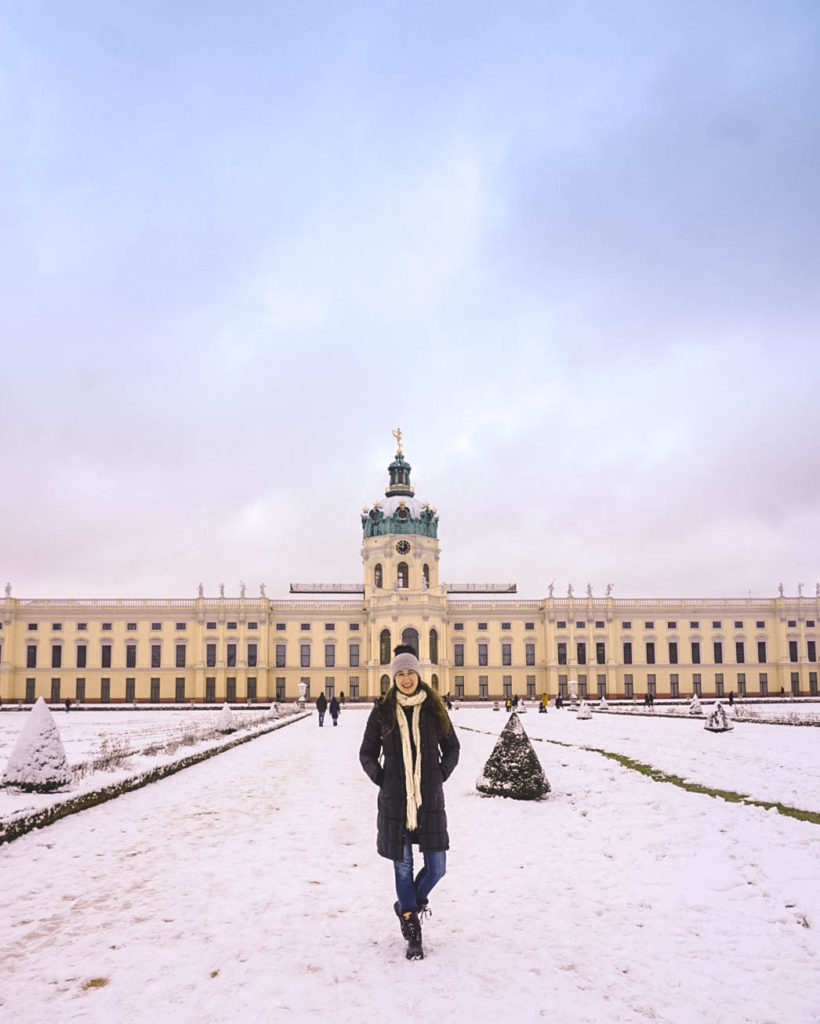 I won't lie to you, visiting Berlin in the late fall through winter isn't the best time to come. Once the gorgeous red and orange leaves fall off the trees, the days become a monotonous string of gray, sunless days.
BUT — there's a but! — when it's raining, snowing, or generally just blah weather in Berlin there's lots to do indoors. From world-renowned museums to quaint cafes to window shopping, there are so many indoor activities in Berlin to keep you occupied.
So lean into that cozy feeling and explore Berlin from inside this season! Here are my top recommendations for things to do inside in Berlin when the weather sucks.
If you're looking for seasonal-specific recommendations, I also have guides on my favorite winter activities, fall activities, and spring activities in Berlin!
1. Have a Museum Day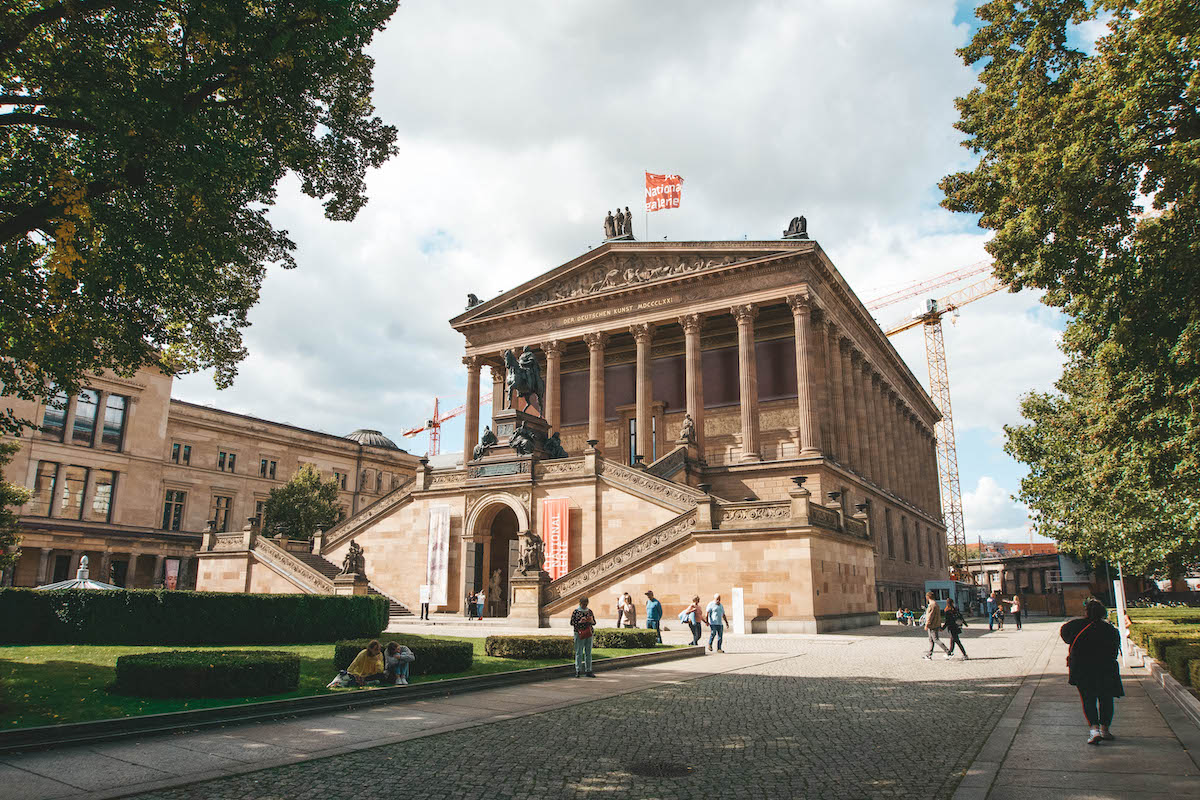 I read somewhere that Berlin has over 170 museums, so needless to say that's a good place to start if you're looking for things to do in Berlin on a rainy day. Below is a quick summary of my favorite museums in the city:
2. Travel Back to Roman Times at the Pergamon Museum's "Panorama"
This 360º panorama by artist Yadegar Asisi transports visitors back in time to the ancient city of Pergamon in the year 129 AD. It's an immersive experience that lasts about 10 minutes.
During that time, the ancient city of Pergamon wakes up, goes to work, and falls back asleep. The panorama isn't animated, but the use of lights and sounds makes it feel as though you've truly stepped back in time.
Tip: I recommend staying inside the panorama for two or three loops of the soundscape so you can view different parts of the city as the "day" passes.
3. Travel to the Future at the Futurium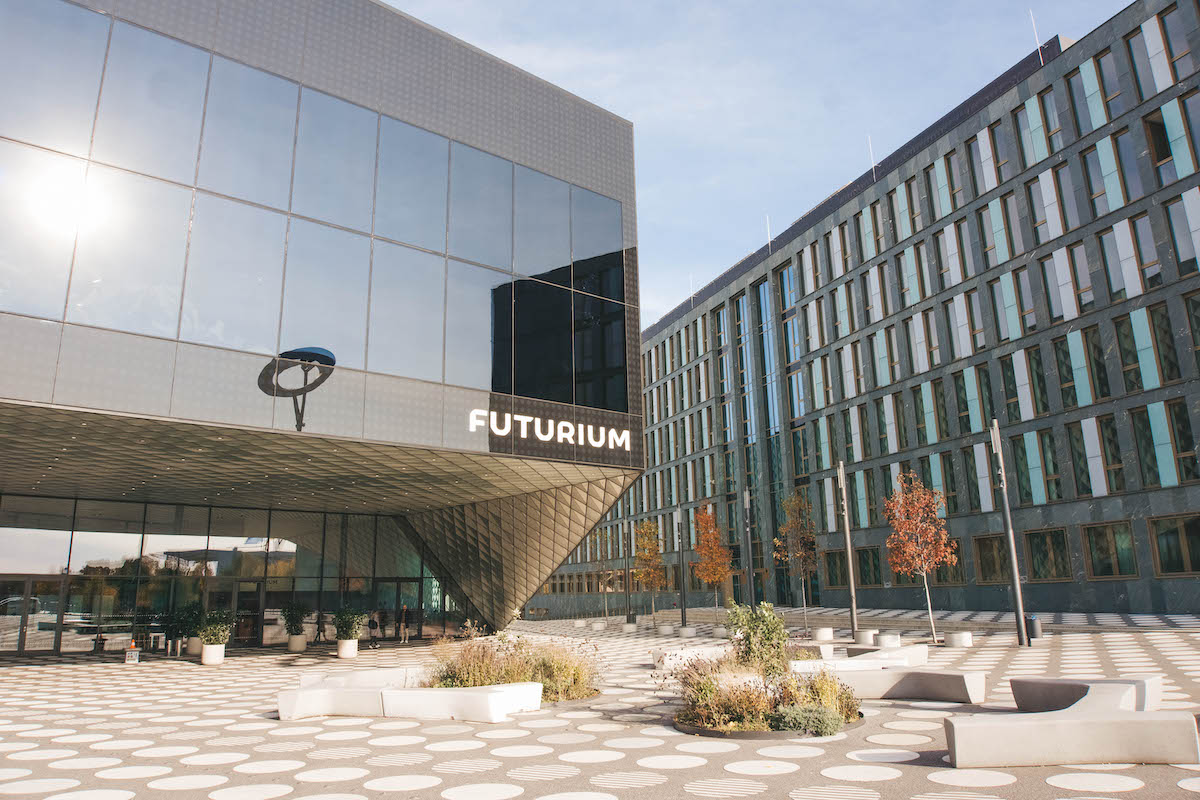 The Futurium is essentially one big thought experiment. Upon checking into the (free!) exhibit, you're given a wristband. This wristband assigns you a person (or avatar) in the future.
As you go through the exhibit, you can scan your wristband to learn more about how your decisions will affect "you" (i.e. your avatar) in the future. This is a great indoor activity in Berlin that will keep you busy for a couple of hours.
4. Tour the Berlin Cathedral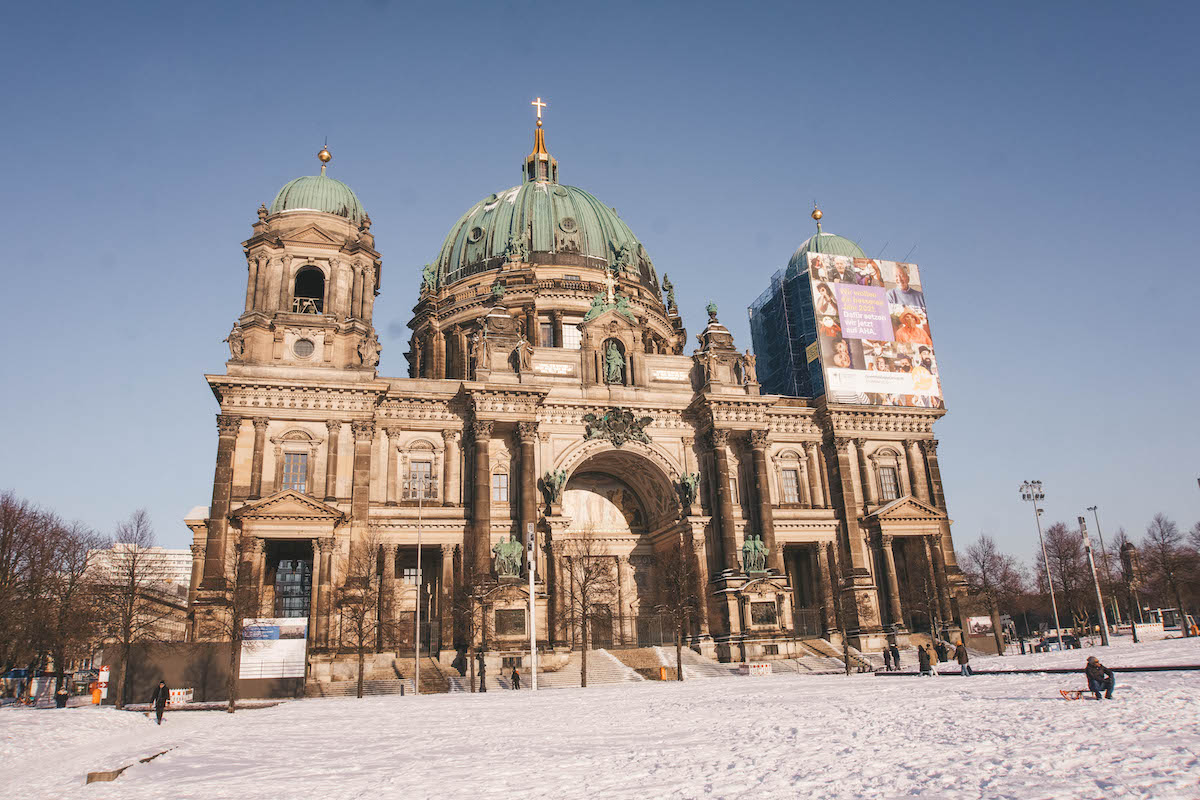 A visit to the Baroque-style Berlin Cathedral (Berliner Dom) includes entrance to the nave (where you'll find the largest pipe organ in all of Germany!), the Hohenzollern crypt beneath the church, a small exhibit on the first floor detailing the architectural plans of the church, and a birds-eye view of the city from the top of the church.
If the weather is bad, you might be tempted to skip the view from the top of the cathedral, but I encourage you to brave the elements for a few minutes because the view is spectacular!
Tip: The crypt has been closed since 2020 due to ongoing restorations.
5. Eat Your Way Through an Indoor Food Market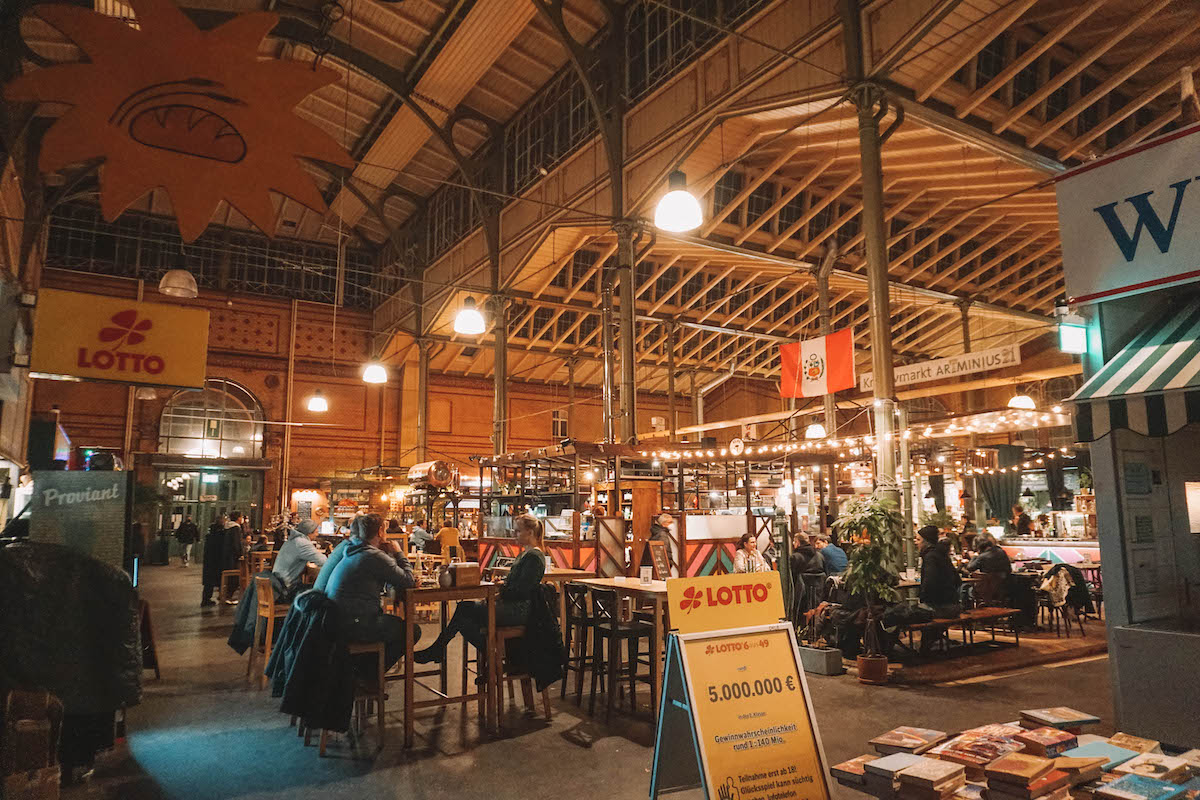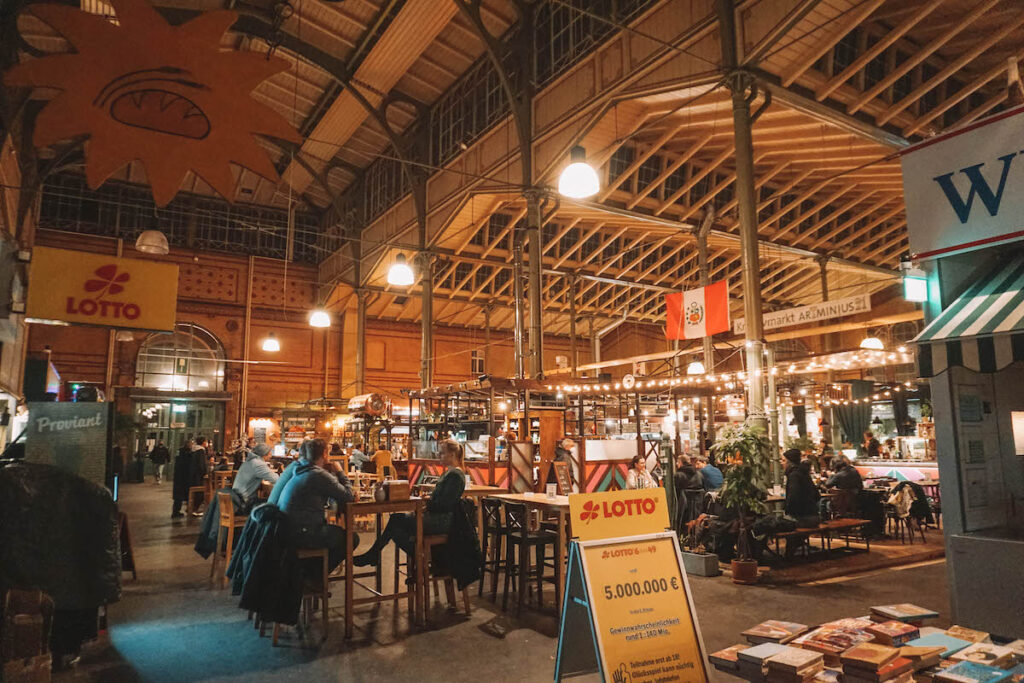 The best thing to do in Berlin on a rainy or snowy day? Eat!
There are some wonderful indoor food markets in Berlin, the most popular being Markthalle Neun in Kreuzberg. There are tons of food stalls there, including BBQ, Asian fusion, vegan eats, and more.
Another favorite indoor food market in Berlin is Arminius-Markthalle in Moabit. It's less well known than Markthalle Neun, but it's just as jam-packed with eateries and specialty grocery stalls. It's an especially cozy space to visit in the evenings for drinks and dinner.
6. Cozy Up at a Bookstore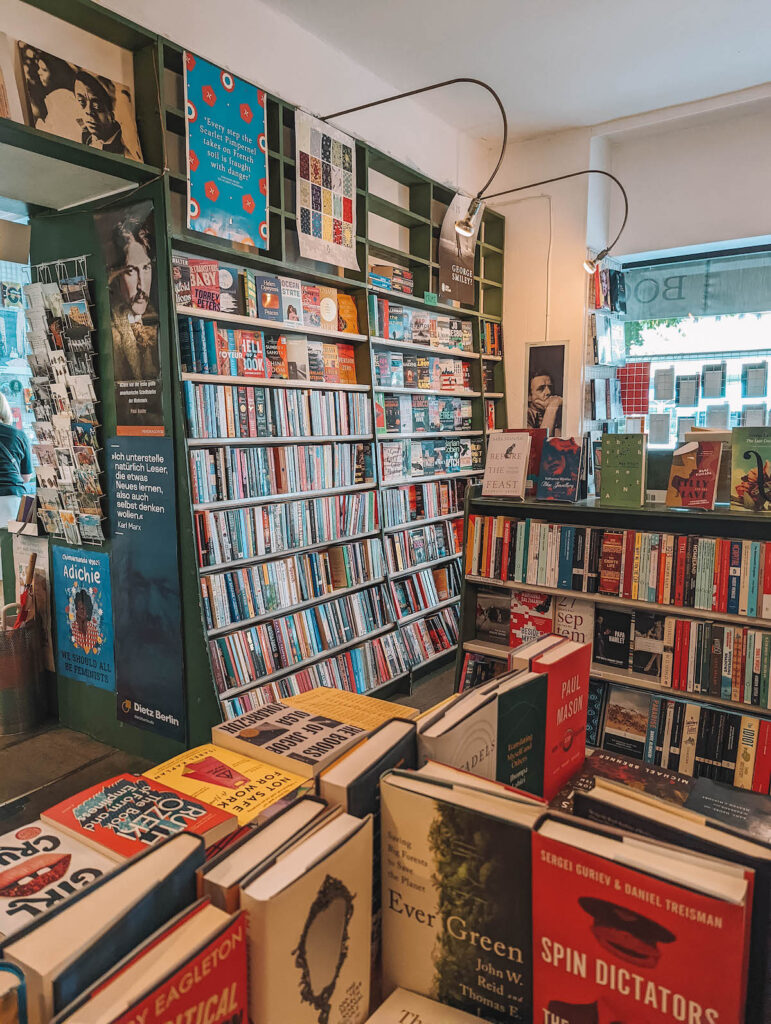 When in doubt, spend a rainy day holed up inside one of Berlin's many bookstores. It's the ultimate indoor activity for home-bodies and bookworms like me!
I'm from the US, so I specifically seek out English language bookstores. Some of my favorites include:
Tip: If you're trying to stick to a budget and can't buy new books right now (sad!), visit one of the many branches of the Berlin public library instead.
7. See a Silent Film at Babylon Theatre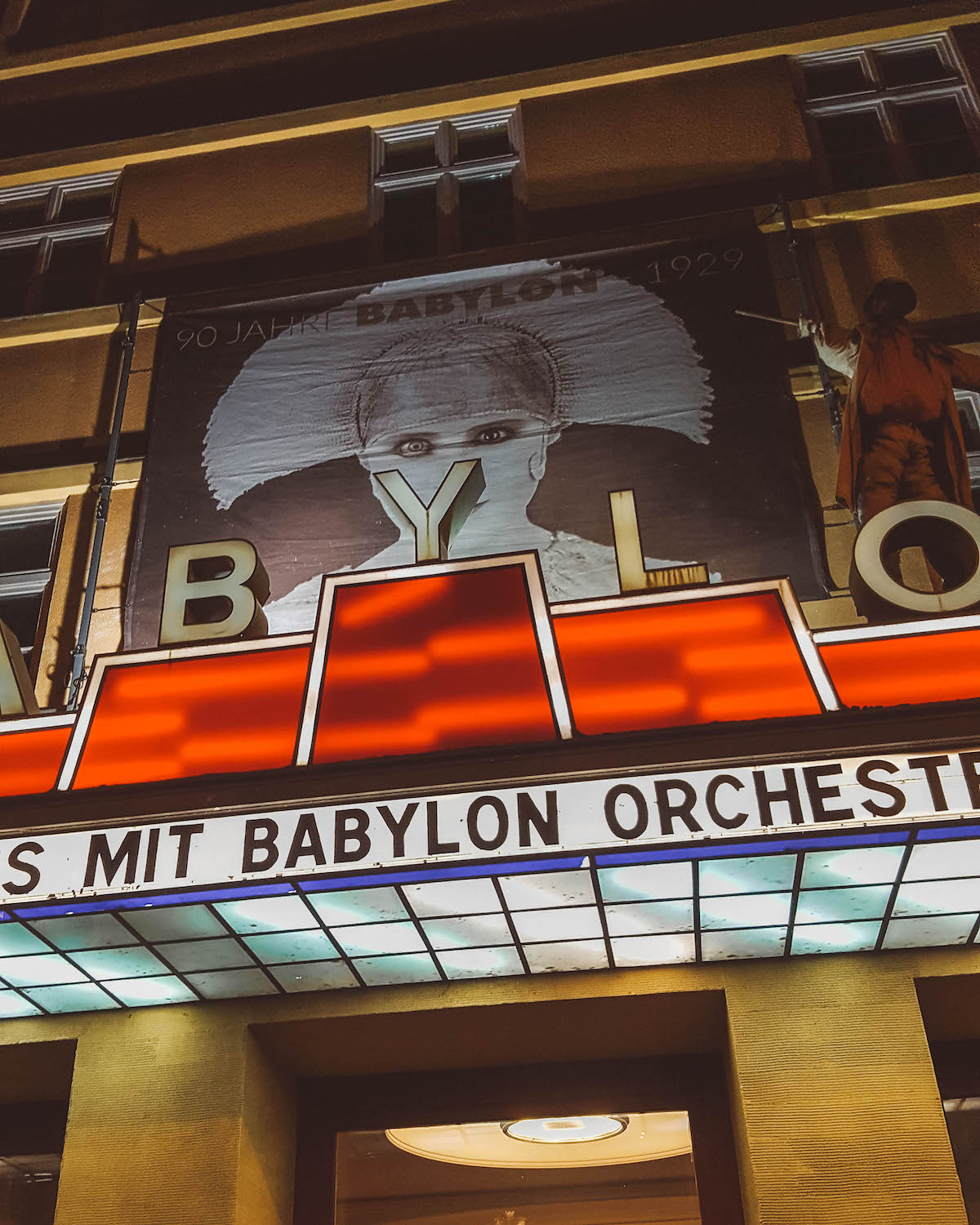 Why go to a regular movie theater when you could watch a silent film accompanied by a live orchestra? One of my favorite things to do inside in Berlin — especially after dark — is watch a silent film at the Baylon Theater.
It was built in 1929 and was originally a silent movie cinema. Today, it's the oldest movie theater in the world that still houses its own orchestra!
Although it no longer shows exclusively silent films, that's what it's best known for. Be sure to catch a performance of Fritz Lang's Metropolis if it's scheduled. It's one of the best known German films and continues to influence movie production to this day!
Tip: Babylon's website (linked above) is difficult to navigate. When in doubt, just call the theater to see what's on.
8. Go to the Ballet or Opera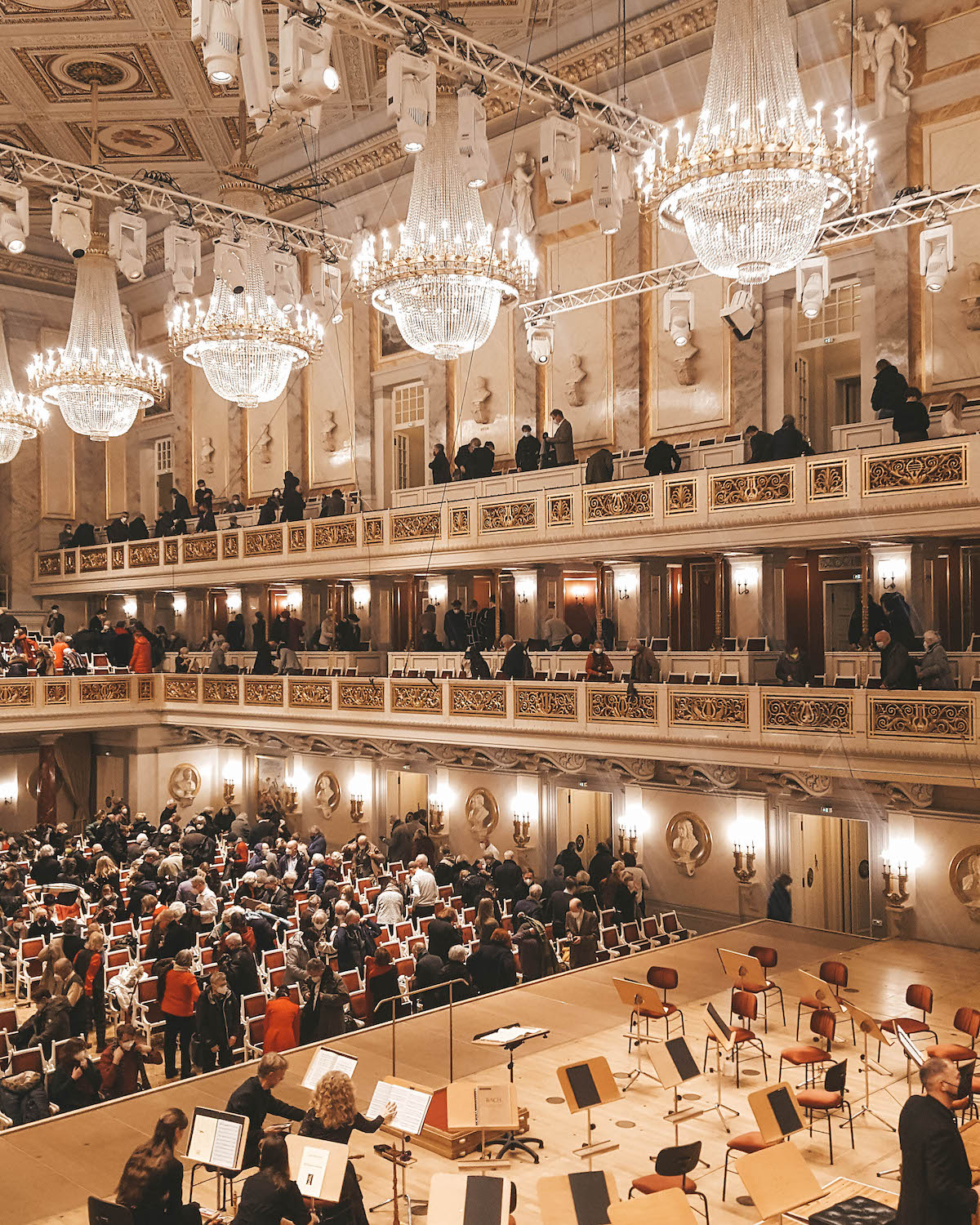 If you're a theater lover, these are the performance venues in Berlin you need to know:
For those of you who are lucky enough to call Berlin home AND you're 30 years of age or younger, I highly recommend downloading the ClassicCard app. It costs as much as your age, and it gets you discounted tickets on all kinds of performances and concerts.
And if you're looking for something a little cheaper, you should see what comedy clubs or community theaters are in your area. Your local church might also host free or budget-friendly choral or organ performances.
9. Tour the Reichstag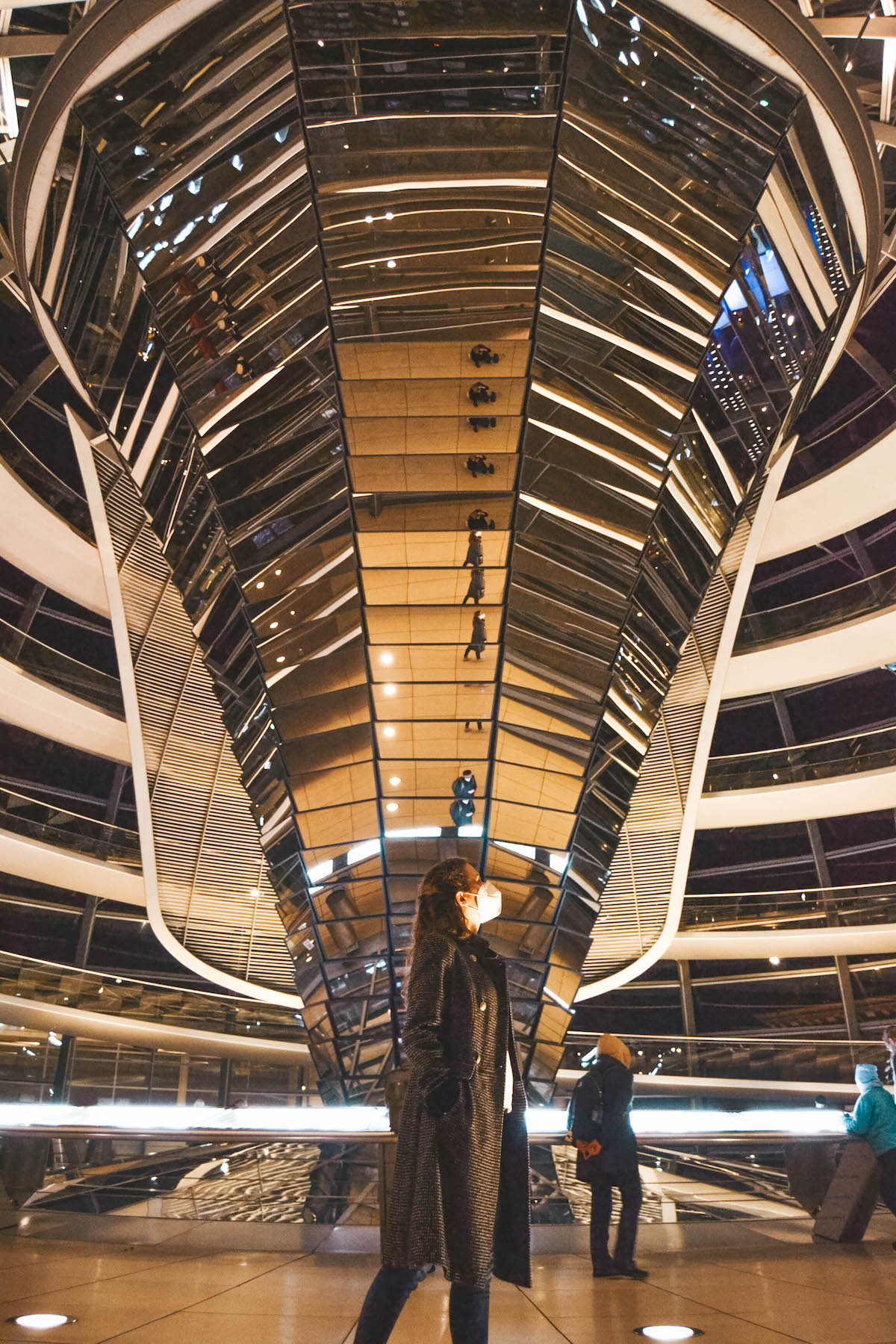 The Reichstag houses the German Bundestag, which is the lower house of Germany's parliament. It's free to enter, but you have to book tickets in advance and bring an internationally-recognized form of ID with you (I brought my passport).
A tour of the Reichstag includes access to the glass dome as well as a free audio guide that details the history of the buildings and Germany's parliament.
If you need something to do inside in Berlin at night, schedule a nighttime visit to the Reichstag. You won't get the views from the glass dome, but you'll get to see it lit up which is extra magical.
10. Brunch Like a Local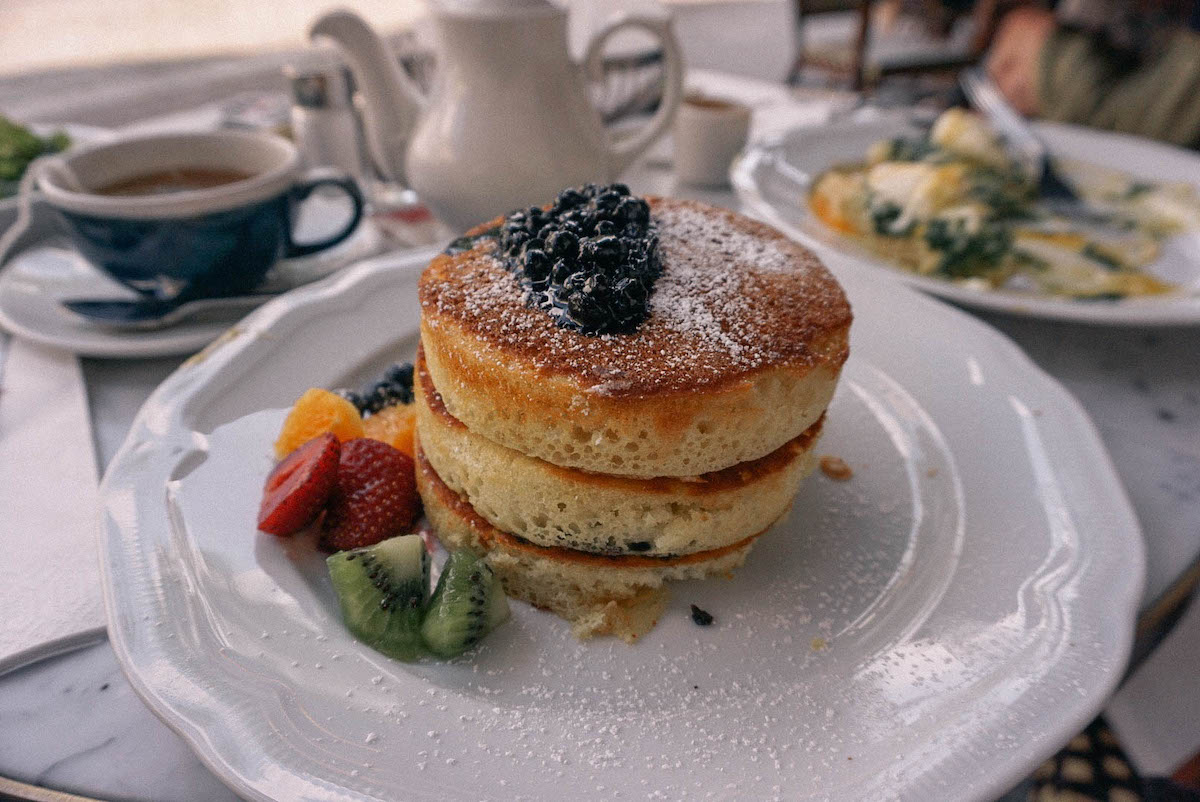 If I don't feel like going to a museum or another indoor exhibit, my fallback plan is pretty much always brunch. Or Kaffee und Kuchen (coffee and cake). Basically, food of any kind!
There are so many great brunch spots in Berlin, no matter your neighborhood. Depending on the popularity of the spot you choose, you may want to call ahead to see if they accept reservations. Otherwise you could be waiting outside in the rain or snow for a while!
11. Visit Charlottenburg Palace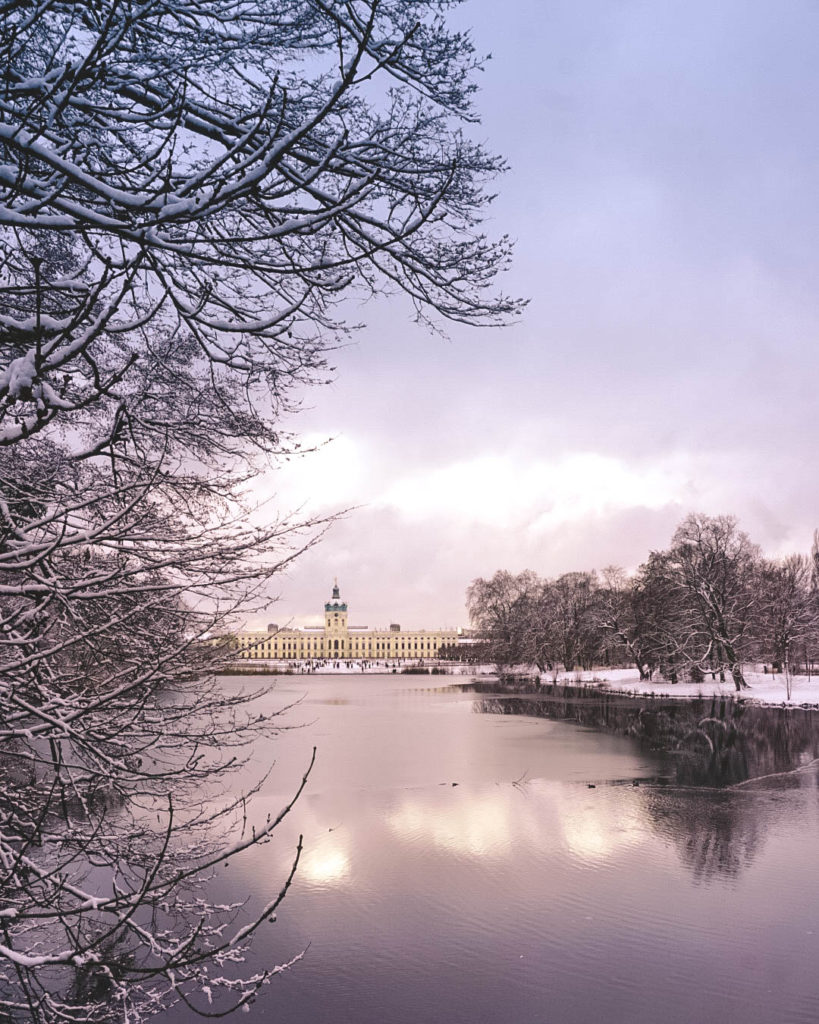 Charlottenburg Palace (Schloss Charlottenburg) was built as a summer palace for Queen Sophie Charlotte, wife of Friedrich III. Highlights of Charlottenburg Palace include: access to the stunning porcelain cabinet, a tour of the Baroque parade rooms, and entrance to the mausoleum on the grounds. Easily one of my favorite things to do indoors in Berlin!
Tip: The palace garden and park are free to enter, so if you're on a budget or the weather isn't too bad you can still admire the palace from the outside, free of charge!
12. Experience Chocolate Paradise at Rausch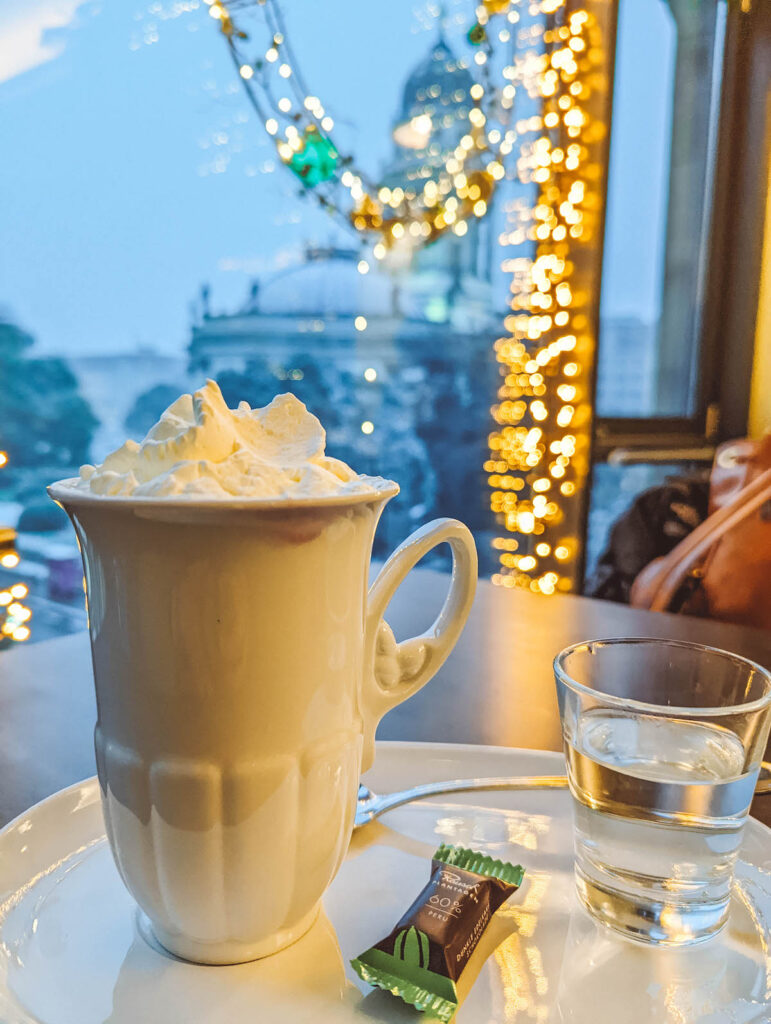 Hot chocolate is always guaranteed to turn my frown upside down on gray Berlin days.
The only place that does hot chocolate correctly in Berlin (that I've discovered thus far, that is!) is Rausch Schokoladenhaus. Their drinking chocolate is thick, creamy, and made with real chocolate and cream. It's not a low-calorie experience by any means, but that's what makes it so good!
Note that the hot chocolate sold at the Rausch deli right on the street is NOT the drinking chocolate that I'm talking about. You must enter the store and walk up the stairs to their indoor cafe to experience true bliss.
13. Experience the "Dark Side of the Moon" at the Planetarium
There are three planetariums in Berlin and they each offer an array of events and activities. One particularly trippy event they often host is a Pink Floyd "Dark Side of the Moon" evening.
While leaning flat on your back in the stargazing chairs, soothing projections are cast onto the domed ceiling while the entire Pink Floyd album plays on surround sound. A little odd, but incredibly relaxing.
14. Visit the Palace of Tears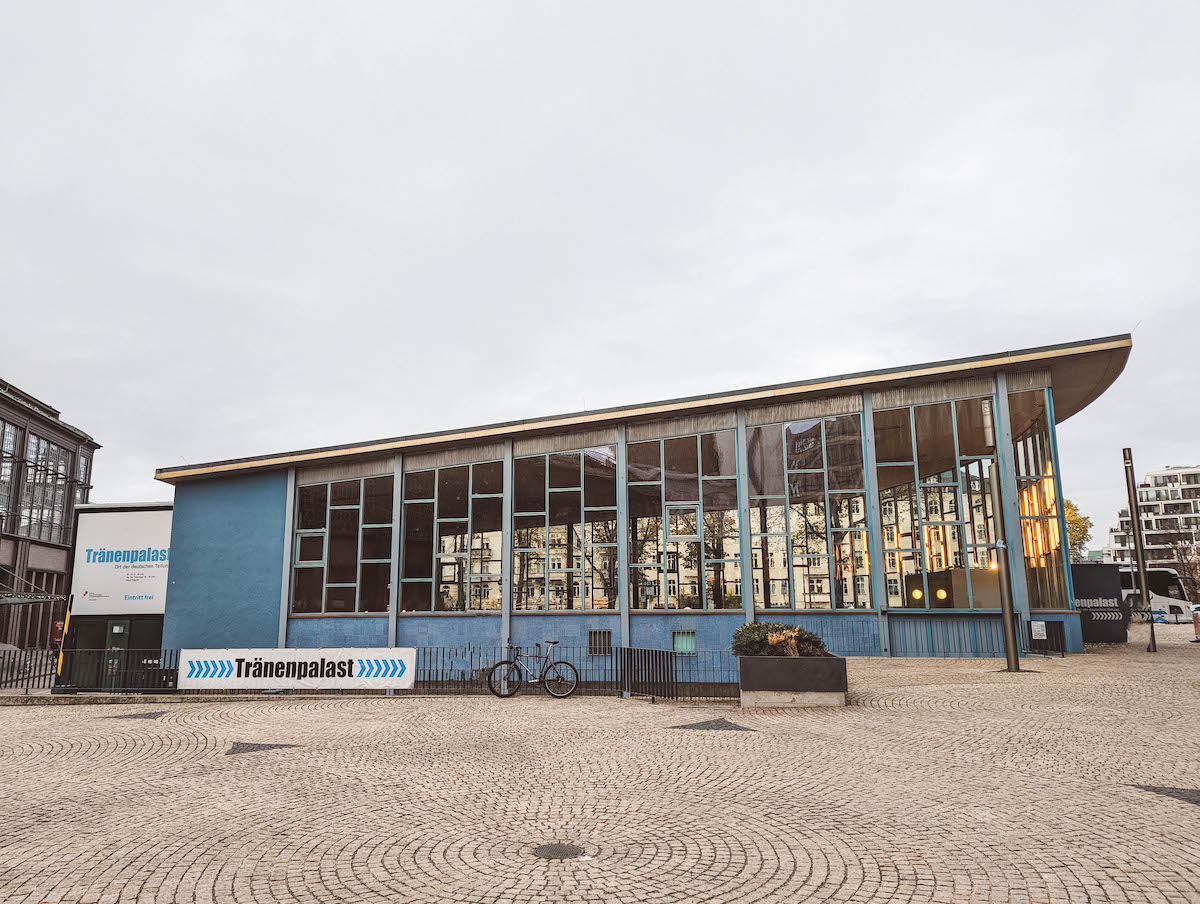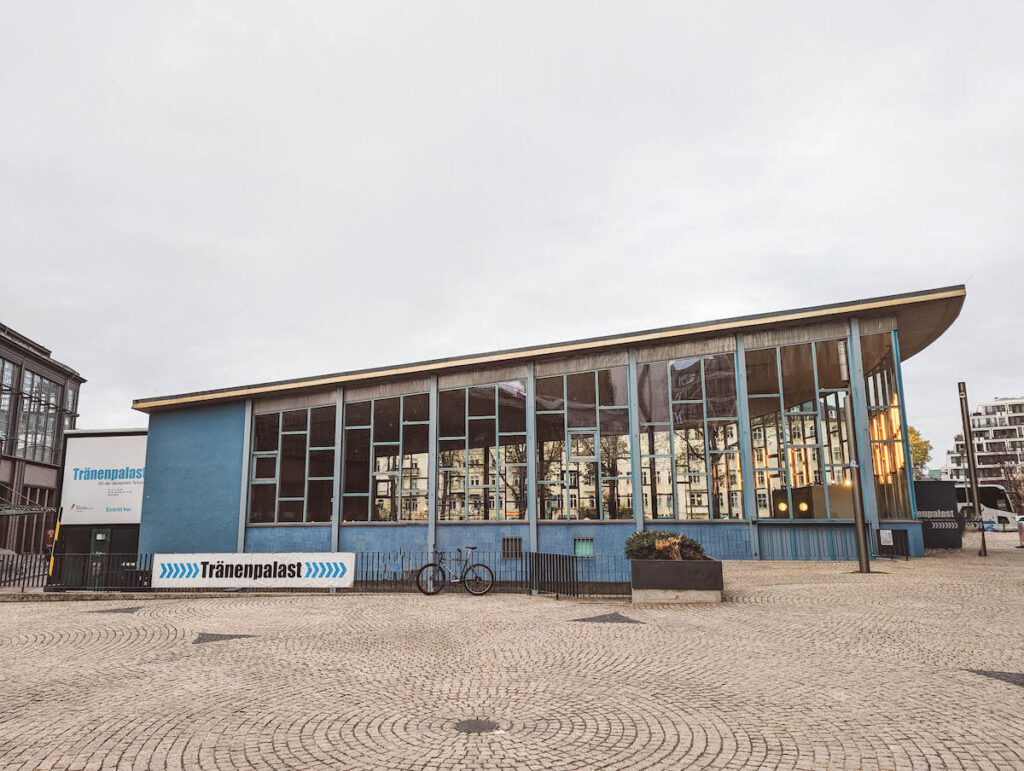 The Palace of Tears (Tränenpalast) was a check-in hall near Friedrichstraße Station that passengers traveling from East to West Berlin had to use. It acquired its name from the many tearful goodbyes that friends and family had to endure during the time of the Berlin Wall.
The exhibitions in the Palace of Tears explain the border crossings within a divided Germany. It gives visitors a glimpse into the past and helps comprehend how difficult life under Soviet rule was.
15. Visit the Topography of Terror
The grounds of the Topography of Terror (Topographie des Terrors) served as the headquarters of the Nazi Secret State Police (SS) and the Reich Security Main Office from 1933 to 1945. Nowadays, there's a simple, modern building on site that houses extensive exhibitions about the central institutions of the SS and the police force under Hitler's Third Reich.
There's a lot to read at this museum, and much of the text and photos are painful to take in. However, it's a great thing to do in Berlin on a rainy day and you'll go home with lots to think about.
16. Enjoy the View from the TV Tower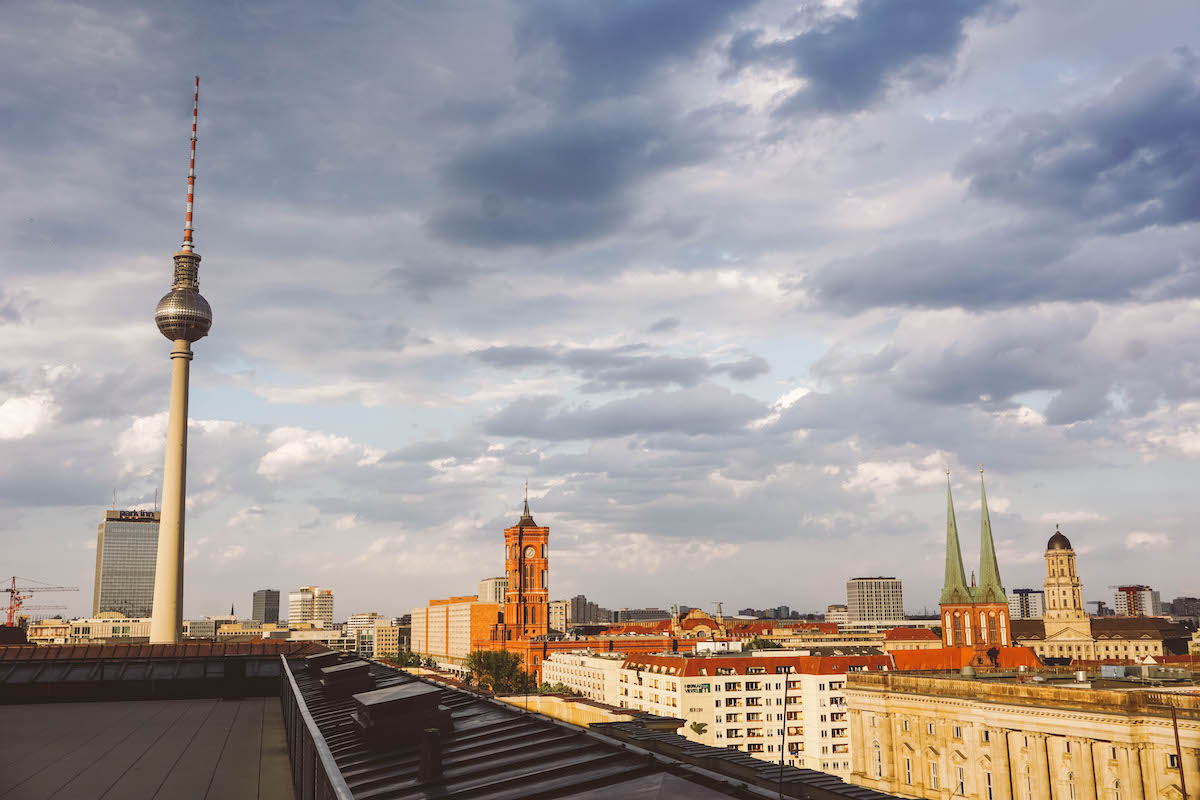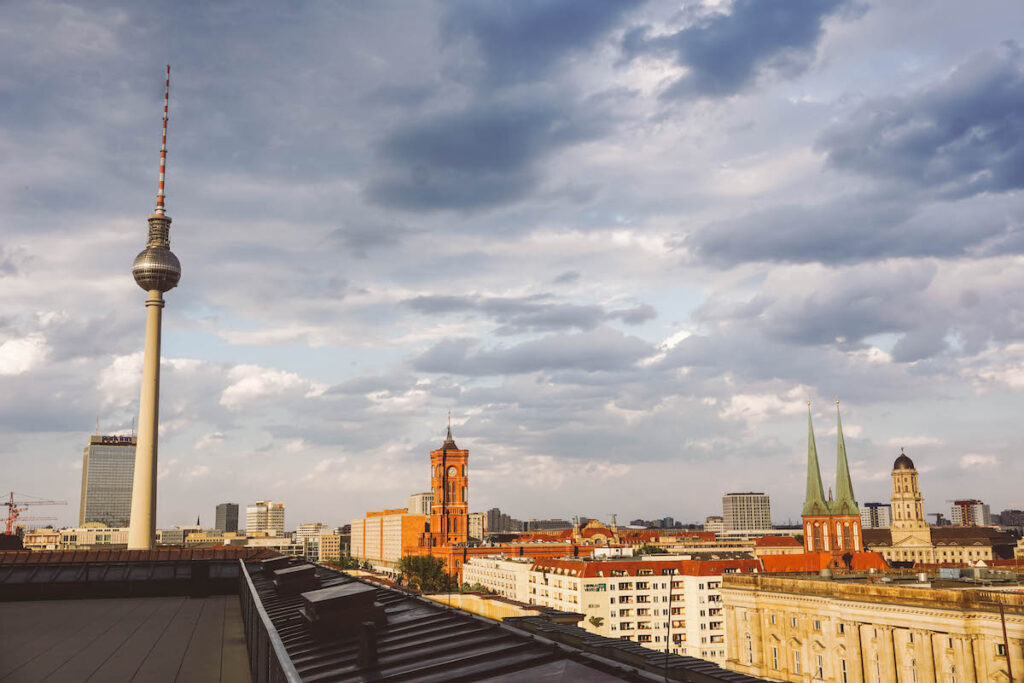 The TV tower (Fernsehturm) is a relic left over from the Soviet occupation of East Berlin. Plans for the TV tower were made in the 1950s, but it wasn't completed until the '60s.
The construction of the TV tower served to broadcast Soviet-approved TV programs across East Berlin, and also to show the world how technologically advanced the German Democratic Republic / Soviets were.
Berlin's TV tower was also used to showcase socialism on a larger scale. The ball on top of the TV tower was meant to resemble the Soviet space shuttle, Sputnik, and it was supposed to light up red at night (the color of socialism).
Visitors can go up the tower for a stunning view of Berlin. There's also a rotating restaurant at the top. A very touristy, but fun indoor activity in Berlin!
17. Hit the Spa
There are a number of spas in Berlin, with Vabali being one of the most popular. Enjoy a massage, relax in the sauna, or soak in the pool. You can purchase a 2-hour, 4-hour, or day ticket. Definitely the most relaxing thing to do inside in Berlin!
18. Window Shop on Ku'Damm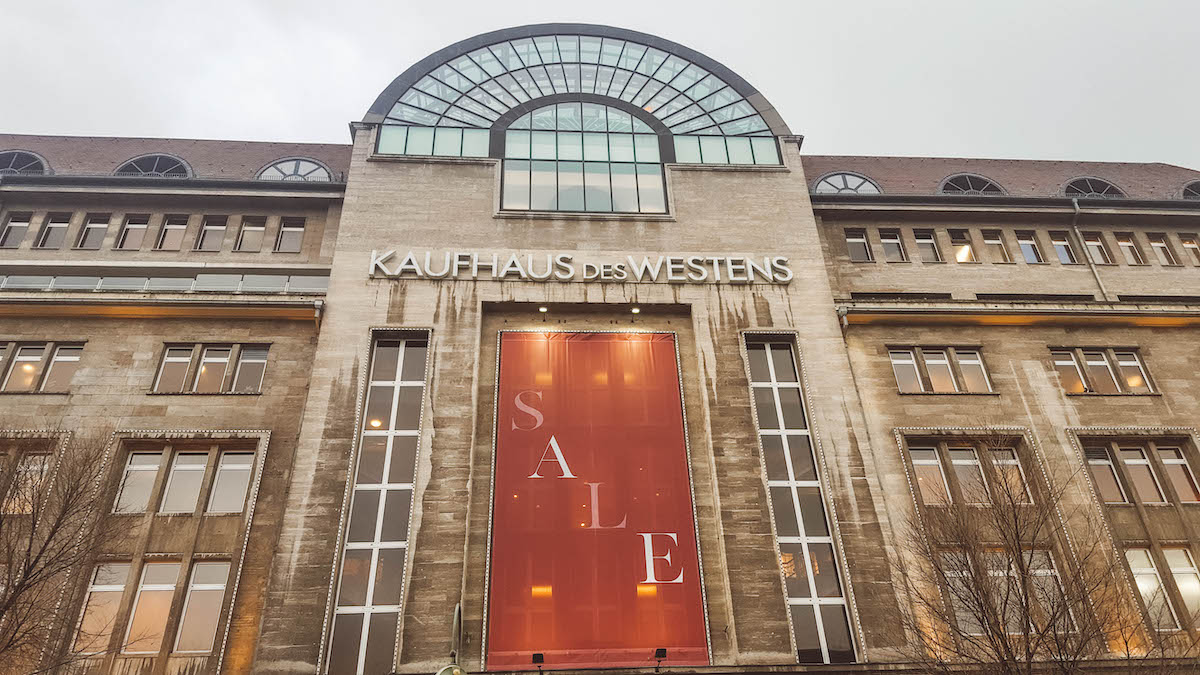 Short for Kurfürstendamm, the Ku'damm is a well-known shopping street in West Berlin. It's been compared to the Champs-Elysees in Paris, but the Ku'damm isn't nearly as beautiful (just being honest!).
I realize this is a list of things to do inside in Berlin, but with so many stores to pop into you'll only ever be outside for a few steps at a time.
While you're strolling along the Ku'damm, be sure to pop into KaDeWe (Kaufhaus des Westens). It's a well-known department store that was founded in the early 1900's and sells pretty much anything you could want!
19. See the Sculpture Collection at Friedrichswerdersche Kirche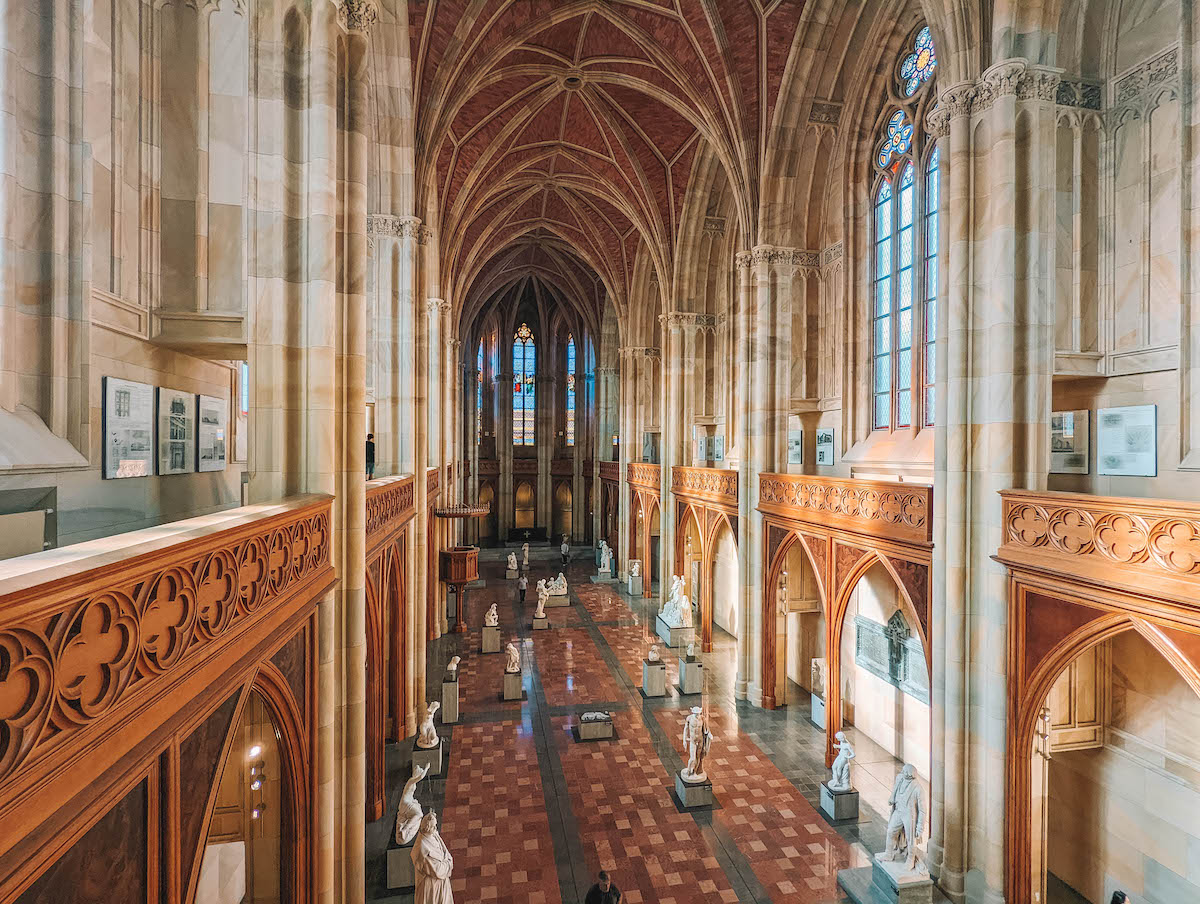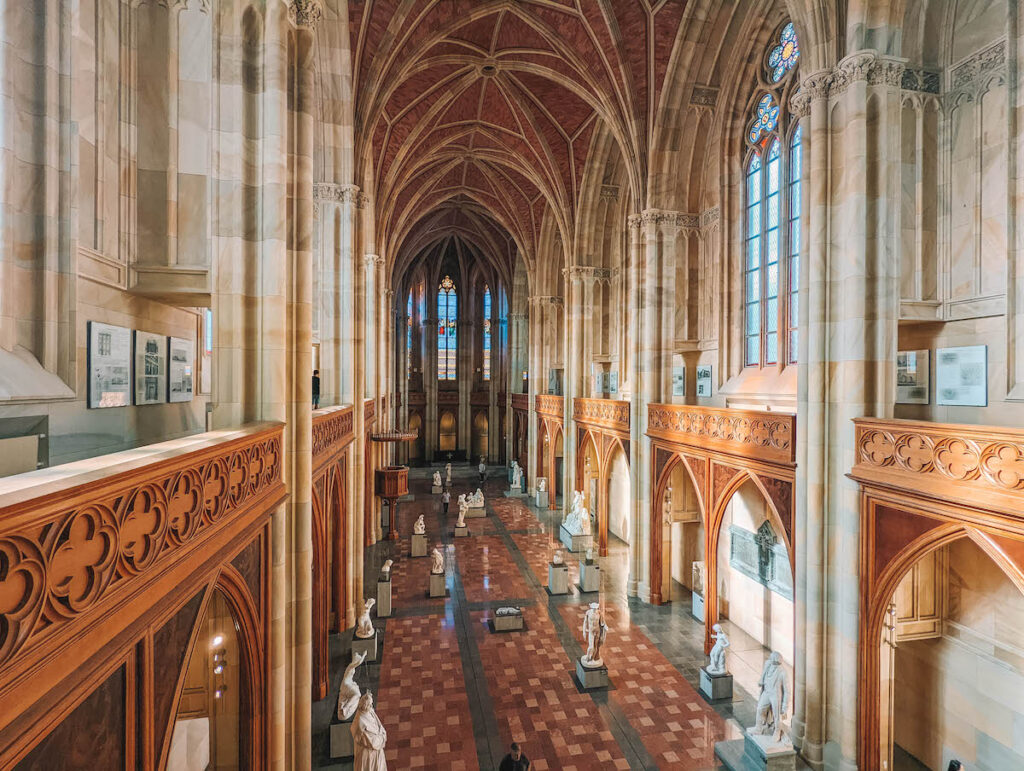 The Friedrichswerdersche Kirche is a stunning church that was built by Karl Friedrich Schinkel in the 1820s. It no longer operates as a house of worship, but is instead an extension of the Alte Nationalgalerie (Old National Gallery).
Inside you'll find a small but impressive collection of 19th century sculpture. The church itself is a work of art, so definitely take the time to admire it at your leisure!
20. Explore the Humboldt Forum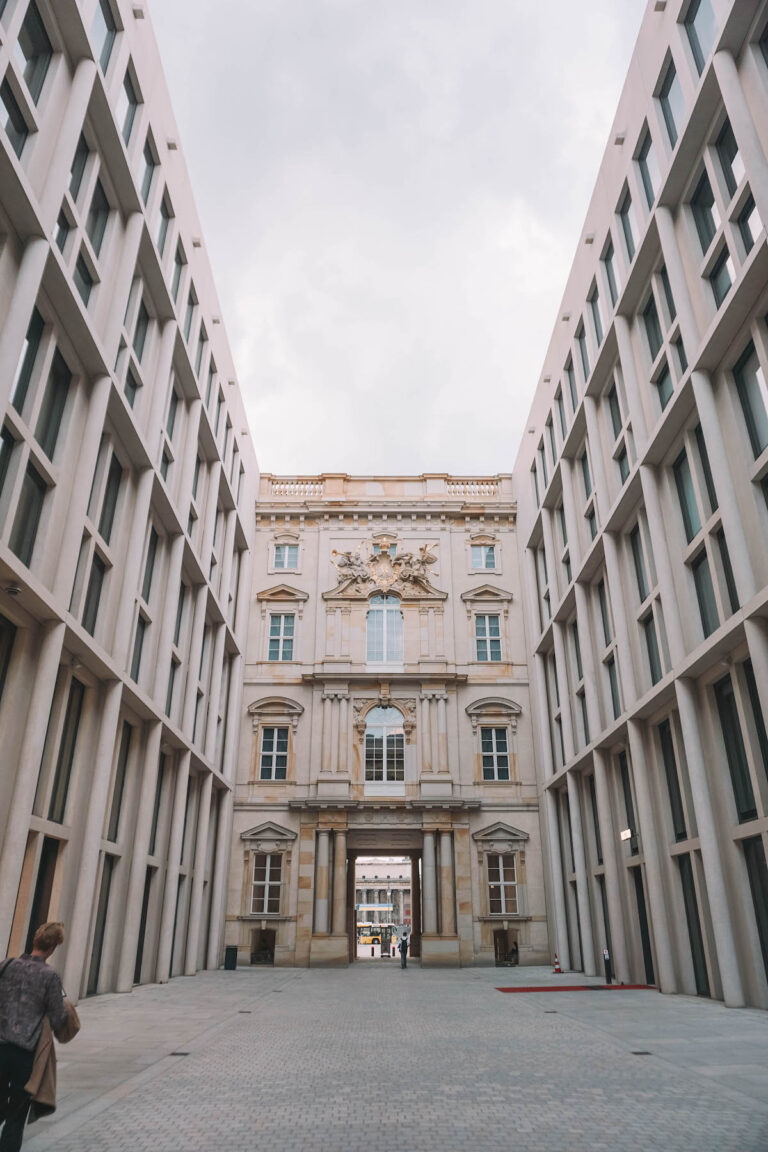 The Humboldt Forum is part museum, part cultural center, part exhibition space and it also has a viewing terrace on the very top of the building. Best of all, it's free to enter!
Spend a rainy afternoon inside this unique space. You can explore the Humboldt Forum at your own pace, or you can sign up to take a guided tour, attend a lecture, or attend a live demonstration (such as a Japanese tea ceremony).
Definitely one of the more unique Berlin indoor activities on this list!
Bad Weather? No Problem!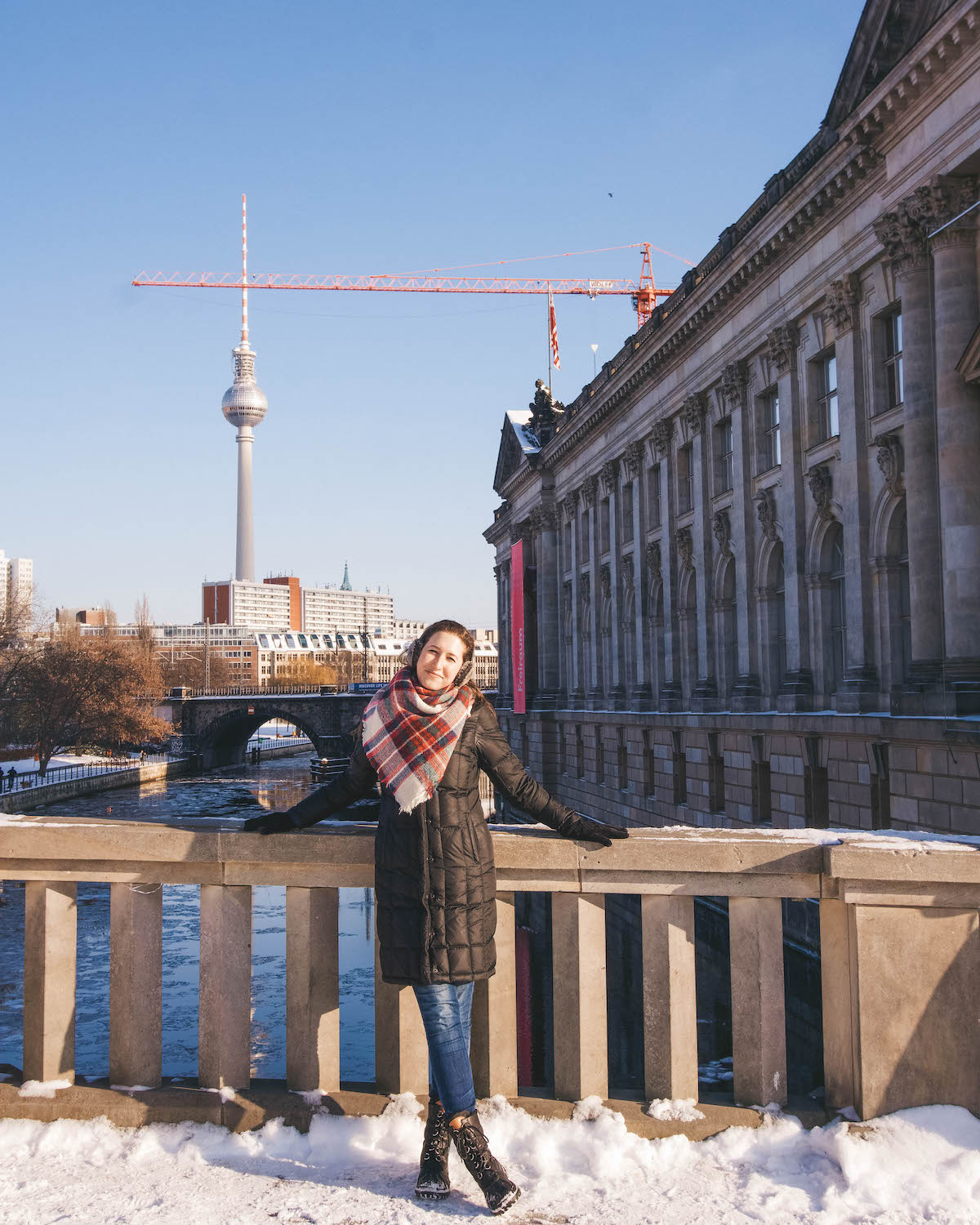 Believe it or not, these are just a few of the wonderful things to do inside in Berlin on a rainy, snowy, or gray day. Whether you live in the city or you're visiting for a few days, I hope this list of activities inspires you to get out and take advantage of all that Berlin has to offer.
Please leave me a comment with any additional recommendations you have, and of course let me know if you have questions about anything mentioned in this post!
Don't forget to follow me on Instagram to keep up with my daily adventures in Berlin and beyond!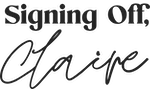 Even More Things to Do in Berlin: