Believe it or not, Germany's capital city has some of the best English bookstores! Here are the best English language bookstores in Berlin, whether you enjoy pre-loved titles or cracking open a brand new novel.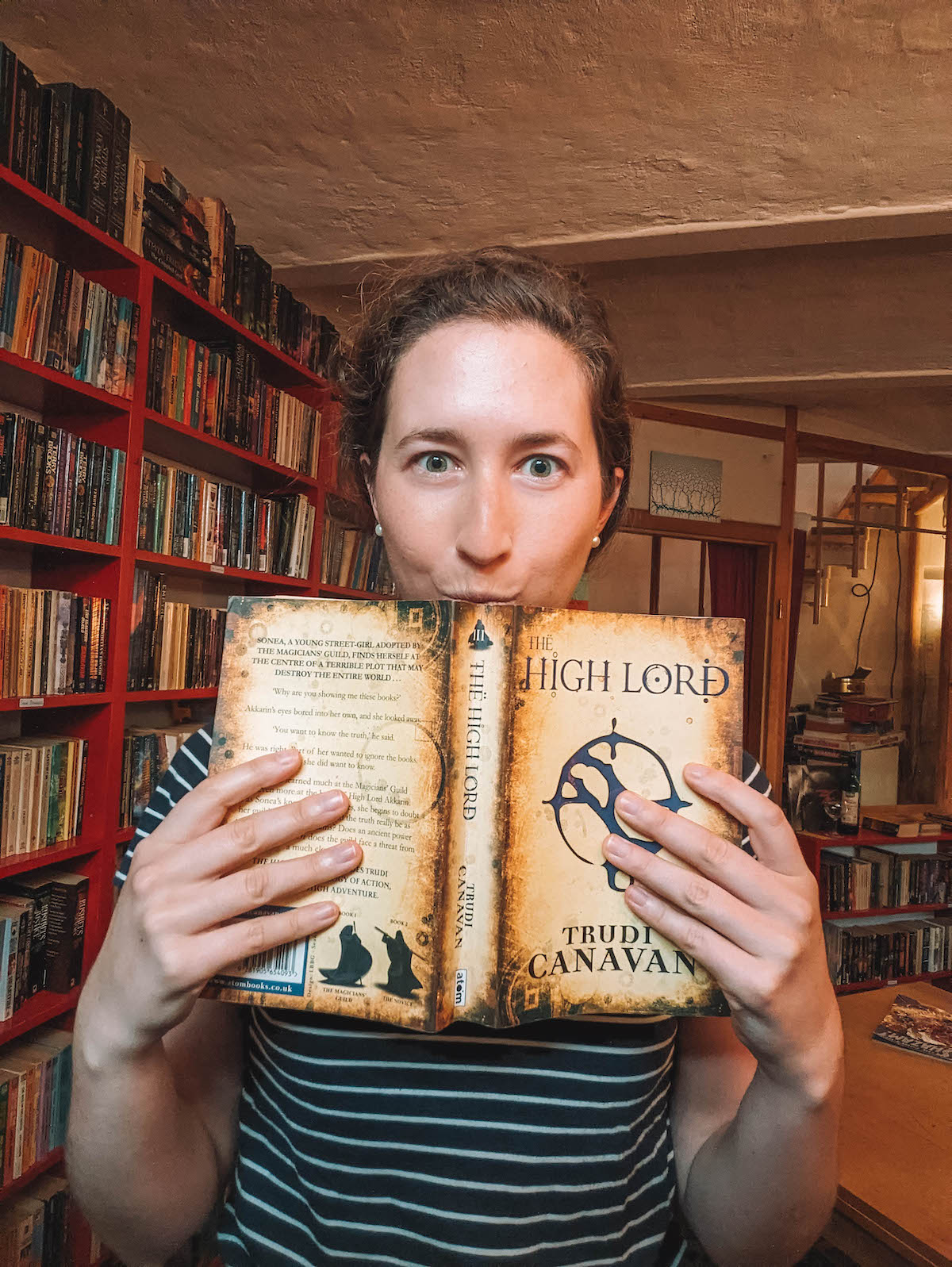 Finding English bookstores in Berlin might sound like a challenge, but there are actually quite a few to pick from. It's no wonder, considering there are an estimated 25,000 native English speakers living in Germany's capital city!
As a self-professed bookworm who aims to read 50 books per year, I like to make a monthly pilgrammage to my favorite bookstores. Not every Berlin bookstore on this list solely sells titles in English, so I've gone ahead and split the post into two sections. You'll find my favorite all-English language bookstores in Berlin plus mutilingual bookstores that have a sizeable English section.
When compiling this list, I considered the ambience, range of titles, and helpfulness of the staff. Lastly, note that these are all local or independent bookstores — always shop local when you can! 
Table of Contents
Click "show" to see the full table of contents for this post. You can jump around the post as desired by clicking on the individual sections listed below.
English Language Bookstores in Berlin
These Berlin bookstores exclusively stock titles in English. Whether you want a larger bookstore with a more traditional ambience or love a used bookstore with a cozy hole-in-the-wall flair, this list has what you're looking for.
Saint George's English Bookshop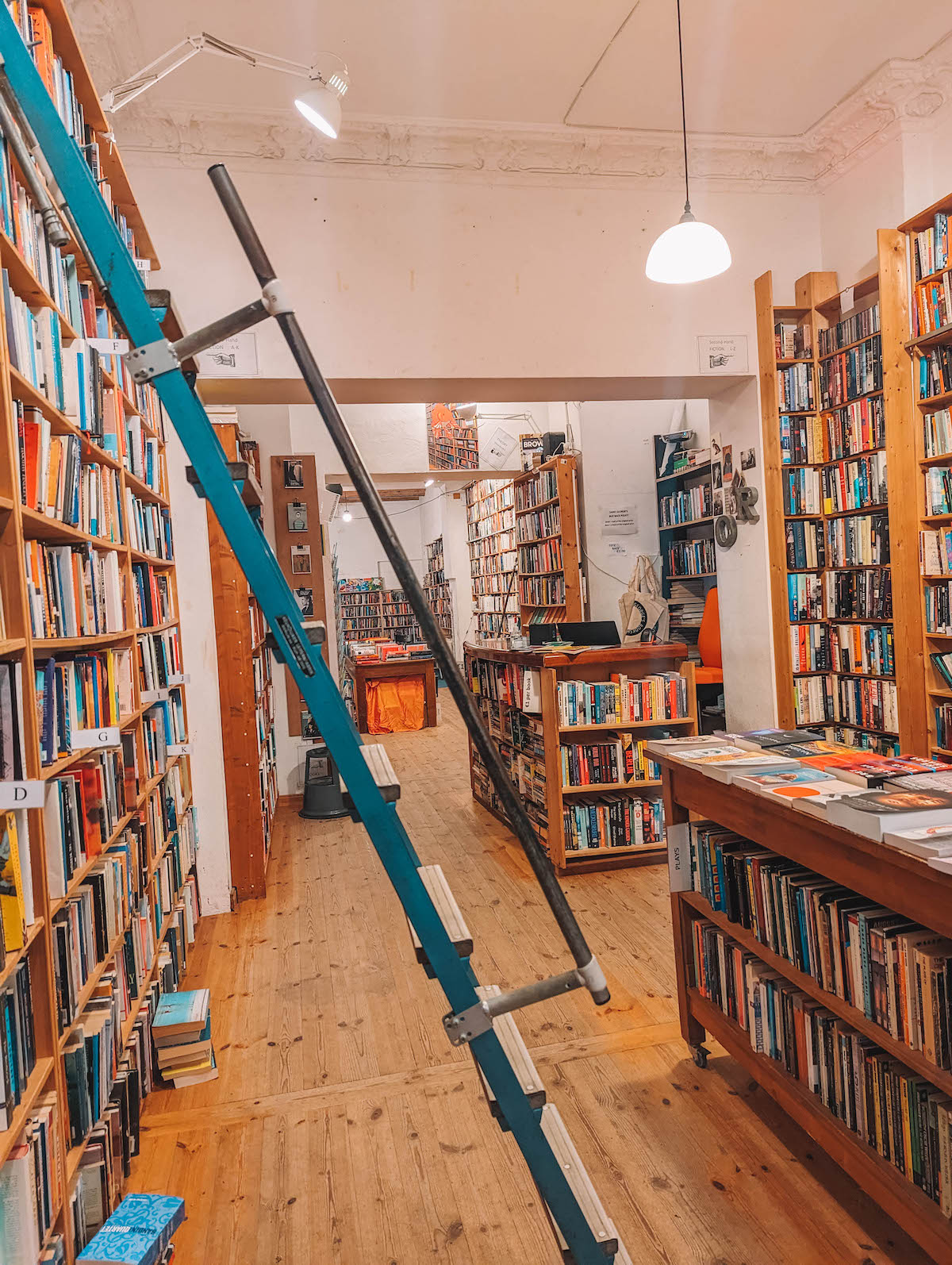 address: Wörther Str. 27
I'm kicking off this list of English bookstores in Berlin with my personal favorite. Saint George's boasts the largest selection of new and used English books in Berlin!  
The bulk of the shop is taken up by pre-loved titles, but the staff is pretty brutal when it comes to buying books from customers. While you won't necessarily be able to sell all of your used books at Saint George's, the shopping experience is excellent. Only the really good stuff is here!
The second-hand books are primarily contemporary fiction, but there's also a sizeable thriller / mystery section. The fantasy and sci-fi section is lacking, in my humble opininon.
The used books at Saint George's are a fraction of what you'd pay for new titles from a chain bookstore, but this is still the most "high end" used English bookstore in Berlin because it's one of the best known, is located in popular (and gentrified) Prenzlauer Berg, and also because the authors and titles in stock are in high demand.  
If there's a title that you desperately want and Saint George's doesn't have it in stock, you can place an order through them and pick up your book a few days later. They receive five shipments of books per week from the UK and US, so pickup is pretty quick.
Tip: If you bought a book at Saint George's, they'll buy it back from you at half price.
Another Country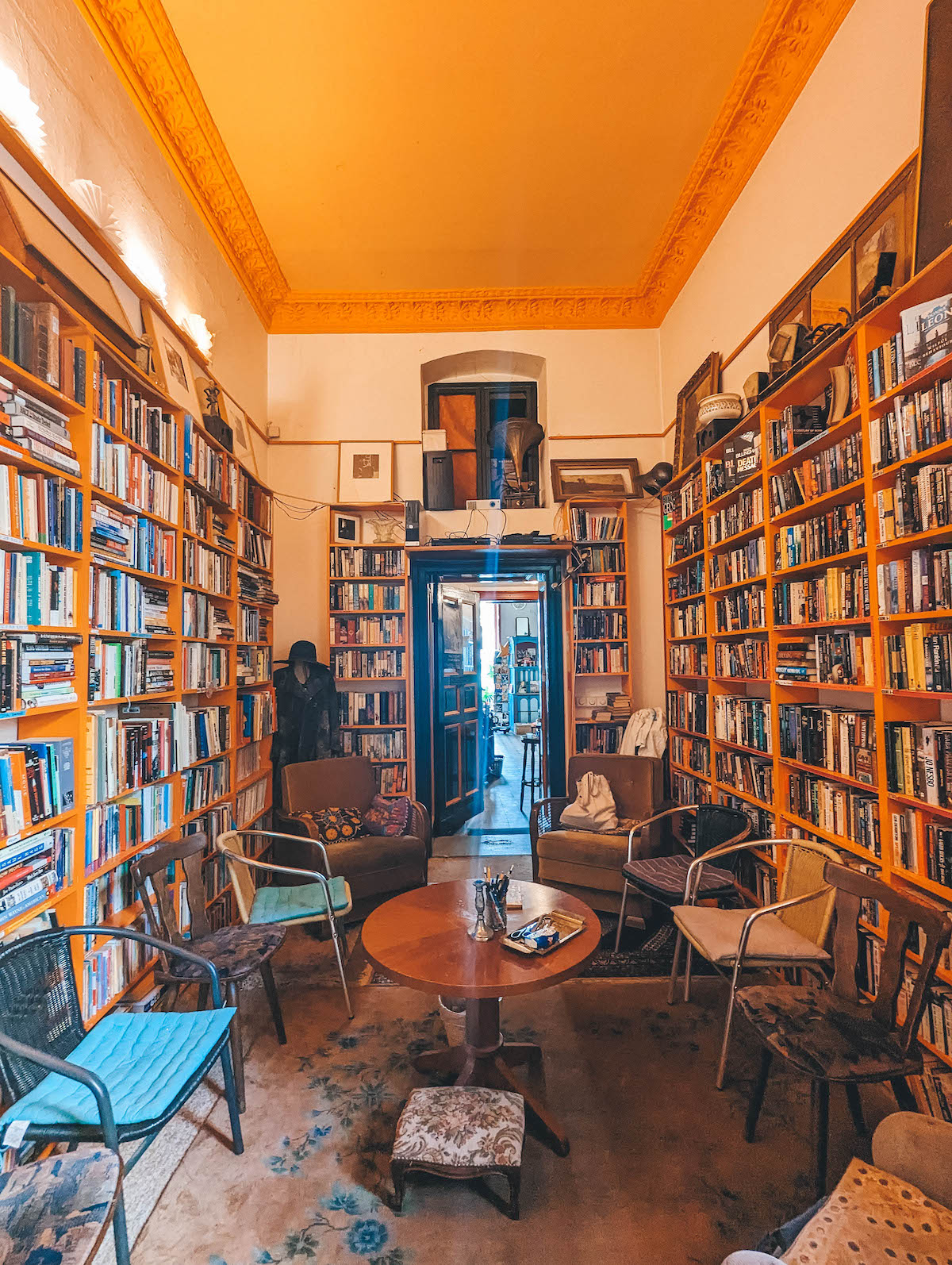 address: Riemannstraße 7
In contrast to the light, bright space of Saint George's, Another Country is more akin to a cozy cave stuffed with books. And when I say stuffed, I mean stuffed.
Another Country has more than 20,000 books, all in English. A visit to this second-hand bookstore feels like a treasure hunt — the books are loosely grouped and organized on the shelves. If you're struggling to find a specific author or title, I recommend asking the staff for help as the labyrinth of books can be tough to navigate.
Note that Another Country operates more like a library! Yes, you pay for the books up front like you would at any bookstore, but each book has a sticker on the inside cover. Keep that sticker in the book so you can return it! You'll get all but 1.50 Euros back, which is an absolute steal!
Tip: Another Country also hosts readings, book clubs, and movie nights. This is a wonderful place to come if you're looking for a literary community in Berlin!
Shakespeare & Sons
address: Warschauer Str. 74
Part bookstore and part café, Shakespeare & Sons primarily stocks new books, with a small used section in the back of the store. If you're looking to sell some books, they'll buy them off of you for 50 cents to 2 Euros each.
The selection at Shakespeare & Sons isn't huge, but they'll have pretty much any new title you could want. You can also order books online via their website and pick them up in the store.
Tip: I like to grab a bagel and browse the book selection at Shakespeare & Sons on the weekend after hunting for some deals at the Boxhagener Platz flea market.
The Book Nook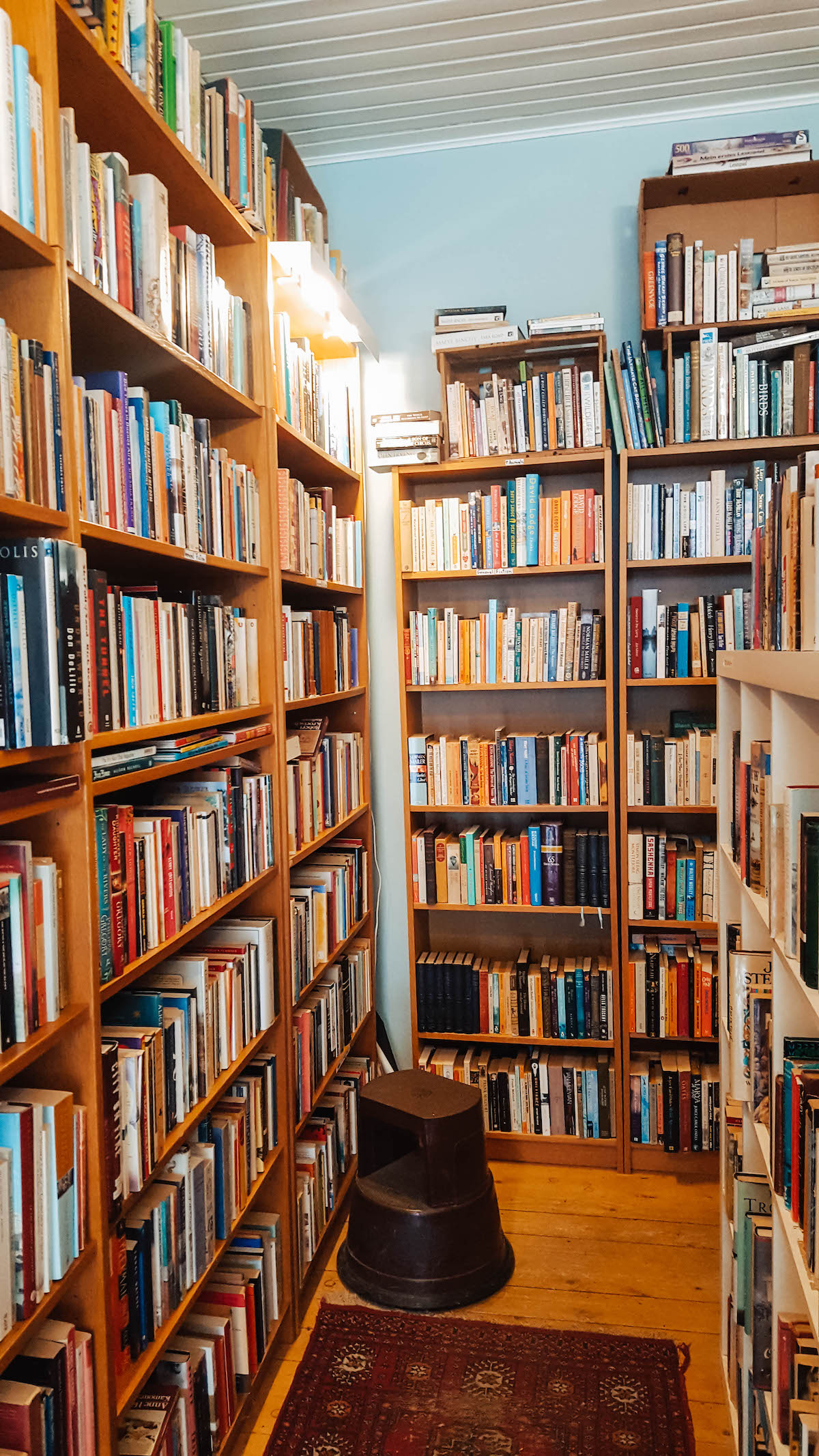 address: Pflügerstraße 63 and Antwerpener Str. 46A
The name says it all! The Book Nook is a small but cozy second-hand English bookstore in Berlin with roughly 4,000 books in its collection.
Paperbacks start at 5 Euros and hard copies can run up to 15 Euros.
Since The Book Nook has a smaller collection, there's no guarantee that you'll be able to find the specific titles or authors you're looking for. But that's the fun challenge of visiting any second-hand bookstore!
Note that The Book Nook now has two locations, one in Neukölln / Kreuzberg and another in Wedding.
Love Story of Berlin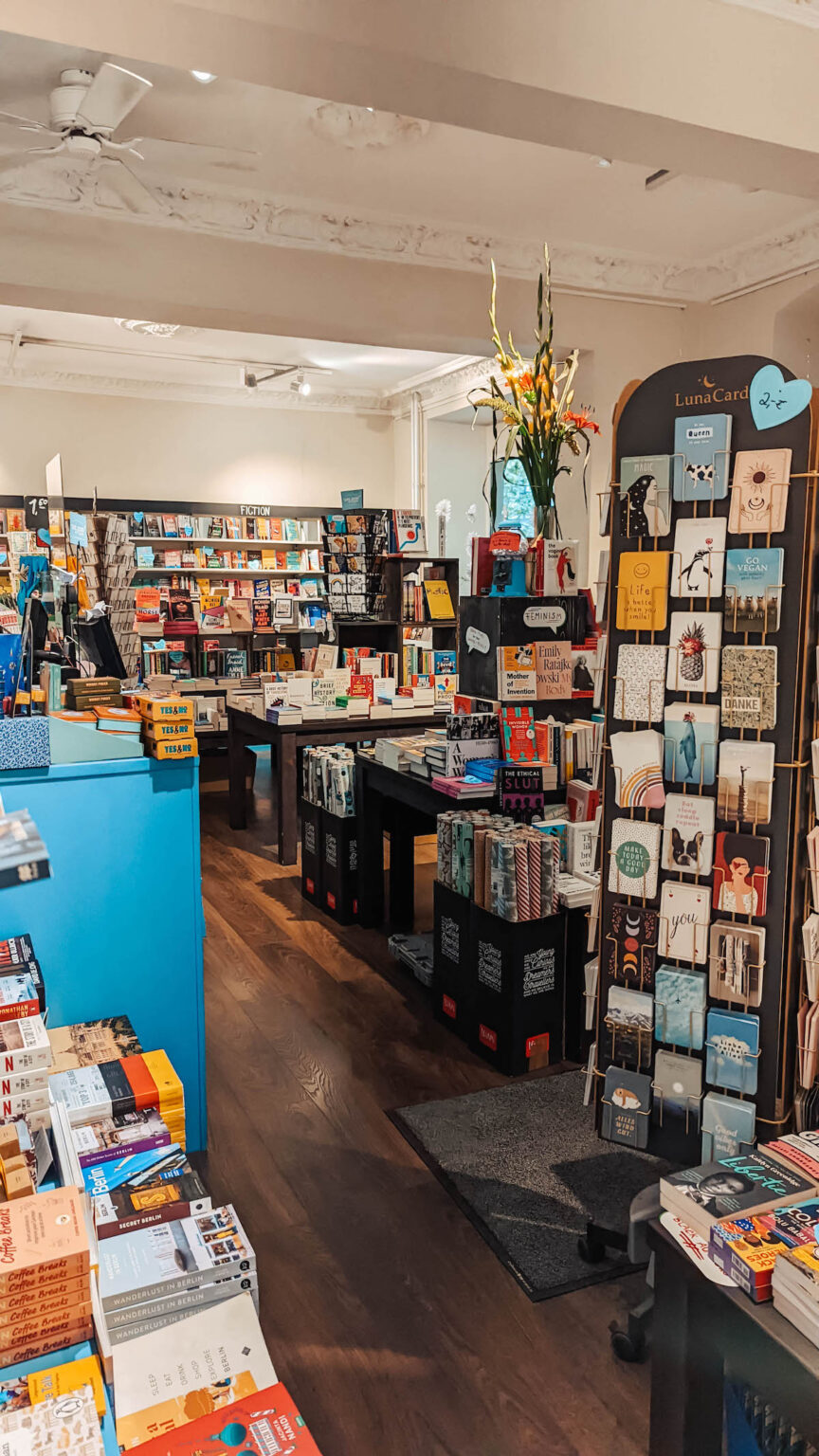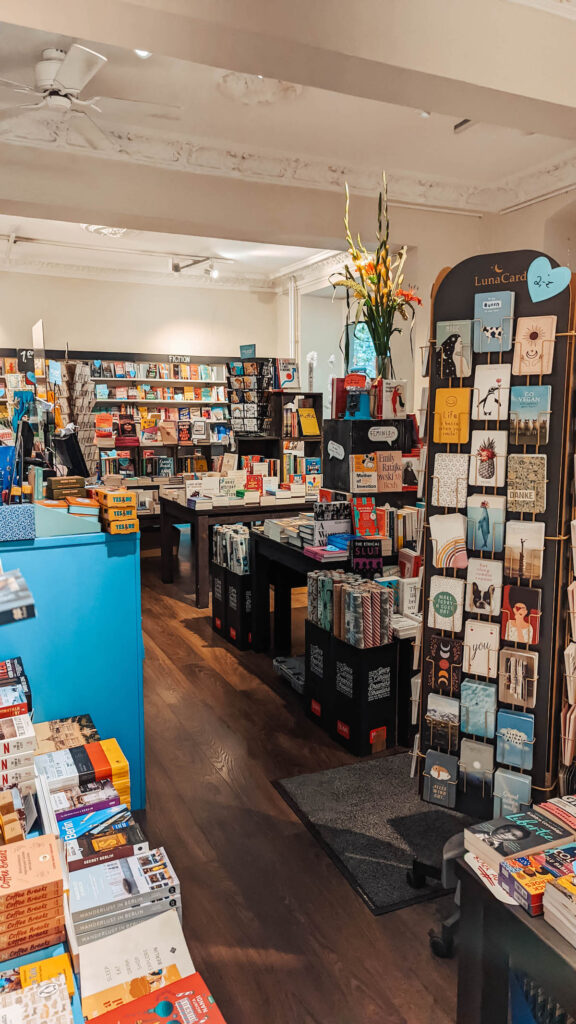 address: Kastanienallee 88
Of all the Berlin English language bookstores on this list, Love Story of Berlin is the newest. Established in 2016, this bookstore is part of the BUCHBOX! Company, which is a local German bookstore chain in East Berlin.
Love Story of Berlin is a smaller storefront, but it's great about stocking current best-sellers and long-standing favorites.
On my last visit, I noticed a sizeable collection of books with themes surrounding feminism and gender idintity. If you're looking for titles beyond the usual best-sellers, you might find what you're looking for at Love Story of Berlin.
Tip: Love Story of Berlin is located In the heart of Prenzlauer Berg. Combine your book browsing with a visit to Mauerpark or the KulturBrauerei.
Berlin Bookstores with an English Language Section
There are many more bookstores in Berlin with an English language section. Of course, you can always go to bookstore chains like Hugendubel to find the most recent book releases, but supporting the city's independent bookstores is so much better!
I only included bookstores with sizeable English language sections (I like to have options!). Some of the following bookstores sell new books, and some specialize in second-hand titles. All are gems!
Dussman das KulturKaufhaus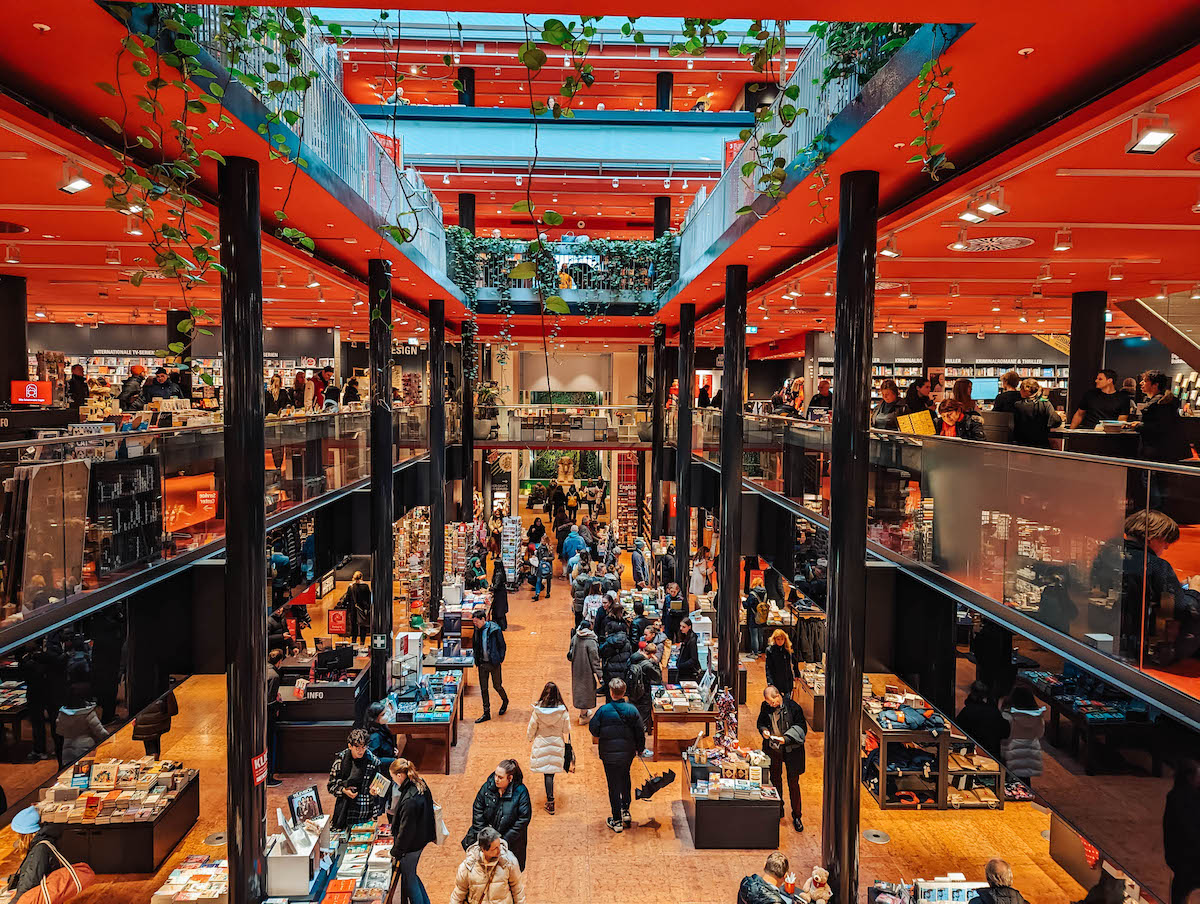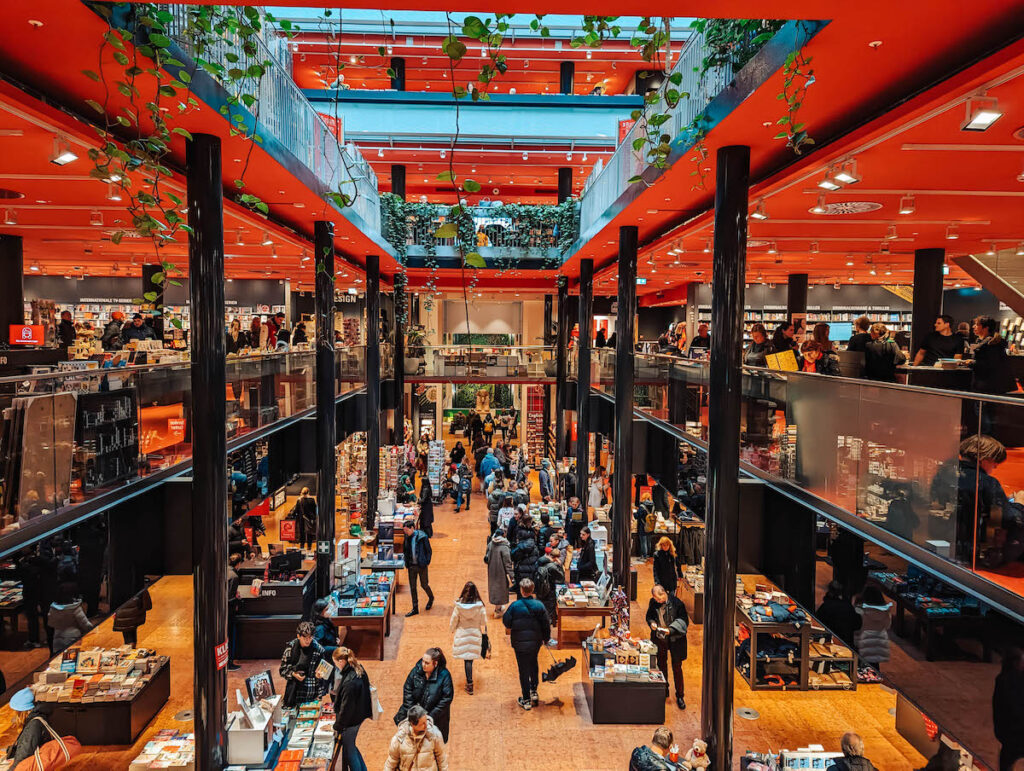 address: Friedrichstraße 90
If you're looking for a specific author or title and want it NOW, Dussman is the place to go. This massive bookstore near Friedrichstraße is a multi-floor shop with a huge collection of books in English at the back (follow signs pointing to the "English Bookstore").
You can find new titles in the English section, plus all of the classics. There's a large contemporary fiction section, as well as a good fantasy / sci-fi section and books on philosophy, memoirs, cookbooks – pretty much everything you could want! 
I should also note that Dussman has a great kids section in English.
Tip: Dussman is open until midnight during the week, and it's a fun place to come on fall and winter nights when the museums are closed or you want to get out of the house but don't want to go out to eat.
Marga Schoeller Bücherstube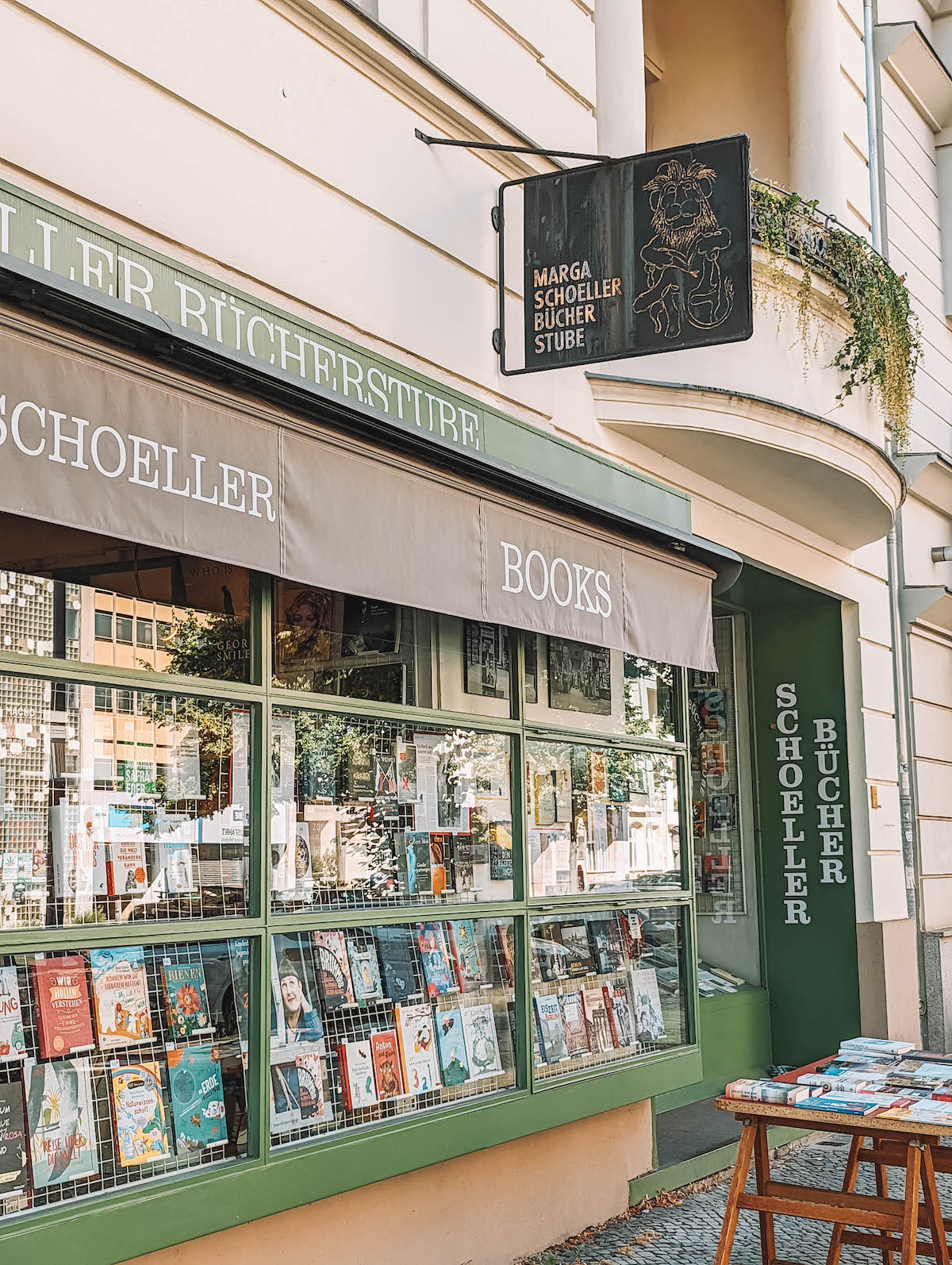 address: Knesebeckstraße 33
Marga Schoeller has been a Charlottenburg staple for more than 90 years (but has only been at its current location sine the '70s). This independent bookstore in Berlin was named after the store's founder, Marga Schoeller. During WWII, Schoeller sold books that were banned by the Nazi party from the basement of her shop.
Following WWII, Marga Schoeller Bücherstube was the first Berlin bookstore granted permission to sell English books — so its English language section is historic, in that regard.
The English section at Marga Schoeller is sizeable. Expect lots of new or contemporary titles with some classics thrown in. I also appreciate the number of Berlin and Germany-focused books they stock in English!
Marga Schoeller is the prettiest bookstore on this list, in my humble opinion. The sage green of the awnings outside is continued within the store. The atmosphere is incredbly warm and inviting!
Otherland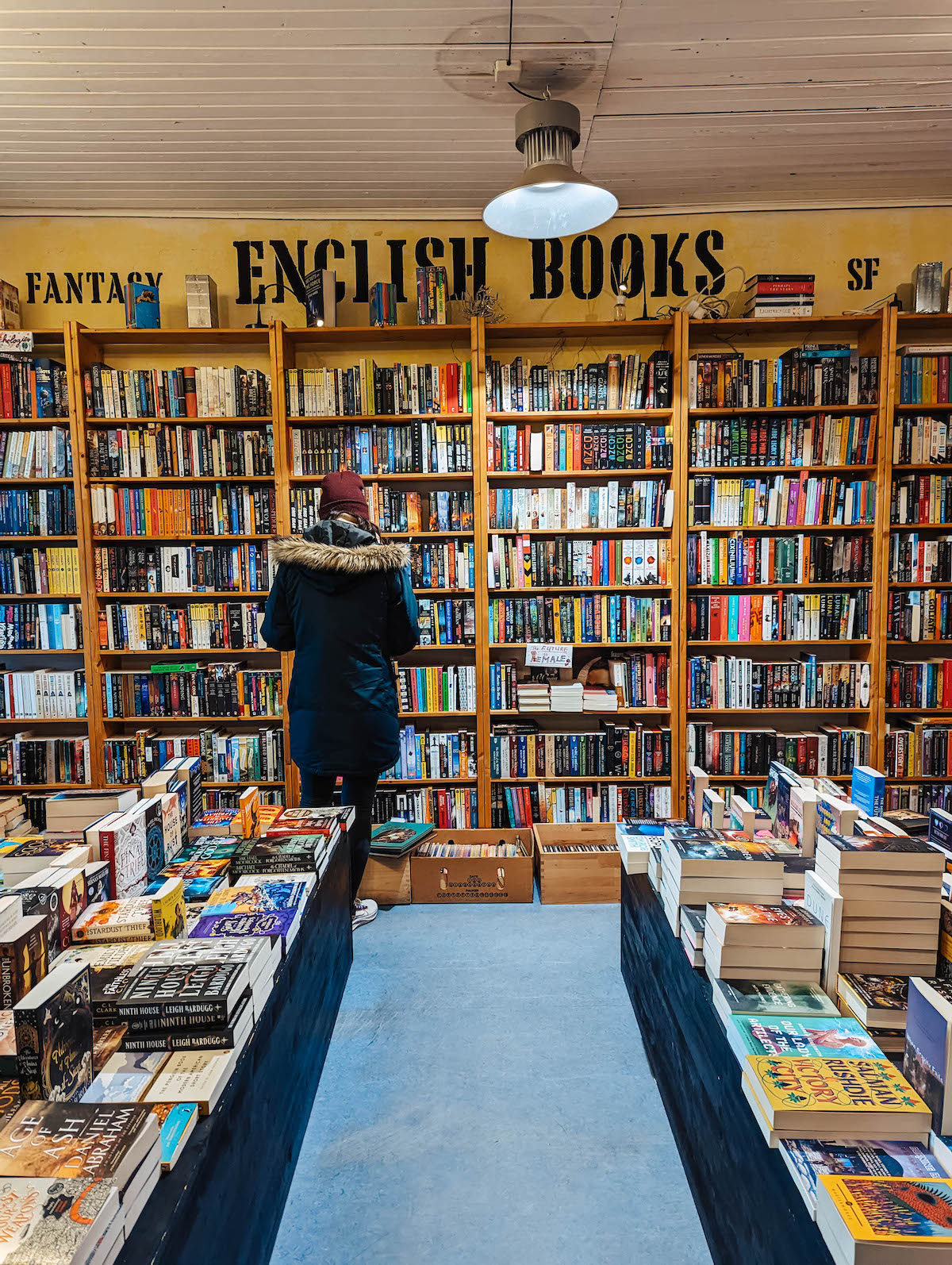 address: Bergmannstraße 25
Sci-Fi and fantasy lovers, listen up! A short walk from Another Country (mentioned previously on this list) is Otherland, a bookstore dedicated entirely to the science fiction and fantasy genres.
The front of the store holds the German titles, and the back holds all of the English books. Otherland has a mish-mash of new and used books, with boxes on the floor for you to sort through in addition to jam-packed rows of shelves.
If you're a hardcore sci-fi / fantasy reader, I highly recommend making the pilgrammage to Otherland as it's the perfect place to uncover hidden gems and new-to-you authors.
And if you're just an occasional sci-fi / fantasy reader, still pay this independent bookstore a visit!
As you can imagine from such a specialized bookstore, the staff is super friendly and knowledgeable about the science-fiction and fantasy genres. I got some great recommendations the last time I was there, so don't be shy about asking for recommendations!
Otherland orders directly from the US every Saturday, and you can ask them to order you a title if they don't currently have it in stock.
Tip: Otherland also hosts a book club! Ask at the register to see how you can sign up.
Hammett Krimibuchhandlung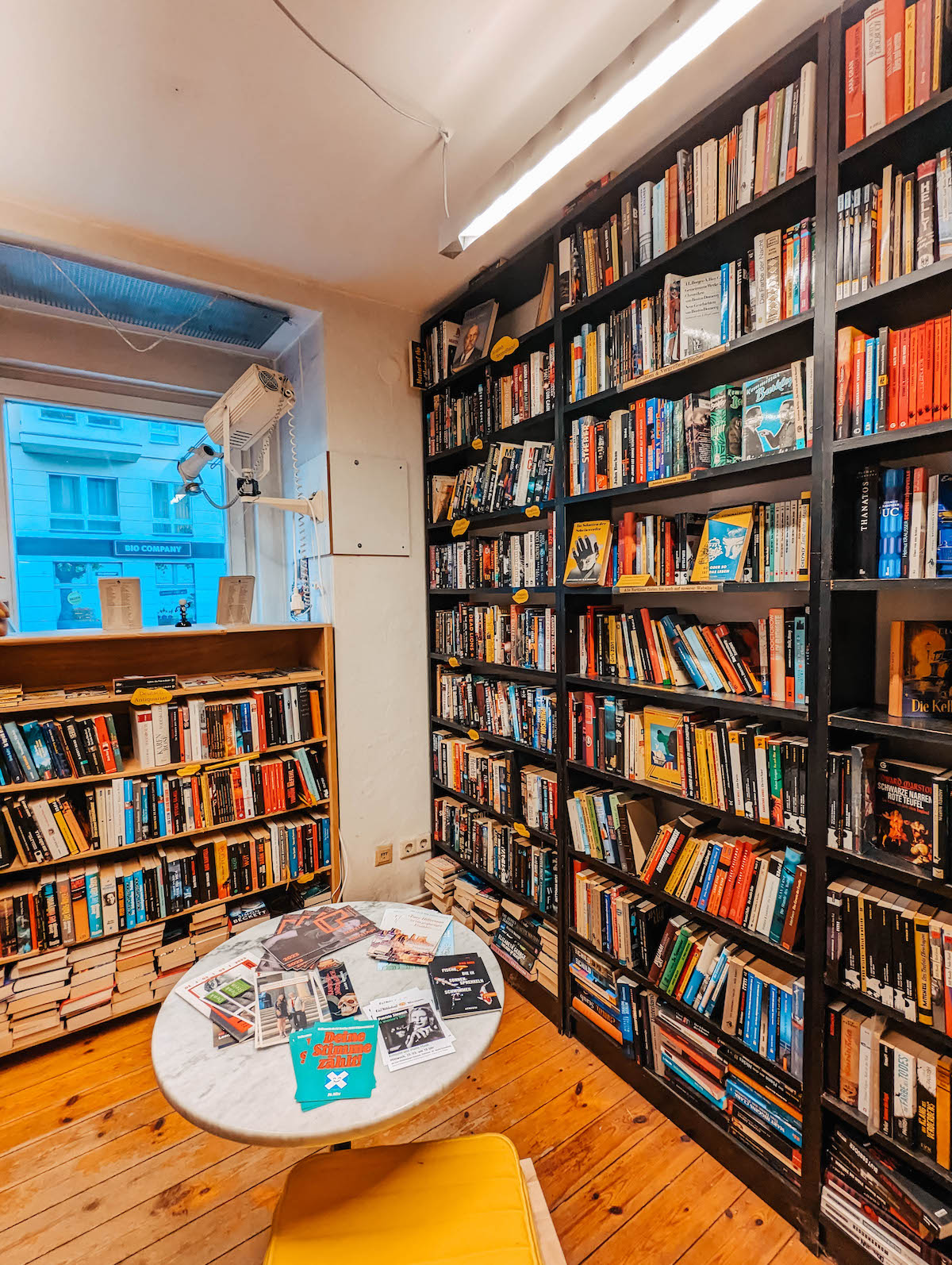 address: Friesenstraße 27
Two doors down from Otherland is my other favorite niche Berlin bookstore. If you speak German, the name of the store gives it away — Hammett Krimibuchhandlung specializes in mysteries and thrillers (called Krimi in German, hence the name).
Of all the bookstores on this list, Hammett feels the most old-fashioned. It's very small and unpretentious, with quite possibly the nicest owner I've had the pleasure of meeting at a bookstore. 
He knows the mystery / thriller genre inside-out and is ready to give recommendations based on even the most niche request (seriously, I was very specific about what I was looking for and he gave me lots of options to look through).
The front room at Hammett is dedicated to mysteries and thrillers in German, but there's a small room in the back with new and used English titles. Hammett stocks a good mixture of classic authors of the genre, like Agatha Christie, as well as lesser known authors. 
There's even an entire section dedicated to Berlin authors! (Although as I recall those are primarily in German, argh!)
Hammett Krimibuchhandlung seems to be a hidden gem in Kreuzberg as I've never seen it on another list of English bookstores in Berlin, so definitely check it out!
Do you read me?!
address: Auguststraße 28
If a bookstore can be cool (it can, right?), Do you read me?! fits the bill perfectly.
This chic bookstore in Mitte stocks titles related to fashion, photography and art, architecture, and graphic design. And it's not just books, either!
Do you read me?! focuses on indie publishing in general and also sells magazines, newspapers, and local publications. You can find publications from around the world here, most of which are in English.
Tip: If you're looking to expand your literary boundaries, sign up for their "Surprise Subscription" to have one new publication delivered to your doorstep each month.
Happy Book Buying!
I'm always looking for new English bookstores in Berlin, so please leave me a comment below if I've left any of your favorites off of this list. And, of course, share this list with the bibliophiles in your life because no one can own too many books! 
Don't forget to follow me on Instagram to keep up with my daily adventures in Berlin and beyond!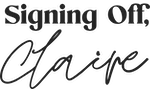 More Places to Visit in Berlin: