There are so many fantastic (and easy!) day trips from Cologne that you can take. In this post, I'm sharing my 11 favorite day trip destinations — all of which are accessible by train!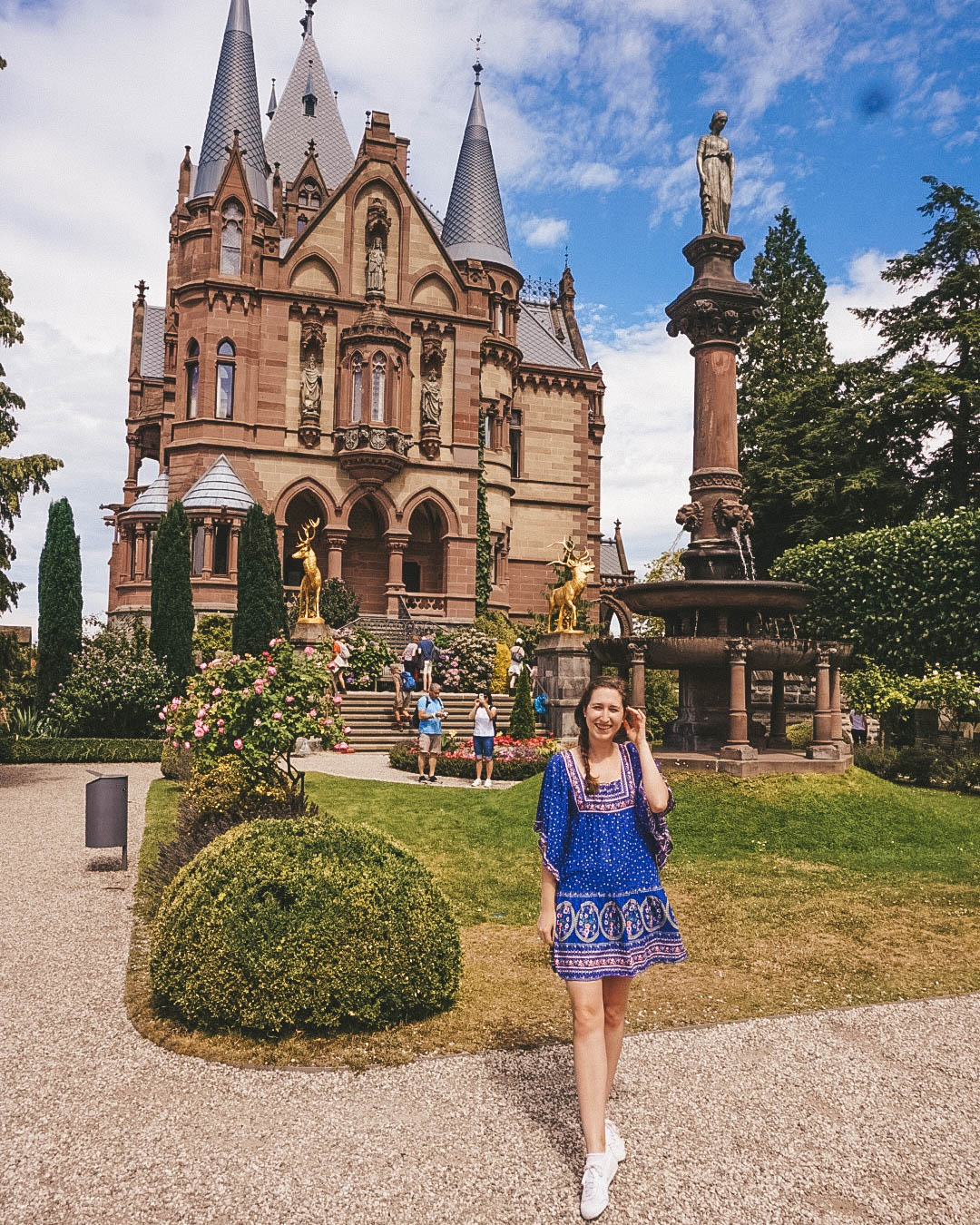 Cologne is a fabulous home base for exploring western Germany. Many of the most popular train routes in that area of the country stop at the Cologne central station, so it's easy to explore nearby cities without having to rent a car.
Whether you want to visit a castle, see half-timbered houses, or get out into nature, this list of Cologne day trips has a little of everything on it!
Note that I've visited every Cologne day trip destination shared in this post, so I can personally vouch for each and every one of them being awesome. When possible, I've linked to my ultra detailed city guides to make planning your day trip even easier!
Lastly, note that all of these day trips out of Cologne are a maximum of 2.5 hours away from the main train station (you may have to take the ICE, as a heads up). If traveling to a day trip destination takes longer than that, it's just far too long of a day for me!
Tip: If you're visiting Cologne for the first time, I recommend spending at least two full days in the city to experience it properly. If you have more than two days in Cologne, take a day trip! 
Table of Contents
Click "show" to see the full table of contents for this post. You can jump around the post as desired by clicking on the individual sections listed below.
Bonn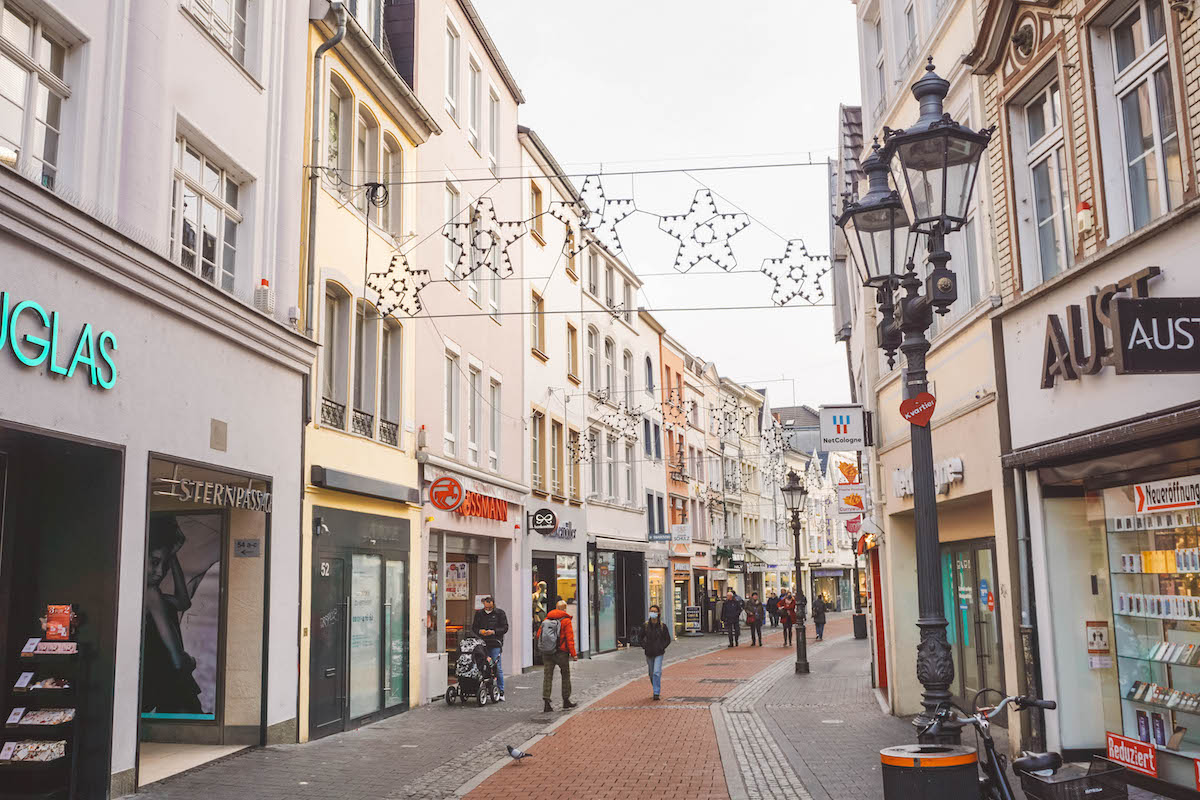 Travel time by train: 20 minutes
The easiest day trip from Cologne is the former capital of West Germany — Bonn! Bonn was a former Roman settlement just like Cologne, so there's lots of interesting history to learn about this lovely city.
It also happens to be Ludwig van Beethoven's birthplace (you know, Ode to Joy?). If you enjoy listening to classical music, a pilgrimage to Beethoven's house is a must while you're in the region!
More of my favorite things to do and see in Bonn include: 
Minster Basilica (Münsterbasilika) — The main basilica in Bonn, believed to be around 900 years old! It was built on the site of a Roman burial ground.
Old Town – Confusingly, Bonn's "Old Town" isn't that old! The real Old Town was destroyed in WWII and wasn't properly rebuilt.
Cherry Blossom Avenue — If you happen to be in Cologne from the end of March to mid-April, you HAVE to take the train to see the cherry blossom avenue in Bonn. It's considered to be the best place to see cherry blossoms in all of Germany! 
Düsseldorf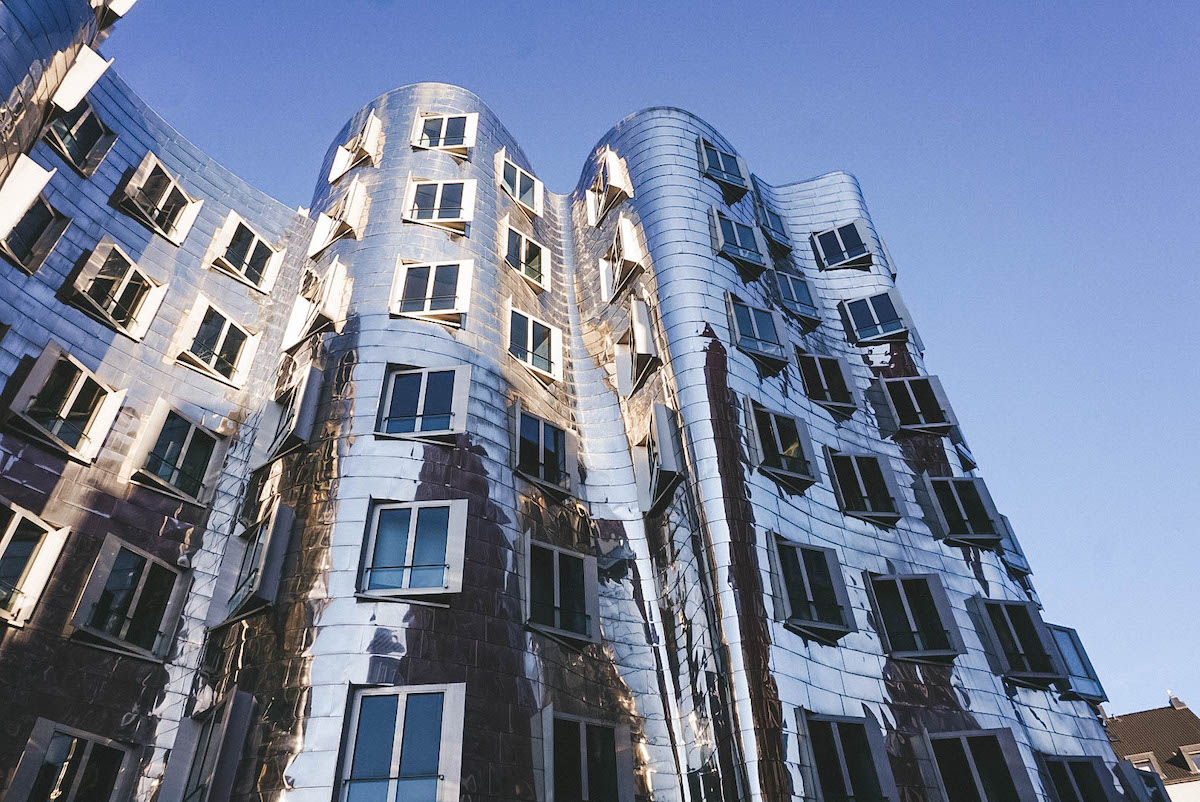 Travel time by train: 25 minutes
One of the most popular day trips from Cologne is Düsseldorf. The two cities have a (mostly) friendly rivalry that stems from their close proximity.
Cologne is definitely the hipper and grittier of the two cities, whereas Düsseldorf is much more polished and professional-feeling. I genuinely love both cities and think it's cool how unique they are, despite being a quick train ride apart!
You can see a lot of central Düsseldorf in a single day. Here are the activities I recommend:
Königsallee — The main shopping street. There are lots of luxury brands located here.
Old Town — Small but pretty. You'll notice a heavy Dutch influence in the architecture.
MedienHafen (Media Harbor) — Lots of funky architecture to admire along the water.
Little Tokyo neighborhood — Düsseldorf has largest Japanese population outside of Japan and as such the Japanese food here is unreal!
Check out my full guide for even more things to do in Düsseldorf! 
Brühl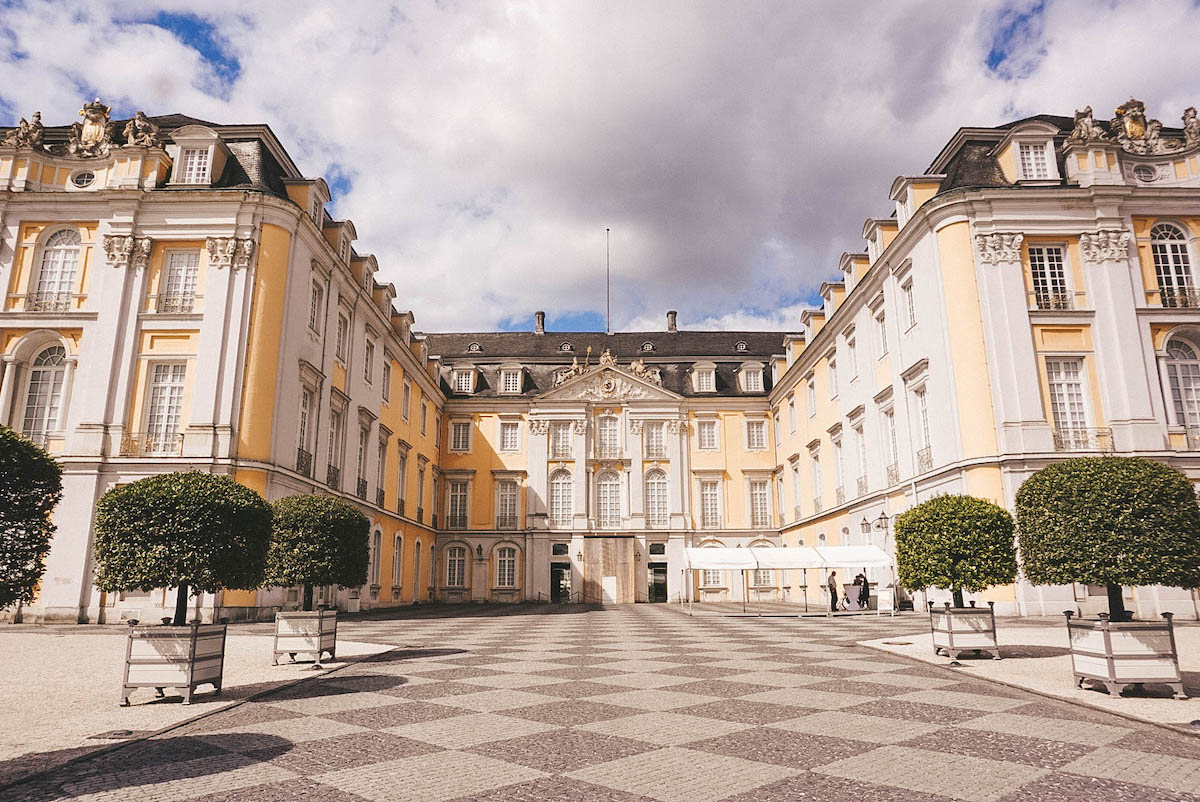 Travel time by train: 35 minutes
If you love touring stately homes and castles, Brühl will be your favorite Cologne day trip! The town of Brühl is nice to walk around and is much different than bustling Cologne. 
However, the real draw of Brühl is the massive rococo-style palace called Augustusburg. It's one of the most spectacular palaces that I've visited in Germany — and I've seen a lot since moving here in 2019.
After touring Augustusburg Palace, be sure to bike, walk, or drive to the nearby Falkenlust hunting lodge! Your palace ticket grants you access to the hunting lodge as well, and although it's very small the countryside surrounding it is spectacular.
For lots more photos and details on visiting Brühl, read my full day trip guide.  
Tip: If you just want to visit the palace in Brühl, half a day is sufficient. However, to also see the hunting lodge and walk around the town center, you'll need the better part of a day.
Königswinter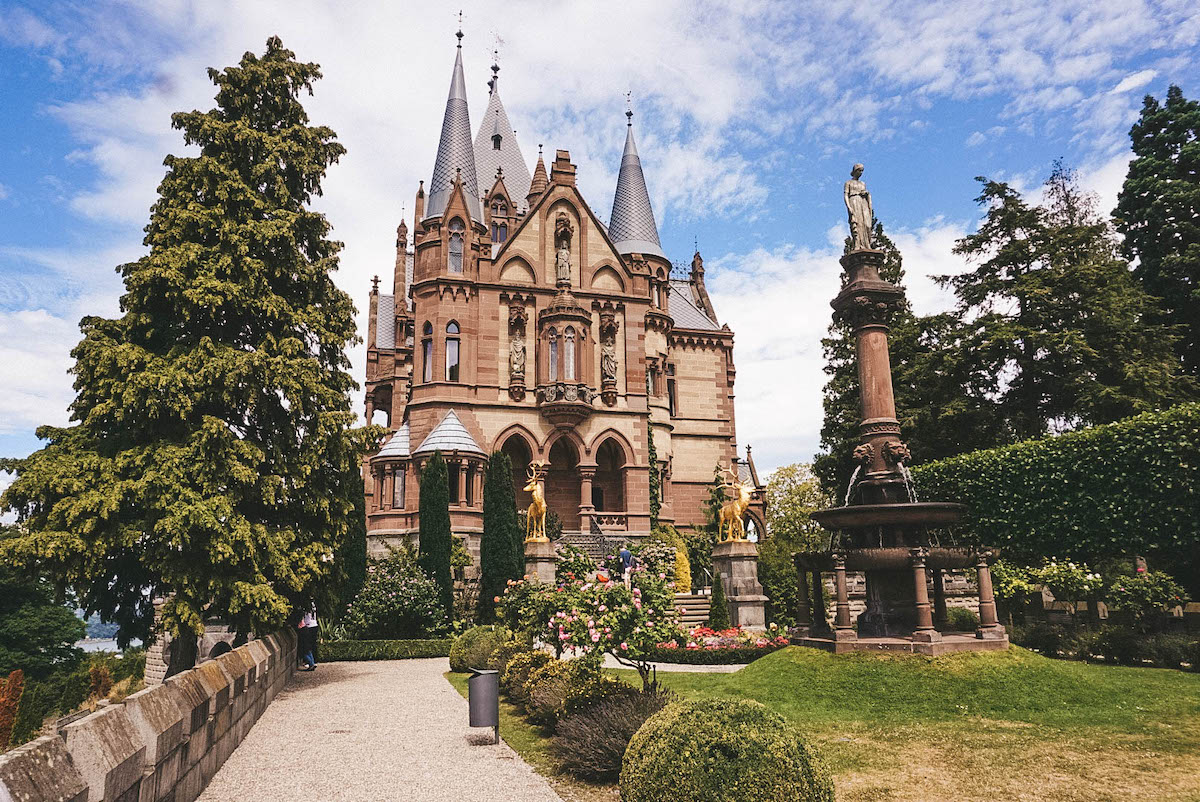 Travel time by train: 40 minutes
Another idyllic day trip option for castle lovers is Königswinter, which is home to the impressive Drachenburg Castle.
Perched atop Drachenfels Hill next to the Rhine River, Drachenburg Castle isn't actually a castle! It's a 19th century private villa that was styled to look like a medieval castle. 
Read my full guide to visiting Drachenburg Castle for details on how to reach it by train, as well as how to find the nearby ruins of Burg Drachenfels, which inspired Romantic poets like Lord Byron in the early 1800s. 
Aachen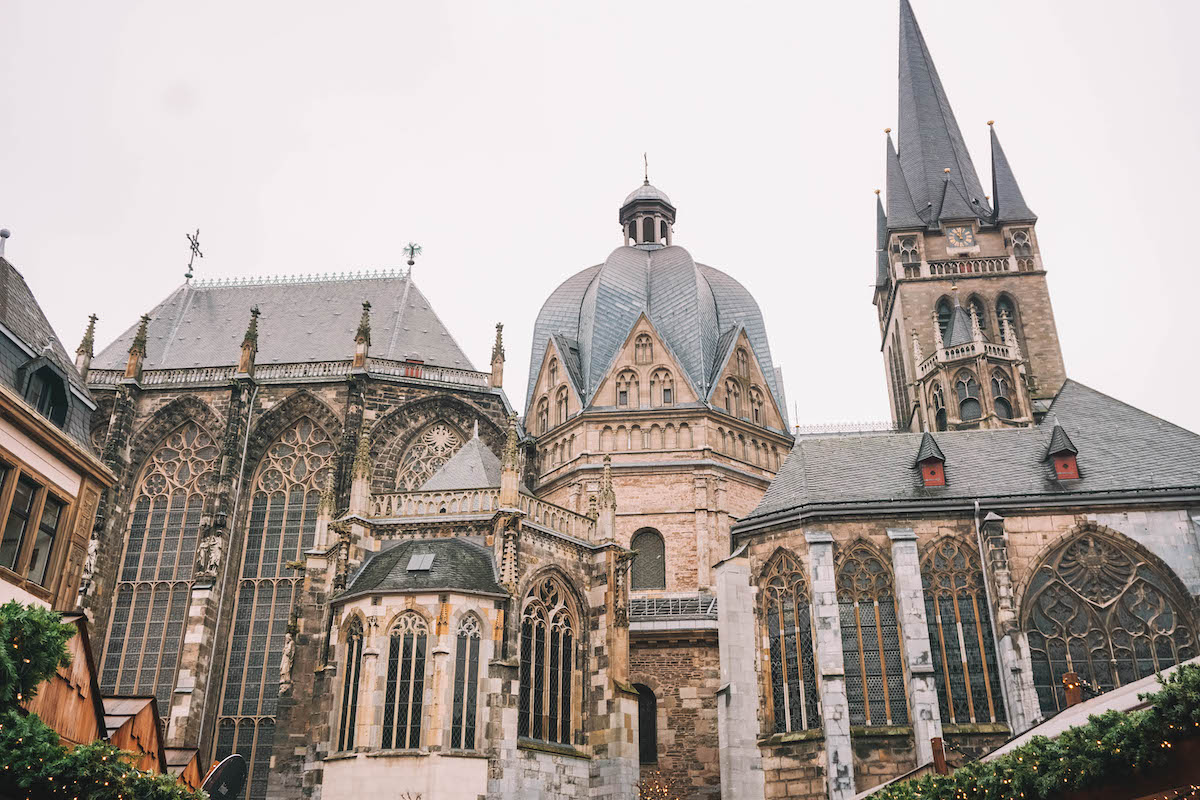 Travel time by train: 30 to 50 minutes (depends on the kind of train you book)
Aachen is Germany's westernmost city and as such the local culture and architecture feels neither wholly German, Belgian, nor Dutch. It's one of the most unique cities in Germany, and makes for the perfect day trip from Cologne!
You can't see and do everything Aachen has to offer in a single day. However, you can see a whole heck of a lot by following the Route Charlemagne.
Aachen served as Charlemagne's imperial city during his reign (768 to 814 CE) and his influence on the city continues to this day. The Route Charlemagne was established to showcase the city's most influential sites that were created by or for Charlemagne.
I recommend visiting the tourist information center to get a map of the route.
For even more things to do in Aachen, click the link to access my full guide. (Can you tell I love Cologne and the surrounding cities?)
Frankfurt am Main
Travel time by train: 1 hour
Germany's financial capital, Frankfurt am Main is known for its unique skyline. Well, it's unique for Germany, at least! You see, it's the only city in Germany with skyscrapers. Americans might not find that fact impressive, but it makes quite the splash with the locals!
Of all the Cologne day trip ideas on this list, Frankfurt is the most modern feeling city — likely because it was all but destroyed during WWII and later rebuilt.
If visiting Frankfurt on a day trip, I recommend:
Old Town — Very small, but pre-WWII it was one of the largest in Germany.
Eiserner Steg — A pretty footbridge that crosses the River Main. 
Cathedral — You can climb the bell tower for view! 
Palmengarten — The largest botanical garden in Germany. 
Mainz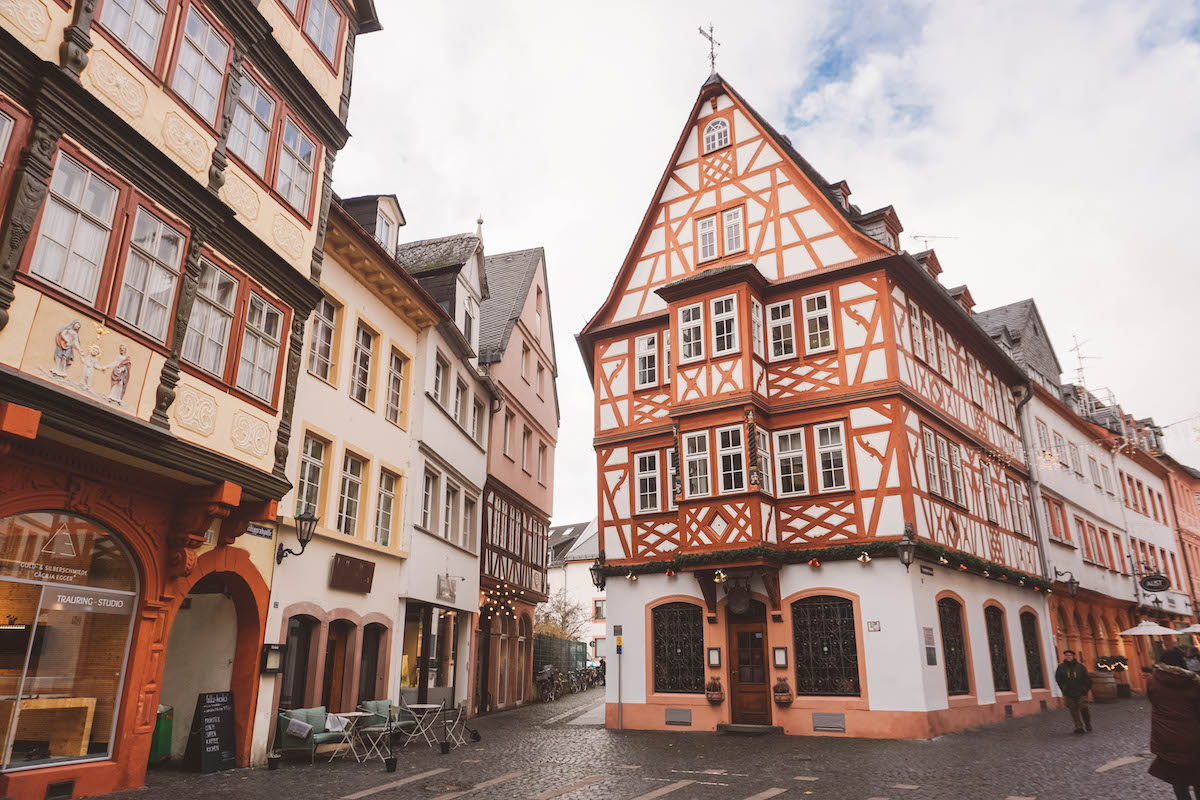 Travel time by train: 1 hour 30 minutes
Bibliophiles, you need to visit Mainz! This small city along the Rhine River was the birthplace of Johannes Gutenberg.
I highly recommend visiting the Gutenberg Museum while you're here. It's small but does an excellent job of walking you through the history of books and printing (with an emphasis on Johannes Gutenberg's legacy and work, of course!). However, the star attraction of the museum are the TWO original Gutenberg bibles on display.
Other things to do in Mainz include: 
Cathedral – The Late Gothic cloisters are a main feature of the cathedral, as are the massive tombs of the archbishops.
The Kirschgarten — A gorgeous square with the oldest half-timbered house in Mainz.
Old Town — Generally a nice area to walk around, albeit small.
One day is really all you need in Mainz! However, I recommend arriving no later than 11am so you can see it all.
Mannheim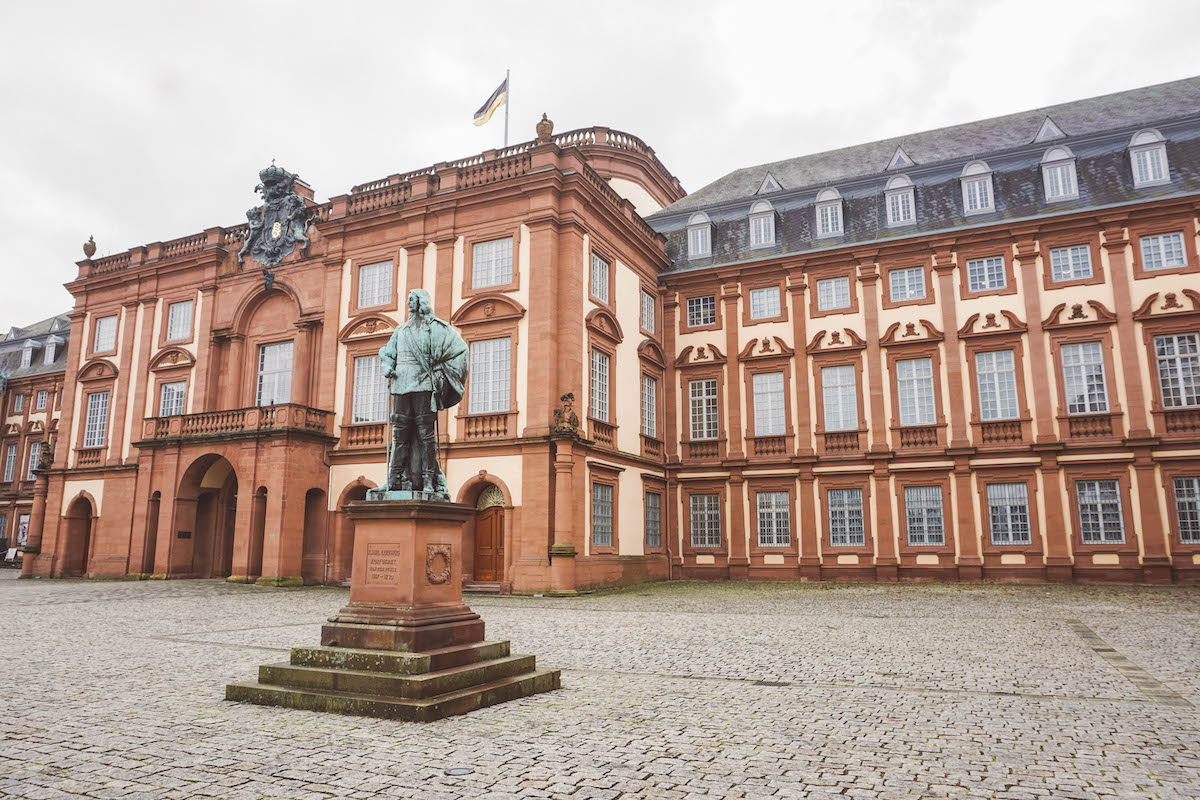 Travel time by train: 1 hour 30 minutes
Mannheim isn't my top pick for a Cologne day trip, but I wanted to mention it because it's truly unlike any other city that I've visited. After being nearly flattened in bombing raids during WWII, Mannheim was rebuilt by the Americans.
But it wasn't rebuilt like any other city. Oh no, Mannheim was rebuilt on a grid system. Instead of street names, a large portion of the city center is navigable by the grid system (i.e. block A1, A2, A3, and so on).
This unique grid layout earned Mannheim its nickname, Quadratestadt (Square City).
Besides the quirky setup of the city, there's not a ton to do in Mannheim. I recommend starting your day at the Baroque palace (Barockschloss Mannheim) and working your way around the city center from there!
Heidelberg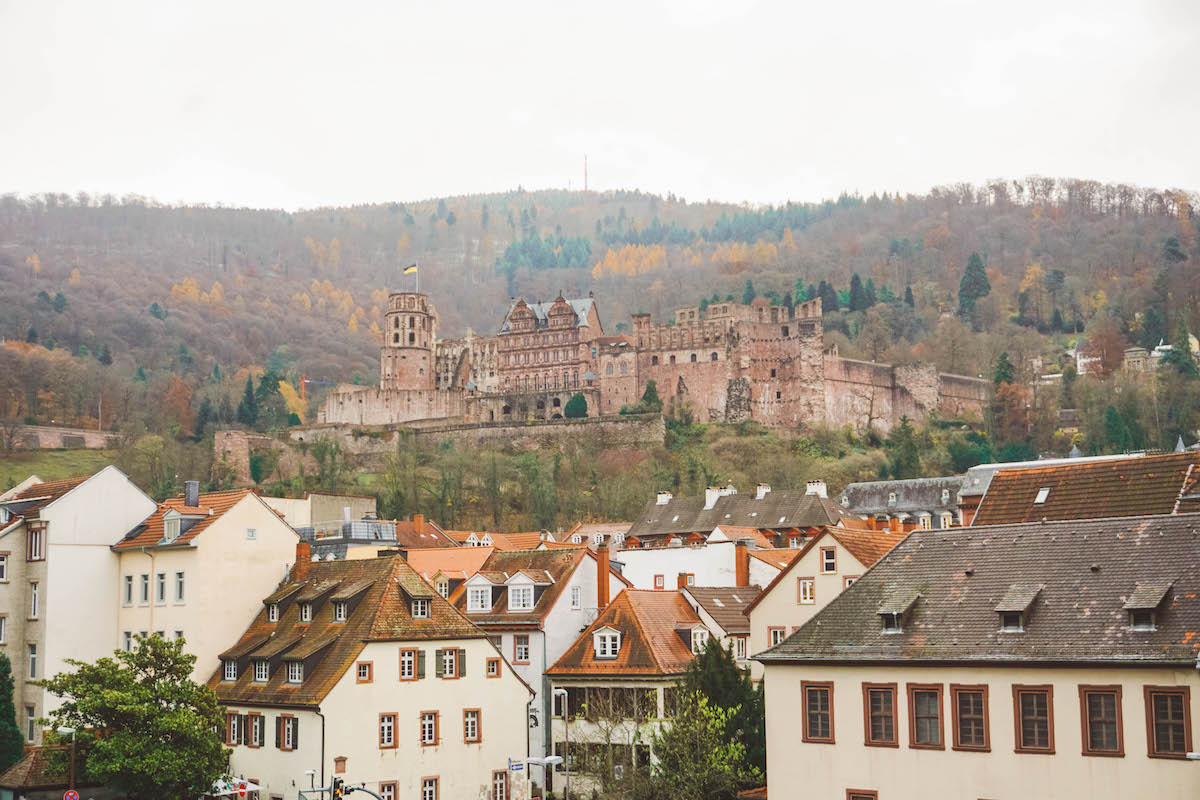 Travel time by train: 2 hours
Heidelberg is one of Germany's hidden jewels. There's so much more to do in this historic university city than you can accomplish in a single day, but definitely plan on visiting Heidelberg Castle, taking the tram to the Königsstuhl lookout point, window shopping in the Old Town, and snapping a photo along the Old Bridge.
Here are all of my favorite things to do in Heidelberg. (And if you're in Cologne during Christmas market season, pop over to Heidelberg for a more low-key Christmas market experience!)
Stuttgart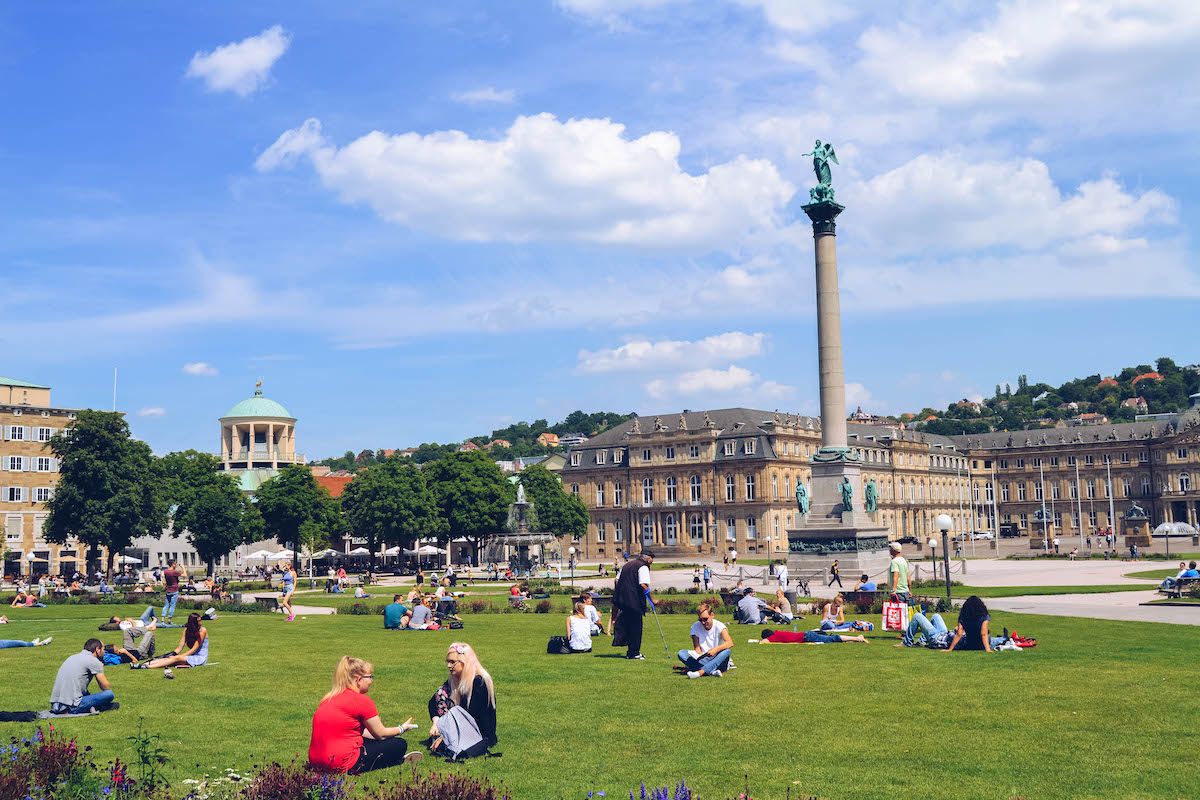 Travel time by train: 2 hours
Known as the "cradle of the automobile," Stuttgart is the home of Porsche and Mercedes-Benz. Automobile fanatics MUST visit!
Things to do on a day trip to Stuttgart include:
Mercedes-Benz Museum or Porsche Museum — Pick your favorite or try to squeeze in both!
Staatsgalerie Stuttgart (State Gallery) — Known for its 20th century paintings, but has art from other eras as well.
Eugensplatz – Has great view of the city
Explore the area around the Schlossplatz – It's the older part of the city center and also one of the prettiest areas.
Brussels, Belgium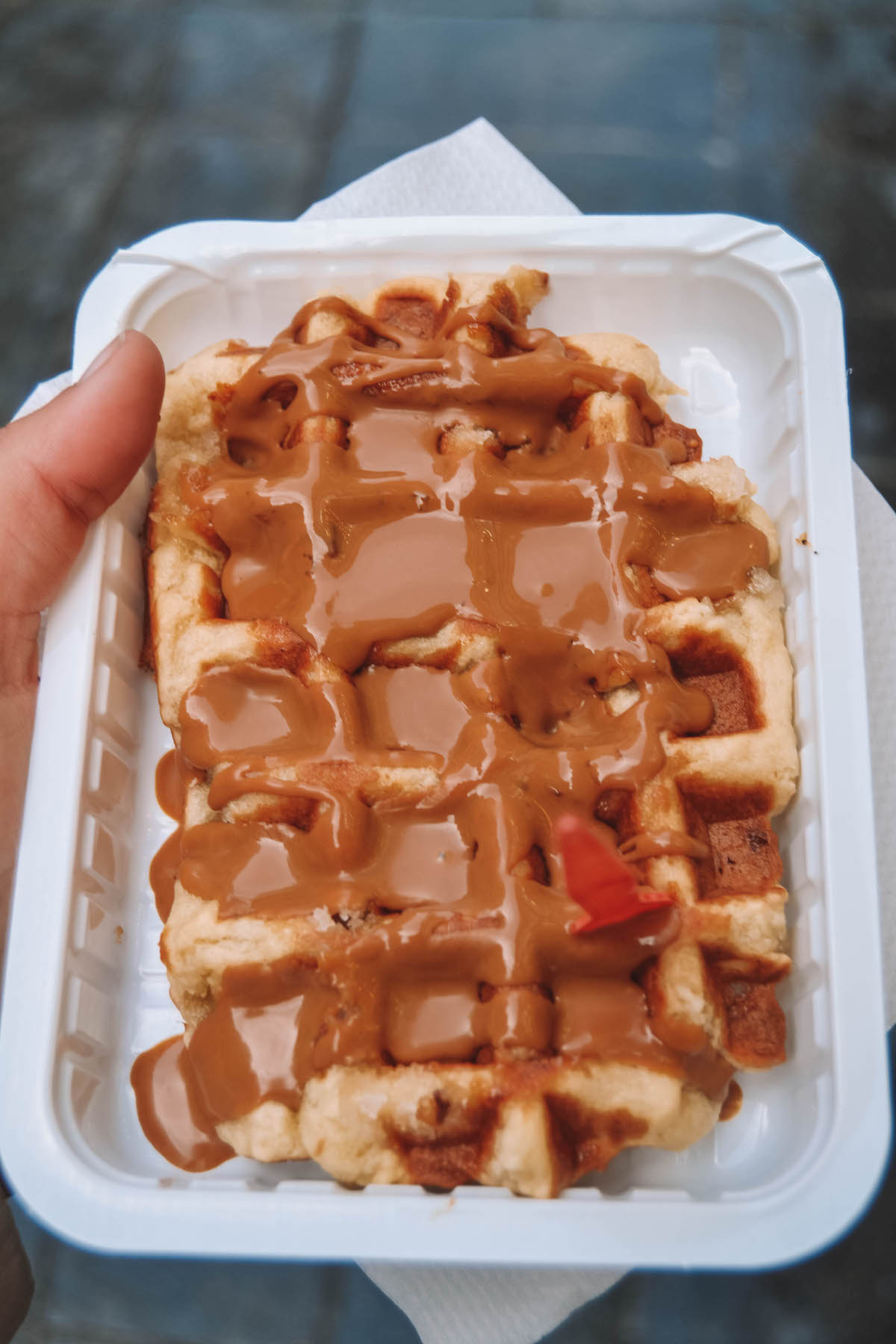 Travel time by train: 2 hours
Take your Cologne day trip international by visiting Brussels! Belgium's capital city is easy to explore on foot and although you likely won't have time to visit any museums on a day trip, you can still walk around the city center to take in the sights.
I visited Brussels years ago and loved it! Here's what I recommend:
Grand Palace — AKA the Town Hall (shown above, right). 
Free walking tour — Best way to learn about the city's history and get lay of the land. 
Palais de Justice — Has a great view of the city. 
Royal Palace — Located by Brussels Park. You can't enter, but it's a wonderful photo opp. 
Even More Day Trips From Cologne!
I'm telling you, Cologne is a wonderful place to stay if you plan on exploring western Germany! Below are some day trip ideas from Cologne that I've heard good things about but haven't visited yet myself.
I only ever recommend places that I've personally vetted, but know that the following cities are also on my bucket list!
Trier
Cochem
Essen
Dortmund
Liege, Belgium
Maastricht, the Netherlands
Enjoy Your Day Trip From Cologne!
If you have more than two days planned in Cologne, I highly suggest taking a day trip. Above are 11 of the best day trips from Cologne by train. You definitely do NOT need to rent a car to see the best that western Germany has to offer!
Don't forget to follow me on Instagram to keep up with my daily adventures in Berlin and beyond!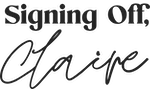 More Places Worth Visiting in Germany: