When visiting Cologne, a day trip to Brühl to see Augustusburg Palace and the Falkenlust hunting lodge is a must! Here are my top tips for getting to most of your visit.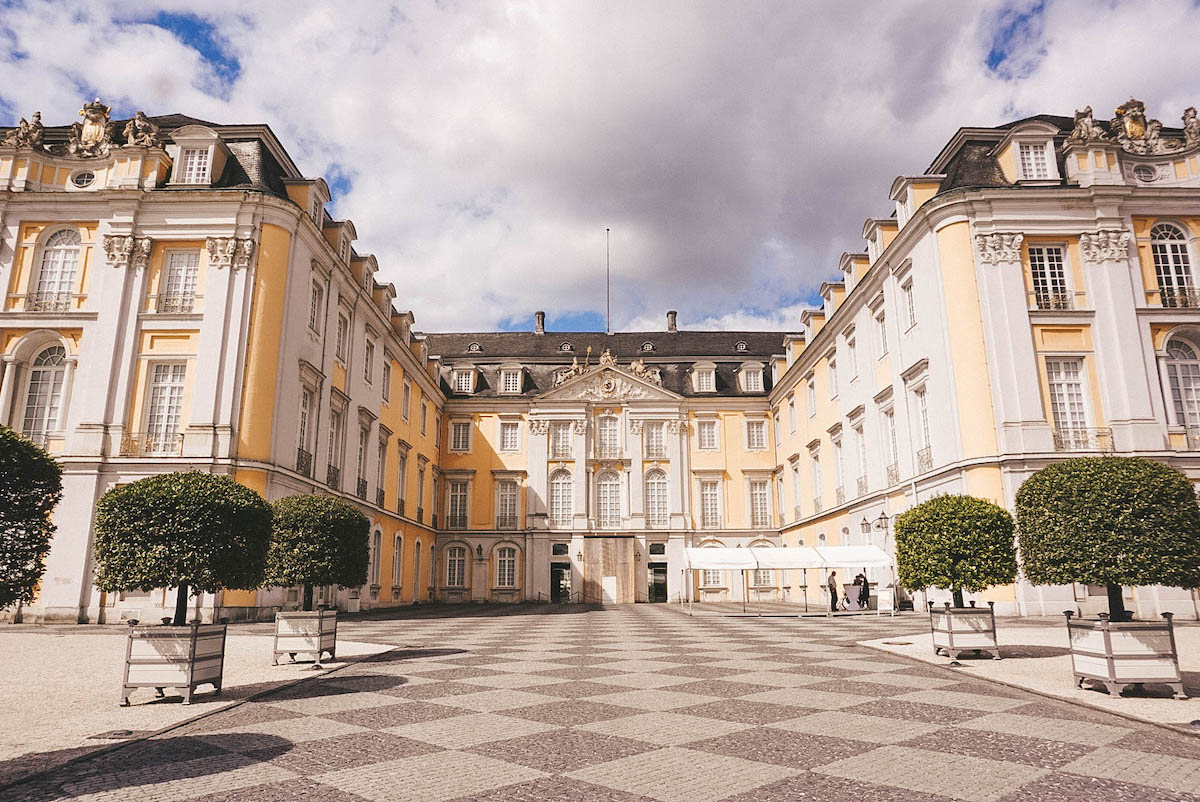 While planning my trip to Cologne, I was pleasantly surprised to discover just how many castles there are in the area. In fact, I got so excited that I considered scrapping my Cologne itinerary altogether in favor of hopping from one castle to the next for a full week. Alas, without a car (or the desire to rent one) I settled back onto my original plan: enjoy a few days in Cologne and sprinkle a few day trips throughout my stay.
The first day trip I took from Cologne was to Schloss Drachenburg, a private villa that's styled to look just like a medieval castle. Thinking I couldn't possibly top my visit to Schloss Drachenburg, I approached my trip to Brühl with slight skepticism — how could I love Augustusburg Palace more than Schloss Drachenburg?
Silly me, I should have known I'd fall head over heels in love with Augustusburg Palace … just like I do with every castle I visit. I can't help it, castles are kind of my thing. Although in all seriousness, I'd say Augustusburg Palace is one of the top 5 castles I've ever visited. It truly is that beautiful!
I can't recommend a visit to the Brühl palaces enough. To help you plan your trip, I've shared a bit about my visit below.
read more: My 4-Day Cologne Itinerary 
Getting from Cologne to Brühl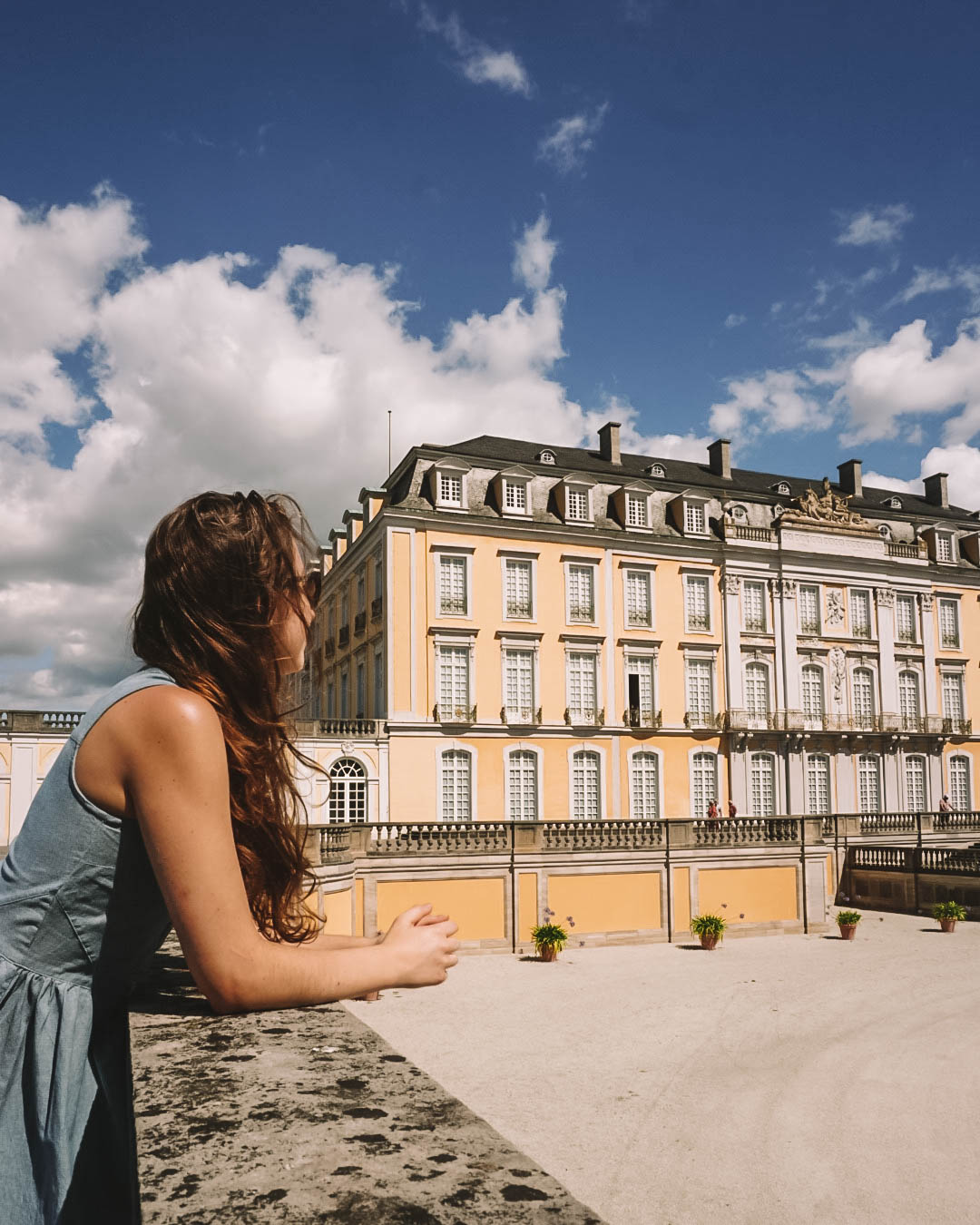 A visit to Augustusburg Palace is one of the easiest day trips from Cologne. From the main train station (Hauptbahnhof), hop on a train heading from Cologne to Bonn — you can take either the RB 48 or the RE 5. The train ride lasts about 20 minutes. Once your arrive at the Brühl station, the palace is not even 5 minutes away. The train station is conveniently located right across from the palace, so it's impossible to miss!
A Brief History of the Brühl Palaces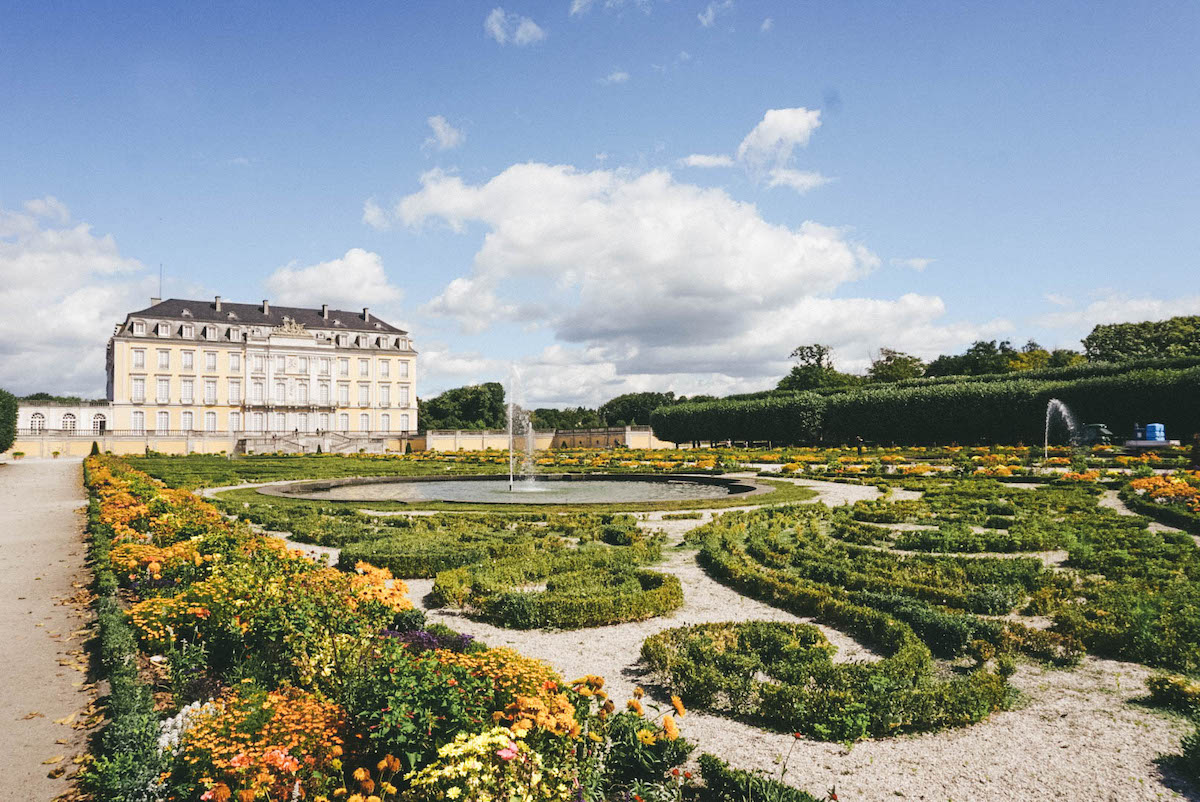 Completed in 1768, Augustusburg Palace was commissioned by Cologne elector and archbishop Clemens August. The palace was built on the site where the ruins of a medieval moated castle once stood and took about 40 years to complete. Augustusburg Palace is a massive three-story structure that was built in a U shape. It was designed by the Bavarian architect François de Cuvilliés and was built in the rococo style.
Just 2.5 kilometers from Augustusburg Palace is Falkenlust, a hunting lodge that was also commissioned by Clemens August. He was an avid falconer, so he had Falkenlust built on the flight path of the herons that nested in the Augustusburg Palace gardens. The location of Falkenlust meant that August and his hunting party could capture the herons en route to their fishing grounds on the Rhine River, then head back to Falkenlust for a night of fine dining and dancing.
Both Augustusburg Palace and Falkenlust are UNESCO World Heritage sites and have been beautifully restored to their former glory.
Visiting Augustusburg & Falkenlust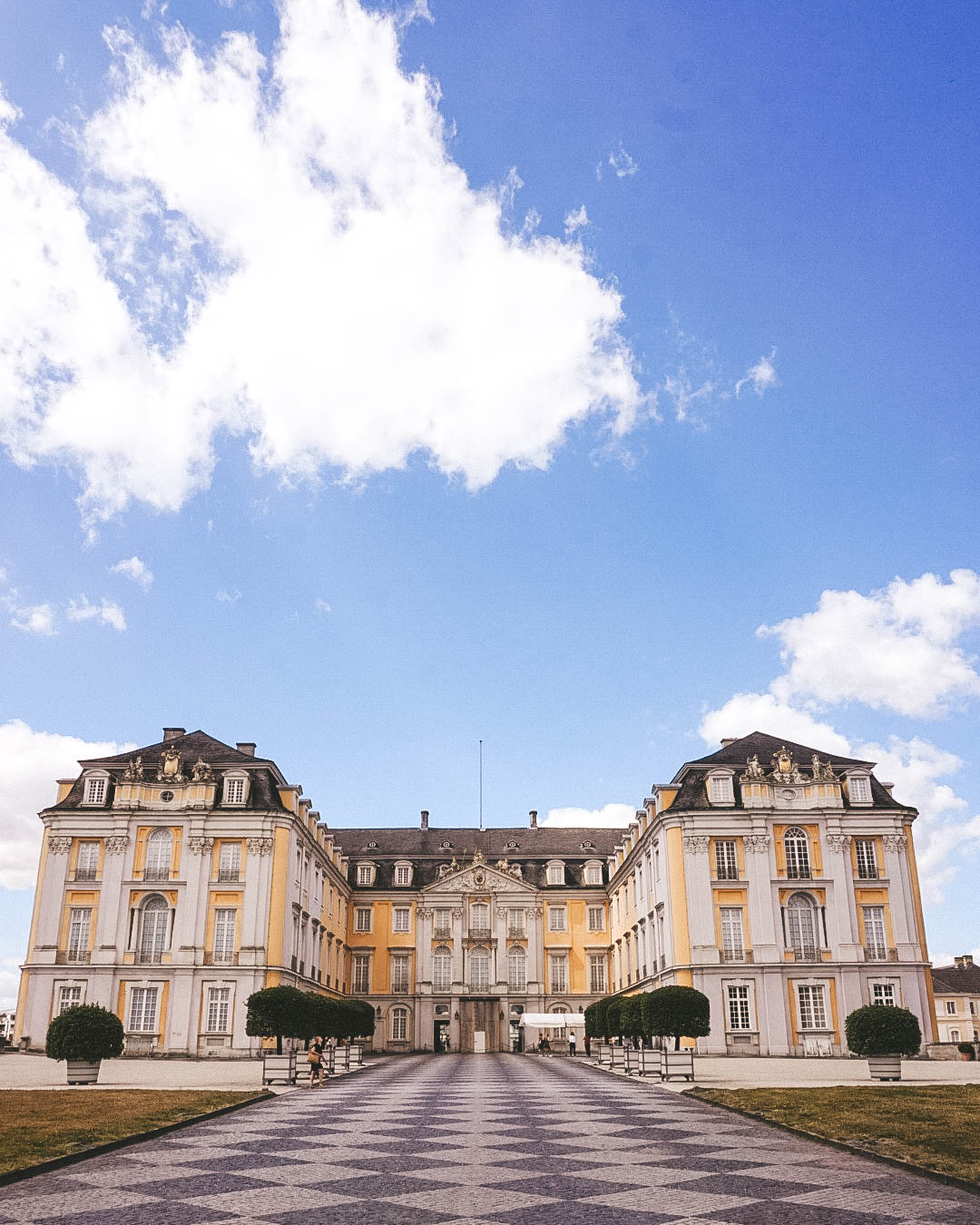 Augustusburg Palace far exceeded my expectations. Because I was traveling during the pandemic, I had to call ahead of time to book a time slot to visit. Unfortunately, the phone line was always busy whenever I called, so I wound up taking an early train to Brühl so I could visit the palace at opening time and hopefully secure a spot. My early arrival was a good idea, as the tickets were almost fully booked when I got there! I squeezed into the first tour of the day and smiled throughout the whole tour.
Unfortunately, normal tours weren't running at the time and they only let small groups of people in at once (totally understandable, given the current pandemic). As such, I didn't get a proper tour of the palace. We were given laminated guides to read as we were taken from room to room, and a member of staff was on hand at all times to answer any questions we had. In a way, this "tour" style was kind of nice since it gave me more time to poke my head around the rooms and look at everything in detail (rather than being distracted by someone talking at me).
From the first moment you enter Augustusburg, you can tell it was built with a noble's salary. Every little nook and cranny of the place is frescoed, plastered, or gilded. Each room has its own theme and color palette, and the state rooms — which were built to impress visitors — are some of the finest I've ever seen.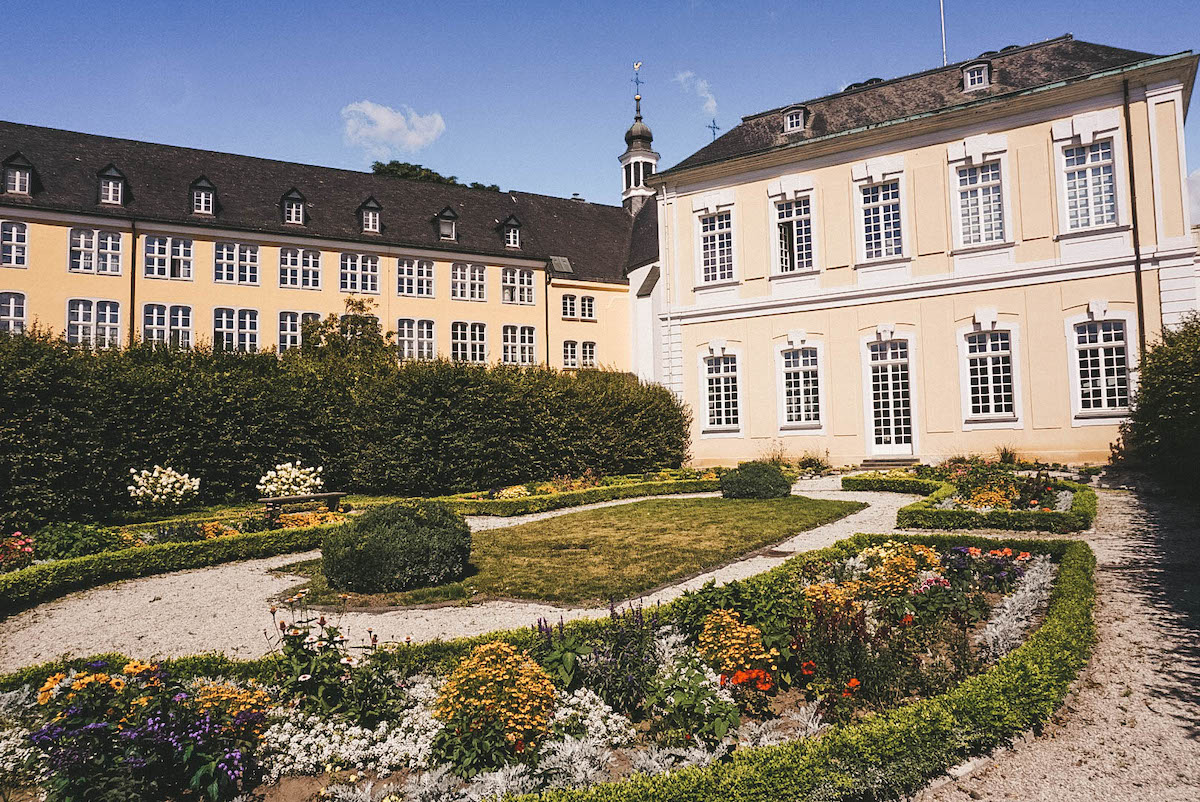 Easily my favorite space in the palace was the grand staircase, which is the very first room palace guests would see upon stepping out of their carriages. The floor is all real marble and the walls are decorated in stucco marble, which is stucco that's been painted to look like marble. I've seen similar painted marble effects before, but none of this quality. Even after I'd been told the stucco marble on the walls and ceiling wasn't real marble, I couldn't tell the difference between the real stuff on the floors and the fake stuff on the walls. It was so realistic! To this day, stucco marble is more expensive than actual marble because it requires so much time and expertise to create.
Something that sets Augustusburg Palace apart from other German palaces in the area is that it wasn't damaged badly in World War II. It also never went through long periods of disuse, so it's been well taken care of since its completion in the 1760s. As such, most of the paintings, floors, and fixtures are original to the palace. Visiting Augustusburg truly feels like you're stepping back in time, and it's incredible how well it's been preserved over the years. You don't see often palaces of this magnitude in such pristine condition, so it was a real treat to explore.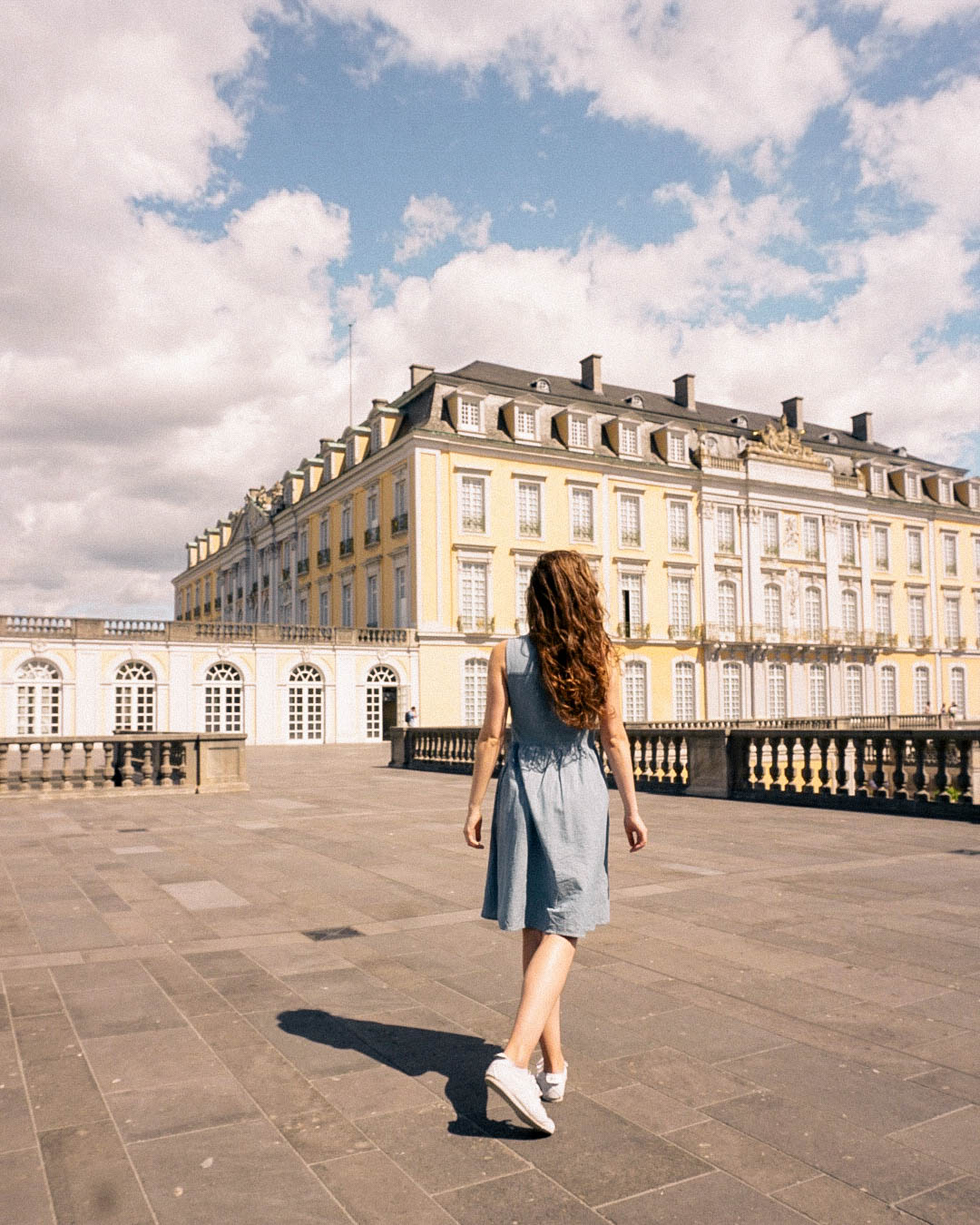 After admiring the palace, I stepped back out into the sunshine and took a stroll around the French garden out back. The garden is small but beautiful and has terraces on either side that were perfect for staging a little photo shoot (here are my top tips for taking photos of yourself while traveling solo). At the back of the garden is a little pond with a fountain in the middle, and the view from the palace there is unreal!
Beyond the French garden is an English-style park that connects Augustusburg with the Falkenlust hunting lodge. Unfortunately, the park was closed when I visited due to fallen trees and debris from a recent storm. I've heard it's lovely though, and the stroll from the palace to the hunting lodge is supposed to be very relaxing.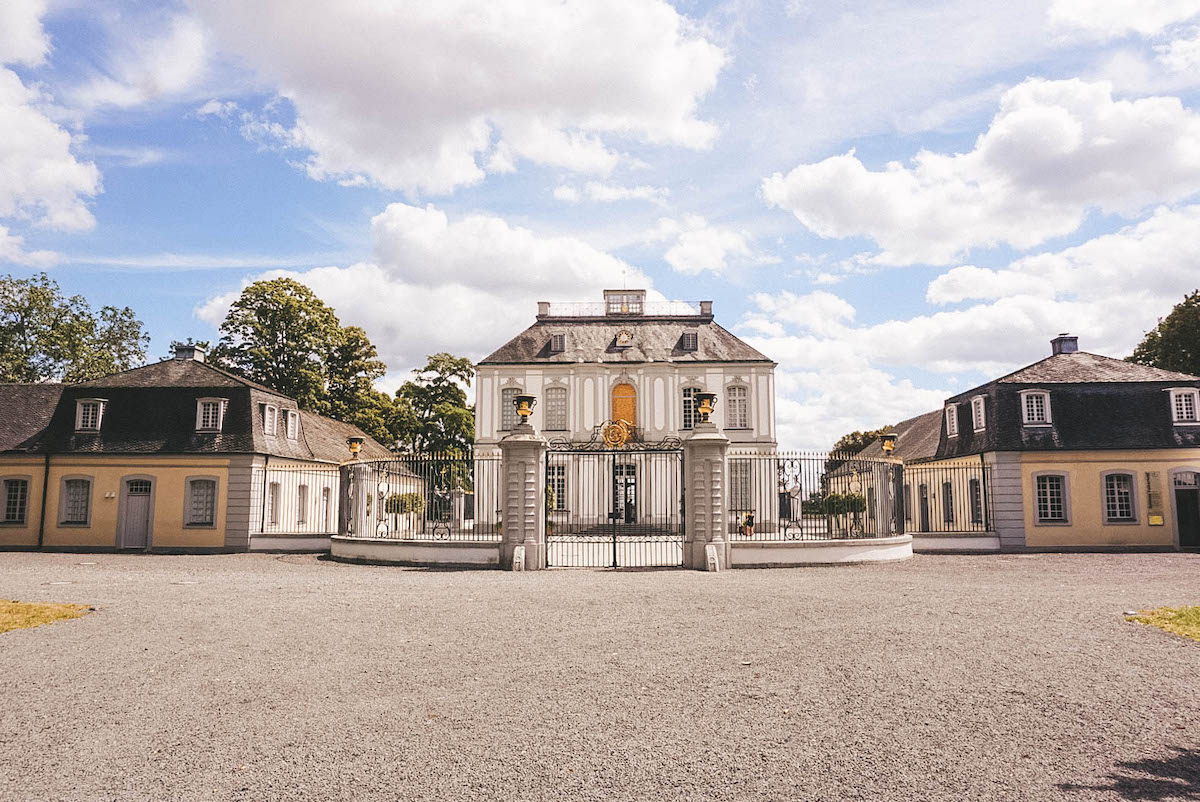 Since the park was closed, I hoofed it over to Falkenlust using the public roads (don't worry, there were sidewalks). Falkenlust was much smaller than Augustusburg and many rooms were unfurnished, but it was beautiful nonetheless and I could see why Clemens August enjoyed holding parties there. I particularly loved the Chinese lacquer room in Falkenlust, as well as the mirror room. Both were en vogue at the time and were particularly stunning.
Alas, photography wasn't allowed in either of the Brühl palaces, so you'll just have to take my word for it when I say they were two of the most beautiful places I've ever visited!
By the time I'd finished exploring Falkenlust, it was past lunchtime and my stomach was talking to me. I walked back to Brühl's city center, which ended up being a quaint area packed with shops and restaurants. I treated myself to an ice cold rhubarb schorle and schnitzel, then meandered around for a bit before my train came.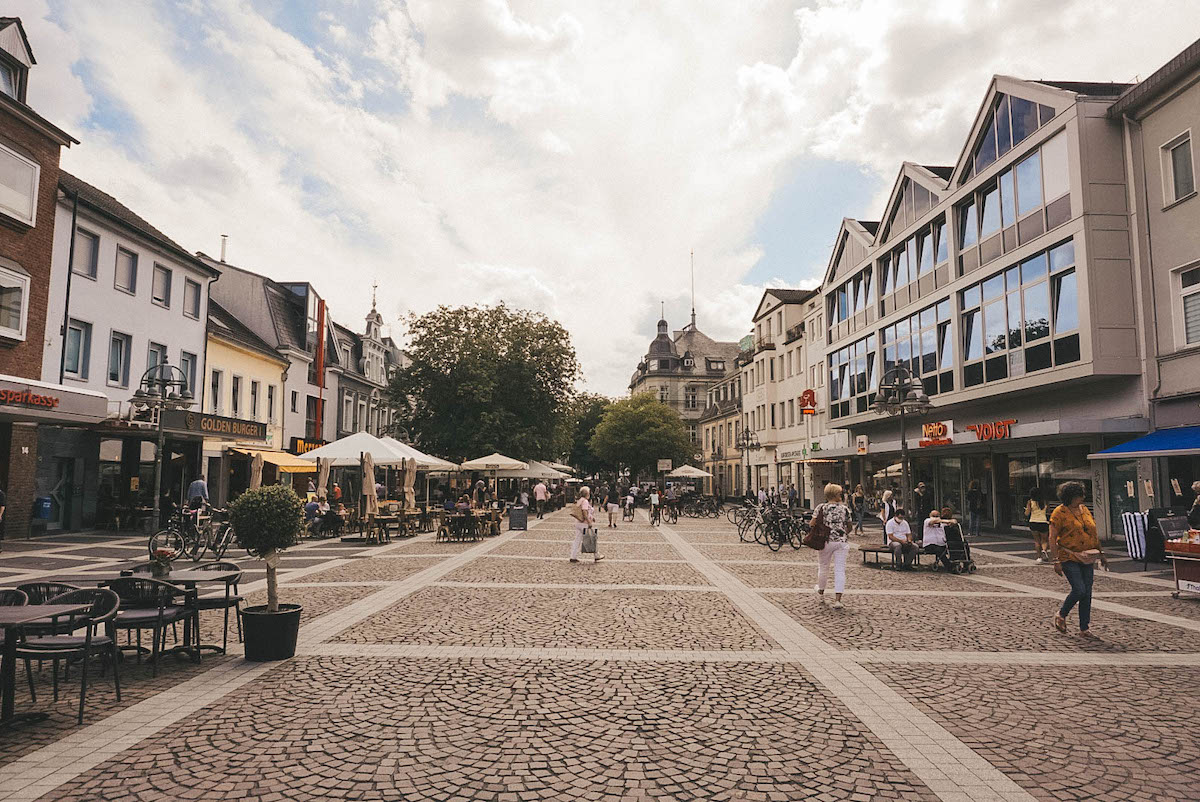 I stumbled across the Pfarrkirche, or parish church, on my way back to the train station. This church was used by the palace residents and was absolutely breathtaking. It was very small, but it was also decorated in the rococo style. There was a photo inside showing what the church looked like after being bombed in WWII, but looking at it today you'd never know that it had been almost totally destroyed. I wanted to mention the church as I can't find anything about it online, but it's definitely worth popping into while you're in town!
If you're looking for a day trip from Cologne, I can't recommend the Brühl palaces enough! Augustusburg is up there with Versailles as one of the prettiest palaces I've visited. My day trip to Brühl was one of the most relaxing days of my vacation, and I had the best time exploring the palace and hunting lodge and meandering around the town.
Tell me: What's the prettiest castle, palace, or stately home you've visited?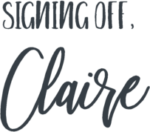 More posts you'll love:
Save this post to Pinterest!