Not sure what to do in Düsseldorf, Germany? Here are my top picks for things to do in this gorgeous city on the Rhine River!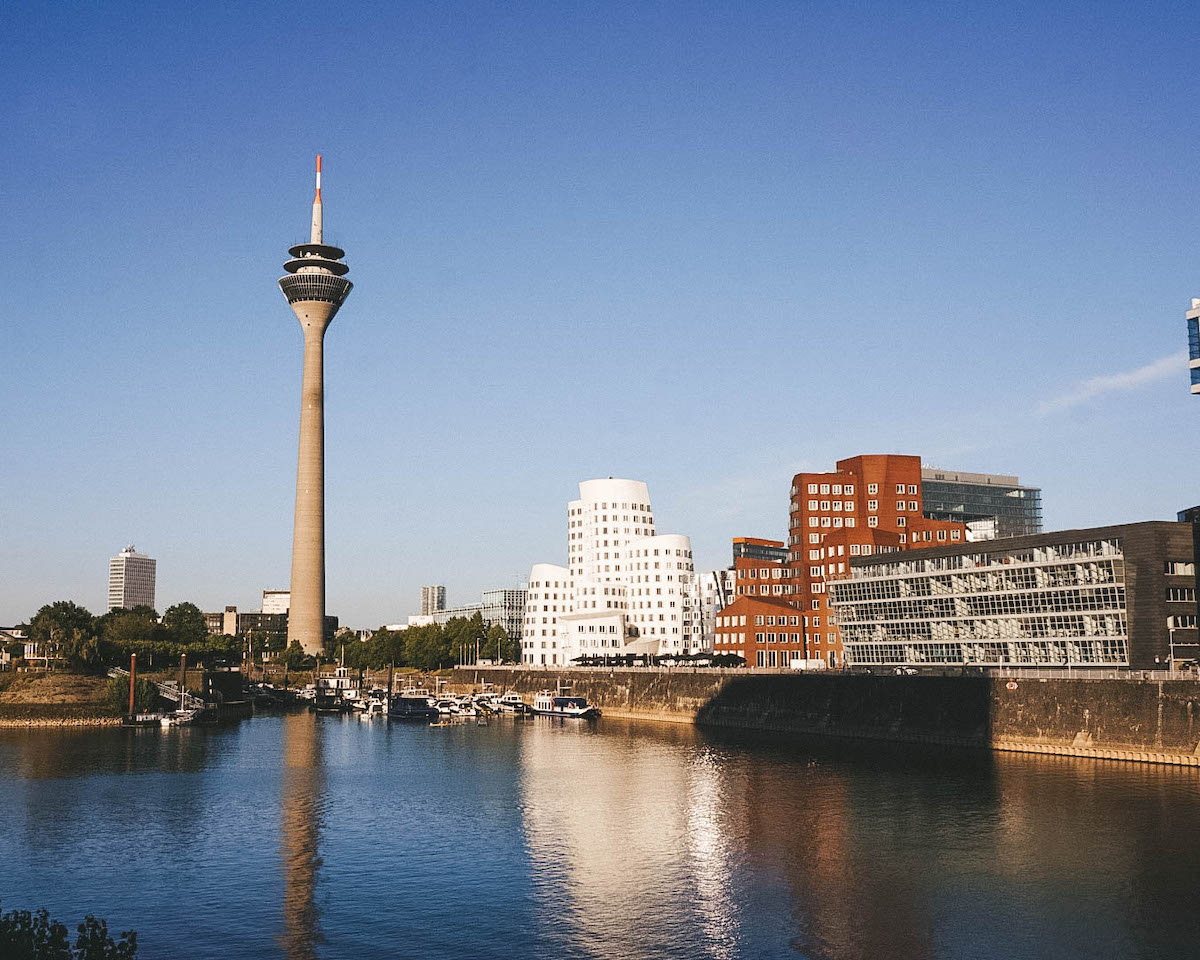 To be perfectly honest, Düsseldorf wasn't on my Germany bucket list. I hadn't heard much about it, so I didn't know what there was to do in the area. But when planning my four-day stint in Cologne, I kept reading that Düsseldorf is a great day trip option since it's just 30 minutes away from Cologne via train.
After some initial research, I decided that a single day in Düsseldorf wasn't nearly enough time to get a good feel for the place so I planned to spend three days in the city. After all, the train ride from Berlin to Cologne lasted over four hours — if I'm going to travel halfway across the country I might as well take my time exploring the area.
While I don't think you need three full days to see the main sights in Düsseldorf, I'm so glad I had that much time in the city. It gave me the flexibility to sleep in a little bit, explore at my own pace, and not feel a single bit rushed. If I had to say how much time you need to visit this gorgeous city, I'd say 48 full hours would be ideal. But for those of you who enjoy traveling at a slower pace or who like doing things a bit off the beaten path, I think two and a half to three full days in Düsseldorf is perfect.
But enough rambling, here are my top picks for what to do in Düsseldorf, Germany. 
Window Shop on Königsallee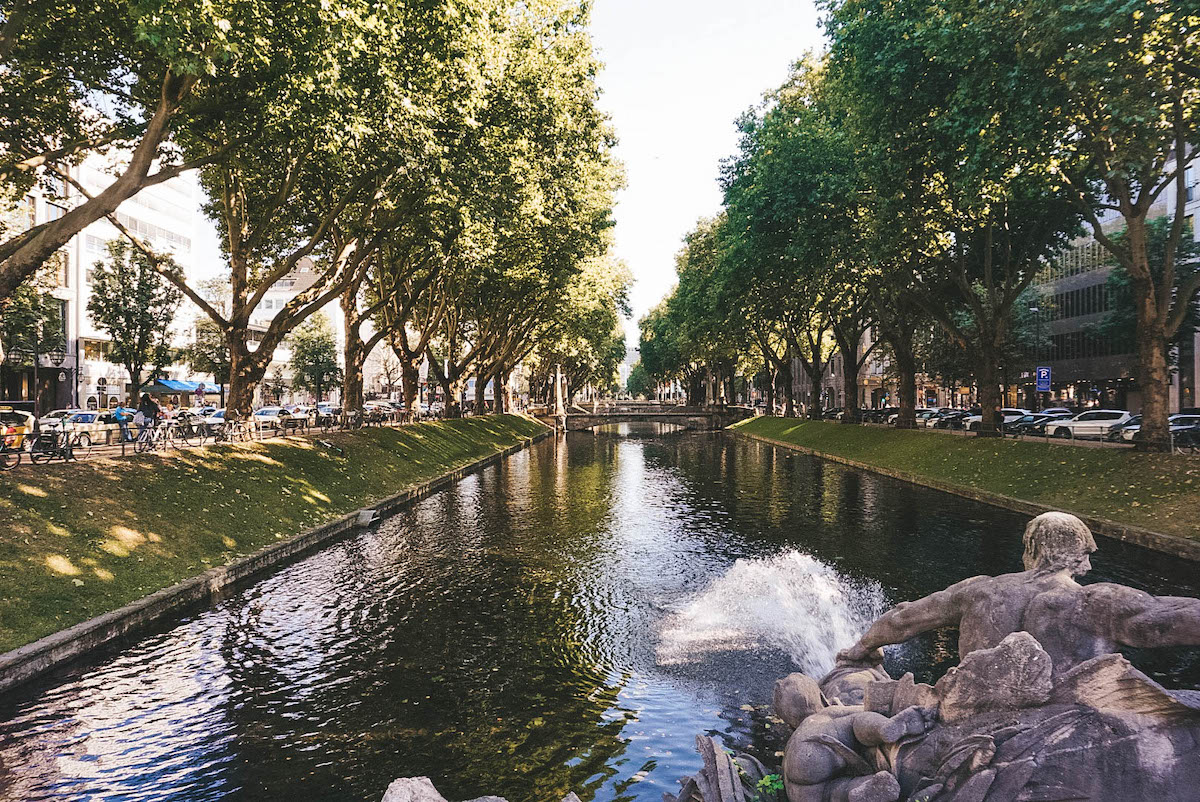 Based on my travels through Germany so far, I find that it's not a super bougie country. Most major cities feature chain stores like H&M, Zara, The Body Shop, and so on. Even in Berlin (where I live), there's not much demand for high-end retailers like Louis Vuitton and Prada. So you can imagine my surprise when I walked down Düsseldorf's main shopping street, Königsallee, and realized that almost all the stores were designer retailers. I'm talking Cartier, Hermes, and retailers of that caliber.
And the lines! You guys, people were lining up outside the stores to have a chance to peek at the goodies inside. I thought maybe it was a Covid-19 precaution and there was limited availability inside the stores, but nope, apparently people line up outside the stores year-round.
I adore window-shopping and have no qualms admiring purses and jewelry that cost more than my yearly salary. But if that's not your thing, Königsallee might not be your favorite thing to do in Düsseldorf. I still think it's worth strolling down this shopping street and taking pictures though, because the street itself is beautiful. There's a fountain at the end that's great for photos!
Explore the Old Town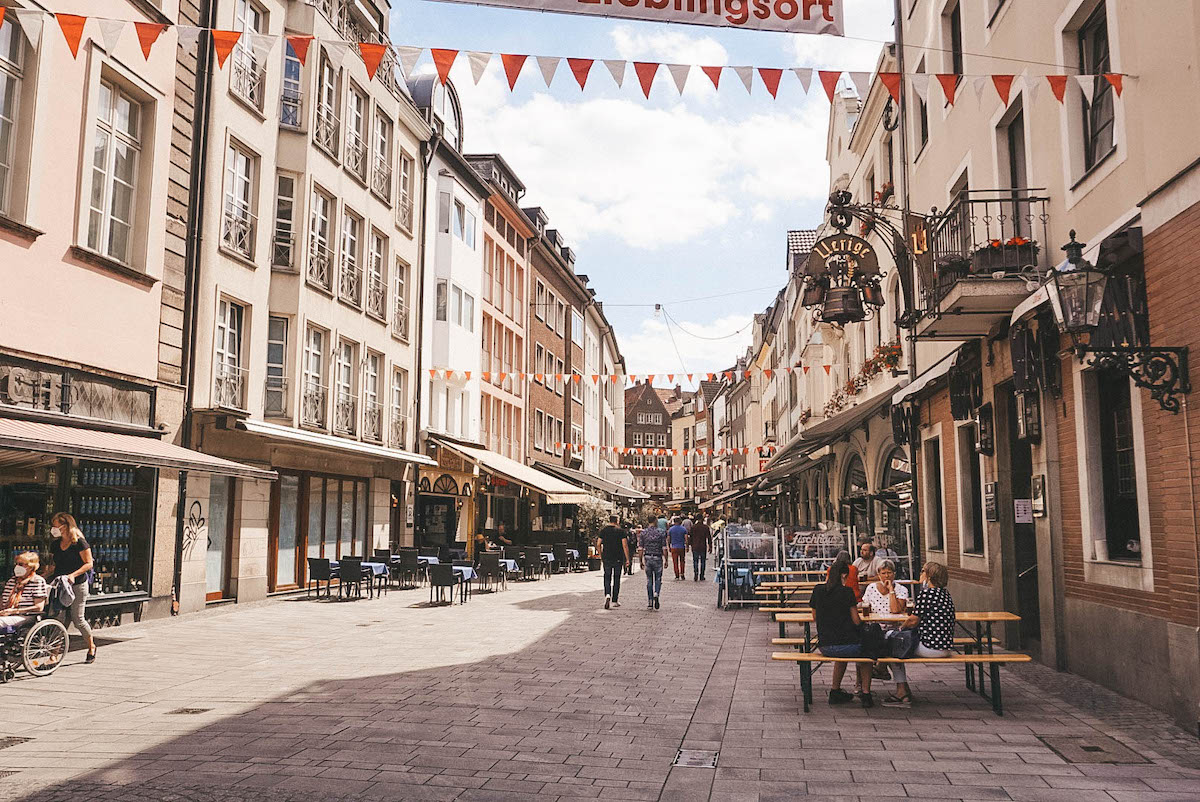 Düsseldorf's Old Town (Altstadt) is so cute! It has lots of shops and restaurants, and everything here is much more affordable than the luxury Königsallee. Düsseldorf's Old Town has a lot of Dutch influence to it, and the houses are quite pretty. The edge of the Old Town butts up against the Rhine River, and a promenade stretches from the Old Town down to the Medienhafen (more on that in a bit!) and is the perfect place for a sunset stroll.
If you're looking for a quick bite to eat in the Old Town, I recommend hitting up Carlsplatz. There are lots of independent food stalls there selling everything from dumplings to salad plates to curries. There are also flower stalls and other small shops at Carlsplatz, so have a poke around even if you're not hungry. (Note: many of the stalls there are cash only!).
Visit the Kunstpalast Museum         
   
A 15-minute walk from the Old Town, the Kunstpalast Museum is Düsseldorf's fine arts museum. (There are actually four or five major art museums all within walking distance of each other, but I was most excited by the exhibitions at the Kunstpalast). When I visited, I didn't realize that the main exhibition area was undergoing renovations and I was crushed that I wouldn't get to see its famed glass exhibits.
Fun story: the security guard on duty saw that I was really bummed about the permanent exhibits being closed. He called me over to the ticket stand and asked me if I "really wanted to see old paintings" (yes, those were his exact words). I nodded yes, and he gave me a wristband to one of the special exhibitions that were still open. He didn't make me pay the admission fee or anything, he just let me walk in to see the "old paintings" on display in the temporary exhibit because he knew I was upset about missing out on the Kunstpalast's best-known pieces in the permanent exhibit. Isn't that the nicest travel story you've heard?
Although I've admittedly only seen a fraction of the artwork at the Kunstpalast, I still recommend visiting because the pieces I did see were wonderful. And, you know, the staff is nice.
Tour Benrath Palace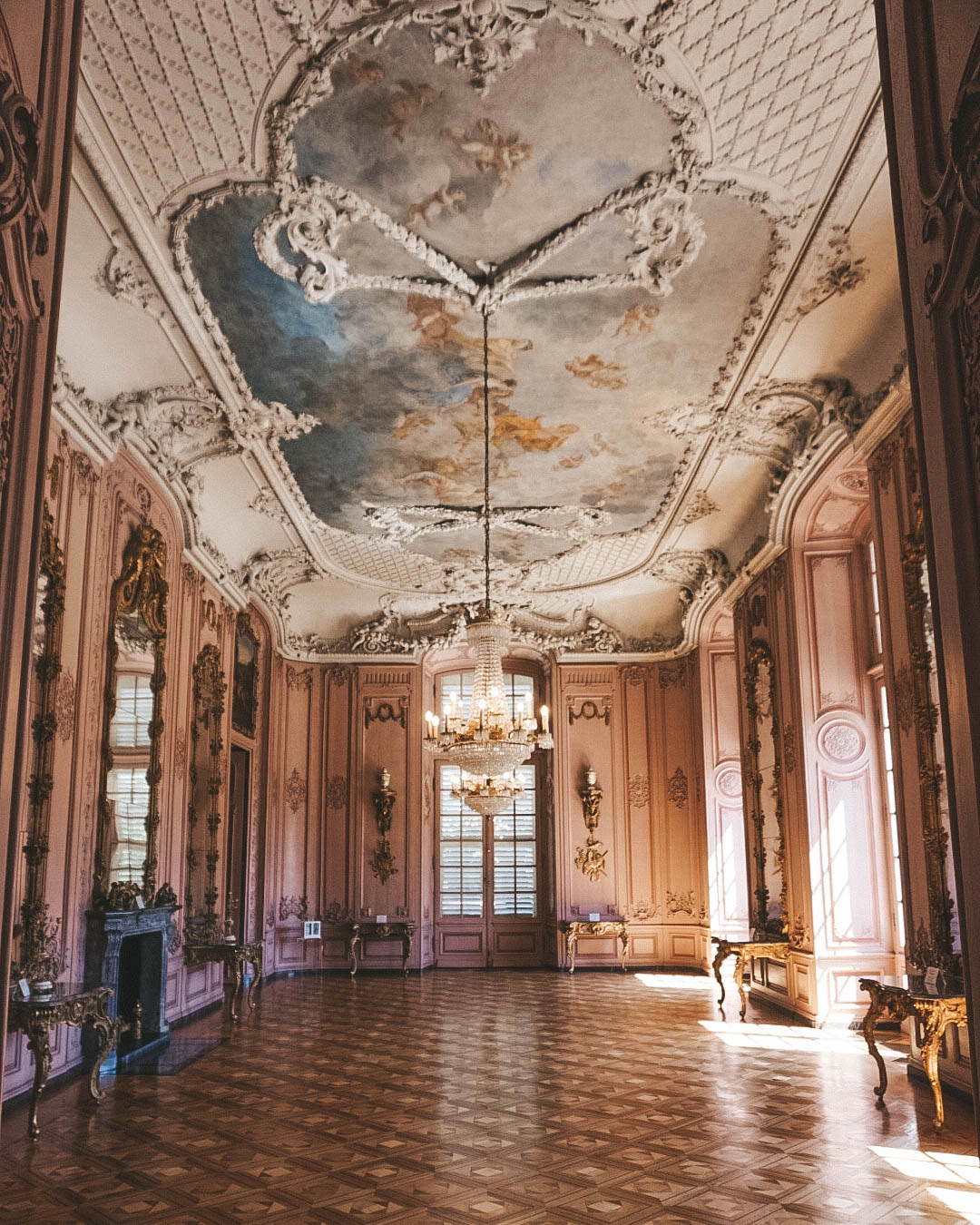 Is it a Tall Girl Big World post without me mentioning a castle at least once? I think not. I was over the moon when I found out there's a castle within Düsseldorf's city limits. It's called Benrath Palace (Schloss Benrath) and it's now part palace, part museum(s). Benrath Palace was completed in the 1770s and was commissioned by Elector Palatine Carl Theodore — who, ironically, never wound up living in this luxury palace he spent 15 years building.
The palace can only be seen on a guided tour, so be sure to book a time slot when you arrive. Although much of the palace is unfurnished, it's absolutely stunning inside. The building is split down the middle; one side was Carl Theodore's wing, the other side was his wife's. Schloss Benrath was built to be a summer pleasure palace, so many of the rooms were designed to accommodate a large number of guests for dinners, dances, and so on.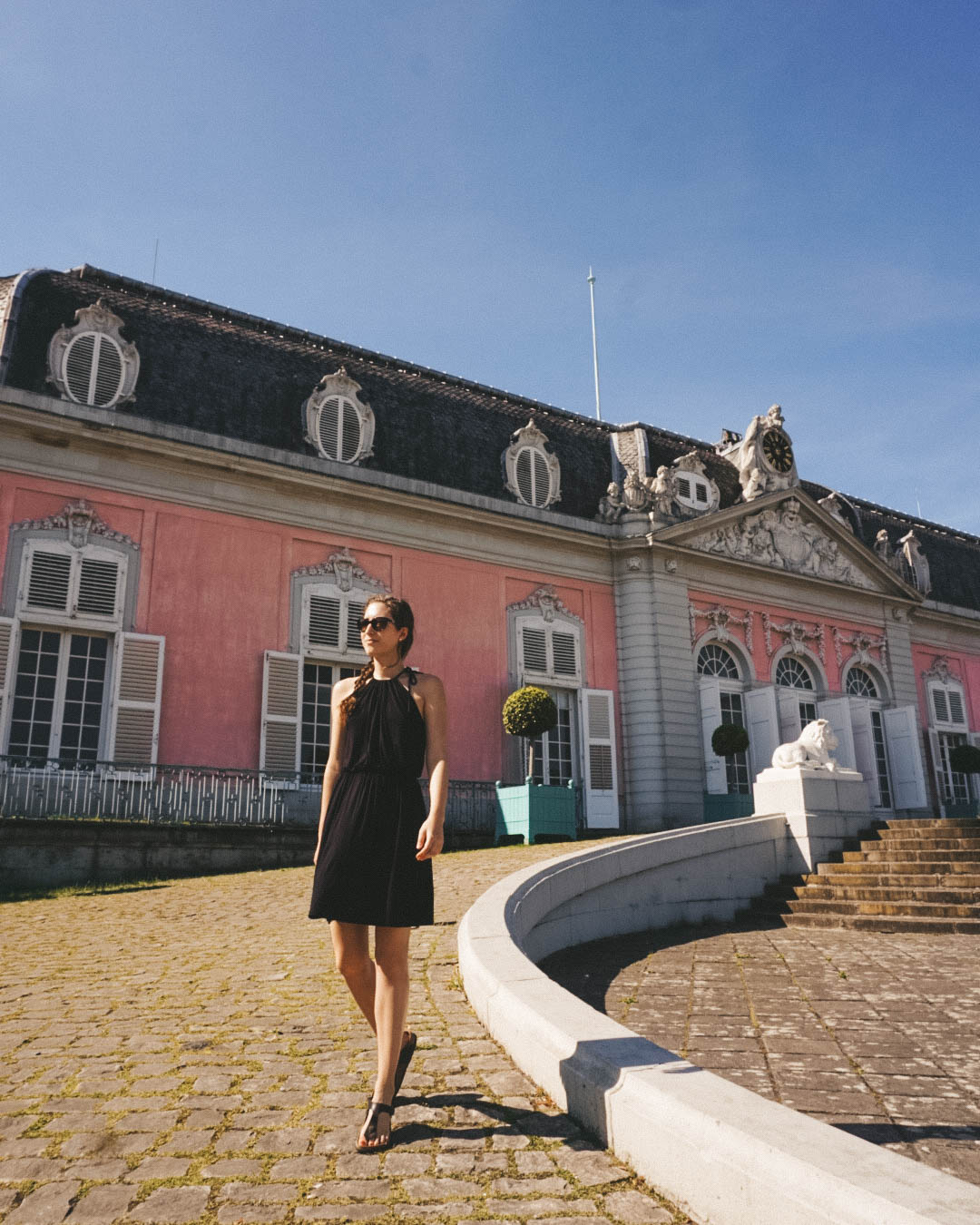 A random fun fact about the palace: each room has a unique floor design! There are gorgeous wood floors throughout the palace, and each features a special pattern.
The palace sits on the most beautiful property. There's a large garden out back that feel more like a forest (with perfectly trimmed hedges and walking paths, that is). There are also more formal gardens on either side of the palace, my favorite being the orangery, which featured a stunning summer garden exploding in pinks, purples, and oranges. The kitchen garden was also special, as it's a working garden. There was a cart outside the kitchen garden where visitors could pay a couple Euros to take home the fresh produce that had been picked that day.
Walk Around the MedienHafen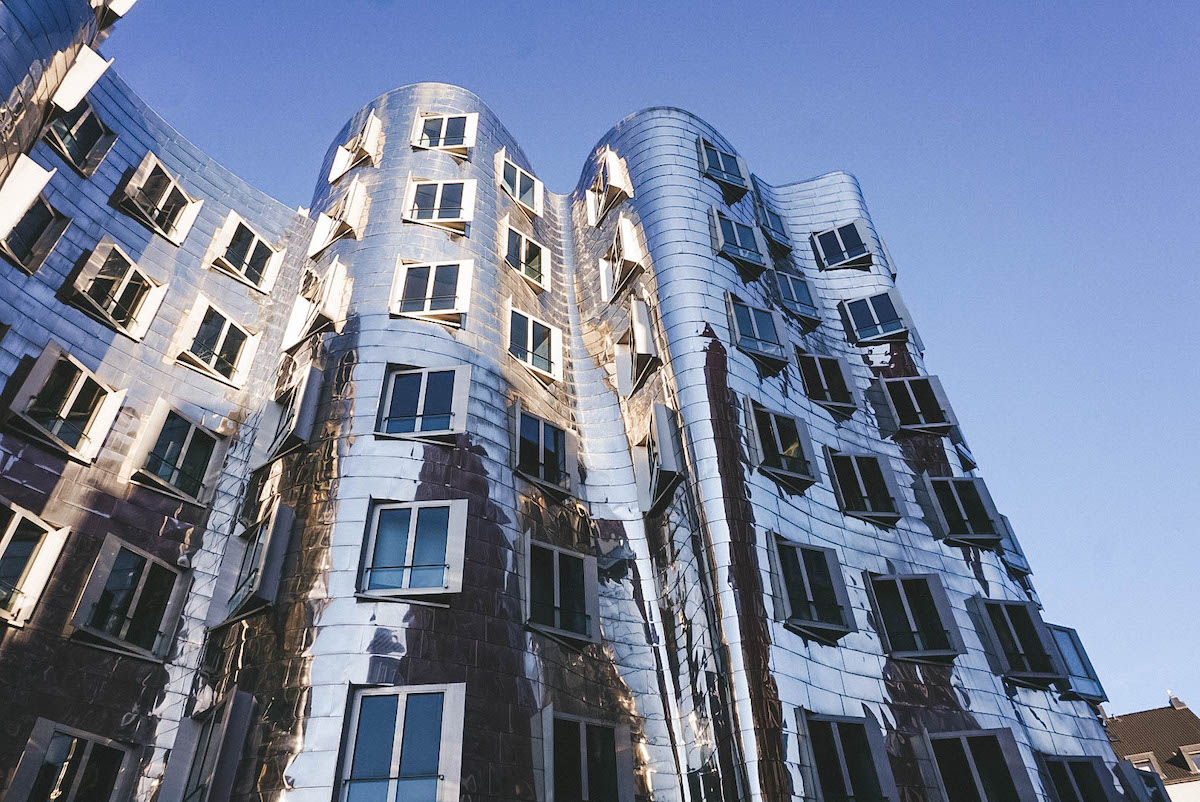 Architecture buffs will love the MedienHafen in Düsseldorf. The name MedienHafen literally translates to "Media Harbor." This area used to be a working harbor, but was transformed into a trendy area for media companies to base their businesses. Famous architects like Frank O. Gehry, David Chipperfield, Joe Coenen, Steven Holl and Claude Vasconi designed buildings here.
I say buildings, but they really are more like works of art. Each building in the MedienHafen was designed to reflect the area's maritime heritage in some way, and if you look closely at them you can see how the architects were inspired by the waves on the Rhine and the ships that once docked at the harbor.
See the Ruins at Kaiserswerth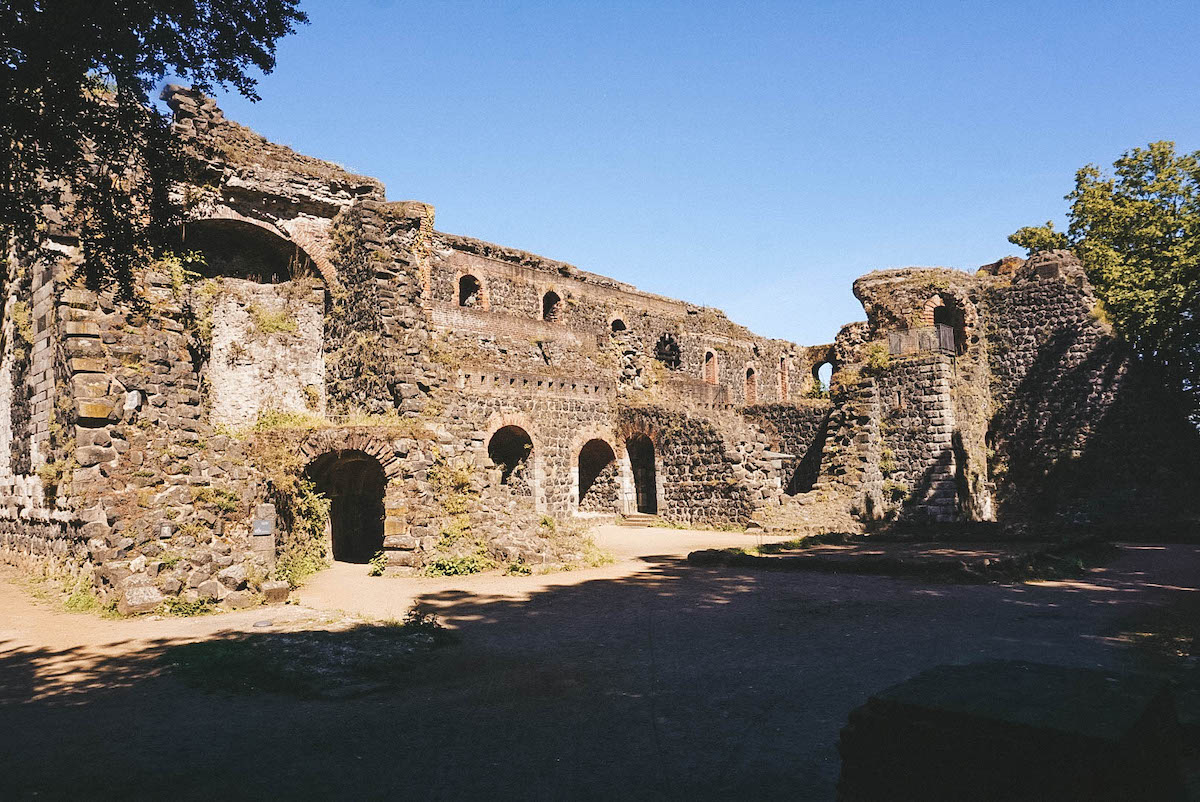 One of my favorite things to do in Düsseldorf is visit the quaint neighborhood of Kaiserswerth. Kaiserswerth is one of the oldest neighborhoods in the city, and it was once the seat of the Holy Roman Empire. In the 12th century, Frederick I (Holy Roman Emperor and ruler of Germany) built a palace in Kaiserswerth. This palace, now called Kaiserpfalz, was destroyed in the 1700s following the war of Spanish succession. However, the ruins are open to the public and they've fortified the steps so you can walk up to the second story and get a feel for what the palace used to be like.
I got to Kaiserswerth around 10 in the morning, and I highly recommend doing so if you plan on visiting. The neighborhood doesn't wake up until lunchtime, and I really felt like I had the place to myself for an hour or so. I should also mention that Kaiserswerth is so stinking cute. There are some gorgeous Baroque houses on the main street, and there's also a picturesque walking trail by the Rhine River. 
Dine in Little Tokyo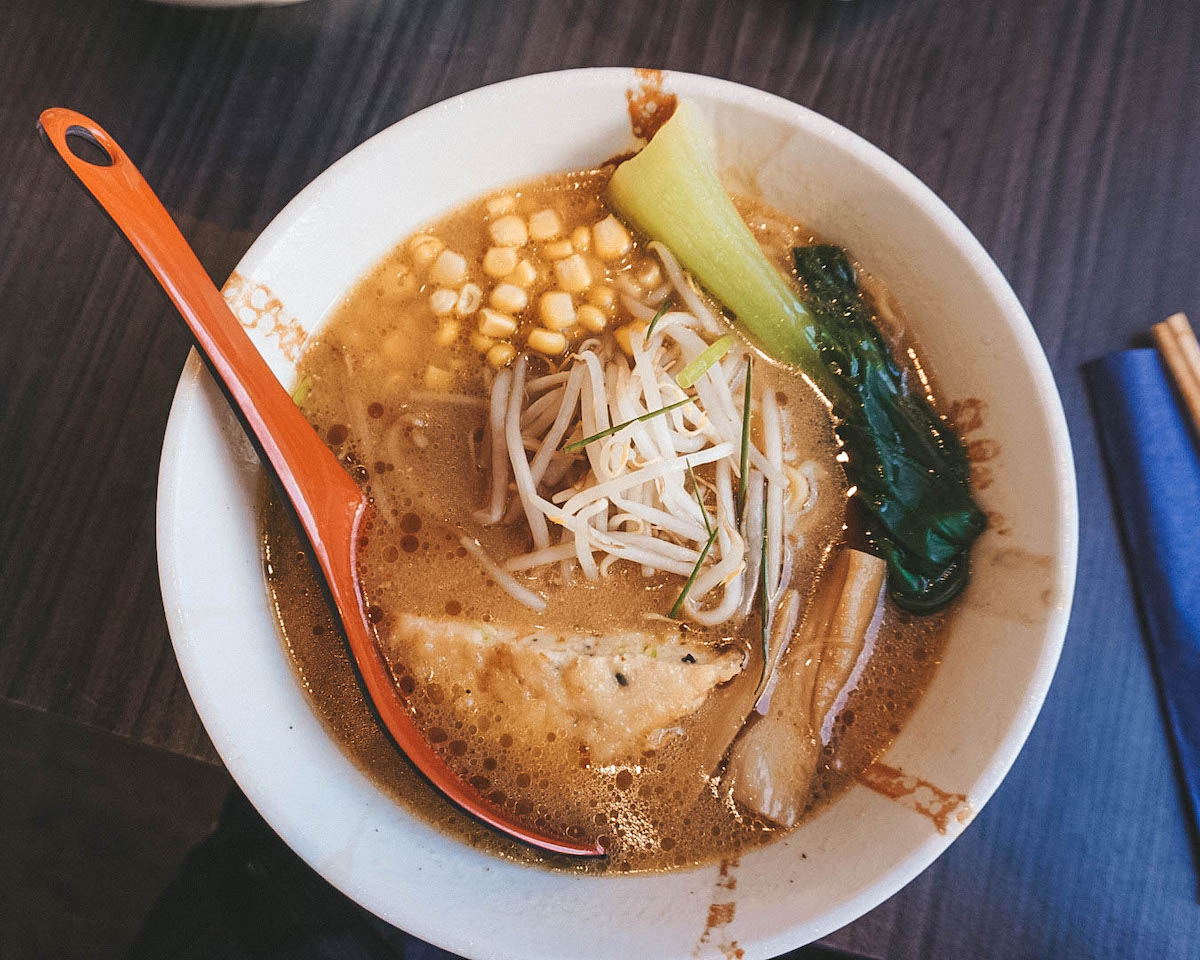 There's not much "to do" in Düsseldorf's Little Toyko neighborhood, but there is so much good food here! Düsseldorf is home to the largest Japanese population in Germany, and you can find some really fantastic Japanese cuisine here. There are also plenty of bookstores, bakeries, and supermarkets in the area. I spent an hour or so strolling through Little Tokyo; it's near the main train station, so it's easy to find.
Admire the Local Churches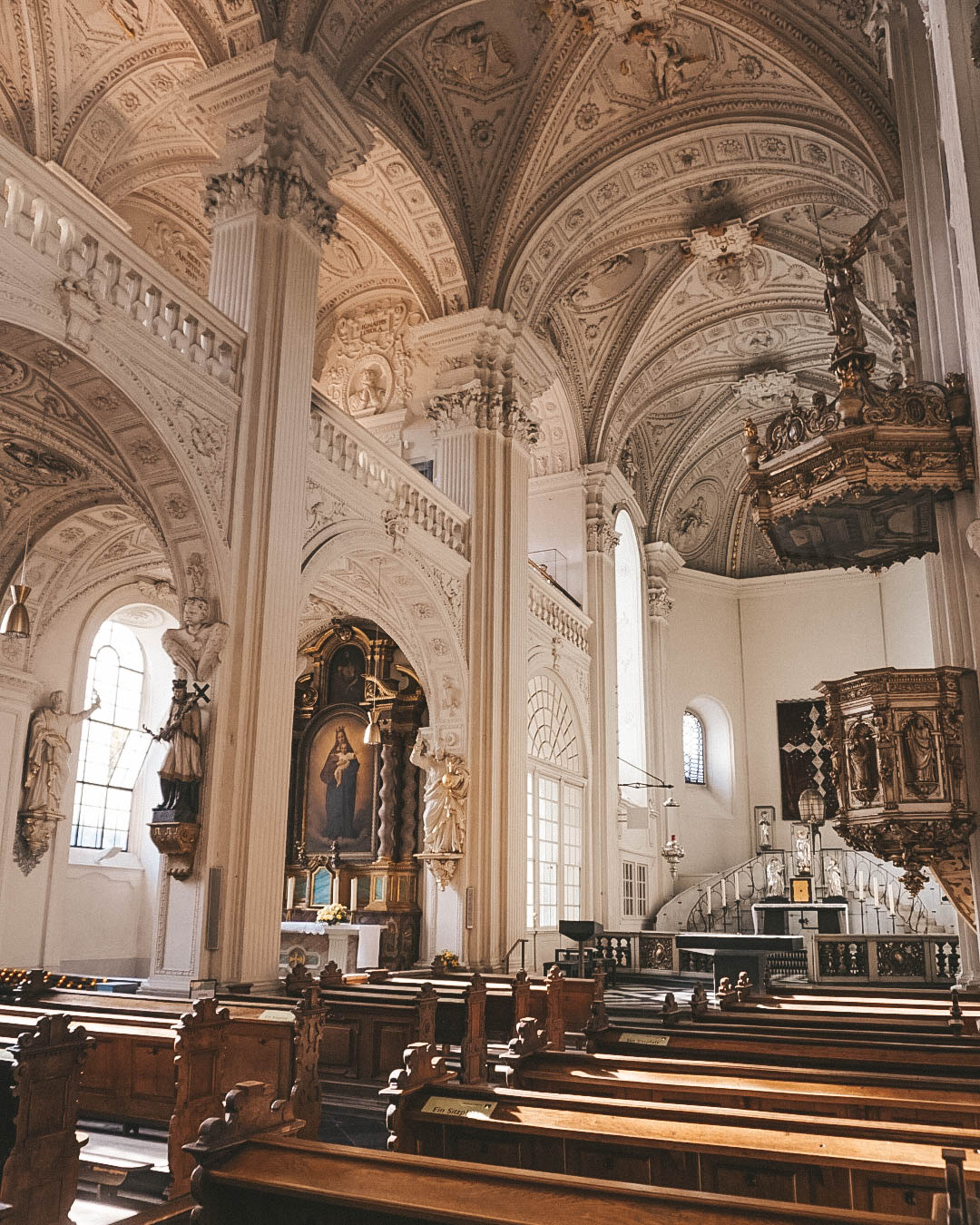 While you're in the city center, it's worth popping into a few of the local churches. There are a surprising number of historic churches peppered around the city, and each has a unique design. I thought St. Andreas Church and St. Lambertus Basilica were particularly beautiful — I actually visited St. Andreas while the organist was practicing, which I thoroughly enjoyed. Note that during the pandemic you're required to wear a face mask inside the churches.
Take a Day Trip to Cologne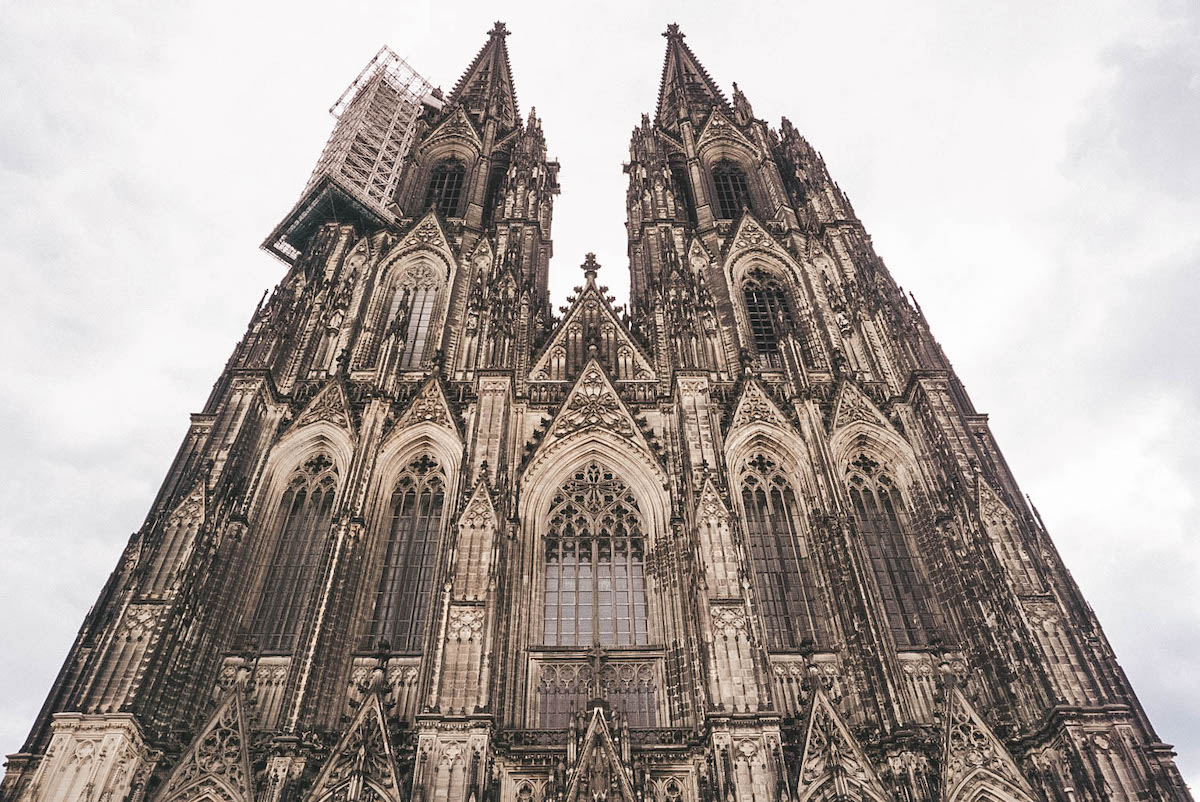 The whole reason I visited Düsseldorf in the first place is because it's said to be a good day trip from Cologne, and vice versa. However, let me make one thing clear: one day is NOT enough time to properly see Cologne. I spent four days there and was sad to leave at the end of my stay.
But if you truly have just one day to explore Cologne, I recommend getting there early and leaving late. It's such a special city and complements Düsseldorf nicely. Cologne is much uglier (locals will proudly agree with me), whereas Düsseldorf clearly is much wealthier and can afford to build nicer homes. If you're in Cologne for just one day, definitely visit the cathedral and take a walking tour if possible to learn about the city's fascinating history.
For more things to do in the city, check out my blog post detailing my 4-Day Cologne Itinerary.
After reading this post, I hope you have a better idea of what to do in Düsseldorf, Germany. Although it wasn't on my radar prior to planning this trip, I'm so glad I had a chance to visit! Definitely plan a couple days here while you're in the area, you won't regret it.
Tell me: What's one underrated city you recommend that people visit?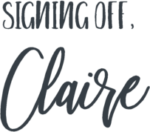 More posts you'll love:
Save this post to Pinterest!