Former Roman settlement, Beethoven's birthplace, and capital of West Germany — Bonn, Germany is a fascinating city worth adding to your bucket list! Here are the top things to do in Bonn, no matter the season.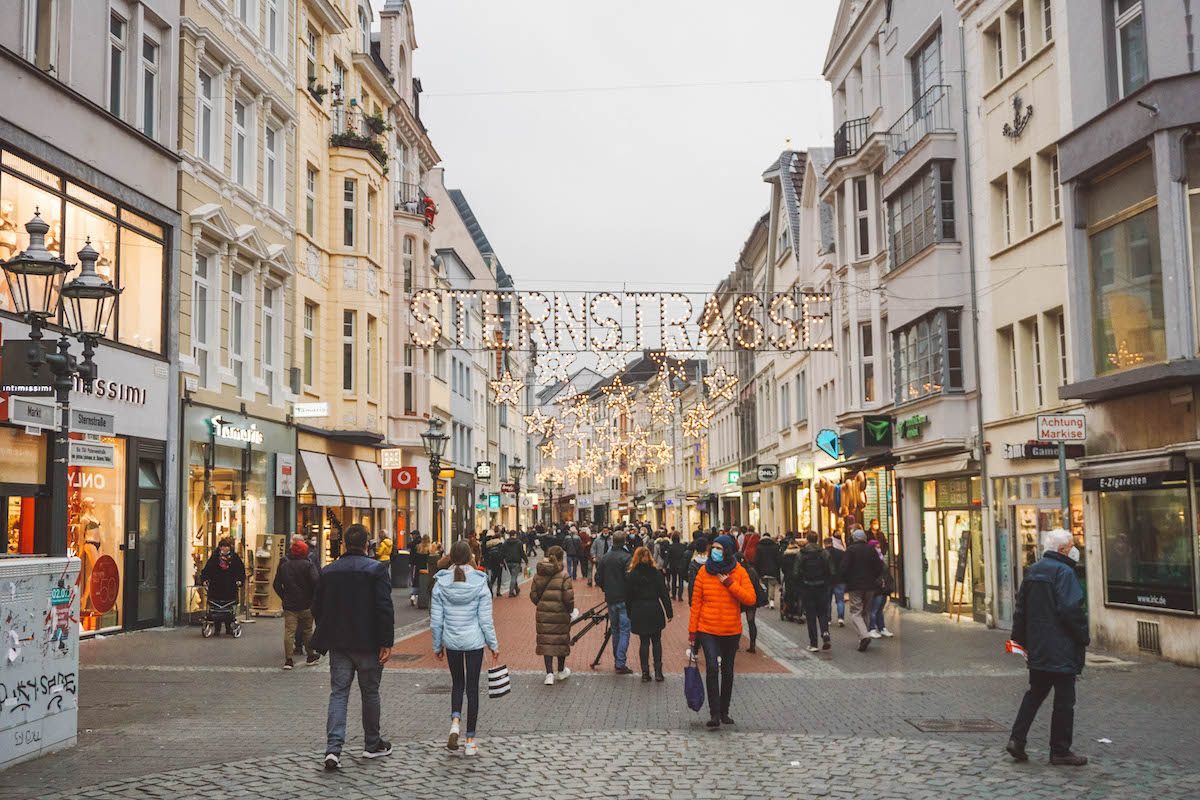 Bonn, Germany has a fascinating history. Like many German cities in the area, it was settled by the Romans. They built a fortress called Castra Bonnesia, which is where modern day Bonn derives its name from.
Throughout the centuries, Bonn's reputation as a hub for musical and political talent has grown. One of the city's most famous sons was Ludwig van Beethoven — does Ode to Joy ring any bells? Locals are incredibly proud of Beethoven's works, and his musical legacy lives on in Bonn today.
In the 19th century, Bonn became a popular residential city. Historically it's been a city of minimal industry, but it's now a political hotspot. Bonn actually served as the capital of West Germany from 1949 to 1990 during the Cold War, and also acted as the capital of Germany from 1990 to 2000 until the government relocated to Berlin.
I visited Bonn during Christmas market season, so I got to experience the magic of this city during the holidays. However, Bonn is worth visiting year-round! Here are the top things to see in Bonn, Germany plus answers to some FAQs.
1. Minster Basilica (Münsterbasilika)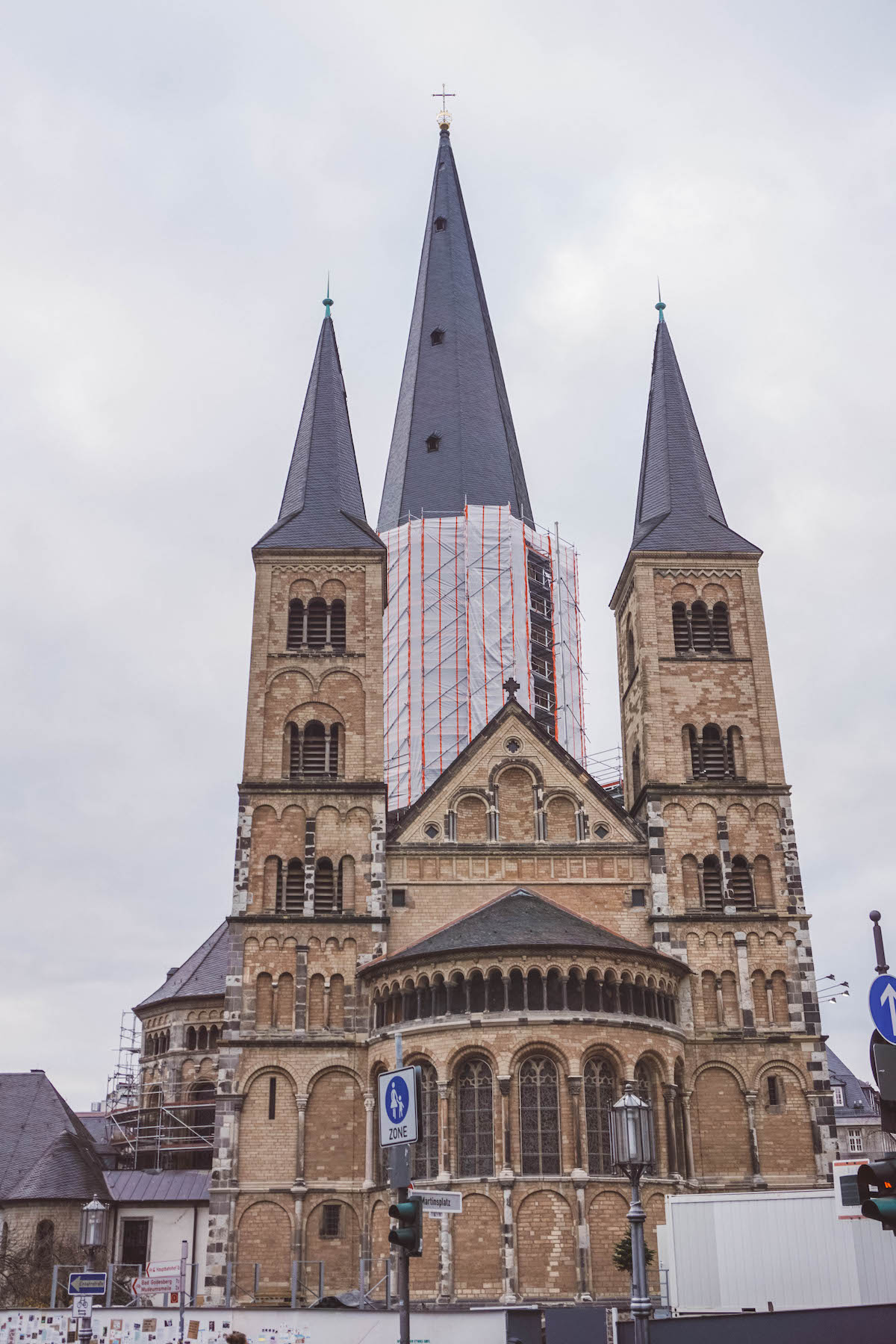 Built on the site of a Roman burial ground, Bonn's basilica is roughly 900 years old. Prior to the building of the basilica, it's said that the city's now-patron saints, Cassius and Florentius, were martyred at this site.
The basilica boasts five towers and is an iconic landmark in the city's skyline. The central tower of the basilica is a staggering 92 meters high! I was lucky with the timing of my trip — the basilica has been closed for the last five years due to restoration work and only just reopened before I arrived!
2. Old Town Hall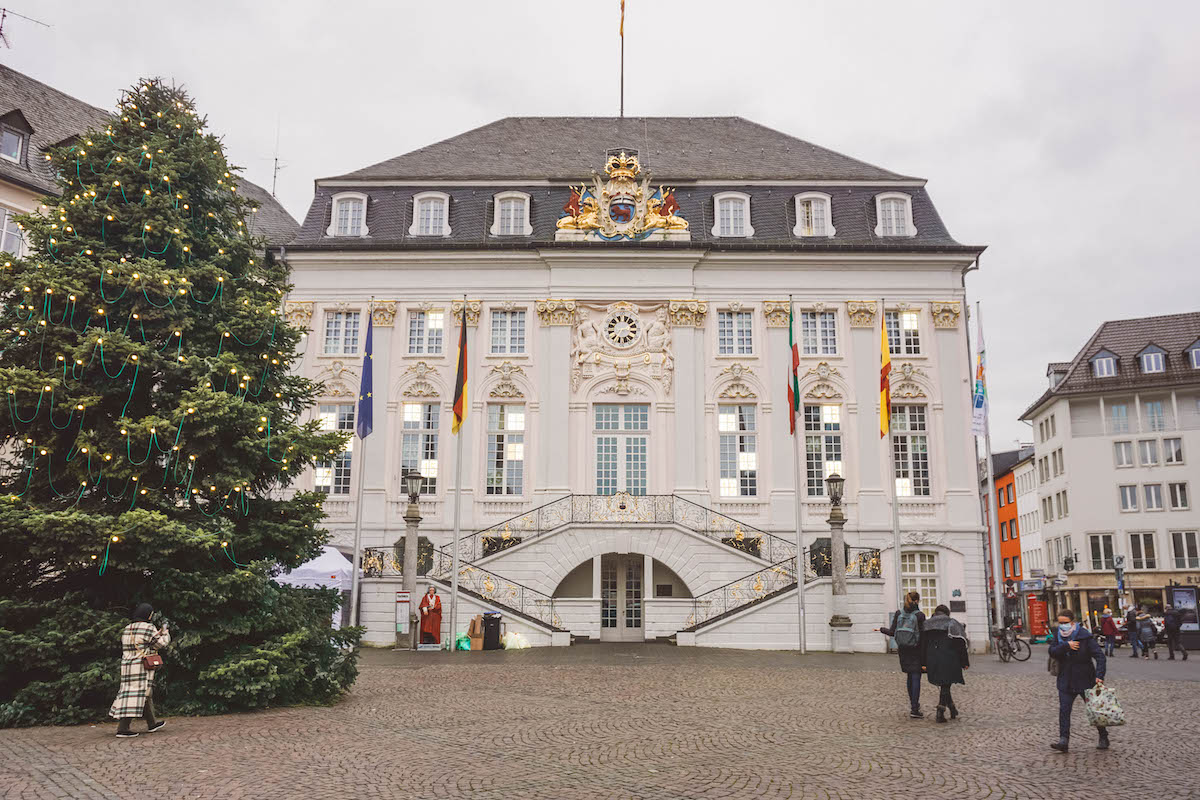 To my knowledge, you can't enter the Old Town Hall as it's still in use. However, it's a gorgeous building that's located just off the central market. The steps of the Old Town Hall are famous thanks to visits from State guests like John F. Kennedy, Queen Elizabeth II, and former president Bill Clinton.
A weekly market takes place in the central market in front of the Old Town Hall, so be sure to grab a snack while you're there!
3. Beethoven-Haus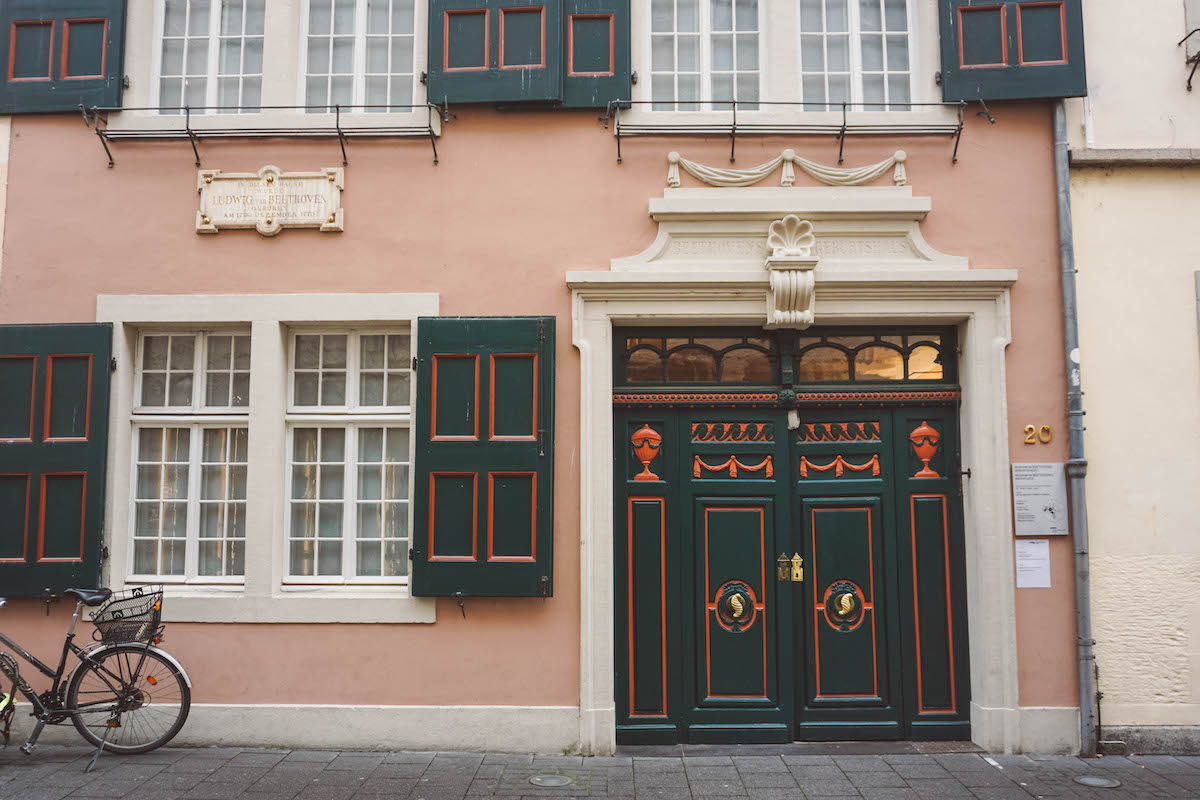 The Beethoven-Haus Museum is located inside Ludwig van Beethoven's birthplace. He was born in Bonn in 1770 and composed famous works such as Symphony No. 9 (which Ode to Joy is part of), Symphony No. 3 "Eroica," and many more symphonies and musical works.
The Beethoven-Haus is a small museum that's dedicated to Beethoven's life and work. You only need about an hour to go through the exhibits. Personally, I'd only recommend this museum to die-hard Beethoven fans as the exhibits were fairly simple and gave only the broadest overview of his personal history.
4. German National Museum of Contemporary History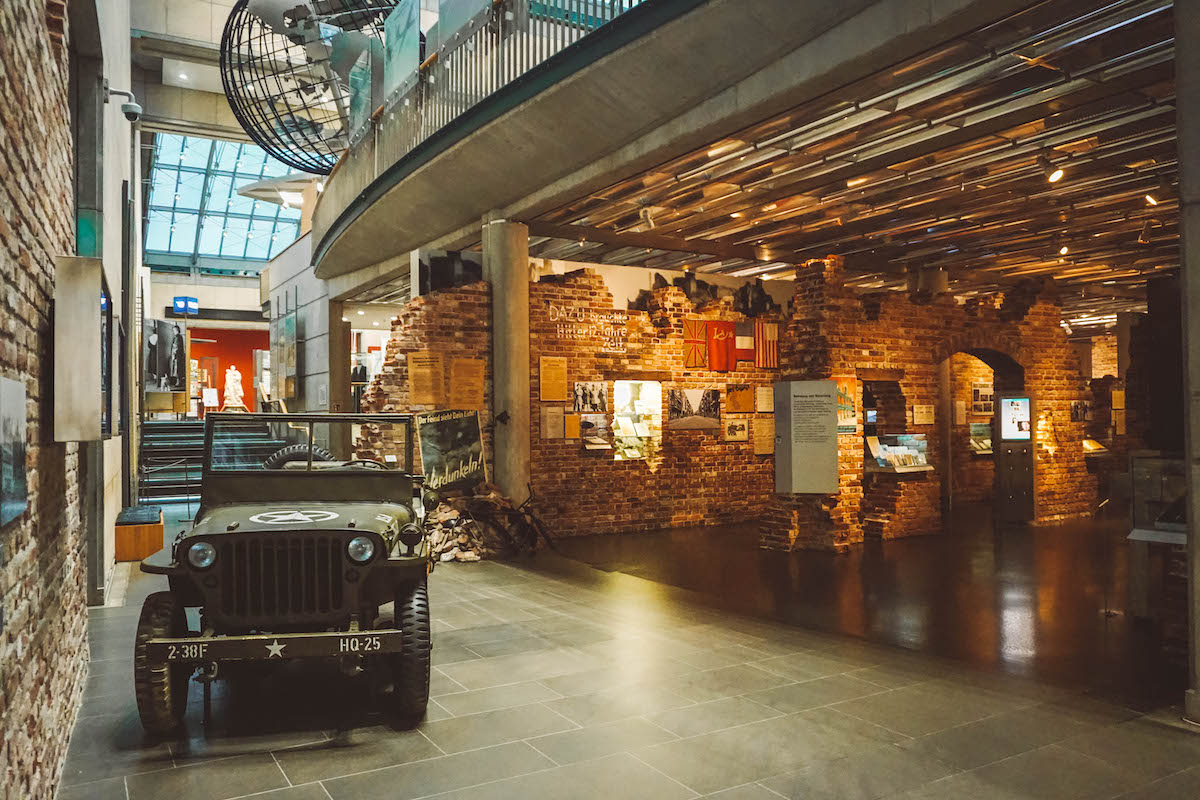 Bonn's Haus der Geschichte is one of the best history museums I've ever visited. It details Germany's history from WWII to the present day and displays over 7,000 original artifacts. The exhibits take you decade-by-decade through Germany's modern history, and each exhibit resembles a mini movie set. There's naturally a lot of text to read, but there are also many interactive portions that make touring the museum incredibly interesting!
Tip: I spent half a day inside this museum, but I didn't make it all the way to the end due to museum fatigue.
5. Old Town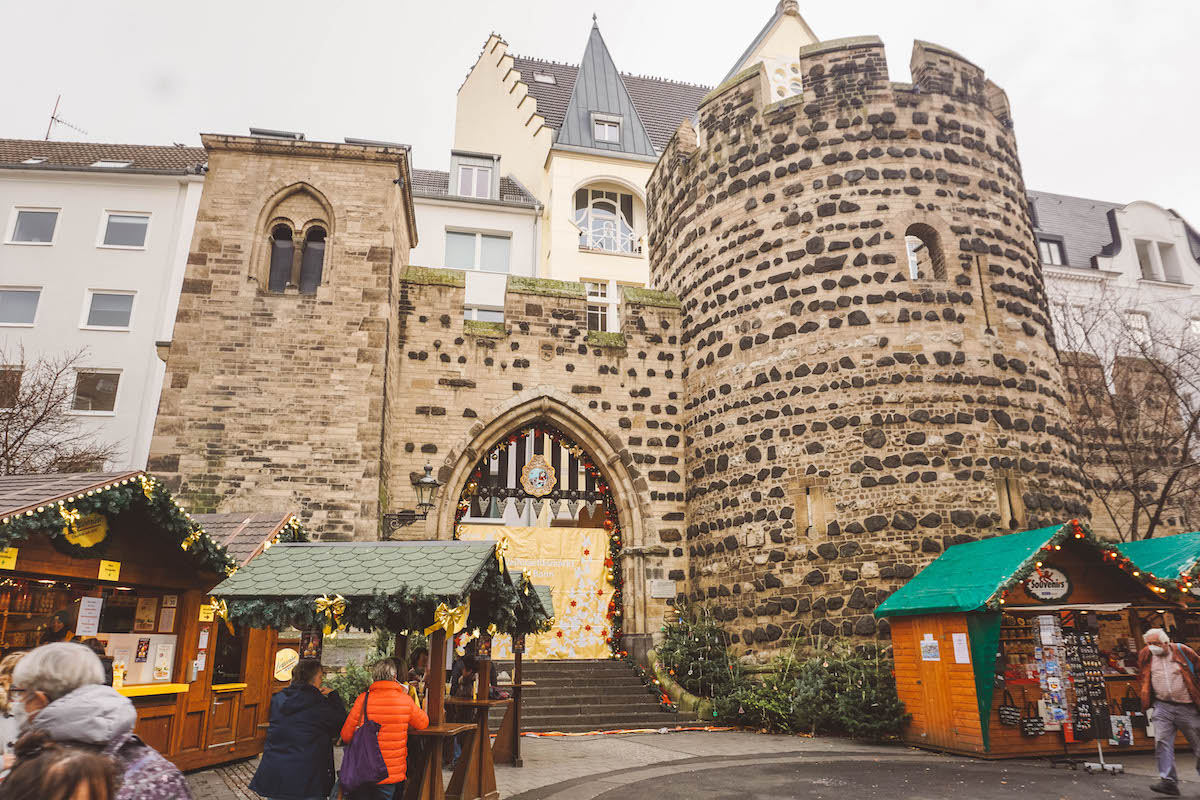 Confusingly, Bonn's "Old Town" isn't actually that old. It's only about 100 years old, in fact! The real Old Town was destroyed in WWII and wasn't rebuilt. However, the Old Town you see today is one of the top attractions in Bonn.
If you're in the mood to window shop, the Old Town is the place to do it. There are primarily chain stores here, as well as plenty of cute cafes. In April, the Old Town becomes cherry blossom paradise. There's a well-known cherry blossom street in Bonn, Germany called Heerstraße. Sadly it's not a pedestrian street, but I've heard it's gorgeous nonetheless in the springtime!
Another Bonn attraction to look for in the Old Town is the Sterntor (pictured above). It's one of the few remaining pieces of the medieval city wall. The Sterntor you see today is in fact the original city gate … just not in its original location! It was pulled down a few years ago and moved a couple meters away from its original location to accommodate the increased traffic in the area.
6. Alter Zoll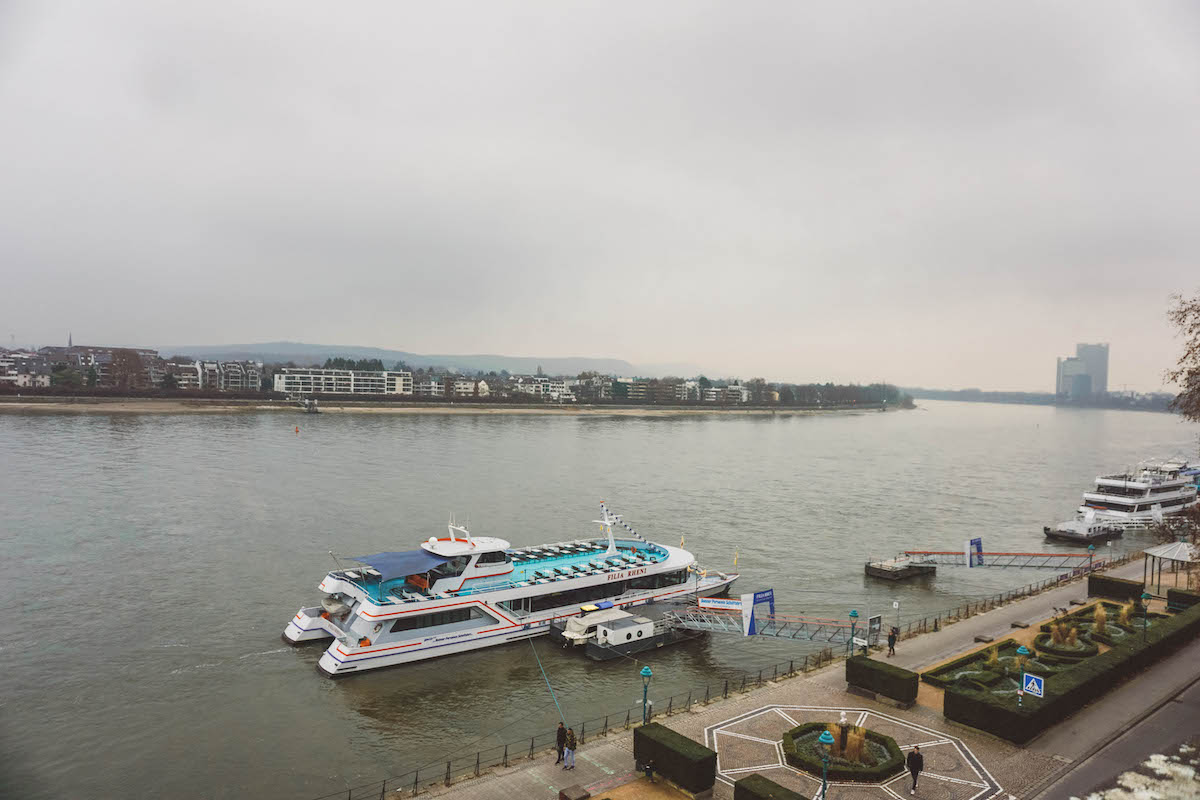 Another piece of medieval Bonn worth tracking down is the Alter Zoll. It's another remnant of the city's medieval fortifications. During the Thirty Years' War, a customs house stood here and later became part of the existing fortifications. The customs house is long gone, but the two Napoleanic cannons on the ramparts make the Alter Zoll impossible to miss!
From here, you have a great view of the Rhine River. I visited in deep winter, so admittedly the view wasn't that spectacular. But in the spring and summer I imagine this area is stunning!
7. Godesburg Castle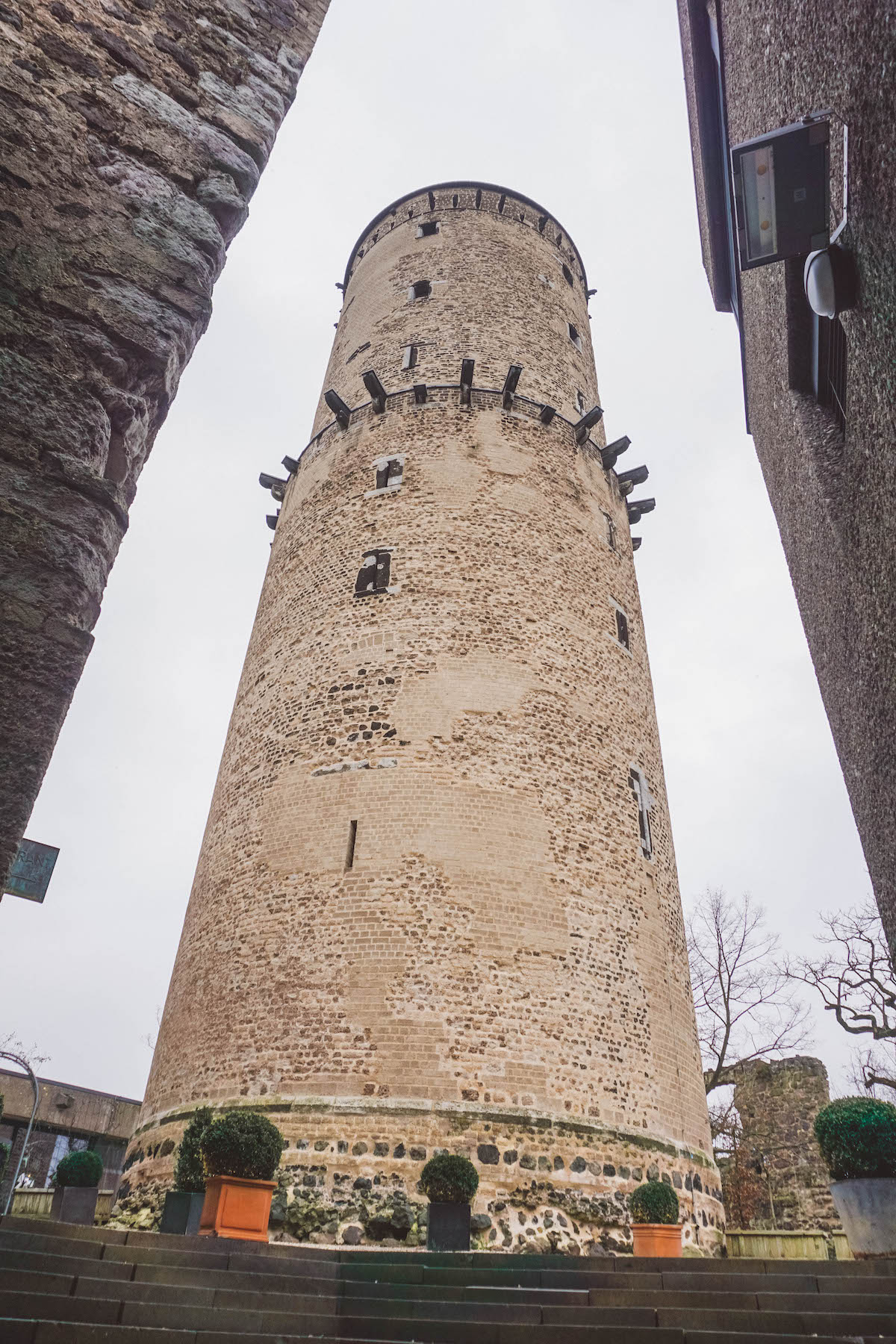 I had quite an adventure tracking down Godesburg Castle. I'd read that it was completed in 1210 and was the first of the Romantic castles along the Rhine River. After getting off the tram, I looked around for an actual castle — only to discover that only its ruins remain!
To get to Godesburg Castle (or should I say, what remains of Godesburg Castle), you have to walk up a fairly steep, paved hill. All that remains of the castle is the 32-meter high keep, which you can pay to climb in the warmer months for a wonderful view of Bonn. At the base of the keep is a restaurant.
At the bottom of the castle ruins is the quaint St. Michael's Chapel, which was finished in 1699.
To be honest, the castle ruins alone aren't that interesting once you're right up next to them. However, getting to the ruins and seeing them from afar is very special so I'm glad I made the trek out to the ruins. It's not every day that you find ruins in the middle of a modern German city!
8. Day Trip to Drachenburg Castle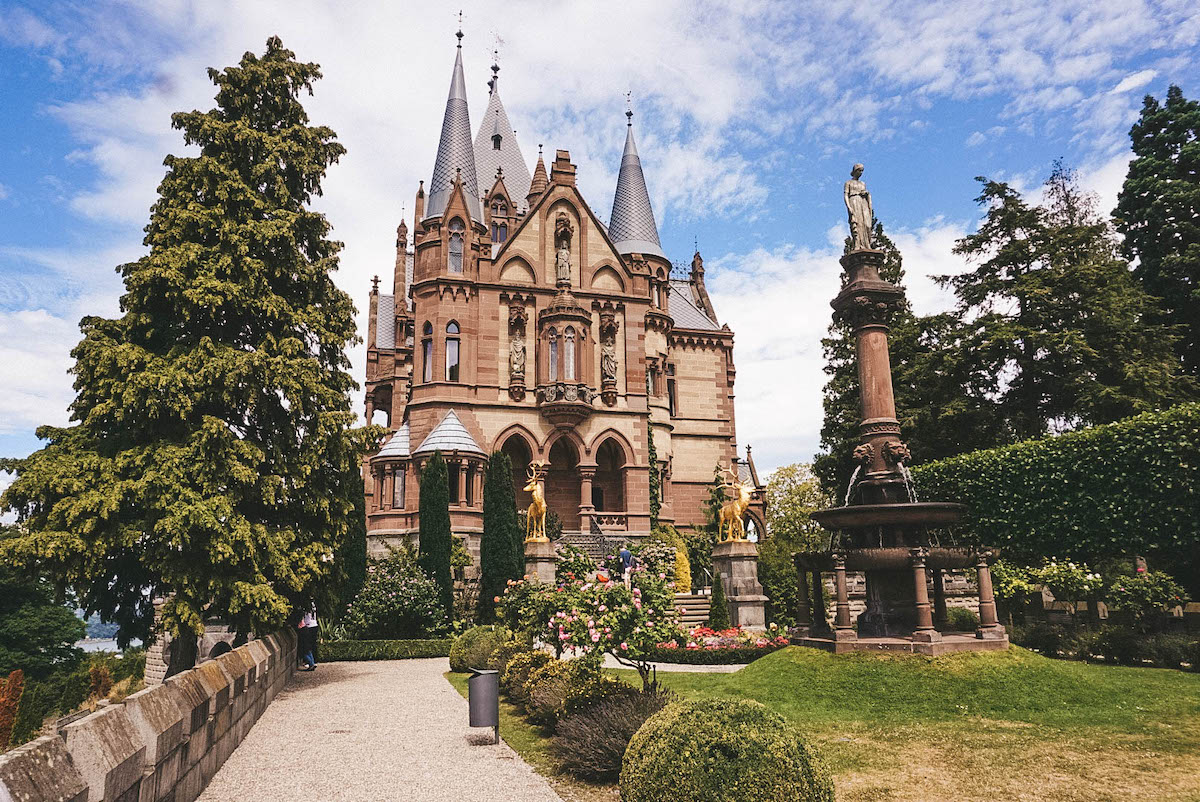 Yet another castle near Bonn that's not a real castle! Located in nearby Königswinter, Drachenburg Castle is actually a private villa that was built to look like a medieval castle. It was commissioned by Baron Stephan von Sarter in the 1880s. At that point in time, "Historicism" was a popular architectural style. So while building a medieval-style castle may seem odd by today's standards, it was slightly less odd in the 1880s.
After touring Drachenburg Castle, be sure to take the steep path up to the Drachenfels Ruins. These picturesque ruins influenced great artists and writers, such as Lord Bryon. You'll forget you're in southern Germany when you see the view from the top!
9. Day Trip to Brühl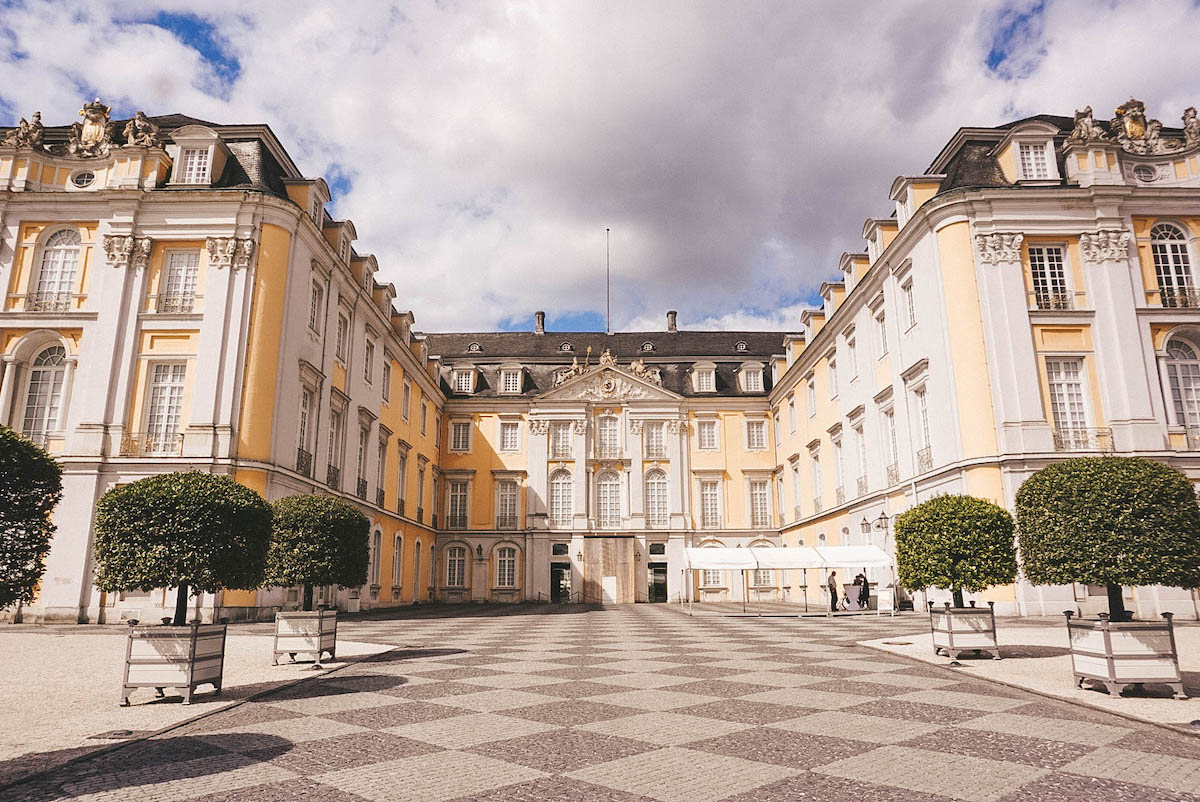 Another of the best things to do in Bonn is to take a day trip to nearby Brühl, which is home to — yes! — another castle. But this time it's a real palace that was lived in by German royalty! It's called Augustusburg Palace and was completed in 1768 after 40 years of hard work. It was commissioned by the Cologne elector and archbishop Clemens August.
After touring Augustusburg Palace, be sure to walk through the grounds to the small but impressive Falkenlust Hunting Lodge. You'll spend most of your day at the palace and hunting lodge, but you should have enough time afterwards to explore the town of Brühl and treat yourself to an afternoon coffee.
10. Bonn Christmas Market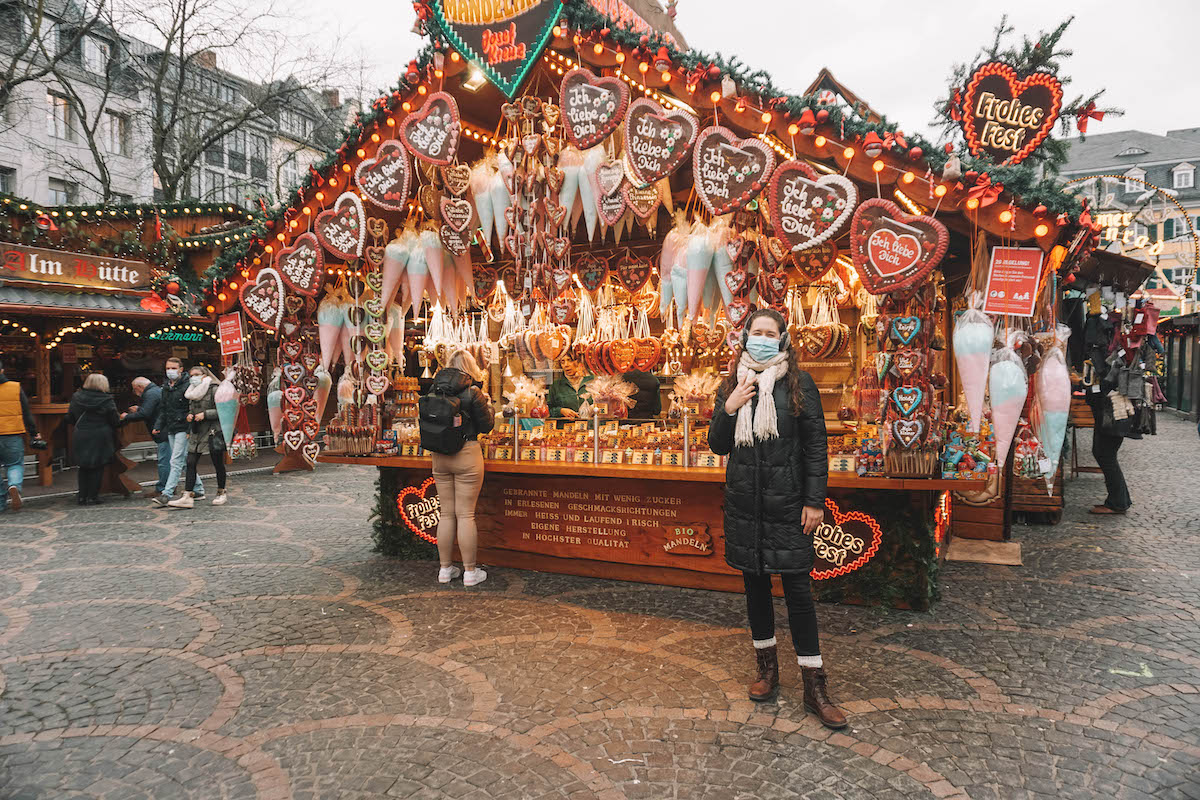 If you're lucky enough to be in Germany during Christmastime, your nights in Bonn will be best spent at the Christmas market. Much of Bonn's city center is taken over by Christmas markets in December, but the main market can be found in the square by the basilica.
The Bonn Christmas market isn't my all-time favorite, but it's by no means a bad one. In fact, I had the best Flammlachs of my life at the Bonn Christmas market so rest assured that the food is amazing.
Even More Things to Do in Bonn, Germany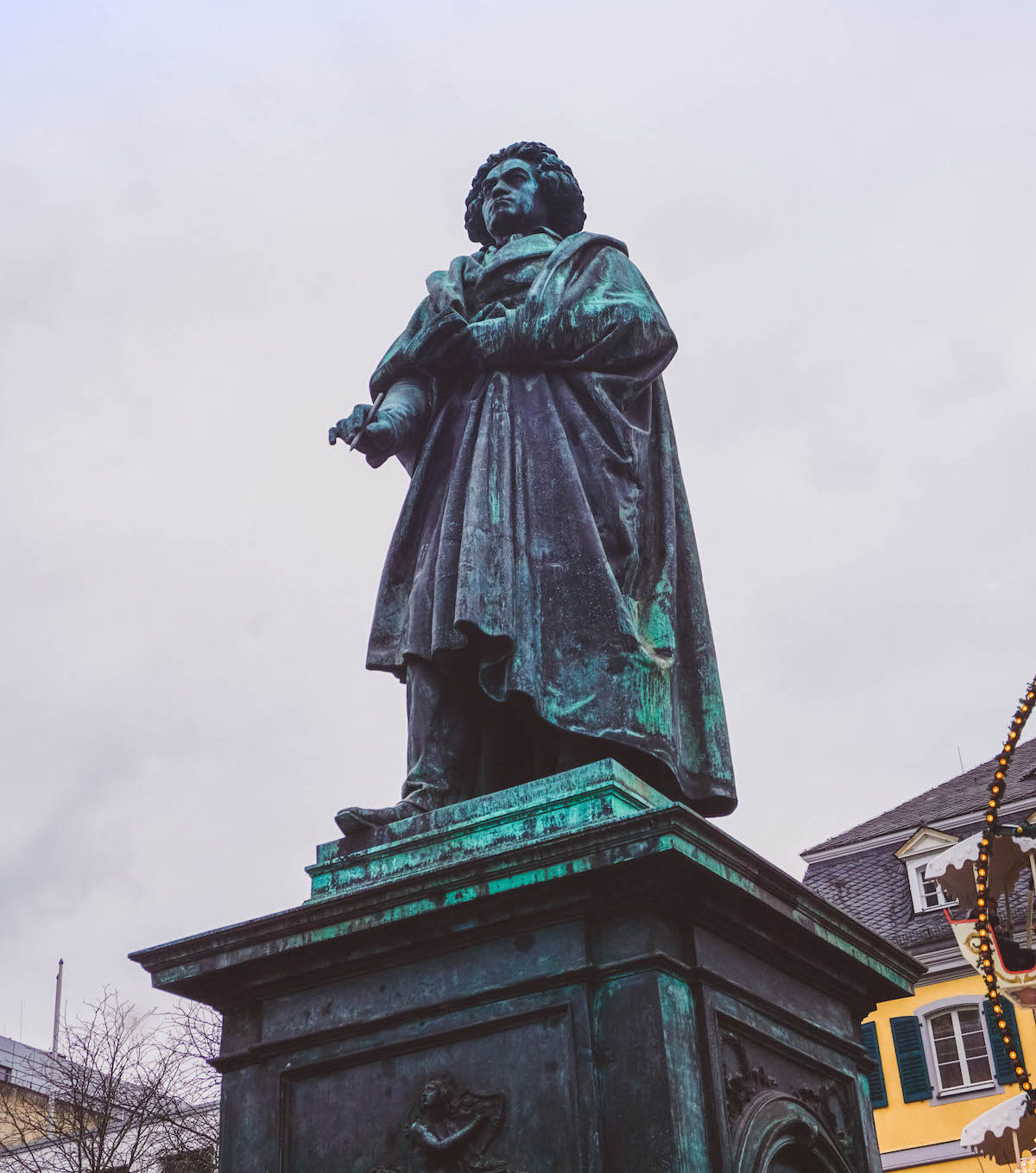 As the former capital of West Germany, there are many more cultural attractions that I couldn't squeeze into my visit to Bonn. I never recommend attractions I haven't personally vetted, but here are some things I had on my to-do list that I didn't have time for should you need some more ideas of what to do in Bonn, Germany.
Museum Mile — The German Museum of Contemporary History is along Museum Mile. Other museums of note are the Deutsches Museum Bonn (I've been to the branch in Munich and it was excellent!), the Kunstmuseum (art museum), and Museum Koenig (one of the top natural history museums in the country).
Poppelsdorf Castle — Now part of the University of Bonn. Home to the Mineralogical-Petrological Museum as well as a botanical garden. I didn't visit since I was in Bonn in the dead of winter.
Old Cemetery — Supposed to feel more like a park. Many of Bonn's famous sons and daughters are buried here.
How Many Days Are Needed to See Bonn?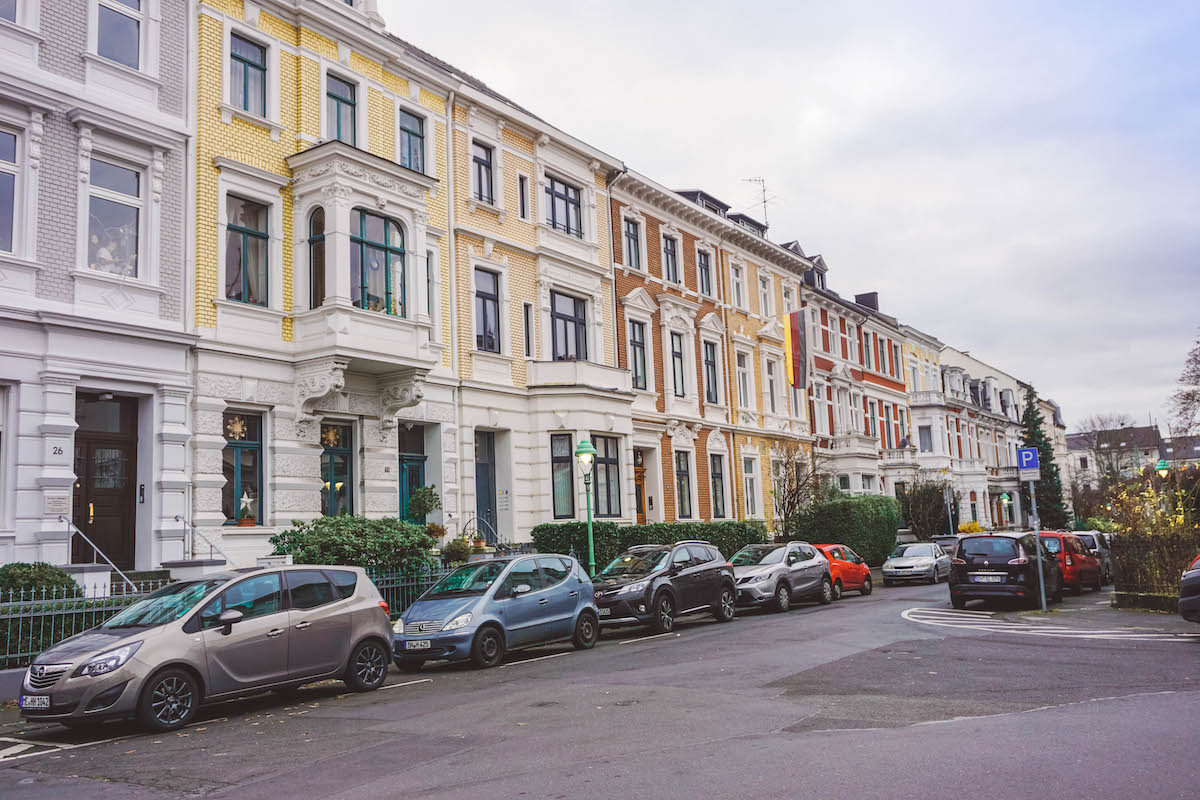 I thought two full days was perfect to see the main Bonn attractions and get a feel for the city. No, I couldn't visit every single museum in Bonn and I had to pick and choose which I saw. However, as far as exploring the city center goes I thought two days was ideal for visiting Bonn.
If I visit Bonn in the summer next time, I think I'll stay for an extra day or two so I can spend time in the public parks and botanical garden, as well as go for a hike in the area. But in deep winter, two days was enough for me.
Can You See Bonn in a Day?
No, but you'll be able to get a good feel for the city in a single day. If you only have one day in Bonn, I recommend walking around the city center, visiting the Beethoven-Haus OR Haus der Geschichte, popping into basilica, and snapping some photos at the Alter Zoll. If you use this itinerary, you'll naturally pass other key Bonn attractions en route.
Pumped to Visit Bonn?
Bonn is a fascinating city in Germany that's played a pivotal role in the country's recent history. Whether you're interested in politics, history, or music, Bonn has a little something for everyone.
Drop me a comment below with any questions you have about visiting Bonn, and be sure to follow me on Instagram to keep up with my Germany travels!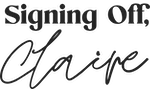 More Cities in Germany Worth Visiting: