Not sure what to order at a Christmas market? Here are the most popular German Christmas market foods you'll find all over the country, broken down into entrees, desserts, and drinks!
This post has been updated for the 2023 Christmas market season.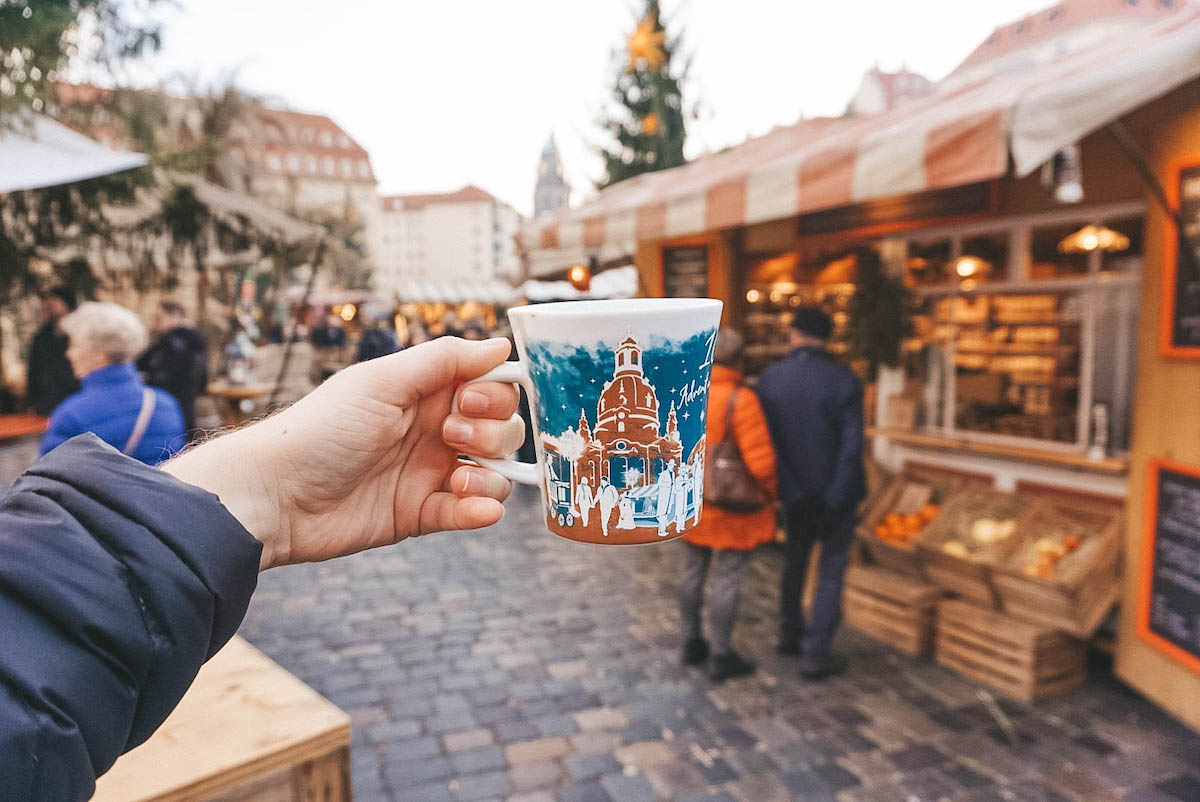 With the first known Christmas market taking place in Dresden in 1434, you could say that the Germans have had time to perfect their Christmas market foods. With German Christmas foods running the gamut of tame yet tasty (candied nuts) to daring and mildly dangerous (flambeed rum, anyone?), there's really something for everyone to nosh on at a Christmas market.
Germany at Christmastime is truly a one-of-a-kind experience. Even the tiniest of towns have a Christmas market of some kind, and larger cities like Berlin and Dresden have multiple that run throughout the season. While there's much to see and do at the Christmas markets, my all-time favorite activity has got to be eating.
In this post, I'm going to attempt to share the most popular German Christmas foods that you can find at the Christmas markets. However, there's no way I'll be able to cover every single thing — because I haven't eaten everything (yet!). 
Table of Contents
Click "show" to see the full table of contents for this post. You can jump around the post as desired by clicking on the individual sections listed below. 
A Quick Note on Using This Guide
I've broken down this post into three categories: German Christmas market foods, desserts, and drinks.
Note that certain food items have different names, depending on the area of Germany you're traveling through.
Likewise, certain dishes are regional and can't be found nationwide. I've done my best to give a broad overview of the types of things you can expect to eat at a Christmas market, though! (Spoiler: there are no veggies on this list!).
German Christmas Market Foods
Vegans and vegetarians, beware! Germans like to stuff meat and cheese in a lot of their Christmas market foods. However, many Germans speak English and the vendors at the markets are often incredibly kind. If you want to double check the ingredients in something, just ask!
Here are the foods you HAVE to eat at any German Christmas market. 
Handbrot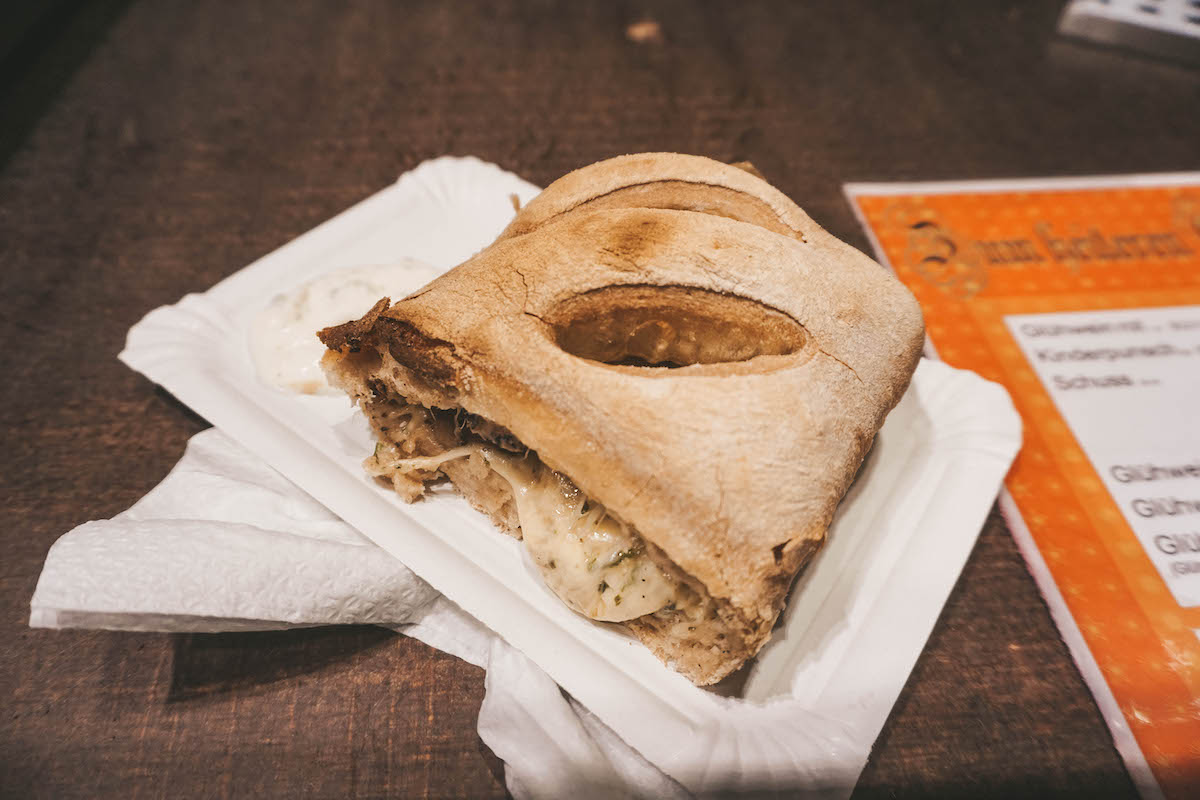 One of the simpler food items on this list, Handbrotis essentially a massive stuffed bread roll. The traditional filling is ham and cheese, but each city has its own unique spin on the dish.
If you don't eat meat, most Handbrot stalls sell one meat and one veggie version, so this is a safe vegetarian option to enjoy at a German Christmas market.
Bratwurst (Grilled Sausage)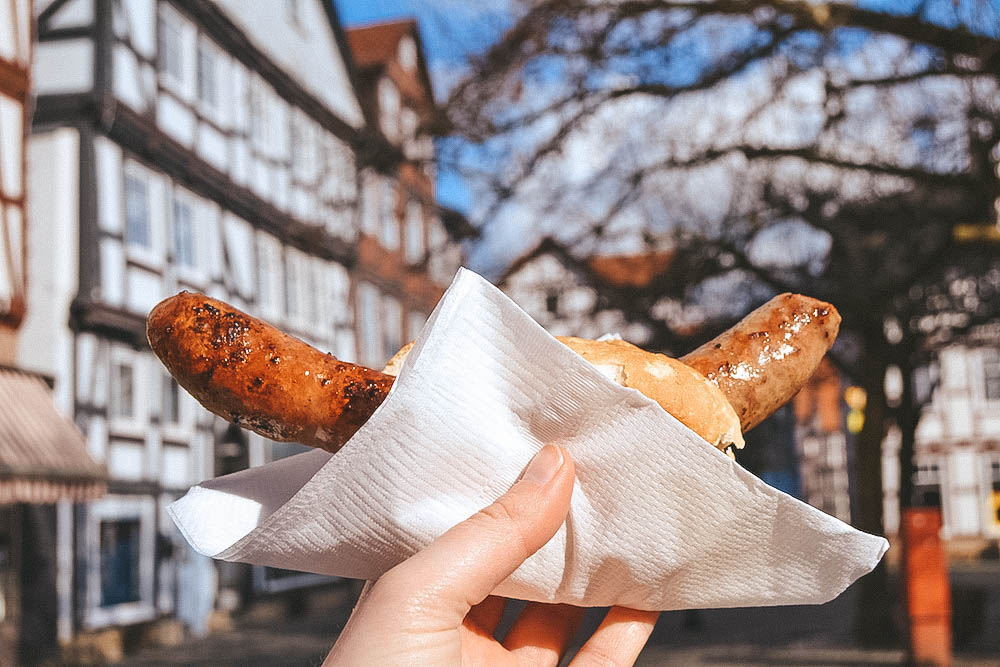 I have no clue how many types of sausages there are in Germany, but I found articles online listing the 30+ most popular varieties. Each region of Germany has its own special type of bratwurst, and then some.
Bratwurst isn't a traditional German Christmas food by any stretch of the imagination, but it is a very German dish in general. I typically order a bratwurst after I tire of all the cheese and grease found in other German Christmas foods.
Maroni (Roasted Chestnuts)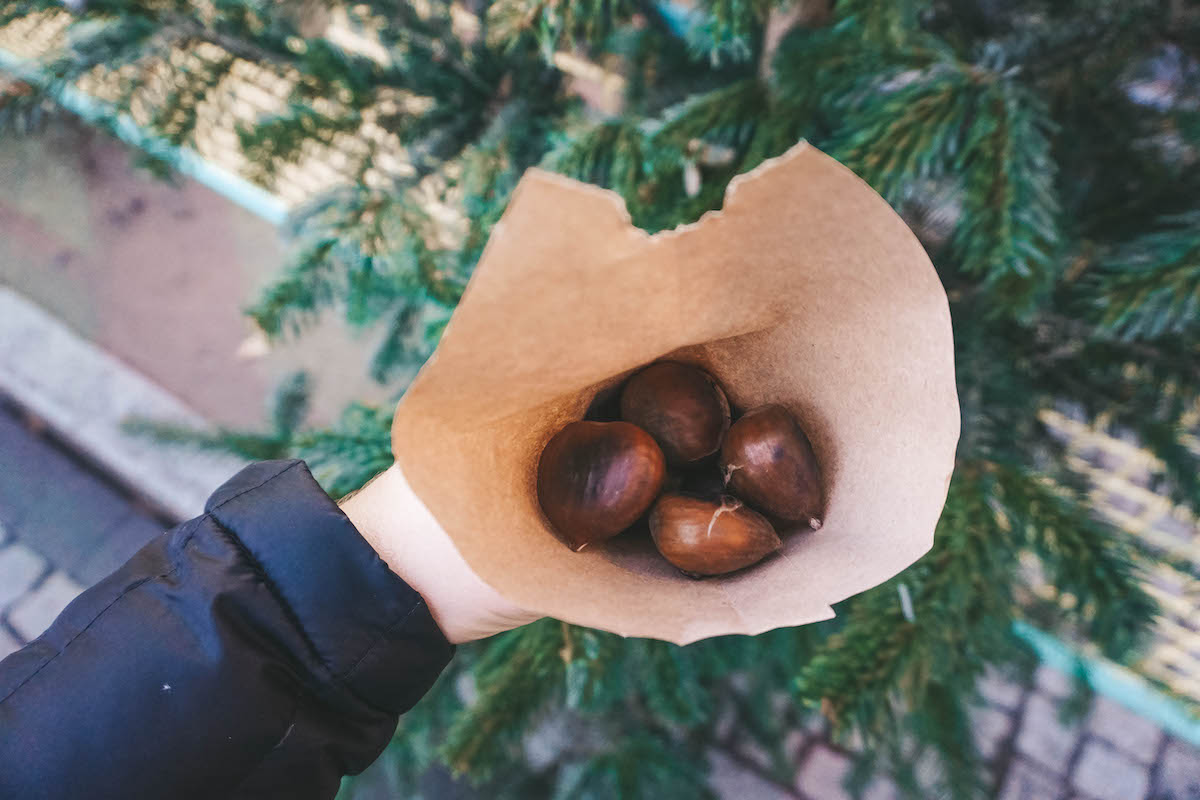 Maroni are arguably the only "healthy" food you can find at a Christmas market. They're toasted chestnuts — that's it. There are no flavors, no candy coatings, nada.
Just fresh chestnuts that have been roasted and are served in their shells. To eat them, you have to peel them first to get to the soft, chewy center.
Kartoffelpuffer / Reibekuchen (Potato Pancakes)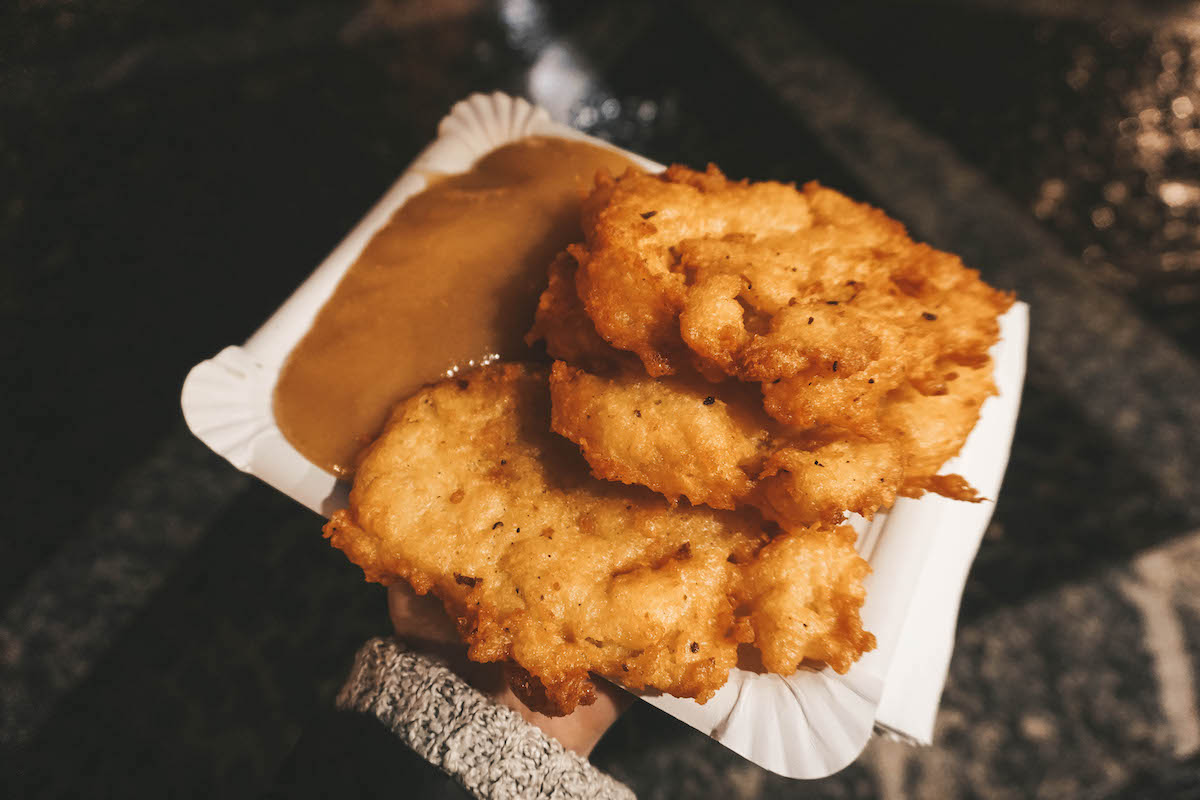 Potato pancakes go by many names in Germany, and there are slight regional variations in the recipes, to boot. Whether you order Kartoffelpuffer up north or Reibekuchen in the Rheinland, what you'll wind up with is a plateful of freshly fried, thick potato pancakes that are about the size of your hand.
DO NOT PUT KETCHUP ON THEM. Channel your inner German and eat them with applesauce (Apfelmus). Every sweet and salty bite is pure bliss, I assure you.
Lángos (Hungarian Street Bread)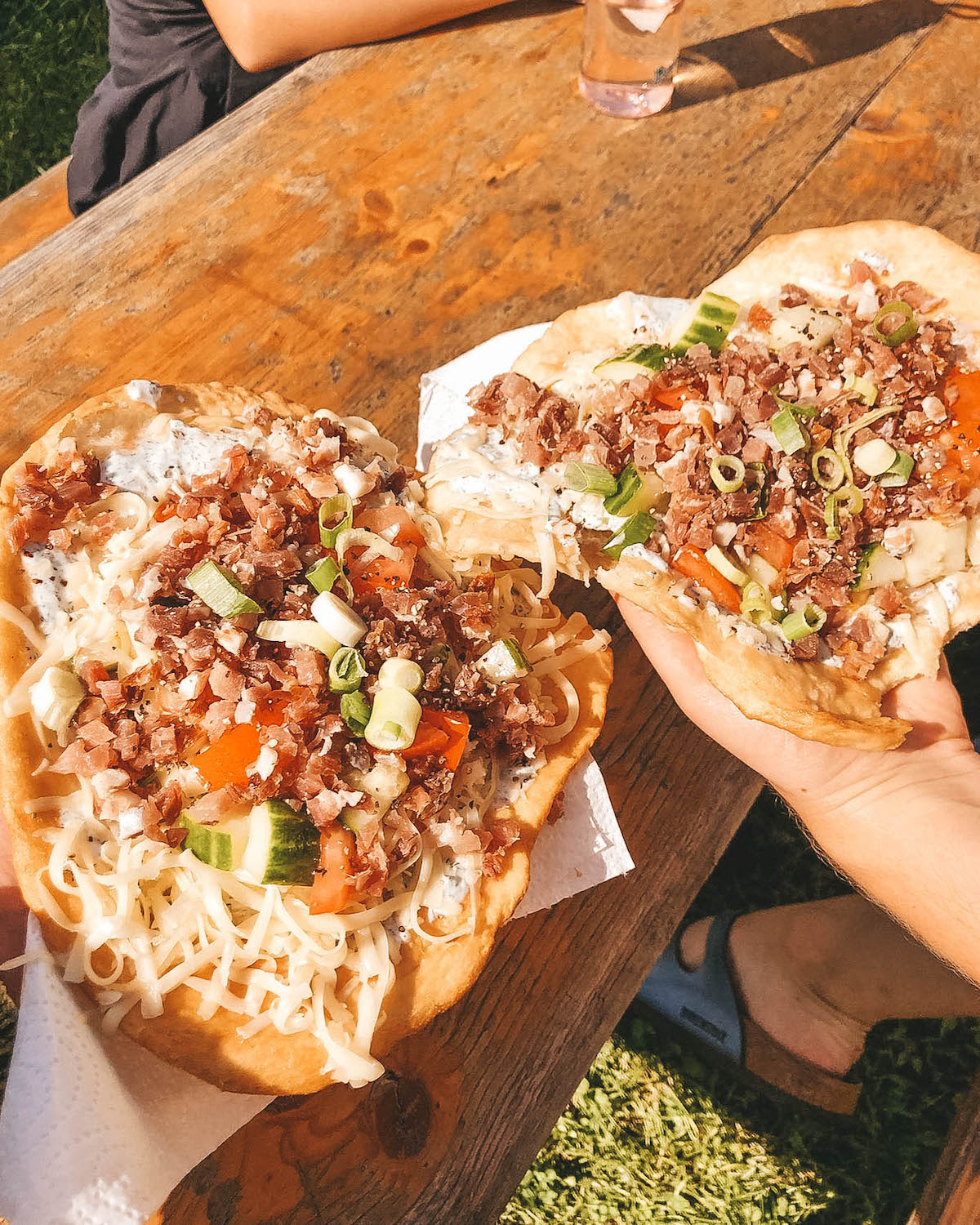 Lángos is a Hungarian dish that's now extremely popular at the German Christmas markets. To make lángos, a flat piece of dough is deep fried before being topped with some kind of sauce or spread, cheese, and often a pile of meat (bacon or ham). It's incredibly filling, and I'm hard-pressed to finish an entire one even on an empty stomach.
PS. The photo above was clearly not taken at a Christmas market, but I forgot to snap a photo of one this year!
Spießbraten (Roast Pork Shoulder)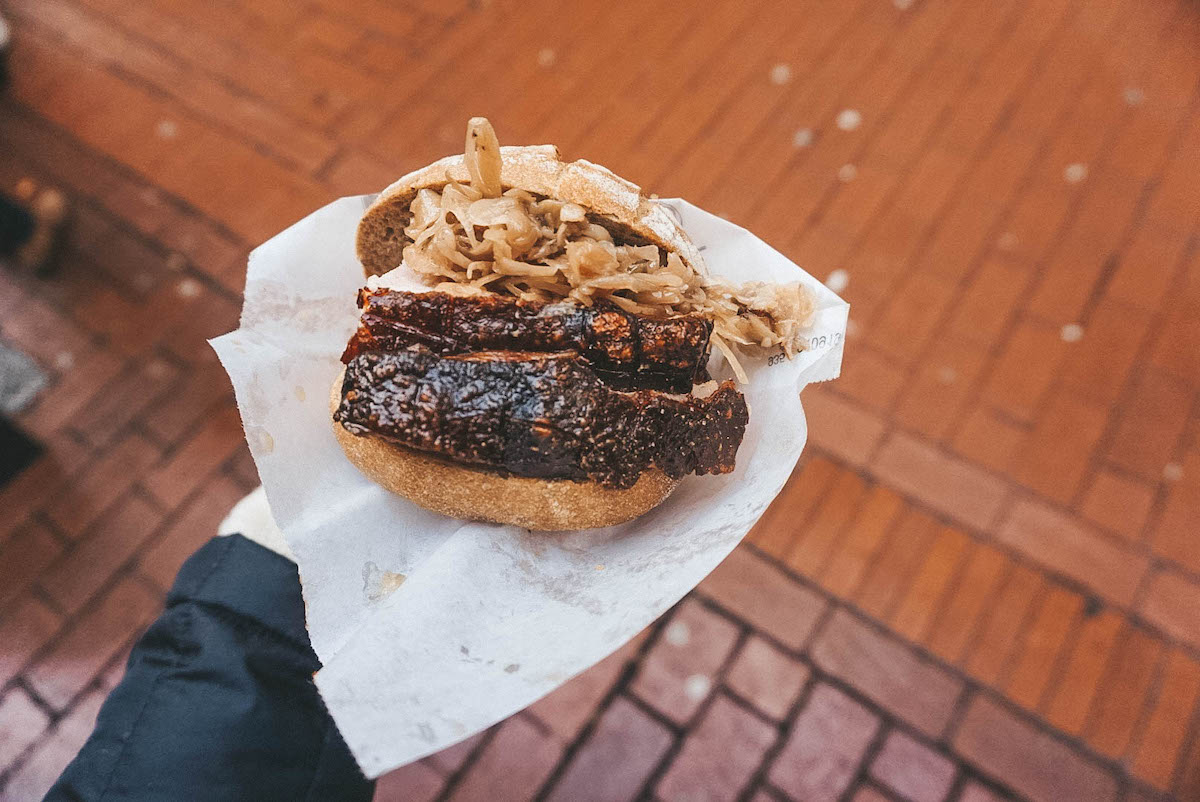 Fatty, juicy, and flavorful, Spießbraten is a type of roast pork that's cooked on a spit over an open flame.
You can order a slice or two on a plate with some sides (typically red cabbage or sauerkraut), or you can eat your slice of pork in a Brötchen (bread roll) like a sandwich. 
Pommes Frites (French Fries)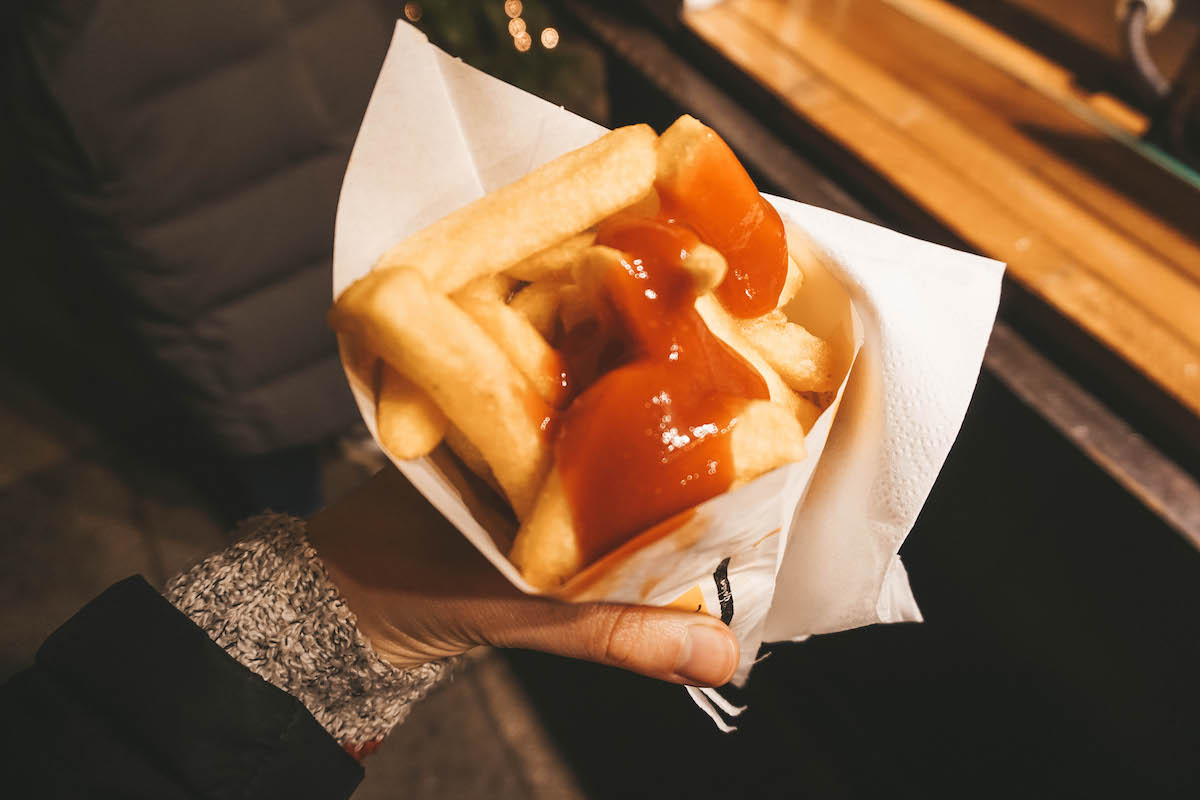 I won't dwell too much on this German Christmas market food item. Every market will have french fries, guaranteed.
Your fries will be served with both mayonnaise and ketchup (i.e. rot-weiß, as the Germans say). If mayo or ketchup isn't your thing, ask for them to be served plain.
Raclette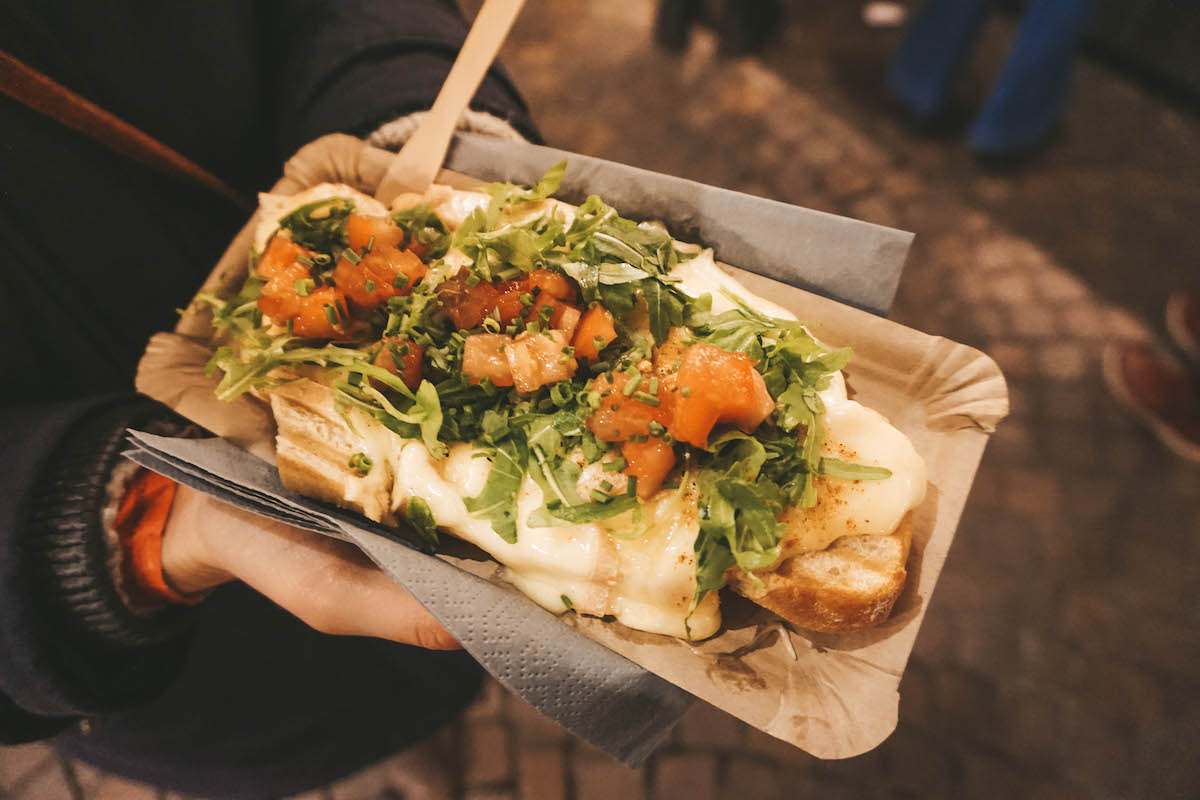 Raclette involves ooey gooey melted cheese being served atop … pretty much anything you can think of. I've seen it served over chunks of potatoes, pieces of bread, you name it.
To make it, a wheel of cheese is cut in half and then stuck under a heat source of some kind. When you order the raclette, the cheese is scraped straight from the wheel and onto the bread or potatoes.
Flammkuchen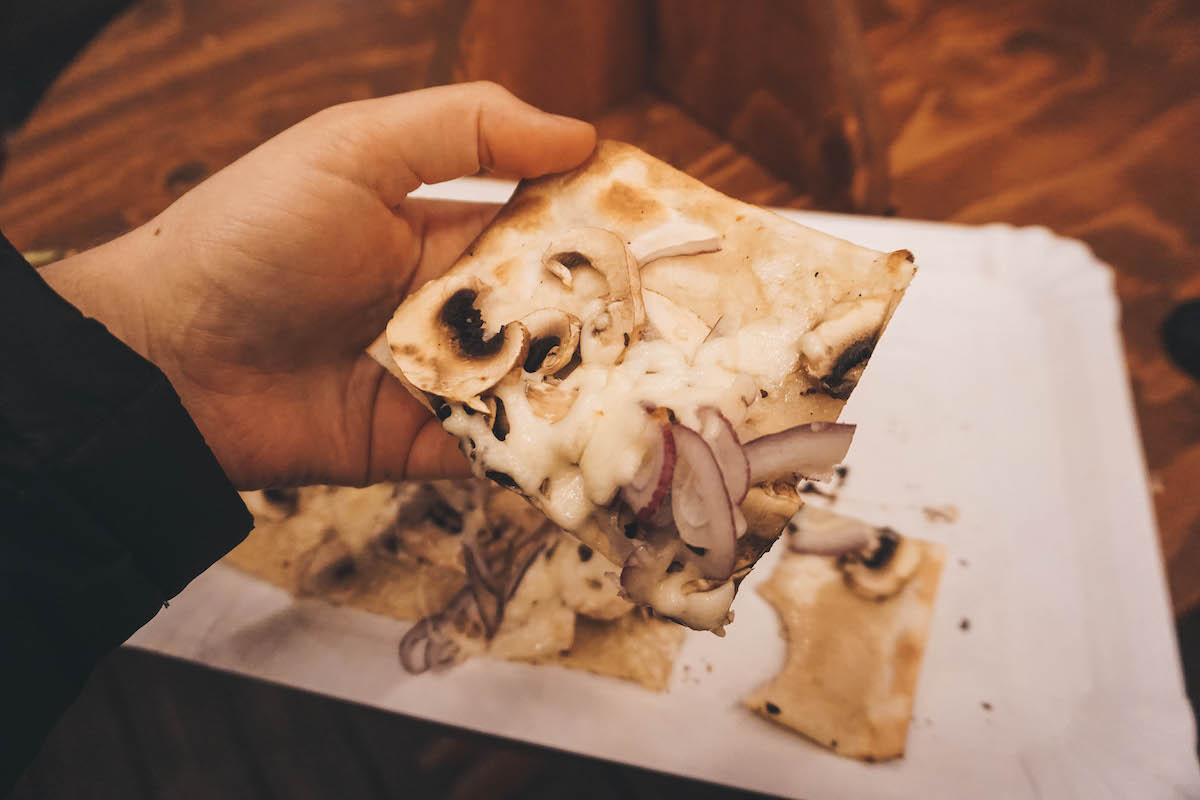 Flammkuchen consists of a very thin bread base that's topped with crème fraîche, chopped bacon, and sliced green onions. At least, that's the traditional way to serve flammkuchen.
This is another great option to keep in mind if you're vegetarian because there's an almost endless number of topping variations you can try. Keep in mind that although flammkuchen look large, they're paper thin so it's easy to eat one on your own.
Flammlachs (Flame-Grilled Salmon)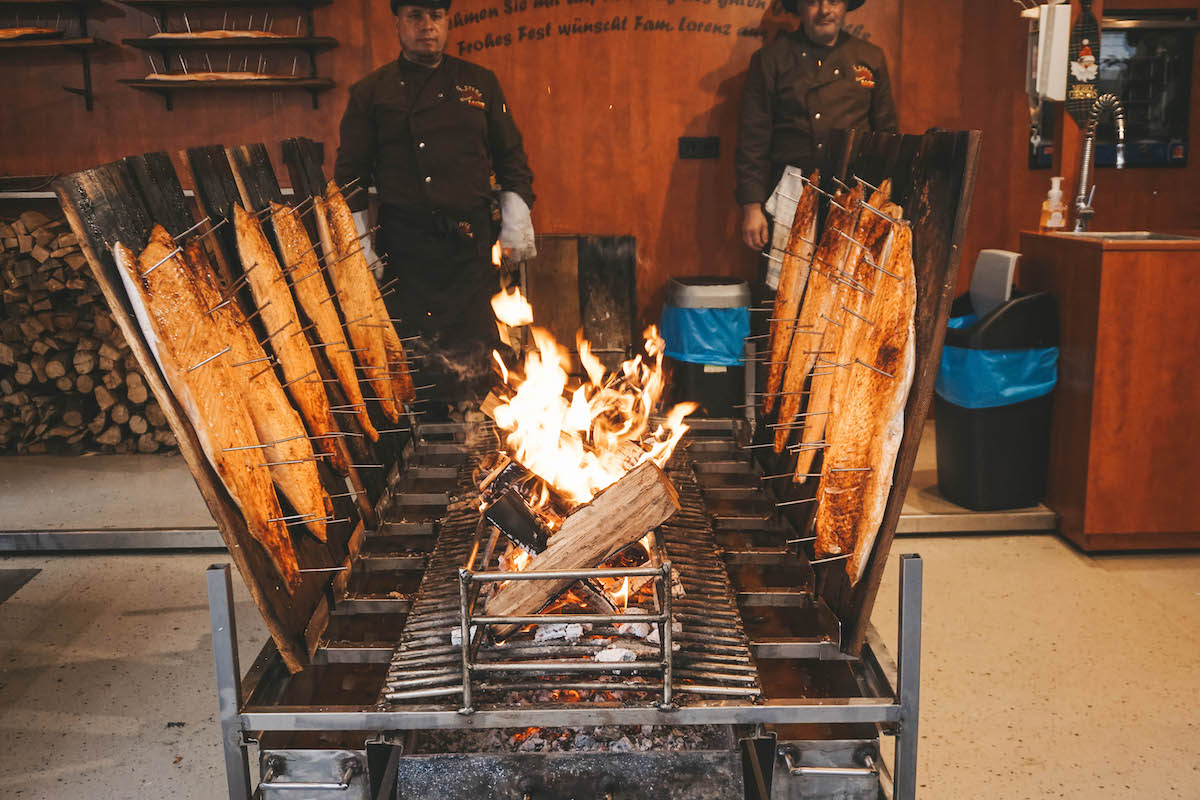 This is possibly the only other remotely "healthy" German Christmas market food, should that matter to you. To prepare Flammlachs, a slab of fresh salmon is cooked on a wood plank over an open flame. The result is flaky salmon that's slightly smoky in flavor.
I prefer eating Flammlachs in a bread roll like a sandwich, but you can likely order it on a plate as well. Not every market has Flammlachs (maybe it's the open flame element), so if you see it for sale be sure to snap it up!
German Christmas Market Desserts
Now we're onto the really good stuff — desserts! From German Christmas bread to gingerbread to donuts, the Christmas markets are in no danger of running out of sweets. 
Gebrannte Mandeln (Candied Almonds)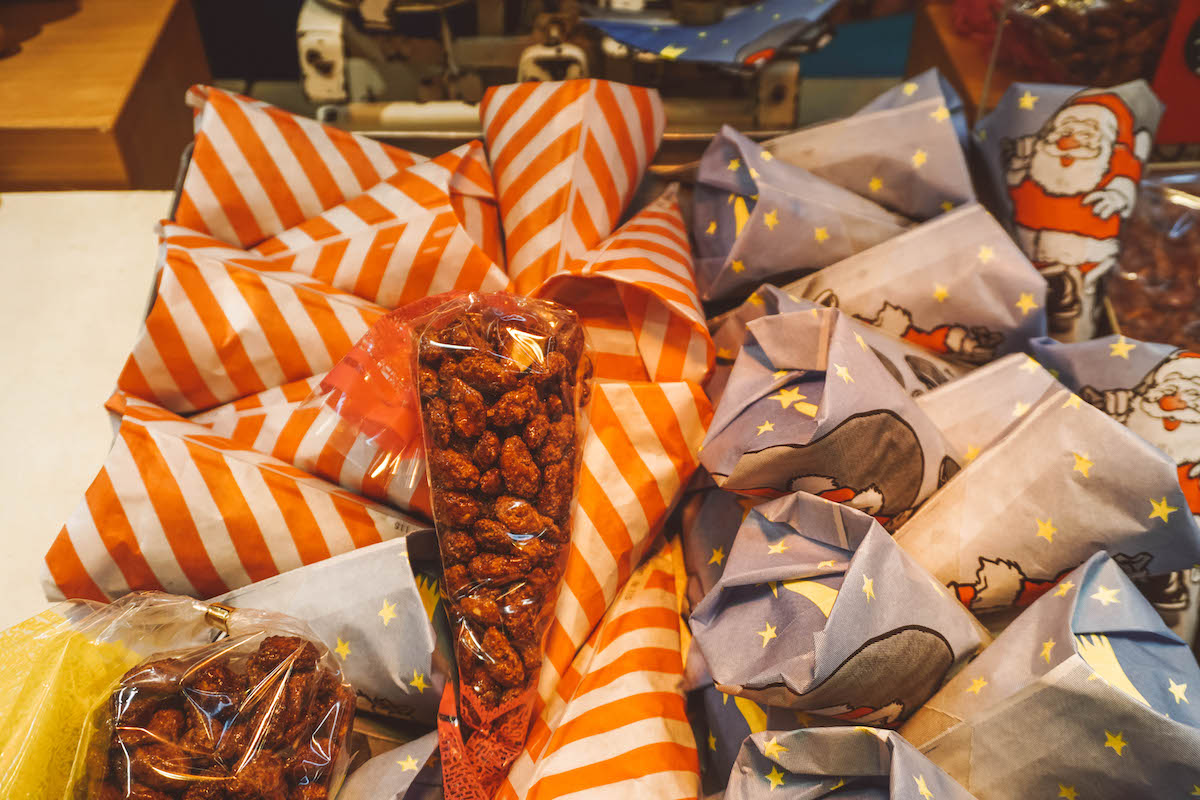 One of the simpler German Christmas market foods on this list, Gebrannte Mandeln also happens to be my all-time favorite. Sugar, cinnamon, and almonds are cooked until caramelized and crisp on the outside.
A good candied almond seller will toast the nuts fresh for you, but most places have them sitting under a heat lamp ready to be scooped into a bag.
Tip: The smallest amount of nuts you can buy is often 100 grams, and they increase in size from there. I like to buy 100 grams to snack on when I enter a Christmas market, and then buy some later in the evening to take home!
Quarkbällchen (Quark Balls)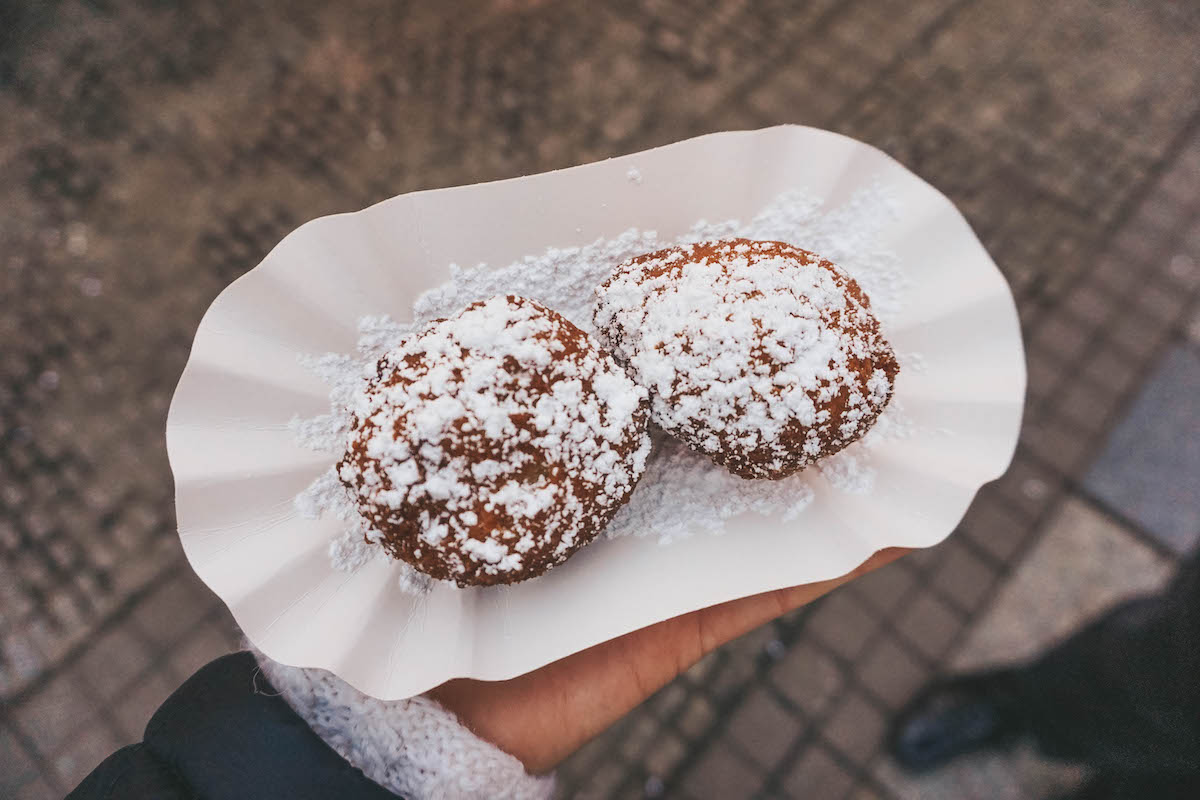 I know you just read the translation in the header above and thought, "what the heck is quark??" I've been living in Germany for three years, and I still find quark difficult to define!
It's basically a soft, fresh cheese that's typically eaten like Greek yogurt. It might sound weird to you, but it's very tasty and doesn't taste "cheesy" whatsoever.
Quark balls are essentially large dough balls that are, yes, made with quark and then deep fried. Just before serving, quark balls are dusted generously with powdered sugar. So, basically quark balls are like massive, dense donuts. Another favorite of mine!
Baumstriezel (Chimney Cakes)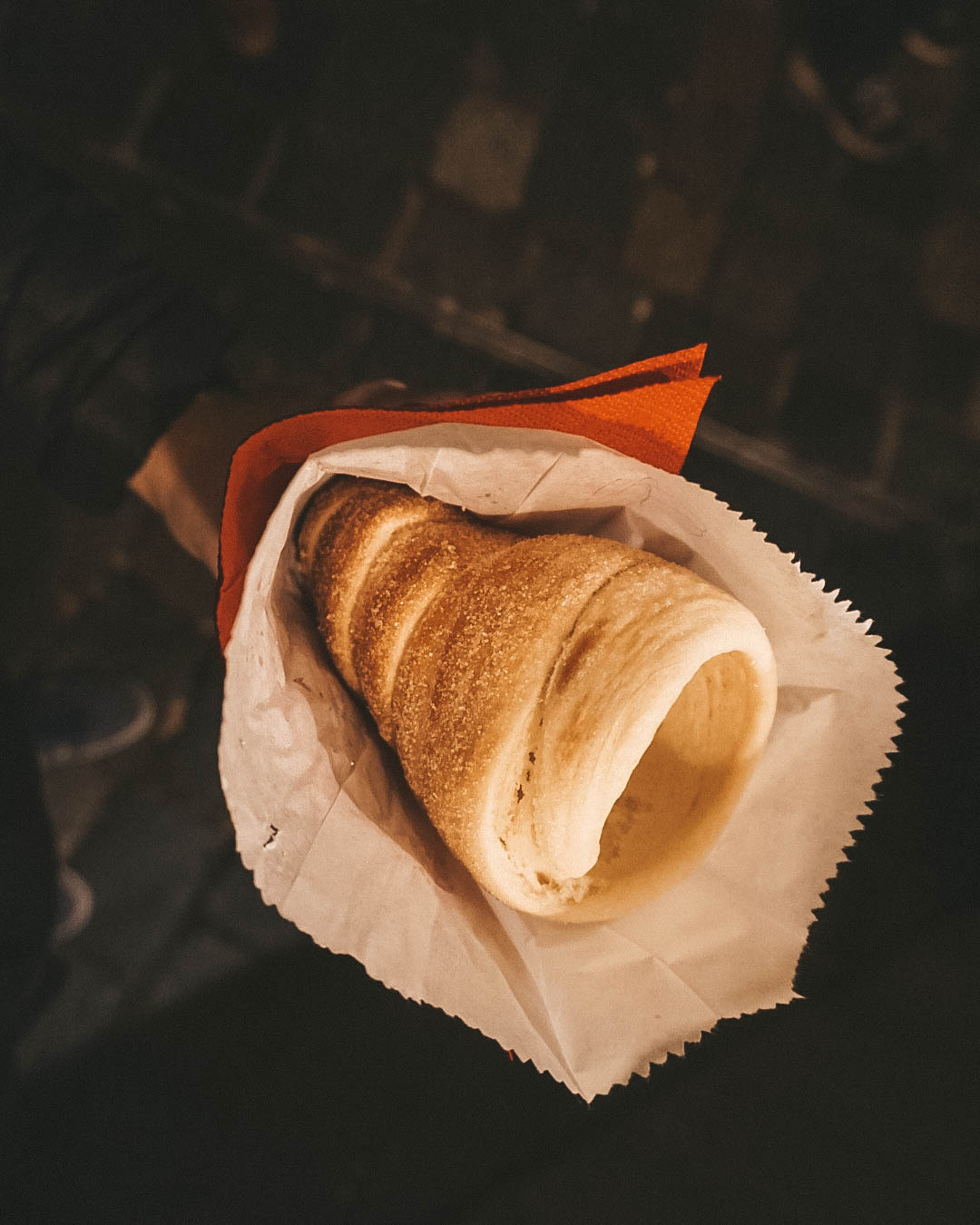 Thinner pieces of dough are wrapped around a hollow metal cylinder, then cooked on a spit. Once golden brown, chimney cakes are brushed with melted butter and sprinkled liberally with cinnamon-sugar.
You can buy chimney cakes "plain," which is what I just described to you, or you can fill them with cream, Nutella or something similar. I prefer splitting a chimney cake with friends because they're more filling than you'd think!
Chocolate-Covered Fruit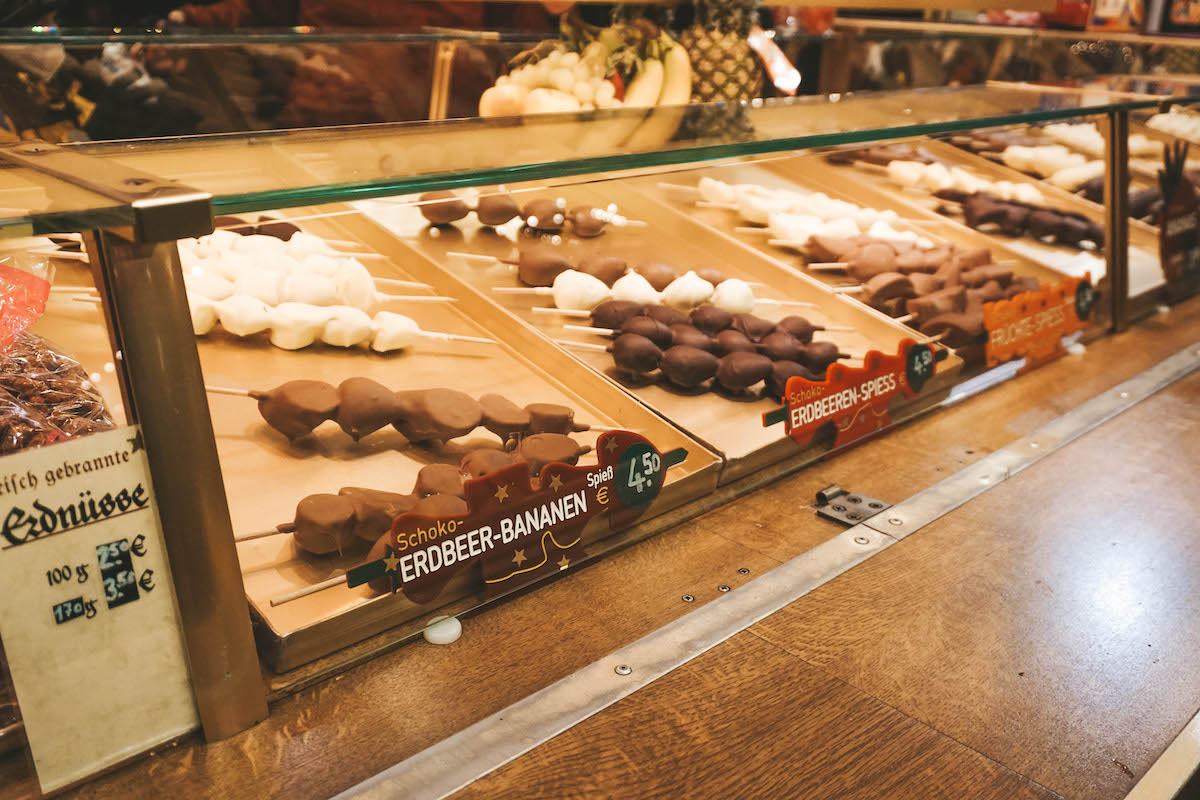 Yes, you can make chocolate-covered fruit at home for a fraction of the Christmas market price. But there's something so irresistible about skewered chunks of fruit dunked in chocolate.
This is a great grab-and-go treat if you need something to snack on while perusing the Christmas market!
Crepes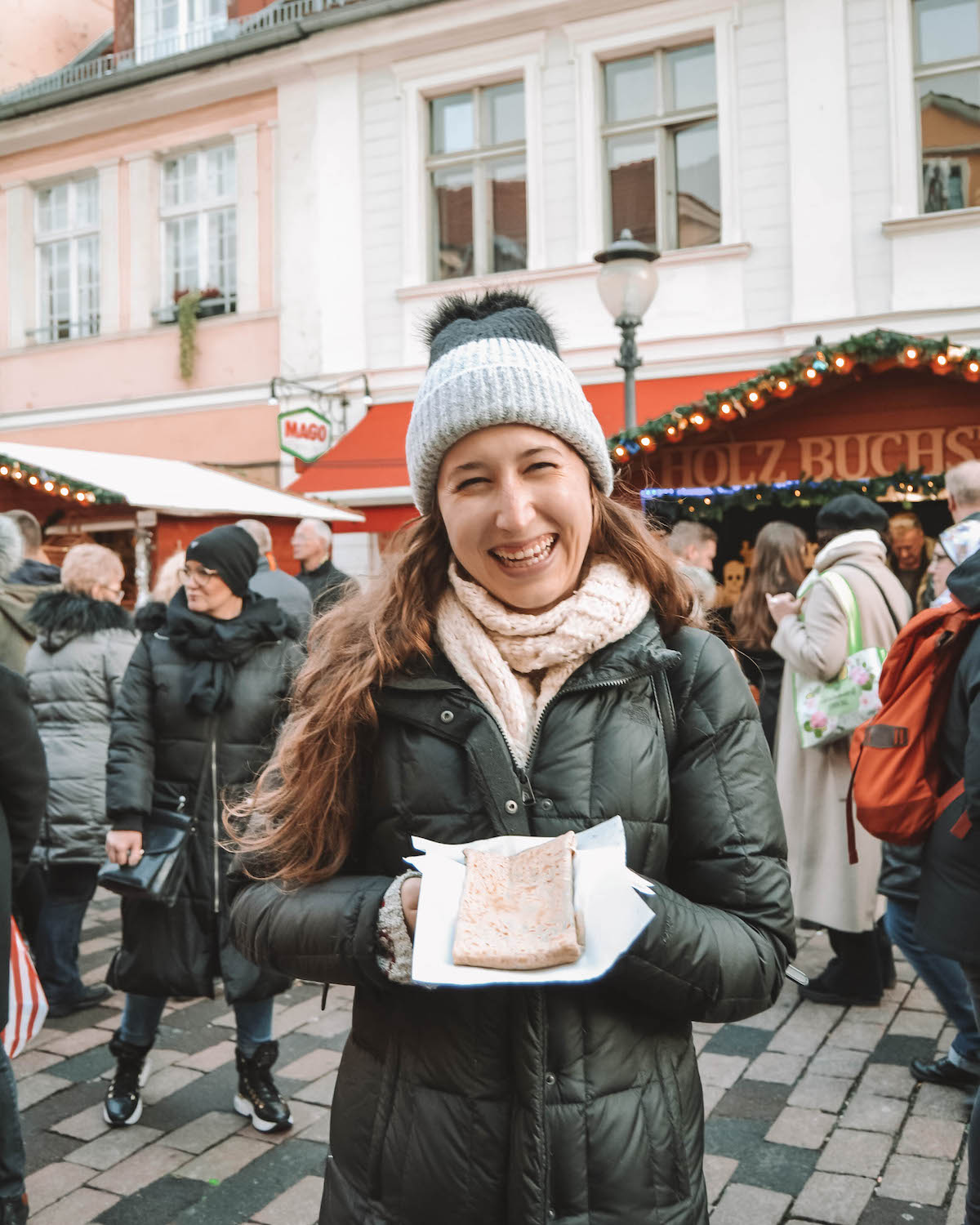 This classic Christmas market dessert may not be German, but the Germans love crepes! No matter how small the market, I can pretty much guarantee there will be at least one crepe stand (with a long line, to boot!).
Nutella-filled crepes are very popular, but I prefer my crepe with a simple dusting of cinnamon and sugar.
Stollen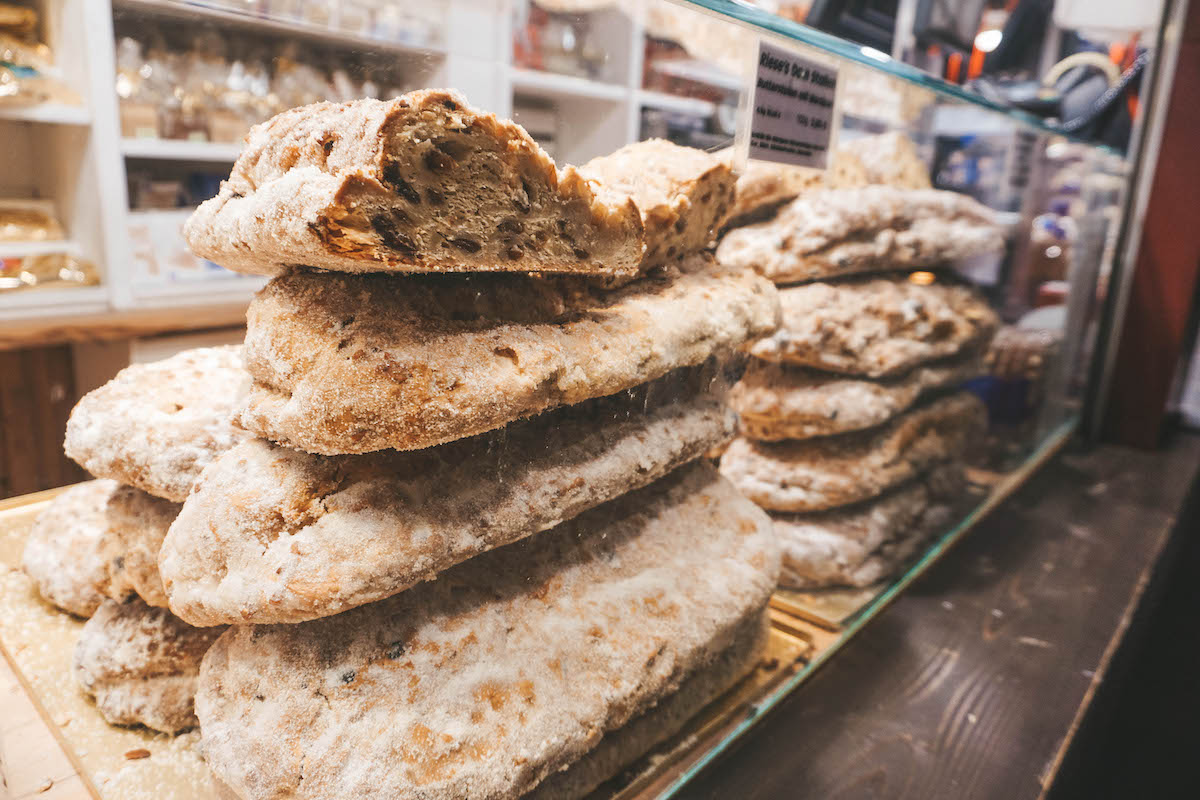 Stollen is a traditional German Christmas bread that originated in the city of Dresden. It's a dense, slightly dry sweet bread that's studded with dried fruit and lightly spiced. The most popular variety of Stollen has a marzipan filling, but you can buy loaves without it if you're a marzipan hater like me.
One unique thing about Stollen is that it's "cured" over the course of a few weeks. As soon as it comes out of the oven, it's brushed with butter and then rolled in sugar, which helps to preserve it.
Making Stollen at home is very time consuming, so buying a loaf or two at the Christmas markets is a good idea!
Schokokuss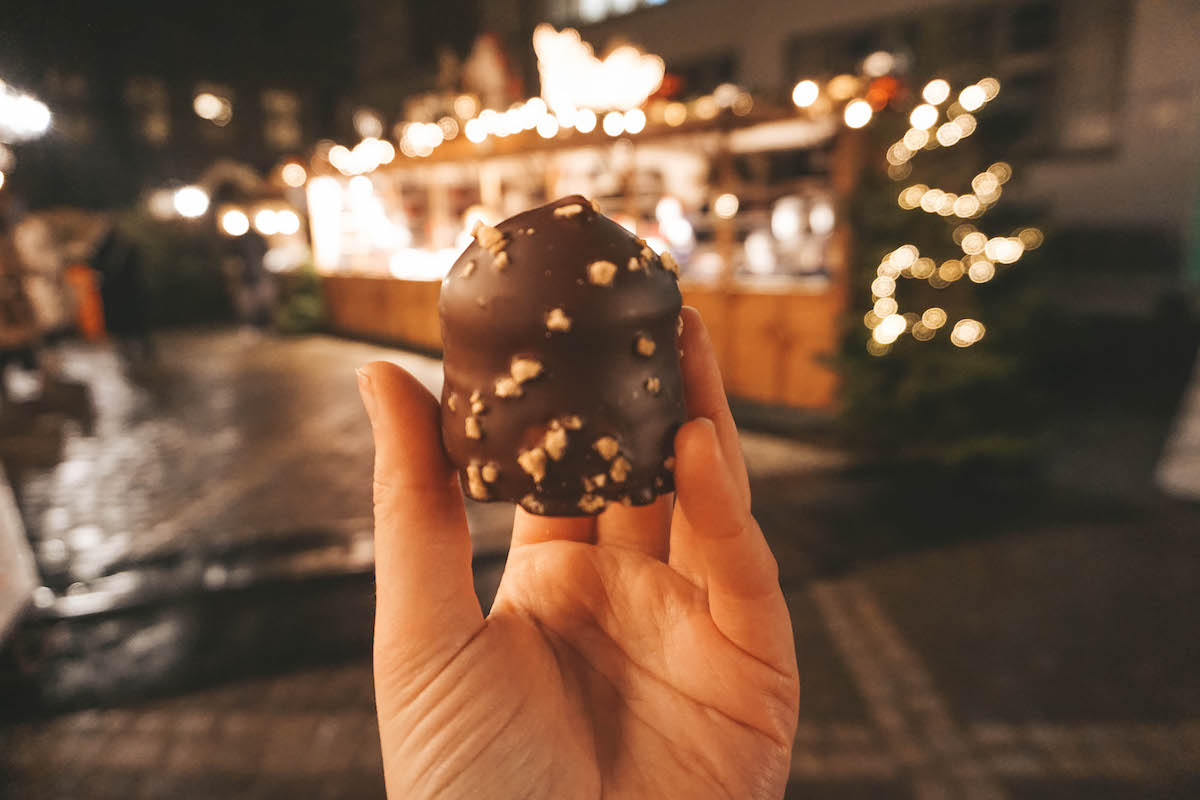 Schokoküssen were a new-to-me discovery last year. They're basically tall, fluffy marshmallows on a wafer base that have been dipped in chocolate.
You can buy Schokoküssen in all sorts of flavors; I've seen varieties like caramel, hazelnut, Raffaelo, and more. They're very cheap (less than 1 Euro per marshmallow bite) and are light as air, so they're easy to transport if you decide to buy half a dozen or more.
Dampfnudeln (Sweet Roll)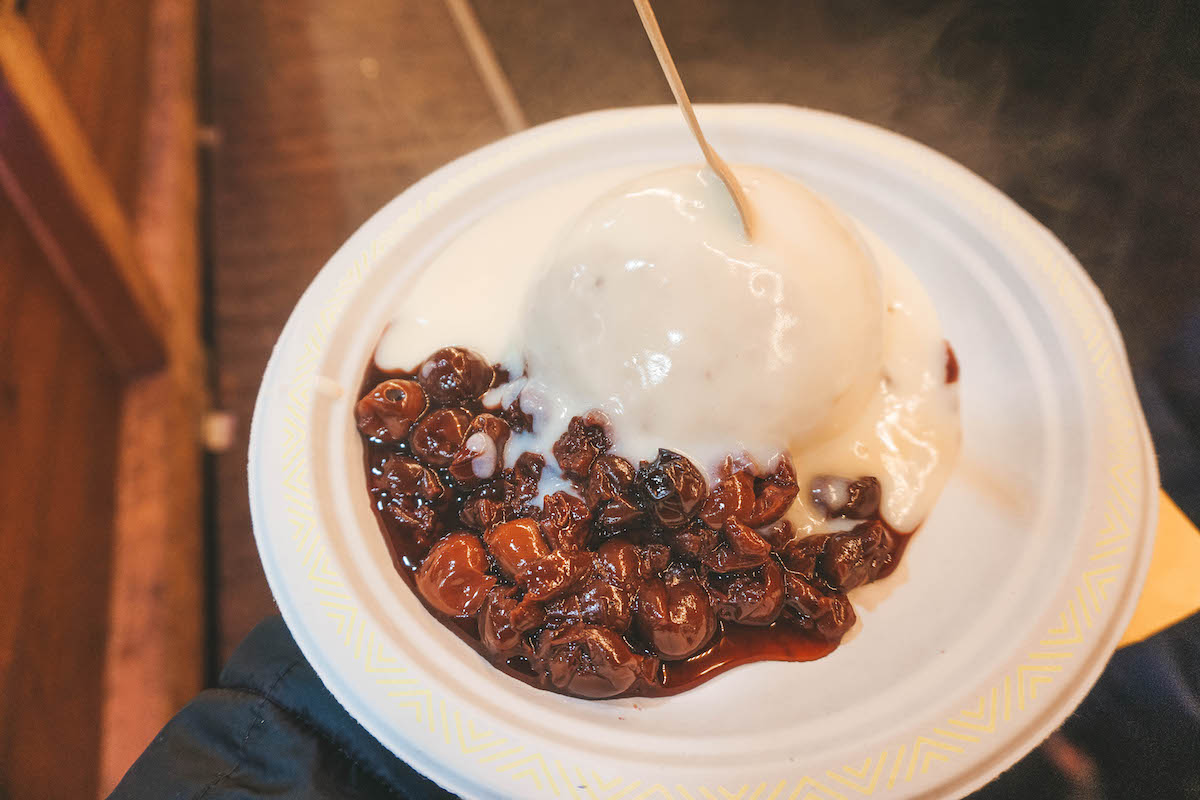 Dampfnudeln is one of the more unique German Christmas market foods. It's essentially a fluffy white sweet roll that's topped with your sauce of choice.
I prefer topping Dampfnudeln with vanilla sauce (Vanilla Soße) and cherries (Kirschen), but you can also top it with chocolate sauce.
Dampfnudeln may be a regional German Christmas dessert as I've seen a similar dish, called Germknödel, at Christmas markets in southern Germany. However, I think Germknödel is a jam-filled sweet dumpling whereas Dampfnudeln are plain.
Lebkuchen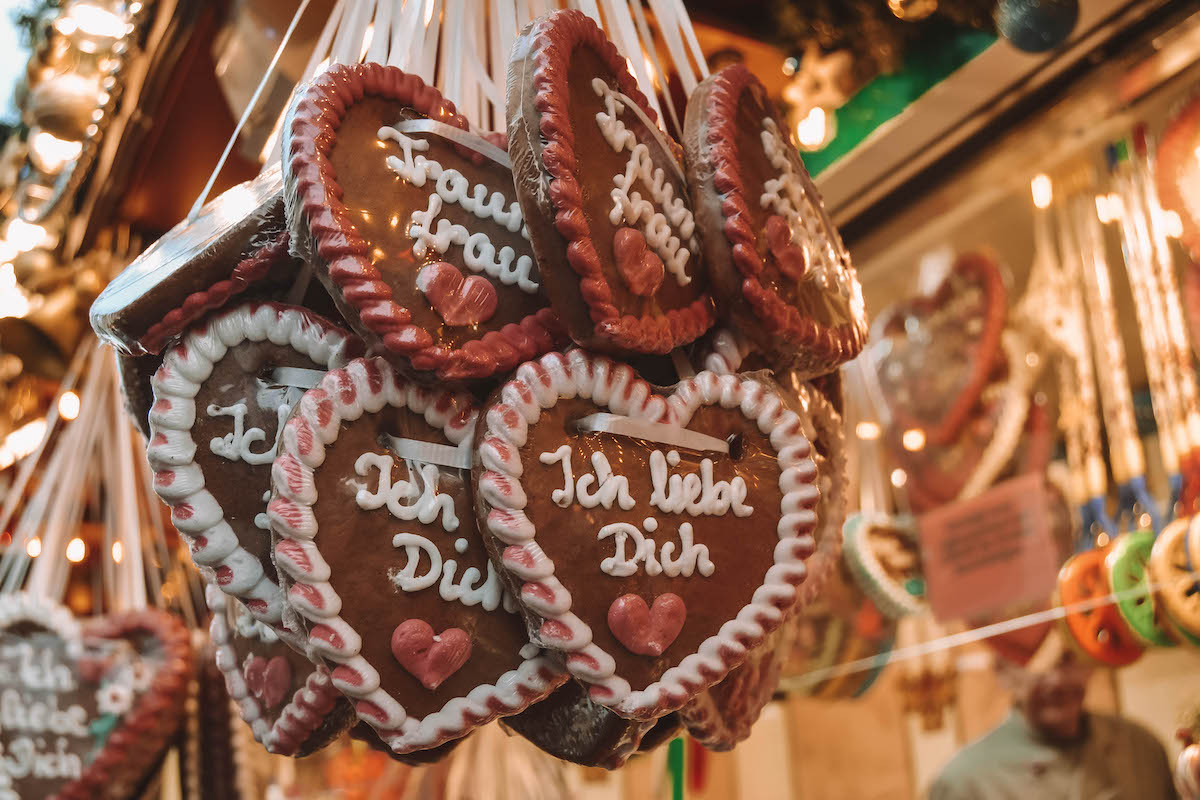 If you think Lebkuchen is simply German gingerbread, you're wrong! I mean, yes, it is technically German gingerbread, but Lebkuchen is nothing like American gingerbread.
Where American gingerbread is heavily spiced and often crispy, German Lebkuchen is borderline bread-like. It's a thicker cookie that's incredibly chewy and dense, and it's lightly but warmly spiced. I recommend buying Lebkuchen from a cookie or bakery stall.
Tip: Avoid the plastic-wrapped Lebkuchen that hang from most of the Christmas market stalls (shown above). That stuff tastes like garbage, although admittedly it's very pretty.
Marzipan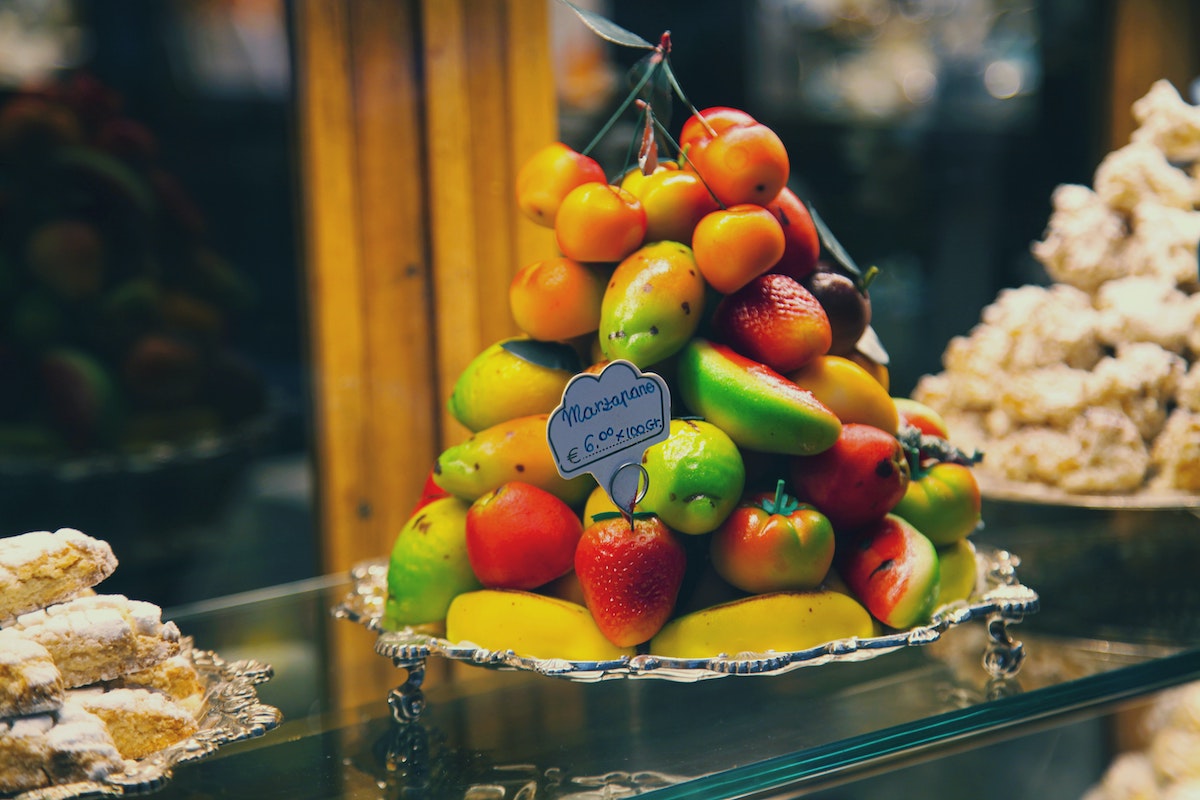 I hate marzipan, but I've included it on this list because it's a popular German Christmas market dessert — I don't want you to think I'm a total Scrooge, after all!
Mazipan is a very sweet confection made of almond paste. You can buy it in logs to use in baked goods, or you can buy colorful pieces of marzipan that have been molded into various shapes (fruits, animals, you name it!).
While I dislike the taste of marzipan, I love looking at the marzipan creations people make. It's really amazing what you can make with the stuff!
German Christmas Market Drinks
When ordering drinks at a Christmas market, note that you'll pay for both the drink and a deposit on the mug (called Pfand). You can actually take the mugs home, if you want! Each market has its own unique mug design, and since the mug deposit costs just 2 to 3 Euros they make a cute but cheap souvenir.
Tip: If you want the mug deposit back, simply return the mug to the stall you bought your drink from. They'll hand the 2 to 3 Euro Pfand back to you then.
Glühwein (Mulled Wine)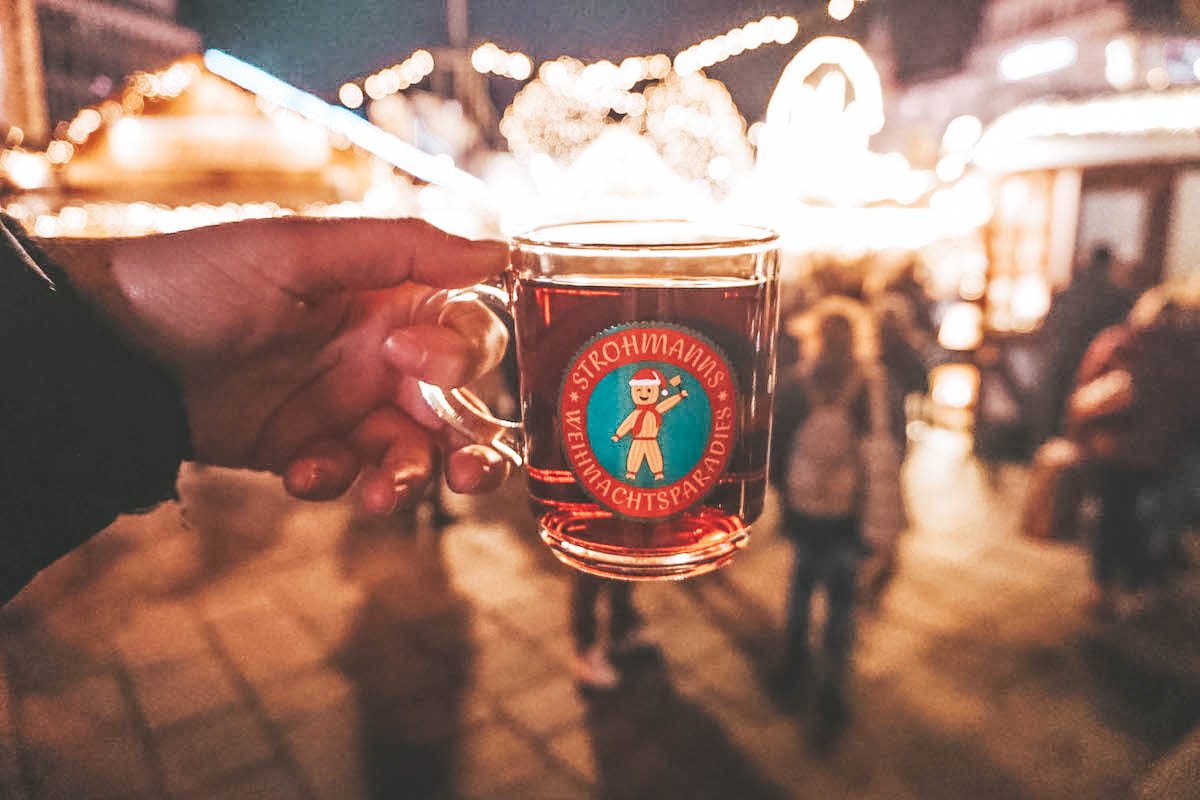 Glühwein is the German Christmas market drink to try. It's a mulled wine that's been sweetened and spiced and is always served piping hot. Look for stalls selling homemade Glühwein; that's the best kind as the spices are mixed in right at the market.
I should note that not all Glühwein is created equal — so if you buy a glass you don't like, order it again at another market and see how you fare.
Kinderpunsch (Non-alcoholic Spiced Punch)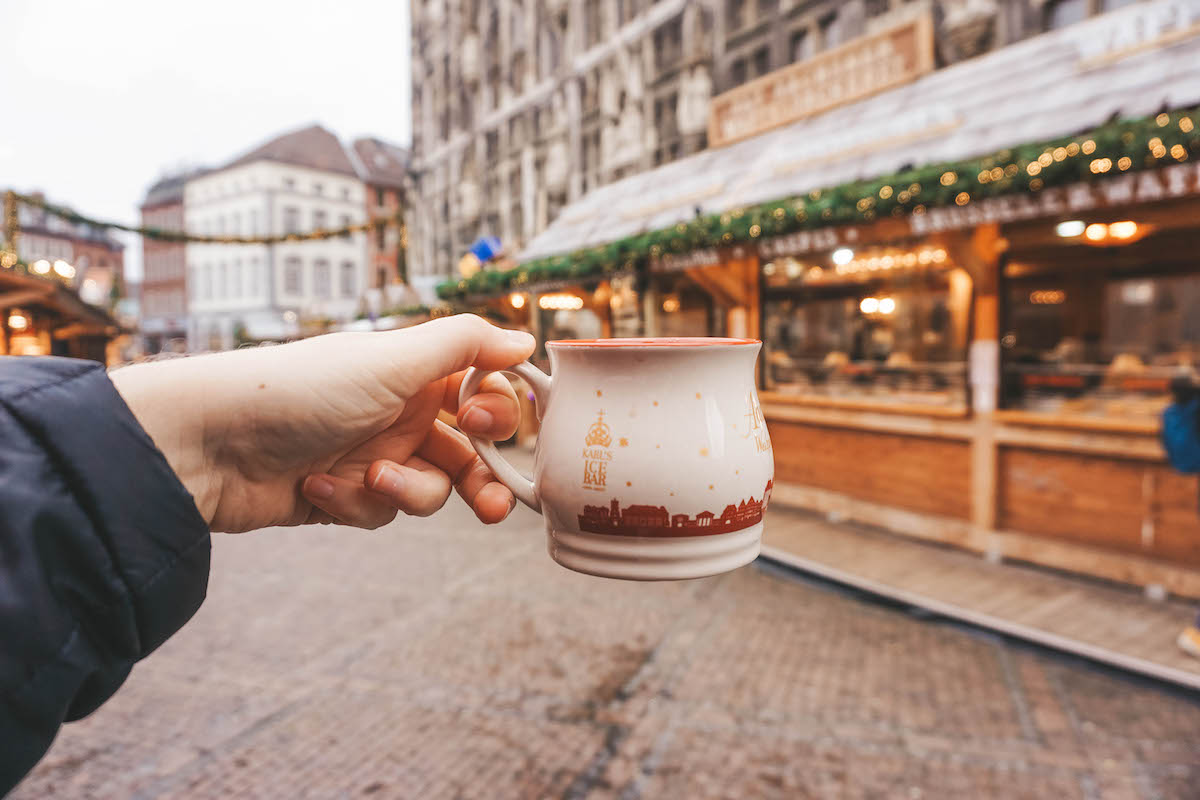 I don't drink alcohol, so I forego the Glühwein at the Christmas markets and head straight for the Kinderpunsch (literally translated, it means "kids' punch").
There's no set recipe for Kinderpunsch, but most places sell a hot, spiced grape juice-based punch. However, I've also been given spiced apple juice when I ordered Kinderpunsch so it varies from market to market.
Feuerzangenbowle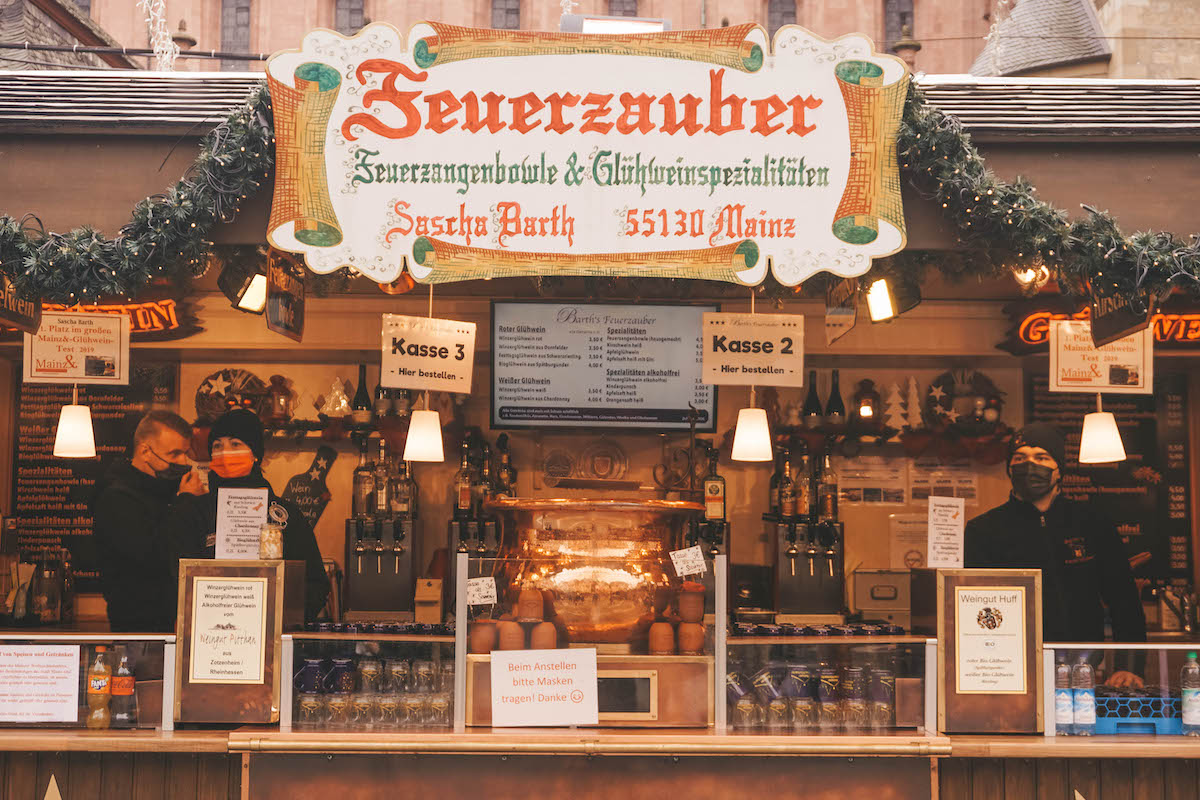 The literal translation of this Christmas drink is "fire tongs punch." To make it, a sugar cube is soaked in rum, then set on a pair of metal tongs that are resting on the rim of a mug containing mulled wine (Glühwein). The rum-soaked sugar cube is set on fire, then allowed to melt into the mulled wine.
Not all markets will actually set individual cubes of sugar on fire for customers as that could be a serious fire hazard. Instead, they make one big batch of the alcoholic punch before ladling it into mugs.
Eierpunsch
The best way I can describe Eierpunsch is that it's basically the German version of eggnog. However, Eierpunsch isn't nearly as creamy as American eggnog, or as spiced.
Most markets sell Eierpunsch by the glass, but if you're lucky you'll find stalls selling the homemade stuff by the liter. If you have room in your suitcase, a bottle or two of Eierpunsch makes a great gift for friends and family back home!
Heiße Schokolade (Hot Chocolate)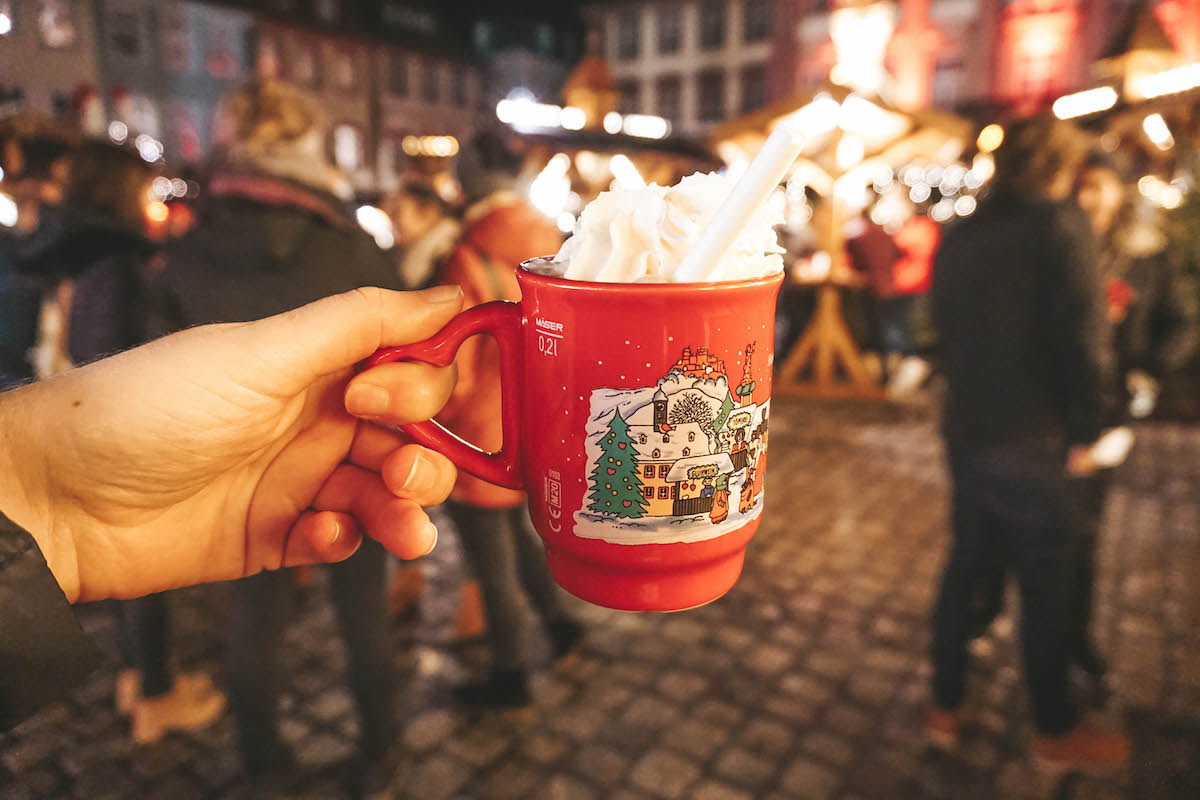 There's something extra delicious about Christmas market hot chocolate. It's incredibly thick and sweet, and you can enjoy it with or without whipped cream (Sahne) on top.
Like the other German Christmas market drinks on this list, the hot chocolate is served in a .2 L glass. While it's a rich beverage, you only get a little bit of it.
FAQs About Christmas Market Food in Germany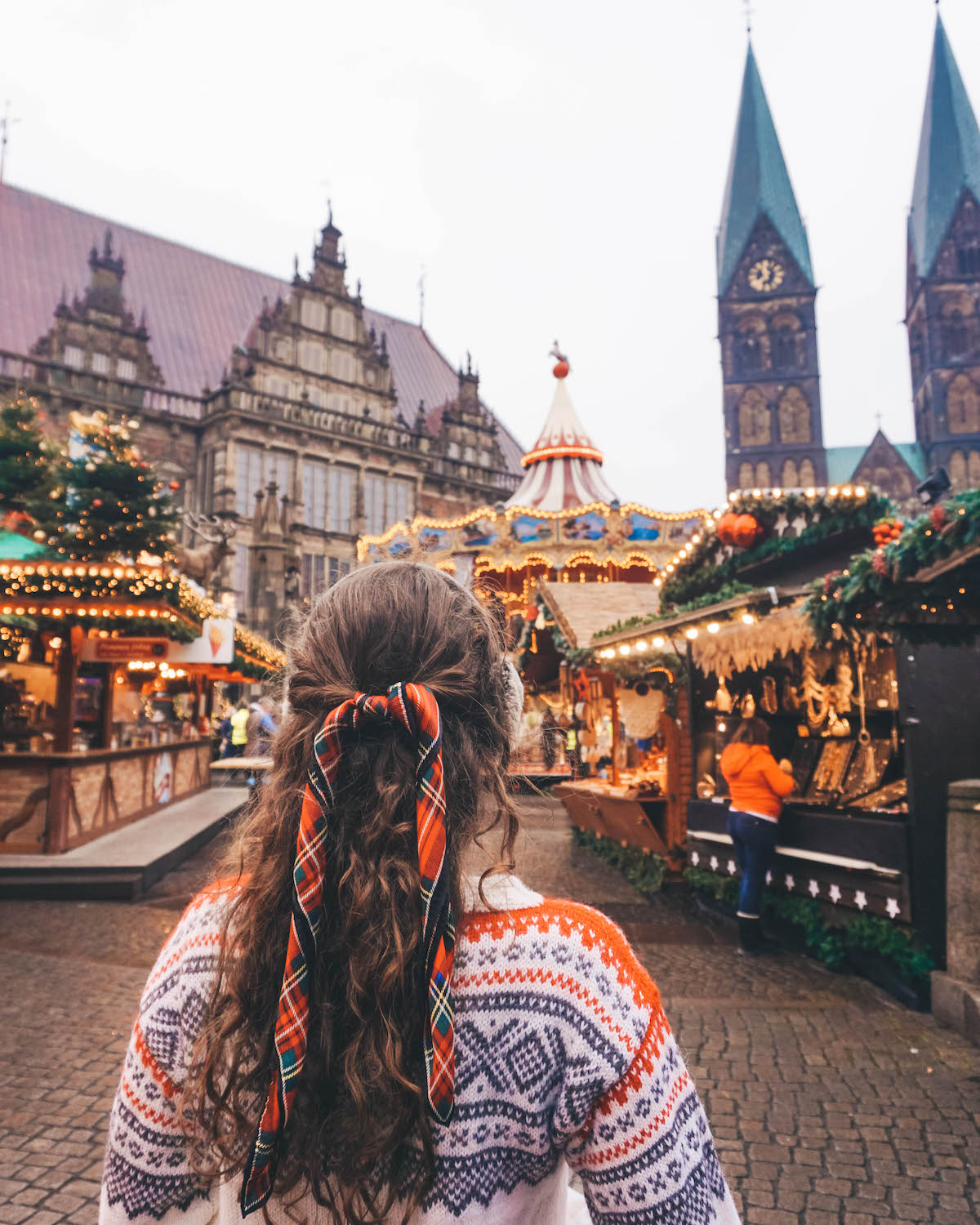 Can I pay with credit card at the Christmas markets?
No, I've never once been able to purchase food at a German Christmas market with a credit card. They've always been cash-only.
How much can I expect to pay at a Christmas market?
It depends on how hungry you are! I've yet to see an entree (like raclette or Flammlachs) that costs more than 10 Euros. Typically I wind up paying about 20 to 25 Euros per night at the markets on a couple drinks, an "entree" or larger food item, and some kind of sweet treat.
However, it's easy to eat at the Christmas markets on a budget if that's important to you!
Am I allowed to keep my Glühwein mug as a souvenir?
Yes! It's totally legal to save any branded mug at the Christmas markets. When you buy a drink (be it alcoholic or non-alcoholic), you'll have to pay 2 to 3 Euros more than the listed price on the menu. Those extra few Euros are called Pfand (deposit).
Because you paid a deposit on the mug, you can keep it as a souvenir! This is my go-to souvenir at the Christmas markets since it's the cheapest thing to "buy."
Are there vegetarian food options at the Christmas markets?
Yes! Some vegetarian foods to try at a Christmas market include:
Candied almonds
Handbrot (most stalls have one meat and one veggie version)
Roasted chestnuts
Potato pancakes
French fries
Raclette
Flammkuchen (don't order one with Speck as that means bacon)
Quark balls
Chimney cakes
Crepes
Chocolate-covered fruit
Stollen
Any drink
Are there vegan food options at the Christmas markets?
I can make a few educated guesses on what should be vegan (or what could be special ordered to be made vegan), but since I don't know exactly what ingredients go into making the various doughs I can't list anything specific.
Are there gluten-free food options at the Christmas markets?
Again, without seeing the specific ingredient lists I can't say for sure. I don't want to accidentally recommend something and then have one of you lovely readers getting a stomachache or worse!
However, I can recommend asking any food seller "Ist das glutenfrei?" (is that gluten-free?). If you're unsure how to say that out loud, you can always create a note on your phone and just show the written sentence to the food seller. Wish I could be of more help!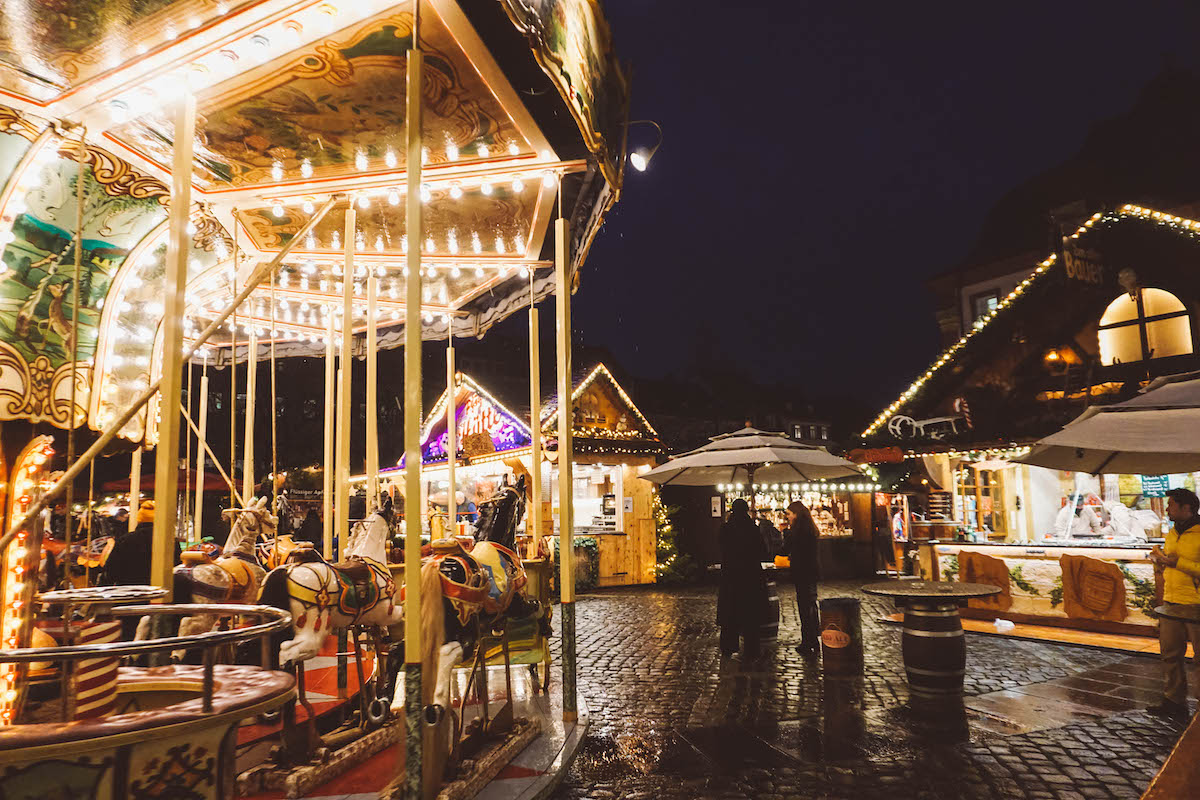 Excited to Experience the Christmas Markets in Germany?!
Believe it or not, there's even more food to choose from when visiting Germany at Christmastime! There are plenty more things to eat and drink at a German Christmas market that aren't strictly German (or Christmas!) foods.
Think: warming soups, hearty pretzels, fizzy beer and schorle (mineral water mixed with juice), and more! Plus, different regions of Germany serve different Christmas foods at their local markets.
Or, it's very possible that a German food or drink that I shared in the post above goes by a different name depending on what area of Germany you're traveling through. So consider this list of German Christmas market foods more of a general guide than a definite "must eat" list.
If you tire of the traditional German Christmas market foods — not likely! — don't forget that there are lots more German foods to try during your stay.
Don't forget to follow me on Instagram to keep up with my daily adventures in Berlin and beyond!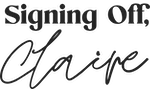 German Christmas Market Guides: