Made famous by the Brothers Grimm fairytale, Bremen is a city in northern Germany with a wonderful Christmas market! Here's what you should know about the Bremen Christmas markets.
This post has been updated for the 2023 Christmas market season.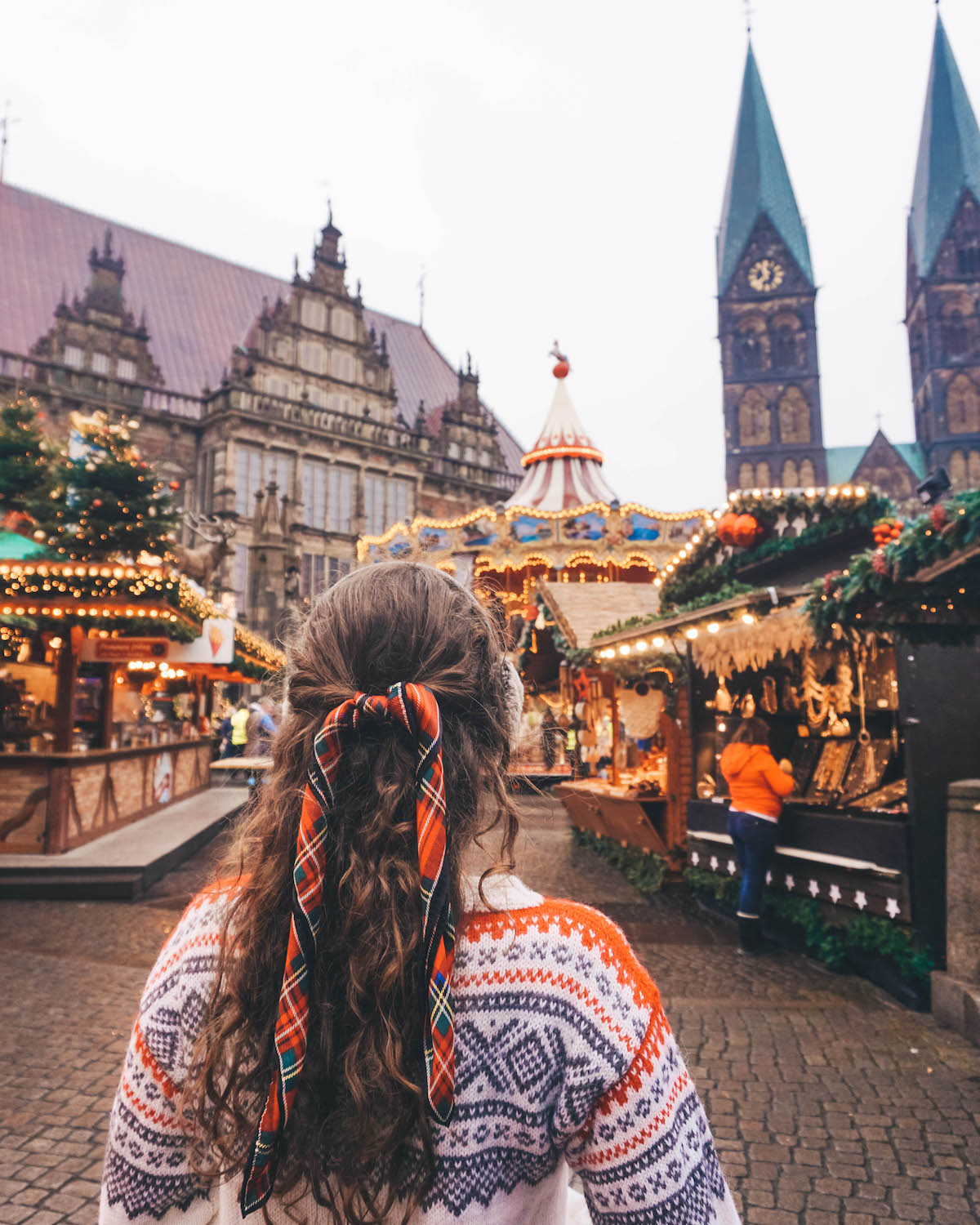 Officially called the Free Hanseatic City-State of Bremen, this maritime city is home to one of the largest ports in Germany. Bremen's Old Town is on a small peninsula surrounded by water, making it incredibly picturesque!
To my knowledge, Bremen isn't a city known for its Christmas markets (unlike Cologne or Nuremberg for example). However, the Bremen Christmas market is one of my favorites! Come December, the Old Town is overrun with all things Christmas.
If you're considering a trip to Bremen during Christmas market season, do it! It's the perfect size city for a weekend getaway during the Advent season.
Here's everything you need to know about the Bremen Christmas markets, including dates, locations, and so much more!
Table of Contents
Click "show" to see the full table of contents for this post. You can jump around the post as desired by clicking on the individual sections listed below.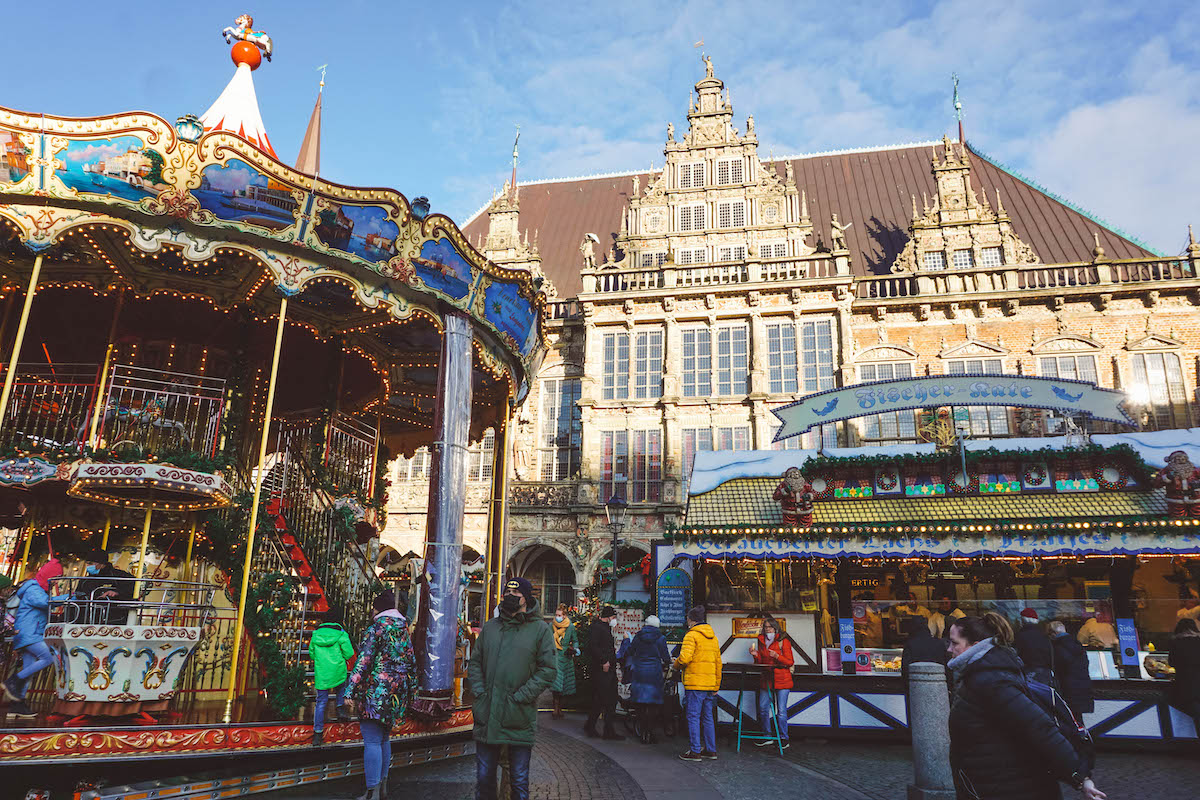 Bremen Christmas Market Dates, Location & Hours [2023]
Dates: November 27 to December 23, 2023
Location(s): The main Christmas market is located in front of Town Hall, at the Marktplatz. The second market (called Schlachte-Zauber) is located on the embankment of the Schlachte. The two Christmas markets in Bremen are within walking distance of each other, about 10 minutes.
Hours: The Weihnachtsmärkte in Bremen will be open Mondays through Thursdays from 10am to 8:30pm, Fridays and Saturdays from 10 am to 9pm, and on Sundays from 11am to 8:30pm.
What to Expect at Bremen's Christmas Markets
There are two major Christmas markets in Bremen, Germany. The largest is located at the Marktplatz in front of the Town Hall.
The second (which is still sizable!) stretches along the Schlachte Embankment along the river. The markets are both unique and I highly recommend visiting both. Bremen is a small city, so you'll definitely be able to explore both in the same evening!
Bremen Christmas Market at Marktplatz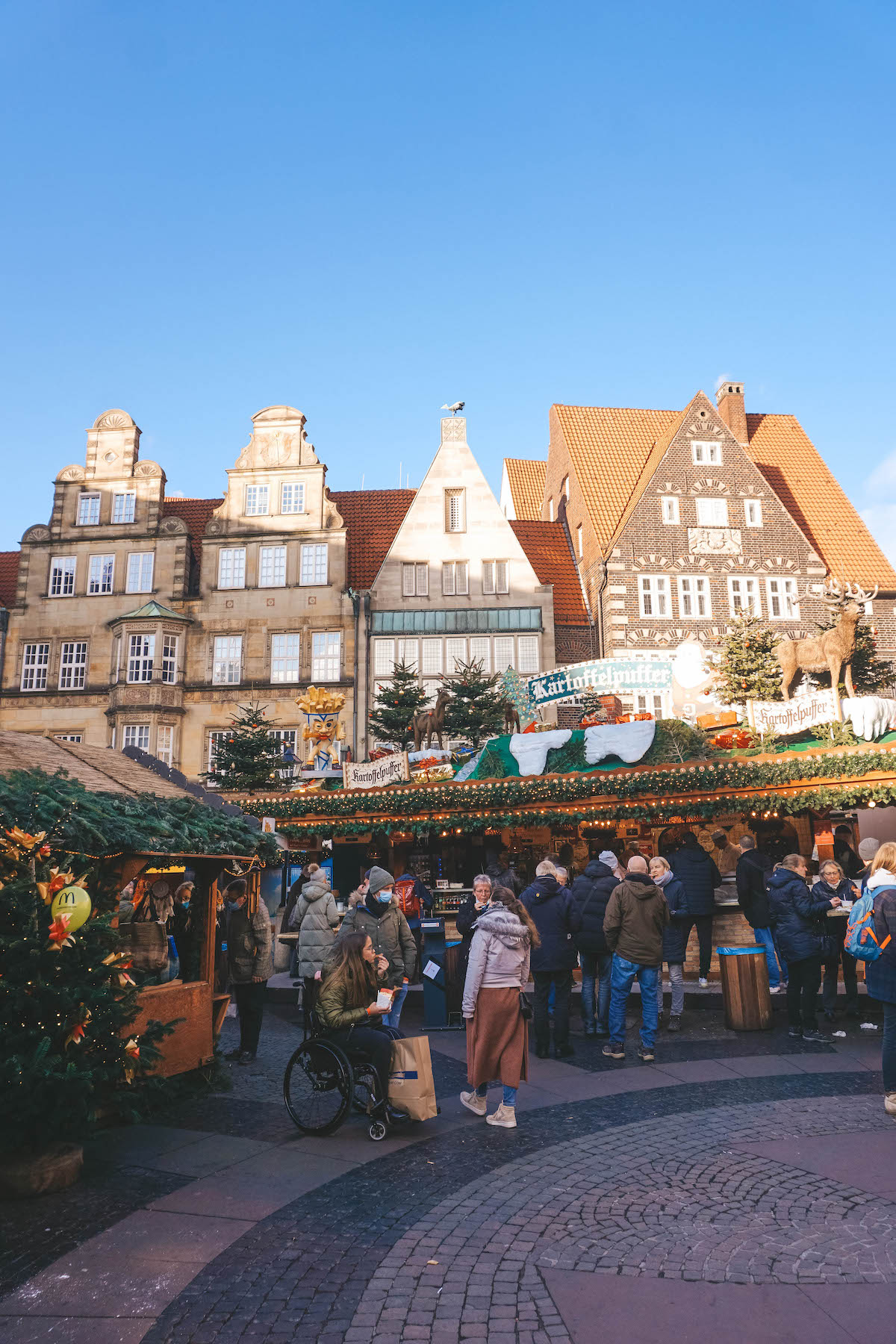 The Christmas market at the market square is quite large. Although it officially is listed as taking place at the Marktplatz in front of the Town Hall, it actually wraps around the entire building and spills over in front of St. Peter's Cathedral as well.
This is one of the prettier Christmas markets in Germany, thanks to its stunning backdrop. At night, the glow of lights against the imposing Town Hall, soaring cathedral, and quaint market buildings is simply stunning!
This is the more traditional Christmas market in Bremen. The stalls are decorated to look like half-timbered houses, and the food and shopping options are also typical of a traditional German Christmas market.
While this isn't the biggest Christmas market I've visited in Germany, it's definitely a good size. There are lots of things to keep you entertained, including a carousel, ferris wheel, and other rides, plus lots of shopping and food options.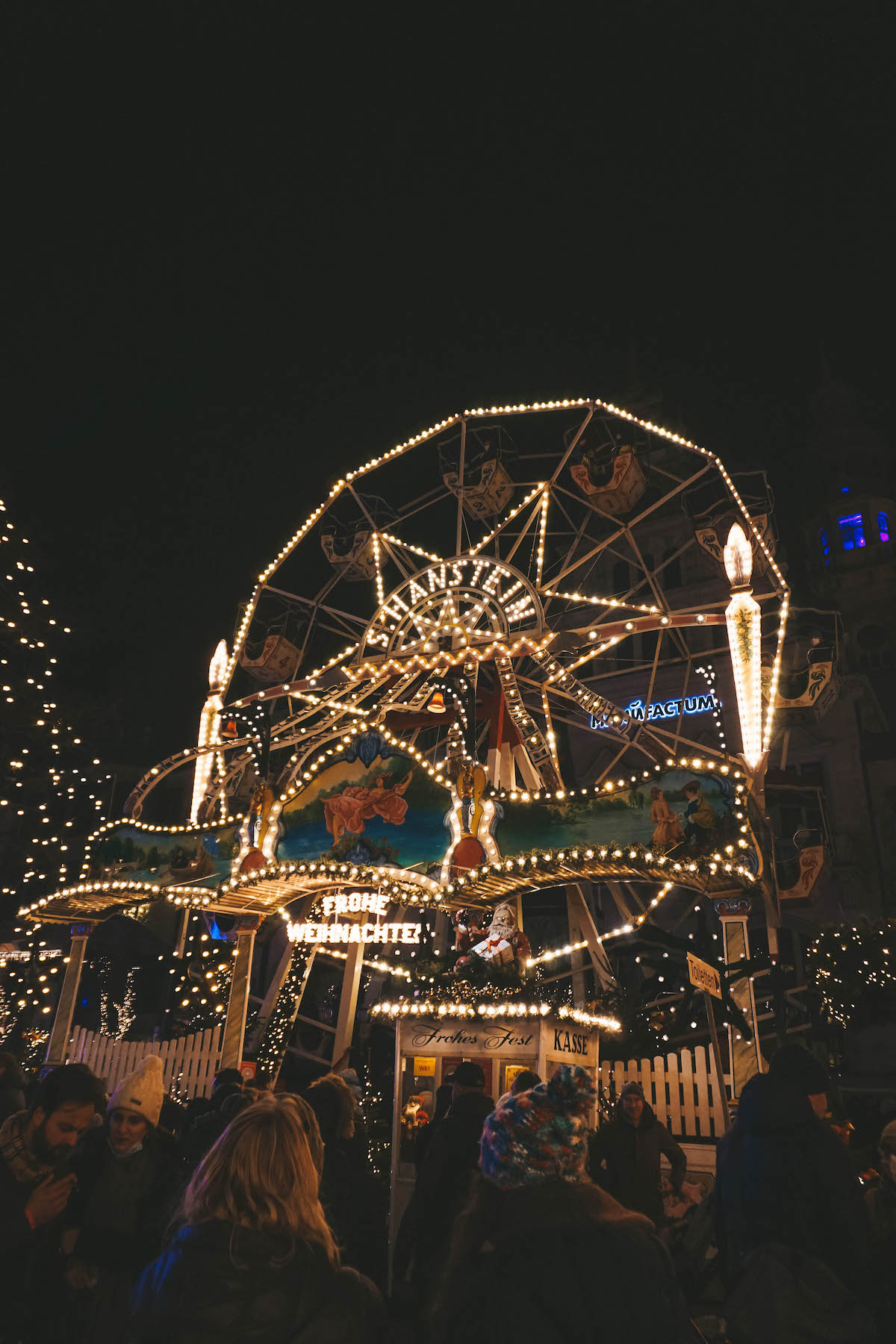 I really enjoyed perusing the booths at this Christmas market. Bremen is a harbor city, and the wind coming off the water can be brutal.
As such, I wound up buying two pairs of thick wool socks to keep my feet warm, and I eyed up various hats and scarves as well. Not all are necessarily handmade, but the quality seemed to be very good!
If you're a less practical shopper, there's lots more to look at! There were quite a few jewelry stalls, beeswax and honey goods, tea and spice blends, and more. I also bought a packet of mulled wine spices so I could take a piece of the Christmas market home with me to enjoy all winter long.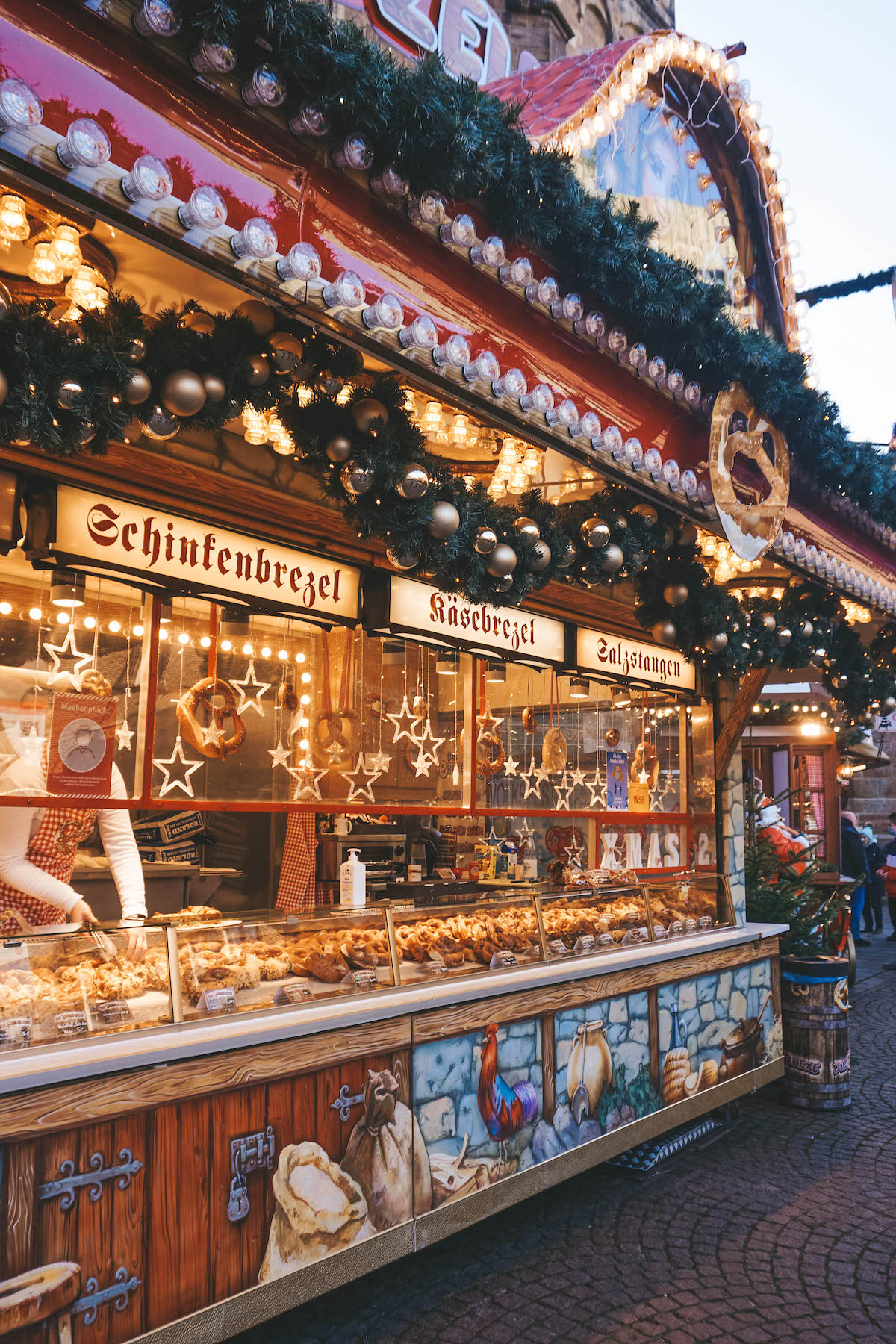 The Bremer Weihnachtsmarkt certainly didn't disappoint in its food options, either. Again, you'll find many of the typical Christmas market foods here, but we particularly enjoyed the Kartoffelpuffer (fried potato pancakes), Raclette (melted cheese over bread), and Glühwein (mulled wine). For the specialty food items, like raclette or even crepes, expect to wait in line for a few minutes.
We spent close to three hours at this Christmas market and felt that that was the perfect amount of time. I suggest visiting the market after nightfall to enjoy the ambience to its fullest — it's simply magical when lit up! However, you'll want to wear warm layers (or plan on buying them at the market!) because, again, Bremen can be brutally cold in the winter.
Schlachte-Zauber at the Schlachte Embankment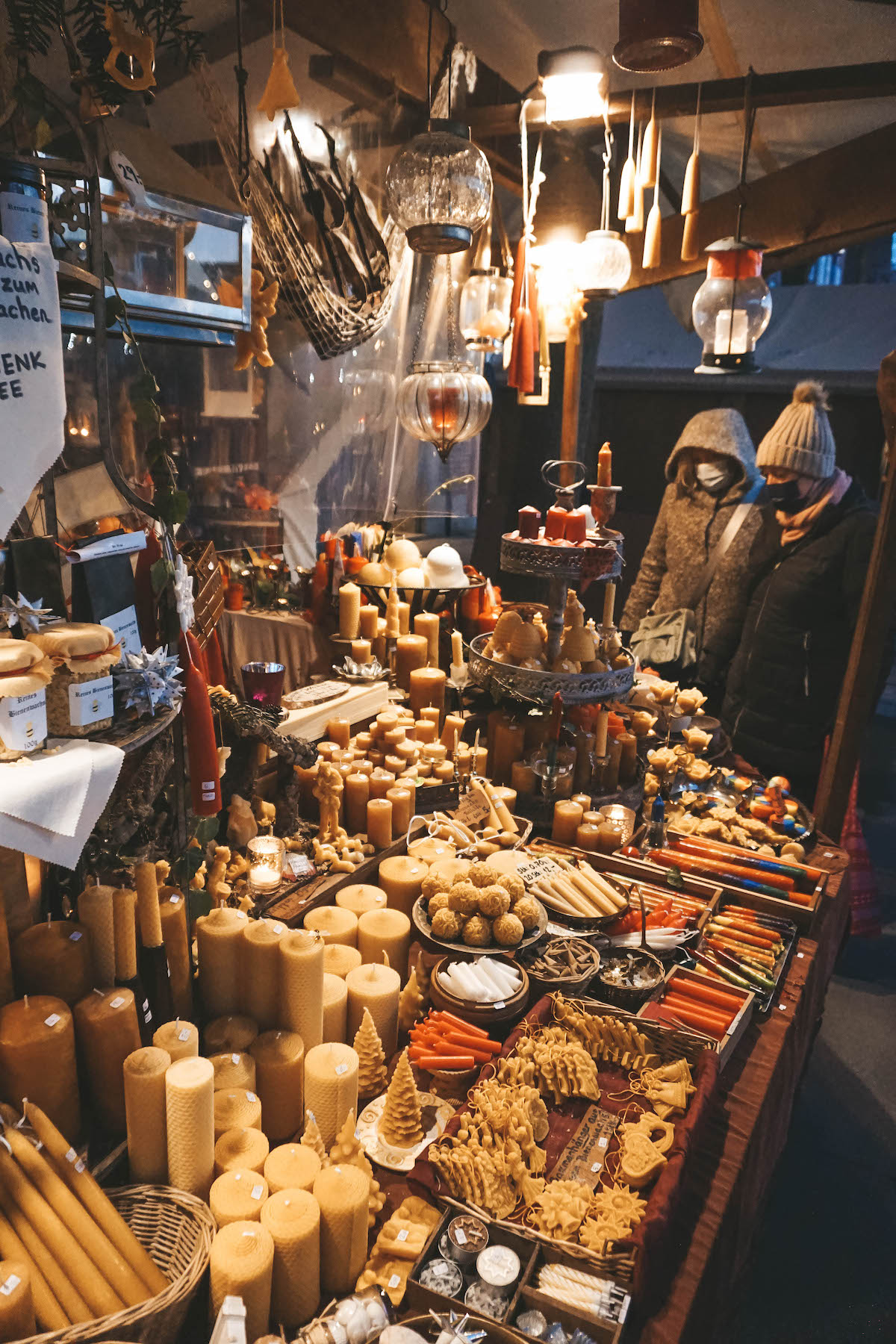 Unlike the main Christmas market by the Town Hall, the market at the Schlachte Embankment along the river is more eclectic. To suit its riverside location, the Schlachte-Zauber Christmas market has a maritime theme that reminded me of the medieval fairs I grew up attending in the US. It had more of a pirate edge to it, with the food and drink options accordingly named to suit the theme.
Although this is the "lesser" Christmas market in Bremen, the stalls were still very detailed in appearance. There was even a small stage in the center of the market where local musicians performed songs and other works (all in medieval-esque maritime costumes, of course!).
Besides the maritime theme, what makes this market unique is the type of goods for sale. The wares had a rustic, old-world flair to them. Think: hand-dipped beeswax candles, handmade soaps, crystals, silver jewelry, and hard candies.
As much as I love classic German Christmas markets, it's nice to have alternative markets like this to shake things up a bit! All in all, I loved the quirkier vibe of this Bremen Christmas market and had so much fun exploring all the stalls.
What to Eat at the Bremen Christmas Market
For more suggestions on what to eat at a German Christmas market, check out my full guide with 20+ foods and drinks.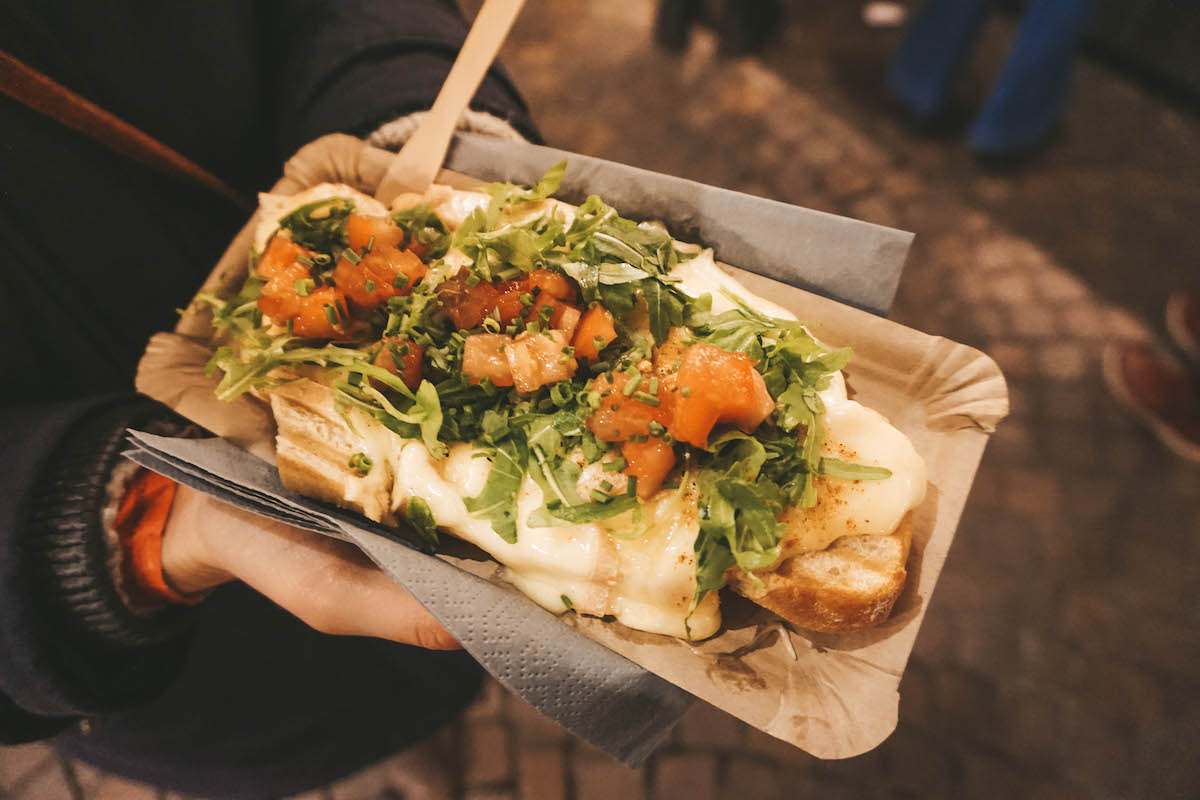 There's no particular regional fare you have to try at the Christmas markets in Bremen. However, general favorites at these markets were the Glühwein, Kartoffelpuffer, Raclette, and a seriously good grilled bratwurst.
Be sure to bring cash as the food stalls don't accept credit cards. And be prepared to wait in lines, especially once it gets dark!
FAQs About Visiting Bremen at Christmas
For more tips on visiting the German Christmas markets, be sure to read my full guide. Here are the answers to your most pressing Bremen-related FAQs.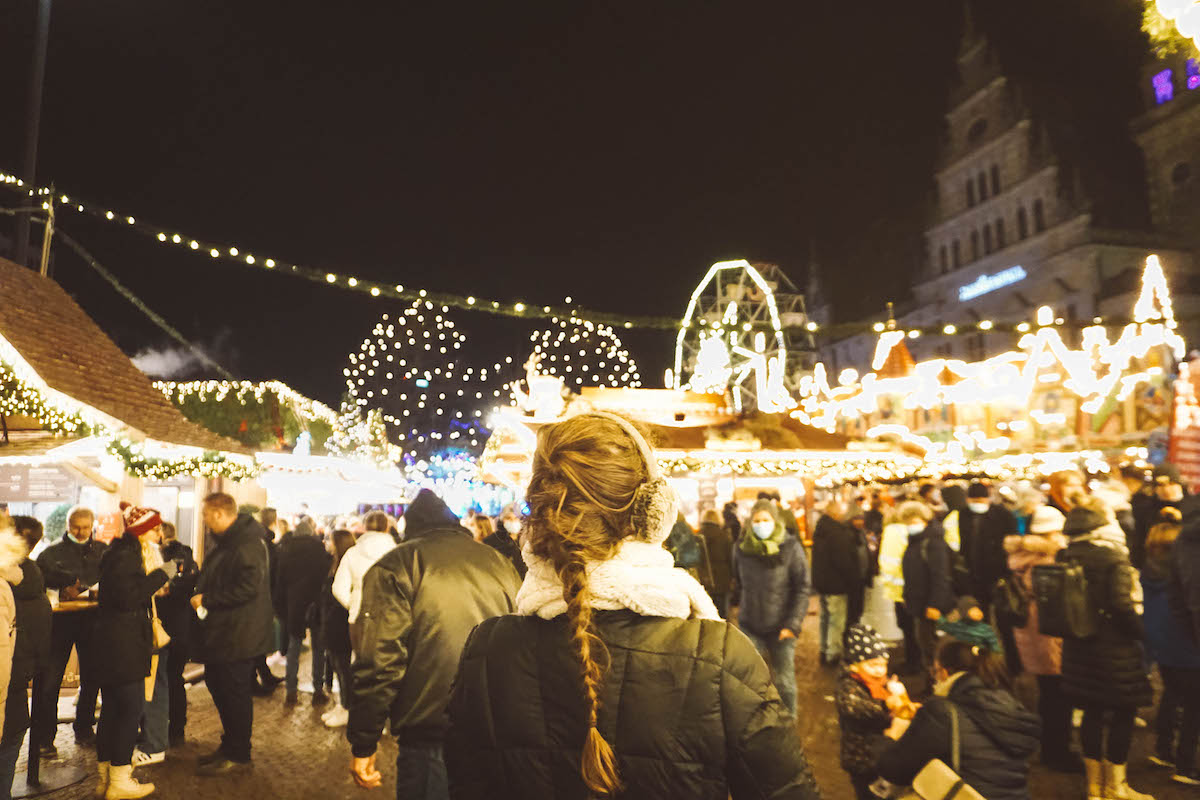 How much time is needed to see the Bremen Christmas markets?
We spent about half a day at the Christmas markets in Bremen, and that was perfect for us. It gets dark around 4pm in December, so you don't need to stay at the markets super late if you don't want to.
What should I wear to the Christmas markets in Bremen?
Definitely wear warm clothing and a proper winter coat. Bremen can be very cold in the winter since it's right off the water. I thought my fingers were going to freeze, so I bought a pair of gloves at the market.
What should I buy at the Bremen Christmas markets?
If you don't have much room in your suitcase, a beeswax candle, locally made honey, Glühwein spices, or handmade jewelry would all make great souvenirs.
If you're on a budget, save one of your Glühwein mugs as a memento! (It's totally legal to do so — you pay a small Pfand or deposit when you purchase drinks at the Christmas market and lots of people save the mugs.)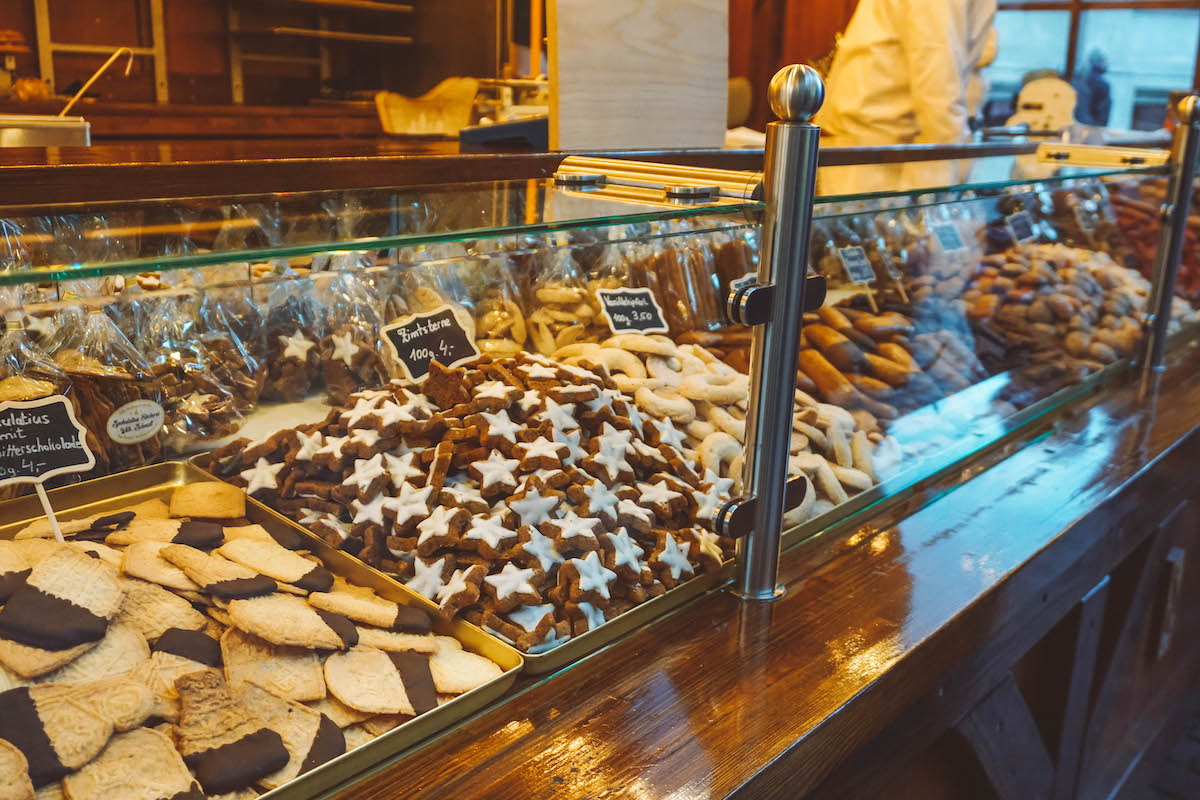 How many days are needed in Bremen?
I was there for two full days and two nights and thought that was a good amount of time to see the main sights and enjoy the Christmas market magic.
What else is there to do in Bremen?
You can easily spend an entire weekend in Bremen! Here are my favorite things to do in Bremen to help jumpstart the trip planning process.
Final Thoughts: Is the Bremen Christmas Market Worth Visiting?
Bremen is well known within Germany, but not many foreigners think to visit it. It's definitely worth a spot on your Germany bucket list!
Although 48 hours in Bremen is ideal if you want to see and do everything the city has to offer, it's also a great day trip option if you're traveling through northern Germany. Bremen is a quick train ride from Hamburg, for example, so if you're looking for Christmas markets in the region it's a great city to keep in mind.
If you have any questions about visiting Bremen or its Christmas markets, leave me a comment below!
Don't forget to follow me on Instagram to keep up with my daily adventures in Berlin and beyond!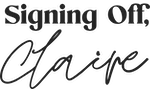 More Great Christmas Markets in Germany: