Planning a trip to the famous German Christmas markets in 2023? Here are my top tips to keep in mind when planning your visit, plus answers to the most frequently asked questions!
This guide has been updated for the 2023 Christmas market season.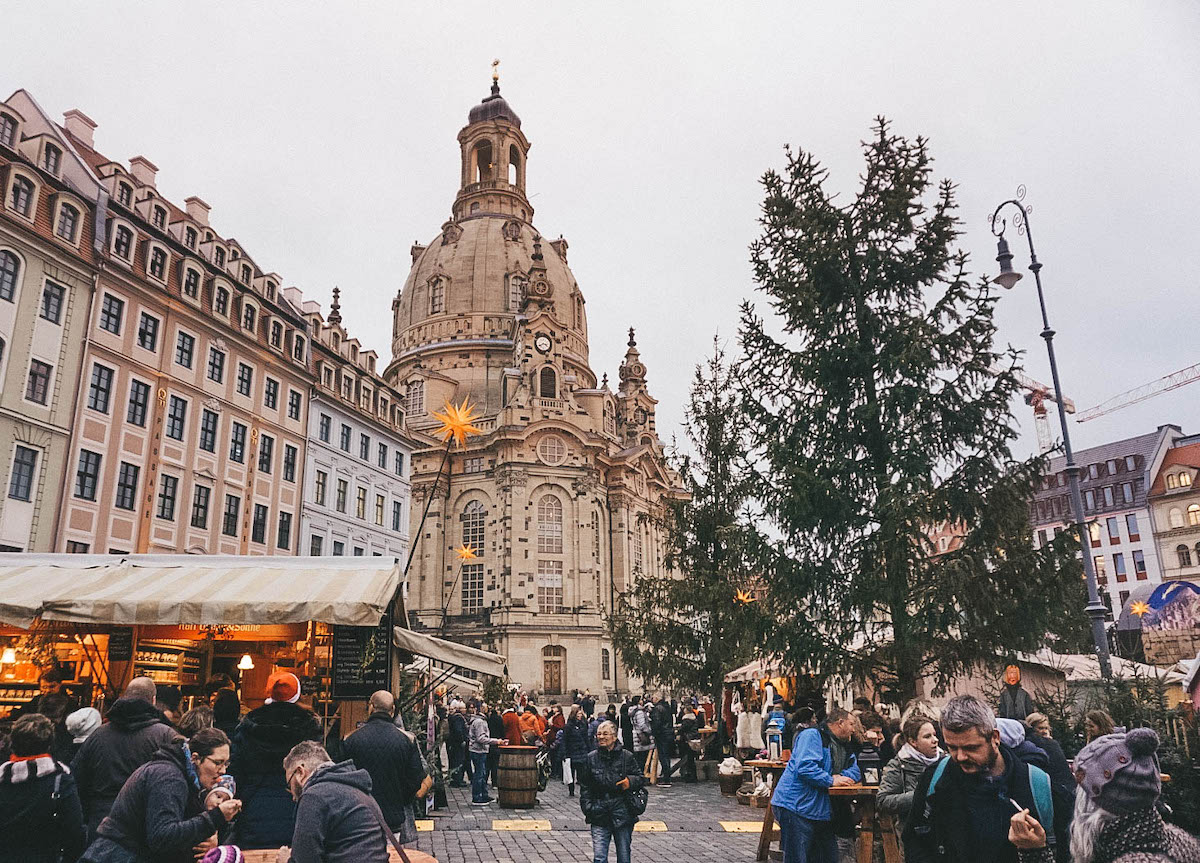 No one does Christmas quite like the Germans! To be fair, they've had a lot of time to practice. In fact, the world's first Christmas market took place in Dresden in the 1430's and the tradition has continued since then. Each year, the markets get bigger and better!
Since moving to Germany in 2019, I've visited at least 40 different Christmas markets. Larger cities boast multiple Christmas markets, and even the smallest of villages have a Christmas market at some point during Advent season.
In this guide, I'll be sharing my top tips for visiting the Christmas markets in Germany. I tried to answer as many FAQs as possible, but if I skipped something you're curious about please leave me a comment at the end of this post!
Table of Contents
Click "show" to see the full table of contents for this post. You can jump around the post as desired by clicking on the individual sections listed below.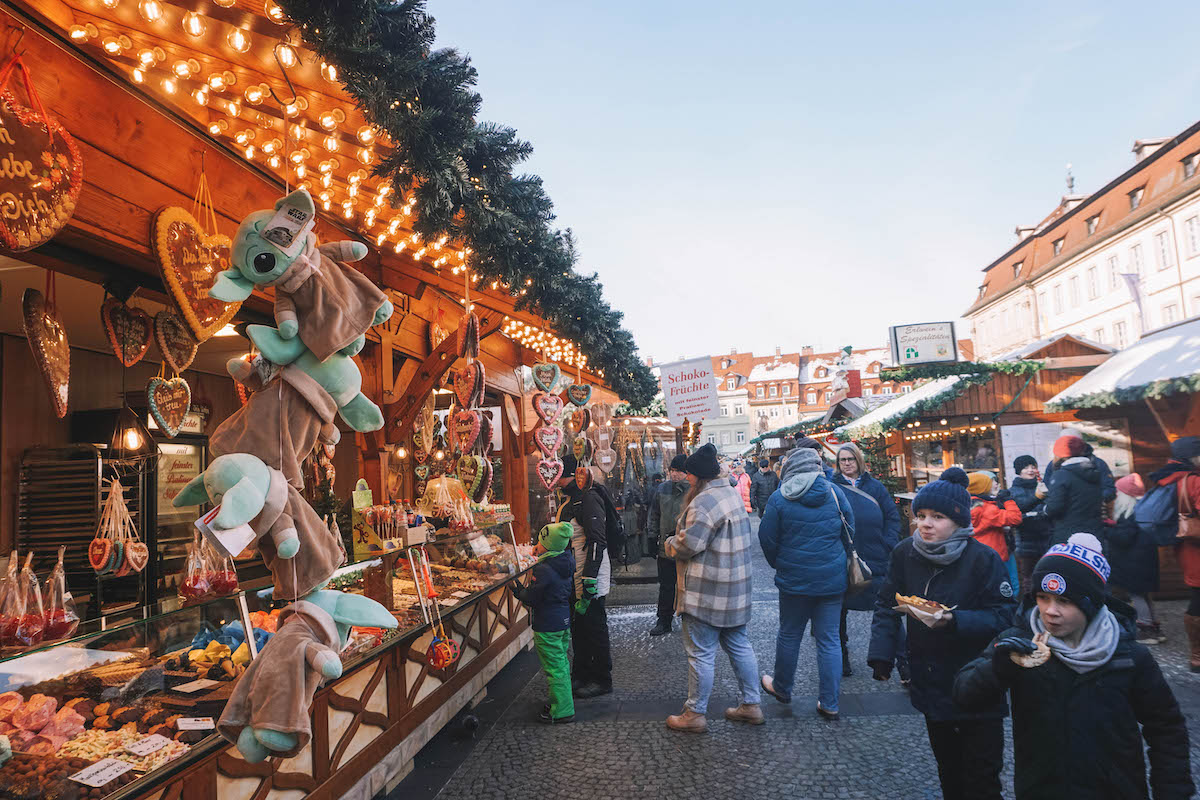 When Do Christmas Markets Start in Germany?
Most German Christmas markets open the last week of November and run until Christmas.
The start of the Christmas market season varies slightly from city to city, so check the local websites to find out when each will be opening. Once up and running, most markets are open from mid-afternoon until well after dusk.
When Do the Christmas Markets End in Germany?
Most Christmas markets in Germany end by December 24th. In Germany, there are TWO Christmas days: December 24th and 25th. Some of the larger cities have Christmas markets that operate after Christmas, but that's not a common practice.
When Is the Best Time to Visit the Christmas Markets?
Before visiting my first German Christmas market, I didn't fully comprehend just how busy they get. Weekends are by far the busiest days to visit, but even going to the Berlin markets during the workweek was hectic.
If crowds bother you, your best bet is to visit during the workweek just before dusk. That way, you can look around, grab some food, and find a cozy spot to chat the night away before the worst of the crowds arrive.
In terms of when is the best time to visit during the season, I'd say you're better off visiting earlier in the season. The closer we get to Christmas, the busier the markets will be!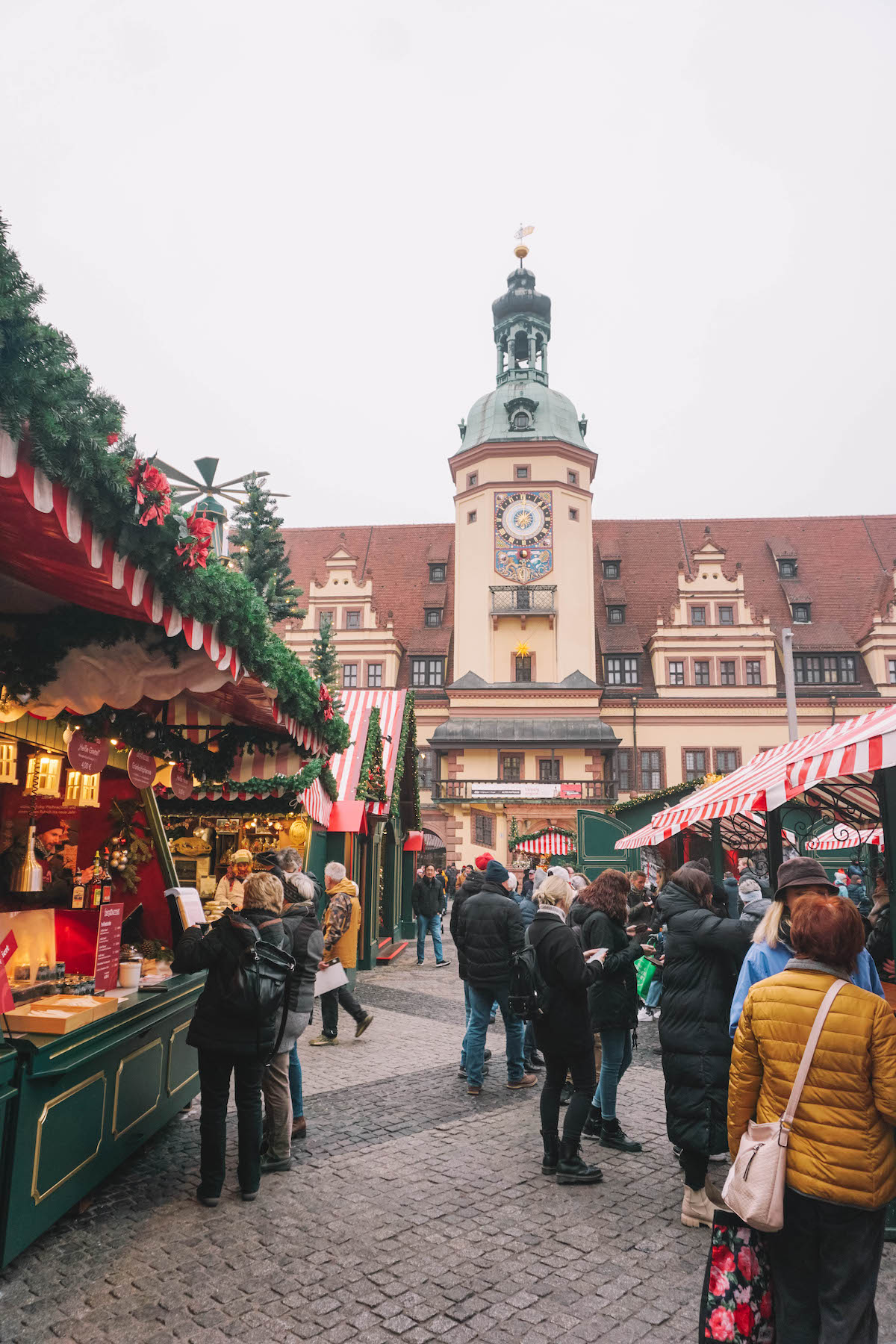 Do German Cities Have More Than One Christmas Market?
Some of them have just one, others have many! When I first moved to Germany, I had no idea that cities in Germany hosted multiple Christmas markets. I just assumed it was the Berlin Christmas market, the Dresden Christmas market, and so on.
To my delight, it turns out that Germany pulls out all the stops come Christmastime! Berlin is peppered with markets, as are all major cities across the country. Again, not all the markets within individual cities are worth visiting, so research things ahead of time!
Are German Christmas Markets Cash-Only or Can You Pay with Credit Card?
All of the Christmas markets I've visited have been cash-only, so make sure to bring plenty with you. I recommend bringing a mixture of small bills and Euro coins so vendors won't have to break larger bills for you.
It's also helpful to carry Euro coins in a separate coin purse, otherwise they'll get lost among the bills in your wallet.
How Much Should You Budget to Visit the Christmas Markets?
Most Christmas markets are free to enter, and you should plan on spending between 5 – 10 Euros per food item. Smaller gifts and trinkets will likely cost under 20 Euros, while larger items (jewelry, sheepskin products, blankets, etc.) can cost 30+ Euros.
I recommend budgeting around 40 – 50 Euros per day to visit the Christmas markets. However, if you plan on buying lots of Christmas gifts for loved ones you might want to budget more!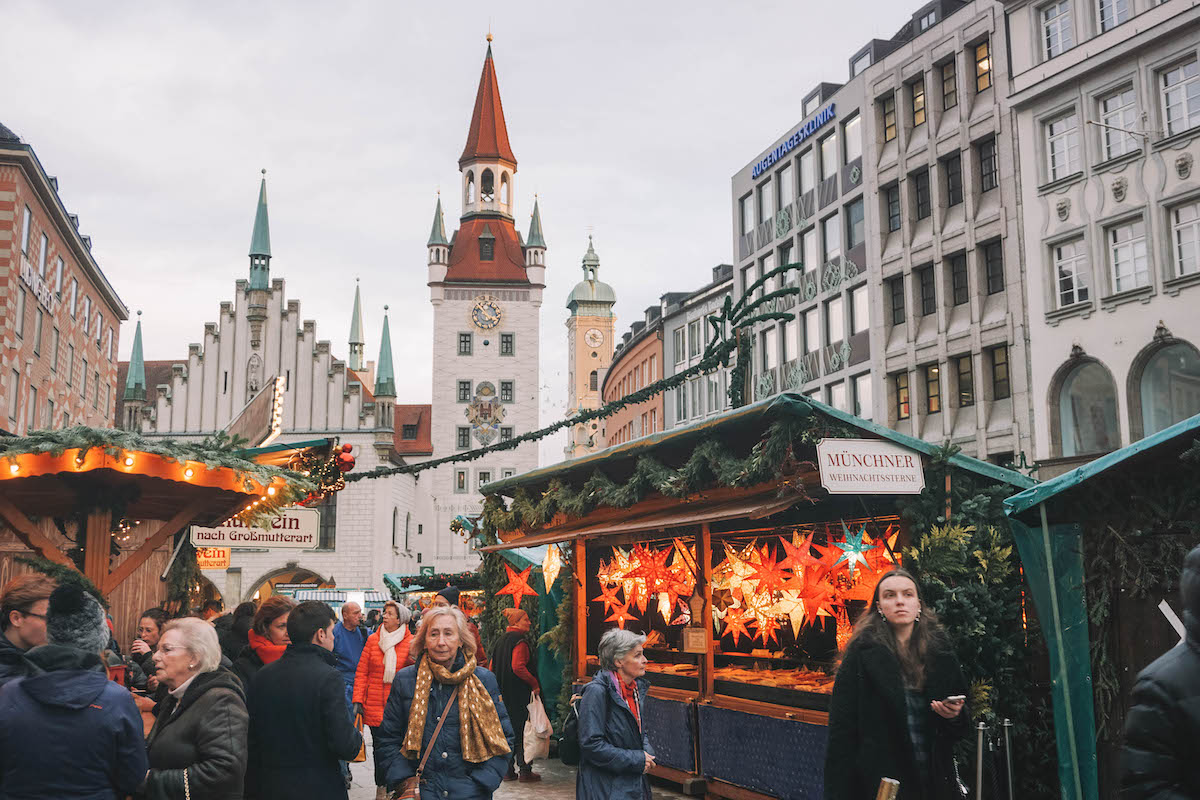 Are the Christmas Markets in Germany Safe?
Incredibly so, yes! I've never had an issue with pickpockets at the Christmas markets, but be sure to keep your cash in a safe place (i.e. an inner pocket of your backpack or similar). Think of all the Glühwein you'd miss out on if your money was stolen!
How Many Christmas Markets Are There in Germany?
I've read that there are over 2,500 Christmas markets in Germany. I told you the Germans took Christmas seriously!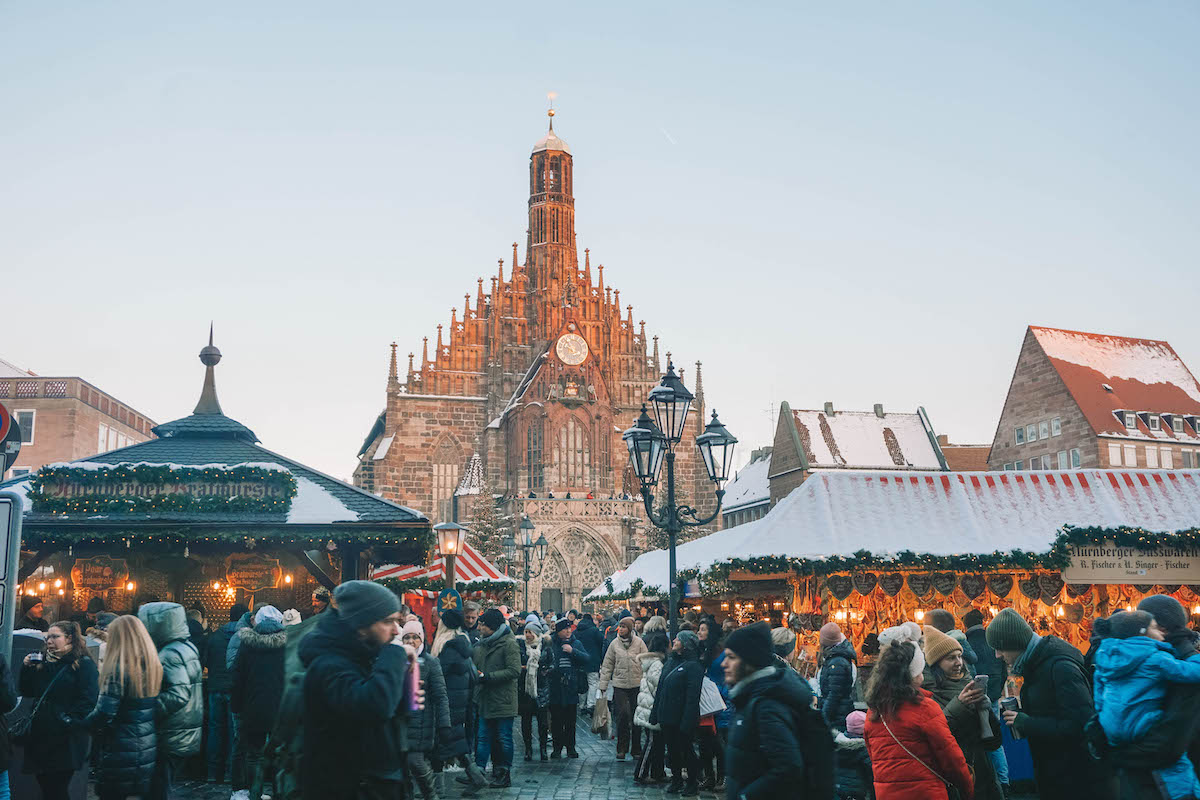 What Are the Best Christmas Markets in Germany?
With over 2,500 in the entire country, it's pretty tough to choose just a handful that are "the best." However, there are some tried and true markets you HAVE to visit if you'll be traveling through Germany at Christmastime.
In no particular order, here are the best Christmas markets in Germany:  
Dresden Christmas Markets — the Striezelmarkt is the oldest in Germany!
Nuremberg Christkindlesmarkt — the most famous in Germany.
Aachen Christmas Market — a gorgeous traditional Christmas market with Belgian and Dutch influences. Highly underrated!
Munich Christmas Markets — There are quite a few in the city center, including one within the courtyard of the City Palace and a great medieval one nearby!
Cologne Christmas Markets — Again, lots of Christmas markets packed into the Old Town. These markets have some of the finest attention to detail of any I've been to.
Click the links above to read my full reviews on each of the Christmas markets mentioned!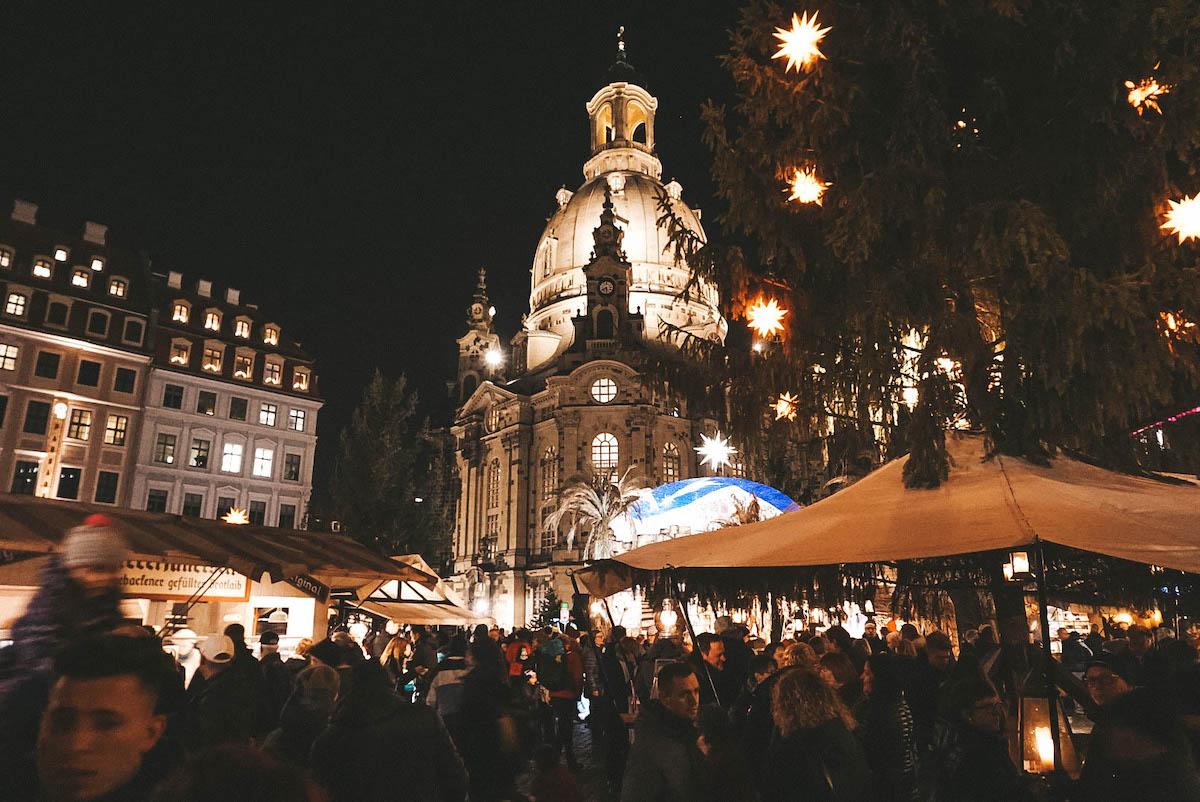 What's the Oldest Christmas Market in Germany?
That honor goes to the Striezelmarkt in Dresden! It first took place in the 1430's and is still in operation to this day.
It's the first Christmas market that I ever went to and I absolutely adored it!
What's the Most Famous Christmas Market in Germany?
As far as I know, the most famous German Christmas market is the Christkindlesmarkt in Nuremberg. It's estimated that more than 1 MILLION people visit this "little city of wood and cloth" each year.
I've been to the Nuremberg Christmas market and can 100% recommend it. It's truly spectacular!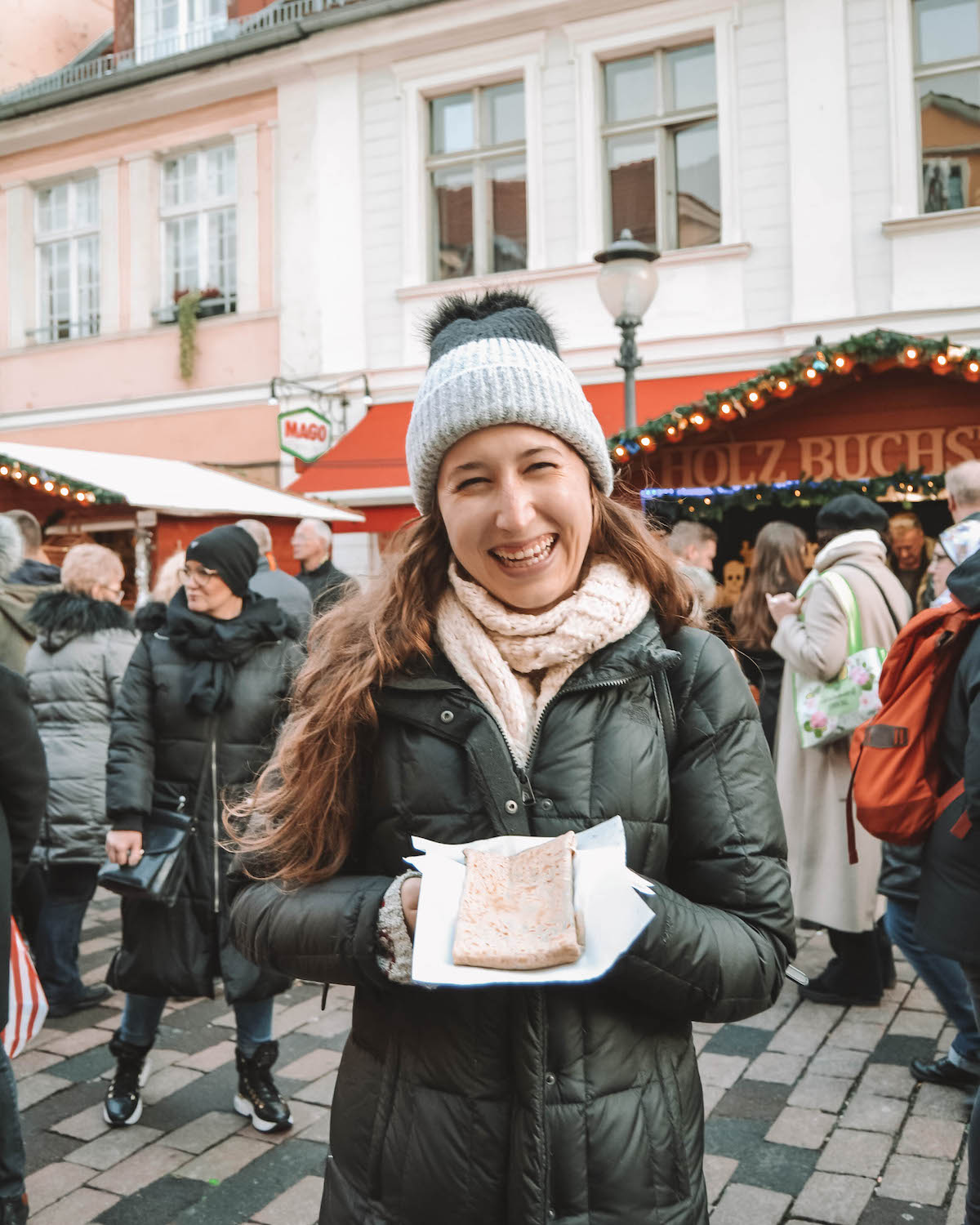 What Is There to Eat and Drink at the German Christmas Markets?
I hope this isn't news to you — German Christmas market food is the stuff of dreams. Fried quark balls, gingerbread, chocolate-covered fruits, mulled wine, spiced cider, candied nuts, fried potato stacks; the list goes on and on.
Here's a full list of the 20+ foods and drinks you can look forward to devouring at the Christmas markets. SO TASTY!
Can You Keep the Mugs at the German Christmas Markets?
You sure can!
When buying drinks at a German Christmas market, you may notice how astronomically expensive they are. That's because Germans include a 2 to 3 Euro Pfand — a deposit for the mugs — within the price. This way, if you don't return the festive Christmas mugs to the vendor you purchased your drink from, they can afford to replace them.
Most markets release limited edition mugs each year, so it's common for visitors to collect a few along the way. Definitely save one or two mugs from your travels to remember your trip by!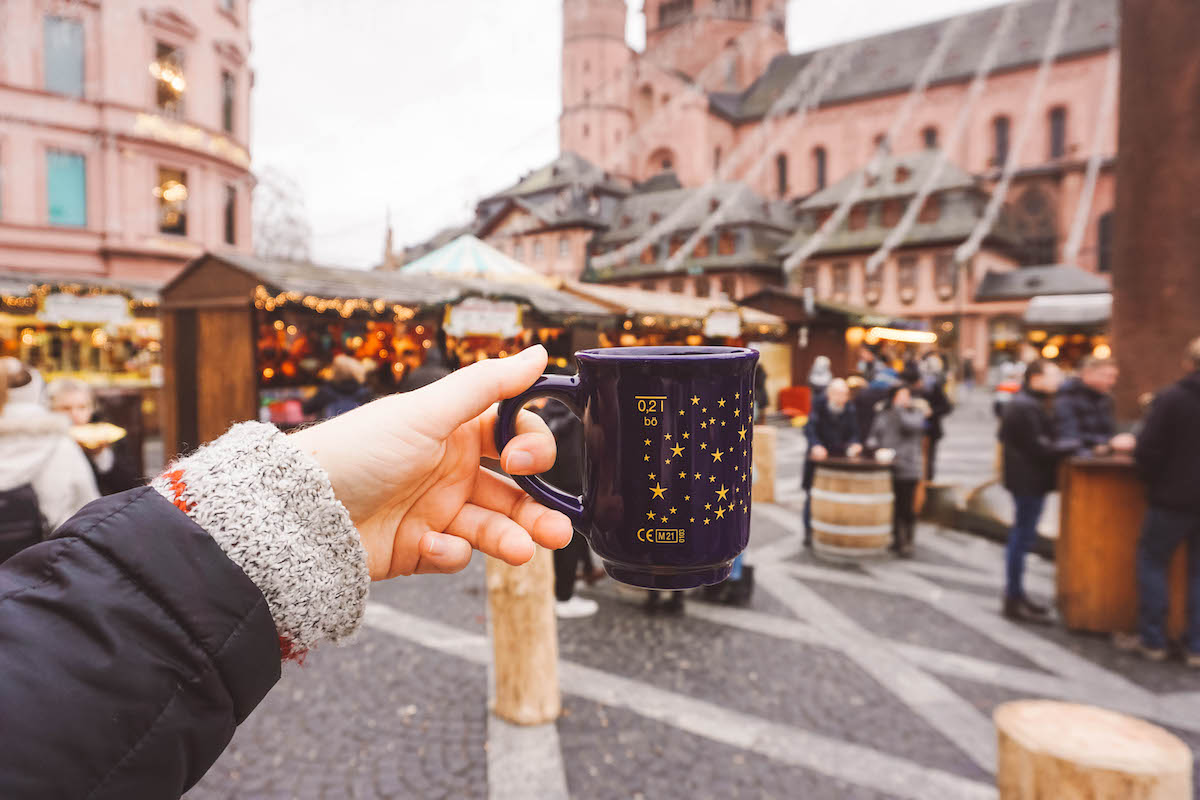 What's the Weather Like in Germany at Christmas?
Germany's weather in December is gray, overcast, and rainy. It's not a pretty place to be in the winter, hence all the Christmas cheer needed to put a pep in locals' steps.
How Do You Say 'Merry Christmas' in German?
Frohe Weihnachten! (Pronounced frow-uh-vai-nack-ten)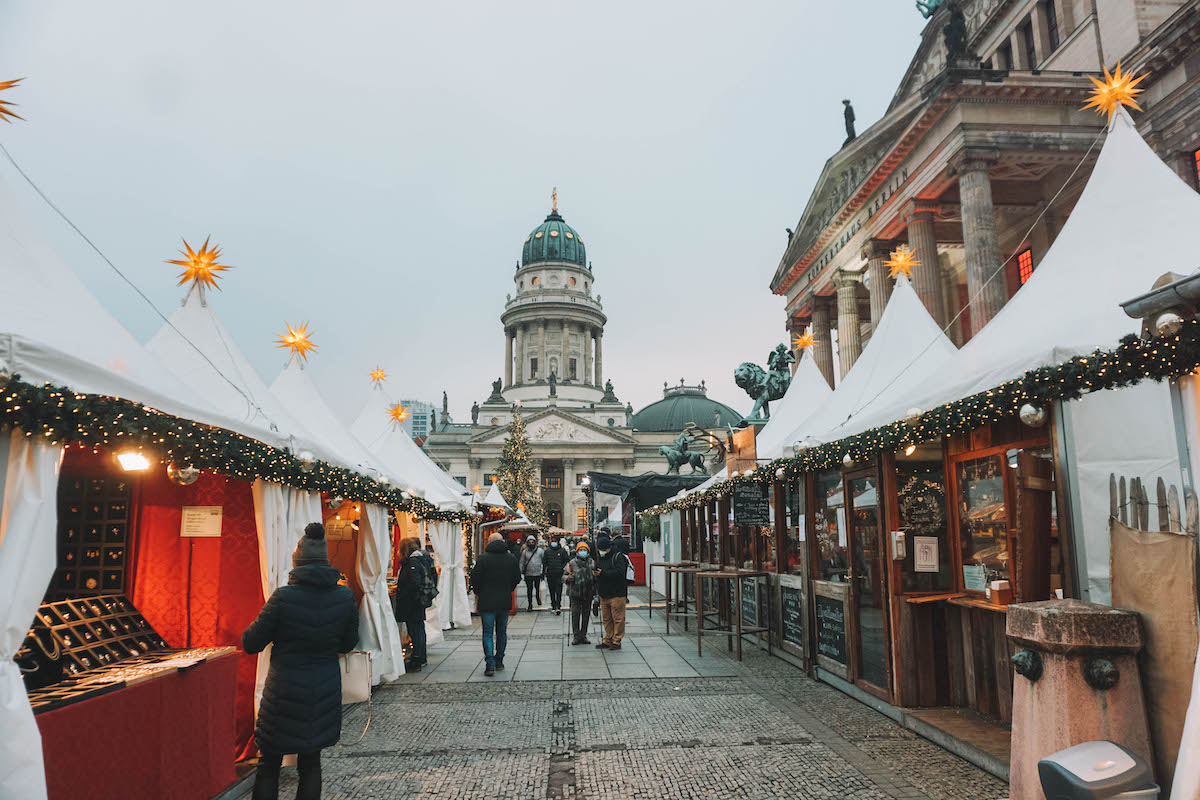 Excited to Visit the German Christmas Markets in 2023?
Bookmark this post for next year if you can't visit the German Christmas markets in 2023, and enjoy the pretty pictures in the meantime! And, of course, if you have any questions about visiting Germany during Christmas, drop me a comment below.
Don't forget to follow me on Instagram to keep up with my daily adventures in Berlin and beyond!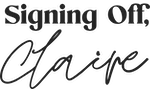 My German Christmas Market Guides: