Planning a Berlin Christmas market trip? With more than 80 markets throughout the Advent season, there's plenty to keep you busy. Here are 6 of the best Christmas markets in Berlin to get you started!
This guide has been updated for the 2023 Christmas market season.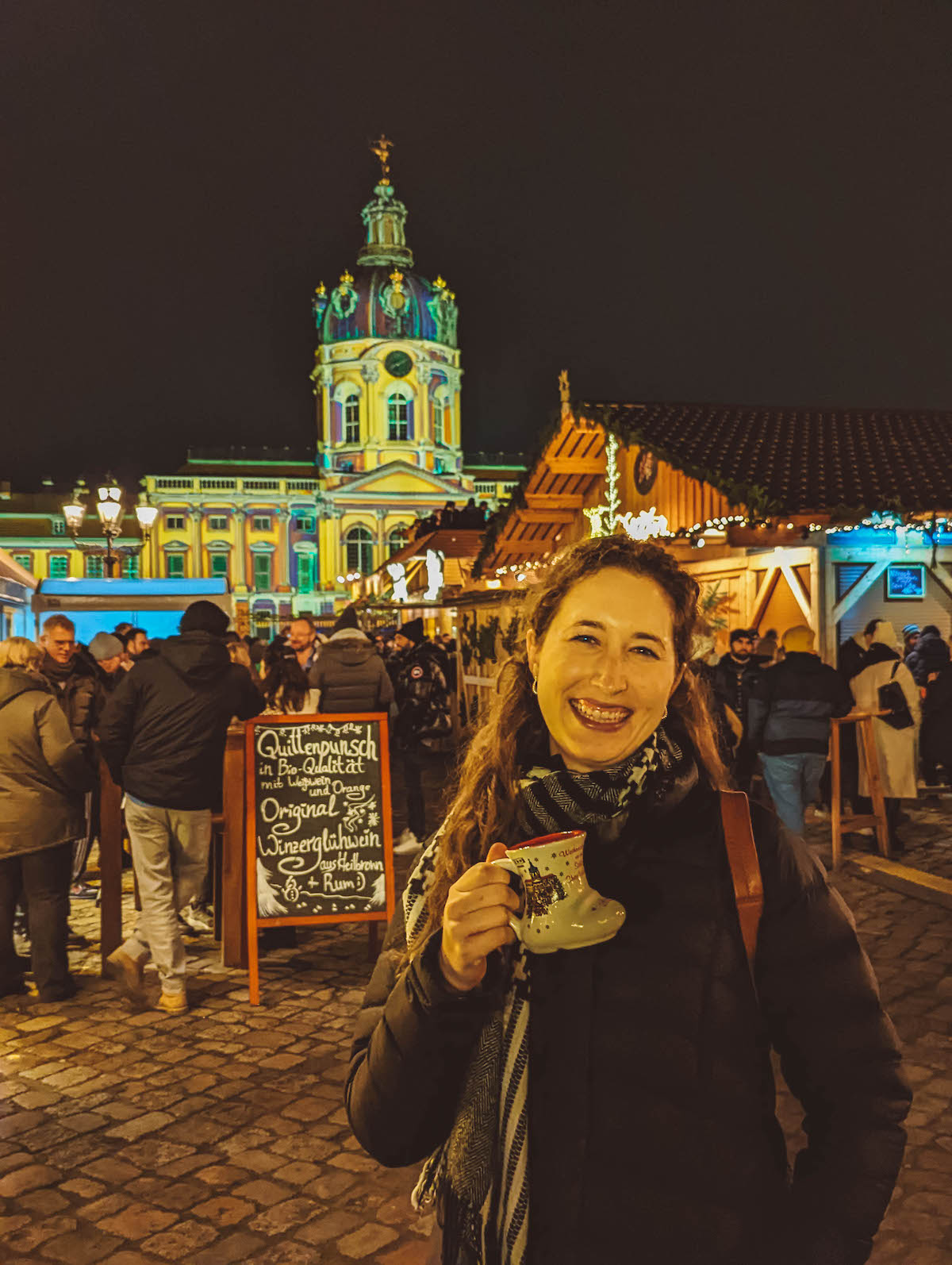 During the holidays, Berlin is often overlooked in favor of cities like Dresden, Nuremberg, or Rothenburg ob der Tauber, which are known for their long-standing Christmas traditions and markets. However, Berlin absolutely deserves a spot on your Christmas bucket list!
With more than 80 (!!) Christmas markets in Berlin, there's plenty to keep you busy in December. Not all 80 markets run simultaneously, of course. There are a handful of large markets that run throughout the Advent season, but many of the smaller markets pop up just for a day or two.
It's tough to choose the absolute best Christmas markets in Berlin because I haven't visited all 80+ of them (yet!). But since moving here in 2019, I've managed to visit a fair few and have compiled my list of top favorites in this post.
Here's everything you should know about the best Christmas markets in Berlin, including practical information like the exact locations and opening hours as well as what makes each market unique!
Table of Contents
Click "show" to see the full table of contents for this post. You can jump around the post as desired by clicking on the individual sections listed below. 
When Do Christmas Markets Start in Berlin?
This year, the larger markets will open on November 27, 2023. The one exception is the Potsdamer Platz Christs Market, which opens very early in the season on October 22, 2023.
Note that not all of the Christmas markets in Berlin open at the same time! Lots of the smaller, local markets open for only a day or two throughout the Advent season (often over the weekend or on Sundays).
Some of the markets will remain open after Christmas but pretty much all close by New Year's Eve.
How Many Christmas Markets Are in Berlin?
Around 80! Again, not all are open throughout the entire holiday season. If you're trying to avoid big crowds, seek out the local markets that open for just a day or two.
There's lots more to do in Berlin around the holidays. Here are 10 more Christmas activities in Berlin to look forward to in addition to the Christmas markets!
Map of the Best Christmas Markets in Berlin
6 of the Best Christmas Markets in Berlin
With more than 80 Christmas markets in Berlin, it's tough to choose the best ones. However, I've spent the past three years traveling to Germany's top Christmas markets. As such, I have high standards!
Here are the 6 absolute best Christmas markets in Berlin, in no particular order.
Christmas Market at the Rotes Rathaus
Location: Between the Rotes Rathaus and St. Marienkirche (near Alexanderplatz)
Dates: November 27 – December 30, 2023
Opening Hours: Monday to Friday from 12pm – 10pm, Saturday and Sunday from 11am – 10pm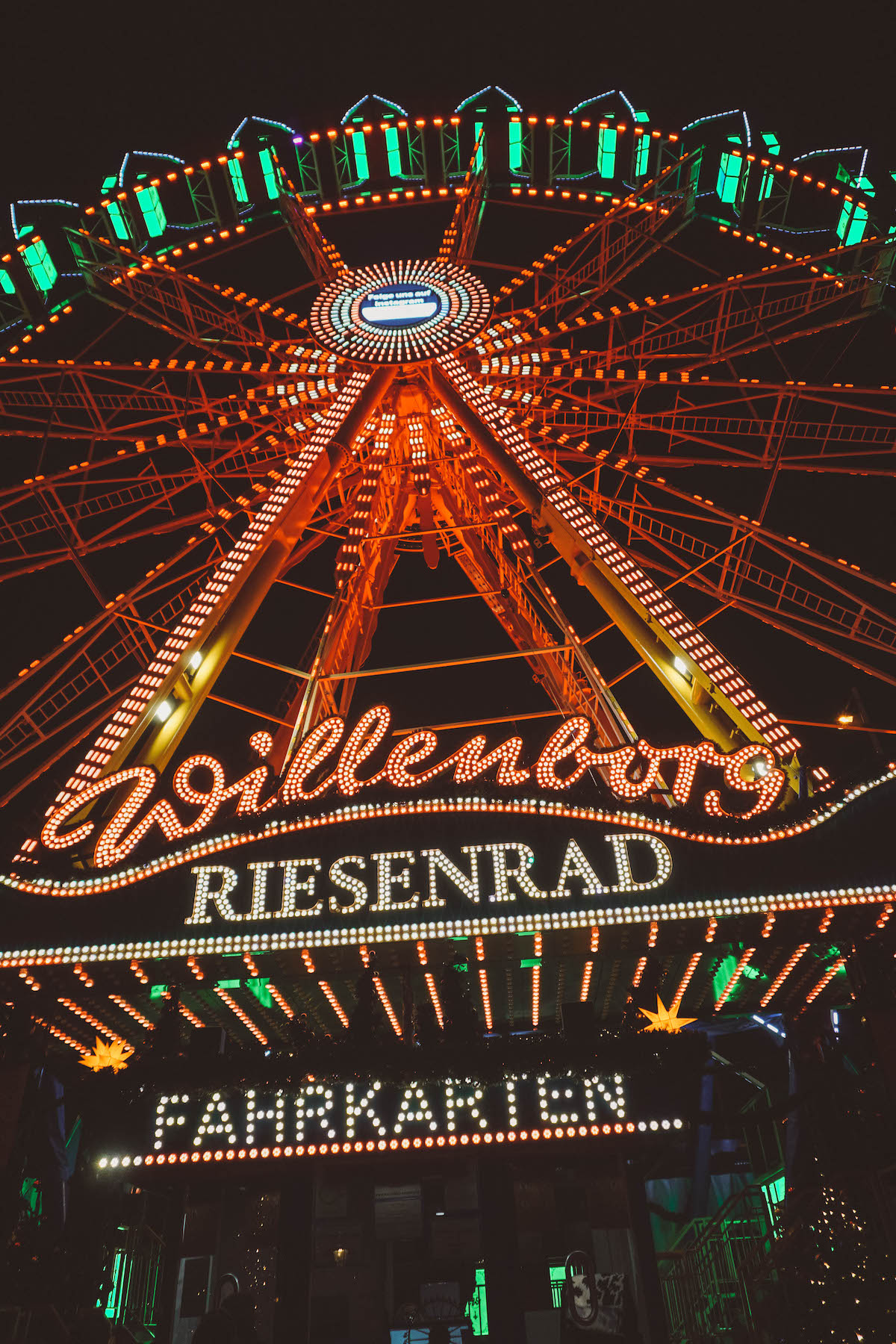 No trip to the Berlin Christmas markets is complete without stopping by the market at the Rotes Rathaus (officially called the Berliner Weihnachtszeit)! It's impossible to miss thanks to the 50-meter high ferris wheel that towers over the market.
This is the most traditional Christmas market in Berlin that I'm sharing in this post. At the heart of the market is the Old Berlin Market Lane that features stalls with facades based off of real Berlin houses from the early 1900s.
The Rotes Rathaus Christmas Market has a distinct Old Berlin flair that sets it apart from the other markets in the city. What makes it unique is the aforementioned ferris wheel, which has an incredible view of the market (ride it at night to see all the lights!).
There's also an ice skating rink that wraps around the Neptune Fountain, and the food options are diverse. Expect lots of traditional Christmas market foods, like raclette, bratwurst, candied nuts, and grilled meat sandwiches.
Tip: This Christmas market is within walking distance of the more touristy market at Alexanderplatz. Don't confuse the two! The one at Alexanderplatz is NOT a favorite of mine.
Lucia Market at the KulturBrauerei
Location: KulturBrauerei (Schönhauser Allee 36)
Dates: November 27 – December 22, 2023
Opening Hours: Monday to Friday from 3pm – 10pm, Saturday and Sunday from 1pm – 10pm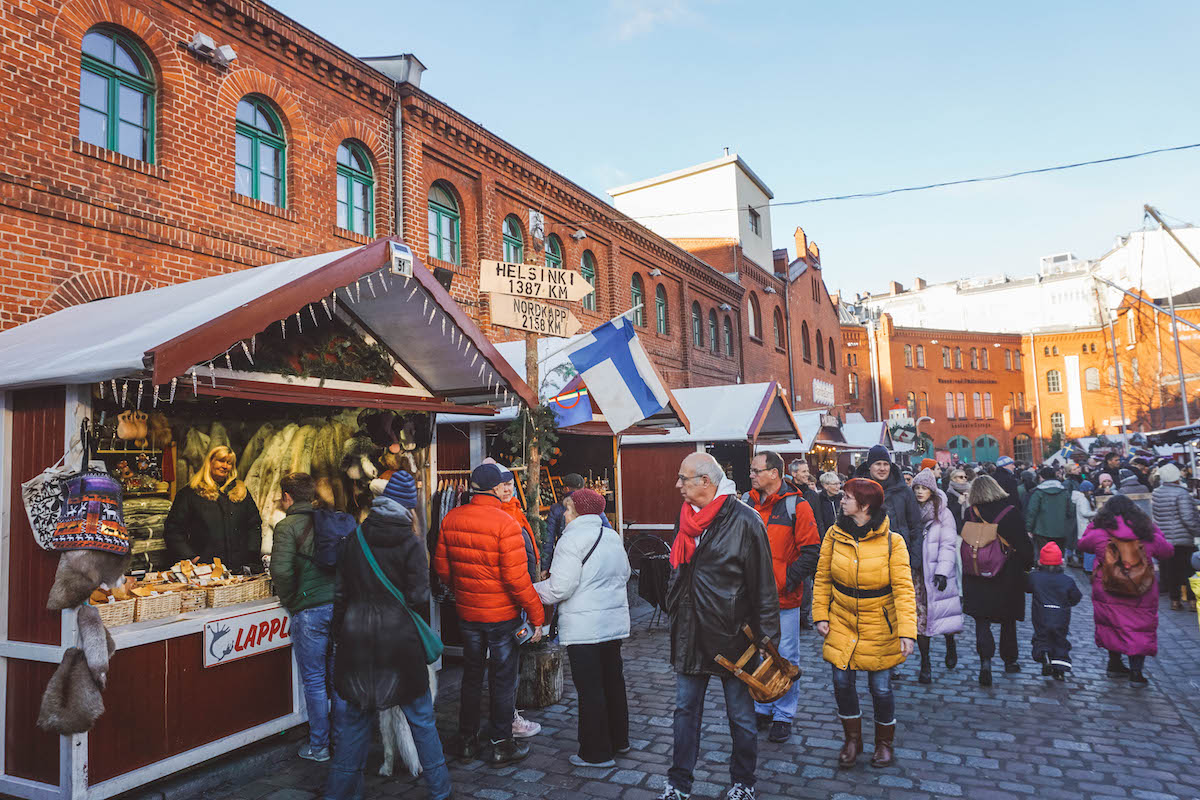 Named after the Nordic goddess of light, the Lucia Market in Prenzlauer Berg is held in the courtyard of a former brewery (a complex that's now called the KulturBrauerei). This is one of the more romantic Berlin Christmas markets, with its Scandinavian flair and cozy setting.
The market is lined with rustic wooden stalls selling warming foods like Glögg (Swedish mulled wine), Finnish waffles, elk goulash, and more. The Glögg sold at this market is my favorite mulled wine in all of Berlin; I'm not sure what goes into Swedish mulled wine, but it has a richer, more botanical flavor than German mulled wine. It's utterly delicious!
On cold nights, warm up next to one of the log fire pits or snuggle inside one of the pre-warmed fur coats that have been hung over a radiator (yes, really!).
Christmas Market at the Kaiser Wilhelm Memorial Church (Breitscheidplatz)
Location: Breitscheidplatz
Dates: November 27 – December 31, 2023
Opening Hours: Sunday to Thursday from 11am – 9pm, Friday and Saturday from 11am – 10pm (open on both Christmas Eve and Christmas Day)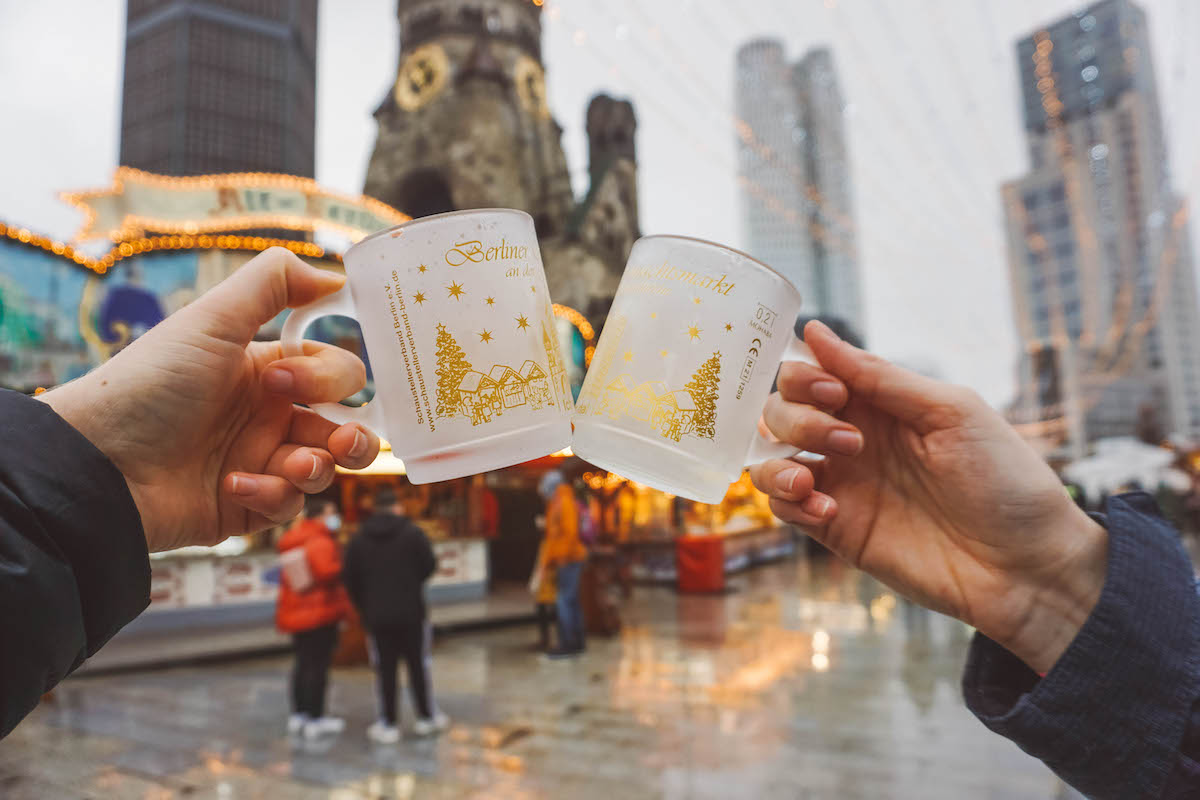 This Christmas market along the busy Kurfürstendamm shopping street is impossible to miss! It's a more traditional market set in the shadow of the Kaiser Wilhelm Memorial Church, which was left partially in ruin after being bombed in WWII.
There are around 170 stalls at this market selling typical German Christmas market goods like knitted hats and gloves, beeswax candles, and toys. There are also a couple rides for kids to enjoy. The food options are also typically German. Think: bratwurst, Eierlikör (German eggnog), and candied fruit.
Since the market is located along the Ku'damm, it doesn't have a particularly relaxed atmosphere. However, the Ku'damm is one of my favorite places to see Christmas lights in Berlin, and I always combine the two activities whenever I visit this Christmas market.
Charlottenburg Palace Christmas Market
Location: In front of Charlottenburg Palace
Dates: November 27 – December 31, 2023
Opening Hours: Monday to Thursday from 2 pm to 10 pm, Friday to Sunday from 12 noon to 10 pm (open on Christmas Day)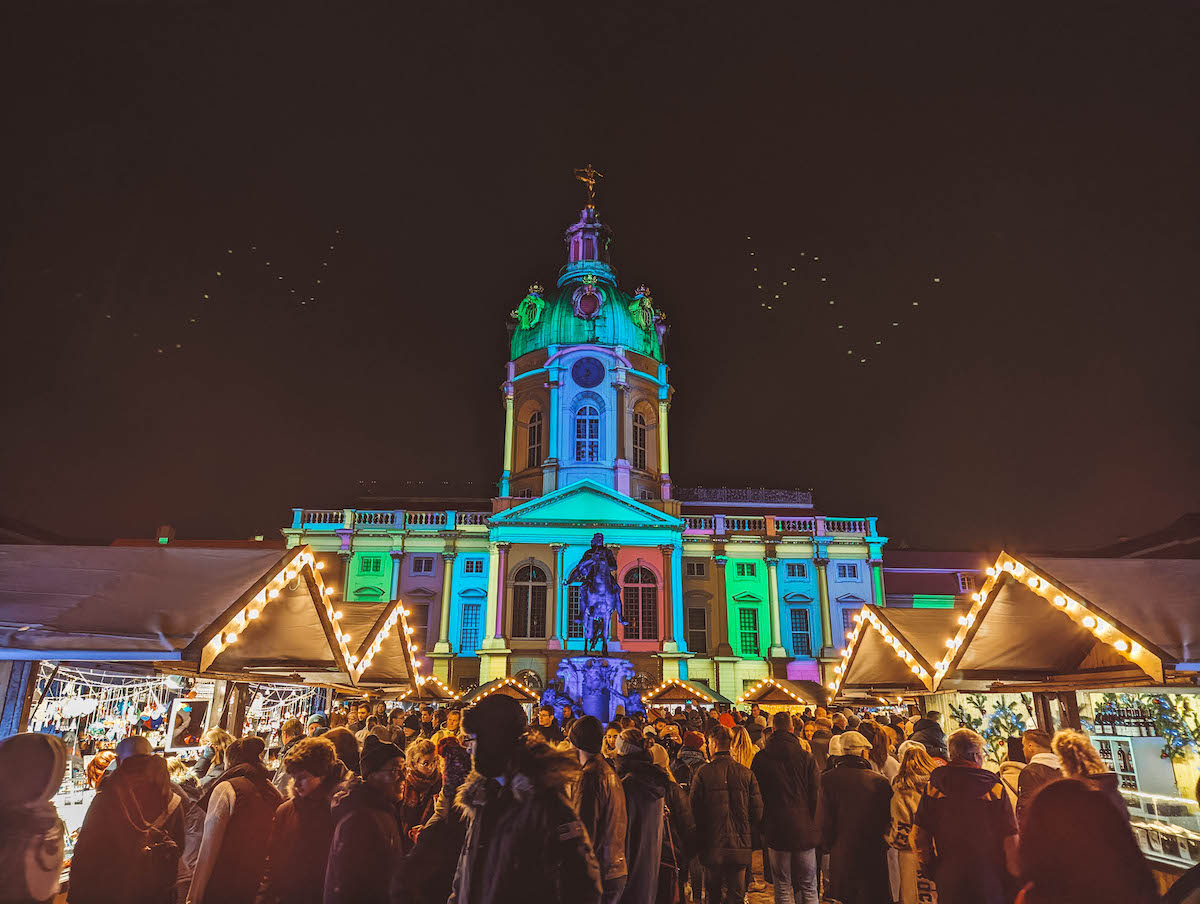 The Christmas market is held in front of Charlottenburg Palace and hosts more than 250 vendors. The inner courtyard is the hidden gem of this Christmas market. It's here that you'll find handcrafted gifts and ornaments, and a wind ensemble is stationed within the courtyard as well. Throughout the night you can hear the ensemble playing Christmas songs from your childhood.
The Charlottenburg Palace Christmas Market has some of the best food options of all of the Christmas markets in Berlin. There's a stall selling Flammlachs, which is salmon grilled over an open fire. I also enjoyed a Schokokuss (chocolate-covered marshmallow) at this Christmas market, which is a treat I've only ever seen in southern Germany.
Be sure to visit this Christmas market at night, if you can! The market is built out of white tents that light up at night, and a light show is projected onto the facade of the palace. The combination of colors and lights makes it feel like you're walking through a fairytale Christmas market!
Tip: Looking for even more things to do in Charlottenburg? Check out my full guide to Berlin's prettiest neighborhood!
Gendarmenmarkt Christmas Market
Location: As the name suggests, the Gendarmenmarkt Christmas market usually takes place at Gendarmenmarkt. However, due to ongoing construction work, the market will be held at Bebelplatz this year, near the Staatsoper.
Dates: November 27 – December 31, 2023
Entry Fee: 1 Euro (Free entry Monday – Friday from noon to 2 pm)
Hours of operation: Sundays through Thursdays 12pm to 10pm, Fridays and Saturdays 12pm to 11pm. The market will be open on Christmas Eve from noon to 6 pm and on New Year's Eve from noon to 1 am.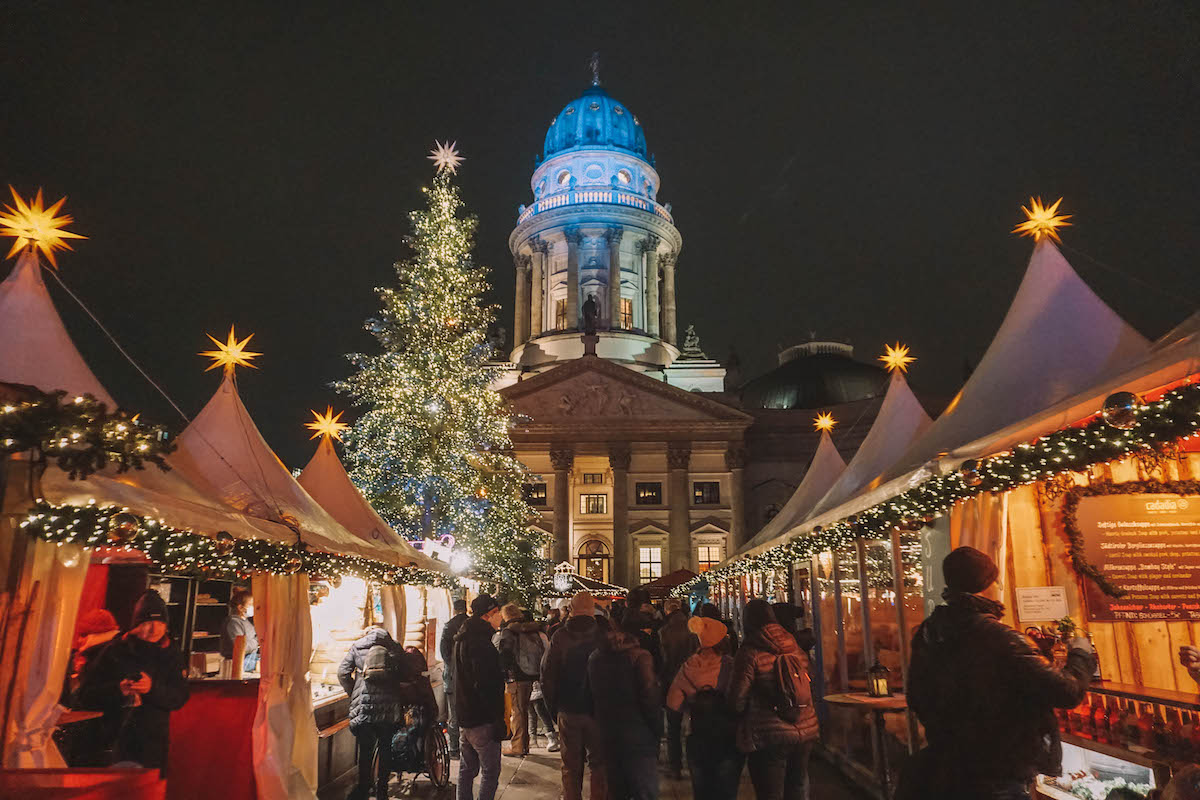 Officially called WeihnachtsZauber am Gendarmenmarkt (Christmas Magic at Gendarmenmarkt), the star-topped white tents of this Christmas market definitely live up to its name.
This is one of the more unique Christmas markets in Berlin. For one thing, you have to pay to enter the market (just 1 Euro!). For another, there are very few mass-produced goods for sale at this market. Instead you'll find an array of locally-made jewelry pieces, art prints, sweaters, candles, ornaments, and so much more.
The focus of this market is the handmade arts and crafts, making it the Berlin Christmas market to visit if you need gifts for loved ones.
There's also a stage in the center of the market that hosts live performances throughout the day. Be sure to keep an eye out for the Christmas characters wandering around the market, like the Ice Queen and the nutcracker on stilts!
For more photos and detailed reasons why this is one of the best Christmas markets in Berlin, be sure to read my full Gendarmenmarkt Christmas Market guide!
Historic Christmas Market at the RAW Compound
Location: RAW-Gelände
Dates: November 16 – December 22, 2023
Entry Fee: Monday – Wednesday free entry, Thursday – Sunday €2
Hours: Monday through Friday 3 to 10pm, Saturday and Sunday noon to 10pm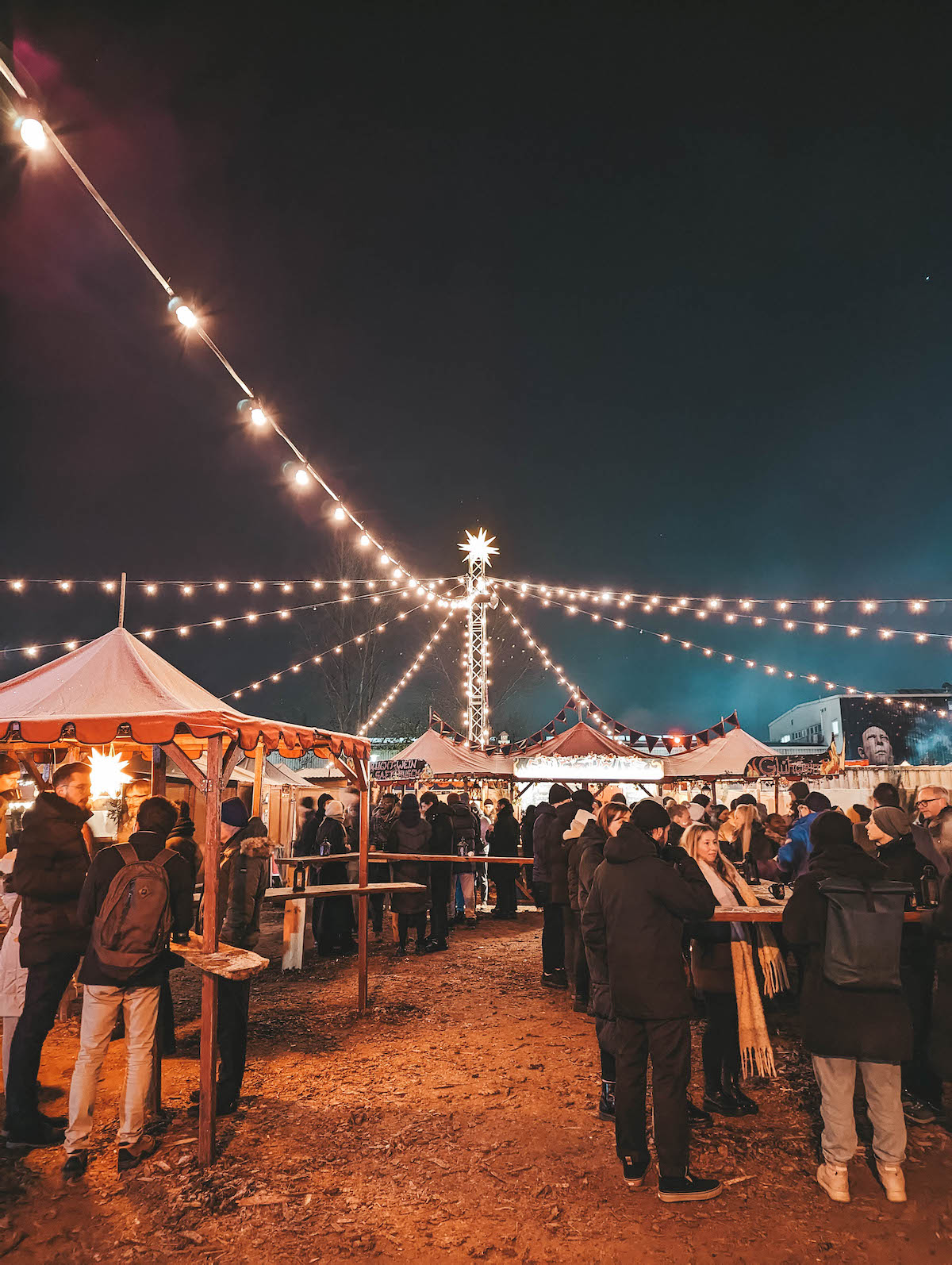 The seventh annual medieval Christmas market at the RAW Compound is not to be missed! If you love Renaissance fairs, you're going to adore this atmospheric Christmas market in the hip Friedrichshain neighborhood.
Come hungry so you can fill up on Ye Olden dishes such as warm mead, mulled wine, grilled sausages, stews, and soups.
After eating your fill, be sure to leave plenty of time to watch performances from fire performers, jugglers, and acrobats. Littles will want to ride the hand-operated wooden carousel and Ferris wheel!
What to Eat and Drink at the Berlin Christmas Markets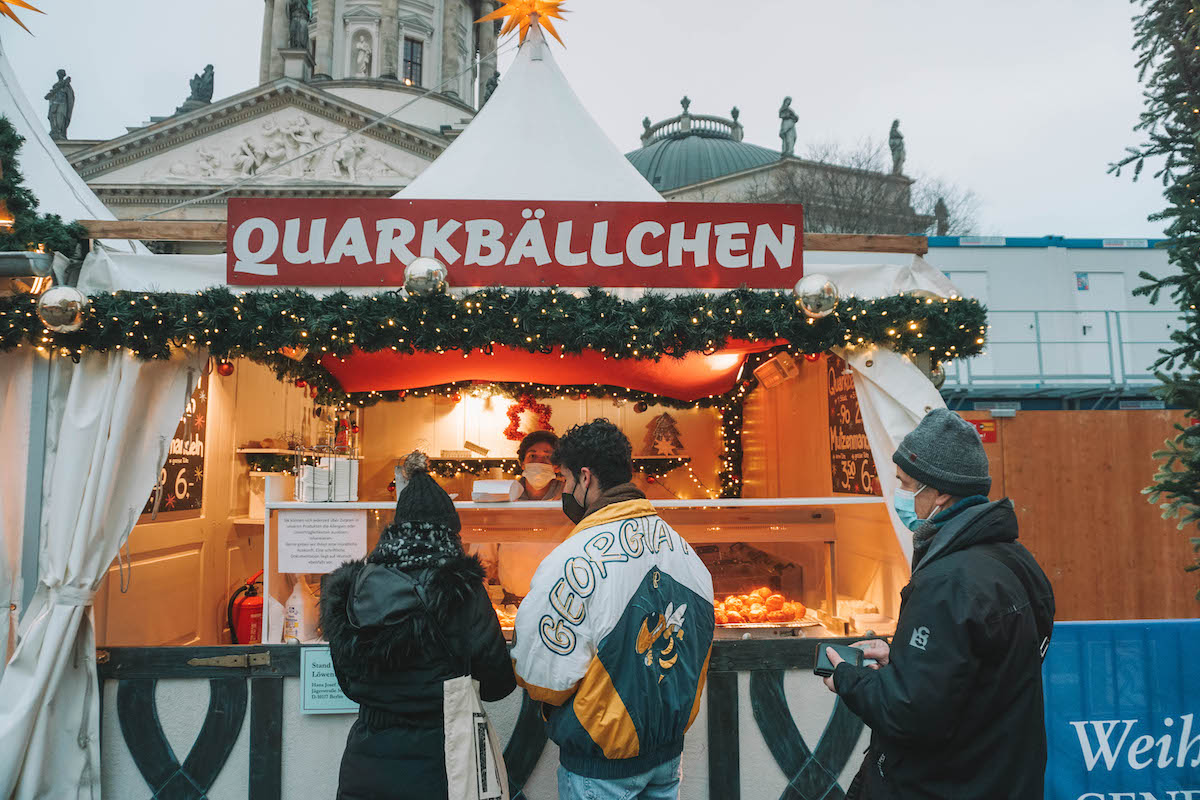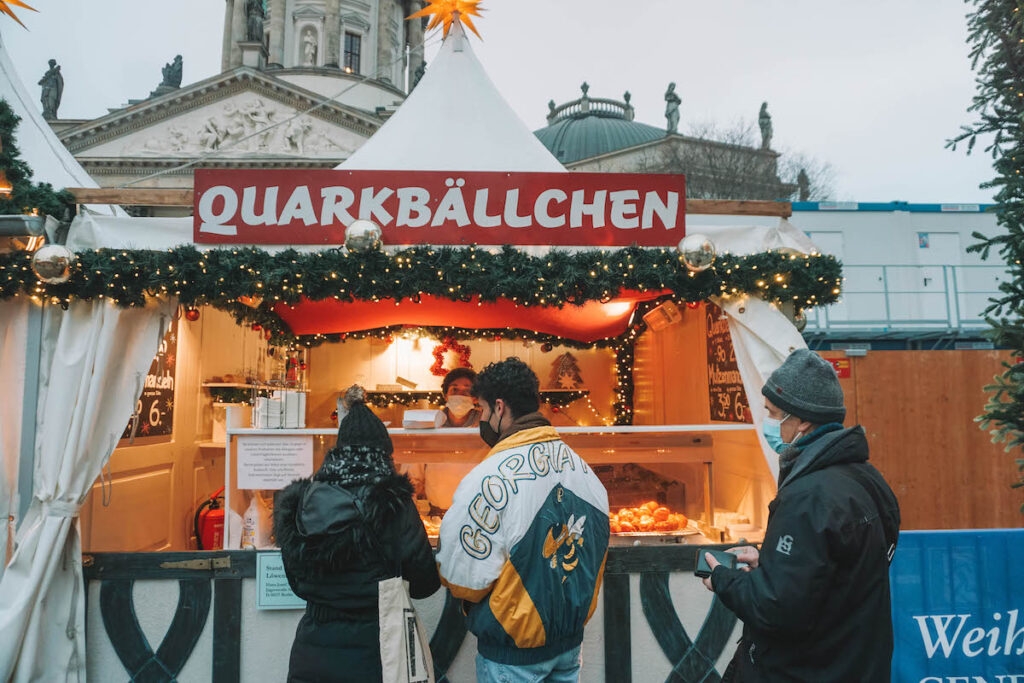 There are so many fantastic Berlin Christmas market foods to try — so many, in fact, that I wrote a full guide to the most popular foods at the German Christmas markets!
At the Berlin markets, you can expect to see many traditional foods like grilled bratwurst, Flammlachs (fire-grilled salmon), potato pancakes, Handbrot, Stollen, and more.
Excited for Your Berlin Christmas Market Trip?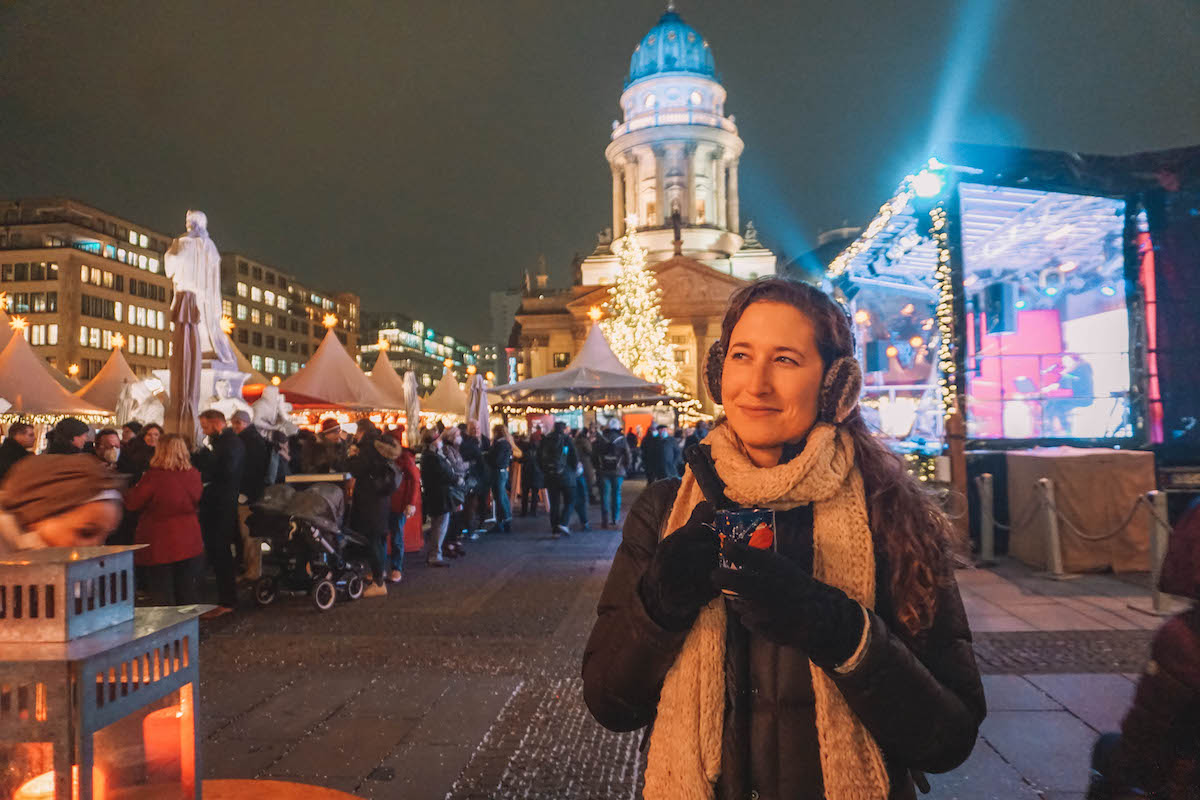 As I already mentioned, these are just six of the best Christmas markets in Berlin. As I continue to visit all 80+ of the city's Christmas markets, I'll add to and amend this list as needed.
In the meantime, please leave me a comment below if I've left your favorite Christmas market off of this list!
And don't forget to enjoy the many other Christmas activities in Berlin during the Advent season.
Don't forget to follow me on Instagram to keep up with my daily adventures in Berlin and beyond!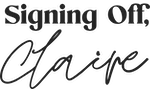 More Places to Visit in Germany at Christmas: