The Gendarmenmarkt Christmas market is without a doubt the best in Berlin! Its focus on handmade arts and crafts, plus the live performances that take place every day make it a unique and utterly magical destination.
This guide has been updated for the 2023 Christmas market season.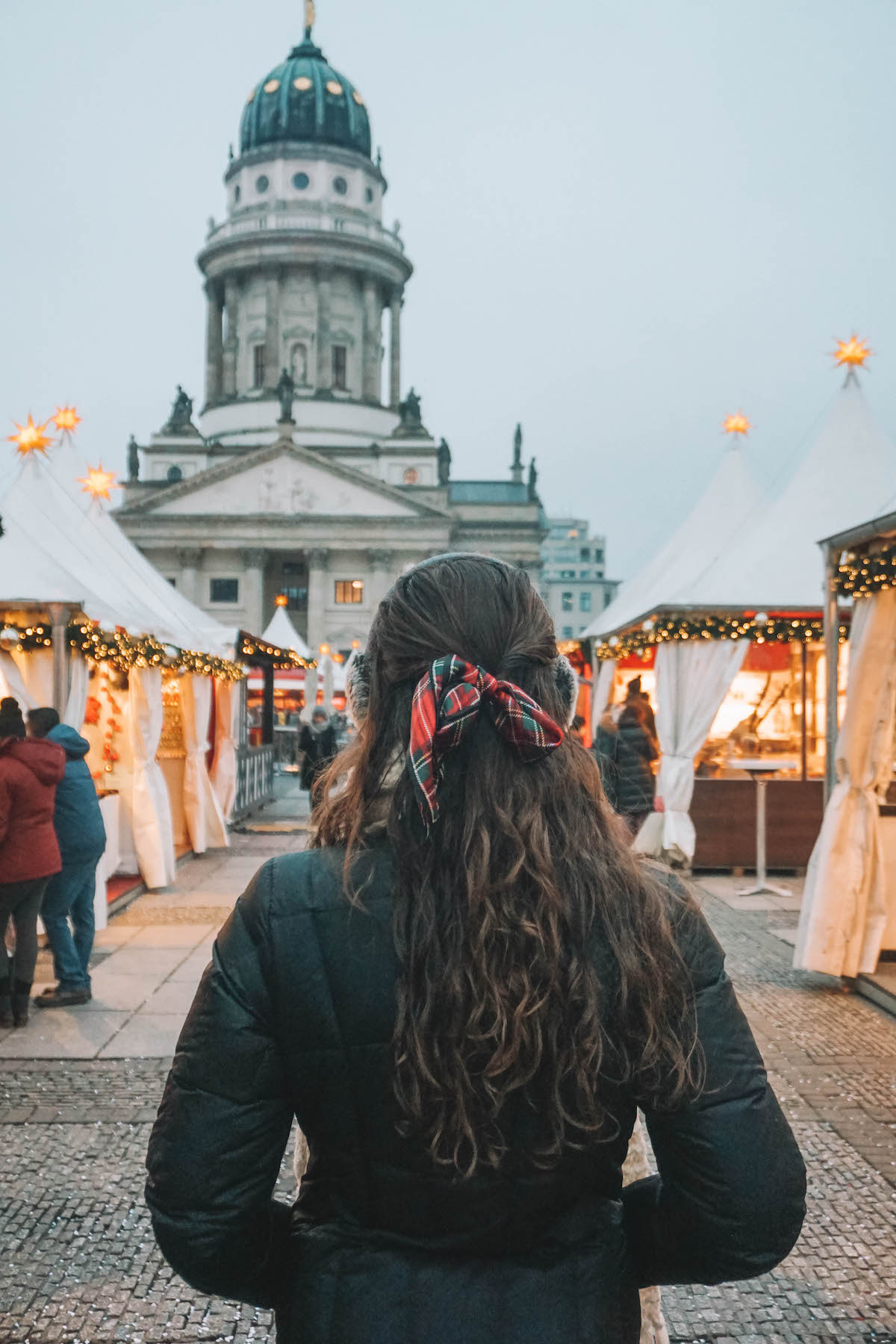 Note: This Christmas market has been relocated to nearby Bebelplatz for the 2023 season. The photos within this post were all taken last year at Bebelplatz — this way you can see exactly what the market will look like in 2023! (Only the featured photo above was taken at Gendarmenmarkt).
Believed by many (including myself!) to be the prettiest square in Berlin, Gendarmenmarkt is the perfect spot to hold one of the city's biggest and best known Christmas markets. Berlin's Gendarmenmarkt Christmas market is officially called WeihnachtsZauber am Gendarmenmarkt, which translates to Christmas Magic at Gendarmenmarkt.
Magical, indeed! A sea of white, star-topped tents are nestled between the former French Protestant and Prussian Lutheran churches on either side of the square, with the regal Konzerthaus in the center.
This Christmas market has a strong focus on local, handmade arts and crafts. It's one of the best places to visit in Berlin if you're looking for unique Christmas gifts for friends and family.
In this guide, I'll walk you through all the practical information you need to know about visiting the Christmas market at Gendarmenmarkt, plus share lots of photos and my thoughts on what makes this market so special.
Table of Contents
Click "show" to see the full table of contents for this post. You can jump around the post as desired by clicking on the individual sections listed below.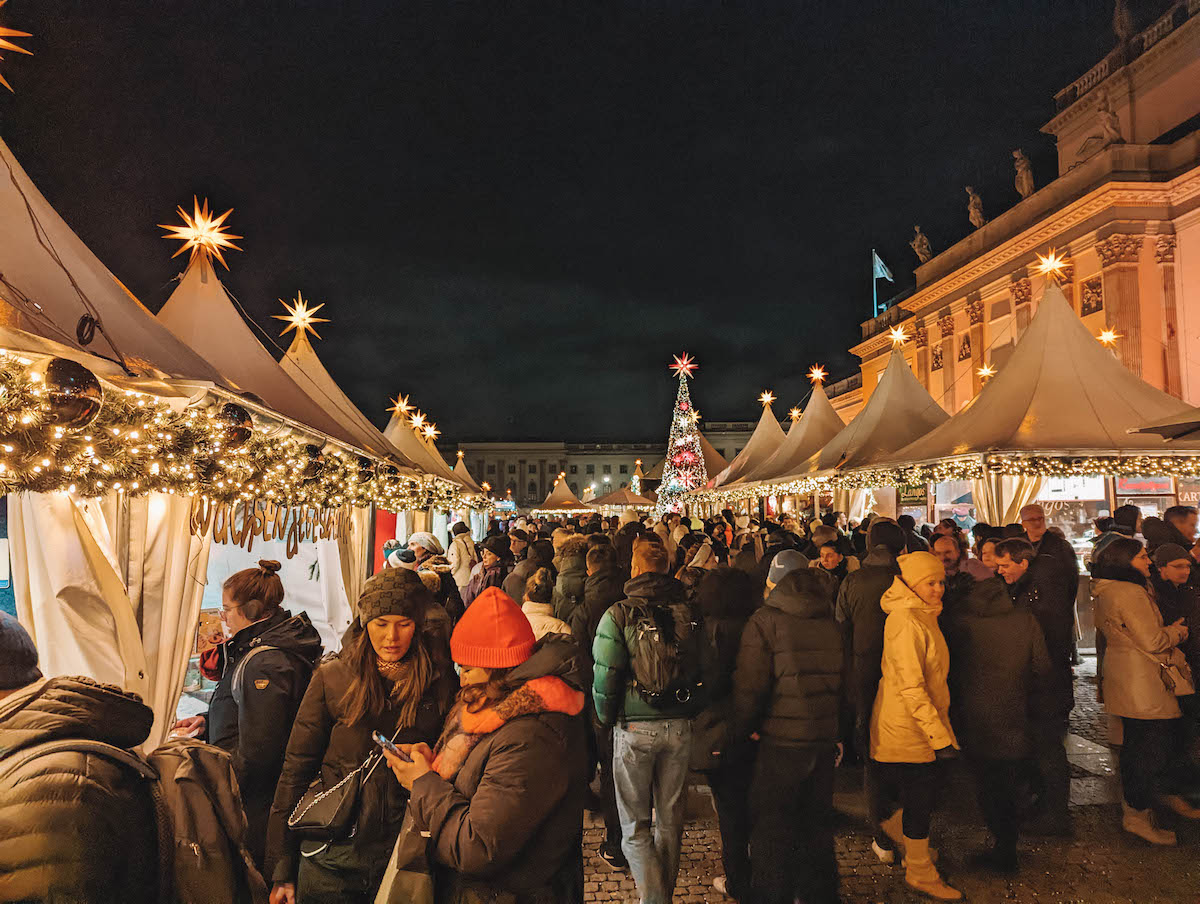 Gendarmenmarkt Christmas Market Dates & Hours
Dates: November 27 – December 31, 2022 
Location: As the name suggests, the Gendarmenmarkt Christmas market usually takes place at Gendarmenmarkt. However, due to ongoing construction work, the market will be held at Bebelplatz this year, near the Staatsoper. The closest U-Bahn stations are U5 Museumsinsel, U2 Hausvogteiplatz or Stadtmitte, and U6 Französische Straße; or take the S-Bahn to Friedrichstraße and walk over.
Entry Fee: 2 Euros
Hours of operation: Sundays through Thursdays 12pm to 10pm, Fridays and Saturdays 12pm to 11pm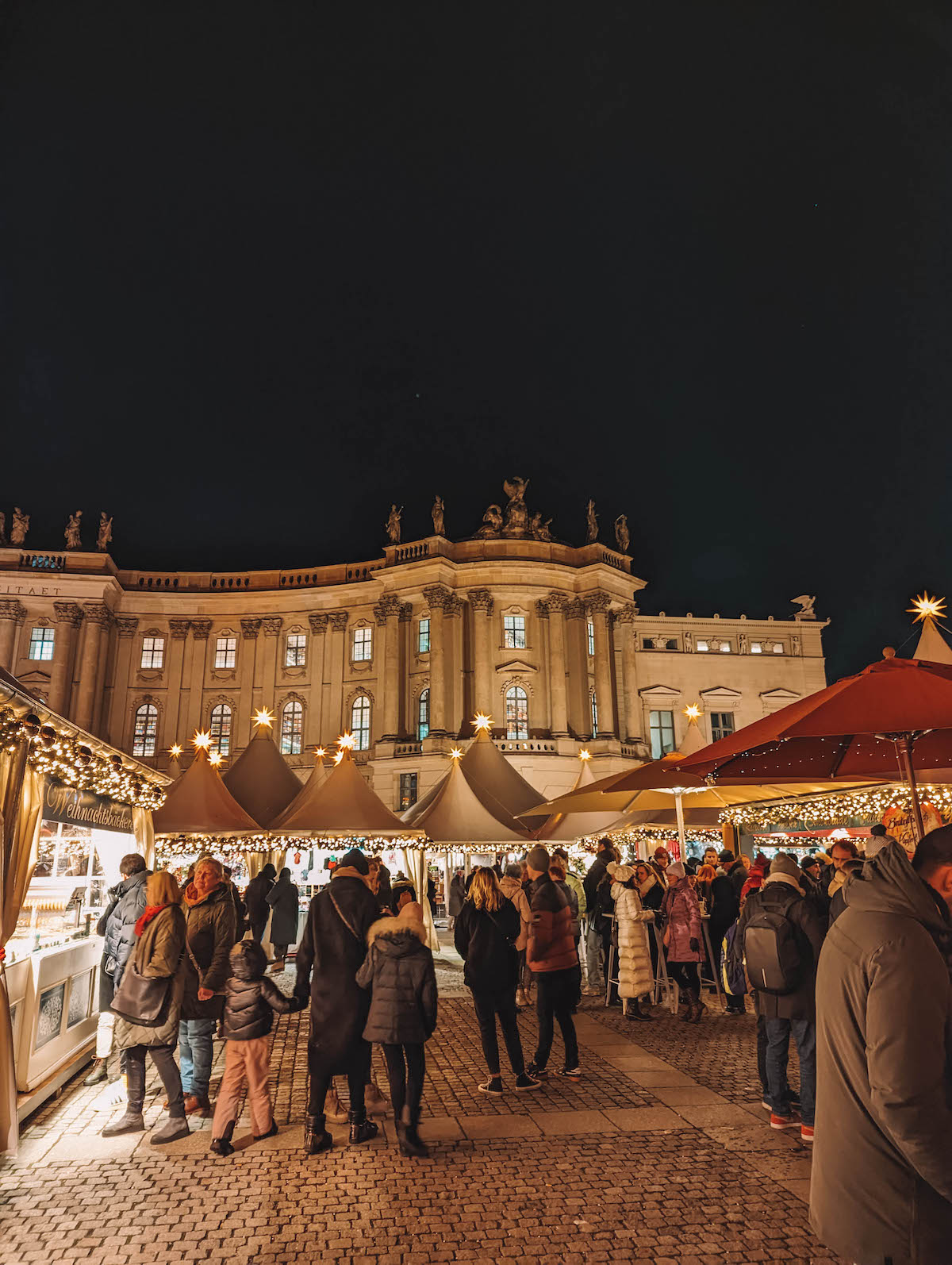 What to Expect at the Gendarmenmarkt Christmas Market (Bebelplatz)
Unlike the city's other markets, there's a small entry fee (2 Euros) to enter the Gendarmenmarkt Christmas market. However, I truly believe that's why this market is consistently amazing year after year!
This Christmas market is comprised of billowing white tents, all topped with light-up stars that cast the most magical glow at night. There's a strong emphasis on handmade arts, crafts, and decorations at the market. You won't find any of the mass produced wares sold at other Christmas markets in Germany here!
In addition to the individual stalls around the square, there's also a much larger tent that houses an indoor arts and crafts market. Last year, I spied jewelry made from mammoth tusks, hand dipped beeswax candles, art prints, handmade home decor, and more inside this tent.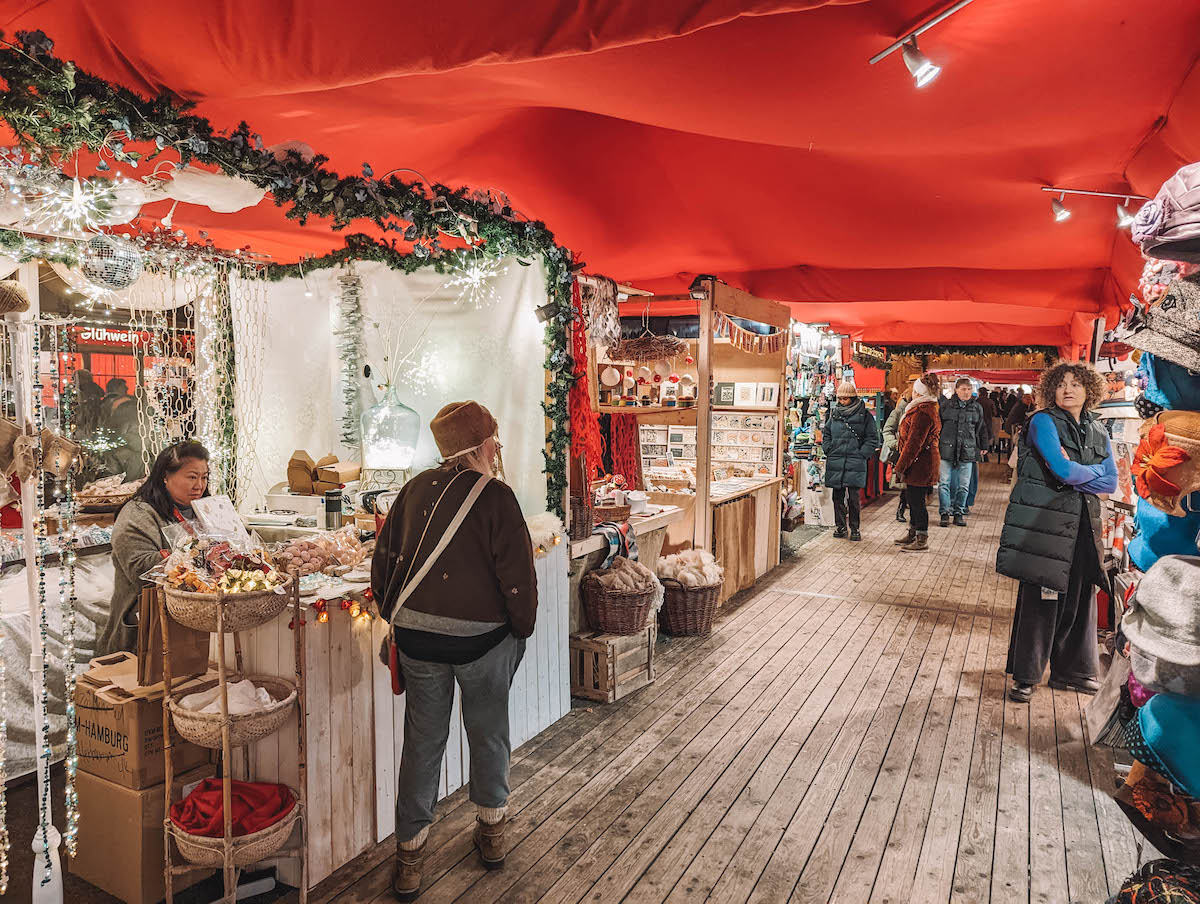 The larger arts and crafts tent also has a sizable bar inside of it, which is perfect for escaping from the rain, snow, or cold weather outside.
In general, the many indoor dining and shopping options at this Christmas market really make it stand out from the others in Berlin.
Most Christmas markets are outdoor-only, so it's great to have a stunning destination like Gendarmenmarkt to visit when you need to sit down somewhere warm without having to sacrifice the festive Christmas atmosphere!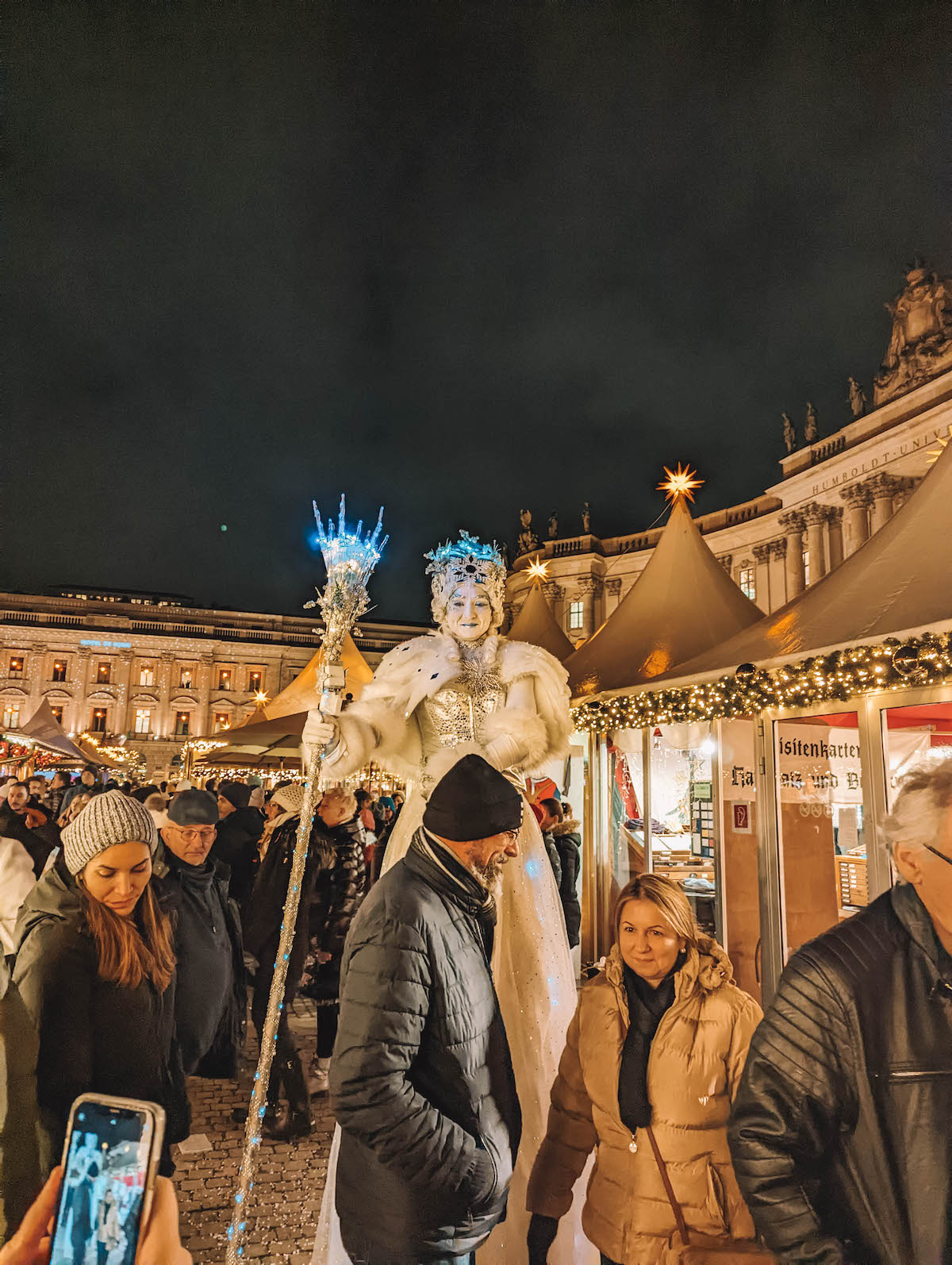 Another main draw of the Gendarmenmarkt WeihnachtsZauber market is the live performances that take place each day. There's a large stage in the middle of the market, with performances by acapella choirs, acrobats, swing dance bands, and more!
There are also special Christmas figures who visit the market each day, including the nutcracker who walks on stilts, the ice queen, and the golden angel. These magical characters are part of what makes this market live up to its name!
What to Eat at the Gendarmenmarkt Christmas Market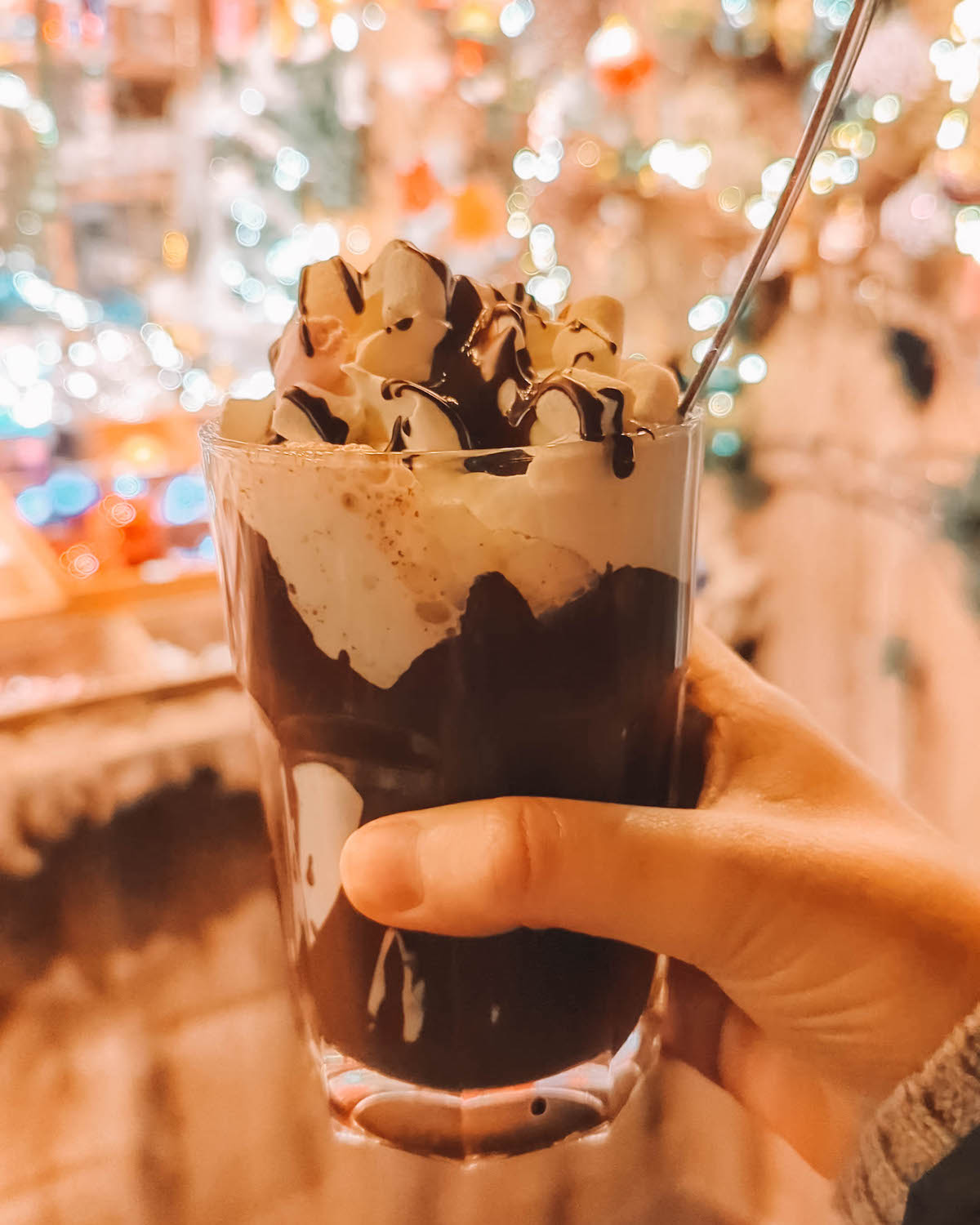 I can't believe it's taken me this long into the post to discuss the BEST part of the Christmas market at Gendarmenmarkt — the food!
In addition to the usual Christmas market fare (roasted chestnuts, mulled wine, candied almonds, etc.), there are specialty restaurant tents that serve up all kinds of international delicacies.
The restaurant tents include:
Lutter & Wegner — Serves German and Austrian dishes.
Kasermandl — Austrian dishes served in a Tyrolean Alpine hut setting.
Edelweiss — Serves Italian dishes.
T-House — Serves traditional Swiss fondue.
I also enjoyed an incredibly decadent hot chocolate last year at the Gendarmenmarkt Christmas market!
There are TONS of foods to eat at German Christmas markets like this one. So many, in fact, that I wrote an entire blog post about what to eat at the Christmas markets! Check out that post for detailed recommendations and accompanying photos.
Practical Tips for Your Visit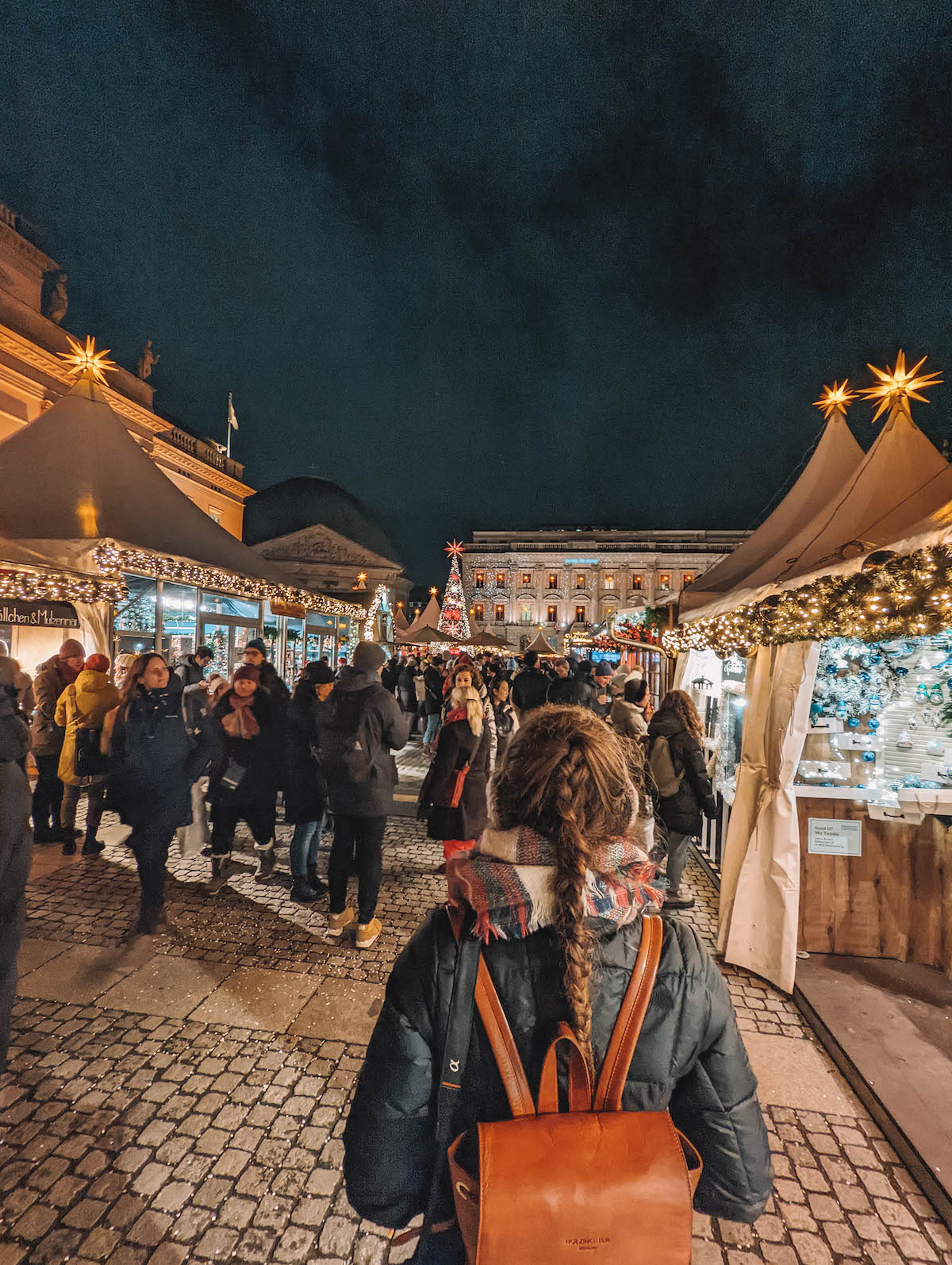 Free entry period: You can visit this Christmas market free of charge Monday to Friday from 11am to 2pm.
Save your mug! If you're on a budget or simply want to extend the festive cheer into the new year, save the mug your mulled wine or hot chocolate is served in. When you buy a drink at any Christmas market, you're required to pay a couple extra Euros as a deposit. When you return the mug, you get your deposit back. Otherwise, you can keep the mug forever!
Bring cash: Some of the artisans at the WeihnachtsZauber market accept card for more expensive gifts, such as jewelry. However, most of the food stalls are cash-only.
Wear layers: It may not snow much in Berlin, but the perpetually gray skies make it feel brutally cold. Wear lots of layers, or prepare to buy some at the Christmas market!
Arrive early to avoid crowds: The Christmas market at Gendarmenmarkt gets very crowded after 5pm during the work week and by late afternoon on the weekends. Arrive early to take photos and shop around if the crowds will bother you.
FAQs About the Gendarmenmarkt Christmas Market
Still have questions about visiting the Christmas markets in Berlin, Germany? I have an entire blog post sharing my general tips for visiting the German Christmas markets.
Where Is the Gendarmenmarkt Christmas Market Taking Place This Year?
WeihnachtsZauber Gendarmenmarkt will once again be held at Bebelplatz this year due to ongoing construction work at Gendarmenmarkt.
When Is the Best Time to Visit?
To avoid the worst of the crowds, visit during the work week and preferably in the morning or afternoon. However, the market looks the most festive at night when you can see the Christmas lights.
How Much Time Is Needed at This Christmas Market?
You can easily spend 2 hours at the market simply browsing the stalls and trying various foods!
Are Dogs Allowed at This Christmas Market?
No, dogs aren't allowed inside the Gendarmenmarkt WeihnachtsZauber market (unless they're guide dogs, of course!).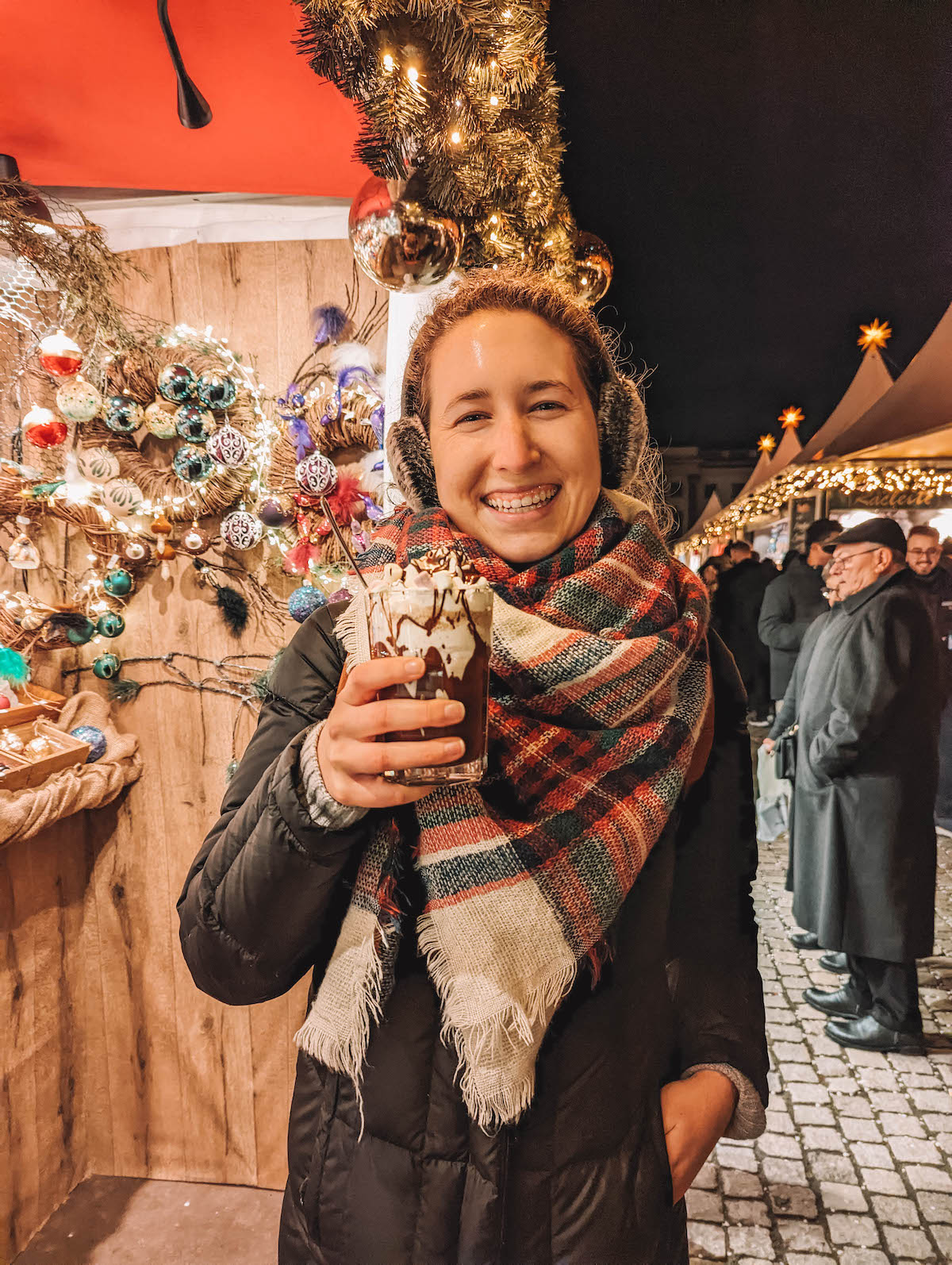 What Other Christmas Markets Are Near Gendarmenmarkt?
You can walk to the Christmas markets at Alexanderplatz and the Town Hall from Gendarmenmarkt. The market at the Town Hall (Rotes Rathaus) is my other favorite in Berlin! Another market that's nearby is at Potsdamer Platz.
What Else Is There to Do Near Gendarmenmarkt?
Gendarmenmarkt is in the heart of the city, so there's lots to keep you busy before or after you visit the Christmas market. Some activities near Gendarmenmarkt include:
Rausch Schokoladenhaus (best hot chocolate in Berlin!)
Unter den Linden
Brandenburg Gate
Holocaust Memorial
Friedrichstraße (popular shopping street)
German History Museum
Museum Island
Berlin Cathedral
Oranienburger Straße (has lots of shops and cafes)
Is the Gendarmenmarkt Christmas Market Open After Christmas?
Yes! The Christmas market at Gendarmenmarkt is open until December 31, 2023.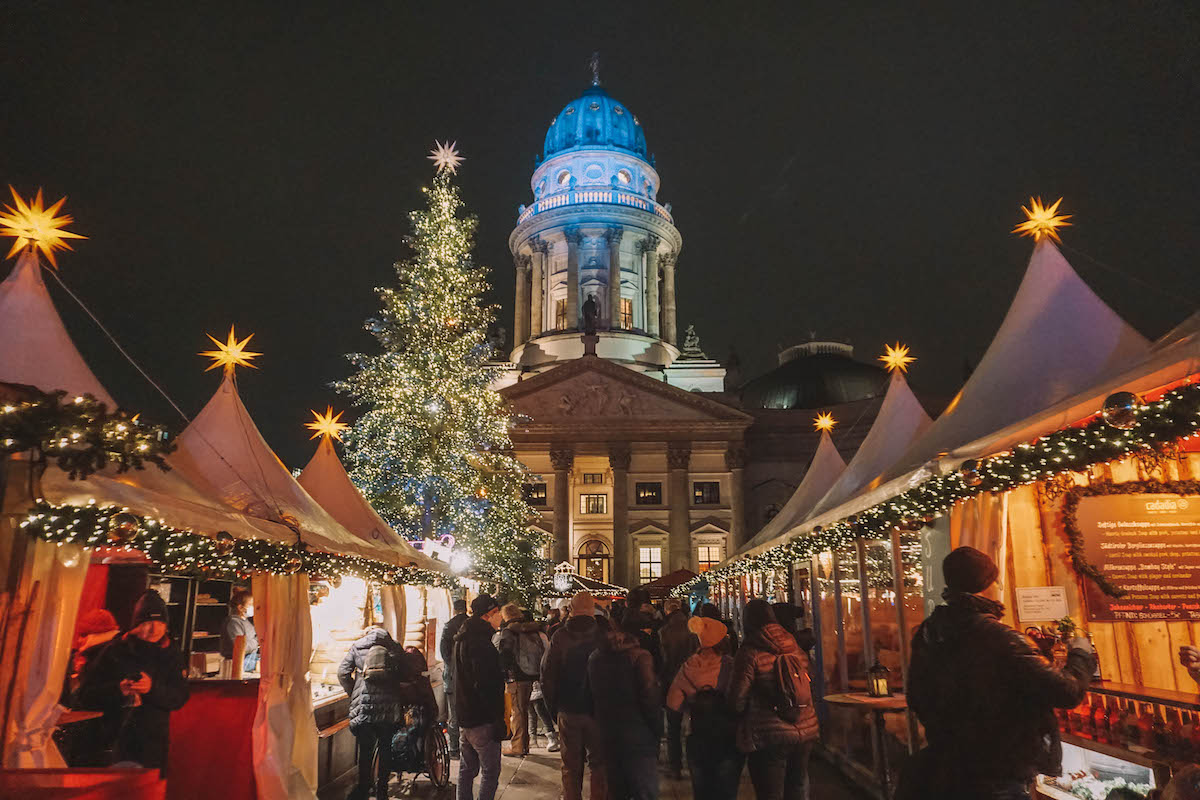 Excited for Christmas Market Season?!
If you find yourself in Germany's capital city this December, I highly recommend visiting the Gendarmenmarkt Christmas market! It's one of my all-time favorite Christmas markets, and I've visited quite a few by this point.
For more recommendations on things to do this Christmas, check out my full Berlin Christmas activities guide.
Don't forget to follow me on Instagram to keep up with my daily adventures in Berlin and beyond!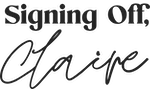 More Germany Christmas Market Guides: