Heidelberg is a small university town in southern Germany with some of the coziest Christmas markets. Here's all you need to know about them!
This post has been updated for the 2023 Christmas market season.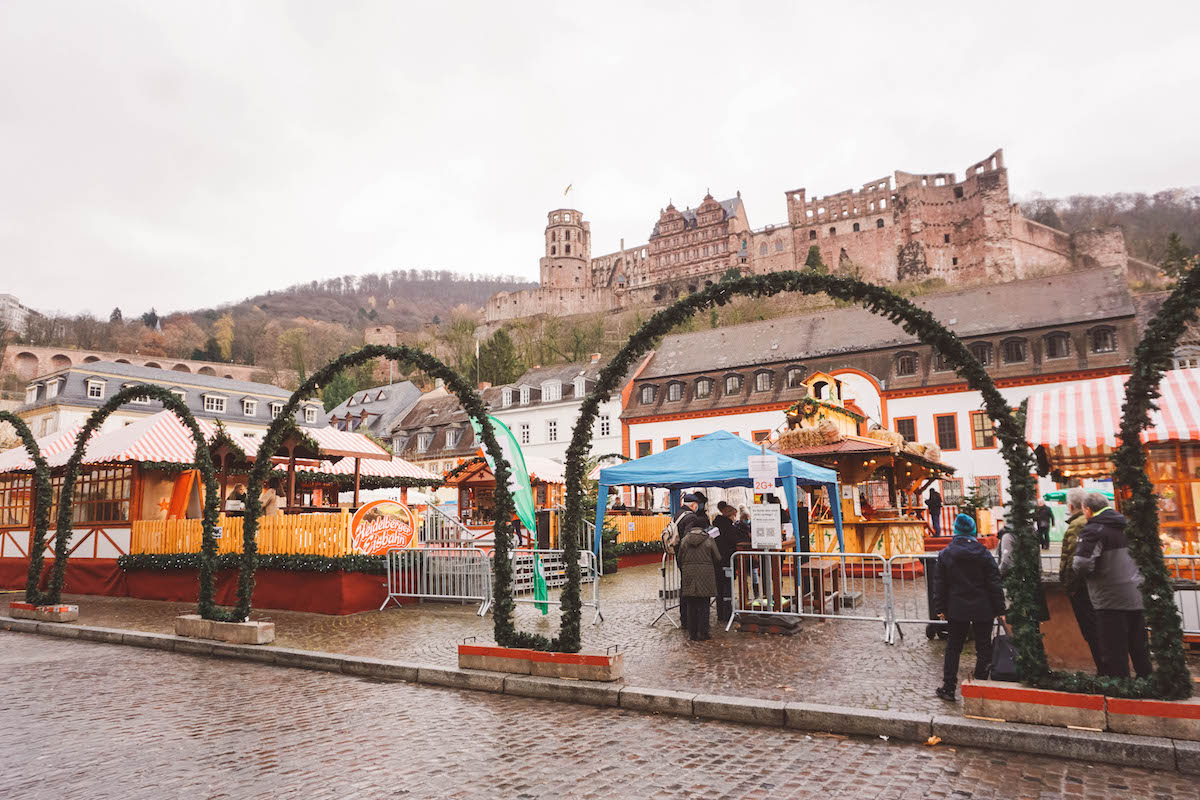 Heidelberg is known for having the oldest university in Germany as well as being home to the ruins of a 13th century castle. What Heidelberg is not known for are its Christmas markets — hopefully I can change your mind about that in this post!
The Heidelberg Christmas markets (Heidelberger Weihnachtsmärkte) aren't extensive, nor are they "The Best" in all of Germany. But the Old Town provides the most incredible backdrop for the markets, and the atmosphere felt extra cozy. As such, I still highly recommend visiting them if you find yourself in western Germany in December!
This blog post will walk you through Heidelberg's Christmas markets, including what to expect during your visit and why they're worth visiting.
Table of Contents
Click "show" to see the full table of contents for this post. You can jump around the post as desired by clicking on the individual sections listed below.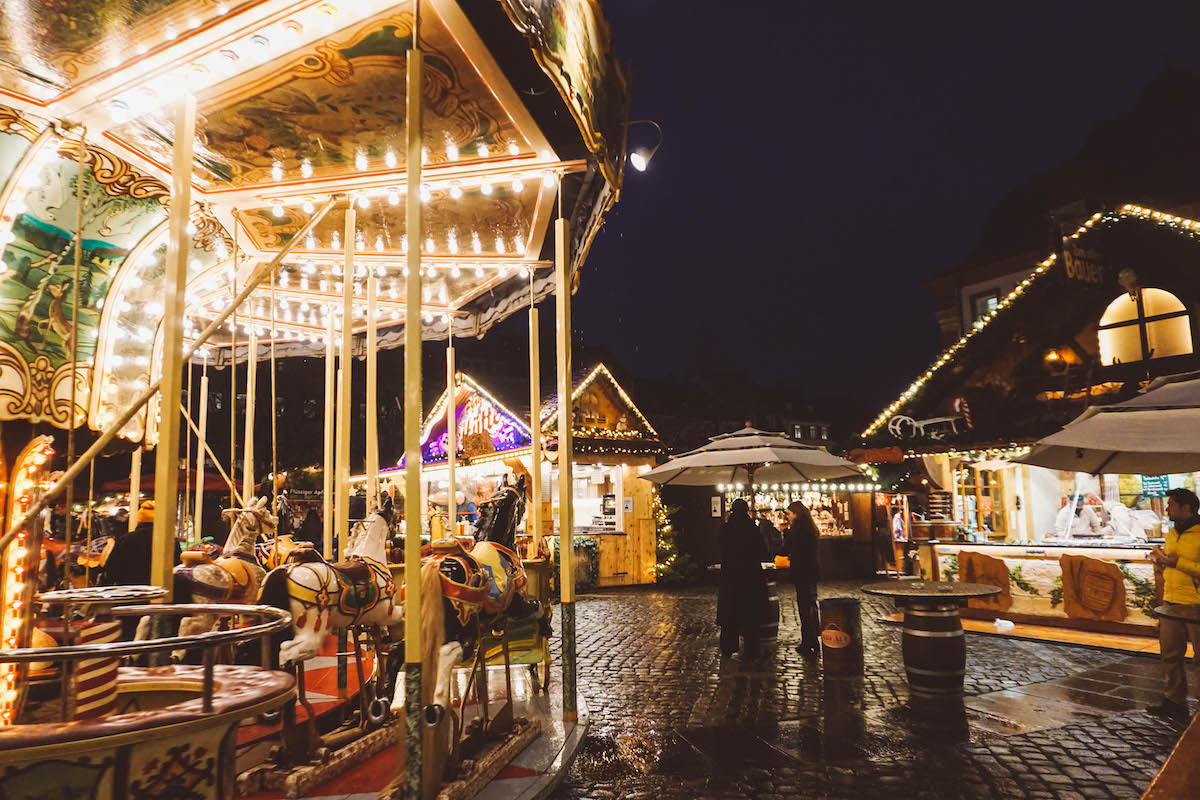 Heidelberg Christmas Market Dates, Location & Hours [2023]
Dates: The Christmas markets in Heidelberg will be open from November 27 through December 22, with the ice rink at Karlsplatz open until January 7, 2024 and the Winter Forest (Winterwäldchen) at Karlsplatz open until January 1, 2024. The markets will be closed on December 24th.
Locations: There are small Christmas markets scattered throughout the city center. You'll find the markets at: Universitätsplatz, Marktplatz, Kornmarkt, Karlsplatz, Anatomiegarten, and Bismarckplatz.
Hours: Sunday to Friday 11am – 9pm; Saturday 11am – 10pm
Map of the Heidelberg Christmas Market Locations
What to Expect at the Heidelberg Christmas Markets
Rather than one large Christmas market, Heidelberg has several, smaller markets. The markets are all located in the Old Town and can easily be accessed on foot.
You can visit the markets on foot in this order: Bismarckplatz, Anatomiegarten, Universitätsplatz, Marktplatz, Kornmarkt, Karlsplatz. For the full market experience, I recommend visiting them after dark to see the lights and enjoy a fuller market.
Heidelberg at Christmas is truly magical! Here's what you can expect when visiting the Weihnachtsmärkte in Heidelberg.
Universitätsplatz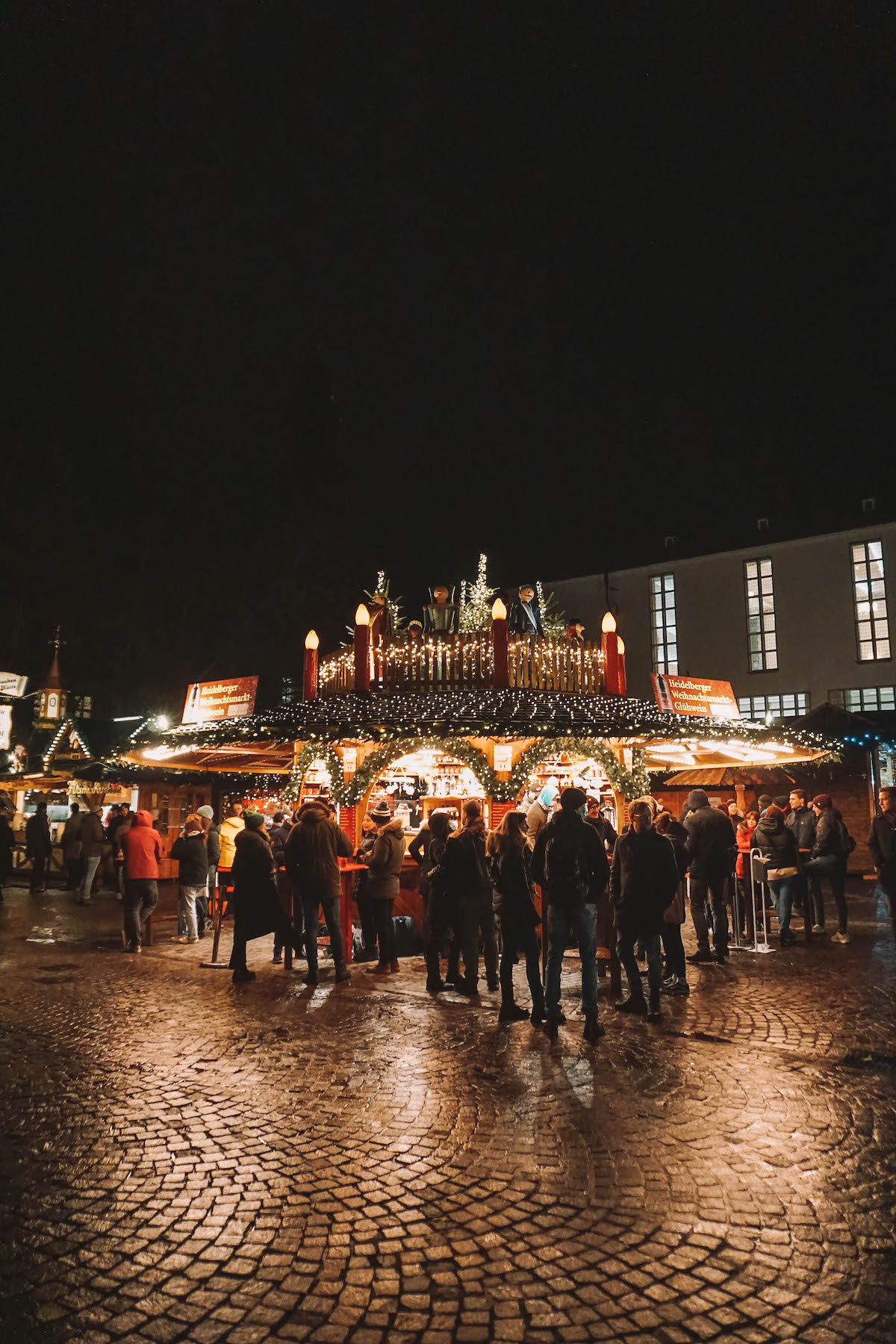 The Christmas market at Universitätsplatz was my favorite of them all, and it also happened to be the biggest!
There are lots of Christmas market foods to try at this market. Some of my favorite regional treats included Schneebällchen (deep fried cookie balls), Schokoküssen (chocolate-covered marshmallow bites), and Dampfnudeln (sweet yeast rolls topped with vanilla sauce or berries).
In addition to the good eats, this Heidelberg Christmas market also has lots of stalls selling handmade goods. There was a great sheepskin stall with slippers and throws, another stall with light-up paper stars that you can hang from the ceiling, and quite a few stalls selling hand painted ornaments. Some of the non-traditional wares included spoon jewelry, beeswax candles, and packets of spices.
For the littles, there's a carousel in the center of the market.
Tip: After feasting and shopping to your heart's content, make sure to visit the nearby Heidelberg Christmas store, Käthe Wohlfahrt. It's part of a beloved German chain that sells the most beautiful Christmas decorations and gifts year-round, and it's located just off of Universitätsplatz!
Marktplatz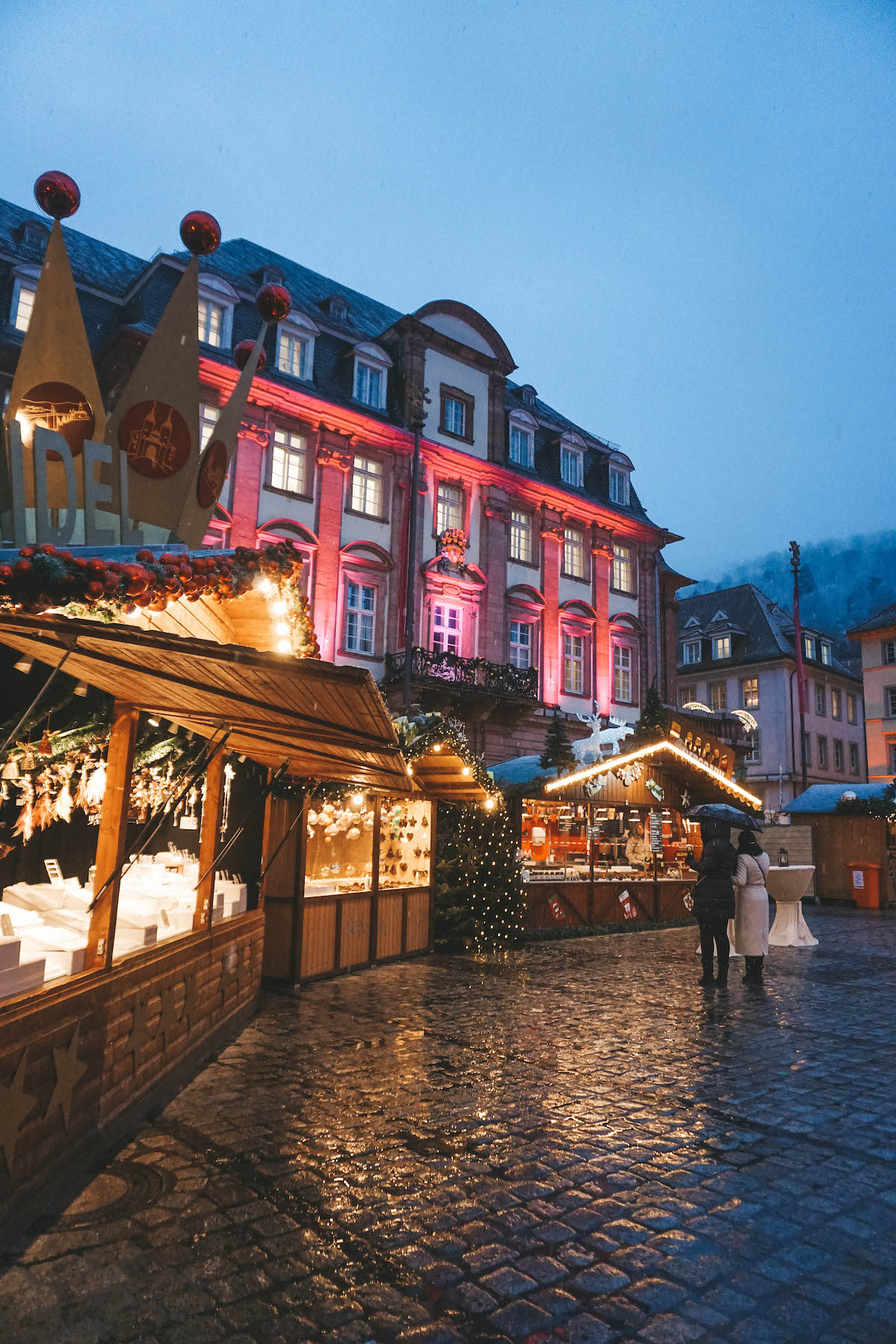 The second largest Christmas market in Heidelberg is located at the Marktplatz. It's a much smaller square, so there are fewer food and shopping options. However, the atmosphere is magical. One one side of the square looms the Church of the Holy Spirit, and the other side is dominated by the Bürgeramt building.
The few stalls at the Marktplatz Christmas market selling gifts had wares like ornaments, jewelry, and candle holders.
The most eye-catching feature of this Christmas market is the giant barrel near the entrance. The barrel can hold up to 120,000 liters, but it's actually empty inside. You can rent out the barrel to enjoy your meal or drinks inside!
If the market at Universitätsplatz is too crowded for your liking, wander over to the Marktplatz for a more laid back experience.
Kornmarkt Winterwäldchen (Winter Forest)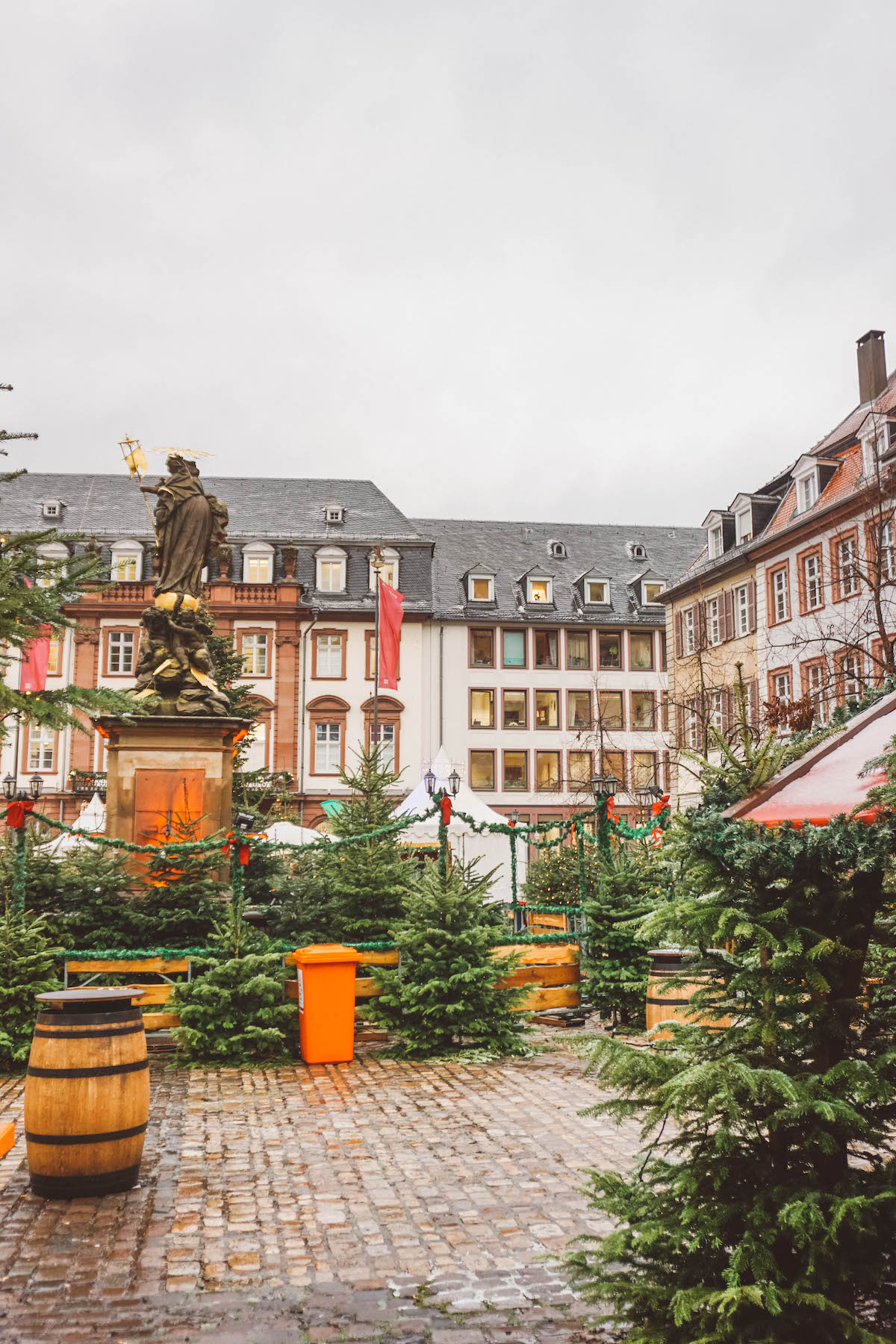 The Christmas market at the Kornmarkt is very small, so I didn't spend much time there. However, it's arguably the most picturesque of all the Heidelberg Christmas markets!
From the Kornmarkt, you have a perfect view of the ruins of Heidelberg Castle up on the hill. The baroque Mareinsäule fountain is stacked with Christmas trees, and at night the fountain is lit up. There are even more Christmas trees lining the market, which makes the Kornmarkt feel extra cozy in the evening.
If you just want to grab a Glühwein and chat with friends (or enjoy your own thoughts!), come to the market at Kornmarkt. During the week I was in Heidelberg, I never saw this market fill up!
Karlsplatz (+ Ice Rink)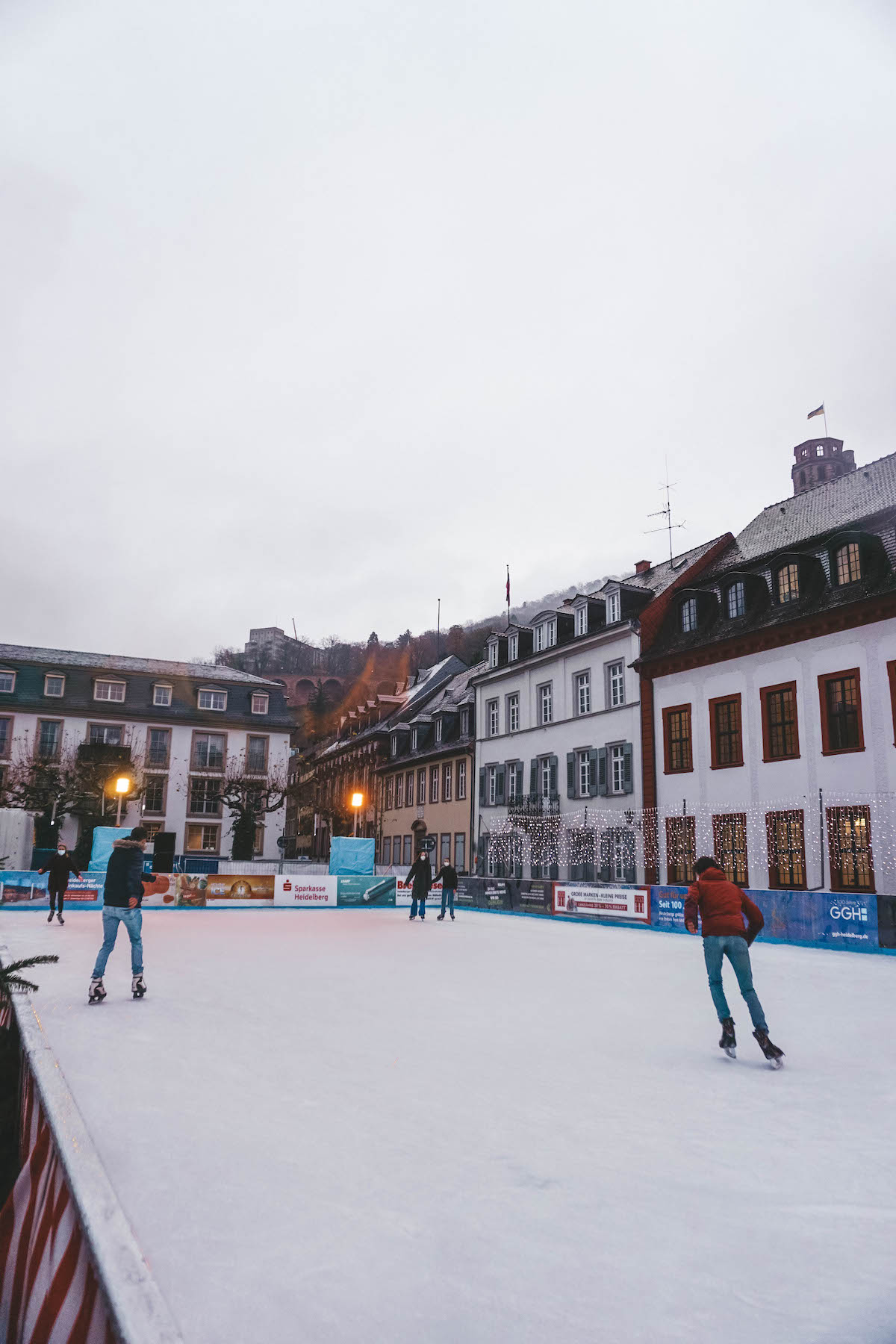 Although it's listed as such on the Heidelberg website, I don't actually consider the Christmas market at Karlsplatz to be a proper Christmas market. There are a handful of food stalls there, but I didn't see any trinkets for sale.
Instead, the main attraction of the Karlsplatz market is the ice rink. It's a small ice rink, but it's got a clear view of Heidelberg Castle, even at night.
The ice rink tends to fill up at night, so if you want to go skating I recommend going during the daytime. Note that you can rent skates at the market, but they're not cheap!
Other Christmas Markets in Heidelberg
There are two other Heidelberg Christmas markets that typically run throughout December, but they were closed in 2021 when I first visited due to Covid restrictions.
Those two markets can be found at Anatomiegarten and Bismarckplatz. Since I wasn't able to visit those markets myself, I can't speak to their pros and cons.
Oh darn, I guess that means I'll have to return to Heidelberg this year!
Are the Heidelberg Christmas Markets Worth Visiting? My Honest Feedback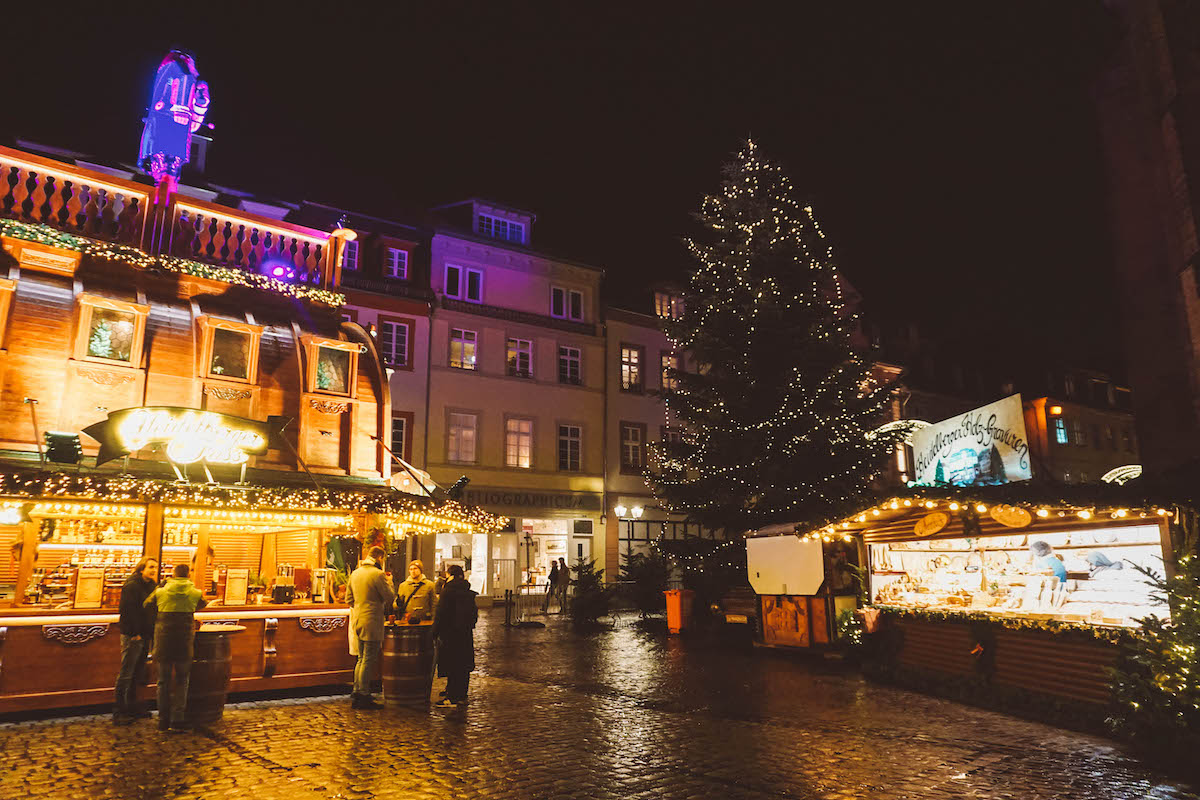 If you've been to larger Christmas markets in Germany (like those in Cologne, Aachen, or Munich), you may be thinking to yourself that tiny Heidelberg isn't worth visiting come Christmastime. To that point, I'll admit that the markets in Heidelberg aren't very big or fancy, but gosh I loved them!
I first visited them during the daytime on a work day and thought I'd made a huge mistake in coming to Heidelberg. The markets were practically empty and seemed less than magical.
But when I returned after nightfall, my mind was totally changed. I got the vibe that not many tourists come to Heidelberg for the Christmas markets, yet I heard many languages being spoken at them. Perhaps it was the university students who couldn't fly home for the holidays?
The markets here were some of the coziest I visited last December, despite being small and rather unassuming in appearance. Maybe I was just infected with the festive spirit during my visit, I don't know.
Whatever the reason, I loved the Heidelberg Christmas markets, and when combined with day trips to other markets in the area I think this beautiful university city is well worth visiting during the holidays! 
What to Eat at a German Christmas Market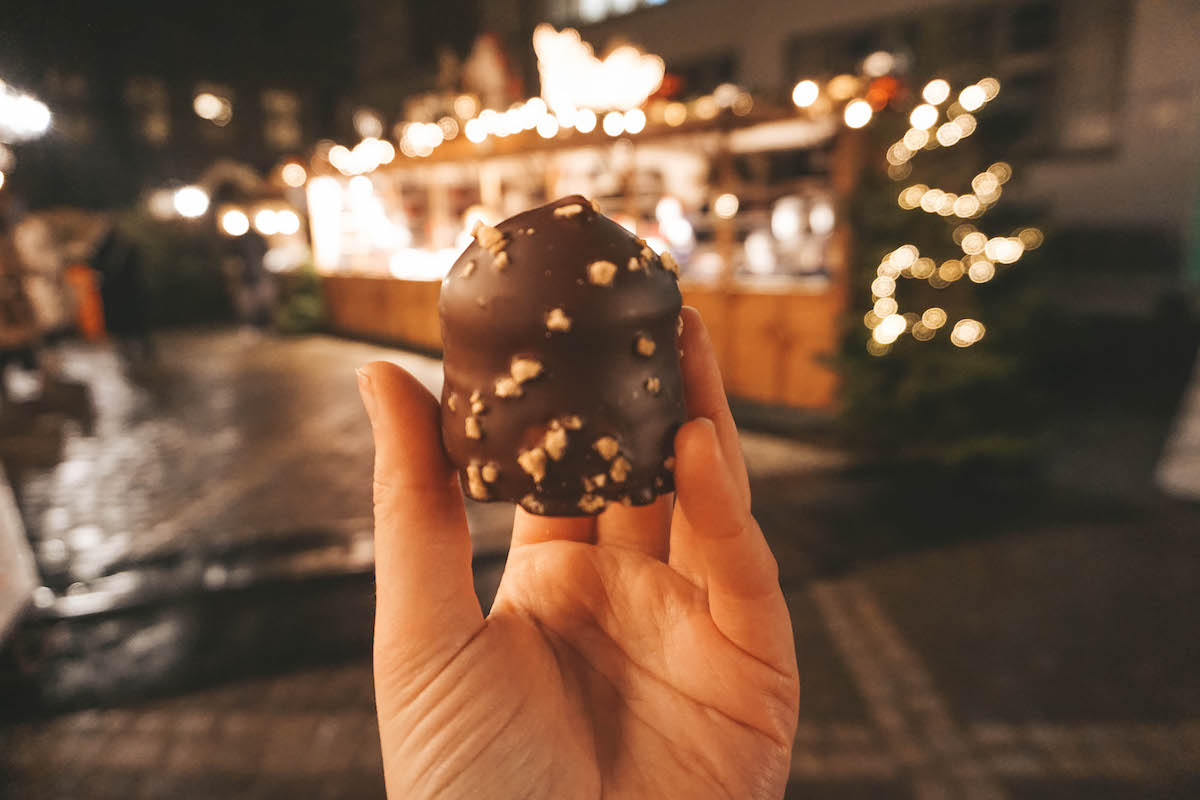 EVERYTHING.
Sorry, that's not helpful, is it? I've already mentioned a few regional specialties in this blog post (Schneebällchen, Schokoküssen, Dampfnudeln), but there are lots more foods and drinks to try at the German Christmas markets.
I recommend reading my full blog post on What to Eat at a German Christmas Market; I've shared over 25 foods to try in that post, so that should keep you busy for a while!
Tips for Visiting the Heidelberg Christmas Markets in 2023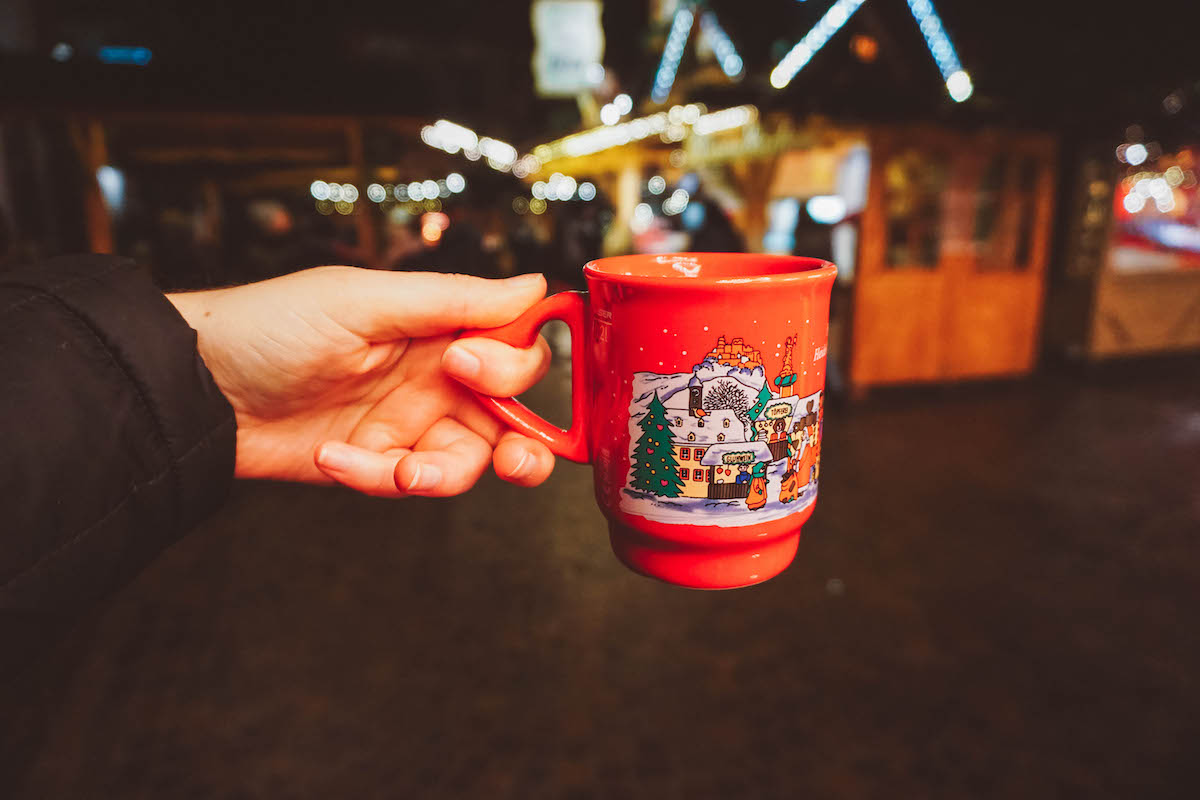 Bring cash — And lots of it! You won't be able to pay with card anywhere. Also make sure to have small coins on hand to pay for the on-site toilets.
Wear warm layers — It was snowy and windy when I visited Heidelberg. Definitely pack more layers than you think you'll need, the wind off the river can be brutal!
Visit after dark — I first visited the markets in broad daylight and they were somewhat lackluster. Visit after nightfall for the full Christmas market experience!
Expect lines — Especially if you're traveling during Covid times when the number of market goers is limited.
FAQs About the Christmas Markets in Heidelberg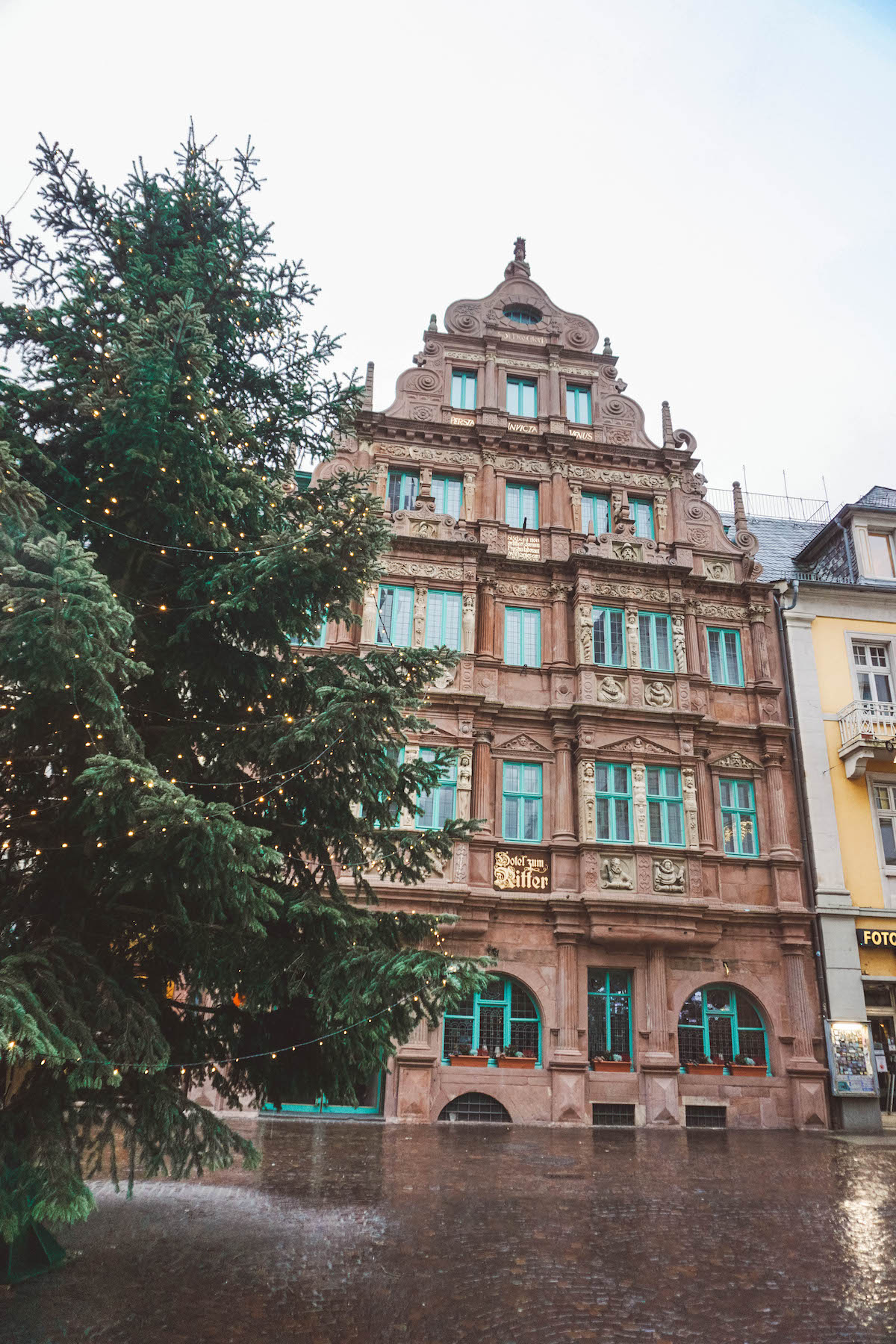 Are the Heidelberg Christmas markets open on Christmas Eve or Christmas Day?
The Christmas markets will all close on December 22, 2023 — so no, they will not be open. However, the ice skating rink (Karlsplatz) and Winter Forest (Kornmarkt) will be closed on December 24th but open on December 25th.
How much time is needed at the markets?
I stayed in Heidelberg for one week and took lots of day trips to other markets in the area. However, I still spent time each day at the markets in Heidelberg and never got tired of them.
With that being said, I think two nights in Heidelberg would be perfect! That way, you have enough to see the city's main attractions and you can leisurely visit each of the Christmas markets over the course of two evenings.
Is there a Christmas market at Heidelberg Castle?
Nope! There used to be a Christmas market at Heidelberg Castle, but there's not one anymore. Huge bummer, I know!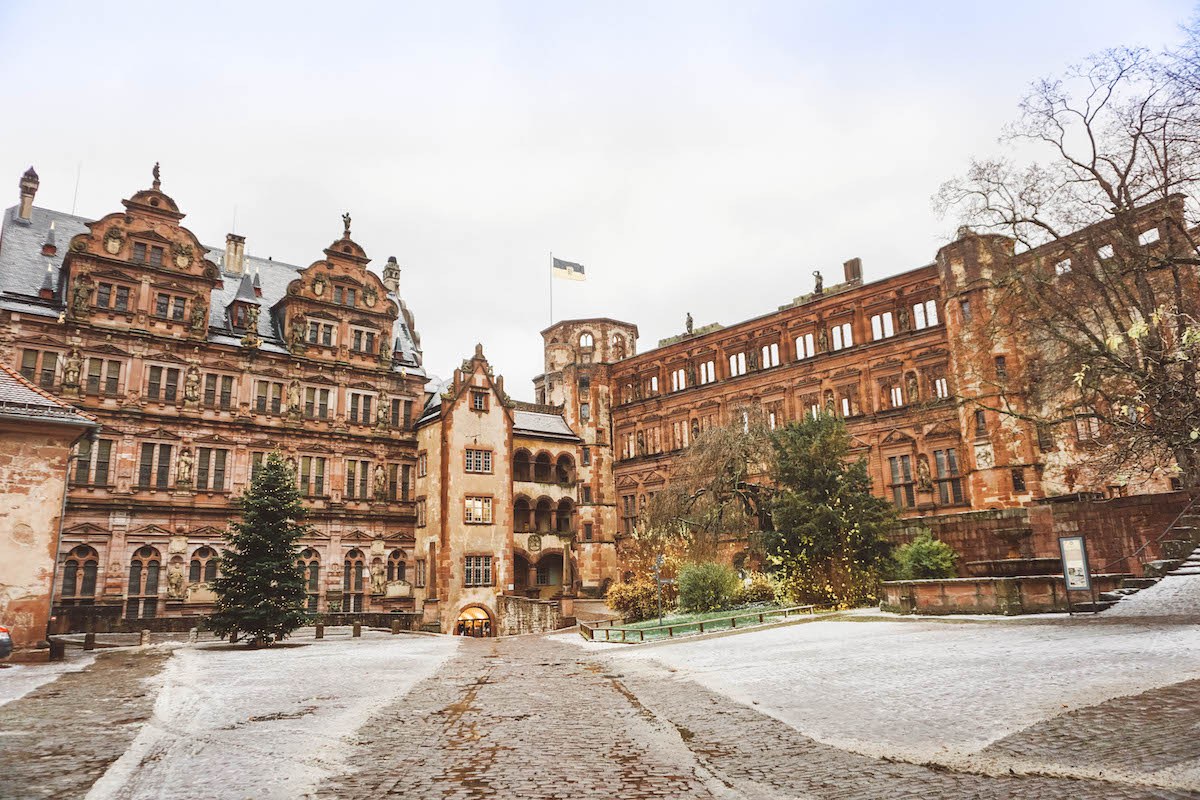 What other Christmas markets are near Heidelberg?
Other Christmas markets near Heidelberg that I visited included: Mannheim (not my favorite) and Mainz (LOVED). Heidelberg is smack in between Frankfurt and Stuttgart, both of which are supposed to have lovely markets.
What's the best way to get around Heidelberg?
On foot! The city center is very walkable and you can easily flow from one Christmas market to another on your own two feet. (Much of the Old Town area is pedestrian-only and it's flat, so if you're on crutches or in a wheelchair the Christmas markets in Heidelberg would also be an easy option for you.)
What else is there to do in Heidelberg?
How funny that you should ask that seeing as I have a full guide on what to do in Heidelberg! There's lots more to do and see in Heidelberg than just the Christmas markets, which is yet another reason why I recommend this city around the holidays.
For more general information on what to expect when visiting a German Christmas market, read my full tips and FAQs guide.
Heidelberg, You Have My Heart!
Heidelberg is worth visiting no matter the season, but it's extra special around the holidays. I loved my visit to the Heidelberg Christmas markets and will cherish my memories forever!
If you have any questions about visiting Heidelberg, Germany or its Christmas markets, leave me a comment below.
Don't forget to follow me on Instagram to keep up with my daily adventures in Berlin and beyond!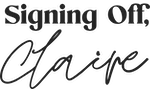 More Germany Christmas Market Guides: