This beautiful Bavarian city along the Danube River has one of the BEST Christmas markets in all of Germany. This guide provides honest reviews of all of the Christmas markets in Regensburg, plus practical info such as dates, locations, and more.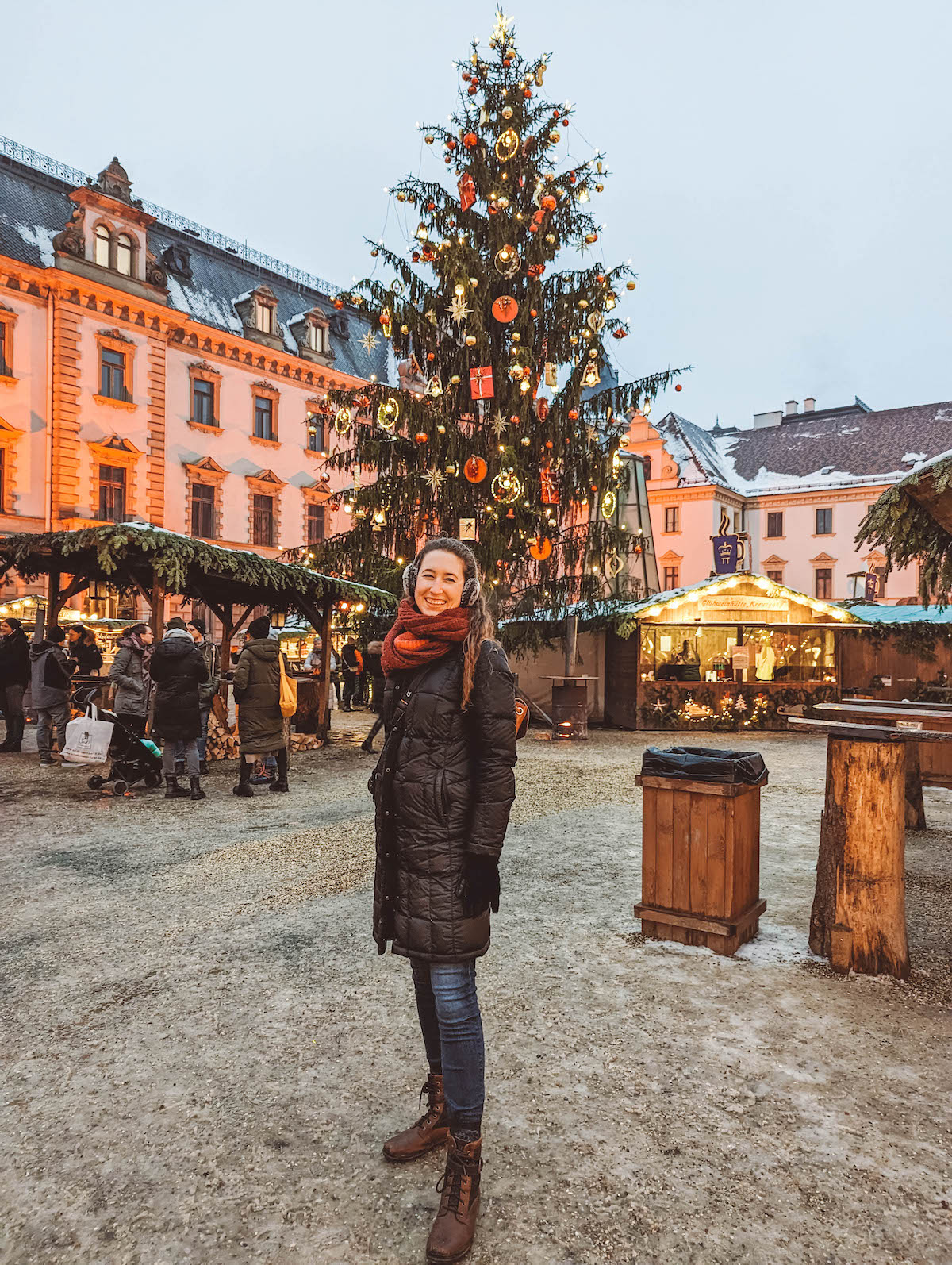 Regensburg is one of Bavaria's lesser-known gems. The city's prime location along the Danube River, coupled with its beautifully preserved medieval city center, make it a wonderful addition to any German Christmas market trip.
With that being said, although I very much enjoyed the Christmas markets in Regensburg's city center, there's one market in particular in the city that I personally think is the best in the entire country — and I've visited a lot of Christmas markets since moving to Germany in 2019! (Don't worry, I spill all of the details in the blog post below!) 
The purpose of this guide is to share my honest feedback on each of Regensburg's Christmas markets, plus provide you with the practical information needed to easily plan your visit. Don't hesitate to leave me a comment at the end of this post with any questions you might have about visiting Regensburg, Germany Christmas markets this year! 
Tip: If you've never been to Regensburg before, know that you can see the city's top attractions AND most of the Christmas markets on this list in a single day, provided you plan accordingly.
Table of Contents 
Click "show" to see the full table of contents for this post. You can jump around the post as desired by clicking on the individual sections listed below. 
Regensburg Christmas Markets Dates, Locations & Hours [2023]
Dates: The main Christmas market runs from November 27 – December 23, 2023 and the Romantic Christmas Market at Schloss Thurn und Taxis runs from November 24 – December 23, 2023. I've listed the dates for the smaller Christmas markets in Regensburg in the guide below.
Locations: The two main Christmas market locations to know are Neupfarrplatz and Schloss Thurn und Taxis. Additional locations of the smaller markets in the city are provided in the guide below.
Hours: The main Christmas market at Neupfarrplatz is open from 10am daily. The Romantic Christmas Market at Thurn und Taxis Castle is open from 3pm Monday to Friday, and from noon on Saturdays and Sundays.
What to Expect at Regensburg's Christmas Markets
There are four main Christmas markets in Regensburg that you should be aware of, with the two largest being located at Neupfarrplatz and at the Palace of Thurn und Taxis.
I recommend arriving in Regensburg no later than 11am so that you can see the city's main attractions and the free Christmas markets within the city center at your leisure, then heading to the palace just before sunset to spend your evening there.
Romantic Christmas Market at Schloss Thurn und Taxis (My Top Pick!)
Dates and hours: November 24 – December 23, 2023 from 3pm Monday to Friday and from noon on Saturday and Sunday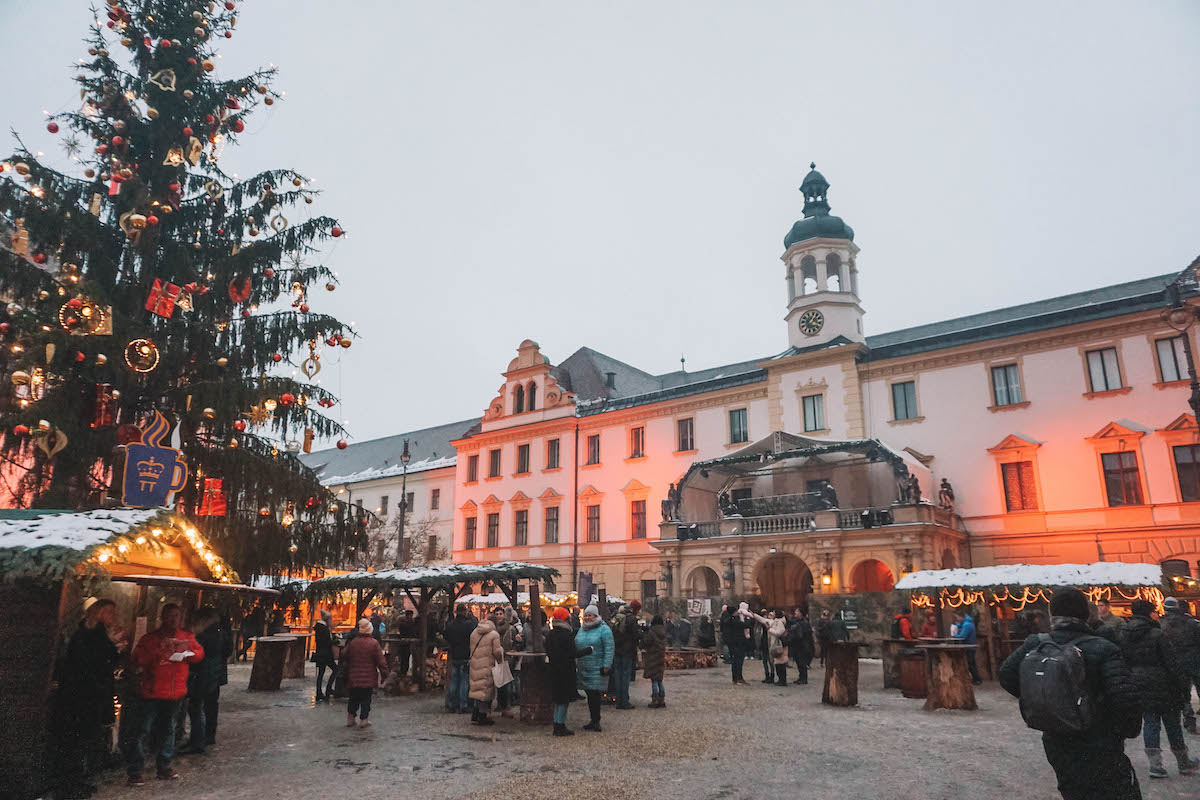 If you thought I was going to make you search through this guide to find out which Christmas market is not only the best in Regensburg, but (in my personal opinion) the best in Germany, think again!
Regensburg's Romantic Christmas Market at Schloss Thurn und Taxis (officially called the Schloss St. Emmeram) is my favorite Christmas market I've ever visited. 
I lead with that thought as a means of assuring you that the steep entry fee of 6 to 12 Euros (depending on what day and time you visit the market) is absolutely worth it!
During Advent, the noble family of Thurn und Taxis (who still live in the castle, by the way!) transform a large portion of their grounds into the coziest of Christmas markets.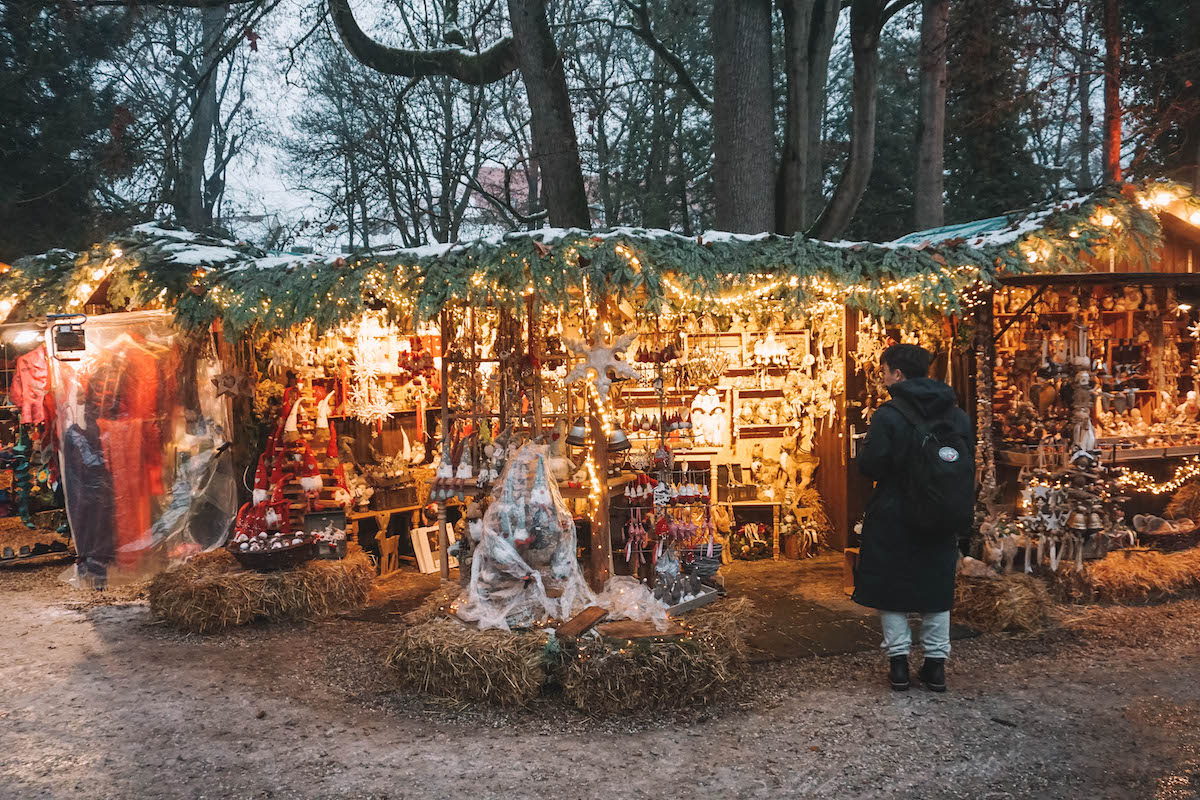 "Romantic" truly is the perfect description for this sprawling market lined with wooden stalls and bedecked with lights. Although this isn't labeled as a medieval Christmas market, it has that Old World flair to it thanks to the incredible attention to detail in the decor, the fire pits scattered throughout the market for warmth and ambience, as well as the many artisans on-site showcasing their trades. 
I especially loved seeing the blacksmith at work — and, yes, I might have spent a good 20 minutes watching him so I had an excuse to warm up next to his fire! During my visit to the Regensburg Castle Christmas market, I also saw basket weavers, candlemakers, glass blowers, turners, and more skilled artisans represented. 
The sizeable fire pits situated within the inner courtyard of the castle performed the triple duty of providing ambient lighting, warmth, and a means of preparing Bavarian dishes. I warmed my frozen fingers around a fire pit being used to heat Feuerzangenbowle, an alcoholic spiced rum punch.
Another fire pit was being used to roast a pig on a spit (again that Old World flair I described!), and the cauldron of soup bubbling over a large fire had a line of people waiting for their portions.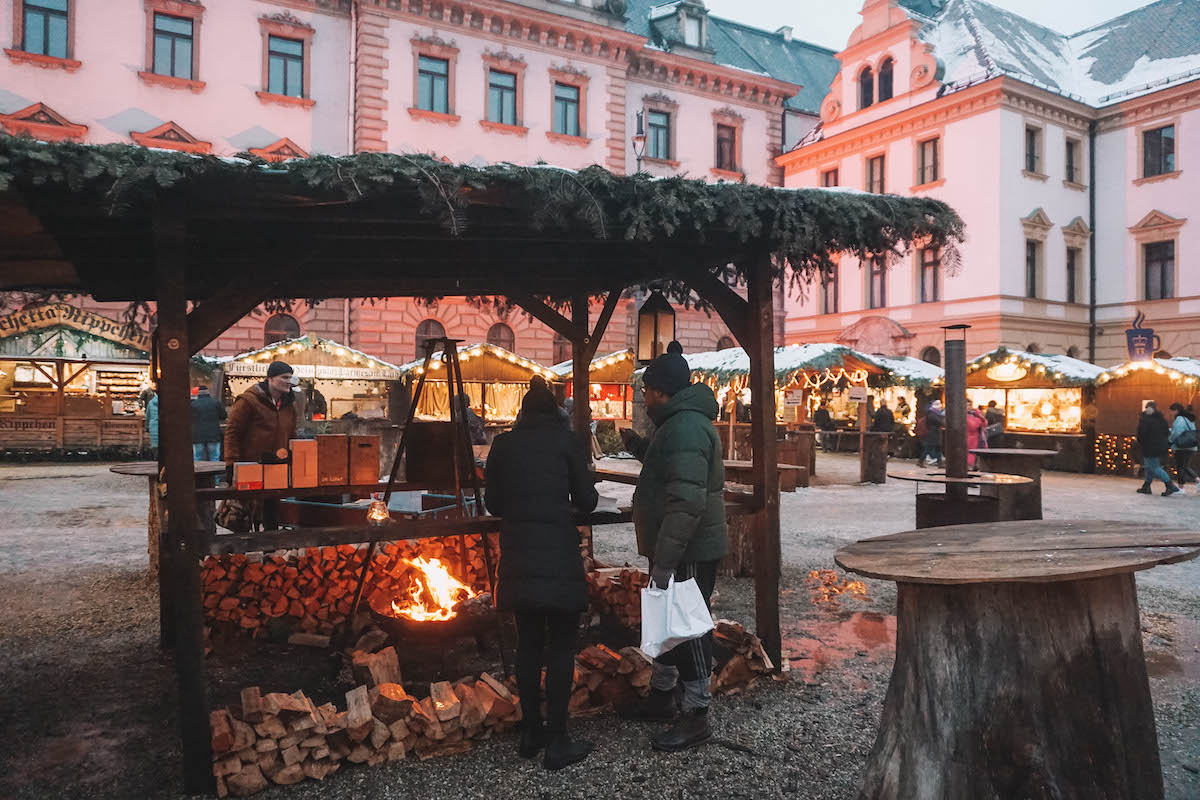 Now for a breakdown of where you can find the various attractions within the Thurn und Taxis Christmas Market:
The inner courtyard houses the stalls of all the craftsmen and artisans. If you want to see the blacksmith at work, for example, come to this section of the market. It's also within this section of the market that you can hear the Christkind address the crowd periodically throughout the evening, sharing messages of joy and community for the Advent season. 
Outside the castle walls, by the east and south wings, is the "Arts and Crafts Village" which is less focused on food and more so on gifts and wares for sale. Furriers, goldsmiths, soap makers, potters, and more are represented in this section of the market.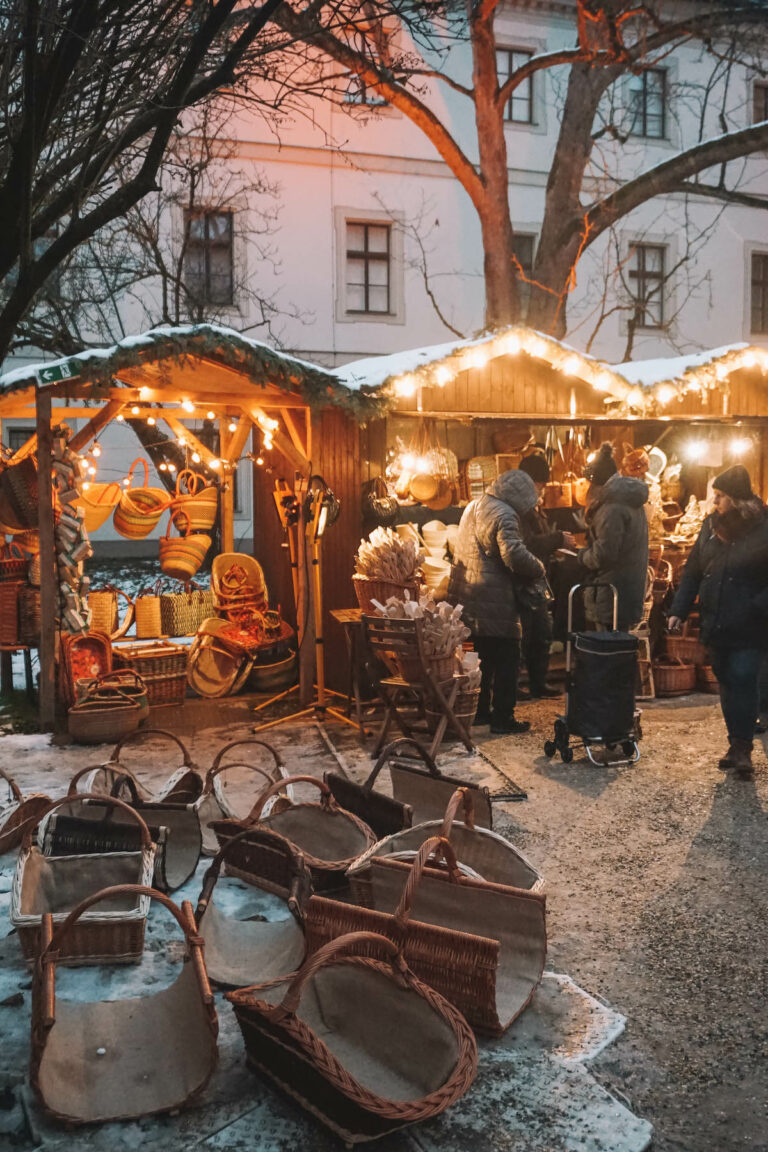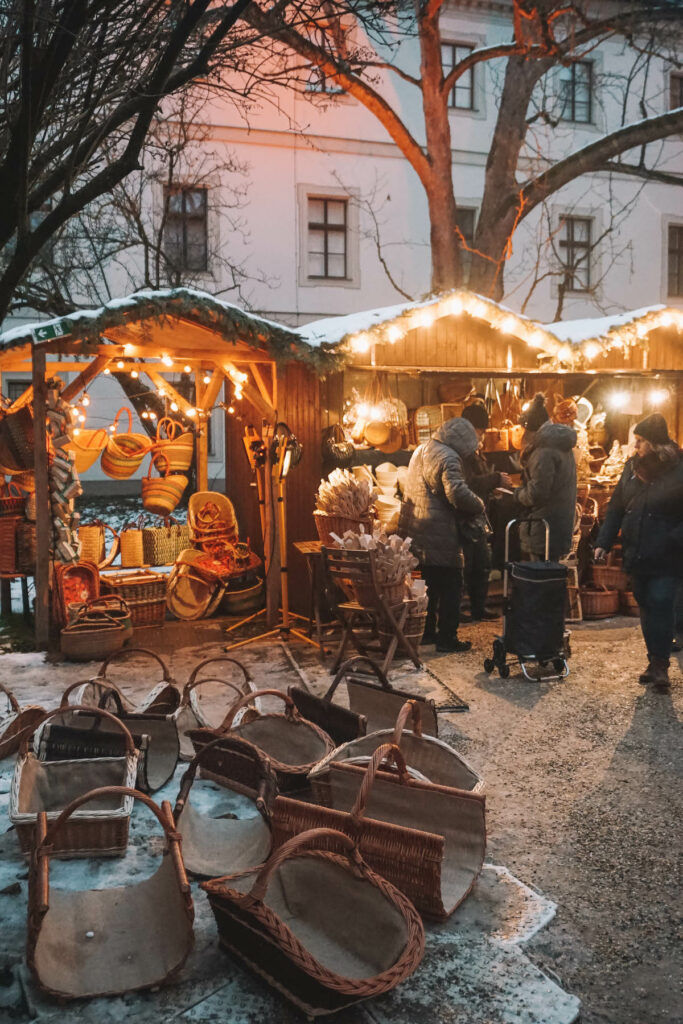 There are also unexpected attractions within the Arts and Crafts Village that people of all ages will love, like alpacas and an old swing ride.
Tip: I recommend starting your visit at the Arts and Crafts Village to do some Christmas shopping, then heading to the inner courtyard when you're ready to eat and warm your hands by one of the fire pits.
The Kinderzauberwald (Magic Children's Forest) has rides and games for the kiddos, and the "Fürstlicher Schlosspark" (a protected nature space on the grounds of the castle) is strung with lights and can be visited after dark Thursday to Sunday. 
Regensburg Christmas Market at Neupfarrplatz
Dates and hours: November 27 – December 23, 2023, open from 10am daily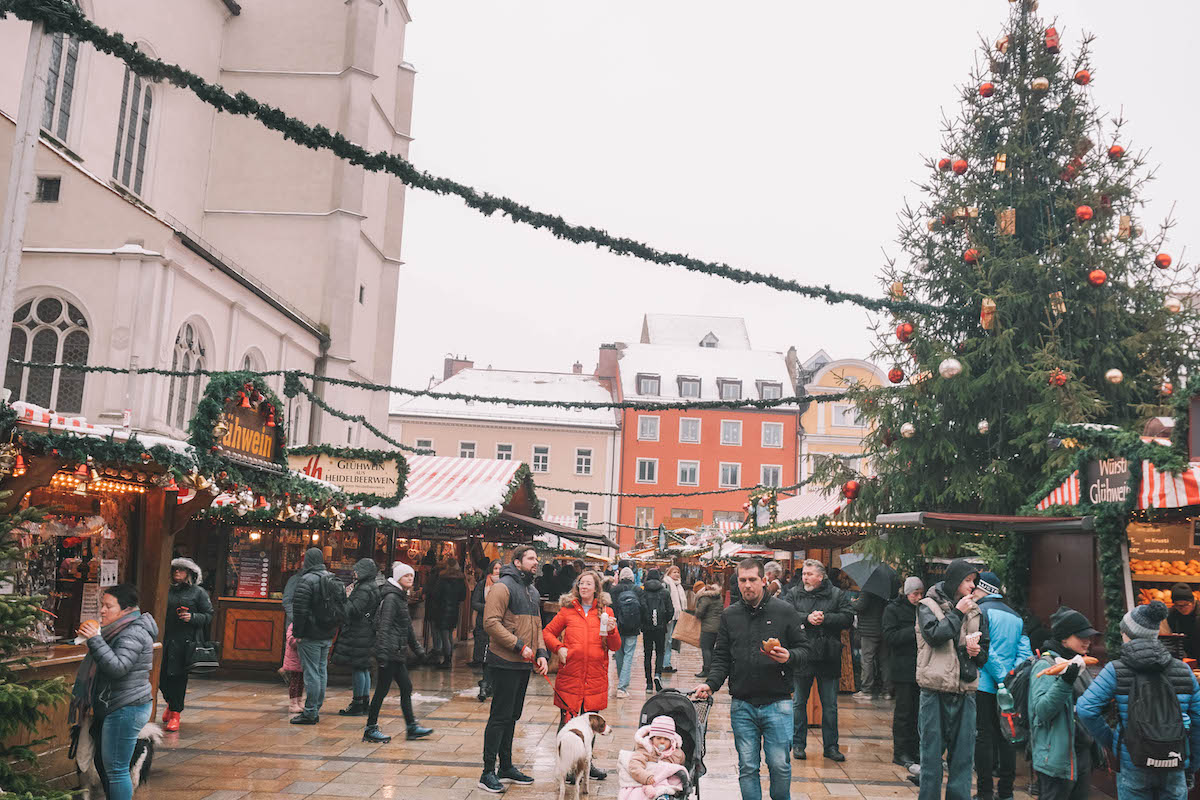 Officially called the Regensburger Christkindlmarkt, the Christmas Market at Neupfarrplatz is the primary Christmas market in Regensburg and also the oldest. 
This traditional Christmas market fills the square surrounding the picturesque Neupfarrkirche (church). It's a mid-size market with the usual stalls selling grilled bratwurst, gingerbread, and other favorite Christmas market foods as well as typical gifts like ornaments, sheepskin throws and slippers, nutcrackers, and so on. 
The historic carousel at this Christmas market is a fun ride for kids, and also doubles as a pretty photo op.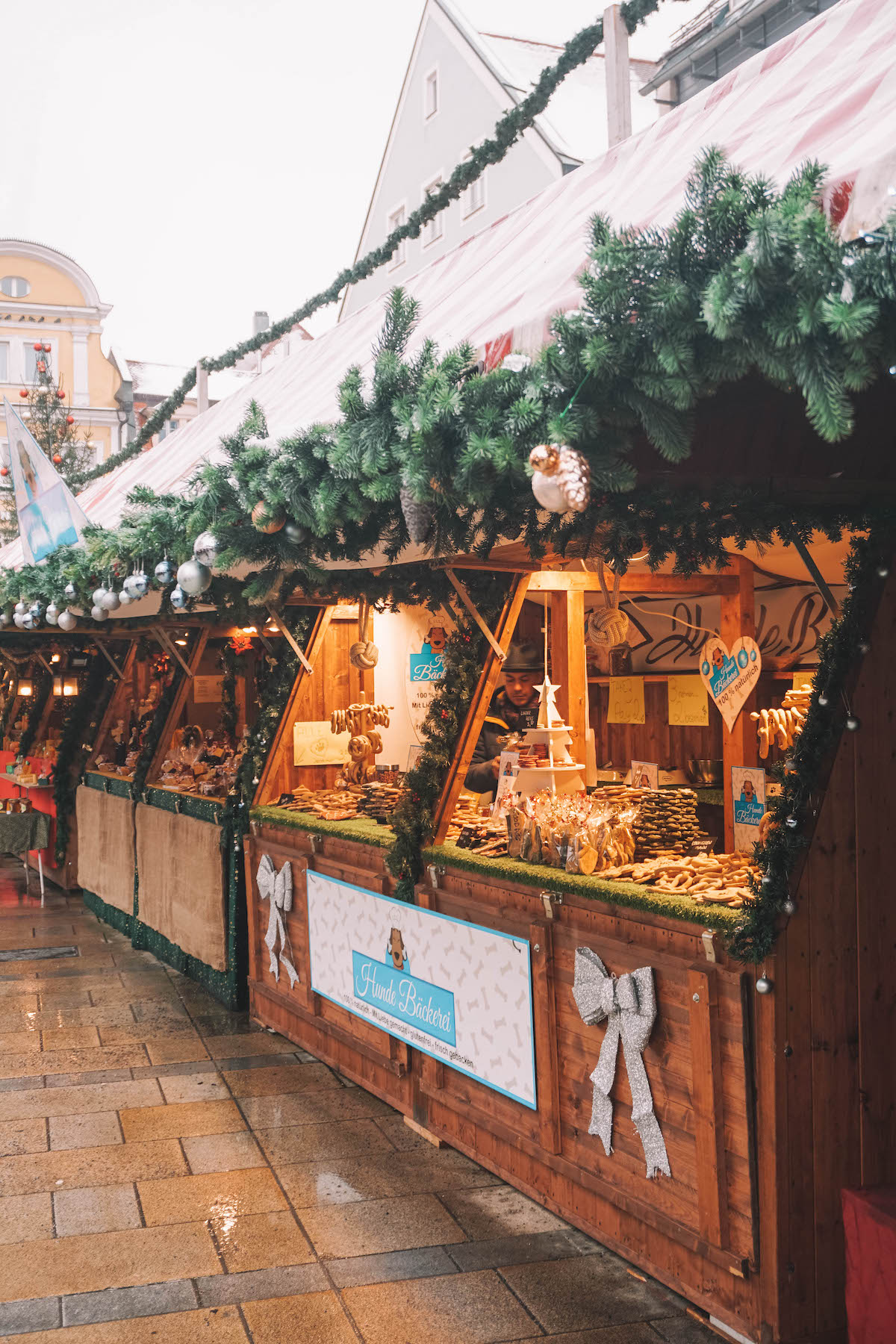 Unlike the Romantic Christmas Market at Schloss Thurn und Taxis, the Regensburg Christmas Market is free to enter.
This is my top choice in the city center for food and drinks; if you're in Regensburg for the day, I recommend sightseeing in the morning before visiting this Christmas market at Neupfarrplatz for lunch and a mid-day browse of the stalls. 
Tip: Make sure to pop into the Neupfarrkirche (church) while you're here to see the Christmas decorations within the church.
Lucrezia Market at Haidplatz and Kohlenmarkt
Dates and hours: December 1 – 23, 2023 from 11am daily.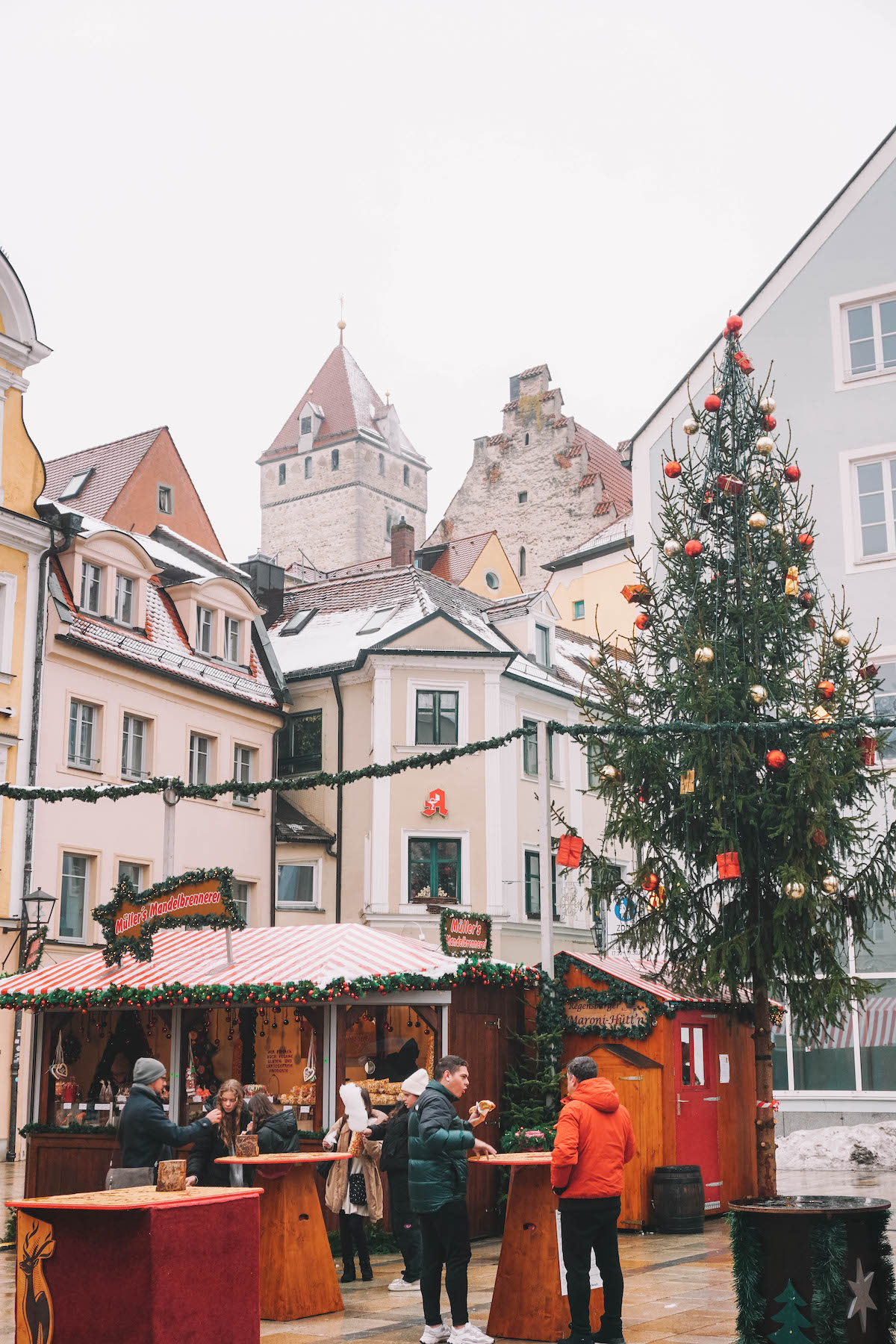 The Lucrezia Market in Regensburg has two locations, one at Haidplatz and one at Kohlenmarkt. (Both squares are within a 5-minute walk of each other.) 
If you're searching for handmade gifts for your loved ones this Advent season, the Lucrezia Market would be my top recommendation in the city center. This Christmas market solely showcases local artisans who work with a variety of mediums, such as ceramics to metals to paper to beeswax. It's essentially a festive arts and crafts market, which I adored! 
Like any Christmas market worth its salt, there are some food options at the Lucrezia Market BUT this isn't my top choice for eating (the Schloss or main market at Neupfarrplatz have more, and better, options). However, due to the market's smaller size, it's a good place to come if you just want a warm drink and a place to chat with friends.
If you time your visit right, you can also enjoy some live music or a cultural performance at the Lucrezia Market.
Spital-Adventsmarkt at St. Katharinenspital
Dates and hours: November 27 – December 23, 2023. Open from 6pm Monday to Friday and from 11am on Saturday and Sunday
The Spital-Adventsmarkt is located at the St. Katharinenspital on the opposite bank of the Danube River. To reach the small market, you must cross the 12th-century Stone Bridge.
There aren't many stalls at this market, but it's a good place to come if you need to escape the crowds in the central Christmas Market or simply want to enjoy a warming mug of Glühwein with a view of the city's skyline across the Danube. 
What to Eat at the Regensburg Christmas Markets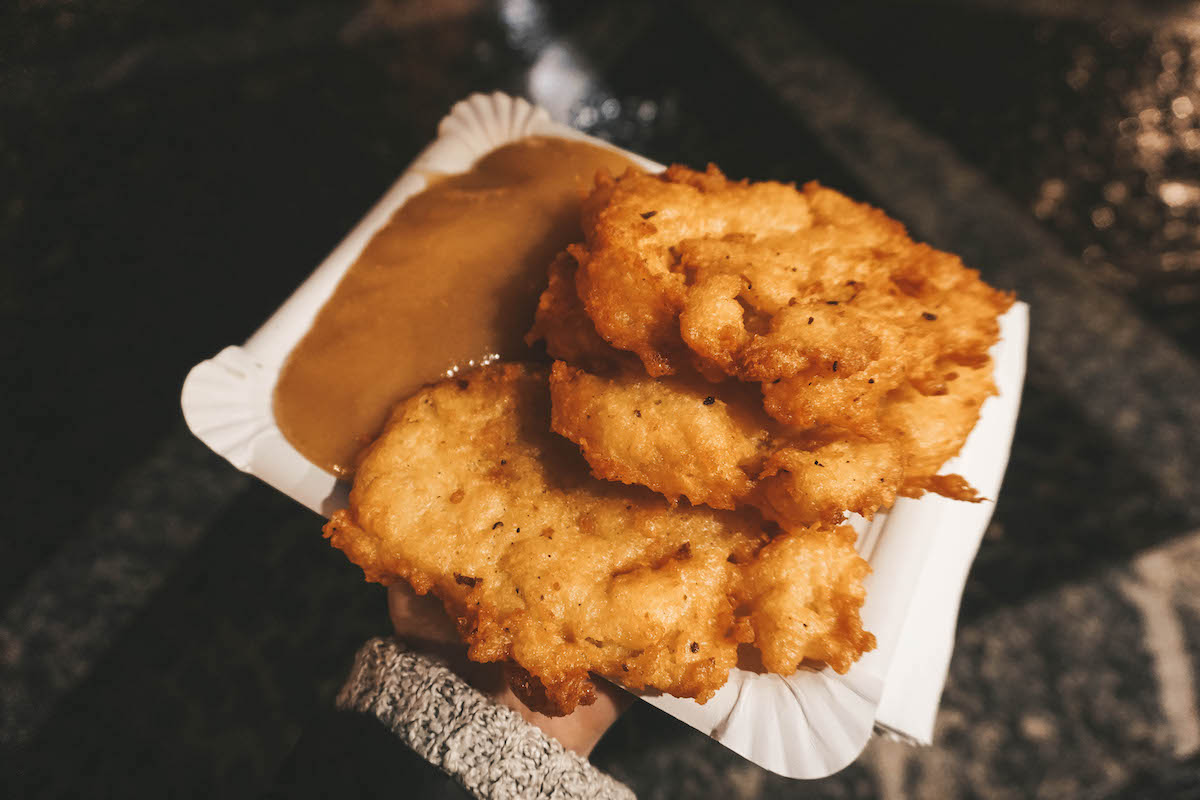 I didn't notice any special regional dishes represented at the Regensburg Christmas markets (but if you've lived in the area and can recommend something, by all means!).
However, I have a full guide to the most common German Christmas market foods and drinks that shares all the delicious details of what you can expect to enjoy during your time in Regensburg. 
At any Christmas market, I tend to gravitate towards the Handbrot (a sort of cheesy stuffed bread roll), Kartoffelpuffer (potato pancakes), and gebrannte Mandeln (candied almonds) — but you should definitely be adventurous and sample anything that catches your eye!
Are the Christmas Markets in Regensburg Worth It? Yes!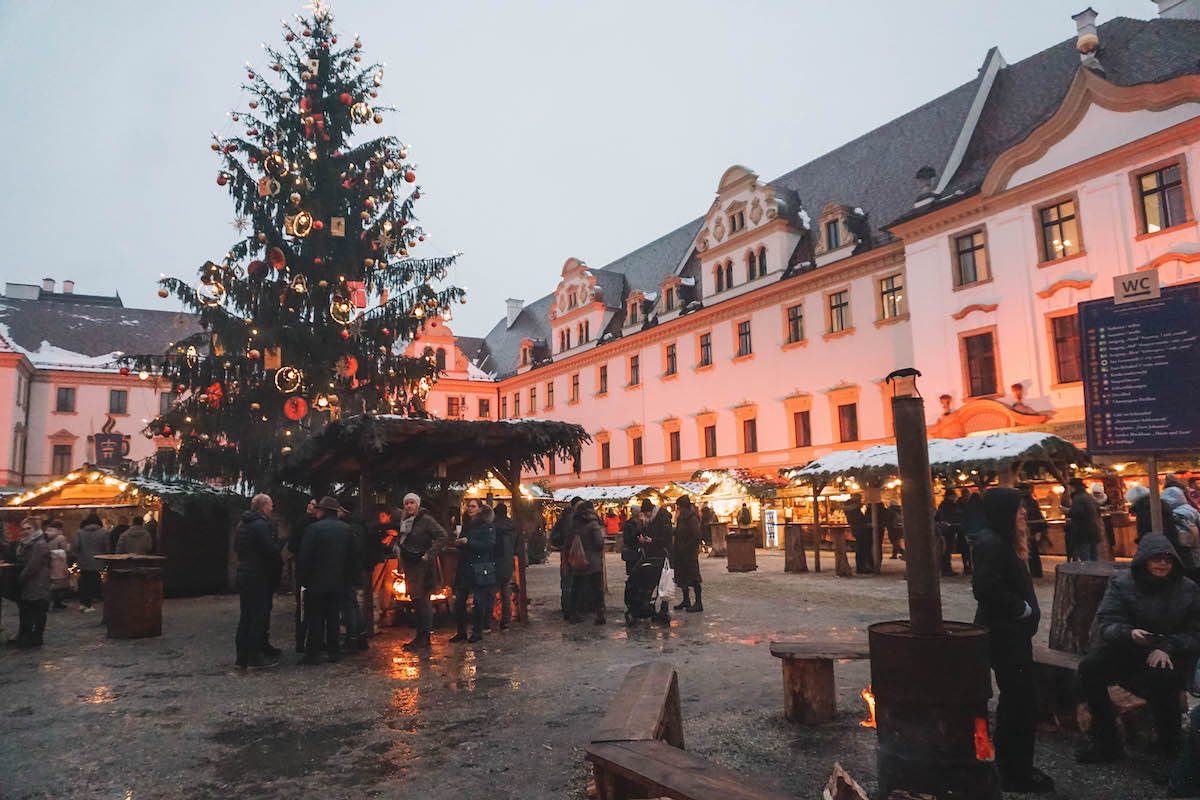 As in any city, the Christmas markets in Regensburg aren't created equal. While I liked each one that I visited, the Romantic Christmas Market at Schloss Thurn und Taxis was without a doubt the best of the bunch. 
Regensburg is a great day trip destination in Bavaria and I highly recommend visiting if you're in the area during Advent! 
Don't forget to follow me on Instagram to keep up with my daily adventures in Berlin and beyond!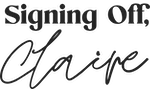 More Bavarian Christmas Markets to Visit: