Munich might be best known for its autumnal Oktoberfest celebrations, but rest assured that the city's Christmas markets are just as wonderful! This guide shares the BEST Christmas markets in Munich, plus practical info for planning your visit.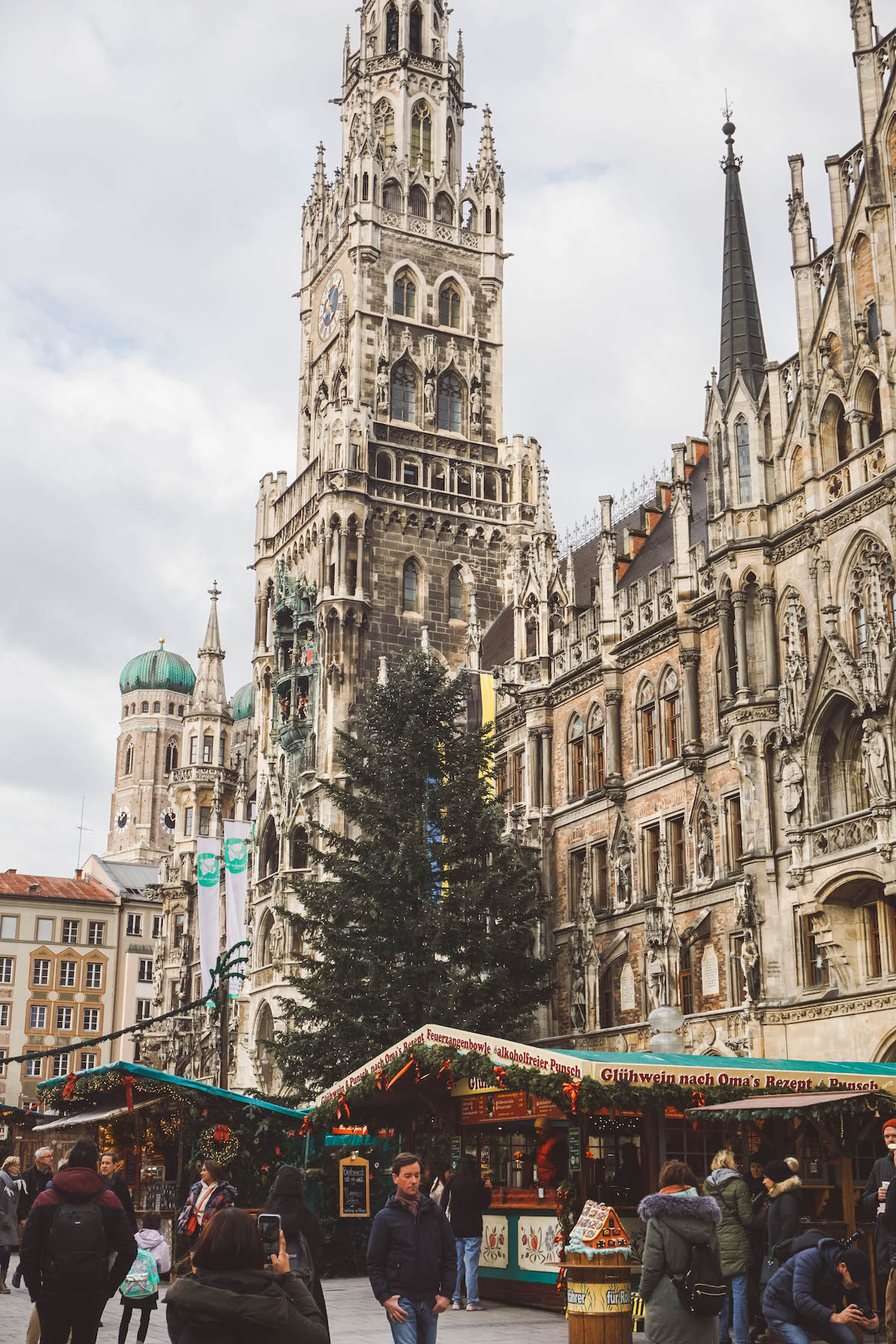 Munich is one of the most popular destinations in Germany, with visitors from around the globe descending on Bavaria's capital city especially for Oktoberfest during the autumn.
What international visitors might not realize is that in addition to Oktoberfest, Munich is also one of the best places to visit at Christmas! During Christmas market season, Munich is often overlooked in favor of neighboring Nuremberg, which is famous for its Chrsitkindlesmarkt.
However, Munich's Christmas markets are some of the best — and oldest! — in Germany, and I cannot recommend them enough. (And yes, you read that right! There are multiple Christmas markets in Munich, not just one!) 
In this guide, I'll be sharing the best Christmas markets in Munich in the city center. It's such a big city that there are multiple Christmas markets in Munich's Old Town and in neighborhoods nearby. 
Table of Contents 
Click "show" to see the full table of contents for this post. You can jump around the post as desired by clicking on the individual sections listed below. 
Munich Christmas Market Dates, Locations & Hours [2023]
Note that Munich has a LOT of Christmas markets, and I've only mentioned a fraction of them in this post. I've listed individual Christmas market dates in the post below since dates and opening hours will vary from market to market.
Dates: November 27 to December 24, 2023
Opening Hours: 10 am to 9 pm Monday – Saturday, 10 am to 8 pm on Sundays
Locations: The Munich Christmas markets mentioned in this post can be found at Marienplatz (and the surrounding streets), Karlsplatz, the Residenz, Isartor, Wittelsbacherplatz, and Münchner Freiheit.
The Best Christmas Markets in Munich 
The list below shares only the best of the best Munich, Germany Christmas markets. I've provided dates for each market, plus my honest feedback on each one so you can better plan your visit.
Christkindlsmarkt at Marienplatz
Dates: November 27 to December 24, 2023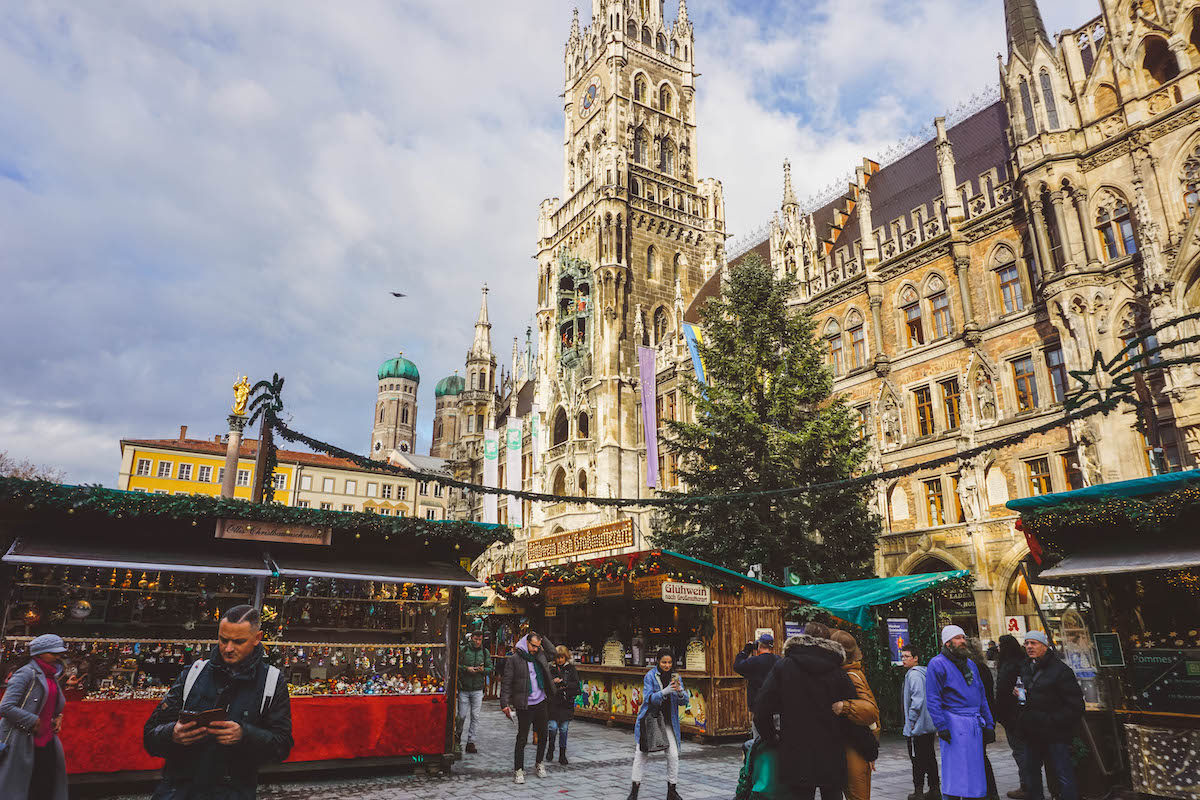 Munich's Christkindlmarkt is the crown jewel of the city's Christmas markets. The main section of the market is located at Marienplatz, which is the historic square in front of the New Town Hall (Neues Rathaus). 
However, the Christmas market is so large that it actually stretches down Kaufingerstraße and Sendlinger Straße, and also has stalls at the Rindermarkt. 
The Christkindlmarkt is Munich's most traditional Christmas market and is also believed to be the oldest. Records of an Advent market date back to the 14th century, although the market wasn't always held in front of the Neues Rathaus.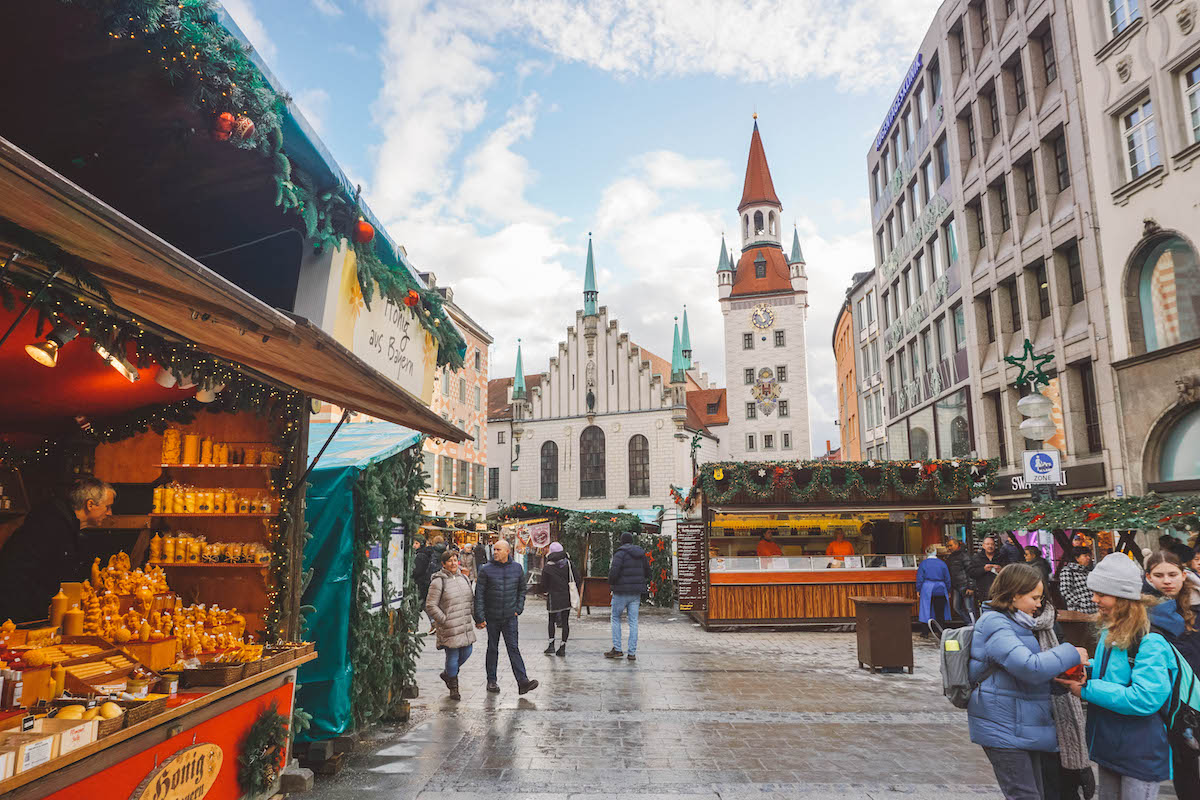 The neo-Gothic town hall beautifully offsets the cozy, garlanded wooden huts of the Christmas market.
While perusing the stalls, it's impossible to miss the 25-meter-high Christmas tree strung with lights — which is so big that it has to be professionally erected by a fire brigade! 
The cheerful ambience of the Christkindlmarkt is augmented by live music emanating from the balcony of the town hall. Starting at 5:30pm from Sunday to Thursday, traditional Bavarian folk music (Stubenmusik), wind ensembles, and choral music can be heard from above the bustle of the Christmas market.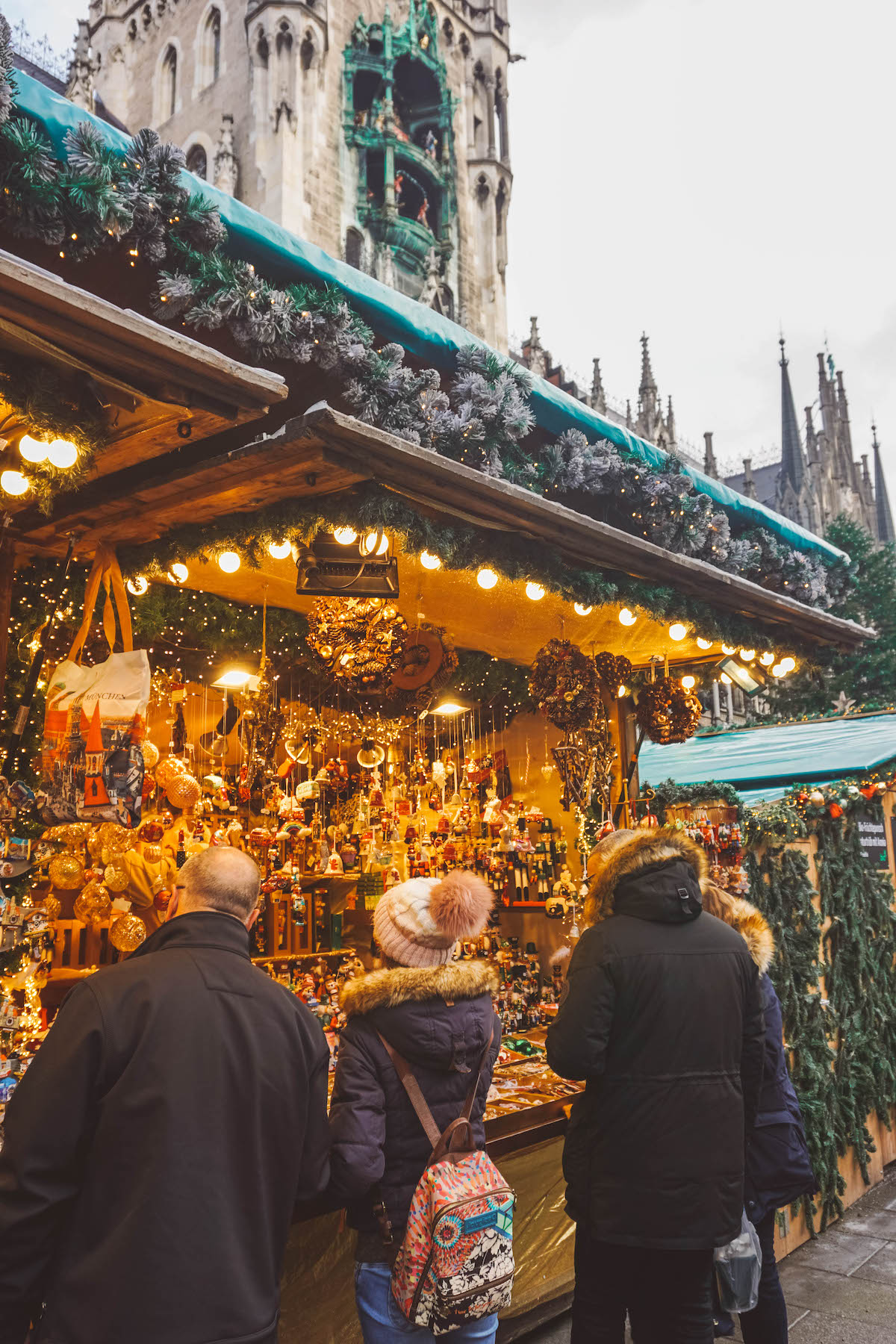 To avoid the worst of the crowds (especially if you plan on doing some serious Christmas gift shopping!), I recommend visiting the main Munich Christmas market during the day if at all possible.
Evenings and weekends typically see the market full to capacity, which can make it tough to leisurely make your way through the stalls of sheepskin throws, beeswax candles, handmade ornaments, and nativity figurines.
Don't Miss Munich's Kripperlmarkt! (The Nativity Market)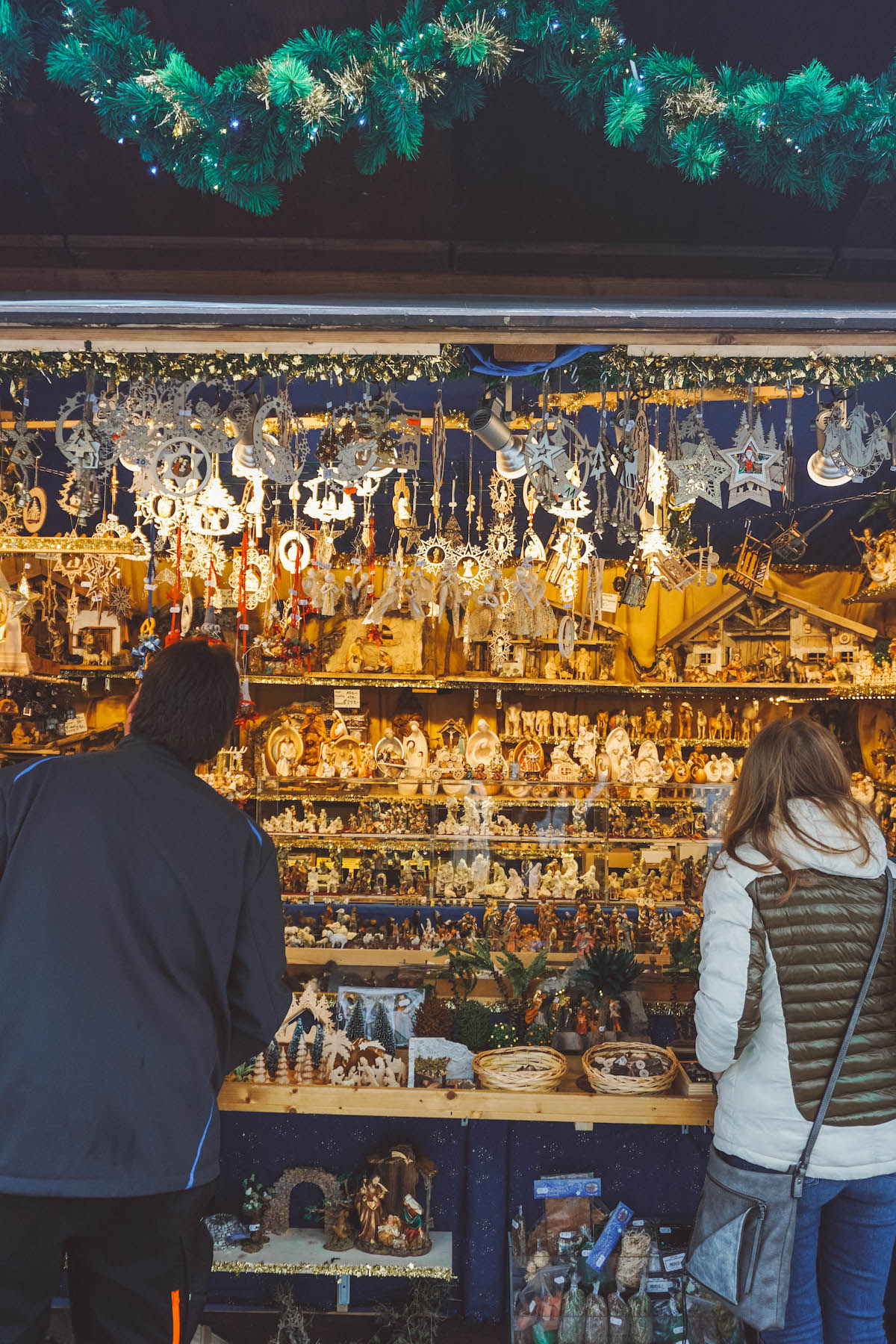 A special portion of the Christkindlmarkt in Munich that I wanted to highlight is the Kripperlmarkt. It's one of the largest nativity markets in the world and was founded in 1757. 
The Kripperlmarkt is located near St. Peter's Church (Petrikirche) and is dedicated solely to nativity scenes, figurines, and additional electronic components needed to make your nativity scene extra special.
The nativity pieces at Munich's Kripperlmarkt come in a range of styles, from Alpine to Oriental to Bavarian. The pieces are all incredibly high in quality — and therefore can cost a pretty penny! — and are items that you can set out during Advent for years to come.
"Eiszauber" at Karlsplatz-Stachus
Dates: 2023 dates TBD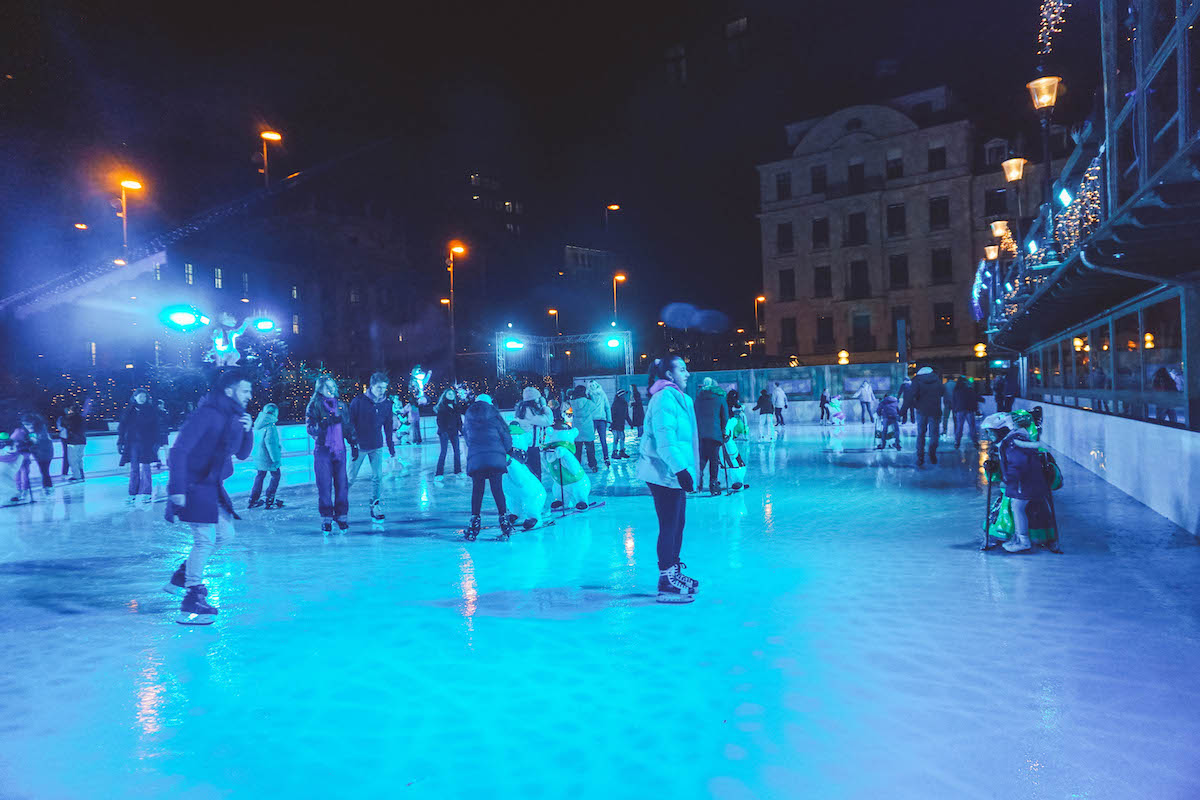 The Karlsplatz-Stachus transportation hub is transformed into an ice skating rink come Christmastime. 
The rink is open daily from 10:30am to 10pm, and I recommend researching the prices for the day beforehand since the rink sometimes has fun themes that will get you onto the ice free of charge (i.e. if you're wearing Bavarian folk dress you can skate for free, or some days two can skate for the price of one, etc.)
The ice skating rink at Karlsplatz-Stachus is best enjoyed at night when it's lit up with Christmas lights. The medieval New House Gate provides an especially romantic backdrop to the ice skating rink as well!
Christmas Village at the Residenz
Dates: November 13 – December 22, 2023
Tucked away within the Kaiserhof courtyard of the Residenz (city palace), you'll find a cozy Christmas Village. 
It's another traditional Christmas market in Munich, but unlike the Christkindlmarkt this one is meant to portray "Bavaria as it used to be." You can watch artisans like glassblowers, tanners, and goldsmiths at work while savoring each warming sip of your Glühwein (mulled wine).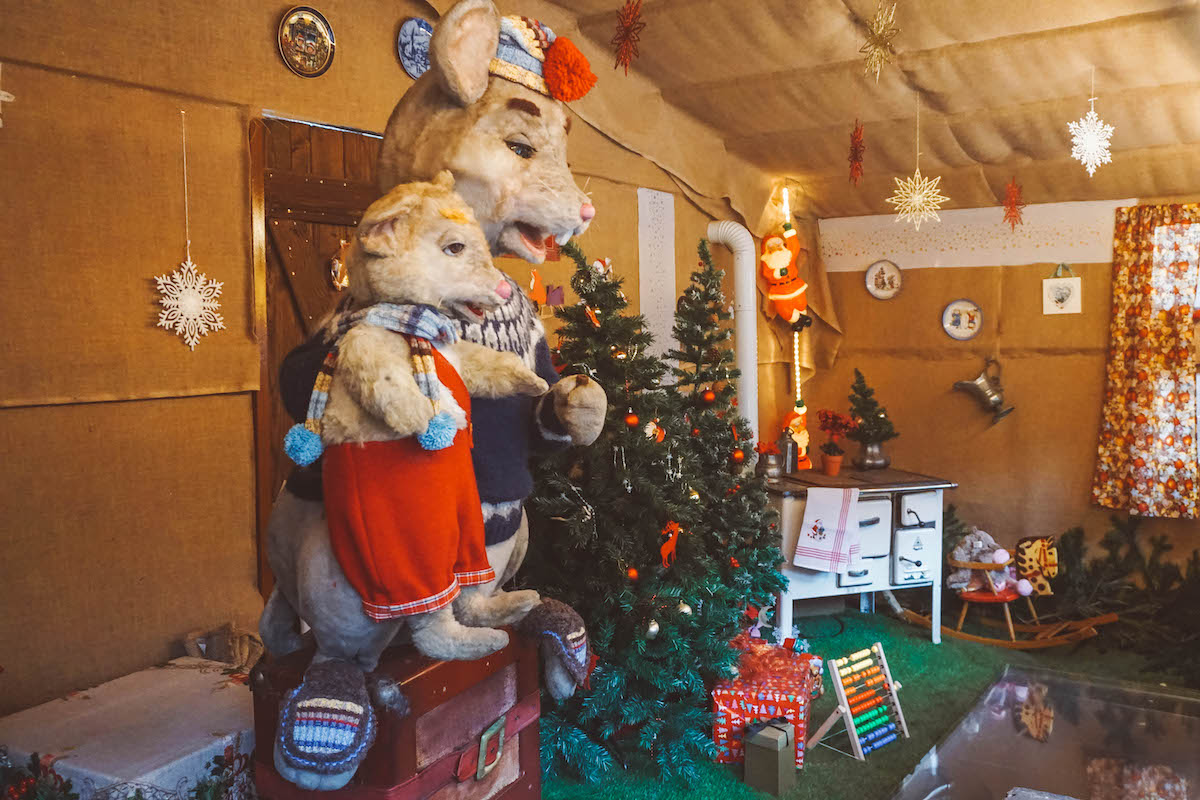 Make sure to visit the kids' section of the Christmas Village for a serious dose of nostalgia. It has life-size animatronic figures set in small scenes, and the figures read out popular German fairy tales. 
This is a smaller Christmas market that not as many tourists know about since it's hidden away within the Residenz. As such, it has a slightly calmer atmosphere than the large market at Marienplatz (and the walls of the courtyard provide some protection from the elements on blustery winter days, to boot!).
Medieval Christmas Market at Wittelsbacherplatz
Dates: November 27 – December 23, 2023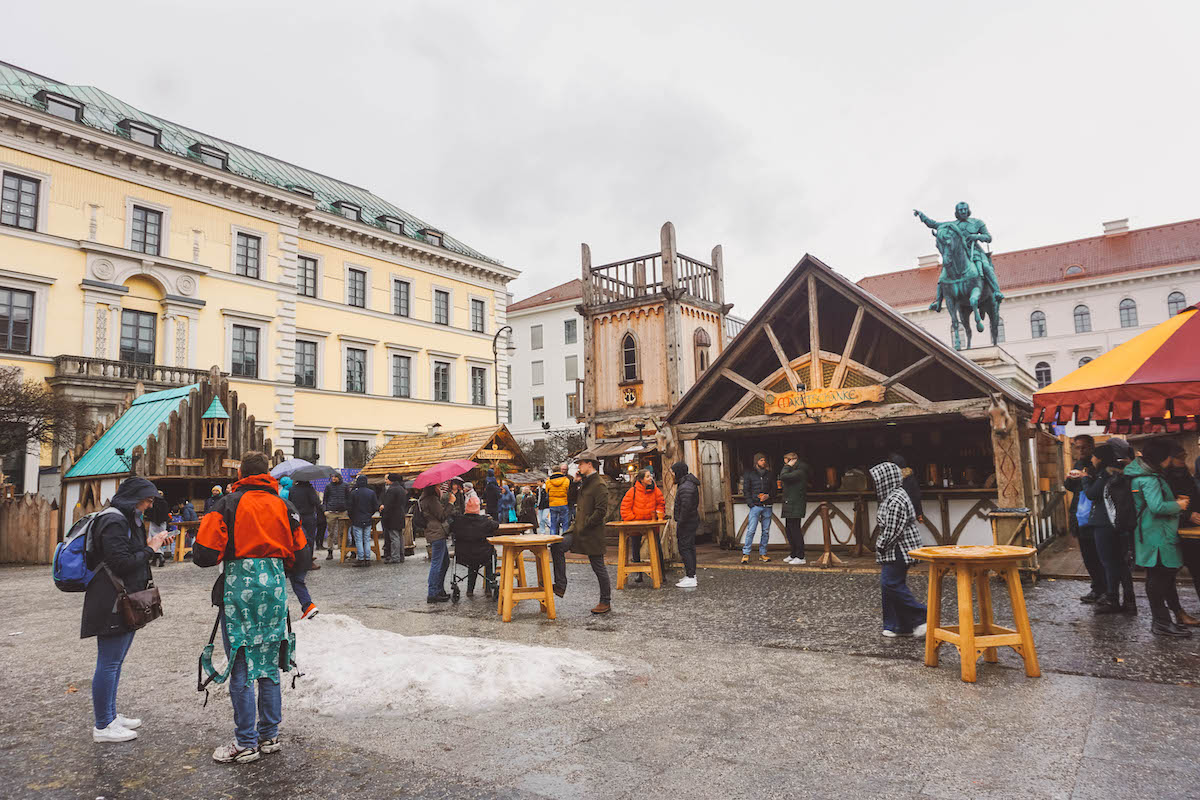 After the Christkindlmarkt at Marienplatz, Munich's medieval Christmas market at Wittelsbacherplatz is my second-favorite in the city. It's a smaller market, but the attention to detail throughout the Christmas market is incredible! 
As you'd expect, this Christmas market has a unique medieval flair to it. The wooden stalls feel much more rustic, and there are many historic references hidden within the design of the market. For example, if you order a piping mug of mead at Munich's medieval Christmas market, you might notice that it's stamped with the city's seal from the 1300s! 
Tip: You can keep any Christmas market mug you like as a budget-friendly, festive souvenir. When you order drinks at the Christmas markets, you pay a deposit (Pfand) of 1 to 4 Euros per mug. If you return the mug, you get your deposit back; otherwise you can pack the mug in your suitcase to take home.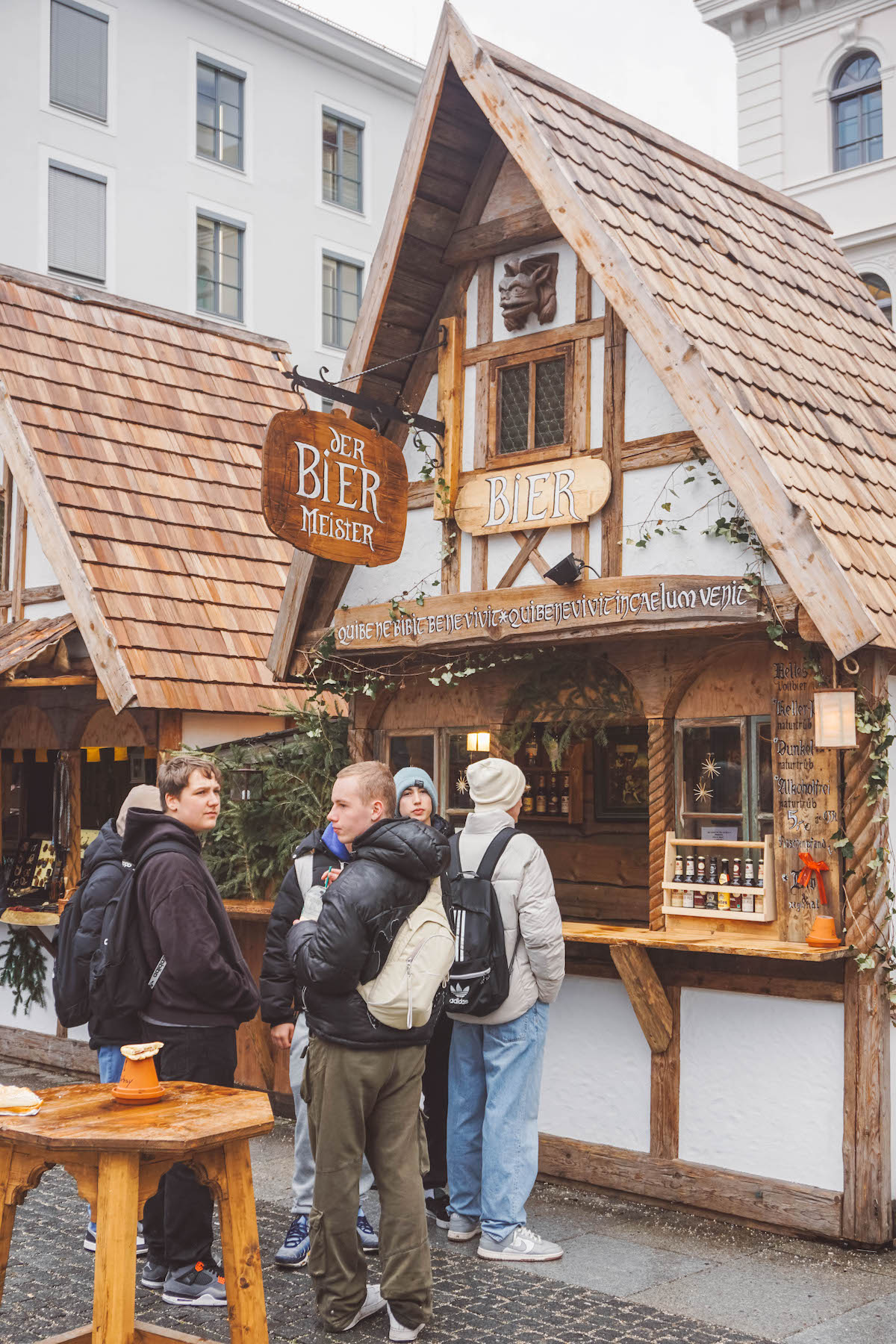 If you've ever been to a Renaissance festival before, then you're going to fall in love with this quaint Christmas market just like I did. The merchants don medieval-inspired garb and sell traditional Christmas market products, with a medieval twist! 
Expect lots of handmade metal jewelry, wooden toys, incense sticks, and loose leaf teas or tisanes. There are also lots of themed drinks served here, like "Drachenglut" (Dragon's Embers).
Feuerzangenbowle at Isartor
Dates: November 27, 2023 – January 7, 2024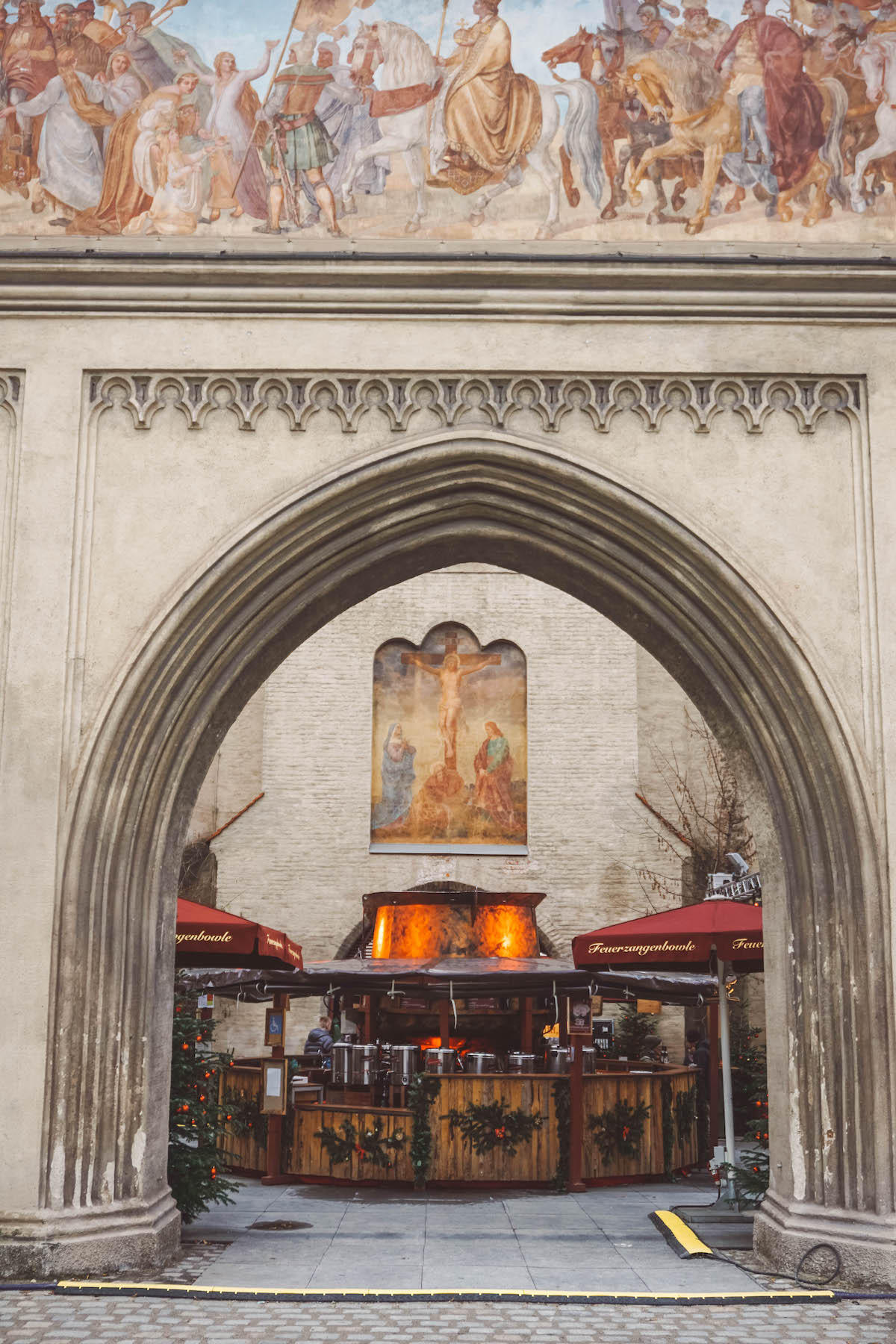 If you've never heard of Feuerzangenbowle before, it's essentially a spiced red wine punch that's heated and then ladled into mugs. A rum-soaked sugar cube is suspended over the mug of punch using tongs, then lit on fire. As the sugar burns, it caramelizes and infuses the punch with layers of flavor. 
The Feuerzangenbowle at Isartor takes this traditional Christmas market drink to the next level by preparing the punch in a massive kettle that's perched atop the stall. The ring of fire surrounding the kettle can be seen from down the street! 
I wouldn't call this a Christmas market so much as a festive hangout spot. There are no stalls selling gifts here, just a big ol' kettle of rum punch and plenty of tables to gather around with loved ones.  
Schwabinger Christmas Market at Münchner Freiheit
Dates: December 1 – 24, 2023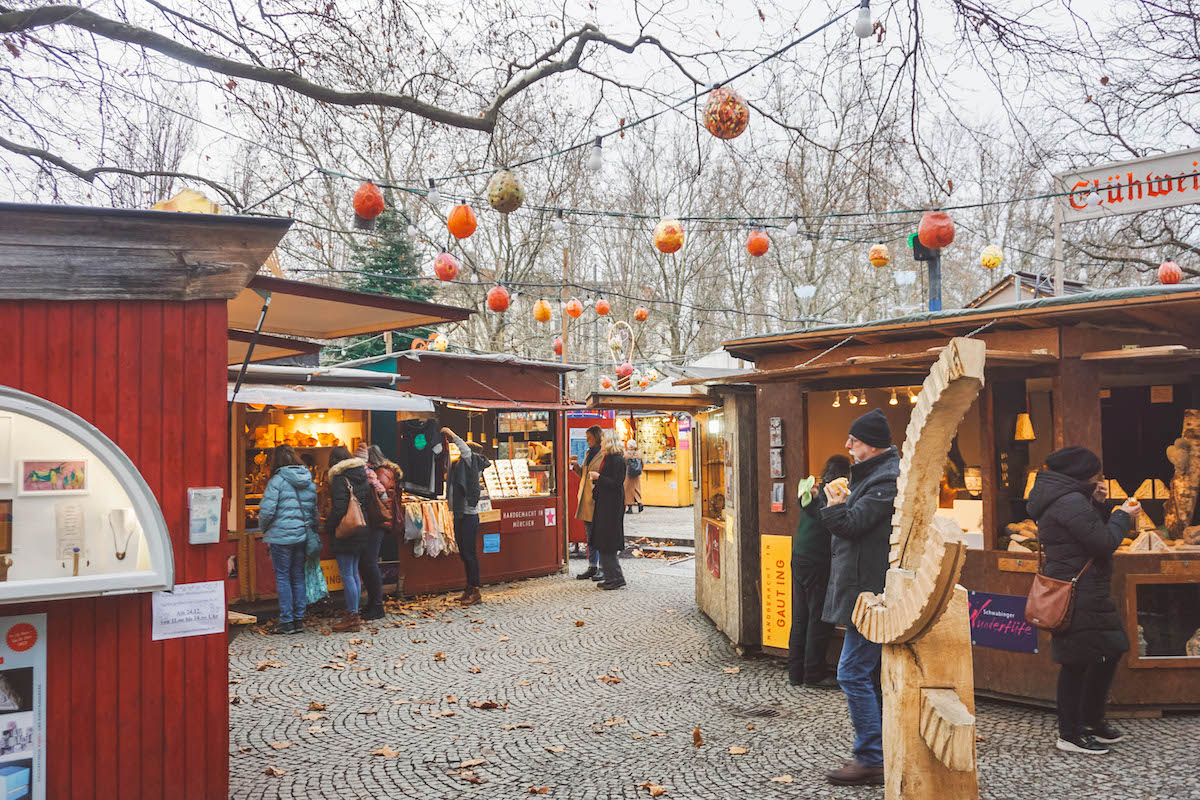 Roughly 80 stalls representing some of the area's finest artisans can be found at the Schwabinger Christmas Market. 
I won't lie, this small Christmas market doesn't garner many style points when compared to the perfectly decorated markets at the Residenz and Marienplatz, BUT this is the place to come if you're searching for handmade, local Christmas gifts this year.
The Schwabinger Christmas Market feels like a festive arts and crafts fair. Lots of pottery, jewelry, knitwear, bags, and more are for sale – all made by artists in the area. 
There's also local bands and performers also play live music throughout the day (check the program to see what's on!), and some more unique food options can also be enjoyed at this market. 
This isn't really a "hangout" market for me, but rather somewhere I go to have a leisurely browse of all the handicrafts and select thoughtful gifts for friends and family. 
FAQs About Visiting Munich at Christmas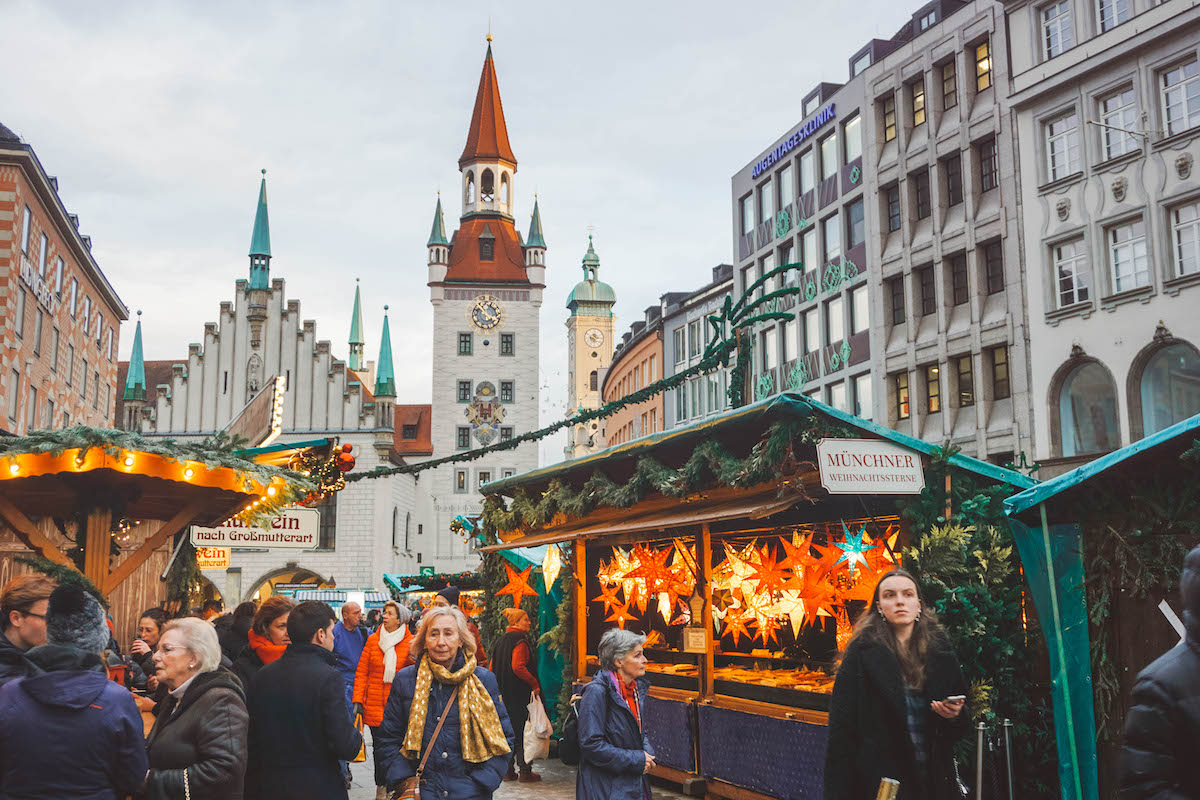 For my top tips on visiting the German Christmas markets in general, definitely check out my full guide here. I've done my best to address the most pressing, Munich-specific FAQs below. 
How much time is needed at the Munich Christmas markets?
You can see the Christmas Markets in Munich's city center in a day, but that's only if you're going from market to market with minimal stops at tourist attractions in between.
If you plan on visiting Munich's top tourist attractions as well as the Christmas markets, you'll want to give yourself at least three full days in the city. 
Are Munich's Christmas markets open on Sundays?
Yes! The Christmas markets are open on Sundays.
What Munich Christmas markets are open after Christmas?
To my knowledge, none of the markets will be open on or after Christmas Day. The Feuerzangenbowle (rum punch) stall at Isartor is open the first week of January, but that's not really a proper Christmas market.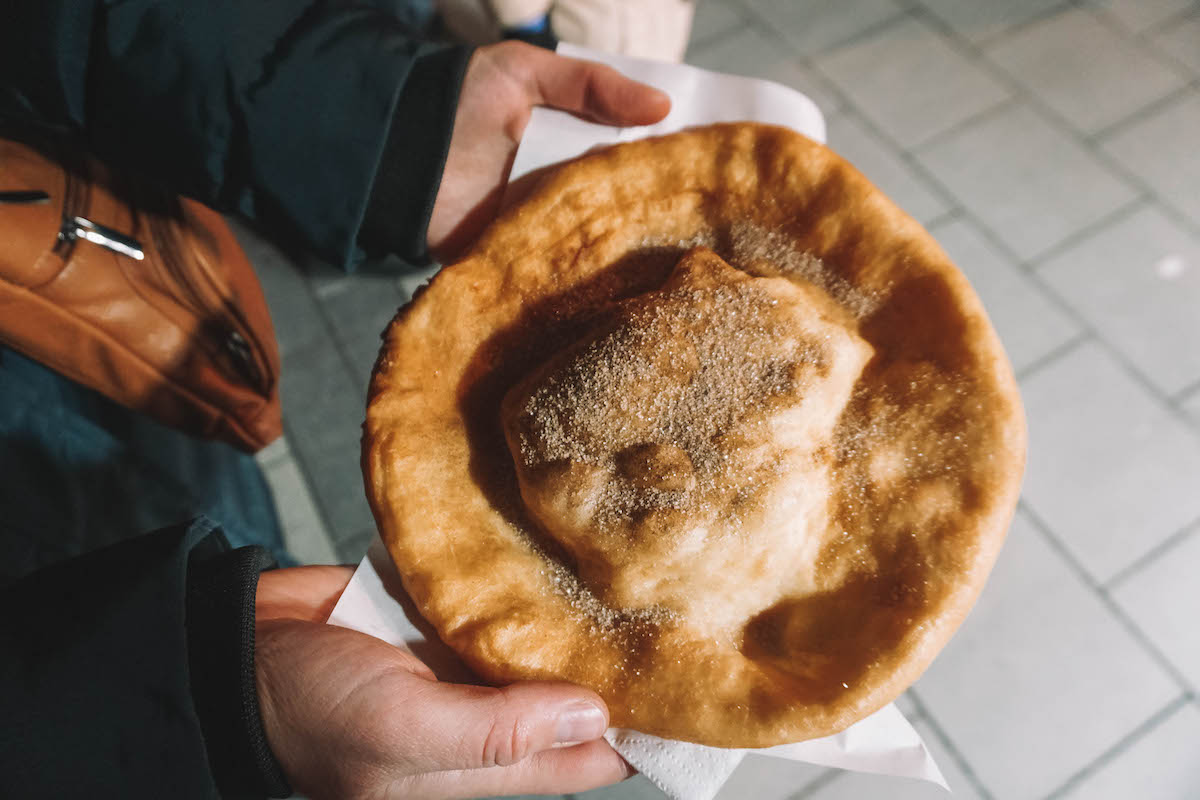 What Munich Christmas market foods should I eat?
I have a full guide on what to eat at the German Christmas markets, so check that out for 25 foods and drinks you can expect to see at Munich's Christmas markets.
Some of my all-time favorite foods and drinks at the Christmas markets include: Glühwein (mulled wine), gebrannte mandeln (candied almonds), and roasted chestnuts. Munich also has Ausgezogene, which are large, thin pieces of dough that are deep fried and then coated in sugar.
What should I wear at the Munich Christmas markets?
Layers! Lots and lots of layers! Munich doesn't get super cold in the winter, but it can definitely get chilly. And if you plan on being at the markets all day long, you'll need to bundle up with a scarf, hat, gloves, and warm coat.
What should I buy at the Munich Christmas markets?
There's so much good stuff sold at the Christmas markets, from delicate glass ornaments to light-up paper stars to sheepskin slippers.
Some Munich-specific items you might want to buy at the Christmas markets include:
Nativity pieces from the Kripperlmarkt (the Nativity Market in front of St. Peter's Church)
Bavarian Christmas ornaments
Locally-made art and handicrafts at the Schwabinger Christmas Market
Nutcrackers and Christmas Pyramids are also both traditional German Christmas decorations that are sold at most markets – expect to pay more money for these timeless items!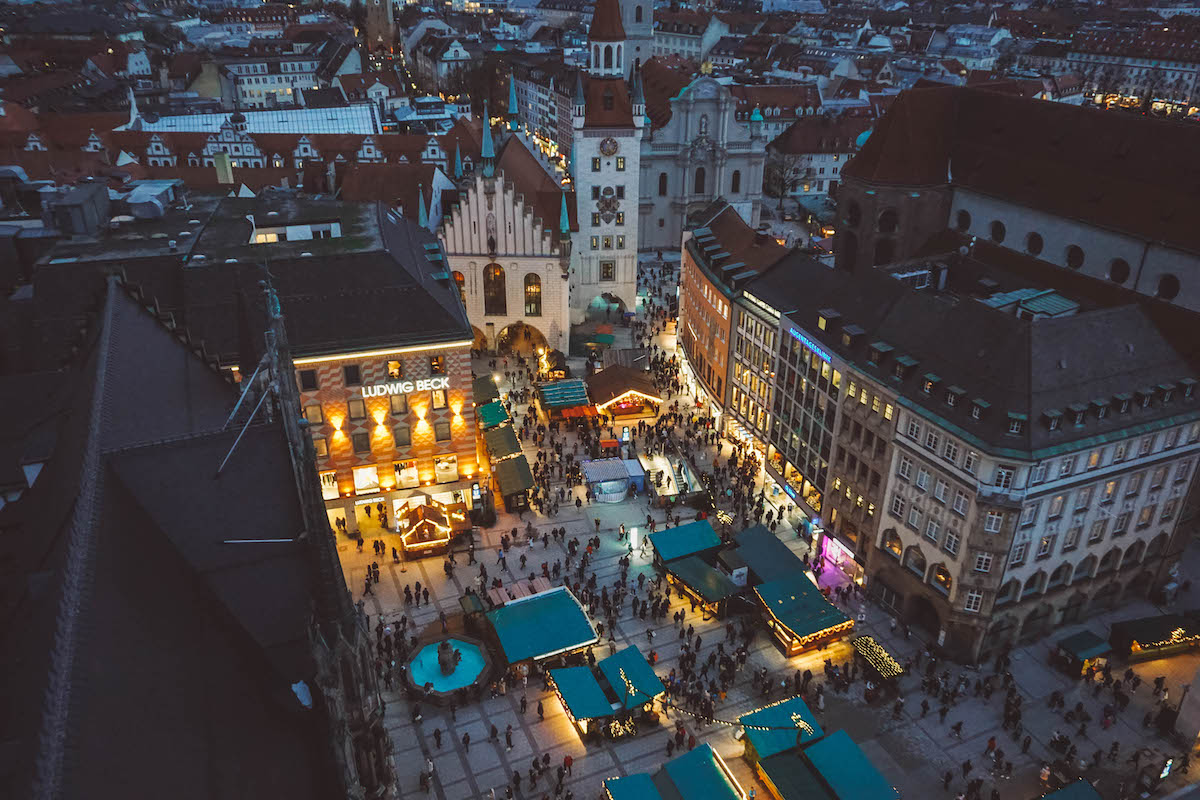 What other Christmas activities are there to do in Munich?
A few other fun things to do in Munich at Christmas are:
Climb the bell tower of the Neues Rathaus for a view of the city. I went just before sunset so I could see all the lights of the Christmas market at Marienplatz from above!
Go on a guided tour of the Marienplatz Christkindlesmarkt  
Take a guided tour of Munich's best-known and most beautiful nativity scenes 
Watch the annual Krampus Run
Attend a candlelight church service or special performance. Look up your local church to see what's on the agenda.
Final Thoughts: Are the Christmas Markets in Munich Worth Visiting?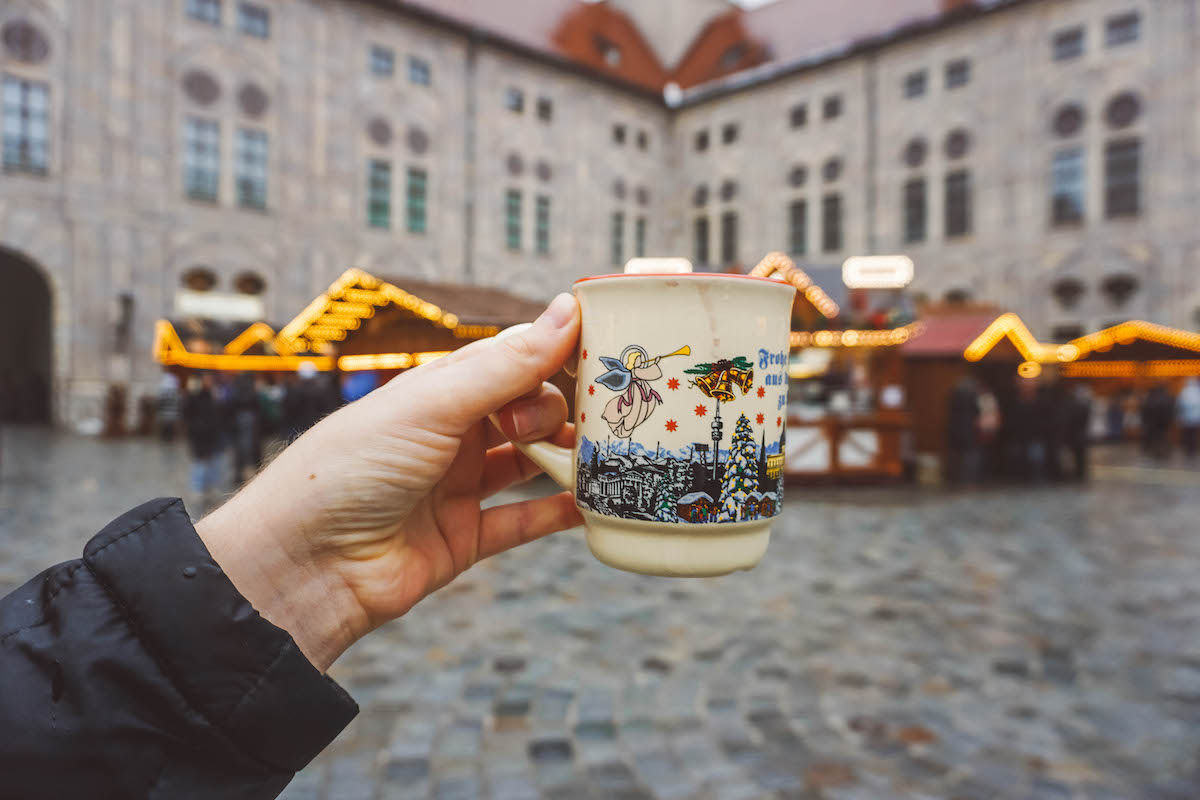 A thousand times YES! Christmas in Munich is such a special time to visit the city, and the Christmas markets here are spectacular.
If I had to pick the absolute best Christmas markets in Munich, I'd say that the Christkindlmarkt at Marienplatz and the Medieval Christmas Market at Wittelsbacherplatz should be on your itinerary. 
Enjoy your visit to the Munich Christmas markets, and don't hesitate to leave me a comment below with questions or feedback! 
Don't forget to follow me on Instagram to keep up with my daily adventures in Berlin and beyond!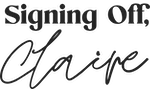 More Things to Do in Munich: