This 3-day Munich itinerary will take you to the top attractions in Bavaria's capital city, plus introduce you to some lesser-known gems. 3 days in Munich is just enough time to get a good feel for the city!
The capital of Bavaria, Munich was home to the Bavarian royal family, the Wittelsbachs, for almost 700 years. As such, Munich has played a pivotal role in shaping Bavarian — and subsequently German — culture throughout the centuries.
In fact, much of what non-Germans know of "German culture" actually stems from the region surrounding Munich. World-renowned events like Oktoberfest and the city's proximity to the "fairytale castle" Neuschwanstein have built up Munich's reputation over the years and has made it one of the top visited cities in all of Germany. 
Munich's history isn't all pretty palaces and festivals, though. It was here that Adolf Hitler rose to power and helped establish the Nazi party.
Three days in Munich will give you enough time to see the city's top attractions and learn more about its rollercoaster history. This Munich itinerary will take you to the most popular places in the city center, as well as some of the city's more sobering WWII sites. 
Table of Contents
Click "show" to see the full table of contents for this post. You can jump around the post as desired by clicking on the individual sections listed below.
Map of the Top Attractions in Munich, Germany
I've created a map for this Munich 3-day itinerary, color coded by days. I've marked the top attractions on the map below and have gone into detail about each one in the body of this post.
A Super Quick Overview of This 3-Day Munich Itinerary
This is a long post with lots of details, so for those of you who just want a high level overview of the suggested 3-day Munich itinerary, here it is:
Day 1: Old Town
Residenz
Marienplatz
Viktualienmarkt
Neues Rathaus viewing platform + Glockenspiel
Frauenkirche
Hofbräuhaus
Day 2: Dachau & Museum Day
Dachau Concentration Camp Memorial Site
English Garden
Eisbach surfers
Museum of choice (options listed in post)
Day 3: Nymphenburg Palace & BMW World
Nymphenburg Palace & Gardens
Olympic Hill
BMW World
Munich Itinerary Day 1: Explore the Old Town
You can easily fill your first full day in Munich exploring the Old Town. I've proposed a suggested walking route in the section below, but for even more details and things to do in this area I recommend reading my full Munich Old Town guide.
You might take more or less time than I did to see the attractions listed below, so know that there's even MORE to do in the Old Town than I've shared on this Munich travel itinerary, should you need further ideas. 
Munich Residenz
Time needed: 4 hours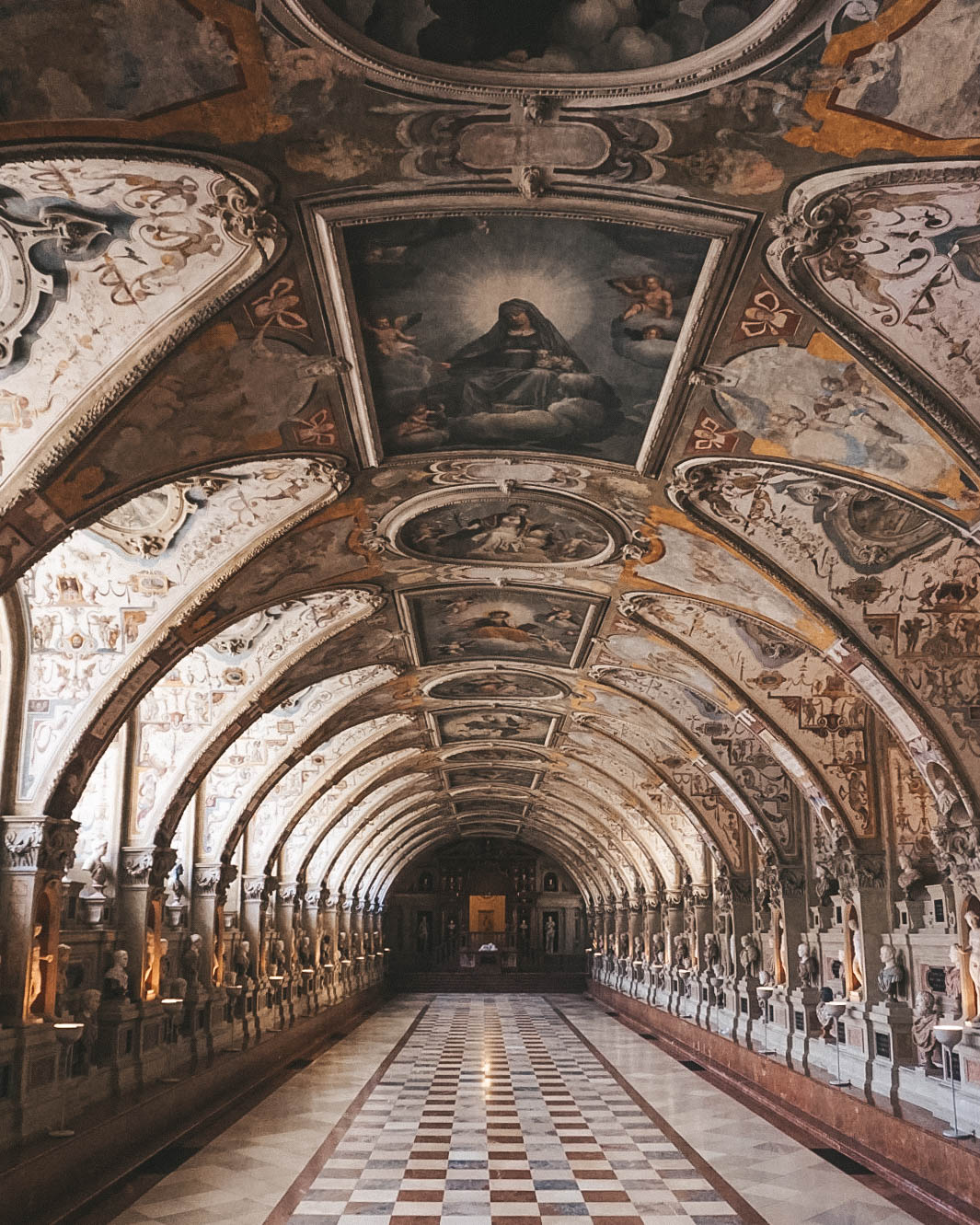 The Munich Residenz was the seat of government and home to the Wittelsbach royal family from 1508 to 1918. Each new ruler added his own suite of rooms to the palace, so today it's a sprawling complex that takes the better part of half a day to visit.
During the tour, you'll have access to over 100 (!!) rooms inside the palace. And believe it or not, you still won't be able to see the whole thing!
I recommend getting an audio guide for the Residenz, but don't listen to every single stop on the guide otherwise you'll be there for 5+ hours.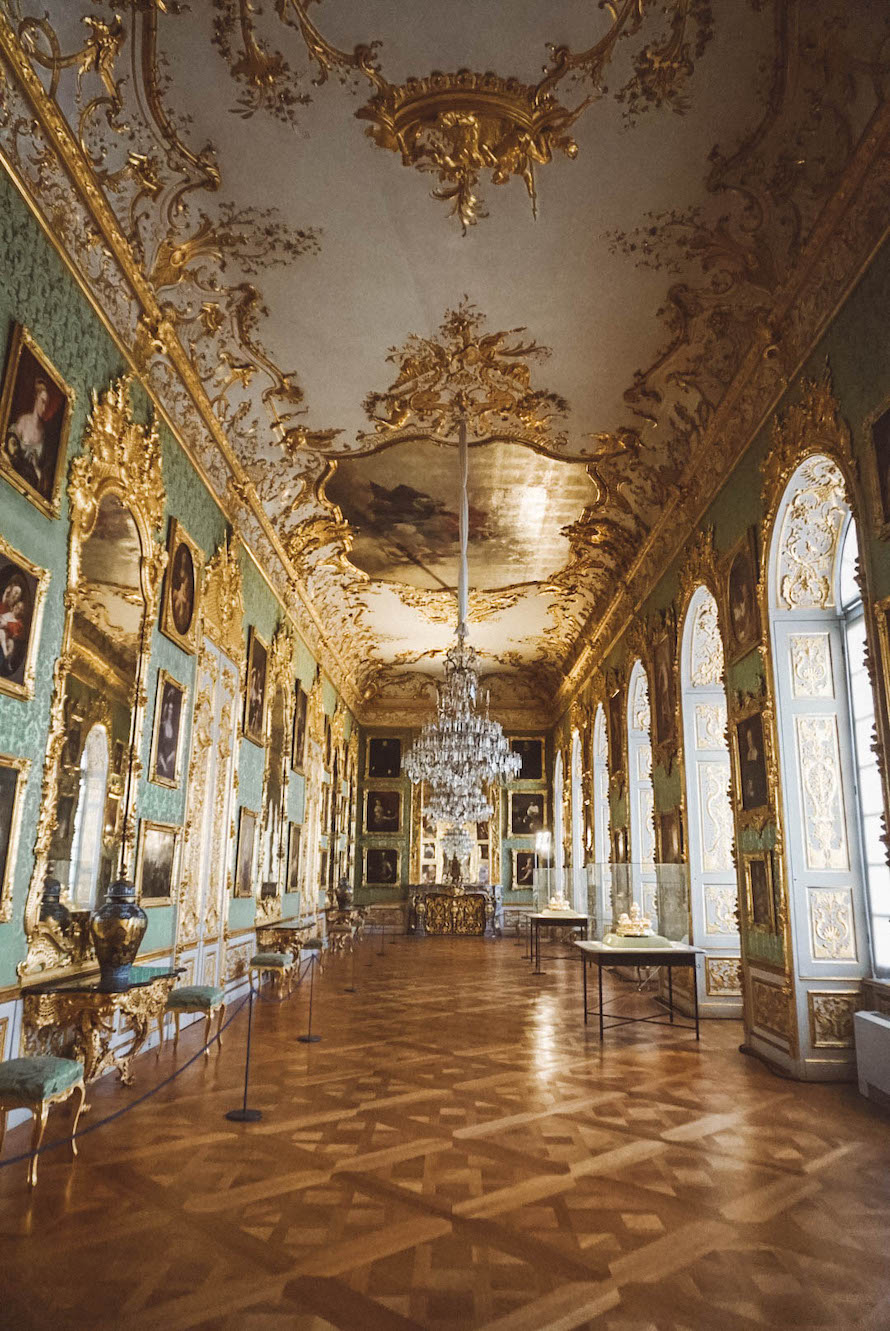 Take time to stop and really soak up the following rooms:
The Antiquarium: A Renaissance banquet hall with ceiling frescoes and antique sculptures lining the walls. This is one of the most photographed rooms in the palace.
The Court Chapel: Built in the 17th century for the court and royal family to worship.
The Green Gallery: A lovely picture and mirror gallery with 70 pieces of art on display.
Tip: If you need a moment to rest your feet before continuing with the rest of this Munich 3-day itinerary, head to the Hofgarden ("Court Garden") at the back of the Residenz. It's free, and it's a pretty green space to sit down. 
Marienplatz (Mary's Square)
Time needed: 20 minutes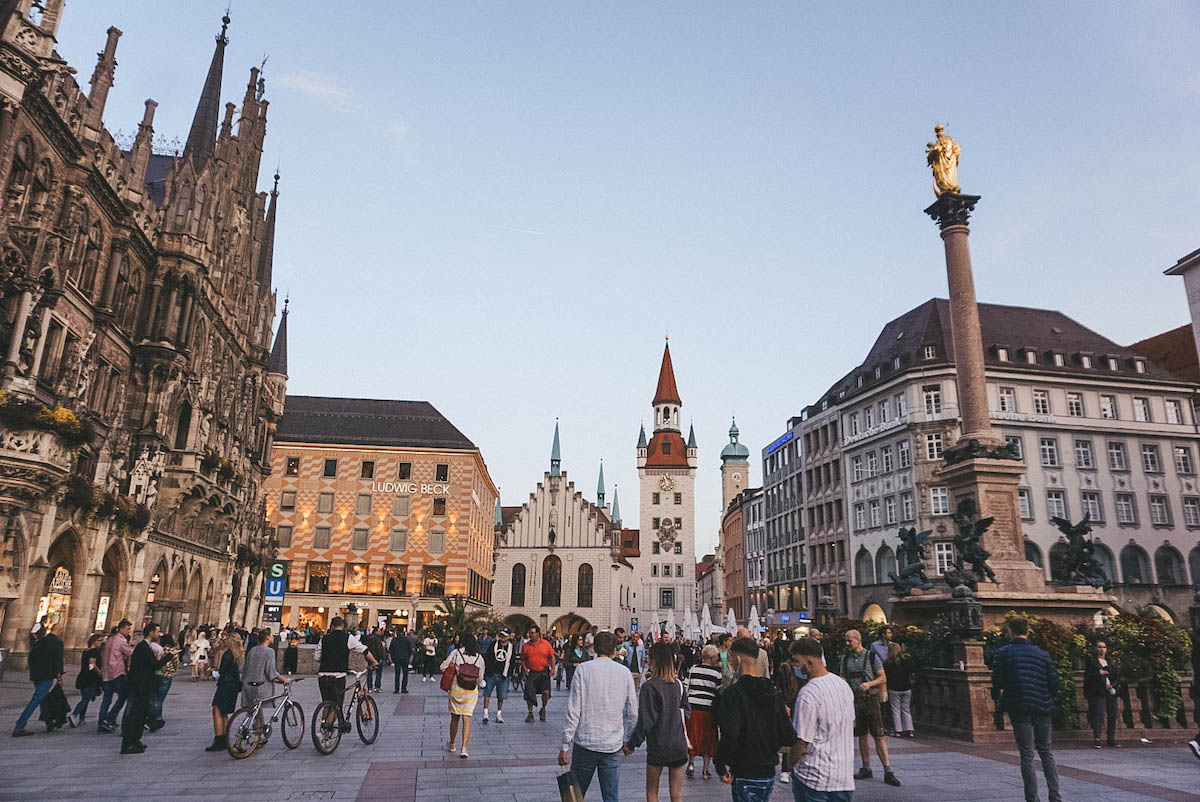 Named for the city's patron saint, the Marienplatz is the prettiest square in Munich and has always been the center of the city.
Rising up from the middle of the square is the Mariensäule (Virgin Mary Column). It's considered the official center of Munich. (True story: If you use Google Maps to determine the distance from Munich to another city, it will be measured starting at the Mariensäule!)
Located around the edges of the Marienplatz is the Neues Rathaus (New Town Hall) and the Altes Rathaus (Old Town Hall).
This itinerary has you returning to this stunning square after lunch to visit the New Town Hall, but if you're at Marienplatz close to 11 am or noon, be sure to stick around to watch the Glockenspiel!
The Glockenspiel of the New Town Hall plays a 15-minute song, and while the song plays, the figures underneath the clock spring to life! They tell the story of a jousting tournament held as part of the wedding celebrations for Bavarian Duke Wilhelm V and his wife, Renata of Lorraine.
Viktualienmarkt (Victuals Market)
Time needed: 45 minutes to 1 hour (depends on how long it takes you to find and order food)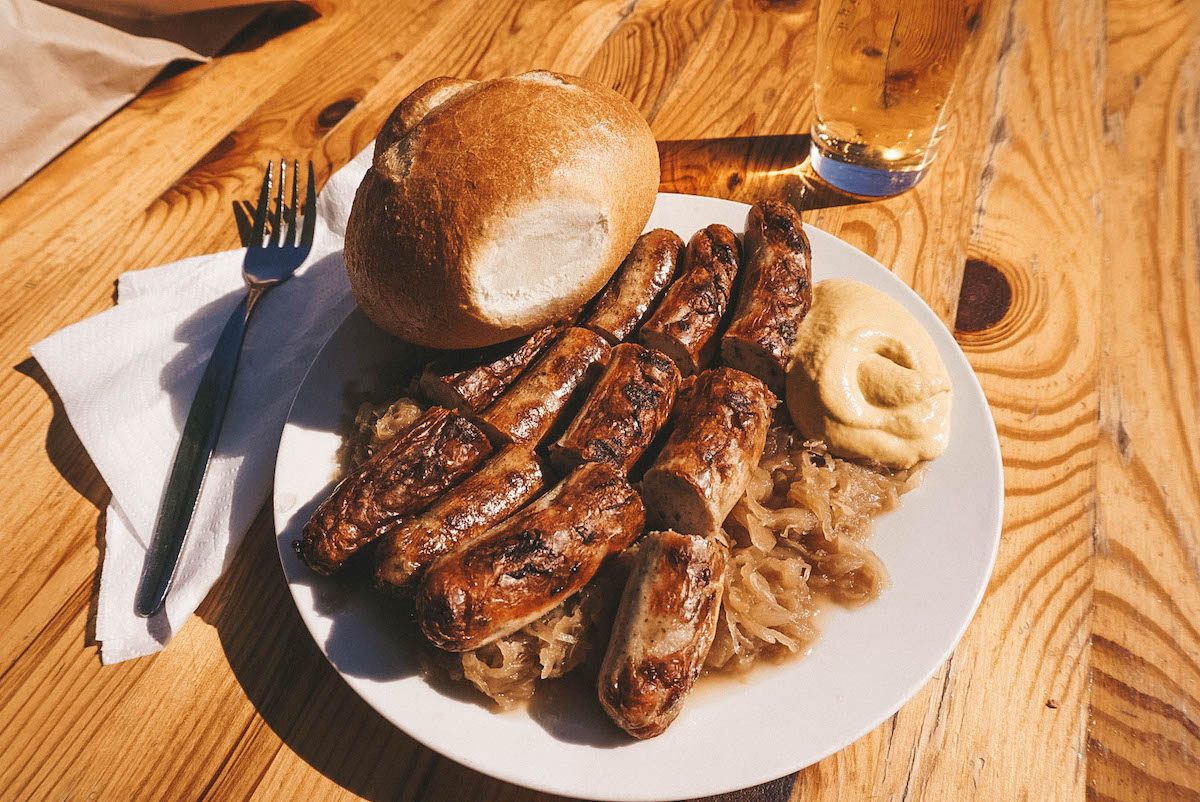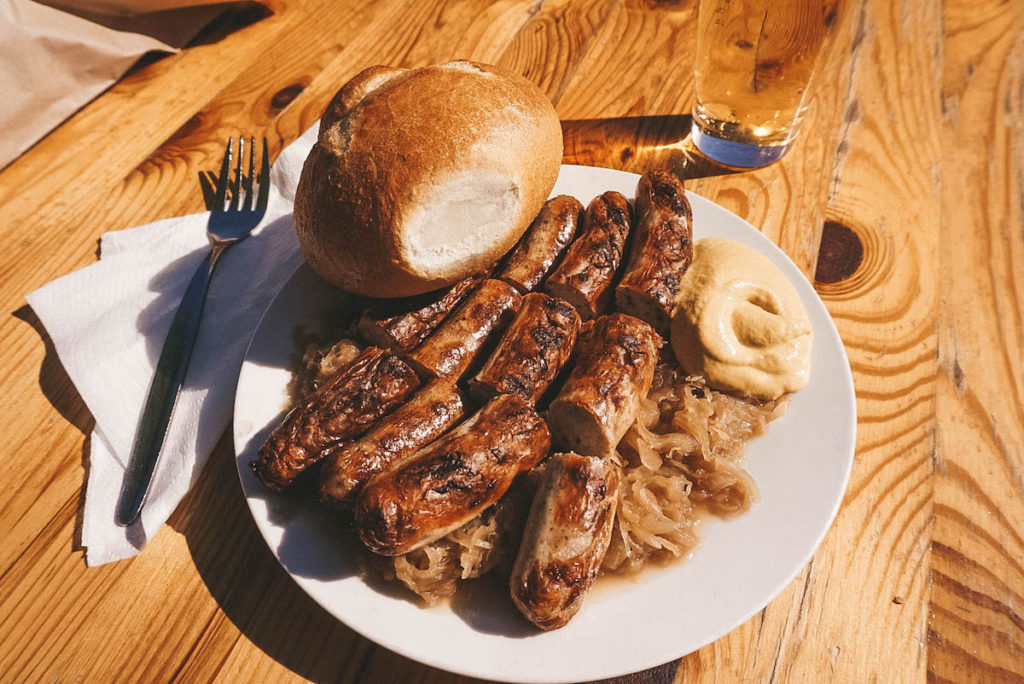 If everything has gone according to plan, you should be finished with the Residenz and Marienplatz around the time your stomach starts rumbling. For a cheap, quick, and tasty lunch in Munich's Old Town, head to the Viktualienmarkt.
The Viktualienmarkt (Victuals Market) began as a small farmers market in the 1700's and is now the city's main market. Here you can find dozens of stalls selling fresh produce, meats, cheeses, flowers, and a variety of prepared foods like grilled bratwurst, soups, and more.
The market is open every day but Sunday, and it's my go-to place in Munich for a budget-friendly lunch!
Neues Rathaus (New City Hall)
Time needed: 45 minutes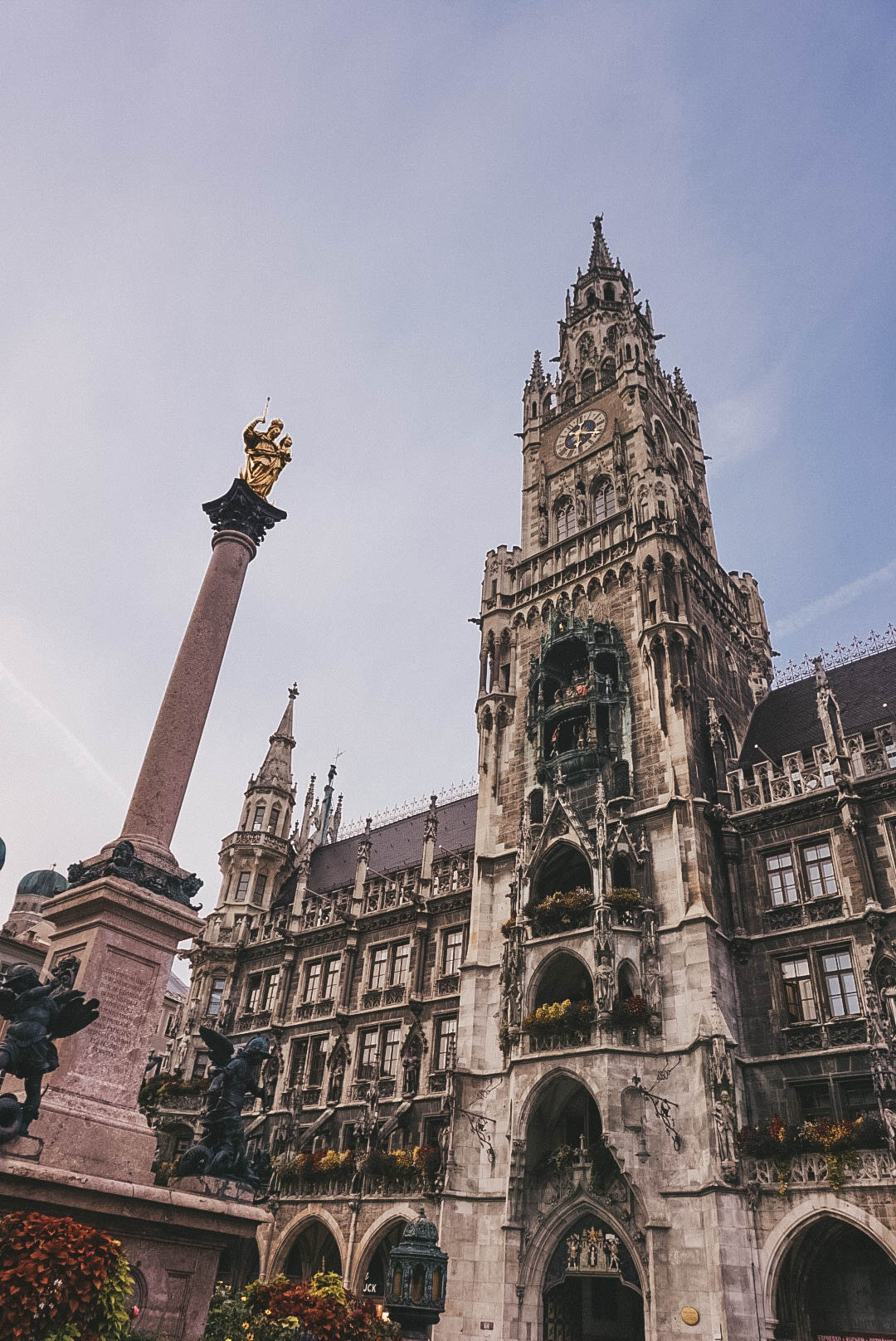 The Neues Rathaus took around 40 years to complete, but the end result is pretty fantastic! As mentioned previously on this itinerary for Munich, the town hall is famous for its Glockenspiel. Try to visit Marienplatz at 11 am, noon, or 5 pm (summers only) to watch the 15 minute-long Glockenspiel.
Be sure to duck into the inner courtyard of the Neues Rathaus for a pretty photo op. Then, pop into the tourist information center on the Marienkirche to purchase tickets to climb the bell tower of the Neues Rathaus.
The view from the observation deck at the Neues Rathaus is unparalleled! You'll get a fantastic view of Marienplatz, the neighboring churches, and all of Munich's Old Town!
Church of Our Lady (Frauenkirche)
Time needed: 30 minutes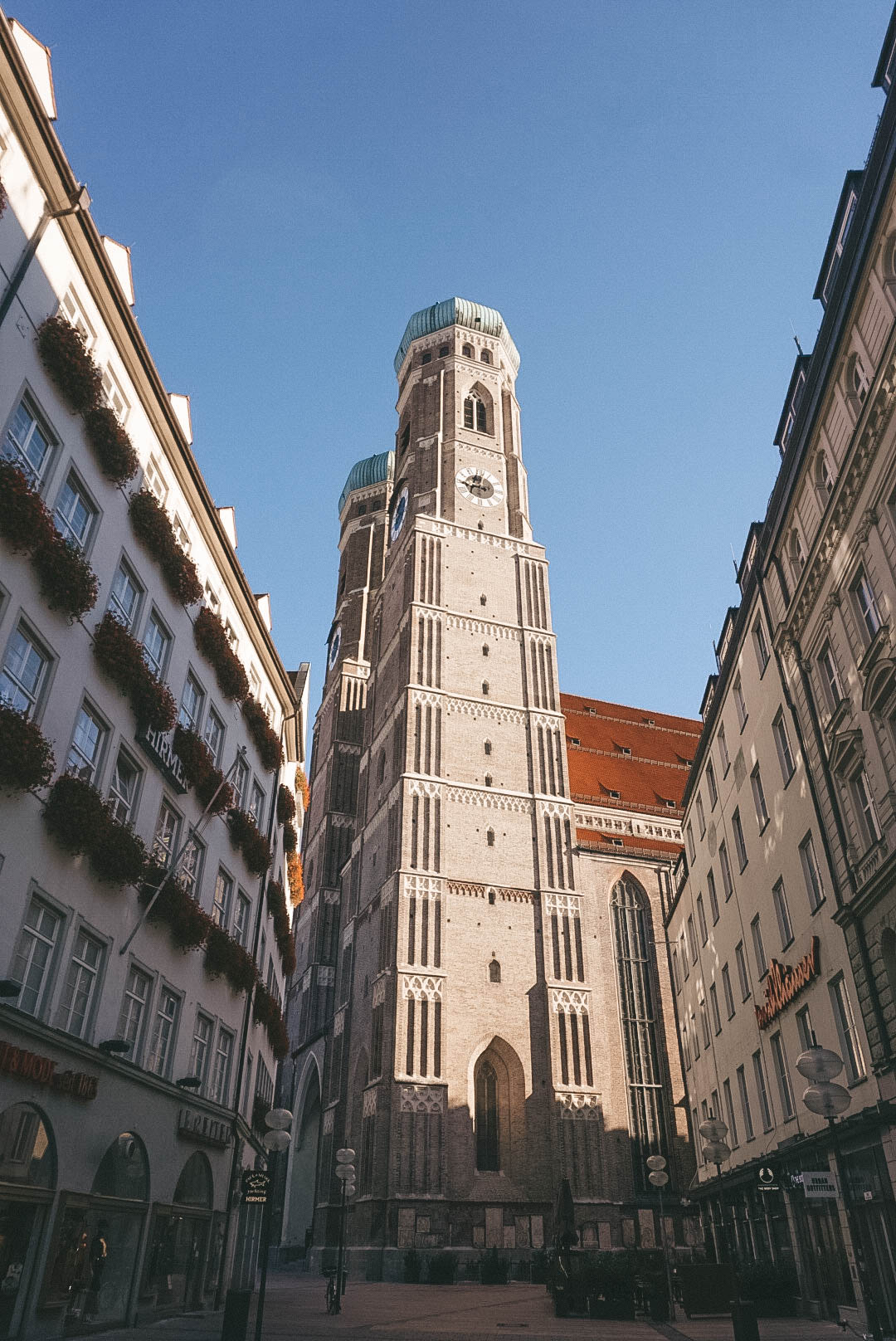 The towers of the Frauenkirche loom 325 feet overhead and are impossible to miss! They're a symbol of the people's faith and the power of the Catholic church in an otherwise Lutheran country.
Legend has it that the Frauenkirche's architect made a deal with the devil in order to complete the project in just 20 years (very speedy for a church of this size!). The devil said he'd help fund the building project — but only if no windows were installed.
Luckily for Munich's churchgoers, the architect found a loophole in the counteract and secretly added windows to the Frauenkirche. When the cathedral was finished and the devil realized he'd been tricked, he stomped his foot on the floor in anger.
To this very day, you can see the "Devil's footprint" at the entrance of the Frauenkirche.
Hofbräuhaus
Time needed: 90 minutes to 2 hours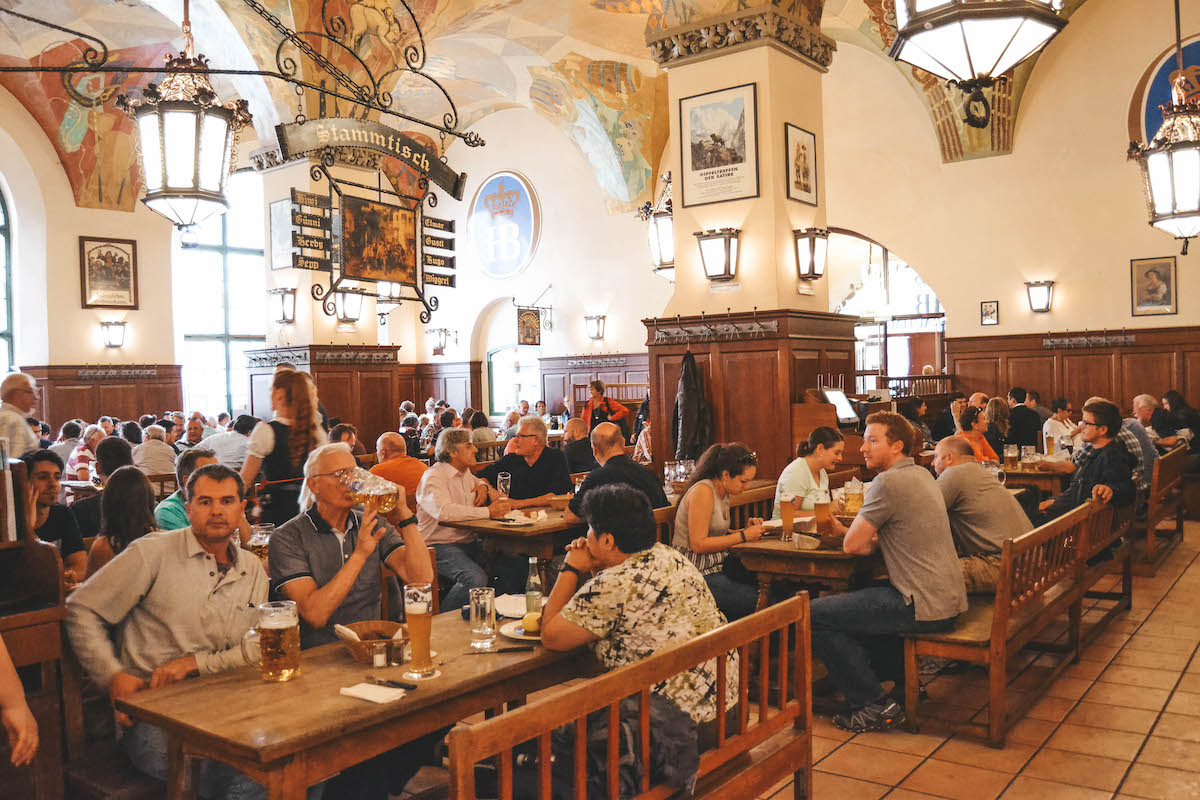 After exploring the Old Town on foot all day, you're going to be tired and hungry. Head to the legendary Hofbräuhaus for some stick-to-your-ribs fare and a hearty liter of beer.
Because I know I'll get questions, yes, the Hofbräuhaus is very popular with tourists but I genuinely love this place! The Hofbräuhaus opened in 1607 and catered solely to Munich's nobility. It wasn't until the 1820s that King Ludwig I opened the Hofbräuhaus to the public as part of his wedding celebrations.
However, the Hofbräuhaus has a dark history as well. It was here that Hitler and his associates founded the Nazi party in 1920.
Enjoy an evening at Munich's most famous beer hall and fuel up for your second day in Munich!
Munich Itinerary Day 2: Dachau & Museum Day
Day two of this Munich itinerary will take you beyond the city center and back again. I recommend starting your day at Dachau since it's a place of reflection and sadness; it definitely saps a good amount of your emotional energy for the day, which is why I prefer starting with it.
Your day will end at a museum of your choice (I've listed my top recommendations below!), and at that point it will be dinnertime.
Dachau Concentration Camp Memorial Site
Time needed: 3 hours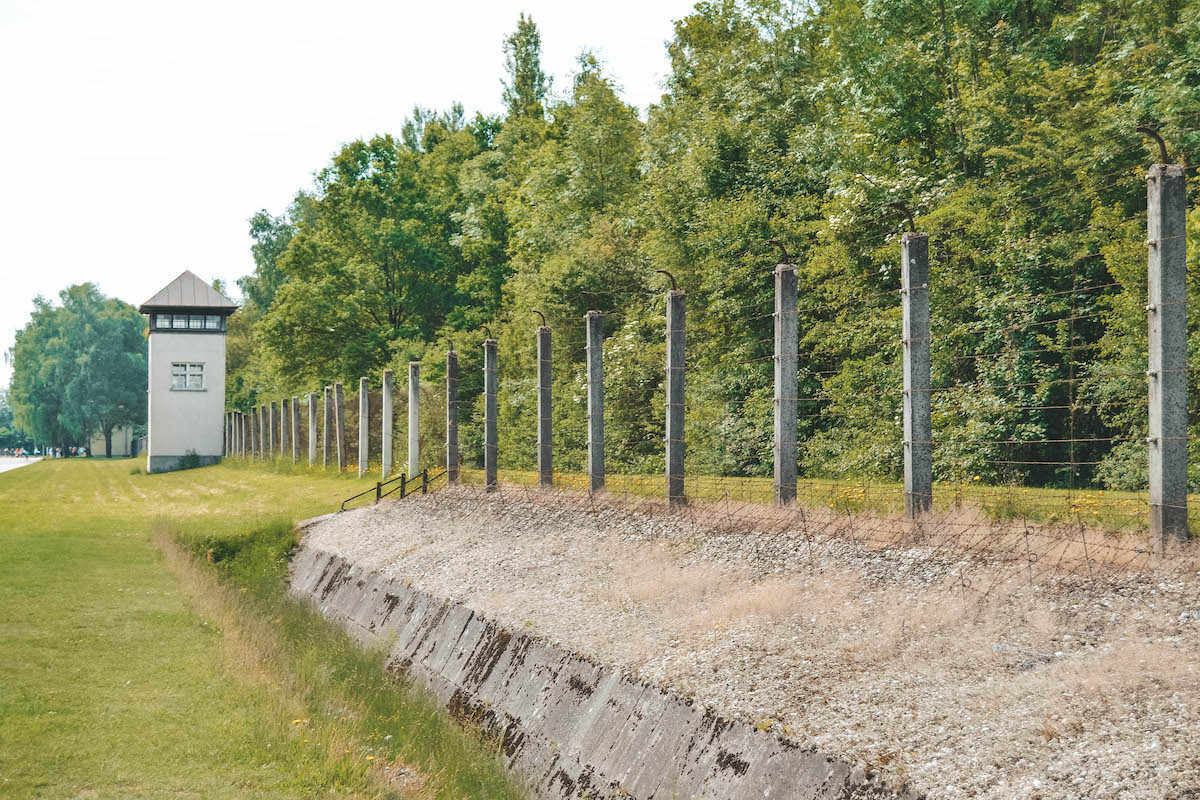 Munich was where Hitler founded the Nazi party, and he built the very first concentration camp at Dachau, a suburb roughly 30 minutes from Munich's city center.
Dachau served as a model for all other concentration camps, and it's estimated that from its founding in 1933 until the liberation of the camp's prisoners in 1945 that some 41,500 people were murdered here.
Today, the site has been transformed into a memorial, although many of the original camp buildings remain standing. Some of the buildings house exhibitions explaining the camp's history, as well as the personal histories of some of the prisoners who lost their lives there.
The Dachau Memorial Site is free to enter, but I recommend paying the few Euros extra for an audio guide to make the most of your visit.
Englishcher Garten (English Garden)
Time needed: 90+ minutes (depends on if you're just passing through or take time to visit the sites mentioned below. You can also bring a book and read for a bit!)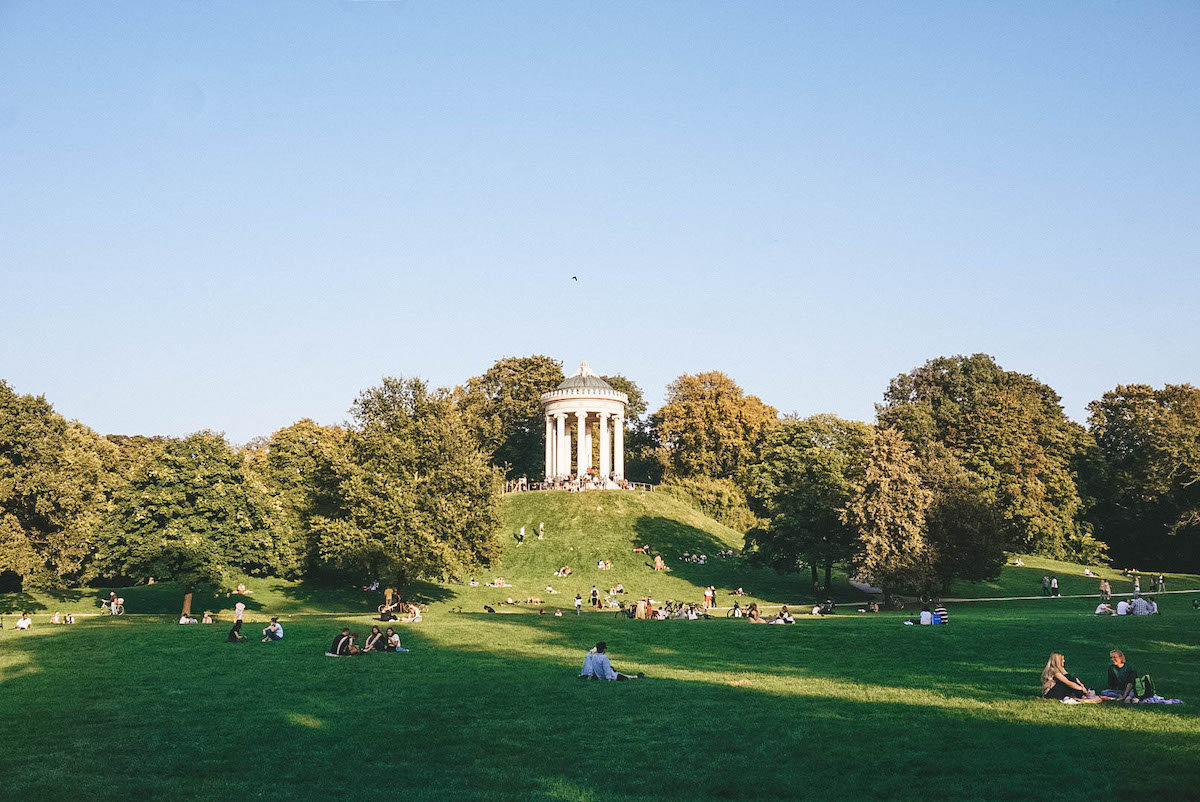 After visiting Dachau, you'll likely need some time to rest your mind and recharge after spending so much time in a former place of imprisonment, torture, and death.
I recommend taking public transportation to either the Giselastraße or Münchner Freiheit U-Bahn (subway) stations, walking the few blocks over to the English Garden, and unwinding from there. 
The English Garden is Munich's largest public park. It's mostly open green space with minimal landscaping and lots of trees and walking paths.
While in the English Garden, be sure to see the Chinese Tower (Chinescischer Turm), which was opened in 1790. Surrounding the tower is Munich's second-largest beer garden. You can stop by the beer garden for a drink and a snack, or snap some photos and keep walking.
My other favorite spot in the English Garden is the Monopteros. It's a small, temple-like building perched on a hill in the middle of the park. Follow the path up to the temple for a great view of the park!
Even if your three days in Munich coincide with rainy or cold weather, I still think it's worth exploring the English Garden.
Tip: Rumor has it there are sheep somewhere on the lawn of the English Garden in the summer months, but it's such a big place that I've never found them!
English Garden: Surfers at the Eisbach
Time needed: 20 minutes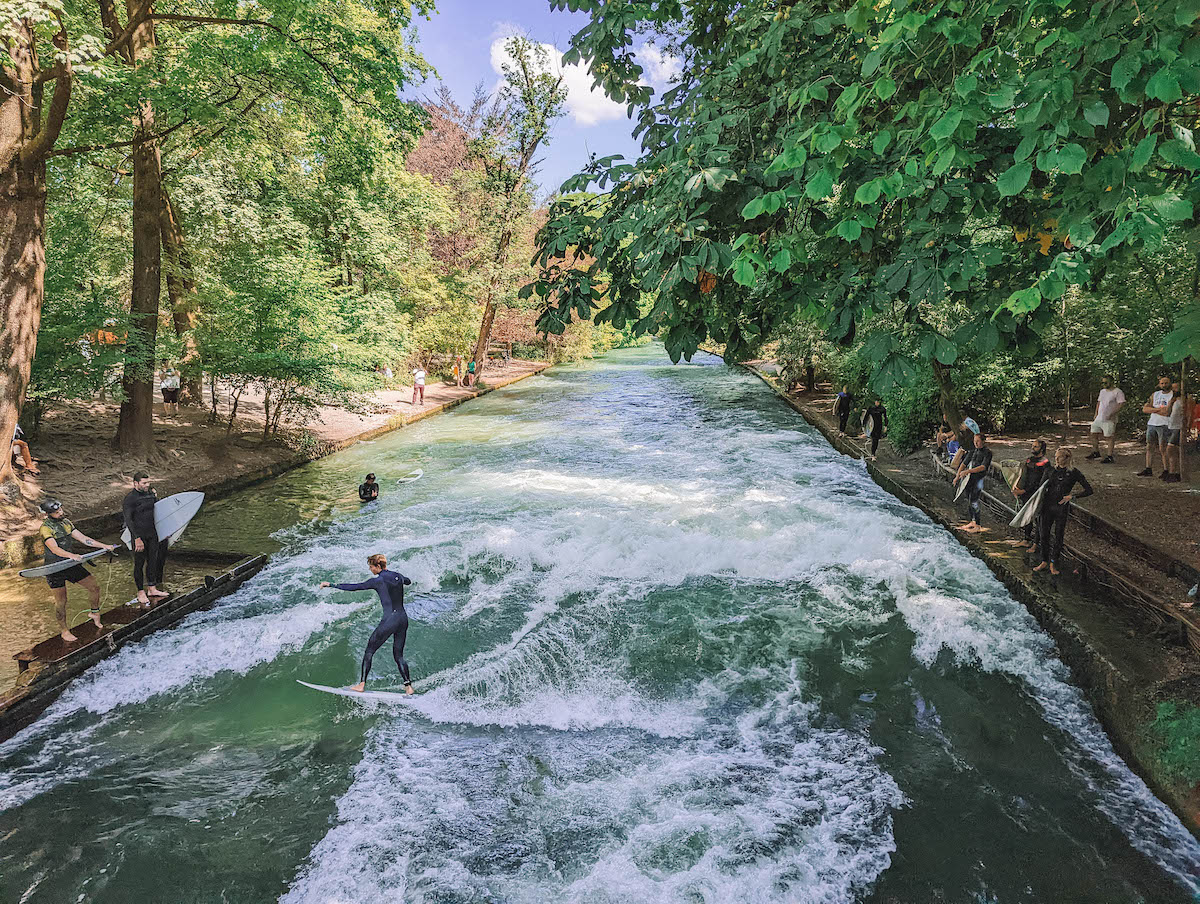 No walk through the English Garden is complete without stopping to see the surfers at the Eisbachwelle!
You read that right — locals don their wetsuits and brave the continuous waves at the Eisbach River. I recommend standing along the Eisbach Bridge (Eisbachbrücke) for the best view of the surfers.
Museum of Your Choice
Time needed: 2 to 4 hours for each museum mentioned below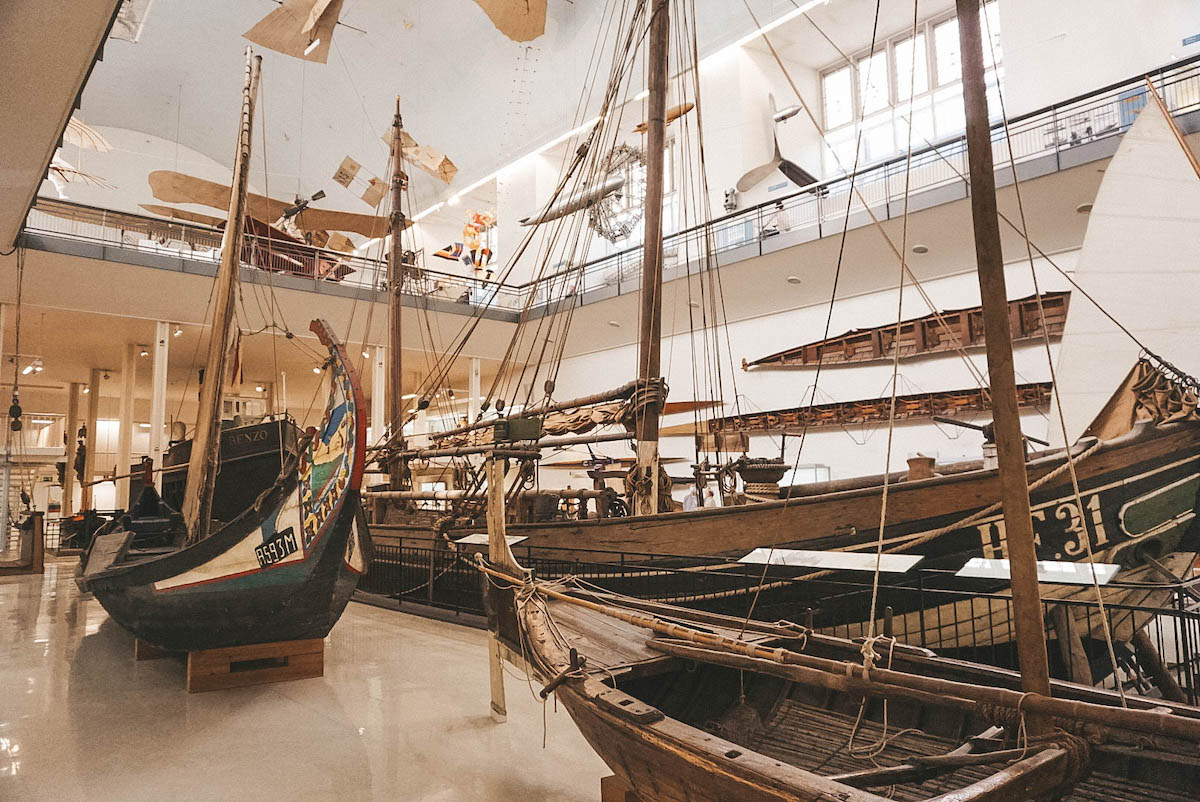 The second day of this Munich travel itinerary finishes in one of the city's renowned museums. You have a few choices (all in or very close to the English Garden) based on your personal interests and budget:
Bavarian National Museum — Houses a large collection of art, silverware and porcelain, musical instruments, and more that were originally part of the royal family's collection. Get an audio guide if you don't speak German since most of the signs are auf Deutsch.
Alte Pinakothek — There are actually three pinakothek museums ("Old," "New," and "Modern") and the "Old Pinakothek" is my favorite. It houses over 700 paintings ranging from the Middle Ages to the Rococo period, and the building itself is a feast for the eyes.
Deutsches Museum (shown above) — Arguably the best-known science museum in Germany. It has exhibits in 53 subject areas ranging from chemistry to metallurgy to timekeeping to marine navigation to mining. I'm not really a "science person" (hello, travel writer here!) but I loved this museum.
You'll only have time for ONE museum, so pick whichever interests you the most. I've visited all three of these museums and loved them all for totally different reasons.
And, of course, you can toss my suggestions in the garbage and visit any museum you want. Reader's choice!
Tip: Buy your museum tickets in advance to skip the line at the door.
Munich Itinerary Day 3: Nymphenburg Palace & Olympiapark Attractions
Your third and final day in Munich will give you the royal treatment! You'll spend the bulk of your day touring Nymphenburg Palace and its vast gardens. Yes, I realize this is the second palace on this Munich 3-day itinerary but the Residenz you visited on day 1 is very different from Nymphenburg Palace. As such, both are worth visiting!
Car lovers, don't worry, I haven't forgotten that Munich is where BMW's main headquarters are located! Day three will give you a dose of automobiles and motorcycles, too.
Nymphenburg Palace & Gardens
Time needed: 4 to 6 hours
Just 30 minutes outside of Munich's city center is the gorgeous Italianate-style Nymphenburg Palace. The palace was built in the 1660's as a summer residence for Elector Ferdinand Maria and his wife, Henriette Adelaide of Savoy.
The extensive manicured parkland and Baroque-style gardens are thanks to additions made by Elector Max Emanuel in the 1700's.
Give yourself at least 90 minutes to see the palace itself without rushing. The Great Hall is one of the jewels of the complex; it's one of the very few rooms that hasn't been remodeled since being completed in 1758. The bright frescoes and soaring ceilings will take your breath away!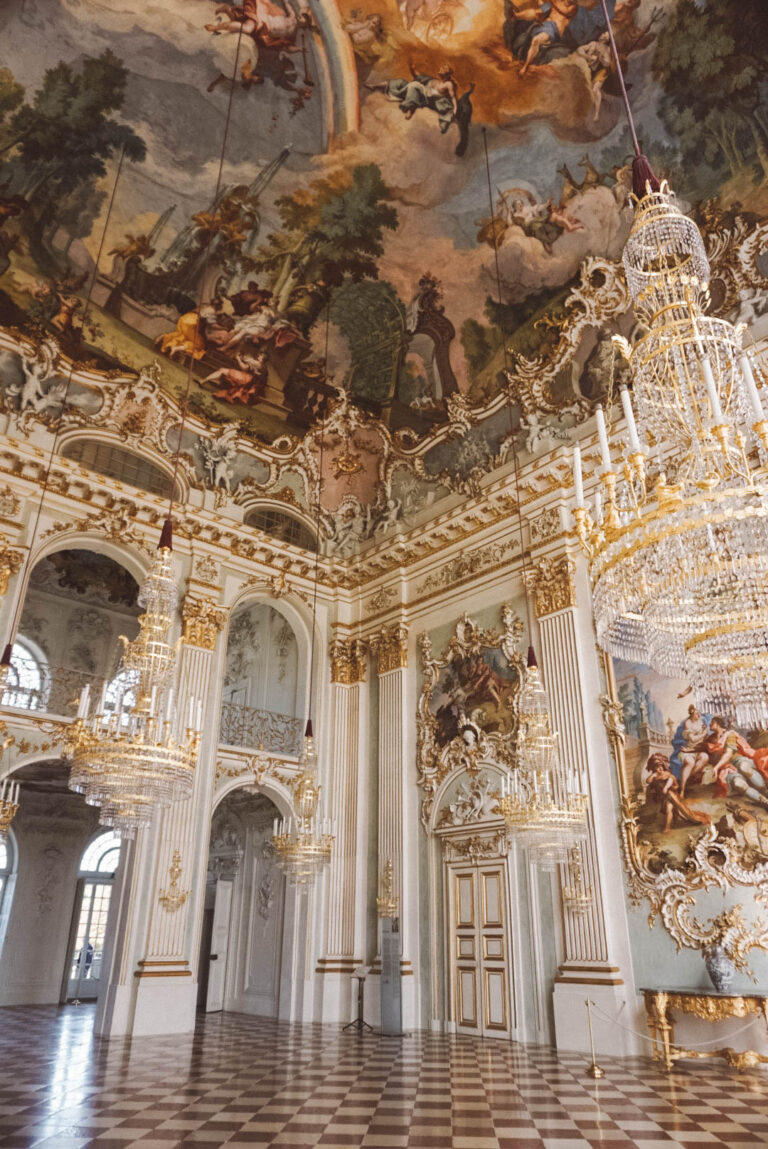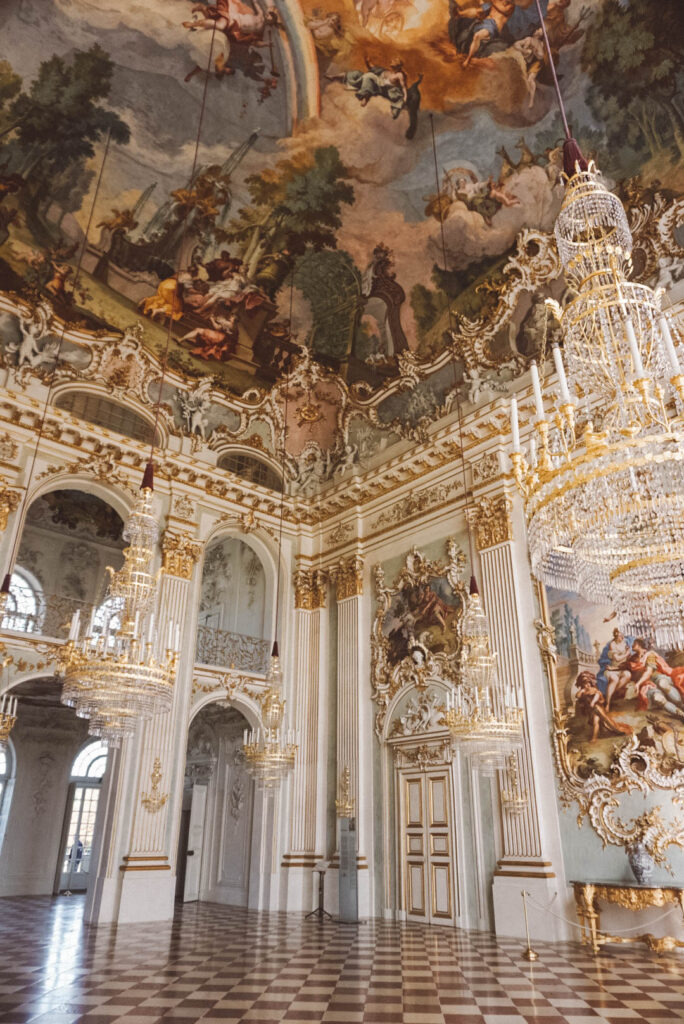 After touring the palace, I encourage you to see a few hours enjoying the formal gardens and park. There's a cafe on site, should you need food or drinks (although packing a lunch is probably cheapest and easiest!).
Within the Nymphenburg Palace park, make sure to visit the village with the old pump house, the historic green houses, and the great cascade. The park is chock full of real and faux historic sites, statues, and fountains — you can tell this was once a playground for nobility!
Tip: If you don't have the time, desire, or budget to tour the palace, still visit Nymphenburg just to see the gardens and park! They're free to enter and I cannot stress enough how beautiful they are.
Olympiaberg (Olympic Hill)
Time needed: 30 minutes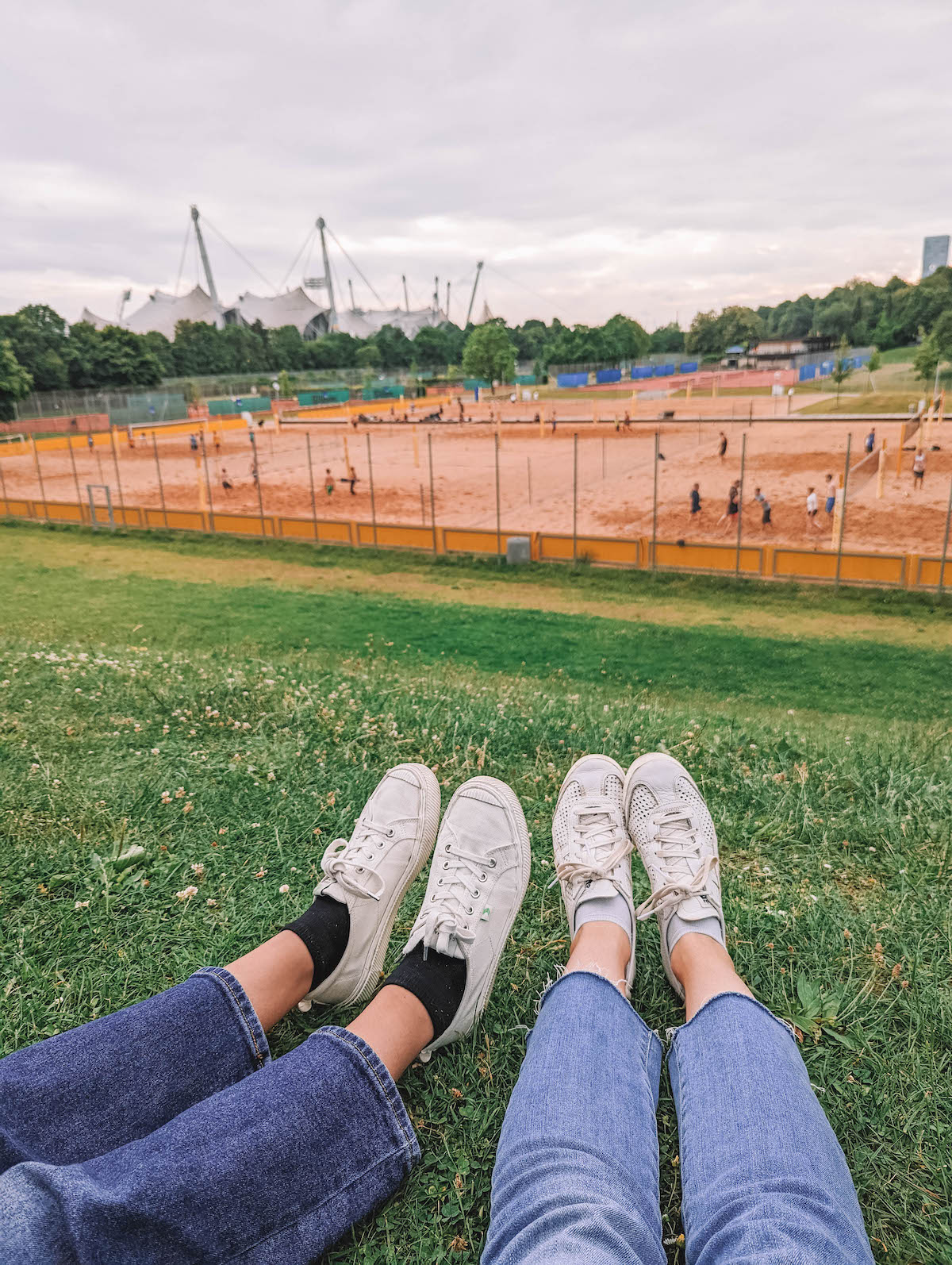 In the middle of Munich's beloved Olympic Park is the 60-meter tall Olympic Hill.
The hill was built from the rubble of the hundreds of destroyed homes and businesses bombed in Allied air raids in WWII. It was completed in 1957, and the surrounding park was built later for the 1972 summer olympics.
From the top of Olympic Hill, you get a incredible view of Olympic Park, Munich, and even the Alps on a clear day! (Note that the photo above left is NOT the view, but it IS within the park. Turns out I forgot to take one last time I visited!)
Buy a drink from a nearby convenience store on your way to the hill, then rest your feet and take in the view. (My friend from Munich also told me that locals come to this hill when big concerts are taking place so they can listen for free!)
If you have the energy, you're welcome to explore more of Olympic Park on foot! I just included the best spot in the park on this 3-day Munich itinerary.
BMW Welt (BMW World)
Time needed: 1 hour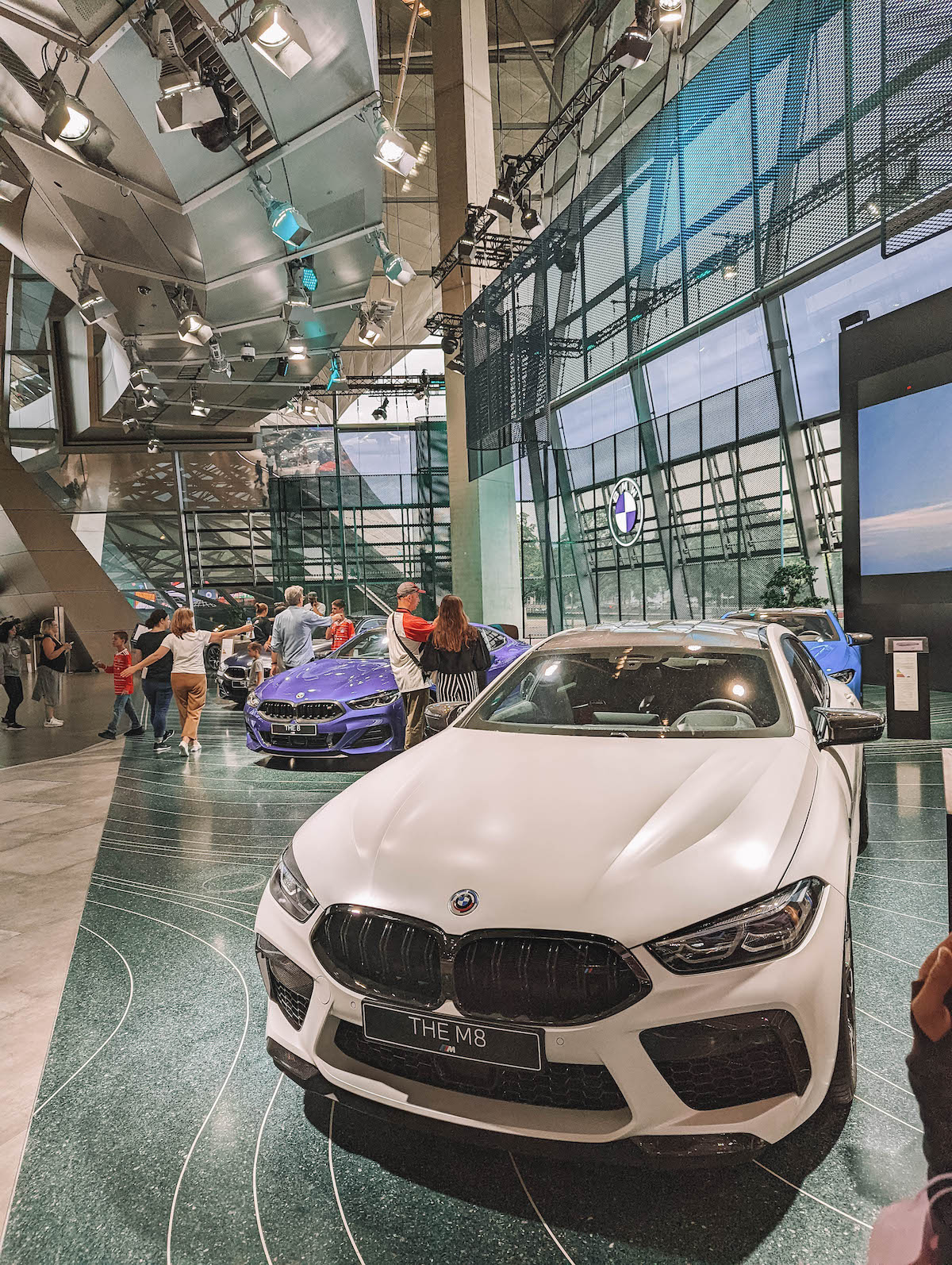 Automobile lovers, this one's for you! BMW (Bayerischen Motoren Werke) has its main headquarters in Munich, and there's both a free exhibit and a full-blown museum near Olympic Park.
Since this itinerary is already jam-packed with Munich's top attractions, I recommend visiting the free exhibition, BMW World. The two-story space showcases the latest and greatest from BMW, MINI, and Rolls-Royce. You can climb into most of the vehicles on display to get a feel for the vehicle.
BMW World is open until midnight every night, so it's the perfect final activity for your 3 days in Munich. Spend as much time as you want relaxing on Olympic Hill before visiting BMW World!
Tip: If you're a hardcord BMW fan, feel free to alter around this itinerary as you see fit so you have time to visit the BMW Museum. It's open 10 am to 5 pm daily.
If You Have More Time in Munich …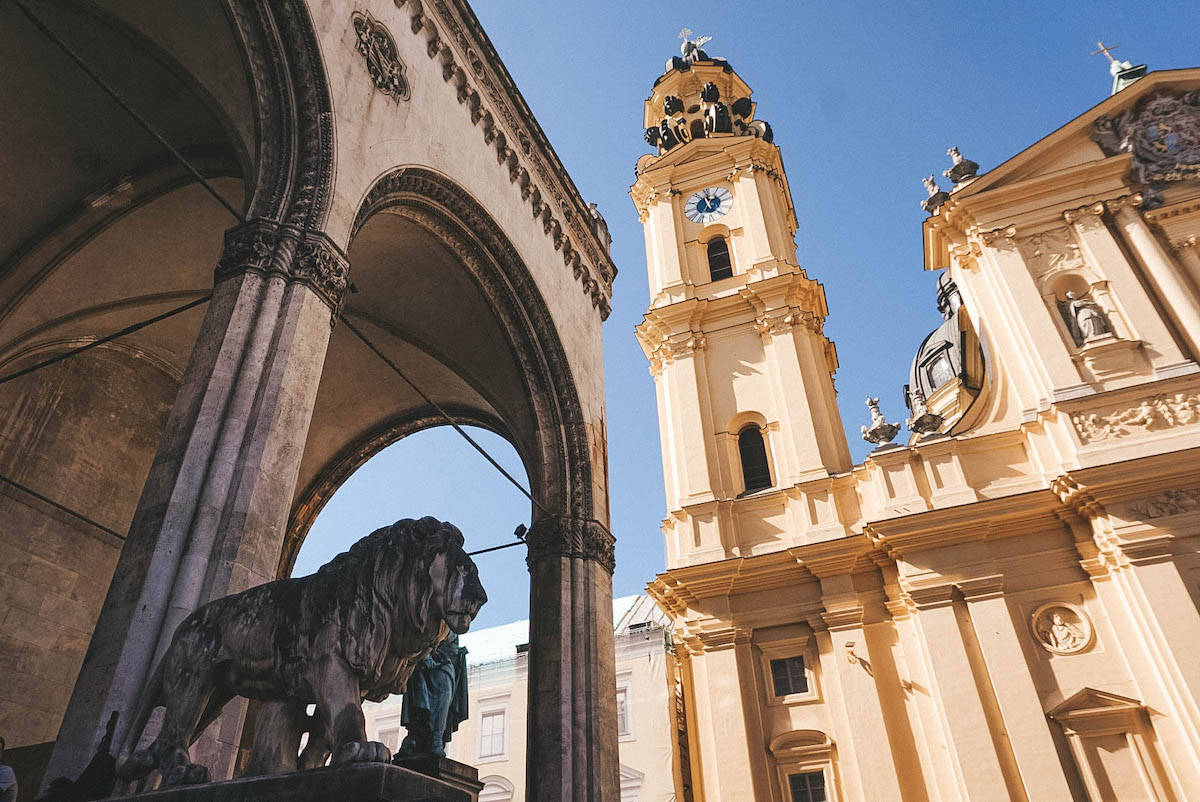 Yes, there's even MORE to do in and around Munich than I've mentioned on this itinerary!
I purposely didn't list any of the (many) Munich day trip destinations on this itinerary because three days is barely enough to scratch the surface of what the city has to offer. However, if you plan on spending more time in Munich or want to change around the itinerary, here are my top Munich day trip recommendations.
And here are my favorite things to do in Munich in general.
Is 3 Days in Munich Enough Time?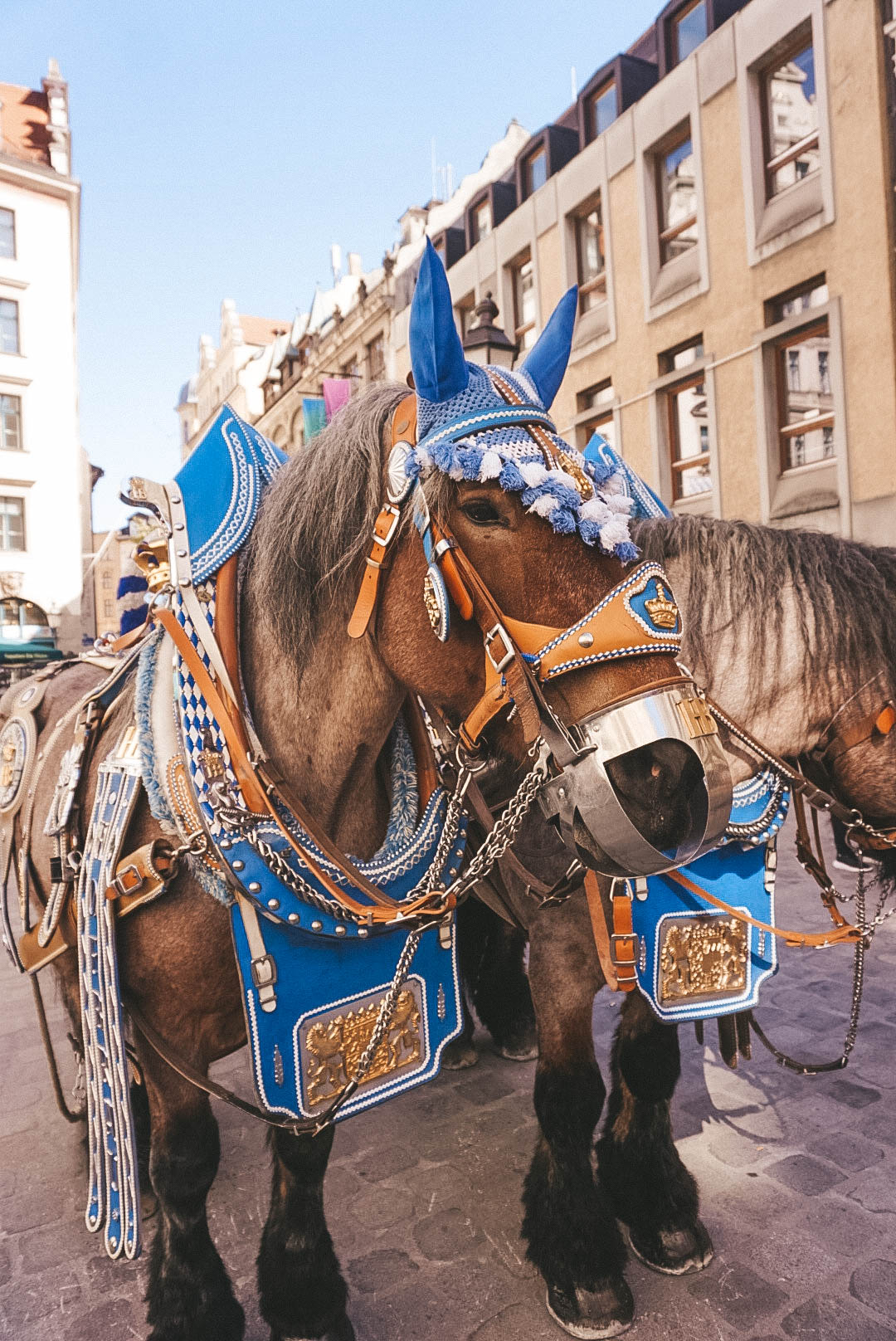 I've visited Munich multiple times, from 24 hours to eight full days. It's truly so easy to fill your time here!
Munich is easy to navigate, both on foot and using the public transportation system. Once you leave the city center, there are still plenty of boutiques, cafes, and museums to visit.
Personally, I think three days in Munich is the minimum amount of time you'll need to explore the city itself.
I don't think a day trip is necessary if you have just three days here, but you may of course swap out any of the daily itineraries shared in this post for a day trip (such as the popular Munich to Neuschwanstein day trip!).
Excited to Visit Munich?
I'd intended to make this 3-day Munich itinerary short, sweet, and to the point, and … it didn't happen. But I hope you found it easy to use regardless.
Leave me a comment below with any questions or comments about this itinerary or visiting Munich in general. I've been several times and also have friends from Munich, so I can likely help you out!
Don't forget to follow me on Instagram to keep up with my daily adventures in Berlin and beyond!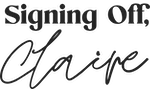 Even More Things to Do In & Around Munich:
The Best Day Trips from Munich (by Train!)