Hamburg is one of the jewels of northern Germany and is absolutely worth visiting! Here's what to do and see in Hamburg's Old Town, in walking order.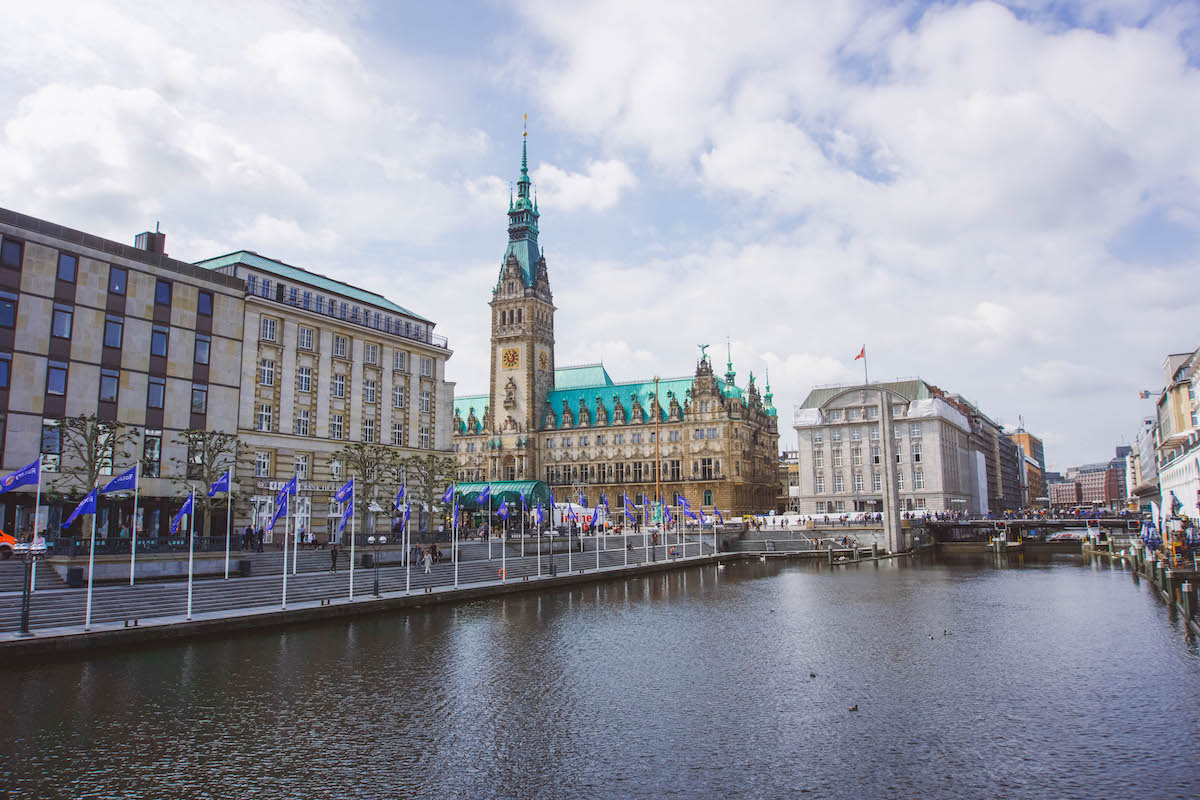 A lively port, good seafood, and beautiful architecture — Hamburg has it all! Although there's so much to do and see in Germany's second-largest city, most first-time visitors spend the bulk of their time in the Old Town area. And rightly so!
Hamburg's Old Town has experienced a lot of ups and downs since Charlemagne first ordered a castle to be built between the Alster and Elbe Rivers to fend off Slavic invasions. The Black Death, multiple fires, the rise of Lutheranism, the invasion of Napoleon, a cholera epidemic, two World Wars, the list goes on.
In this post, I'll be discussing the main things to do and see in Old Town Hamburg. I'd like to give a big, juicy caveat that while I've touched on the most important historic events from recent centuries, I couldn't possibly go all the way back to the 9th century or else this would be a book!
So, consider this your not-so-short but very sweet guide to Hamburg's Old Town.
Table of Contents
Click "show" to see the full table of contents for this post. You can jump around the post as desired by clicking on the individual sections listed below.
Where Is Hamburg's Old Town?
Before I dive into all the fun things there are to do in Hamburg's Old Town (Altstadt), I wanted to address where exactly the Old Town is. As I was researching all of the attractions shared in this post, I realized I had mistaken sections of the New Town (Neustadt) with the Old Town.
Hamburg's Old Town and New Town blend together seamlessly, and it's unclear where the "old" ends and the "new" begins since both are part of the stunning city center.
If we want to get really technical, Old Town Hamburg is bordered by:
The Speicherstadt
The Central Train Station
The Binnenhafen
The Ballindamm (along the banks of the Binnenalster)
If, like me, you find yourself in Hamburg's city center and can't tell the Old Town from the New Town, there's a good reason for it! Hamburg's New Town was founded as a merchant's settlement in 1188, but most of the buildings you see today are largely from the 17th and 18th centuries.
So, unlike many German cities where the Old Town is the city center, Hamburg's Old Town is simply a portion of its city center.
This guide to Hamburg's Old Town deals specifically with the "official" area designated as the Altstadt on the map. Now enough chatter, let's discuss the best attractions in Old Town Hamburg!
Things to Do in Hamburg's Old Town
Hamburg's Old Town area is easy to get around on foot, no need to use the subway! You can see most of the Old Town attractions in a single day without having to rush.
To help you out, I've listed the Old Town attractions in walking order so that you can get the most out of your visit! Begin at the Central Train Station (Hauptbahnhof) and then follow this Old town walking tour from there.
Allow yourself around 5 hours to see everything (although you'll need less time if you don't plan on going inside each attraction / historic site).
Mönckebergstraße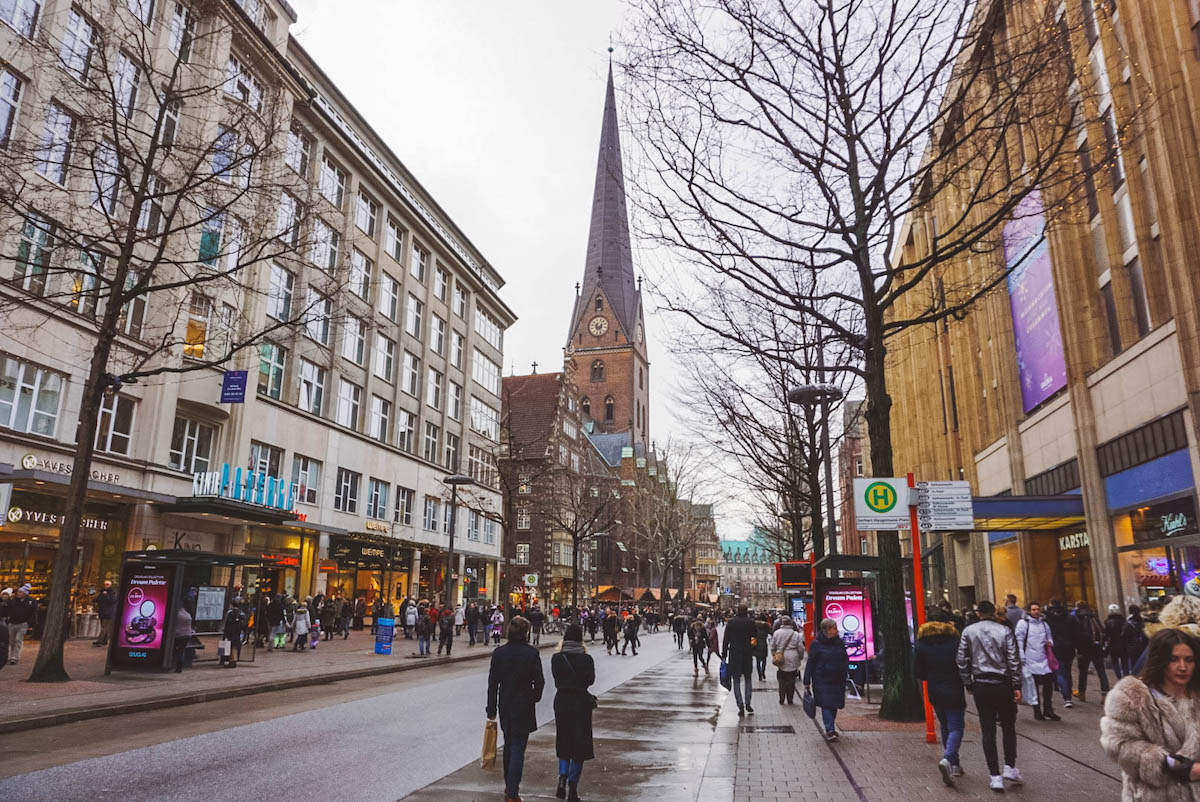 Mönckebergstraße is the main shopping street in Hamburg's Altstadt. It's a lovely pedestrian area lined with oaks and plane trees, and the shops are primarily chain stores alongside some bigger shopping centers. 
Of note is the Europe Center, a modern shopping center with around 120 stores!
If you're just in Hamburg for a day, you likely won't want to spend much time along the Mönckebergstraße. It's worth noting down, however, in case you need to buy an emergency umbrella or sweatshirt if the weather takes an unexpected turn.
St. Peter's Church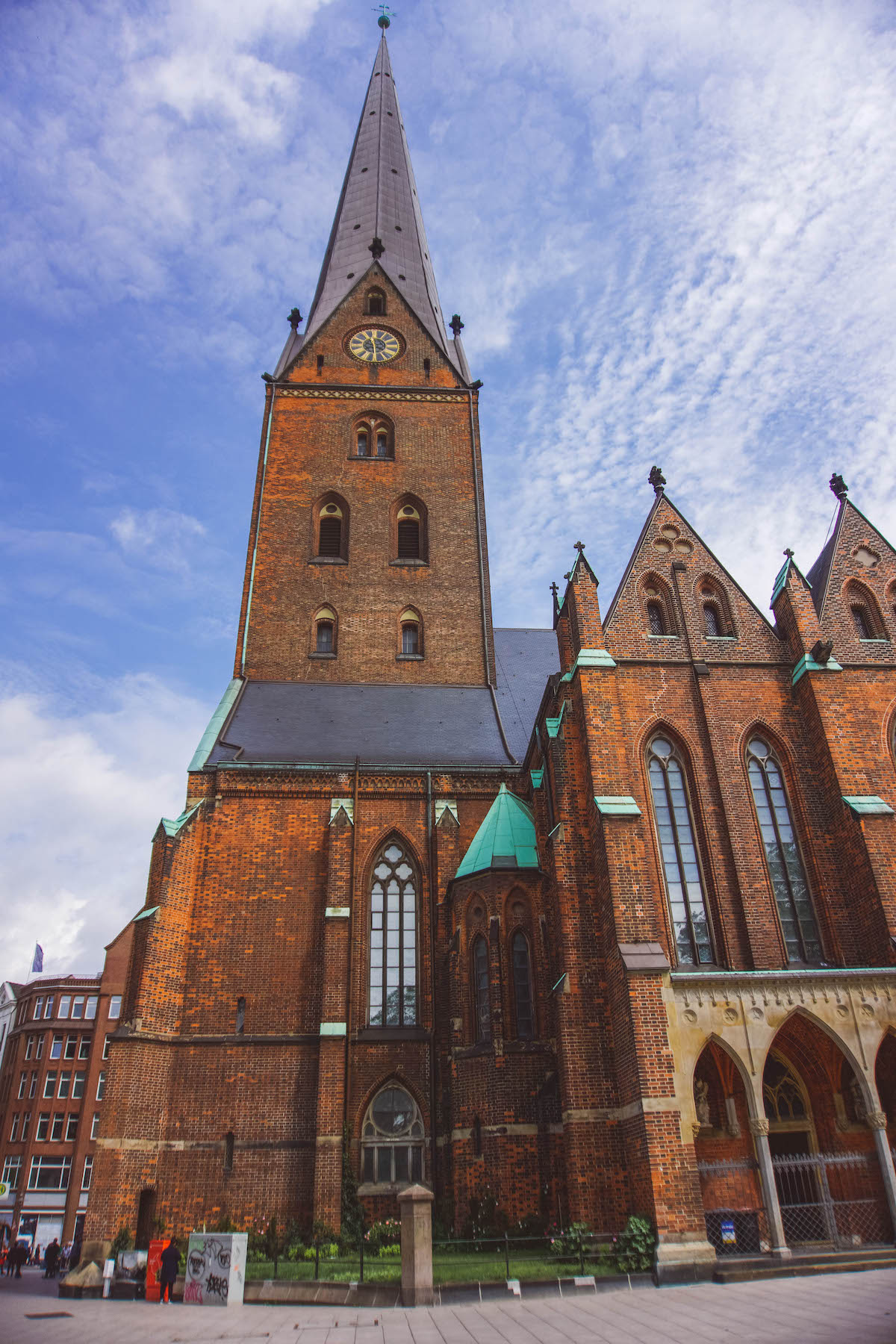 St. Peter's Church, or Hauptkirche St. Petri, is Hamburg's oldest surviving church. It was built in the 11th century but unfortunately was destroyed in the Great Fire of 1842 (many more of the historic sites in Hamburg's Old Town were damaged or destroyed in this fire, so get used to reading about it!). 
The church was rebuilt following the Great Fire and miraculously escaped serious damage during the Allied air raids less than a century later.
When entering St. Peter's Church, look for the impressive lion's head door knockers on your way in! I also recommend paying to ascend the church's viewing platform for a stunning panoramic view of the city.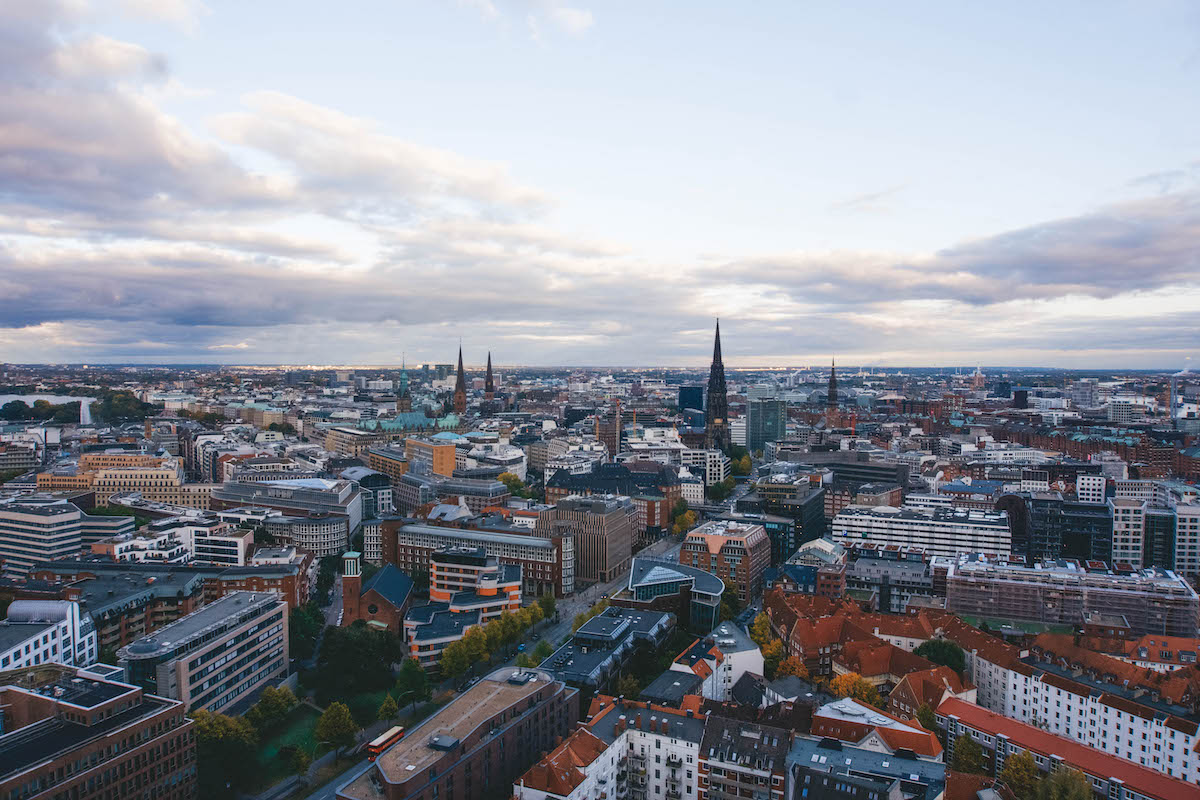 The church's viewing platform is 123 meters tall, and the last time I went up I almost got blown off! I'm joking, of course, but in seriousness I do recommend removing your hat because it can get very windy up there with the birds! 
City Hall & City Hall Market Square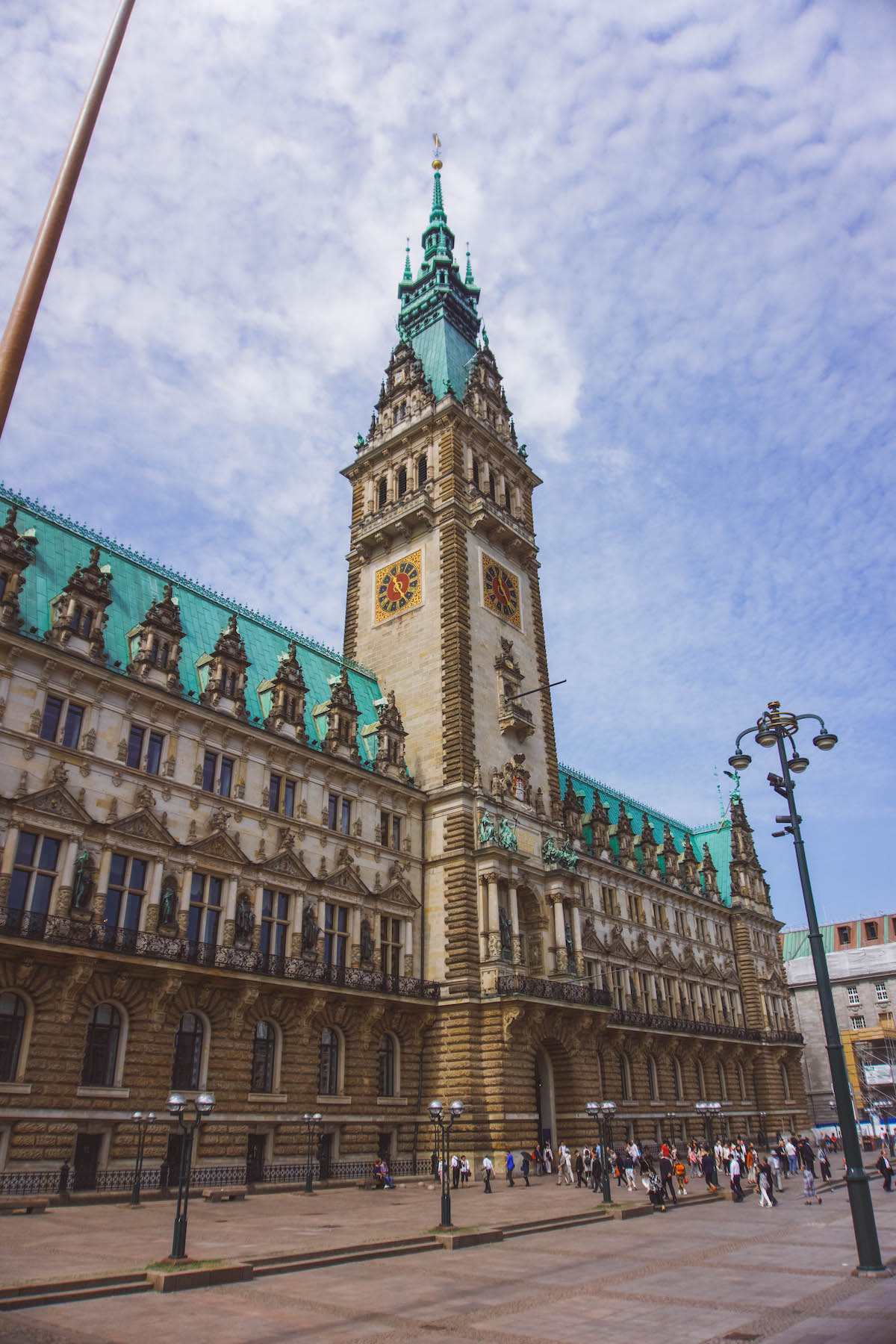 Hamburg's City Hall, or Rathaus, is one of the most beautiful buildings in the city. It's actually the city's sixth city hall, so it's relatively new when compared to the age of Hamburg itself.
Construction on the Rathaus began in 1886, and it took around 11 years to finish building it. Remember the Great Fire of 1842 that destroyed St. Peter's Church? It wiped out the former city hall, too, hence the need for a new one!
Hamburg's City Hall truly is a thing of beauty. The exterior was built in the Neo-Renaissance, and the interior is a hodgepodge of architectural styles, which makes it a fabulous example of historicism. 
When facing the City Hall from the center of the Rathausmarkt, or City Hall Square, take a good look at all of the symbols of power that are carved into the stone. Most prominent is the city's coat of arms on the bell tower — three white towers topped with a cross and two white Marian stars, on a red background.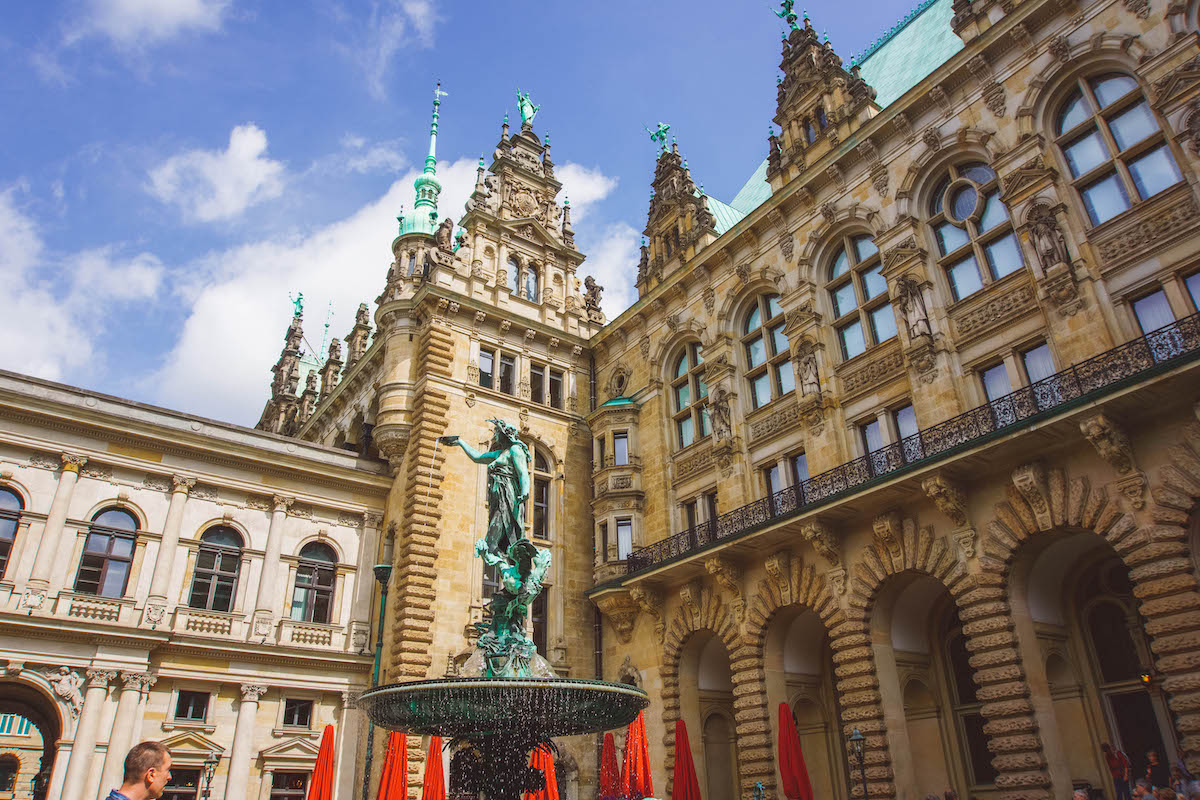 The other symbols and shields on the building's facade are intended to express the city's wealth and independence. See what all you can recognize!
Note that the City Hall is still used by Hamburg's government, so you can only get a proper look around the building by signing up for a guided tour. They offer a few different tours in various languages each day, so look online to check the hours of operation for your language of choice.
One last tip! After admiring the front and interior of the City Hall, head to the inner courtyard around the back to see the beautiful Hygieia fountain. Named after Hygieia, Greek Goddess of health, cleanliness, and hygiene, the fountain was built to commemorate the cholera epidemic of 1892.  
St. Nikolai Church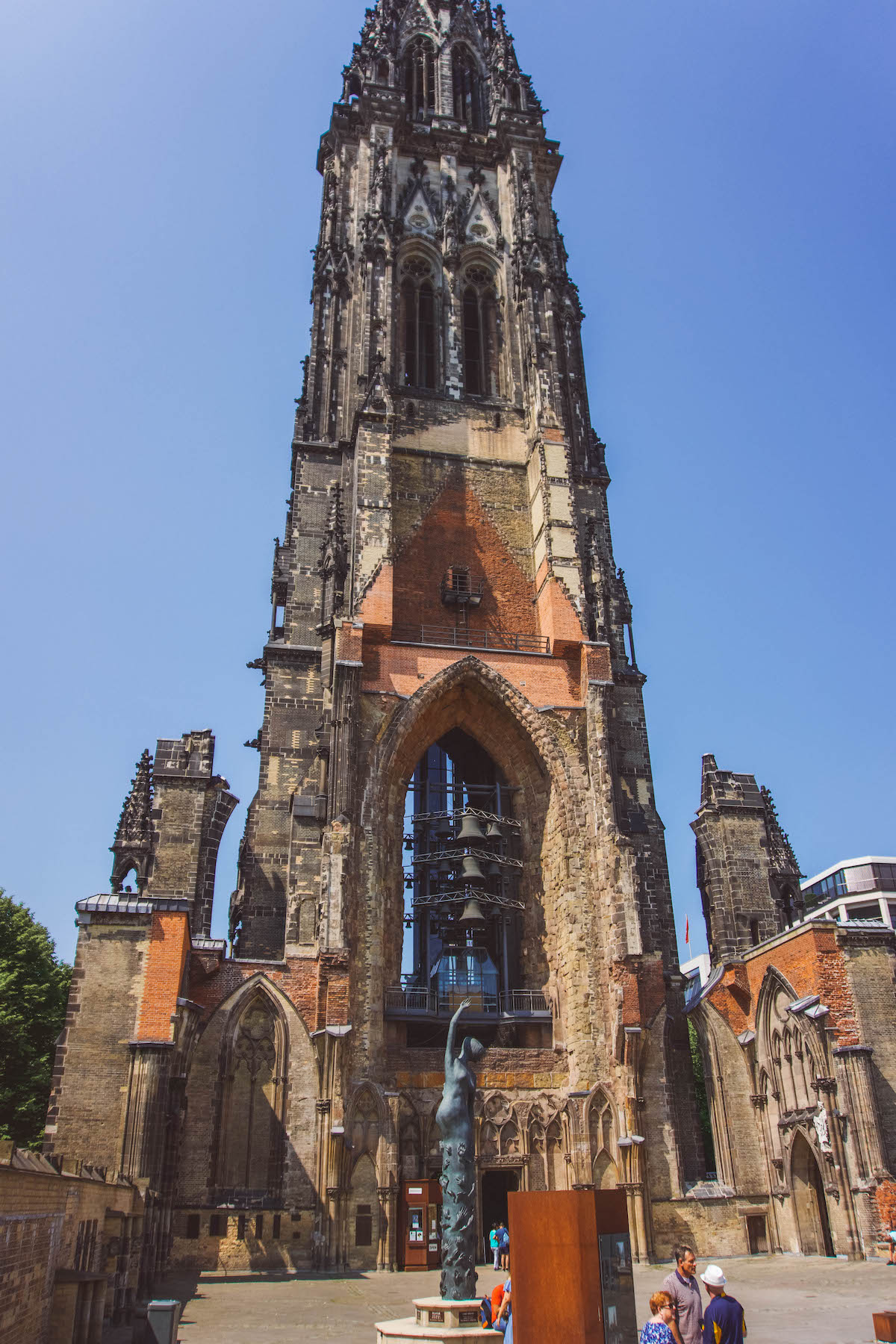 Another can't-miss attraction in the Hamburg Old Town area is St. Nikolai Church (Hauptkirche St. Nikolai).
Dedicated to St. Nicholas, patron saint of sailors (very popular saint for a maritime city like Hamburg!), the first St. Nikolai Church was built sometime in the 12th century. I'm assuming that first structure was made from wood, because the church was rebuilt in stone later on.
And then, alas, St. Nikolai suffered the same fate as St. Petri's and the City Hall and was burned to a crisp in the Great Fire of 1842. The reconstruction of St. Nikolai was completed in 1874, in the Neo-Gothic style.
In 1943, St. Nikolai — and most of the rest of Hamburg's Old Town — was destroyed in an Allied air raid in July 1943, called "Operation Gomorrah." 
Today, the remains of St. Nikolai stand as a memorial to WWII and the devastation that occurred in the city during the war years. The church's spire escaped destruction in the air raid, however, and remains the tallest in the city! You can ride an elevator to the top of the spire for another epic view of Hamburg. 
In the crypt of the church, there's now a permanent exhibit detailing Operation Gomorrah and its lasting impact on the city of Hamburg.
Deichstraße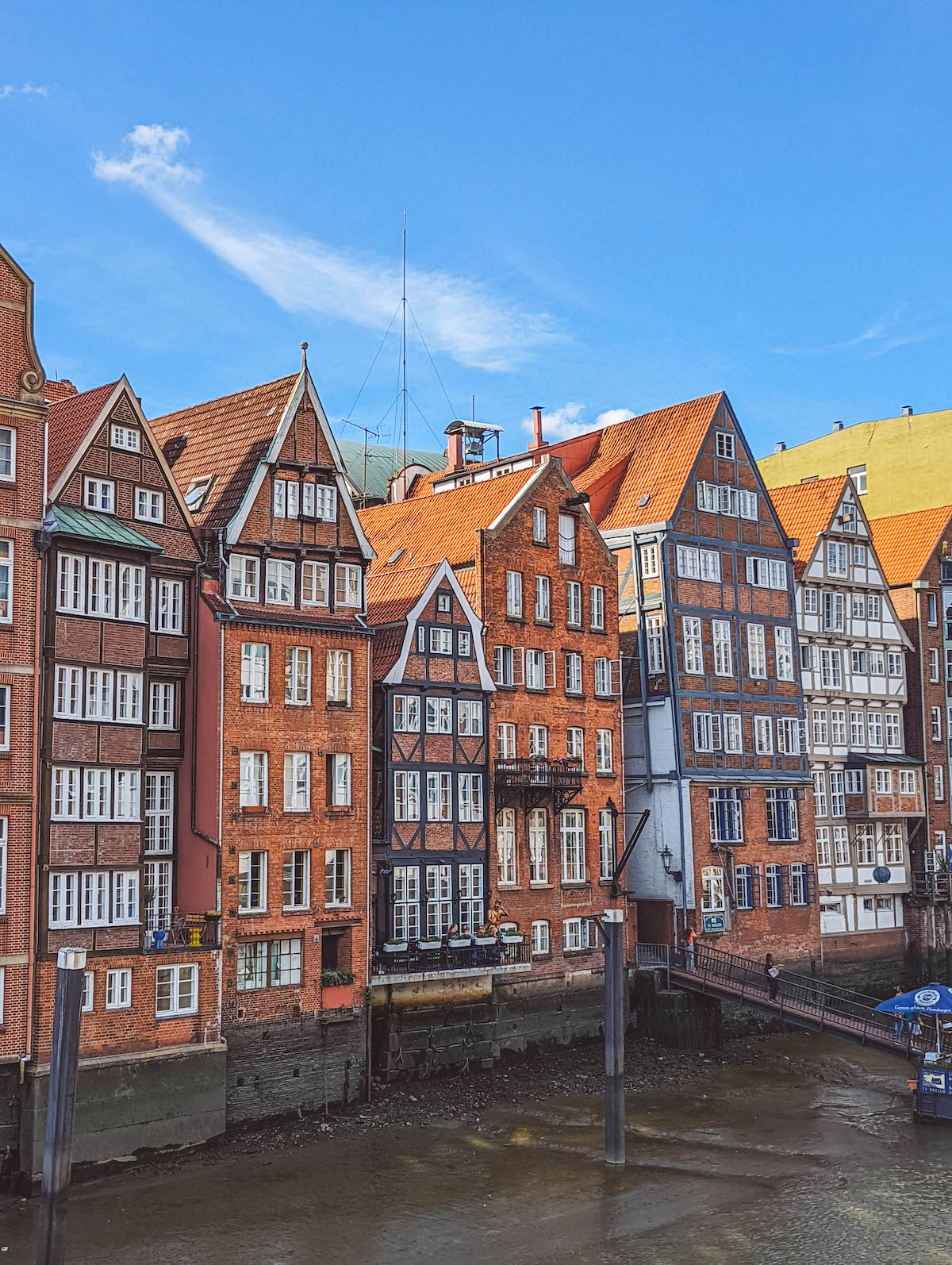 You know the Great Fire of 1842 – the one that destroyed much of the Old Town and has been mentioned at least three or four times already in this post? — yeah, it originated along Deichstraße.
It's thought that the fire broke out around 1am on May 5, 1842 and raged until May 8.
The photo of Deichstraße shown above gives you a good idea of what the entirety of Hamburg's Old Town area would have once looked like — higgeldy-piggledy, half-timbered houses oozing Old World charm and coziness. 
Today, the lovely facades you see along Deichstraße contain modern interiors, but the Baroque facades are mostly original! This stunning street escaped serious damage during Operation Gomorrah air raids and consequently is the most "old town" looking part of Hamburg's Old Town.
Take your time exploring Deichstraße — maybe treat yourself to a slice of cake and a cup or tea or coffee at one of the many cafes, and definitely take lots of photos!
Tip: I recommend walking along the Hohe Brücke (High Bridge), which offers a fantastic view of the backside of the houses along Deichstraße. It's one of my favorite photo spots in all of Hamburg!
Speicherstadt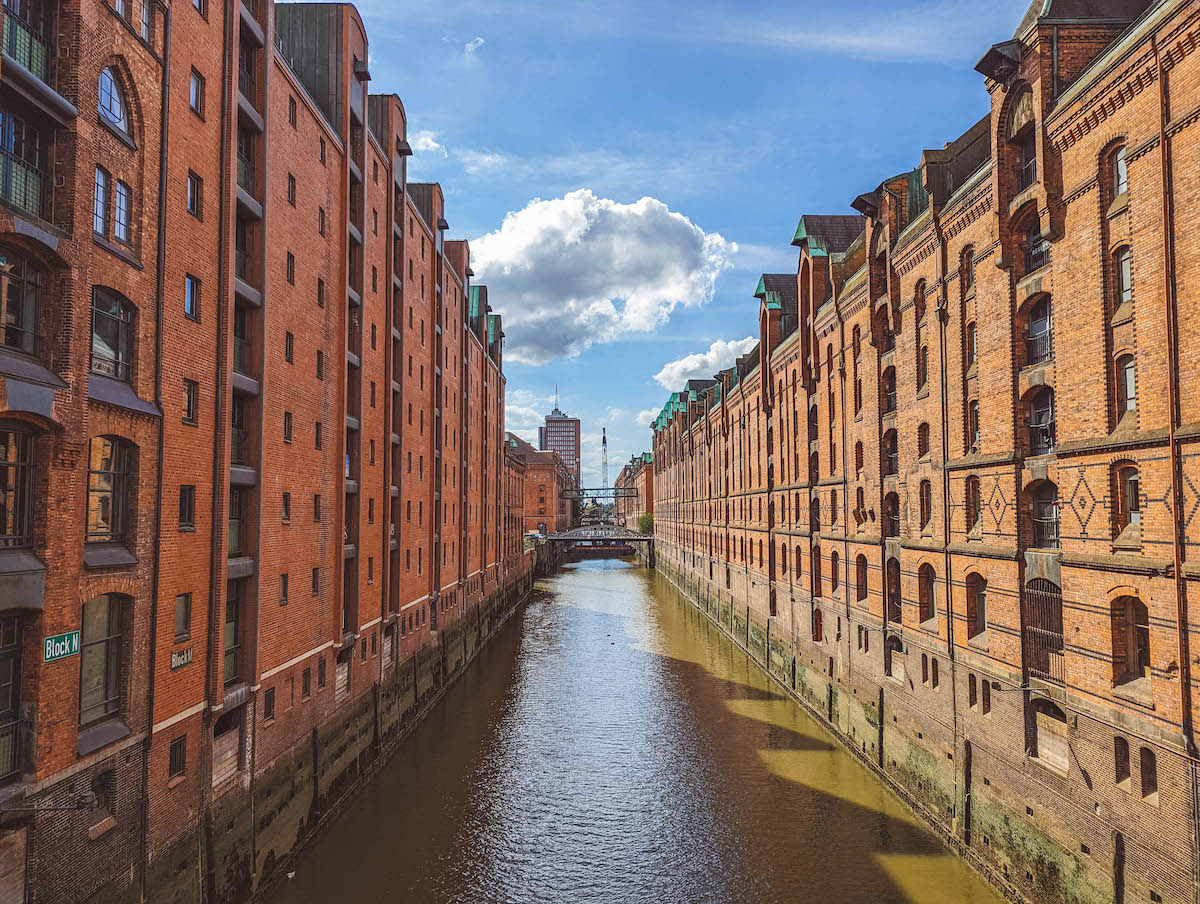 The Speicherstadt (literally "warehouse city") is the largest warehouse district in the world! It was created to provide storage facilities for the last remaining port in Hamburg after the city was annexed into the German Empire in the late 1880s.
Looking at the gorgeous Neo-Gothic red brick buildings, you'd never know that the Speicherstadt was built up atop the river using timber piles.
Until 2013, the Speicherstadt operated as a duty-free zone where luxury goods (like carpets and coffee) could be purchased at a lower price. In 2015, it was named Germany's 40th UNESCO World Heritage Site. 
To this day, you can still purchase goods within the Speicherstadt — with an appointment, that is! Remember that this is an active port storage area, so you can't just walk into the buildings to purchase something off the shelf.
Even if you don't visit any of the Speicherstadt attractions I've listed in the section below, it's still worth walking around this historic district!
Speicherstadt Attractions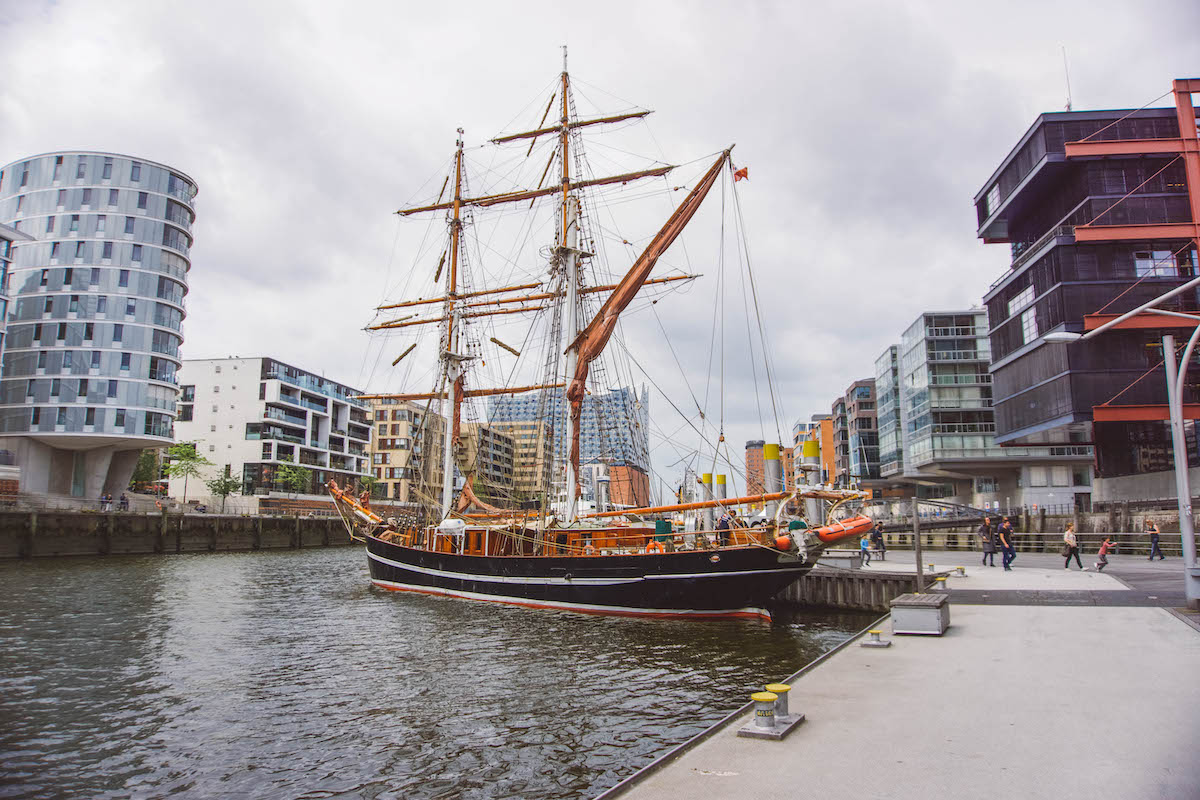 There are quite a few things to see and do in Hamburg's Speicherstadt, and you definitely need more than a day to tick them all off of your bucket list.
My top recommendations for the Speicherstadt district within Hamburg's Old Town are:
Miniatur Wunderland – A huge model railway, which is actually amazing albeit touristy.
Deutsches Zollmuseum (German Customs Museum) — Sounds boring, I know, but offers an interesting history of trade and smuggling in Hamburg.
International Maritime Museum — Boasts more than 40,000 model ships and maps to look at.
Traditionsschiffhafen – The "traditional ship harbor" has up to 20 historical ships docked that you can look at (some of which you can board!).
Kaffeerösterei – An impressive former coffee warehouse turned cafe. This is a great place to come for a midday pick me up!
St. Catherine's Church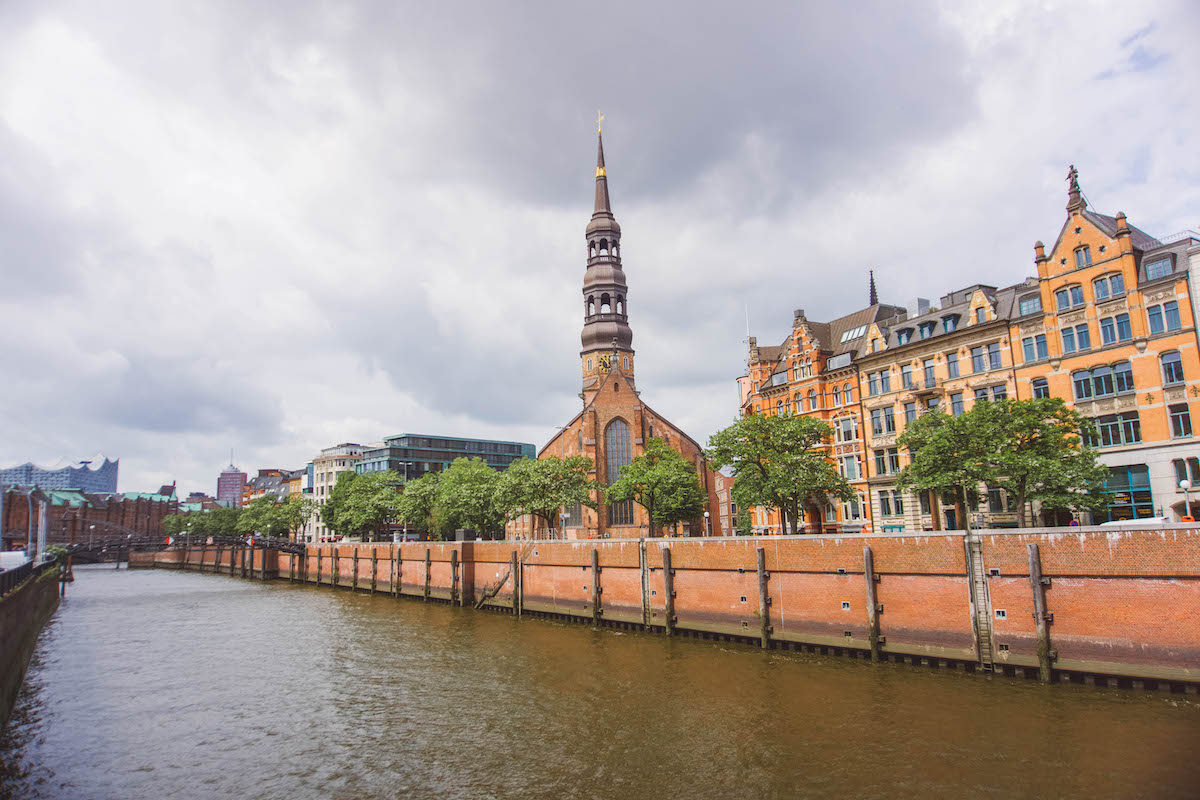 St. Catherine's Church (Hauptkirche St. Katharinen) is one of the five major churches in the city. It dates back to the 13th century and is thought to have the prettiest spire in Hamburg! 
Even if you don't have the time or desire to walk to St. Catherine's from the Speicherstadt, it's impossible to miss the Baroque-style copper and gold steeple towering amongst Hamburg's skyline. (And yes, you can even see St. Catherine herself perched atop the tower!) 
Tip: There's a weekly market at St. Catherine's on Tuesdays from 10am – 2pm. 
Bonus: Walking Tour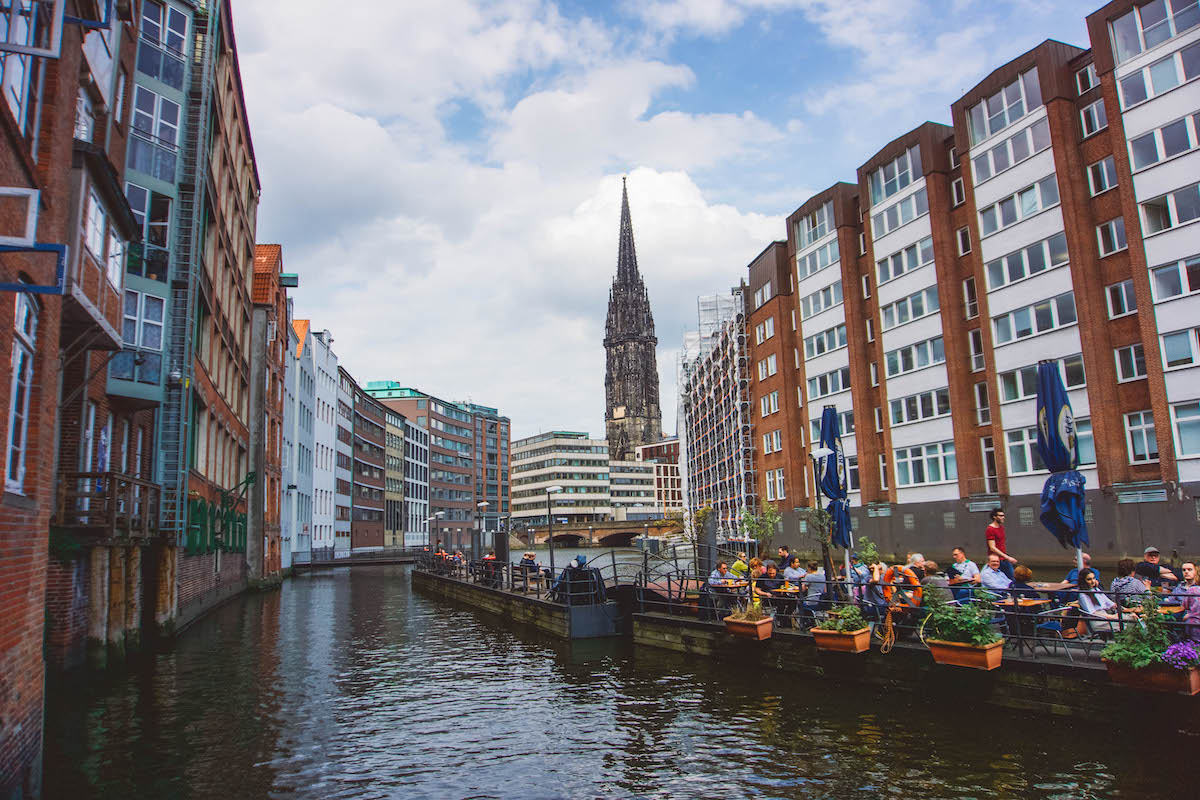 To learn even more about the history of Hamburg's Old Town area, I recommend signing up for a walking tour. There are plenty of paid and free options for walking tours within Hamburg, and I highly recommend going on one if you have the time. 
The Hamburg walking tour I did on my first visit really helped me orient myself, learn more about the city's long history, and also see the main attractions in the Old Town.
Much of what I've written about the Old Town in Hamburg relates to the Great Fire of 1842 and the 1943 Allied air raids — but its history stretches back so much further than that! Hamburg was an influential member of the Hanseatic League, for example. You'll learn so much more about the city than I can write in a single post by letting a local lead you around. 
Bonus: Christmas Markets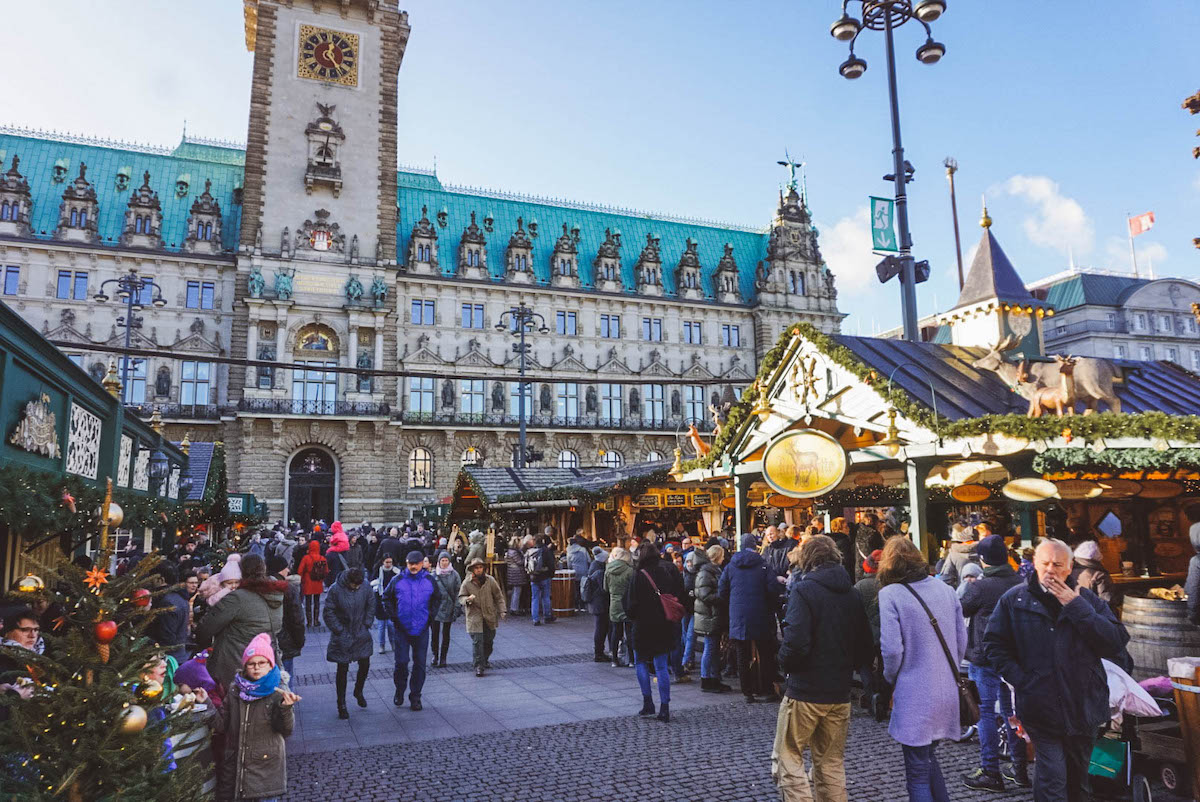 If you're lucky enough to be in Hamburg in December, you have to visit the Christmas markets!
Hamburg has a number of Christmas markets, the best of which are located in the Old Town.
The Christmas market at the Rathausmarkt (by the City Hall) is my personal favorite, but it's also the best known one and as such can be very crowded on the weekends. The entire square is taken over by festive booths selling handmade wares, scrumptious foods, and everything is bedecked with lights! 
Tip: The Christmas markets in Hamburg's Old Town typically run from the end of November until Christmas Day.
Things to Do Near Old Town Hamburg
As I mentioned at the very beginning of this post, Hamburg's Old Town and New Town (Altstadt and Neustadt) are nearly indistinguishable as you're walking around. Additional attractions near the Old Town that I highly recommend seeing are:
Jungfernstieg
Alster Arcaden
Binnenalster and Außenalster
HafenCity
Elbphilharmonie
Museum of Applied Arts (Museum für Kunst und Gewerbe)
St. Michael's Church
Map of the Attractions in Hamburg's Old Town
Enjoy Your Time in Hamburg's Old Town!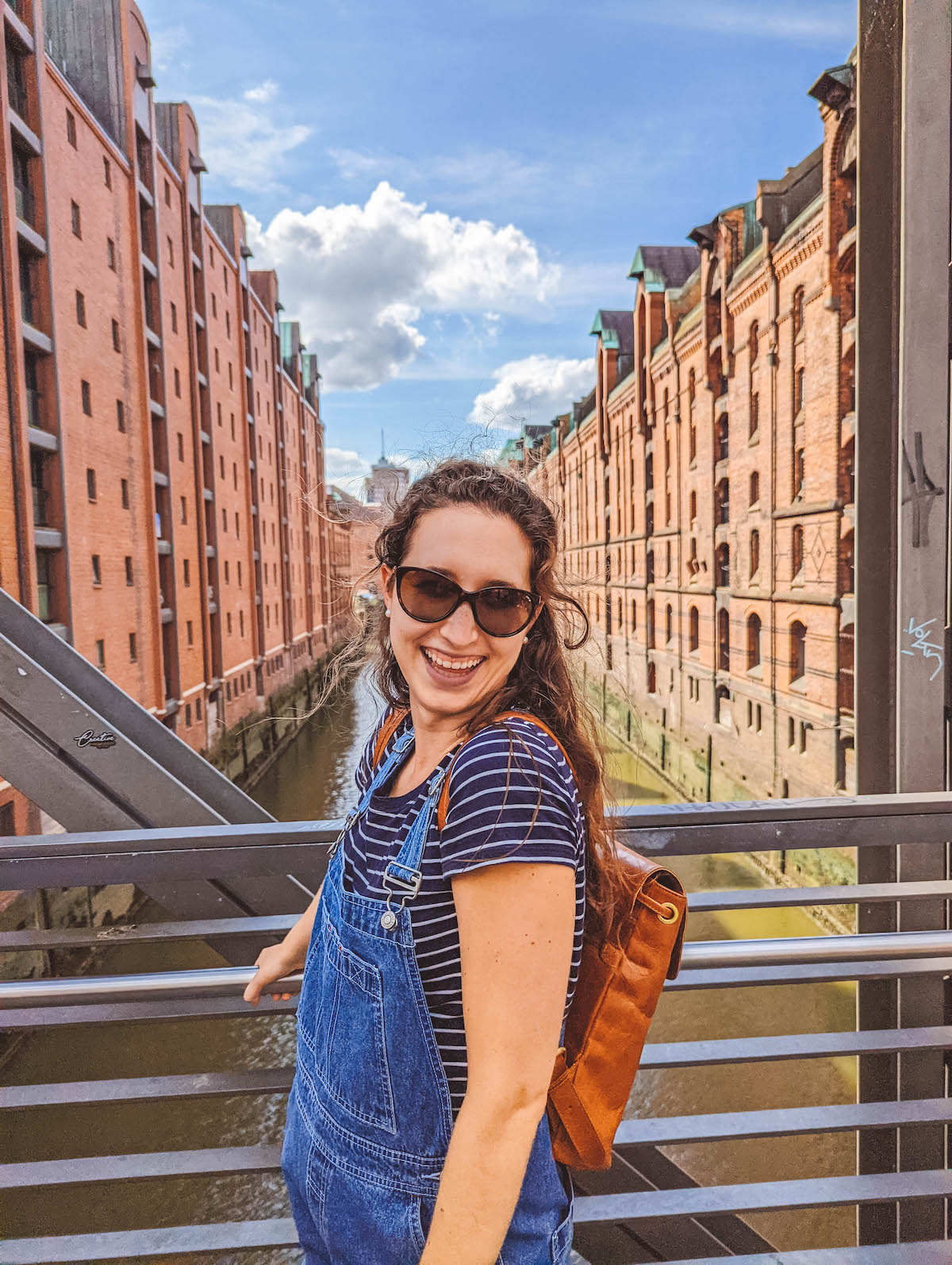 I know this was a beast of a post, but believe it or not I only scratched the surface of the history of Hamburg's Old Town! If you have any questions about planning your visit to Hamburg or have additional recommendations for things to do in the Old Town area, don't hesitate to leave me a comment below.
Don't forget to follow me on Instagram to keep up with my daily adventures in Berlin and beyond!