Visiting Hamburg, Germany on a rainy day? Here are the top things to do in Hamburg when it's raining (many of these are free activities, too!).
Hurrah! Travel within Germany is allowed again! As I've mentioned previously, I'm not planning any travels throughout Europe this summer. With Coronavirus still on the loose, I don't feel comfortable traveling too far from home just in case a flare-up occurs and I get stuck outside of Germany. Or I plan a trip and then borders close at the last-minute. Or I have to quarantine myself unexpectedly for 2 weeks upon arrival. And on and on and on…
That's all to say that I'm planning lots of little trips throughout Germany this summer and I couldn't be more excited about it! Just the idea of taking trips again makes me giddy after 3 months stuck at home. But I'm doubly pumped for my Germany travels because I traveled so little throughout this gorgeous country when I studied in Freiburg in college (probably my biggest regret about the entire experience).
To kick off my summer travels, I took the train north to beautiful Hamburg. This was my third time in Hamburg and I fall in love with the city a little more every time I visit. My good friend Flora lives in Hamburg, so I always crash at her place when I visit. For this visit, we'd planned on spending the day in the beach, walking around Hamburg's lake, and other summery activities. Alas, we were surprised by some pretty intense thunderstorms and had to rethink our plans.
Lucky for us, there are plenty of rainy day activities in Hamburg that kept us busy. Here are some of my faves:
Visit St. Michael's Church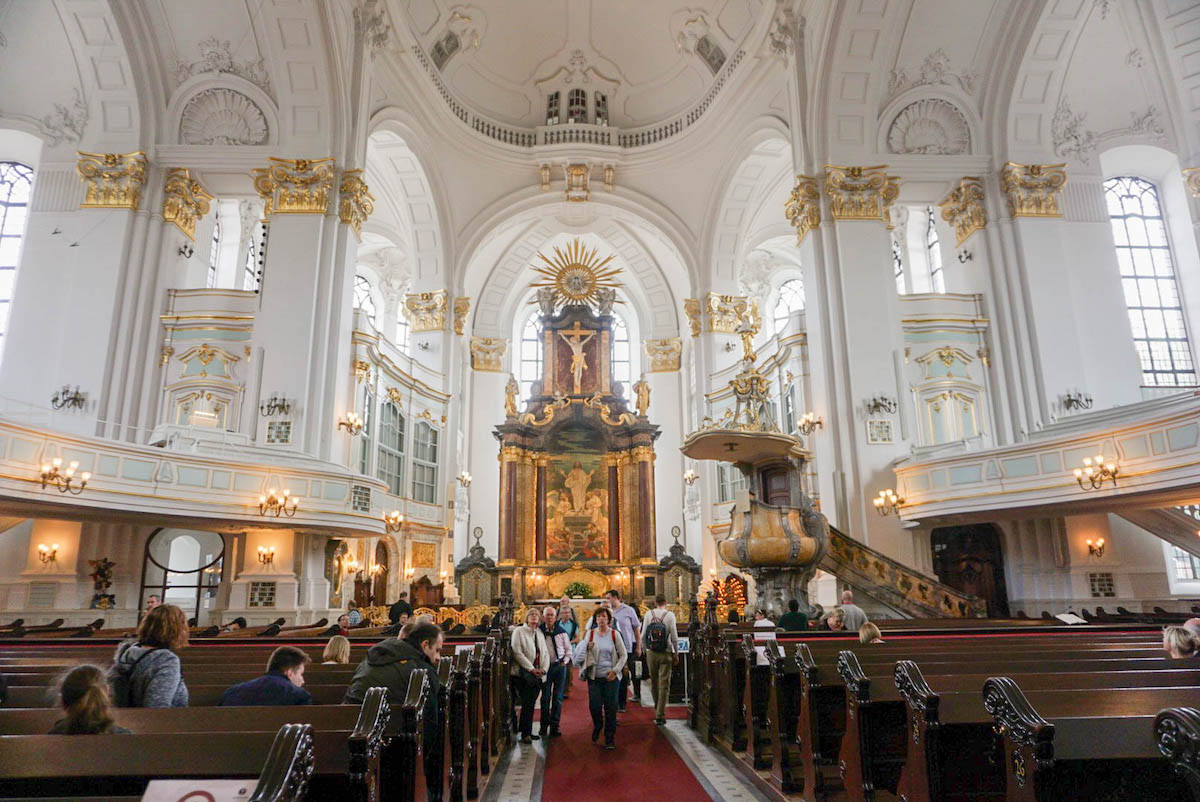 Hamburg's largest church, St. Michael's, is a baroque masterpiece. Looking at the sky blue, white, and gold painted interior, you'd never guess that this beautiful church was heavily damaged during World War II. The church boasts a 20-meter-high altar, a crypt, and five organs. You can also pay to go up the clock tower for a view of the city, but I've yet to try it myself. St. Michael's is a lovely place to rest your feet on a rainy day. Take your time exploring the church, there's a lot to see!
Hit up the Zoological Museum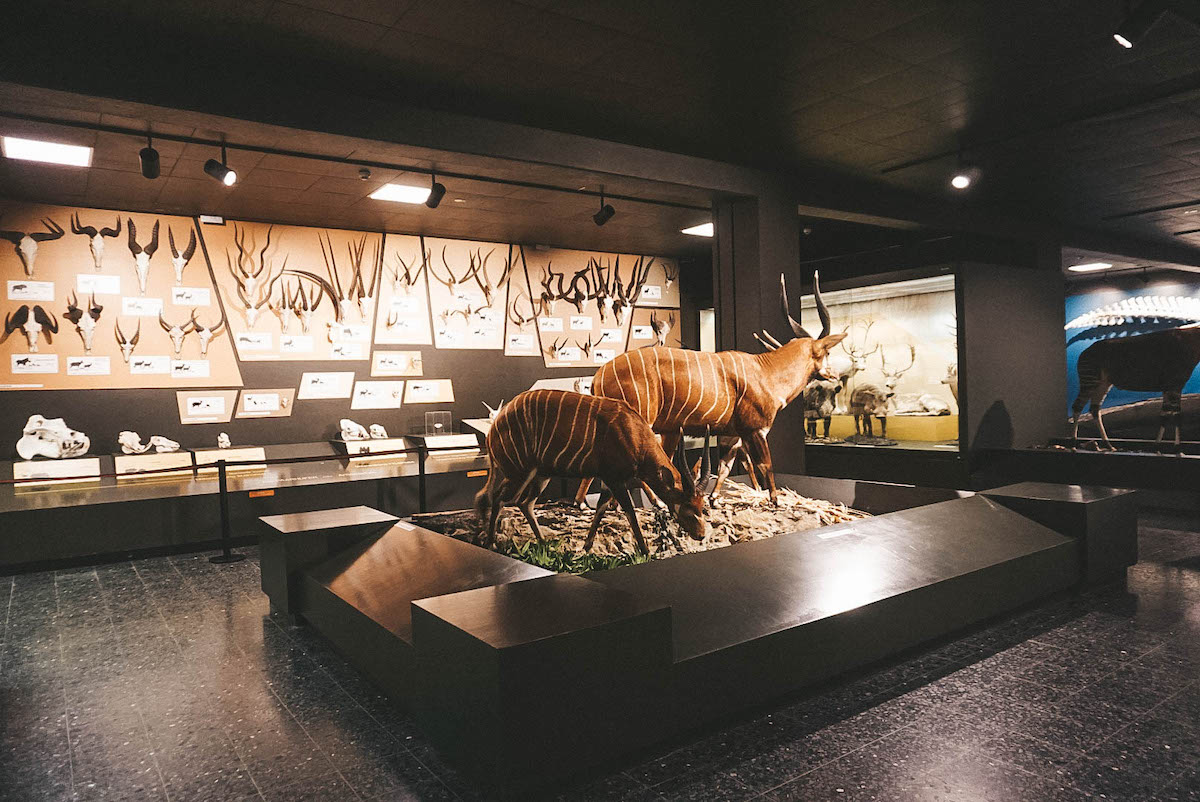 The zoological museum was a new discovery for both Flora and I. The museum is part of the University of Hamburg's Center of Natural History. Although the museum is quite small, there's lots to see — mostly insects, animals, and birds from around the globe. We spent a solid two hours inside the museum, chatting about the animals on display and what we read about them. The museum is free to enter and is just a few minutes walk from Planten un Blomen (one of Hamburg's main attractions). Note that much of the signage in the museum is in German, so if you don't speak the language this might not be the museum for you.
Tour the City Hall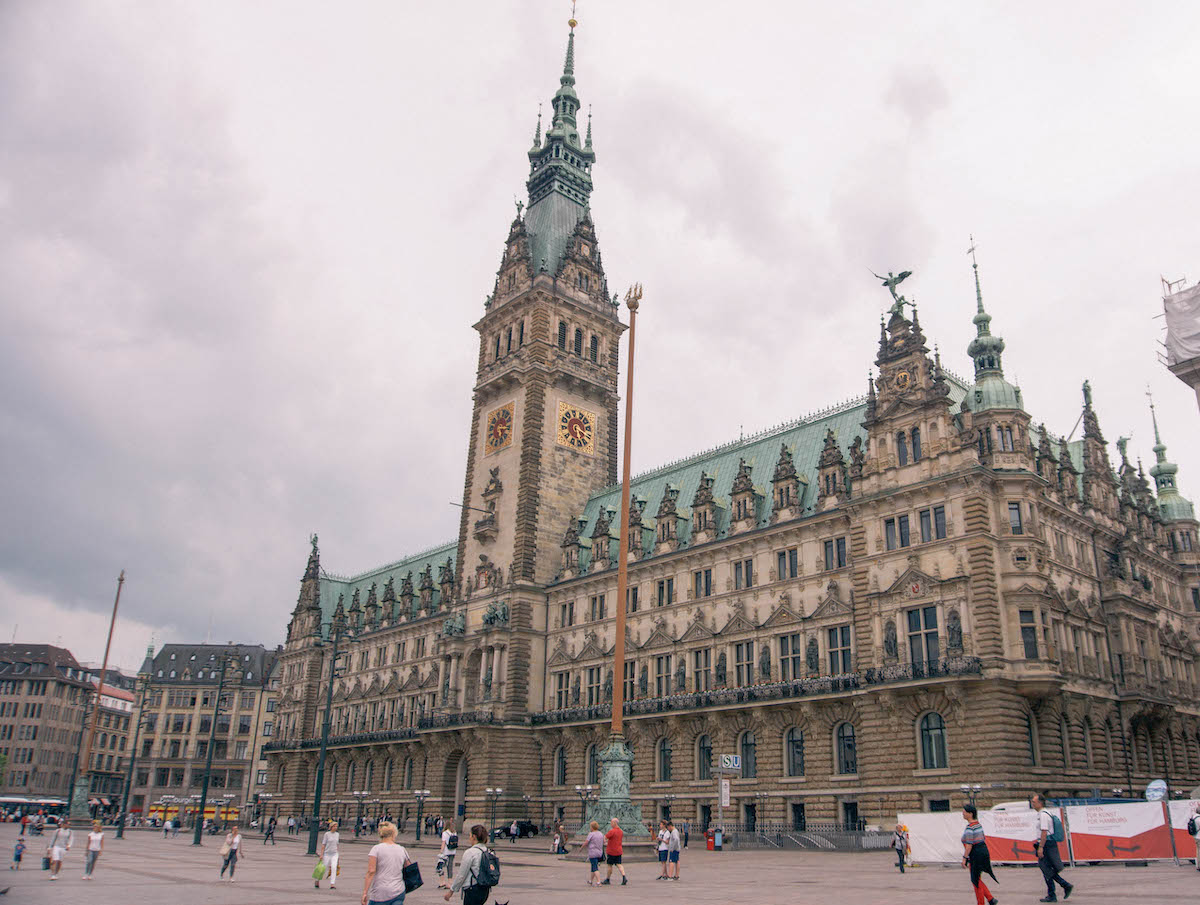 Hamburg's Rathaus, or city hall, is where the city's parliament and senate meet. Construction on the building began in 1886 and was completed in 1892. It contains a whopping 647 rooms, and you can tour a fraction of them on a guided tour. The city hall is one of the prettiest buildings in Hamburg, and you'll learn lots about Hamburg's history on the guided tour. Note that time slots fill up quickly during the busier months, so either get to city hall early or book your tickets online to secure your spot.  
Visit the Kunsthalle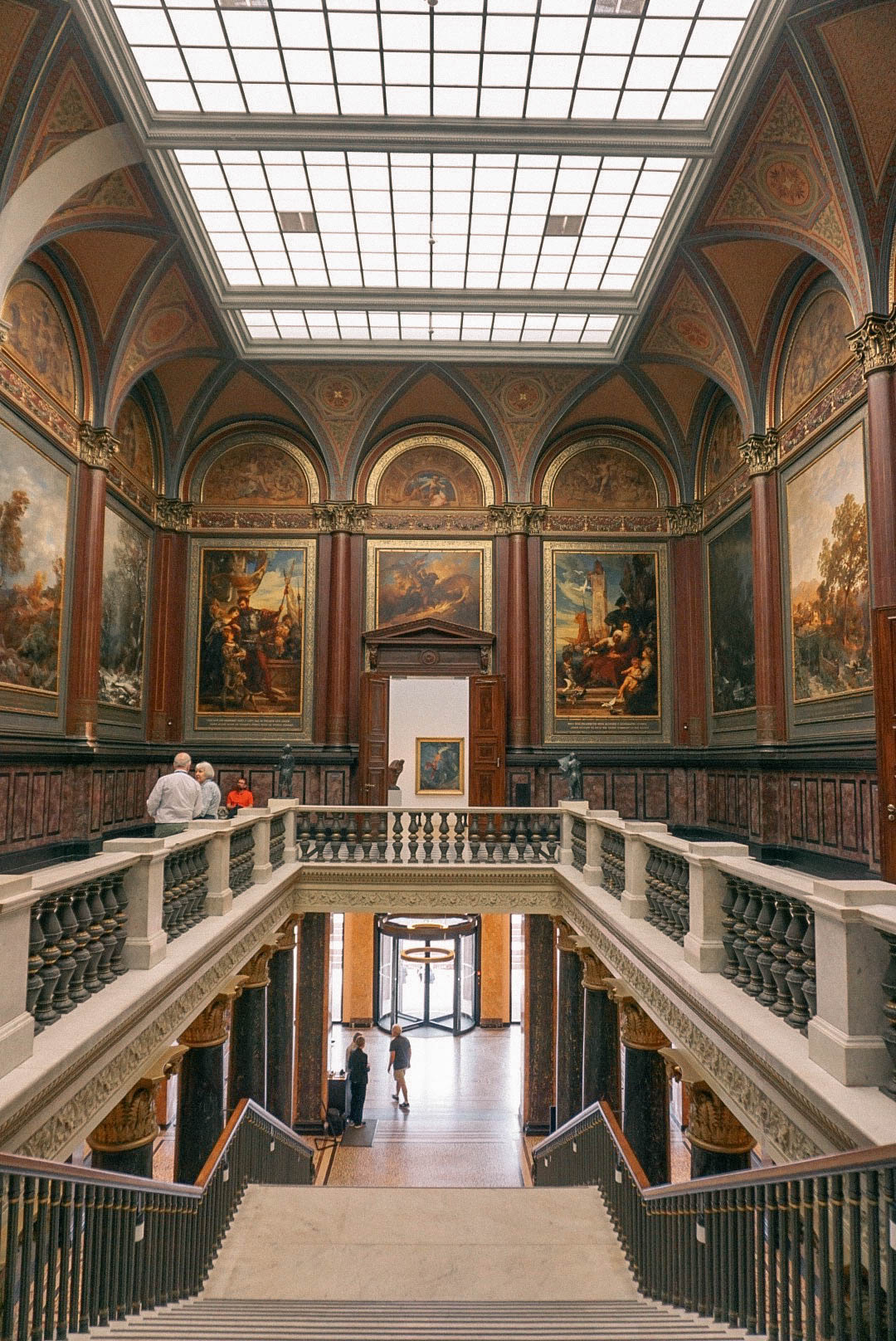 Founded in 1817, Hamburg's Kunsthalle is one of the largest art museums in Germany. The Kunsthalle is a collection of three buildings, and its exhibits feature artwork from the Middle Ages to today. The collection of 19th century artwork is particularly wonderful, and I loved seeing pieces from the prominent German artists of that time period. You can easily spend half a day admiring the collections on display at the Kunsthalle, so plan accordingly. This is also a good place to end your trip if you have an afternoon train to catch as the museum is close to the main train station.
Visit the Elbphilharmonie
Supposedly the best concert hall in the world, the Elbphilharmonie was built atop an old warehouse building in the city's iconic Speicherstadt district. The glass paneling of the building resembles a wave, which is fitting since the concert hall sits on the water. It's incredibly difficult to secure concert tickets at the Elbphilharmonie, but luckily you don't need to have one to see the gorgeous building. Instead, grab a free ticket from the front desk and take the world's longest escalator up to the viewing platform. From here, you'll have a nice view of the warehouse district and the surrounding harbor.
Old Elbe Tunnel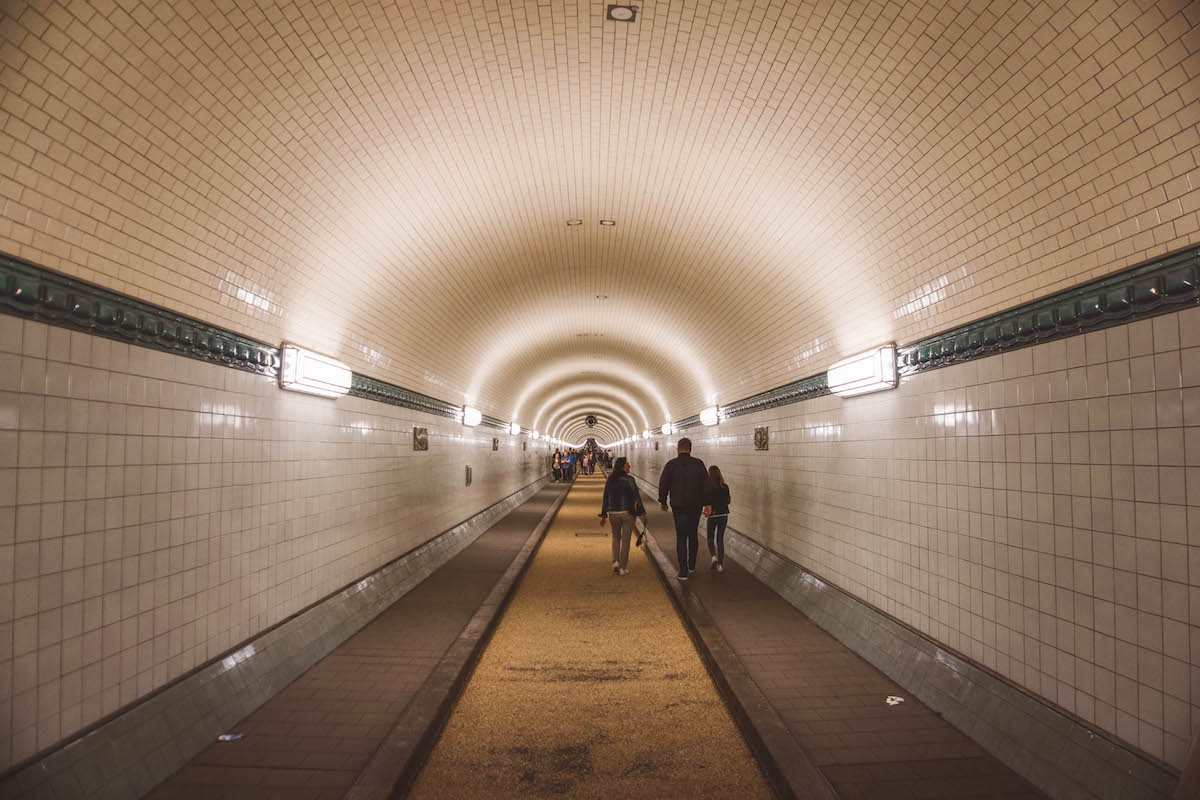 Built in 1911, the Old Elbe Tunnel (Alter Elbtunnel) was built to provide dockworkers a more direct route from the Landungsbrücken piers in St. Pauli to the southern banks of the Elbe River. At the time, the tunnel was a feat of engineering. It became a tourist attraction in the 1970s when the New Elbe Tunnel and several other bridges were constructed in the area. Walking through the tunnel is an underrated experience. The tunnel runs under the river, and to get all the way down to it you can either take the stairs (quite an adventure in such a historic building) or the lift (which I avoid at all costs because I hate elevators). Once you're settled at the bottom, all that's left to do is walk through the beautifully tiled tunnel and enjoy the process! The tunnel is free to visit and is an interesting peek at Hamburg's history.
Go Window Shopping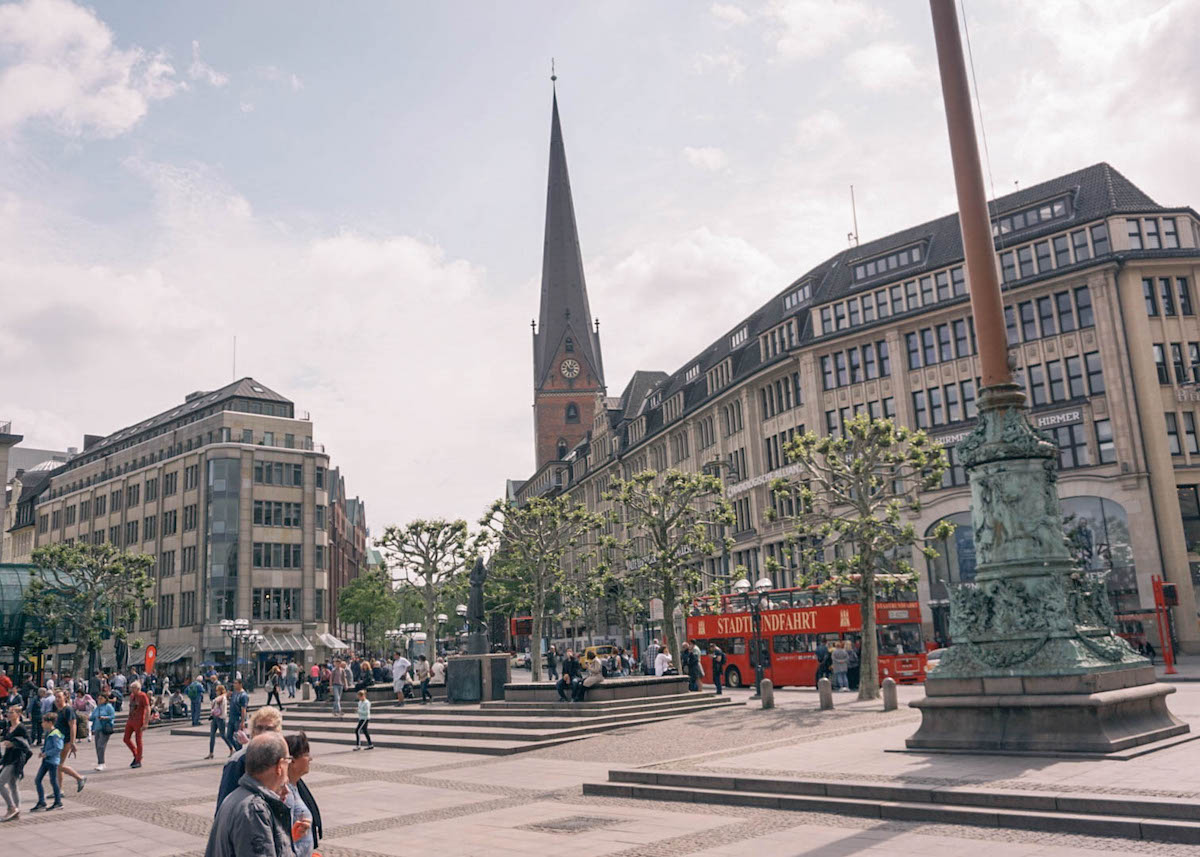 (Ignore the fact that this photo was taken on a sunny day. All of my photos from my rainy stay in the city look, well, awful). 
Hamburg has lots of cute districts perfect for window shopping. Admittedly, it's a bit annoying running in and out of shops while it's pouring rain, but hey, it is what it is. Here are a few nice areas with lots of shops:
Alsterarkaden — Has the oldest shopping passage in Hamburg. The row of shops sits right on the water, giving it a very Venetian vibe. Note that the shops here are very high end, but it's nice to walk around and pop your head into them nonetheless.
Karolinenviertel — Near Planten un Blomen, has lots more independent shops. This area is very quirky and parts look more run down. Plenty of cute cafes as well that are perfect for escaping the rain.
Mönckebergstraße — One of the main shopping streets in Hamburg. You'll find most of the more affordable / high street stores here, like H&M, Karstadt, and so on.
Getting caught in the rain is never fun, but it's especially unpleasant when you're living out of a suitcase for a few days and don't have an endless supply of dry clothes on hand. Hopefully this list of things to do in Hamburg, Germany when it's raining makes your trip planning a little easier!
Tell me: What's the worst weather you've encountered on a trip?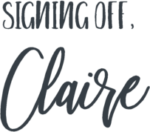 More posts you'll love:
Save this post to Pinterest!