These day trips from Munich can all be done by train and most take 2 hours or less to reach. If you'll be in Munich for a few days, you'll definitely have time for a day trip!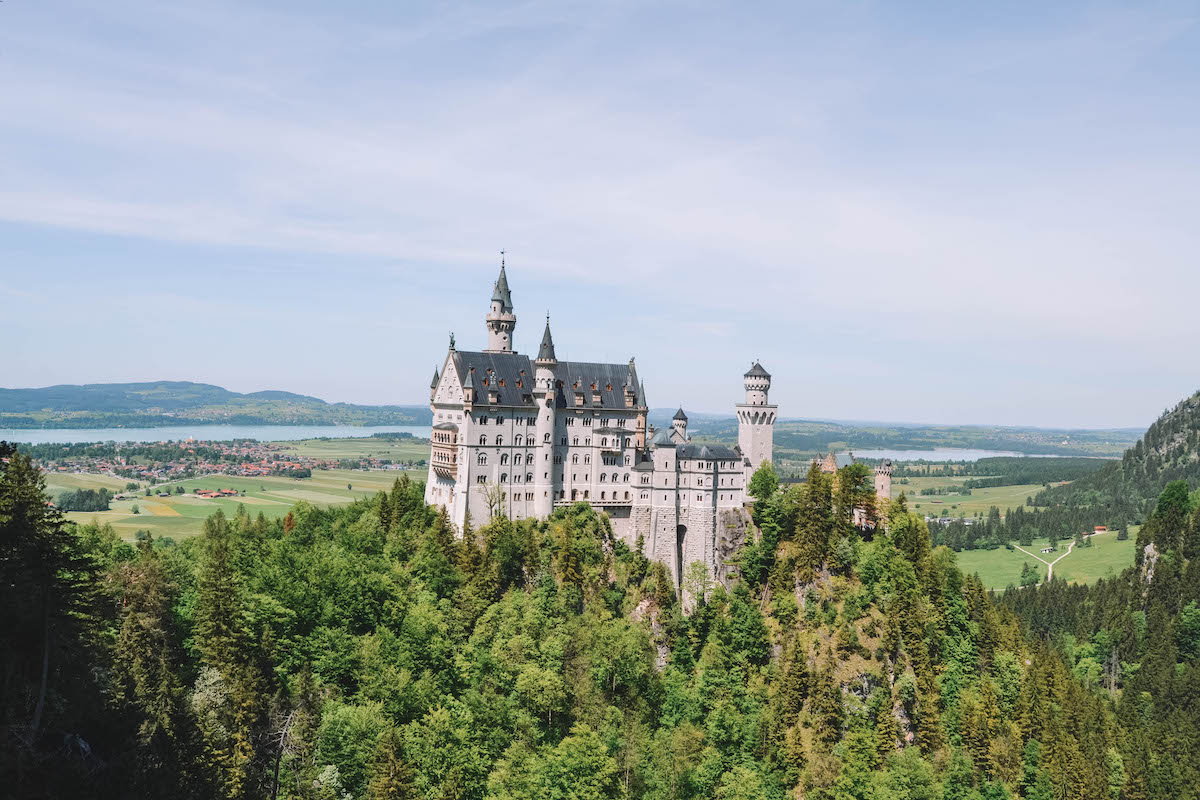 As the capital of Bavaria, Munich makes an excellent home base for exploring the region. Whether you're craving half-timbered houses, peaceful Alpine scenery, or regal palaces, Bavaria has something for everyone.
This list of day trips from Munich will take you to some of the most beautiful — and interesting! — cities in Bavaria. All of the destinations I'm sharing in this post can be reached easily by train and and are no more than 2.5 hours away (most are much closer, though!)
I'll update this list as I take more Munich day trips, but so far these are the only ones I've been to since moving to Germany in 2019 and absolutely adore!
Note that this list is ordered by how long it takes to travel by train from Munich Central Station (München Hauptbahnhof) to the central train station of the day trip destination.
Table of Contents
Click "show" to see the full table of contents for this post. You can jump around the post as desired by clicking on the individual sections listed below. 
Dachau
Travel time by train: 21 mins (using Munich's public transportation system)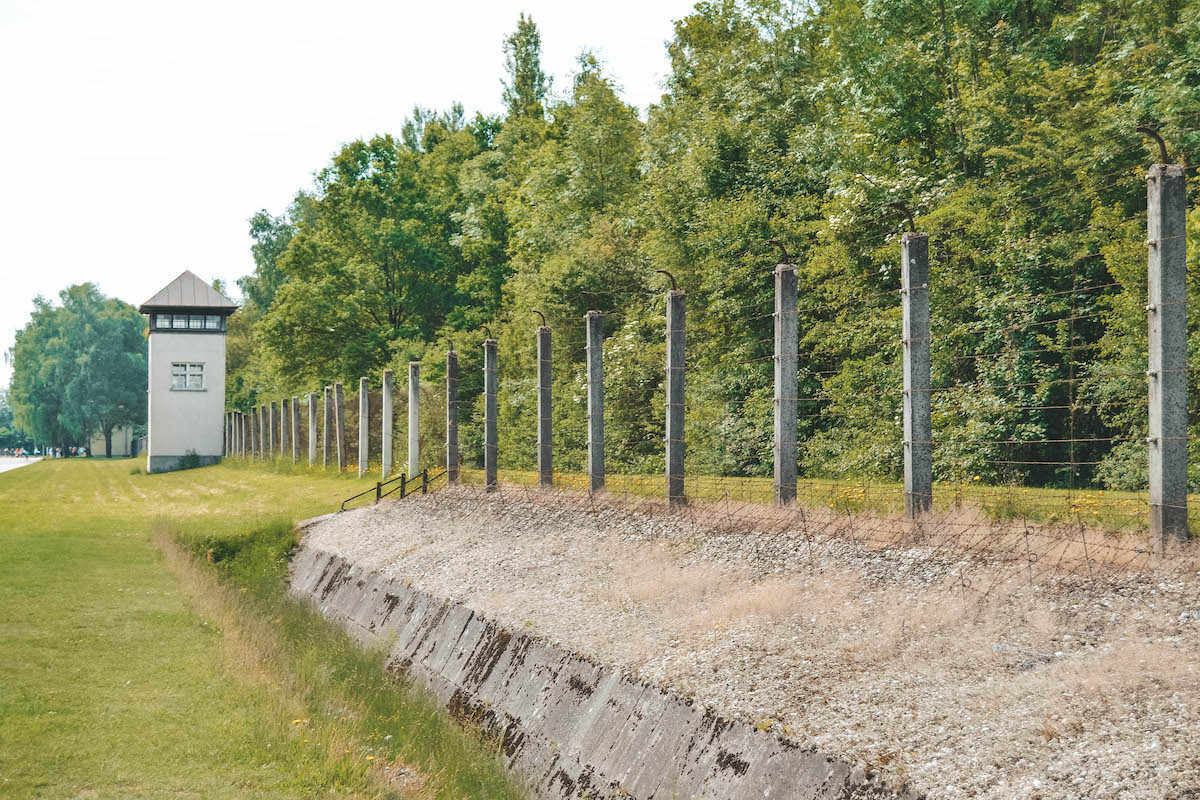 Just 20 minutes from Munich, you'll find one of the darkest sites in Germany.
Now the Dachau Memorial Site, it's on this site that the first concentration camp built by the Nazis during WWII. It served as a model for all other concentration camps built during the war, and I think all visitors should make time for a Dachau day trip from Munich. 
It's estimated that 41,500 people were murdered at Dachau. You'll be able to see many of the original buildings at the memorial site, some of which contain exhibitions discussing the reign of terror under the Nazi regime or sharing the stories of specific people who were imprisoned at Dachau.
The Dachau Memorial Site is free to enter, but I recommend paying the small fee for an audio guide to make the most of your experience.
Augsburg
Travel time by train: 30 mins ICE / IC or 45 mins RE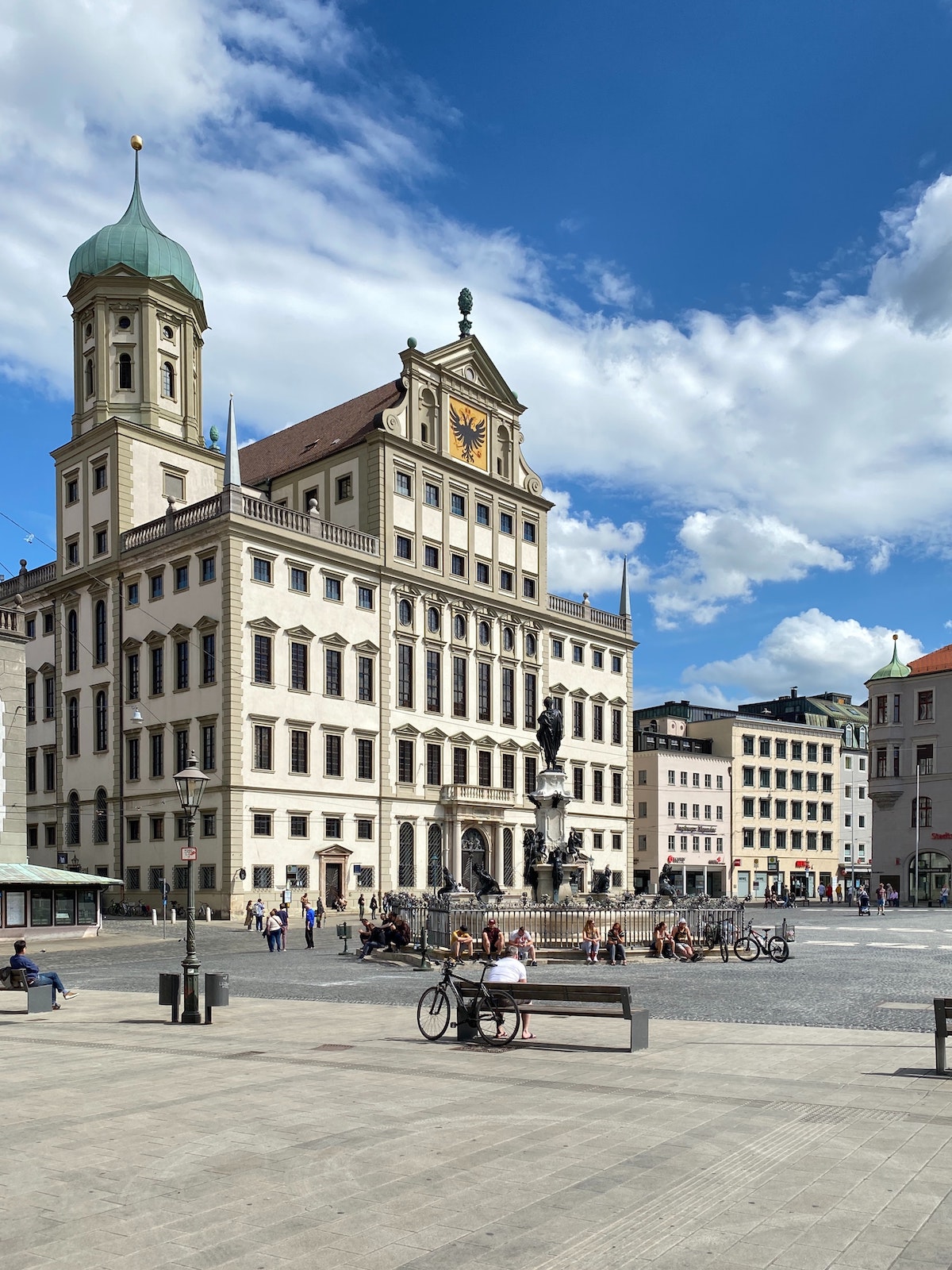 One of Germany's oldest cities — and one of the quickest Munich day trip destinations! — Augsburg is worth visiting while you're in Bavaria. You can't see the entire city in a day, but you can see a lot of it!
While in Augsburg, take the time to do the following:
Town Hall – Considered the most important Renaissance-style building north of the Alps. The Golden Hall is the main draw.
Fuggerei – The world's oldest social housing complex. A small portion of the complex is now a museum.
Cathedral — It dates back to 995 AD and is lovely.
Old Town — Where you'll likely spend much of your time in Augsburg anyway.
Schleissheim Palace
Travel time by train: 45 mins (using Munich's public transportation)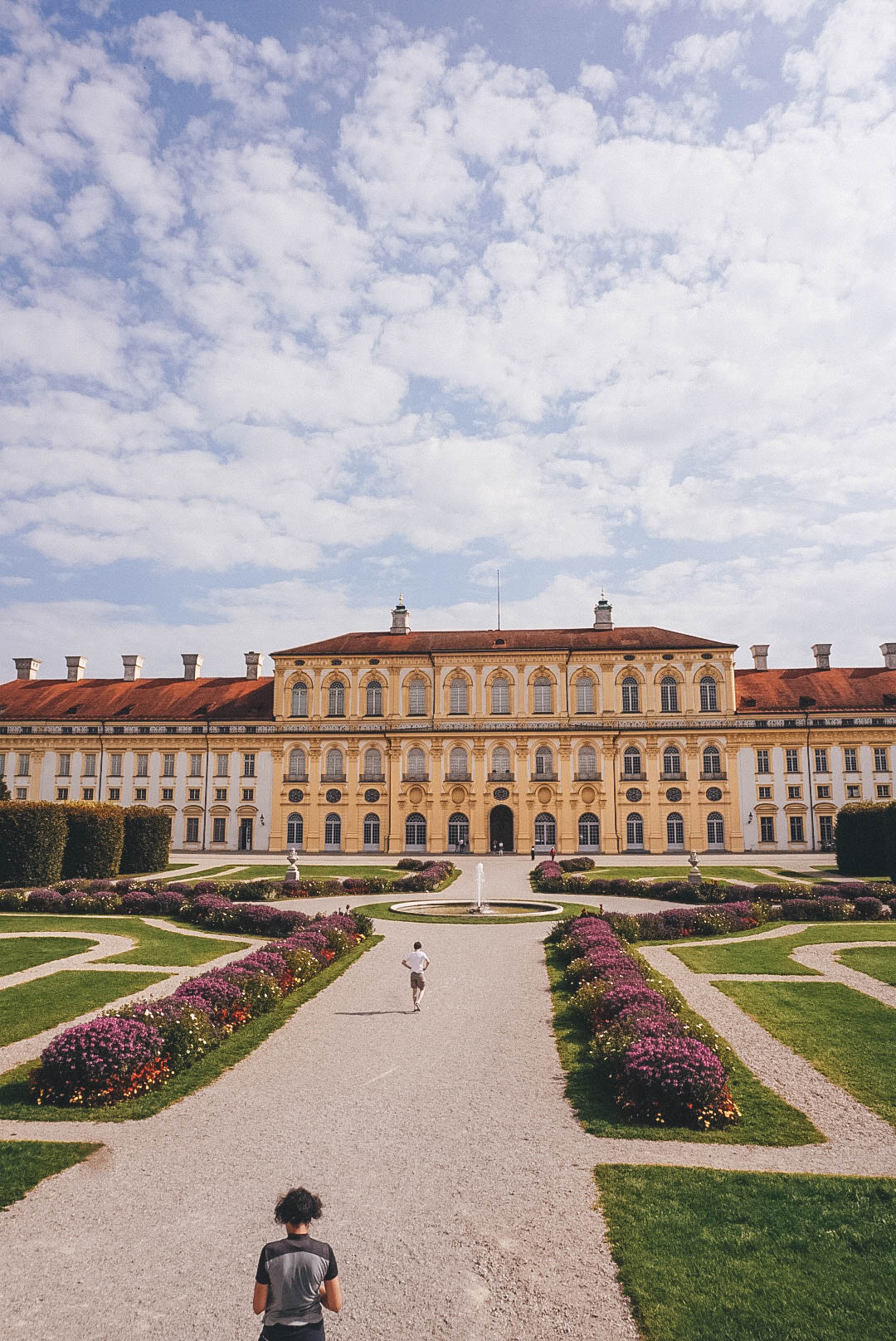 Schleissheim Palace is easily accessible with Munich's public transportation, making it yet another quick, easy, and cheap day trip idea. The palace is one of the most beautiful that I've visited in Germany (and I've visited a LOT!), and you can easily spend a full day touring the multiple buildings and the extensive gardens. 
There are three buildings on site you can tour: the Old Palace, the New Palace, and the Lustheim hunting lodge.
The Old Palace was originally a ducal country mansion. It was destroyed in WWII and has since been rebuilt. It now houses a folklore museum — this is the one building on site that I think you can skip, as the museum didn't impress me very much.
The New Palace is the star of Schleissheim Palace! It was built in the 1700s for Bavarian Elector Max Emmanuel. The palace is beautiful, and the audio guide is quite detailed. I visited during the work week on a sunny October day and had it almost entirely to myself, but I imagine it's busier on the weekends.
The Lustheim Hunting Lodge is small but stunning. It now serves as the palace's porcelain museum. If you don't like looking at pretty plates in glass cases as much as I do, you can skip the interior of the hunting lodge since that's all there is to see.
Nuremberg
Travel time by train: 1 hour 10 mins ICE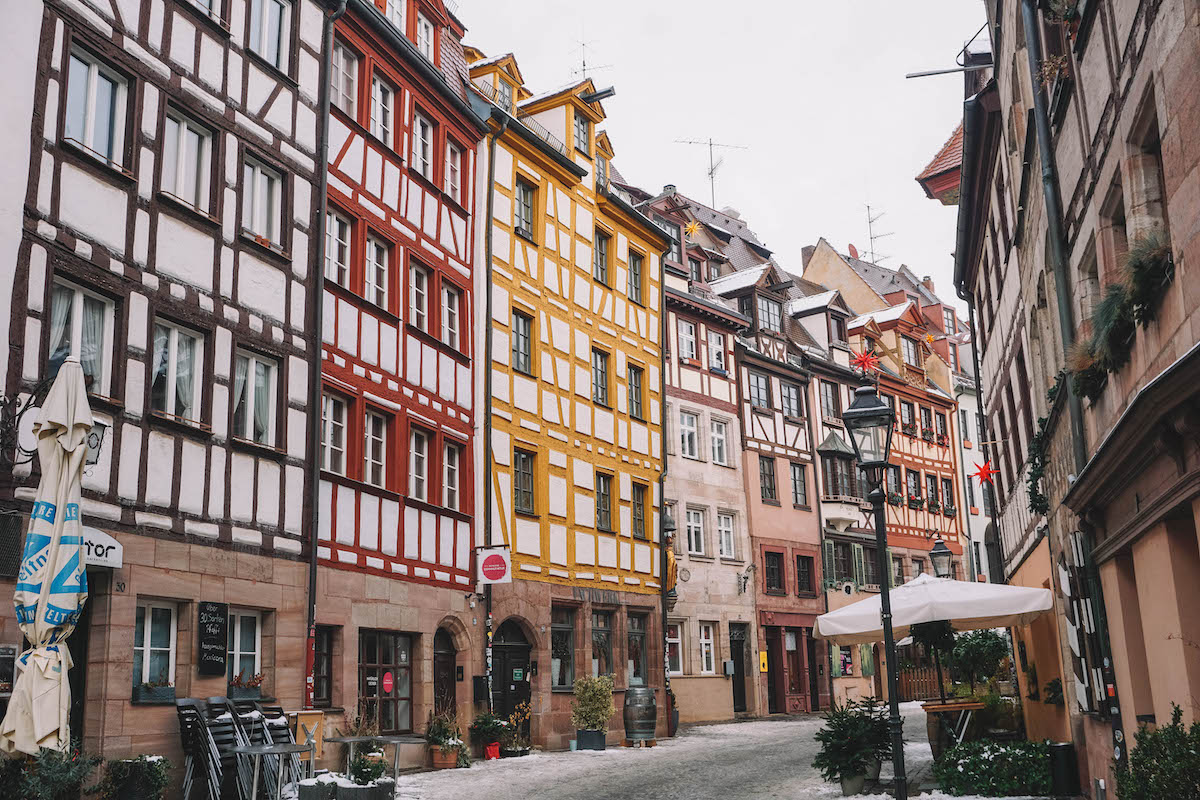 Every destination on this list is fantastic, but Nuremberg easily makes my personal top 3 for best day trips from Munich. If you love castles, half-timbered houses, pretty market squares, and medieval history, you're going to adore Nuremberg!
If you only have one day in Nuremberg, you'll want to spend much of your time in the Old Town. The city was most prosperous during the Middle Ages and was known throughout Europe as being a center for talented artisans and craftsmen. Those artistic roots can still be felt in the city center today.
While in Nuremberg, here are the top sites I recommend visiting:
Kaiserburg – The Imperial Castle. Each newly elected Holy Roman Emperor held his first Imperial Diet (i.e. session with the official legislative body of the empire) here. Today it's primarily a museum space, and the ramparts offer an epic view of the Old Town!
Albrecht Dürer's House – Albrecht Dürer was one of the most well-known Renaissance artists in all of Europe. Explore the beautifully preserved 16th century half-timbered house and learn more about this famous artist and his life.
Weißgerberstraße — A small street lined with half-timbered houses. The 20 or so houses somehow survived the air raids of WWII, so know that you're looking at the original facades!
Be sure to read my full guide to Nuremberg's Old Town when planning your day trip! 
Salzburg (Austria)
Travel time by train: 1 hour 30 mins (you'll be using the Austrian railway, so the train names are different than in Germany)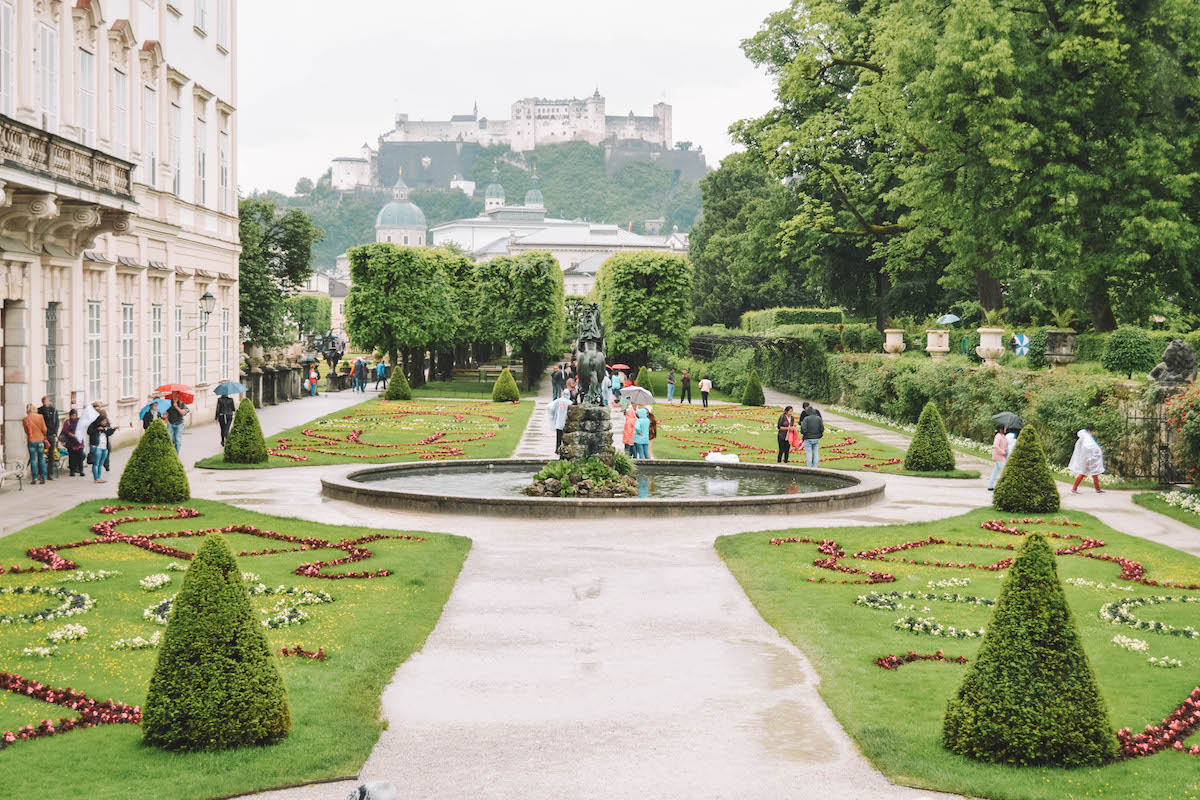 A Munich to Salzburg day trip is very easy to do by train and is a great way to check one more country in Europe off of your bucket list!
Salzburg, Austria is a quaint postcard of a city with the Alps as a romantic backdrop. Among other accolades, Salzburg is known for being the birthplace of composer Wolfgang Amadeus Mozart, as well as a recurring filming location for The Sound of Music.
Salzburg's Old Town is a UNESCO World Heritage Site, and I recommend spending most of your day trip exploring the area on foot.
While in Salzburg, make time for the following attractions:
Festung Hohensalzburg – A massive fortress on top of a hill above the Residenzplatz. The fortress has been around since the early 1000s, but most of the building left standing today was completed in the 1500s.
Mozart's Birthplace – Learn more about the famous composer and see artifacts from his lifetime.
Salzburg Cathedral – A beautiful Baroque cathedral in the city center.
Bamberg
Travel time by train: 1 hour 45 mins ICE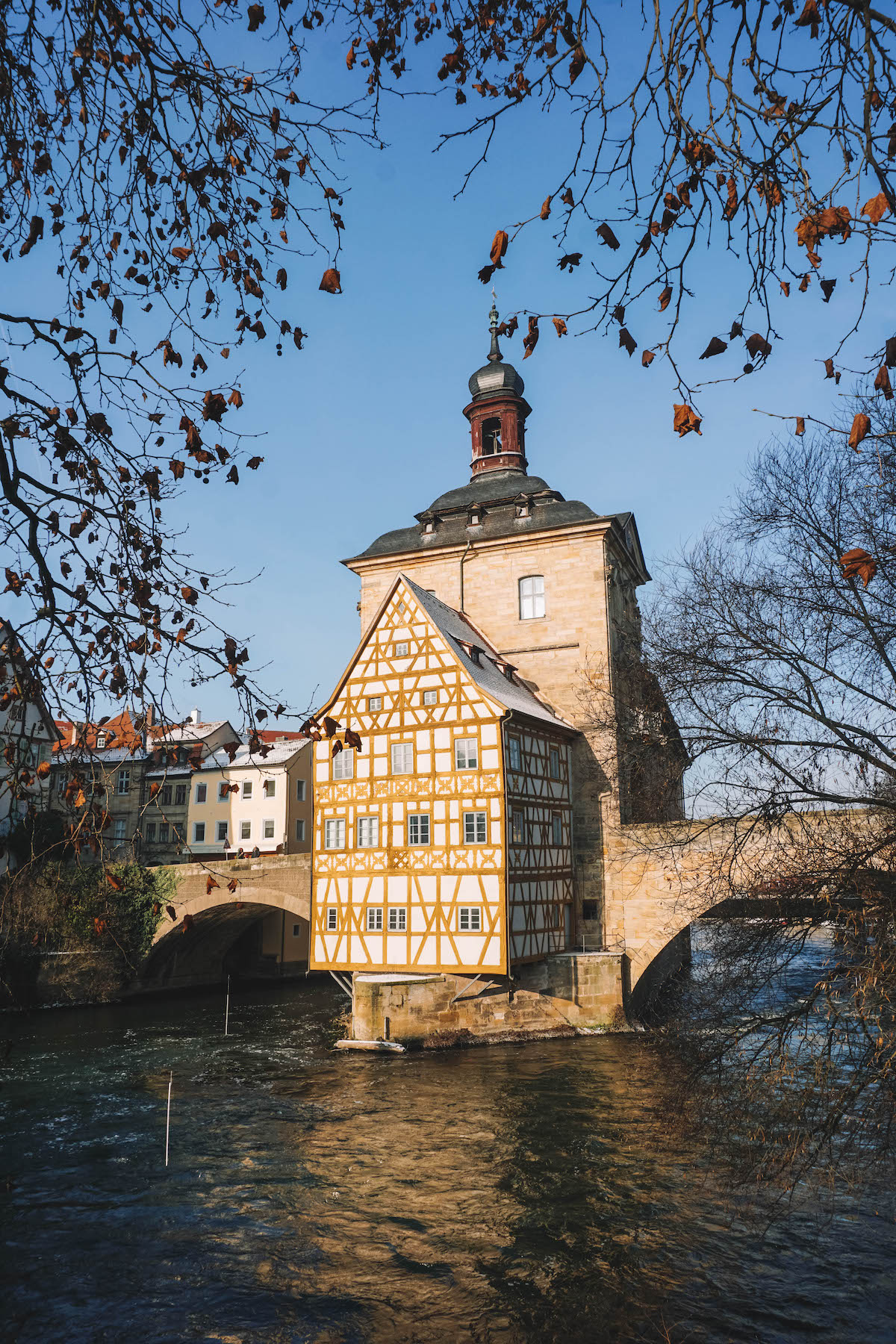 One of the prettiest towns in all of Germany, Bamberg makes for a fantastic one-day trip from Munich. The Old Town is a UNESCO World Heritage site, and it's home to half-timbered houses and historic buildings galore. It also has the largest intact old city wall in Europe!
Bamberg is very compact, so feel free to show up for the day without an itinerary and discover the city's gems at your own pace. If you need some starting recommendations, here are the sites I love:
"Little Venice" (Klein Venedig) — Bamberg's former fisherman's district. You'll want to view it from across the river to get a good look at the half-timbered houses and their quaint gardens.
Old Town Hall — Quite possibly the loveliest in the country! The frescoed town hall straddles the Regnitz River and sits atop a man-made island.
Cathedral — Completed in the 13th century. Be sure to find the graves of Kunigunde and Heinrich II, located within the cathedral.
Regensburg
Travel time by train: 1 hour 50 mins ICE and RB or 90 mins RE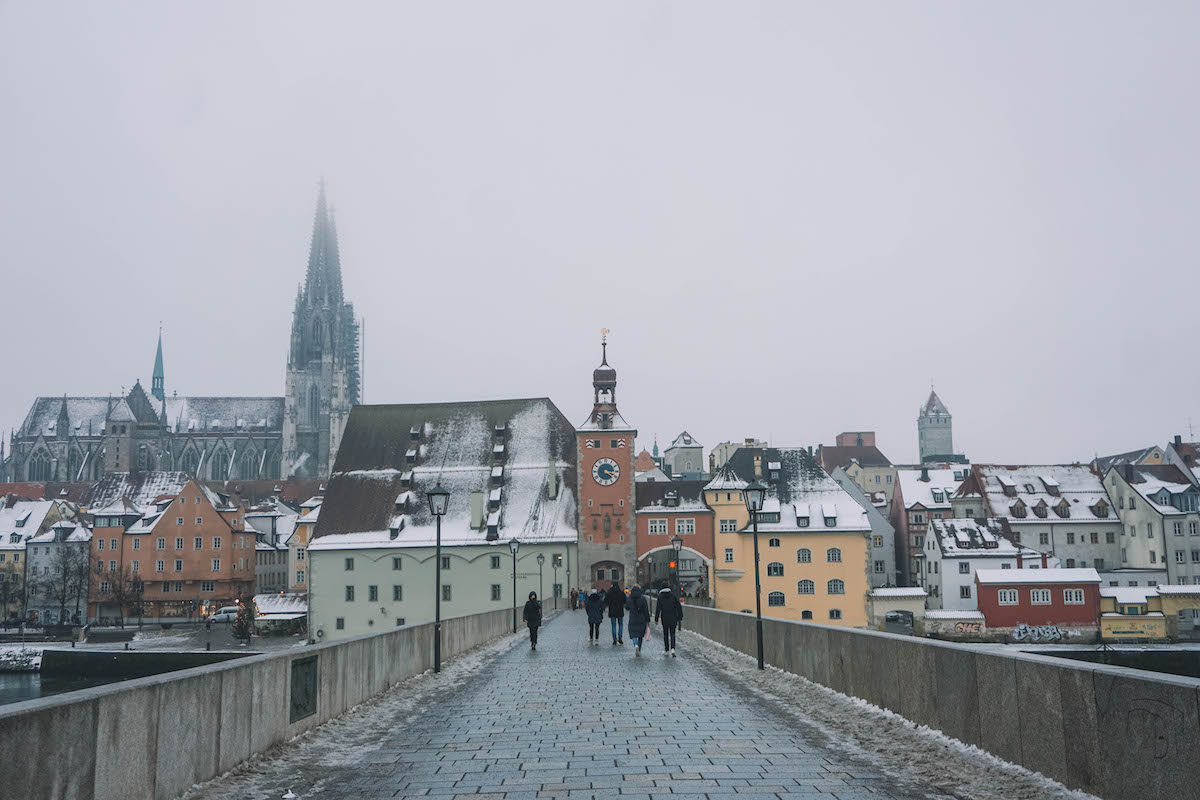 One of the lesser known day trip destinations from Munich is Regensburg. It's a small city nestled along the Danube River, with a history that stretches back many centuries.
You can easily see Regensburg's top attractions in a single day:
Old Town — A UNESCO World Heritage Site.
Schloss St. Emmerman, Thurn und Taxis — A gorgeous rococo palace where a noble family still resides. You can only visit on a guided tour, and you'll want to book tickets in advance. (One of my favorite Christmas markets also takes place on the palace grounds!)
Old Stone Bridge — Cross all the way to the other side for an unforgettable view of the Danube River.
St. Peter's Cathedral (Dom St. Peter) – A High Gothic cathedral that was built in the 1200s.
Stuttgart
Travel time by train: 2 hours ICE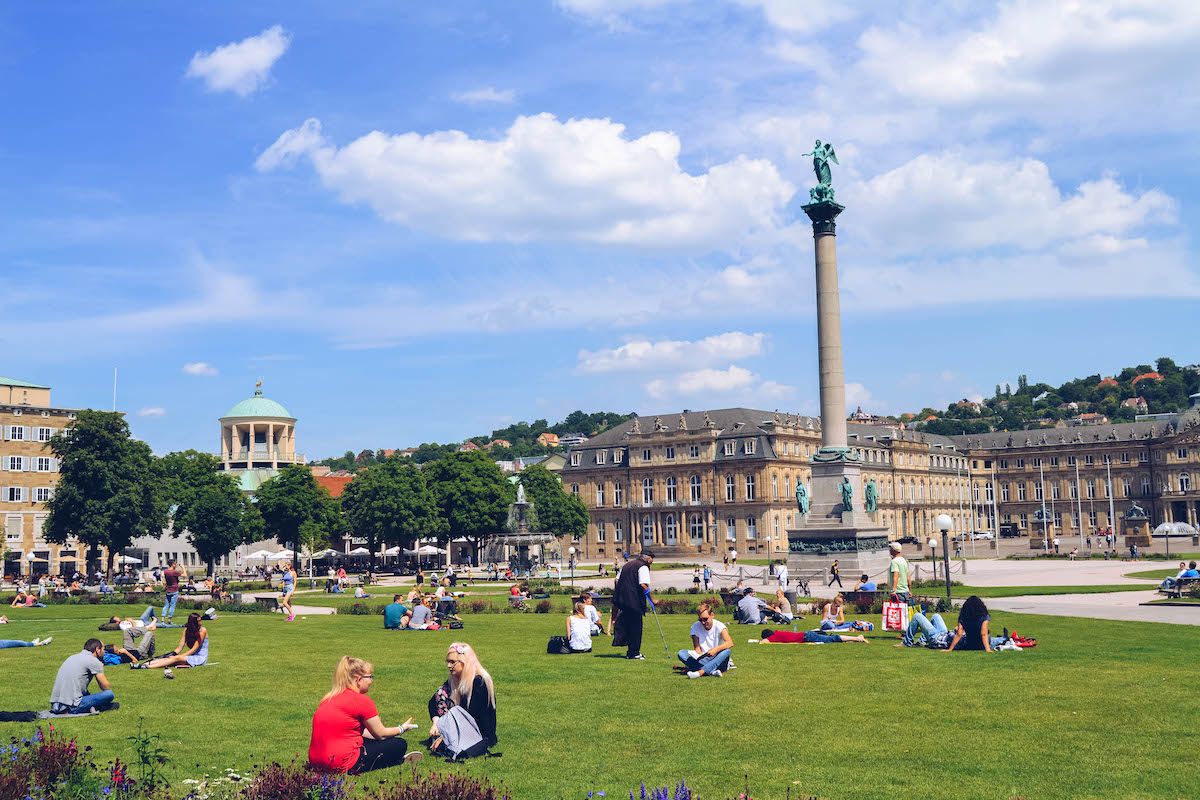 Automobile fanatics MUST make the day trip from Nuremberg to Stuttgart. Known as the "cradle of the automobile," Stuttgart is home to Porsche and Mercedes-Benz.
Things to do on a day trip to Stuttgart include:
Mercedes-Benz Museum or Porsche Museum — Pick your poison!
Staatsgalerie Stuttgart (State Gallery) — Known for its 20th century paintings, but has art from other eras as well. One of the top-visited museums in Germany.
Eugensplatz – Has great view of the city
Explore the area around the Schlossplatz – It's the older part of the city center and also one of the prettiest areas.
Coburg
Travel time by train: 2 hours 20 mins ICE and RE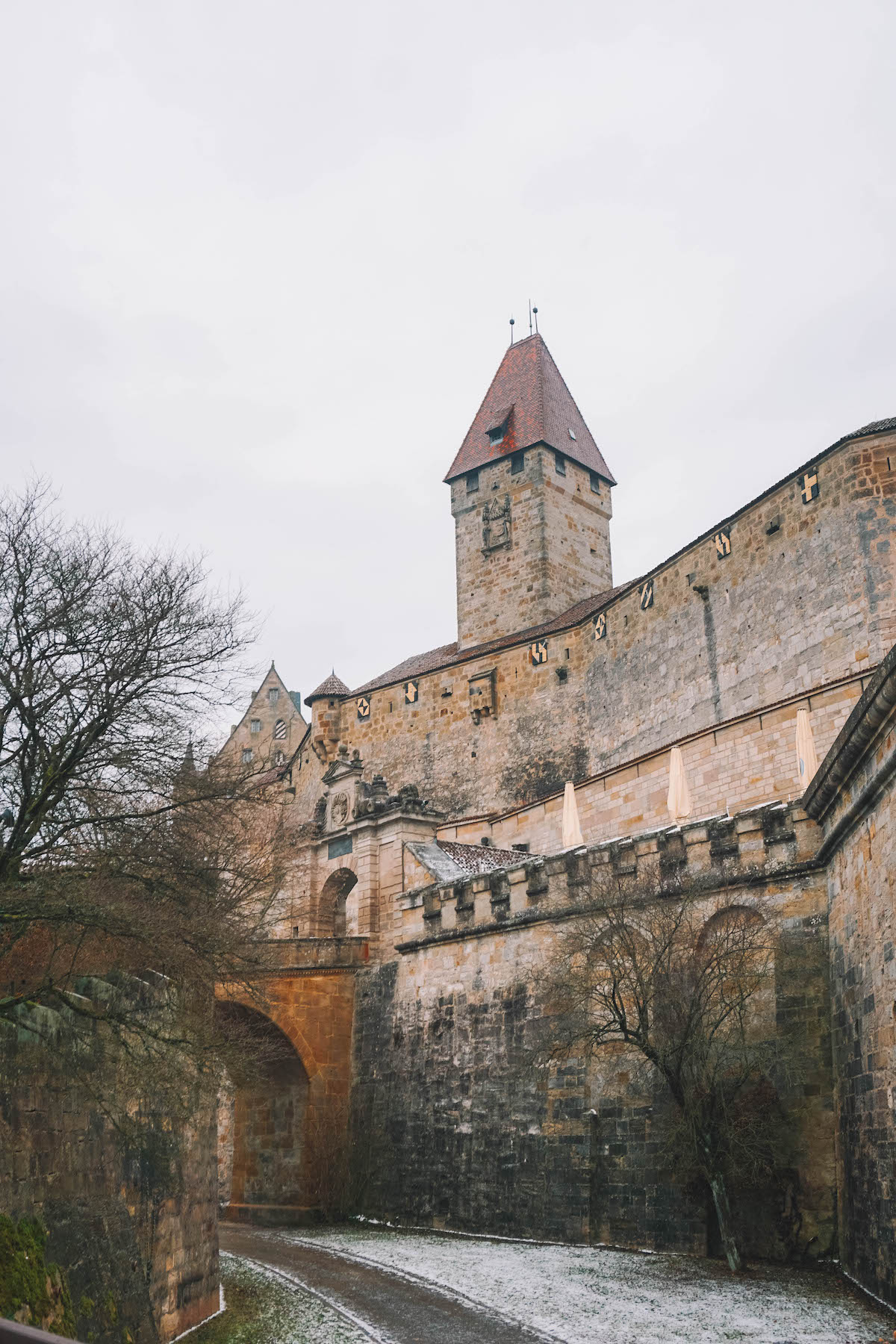 If you're well versed in the history of the British royal family, you may recognize the city of Coburg as being the birthplace of Prince Albert, consort to Queen Victoria). He spent much of his childhood in Ehrenburg Palace near the city center, which I highly recommend touring while you're in town.
Enjoy your day in Coburg by visiting the following attractions:
Veste Coburg (shown above) – A medieval fortress complex atop a hill. Martin Luther lived here for 6 months! It's worth walking up to the palace and looking out from the ramparts, even if you don't want to pay to go inside. 
Ehrenburg Palace – Located in the heart of the city; this is where Prince Albert spent much of his youth. The guided tour takes you through the beautifully maintained palace and you'll learn more about the Ducal family and its history.
Old Town – Small but lovely. Be sure to see the old city gates. 
Stadtkirche St. Moritz — The oldest church in the city.
Here are all of my recommendations for things to do in Coburg, plus more information on the city's history. 
Neuschwanstein Castle / Schwangau
Travel time by train: 2 hours RB, then 30 minutes on the bus (2 hours 30 mins total)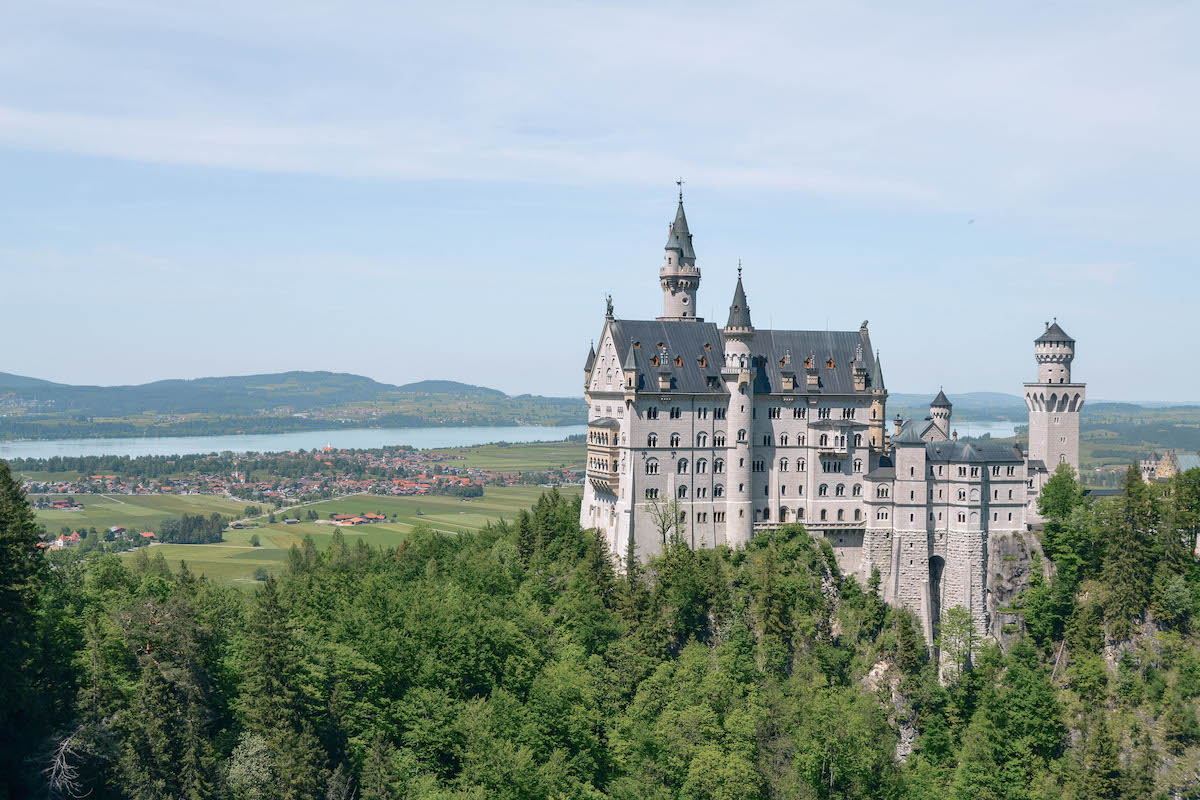 Be honest, you were waiting for me to mention the Neuschwanstein day trip from Munich, weren't you? When it comes to the best Munich day trips, Neuschwanstein Castle is the big kahuna. 
You might know Neuschwanstein as the "fairytale castle" of Germany. It's the castle that's plastered all over Bavaria's tourism materials, and for good reason! 
Neuschwanstein was built for "Mad King" Ludwig II of Bavaria, but was never completed due to his ever-changing architectural plans, increasing budget, and ultimately his untimely (and suspicious) death.
The only way to see the inside of Neuschwanstein Castle is by taking a guided tour. I'll be honest, the tour isn't very good and it's expensive. The tour guide shuttles you through the few finished rooms of the castle at breakneck speed (it takes about 20 minutes from start to finish).
The handful of completed rooms in the castle are incredible, though. They're all decorated in frescoes depicting scenes from Richard Wagner's operas, which King Ludwig II loved.
Even if you can't or don't want to book a tour to see the inside of Neuschwanstein Castle, it's still worth visiting on a day trip! You can explore the grounds, take in the views of and around the castle, and generally just enjoy the fairytale ambience of the Bavarian Alps.
Neuschwanstein Castle can be reached by a combination of train and bus. It's an easy route to follow, but you'll need to look up the exact train times beforehand to ensure you make all the right connections. 
What Else to See Near Neuschwanstein Castle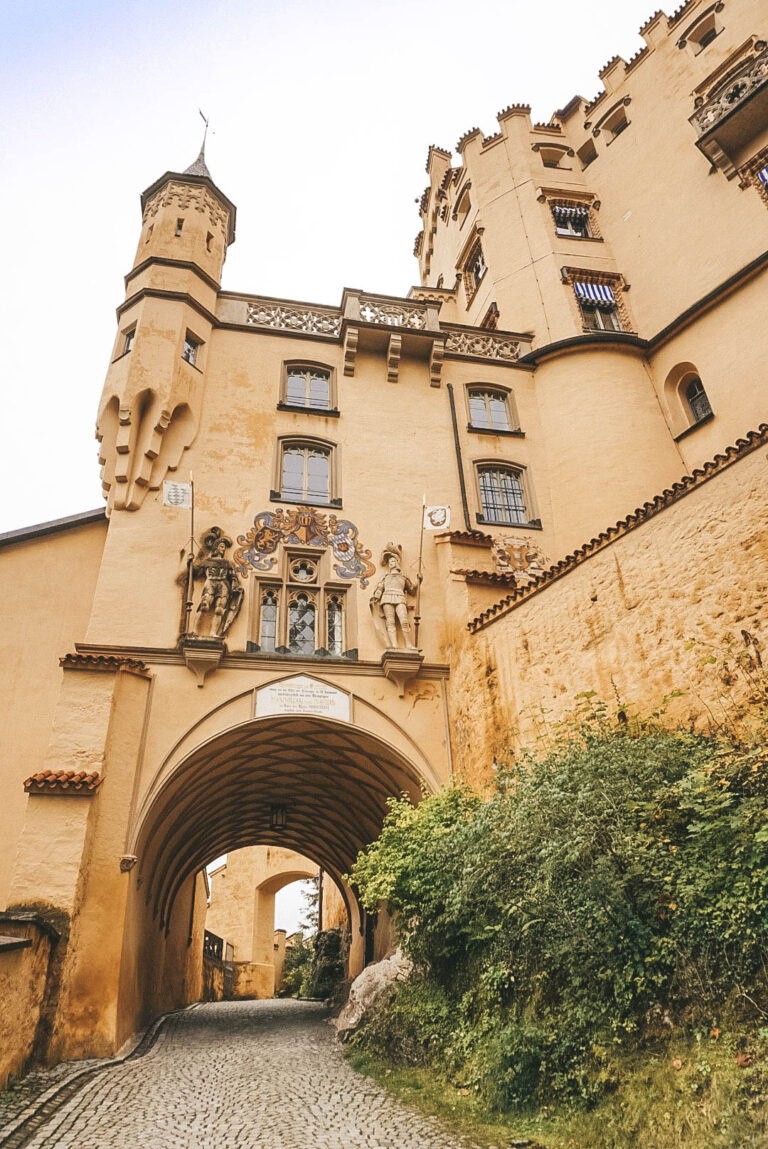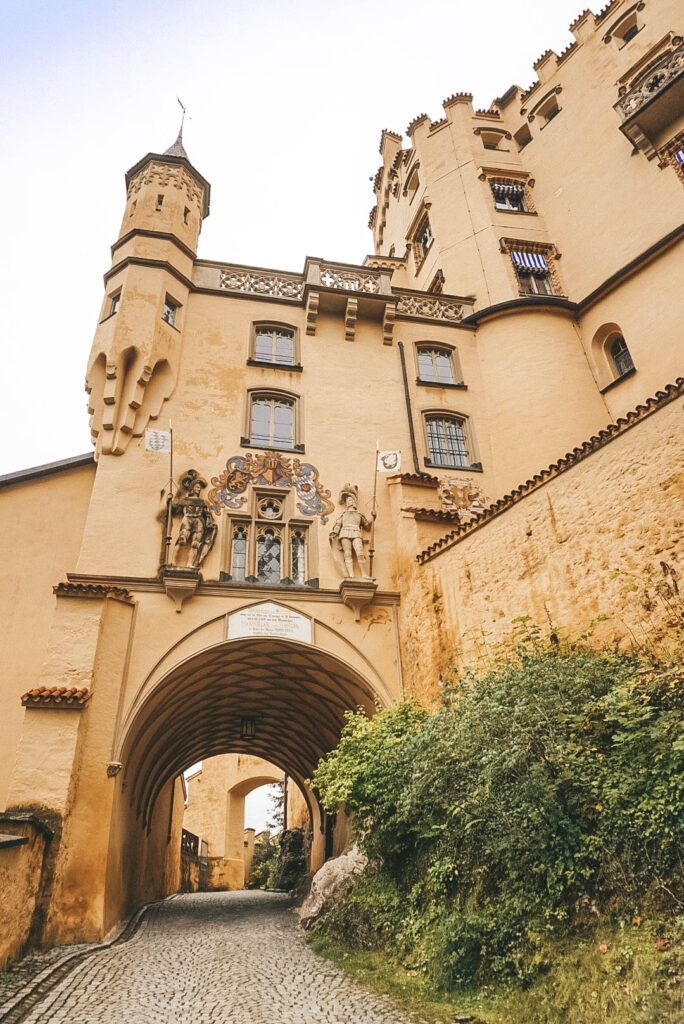 I recommend getting to the town of Schwangau (where Neuschwanstein is located) as early as you can stand it. Tour Neuschwanstein first to avoid the crowds coming in off the tour buses, then walk over to Hohenschwangau Castle (give yourself about an hour between the two castles to allow for travel time either on foot or by bus).
Fewer people bother to visit Hohenschwangau Castle, so you get treated to a longer, more relaxed tour and you get to see the entire building. This is where King Ludwig II spent the bulk of his childhood, and the medieval frescoes decorating the walls give you a peek into the upbringing that inspired his love of Richard Wagner and operas.
If you have any time left after visiting both Neuschwanstein and Hohenschwangau, head down to the beautiful Alpssee cradled in the valley between the castles. I had time to walk part way around the Alpsee and although it's small it's one of the most beautiful lakes I've ever seen!
Tip: I arrived in Schwangau as early as I possibly could to see both Neuschwanstein AND Hohenschwangau on my last visit. It's totally doable, but you must book both castle tickets and train tickets in advance and be prepared to stick to a schedule!
When traveling around Bavaria, I often buy my train tickets day-of via the Deutsche Bahn app or directly with the BayernPass.
Ticket prices sometimes increase if you book them the day you plan on traveling, but since I often use the regional trains for my Munich day trip excursions the prices often remain the same. (It's only when you're booking last-minute ICE or IC high-speed trains that the prices can skyrocket!)
Another reason I prefer booking my train tickets for day trips out of Munich is because it allows more flexibility in my schedule.
Depending on your timing and how soon you want to reach each destination, you might want to consider buying a BayernPass. The BayernPass costs just 27 Euros for one person and lets you take an unlimited number of trips on the regional (RB) and regional express (RE) trains within Bavaria for one day.
You can only travel with the BayernPass from 9am to 3am the following day, Monday to Friday. On weekends the BayernPass is valid from midnight to 3am the following day.
Enjoy Your Day Trip From Munich!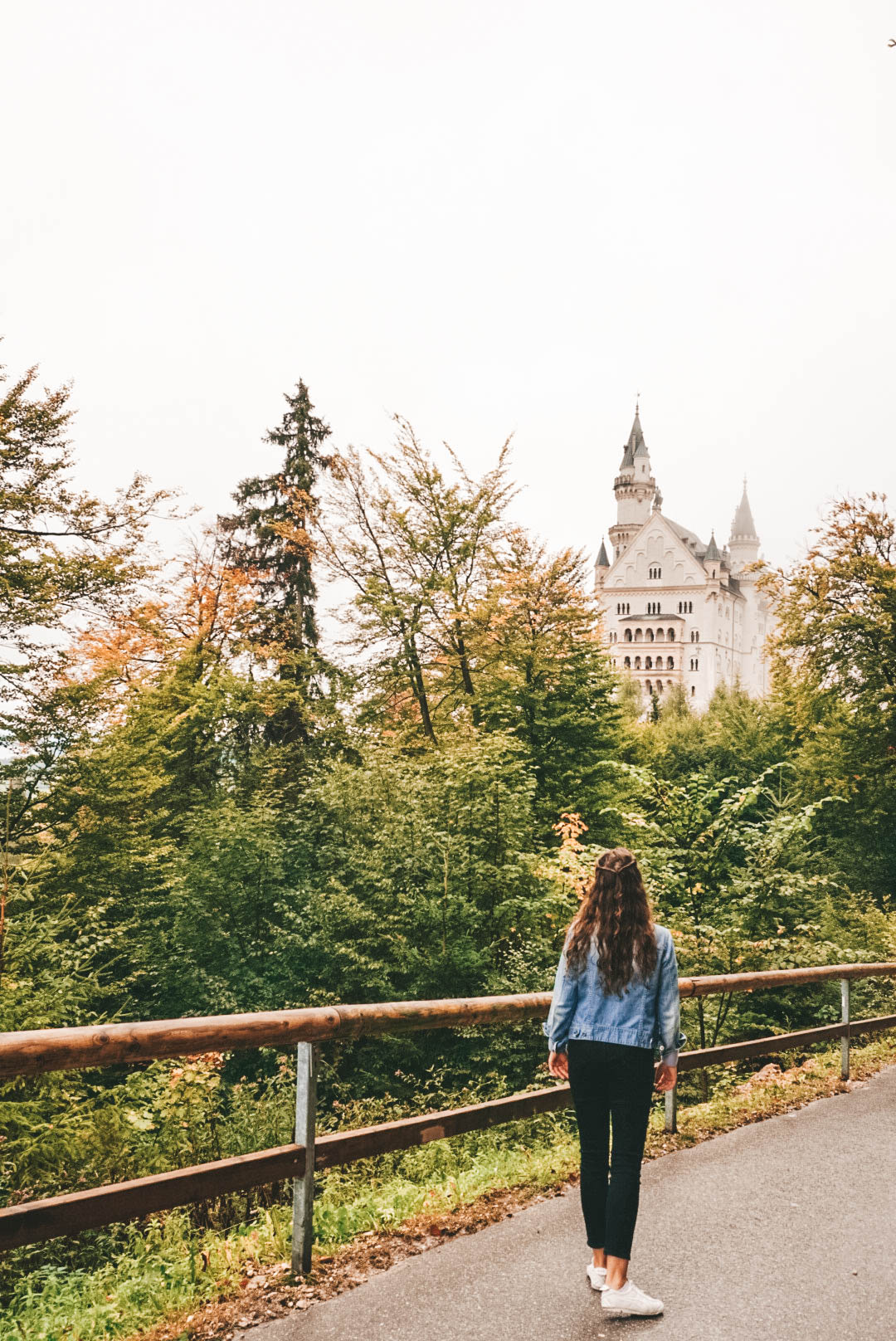 You definitely don't want to shortchange your stay in Munich, but if you have the time, a day trip or two would be great!
Hopefully this list of day trips from Munich proves useful in your trip planning. Please leave me a comment below letting me know if you visit any of the cities I mentioned!
Don't forget to follow me on Instagram to keep up with my daily adventures in Berlin and beyond!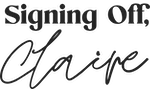 More Things to Do & See in Munich: