Leipzig is an underrated Christmas destination in Germany! During Advent, the entire city center is transformed into a Christmas market. Here's a full guide on the Leipzig Christmas markets!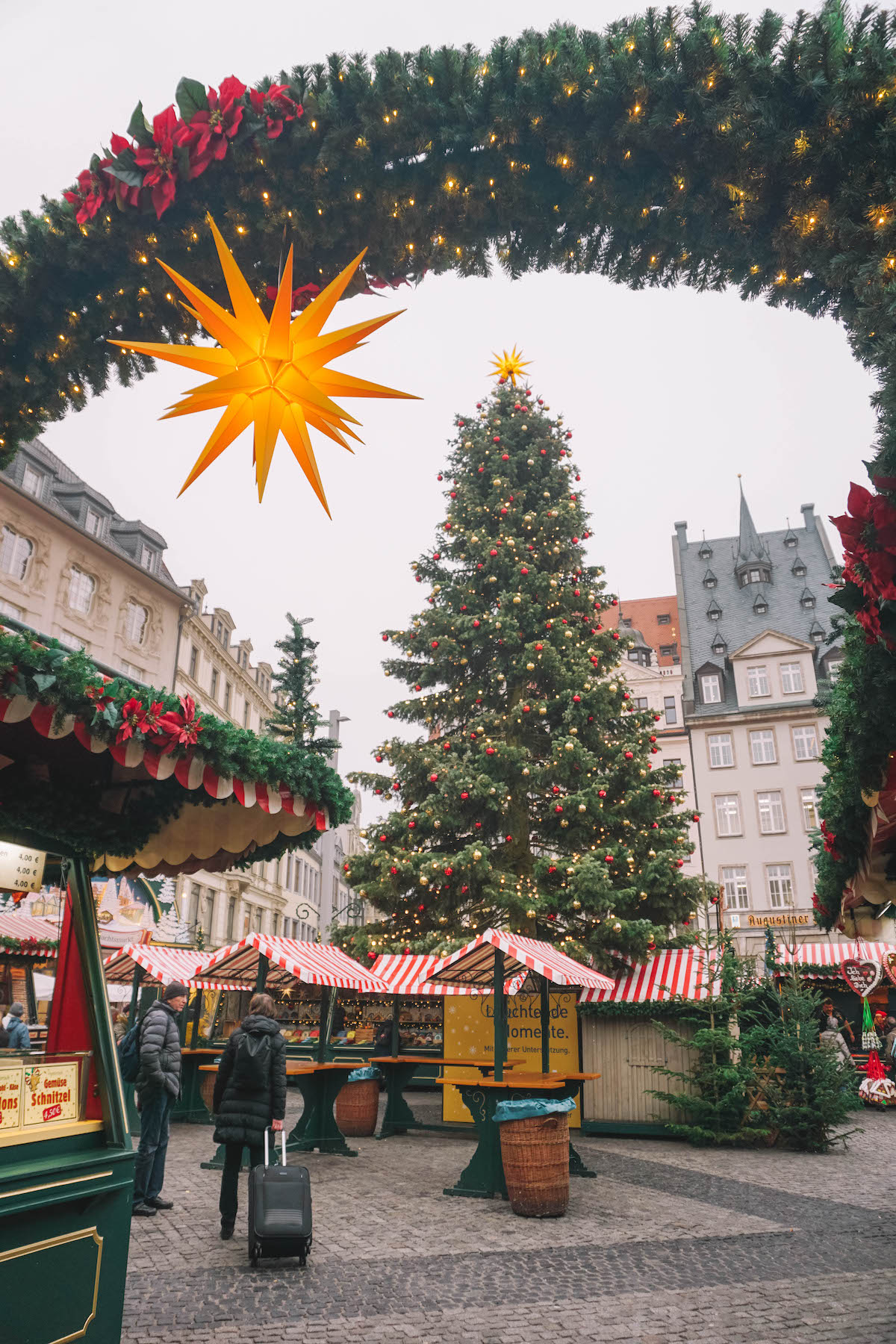 Leipzig, Germany is known for many things — for being a bustling trading hub during the reign of the Holy Roman Empire, for being the long-term home of composer Johann Sebastian Bach, and for being one of the major sites of the Peaceful Revolution in 1989, which led to the fall of the Berlin Wall.
Admittedly, what Leipzig is not known for are its Christmas markets. But since Leipzig is one of my all-time favorite day trips from Berlin, I decided to visit during Advent to see if the city's Christmas markets are up to snuff.
As it turns out, the Leipzig Christmas markets are definitely worth visiting! I'll share all of the practical details you need to know when visiting Leipzig at Christmas, as well as my recommendations for each of the city center's Christmas markets (not all are created equal!).
Keep reading to find out which of the many Christmas markets in Leipzig are worth visiting
Table of Contents
Click "show" to see the full table of contents for this post. You can jump around the post as desired by clicking on the individual sections listed below. 
Leipzig Christmas Market Dates, Locations, & Hours [2023]
Dates: November 28 – December 23, 2023 (only the large Christmas market at the Markt is open on December 23)
Location: There are lots of markets scattered throughout the city center, with the largest market located at the Marktplatz in front of the Old Town Hall (Altes Rathaus). All of the markets are accessible by foot. Exact locations of the Leipzig Christmas markets are provided in the body of this blog post below.
Opening Hours: Sunday to Thursday 10am – 9pm, Friday and Saturday 10am – 10pm. Special hours of operation on December 22 and 23 (10am – 8pm).
The Top Christmas Markets in Leipzig
I highly recommend stopping at the Leipzig Tourist Information office first thing to get a special Christmas market map.
The map I was given made it seem like there are 12 Christmas markets in Leipzig's city center. While that might technically be true, the markets all bleed into one another and make it seem like the entire city center is one giant Christmas market.
The main Leipzig Christmas market can be found smack in the center of the city at the Marktplatz (market square) in front of the town hall. The remaining Christmas markets in Leipzig aren't all fantastic (more details on each market to follow!) but there are some really good ones!
I've listed both the good and the bad Christmas markets below so you know exactly what to expect when visiting Leipzig at Christmas!
1. Hüttenzauber at the Marktplatz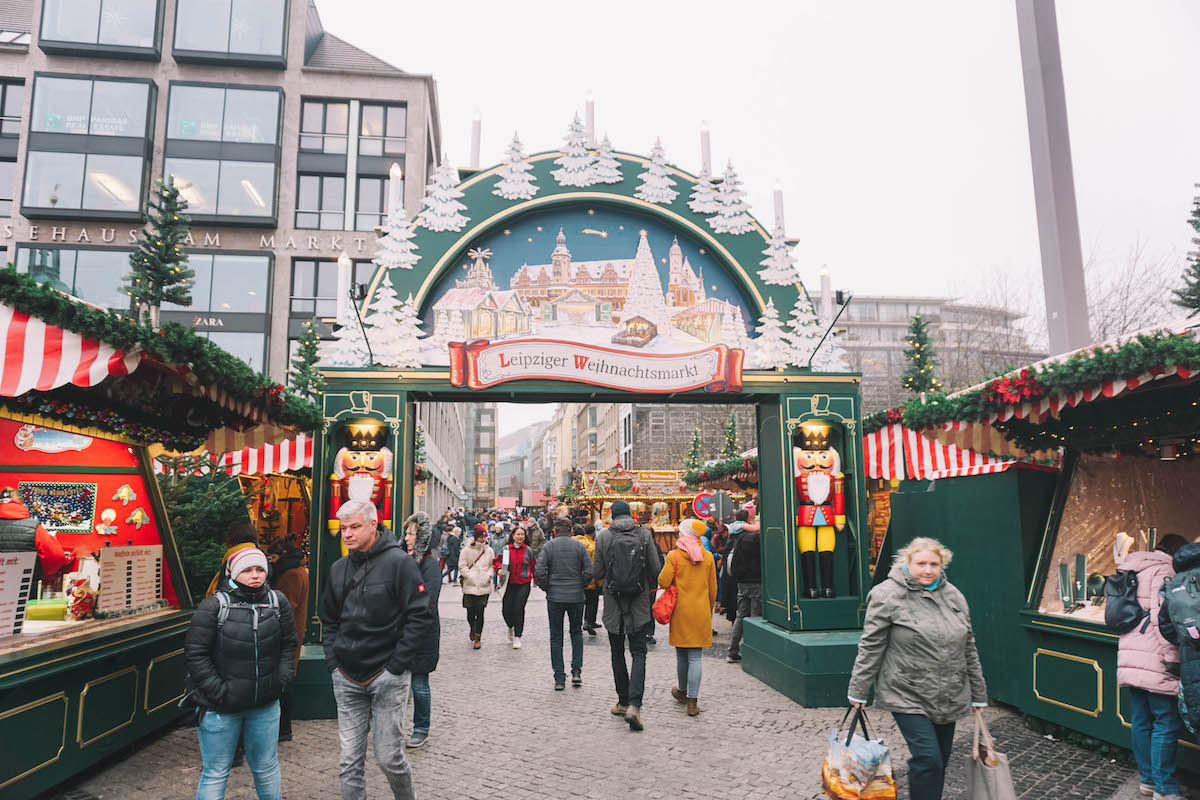 Leipzig's largest and best-known Christmas market dates back to 1458, making it the second oldest in Germany after Dresden's Striezelmarkt. The Hüttenzauber market takes place at the city's Marktplatz (market square) in the shadow of the cheerful yellow Town Hall.
The market boasts over 250 stalls selling grilled meats, beeswax candles and honey, sweet treats like crepes and Quarkbällchen, handicrafts, and more.
What I loved most about the Leipzig Christmas market at the Marktplatz is that the city prioritized local artisans and Leipzig- and Berlin-made products over other, mass-produced goods that you find at most of the other German Christmas markets. Visiting a Christmas market with a clear emphasis on regional products was such a treat!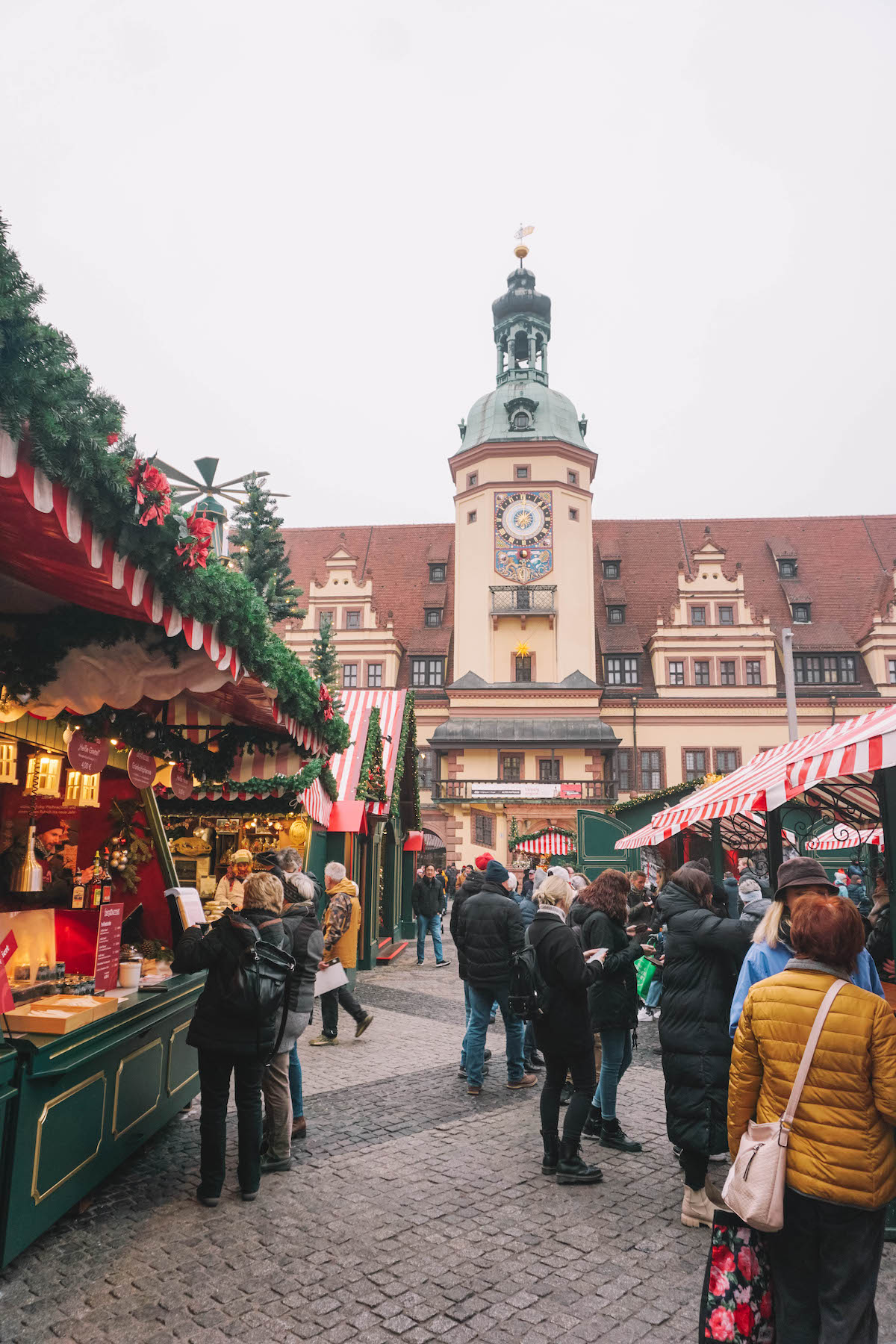 Other star attractions of this Christmas market include the HUGE Christmas tree fully decked out in baubles and string lights. The tree is spectacular — and it's so big you'll be hard pressed to fit in all in a single photo!
There's also a central stage at this Christmas market. Throughout the Advent season, visitors can enjoy an array of holiday concerts, choral performances, and even story hours for children.
This beautiful Christmas market truly felt like I was walking through a fairy-tale Christmas village. The candy cane-striped roofs of the market stalls and the garland arches strung with lights imbued the entire square with a cozy holiday spirit.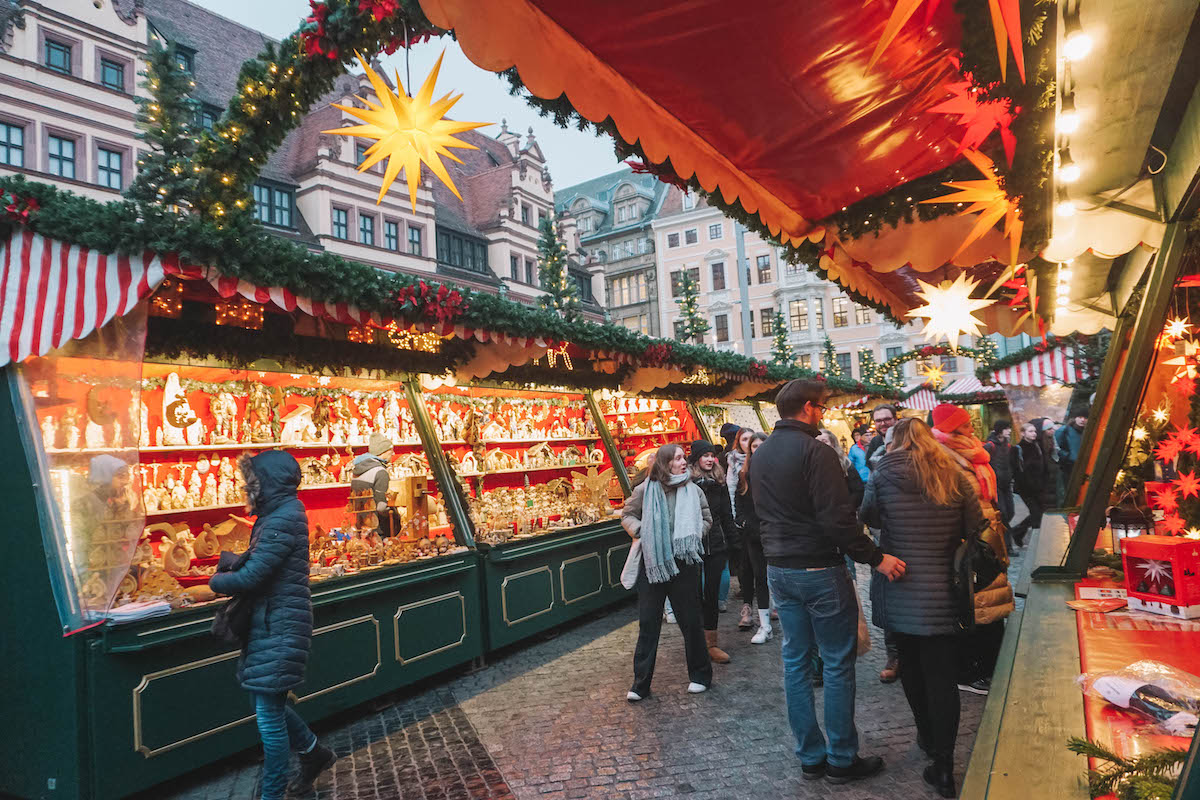 Tip: If you're going to the Christmas markets in Leipzig specifically to buy gifts for loved ones, I think this particular market had the best quality and range of goods for sale.
2. Anno Domini Historic Christmas Market at Naschmarkt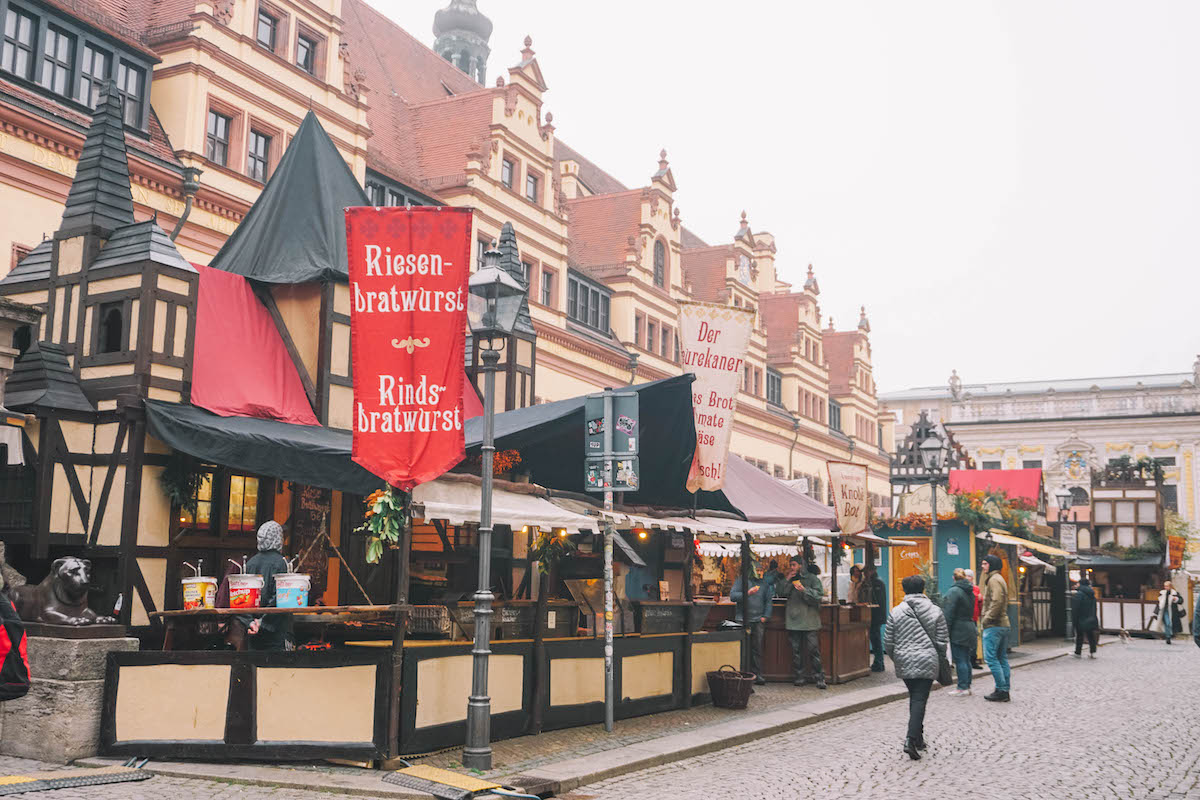 Tucked away in a quaint courtyard on the opposite side of the Old Town Hall is my second-favorite Christmas market in Leipzig: the Anno Domini Historic Christmas Market.
This medieval Christmas market is small but the history geek in me adored the trip back to Ye Olde Leipzig.
There's not much in the way of foodstuffs at this market, but the stalls are overflowing with woven baskets, jewelry, pottery, and handmade wool products.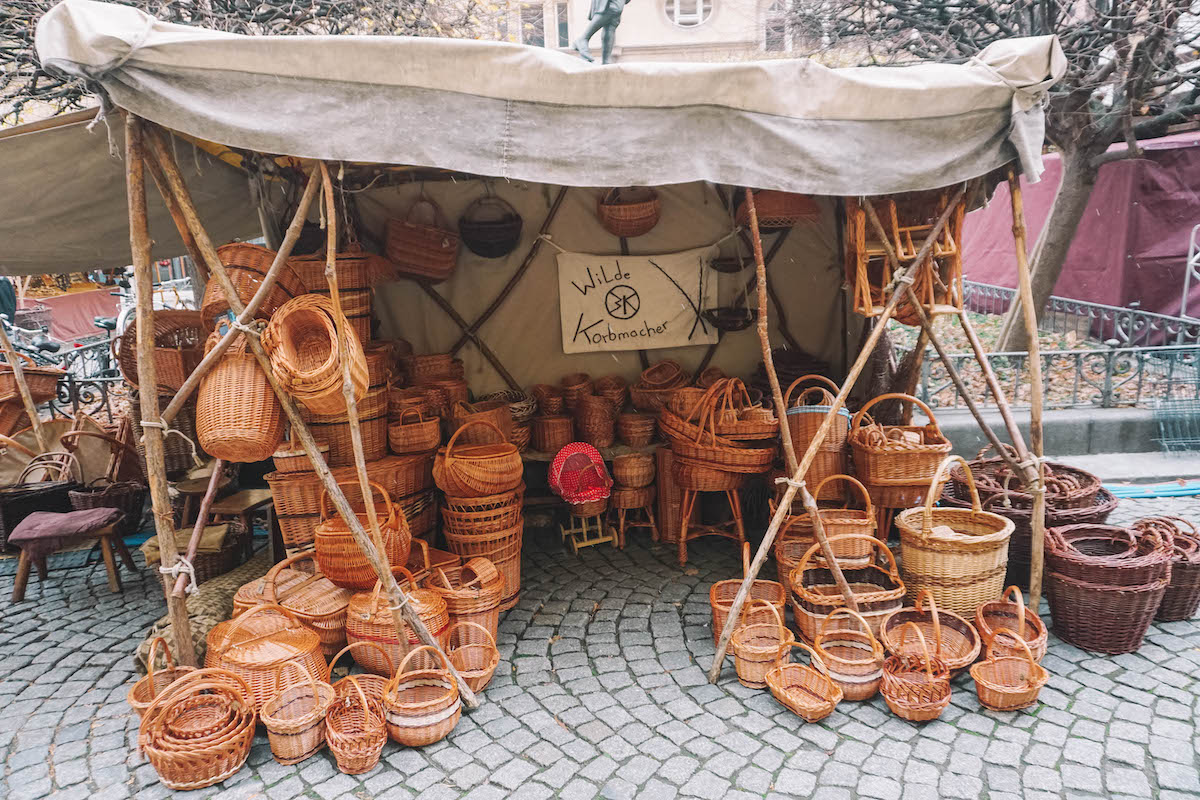 The items that are truly handmade in the region are on the pricier side, but that's because they're such good quality!
And if Glühwein (mulled wine) isn't your Christmas drink of choice, definitely try the warming mead at the historic Christmas market.
3. Chorus of Angels at Thomaswiese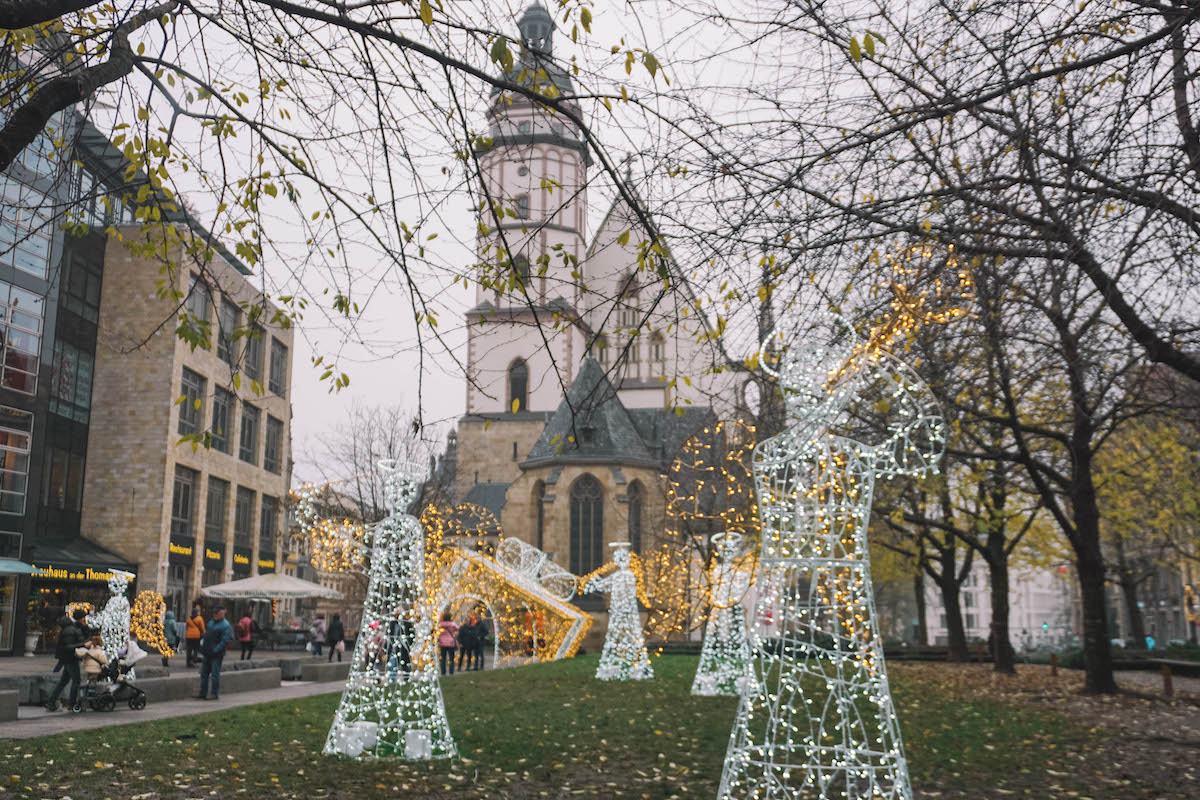 Behind the Thomaskirche (St. Thomas Church) — where Johann Sebastian Bach worked for almost 30 years — you'll find a small cluster of stalls selling classic Christmas market foods like bratwurst and Lebkuchen (gingerbread).
There's also a really pretty light display along the path leading to the church.
If you have the time (or simply need to warm up your frozen hands!), pop into the St. Thomas Church. It's lovely inside, and if you're lucky you might hear the famous boys' choir practicing for an Advent concert!
4. A Magical Forest along Grimmaische Straße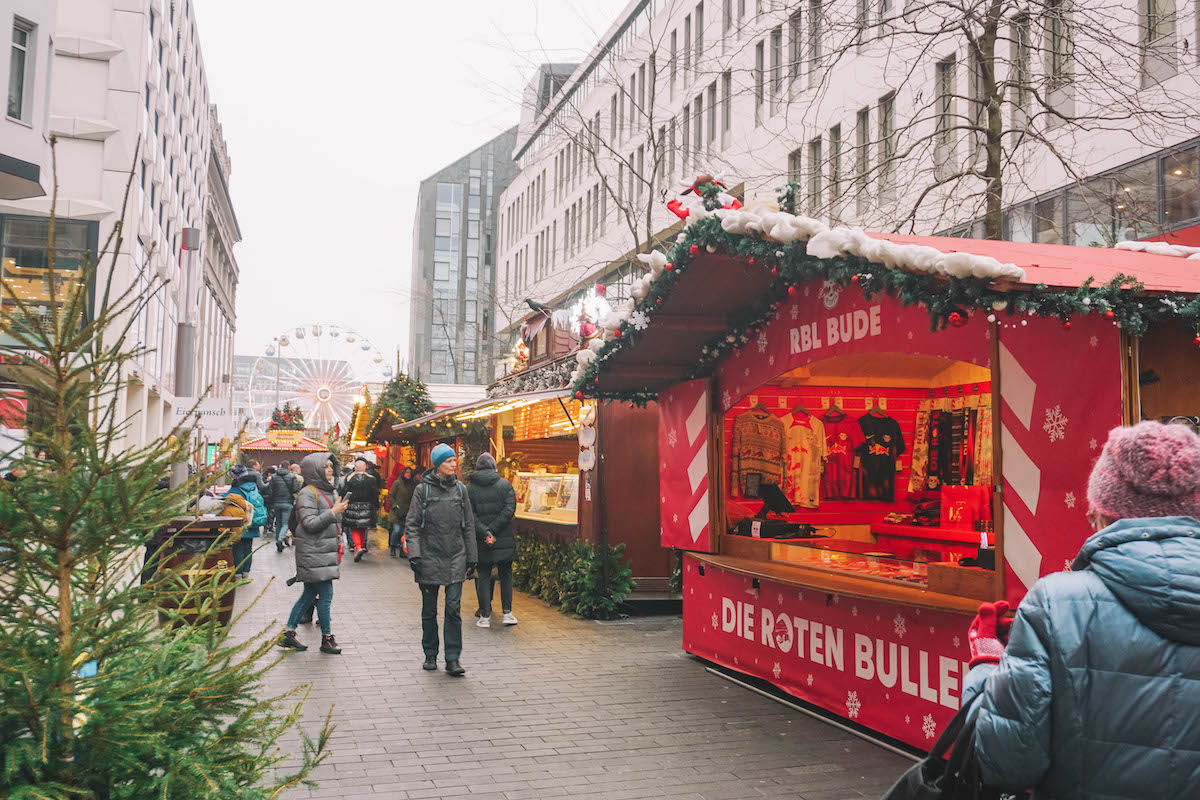 Come December, the main shopping street connecting Augustusplatz with the Marktplatz is light up with Christmas lights and lined with stalls selling food, drinks, and decorations.
This is a very basic Christmas market, but it has one fun twist to it: there are cute light displays in the shape of woodland creatures all along the street!
As far as Christmas markets in Leipzig go, this isn't one I recommend spending any time at. For me, it was just a fun and festive route to take to reach Augustusplatz to see the markets there.
5. Traditional Fun Fair at Salzgäßchen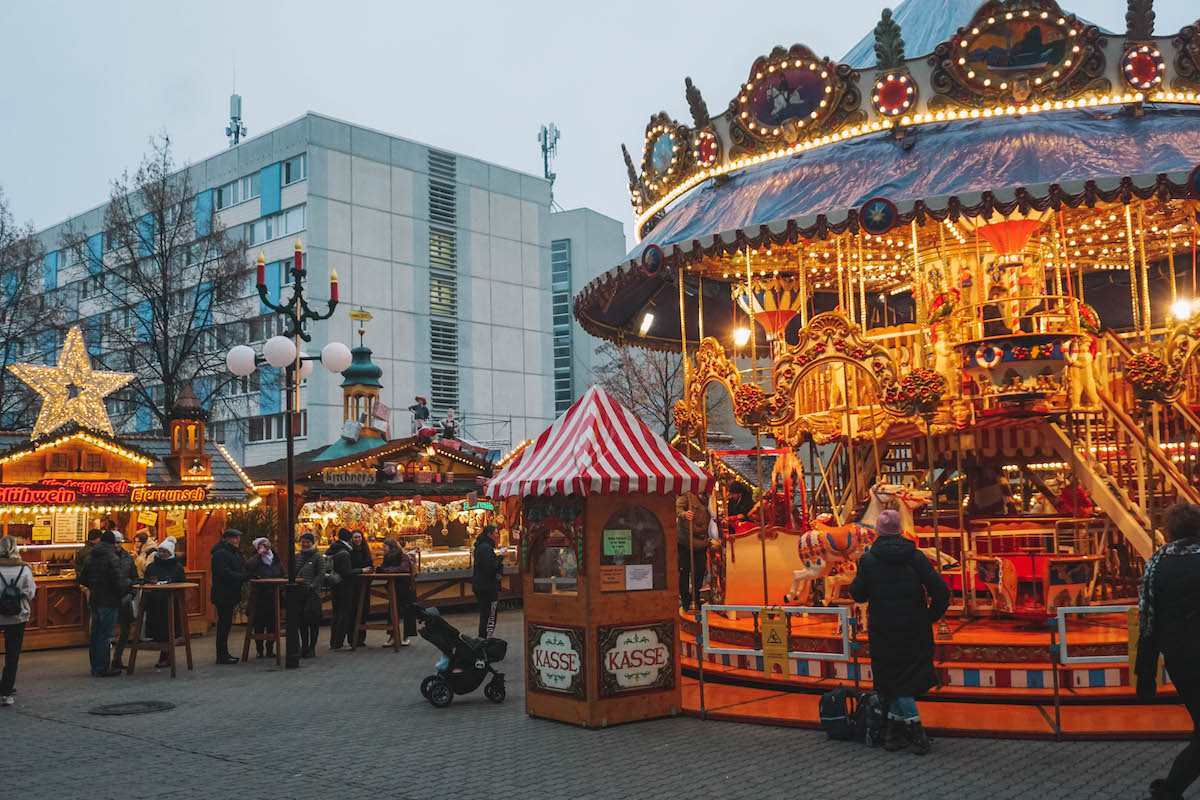 Yet again, this isn't a Christmas market that I can wholeheartedly recommend as the stalls are very basic, the goods for sale didn't seem top notch, and it was very small. The few traditional stalls you'll find here sell items like salami and cheese, chimney cakes, and sheepskin slippers.
BUT the double-decker carousel at this market is gorgeous! If you're in Leipzig after sunset, I highly recommend going to this market just to see the old-fashioned carousel lit up in all its splendor.
You can't overlook this market, as it flows directly into the main Christmas market located at the Marktplatz (#1 on this list, and my favorite in the city).
6. Christmas Market at the Nikolaikirche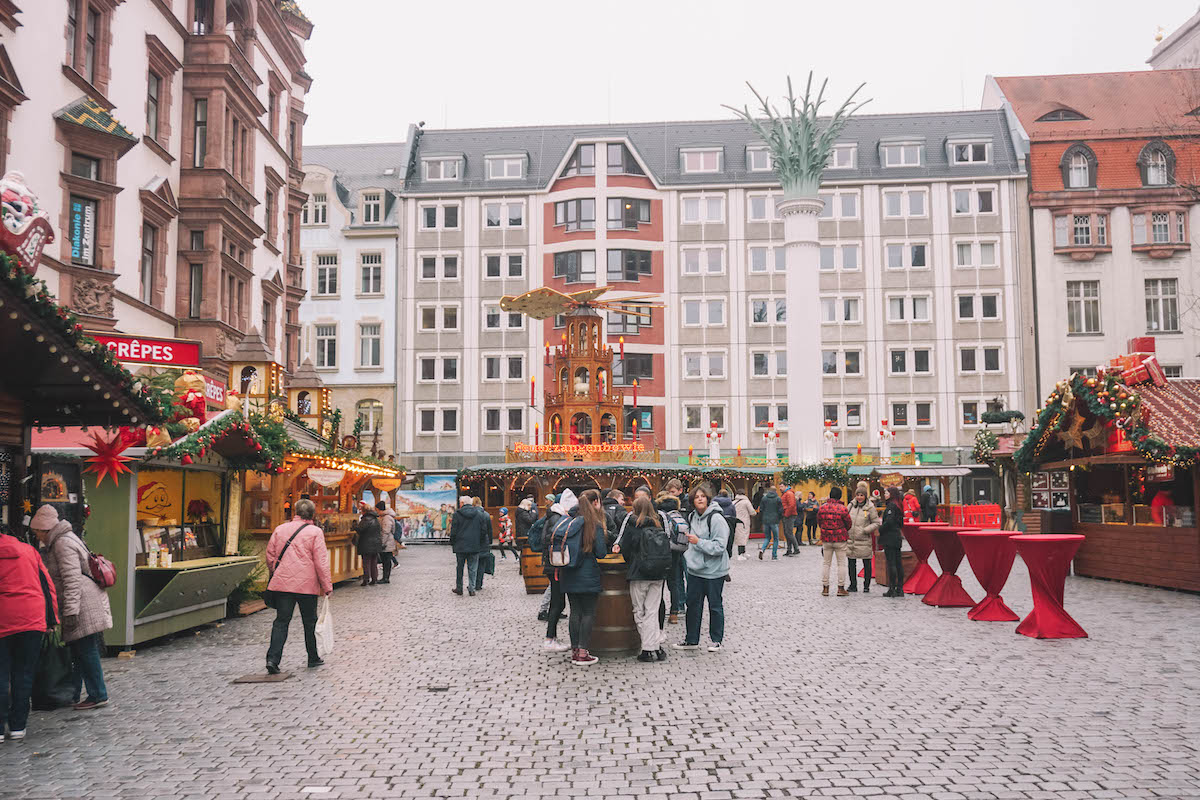 Nestled in the courtyard of the St. Nicholas Church where the Monday Demonstrations took place between 1989 and 1991, there's a small Christmas market that sells mostly warming drinks.
In fact, I'd go so far as to say that the top stall at this little market is the one in the shape of a massive Christmas pyramid. If you're looking for Feuerzangenbowle (a type of powerful alcoholic punch) in Leipzig, come here!
One underrated gem of the Nikolaikirche Christmas market is the stall selling wooden ornaments and decor. They're very pricey, but they're handmade and will last a lifetime!
7. Fairytale Forest at Augustusplatz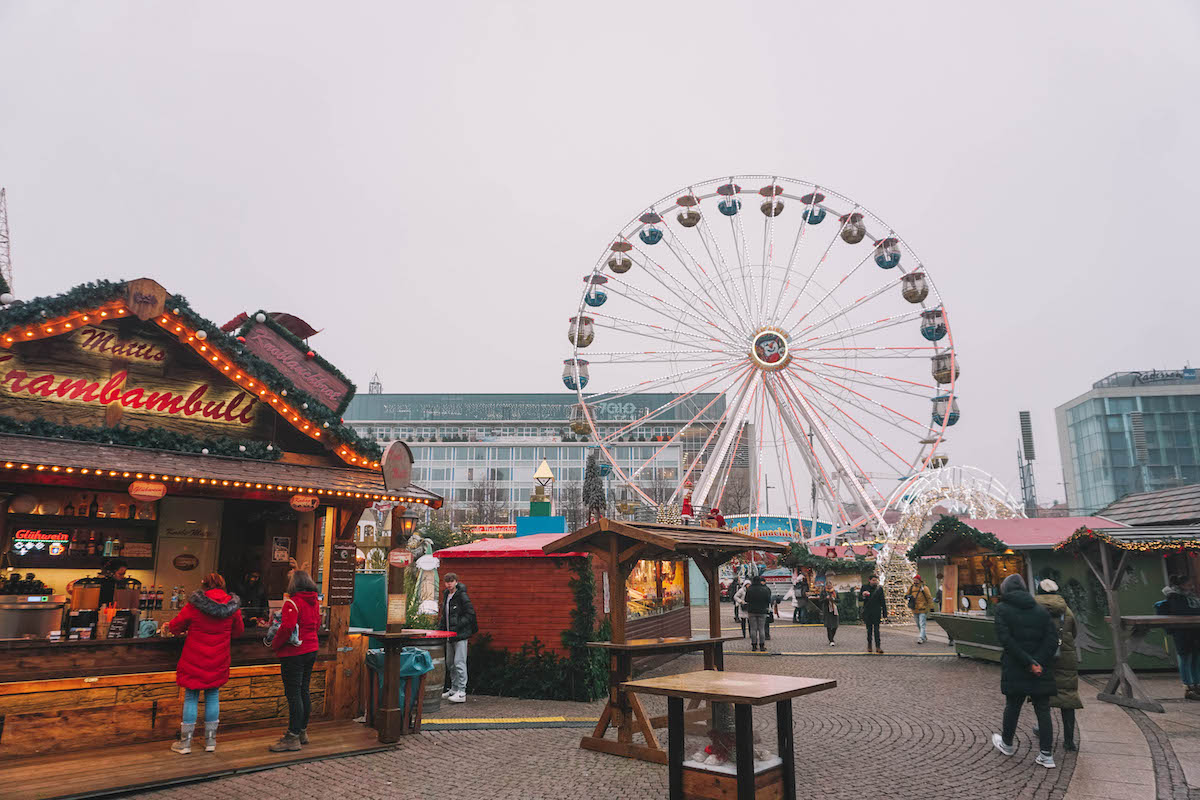 The Christmas market at Leipzig's Augustusplatz is another traditional Christmas market offering the typical array of sheepskin products, hats and scarves, and so on.
The market itself didn't blow me away, but I still recommend visiting if only to see the creepy Fairytale Forest in the center of the market. Within the Fairy-tale Forest, there are large, animatronic figures from various German fairy-tales that move and speak. It's one of those attractions that's so bad, it's good.
There's also a large ferris wheel at this market, which I imagine would be perfect to ride after sunset so you can see Leipzig and its many Christmas markets lit up after dark.
8. Finnish Village at Augustusplatz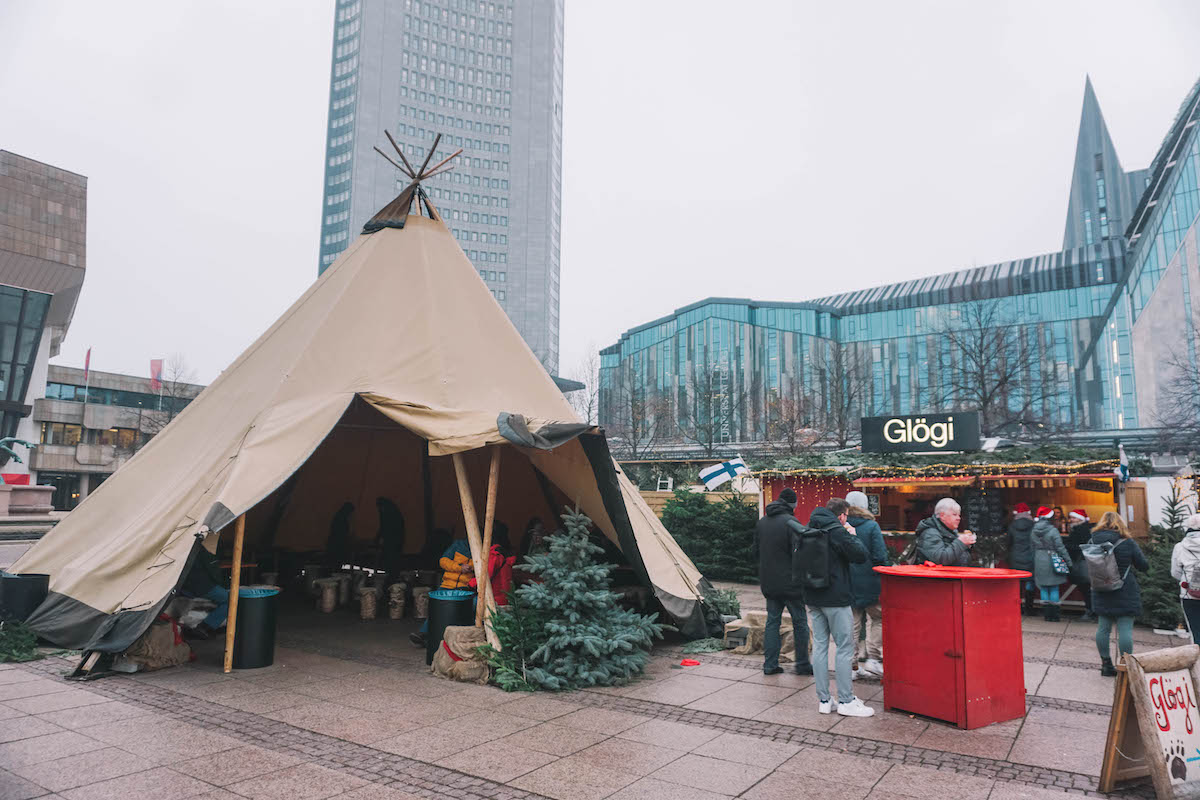 There's not much happening at the Finnish Village at Augustusplatz (directly opposite the aforementioned Fairytale Forest), but it's a nice spot to enjoy Finnish Glögi (mulled wine) while cozied up in the large tent to bring some life back into your frozen fingers.
There are just a handful of food options at this market, but what they have is really good. I recommend the Flammlachs (flame grilled salmon); you can see the filets of salmon tacked onto boards over the open fires!
What to Eat at the Leipzig Christmas Markets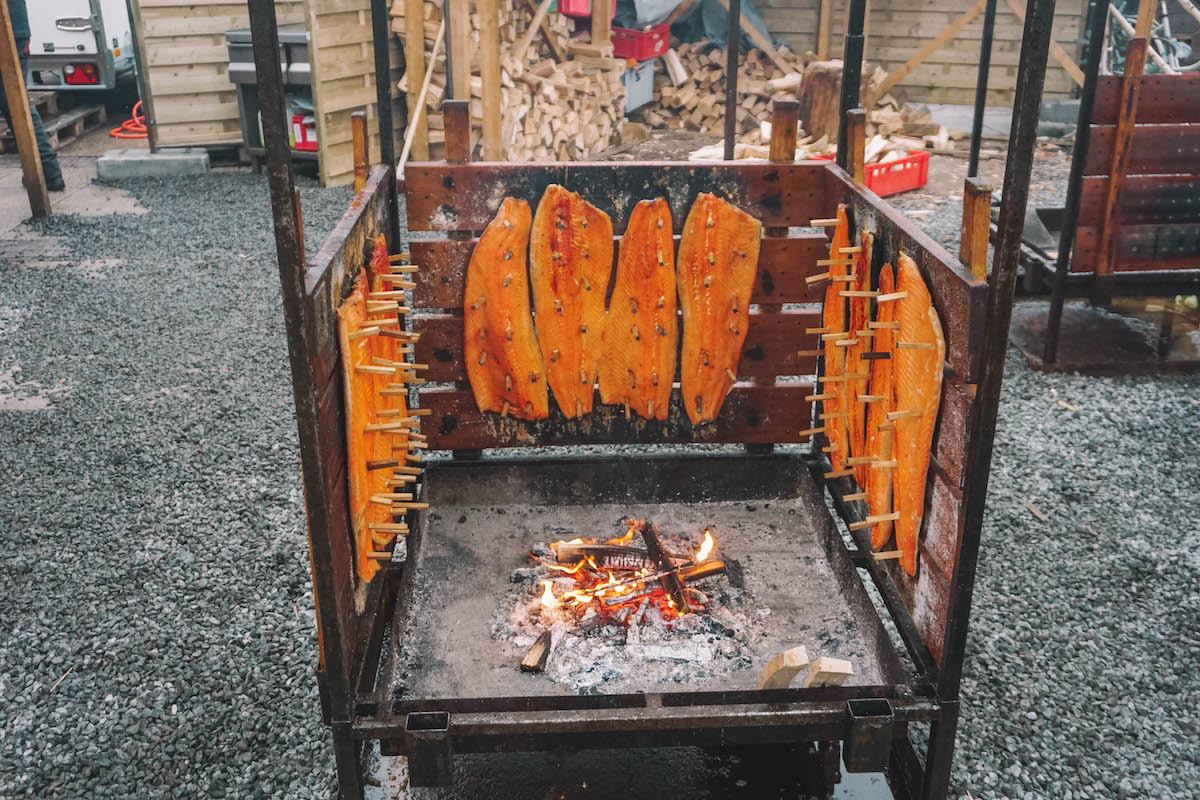 Leipzig doesn't have many truly local Christmas foods or drinks that it can brag about.
However, Saxony (the state Leipzig is located in) is one of the top fruit growing regions in Germany. There's a wonderful stall run by Obstland at the main Christmas market at the Marktplatz that sells many varieties of mulled wine. Think: cherry, plum, or apple mulled wine! I tried the non-alcoholic Kinderpunsch and loved it.
I can also recommend the Flammlachs (flame grilled salmon) at the Finnish Christmas market.
Otherwise, the main market at the Marktplatz had some really interesting, non-Christmassy foods like hot feta sandwiches — for those of you who just can't eat another bite of Stollen!
For a complete list of the kinds of foods you can expect to find at the Leipzig Christmas market, here's my full guide to the most popular foods and drinks at any German Christmas market.
Practical Tips for Your Visit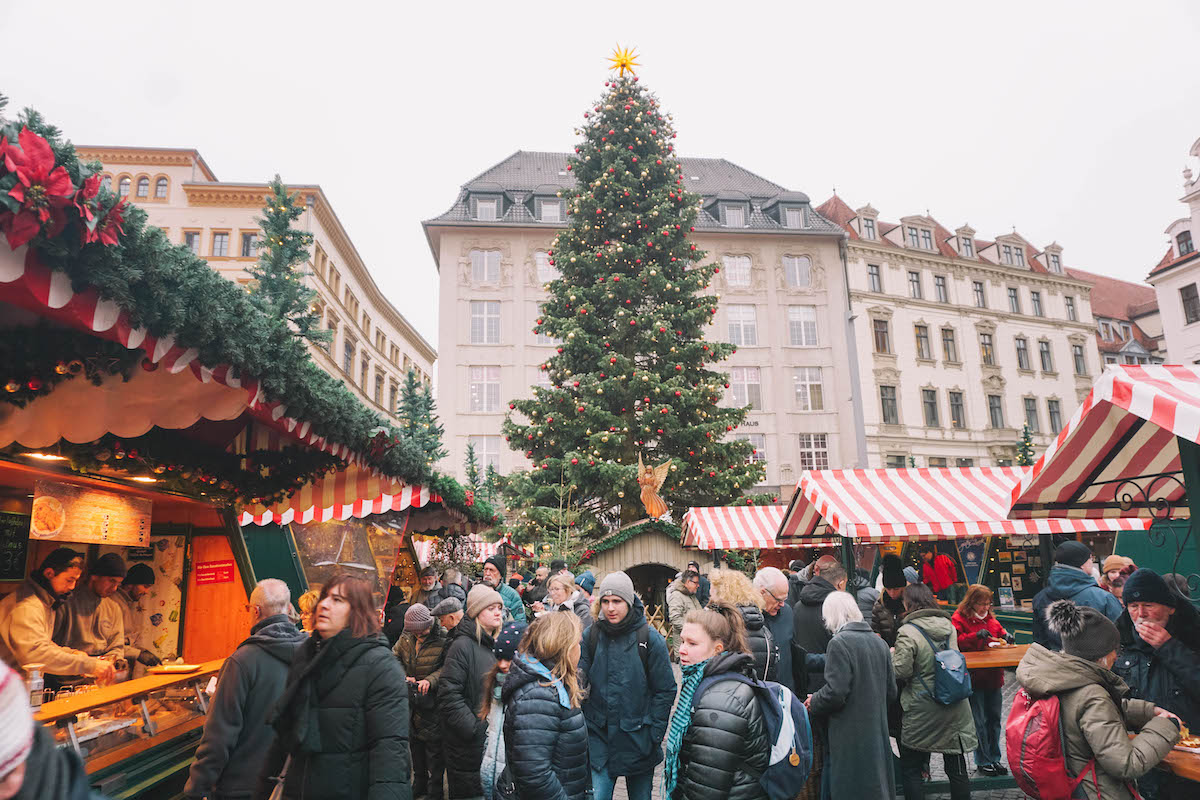 If you plan on doing some proper Christmas shopping, arrive earlier in the day to avoid the worst of the crowds. Weekends will also be busier than weekdays.
You will have to pay a 2 to 4 Euro deposit on your mulled wine and hot chocolate mugs. You can save them as a cute but cheap souvenir, or return them to the stall to get your deposit back.
Bring a reusable tote bag if you plan on buying gifts.
Bring cash since most stalls don't accept card.
There are limited vegan / vegetarian food options at the markets. Sometimes even fries are cooked in lard, so ask at the stalls if that's a concern for you.
The sun sets very early in December in Germany, so you don't have to stay in Leipzig late into the night to see the Christmas lights lit up! Just stick around until 4pm or so.
FAQs About the Leipzig Christmas Markets
Have more questions about visiting the Christmas markets in Leipzig, Germany? I also have an entire blog post sharing my general tips for visiting the German Christmas markets. ]
How much time is needed to see the Christmas markets in Leipzig?
1 day was perfect! It was enough time to see all the markets in the city center at a leisurely pace without feeling rushed.
When is the best time to visit the Christmas markets?
If possible, go during the work week to avoid the worst of the crowds. Otherwise I recommend arriving in the mid afternoon to shop and eat a little before nightfall. Once the sun sets, the crowds seem to double in size!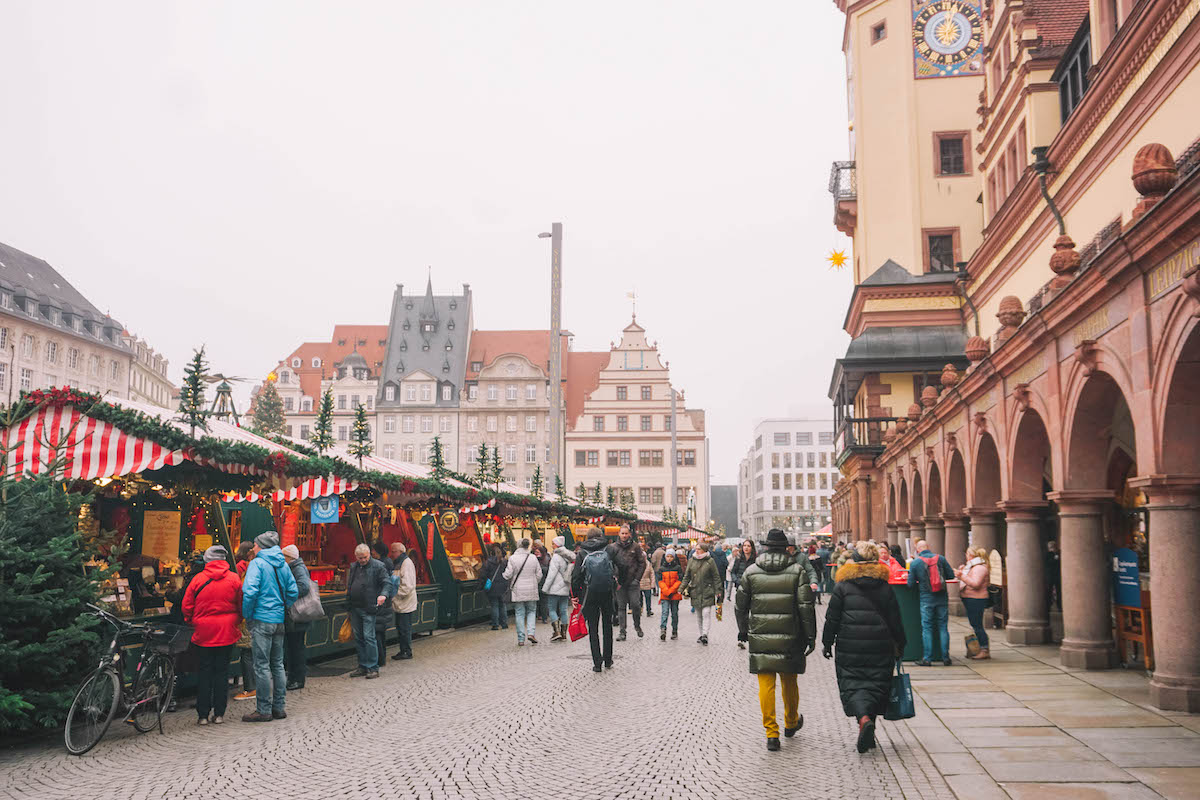 What's the best area to stay in Leipzig?
I've stayed near the main train station in the past for convenience sake and it was great! The city center is about 10 minutes away on foot from train station.
Can the Glühwein mugs be saved as a souvenir?
Yes! You pay a deposit (Pfand) on the mugs and can keep as many as you'd like. Christmas market mugs for a festive and cheap souvenir!
What else is there to do in Leipzig?
I have a full guide on the top attractions in Leipzig, so definitely check that out if you want to see more than just the Chrstmas markets.
Bis Nächstes Jahr, Leipzig!
Leipzig is one of my favorite day trips from Berlin, and I'm SO glad I went to explore the city's Christmas markets as I can now confidently say they're worth visiting!
The main Christmas market at the Marktplatz is the best of the Leipzig markets by a mile and is where I recommend spending the bulk of your time. However, it was a pleasant surprise to find pretty much the entire city center turned into one neverending market upon arrival.
If you live in Berlin or find yourself near Leipzig at Christmas, do stop by to explore the Christmas markets!
Don't forget to follow me on Instagram to keep up with my daily adventures in Berlin and beyond!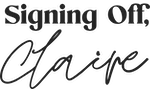 More Favorite Christmas Markets in Germany: