Bonn is often overlooked in favor of Cologne during Christmas market season, but this lovely city is worth adding to your bucket list! Here's a detailed guide to Bonn's Christmas market, including an honest review of the market and practical info for planning your visit.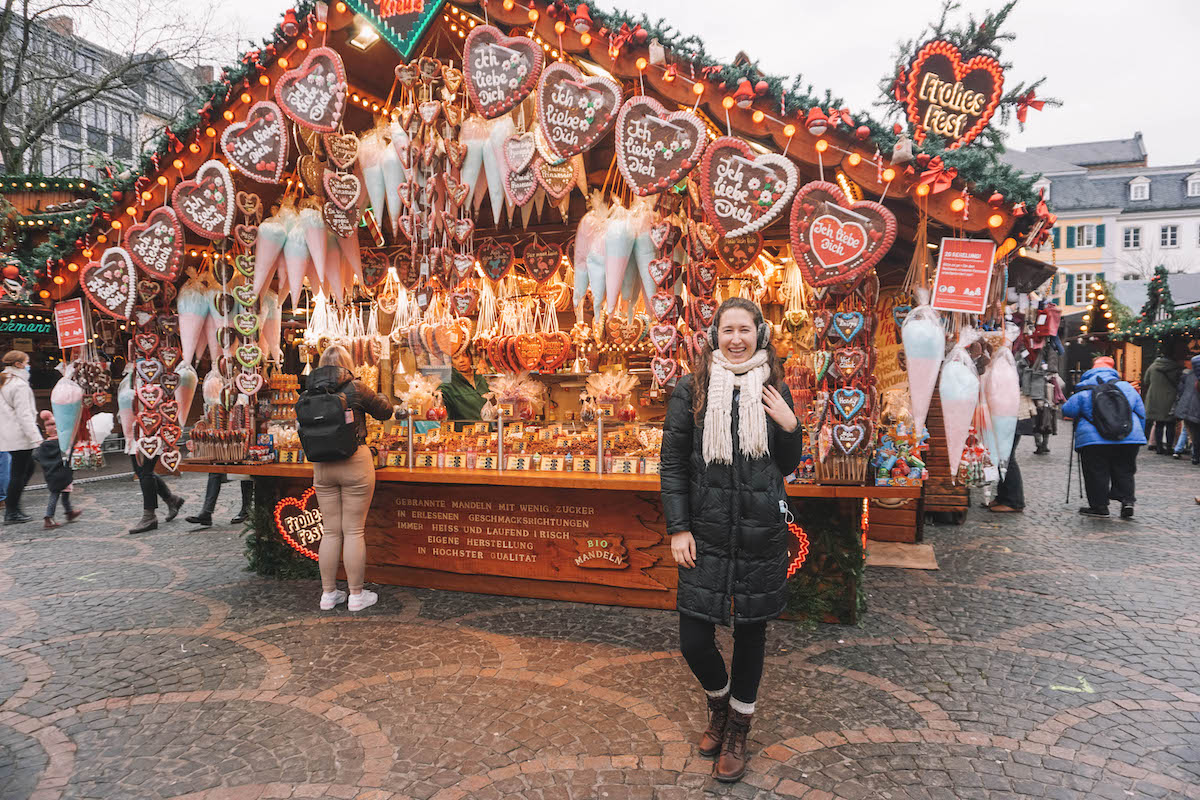 Bonn has much to recommend itself to travelers. As a former Roman settlement and the former capital of West Germany, the city has a particularly rich and fascinating history. As Beethoven's birthplace, it's one of the top destinations in Germany for classical music lovers. Oh, and who can forget that Bonn is the birthplace of Haribo gummy bears?
As you can see, Bonn has lots going for it — but it's not particularly well known for its Christmas market. Instead, neighboring cities like Cologne and Aachen are the top picks for travelers coming to visit the German Christmas markets.
My goal with this guide is to highlight the wonderful Christmas market in Bonn and show that it's absolutely worth visiting if you're in Western Germany during Advent. I've included my honest review of Bonn's Christmas market, plus useful information like dates and opening hours to make planning your trip to Bonn easier. 
Table of Contents
Click "show" to see the full table of contents for this post. You can jump around the post as desired by clicking on the individual sections listed below. 
Bonn Christmas Market Dates, Location & Hours [2023]
Dates: November 22 – December 23, 2023 (Closed November 26th for All Saints' Day)
Location: The main part of the market is at Münsterplatz, with additional stalls at Bottlerplatz and Friedensplatz plus stalls running along Vivatsgasse. You can find a map of the market here.
Hours of operation: 11am – 9pm daily
What to Expect at the Bonn Christmas Market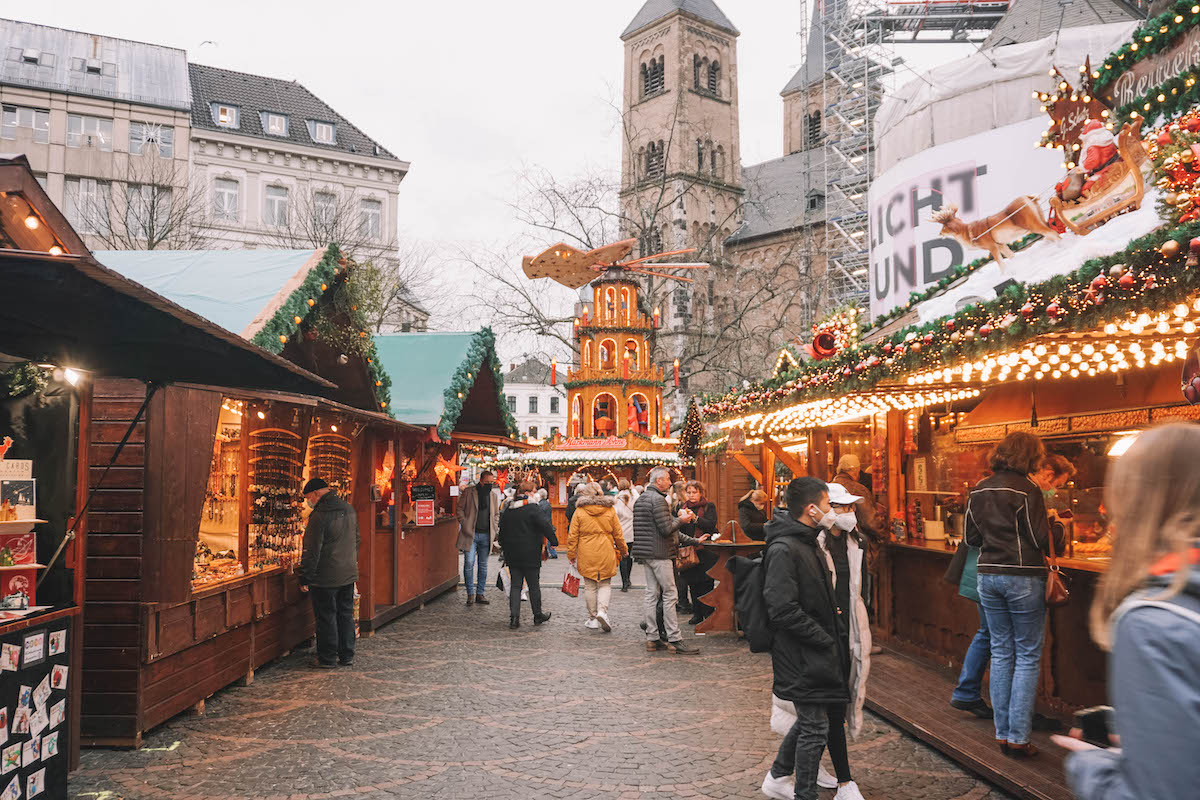 Bonn's Christmas Market (Bonner Weihnachtsmarkt) takes up the better part of the Old Town come December, so it feels like you're stepping into a Christmas village rather than the city center.
It's a traditional German Christmas market with a wide variety of foods, drinks, and handicrafts for sale.
The Christmas market in Bonn boasts around 170 stalls selling wares such as sheepskin products, beeswax candles (including a few stalls where you can see them make the candles by hand!), jewelry, gingerbread hearts, and so much more.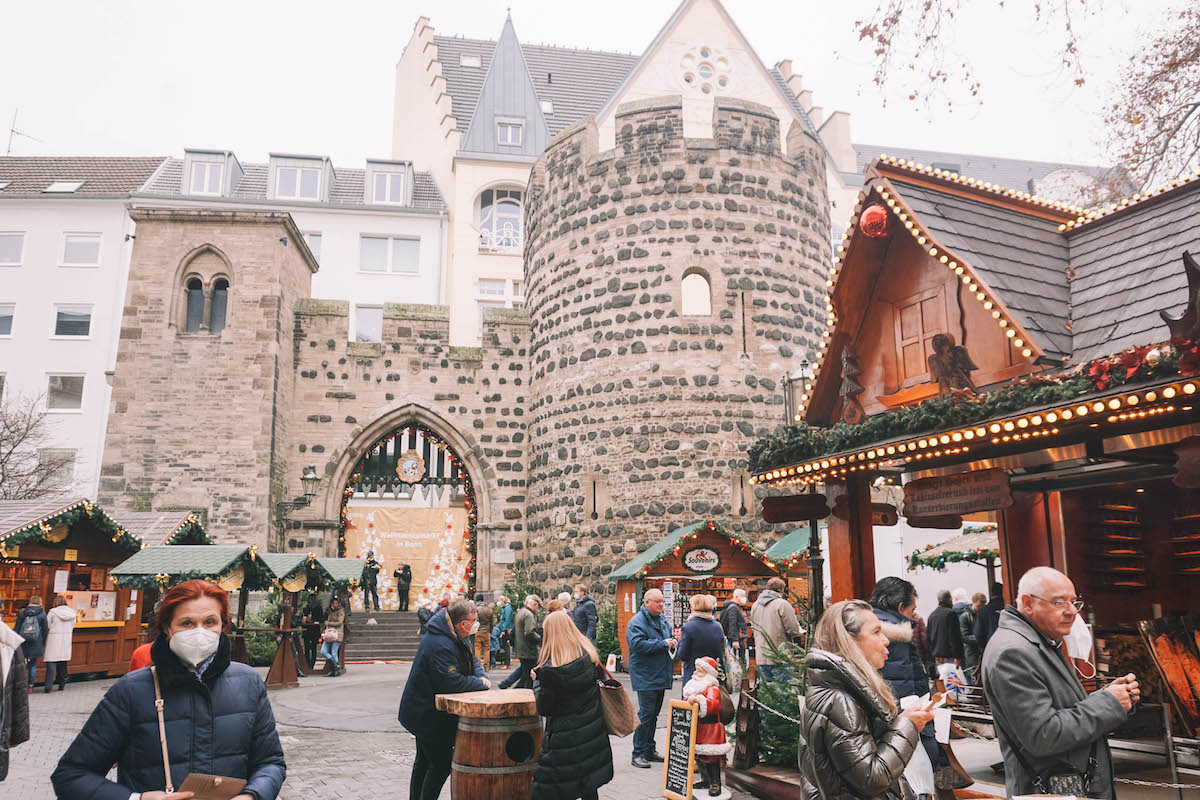 What I love about Bonn's Christmas market is that it's fairly large, but split into a few different sections so there's room for you to wander around, experience different backdrops throughout the city center, and escape the crowds as needed. If you're in Bonn specifically to visit the Christmas market, you can easily spend a few hours here perusing the stalls, trying different Christmas market foods, and chatting with friends.
The heart of the market is at Münsterplatz, with quieter offshoots to be found at Bottlerplatz and Friedensplatz, and a few additional side streets throughout the city center.
Bottlerplatz is particularly photogenic with the Sterntor (gate) providing a romantic backdrop against the rustic wooden huts of the Christmas market.
Friedensplatz is a hidden gem that's especially good for finding gifts. I loved all of the woven baskets and beeswax candles on display! I also saw someone making beeswax taper candles by hand at Friedensplatz, and the woman was happy to chat with any visitors to her stall about the candle-making process. 
Additional star features of the Bonn Christmas market are the large Ferris wheel and the massive Christmas pyramid where you can buy Glühwein. One of the many reasons I love the German Christmas markets in general is that even the most practical of stalls — like a Glühwein stand! — have been designed with festive cheer in mind.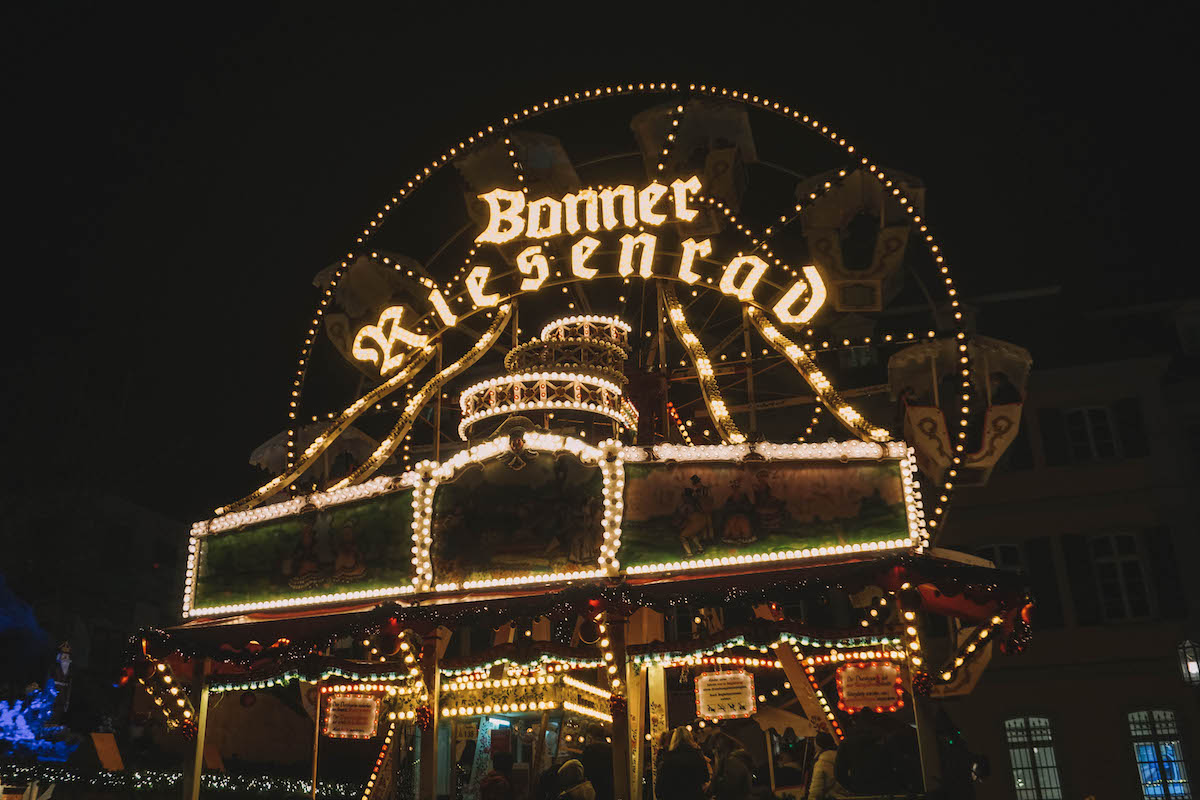 All of the stalls at the Bonn Christmas market are beautiful and photogenic, I've never seen such attention to detail at any other seasonal fair or market!
I should also note that even the streets in the city center that don't contain any Christmas market stalls are lit up for the holidays! Sternstraße was my particular favorite, especially at night. 
Additional Christmas Markets Near Bonn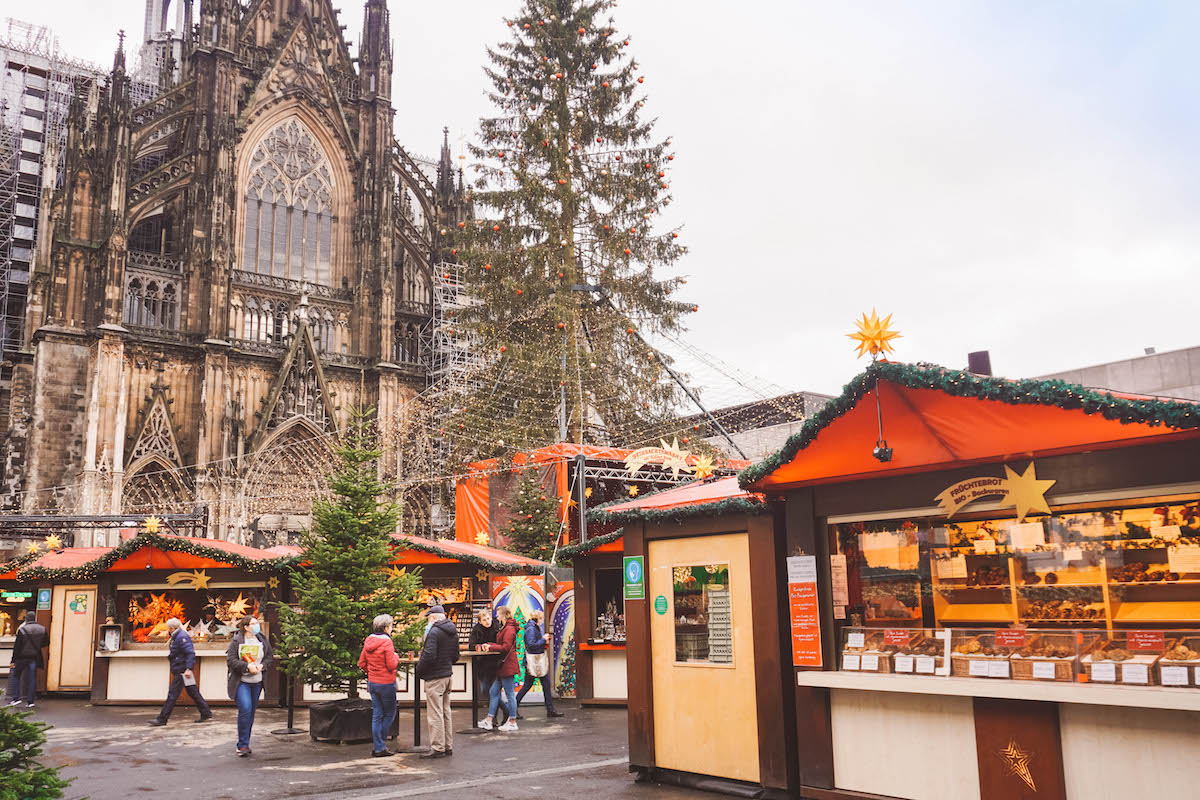 I haven't been to all of the Christmas markets listed below, but here are additional Christmas markets near Bonn should you need additional ideas for your itinerary.
Bonn Christmas Market Foods to Try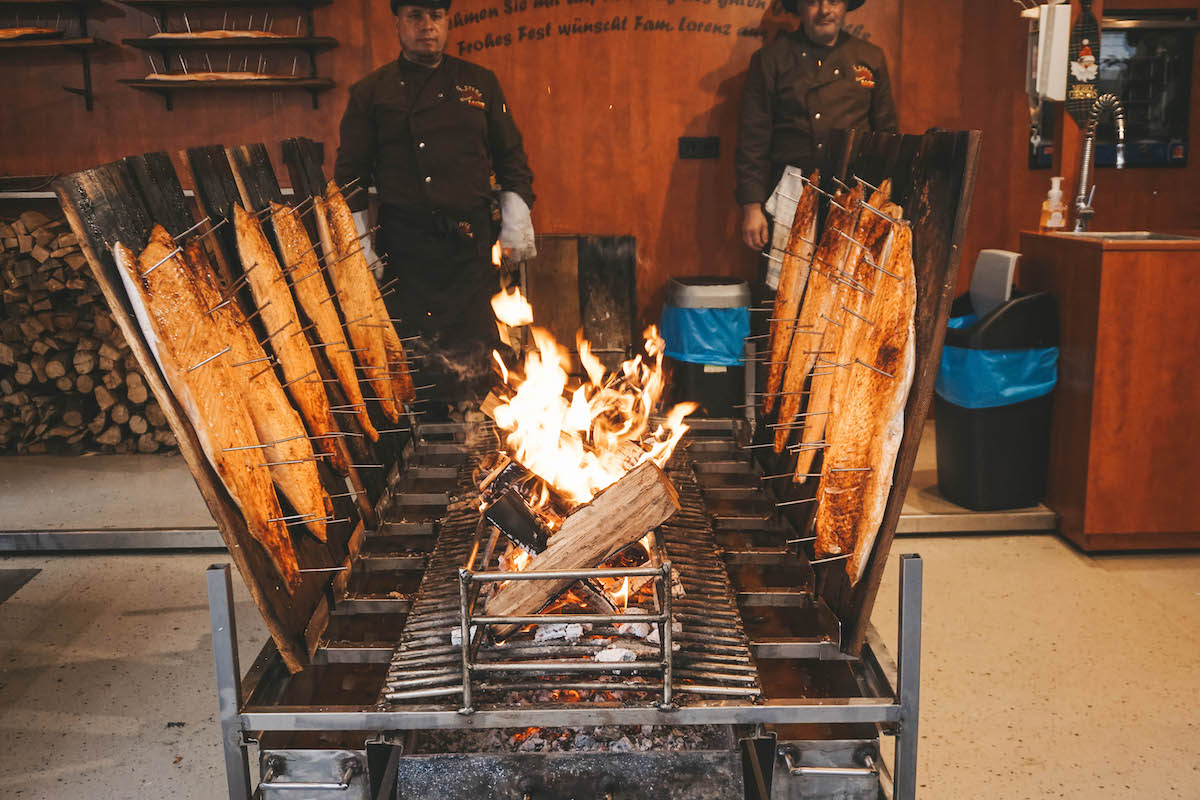 Yet another reason to visit the Christmas market in Bonn, Germany is the food. Oh my word, the food here is SO good!
I didn't notice any regional specialties at this Christmas market, but most of the traditional German Christmas market foods and drinks were served in Bonn.
I will say that I had the best Flammlachs (flame-grilled salmon) of my life at the Bonn Christmas market, and the Lebkuchen (gingerbread) stalls were some of the most elaborately decorated I've seen.
FAQs About Visiting Bonn at Christmas
For my top tips on visiting the German Christmas markets in general, definitely check out my full guide here. I've done my best to address the most pressing, Bonn-specific FAQs below.
Is Bonn's Christmas market worth visiting?
Yes! However, if you're flying from, say, the US or another far-off destination I'm not sure I'd put Bonn at the very top of your Christmas market itinerary. It doesn't have the same pizzazz as the bigger markets in Nuremberg and Cologne, but if you're looking for a lesser-known (and less crowded!) Christmas market, then I think Bonn is worth adding to your itinerary. 
And if you're someone who's visited lots of Christmas markets and / or who lives in Germany like me and enjoys visiting new places, then Bonn is worth visiting at Christmas.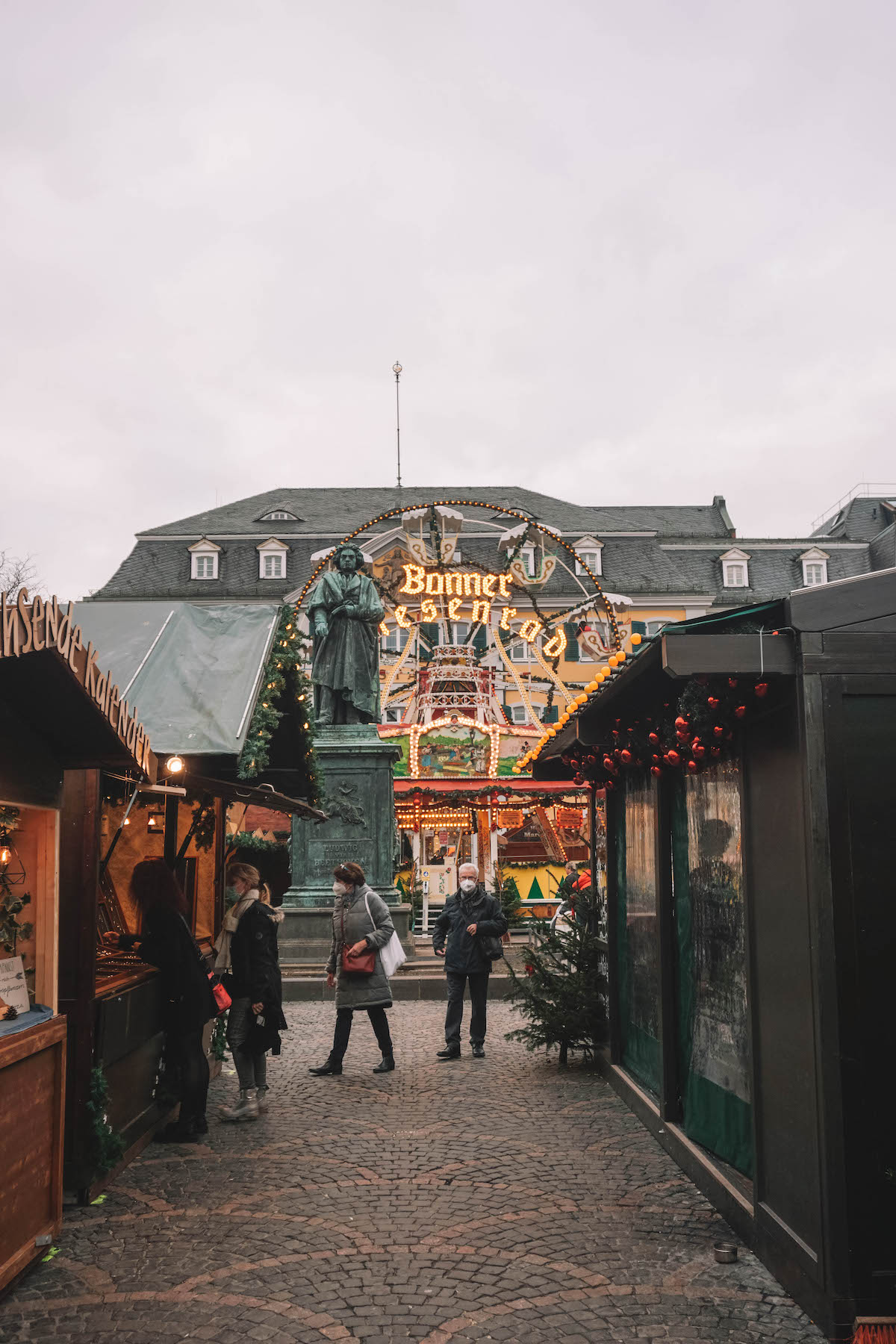 How much time should I spend at Bonn's Christmas market?
I think half a day would be perfect. You can spend the morning and afternoon sightseeing in Bonn, then head to the market in the late afternoon and spend your evening in the festive ambience.
Can I keep the mugs from the Christmas market?
Yep! At every Christmas market, you pay a deposit (called Pfand) on the mugs, typically 1 to 4 Euros. You can return the mug to get your deposit back OR keep it as a super cheap, super festive souvenir.
What else is there to do in Bonn?
Well, I'm glad you asked! Here are my top recommendations for things to do in Bonn. If you plan on sightseeing in addition to visiting the Christmas market, I recommend spending two days in Bonn to see everything at a leisurely pace.
Enjoy Your Visit to Bonn at Christmas!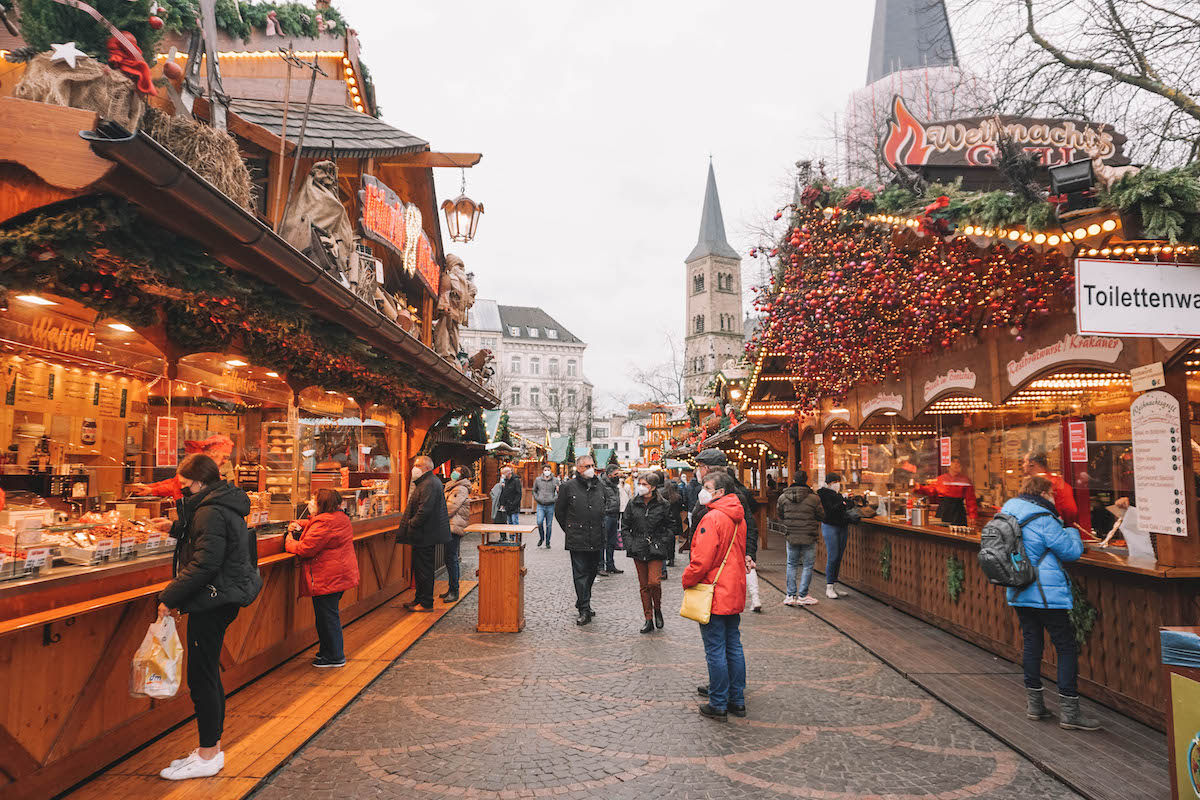 Bonn is a lesser-known Christmas market destination in Germany, but hopefully this guide has convinced you to visit! If you plan on visiting the Christmas markets in Aachen, Cologne, or Frankfurt am Main, see if you can squeeze Bonn into your itinerary as well — it's worth it!
Don't forget to follow me on Instagram to keep up with my daily adventures in Berlin and beyond!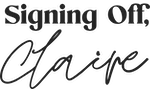 More Christmas Markets in Western Germany: