This postcard-perfect town in Bavaria becomes even more magical at Christmastime! Here's everything you need to know about Bamberg's Christmas market, plus lots of photos.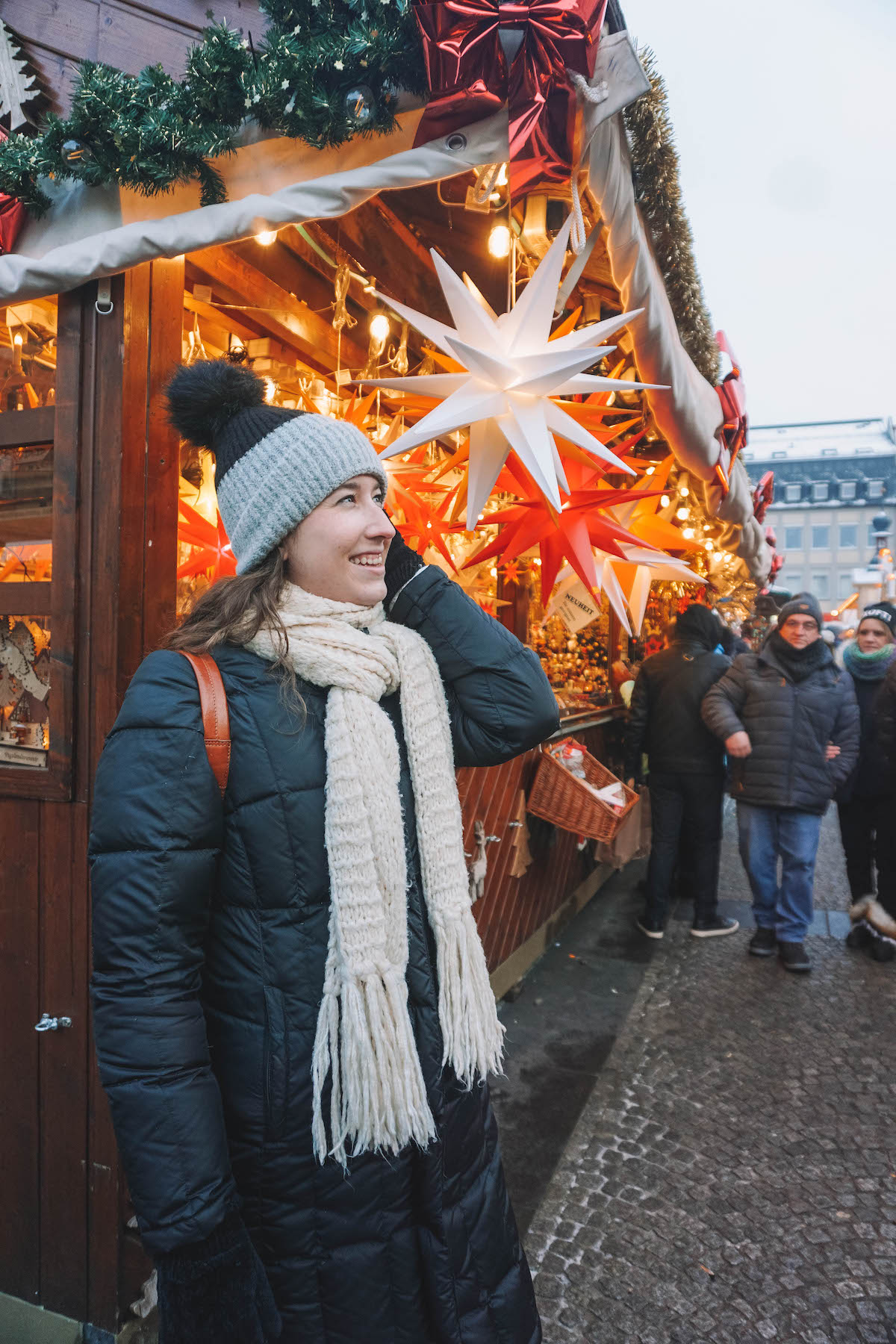 Bamberg is one of those fairytale towns in southern Germany that make you keep pinching yourself to check that what you're seeing is real. With more than 1,300 listed buildings, it's no wonder that the beautiful town of Bamberg was designated a UNESCO World Heritage Site in 1993.
Bamberg's half-timbered houses draw tourists from all over the world, and while this Bavarian town has a lot going for it, it's not known for its Christmas markets. Instead, the Christmas markets in nearby Munich and Nuremberg draw the crowds.
In this guide, I'll be sharing my thoughts on the Bamberg Christmas market so you know what to expect from your visit.
I'll be up front with you — the Christmas market in Bamberg is very small, but the town itself is so pretty around the holidays that it's still worth coming here during Advent. Provided you set the right expectations, you'll have a wonderful time in Bamberg during Christmas market season! 
Table of Contents 
Click "show" to see the full table of contents for this post. You can jump around the post as desired by clicking on the individual sections listed below. 
Bamberg Christmas Market Dates, Location & Hours [2023]
Dates: November 28 – December 23, 2023
Location: Maximiliansplatz
Opening hours: Monday to Saturday from 9:30am – 8pm, Sunday from 11am – 8pm
What to Expect at Bamberg's Christmas Market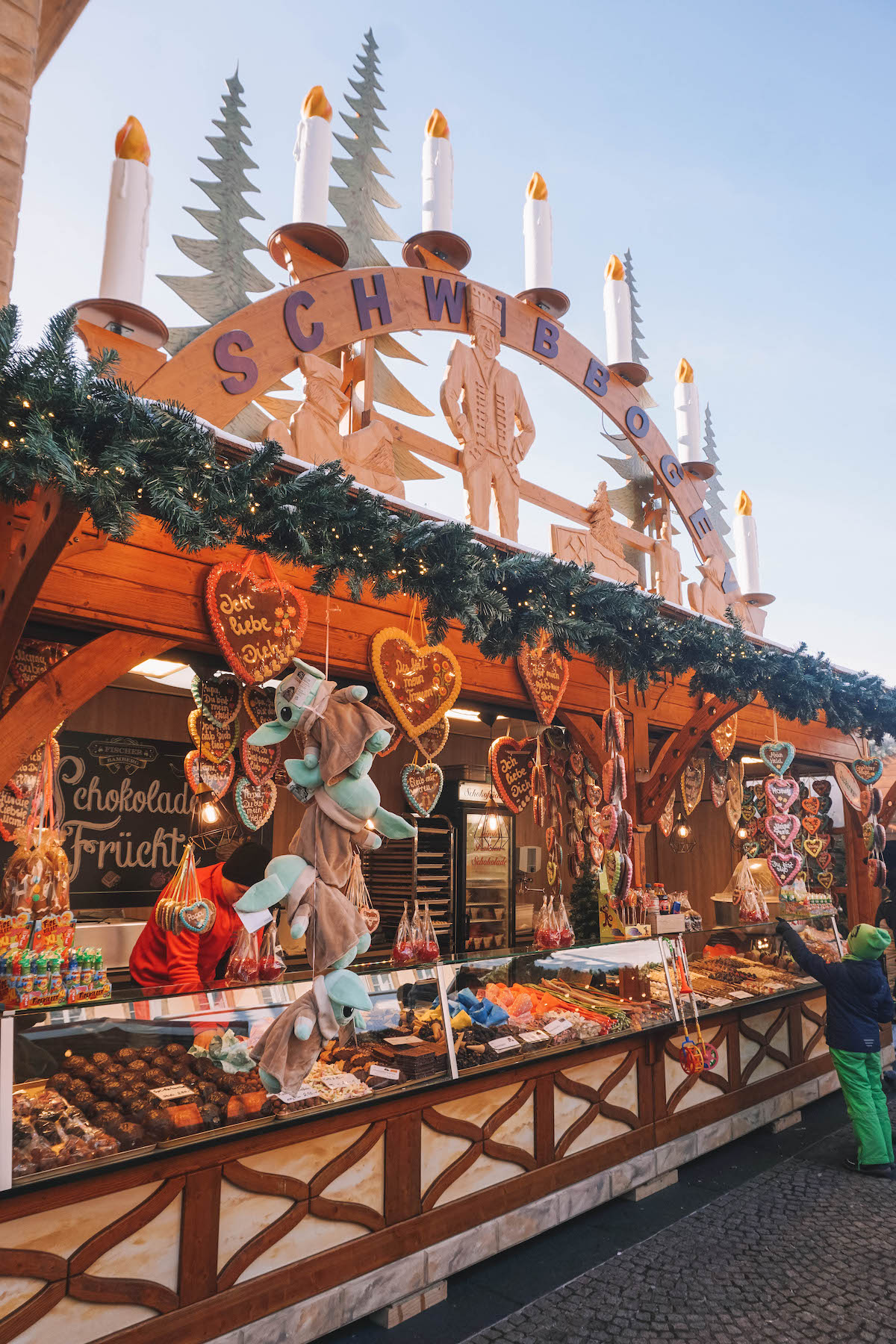 The Bamberg Christmas Market (Bamberger Weihnachtsmarkt) is a small, traditional Christmas market in the heart of the town. The market takes place in the pedestrian zone at Maximiliansplatz, which makes for a peaceful atmosphere without any traffic noise. 
Bamberg definitely has a more understated Christmas market (in comparison to the much larger and more ornate markets in Munich and Nuremberg, for instance). But because the market is on the smaller side, it has retained a local flair that you don't see as often in this era of social media when thousands of people flock to better-known Christmas market towns like Rothenburg ob der Tauber, Nuremberg, and Colmar.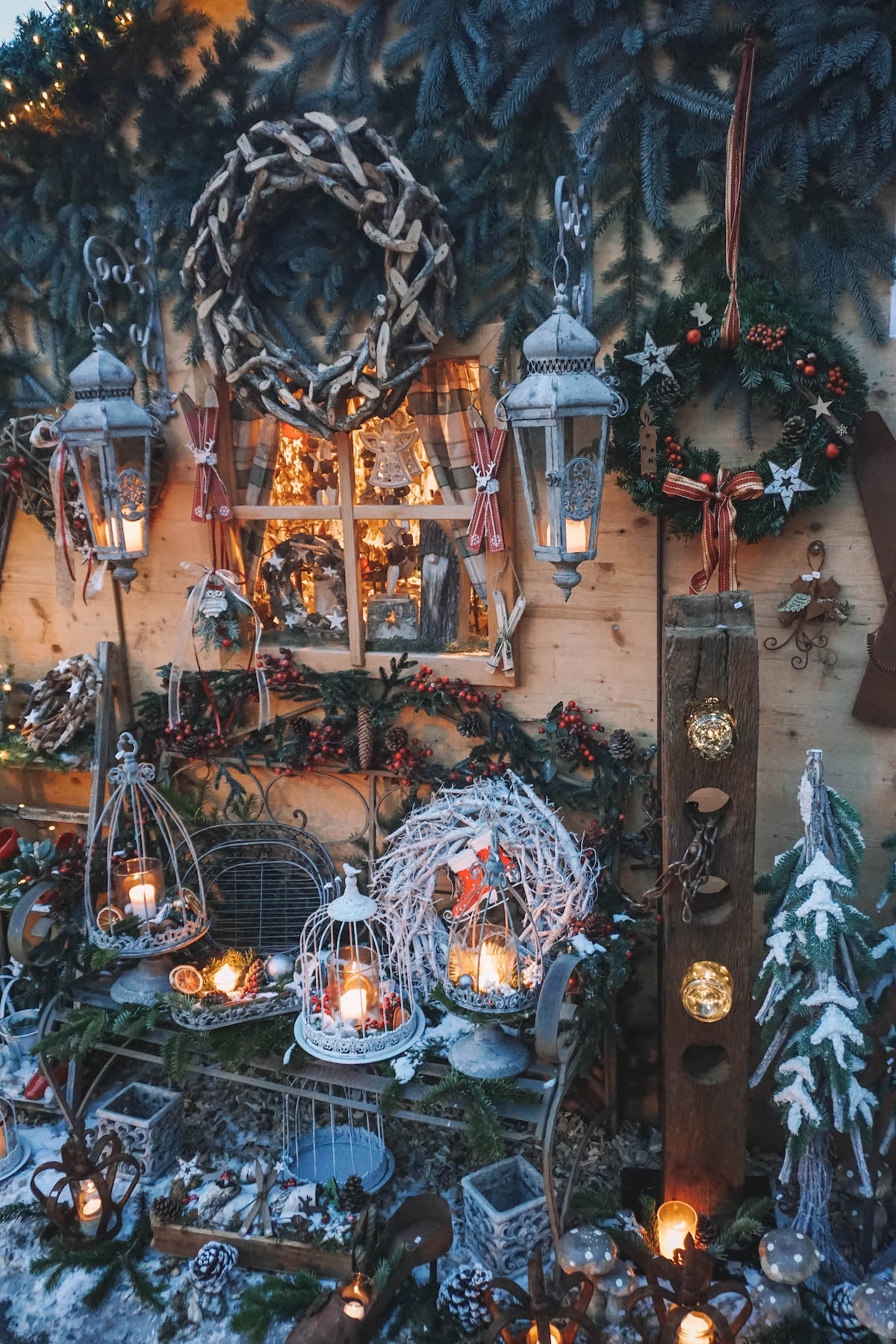 And — most importantly — the Bamberg Christmas Market has GREAT food. There are few things I look forward to as much as the food at the German Christmas markets. The food and drinks options at Bamberg's market went above and beyond in terms of quality.
Again, it's a very small market so there weren't tons of food options, but the four or five dishes I split with a friend were all served piping hot and tasted incredible. 
As far as the goods for sale, again, the options were limited due to the market's size. My favorite stalls were the beeswax and honey products and the tableware stall with giant mugs (the only acceptable size for drinking my morning cup of tea!).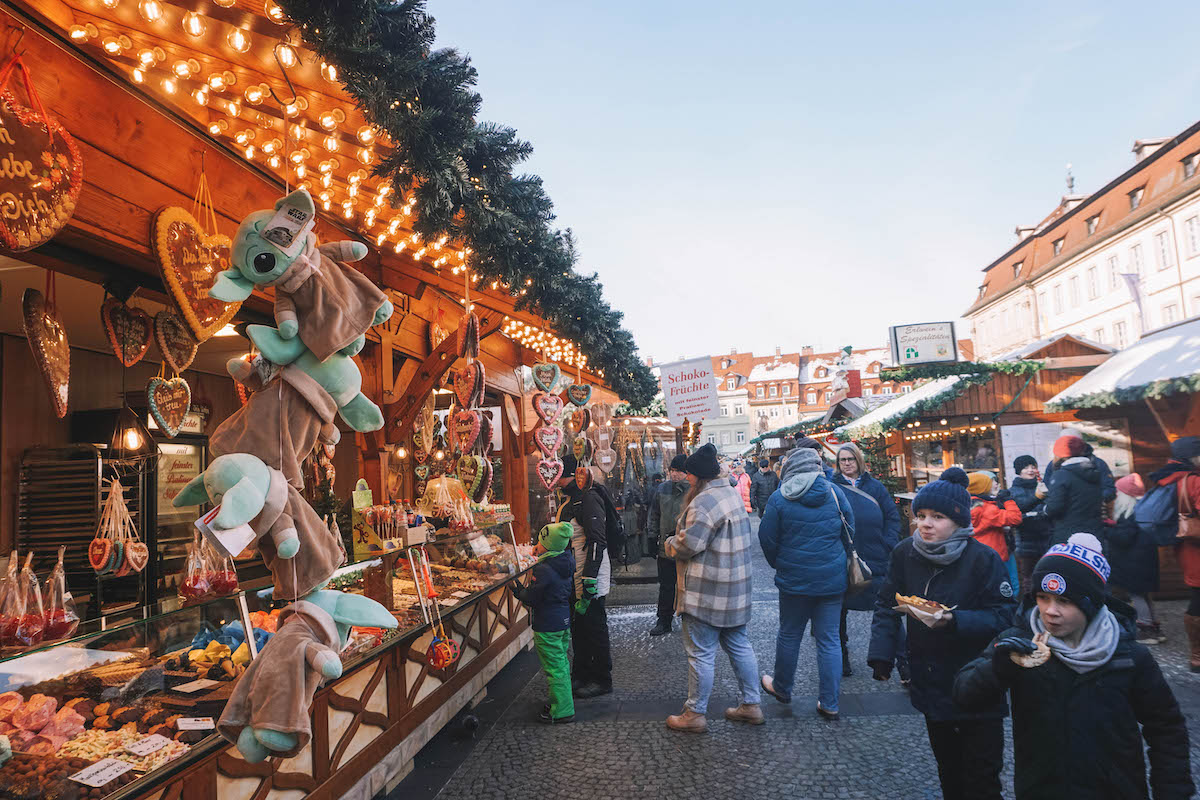 I highly recommend visiting this Christmas market if you're also interested in touring the town of Bamberg as a whole. You can easily fill a full day in Bamberg wandering the quaint streets, visiting the Romanesque Cathedral, touring the Old Town Hall, and more. 
As a last parting note, I visited the Christmas market in Bamberg in the middle of December on the weekend and it wasn't crowded whatsoever. Like I said, this is more of a "locals market" so if you just want to eat good food in a festive ambience, come here!  
Additional Christmas Markets in Bamberg
The following Bamberg Christmas markets are much smaller in size and only run for a few days during Advent. Consider these "nice to see" but not "must see" Christmas markets.
Don Bosco Christmas Market — You can find a small selection of stalls along the Jakobsberg hill. Takes place November 11 and 12, 2023.
Advent Market — Roughly 30 stalls are clustered around the medieval St. Elizabeth's Church. Takes place December 1 – 3, 2023.
Bamberg Christmas Market Foods to Try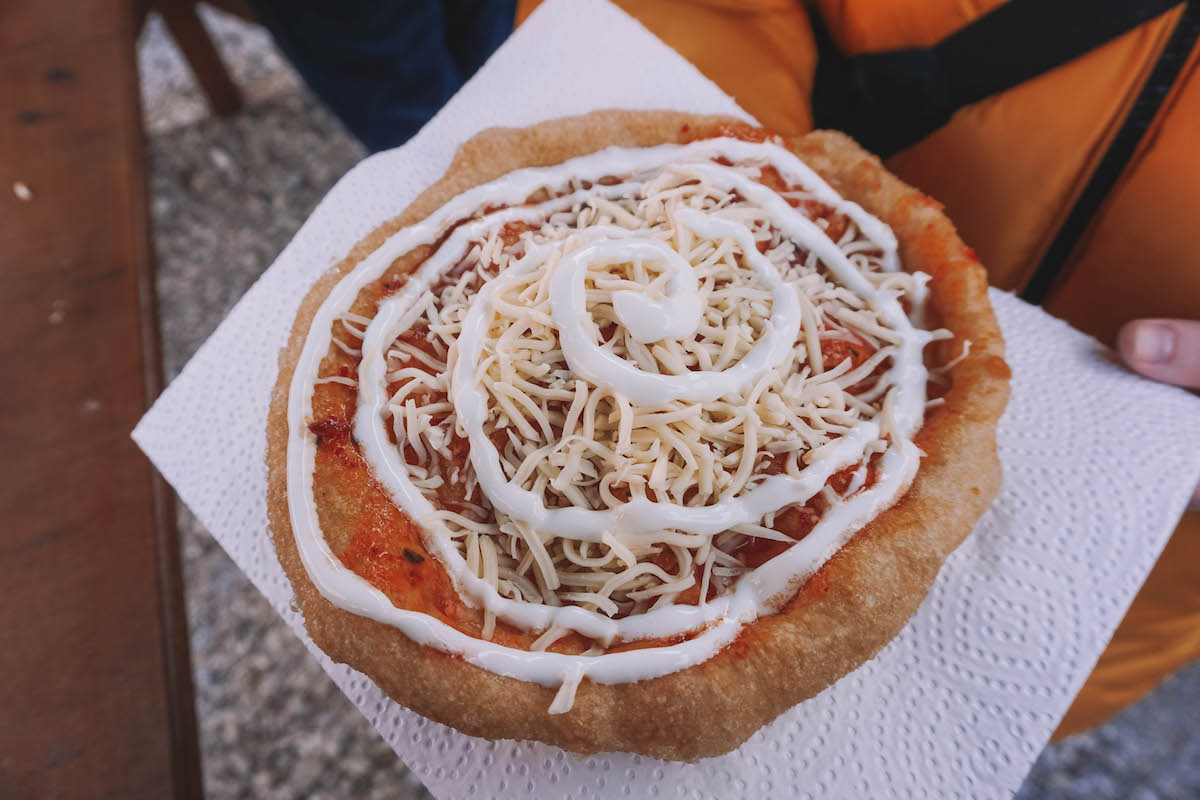 The food at the Bamberg Christmas market is really good. I visited over a weekend, and there were hardly any lines for food or drinks and everything was made fresh for me.
While exploring the Christmas market, I noticed some more unique drink options for sale, such as hot mead, apple apple-honey punch, and cherry mulled wine.
There were also quite a few of the most popular Christmas market foods for sale, like Lángos (fried dough topped with cheese and sauce – it's Hungarian!) and Handbrot (a massive cheese-filled bread roll; shown above). 
Bonus Christmas Activity: Don't Miss Bamberg's Nativity Trail!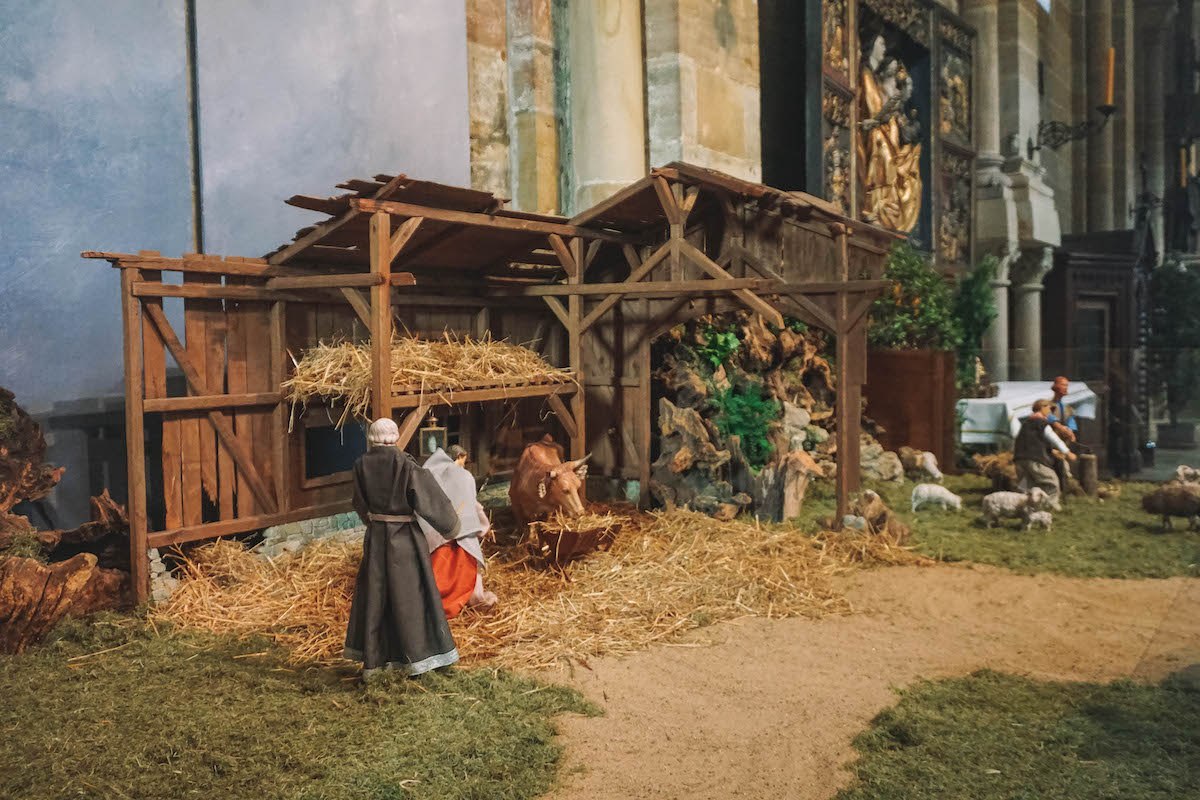 If you're looking for more things to do in Bamberg at Christmas, make sure to track down some of the nativity scenes along the city's Nativity Trail. 
There are around 40 nativity scenes set up throughout the city — in the cathedral, at the Christmas market, in various churches, in museums, and more.
Each nativity scene is unique and the sizes vary from site to site.
FAQs About Visiting Bamberg at Christmas
For my top tips on visiting the German Christmas markets in general, definitely check out my full guide here. I've done my best to address the most pressing, Bamberg-specific FAQs below. 
Is Bamberg's Christmas market worth visiting?
If you're looking for a less crowded Christmas market and / or are interested in seeing the city of Bamberg as well, then yes!
However, if you haven't been to many Christmas markets or are traveling from abroad specifically to see the German Christmas markets, then I'm not sure Bamberg's small market will wow you. It's definitely a locals market with really good food, but the small size of the market definitely limits the variety of goods for sale, activities, and attractions.
But if you go with the right expectations and aren't expecting, say, the size and minute attention to detail as the nearby Christmas market in Nuremberg, then you'll still have a wonderful day!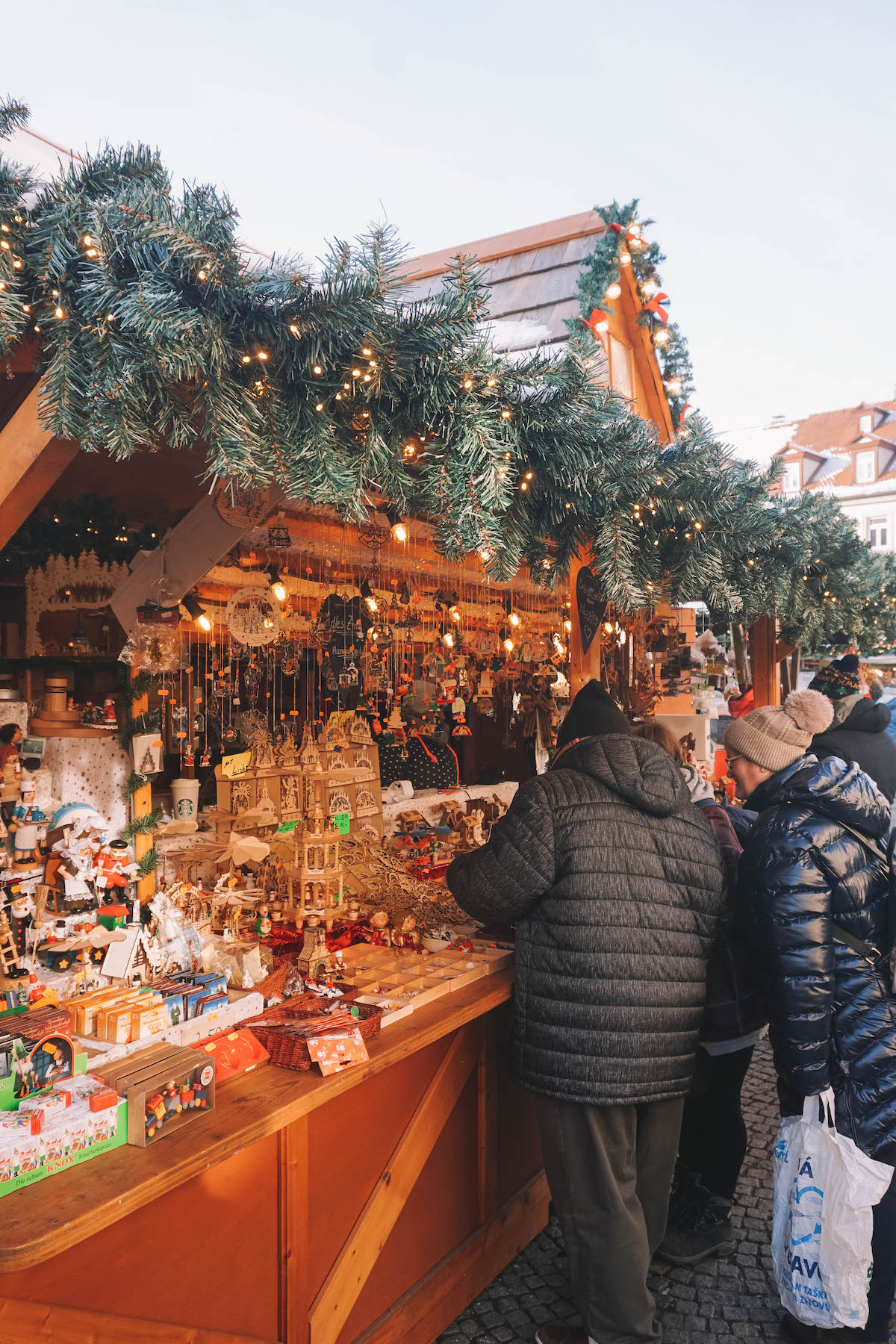 How much time is needed to see Bamberg's Christmas market?
If you're strictly there to peruse the market and try a few dishes, then maybe 90 minutes to 2 hours. If you're in town to also explore the city, then it's good to make a day trip of it! 
What else is there to do in Bamberg?
Bamberg is compact, so you can show up at the train station without a strict itinerary and still see the city's main attractions.
Definitely make sure to see "Little Venice" (Klein Venedig), the old town hall, and the Cathedral. There are also half-timbered houses throughout the town, making it a joy to simply wander the streets of Bamberg. 
What other Christmas markets are near Bamberg?
A few other Christmas markets near Bamberg include:
Nuremberg (1 hour away by train)
Regensburg (1 hour 45 mins away by train)
Munich (2 hours away by train)
Pretty much every German city has its own Christmas market, so f you're in Bavaria during Christmas market season and there's a city that interests you generally, go ahead and visit and you can check out its Christmas market as well!
Enjoy the Ambience of Bamberg at Christmas!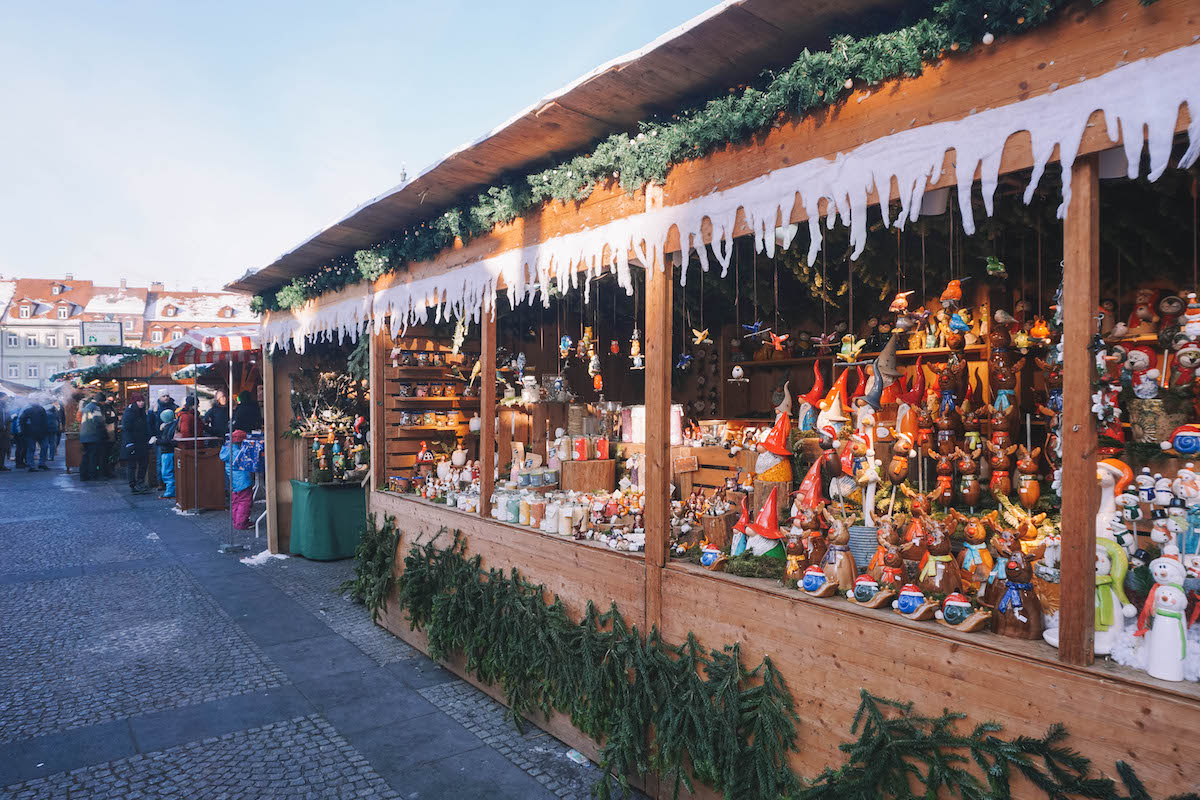 Bamberg is one of Bavaria's gems and makes for an excellent day trip. If you're in the area during Christmastime, be sure to pop over to Bamberg to see the city dusted with snow and the quaint Christmas market lit up at night. 
Don't forget to follow me on Instagram to keep up with my daily adventures in Berlin and beyond!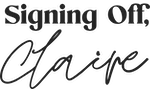 More Christmas Markets in Bavaria You Should Visit: