Mainz, Germany is a beautiful holiday destination! Here's all you need to know about the Mainz Christmas market.
This post has been updated for the 2023 Christmas market season.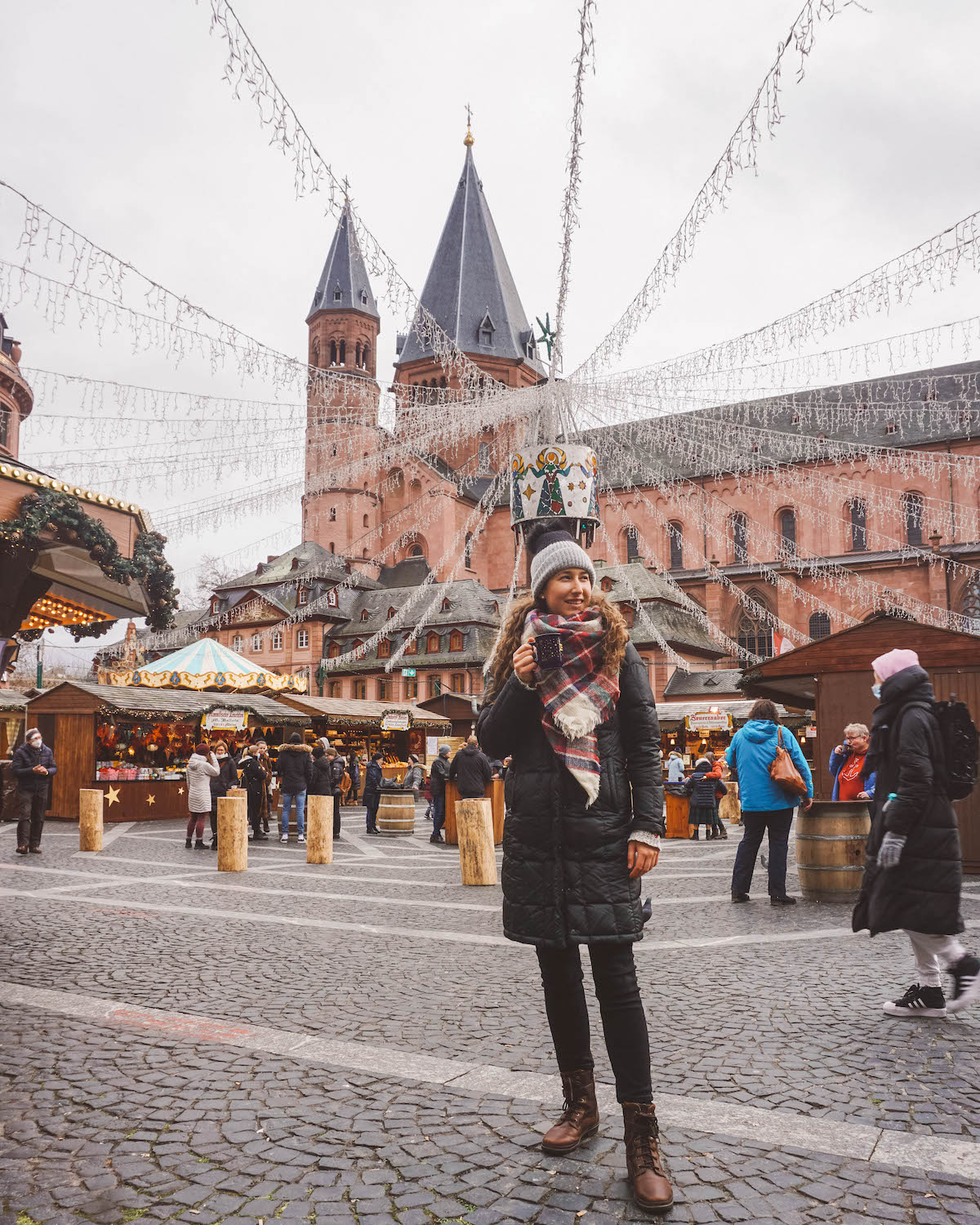 What German city has a magical Christmas market, the cutest Old Town, and was the birthplace of the printer Johannes Gutenberg? If you guessed Mainz, you're correct! (I'm sure the title of this blog post didn't give anything away…)
The Mainz Christmas market far exceeded my expectations. I dragged out my visit to this gorgeous market as long as possible before I had to take the train back home. I've visited countless German Christmas markets since moving to Berlin in 2019, and Mainz remains one of my all-time favorites — it's underrated and deserves much more love!
There's one main Christmas market in Mainz by the cathedral, and that's the one I recommend visiting. However, in this guide I'll go over all of the Christmas markets in Mainz, Germany so you know what to expect during your visit.
Table of Contents
Click "show" to see the full table of contents for this post. You can jump around the post as desired by clicking on the individual sections listed below. 
Mainz Christmas Market Dates, Location & Hours [2023]
Dates: The Christmas market in Mainz, Germany will run November 30 through December 23, 2023.
Locations: The main market (the Mainzer Weihnachtsmarkt) is located at the main market square in front of the cathedral. There are also "Wintertime Markets" scattered around the city, including in front of the main train station, at Neubrunnenplatz, Hopfengarten, and Schillerplatz.
Hours: Sunday through Thursday 11am – 8:30pm; Friday and Saturday 11am – 9pm 
What to Expect at the Mainz Christmas Market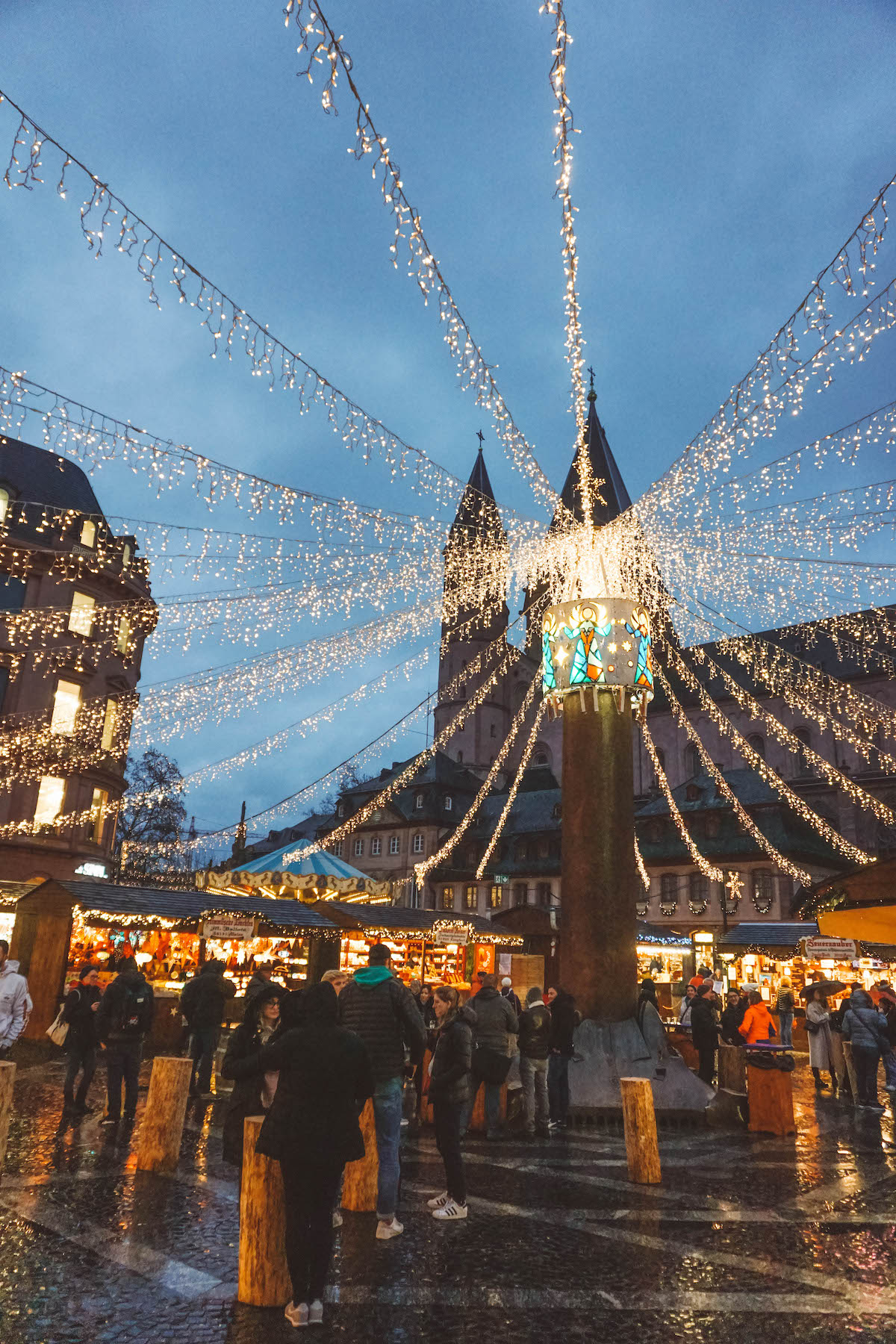 The Mainz Christmas market is unlike any other I've visited so far in Germany. The main market can be found beneath the shadow of the 1,000-year-old cathedral. The market dates back to 1788 and is one of the more traditional ones you'll find in the area.
A pole is erected in the middle of the Markt. From the pole, dozens of strands of fairy lights fan out and illuminate the market come nightfall.
As you walk around the market, you'll pass a large manger scene erected in front of the cathedral, a small carousel playing children's Christmas music, and an area with giant, hollowed out barrels you can sit inside to enjoy your mug of Glühwein or hot chocolate.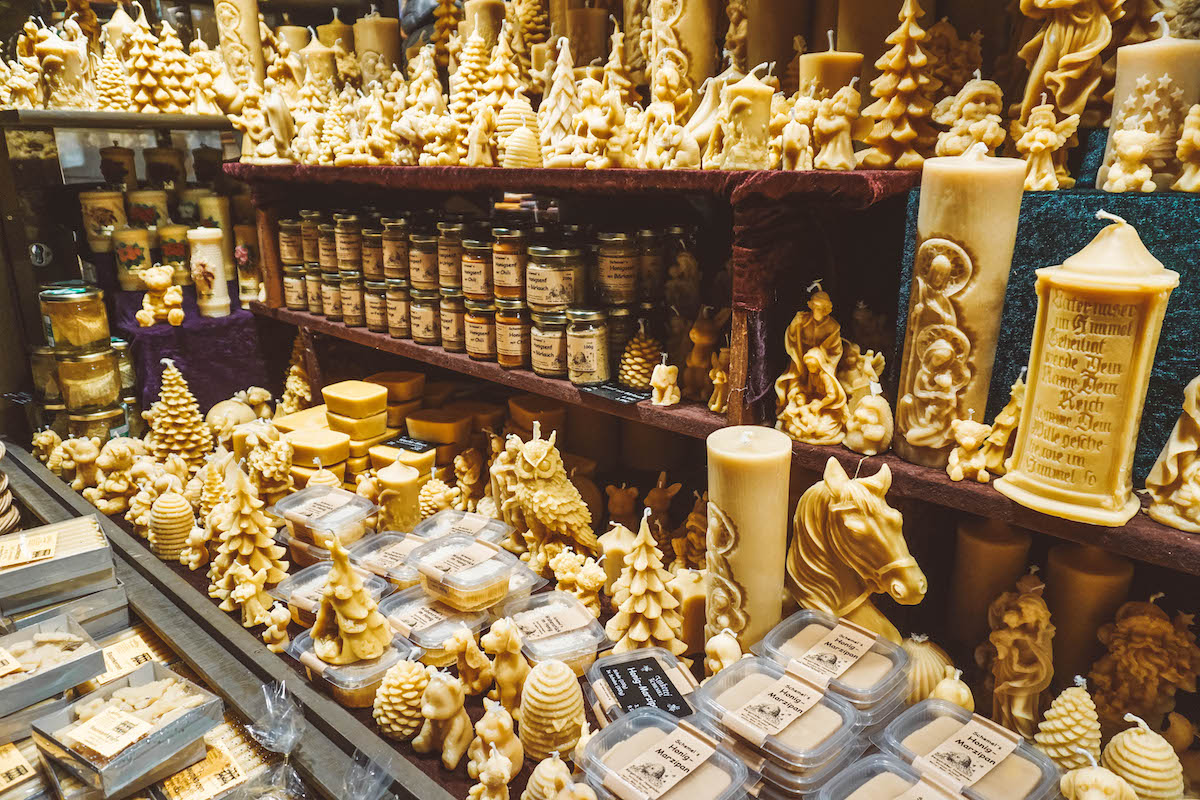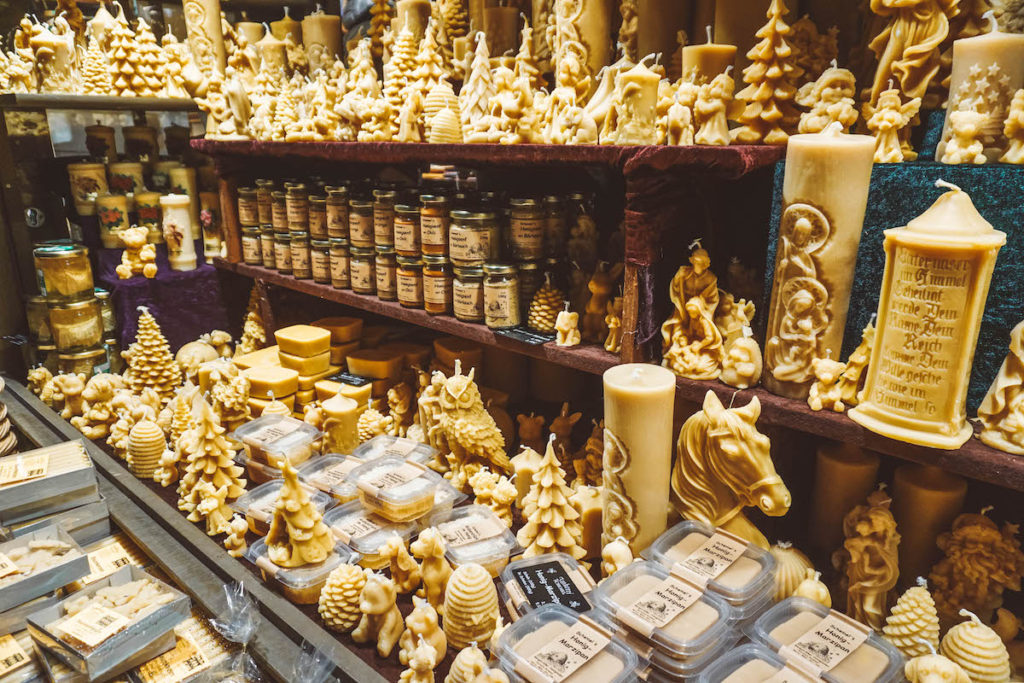 In addition to having a magical ambience, the Mainz Christmas market stands out for the quality of its food and shopping options. You'll find many traditional Christmas market wares for sale here, like paper stars, winter hats and gloves, ornaments, hand painted tea lights, and other trinkets.
I couldn't resist buying some beeswax goodies and flavored honeys as a Christmas present to myself. The honey and beeswax products were all produced in the area, and my purchase came with a pamphlet sharing the history of the local honey farm that created the goods I'd purchased.
That's the type of personal touch I look for at a Christmas market, and it's one of the many reasons I recommend visiting Mainz at Christmas!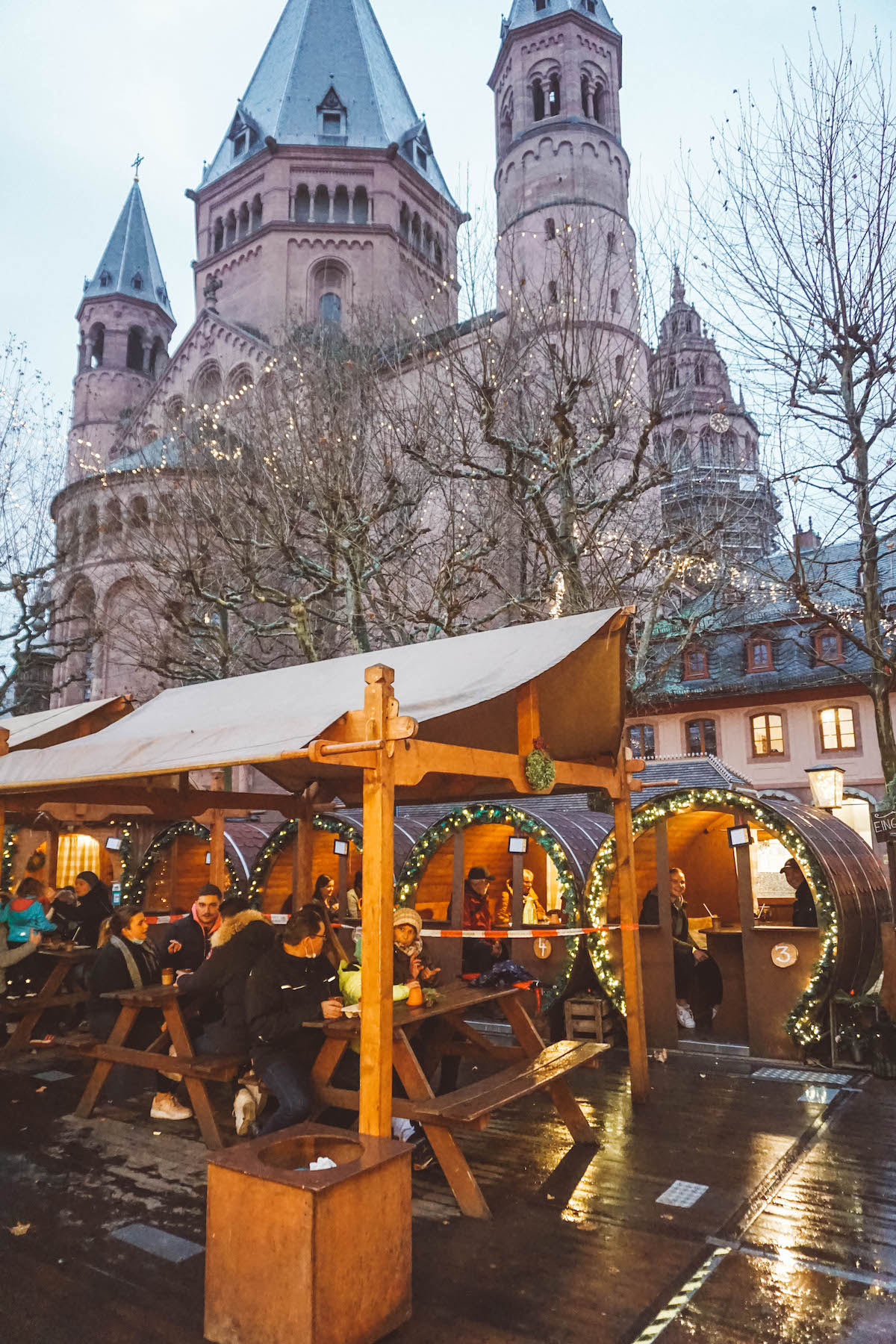 Behind the main Christmas market by the Mainzer Dom (cathedral), there's a second large market at Liebfrauenplatz.
Although they're technically considered to be separate markets, they bleed directly into one another without any special distinction between the two. As such, it feels like one big Christmas market, which I'm all for!
Additional Christmas Markets in Mainz, Germany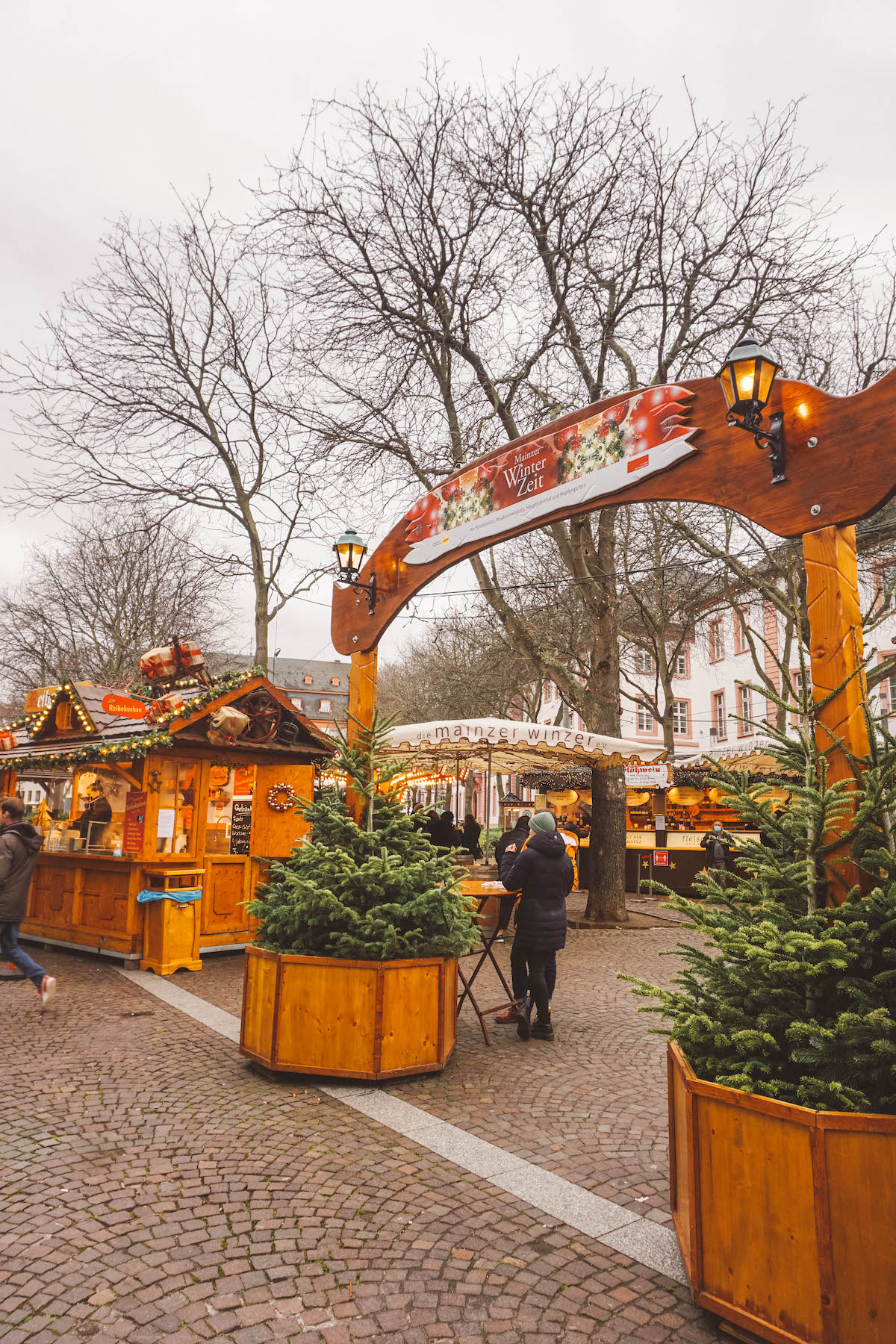 The Christmas market at the Mainz cathedral is the biggest in the city and is the one I recommend spending your time at. However, there are other, smaller "Wintertime" markets dotted throughout the rest of the city center as well.
These smaller markets are located:
In front of train station
Neubrunnenplatz
Hopfengarten
Schillerplatz.
The only other Mainz Weihnachtsmarkt worth visiting is the one at Schillerplatz (pictured above), but it pales in comparison to the one at the cathedral.
So while the smaller markets can be fun to quickly walk around as you discover them during your exploration of Mainz, I don't think they need to be on your to-visit list when you visit Gutenberg's birthplace.
What to Eat at the Mainz Christmas Market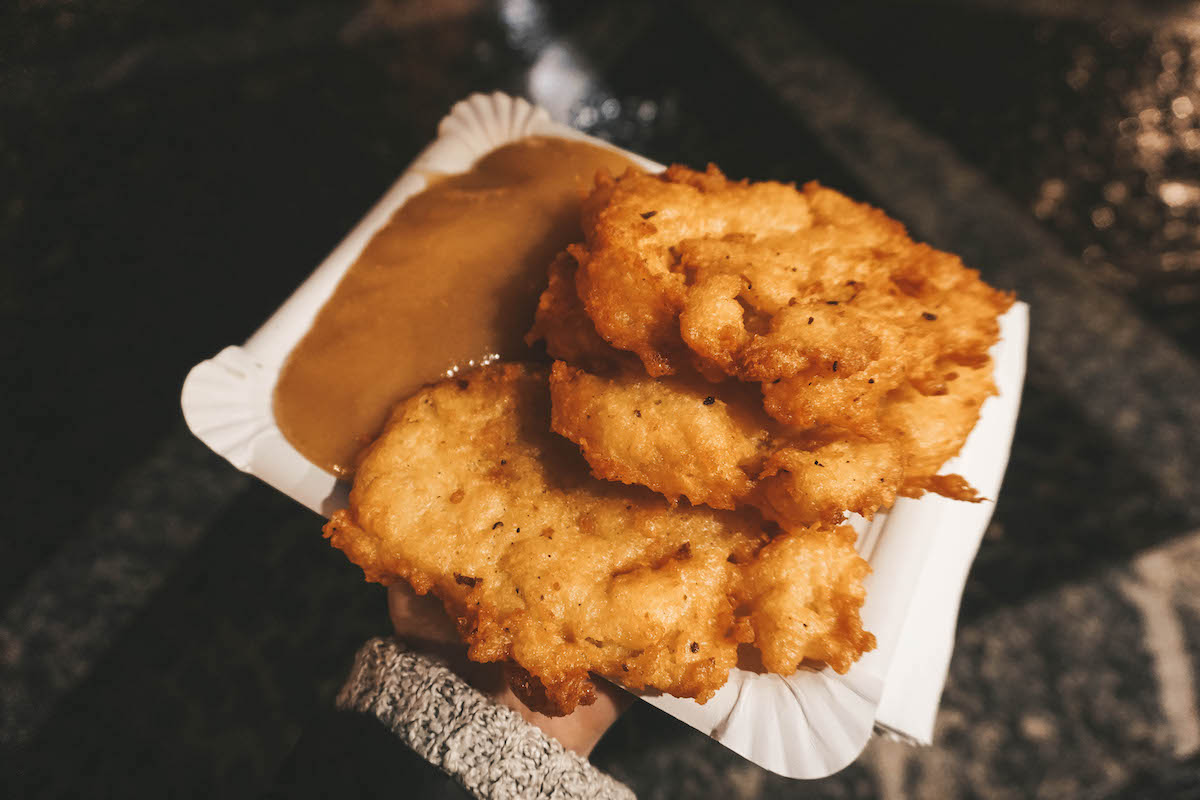 Mainz is located in southwest Germany, so you can expect a few regional specialities when eating your way through the Christmas market. I ate the best Reibekuchen (potato pancakes) of my life at the Mainz Christmas market. They were freshly fried on the spot and served with unsweetened applesauce. The combination of hot, crunchy, and salty potato pancakes paired with sweet, chilled applesauce is divine!
Another special dish you'll find at the Mainz Christmas market is Dinette, which is known as "Swabian pizza." I was surprised to see it served here because Mainz is historically not part of the Swabian region, but I'm not one to turn down anything with that many potatoes and cheese on it!
The list of German Christmas market foods goes on and on — so much so that I have an entire guide dedicated to the very topic! Check it out for all of my Christmas market food and drink recommendations.
FAQs About Visiting the Mainz Christmas Market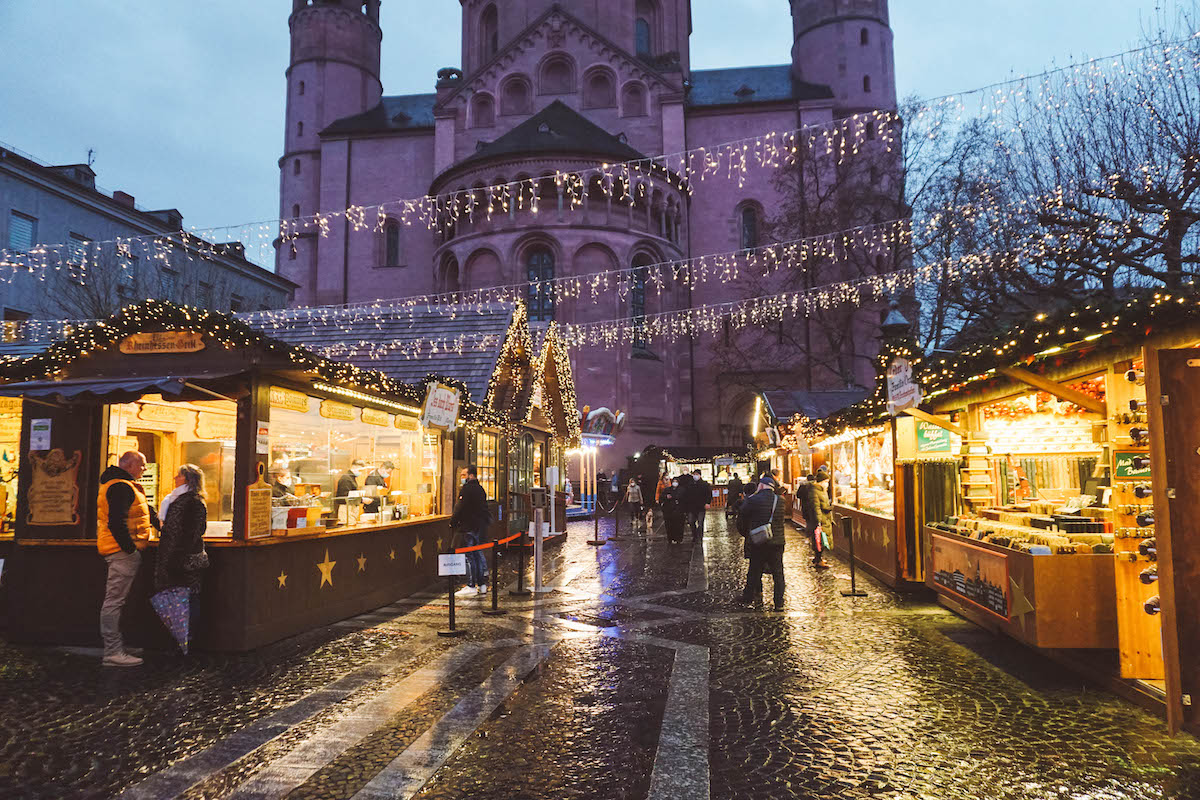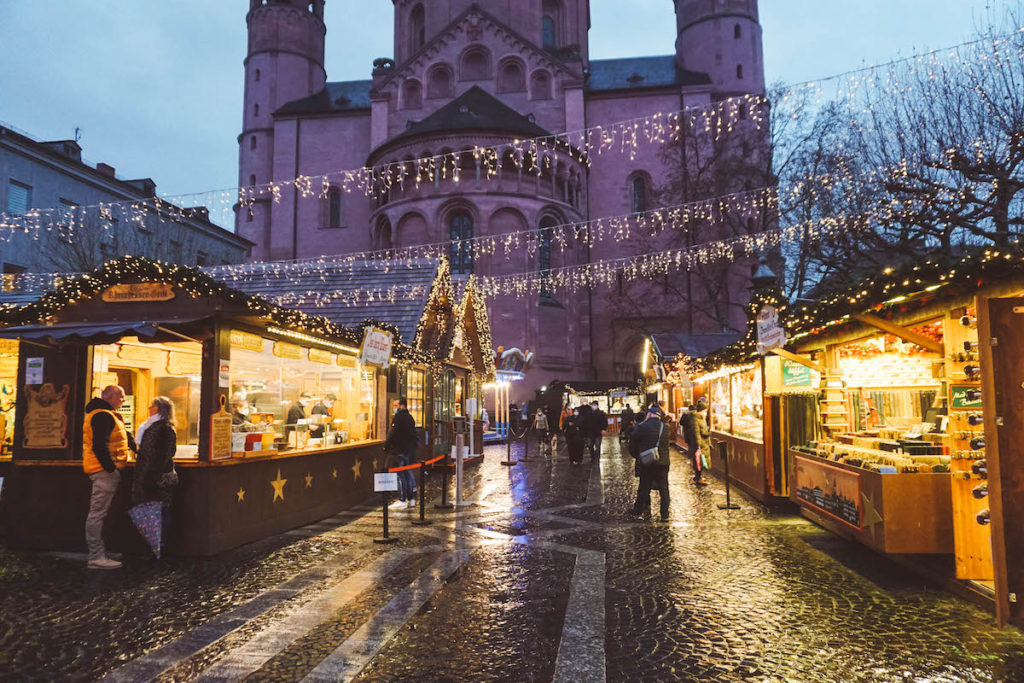 How much time should I spend at the Mainz Christmas market?
I stayed for 2 hours just taking it all in (and eating as much as my stomach would allow!) and I still wasn't ready to go back to my hotel. But one evening at the market should be plenty of time to experience it.
Can I pay with a credit card at the Christmas market?
That's a big fat NO. Bring cash to any German Christmas market you visit. Some stalls let you pay with credit card, but that's often only if they're selling expensive wares.
When does the Mainz Christmas market open?
The Christmas market in Mainz will open on November 30, 2023.
Will the Mainz Christmas market be open after Christmas?
No, the Christmas market will close after December 23, 2023.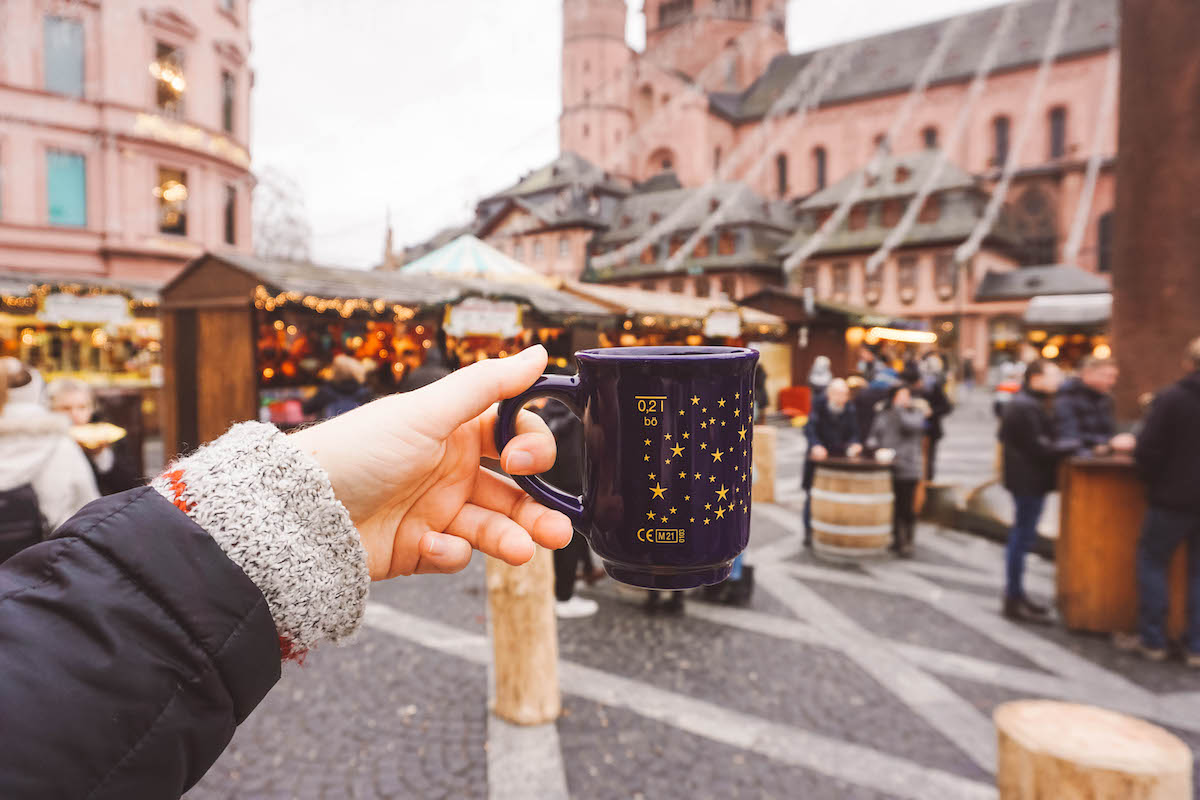 What else is there to do in Mainz?
If you definitely want to visit the Mainz Christmas market in 2023, you might as well make a day trip out of it! I have a full guide on what to do in Mainz that should provide a jumping off point for planning your travels.
How much time do I need to see Mainz?
I took the train from Heidelberg to Mainz, and I thought that one full day in the city was perfect. Mainz is a small city, so there's no rush whatsoever to hit the ground running.
I arrived around 11:30am and had time to see the Old Town, cathedral, Gutenberg Museum, some of the other churches in the city, the Christmas market, and take a leisurely stroll around the city center.
For more general tips on visiting the German Christmas markets, check out my full Christmas market guide.
Final Thoughts: Is the Mainz Christmas Market Worth Visiting?
If you find yourself in western Germany, definitely take the time to spend a day in Mainz. Not every nook and cranny is jaw-droppingly beautiful, but there are plenty of pretty spots to discover during your visit. And the Christmas market in Mainz is INCREDIBLE! So yes, it's 100% worth visiting.
If you have any questions about visiting Mainz, Germany or its Christmas market, leave me a comment below.
Don't forget to follow me on Instagram to keep up with my daily adventures in Berlin and beyond!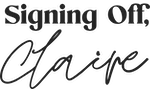 More German Christmas Market Guides: