Germany is easily my favorite place in the world. A bold statement for someone who travels so much, I know, but it will forever be my home away from home. I studied in southern Germany for six months and have been itching to return. I think my next trip to Europe will definitely start in Germany (Hamburg, maybe?), but I'm not sure where else I'll go.
My last trip to Europe, as many of you already know, was to Scotland. After spending two weeks there I shared everywhere I traveled, and had so much fun hearing your thoughts on my list of 25 must-try Scottish foods. Since you all seemed to enjoy that post so much, I decided to write up a list of my favorite German foods so you know what to eat in Germany when you visit. Keep in mind that this list is just the tip of the iceberg, but it's a great place to start if you've never had authentic German food before.
1. Potato salad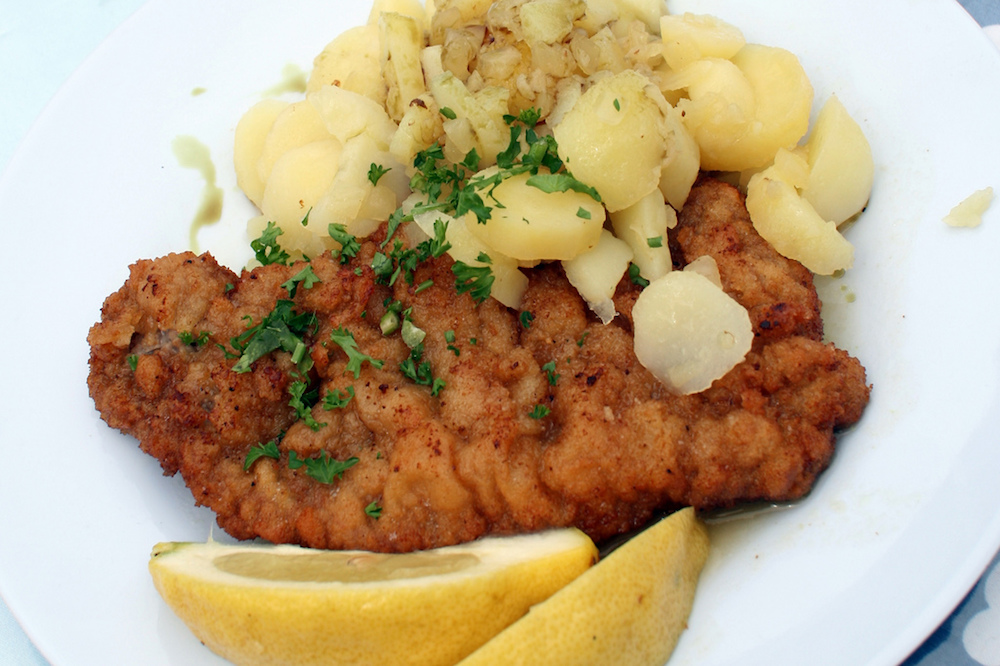 German kartoffelsalat is nothing like its American counterpart. Instead of heavy mayo, it uses vinegar and is often served warm alongside meat dishes.
2. Schnitzel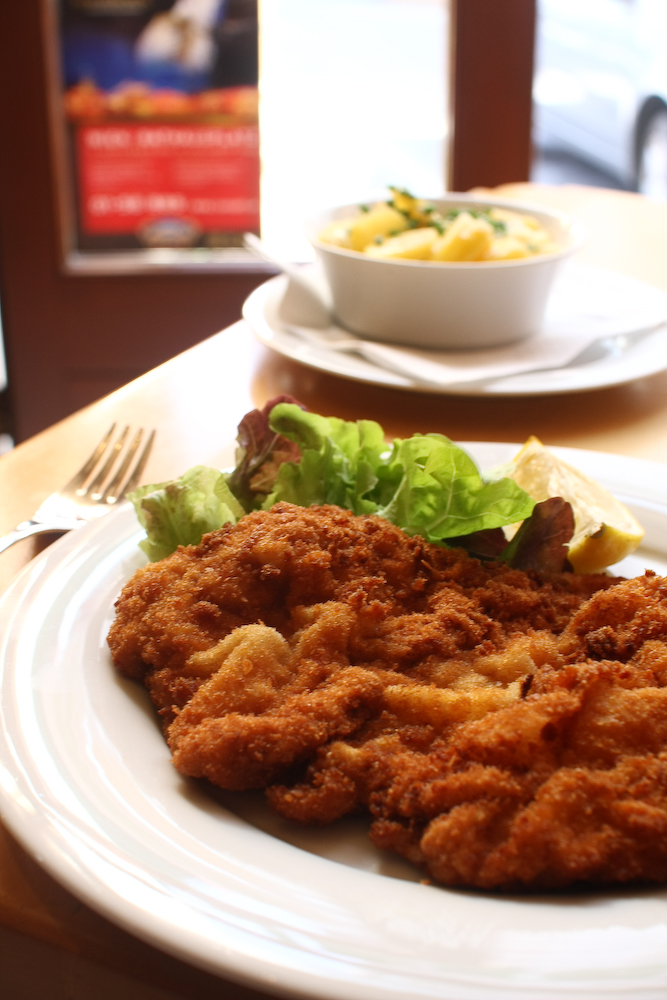 Fellow Hoosiers, you'll love schnitzel. It's essentially a pork tenderloin minus the bun. A piece of meat (traditionally veal) is pounded until thin and then lightly breaded and fried. Tradtional schnitzel is served plain with a lemon wedge on the side, but nowadays restaurants serve it a dozen different ways.
3. Bratwurst
It's a bit sacrilegious of me to lump all Würste into the same category, but I don't want to bore you with all the different types of sausages in Germany. Do a little research before you travel to Germany and figure out what the specialty sausage in the area is. Knackwurst is the most like the kind you get in the States, but I also like the Nürnberger Rostbratwurst, which are smaller bratwurst served alondside sauerkraut and potatoes.
4. Weißwurst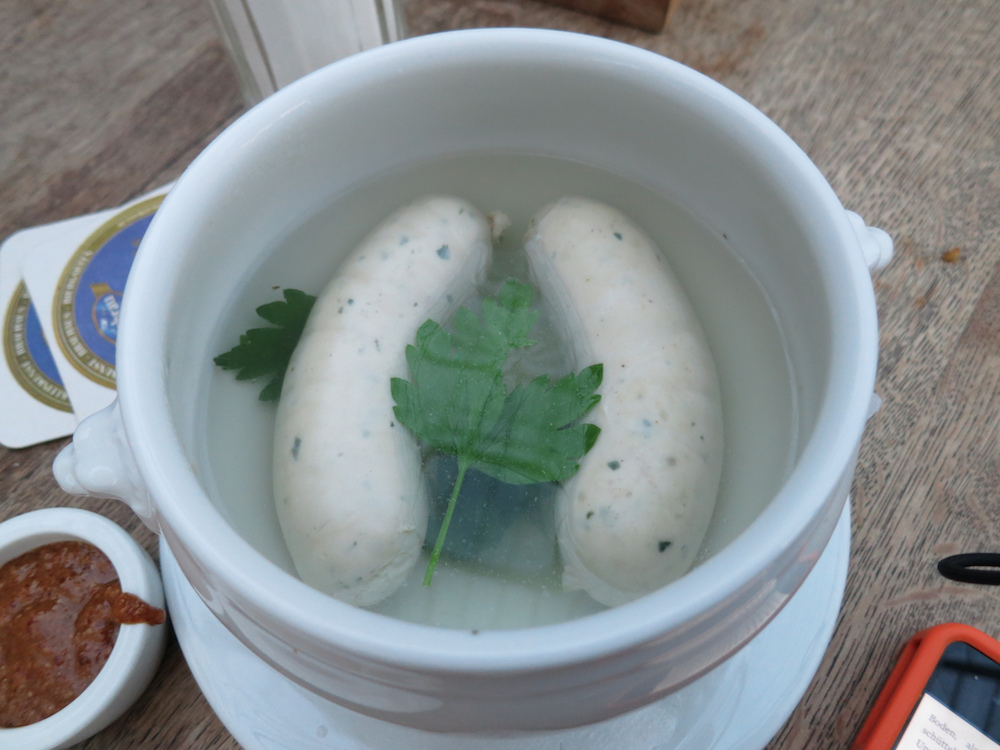 Okay, I lied, I am going to bore you with more German bratwurst. The weißwurst of southern Germany are unlike anything you can find in the States. As the name suggests, these little guys are white in color and you have to suck them out of their casings to eat them. If you want to feel like a real German, ditch the knife and fork and use your teeth to pop out the sausage.
5. Rot und Weiß Pommes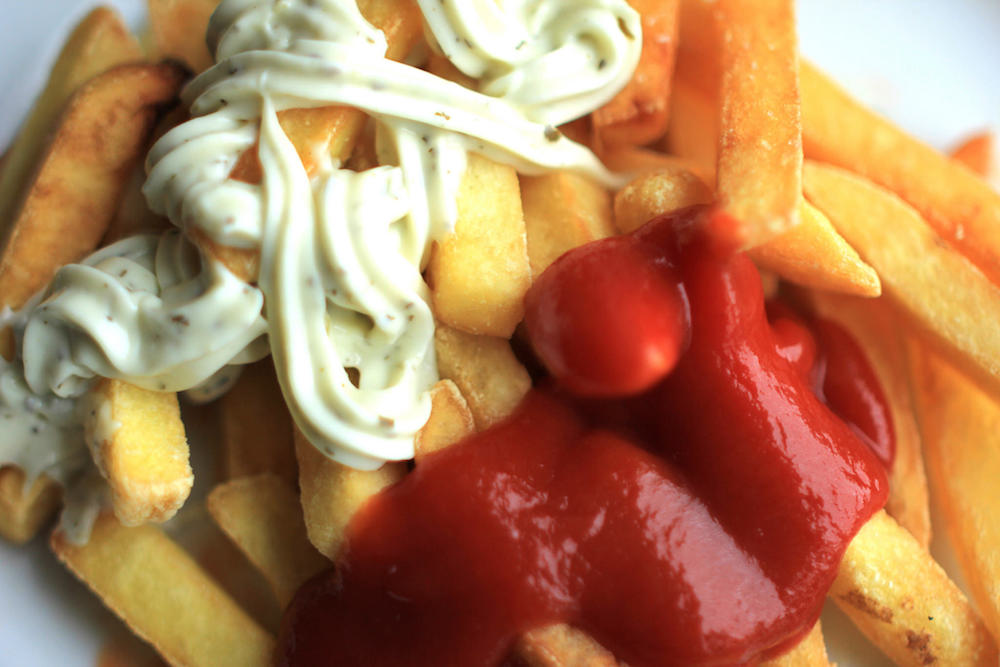 Red and white fries are thick-cut French fries that are served with mayonnaise and ketchup. If you like aioli, you'll probably like this. You can get a heaping pile of fries on their own or have this alongside some sort of Wurst.
6. Currywurst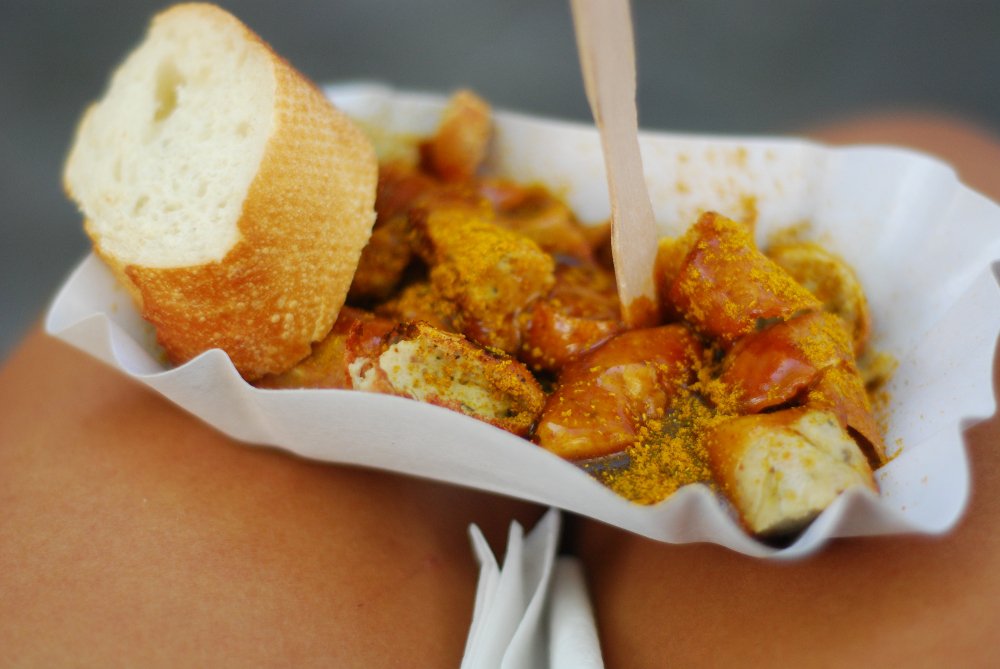 Currywurst is one of Germany's most iconic dishes. Essentially, it's a chopped up sausage slathered in ketchup and curry powder. It's often served alongside rot und weiß Pommes. I know it sounds like an odd combo, but currywurst is one of the country's most popular dishes for a reason.
7. Spätzle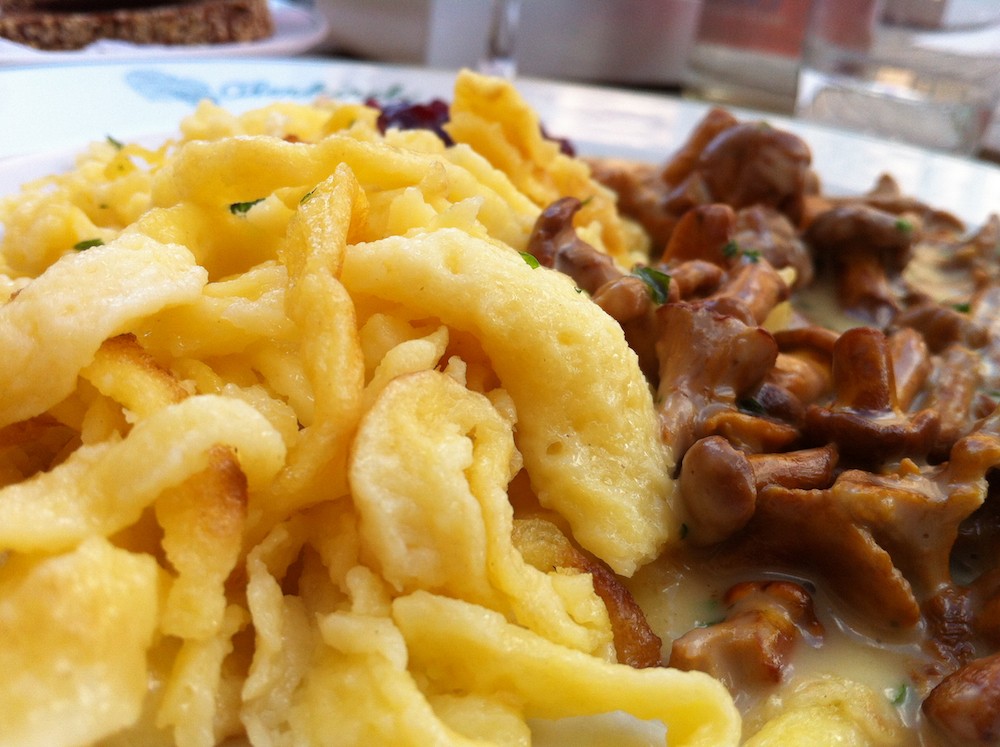 If you love mac and cheese, you'll love spätzle. This dish is comprised of thick egg noodles that's often baked with cheese. Spätzle can also be served plain with gravy on top or alongside a main dish. Either way, these noodles are fab.
8. Brötchen
German bread is seriously amazing. No where else will you find bakeries with better bread. Pop into your local Bäckerei and pick up a whole loaf or smaller rolls, called Brötchen. Germans often eat these rolls for breakfast with sliced meat and cheese on top.
9. Spaghetti Eis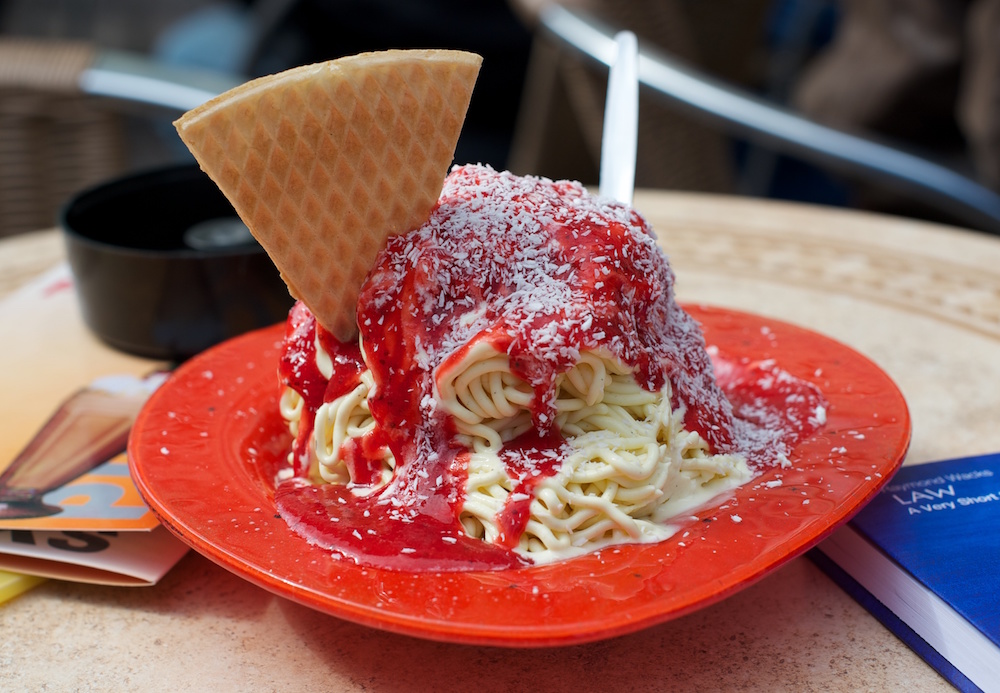 Spaghetti Eis is easily one of my all-time favorite German foods. It's vanilla ice cream that's been pressed to look like pasta. It's then topped with strawberry sauce and white chocolate shavings. Sometimes pieces of chocolate are added to be the meatballs. You can also order schoko Spaghetti Eis, which is all chocolate (definitely not for the faint of heart).
10. Pretzels
If you didn't have a soft pretzel, did you really visit Germany? Enjoy your pretzel with mustard or butter. Be careful though, because the Germans prefer spicy mustard.
11. Beer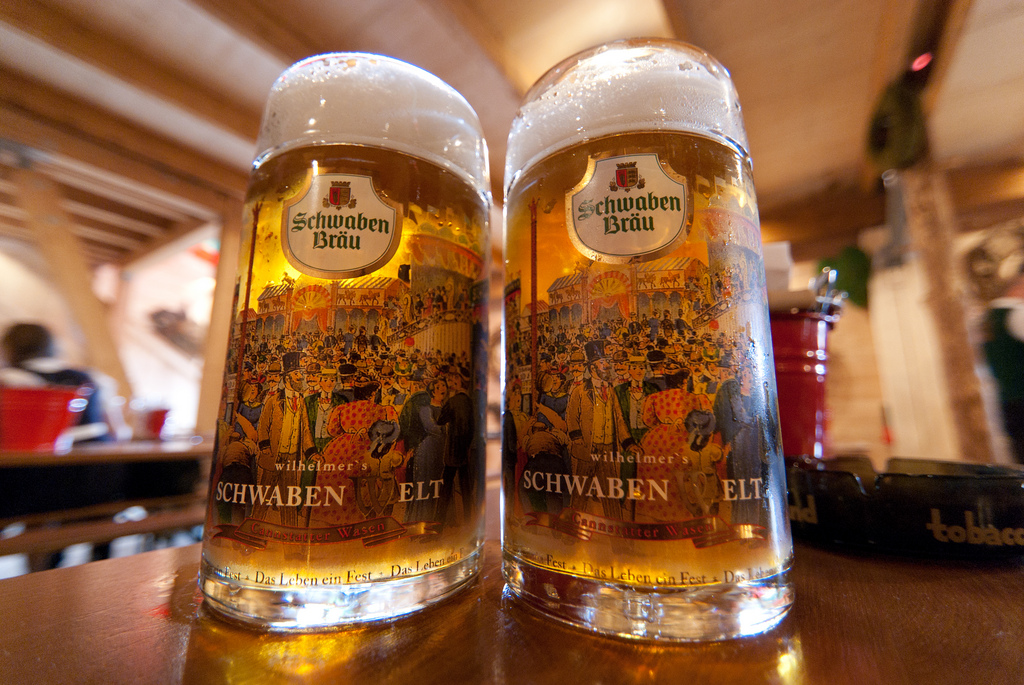 I doubt I have to tell you to sample German beer. Each region is known for a different brew, so look up which you should try while you're in Germany. For the full experience, visit a local beer garden. Germans tend to drink their beer more slowly and don't get roaring drunk, so don't get absolutely hammered while you're out (at least not while it's light out!).
12. Black Forest Cake
Aka Schwarzwälder Kirschtorten. I lived on the edge of the Black Forest during my semester in Germany and ate more pieces of this cake than I care to admit. This is a rich chocolate layer cake with cream and cherries dispersed throughout. There's often liquor brushed onto the cake layers, but the overall effect isn't super alcohol-y.
13. Apfel Schorle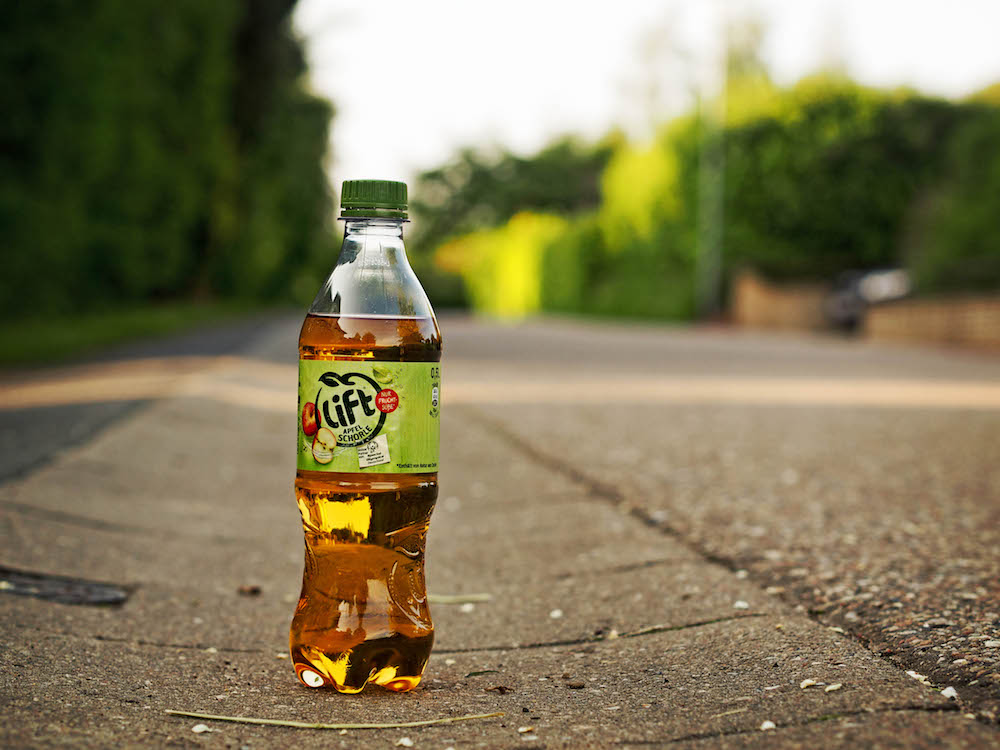 Apfel Schorle is basically sparkling apple juice. You feel kind of like a toddler when you're drinking it, but it's too good to pass up.
14. White Asparagus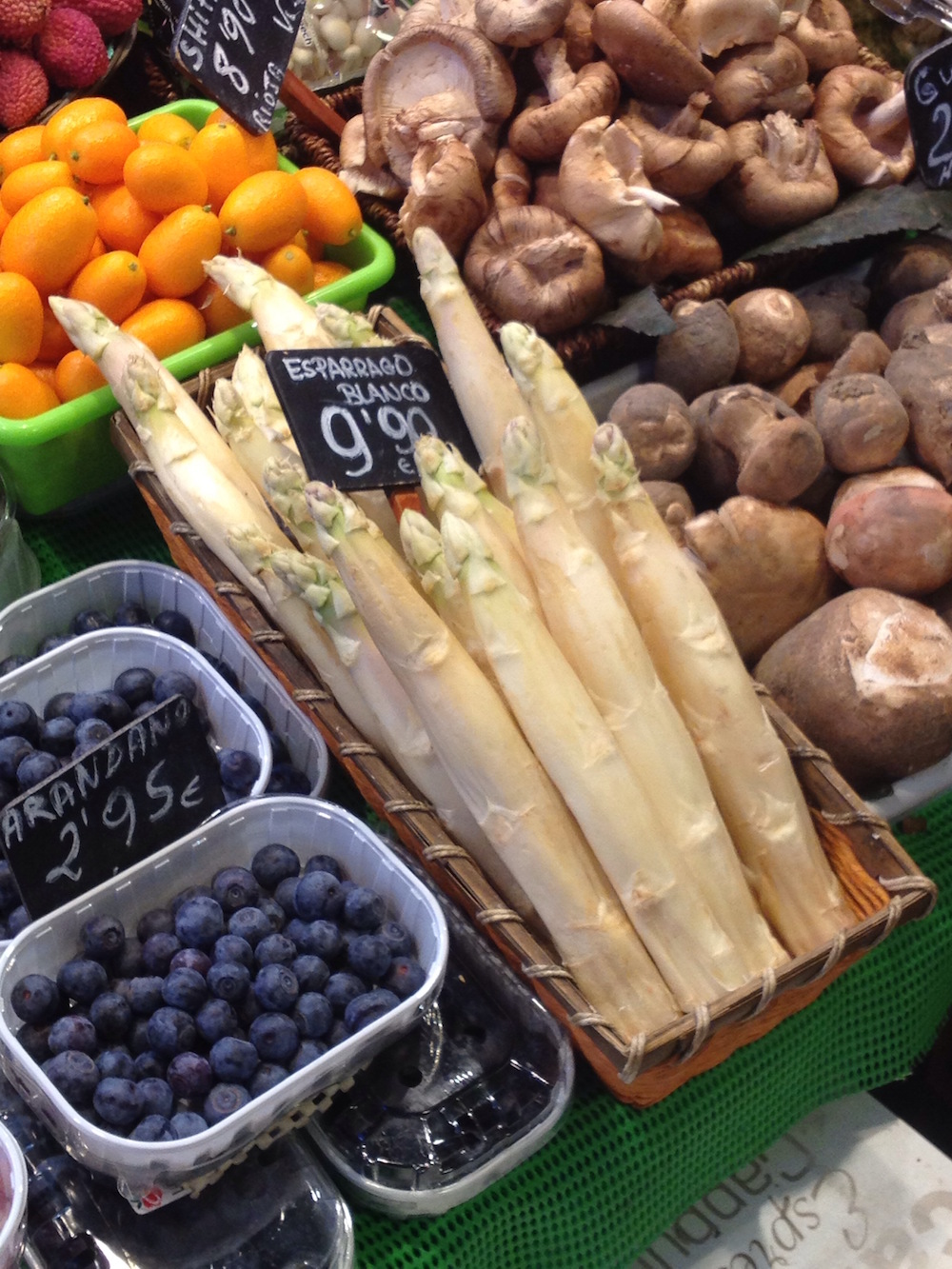 I will never understand why strawberry and asparagus stands are a thing in Germany. In the summer, cities are dotted with stands in the shape of giant strawberries that sell white asparagus and strawberries only. You don't even eat them together! White asparagus (weißer Spargel) is often boiled and served with a Hollandaise sauce over it. The texture is different from regular asparagus, so definitely give this a try.
15. Radler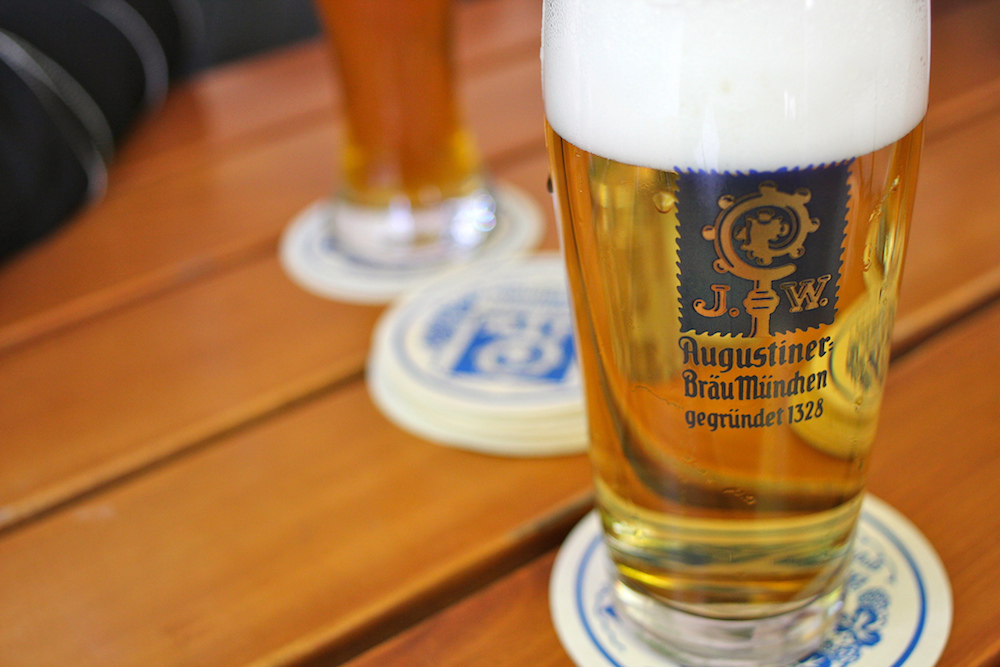 You all know I'm not a beer drinker, but a cold Radler is pretty tasty. It's a mix of light beer and lemonade. I usually ask for more lemonade than beer in mine since I can't stand the taste of alcohol. Some people think it's a "girl's drink," but I know German guys who only order Radlers.
16. Kinder Chocolate
Kinder is slowly making its way to the American market, but I swear this stuff tastes better in Germany. The filled hippos are my favorite, but the original Kinder chocolate bar with the milk filling is great for souvenirs.
17. Rote Grütze
I first tried rote Grütze at my high school exchange partner's house. Her mom made a huge bowl of it and served it with vanilla sauce. It's kind of like a soft berry Jell-O with red currants and other berries inside it. It doesn't sound spectacular, but it's a must!
18. Sauerkraut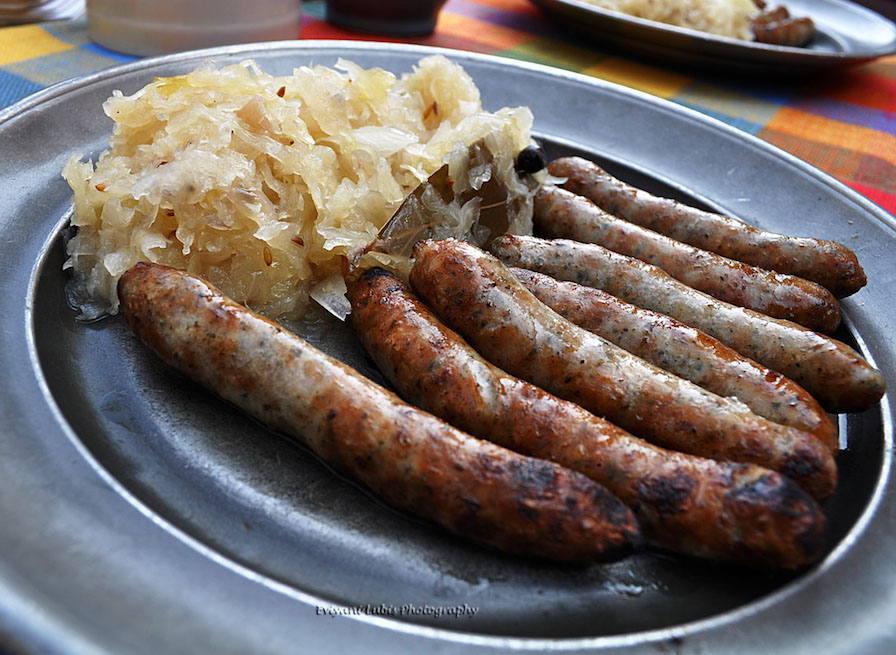 German sauerkraut is often served warm as a side dish and is the perfect compliment to heavier meat dishes.
19. Lebkuchen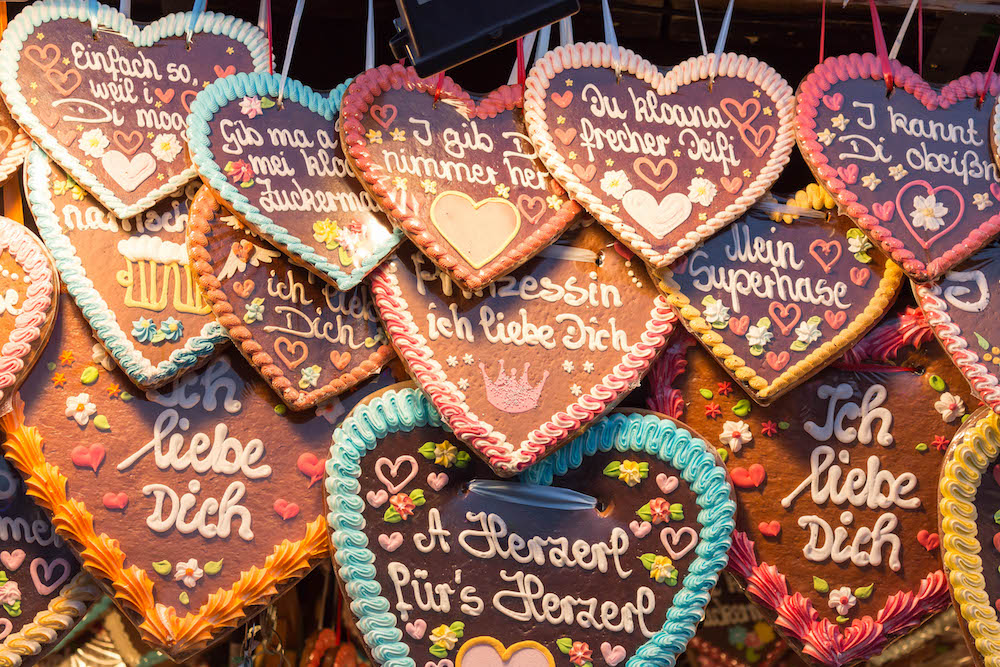 Lebkuchen, or gingerbread, pop up everywhere around Christmastime. German gingerbread is softer and thicker than American gingerbread (and much tastier, in my opinion).
20. Apfelstrudel
Warm apples in a flaky pastry crust dusted with powdered sugar and served with vanilla ice cream. You'll say you're going to split one with a friend, but you'll inevitably end up ordering a second one.
21. Fleischsalat
https://www.instagram.com/p/Ba_GbM6Ds8F/?tagged=fleischsalat
Meat salad sounds absolutely disgusting, but it's SO GOOD. Next to Spaghetti Eis, this is probably my favorite food on this list. Fleischsalat has a mayonnaise base with bologna-like meat mixed in with a few spices and vinegar. It's seriously good.
22. Kartoffelpuffer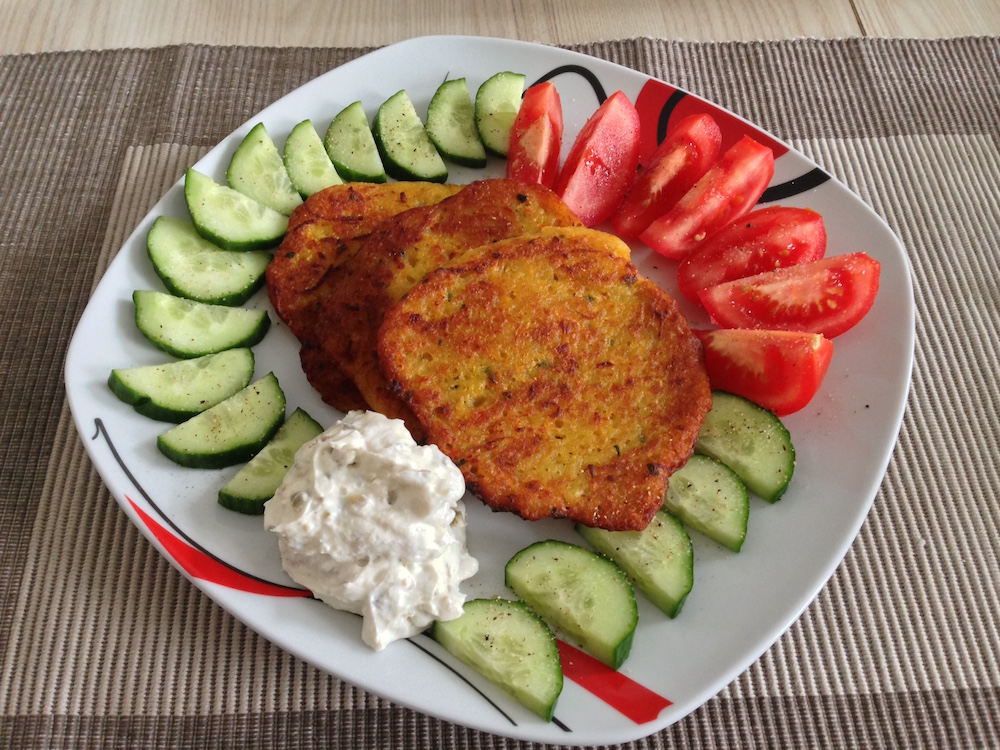 These bites of yumminess are fried potato pancakes. Any hash brown lover will enjoy these. The can be served with applesauce, and may also be called Reibekuchen depending on where you are in Germany.
23. Knödel
Also called Klöße, these are boiled dumplings. I've had Knödel that are as big as tennis balls, but the size varies at each restaurant.
24. Mineral water
After my uncle's first trip to Germany, he told us (in total astonishment) that "those Germans only drink bubbly water!" Don't be taken off guard by the Mineralwasser like my uncle was. If it's too bitter for you, add a squeeze of lemon juice to your glass. If you really can't stand the carbonation, ask your waiter (kindly!) for stilles Wasser (still water).
25. Eisbein
Eisbein is a pork knuckle that can be cured or roasted. I tried this dish for the first time in Munich with my mom and brother, and the Eisbein we were served had been roasting on a spit. If you have a big appetite, I highly recommend eating at the Haxnbauer in Munich. We walked past its windows a few times before finally succumbing to the tantalizing smell of roast pork wafting out the door.
26. Berliner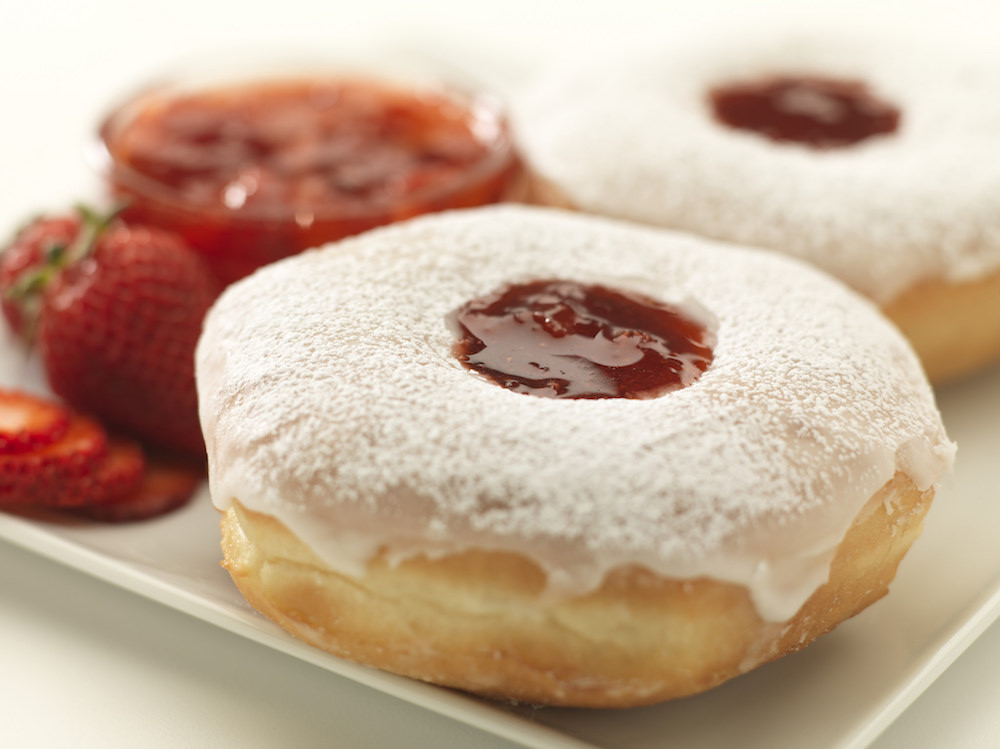 My fellow history nerds might recall the lesson in class when we discussed JFK's famous, "Ich bin ein Berliner" mistake. What he meant to say was, "I'm a Berliner," i.e. that he's a resident of Berlin. What he really said was that he's a delicious fried donut filled with jam. Remember that fun tidbit while biting into one of these bad boys.
27. Milka Chocolate
Picking between Kinder and Milka is like picking children. Just buy lots of both and you'll return home a happy camper.
28. Rotkohl
By the end of my semester in Germany I was practically eating a jar of Rotkohl a week. It's red cabbage that's been pickled like sauerkraut, except that it's much sweeter and more versatile (in my opinion). It's often served with various roasted meats, but I enjoyed it atop salads at home.
29. Döner
I don't know what the human race did to deserve Döner, but I'm so happy it exists. This dish is up there with Currywurst as one of the most popular street foods in Germany. Döner Kebab is made with meat that's shaved off a vertical rotisserie, veggies, and some sort of sauce. All of that is stuffed into a warm flatbread and is inhaled (very messily) in about five seconds.
30. Sauerbraten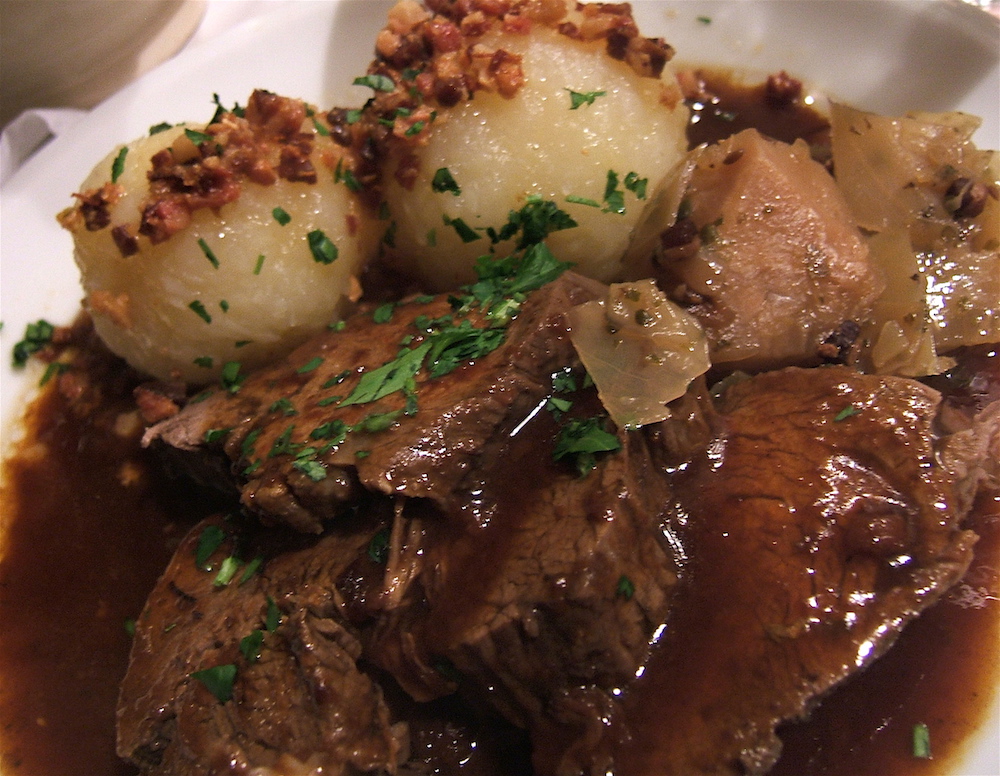 Sauerbraten is a classic German comfort food. It's essentially a pot roast that's slow cooked and packed with flavor. You'll likely be served this alongside noodles or dumplings or some sort and/or potatoes.
Anything I missed? Let me know if I've left off your favorite German food! Writing this list has made me so nostalgic for Germany. In a perfect world I'd wind up living in Germany permanently, but we'll have to wait and see if that ever happens! Until then, I'll have to let my memories of this beautiful country tide me over.
Tell me: What's one place you're dying to return to?
Signing off,
Claire
 More posts you'll love:
Pin me!