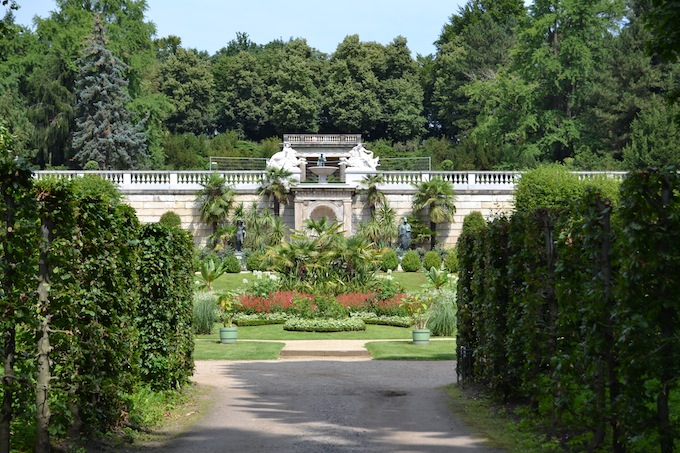 Tucked away in the heart of Potsdam, Germany, Sanssouci Park is an absolute dream to visit. Thought to be the Versailles of Germany, Sanssouci Park is home to King Frederick the Great's epic palace and lush gardens. This section of Potsdam amazed me, mainly because I had never heard of it before! I visited the park with my friend Ellie, who had an internship in Berlin over the summer, and I'm so glad she waited to visit Potsdam with me.
Sanssouci Park: Getting There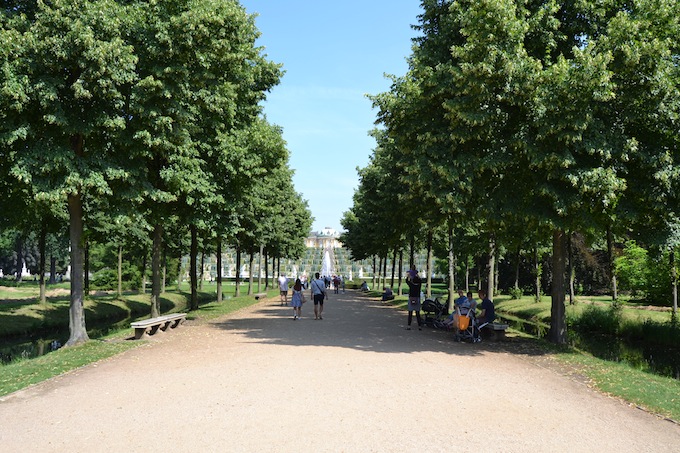 Unless you choose to stay directly in Potsdam, odds are you'll be visiting during a longer stay in Berlin. Potsdam is only 20-40 minutes from Berlin if you take the S-Bahn, and you can get a day ticket for the train for less than 10 Euros. If you're coming from further away, I'd suggesting reading this article for more information.

Sanssouci Park: Prices
Tickets for the palace are 12 Euros, but a day ticket only costs 19 Euros and is good for everything in the park. We got day tickets when we were there, and it was such a good deal! We could walk right into any building without waiting or paying the smaller individual entry fees.
Sanssouci Park: What to Do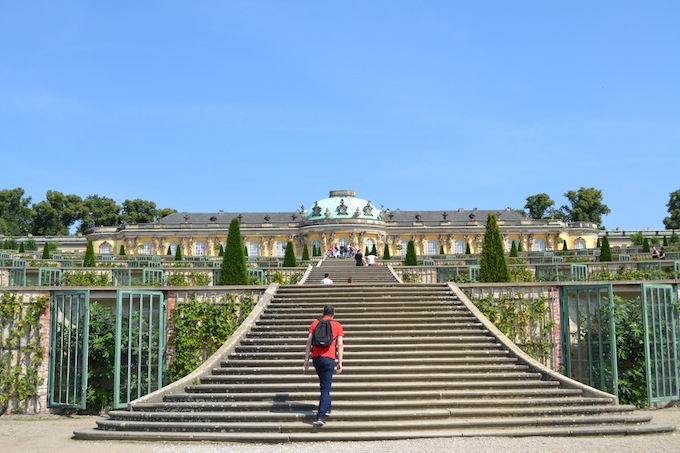 Your first stop in Sanssouci Park will likely be the Sanssouci Palace. The palace is a stunning example of Rococo architecture and is quite small (for a palace, that is), but quite livable. The most noticeable feature of the palace is its terraced gardens in the front, which were created for grapes, figs, and plums. Apparently, King Frederick had a taste for the finer things in life, no surprise there. You'll want to go to Sanssouci Palace first as your ticket will have a specific visiting time on it, and you don't want to get stuck with a time later in the day when you're exhausted from exploring the gardens.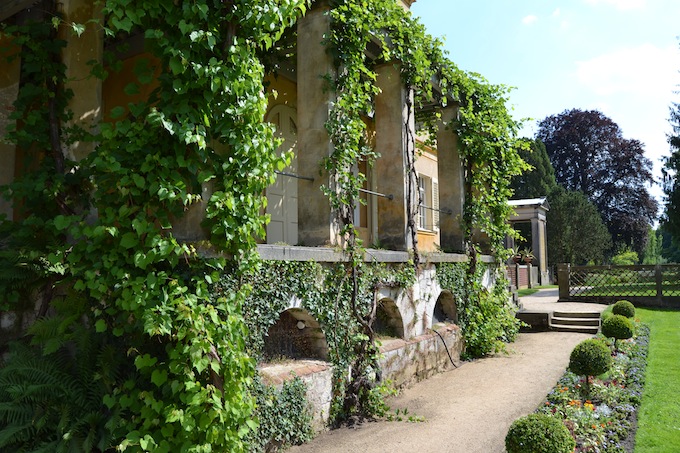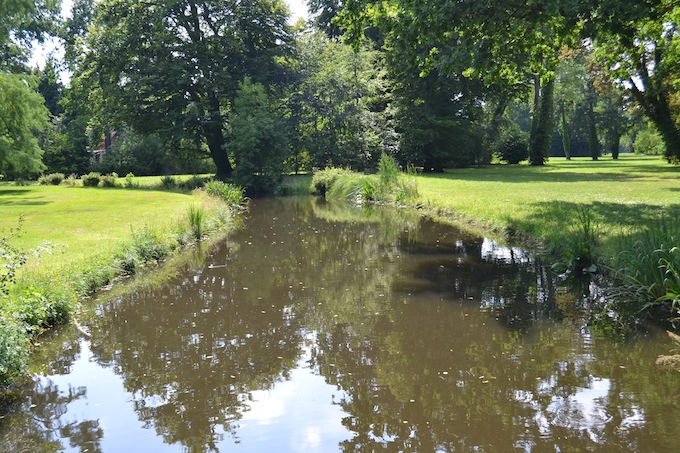 After the palace, the world is your oyster! The park is absolutely massive, and you'll have no problem spending an entire day there. Some other highlights of the park are: The New Palace, Charlottenhof Palace, the botanical gardens, the Orangery, and the Chinese House. Ellie and I had a great time just moseying through the park at our own leisure, so by the time we got to the New Palace we were completely pooped and couldn't go on. The New Palace is huge, and the tour supposedly lasts over an hour, so if you'd like to visit that as well I'd suggest going directly from Sanssouci Palace to the New Palace.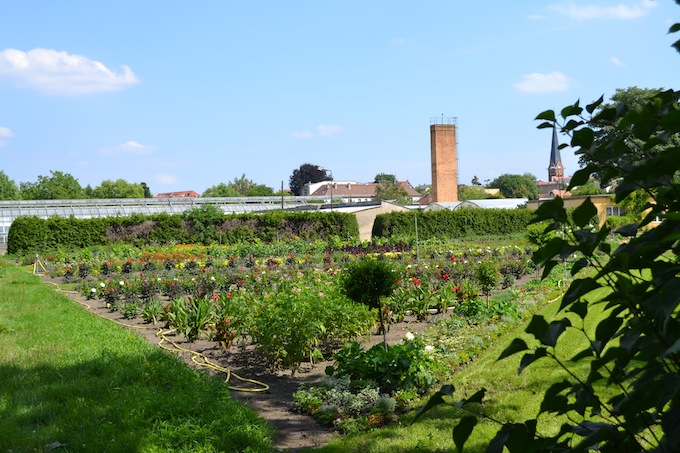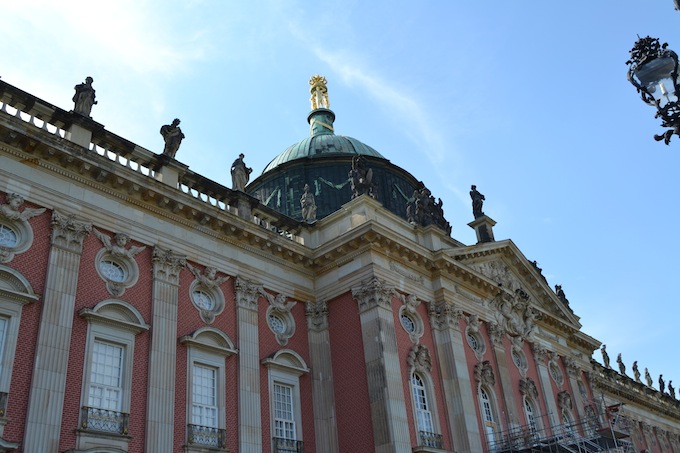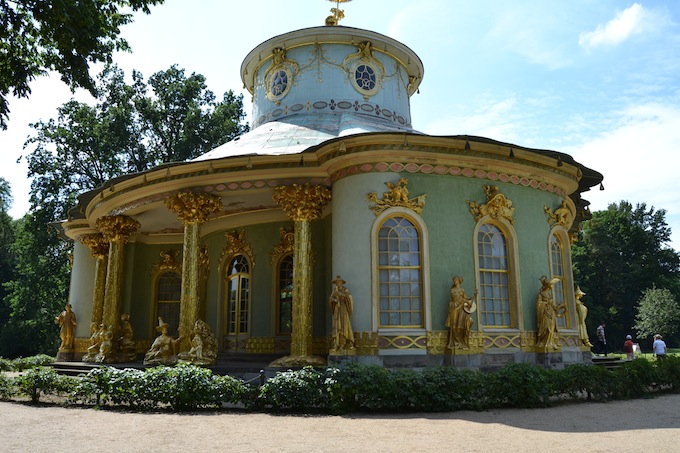 While I wish I'd had enough energy to visit the New Palace, I can't complain about the parts of the park we did get to see.  I also loved the Chinese House, which was an ornate pavilion that I imagine saw many fancy garden parties in its hey-day.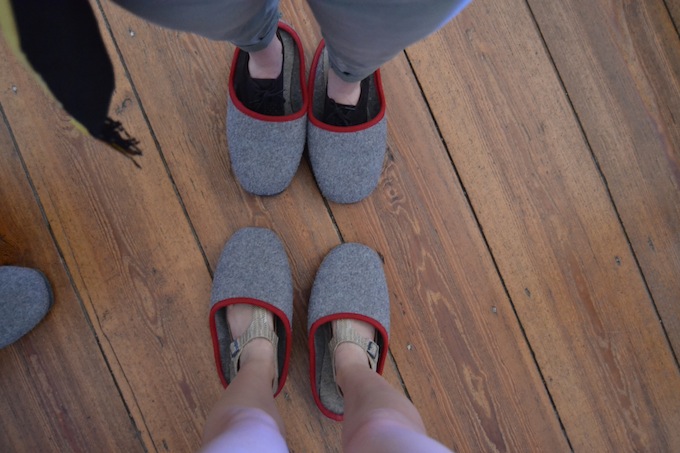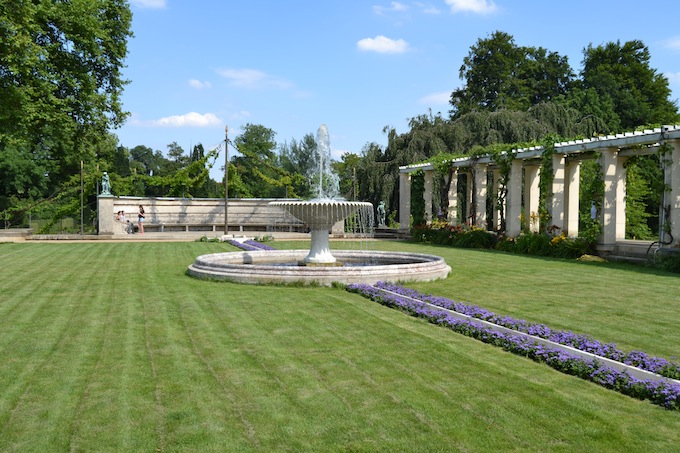 A mutual favorite was Charlottenhof Palace, partly because we had to wear these ridiculously large slippers to help preserve the wood floors. Charlottenhof, though labeled as a palace, was actually more of an every day house for King Frederick. The furniture inside is simple and tasteful, and it looks like (gasp!) a regular, run of the mill person could've lived there (props to King Frederick for his personal design taste). My favorite room was the tent room, which was made to look like a huge tent. A bit odd, but it somehow worked with the place.
Sanssouci Park: Where to Take a Break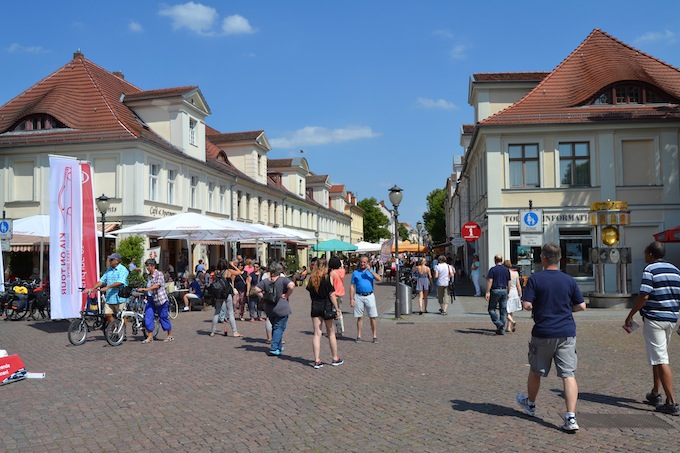 As amazing as Sanssouci Park is, you'll definitely need a break at some point to take a load off your feet for a while. Downtown Potsdam is a short walk away and is utterly adorable. There's just something so neat and tidy about it that makes it feel so relaxing. For lunch, Ellie and I found the world's nicest Döner place (whose name I of course forgot to write down…). We were blown away by the fact that our food came on an actual plate with actual silverware and tasted like actual food and not just a huge greasy mess like most Döners do. We felt quite classy after that meal, needless to say.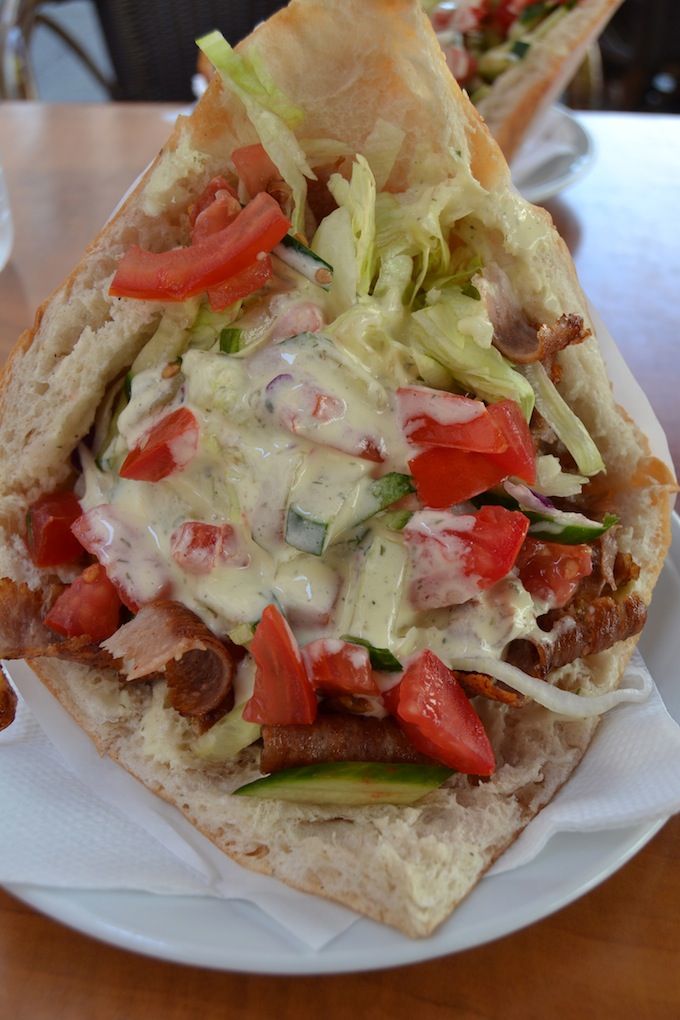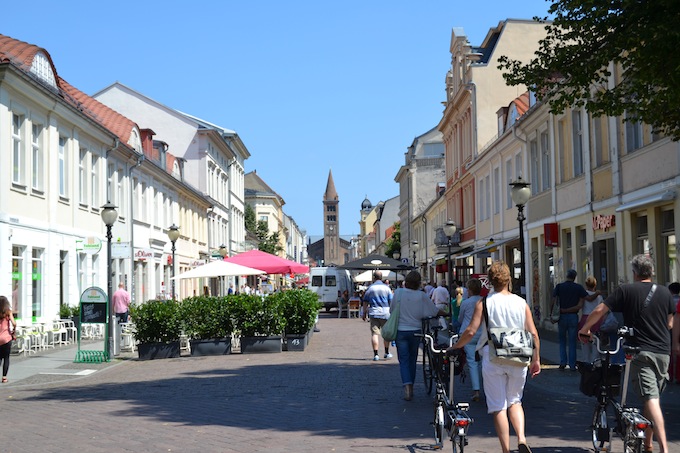 If you decide you want something a bit different from the cute boutiques in the downtown area, the Dutch quarter of the city is also perfect for a stroll. Lined with red brick houses and delicious restaurants, you'll fall in love with the Dutch quarter. It's the largest collection of Dutch-style houses outside the Netherlands and makes you feel like you're walking outside of Germany.
While there, Ellie took me to La Maison du Chocolat, aka the place where I started questioning if I'd really had the best ice cream of my life in Bruges. Ellie talked me into getting an Eis Schockolade, which was essentially the world's fanciest milkshake. Consisting of chocolate milk with huge scoops of the richest dark chocolate ice cream I've had in my life topped with homemade whipped cream, I think a part of me actually died from happiness when I drank that. Amazing.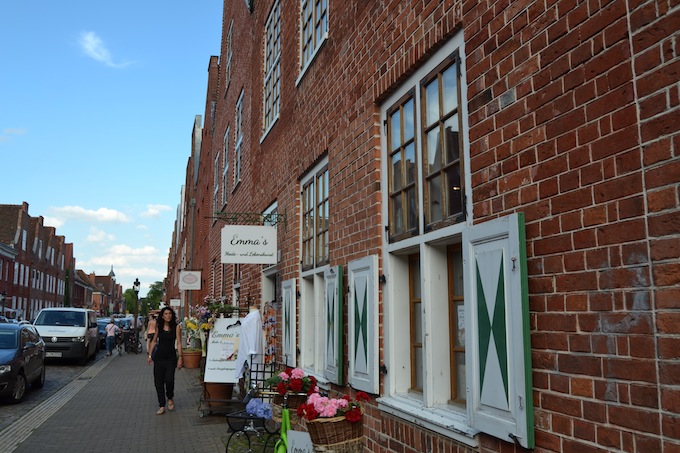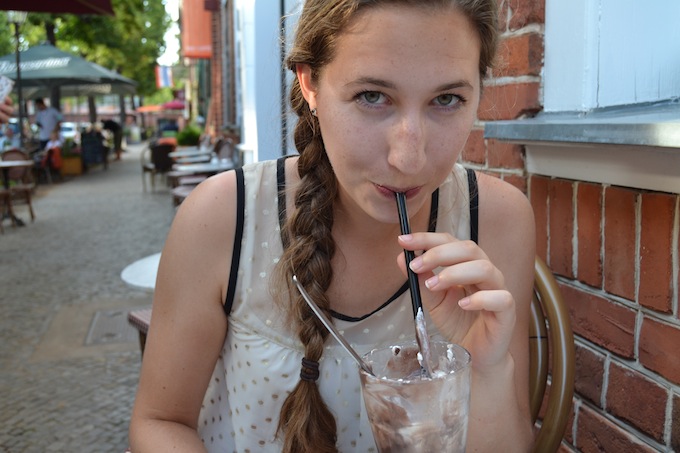 Potsdam is a gorgeous city that more people should be talking about. If you're in Berlin or in the Potsdam area in general, you absolutely must stop and explore a bit. Have any of you visited Potsdam before? What are some other hidden gems in Europe you think more people should know about?
Signing off,
Claire