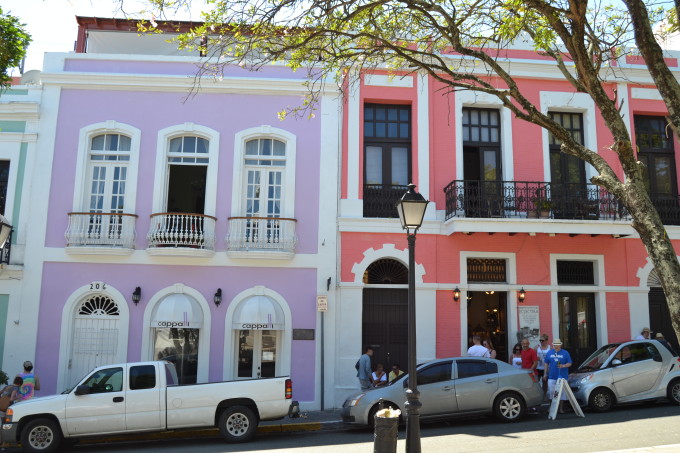 If you're a major foodie like I am, you need to take a food tour in every city you visit. Don't get me wrong, you can easily sample local cuisine on your own, but there's something so special about having someone describe the flavors and ingredients of a dish while you're scarfing savoring the dish.
I usually try and find a free or relatively inexpensive walking tour (because being a broke college student is a real problem these days, friends), but because I was visiting Puerto Rico with my mom I was treated to a pricier food tour that we both loved.
That's nice Claire, great story. What's the walking tour?
Right sorry, rambling. If you're in Old San Juan, definitely check out the Flavors of San Juan food and culture tours. At almost $80 a pop, it's a bit more expensive than your run-of-the-mill walking tour, but it's honestly worth every penny. Our tour guide (Hi Keila!) was incredibly sweet and gave us tons of information about the city and its food, and we stopped at five different restaurants along the way to sample authentic Puerto Rican dishes.
Without further adieu, let's jump into the stops we made along the tour.
If I had had any doubts about our food tour, they all vanished at our very first stop: Princessa Gastrobar. First, we talked to the in-house bartender and rum aficionado; he told us about the basic rum-making process and a bit about its history in Puerto Rico. After oogling all the pretty rum bottles on display, we sat down for some tasty food.
When the owners of Princessa Gastrobar opened their restaurant, they knew they didn't want to be "just another restaurant"; they wanted to serve Puerto Rican staples, but with a twist. To prepare their menu, they took to old cookbooks to figure out how popular dishes were originally made. The time and love put into their food is obvious once you take your first bite.
Our first sample was an eggplant dish that had been cooked with brown sugar to give it a delicious, sweet coating and topped with spiced chicken and other magical ingredients. The eggplant was amazingly tender, and the dish as a whole was the perfect combination of sweet and savory—really unexpected with an eggplant dish!
Next up were two croquettes, which we were told took three days to prepare. I'd never had a croquette before, so I was surprised that inside the fried, crunchy exterior was a doughy, flavorful interior. Although the croquettes were ham and chicken, there were no chunks of meat inside, which is what I was expecting. Altogether, they were super yummy, especially with the bit of béchamel sauce on the spoon underneath them.
You know I love a good scoop of ice cream, but the popsicles at Señor Paleta were just what I needed in the humid San Juan weather. The popsicles here are either milk or water based (the milk ones are ususally sweeter, the water based are reserved for their fresh fruit popsicles).
I got a mango and strawberry popsicle, and the fresh mango running through it made my mouth very happy.
The long-awaited stop: Café el Punto. I had been looking forward to some tasty Puerto Rican street food all morning and Café el Punto didn't disappoint. Here, we sampled alcapurria, which is a type of local fritter. It's essentially a fried dough pocket filled with spiced beef and served with homemade hot sauce. Definitely worth eating while in Puerto Rico!
We also tried ceviche, which is extremely popular in Puerto Rico. This particular ceviche was made from fresh grouper soaked in lime juice and mixed with cilantro, avocado, and onion. It was super fresh and the perfect compliment to the fried alcapurria.
[Sorry for no sweet food pic. Alcapurria doesn't photograph well…]
Before I tell you what we ate, let me just say that I love Puerto Rican mofongo. Plantains are the new Idaho potatoes, my friends, and mofongo is literally the best thing that has ever happened to me.
With that intro, it's probably no surprise that we got to make our own mofongo for lunch! Mofango is fried green plantains that have been smashed up with butter and garlic (anything with butter is good, am I right?). The mashing process was actually tricker than I thought it'd be, and I actually had to stand up to get it all mixed properly (I really need to work on my upper body strength…).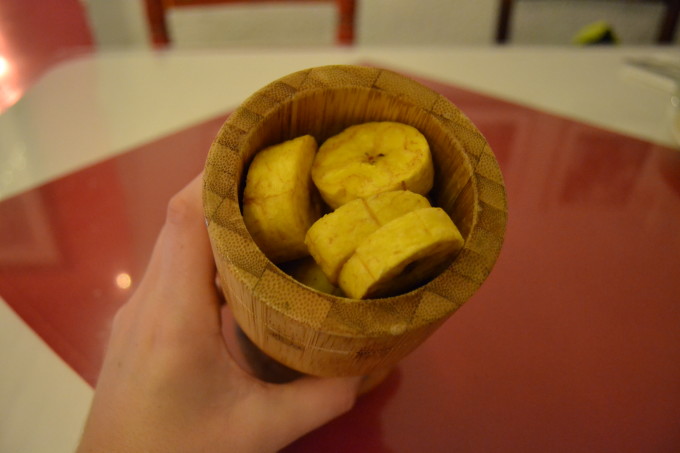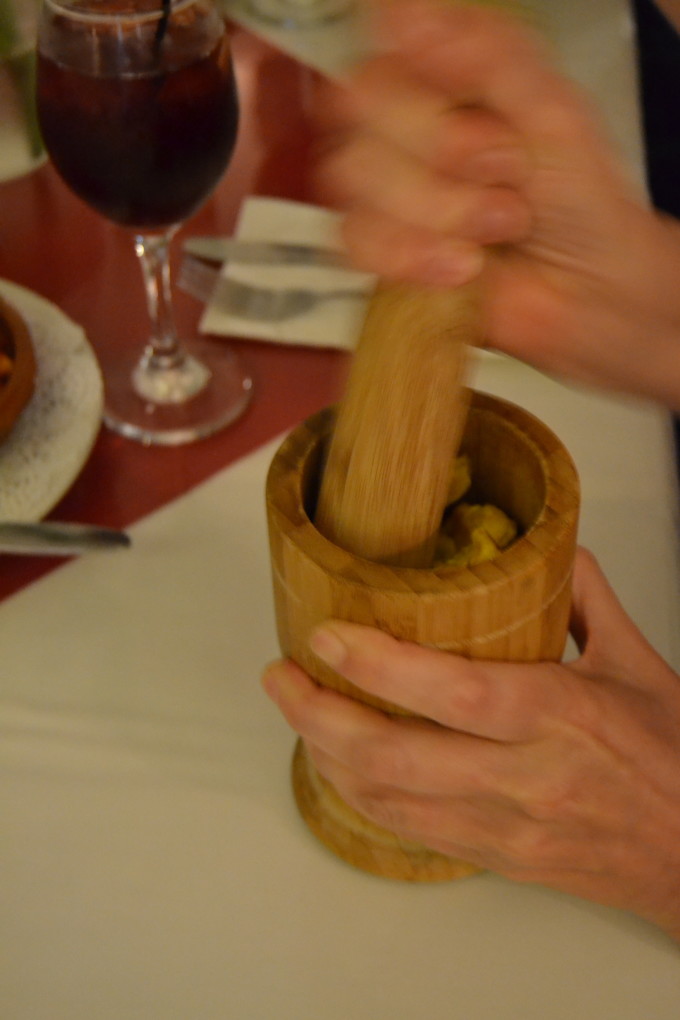 This particular mofongo was topped with creole chicken and served with the most delicious rice and beans I've ever had. Sometimes simply cooked food is the best. Oh, and did I mention the house made sangrias we had? I'm usually not a huge alcohol fan, but wowza were these killer sangrias.
No food tour would be complete without a second dessert. Luckily, our guide knew what was up and motored us over to Vaca Brava, which served up some amazing cheese flan. I'd also never had flan before, and this jiggly blob of yumminess made me so happy to have it in my life (I love trying new foods!).
Puerto Rican flan isn't like American flan in that it's less like jell-o and more like cheesecake (or so I was told. Again, I have nothing to compare it to). It definitely had a flavor reminiscent to New York cheesecake, but more of a custard consistency. What I'm saying is this: eat the flan, eat all the flan.
Final Thoughts
What can I say? We came, we ate, we conquered (or something like that). I was blown away by the Flavors of San Juan food tour, both because of the incredible quality of the food and our awesome guide (shout out to Keila for being awesome!). If you're in Old San Juan and have $80 to spare, you have to sign up for this tour. It's unlike anything else you'll do in the city and is a great introduction to authentic Puerto Rican food.
Over to you—have you taken a food tour before? If not, would you like to? And if you've visited Puerto Rico before, what's your favorite local dish? I ate so many plantains while I was there I started having dreams about them!
Signing off,
Claire