Much of my life revolves around food. I work for a food publication, I spend most of my free time in the kitchen, and I always have a new restaurant on my list of things to do. Before I'd sorted out my AirBNB or figured out my itinerary for my stay in Scotland, I made a list of all the Scottish foods I wanted to try. I sent the list to my friend I'd be staying with in Edinburgh so she could brainstorm places for us to eat, that's how serious I was about making sure I'd be able to try everything on my list.
After two weeks of sampling as much local food as possible, I had a pretty good idea of what to eat in Scotland on future trips. Below are 25 Scottish foods you absolutely have to try while you're abroad. Some of them sound a bit unusual, but all are fab.
1. Scones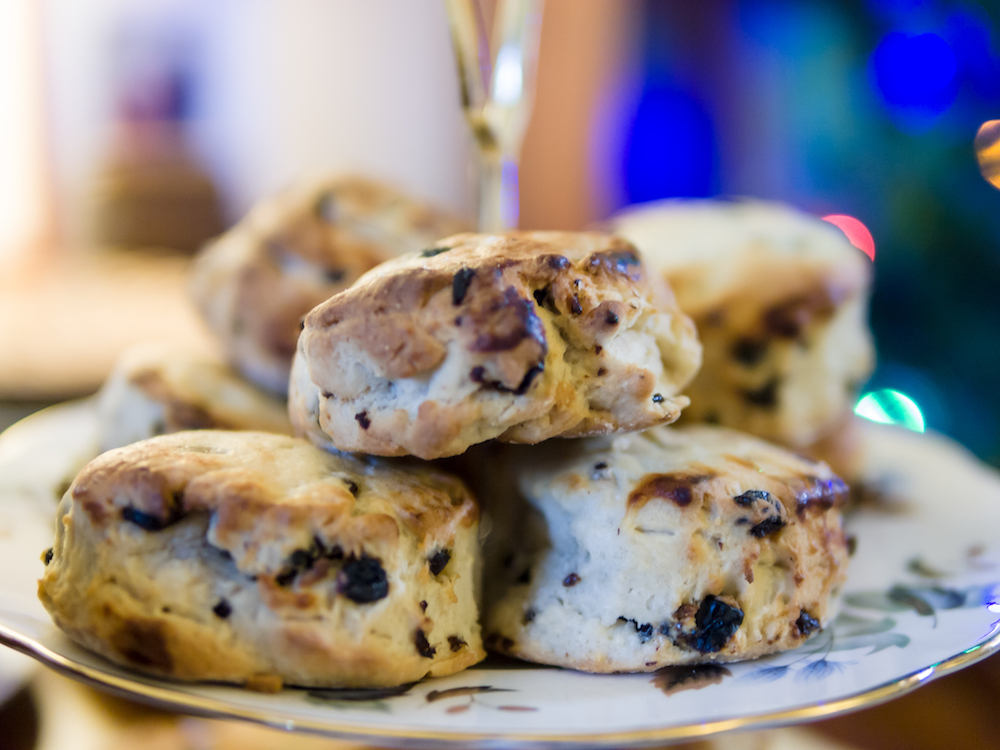 Scones are about as quintessentially British as you can get. Scottish scones typically have bits of dried fruit in them and aren't sweet like their American counterparts. They're incredibly dense and are a great mid-afternoon snack. If you don't top it with lashings of butter and jam, did you really have a scone?
2. Clotted cream
Actually, ditch the butter and slather your scone with clotted cream instead. There's nothing in the US I can really compare clotted cream to since it's a one-of-a-kind spread. It's very thick and super sweet and you can find it in all major grocery stores. I wish it didn't have to be refrigerated, otherwise I would've brought a tub back with me from Scotland.
3. Sunday Roast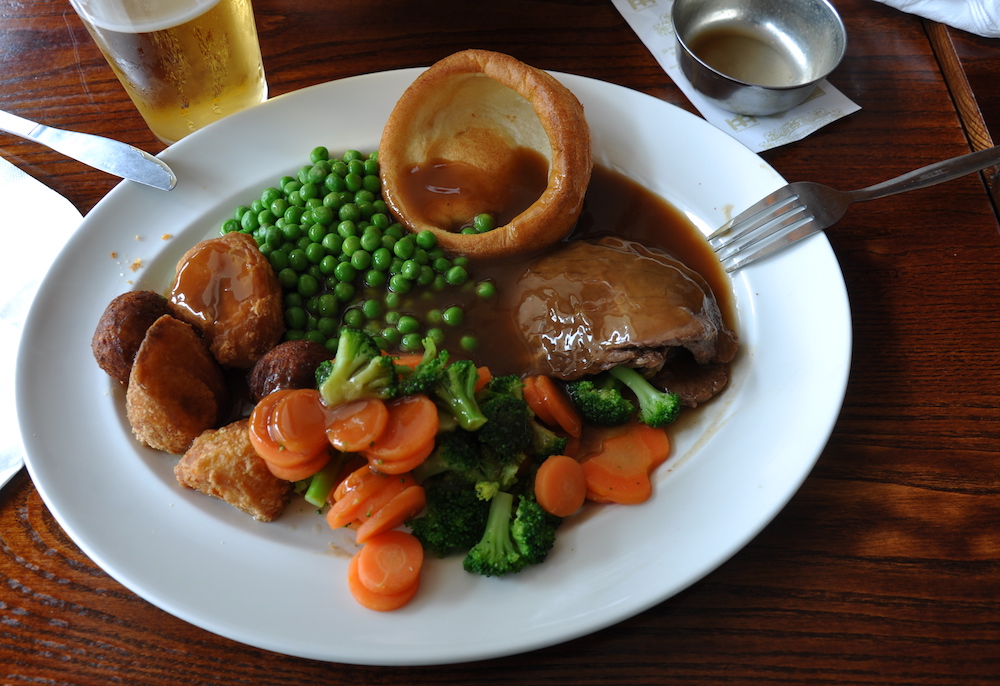 The Scots know a thing or two about roasts. The type of meat in a roast varies, but I had roasted chicken at my friend's house. Her mom also whipped up some gravy and roasted potatoes, and I ate until I thought I'd explode. Roasts traditionally come with Yorkshire pudding as well (which is a type of roll that's been cooked in lots of oil) and might be served with sausages, stuffing, or other vegetables. It's basically like an American Thanksgiving every week.
4. Butter Tablet
I'd never heard of butter tablet before I visited Edinburgh, but I'm so glad my friend introduced me to it. Butter tablet is harder than fudge, and crumbles a bit in your mouth when you bite into it. It's incredibly sweet and rich, and is made from sugar, condensed milk, and butter. It kind of tastes like the soft part of a New Orleans praline to me, and it was one of my favorite discoveries in Scotland.
5. Indian Food
Britain has a large Indian population, so you have to try some Indian food while you're in Scotland. I really enjoyed Mother India in Edinburgh, which is a tapas-style Indian restaurant. The naan was as big as my face, and the Saag Paneer was ridiculously good. Order less than you think you'll need, as the small plates are surprisingly filling.
6. Whisky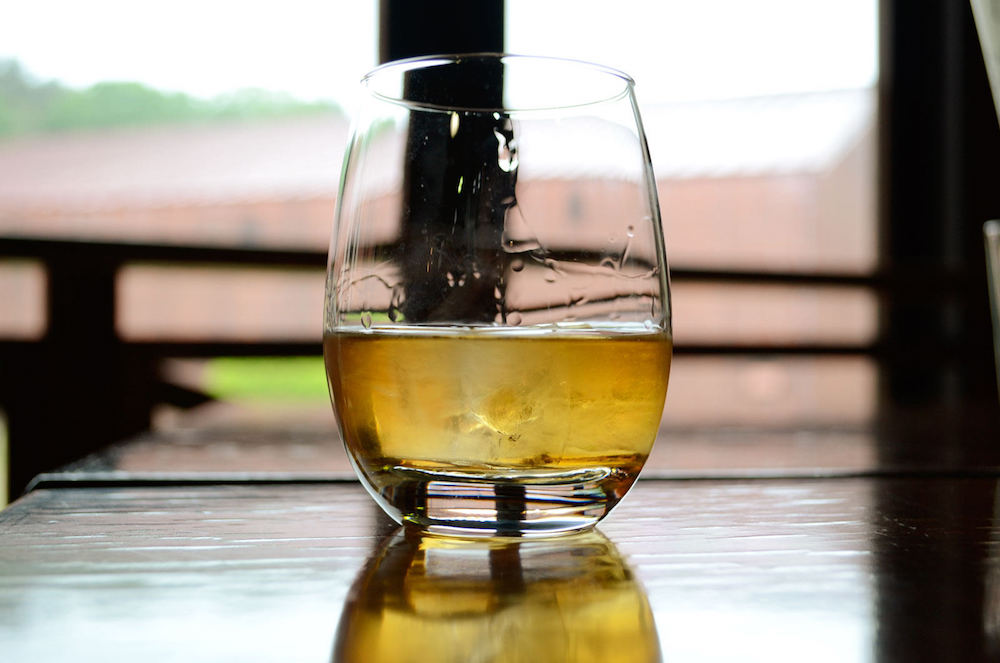 I actually hate the taste of alcohol, so I didn't sample any Scottish whisky while I was abroad. However, it's easy to find at any local pub, and souvenir shops sell it in every town. If you're a true whisky connoisseur, take a tour of a distillery.
7. Shortbread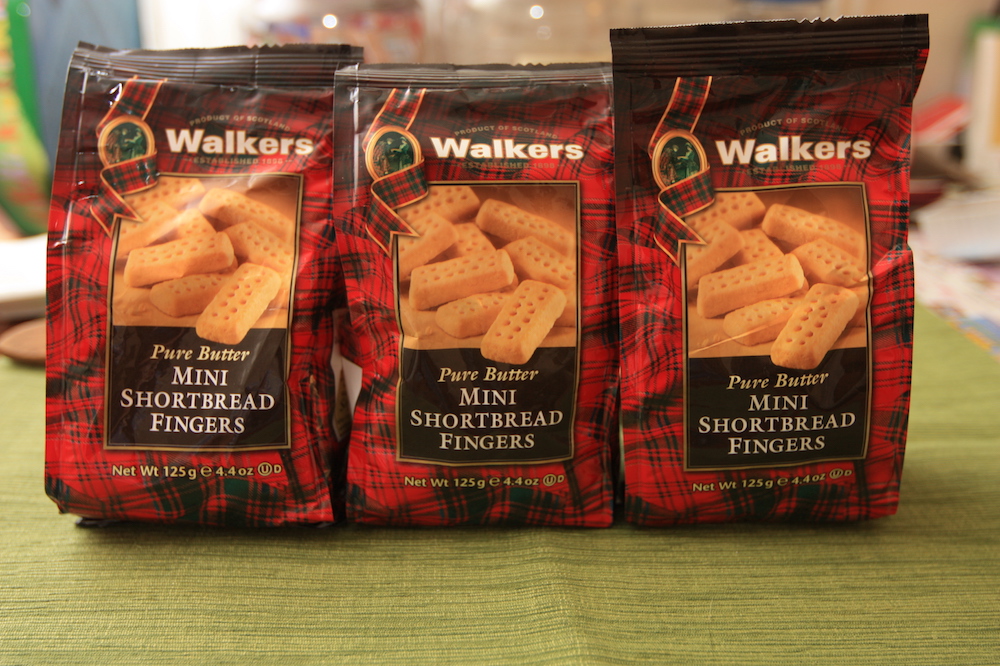 The Scots know how to do rich, buttery dishes very well. Shortbread is the iconic Scottish dessert, and I ate my fill of it while I was in Scotland. I sampled various brands for my highly scientific research and all that. Skip the overpriced shortbread at the tourist shops and buy some Walker's shortbread from a local grocery store. It'll be cheaper there and it's what the locals are probably munching on anyways.
8. Fish supper
Aka fish and chips, you can't visit Scotland without getting a fish supper. I split one with my friend while sitting on a dock overlooking the sea. It doesn't get more picturesque than that!
9. Muesli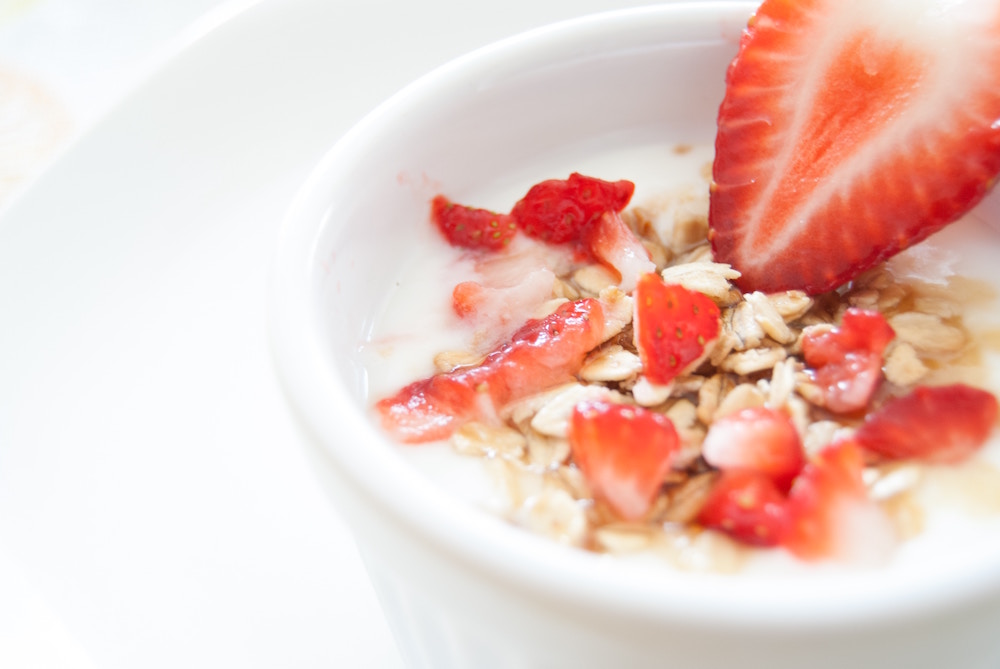 The Scots are known for their fabulous oat products, and their muesli is no exception. Muesli is loved throughout Europe, but I included it on this list because muesli is a fairly new concept in America. The stuff you buy in the States is typically loaded with sugar and is a glorified version of granola. Scottish muesli isn't sweetened and is mainly toasted oats. Eat it with milk and some sliced fruit on top and you'll be set for a day of adventure.
10. Crumpets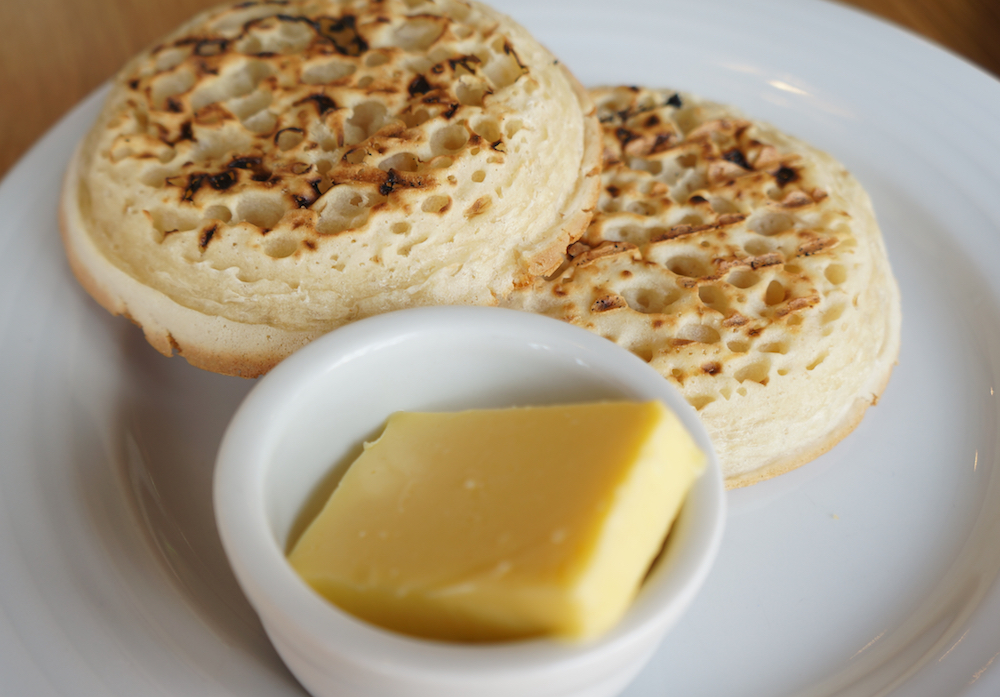 As it turns out, crumpets are not the same thing as English muffins. They're incredibly springy and filled with holes that soak up all the jam and butter. Definitely enjoy these with some eggs or another filling food because I'd have to eat about four crumpets to feel full.
11. Meat pies
Scottish pies aren't baked in a pan, but rather are free-standing and filled with all sorts of savory eats. Traditionally they're filled with minced meat, but you can easily find vegetarian options almost anywhere you go. Have a glass of water handy because this will make you thirsty.
12. Neeps and Tatties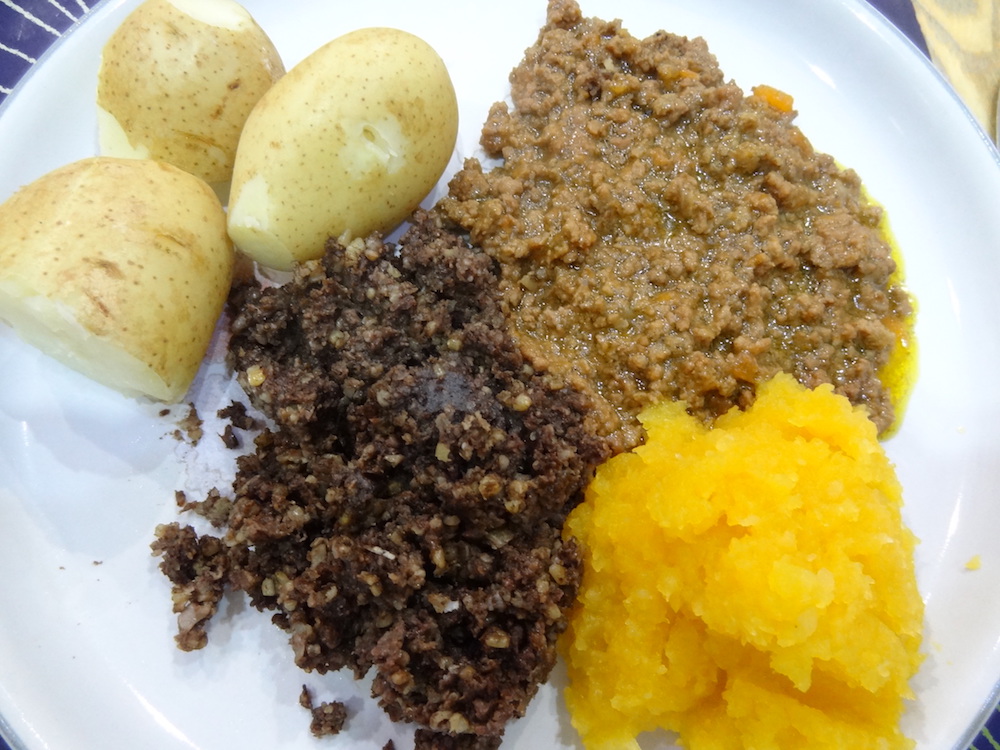 No, they're not derogatory terms for a woman's breasts. Neeps are turnips and tatties are potatoes. They're typically mashed and served alongside haggis, but you can certainly enjoy them with other dishes. Best of luck trying not to blush when you're ordering.
13. Full Scottish breakfast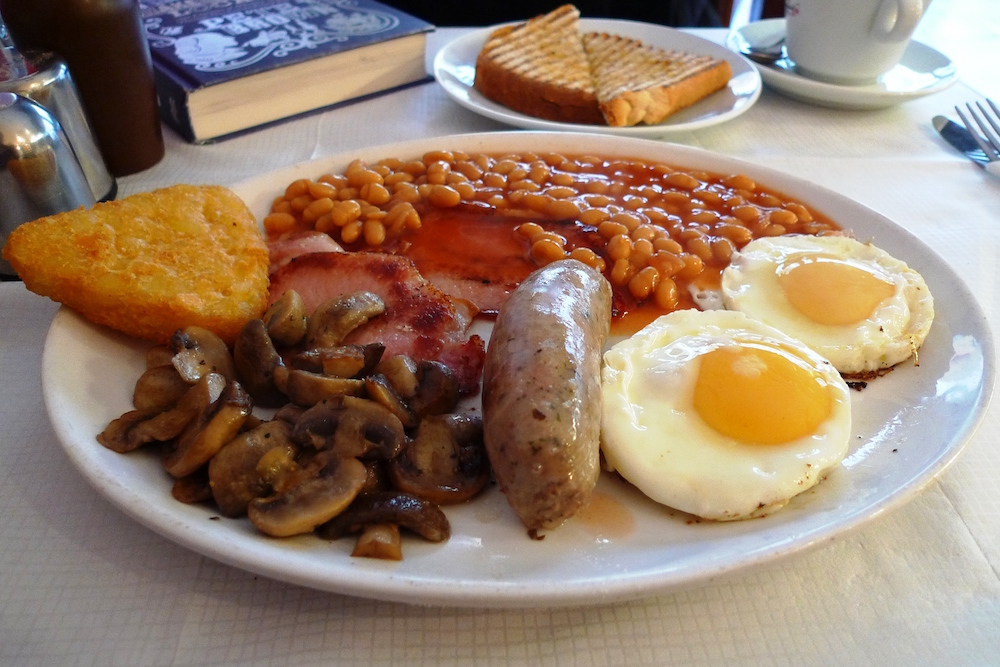 This breakfast is not for the faint of heart. Enlist a friend to help you demolish a full Scottish breakfast if need be. Comprised of eggs, bacon, sausages, tattie scones, black pudding, and a fried tomato, you'll definitely need help finishing this.
14. Bangers and Mash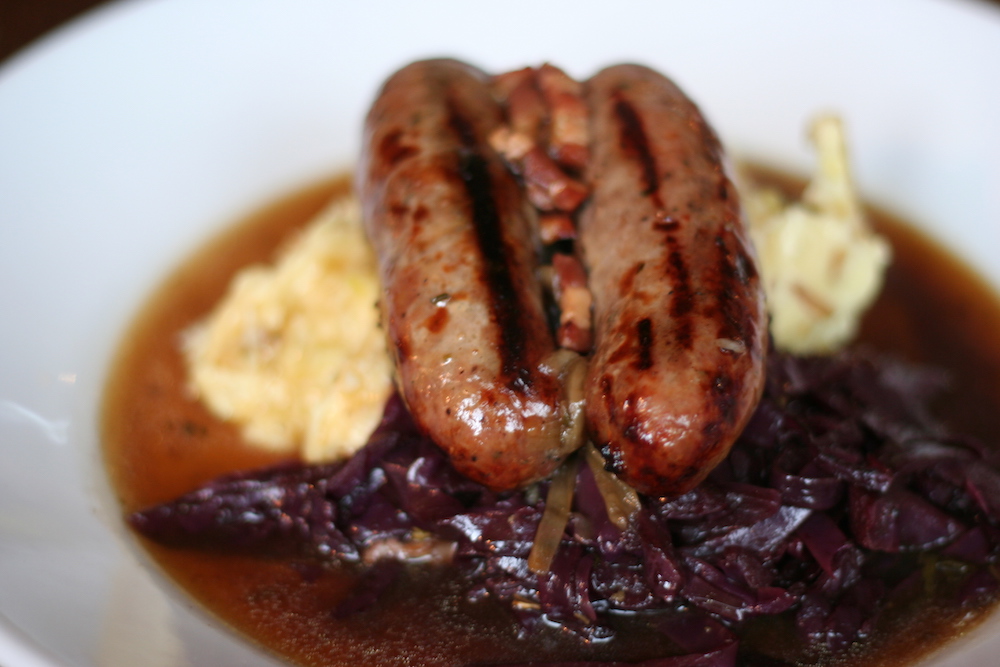 Bangers and mash is comfort food at its finest. It's sausages and mashed potatoes with a pool of gravy to go with it. As the Scots would say, this is a dish that'll stick to your ribs.
15. Tunnock's Tea Cakes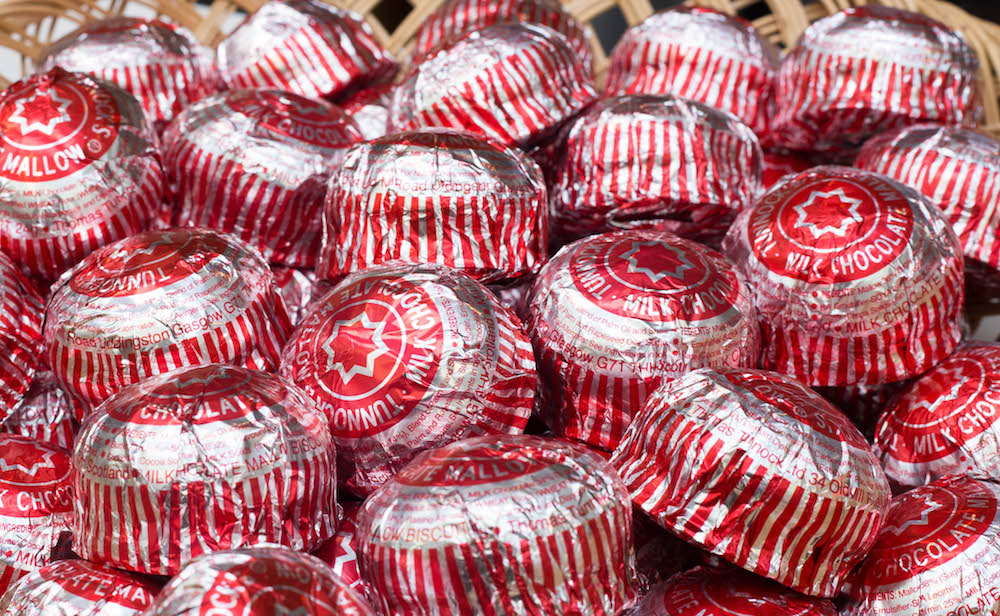 My AirBNB hostess left a Tunnock's Tea Cake on my pillow, and it hit the spot after spending the night on a plane. Essentially it's a soft marshmallow on a thin biscuit base that's been dipped in chocolate. They're light and fluffy, and I could eat about 10 in one sitting if I'm not careful.
16. Irn-Bru
Irn-Bru is the top selling soda in Scotland and is a bit like I'd imagine orange cough syrup to taste like. It's unlike anything I've ever had, and while it's overpoweringly sweet, it's not altogether unpleasant.
17. Porridge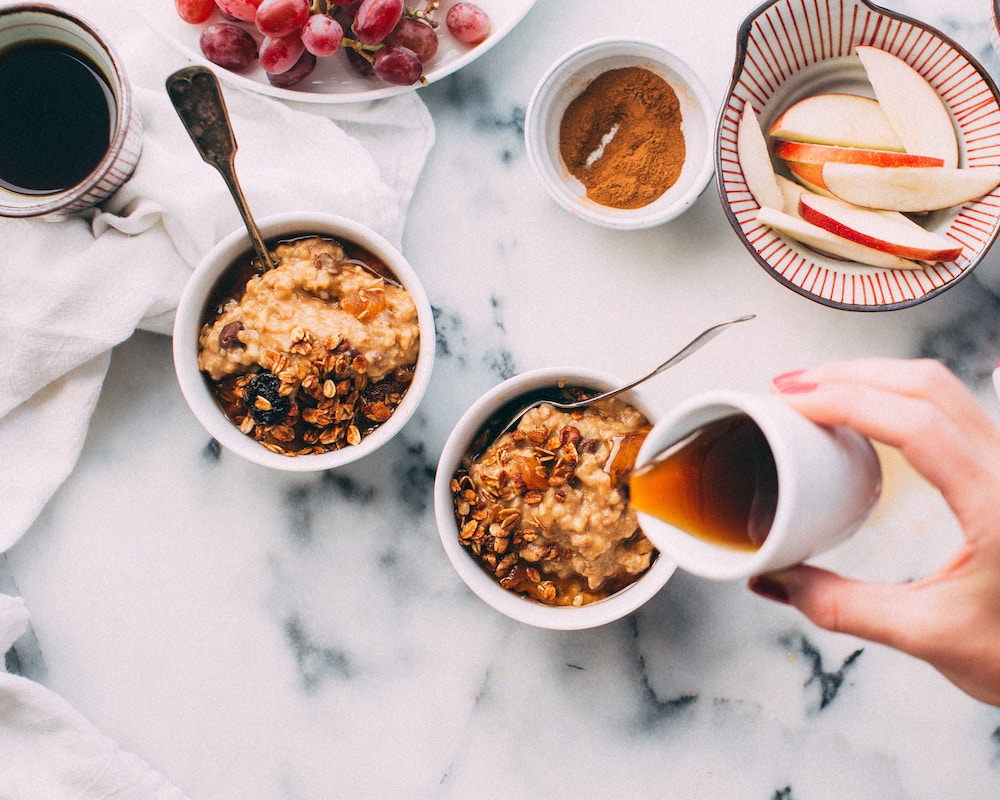 Porridge is oatmeal's thicker cousin and is topped with the usual assortment of dried fruits and nuts. Scottish porridge is typically salted, and can also be topped with butter and honey.
18. Terry's Chocolate Orange
Another UK-wide treat, Terry's Chocolate Orange is a must when visiting Scotland. It's a ball of milk chocolate with a little orange extract in it that you eat slice by slice like you would a real orange. I was stupidly excited when I tried it for the first time, and I'm savoring the last few pieces I brought back with me.
19. White Cheddar cheese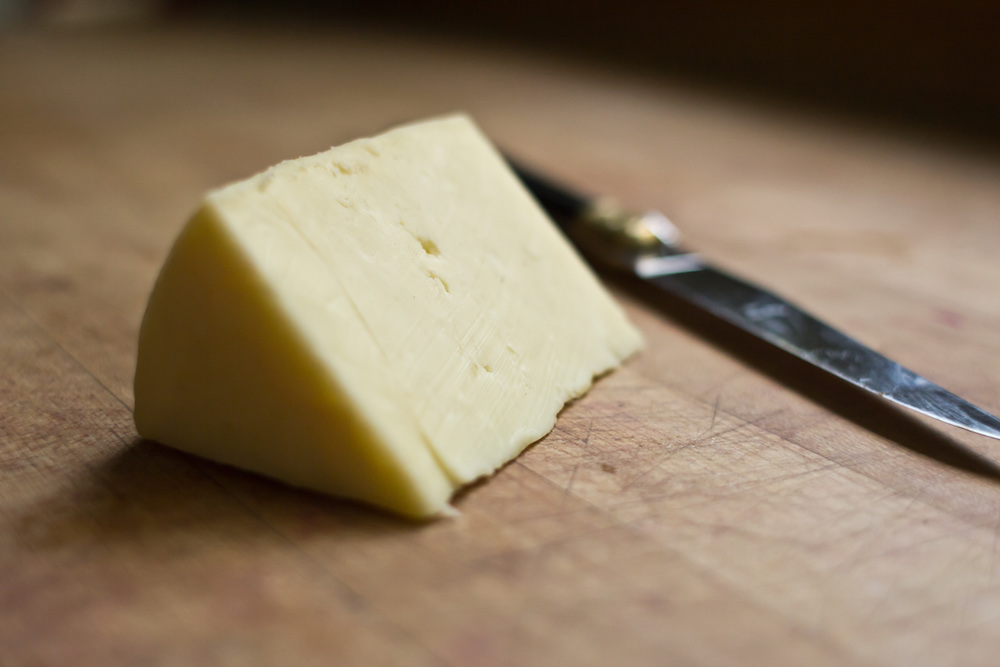 I know this seems like it's out of left field, but Scottish cheddar cheese is legit. I ate about half a block of sharp white cheddar at my friend's house in Edinburgh, and it was a run of the mill brand she got at a grocery store. Splash out on a cheese board at dinner one night or swing by a supermarket to grab some local cheese, because this stuff is incredible.
20. Arbroath Smokies
Arbroath Smokies are a type of smoked haddock (which is a small fish). The version of this dish I tried was baked in tomato sauce, cream, and Parmesan and was absolutely delightful. The smoked haddock has a strong fishy flavor that permeates the entire dish.
21. Haggis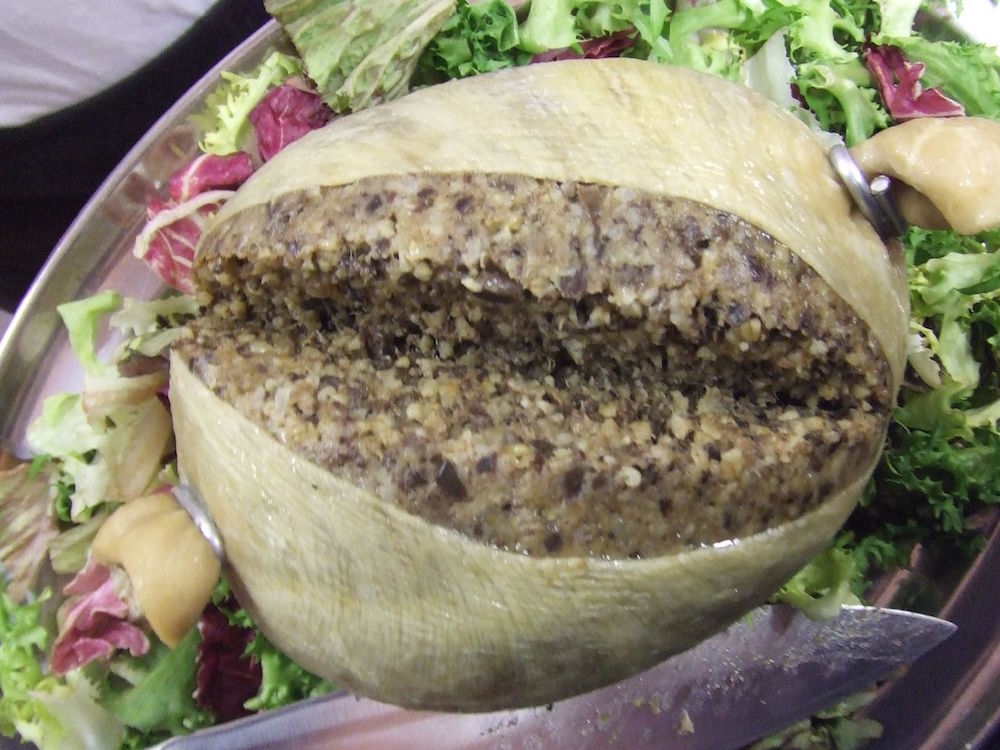 You didn't think I'd forget Scotland's national dish, did you? I feel kind of bad, because I actually haven't tried the two most Scottish items on this list, whisky and haggis. In my defense, I was staying with a friend who has a particular aversion to it, so the chance to sample it didn't arise. Haggis is a savory pudding made of sheep's innards, oatmeal, suet, spices, and other mystery ingredients. It's not the most aesthetically pleasing meal, but it must be pretty tasty if it's Scotland's most well known dish.
22. Tattie Scone
Tattie scones are a mixture of butter, salt, potatoes, and flour that's rolled thin and cooked in a pan. My friend's mom made tattie scones for us that were slightly crispy on the outside and baked in the oven. We ate them with a little butter and jam on top and they were utterly delightful.
23. Millionaire's Shortbread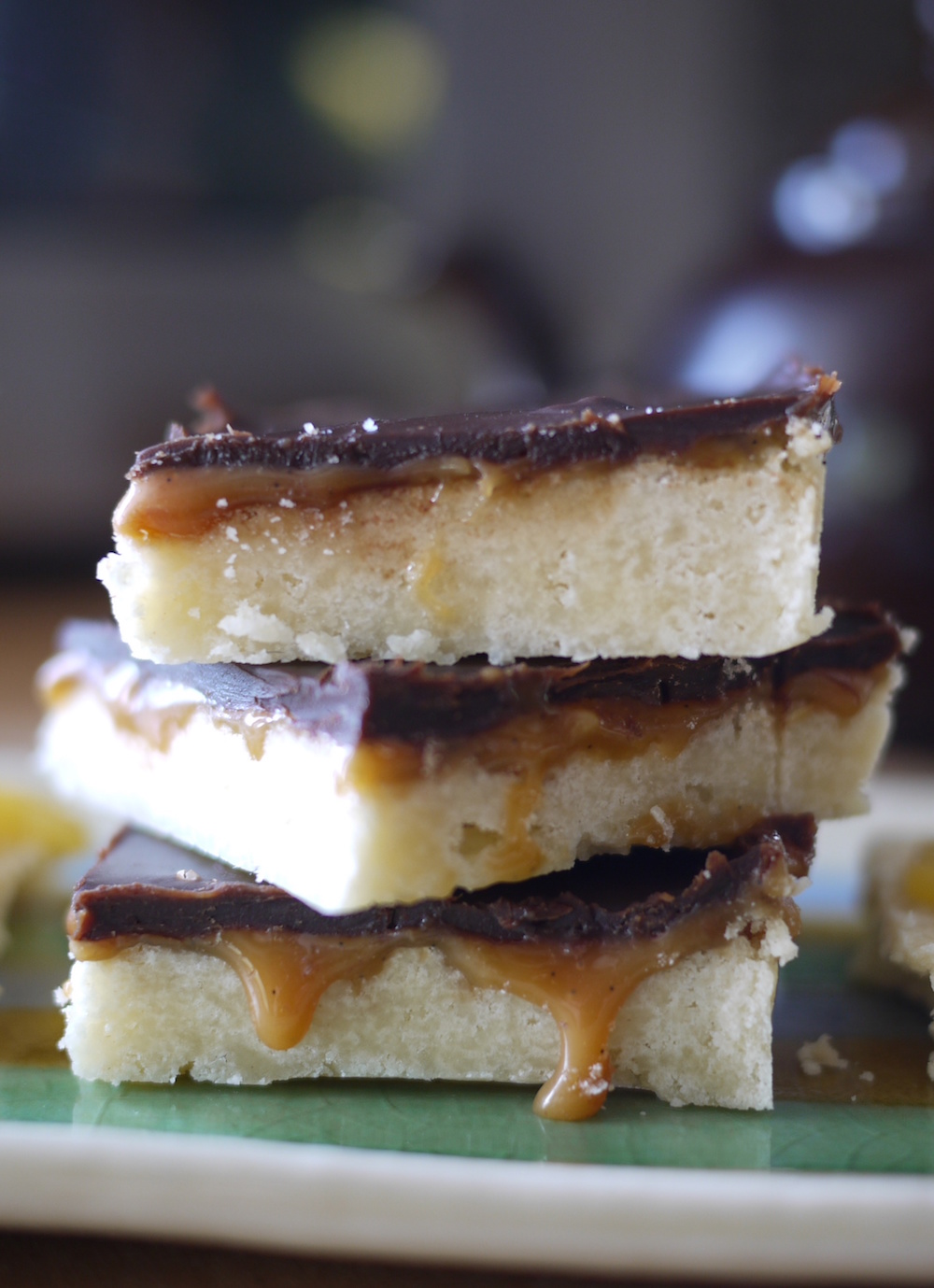 Another treat loved all over Britain, Millionaire's Shortbread is a layered dessert made of shortbread, caramel, and chocolate. I first tried it in Stirling at a local café that had a pastry case filled with cakes and pies. Millionaire's Shortbread isn't fancy, but it hits the spot.
24. Oatcakes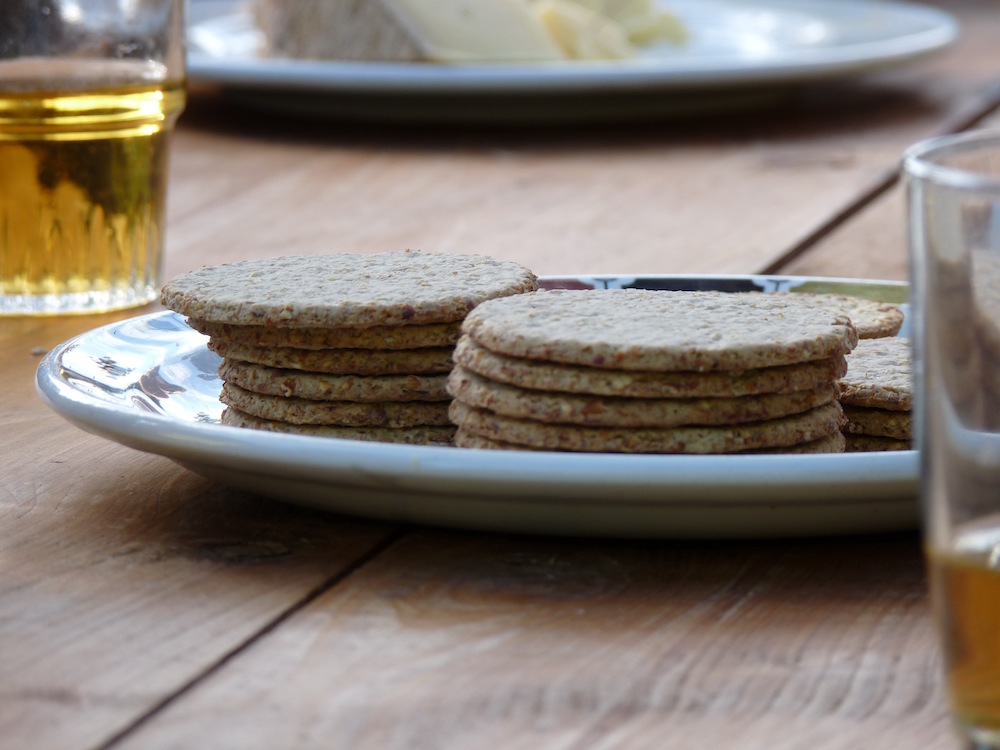 Oatcakes are a no-frills cracker you can find on any supermarket shelf in Scotland. They're fairly bland, which makes them perfect for topping with cheese or jams. They have a Triscuit-like texture, and are nice and crumbly.
25. Pot of Tea
If you eat your way through this list of Scottish foods, you'll need a pot of strong tea to help you digest. Scots love their tea, and they're firm believers in drinking loose leaf tea. If you want to feel like a local, take a load off at a café and order a pot of tea and a scone or slice of cake.
If I've missed one of your favorite Scottish foods, please let me know! I'm always looking for new foods to try on my travels. Now that you know what to eat in Scotland, you can graze your way through it like a local.
Tell me: What's the best meal you've had on vacation?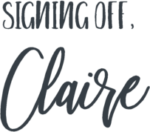 More posts you'll love:
Pin it for later!