From museums to parks to window shopping to good eats, there are SO many things to do in Glasgow. Below are just 10 of my favorite Glasgow attractions.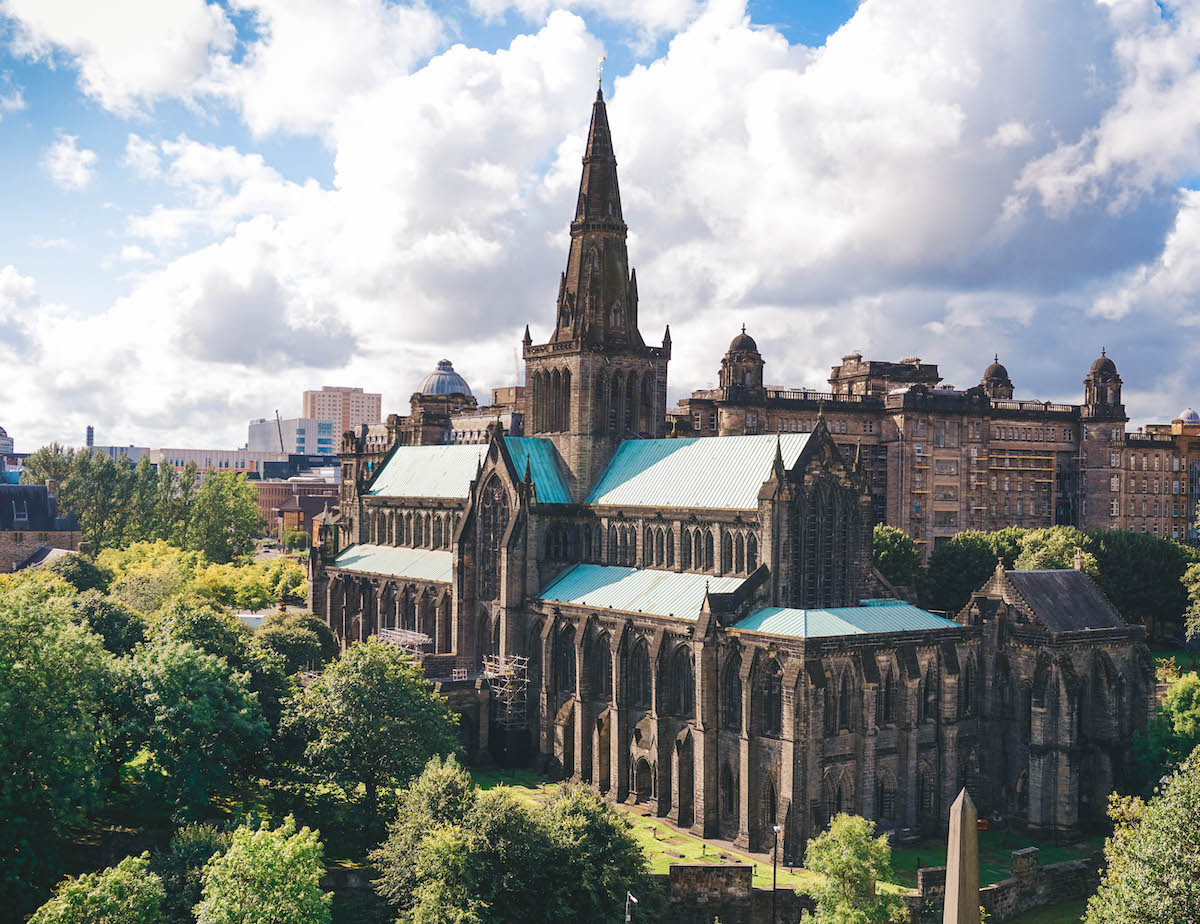 Nestled along the banks of the River Clyde, Glasgow is rich in history and there are so many interesting things to do and see here. Glasgow's history stretches back to 550 CE, when St. Mungo arrived and formed a religious community in the area. In 1450, Glasgow was named a royal burgh and it flourished as a market center. Its position on the River Clyde and its proximity to the Highlands have long benefitted the city.
Today, Glasgow is an industrial city. It's often compared to Edinburgh, and from what I've heard Glasgow is often overlooked in favor of Scotland's busier, more glamorous capital city. However, Glasgow is absolutely worth visiting! There are genuinely so many things to do in Glasgow, and because it's easy to get most places on foot you're able to properly experience the city when you visit.
Below are some of my favorite things to do in Glasgow, Scotland. In general, I took my time exploring the city and didn't sweat seeing a certain number of attractions each day. If you have the time, I recommend walking to each of these Glasgow attractions because the city is so compact.
1. Window shop on Buchanan Street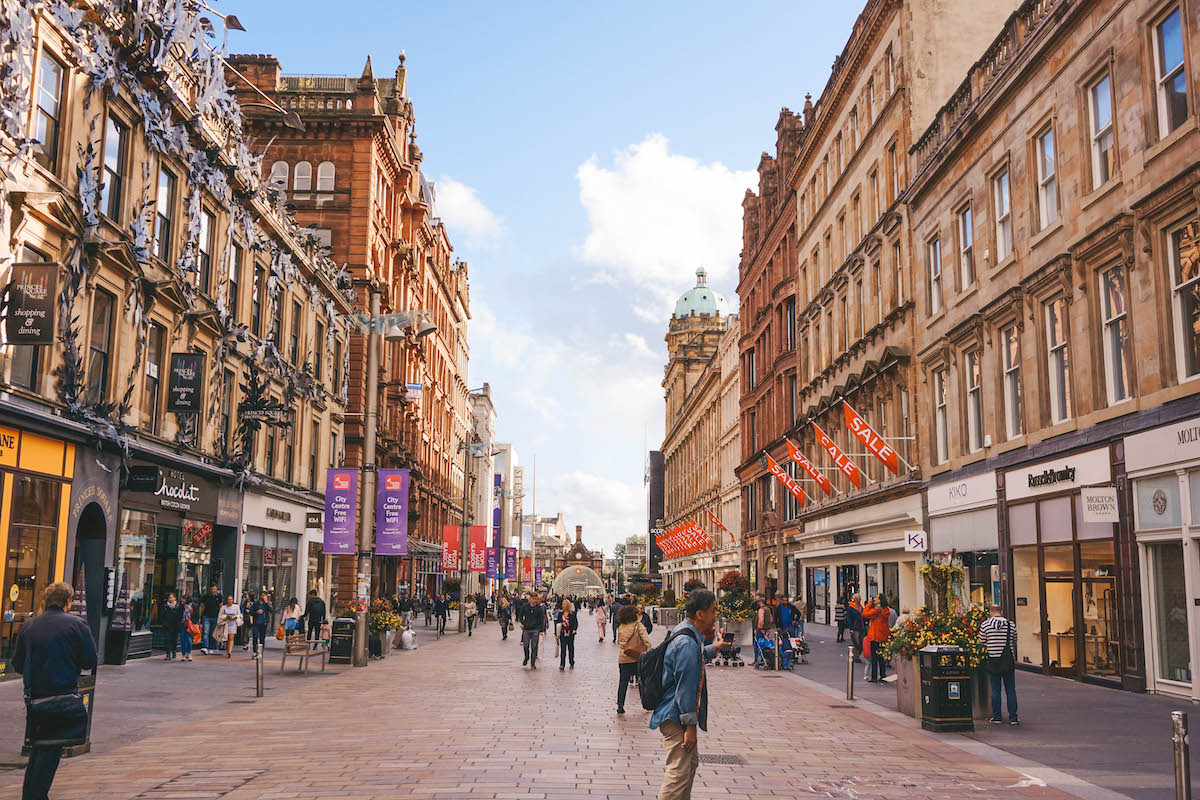 Buchanan Street is arguably the prettiest street in Glasgow. It's the place to window shop in the city and is filled with every retail store you could want. Although I visited Glasgow during its primary tourist season, I never felt too crowded while meandering down Buchanan Street.
The only drawback is that there are no local boutiques here, but I suppose that's to be expected in such a busy shopping area. There are lots of side streets with more shops as well, and the Gallery of Modern Art is just off Buchanan Street, too.
2. Tour the City Chambers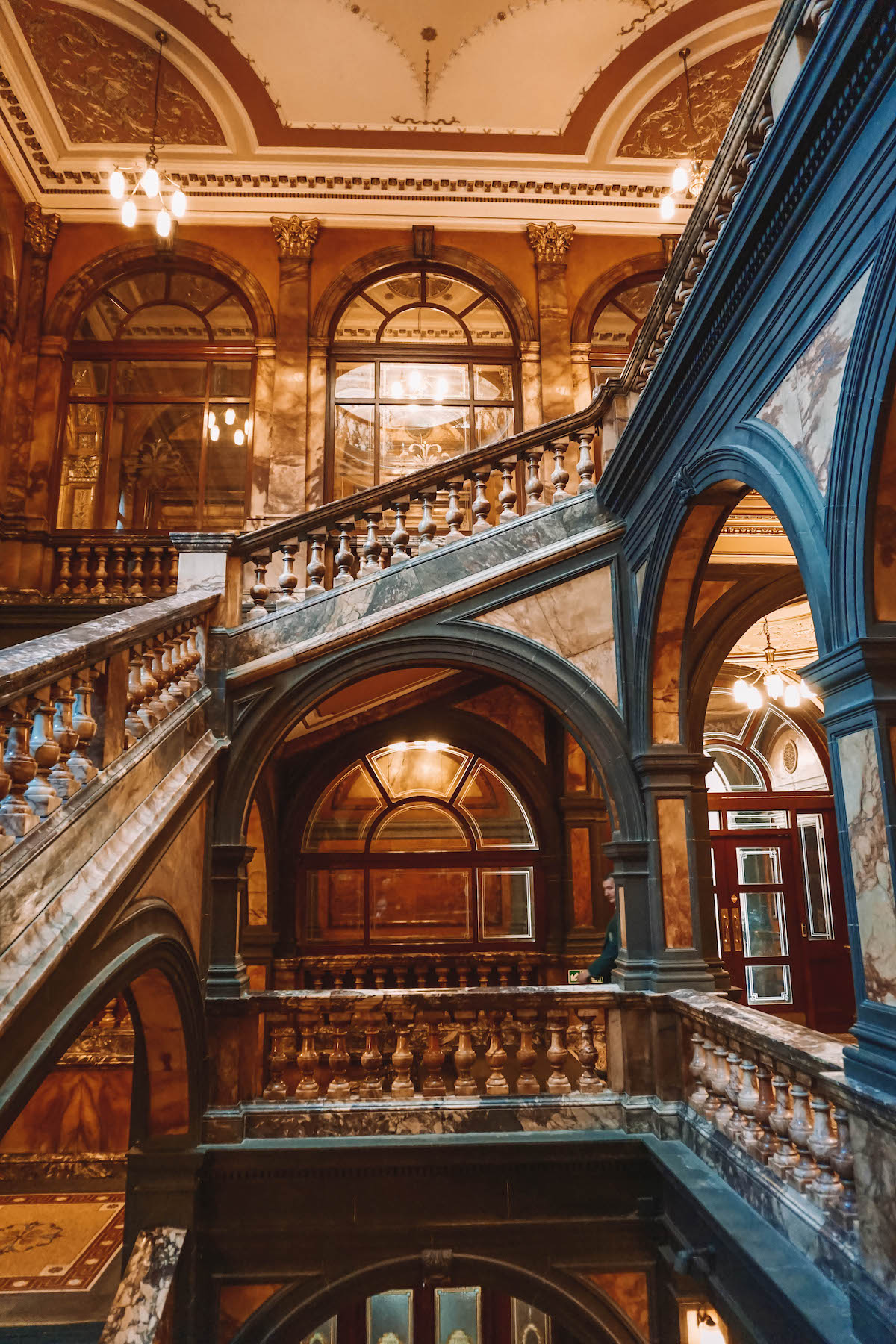 No exaggeration, as soon as I dropped my stuff at my AirBNB I booked it to the City Chambers to get a ticket to their afternoon tour. Tours of the City Chambers building are free and last about an hour. The tour is fabulous and is a great way to begin your visit to Glasgow if you know literally nothing about the city's history or politics like me.
I learned so much about Glasgow's history on the tour and I was actually shocked at how beautiful the building was. The staircases were arguably the star of the whole building and they reminded me of the moving stairs in the Harry Potter movies.
3. Visit the Glasgow Cathedral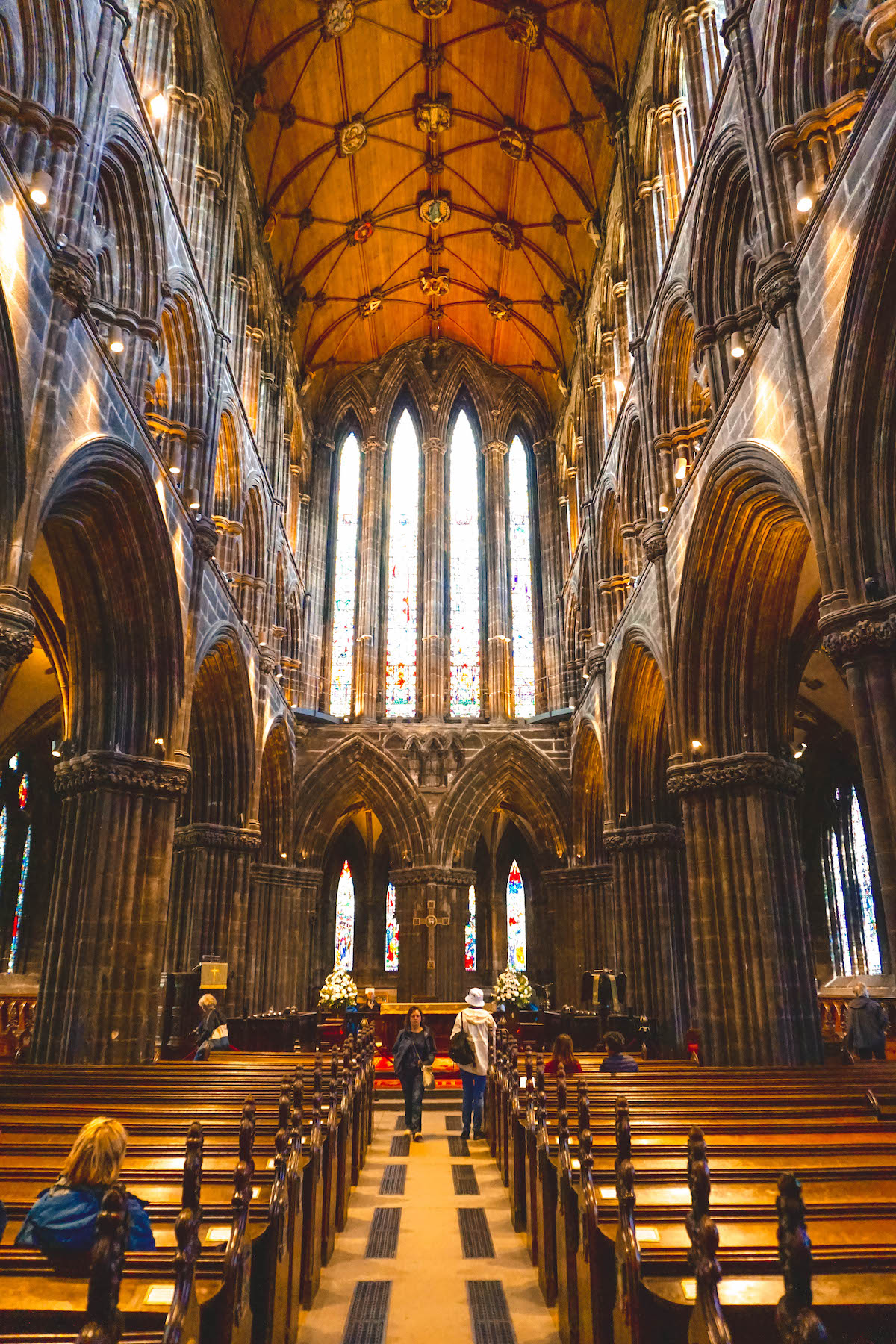 If possible, visit the Glasgow cathedral on a sunny day, because the light streaming through the stained glass windows is absolutely gorgeous. The front hall of the cathedral is quite plain, but once you pass through a set of arches you're met with a lovely worship area. The cathedral is very no-frills, and you can tell it's seen its fair share of history.
The cathedral was built on the site where St. Mungo (the patron saint of Glasgow) was supposedly buried, and a shrine in his honor can be visited in the cathedral's crypt.
Outlander fanatics (like me) might also recognize parts of the cathedral as the hospital where Claire Fraser volunteered while she lived in Paris. It's tough to see the cathedral as it looked in the series since they moved around all the benches and such, but it's still fun to know you're walking where film stars have been!
4. Explore the Necropolis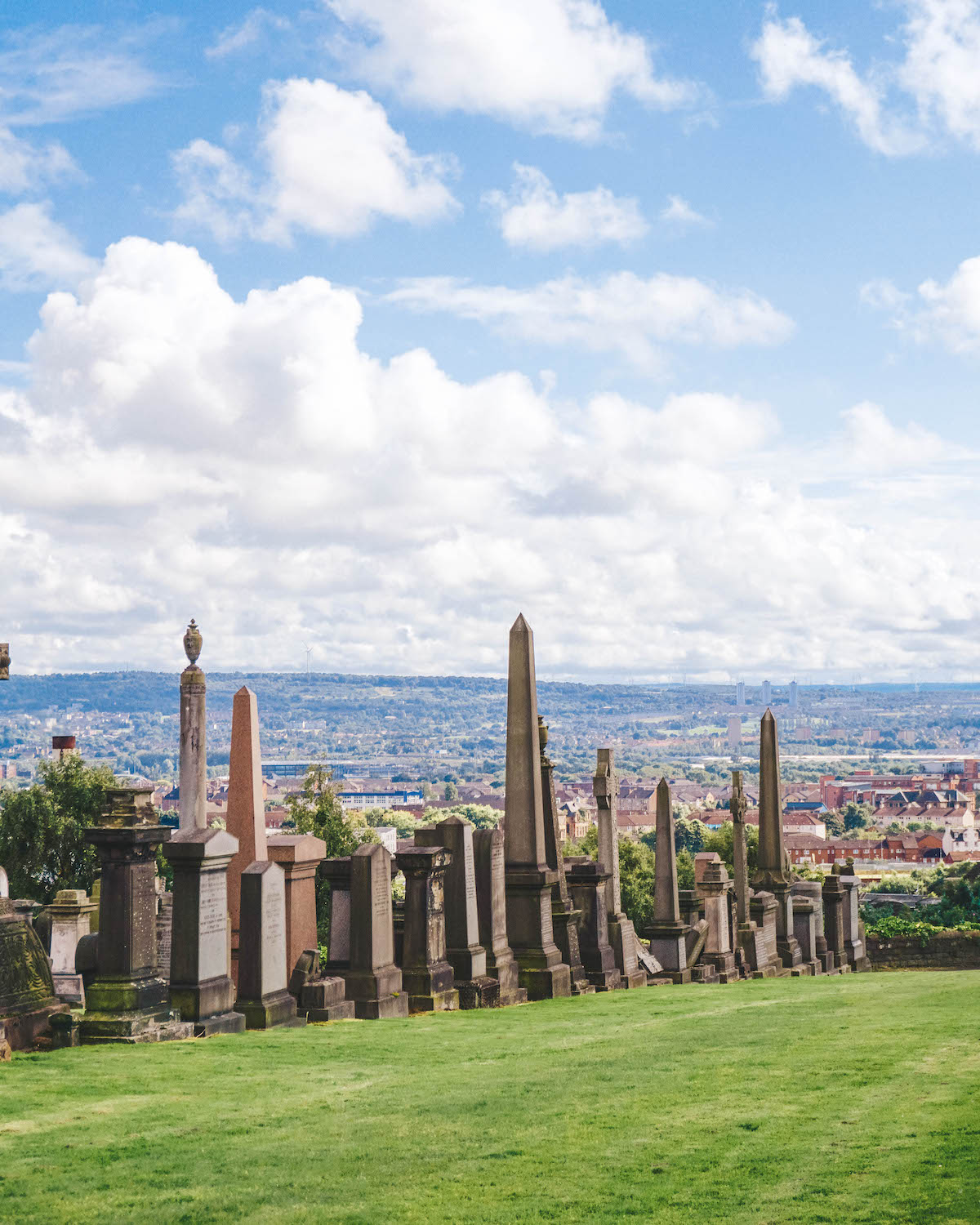 A short walk from the cathedral is the Necropolis, which sounds extremely sinister but is actually the prettiest view of Glasgow. The Necropolis is unlike anything I've seen; there are scores of graves that wind their way up a massive hill. At the very top of the hill is a large monument to John Knox, who was the leader of the Scottish reformation.
I highly recommend taking your sweet time to explore the Necropolis since it not only offers a great view of Glasgow, but it's also just a pretty park area to stroll through. The tombstones here are absolutely massive (the majority are taller than me!).
Tip: If you're lucky, you'll meet a nice Scottish gentleman who'll give you recommendations of good restaurants in the city (don't get too excited, Mom, he was easily mid-50's).
5. Take a Coffee Break in George Square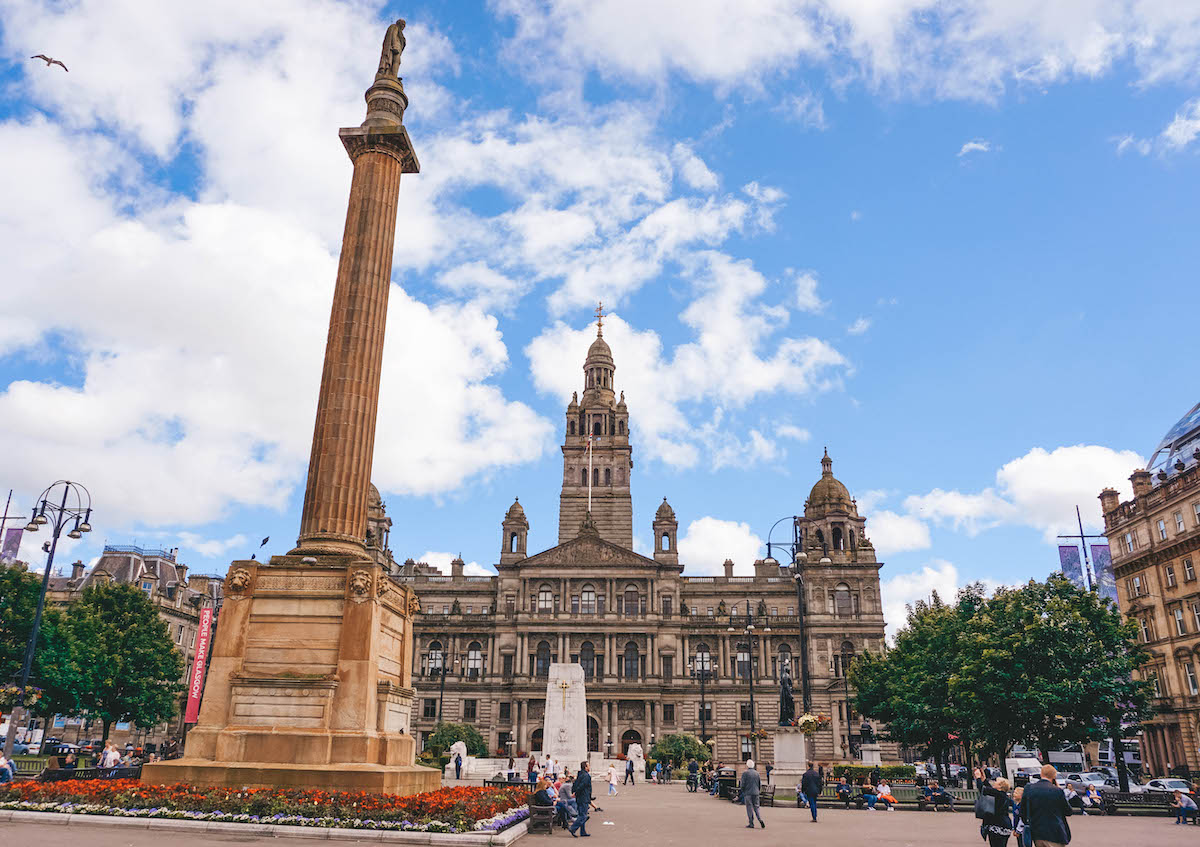 George Square is smack in the middle of the city center and is a great place to just chill out and people watch. If you're in Glasgow for just a day, you'll likely see George Square if you're arriving from Queen Street Station.
If the weather's nice, grab a coffee from a nearby shop (Costa is a good coffee chain in the UK that I think any Starbucks-loving American should try!) and plop down wherever you're comfy.
6. Eat (a lot) in the West End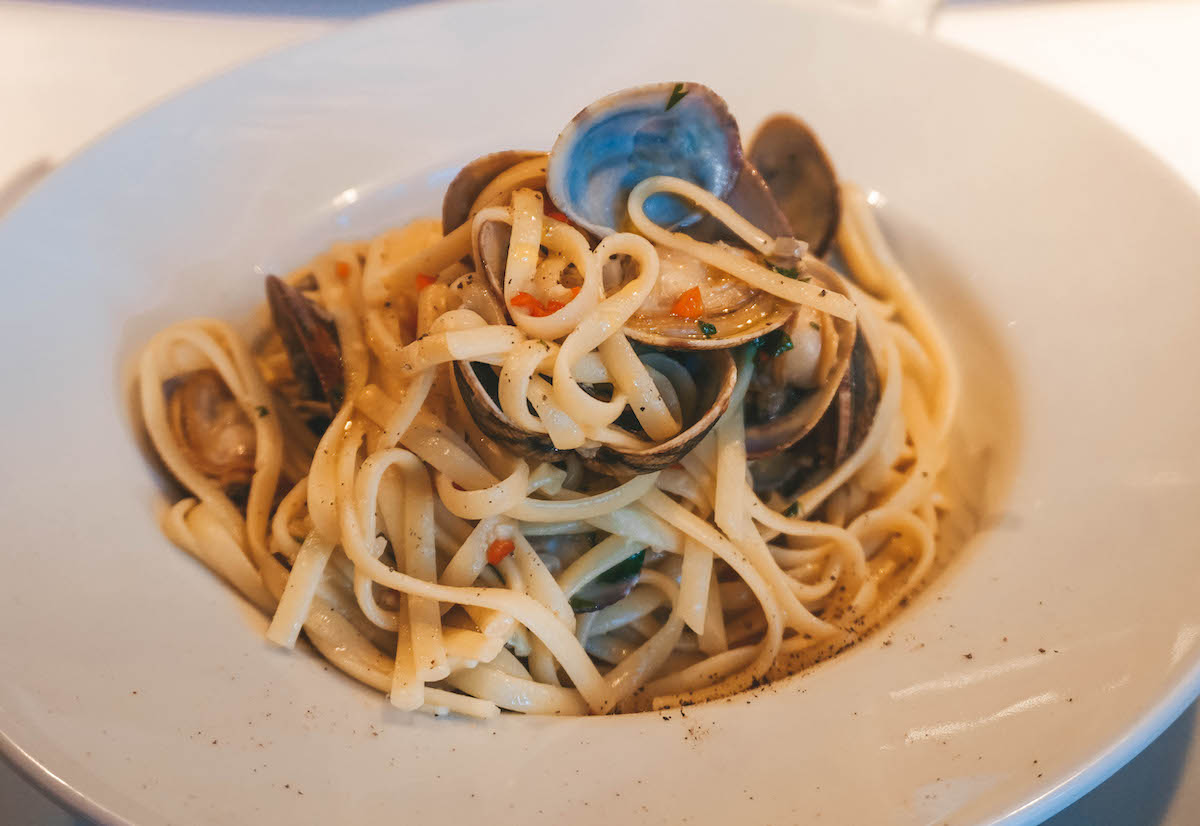 I was a bit disappointed when I visited the West End, only because I thought it would be filled with lots of local boutiques for window shopping. As it turns out, the West End is mainly restaurants and bars, which is totally cool as long as you know to expect it.
Though it looks really far away on the map, you can easily walk to the West End from the city center. You'll also want to pop your head into Ashton Lane while you're here, which is a super cute (but super short) side street that's strung up with twinkle lights year-round.
7. Visit the Kelvingrove Art Gallery & Museum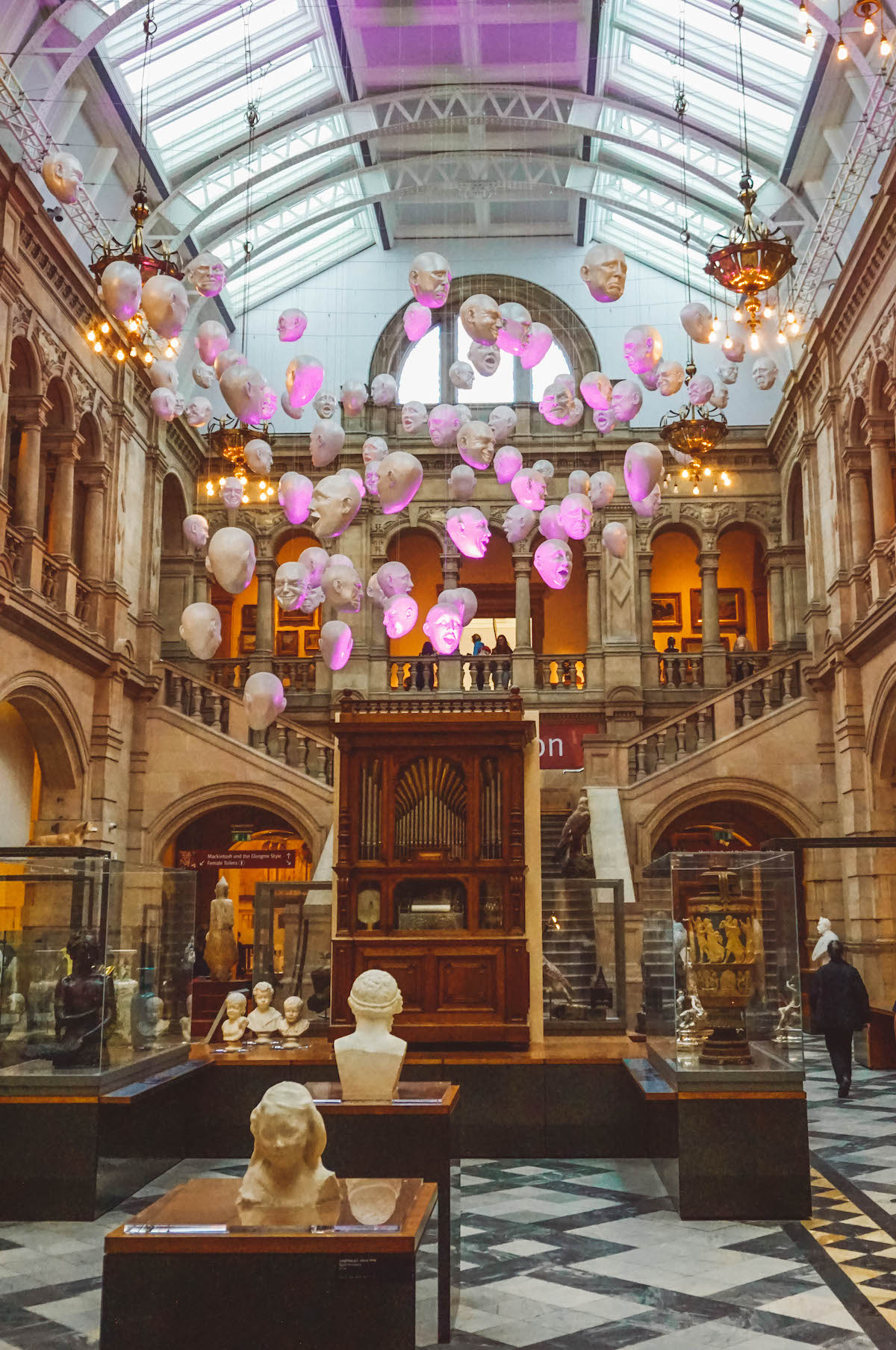 The Kelvingrove is essentially a mini Victoria & Albert Museum, and is packed with a hodgepodge of artifacts. I preferred the gallery portion of the museum, as the other exhibits were a touch too family-oriented for my taste (great stuff to look at, but the information cards were obviously written for kids and teens).
The building itself is also beautiful and well worth taking photos of. One side of the entry hall is taken up by a massive organ, and if you're lucky an organ concert will take place while you're in the museum!
8. Walk along the River Clyde
I wish I could tell you a romantic tale about how gorgeous the River Clyde looks in all weather, but in reality it looks kind of miserable in the rain. It's a whole different story when the sun is shining though. I was lucky enough to have an AirBNB that overlooked the river, and I don't think I'll ever forget waking up to the river each morning.
9. Visit the University of Glasgow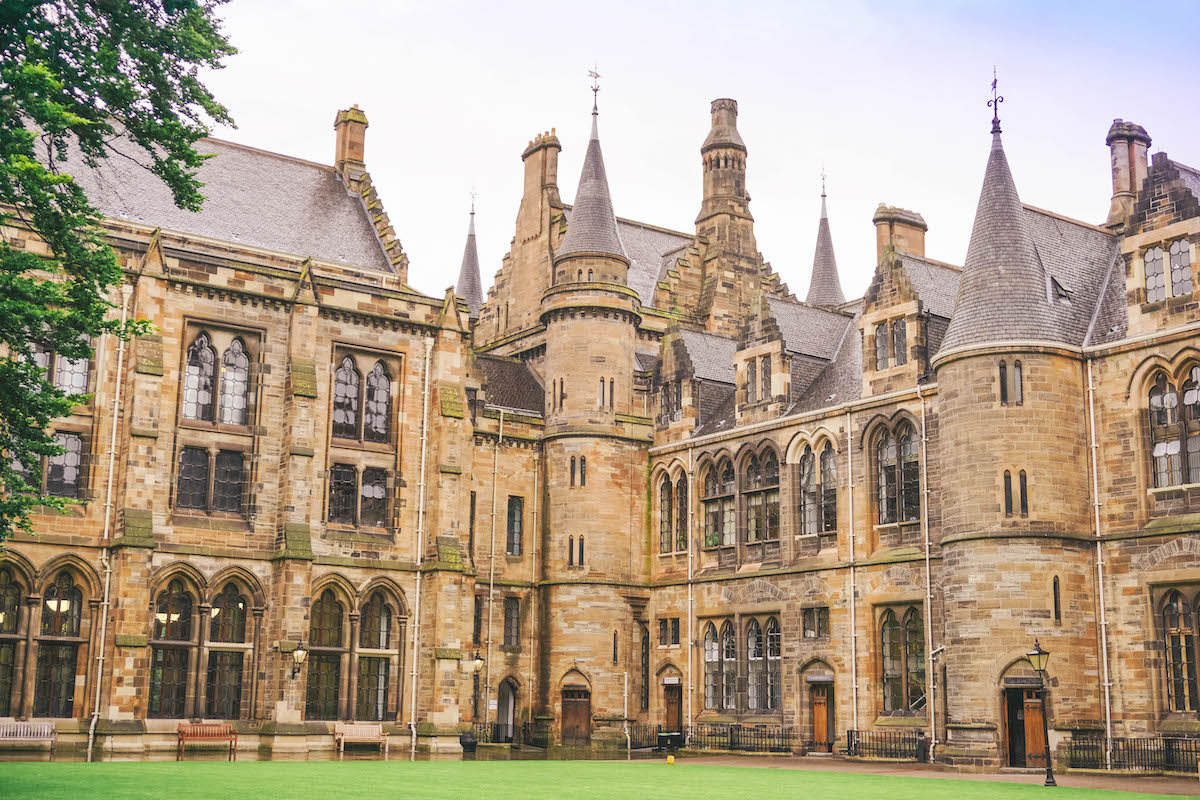 If you can, try and hop onto a tour of the university, as that will give you the most information about its history and the famous scholars who've studied there. The courtyards of the main university building are stunning, and I couldn't take enough photos!
Since it's a school, you can't go poking your head around into many buildings, but the parts you can see are worth visiting.
10. Take a Day Trip to Edinburgh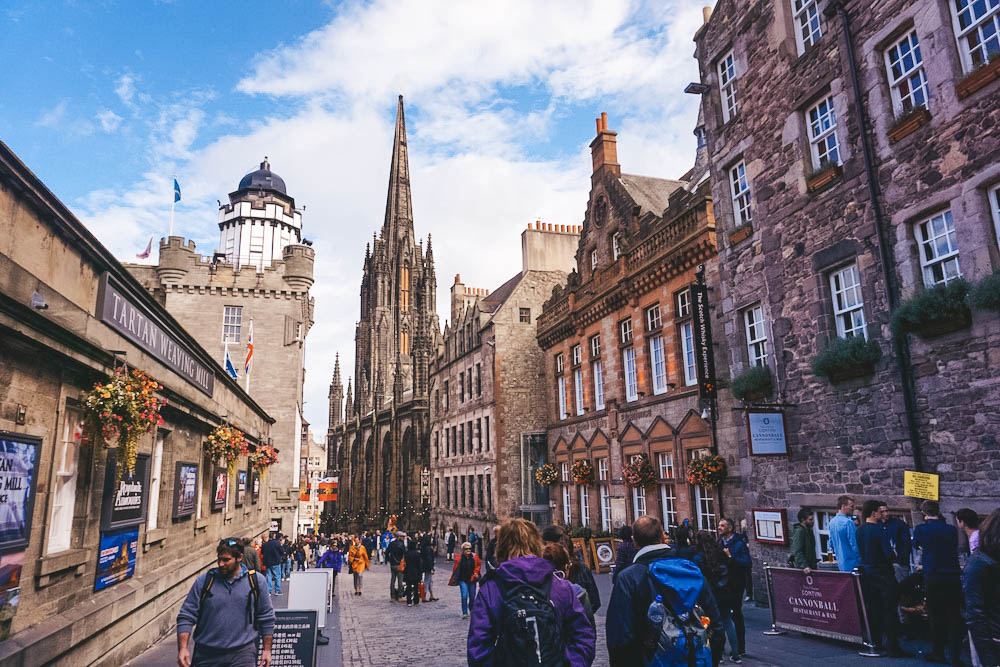 Edinburgh is Scotland's capital city, and there are shops and museums galore there. You absolutely can't see and do all of the fun things in Edinburgh in a single day, but if you won't be in the area for long then a day trip might be worth it for you. Edinburgh is about an hour away from Glasgow via train, and trains between the two cities run frequently.
If you want to know what to do in Edinburgh, check out this post for all of my top recommendations.
Even More Things to Do in Glasgow!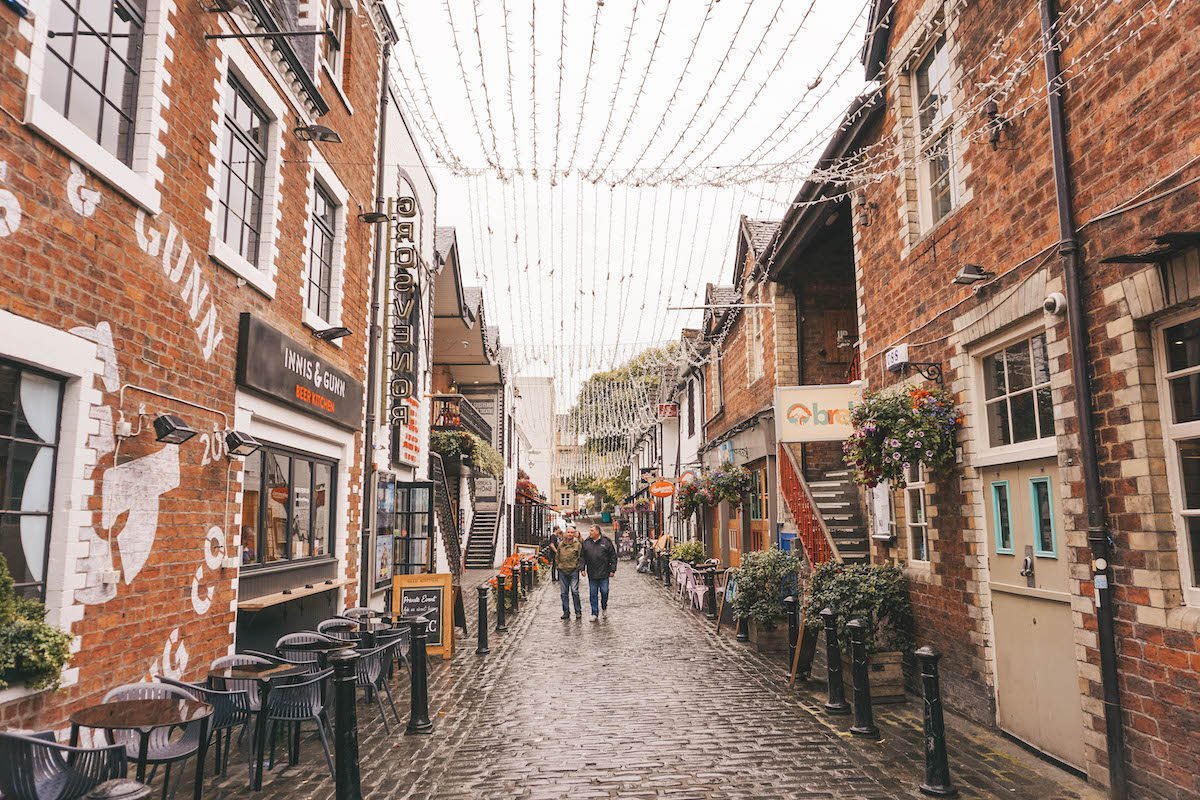 Other things to do in Glasgow that you might want to investigate are:
I chose not to visit these places because I wanted to take an extra day trip, but they come highly recommended from friends and sound really cool!
Tips for Your Visit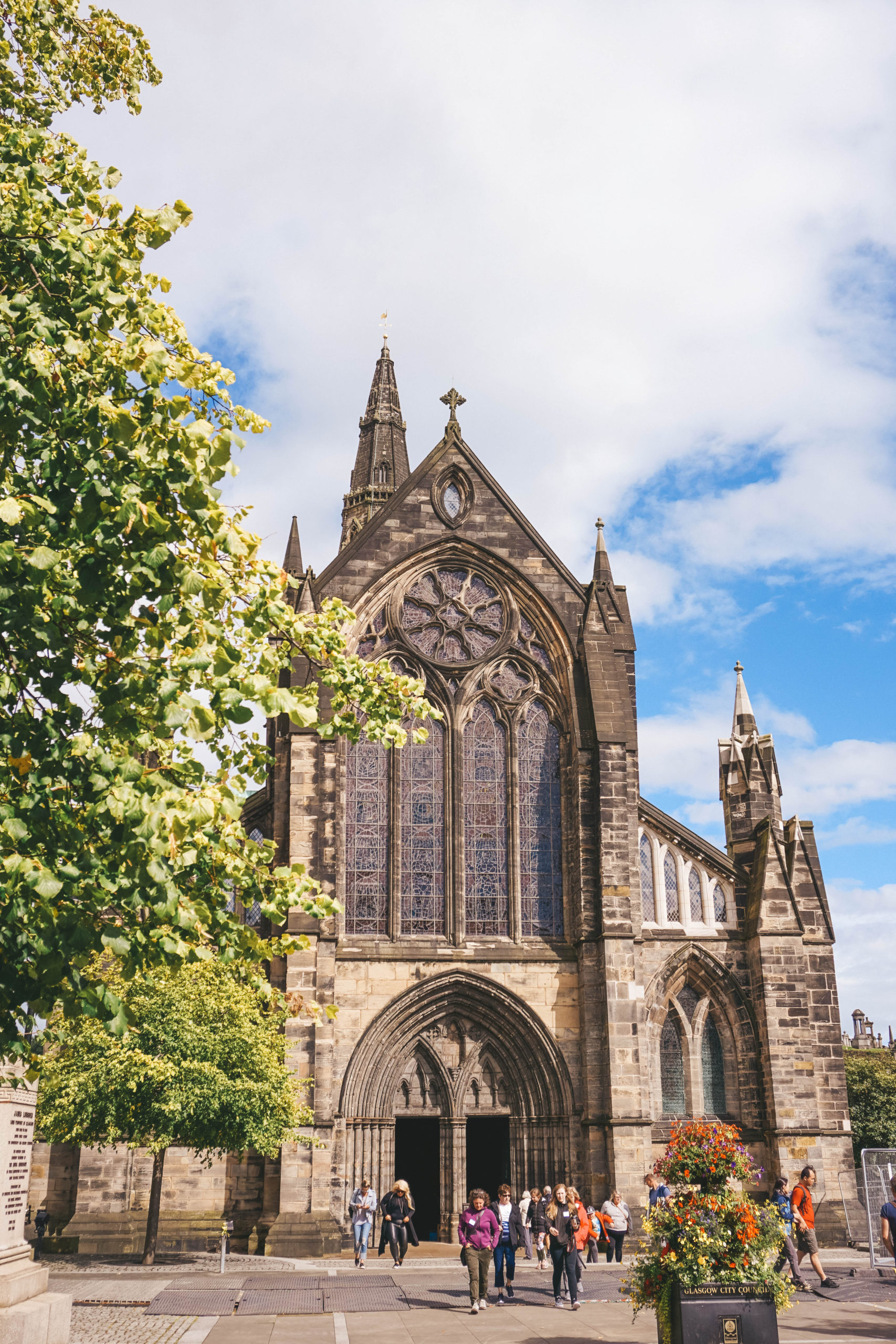 If you're planning a trip to Glasgow, there are a few key things you should know:
Days needed in Glasgow: I'd say two full days in the city is more than enough time to explore, but definitely stay for longer to squeeze in some day trips. You can take the train or bus to lots of sites nearby, so don't fret about renting a car!
Size: Glasgow is smaller than you'd think. Although it's one of Scotland's major cities, it's nothing compared to the size of most cities in the US, meaning you can do more in a day here than you might think.
Getting around: Glasgow has a decent subway and bus system. An all-day ticket costs a mere £3. Although there are very few stops on the subway line (the entire loop around the city center takes like 30 minutes), I still thought it was worth it to buy a subway pass. It's still quicker than walking!
Currency: Scotland uses the pound sterling as its currency, so make sure to stock up before your travels.
Excited to Visit Glasgow? 
Glasgow has a different feel to it than other European cities I've visited, and it's well worth visiting. Now that you have an idea of what to do in Glasgow, I hope you're excited to plan your travels! Edinburgh gets a lot of the hype when chatting about traveling to Scotland, but Glasgow has its own unique charm and I thoroughly enjoyed my visit.
Tell me: What's your go-to activity in a new city? I scout out historic monuments and buildings first, but I'm also a big window shopper.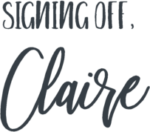 Itching to visit Scotland?