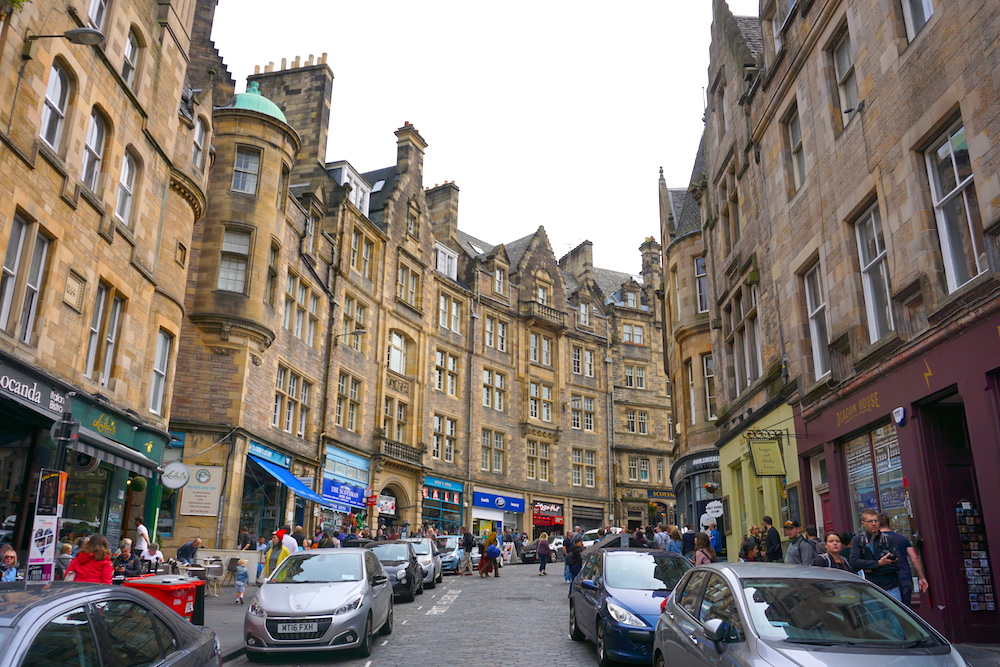 Have you noticed how impossible it is to tell someone about a trip you took all in one go? After I studied abroad in Germany, I think I brought up my trip in every conversation for about a year afterwards. It's physically impossible to cram in all the little details of your adventures in one sitting, which is both wonderful and maddening at the same time.
As usual, I'm continually remembering little details of my trip to Scotland, and I'm forever thinking of new ideas and stories I want to share with you all. I have a feeling you won't mind me oversharing tidbits from my trip (you're all fabulous like that!).
One of the things I haven't been able to stop thinking about is the number of excellent places to shop in Edinburgh. I rarely buy clothing anymore, but I love window shopping. And while I enjoy an afternoon of window shopping normally, I go bonkers for an afternoon of window shopping in Europe. Edinburgh has so much old-world charm, and its shopping streets are seriously magical.
Below are a few streets that I found had the best shopping in Edinburgh. Whether you're looking for souvenirs to bring home or higher end stores, there are plenty of options in Edinburgh.
Royal Mile
Naturally, I had to include the Royal Mile on my list of best places to shop in Edinburgh. As you likely already guessed, the Mile is roughly a mile long and filled with all the tourist knick knacks you could want. The Royal Mile sells the type of stuff I like to look at but would never buy because it's so overpriced. However, the wool scarves are really good quality, so if it's in your budget something from one of the many wool clothing stores would be a nice souvenier.
Also, if you're drawn to Scottish sweets like I am, save your cash and buy whichever candies you're eyeing at a local Tesco. The grocery stores carry the same sweets for much cheaper.
Princes Street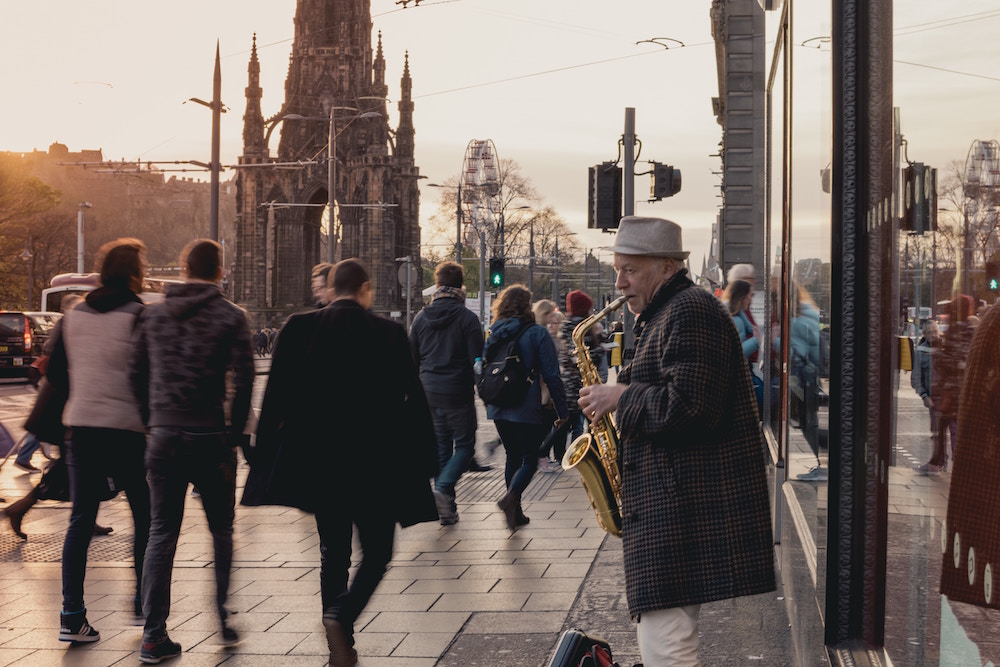 Princes Street is one of my favorite spots in Edinburgh. One side of the street is lined with every clothing store you could possibly imagine, while the other is taken up by Princes Street Gardens. You can find more affordable stores here like H&M, Zara, and Primark and enjoy the view of Edinburgh Castle the whole time you're window shopping. Remember what I said about buying Scottish candies at a grocery store? There's a Tesco Express at the end of Princes Street that'll do the job nicely.
Multrees Walk
The odds are high that you won't be able to afford much of anything at Multrees Walk, but that doesn't mean you can't have a good look around! The stores here are very high-end (think Louis Vuitton, Coach, and such). There's also a Harvey Nichols here, which is the British version of Saks Fifth Avenue.
George Street
https://www.instagram.com/p/BKGtHN0A1Hx/?taken-at=284925956
A few blocks from Princes Street, George Street has more affordable high-end stores (that's a bit of an oxymoron, isn't it?). L'Occitane, Molton Brown, and similar stores can be found here. You can find some nicer restaurants here, and at the end of the street is St. Andrews Square, which is a pretty green space.
Rose Street
Sandwiched between George Street and Princes Street, Rose Street is easily the cutest shopping street on this list. You'll find more independent shops on Rose Street and plenty of pubs. When I visited Edinburgh there were fairy lights strung up, which made the whole street look so stinking cute. If you're feeling a bit faint from all the window shopping you did on Princes Street, head over a block to Rose Street for a pint and some snackage (and then more shopping, obviously).
Bruntsfield Place
Bruntsfield Place was my favorite place to window shop in Edinburgh. It feels very European with its brightly colored storefronts and buzzing cafes. The shops here are mostly smaller independent stores, my favorite of which were Chocolate Tree (which specializes in chocolatey treats), the Edinburgh Bookshop, and Artisan Cheesecakes, which sells fabulous cheesecakes by the slice. There's also a park along the road called Bruntsfield Links, which is next to a much larger park space called the Meadows. I'd recommend visiting this area of town on a day when you want to feel like you're seeing the city, but also need to relax and rest your feet a bit.
Grassmarket
Grassmarket is snuggled in the center of Edinburgh's Old Town and is bursting with local shops and so much good food. Mary's Milk Bar is supposed to have incredible gelato (sadly never got to visit while I was in the city), and in the summer there are stalls set up selling even more food and locally made jewelry and art. Nearby is Victoria Street, which is a chocolate box-esque street that looks like stores were literally stacked on top of one another. The storefronts are all brightly colored and so fun to pop into!
Like I said, I rarely buy clothing any more (small apartment problems!), but I took home a boatload of chocolates and candies with me. One thing I particularly loved about window shopping in Edinburgh was the number of green spaces and parks scattered throughout the city. If I ever got tired of walking around, there was usually a park nearby where I could spread out on the grass for a bit and relax.
Tell me: Do you prefer shopping at local boutiques or larger chains?
Signing off,
Claire
More posts you'll love:
Pin it!