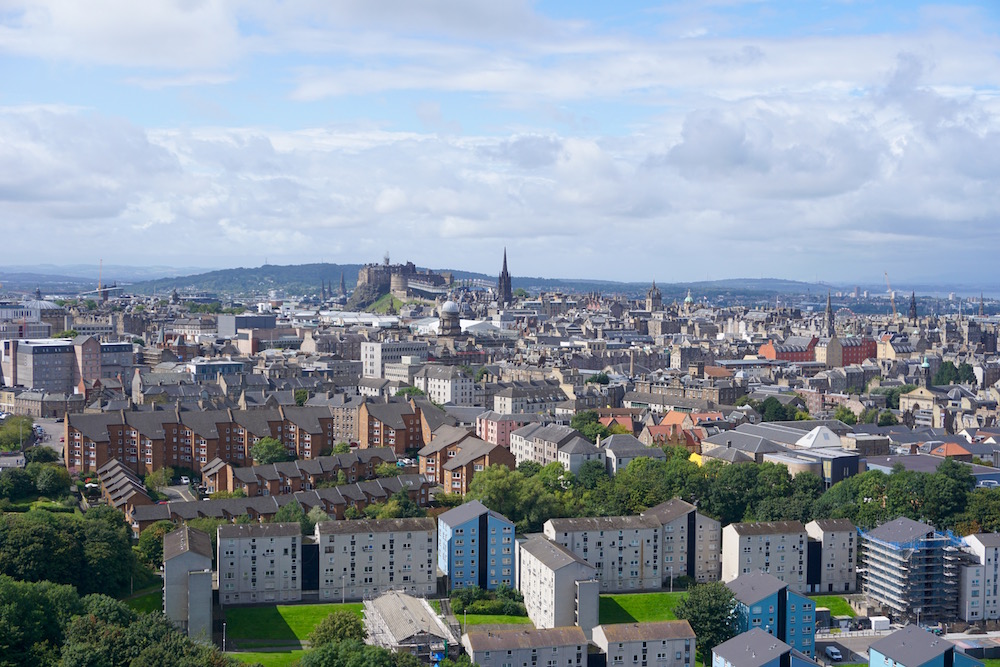 I'm a touch jet lagged as I'm writing this because I just got back from two incredible weeks in Scotland. My flight landed at 11am Glasgow time, and I hit the ground running as soon as I'd had a quick shower at my AirBNB. The second leg of my trip was spent with my friend, Flora, in Edinburgh. What sticks out to me most about my trip is how beautiful Scotland is. The cities are filled with character, and the grass in the countryside really is neon green from all the rain.
It only seemed fitting to start my Scotland series with a list of the best views of Edinburgh, since the first thing I do in any city is get as high up as possible to take it all in. The five places listed below give unbeatable views of Edinburgh from different angles, and many of them won't cost you a dime (which makes a good view even better in my book).
Arthur's Seat
Arthur's Seat is a massive hill near Holyrood Palace that was once a volcano. There are two paths you can take up it, one that goes to the very top of Arthur's Seat and another that takes you about halfway there and then heads back down again. Since I was wearing very tight skinny jeans, Flora and I opted to take the shorter route. The view from Arthur's Seat is amazing—you can see the Royal Mile to your right and the Firth of Forth, as well as any number of iconic buildings in the city.
The wind about knocked my over the edge while I was walking along Arthur's Seat, so definitely wear solid walking shoes and don't get blown over!
Calton Hill
Another gorgeous view, free of charge. Calton Hill was made popular during Scotland's Enlightenment when people started promoting the great outdoors as being good for your health (go figure). It looks a bit like the city started building a mini-Athens on the hill and then gave up. On one side there's a huge Acropolis-esque structure that you can clamber up onto if you're brave enough (and tall enough). There's also the Nelson Monument, an observatory, and a few other buildings that you can poke your head into. If you're traveling with a significant other, bring them here for sunset and let the romantic atmosphere work its magic.
Roof of the National Museum of Scotland
Though not as high up as Arthur's Seat or Calton Hill, the rooftop of the National Museum of Scotland still has a pretty great view of the city. You can enter the museum free of charge and take the elevator up to the 7th floor for a fab view of the castle. While you're at it, take some time to explore the museum as it has excellent exhibits.
Top of the Scott Monument
Dedicated to Sir Walter Scott, the Scott Monument is a stunner to look at and even more fun to climb. It costs £5 to enter, but it's a great place to visit if you don't have the time to take a hike for a better view from Arthur's Seat. The Scott Monument is next to the Princes Street Gardens, which are worth taking a stroll through. If the Scott Monument isn't calling your name, there's a ferris wheel next to it that might interest you!
Edinburgh Castle
The views from inside the castle are great, but did you know you can access the castle's outer courtyard without paying? Just walk up and snap some shots of the city. Lots of people do it, so you won't be alone! As a word of warning, there are massive stands set up here in the few weeks leading up to and following August as the Royal Military Tattoo is held here all month, so your view might be impaired by them a bit.
The week or so after a big trip always feels very bittersweet. I'm excited to get back to work and my daily routine, but I already miss Scotland. If you find yourself in Edinburgh, I highly recommend checking out on the spots I've just discussed for an unbeatable view of the city.
Are you willing to pay to walk up a monument or clock tower to get a good view of a new city? I usually am not, but it really just depends on my mood that day!
Signing off,
Claire
More posts you'll love: