Governors Island is a small island by NYC that's part-historic site, part-park space. Here's what to do on Governors Island for the perfect "day trip" from the city!
This post was originally published September 2017 and was updated May 2022. 
When I first moved to NYC, Governors Island was one of the more underrated attractions in the city. Now, it seems like people have finally gotten the memo that this lovely island is the perfect day trip from the city — without having to actually leave NYC! Located just 15 minutes from the southern tip of Manhattan, Governors Island is one of my all-time favorite warm weather hangout spots.
On Governors Island, you'll find historic homes (that occasionally double as exhibition spaces!), plenty of green spaces, a relaxing hammock grove, and so much more. The Jazz Age Lawn Party in particular is one of the most popular events in NYC summer after summer!
Whether you're visiting the island for a full or a half day, there's so much to do and see. This post will share what to do on Governors Island, plus an overview of its fascinating history and answers to FAQs about the island.
A Brief History of Governors Island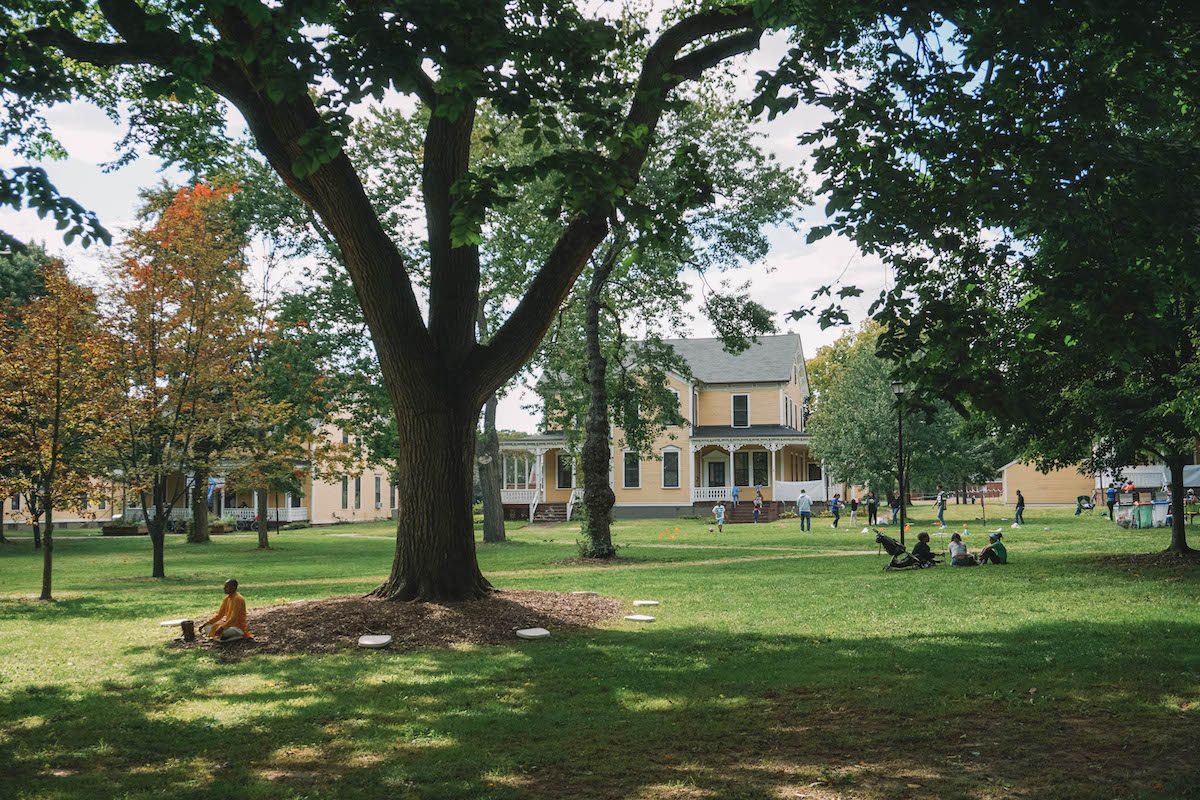 Before it was "discovered" by European settlers, the Lenape people are thought to have used the island as a spot for hunting and fishing. It was particularly popular for gathering nuts, as it used to be covered in nut trees!
After the formation of the Dutch West India Company in 1621, European settlers started coming to the region to find places to settle. Governors Island (then called "Pagganck") was the first settlement in the New York Harbor, but within a year those first settlers moved to the island of Manhattan because they needed more space to live and breed livestock.
By 1674, the island was bought by the British and was used to house the royal governors. From that point on, the island was referred to as Governors Island.
If you know your US history well, you may recall a tiny event called the Revolutionary War. Ring any bells? Well, the British lost their claim on the island during the course of the war. Once the newly formed USA got its ducks in a row, the island was transformed into one of the East Coast's defense points.
Fort Jay and Castle Williams were built on the island and served as two of the key fortifications in the New York Harbor. The building of these forts proved to be a wise idea, as they prevented the British from entering the harbor during the War of 1812. 
From there, Governors Island's military continued for many years. During the Civil War, it was used to muster and train Union troops. And by 1878, it was the army headquarters for the Military Division of the Atlantic and Department of the East. At this point in the island's history, officers were allowed to move their families onto the island, which is how all those gorgeous historic homes wound up here!
In 1966, the US Army officially withdrew from Governors Island in 1966. For another 30 years, it served as the largest Coast Guard base in the US.
Finally, it was opened to the public in 2003 after two centuries of military service.
How to Get to Governors Island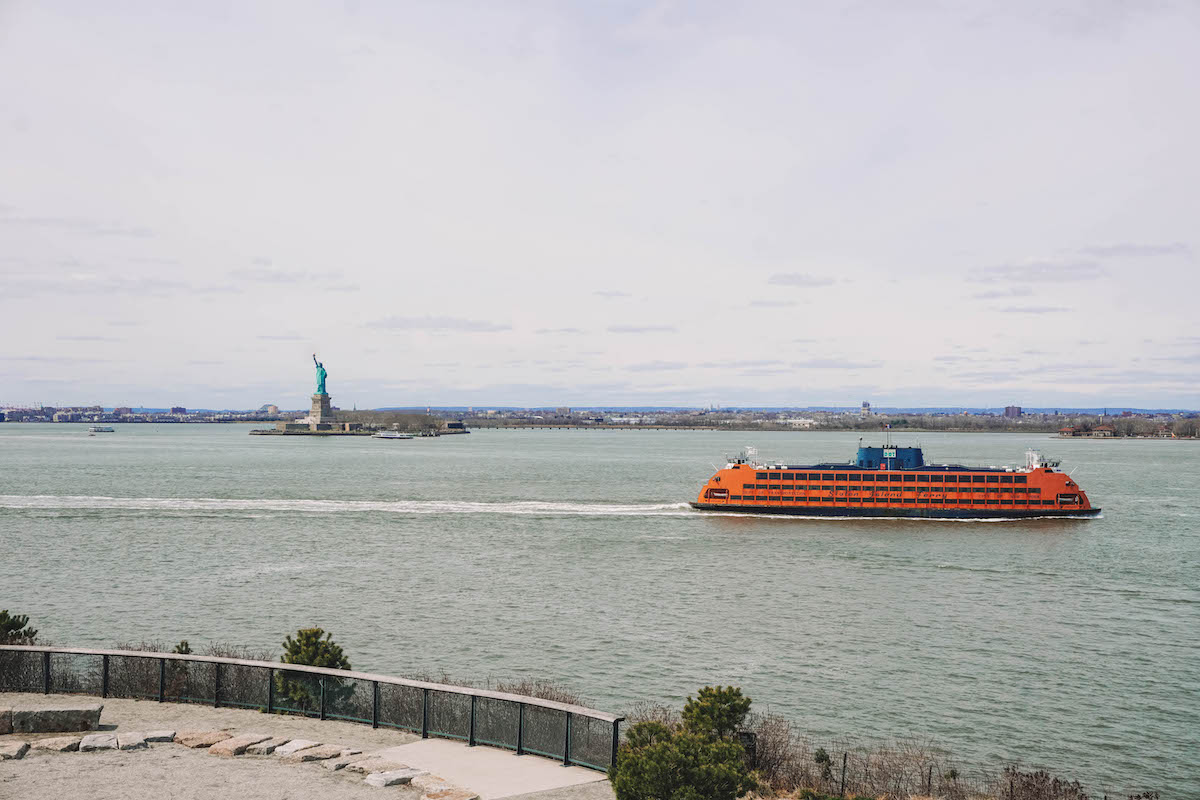 How to get to Governors Island from Manhattan: I recommend taking the Governors Island ferry from the Battery Maritime Building at 10 South Street. However, you can also take the NYC ferry service from Wall Street / Pier 11 or Corlears Hook. 
How to get to Governors Island from Brooklyn: The NYC ferry service includes Governors Island on its South Brooklyn route. Stops along the route include: Sunset Park, Red Hook, Governors Island, Atlantic Ave/Brooklyn Bridge Park-Pier 6, and DUMBO/Fulton Ferry.
How Much Does the Governors Island Ferry Cost?
If you take the Governors Island ferry directly from the Battery Maritime Building, a round-trip ticket costs just $4.
If you take the NYC ferry service from any other stop, it'll cost $2.75 one-way. If you're taking a bike onto the island, you'll have to pay an additional $1.
Tip: The Governors Island Ferry (from the Battery Maritime Building) is free on Saturdays and Sundays before noon.
How Long Does the Governors Island Ferry Take?
Governors Island is just 800 years from the tip of Manhattan. The ferry ride is super fast! It takes just 15 minutes to reach the island (including docking the ferry, etc.).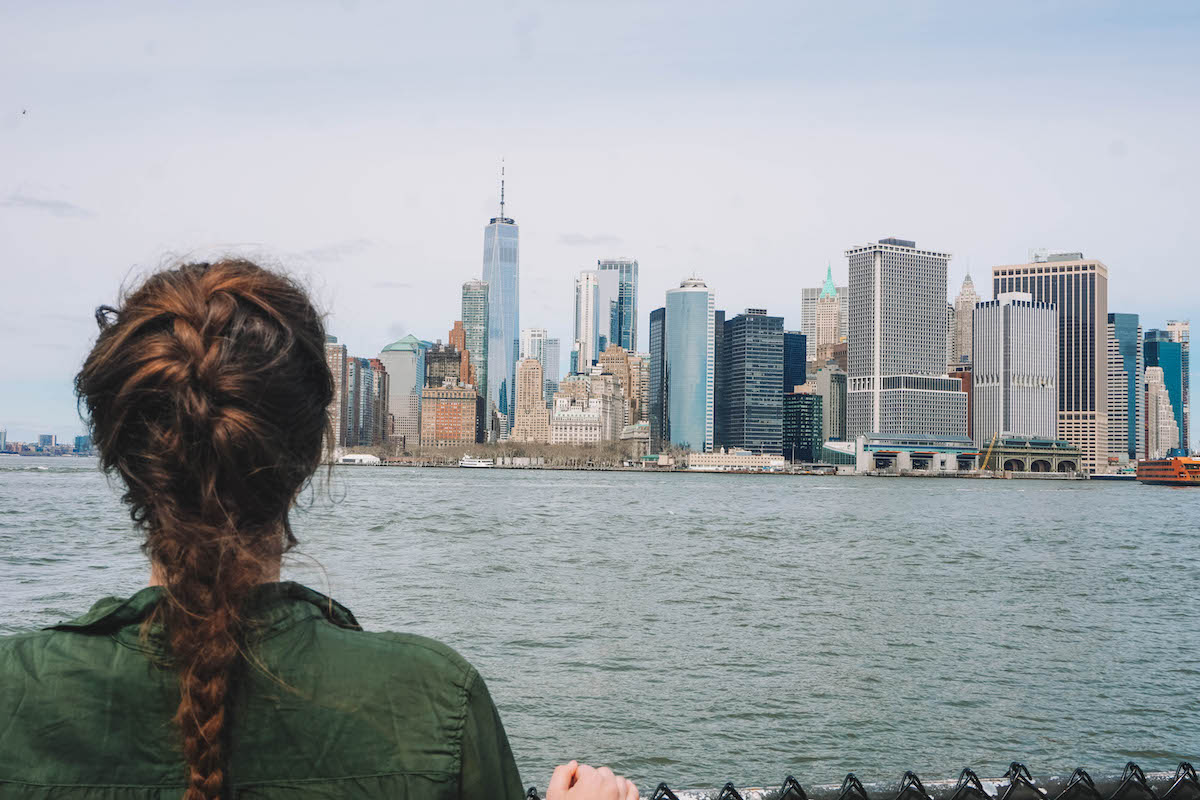 What to Do on Governors Island
Governors Island is quite small, and if you set your mind to it you can walk around the island in about an hour. But although it's tiny, there's a lot to do here and you can easily spend an entire day on the island! Here are the best things to do on Governors Island.
1. Fort Jay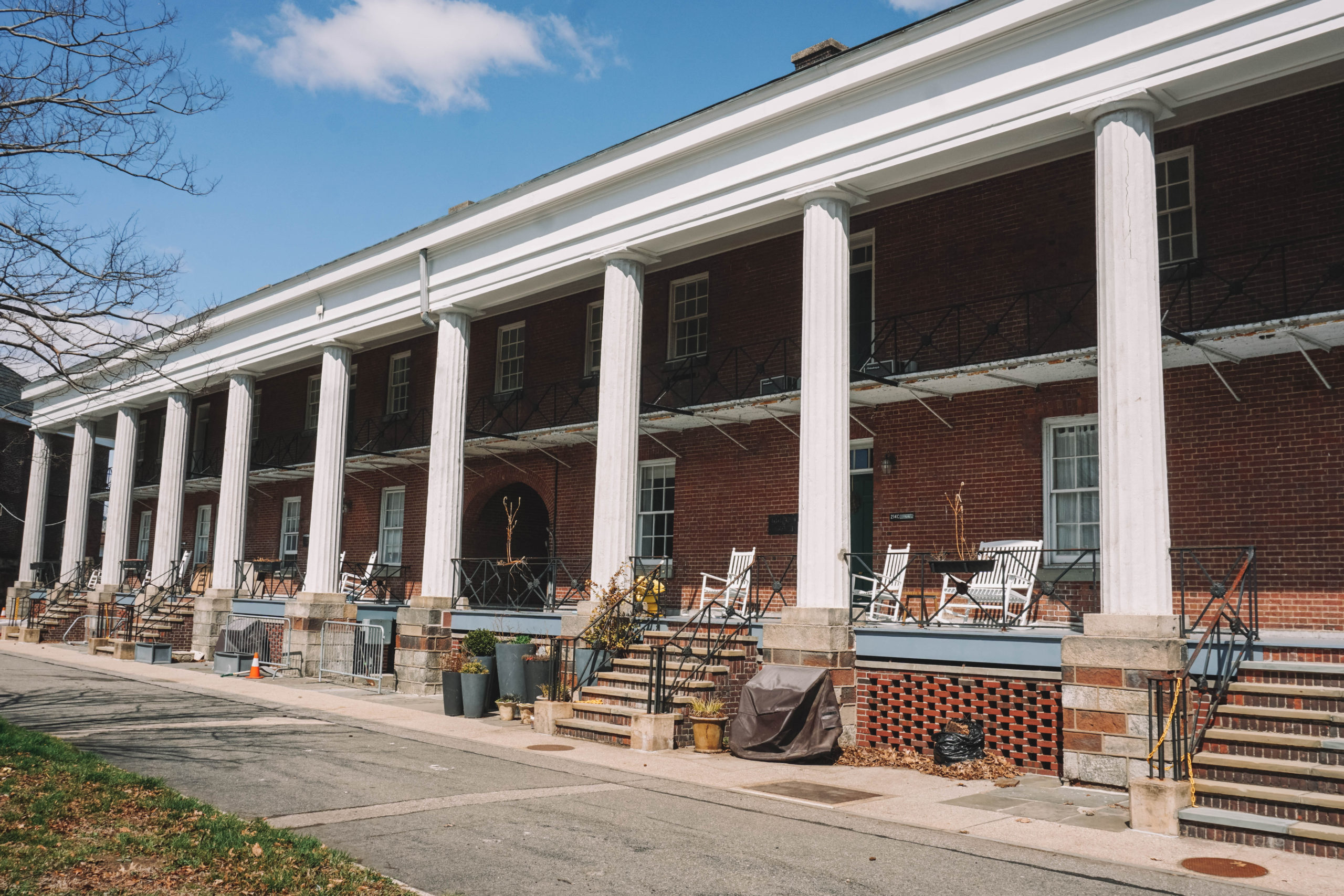 One of my favorite Governors Island activities is exploring Fort Jay. Built in 1794, Fort Jay has been used for a little bit of everything over the years. It was initially built as a means of protecting the New York Harbor from naval attacks following the Revolutionary War. Over the years, it has also served as army barracks and housing for Coast Guard families. During your visit, note the pentagonal shape of the fort — it made for better defense!
2. Hammock Grove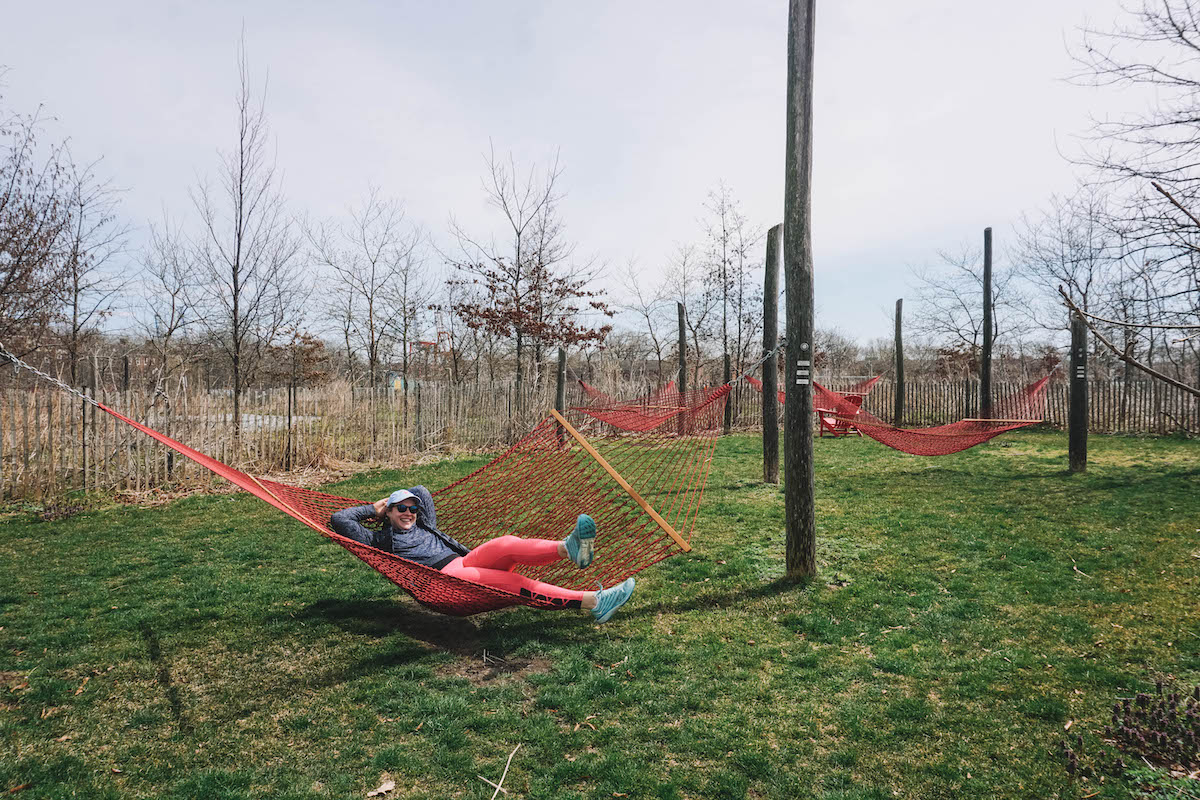 One of my favorite spots to relax on Governors Island is Hammock Grove. The name pretty much says it all — it's a green space with about 50 massive hammocks, perfect for reading, lounging in, or chatting with friends.The hammocks can easily fit two people, and note that they fill up fast on sunny days!
3. Teaching Garden
The Teaching Garden is a 1-acre garden that's open to the public from May through October. It boasts over 20 vegetable beds, a greenhouse, and an outdoor garden.
The Teaching Garden also sells fresh produce on summer weekends and prices its goods on a sliding scale, depending on what you can afford to pay. I bought a pint of cherry tomatoes and they were absolutely delicious. They also had the most beautiful eggplants and peppers for sale.
4. The Hills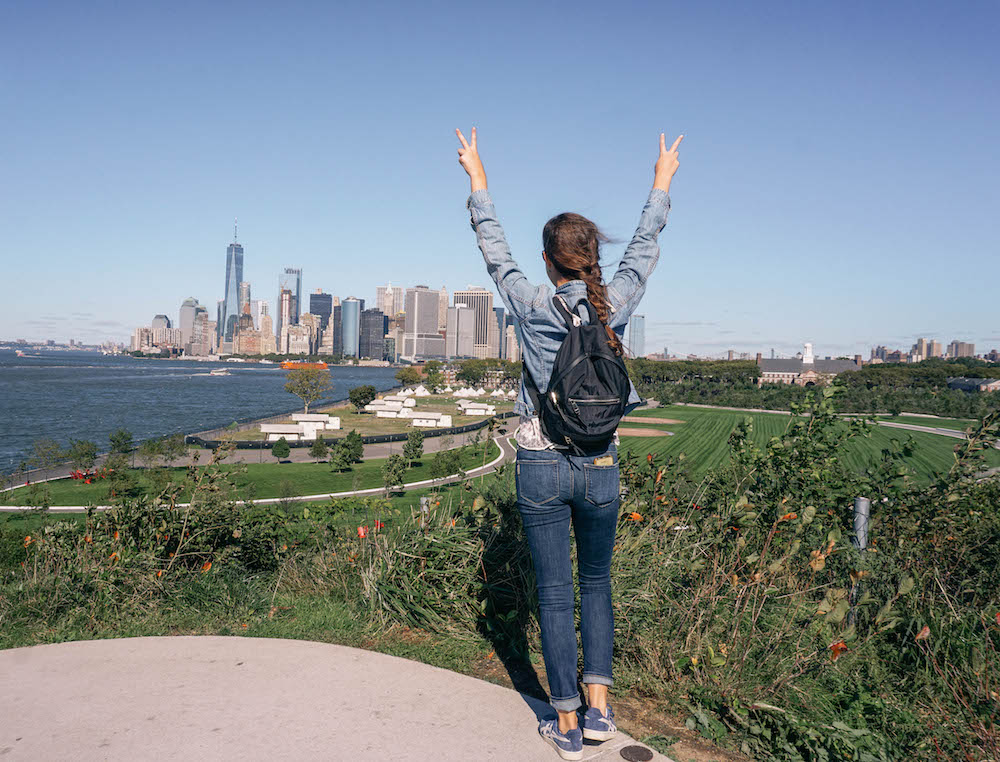 One of the newer developments on the island, the Hills are exactly what they sound like: large hills. On one, you can clamber up a pile of rocks called "The Scramble" (it's actually very safe and sturdy) to reach the most beautiful view of NYC. From the top of this hill, you can see the Statue of Liberty, NYC, Jersey City, and all of Governors Island. Another hill has NYC's largest slide, which makes me smile just typing it out!
5. Nolan Park
If old houses are your thing, you'll love Nolan Park. Military officers and their families once lived in these homes, but they're now used as exhibition spaces. (They're not open year-round, only in the warmer months.) There's a green space in the middle of the homes, which is perfect for picnics in the summer. Definitely walk through this area and snap a few photos!
6. Colonels Row­
Another beautiful area of the island lined with old homes, Colonels Row was built in the 1870s to house British generals and their families. These days, Colonels Row doubles as an event space. When I visited, a giant pop-up dinner was being set up in the middle of the green and the old houses lining the walk were being used for an art exhibit.
You never know what's going to crop up on Colonels Row, so check the Governors Island website before visiting to see what'll be there.
7. Castle Williams
Built in the early 1800s to protect New York Harbor from naval attacks, Castle Williams is quite the sight. It's made of red sandstone and is a giant circle. Like Fort Jay, Castle Williams has had many roles since it was first built. It was used as a military barracks during the Civil War and later transformed into a prison. It's definitely one of the coolest things to do on Governors Island!
8. Governors Island Walking Tour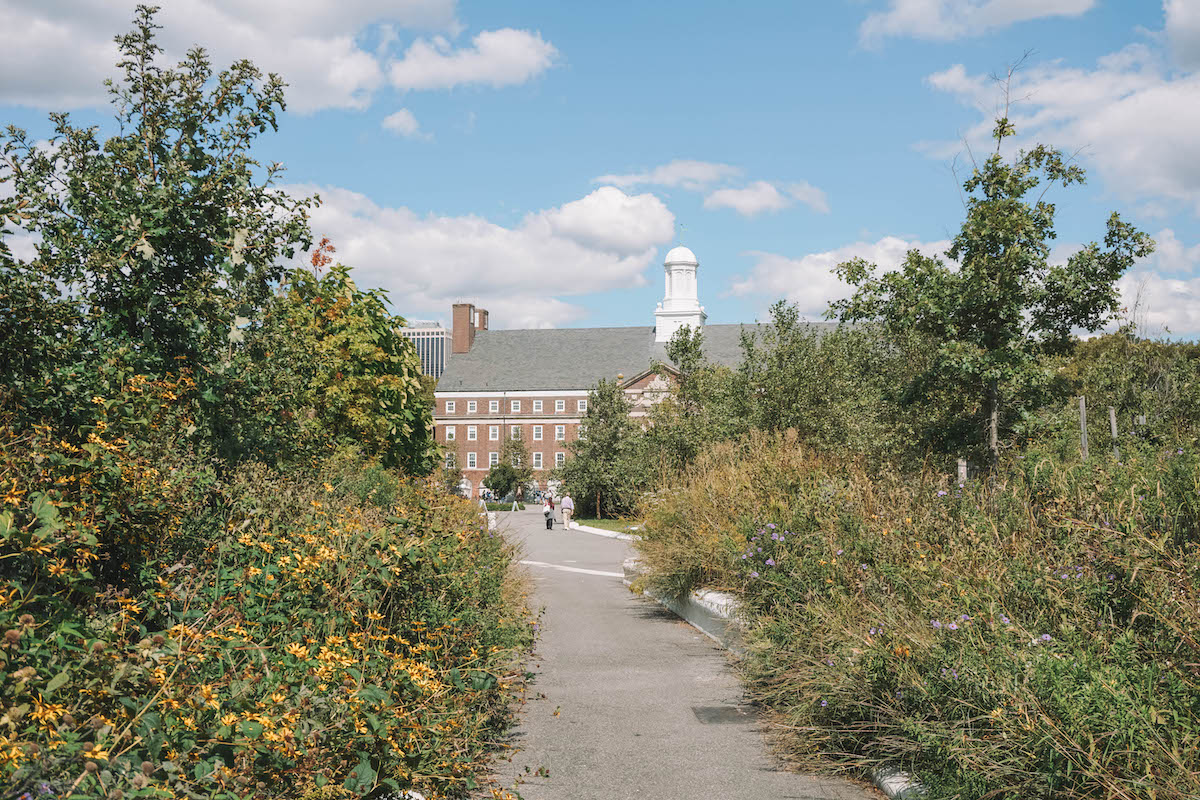 Wondering what to do on Governors Island the first time you visit? Personally, I think the hour-long guided walking tour of the island is a must if you've never been before! I appreciated the scenery much more once I learned the island's history.
And because the island is considered a public park, there aren't many signs telling you about the history or the buildings you're seeing, so the tour is extremely helpful.
Tip: Walking tours of the island are held on Saturdays and Sundays and are completely free. Just note that they're booked on a first-come, first-served basis.
Where to Eat on Governors Island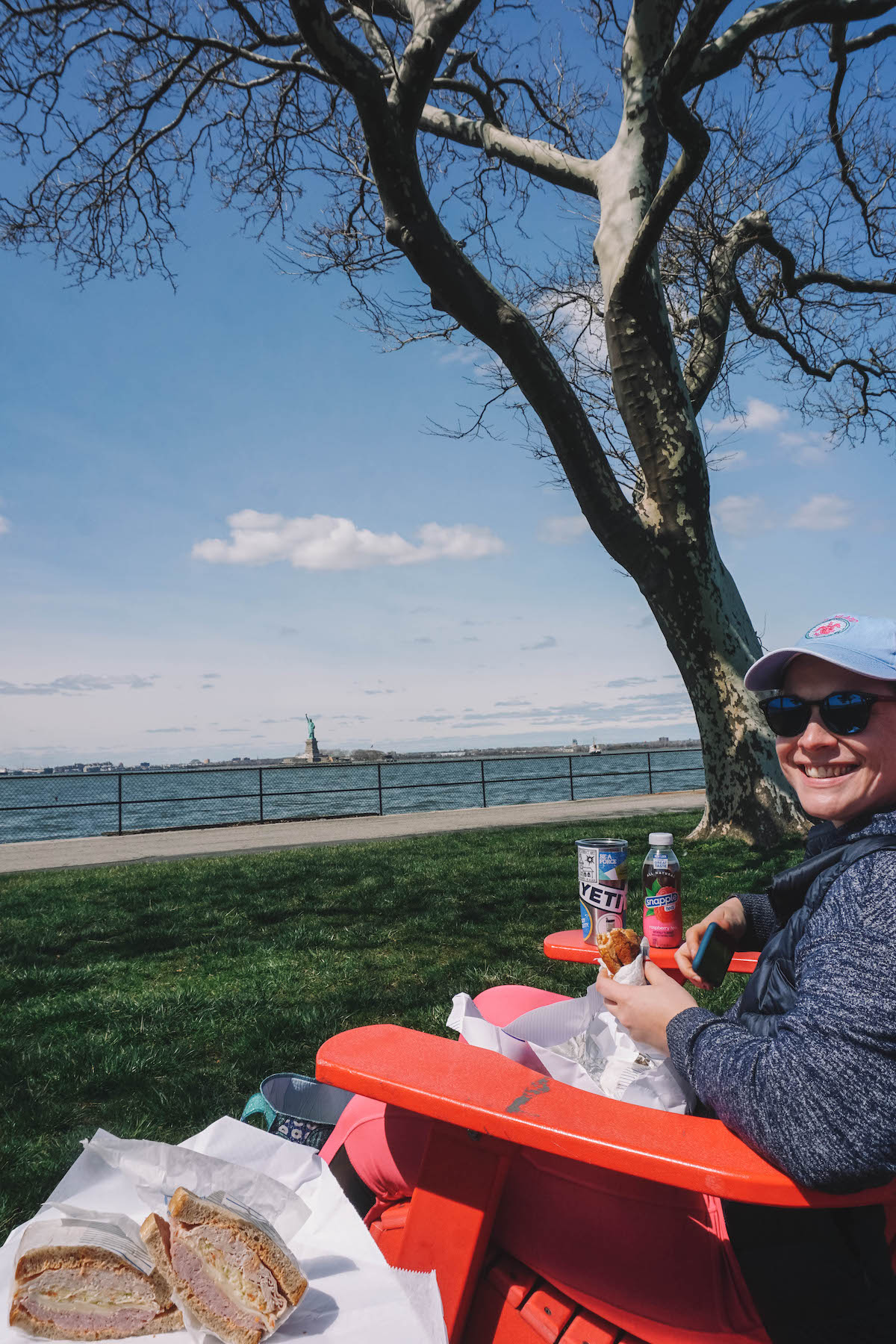 During the warmer months, you can find a few eateries and food trucks peppered over the island. Most open up beginning in late April or May, and stay open just through the summer. So, if you're visiting during the fall or winter, you'll want to bring a picnic with you!
The exact food vendors on the island change every season, so it's hard for me to recommend a specific place to eat. However, most of the food trucks can be found near the Liggett Terrace, which can be accessed via Colonels Row.
Tip: If you're packing a picnic, I recommend enjoying your food on the southern tip of the island (aptly named "Picnic Point"). You'll get a wonderful view of the Statue of Liberty from this spot!
FAQs About Governors Island
What is Governors Island? Governors Island is a small, man-made island off the coast of Manhattan. The royal governors used to live here, but nowadays it's a massive park space of sorts.
Where is Governors Island? Governors Island is located at the southern tip of Manhattan. It's sandwiched between Brooklyn (the Carroll Gardens neighborhood, to be specific), Manhattan's FiDi neighborhood, and Jersey City, NJ.
When did Governors Island open to the public? Governors Island opened fully to the public in 2003.
When does Governors Island open? Until 2021, Governors Island only used to be open to the public during the summer months. Now, it's open year-round from 7am to 6pm.
Can you walk to Governors Island? No, you must take the ferry from either The Battery in Manhattan or from Brooklyn. 
Can you drive to Governors Island? No, cars are not allowed on the island. The only way onto the island is via the Governors Island ferry.
How much time is needed to see Governors Island? If you simply want to walk around and see the sights, you'll need two to three hours. However, I recommend treating the island like a day trip and spending at least half a day on the island. Bring a picnic and find a quiet spot to hang out for a while!
Do you have to reserve a ticket to visit Governors Island? Nope, you can show up to the ferry whenever you want. The ferry runs every 30 minutes, so you'll never have to wait long to travel to and from the island.
Map of Things to Do on Governors Island
Governors Island: The Perfect "Day Trip" From NYC!
Now that you know what to do on Governors Island, you can make the most of your "day trip" from NYC! Governors Island is one of the city's gems and I tell all my friends to come here when they're in New York. If you have any questions about the Governors Island activities I mentioned in this post, drop me a comment below!
If you found this pose helpful, please leave me a comment below. And don't forget to follow me on Instagram to keep up with my adventures in Berlin and beyond!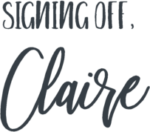 Even More Fun Things to Do in NYC: