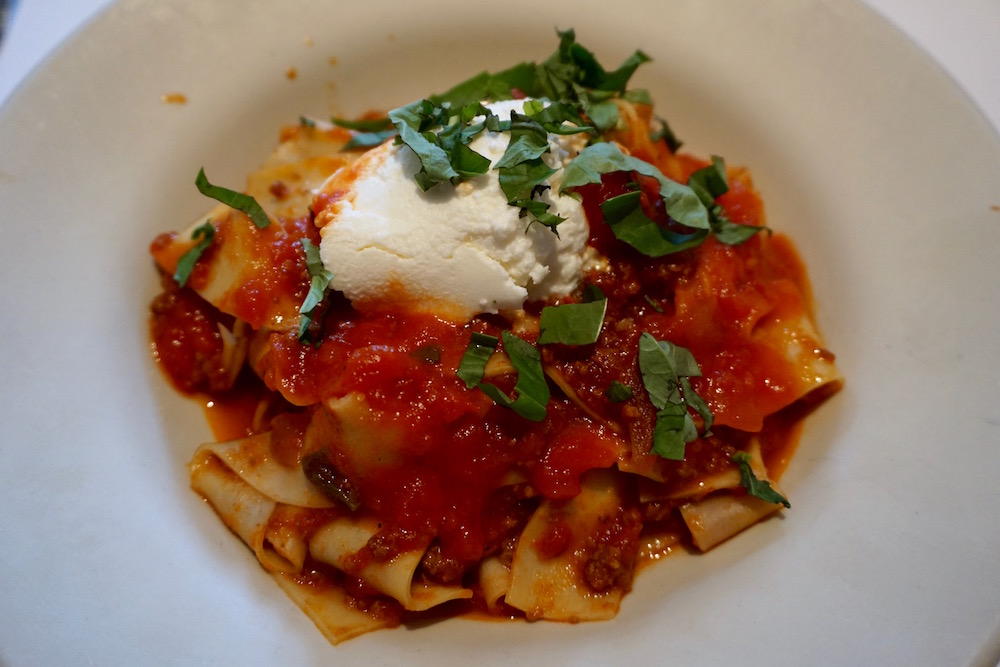 I really thought summer was here to stay in NYC, but the temperature broke this weekend and it finally feels like fall outside. I'm not sure why the human body reacts this way, but when cooler weather rolls in all I want is pasta and stews. All too happy to comply with my body's wants, I rang up my friend Claire (who you might remember from my trip to Governor's Island) and we picked a time to meet on Arthur Avenue, the heart of the Italian District in the Bronx.
I was extra excited the week leading up to our food tour of New York's authentic "Little Italy," because I've had Arthur Avenue on my radar for months now. On top of that, I just saw the new musical A Bronx Tale a few weeks ago, which is all about an Italian boy coming of age in the Bronx, and I was eager to see the area the musical is all about.
How to Get There
Getting to Arthur Avenue is surprisingly easy. All you need to do is take the D train uptown to Fordham Road. From there, it's a 15-minute walk to the Italian district. Be sure and take the D because it runs express uptown, which will save you a lot of time on the subway. Once you're on Arthur Avenue, there are just a few blocks for you to wander around. You won't need a map or anything like that because it's such a small area.
What to Eat and See
There's not much to do on Arthur Avenue except eat and shop, so come hungry! Many stores sell specialty Italian items for cheap, so I recommend coming with a list of what all you want. Some items you can easily find here are good cuts of meat, fresh mozzarella, pastries, baked goods, salami and prosciutto, pasta, and more. I've listed a few of my favorite food spots below, but there are many more restaurants and market places in the area for you to explore!
Emilia's—We started our food tour at Emilia's, and their food absolutely floored us. We split a dish of homemade papardelle and Bolognese sauce that was topped with a dollop of fresh ricotta and chopped basil. The pasta was slightly al dente and the sauce was super rich without being overwhelming. We both agreed that the ricotta took the dish to the next level, and we did our best to mop up every last drop of sauce with the fresh bread given to us. Had we not wanted to sample dishes from other restaurants in the area, we definitely would have ordered more here! The staff here is also really nice about splitting dishes between two people, so don't be afraid to go with a crowd.
Mike's Deli—Mike's Deli is a well-known sandwich shop in the Arthur Avenue Market that's been around for over 50 years. You can either order sandwiches to go or find a spot to sit down and have it served to your fresh. Claire and I went for the Mario Special, which is thinly sliced grilled veal, fresh mozzarella, and prosciutto on fluffy focaccia bread. I wish I had her reaction to eating this sandwich on camera, because her entire face turned red and her eyes got a bit misty after the first bite, she loved it that much. Mike's Deli also has lots of other deli staples in addition to tennis ball-sized arancini. Arancini are fried risotto rice balls stuffed with ground beef and peas. Definitely split one with a friend because they're impossible to finish on their own.
De Lillo Pastry Shop—The lobster tails here are ridiculously good. The outside is ultra flaky and crunchy, and the inside is filled with thick whipped cream. Lobster tails look like they'd be massive sugar bombs, but they're actually not. Though very rich, you can easily finish an entire one if you put your mind to it. De Lillo's eclairs also fab; the rich chocolate on top perfectly complements the cream filling.
Egidio Pastry Shop—As its name would suggest, the pastries at Egidio are phenomenal. My friend loves the sfogliatelle here, which look like a lobster tail but have a cake-like center that's citrus-flavored. I'd recommend getting some pastries to split with your friends while you're in the area and taking home some butter cookies for later since those keep fairly well on your counter.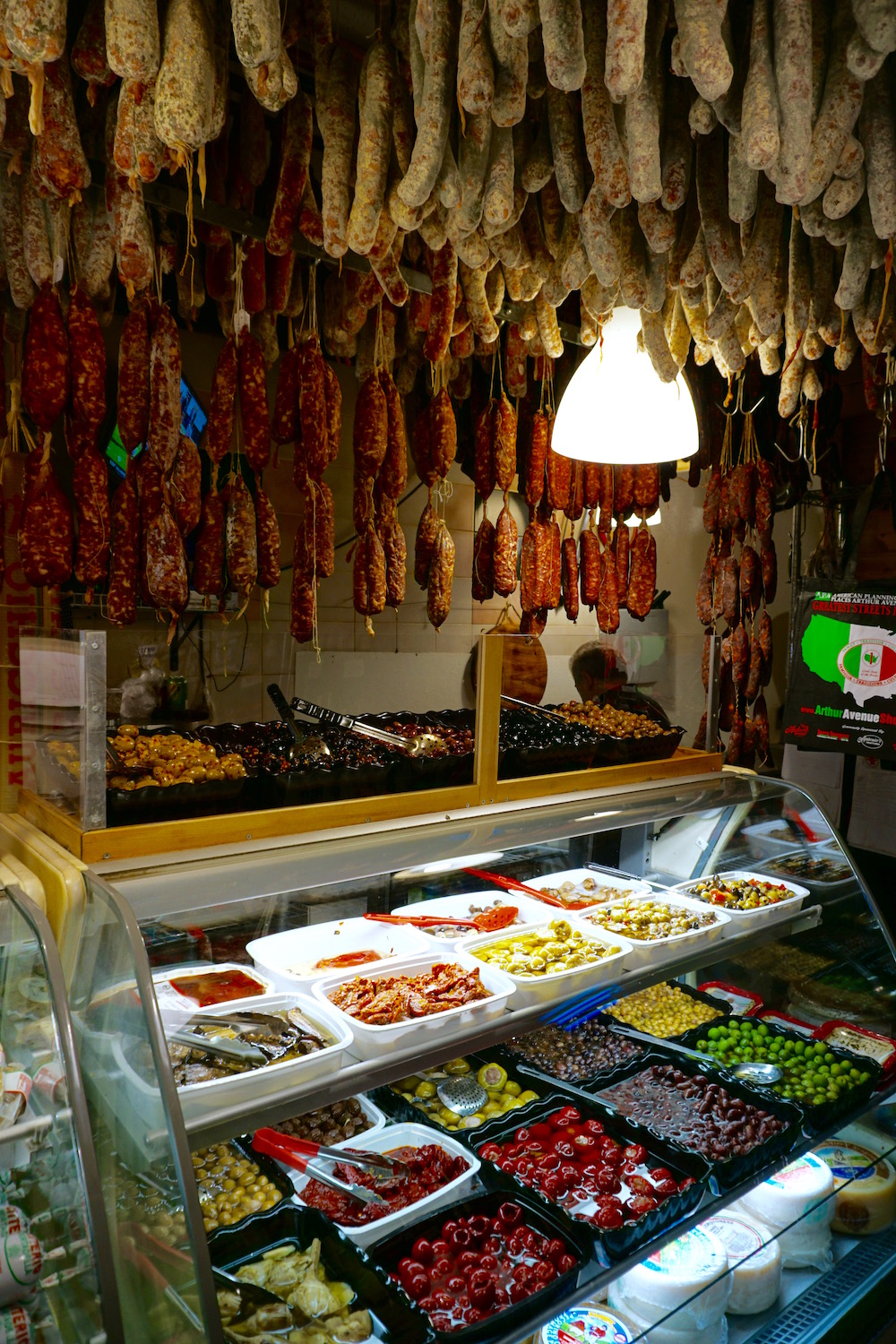 Calabria Pork Store—If you're prone to migraines or are pregnant, you might want to avoid this store because it smells like a meat locker. Every inch of ceiling space is covered in hanging salamis and cured meats, and the smell is ripe, but pleasant. We sampled a few salamis and cheeses here, and each was better than the last. They also carry an array of dried pastas and other Italian specialties here.
Morrone Pastry Shop & Café—Hello, my name is Claire and I'm addicted to Italian baked goods. I may or may not have a bag filled with butter cookies currently sitting on my countertop from Morrone at this very moment, and I have high hopes that they'll taste as good as Morrone's cannoli. The slightly cinnamon-y cannoli shells paired perfectly with the creamy filling. The small cakes here are also just $17, which is an absolute bargain compared to what you shell out at other bakeries.
Teitel Brothers—Arguably the most well-known store on Arthur Avenue, Teitel Brothers is a wholesale grocery store that sells pretty much any Italian food item you could want. Everything is reasonably priced, and you can spend quite a while here just looking at all the food on sale. Keep in mind that the family who operates this store is Jewish, so they're closed on major Jewish holidays (learned that lesson the hard way!).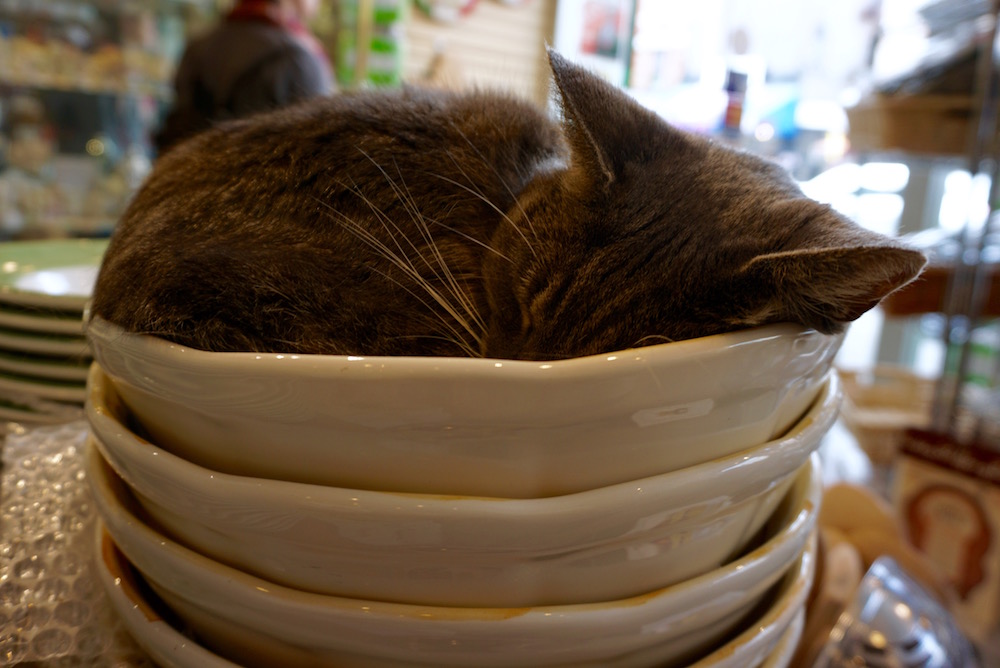 Cerini Coffee & Gifts—I can't speak to the quality of the coffee at this place because I prefer tea, but you have to pop in here for a few minutes to pet the store cats. There are two of them, and they like to spend their time laying in the big serving dishes on sale (if you buy any of the dishware, clean it really well because there's a good chance it was sat in by a cat at one point or another).
Casa Della Mozzarella—Once again, I think the name of this store speaks for itself. The mozzarella is made fresh daily and it's been rated the best mozzarella in NYC by Zagat. In addition to mozzarella, you can find fresh ricotta and other cheeses here, as well as Italian staples like olives, stuffed peppers, and more. Be prepared to wait in line for a little bit, as this is a very popular spot on Arthur Avenue.
Nearby Attractions
You can easily spend an hour or more wandering around the various grocery stores and markets in the area, but you can't spend a full day on Arthur Avenue. I recommend visiting either the Bronx Zoo or the New York Botanical Garden before heading the Italian district for a late lunch and some shopping. The Botanical Garden is worth every penny. The main greenhouse is filled with plants from around the world, and has rotating art displays throughout the year (Chihuly's glasswork was on display when I visited over the summer). The grounds are filled with orchards and smaller gardens as well, so you'll be good and hungry by the end of your visit.
I've never been to the Bronx Zoo before, so I can't speak about it one way or another. However, it's a major attraction in the Bronx and could be worth visiting if you're not interested in the gardens.
If big crowds aren't your thing, skip Manhattan's Little Italy and hoof it up to the Bronx instead. You can easily make a day of it if you also visit the zoo or the botanical gardens, and you'll leave with plenty of delicious baked goods to remember your day by.
If I've missed any of your favorite Arthur Avenue restaurants, let me know in the comments below!
Tell me: What's your favorite cuisine? At home I lean more towards Italian or Mexican foods if I want something different, but I also love a good Thai curry.
Signing off,
Claire
More NYC posts you'll love: