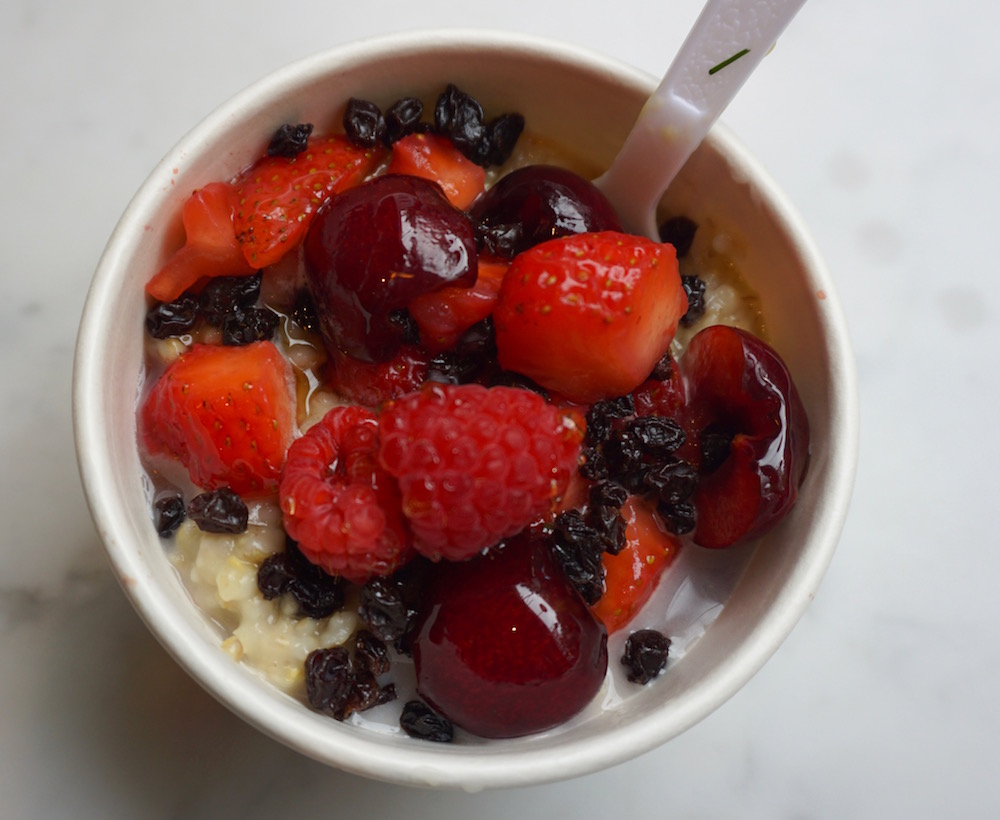 For better or for worse, food photos on Instagram tend to do really well only if they're super food porny. You know the ones—bacon, egg, and cheese sandwiches dripping yolk, giant slabs of cake topped with an ungodly amount of toppings, or rainbow creations that are probably 99% processed sugar. I don't post food like that for a few reasons: 1) I don't eat that way and am a firm believer in a balanced, healthy diet, and 2) I'm not a huge fan of those types of photos.
I interned with two food bloggers last summer (shout out to Sonja and Alex!), and their beliefs rubbed off on me more than I realized at the time. I'm all about photos of real (pretty) food that are good for you and that you can actually make. If you've checked out any of the recipes on my blog, then you'll know they're super easy to make and use real ingredients. Although I do love posting photos of my favorite ice creams around the city, I really do eat healthy foods more often than not.
It's for that same reason that I typically don't eat out at restaurants that serve solely fried fare or burgers. Last weekend, I hit the jackpot when I was invited to an all-oatmeal café that serves up healthy fare. Yup, you read that right. Everything on the menu is made from oats, even its baked goods. My friend Kendall does social media for a few restaurants in the city, one of which is the oatmeal café (appropriately named OatMeals).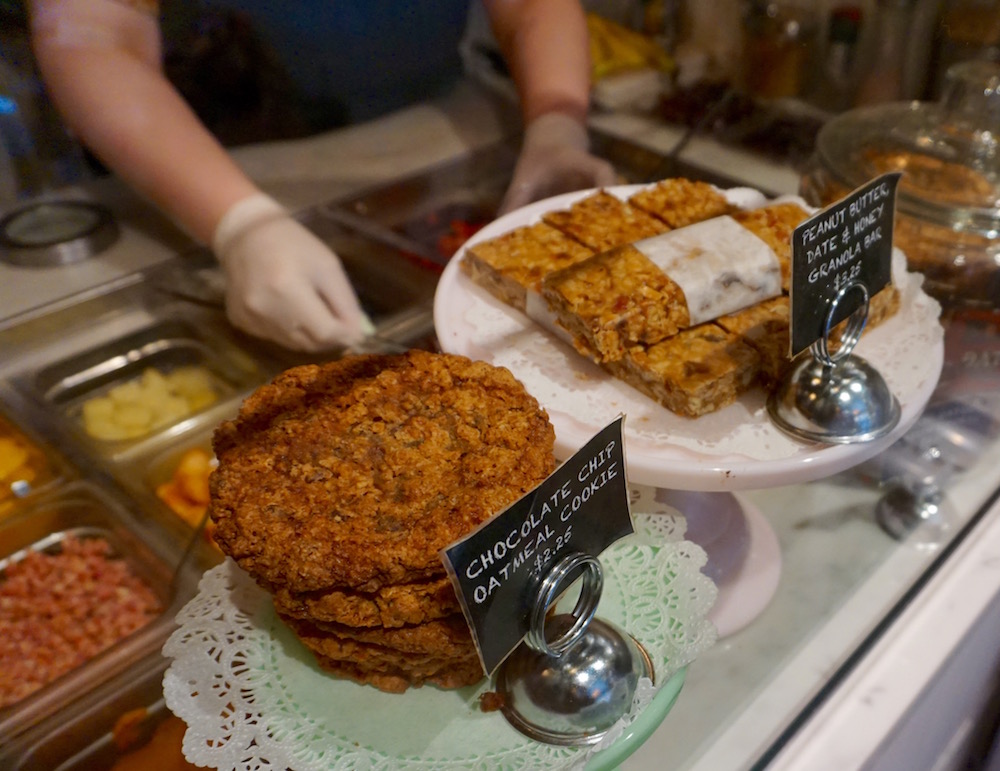 OatMeals has been on my radar for a few months now, but I've never had a reason to swing by its storefront in the Village. Fate decided to intervene, however, and I found myself on the A train Saturday afternoon to sample some of OatMeals goodies with a few other Instagram influencers (a group of lovely ladies, I might add!). I was told the store was debuting an eggs Benedict flavor, but I had my fingers crossed I could sample some other flavors too.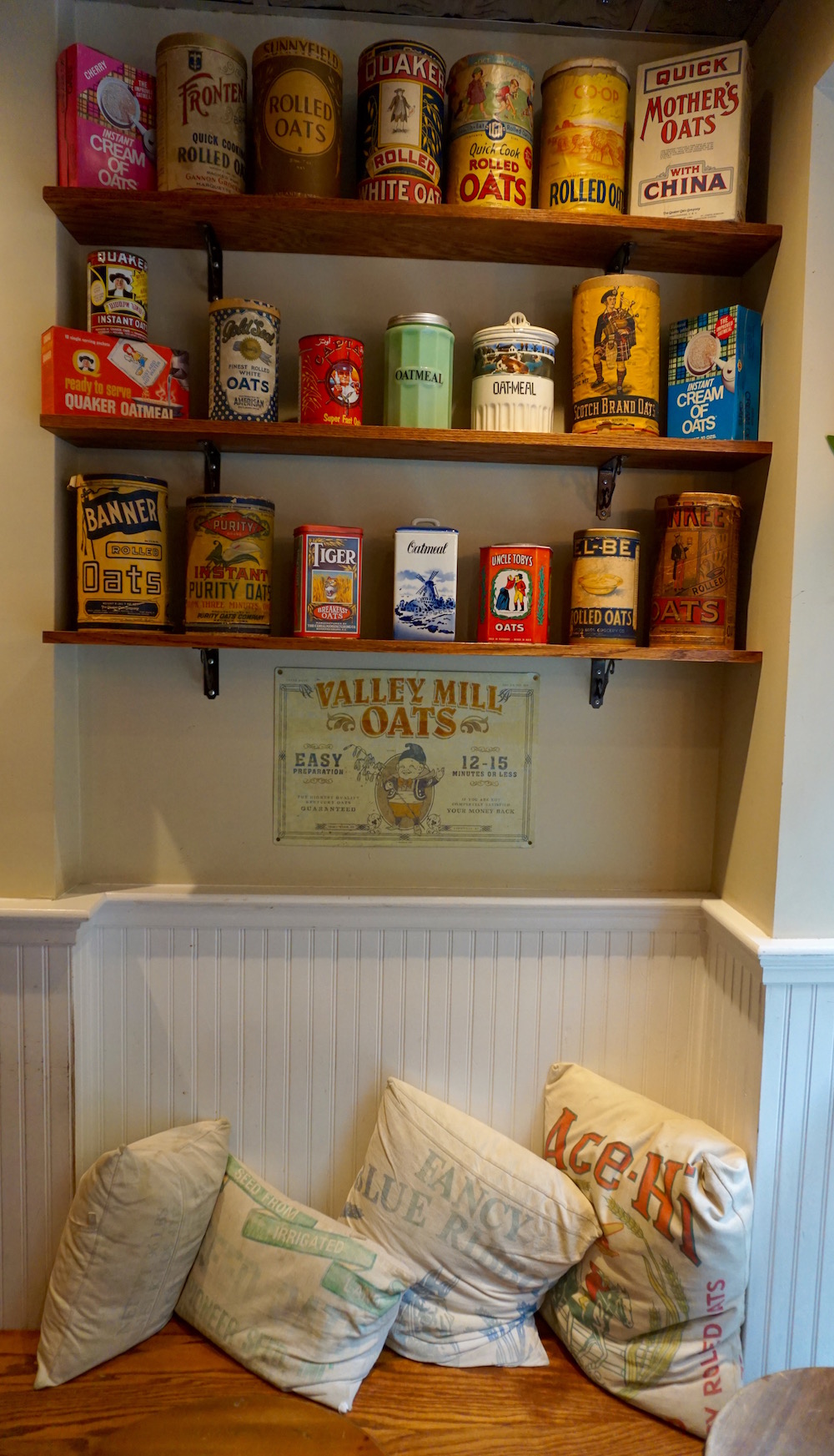 OatMeals is a five-minute walk from 4th Street Station, and it's one of the cutest shops on the street. Inside, there are rows of vintage oatmeal containers and a marble countertop by the window for you to relax at while you eat your bowl of oats. Though quite small, the store has a decent amount of seats and doesn't feel cramped.
When I stepped inside, my eyes were naturally drawn to the array of baked goods first. Knowing I was there to sample the oatmeal bowls, I resisted ordering anything and waited patiently for the eggs Benedict bowl to come out. The short wait was worth it, as the oats were superb.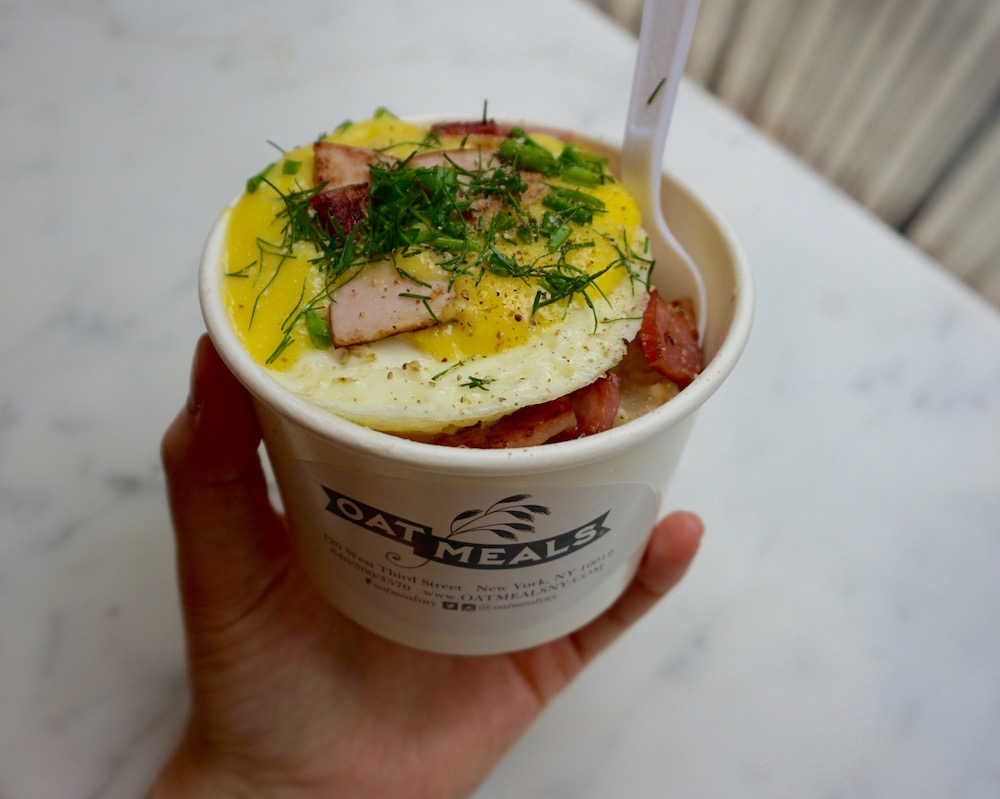 Atop the oatmeal was some Hollandaise sauce, fresh dill, a runny egg, chives, and ham pieces. The combination smelled amazing, and I quickly mashed everything together (because, duh, you have to get all the flavors in one bite!). My mouth loved the taste of the oats, but my brain was a bit confused why I was eating savory oatmeal (I only ever put fresh berries and some honey on top of mine at home).
I also got a small bowl of the Quatre Fruits Rouge bowl—fresh strawberries, raspberries, and cherries, as well as honey, almond milk, and dried currants. The cherries and currants made this bowl really special and it hit the spot.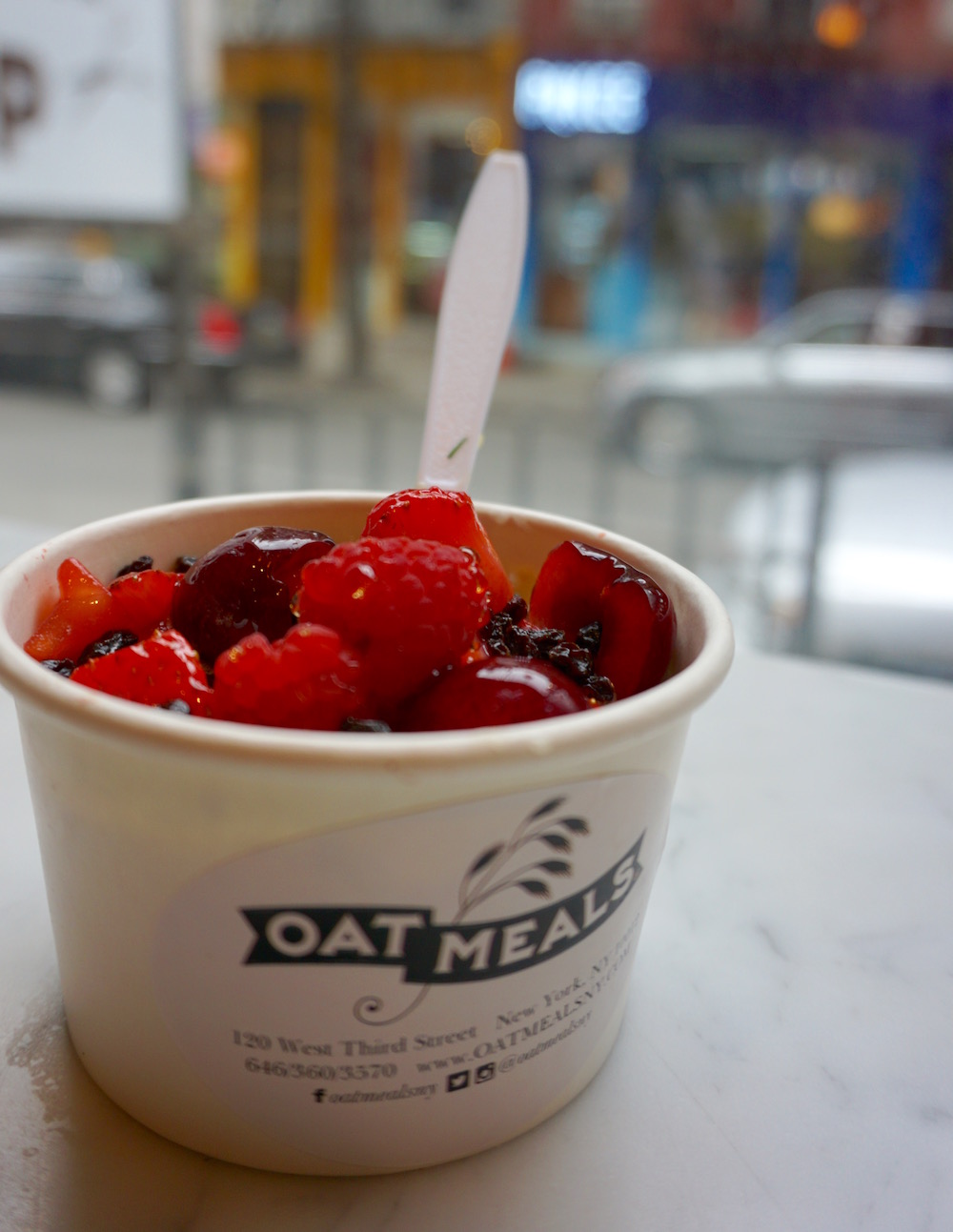 As if the excellent oatmeal goodies aren't enough of a selling point, the staff is also lovely. I chatted with the owner, Sam, for a bit and her passion for oatmeal is absolutely infectious. She opened OatMeals in 2012 after thinking about it for 12 years. She became hooked on oats in college when she gained a lot of weight her first year in school.
Though you can definitely get some unhealthier oat combos at OatMeals (think s'mores and cinnamon bun), overall its selection is hearty and healthy. You can get a baby bear, mama bear, or papa bear-sized bowl, and their prices are quite reasonable.
All in all, my visit to OatMeals was a fab way to spend a dreary Saturday afternoon, and it gave me an excuse to try more food in the city. Win-win!
Are you an oatmeal fan? Some of my friends hate the texture, but I love it!
Signing off,
Claire
Looking for good eats in the city?