Yes, it's totally safe to visit NYC by yourself! Here are the best things to do alone in NYC (by someone who lived there for 3 years!).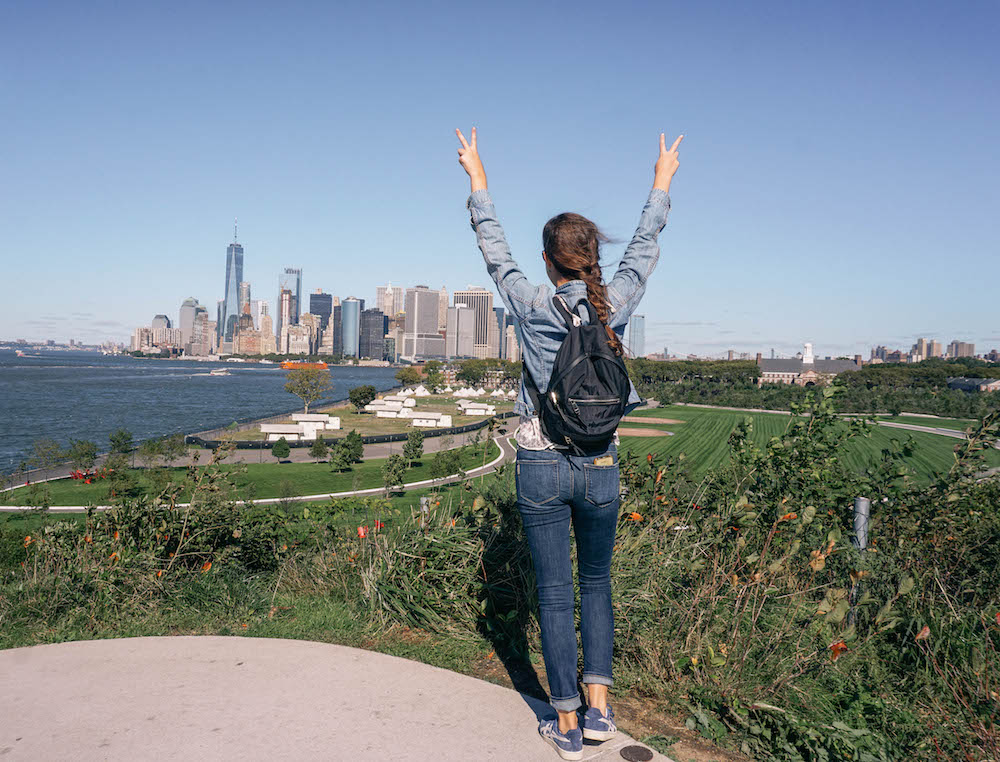 After living in New York City for three years, I can safely say it's one of my favorite places to explore solo. I still make solo trips to the city as often as I can, and each time I'm there I discover new places to visit in NYC alone. Because, yes, even though New York is a big city it's a fantastic destination for solo travelers!
What makes solo trips to NYC so great? For starters, the public transportation is amazing so you needn't worry about renting a car. Plus, there's so much to do and see on the island of Manhattan alone that you can easily — and safely! — spend the majority of your trip exploring just one area of the city. Not to mention that NYC's grid system makes navigating the city on foot incredibly easy.
While you do need to be smart when going out at night by yourself, I feel safe doing so because there are always people out and about no matter the neighborhood or time of night. Don't let the city's size intimidate you if you're planning a solo trip to NYC! You can easily spend an entire week here on your own, and still leave wishing you'd had more time (truly!).
The following list covers my favorite things to do alone in NYC. These are all in popular, safe areas of the city, and most of these NYC solo activities require no special reservations so you can do everything at your own pace!
Is It Safe to Visit NYC Alone?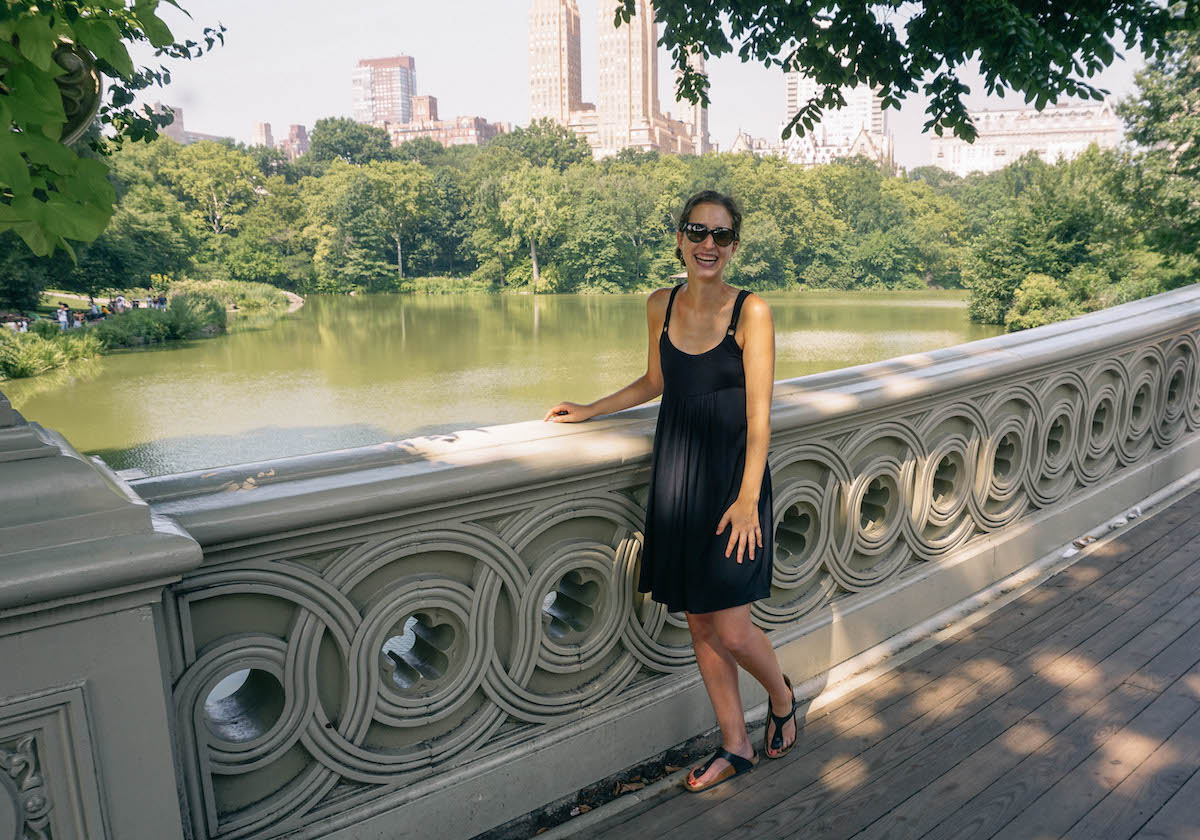 Absolutely! NYC is one of those rare places where you never truly feel alone because you're always surrounded by people. So even though NYC gets a bad rap for being "dangerous" (you can read my thoughts on that here), I think it's actually one of the best places to travel by yourself.
I come from a small and safe town in the Indianapolis suburbs, and I moved to NYC right after college. I lived in the Big Apple for three years, and while moving to such a large city was a shock to my system I never felt unsafe the whole time I lived there.
However, I do caution you to be wary of pickpockets (primarily in tourist centers like Times Square). Also, be smart about where you are and when — i.e. don't drink heavily at dinner and then wander around in an unfamiliar neighborhood after dark, that type of thing. 
If this will be your first solo trip to NYC, I recommend staying in mid- to lower Manhattan or on the west side of Brooklyn (Williamsburg, for example). Those are popular areas of the city, with lots of hustle and bustle at all times of day.
1. Explore the Met Museum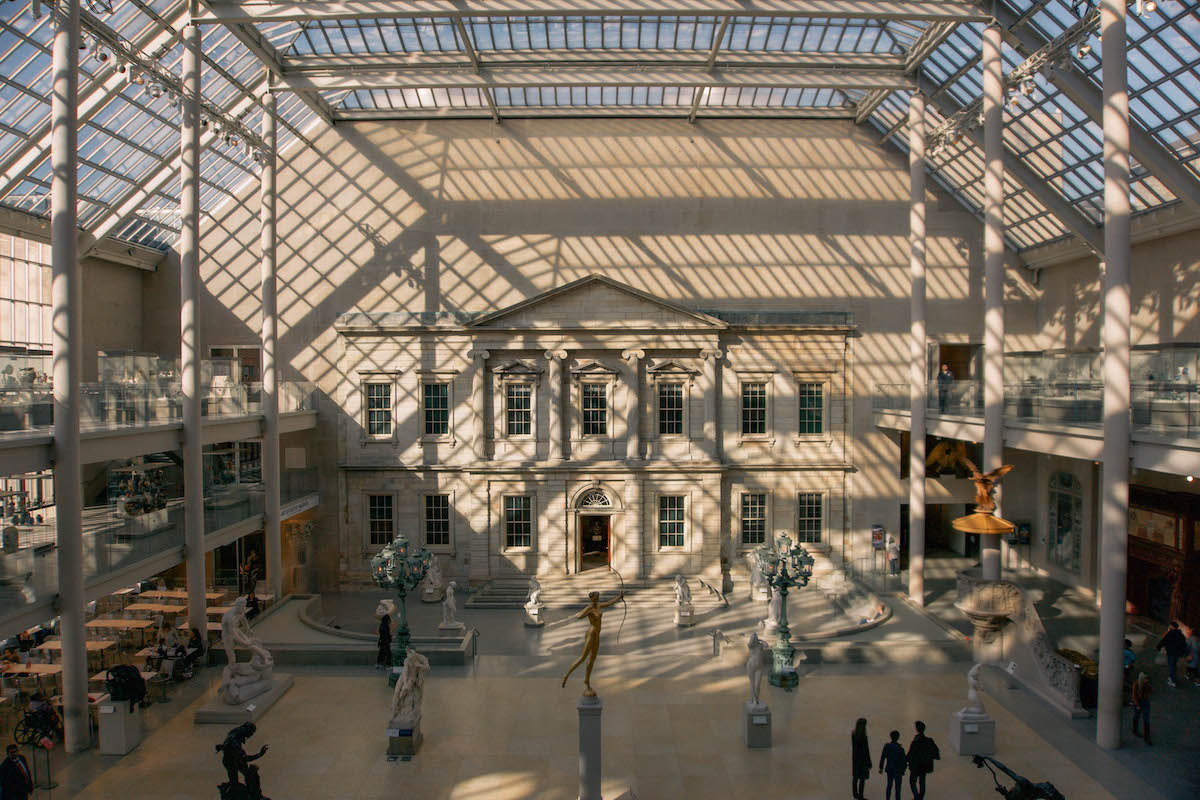 Always buzzing with visitors from around the world, The Met on Fifth Avenue is the perfect museum to explore solo. I suggest starting your visit to the Met in the Egyptian wing and gradually making your way to the American wing. You'll get to see the Temple of Dendur this way, as well as the sculpture garden that you see in almost every photo of the Met.
The bottom floor of the museum is always the busiest, so I always start here and wind my way upstairs after an hour or two among the crowds. Because you're surrounded by people at the Met, you won't feel alone even though you're visiting the museum solo!
2. Grab lunch at Chelsea Market
The site of the original Nabisco factory, Chelsea Market is now filled with amazing restaurants, local boutiques, and offices. It's the perfect place to grab a quick lunch and has everything from vegan sushi to authentic Mexican tacos to bahn mi sandwiches. During the summer, Chelsea Market is packed with people from 11am onwards, so you'll definitely have to wait in a line to get your food. Don't let that turn you off though, because the food here is really good.
Tip: After you wolf down your lunch, check out Artists on Flea at the back of the market; it has about a dozen booths set up that showcase local designers and artists.
3. Walk the High Line
The High Line is an old railroad line that's been turned into an elevated park / walking path. It stretches all the way from Hudson Yards to Chelsea Market and is lined with little gardens and murals. If you're traveling alone, I wouldn't recommend walking the High Line after dark just to be safe. However, it's definitely worth walking the length of the High Line as it has the most amazing views of NYC's streets.
Tip: Go early in the morning to avoid the crowds; I recommend starting at Hudson Yards and walking towards Chelsea. This way, you can pop into a nice café after your walk for a hot tea or breakfast!
4. See a Broadway Show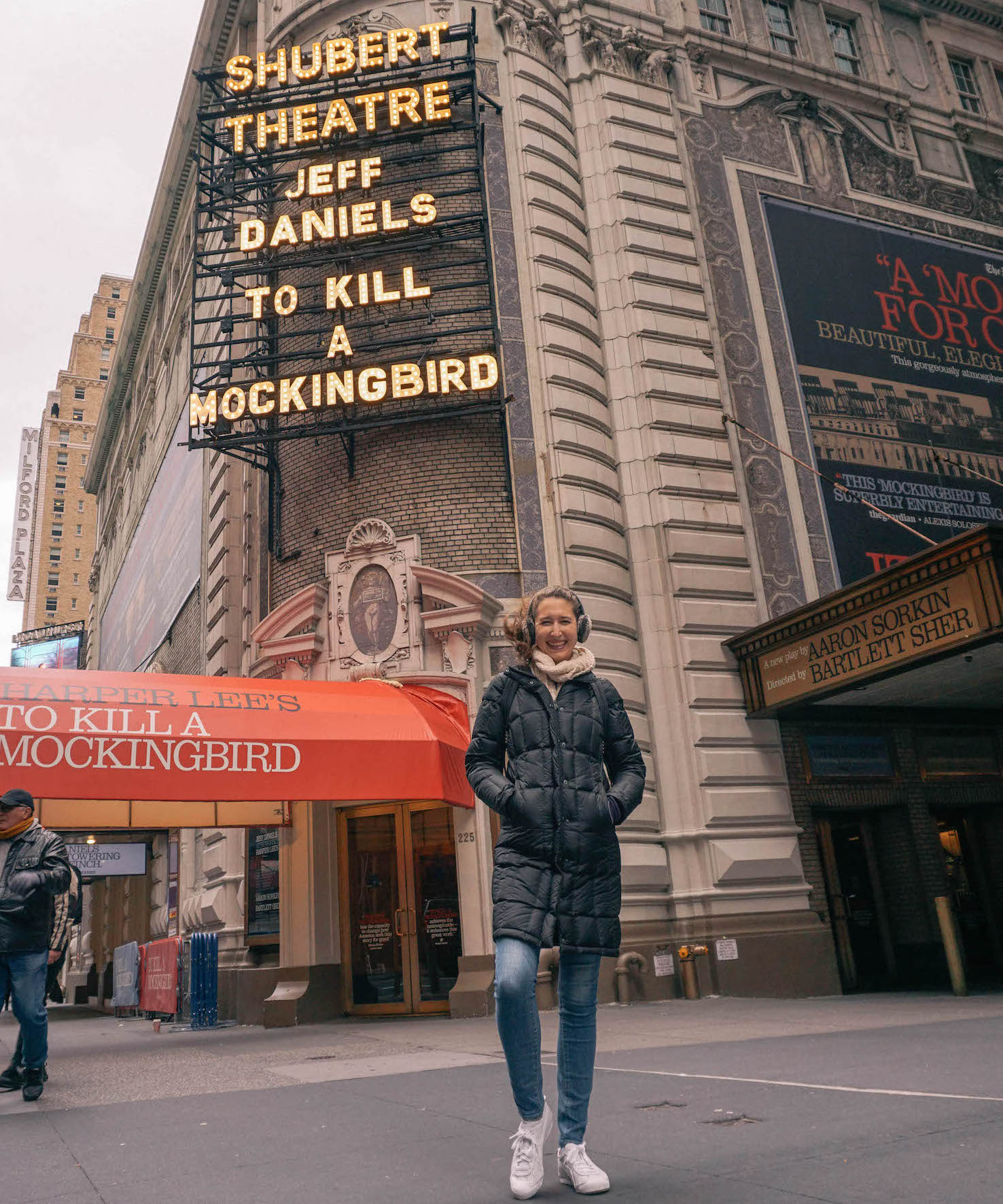 One of the best things to do in NYC by yourself is see a Broadway show. In addition to being just plain fun, it's also an incredibly safe thing to do alone in NYC at night. Seemingly all of Manhattan flocks to the theaters come evening, so you won't truly be alone. However, if you're just dipping your toes in the water of solo travel, you can always see a matinee rather than an evening performance.
Tip: I use the TodayTix app to get discounted, last-minute Broadway tickets. There are also other ways to get Broadway tickets for cheap. Just don't buy tickets from a hawker on the street, whatever you do! They're almost always fakes.
5. Visit the Morgan Library & Museum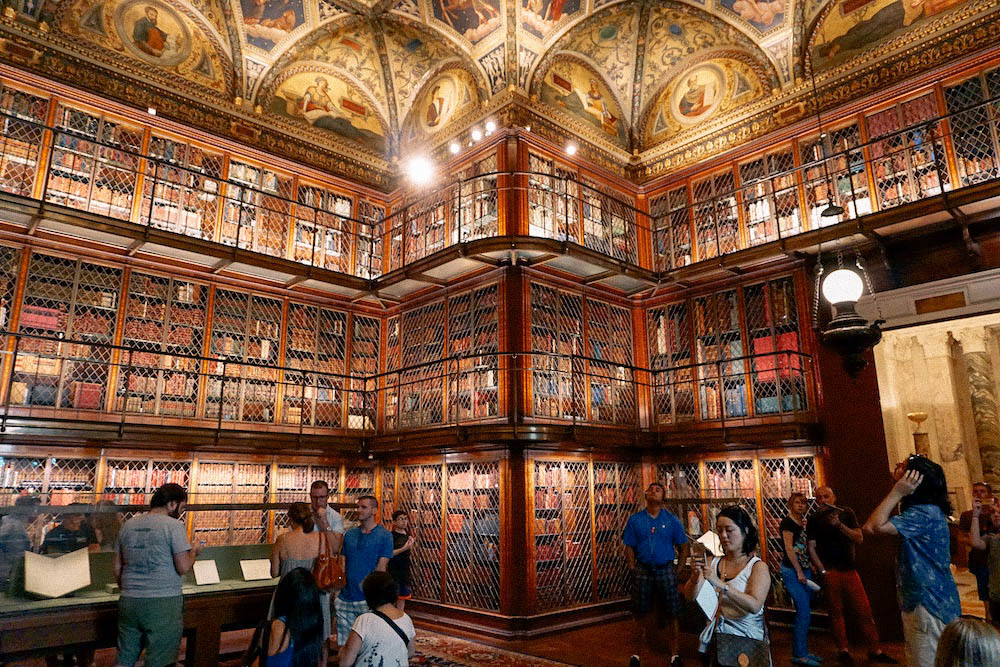 The Morgan Library & Museum building was given to the public by financier J.P. Morgan's son in 1924. It was originally a private residence and served as J.P. Morgan's office. The bulk of the items on display today were collected by J.P. Morgan, and they range from manuscripts to prints to ancient artifacts.
Even if the artifacts currently on display don't interest you, the building itself is worth paying admission for! The library looks like something you'd find in a Disney movie, complete with hanging wall tapestries and books guarded by metal grates. If possible, plan your visit when a walking tour is scheduled; there are very few signs that describe the history of the building, so taking a docent-led tour is incredibly helpful.
If you don't take a tour, you'll miss out on so much incredible information about J.P. Morgan, his legacy, and the architecture of the building.
6. Tour Grand Central Terminal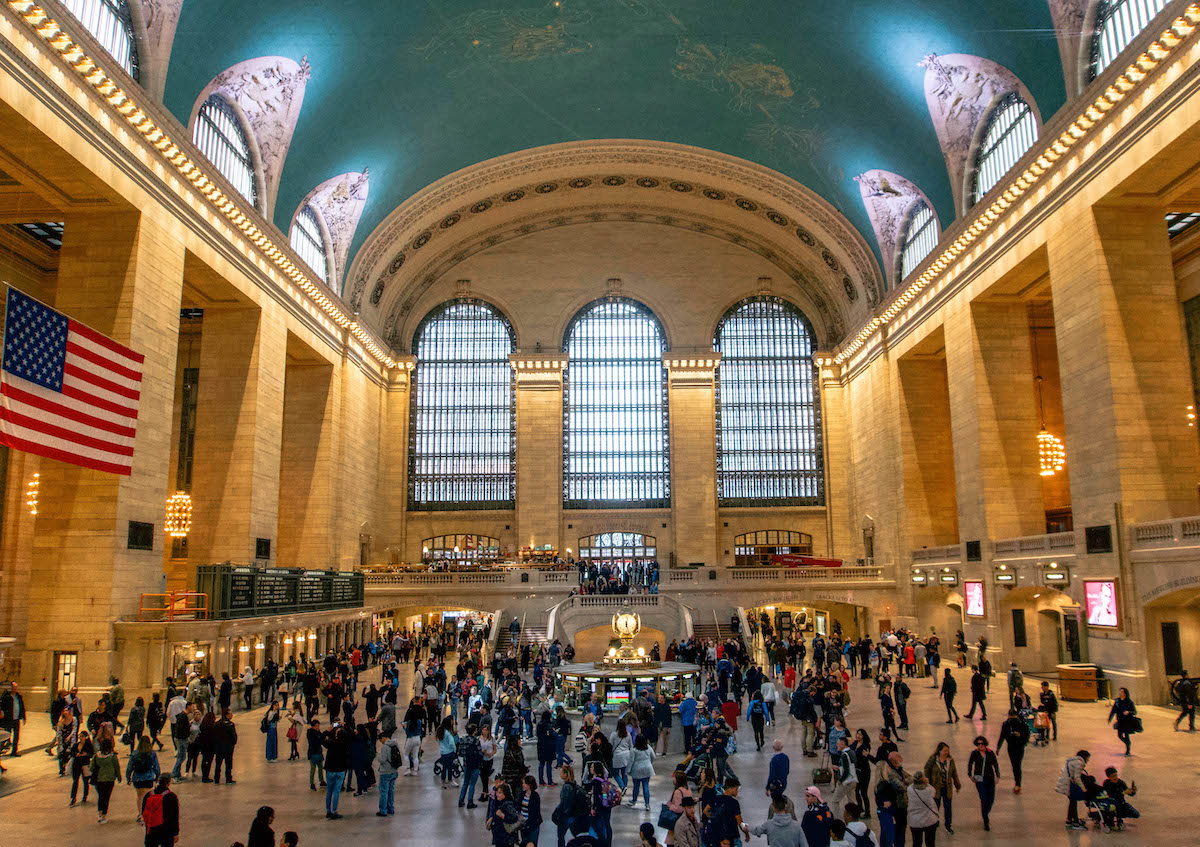 Grand Central is an iconic tourist attraction, and for good reason! In addition to the stunning celestial ceiling in the main concourse, there are also plenty of shops and food stalls to visit inside. If you're an architecture or history buff, I highly recommend taking Free Tours by Foot's Grand Central walking tour. You'll appreciate the building even more afterwards and will love hearing about its unique history.
7. Treat Yourself to Afternoon Tea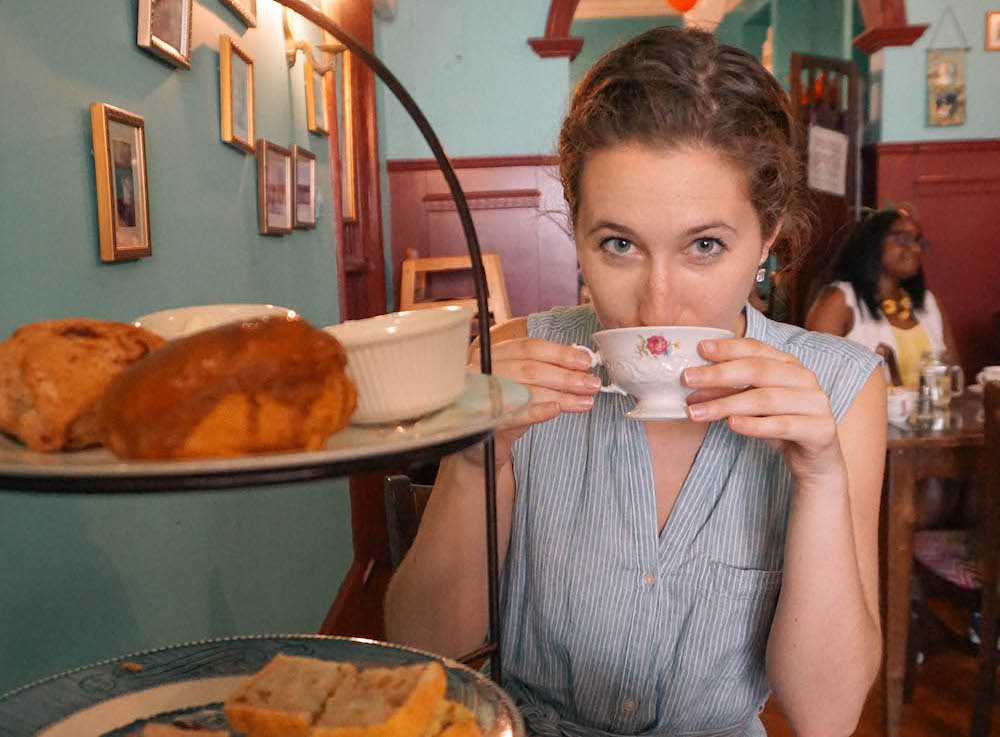 If you've not yet worked up the confidence to eat alone at a restaurant, treat yourself to afternoon tea instead! There are many tea rooms in NYC to choose from, running the gamut from incredibly high end to budget-friendly (click that link for my budget-friendly recommendations!). Afternoon tea is a good solo activity to have tucked up your sleeve if you're traveling to New York during the colder months or are hitting the point in your trip where you're feeling fatigued after being on your feet for so long.
No matter the tea room you choose to visit, be sure to bring a book with you so you can entertain yourself. Half the joy of afternoon tea is sipping and nibbling everything at a leisurely pace!
8. Walk down the Central Park Mall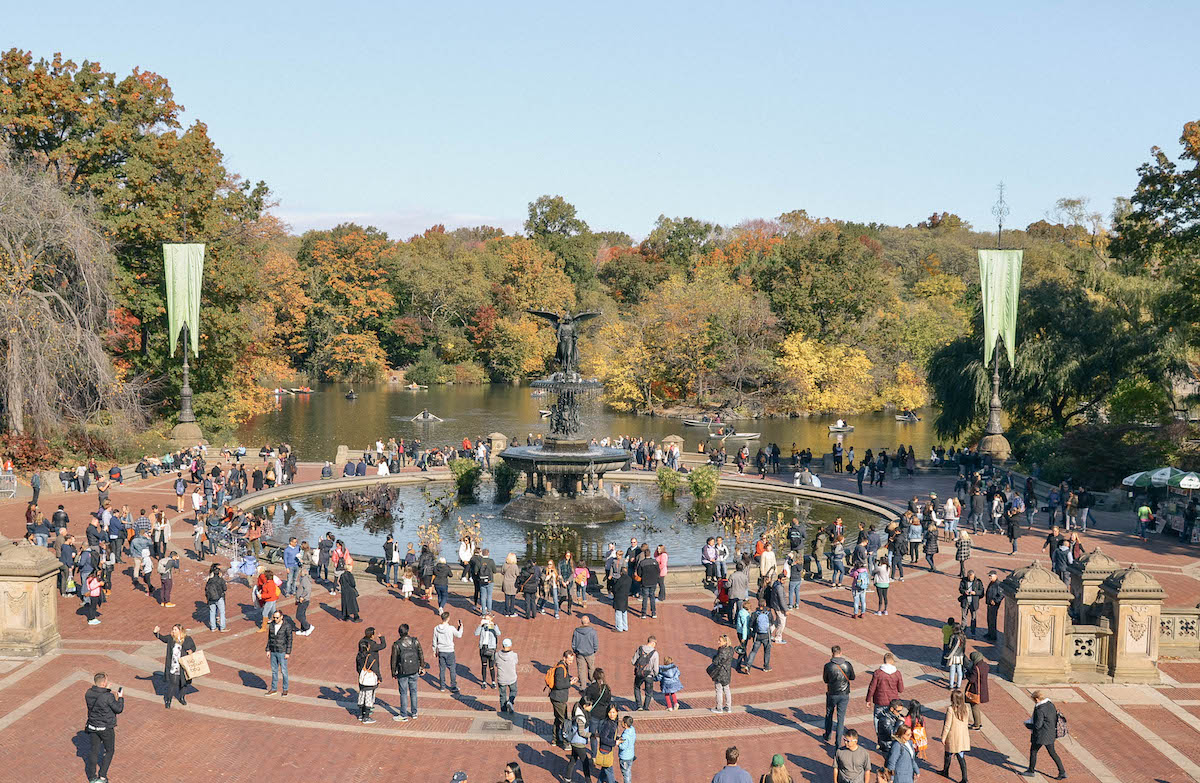 Whether or not you're traveling solo in NYC, Central Park is an absolute must during your stay. The Mall is a large walkway that's lined with elm trees and statues of famous literary figures. It's one of the most photographed spots in the park and is usually filled with tourists, street performers, and painters.
At the end of the Mall is Bethesda Fountain (pictured above), which is nestled next to the iconic Bow Bridge and the lake. There are always lots of people chatting away by the fountain, so this is a great spot to hang out if you're alone. Personally, I feel safe wherever I am in Central Park, but if you're new to solo travel it's always nice to be in a crowd!
Read more: A Quick(ish) Guide on What to Do in Central Park
9. Visit the New York Public Library + Bryant Park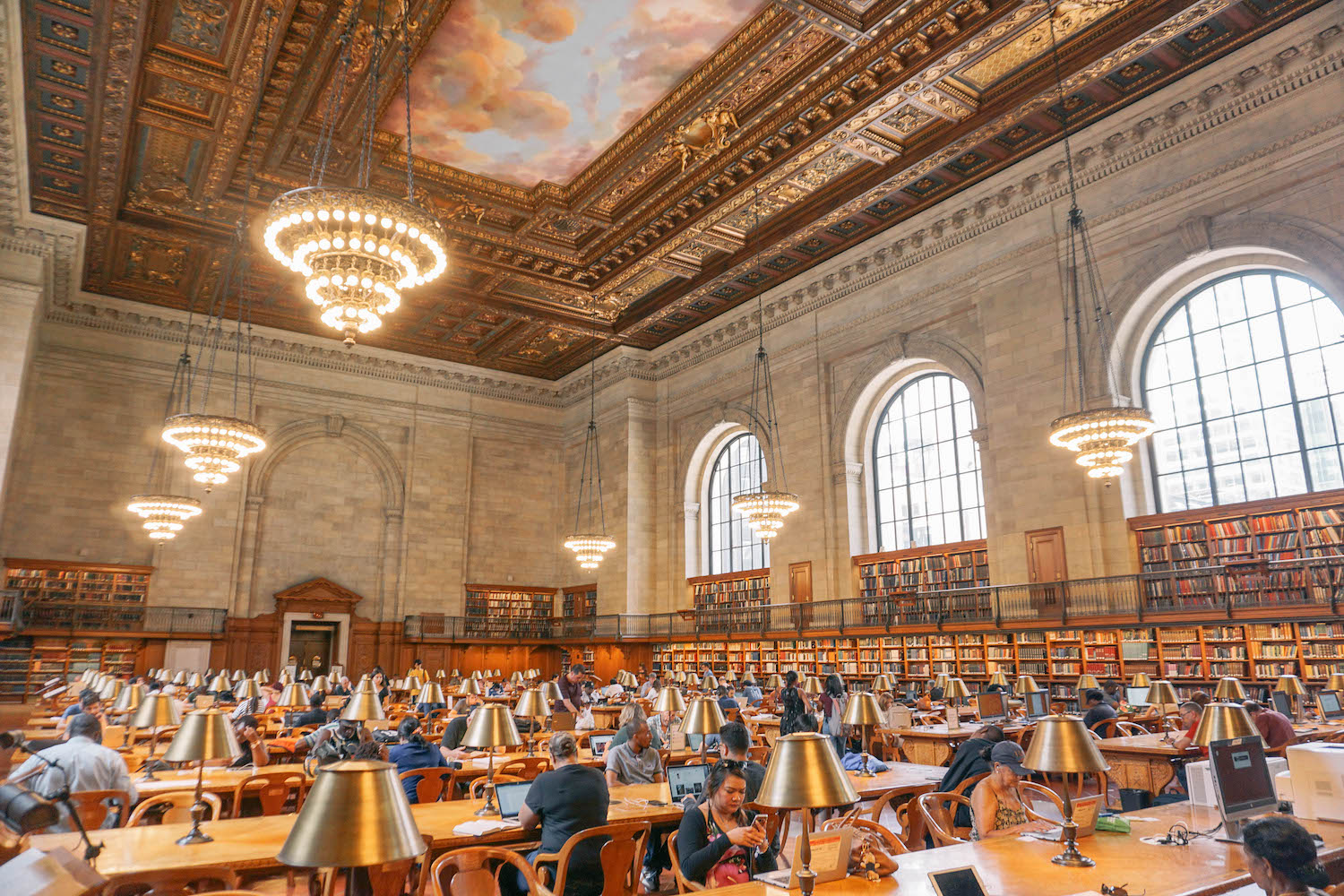 The New York Public Library is stunning. The Rose Main Reading Room (shown above) has the most incredible ceilings (think: huge murals and lots of fancy woodwork). The library always has an exhibit going on as well, so be sure and check that out before you leave.
Behind the library is one of my favorite green spaces in NYC, Bryant Park. In the summer, Bryant Park is great for laying out with a good book, and in the winter it's transformed into a veritable winter wonderland. The winter market here is excellent, and there's also ice skating and tons of great food options here as well. One of my favorite places to visit in NYC alone, no matter the season!
Read more: The Best Parks in NYC to Add to Your Bucket List
10. Hole Up at a Bookstore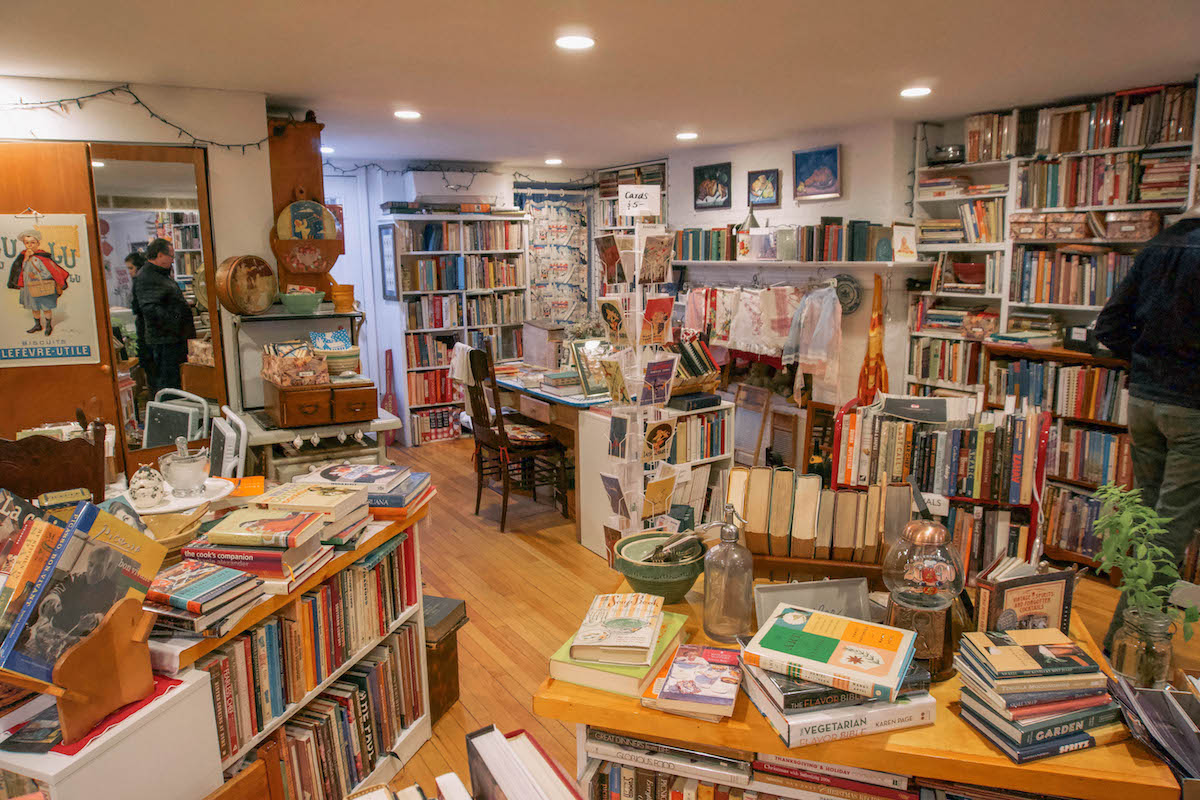 One of the things I miss most about living in NYC are the independent and second-hand bookstores. Bibliophiles, please visit one of the city's independent bookstores and hole up with a good book for a while! It's tough for independent stores of any kind to thrive in the Big Apple, but bookstores have had a particularly tough time of it lately.
The Strand is the best-known independent bookstore in New York, but there are also entire bookstores dedicated solely to mystery novels, cookbooks, and more! Whether you're looking for a second-hand diamond in the rough or are willing to pay full price, check out one of NYC's many bookstores during your solo trip.
11. Attend an Improv Show
Another fun thing to do by yourself in NYC is attend an improv or comedy show. New York is chock full of comedy clubs, which admittedly makes it tricky to find ones that are actually good. One of my favorites is Magnet Theater (sadly, my other stand-bys closed down during the world events of 2020). If you're looking for a hilarious way to pass an evening alone in NYC, visit one of the city's many comedy clubs!
12. Window Shop in Williamsburg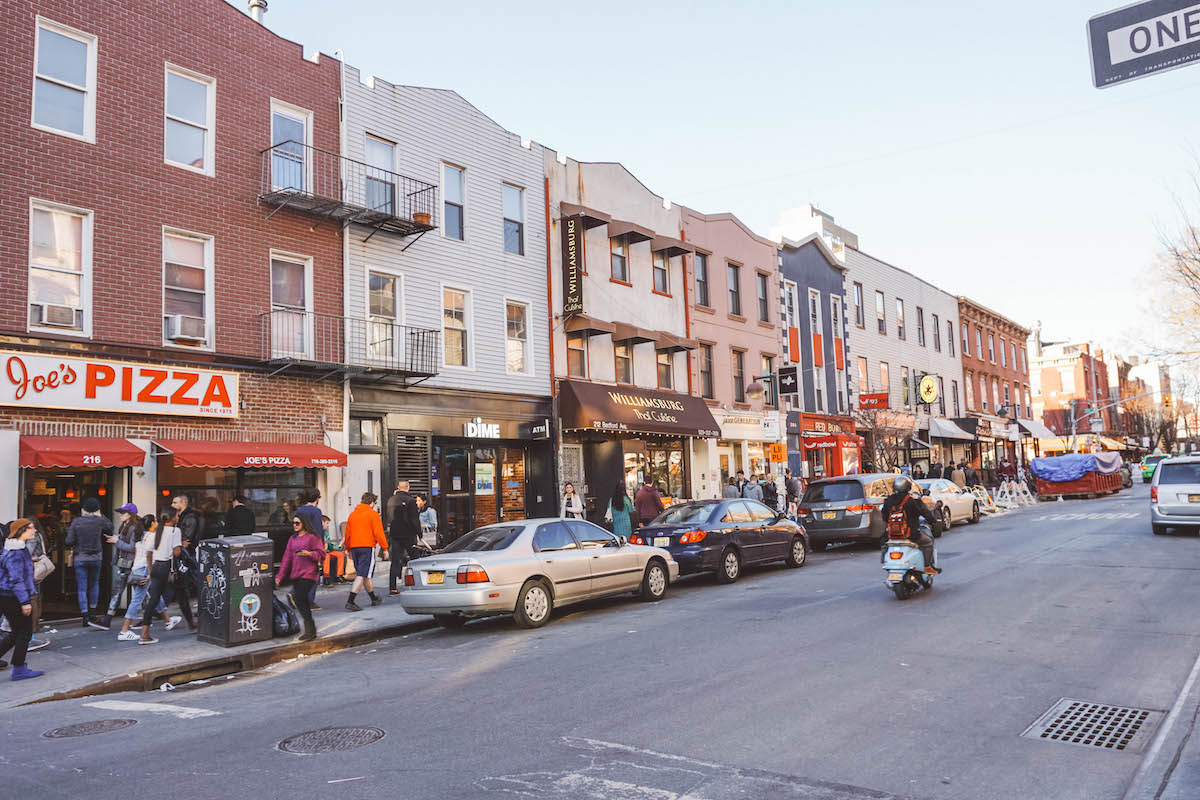 Yes, I'm asking you to leave Manhattan when you visit NYC by yourself (you'll thank me later!). One of the best places to visit in NYC alone is Williamsburg, a hip neighborhood in Brooklyn that's just one subway stop away from Manhattan. Williamsburg has a little of everything — great food, local jewelry and clothing stores, bars where people way cooler than me hang out, and more.
I'll admit, Williamsburg is becoming increasingly gentrified and has lost some of its local charm, but it's still a cool place to visit and is a comfortable place to explore solo.
13. Take a cooking class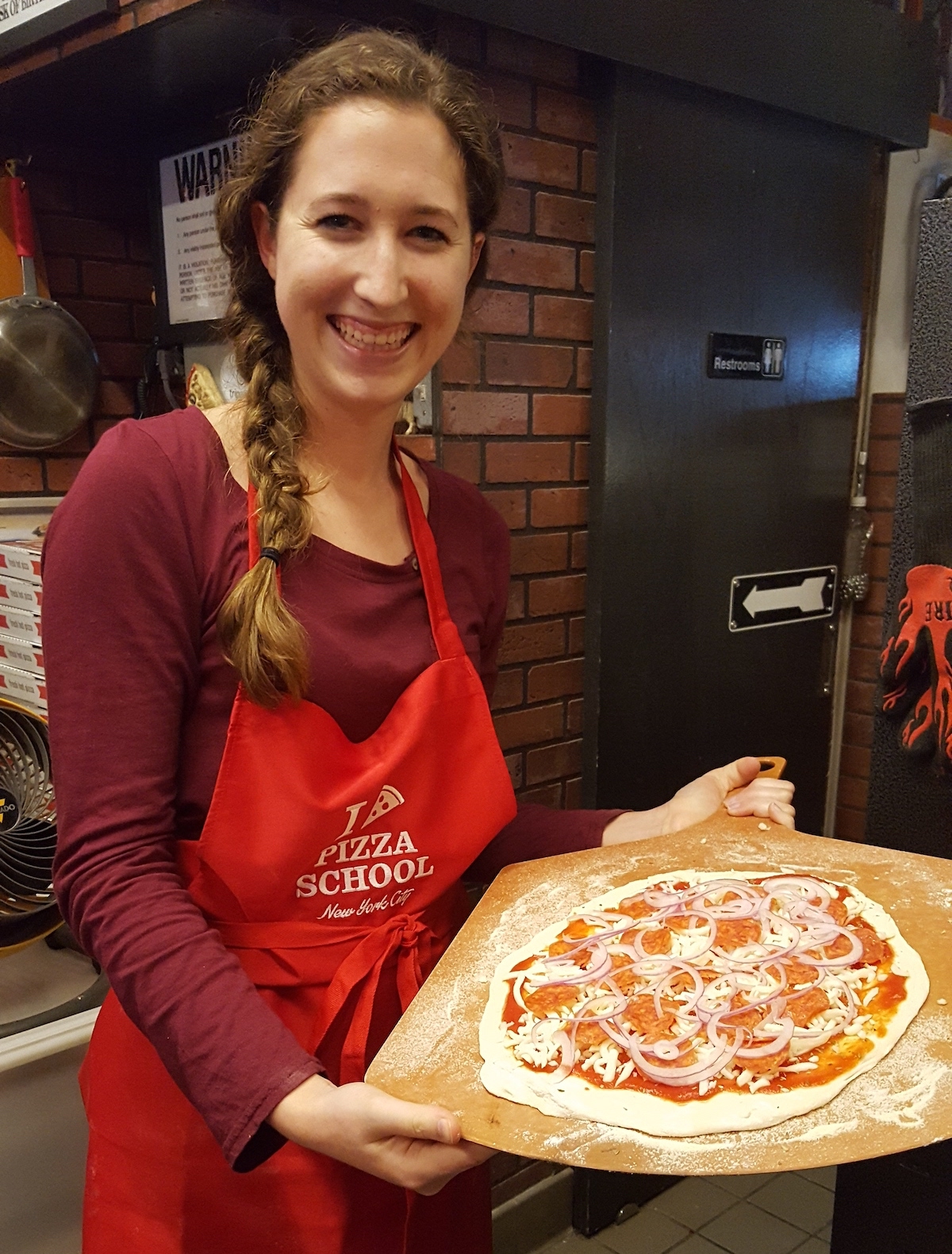 Cooking is one of my biggest passions, and I get so much joy from preparing meals for myself. If it's within your budget, I highly recommend checking out one of NYC's many cooking classes. A few that I recommend looking into are the beginner's bread class at the Brooklyn Bread Lab and the pizza making class at Pizza School.
It may seem intimidating going to a cooking class on your own, but all the classes I've been to have had such a fun, relaxed atmosphere that it's never felt awkward going by myself. Trust me, bonding with strangers over food is easier than you'd think!
14. Walk the Brooklyn Bridge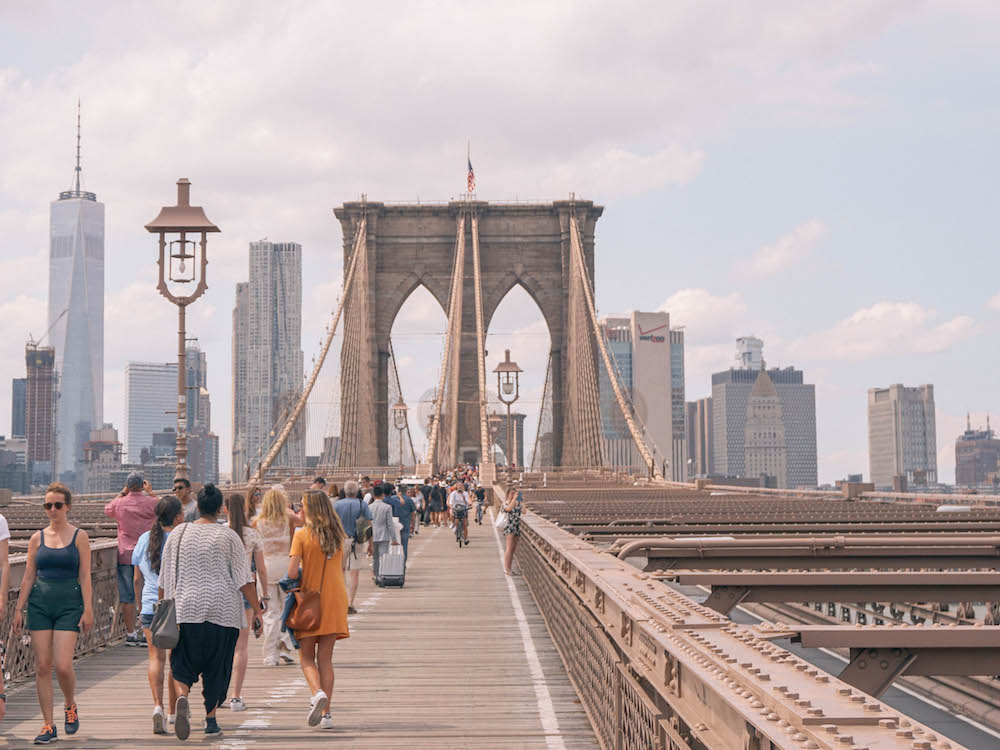 One of my favorite NYC solo activities is walking the Brooklyn Bridge. Between the gorgeous views and the incredible architecture, the Brooklyn Bridge is one of New York's wonders. To play it safe, I recommend walking the Brooklyn Bridge during the day. The bridge is more crowded when the sun is up, but that's also what makes it safer. Just be sure to keep out of the bike lane — people will run you over in a flash!
When walking the Brooklyn Bridge, I prefer starting on the Manhattan side and crossing over into Brooklyn. I always treat myself to a hot chocolate from Jacques Torres once I reach Brooklyn, then either explore the area more on foot or take the subway back to Manhattan.
Tip: If you're a photographer, walk the bridge just after sunrise or just before sunset. The lighting will be best for photos during these times! Just use your best judgment in terms of timing and trust your gut since you'll be alone.
15. Visit Governors Island

I make it a point to visit Governors Island every summer, because it feels like a relaxing getaway even though it's a mere 800 yards away from Manhattan. Governors Island was occupied by the Coast Guard until the 1990's and is now a popular park space. I highly recommend the free walking tour of the island (check online to see its schedule), and if you get there early enough you should snag a hammock and get some reading in.
Read more: Your Guide to Governors Island (What to Do, See, & Eat)
16. Visit The Frick Collection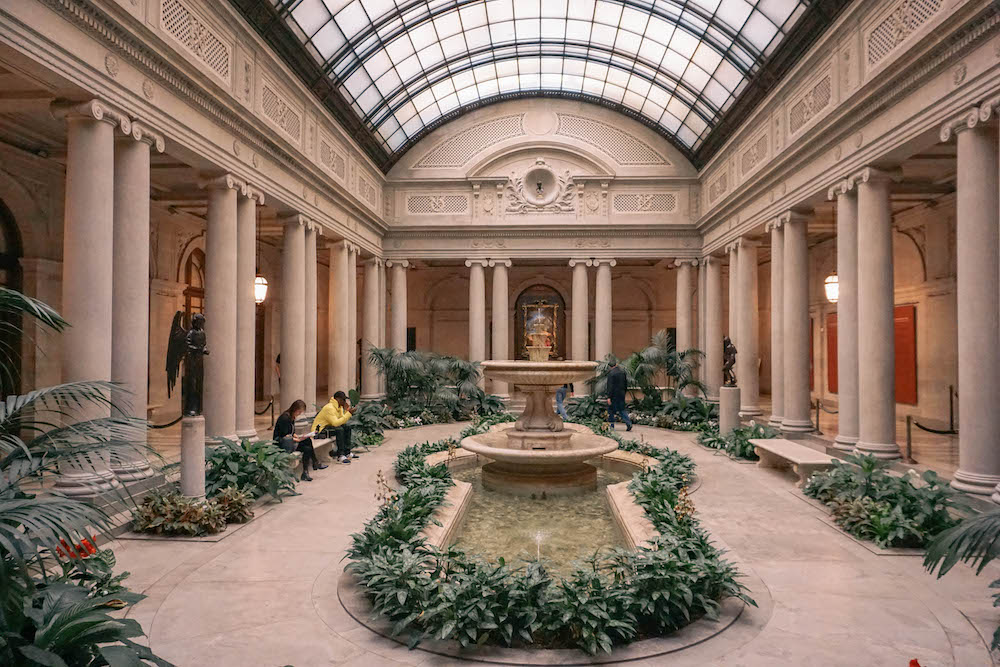 The Frick Collection is housed in a Gilded Age mansion that once belonged to Henry Clay Frick, a Pittsburgh industrialist. Nowadays, it's home to an impressive collection of Old Master paintings and European decorative arts (most of which was collected by Mr. Frick himself). The rooms are decorated as they were in Frick's day, and a visit to the museum truly feels like you're stepping back in time. Make sure to grab an audio guide on your way in as there are no placards or signs throughout the building.
17. Attend a Live Taping
Another great "alone but not" activity in NYC is to attend a live taping. New York is home to many late-night and morning shows. Think: Saturday Night Live, The Late Show with Stephen Colbert, The Tonight Show Starring Jimmy Fallon, and so on. (I've seen both Colbert and Fallon live, and both were excellent!)
Tapings are free to attend, but getting tickets for them can be tricky. Some tapings release tickets a month or more in advance, others release them day-of via a lottery system, and others fall somewhere in between. Do your research ahead of time and plan accordingly to try and get your hands on those tickets!
When you attend a taping, be sure to bring a book or another form of entertainment with you. There are always long wait times before the taping, and you don't want to be bored. Also note that there are usually regulations about the size of bag you can bring, whether or not cameras are permitted, etc. so set aside time to drop your stuff off at your hotel before the taping as needed.
18. Go on a walking tour
You guys know that I usually hate group tours, but I'm always down for a walking tour. Free Tours by Foot is my favorite tour group, as their tours typically last 2-3 hours and are pay what you want. They have a handful of standard walking tours in NYC, as well as a few seasonal tours that are always really informative.
Walking tours are one of the best things to do alone in NYC and are a great way to connect with other travelers while you're traveling solo. Plus, it gives you the opportunity to ask a knowledgeable guide lots of questions about NYC!
19. Admire the View from One World Observatory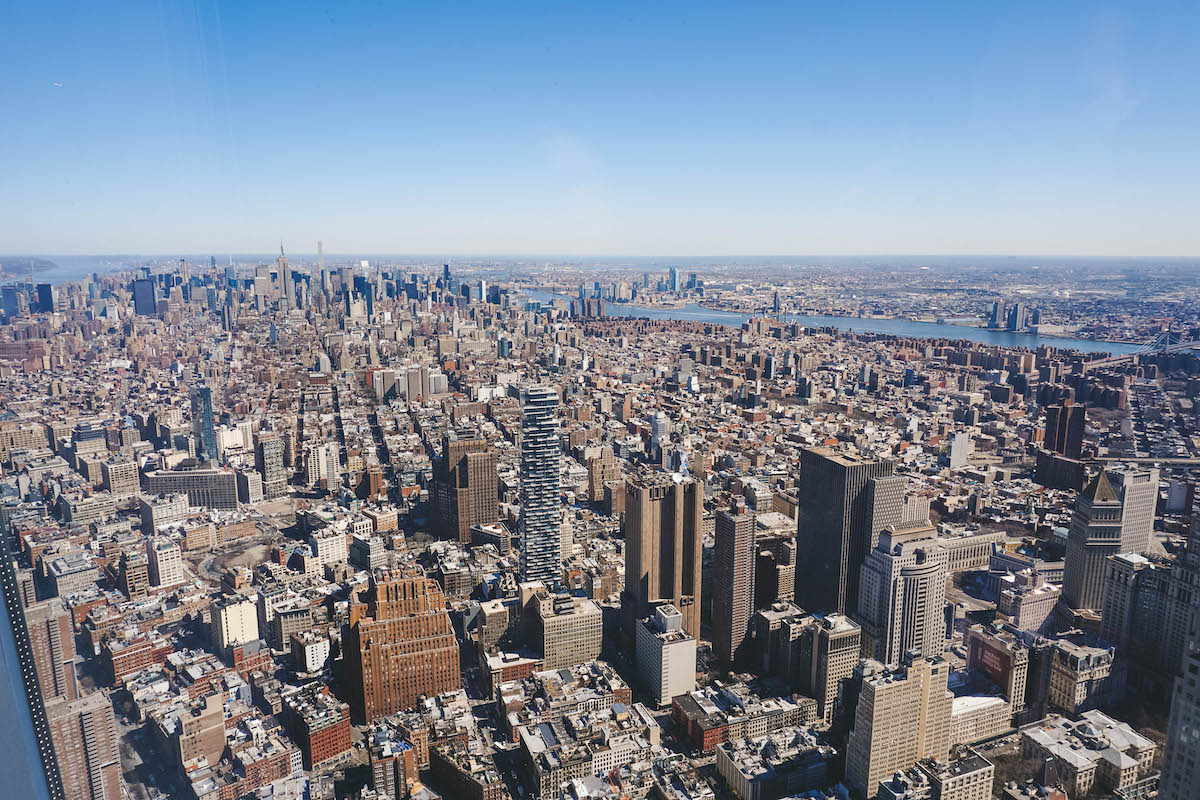 A visit to the One World Observatory will put you out $40+ but the views from the top really are spectacular. There are three levels to visit, although the views from each don't vary by much. You have to book a specific entry time slot, but you can stay at the top as long as you'd like!
Tip: While you're in the area, be sure to visit the Oculus (also on this list of things to do alone in NYC!), the Irish Hunger Memorial, and the Brookfield Place shopping center.
20. Go Shopping at the Oculus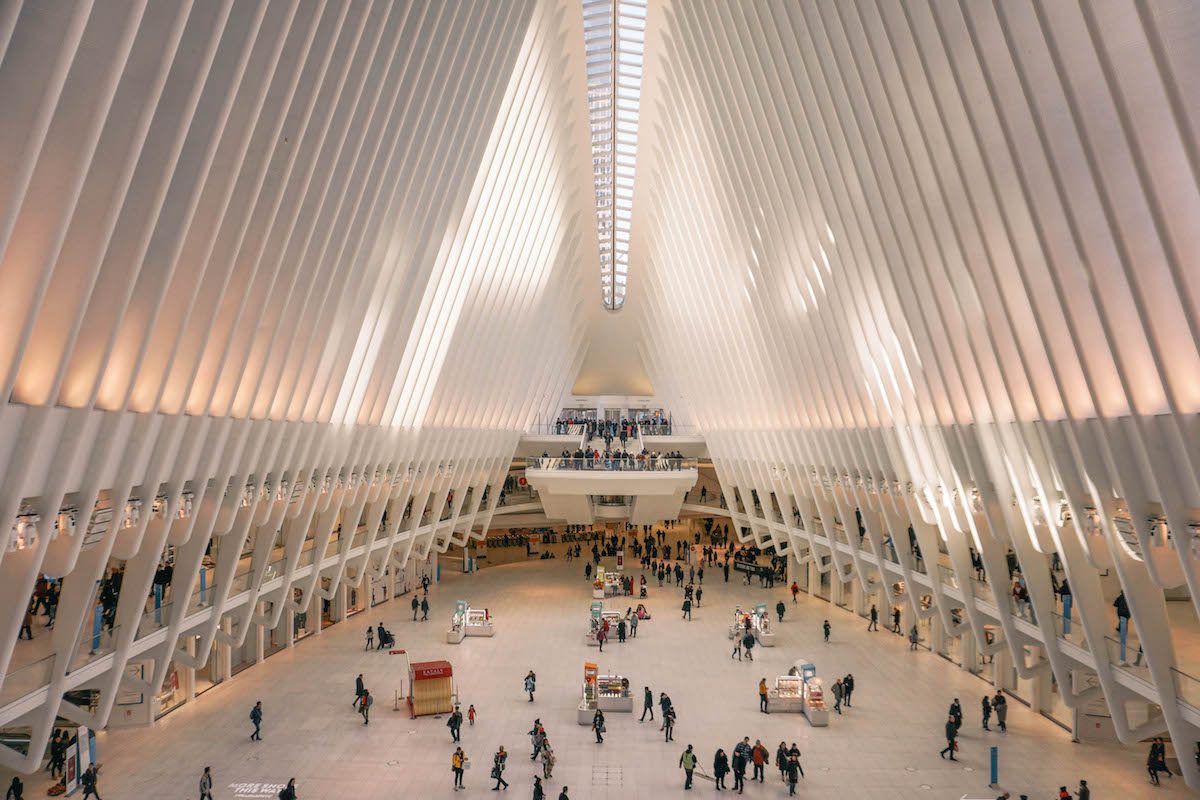 Located at the former site of the World Trade Center, the Oculus is an upscale below-ground shopping center in the heart of NYC's Financial District. The massive structure is a bit abstract in form and is meant to resemble a dove leaving a child's hand — a symbol of peace after the destruction that took place here in 2001.
If you're a serious window shopper, you can easily pass a couple hours inside the Oculus. Be sure to check out Eataly while you're there. Eataly is a worldwide chain of Italian marketplaces; the branch at the Oculus is part swanky grocery store, part kitchen supply store, and part restaurant.
21. Visit the 9/11 Museum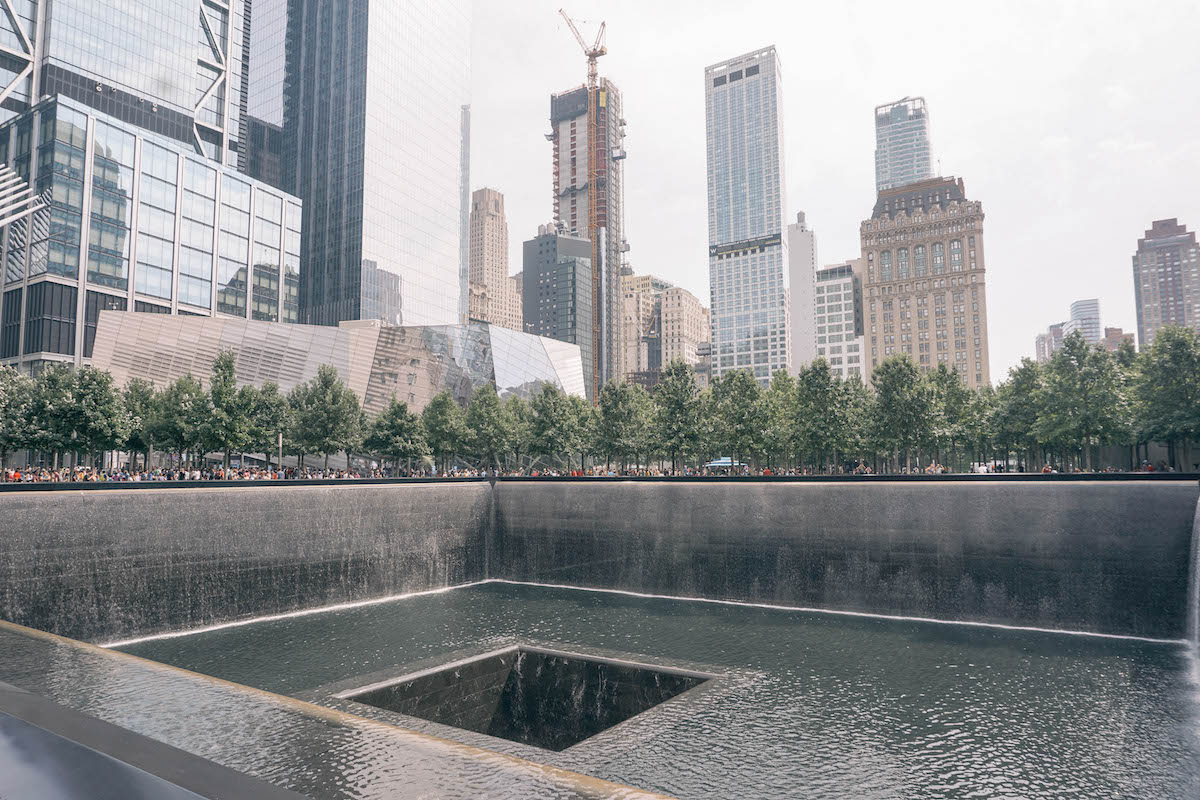 I'm of two minds recommending the 9/11 museum on this list of things to do alone in NYC. On the one hand, it's the perfect place to visit solo because no one really talks inside the museum. On the other hand, the reason no one talks is because they're likely crying. I won't lie, this is a tough museum to visit, but I really believe every American should see the exhibits at least once.
The museum walks you through the occurrences of September 11, 2001 and showcases photos, videos, personal voicemails, and more from the people inside the hijacked planes and onlookers standing outside the Twin Towers. If you do visit this museum by yourself, make sure to call a friend or family member afterwards to discuss what you learned. This is just one of those museums you can't get through all on your own.
22. Explore the Brooklyn Botanic Garden
If you're dying to see one of NYC's botanic gardens, I think the Brooklyn Botanic Garden is the way to go for solo travelers. I love the garden in the Bronx, but the walk from the subway to the garden takes you through a sketchier part of town. Again, I feel safe doing it, but if you're not from the area I think it'd make you feel a little uncomfortable (just being totally honest!).
The Brooklyn Botanic Garden is lovely though, and it has lots of different plants to check out. The rose garden is probably my favorite, but it's all so beautiful! After you're done exploring the gardens, meander through Prospect Park before hopping back on the subway.
23. Window Shop in SoHo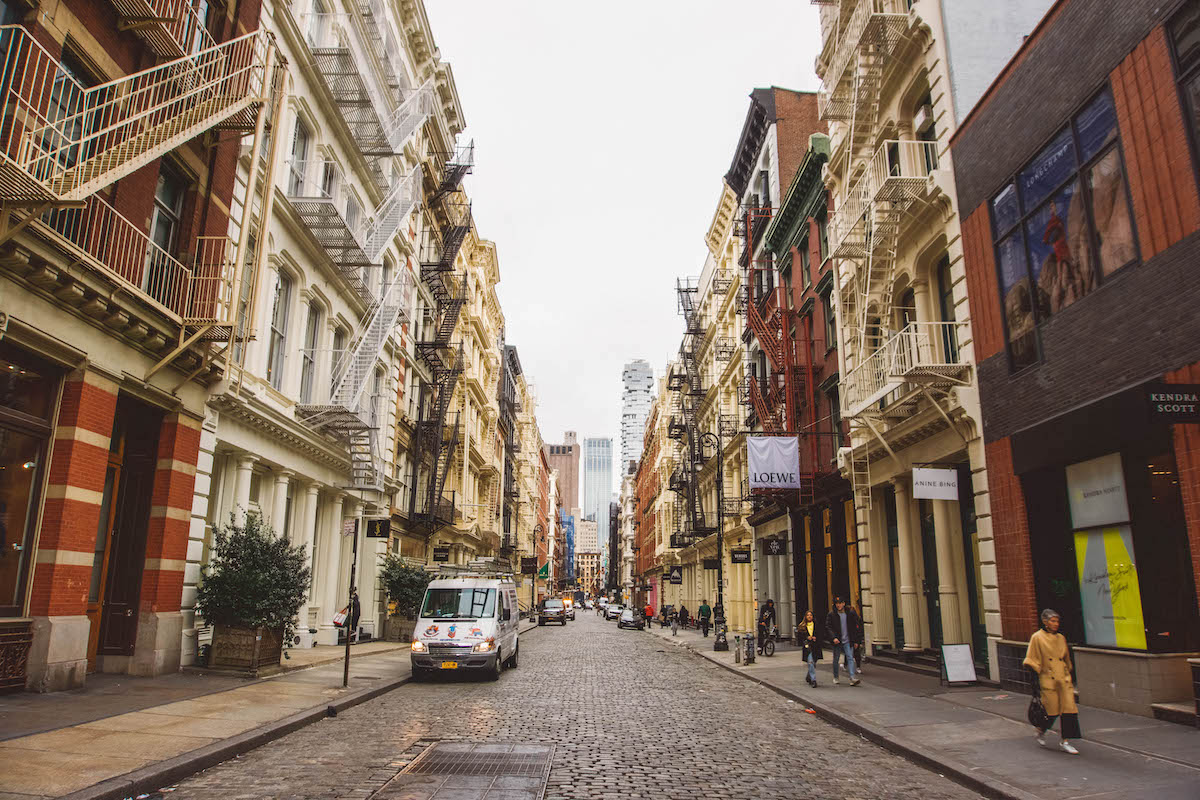 Arguably the window shopping mecca of NYC is the trendy SoHo neighborhood. SoHo is a safe, chic neighborhood in southern Manhattan with tons of stores — both high-end and budget. When hunger strikes, hit up Prince Street Pizza for lunch. It's the best pizza in NYC, hands down!
Other eateries in SoHo worth visiting are Dominique Ansel and Harney & Sons. Harney & Sons is actually a tea store, but you get one free cup of tea from their tea wall when you visit plus there's a small cafe in the back with a tea room.
Tip: I recommend visiting SoHo during the work week. It's PACKED on the weekends, no matter the season.
24. Sample Cannoli in Little Italy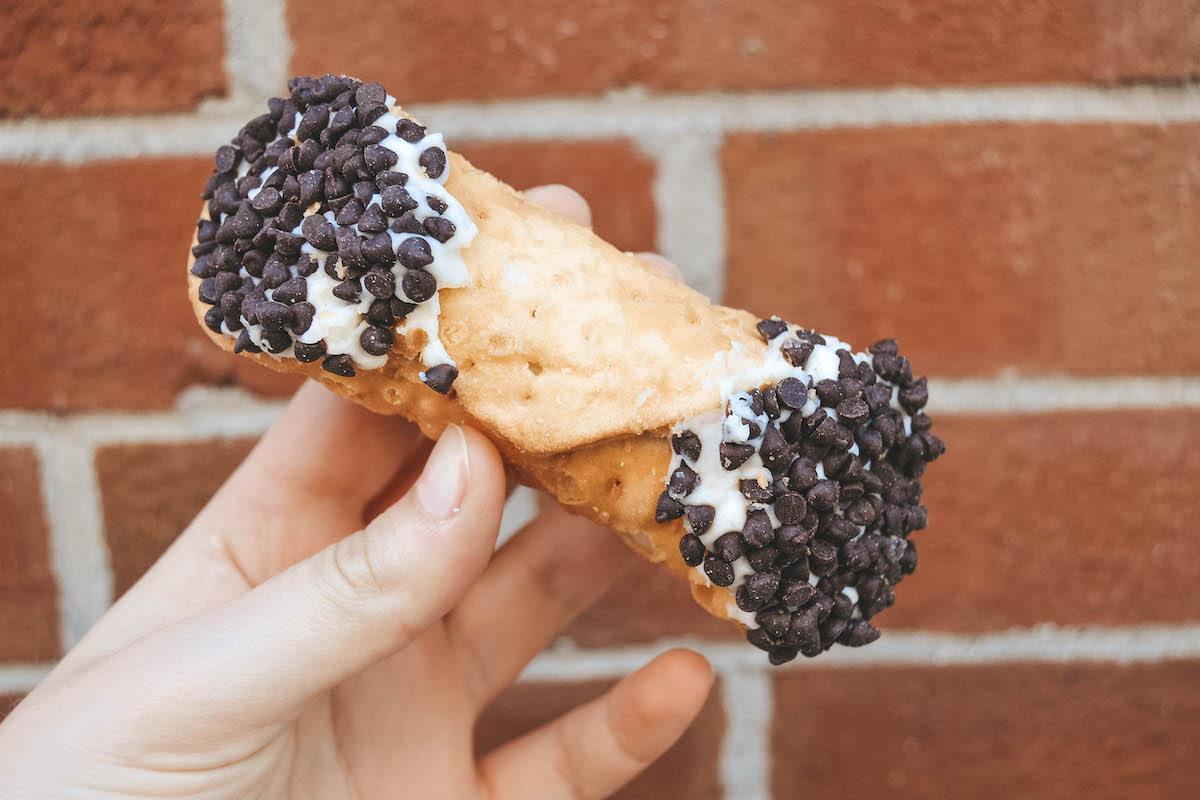 When questioning what to do alone in NYC, a safe answer is almost always "eat." There are countless quaint cafes and coffee shops to hole up in, but if you've never visited Little Italy before then pop that at the top of your list. Yes, Little Italy is very touristy but it's genuinely one of my favorite places to visit in NYC alone.
In my humble opinion, you can find better (and cheaper) Italian food elsewhere in NYC. So, skip the restaurants and head straight for the bakeries! La Bella Ferrara is my all-time favorite bakery in Little Italy (not to be confused with the much larger and better known Ferrara located down the street!). La Bella Ferrara is a no-frills bakery that sells the best cannoli and lobster tails in the city.
Tip: If you're feeling adventurous and have been to Little Italy before, make the trek up to Arthur Avenue instead. It's located in the Bronx and is allegedly NYC's "real" Little Italy. 
25. Experience 'Sleep No More'
Sleep No More is the ultimate NYC immersive theater experience. It's set in an old hotel in Chelsea, and tells the story of Macbeth. Guests are given a mask to wear so the actors can't see who you are, and then you're let loose in the hotel to run after characters and create your own narrative.
The whole experience is fairly creepy, but it's the perfect place to go solo since groups are purposely split up by the hotel's staff anyways. The whole point of Sleep No More is to experience it on your own, so you might as well go by yourself! 
Read more: 5 Things Theatre Lovers Need to Do in NYC (Besides See a Broadway Show)
Map of the Best Things to Do Alone in NYC
Excited for Your Solo Trip to NYC?! 
New York is a big city with lots of people bustling about, but in a way that's what makes it feel so safe. You never feel truly alone in NYC; no matter the time of day, there are always other people on the streets with you. While I don't recommend exploring the city on foot in the dead of night, rest assured that it's as safe a city as any to visit alone.
If you have any questions or concerns about planning a trip by yourself or what to do alone in NYC, don't hesitate to drop me a comment below. I'm more than happy to help you out any way  I can so you can make the most of your trip to the Big Apple!
Tell me: Have you traveled alone before? Did you enjoy it?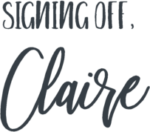 More Things to Do in NYC:
Pin for later!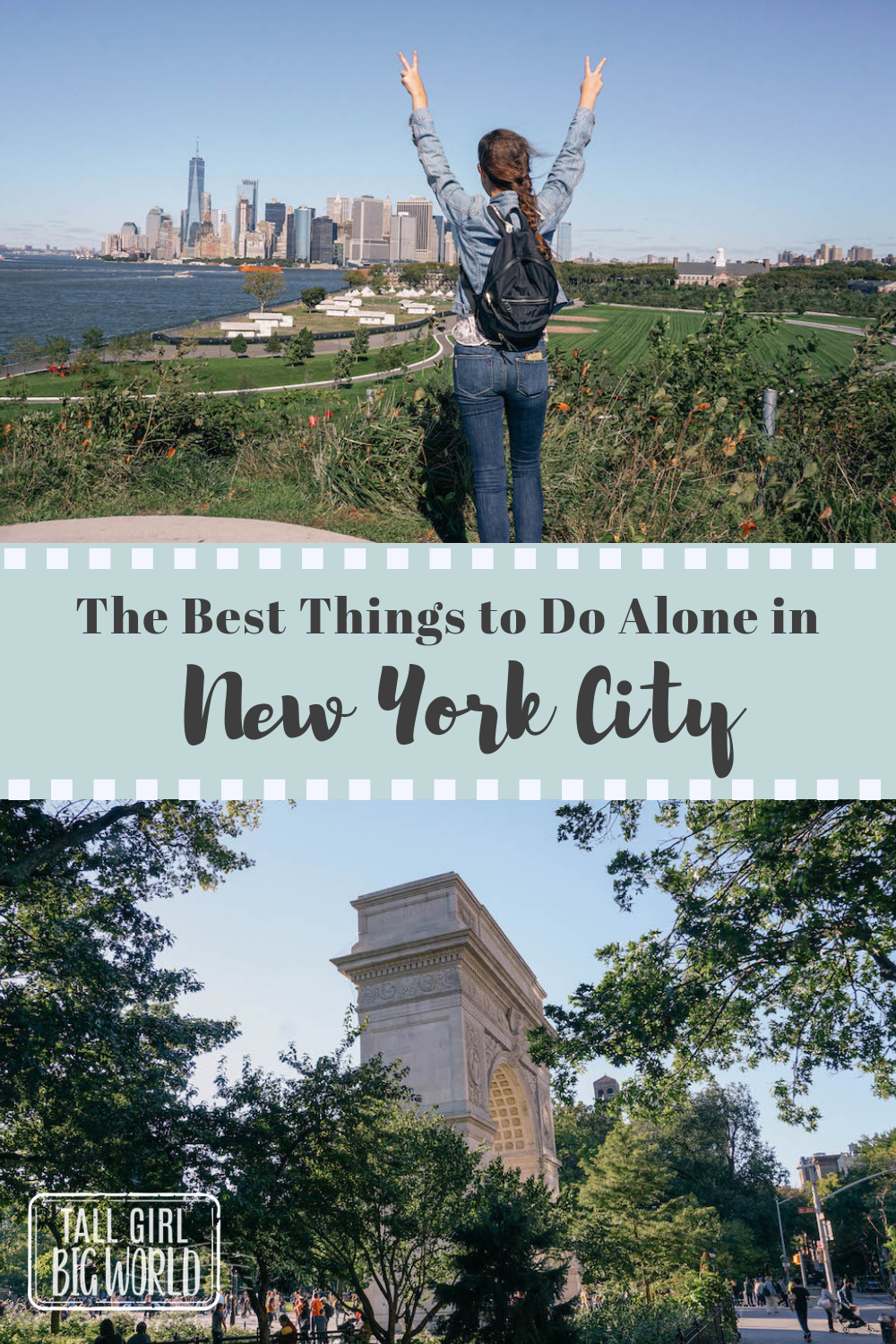 This post was updated on February 2, 2022.