Here are 10 of the best bookstores in NYC! Many of these are independent NYC bookstores, and all are totally unique. A must-read for bibliophiles!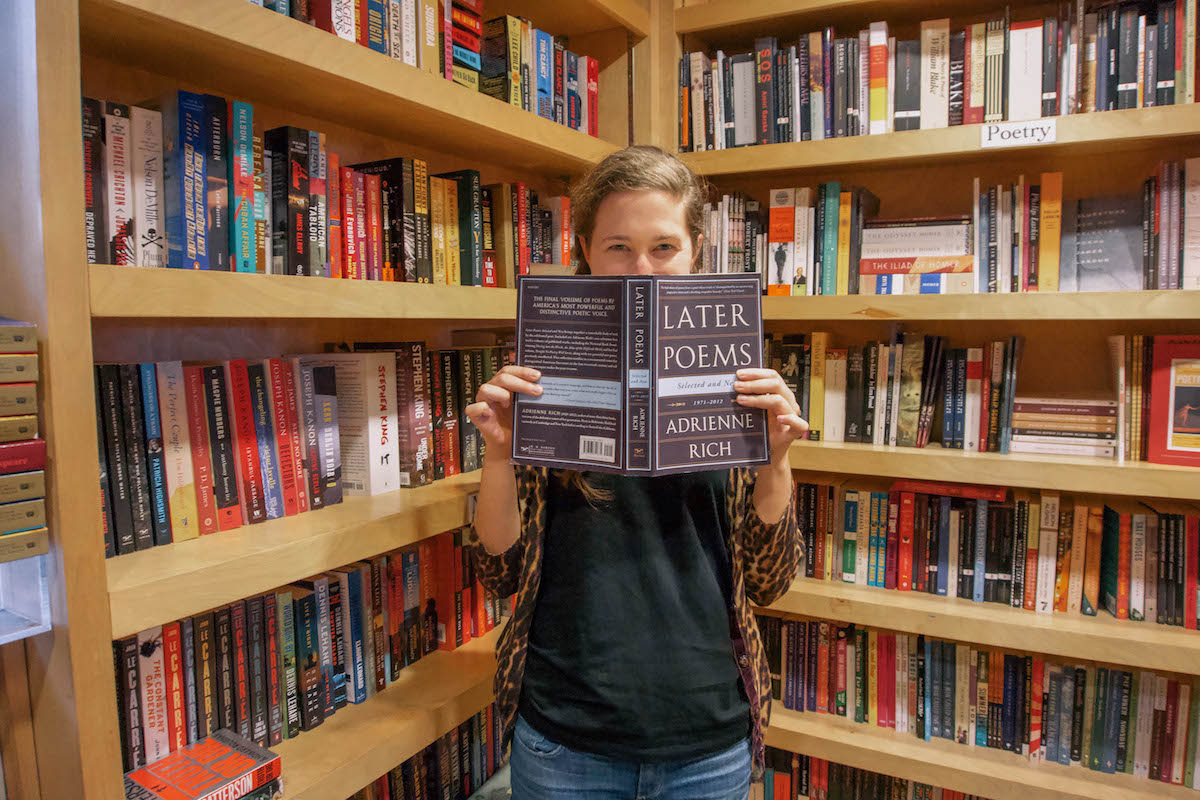 I've always been the bookworm in my friend group. Growing up, I never left home without a massive book stashed in my backpack to read on the school bus, and in middle school I got in trouble more than once for reading a book I had hidden underneath my desk. In college, I majored in English (among other things), so for three years straight I averaged around 30 books per semester. Now that I'm freelancing full time, my favorite part of my morning routine is the 45 minutes I spend reading a few chapters of my latest novel over a bowl of oatmeal.
For me, reading is the ultimate form of self-care. I don't read with the intention of expanding my mind or learning new facts; I read to totally escape the present moment and dive into another world. I've found that when I prioritize reading during the work week, I'm actually more productive during the day and less stressed.
So it goes without saying that buying books is my preferred way to blow my hard-earned cash. I've gotten a lot better about renting books from the library recently, but I still find myself in random bookstores on the weekends in between hanging out with friends. And let me tell you, there are so many cute independent bookstores in NYC, which makes me happier than you can know!
I've somehow gone three whole years without sharing the best bookstores in NYC with you, but I think I've overlooked writing this blog post because browsing for books is basically ingrained in my DNA. It's so part of who I am and how I spend my free time that I forgot it's something other people would be interested in. Does that make sense?
Anyways, jumping back to the reason for this post — the best bookstores in New York City! The following bookstores are primarily independent NYC bookstores, but one or two are international chains you can't find elsewhere in the US.
Kinokuniya Bookstore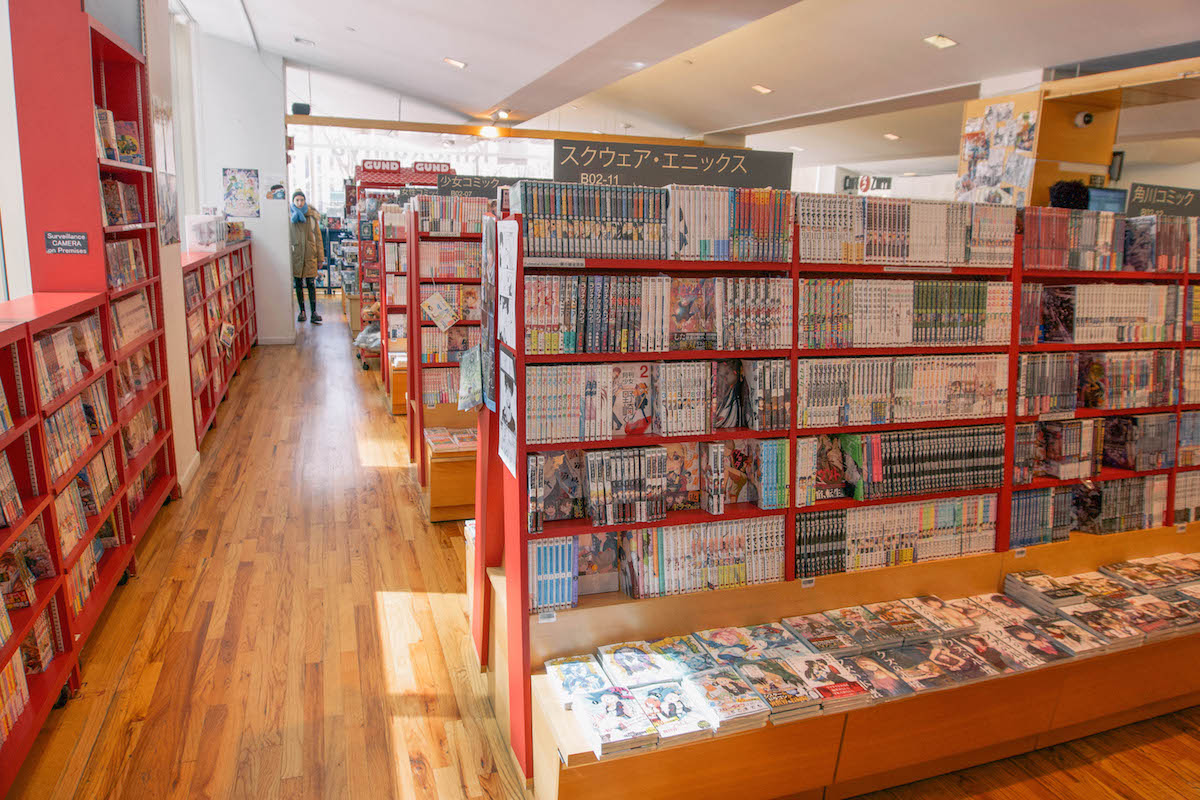 Perfect for: Manga and anime lovers
Located across from Bryant Park, Kinokuniya is a Japanese bookstore chain with a handful of locations in the US. This is the bookstore to visit if you love Japanese culture and books. On the ground floor of the NYC store are popular novels in English, and on the top floor is a cute Japanese café and a huge selection of manga (most of which is in Japanese).
The only downside to this Japanese bookstore in NYC is that all the manga is wrapped in plastic, so it's impossible to flip through the books. There's also a lot of anime merchandise, including Studio Ghibli puzzles, actions figures, and more. Kinokuniya is a good-sized bookstore, so depending on your interest in anime and manga you can spend upwards of an hour or more here.
Rizzoli Bookstore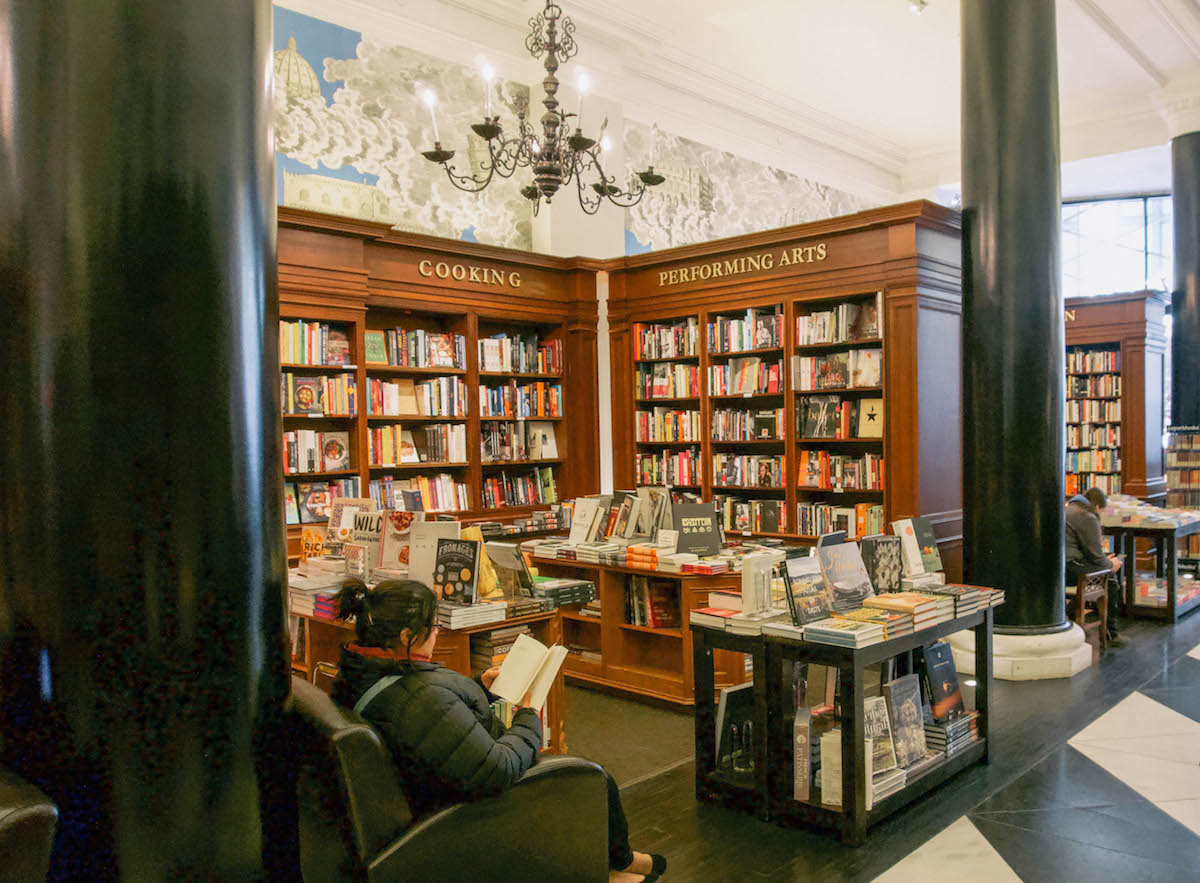 Perfect for: Those who love illustrations
A few blocks from the Flatiron building, Rizzoli is one of the prettiest bookstores in the city. Here you'll find an array of illustrated books on art, architecture, food, interior design, and more, as well as a selection of popular novels. Rizzoli is what I imagine bookstores in the early 1900s would have looked like — the store is lined with dark wood shelves and a mural wraps around the top of the shelves. Unfortunately, there's not much seating in this store, but browsing for books here feels like such a treat.
Strand Bookstore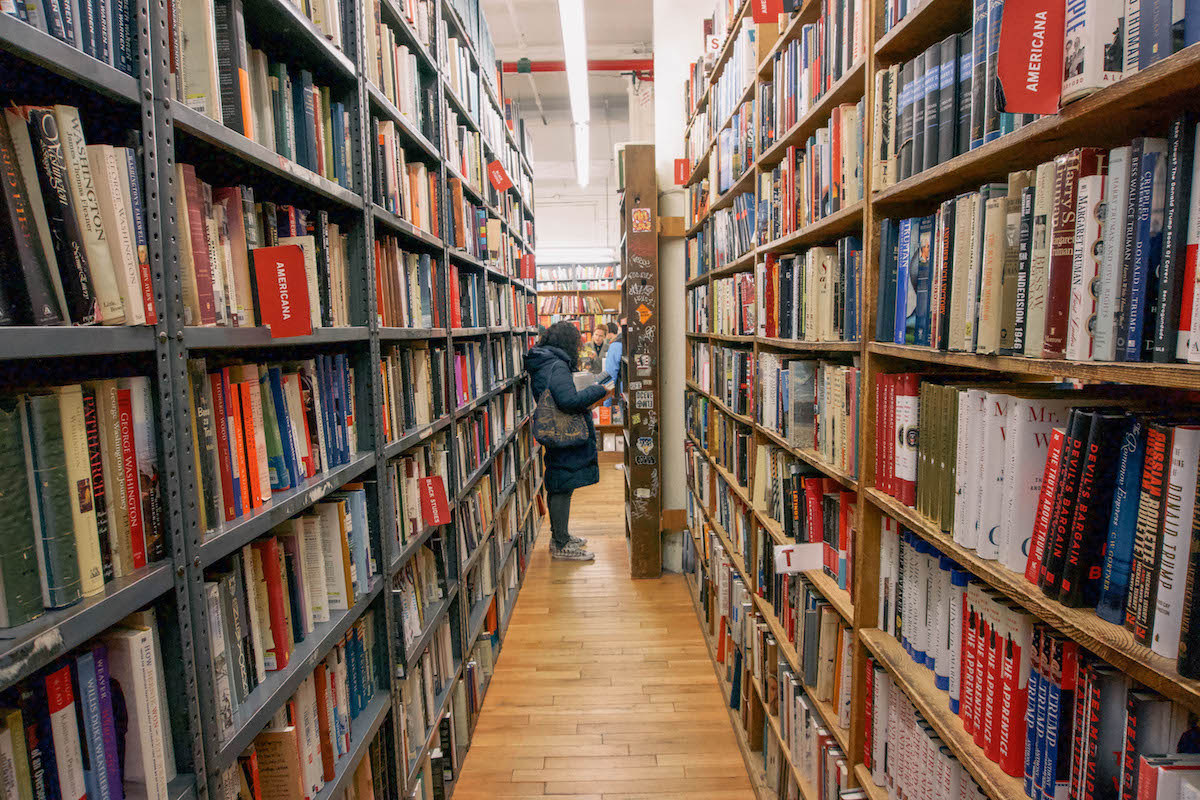 Perfect for: The casual browser 
I couldn't share a list of the best bookstores in NYC without including Strand, now could I? When I think of New York independent bookstores, Strand is the first one that pops into my mind. Strand has over 18 miles of new, used, and rare books, and its store near Union Square is absolutely massive. Whenever I'm on the hunt for a new book here, I always hope the title I'm seeking is on the top shelf so I have an excuse to climb on a ladder to get it — it makes me feel like Belle from Beauty and the Beast!
Although I have a soft spot for Strand (I really just have a soft spot for any independent bookstore in NYC), I will say I've grown to dislike visiting it on the weekends. Strand has become so popular that it's often packed on the weekends, which kind of stresses me out. If you're also someone who enjoys a quieter bookstore experience, visit Strand during the work week.
Bonnie Slotnick Cookbooks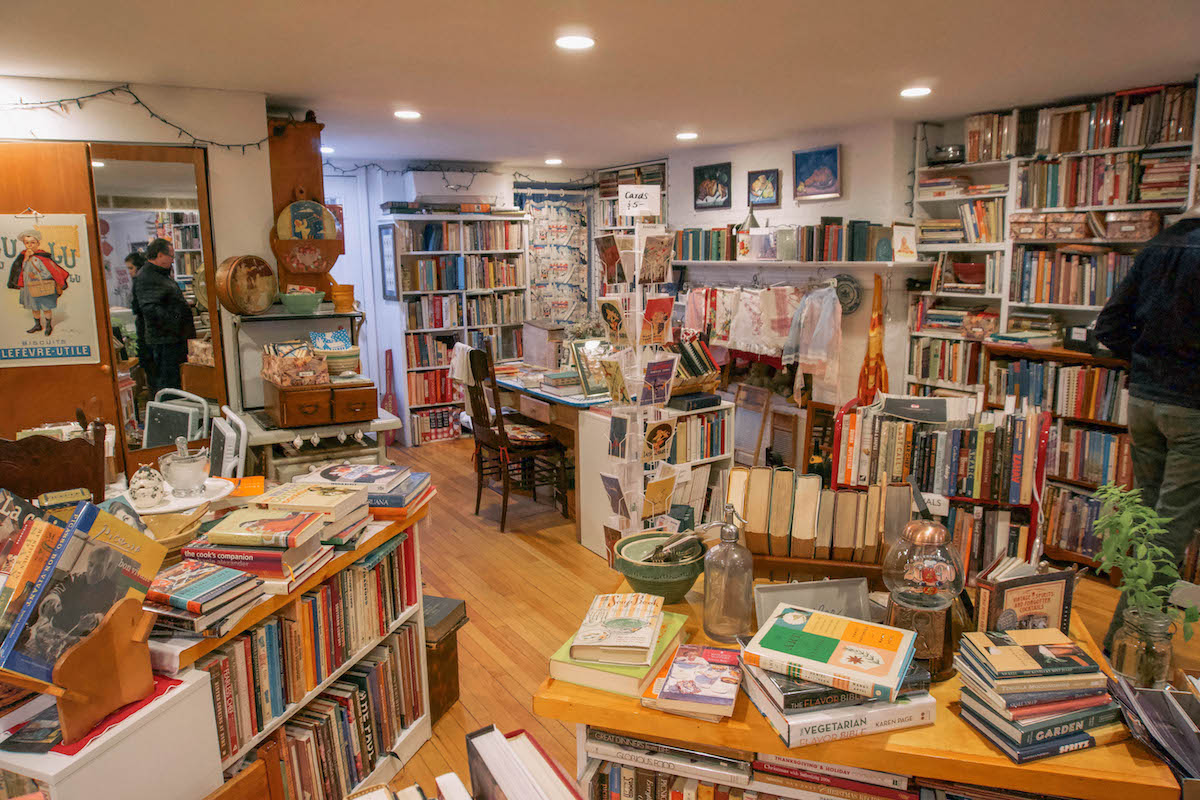 Perfect for: Cookbook fanatics
Bonnie Slotnick is one of the best discoveries I've made since moving to New York. Tucked below street level is a cozy den packed with cookbooks of all kinds. Bonnie Slotnick specializes in rare and out-of-print cookbooks, but there's also a decent selection of newer titles. The cookbooks are arranged by region, and the number of titles available will make your head spin.
I highly suggest asking Bonnie for assistance if you're on the hunt for a particular type of cookbook, as it can be a tad overwhelming going through the volumes yourself. If you're having a rough day, this is the bookstore to visit, because coming here feels like a journey back through time.
Codex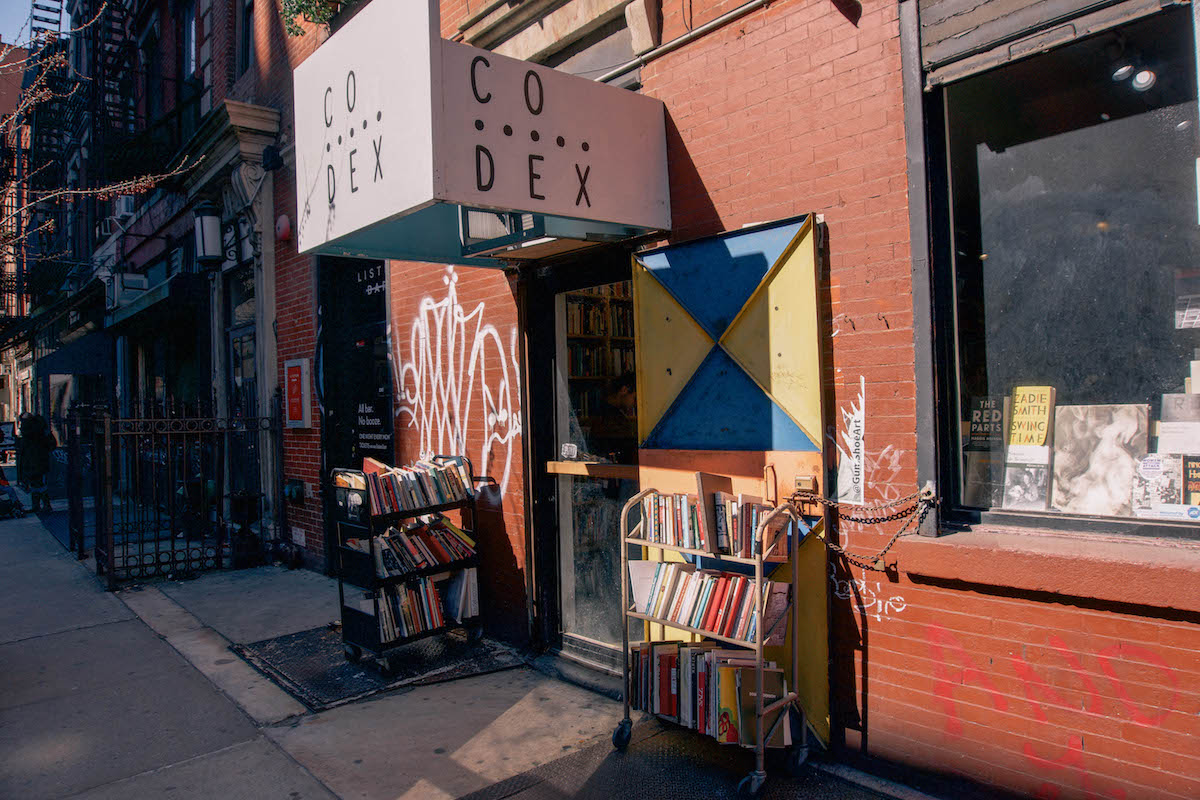 Perfect for: A quick browse
This itty bitty bookstore is around the corner from Bonnie Slotnick. Codex sells used and new books, but it focuses primarily on literary fiction and art books. It's one of the best used bookstores in NYC! There's no seating in this small space, but Codex shares a door with Think Coffee so it's easy to grab a book and immediately dive in over a cup of joe. I should note that Codex will buy your used books, but I recommend calling ahead to see if the titles you have align with the books they sell in store.
McNally Jackson Books
Perfect for: The casual browser
I have a feeling that McNally Jackson will soon be as popular as Strand. This independent bookseller has two locations, one in SoHo and one in Willamsburg. What I love most about McNally Jackson is that its books are separated by region, and they get really particular with the classification (British Isles, Nordic, French, etc).
If you're unsure what title to buy, look for the staff picks and list of most popular titles on display in the store. I've found some great reads through the staff recommendations! Oh, and there's also a café inside the bookstore that sells goodies from local suppliers like Sarabeth and Murray's (the hot chocolate here is quite good!).
Unoppressive Non-Imperialist Bargain Books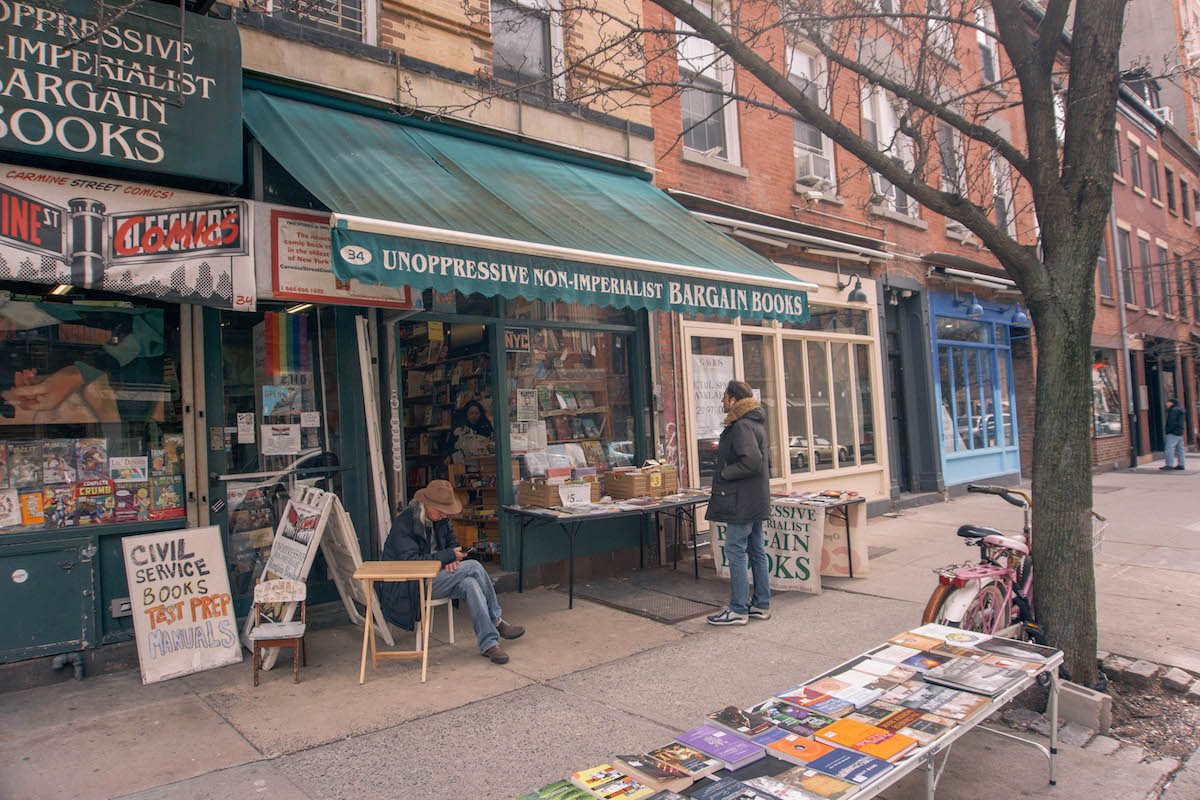 Perfect for: Bargain lovers
I won't lie, this bookstore isn't for the faint of heart. It's a little grungy inside, and some of the books are in questionable condition. But I had to include it on this list because it's so quirky and so New York (also, that name! C'mon, I couldn't leave this one out). One half of the store is dedicated to comic books (bins of them, in fact), and the other half is filled with books centered on "radical themes," like feminism, politics, etc. There's a smattering of more mainstream titles as well, but this New York independent bookstore is more suited for those who like to think outside the box.
Albertine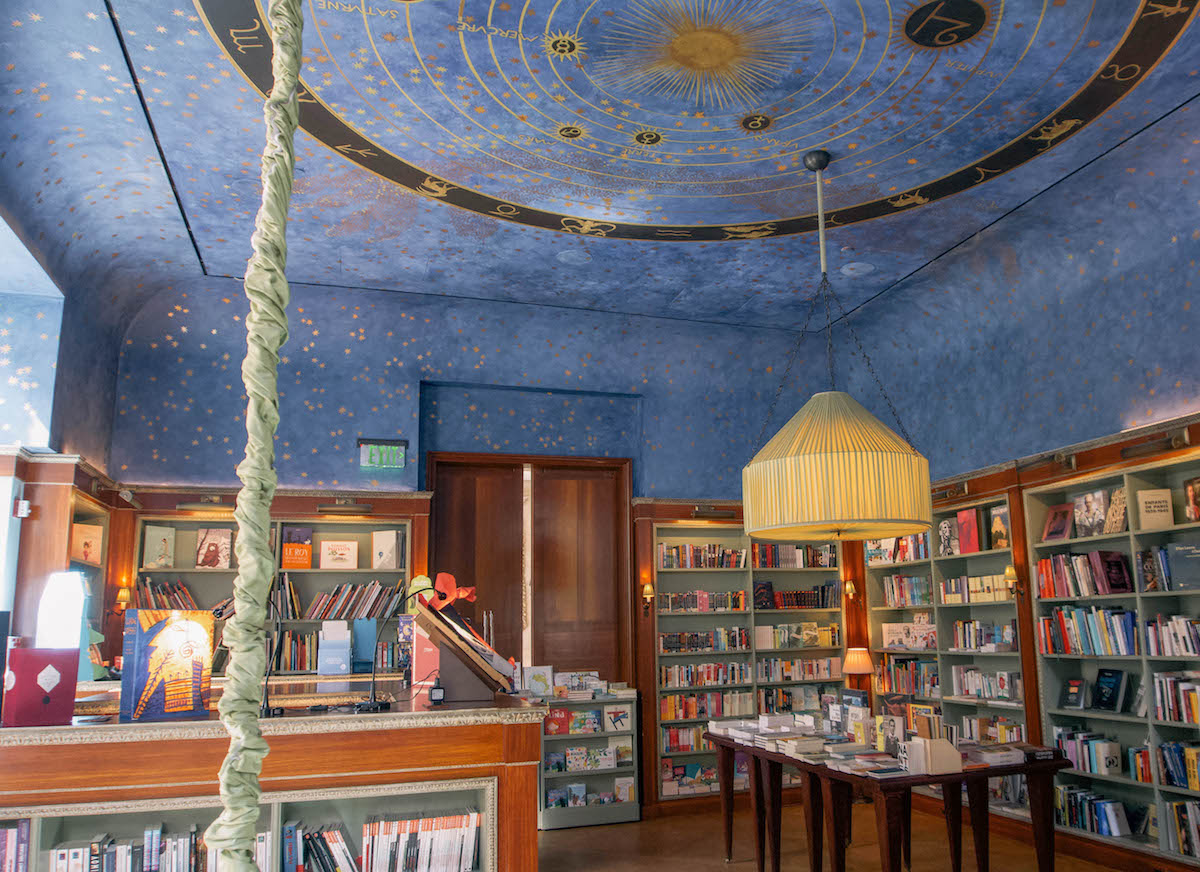 Perfect for: Francophiles
This is easily the most beautiful bookstore on this list. Albertine is the only bookstore in NYC that's devoted to books in French and English, and it's housed in a gorgeous Italian Renaissance-style mansion on Fifth Avenue. On the second floor, there's a stunning mural on the ceiling that depicts an array of constellations, stars, and planets — it's worth visiting this bookstore just to see it!
Even if you don't speak French, I highly recommend dropping by Albertine on your way to The Met or Central Park. The vibe of Albertine feels totally different from other bookstores, in the best possible way. This stunning French bookstore in NYC will take your breath away!
The Mysterious Bookshop
Perfect for: Wannabe detectives
As the name suggests, The Myserious Bookshop specializes in mystery fiction and crime novels (it's actually the oldest mystery fiction store in the world!). The ceilings in this store are insanely high, and the bookshelves reach all the way to the top — you'll likely need to ask for help if you're looking for a particular novel. You should also ask the staff for their recommendations, because they know what books are trending at the moment and which classics are worth reading. Take a friend with you when you visit; this store is so interesting!
Three Lives & Company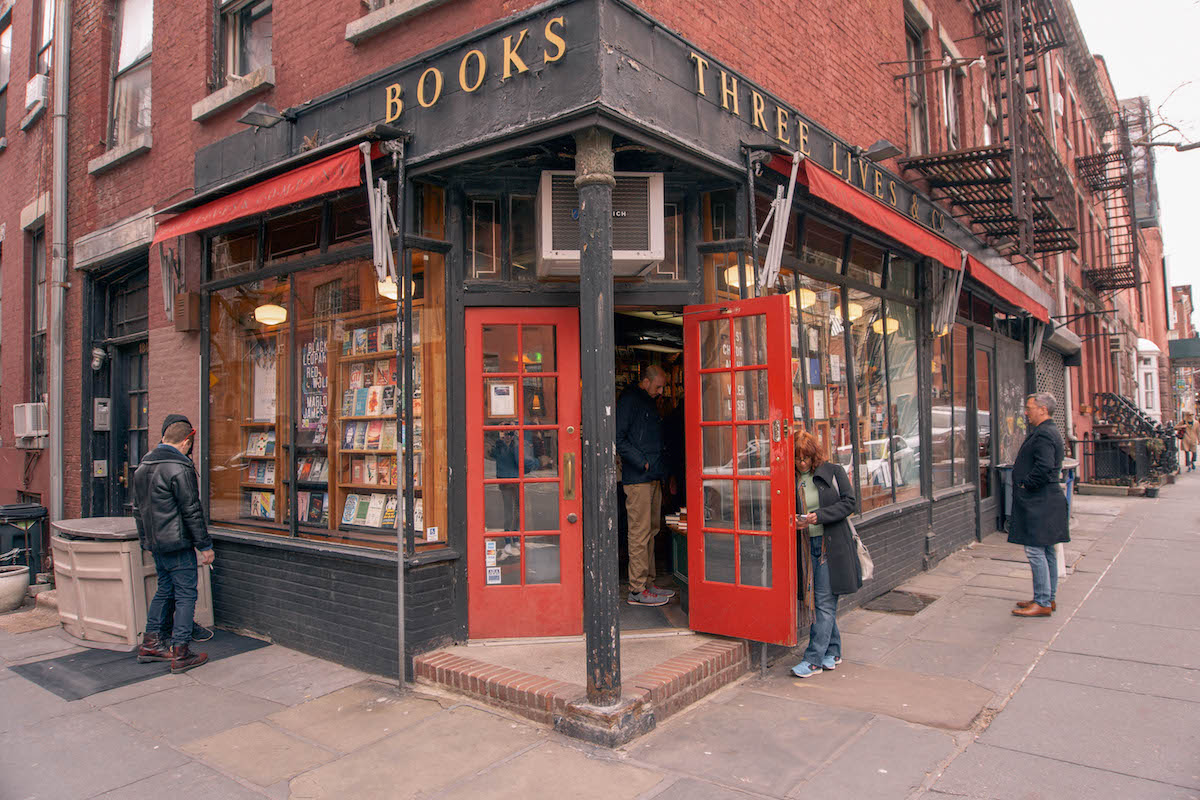 Perfect for: Adventurous readers
Three Lives & Co. is nestled in the heart of Greenwich Village, right next to one of my favorite ice cream shops. It's a cozy bookshop with books on every surface you look. Three Lives & Co. has a good range of books, but if you're looking for the latest bestsellers this isn't the store for you. The staff here stock books from lesser-known authors and you can tell that a lot of thought has gone into curating the collection — but that's what makes it one of the best bookstores in New York City!
Ready to Get Stuck in a Good Book? 
There are so many more amazing independent bookstores in NYC, but this list highlights the best of the best. I tried to feature bookstores that would appeal to a wide range of readers, but let me know if you want a recommendation for a specific type of bookstore!
Whether you live in NYC or are visiting for a short period of time, I cannot recommend these New York independent bookstores enough. Sadly, local bookstores across the US aren't thriving as they once did so it's more important than ever to support mom and pop businesses like the ones I've shared today.
So there you have it, the BEST bookstores in NYC — happy reading!
Tell me: What's your favorite genre to read?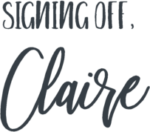 More posts you'll love:
Save this on Pinterest!