The definitive list of what to eat in NYC! I'm sharing the BEST foods to try in NYC, including iconic dishes you've likely heard of plus some underrated faves.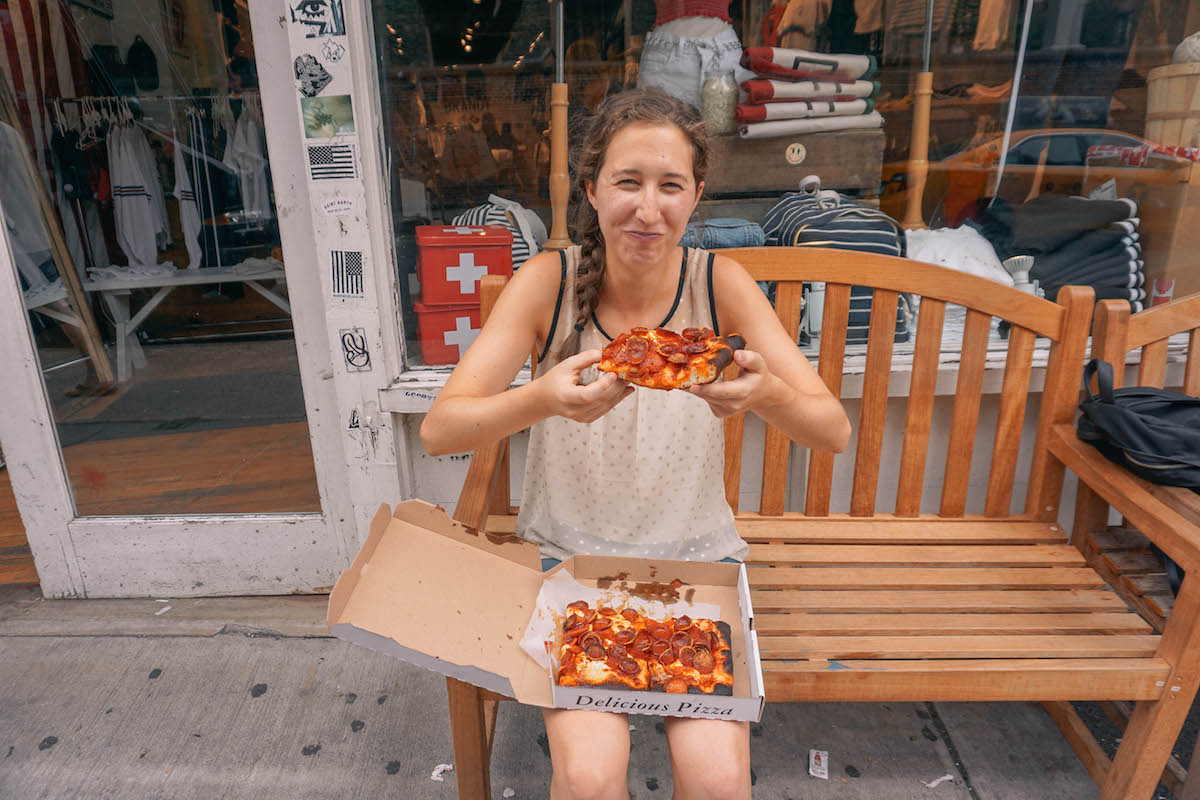 In third grade, my mom took my brother and me to New York City for the first time. It was over fall break, and the city was littered with yellow and orange leaves. One of the stories my mom still tells about that trip is the night we all went out to a Greek restaurant, and I ordered the most expensive thing on the menu (a shrimp dish, as I recall).
Yes, my mother could have told me to order something cheaper, but because we were on vacation and I had never tried Greek food before, she let me order the shrimp. Needless to say, my mom soon regretted letting me order it because I hated the dish. So my mom wound up footing a bill for food that largely went to waste, and we then repeated this scene a few more times during our vacation. We had no clue where to eat or what foods to try in NYC, so mealtimes were a bit of a guessing game.
Having lived in the city for three years now and worked at a food publication, I like to think I know the New York food scene much better than I did all those years ago. I eagerly await visits from friends and family and get so much joy from taking them to my favorite restaurants. I want my friends to sample as many iconic New York foods as possible, as I never want them to stress about finding the "perfect" places to eat or order dishes blindly like my family did on our first trip.
Before I move to Germany, I wanted to jot down all of my recommendations for what to eat in NYC. Many of the items listed below are famous New York foods, but quite a few are dishes you don't typically find on a roundup like this (i.e. dim sum and ramen, etc.). I wanted to share these "atypical" NYC foods though, because my hometown in Indiana doesn't serve many of these dishes. My mind was completely blown when I moved to the East Coast and realized how many cuisines are readily available here, so I had to share them with you!
1. Pizza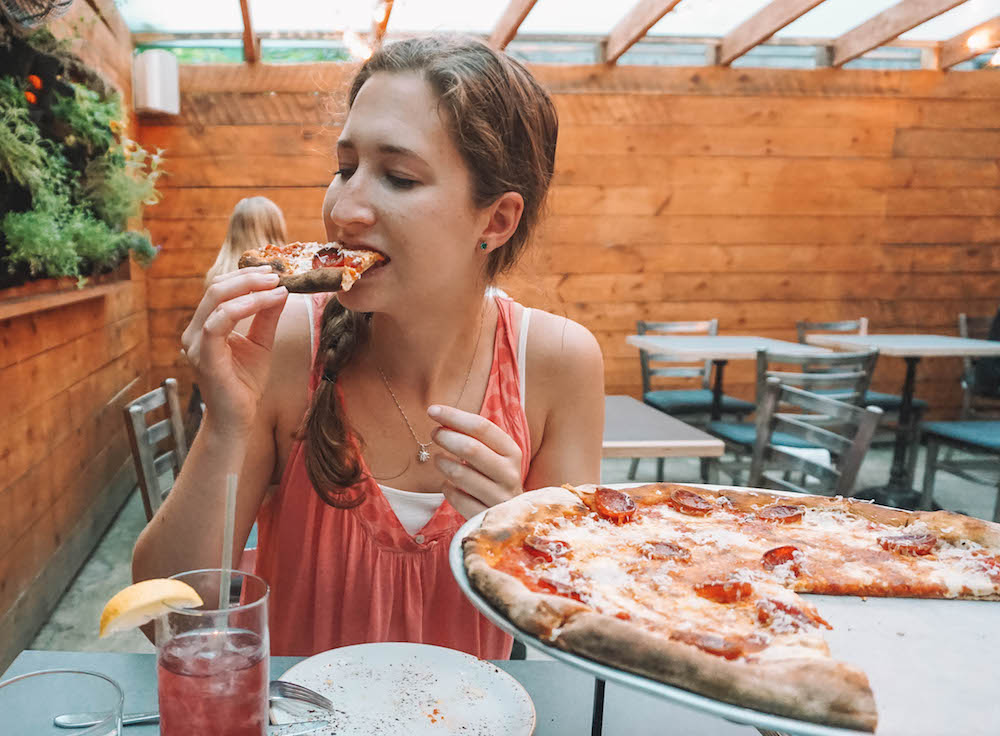 Would it be a list of the best foods in New York if a classic New York slice didn't top the list? Pizza shops are a dime a dozen here, and there are so many styles of slices to choose from (thin crust, Sicilian, and so many more). Dollar slices are becoming harder to find, and the few dollar slice joints still in business don't sell the best quality pizza (although when it costs only a dollar, does it really matter?).
So even though you'll be paying a few bucks for a slice of pizza, it's worth tracking some down and folding your slice New York-style — hold the slice by the crust and fold it in half so you can eat it while you walk. Oh, and I should also mention that there are so many vegan and gluten-free pizza options in the city now that actually taste amazing. 
Where to get it: Artichoke Basille's Pizza, Prince St. Pizza, 2 Bros Pizza (for a dollar slice), Double Zero, Screamer's Pizzeria (for vegan / GF pizza)
2. Cannoli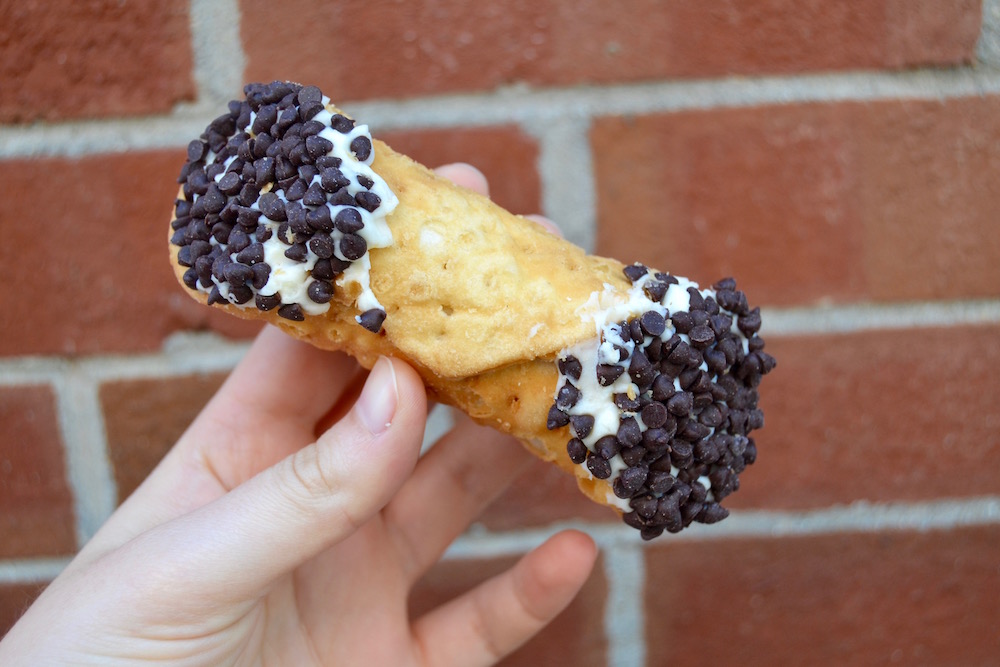 Having grown up in Indiana, I had never eaten a cannoli before visiting NYC. As a kid, the thought of a sweet ricotta filling sounded so gross, but I very quickly learned how delicious this Italian treat is. Most New York bakeries don't sell cannoli, so you'll need to hit up an Italian bakery for one. Little Italy bakeries are a little overpriced, but the cannoli there are good. Just make sure you have cash on hand, because many of the bakeries are cash-only. 
Where to get it: Ferrara Bakery & Cafe
3. Bagel & Schmear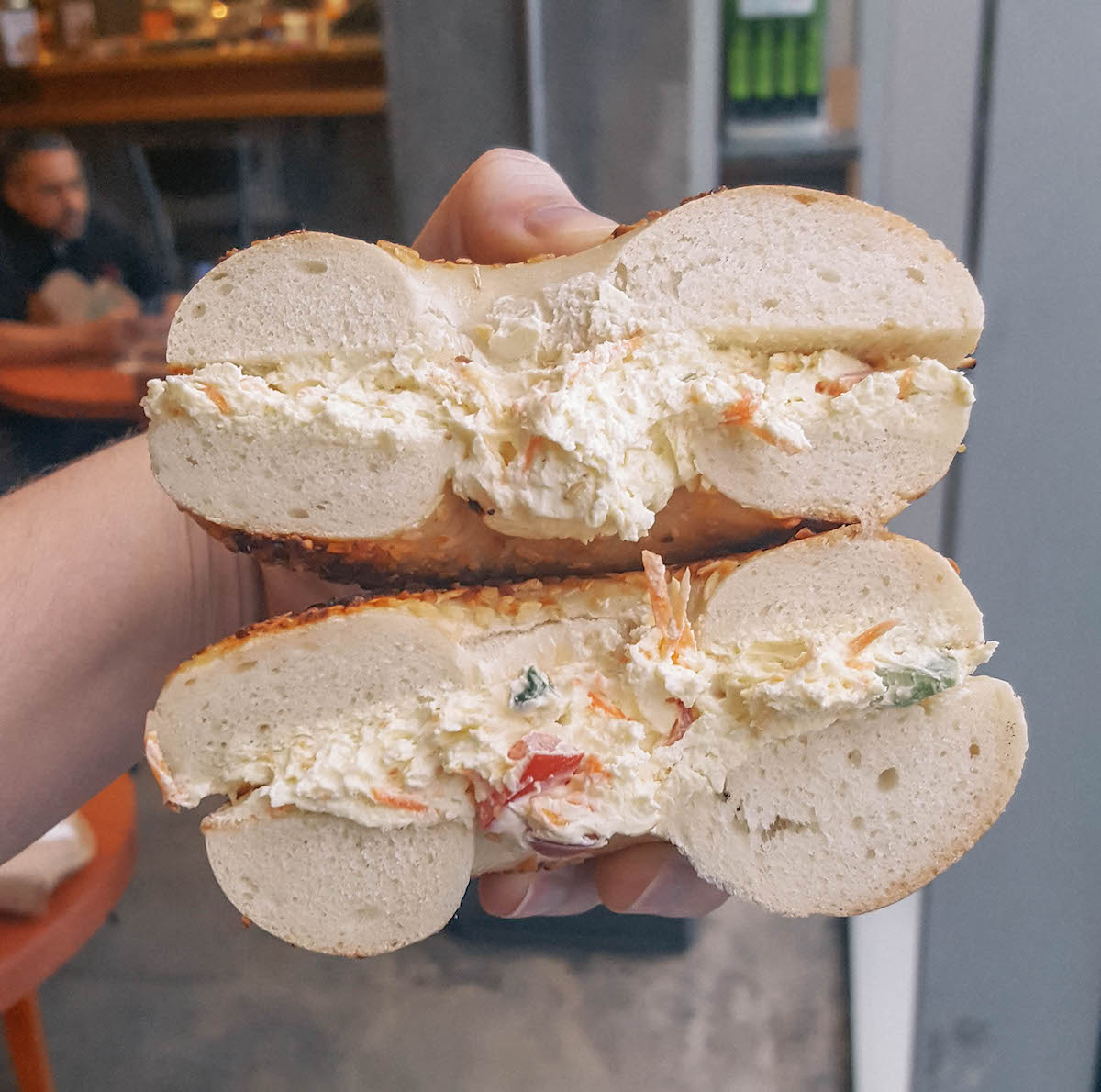 Confession: I can't bring myself to call cream cheese schmear. But if you hear the person in front of you order a bagel and schmear, odds are they're a real New Yorker. After pizza, bagels are probably the most famous food in New York, and it's impossible to know what the best bagel shops in the city are since people are usually loyal to their local shop. But hey, that just means you have an excuse to get bagels from more than one place!
When you order a New York bagel topped with schmear, you can expect about an inch of cream cheese on your bagel. Just don't forget to ask for a toasted bagel, because they won't do it unless you ask.
Where to get it: Zucker's Bagels & Smoked Fish and Black Seed Bagels
4. Bacon, Egg & Cheese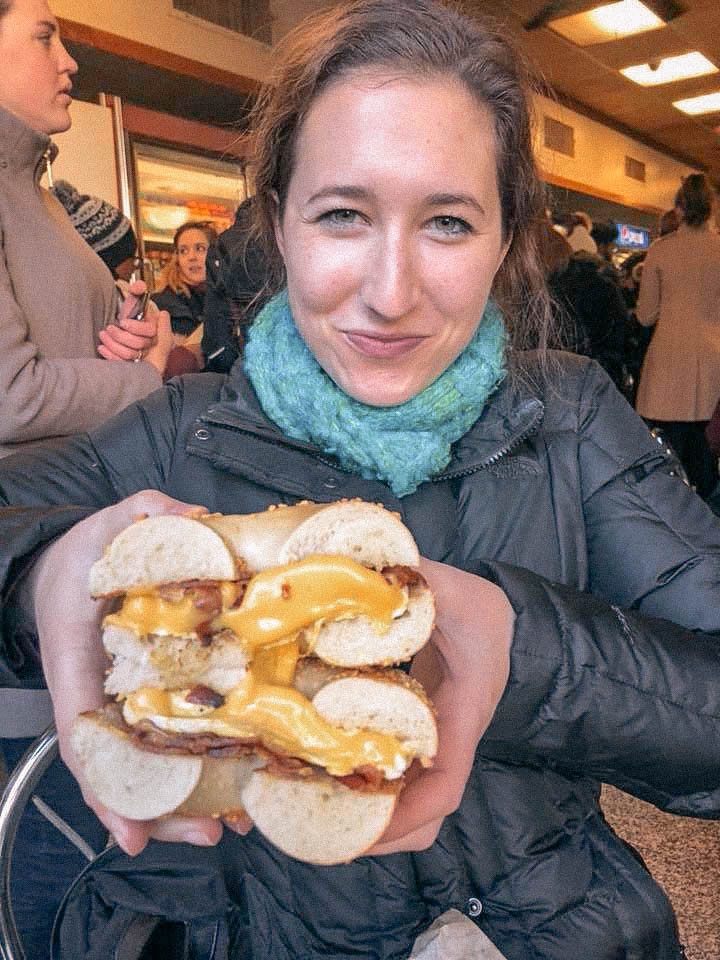 Also known as a BEC, a bacon, egg, and cheese sandwich is the ultimate breakfast sandwich. Most bagel shops can whip up a BEC, or you can grab one from one of the many food carts lining the street. Be ready to specify how you want you egg cooked, what type of cheese you want, and the kind of bread you want your sandwich made of (bagels, croissants, and rolls are the typical options). This is a pretty hefty sandwich, so don't order a BEC if you're not that hungry. 
Where to get it: Any food cart (or one of the bagel shops mentioned above)
5. Chicken and Waffles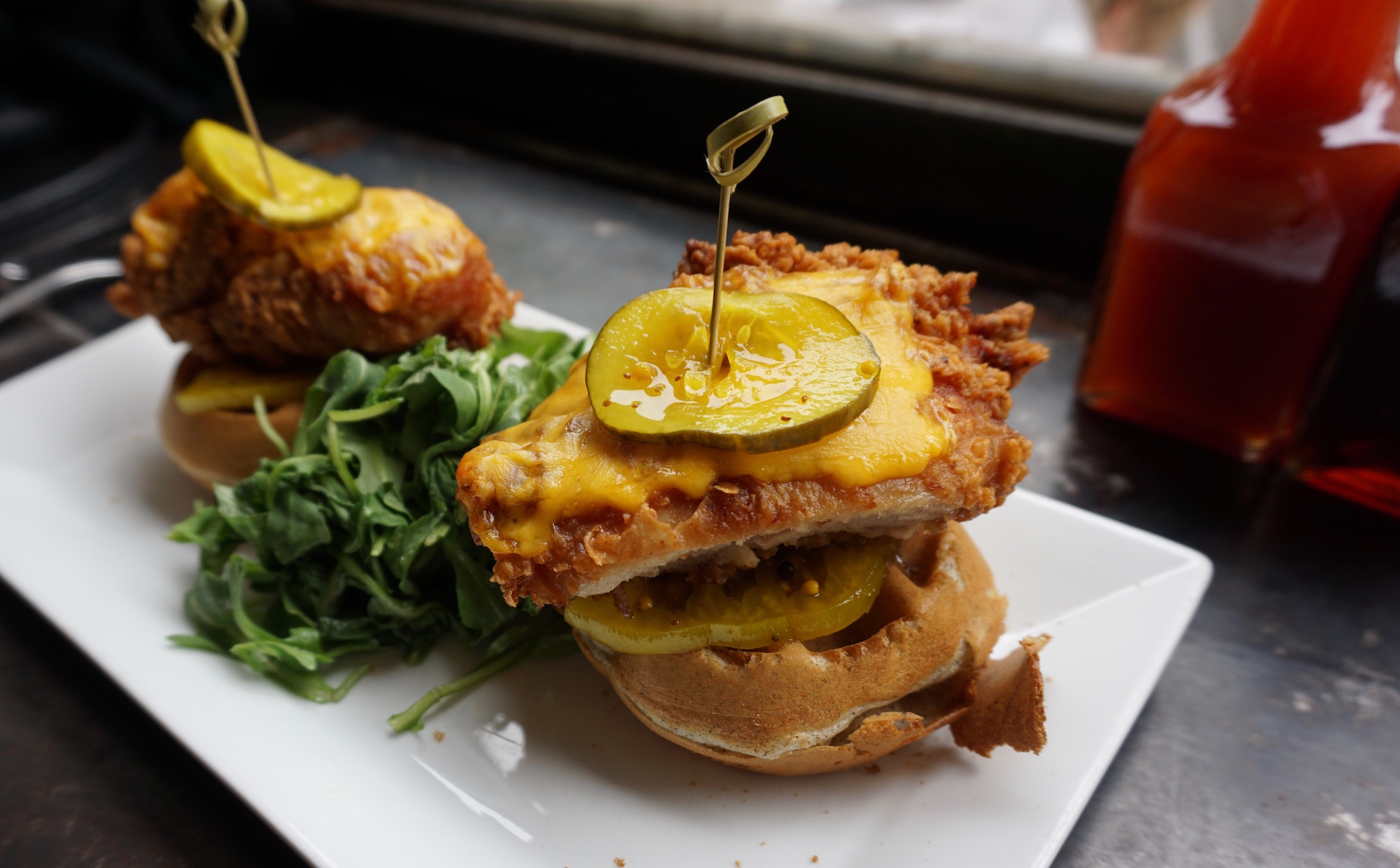 One of my first meals after moving to NYC was a massive plate of chicken and waffles. My mom and I had never eaten this combo before and didn't understand what the fuss was about. But holy crap is this sweet and salty brunch item incredible. My all-time favorite chicken and waffles place is Sweet Chick; their seasonal waffles always pair well with the crispy fried chicken, but they always have traditional waffles on the menu for anyone wanting to go the traditional route.
Where to get it: Sweet Chick 
6. Soft pretzel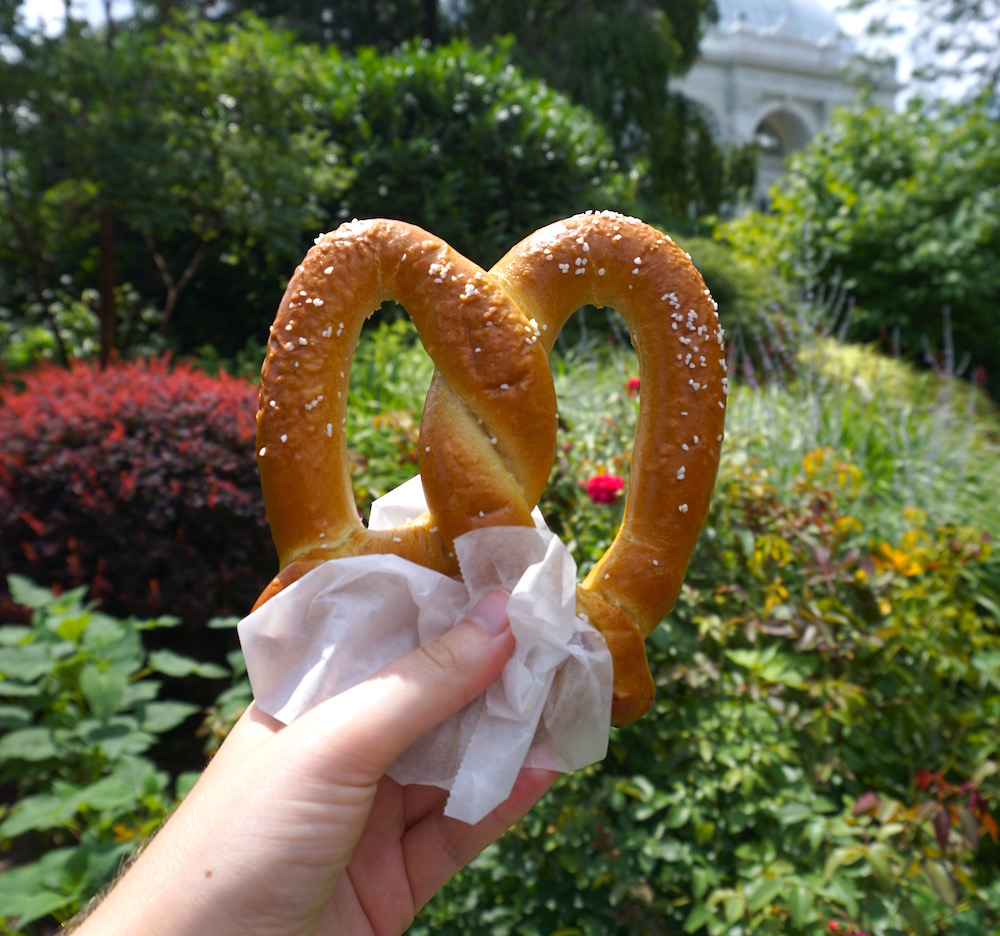 While you're in the city, grab a soft pretzel from a food cart when you need a snack. The pretzels are super salty and surprisingly filling, and you eat them plain without dipping sauce. Soft pretzels are a warm weather treat for me, and I love grabbing one to munch on while I walk through Central Park. This is a great food to eat in NYC when you're on the go!
Where to get it: Any street cart
7. Hand pulled noodles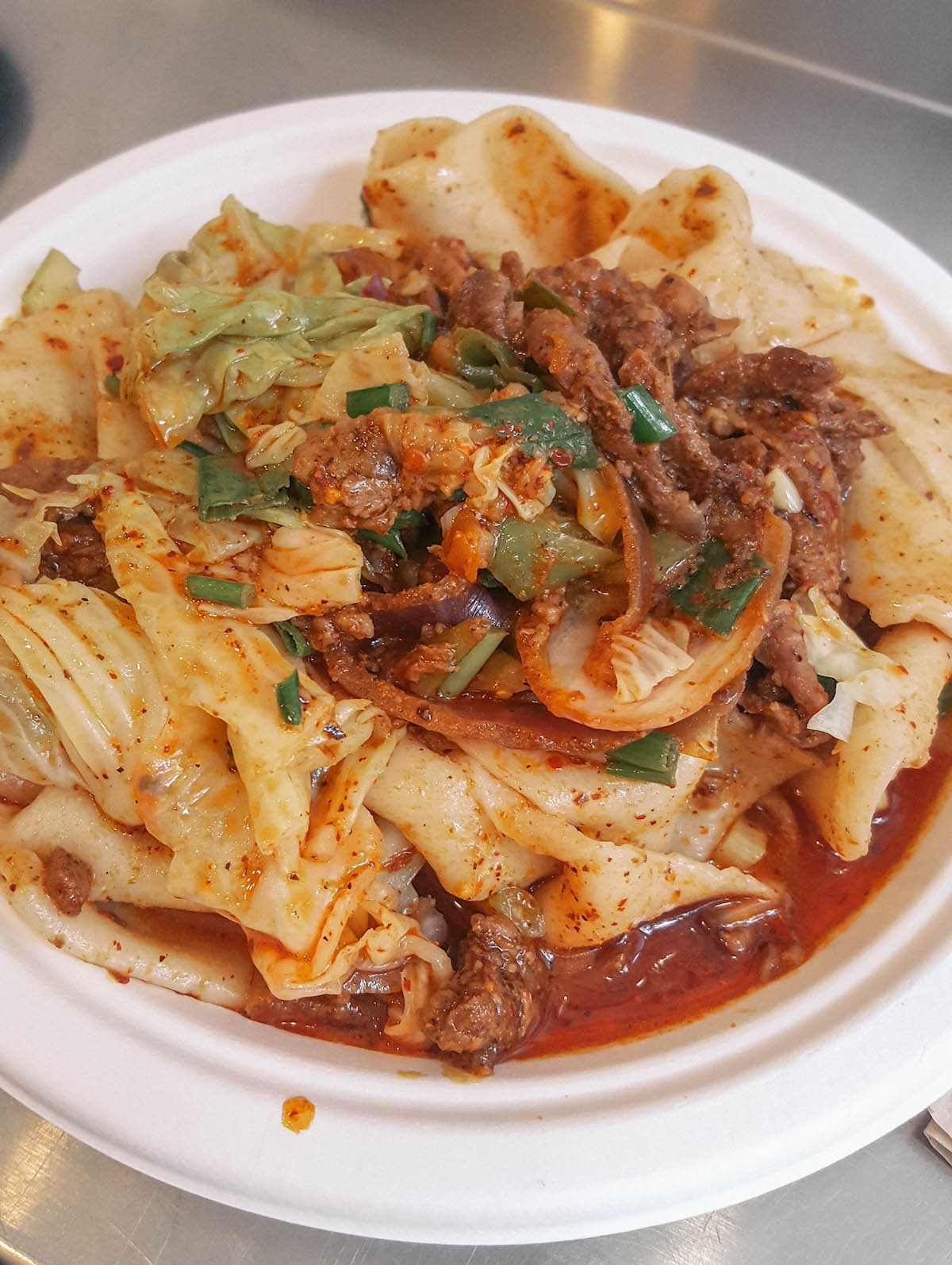 Of all the cuisines that are readily available in NYC, the abundance of incredible Chinese restaurants is what impressed me most when I first moved to the East Coast. After a childhood filled with sticky sweet orange chicken, being able to find real Chinese food in NYC blew my mind. In particular, I'm hooked on spicy hand-pulled noodles and I typically inhale a plate just before seeing a Broadway show. I'm not sure how this ritual of mine began, but I always get noodles before heading to the theatre!
Where to get it: Xi'an Famous Foods
8. ShackBurger
Shake Shack is a place you either love, or you think is way overhyped. I personally love this chain, although I try not to eat here often since it is fast food. What makes Shake Shack's burgers so good is their signature Shack Sauce, which you can actually order on the side for free! (I like to dip my fries in the sauce too). Be prepared to wait in line at Shake Shack, since it's on everyone's bucket list when they visit NYC. Shake Shack is definitely becoming one of those iconic New York food places you just have to try once!
Where to get it: Shake Shack
9. Corned beef or pastrami
Jewish delis are hugely popular in the city, and for good reason. The most famous is probably Katz's Delicatessen, which is known for its massive pastrami sandwiches (they're huge, but also pricey). Even if you've had pastrami and corned beef before, order a sandwich from a legit deli while you're in NYC. It's so much fresher here and doesn't taste like it's been sitting in salt for the last five years. 
Where to get it: Katz's Delicatessen 
10. Dim sum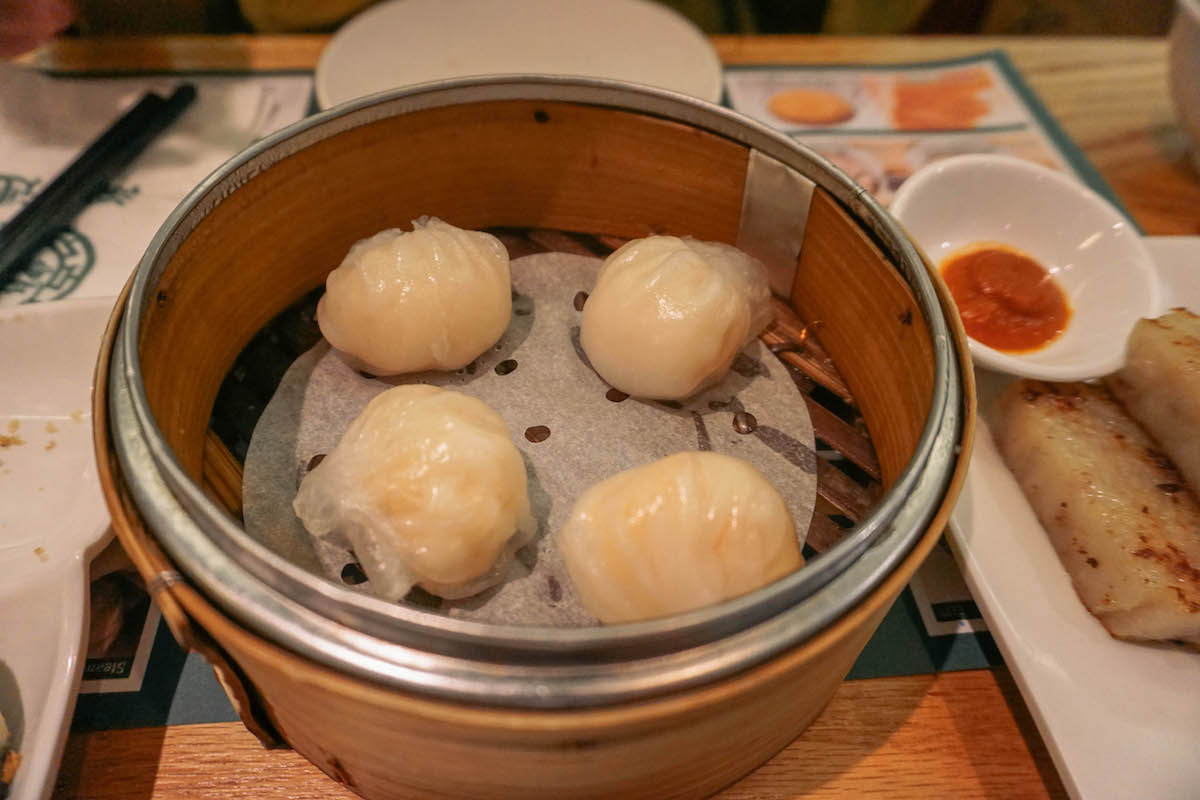 I had never heard of dim sum until I moved to the city, and my first dim sum experience was a touch overwhelming. The traditional dim sum places in the city are always packed with people, and you often share a table with another party. Servers push carts laden with all sorts of dishes, and you have to flag them down and tell them what you want from the cart.
What I love about the dim sum experience (besides the great food) is that you're forced to enjoy the meal at a leisurely pace. Each cart typically carries just one dish, so you can't order your meal all at once like you do in a restaurant. If there's one thing you try from this list, please make it dim sum because it's so much fun!
Where to get it: Nom Wah Tea Parlor and Golden Unicorn
11. Chocolate chip cookie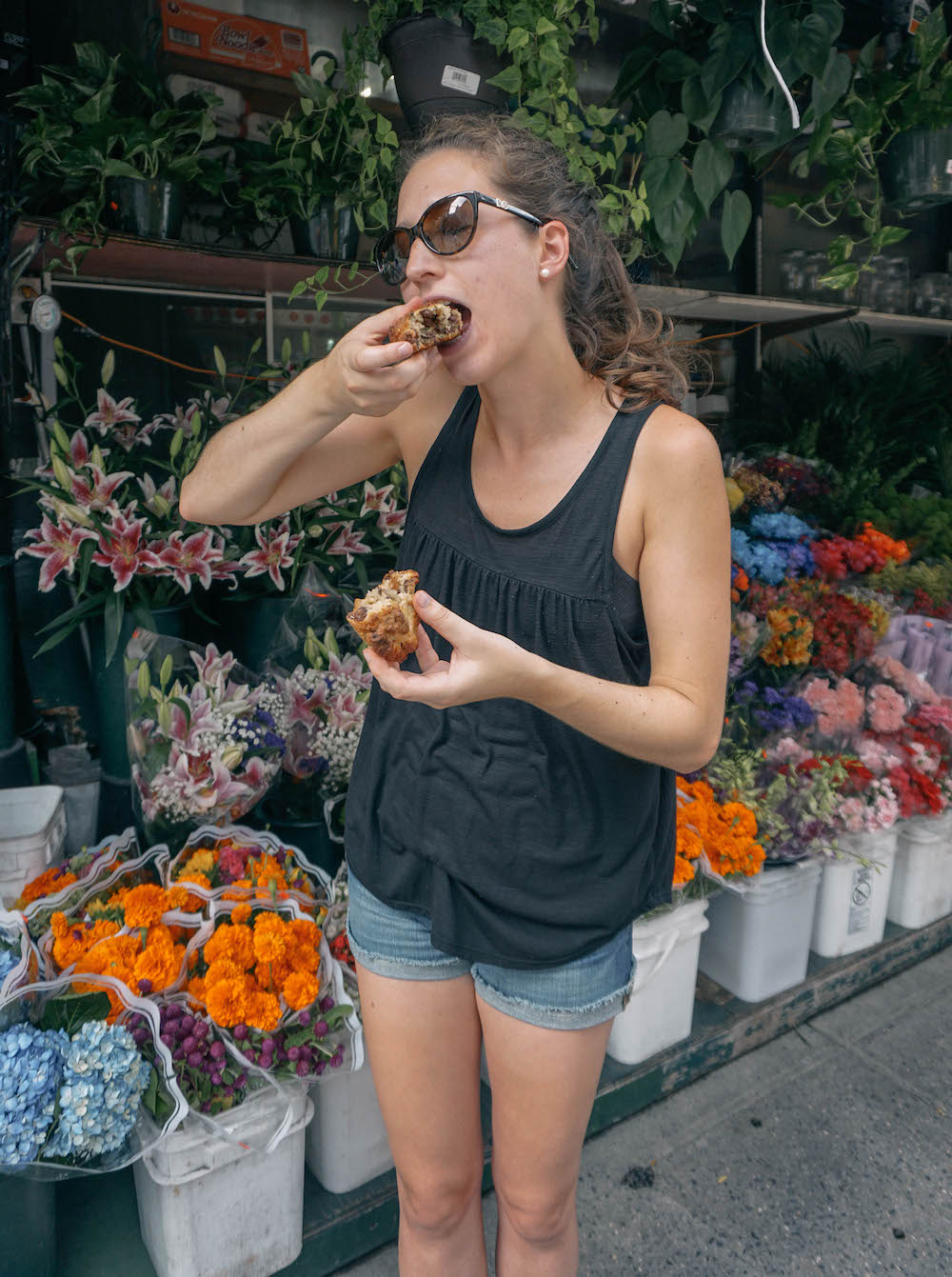 I don't buy cookies often since they're so easy to make at home, but the cookies from Levain are a different story. Their chocolate chip walnut cookie is the shape and size of a hockey puck, and the center is just the right amount of ooey gooey deliciousness without being raw.
Yes, the cookies are a little expensive ($4 for one cookie, as I recall) and there's always a long line for them, but they are AMAZING. Grab a couple to split with friends, but don't waste your money buying an overpriced glass of milk. Instead, hit up a nearby corner store and get some milk there to dunk your cookies in.
Where to get it: Levain Bakery
12. Pierogi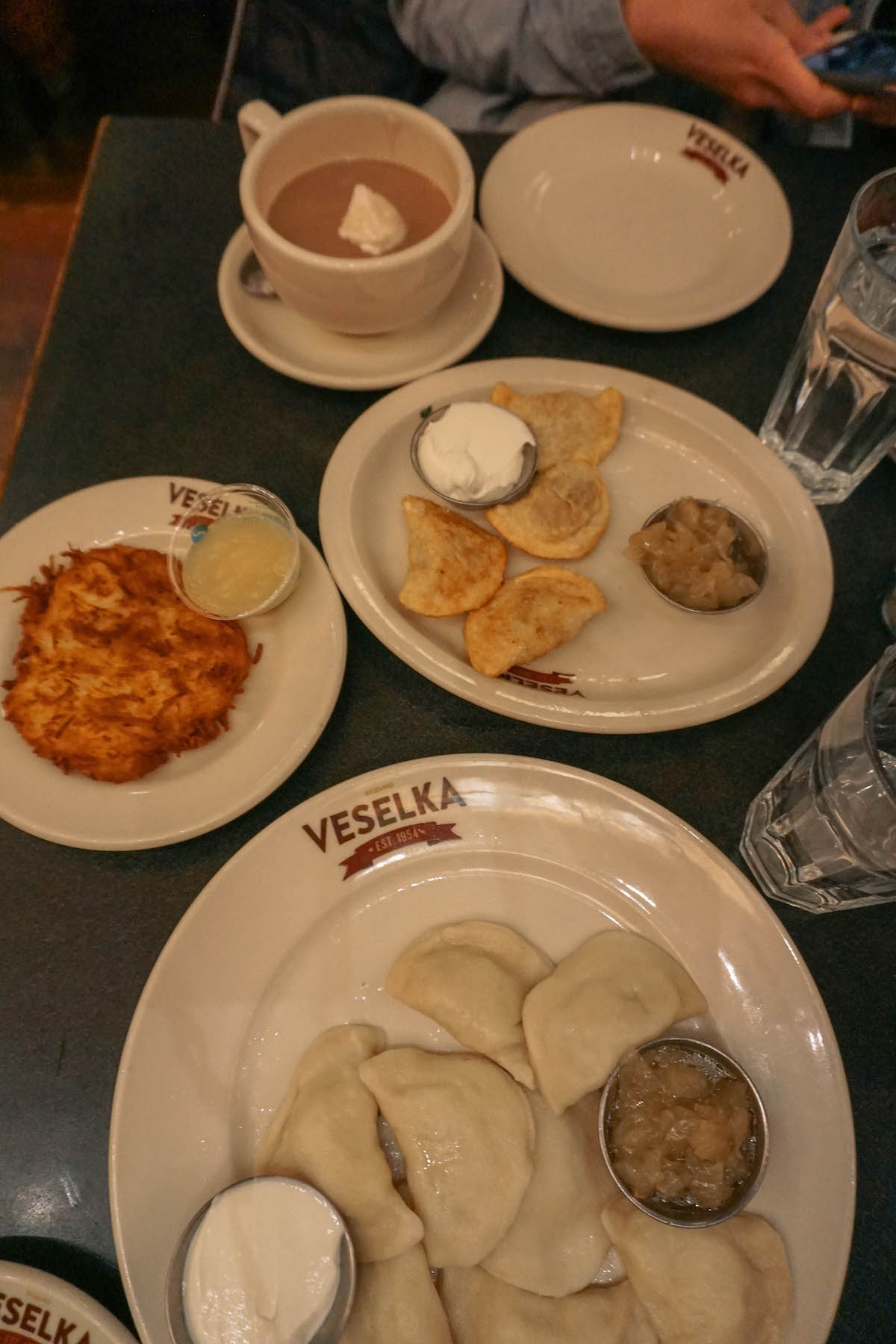 When you think of foods to try in New York, it's unlikely that Eastern European food comes to mind, but hopefully I can change that. Of all the pierogi places in the city, Veselka is probably the most famous. It's open 24/7, and it serves seriously good Ukrainian food — pierogi, potato pancakes, blintzes, you name it. The only downside of Veselka is that it's a touch overpriced and the wait for dinner on the weekends is often over an hour long. But this is another spot that's so fun to experience with friends!
If you've never had a pierogi before, order a plate of those (they're filled with mashed potatoes and served alongside sour cream and onions). And the desserts here are so underrated, so save room for a slice of carrot cake.
Where to get it: Veselka
13. Babka
Babka is essentially the lovechild between a cake and a loaf of bread. It's quite dense and the dough itself isn't too sweet, but the filling can completely transform the babka. Babka isn't your average bakery staple, as it takes a lot of time and skill to make. But if you find a bakery that sells babka, grab a slice! I've never had another baked good quite like it, and it makes for a great afternoon snack.
Where to get it: Breads Bakery (they only sell their babka by the loaf, though)
14. Ramen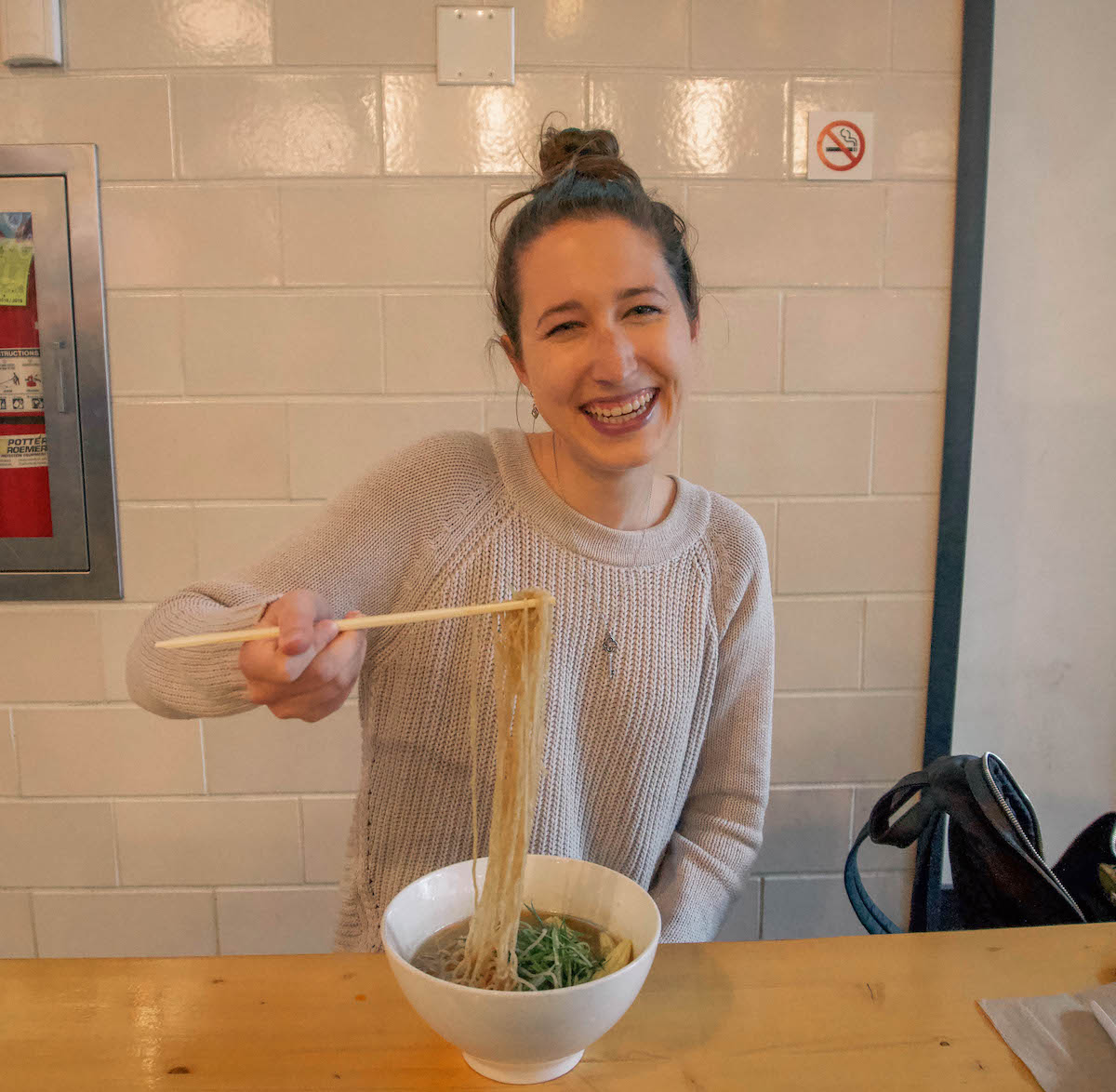 NYC has some fabulous ramen — it's rich and salty, and almost buttery (although I'm 99% sure there's no butter in ramen). There are ramen shops scattered throughout the city, but the most popular ones are on the east side. For the best experience, go to an actual ramen shop and not just a Japanese restaurant.
Where to get it: Ivan Ramen
15. Ice Cream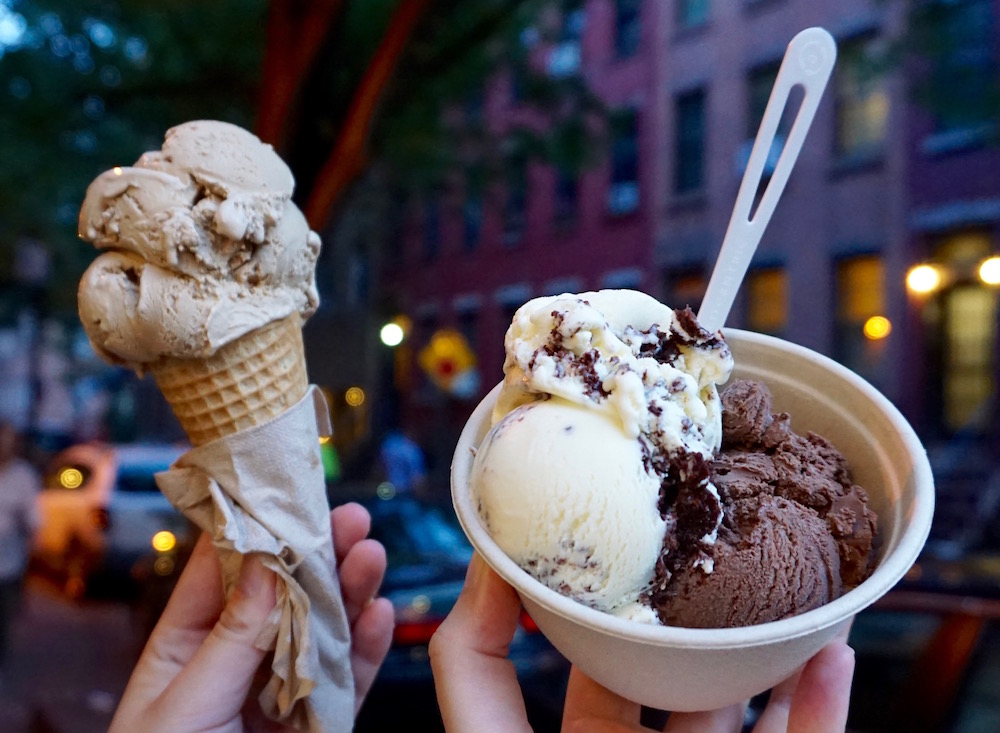 NYC has some phenomenal local ice cream shops. Morgenstern's and Van Leeuwen are two of the most popular shops (and therefore have the longest lines in the summer). Personally, I don't love the over-the-top ice cream concoctions you see on Instagram (like the soft serve in a fish cone or the ice cream with a halo of cotton candy around it). I wrote an entire guide on the best ice cream shops in the city, so definitely give it a read if you're looking to sample New York's finest.
Where to get it: MilkMade and Morgenstern's
16. Fresh pasta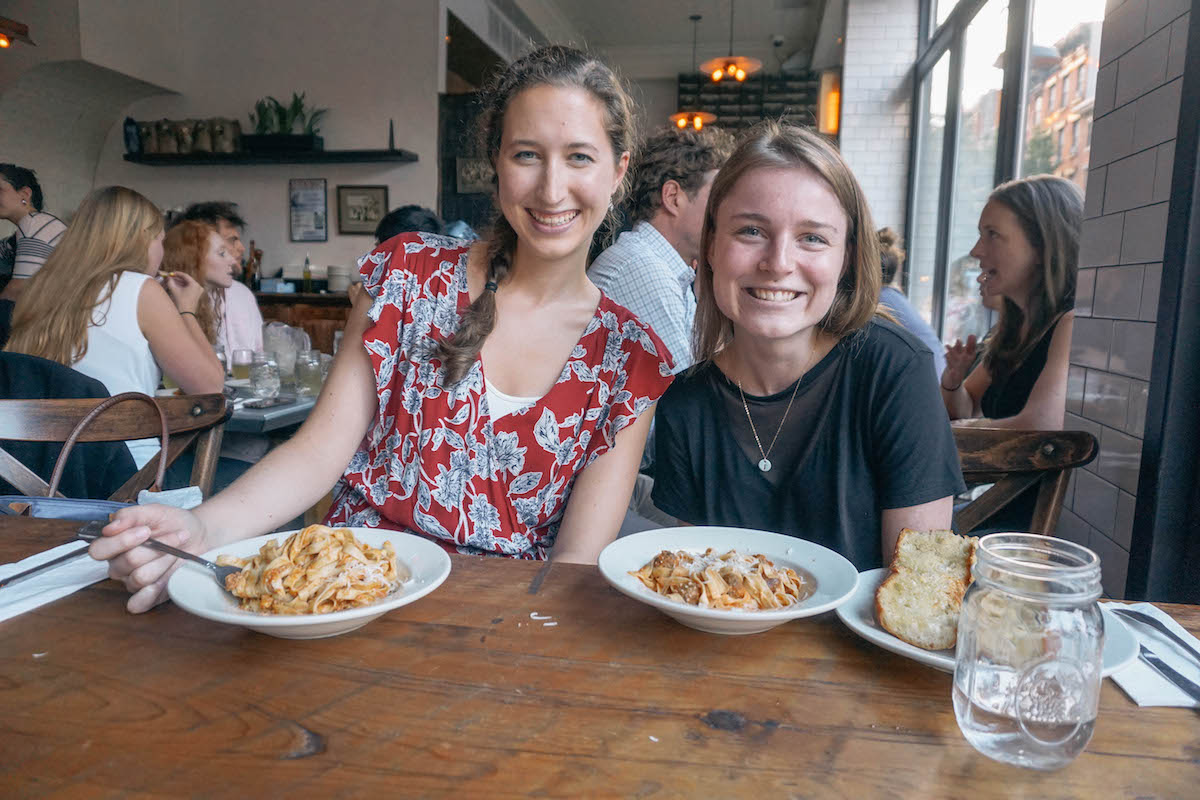 With its huge Italian-American population, it's no surprise that New York City is home to more than a few Italian restaurants. Fresh pasta, though, is a little trickier to find here. My all-time favorite pasta shop dishes up $10 plates of fresh pasta, and it blows me away every time. If you've never had fresh pasta before (versus the dried stuff you buy at the store), it's worth ordering it while you're in New York. It's crazy how different it tastes! Add this to your NYC bucket list!
Where to get it: San Marzano
17. Korean Barbecue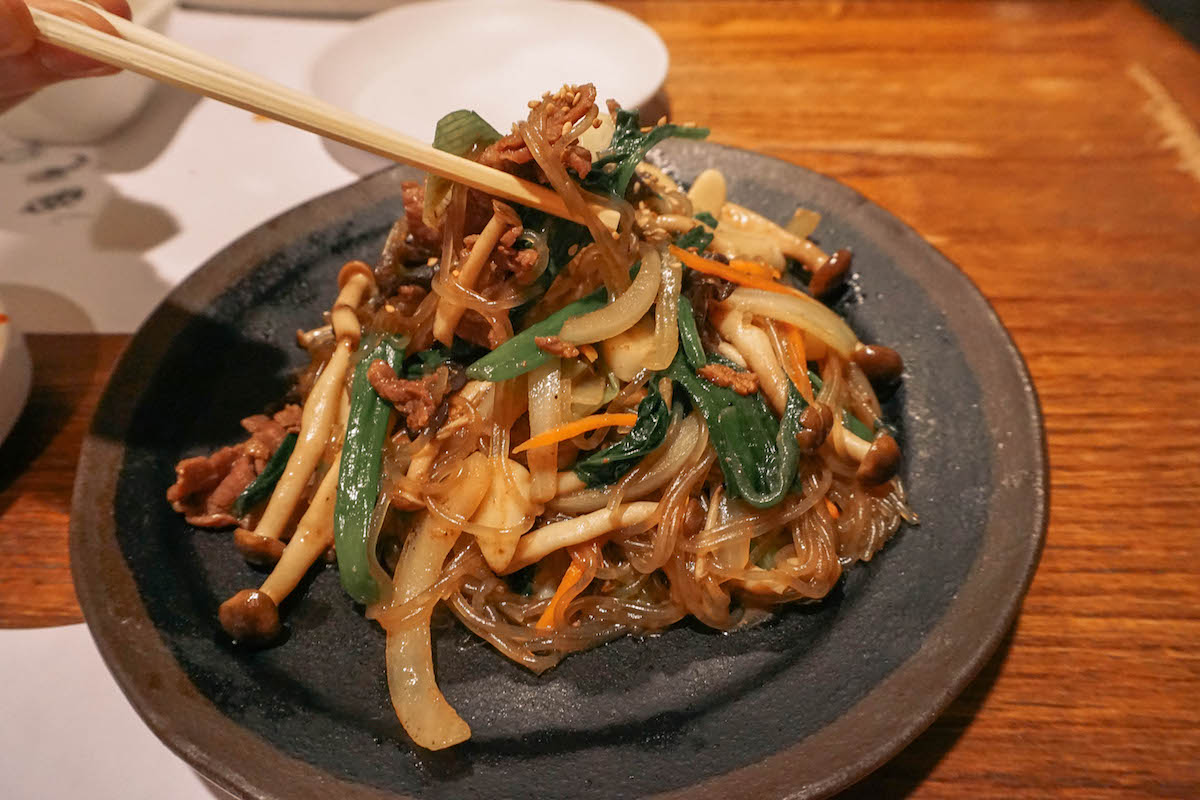 Korean barbecue isn't just a meal, it's an experience. Different cuts of meat are brought to your table, along with various sides and toppings. There's a grill in the middle of the table for you to cook the food. If you're with a big group, plan on spending at least two hours at the restaurant. It takes time to prepare everything, but that's the whole point of Korean barbecue!
Word to the wise: if you're traveling by yourself, there's no way you could enjoy Korean barbecue alone simply because you get so much food. However, there will be plenty of other delicious Korean foods on the menu, so you should still order something!
Where to get it: Jongro BBQ 
18. Handmade Donuts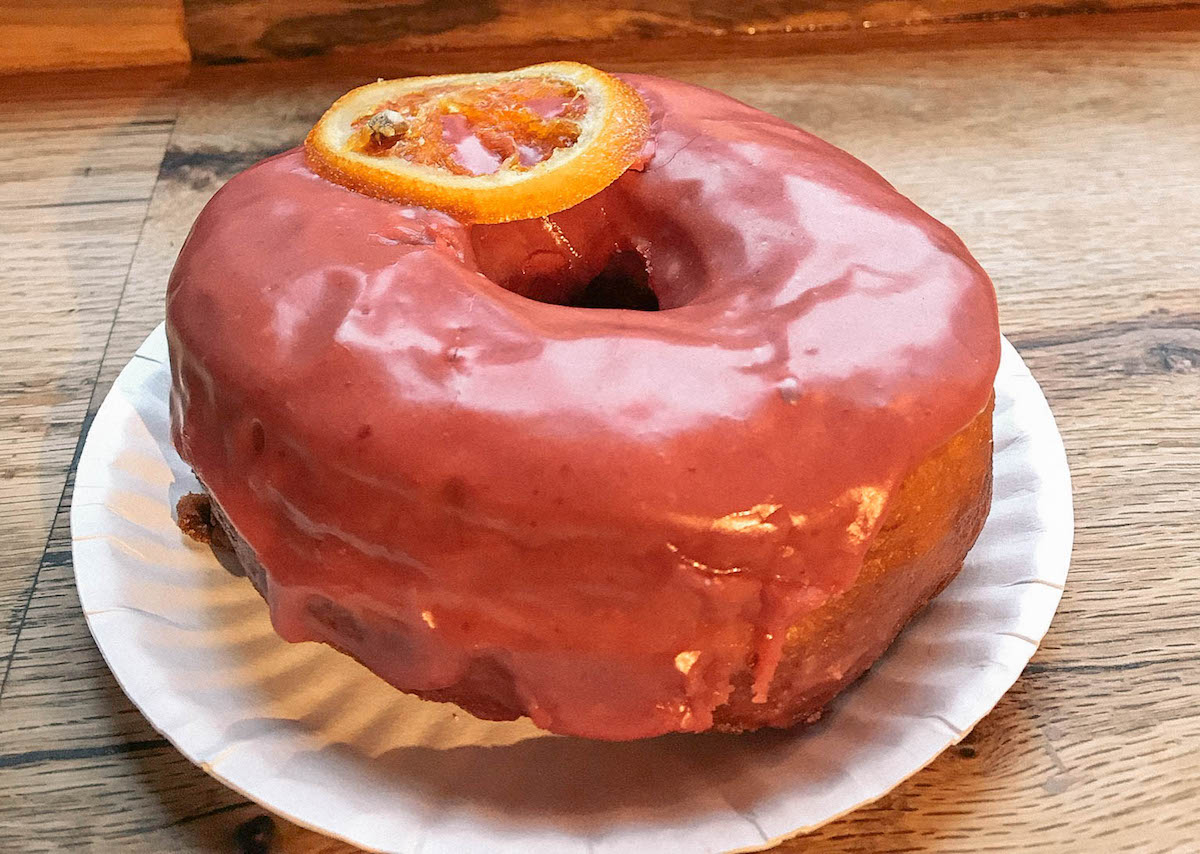 I know the East Coast is known for its obsession with Dunkin' Donuts, but please don't get your New York donut from there. Artisan donuts are super popular in the city, and it's worth spending a few extra dollars on a truly amazing donut in NYC. Dough Doughnuts is my personal favorite (think: huge fried donuts with unique flavors), but Doughnuttery's miniature donuts are also popular. Such a fun food to eat in NYC!
Where to get it: Dough Doughnuts
19. Falafel
Halal food carts are on practically every street corner, and you can tell which are the best based on how long the line is come lunchtime. I'm a sucker for falafel wraps loaded with hummus, but you can also order them plain or atop salads. If you're not a fan of chickpeas, schwarma is another solid option.
Where to get it: Mamoun's Falafel
20. Dumplings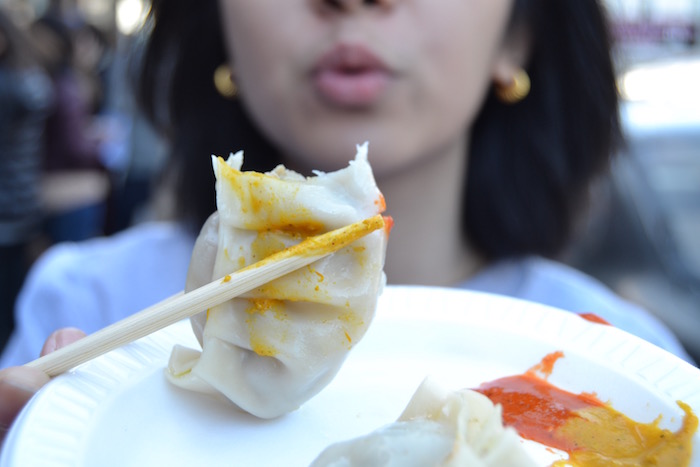 My favorite thing about the authentic dumplings in NYC? They're insanely cheap! Like with most of the best foods in NYC, I highly recommend trying dumplings (whether they be Japanese gyoza, Chinese soup dumplings, or another variety) from a legit dumpling house. Most dumpling places will have seasonal flavors, which is what I gravitate towards. And don't forget the dipping sauces! There's usually chili sauce and/or soy sauce on the tables, plus a house made sauce unique to each shop.
Where to get it: Vanessa's Dumpling House
21. Shaved Ice
Shaved ice is essentially the lovechild between ice cream and a snow cone. Milk, cream, sugar, and flavoring (be it fruit or something else) are mixed together and frozen, then shaved. Shaved ice looks and feels icy, but as it rests in your mouth it melts and becomes super creamy. The only shaved ice spots I know of are in Koreatown, but I'm sure there are more than that in the city. I love topping my shaved ice with boba pearls, and I encourage you to be adventurous with your toppings as well!
Where to get it: Grace Street Cafe
What Else to Eat in NYC…
There are a few iconic New York foods that didn't make this list simply because I think they're overrated (and I bet you already have them on your food bucket list anyways!). But I felt the need to mention them because my roommate, Tricia, had a good argument for why they should make my list. These foods are: New York cheesecake, black and white cookies, and hot dogs.
The most popular cheesecake restaurant in NYC is Junior's. They have a giant food menu as well, but you really just want the cheesecake. For black and white cookies, hit up a local bakery. And for hot dogs, do NOT get one from a food cart — those just hang out in gross water all day to stay warm. Instead, hit up a Nathan's Famous or Gray's Papaya.
Now that you know what to eat in NYC, get out there and start ordering!
Tell me: What's one food your hometown is known for?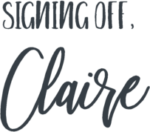 More posts you'll love:
Share this post on Pinterest!