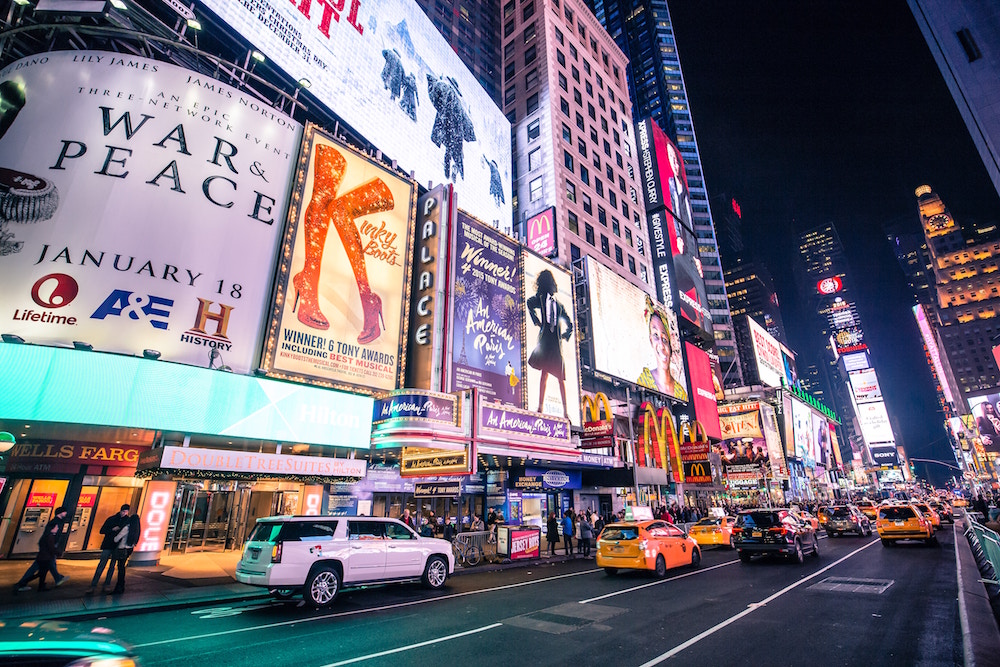 I'm a huge theatre person. I acted in plays and musicals 6th through12th grade and originally wanted to study theatre in college. While I didn't pursue my dream of performing on Broadway, I still see as many shows as I can (I particularly love seeing shows in the winter since the weather is too terrible to be outside). I like to think all the advice I give on my blog is useful, but there's one thing in particular I want you to remember: NEVER PAY FULL PRICE FOR BROADWAY SHOWS. Never ever, period, end of story.
Broadway shows can easily set you back $100+ dollars if you pay full price for them. Unless you're seeing the latest Tony award-winning musicals like Dear Evan Hansen or Hamilton, you shouldn't ever have to pay that much money to see a show. Having lived in the city for almost two years, I've purchased my fair share of last-minute Broadway tickets—and I've never once paid over $85 for them (which is still a good chunk of change, but that's Broadway for you). Here are my best tips and tricks for scoring last-minute Broadway tickets for cheap.
Visit the TKTS Booth
Most visitors know about the TKTS booth in Times Square (the long lines and giant red box are impossible to miss), but there are also a few other TKTS locations scattered around the city. I prefer going to the booth at the South Street Seaport because the line is never super long there (especially if you go earlier in the day). TKTS has discounted day-of Broadway tickets for almost every show. Just know that the Disney musicals typically don't sell discount tickets here.
Use the TodayTix app
TodayTix is arguably the easiest way to get discount Broadway tickets. In the app, you can read a short description about each show, see where each theatre is on a map, and purchase your tickets. What I love best about this app is that you can buy tickets in advance, so you don't have to stress about your favorite show being sold out the day of. A TodayTix representative will meet you outside the theatre before the show to hand you your tickets (they're easy to spot, don't worry!).
Today Tix can be used in a few major cities in addiction to NYC, like London, Chicago, Philly, and Toronto.
Get Rush Tickets
Rush tickets can be purchased day-of, and are sold on a first come, first served basis. Not all musicals offer rush rickets, but the majority do. Rush tickets are typically $50 or less, and can be purchased directly from the theatre's box office. If you're looking to score decent rush tickets, get to the box office right when it opens, otherwise the tickets will likely sell out before you arrive.
Buy Standing room only tickets
Some theatres sell standing room only tickets after all the seats have been filled. Again, these tickets are sold at the box office on a first come, first-served basis, so get there early if you know your show has sold out already.
Don't choose new shows
I'd love to see all the Tony award-winning shows too, but those are incredibly expensive to see the first few years they're on Broadway. Do a little research and find out which shows have been on Broadway for three to five years or longer. Broadway classics like Phantom of the Opera and Chicago will usually have better deals because they've been around longer.
Enter the ticket lottery
Almost every show has its own lottery system. Depending on the lottery's rules, you can enter your name to win free or seriously discounted tickets. Some lotteries are exclusively online, while others are run through apps. For longer running musicals like Phantom of the Opera, you likely have a better chance at winning the ticket lottery for a matinee performance.
Go During Broadway Week
Sadly, Broadway Week's 2-for-1 tickets are only available for a set time period January through February, but if you're in the city during this time period it'd be a crime not to cash in on this deal. The Disney musicals sell out almost instantly, so if you're trying to score Broadway Week tickets for Aladdin or The Lion King, you'd better glue yourself to your computer when tickets first go on sale.
Look for Company discounts
I've gotten quite a few discounted Broadway tickets through a perks program available to my company. See if your company has any programs like this (if you're a student, your parents might be able to sniff out some cheaper tickets for you). These tickets likely won't be super cheap, but they'll still be cheaper than if you bought full price from the box office.
If you have questions about the discounted tickets available for a particular show, Playbill has a really useful guide that outlines the deals each theatre offers. I'd also add that Broadway.com has some of the most expensive tickets (their service fees are outrageous), so definitely avoid buying from that site if you can!
Tell me: What's one Broadway show you're dying to see? I really want to see Aladdin, I've heard it's amazing! And Hamilton, but I doubt that'll happen anytime soon.
Signing off,
Claire
Love NYC?
Pin it!