Not sure what to do in NYC this summer? Here are some of the best NYC summer activities, from window shopping to historic sites and more!
This post was originally published April 2019 and was updated May 2022.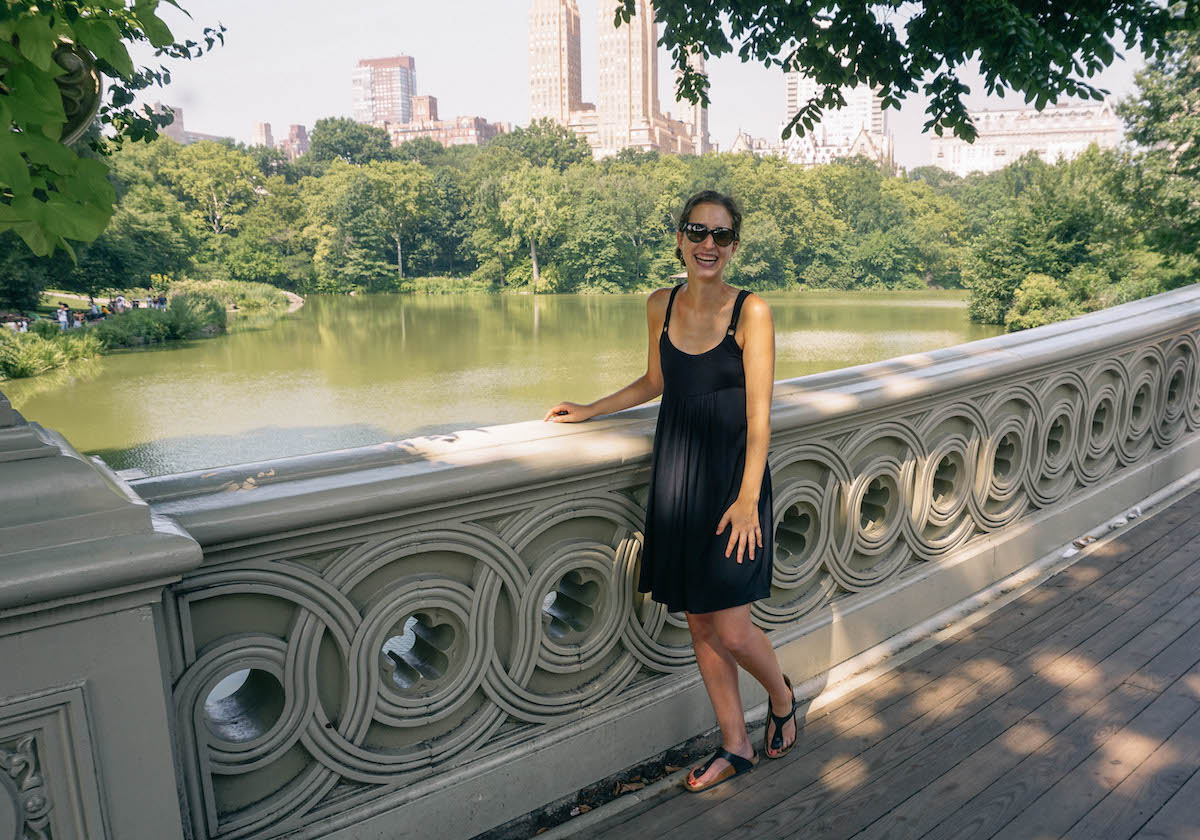 New York City comes alive in the summertime. After the winter holidays are over, it sometimes feels like all of New York is hibernating — there are fewer people on the streets, the parks are virtually empty, and most people scurry straight home after happy hour. But once warm weather descends on the city, every ice cream truck has a line and seemingly every New Yorker has either a new baby or puppy to show off on the streets.
After having lived in the city for three years, I can confidently say I know the best things to do in NYC in the summer! This isn't a comprehensive list of all the possible NYC summer activities, but it's a decent chunk of them. I've also included some free things to do in NYC this summer, plus answers to commonly asked questions.
Now, let's hop into the BEST things to do in NYC this summer!
When Is Summer in NYC?
The official first day of summer in the US is June 21st. However, NYC feels quite summery from June through mid-September. June typically has milder temperatures (around 70 to 75ºF), whereas July and August can be upwards of 90ºF each day.
Fun NYC Summer Activities
Some of these summer activities in NYC will get you off the beaten path, while others are beloved attractions that both visitors and locals enjoy. You'll notice that most of these activities are outdoors — after all, you have to enjoy that gorgeous summer weather!
However, if you get too hot or the weather is bad, you can always see these indoor NYC attractions instead.
Picnic in Central Park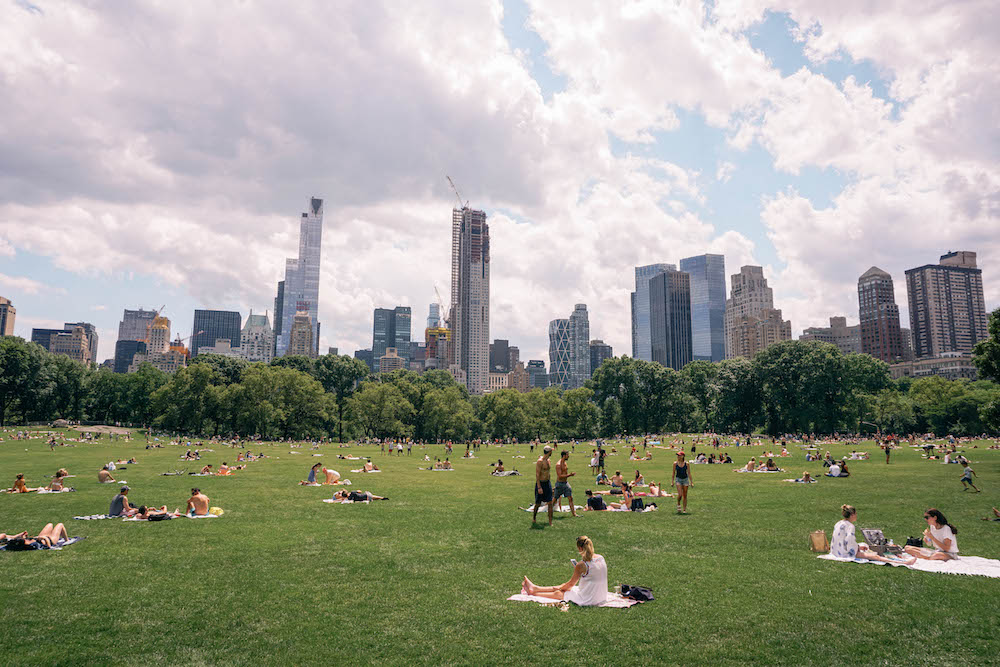 I'm sure Central Park is already at the top of your NYC summer bucket list, so I won't dwell on this activity for too long. But I couldn't write a list on the best things to do in NYC this summer without mentioning my all-time favorite park. If crowds aren't your thing, head north of the reservoir for a quieter picnic spot — you'll see a lot more families here and plenty of locals.
But as much as I love my peace and quiet, there's something about Central Park in summer that makes me so happy. On the weekends, Sheep's Meadow is packed and there are always hordes of children sailing model boats at the Conservatory Fountain, and I love being in the midst of it all.
If you visit the park before breakfast, you can take it all in before it gets too busy and then enjoy a cup of coffee afterwards.
Read more: A Quick(ish) Guide on What to Do in & Around Central Park
Attend Shakespeare in the Park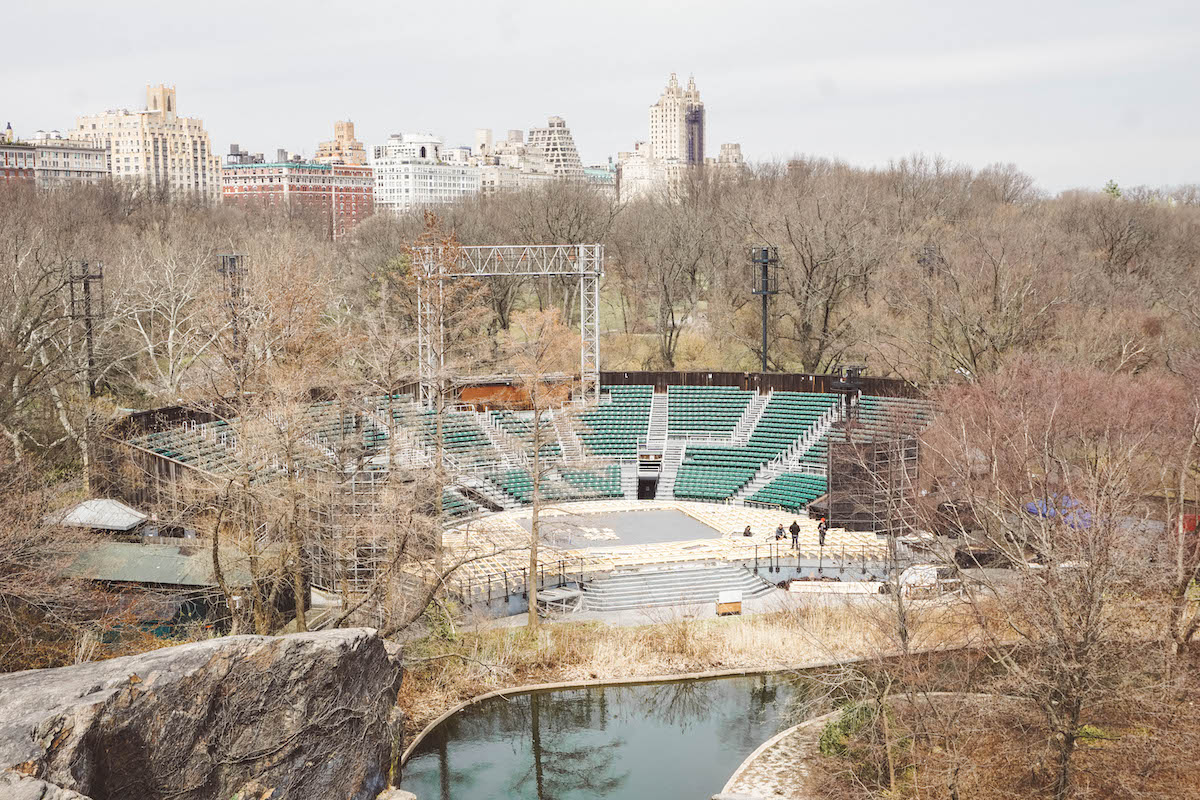 Shakespeare in the Park is one of the most sought-after things to do in NYC in the summer. Each summer, some of Shakespeare's most popular works are performed in the Delacorte Theater in Central Park. Tickets are sold the day of a performance, and people often start lining up early in the morning. If you manage to snag tickets to a performance, count your lucky stars!
(PS. Unfortunately, the only photo I have of the theater was taken mid-winter!)
See a Movie in Bryant Park
Bryant Park is another one of my favorite green spaces in the city. It's behind the public library (which is also worth popping into, by the way!) and it has a large lawn that's perfect for picnicking during the summer.
On Monday nights, Bryant Park transforms into an outdoor movie theatre. The lawn opens at 5pm and movies start at sunset (around 8 to 9pm). All movies are free to watch, and you can bring a picnic blanket and snacks to enjoy while you watch.
I suggest getting there as close to 5pm as possible to claim a good spot since the lawn fills up quickly. But don't worry if you're not close to the screen; you can read the captions quite easily! 
Read more: The Best Parks in NYC to Add to Your Bucket List
See the Smallpox Hospital on Roosevelt Island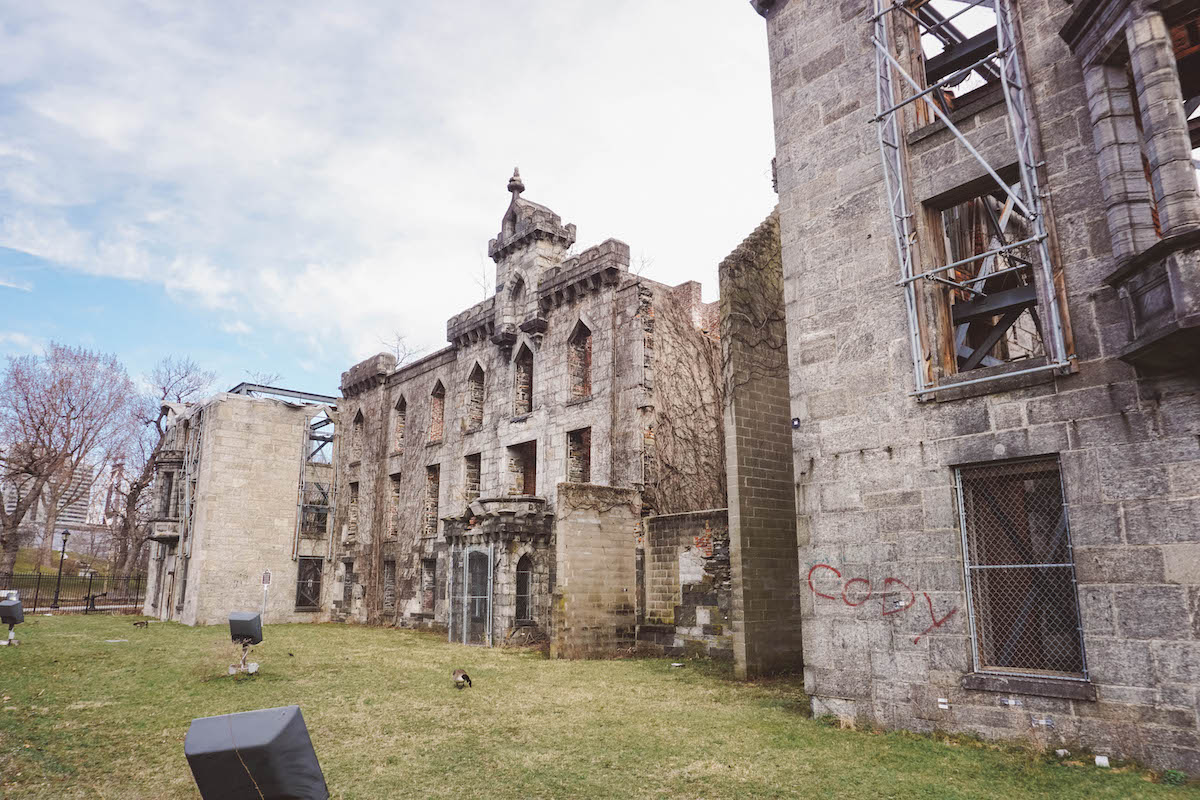 If you're looking for fun things to do in NYC this summer, look no further than a trip to Roosevelt Island. Roosevelt Island is a residential island in the middle of the East River that's accessible via the subway or the Roosevelt Island Tramway.
The main highlight on the island is the Renwick Ruin, which is a former smallpox hospital. The hospital has been abandoned and is now securely locked behind a wrought-iron fence. However, it's fascinating to visit — even at a distance!
Other things to do on Roosevelt Island include relaxing in the Franklin D. Roosevelt Four Freedoms Park on the southern end of the island and enjoying the skyline view from the 19th-century lighthouse on the northern tip of the island.
Tip: I highly recommend riding the Roosevelt Island Tramway to and from the island. The entrance is at 59th and 2nd Ave and is accessible with your Metrocard. The tram grants you an epic view of the city and East River from above, but isn't for anyone who's afraid of heights!
Walk the High Line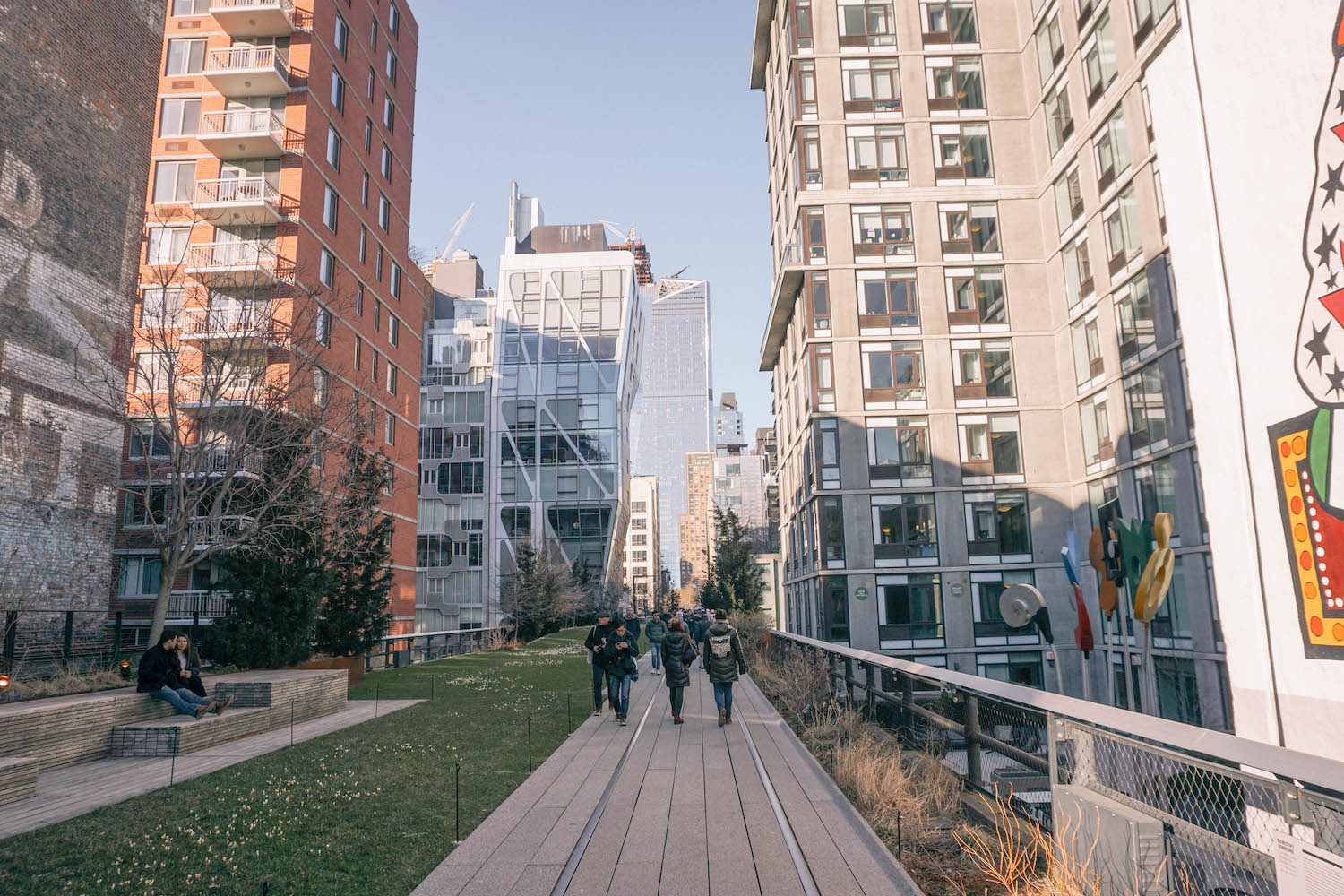 I hesitate to add the High Line to this list of NYC summer activities, simply because it's become so popular in recent years that on weekends it's so crowded that you can't truly walk the High Line — you really just shuffle along. But if you walk the High Line during working hours it's a much more enjoyable!
I worked above Chelsea Market for a year, and during the summer I liked popping up to the High Line to stretch my legs during my lunch break. It feels like you're walking through your own little universe; it's raised a few floors above street level and you're surrounded by a mixture of greenery and soaring skyscrapers.
There's no other place like it in New York, so you should definitely visit! 
Grocery Shop at a Greenmarket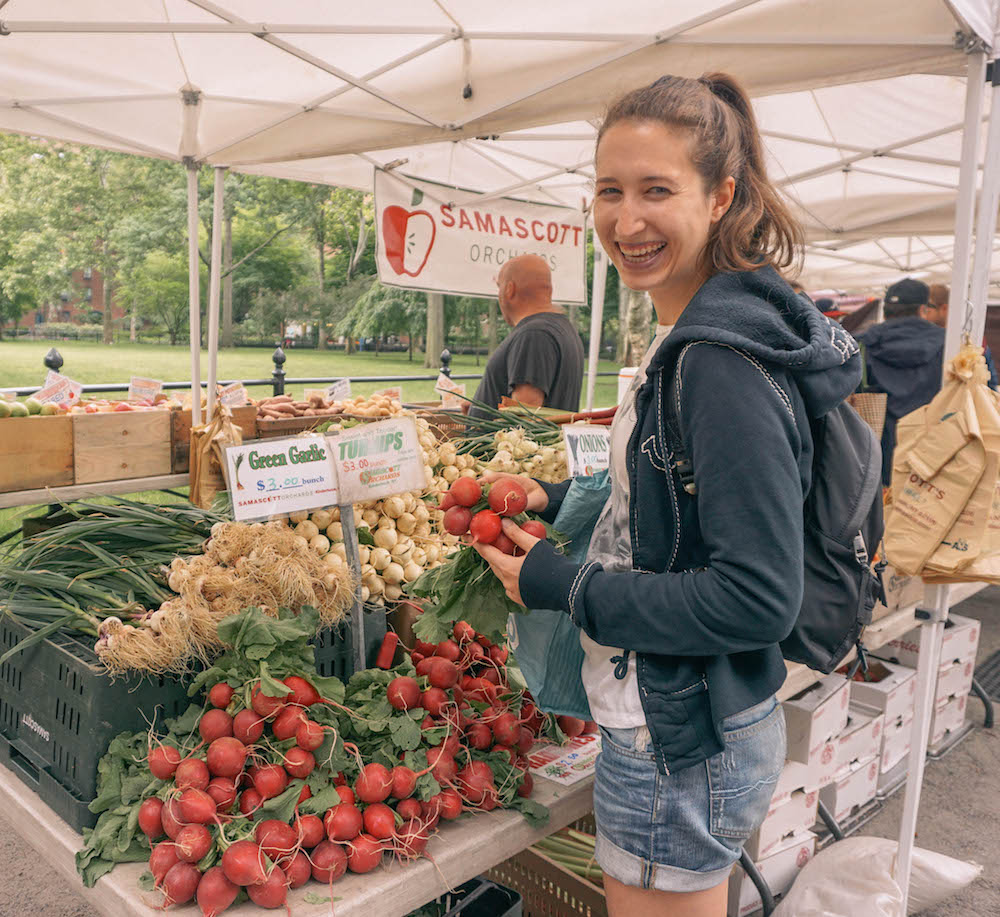 Even if you're not staying somewhere with a kitchen, a visit to a local greenmarket is a must. You wouldn't think a big city like NYC would have much to offer in the local produce department, but the farmers markets here are insane.
My two favorites are the Union Square Greenmarket and the Grand Army Plaza Greenmarket. Not only is there lots of fresh, seasonal produce for sale, but there are also local bakeries, butcher's shops, and plant nurseries with booths as well.
If you're looking to buy an NYC souvenir with meaning, swing by a greenmarket and see what's on offer. I picked up bundles of dried lavender recently and put them in my dresser drawers — every time I pull out a lavender-scented top it takes me straight back to the sunny summer's day I bought the lavender!   
Join a Walking Tour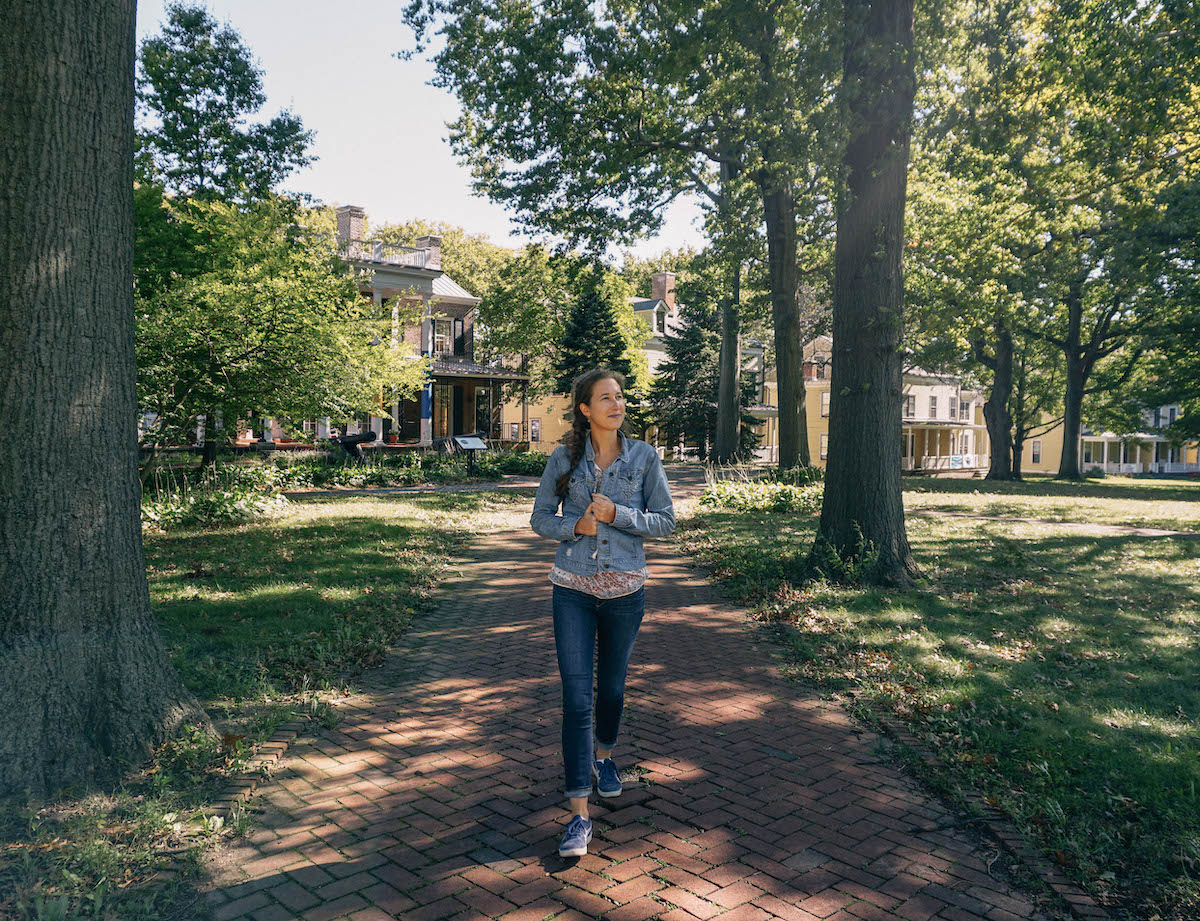 Free Tours by Foot is my favorite NYC tour company. I've taken pay-what-you-want walking tours with them in Brussels, London, New Orleans, and NYC, and I've loved every single one of them! Tours are led by locals, and they always have the best recommendations on where to eat and things to do in the area.
My mom and I took a free tour of Harlem and I took another through Lower Manhattan when I first moved to the city, and both tours seriously impressed me. A walking tour is such a fun thing to do in the summer in NYC, no matter if you're a history buff or not.
Tip: Whether you take a free walking tour with Free Tours by Foot or you opt to take a paid tour with another company, be sure to bring cash with you to tip your guide!
Visit One of the Botanical Gardens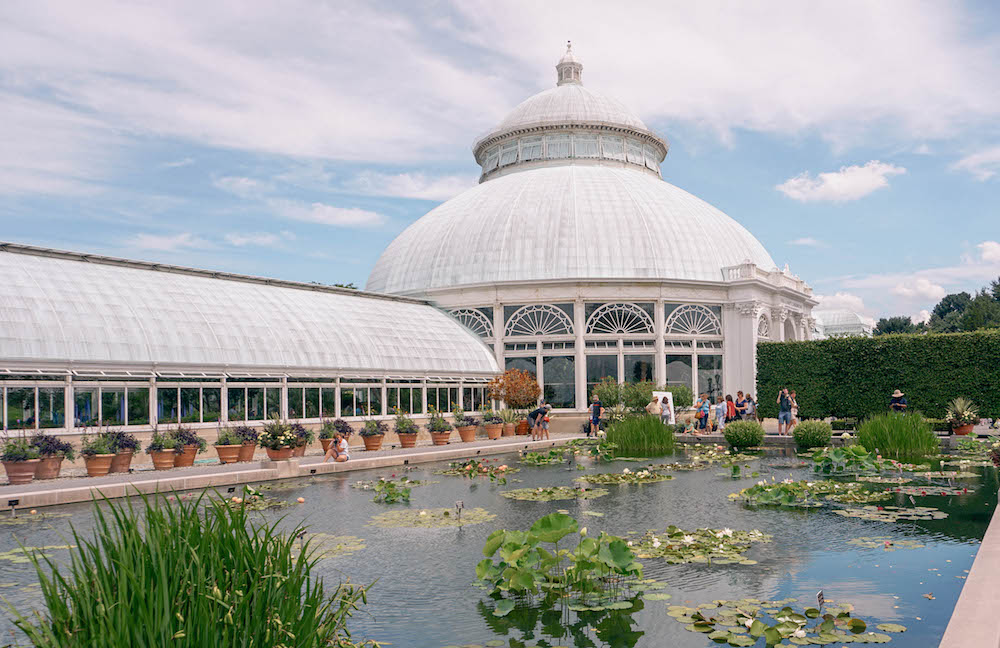 Did you know NYC has not one, but three botanical gardens? The most well-known garden is in the Bronx, but fewer tourists think to visit the Brooklyn and Queens botanical gardens. I've only been to the Bronx and Brooklyn gardens, and I love them both equally but for different reasons.
The Bronx location has a huge outdoor space dotted with gardens devoted to specific flowers (i.e. a daffodil hill, a rose garden, etc), as well as a stunning conservatory with lily ponds.
The Brooklyn location is broken down into much smaller outdoor gardens and conservatories with different themes (i.e. a Japanese garden, a desert garden, and so forth). All of the botanical gardens have pay-what-you-want admission days, and I recommend visiting then.
Tip: Look on their websites to see what's blooming when you visit so that you can better plan your garden tour. 
Eat Italian Food on Arthur Avenue
Most tourists flock to Little Italy in the summer, but did you know that there's a more vibrant and arguably more authentic "Little Italy" in the Bronx? One of the summer activities in NYC that I look forward to each year is eating my way around Arthur Avenue. Here you'll find Italian bakeries, cafes, and restaurants galore as well as specialty stores selling kitchenware, meats, cheeses, and more.
Tip: While you're in the area, you should visit the New York Botanical Garden. It's within walking distance of Arthur Avenue and is another fun summer attraction in NYC!
Walk the Brooklyn Bridge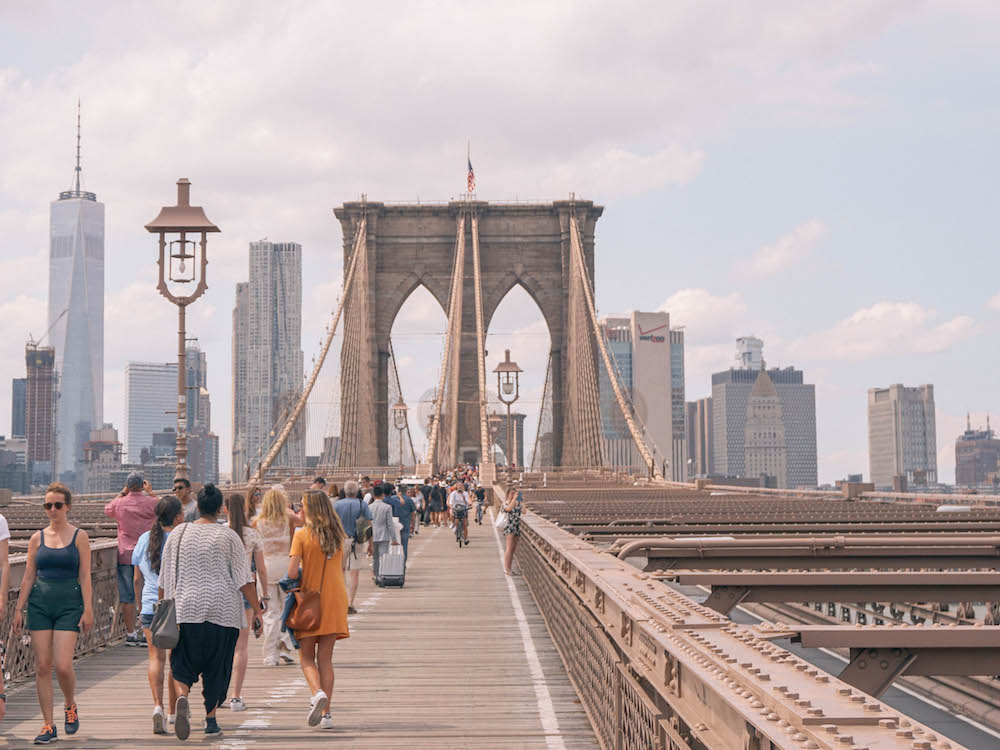 Like the High Line, I feel the need to mention that the Brooklyn Bridge is sheer chaos on beautiful summer weekends. If you want a quieter walk, go a few blocks over and walk the Manhattan Bridge instead.
Whichever bridge you choose to walk, I suggest starting on the Manhattan side of the river and making your way to DUMBO. There's not tons to do in DUMBO, but there are some cute cafes in the area with lovely iced coffee and tea options (such a treat after a long walk in the sunshine!). Give yourself 45 minutes or so to leisurely walk the bridge and take photos of the New York skyline along the way.
Admittedly, this is such a touristy thing to do, but every time I walk the Brooklyn Bridge I smile the whole way! 
Read more: A Complete Guide to Walking Across the Brooklyn Bridge
Hang out at the Seaport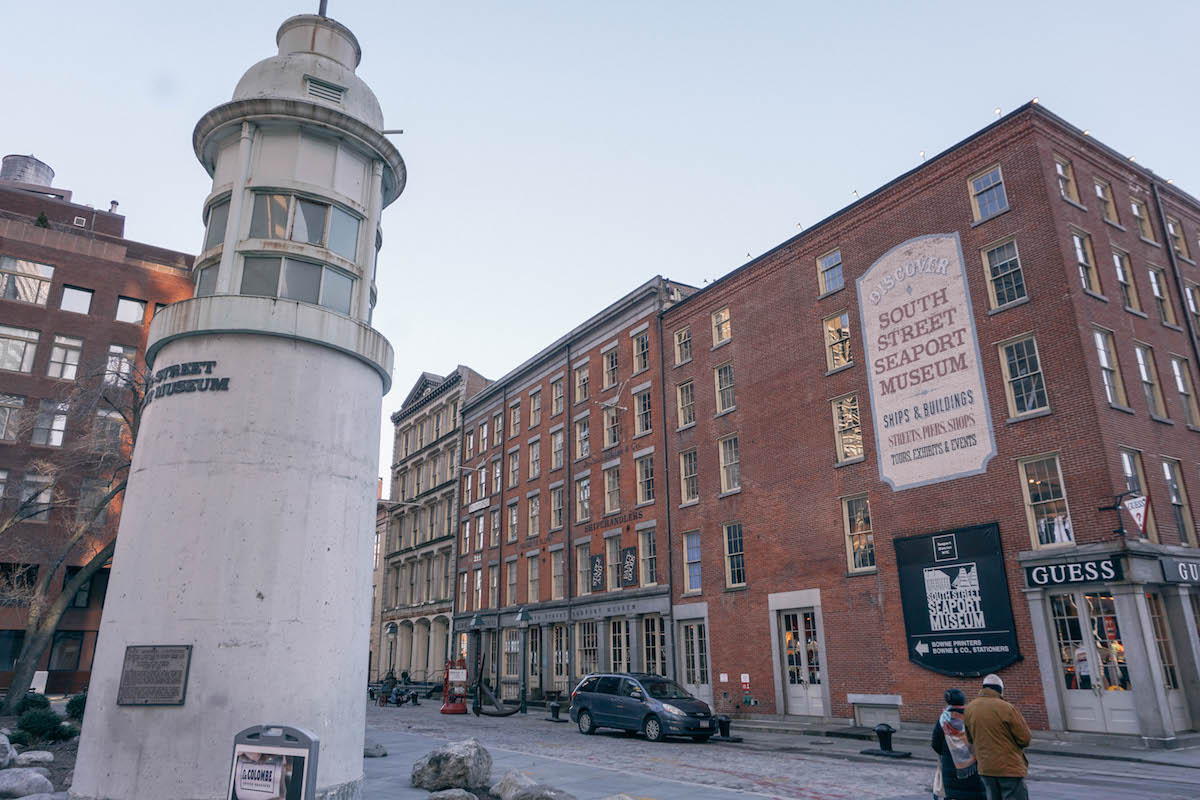 Another NYC summer hangout spot is the South Street Seaport. As the name suggests, this used to be a working seaport. Over the last few years, the city has been working to revitalize this area and there are now lots of shops and local eateries lining the cobbled streets. During the summer, the seaport puts on concerts and other events throughout the week, many of which are free.
Read more: NYC Neighbordhood Guide: What to Do, See, & Eat in FiDi
Spend the Day on Governors Island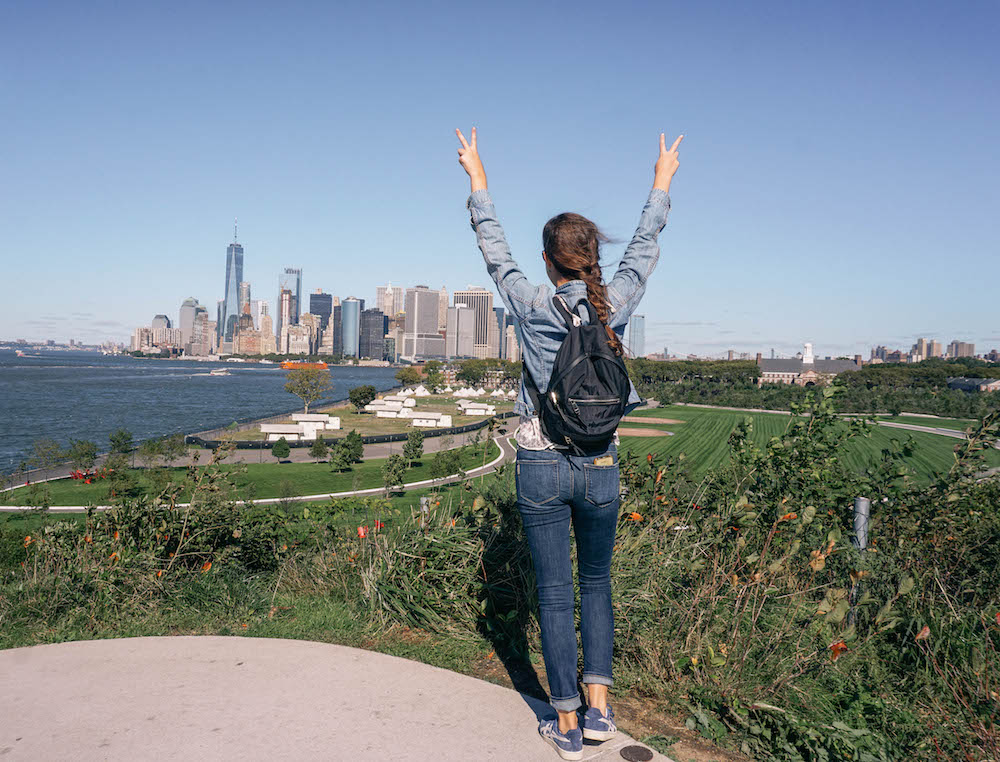 Governors Island is a small island just 15 minutes from the tip of Manhattan, and it's my favorite getaway during the warmer months. There are no cars on the island, so it's incredibly quiet and peaceful. I always climb the rock scramble to see the skyline from afar, and if I've remembered to bring a book with me I'll scope out a hammock in the hammock grove and get some reading in.
The island was home to Coast Guard families until recently, and the empty rows of houses make it seem like you're walking through another world altogether. If you're lucky, some of the homes will have art installations in them when you visit!
Window Shop in SoHo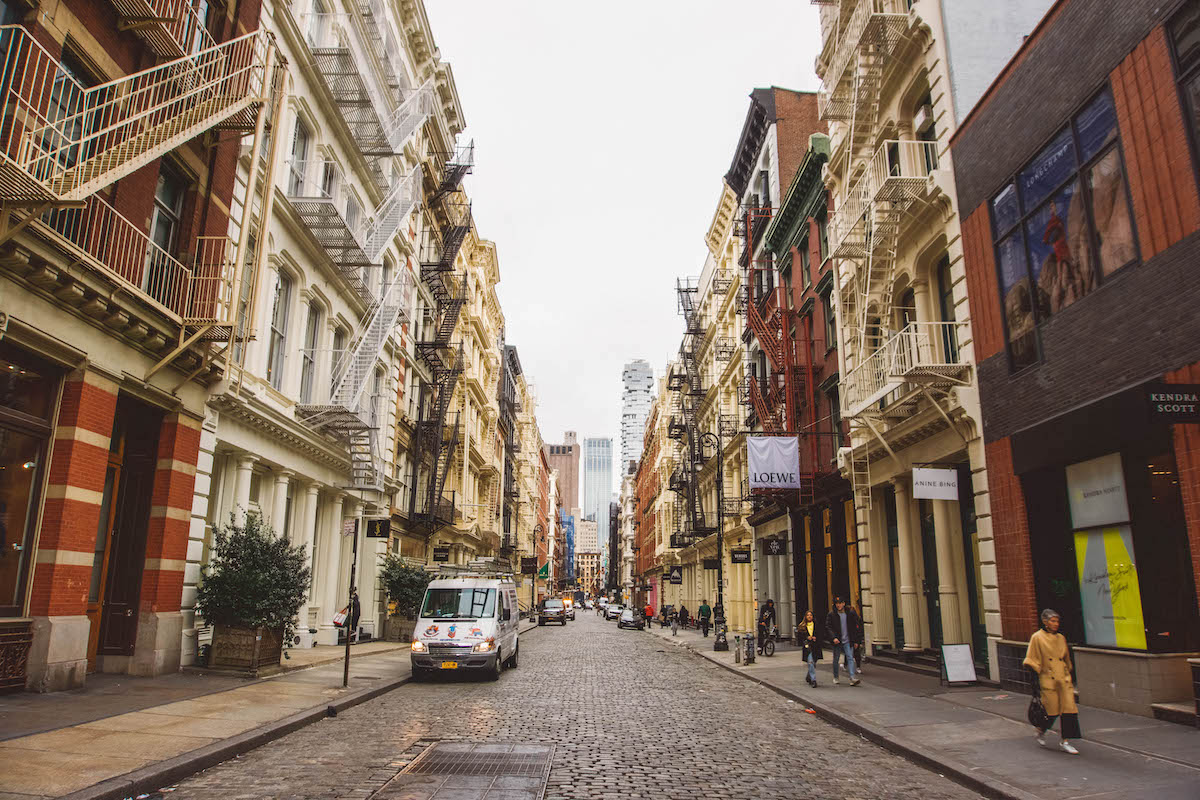 Honestly, there's no bad time of year to visit SoHo. In the summer, the side streets are lined with booths selling handmade jewelry and other wares. If you came to New York with a set shopping list, this is the area where you'll do the most damage to your bank account. There's a nice mixture of high end and more affordable shopping here, so don't feel like you need to dress a certain way when you visit.
If you get hungry mid-shopping spree, Prince St. Pizza is a must! 
Relax on Little Island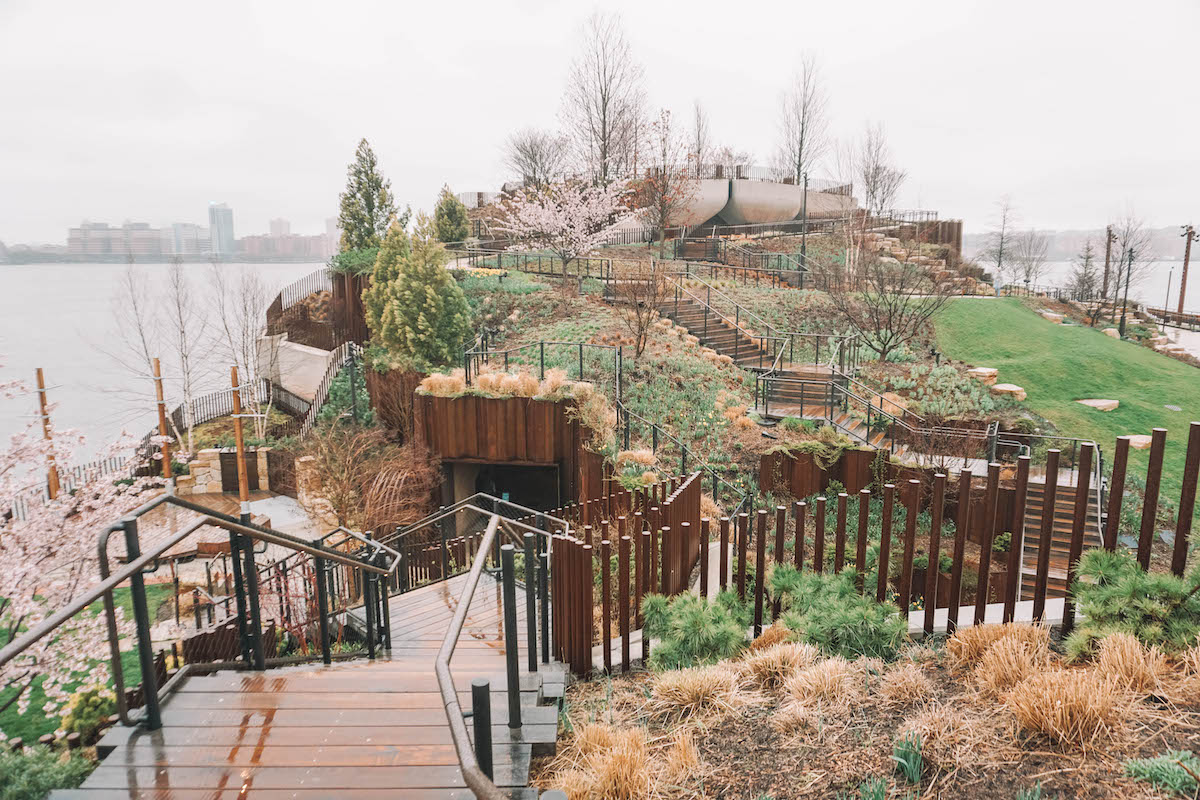 Opened in May 2021, Little Island is one of the best things to do in NYC this summer — because so few out-of-town visitors have yet to see it! Little Island is a public park that sits on a man-made island in the Hudson River.
The island was designed with rolling hills and winding paths to imitate a natural landscape. The views of the Hudson River from the tops of the hills is stunning, and there are plenty of spots to relax on a bright summer's day.
I highly recommend taking the free guided audio tour of the island on your first visit. You'll learn about the history of the island, the design choices that were made, and more.
Tip: In the summertime, timed entry reservations are required to visit the island. Be sure to sign up in advance!
Visit the Met Cloisters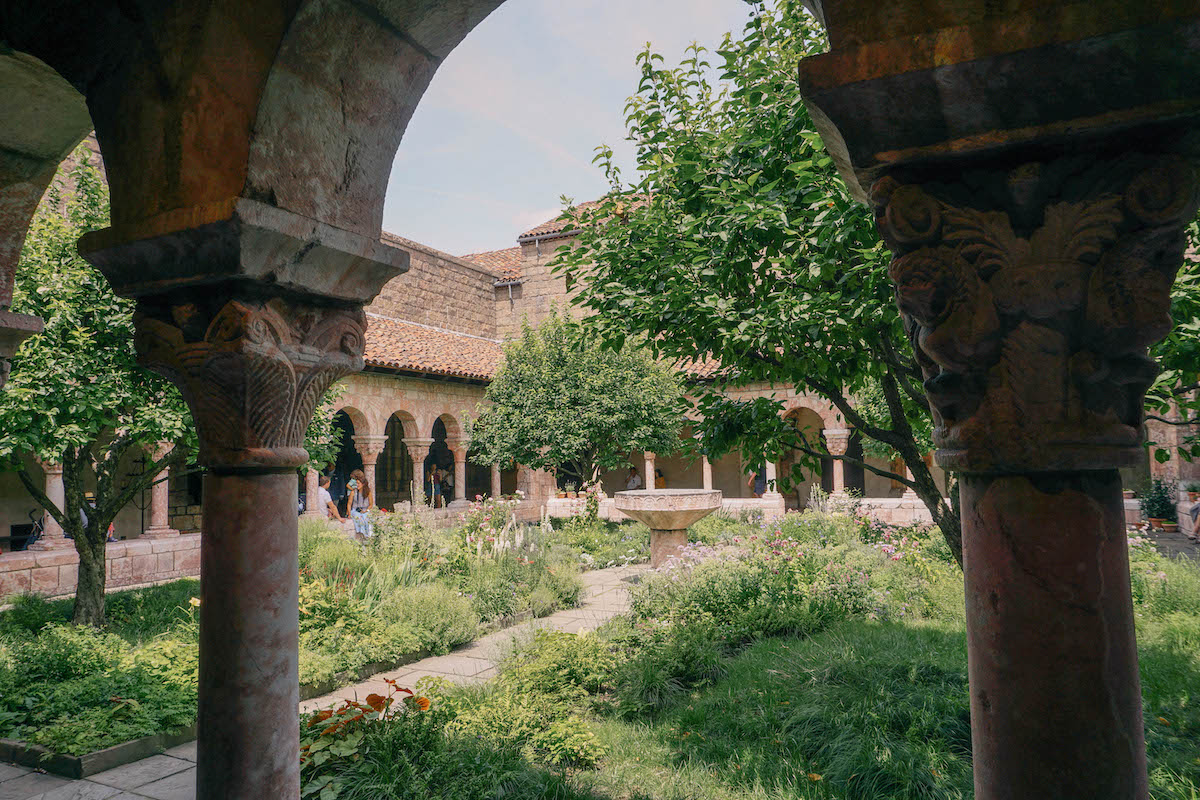 The Cloisters is a branch of The Met on Fifth Avenue that specializes in medieval art. Normally, I'm not into medieval art, but the Cloisters have a beautiful selection of art (some of their rooms are reconstructions of rooms from salvaged churches and abbeys, which are stunning as well). There's a garden here that's dedicated to medicinal herbs that are mentioned in manuscripts in the Cloisters' collection, and the inner courtyard of this museum is absolutely breathtaking.
After your visit to the Cloisters, give yourself an hour or two to explore Fort Tryon Park (where the museum is located). The garden in the park is really lovely, and if you go to the furthest edge of the park you'll get a wonderful view of the Hudson River.
Explore Trendy Williamsburg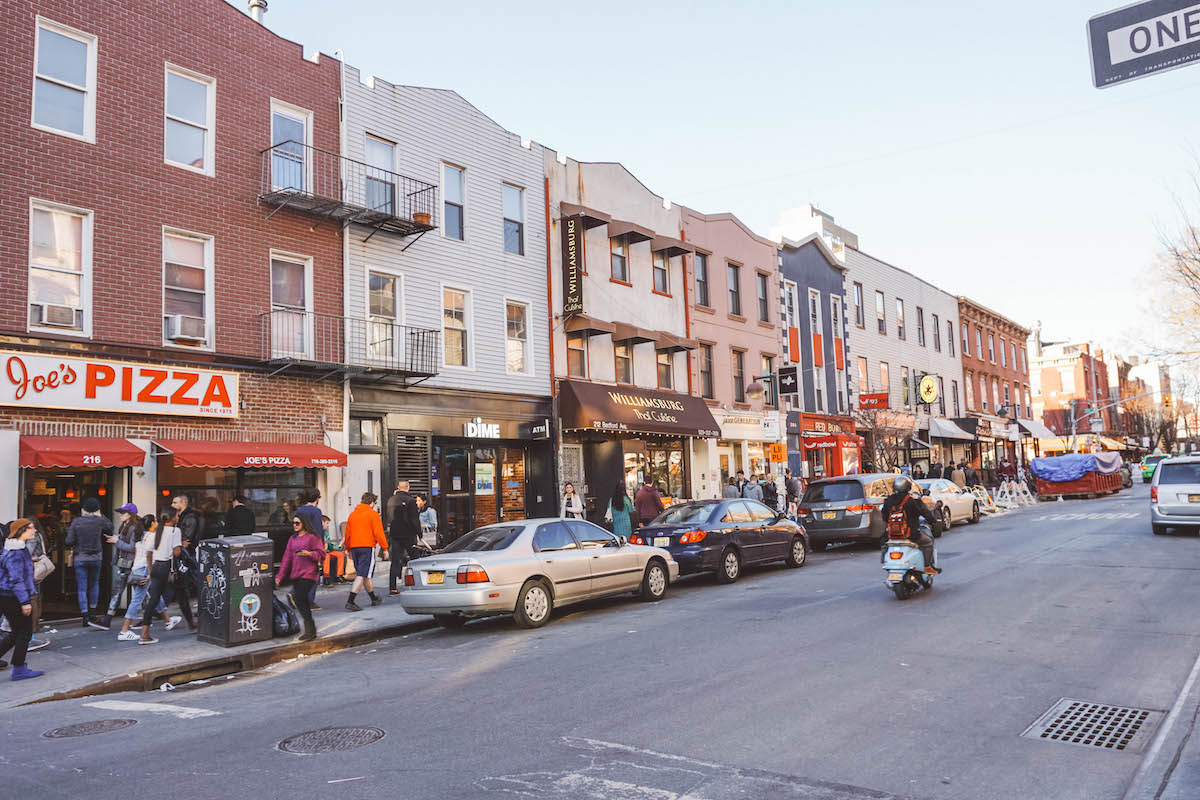 One of the best places to visit in NYC in the summer is Williamsburg, a hip neighborhood in Brooklyn that's just one subway stop away from Manhattan. Williamsburg has a little of everything — great food, local jewelry and clothing stores, bars where people way trendier than me hang out, and more.
Williamsburg is becoming increasingly gentrified and has lost some of its local charm in recent years, but it's still a cool place to visit and is especially nice in the summer. Smorgasburg takes place here every weekend, and you also have to stop at Artists & Flea to shop the best locally made goods in the area.
Eat Your Fill at Smorgasburg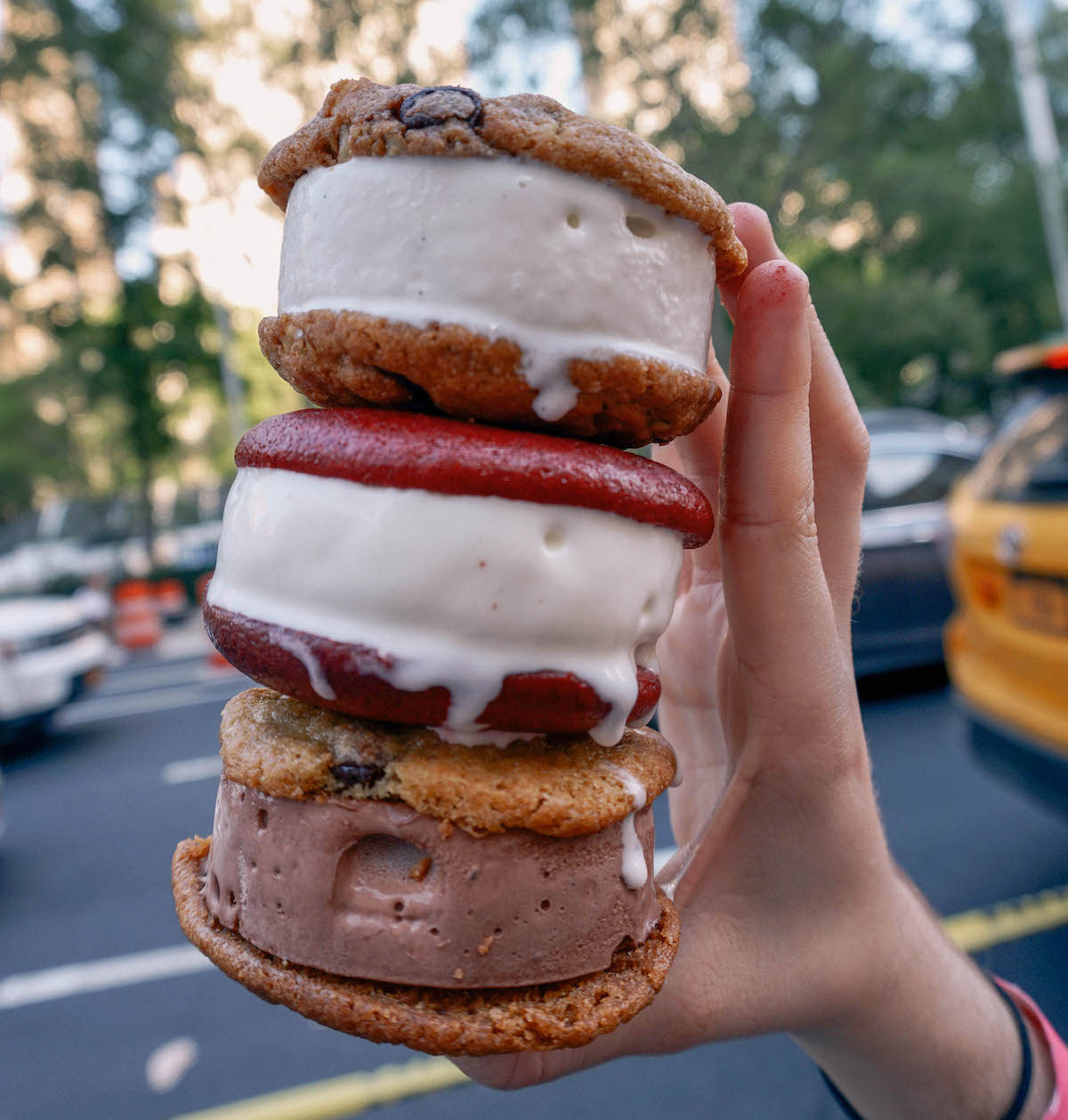 Smorgasburg is the place to sample up and coming food trucks and eateries in NYC. You can usually find a little bit of everything here, from vegan bites to ice cream to burgers to wacky new food hybrids.
Smorgasburg operates Friday through Sunday, and it's in a different spot each day. Personally, I'd avoid Smorgasburg on Saturdays since it's in Williamsburg that day. I love Williamsburg, but the space where Smorgasburg is hosted is quite small and it's packed by 1pm. 
Visit Historic Green-Wood Cemetery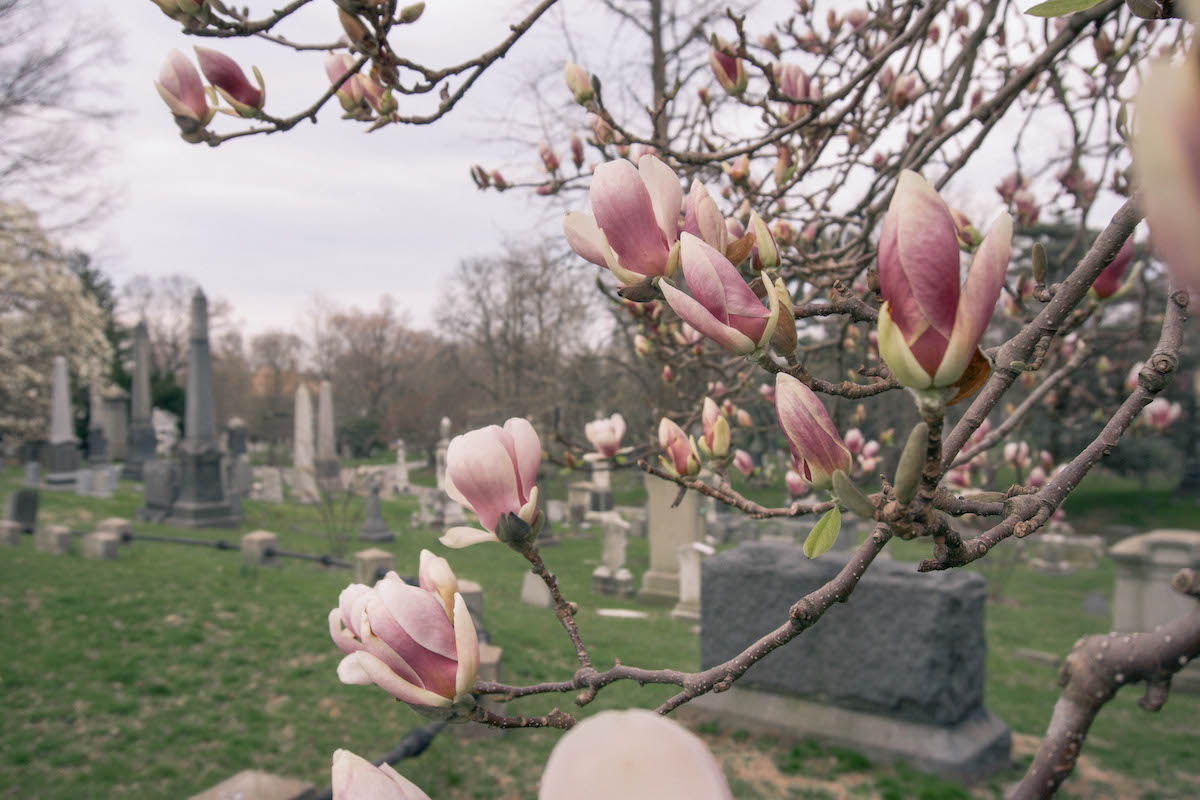 Green-Wood Cemetery was founded in 1838, and by the 1860's it was one of the most popular tourist attractions in the US (second only to Niagara Falls!). It's a Revolutionary War site (the Battle of Long Island took place here), and the cemetery spans 478 acres. Boss Tweed and Leonard Bernstein are buried here, as are Louis Comfort Tiffany and many Civil War generals. The grounds here are stunning year-round, but it's an especially fun thing to do in NYC in the summer when the weather is good.
Tip: If possible, take a guided tour of the cemetery. Its history and ornate graves are incredible!
See the Giant Globe in Corona Park
In the Flushing Meadows-Corona Park you find a MASSIVE globe. A leftover relic from the 1964 World's Fair, the Uniglobe is well worth the trek out to Flushing, Queens.
In addition to the Uniglobe, the park is also home to The Queens Museum. The highlight of any trip to the Queens Museum is the Panorama of the City of New York, a 1:1200 scale replica of the entire city. The impressive panorama takes up 9,335 square feet and is accessible via a raised walkway that passes over the panorama.
Dine Out During Restaurant Week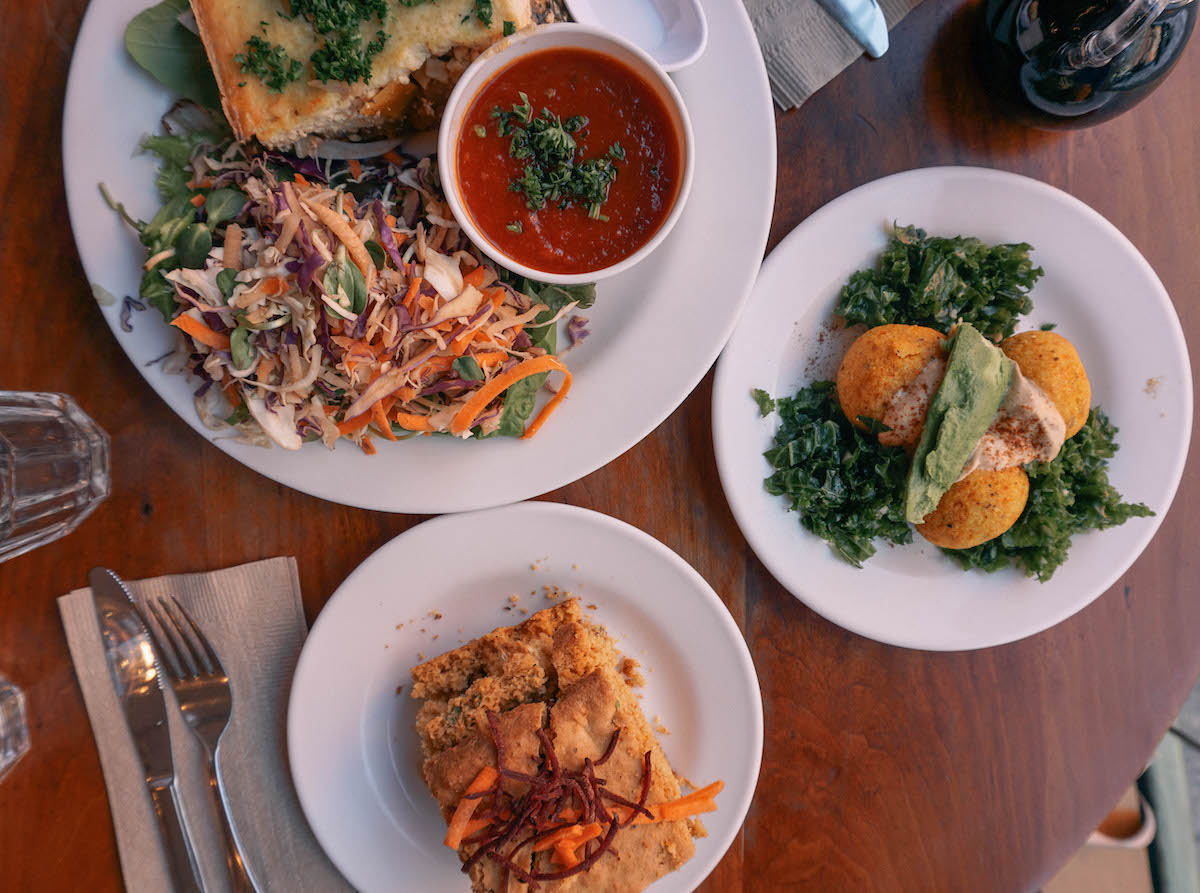 One of the best NYC summer activities is Restaurant Week. Restaurant Week takes place twice a year in NYC, once in the winter and once in the summer. More than 300 of the city's best restaurants participate.
Each restaurant creates a prix-fixe menu at a discounted rate so that you can sample their fare. I highly recommend making reservations at any restaurants you're dying to visit, as Restaurant Week spots fill up quickly!
Tip: Although it's called Restaurant "Week," this event typically lasts for a month. 
Summer Day Trips from NYC
Yes, I realize this is a list of things to do in NYC in the summer, but when the city really heats up it's nice to escape for a day! Here are some NYC day trips I recommend for the summertime.
NYC Summer Day Trip: Beacon, NY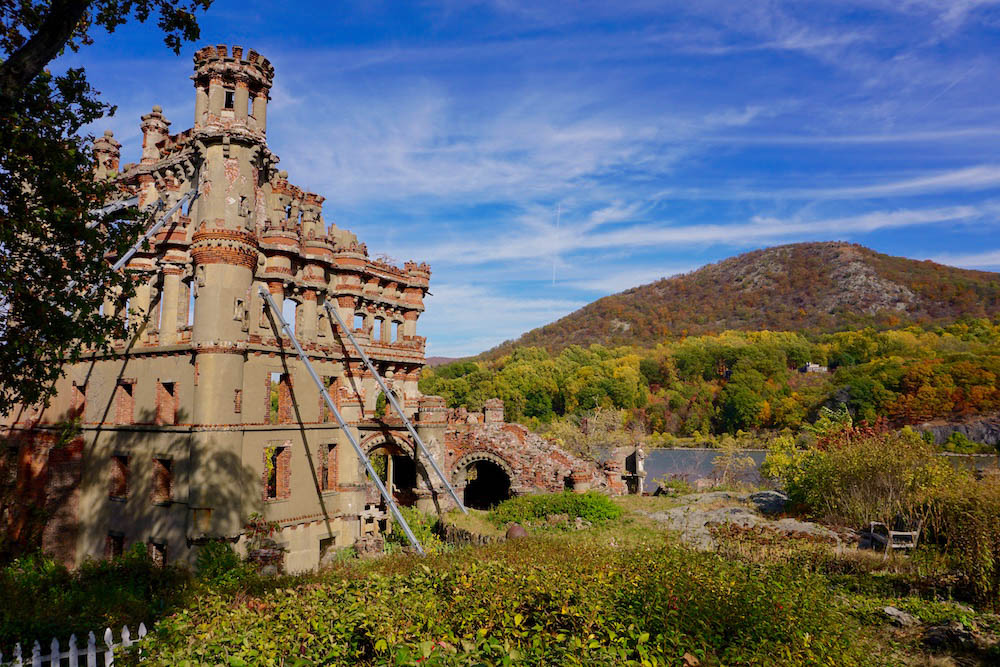 While technically not an NYC summer activity, I had to mention Beacon because it's my favorite day trip to take during the warmer months. Beacon is a small, artsy town not even 90 minutes from the city.
There's a little something for everyone here; if you're the outdoorsy type, the hiking here is the best you're going to get near NYC. If you're a window shopper, you'll adore the local boutiques in downtown Beacon. And if you're a history buff like yours truly, you have to take a tour of Bannerman's Island while you're in the area (just make sure to book your tickets in advance!).
There's also a well-known art museum in the area that has a cult following. Seriously, can Beacon get any cuter?
NYC Summer Day Trip: Long Beach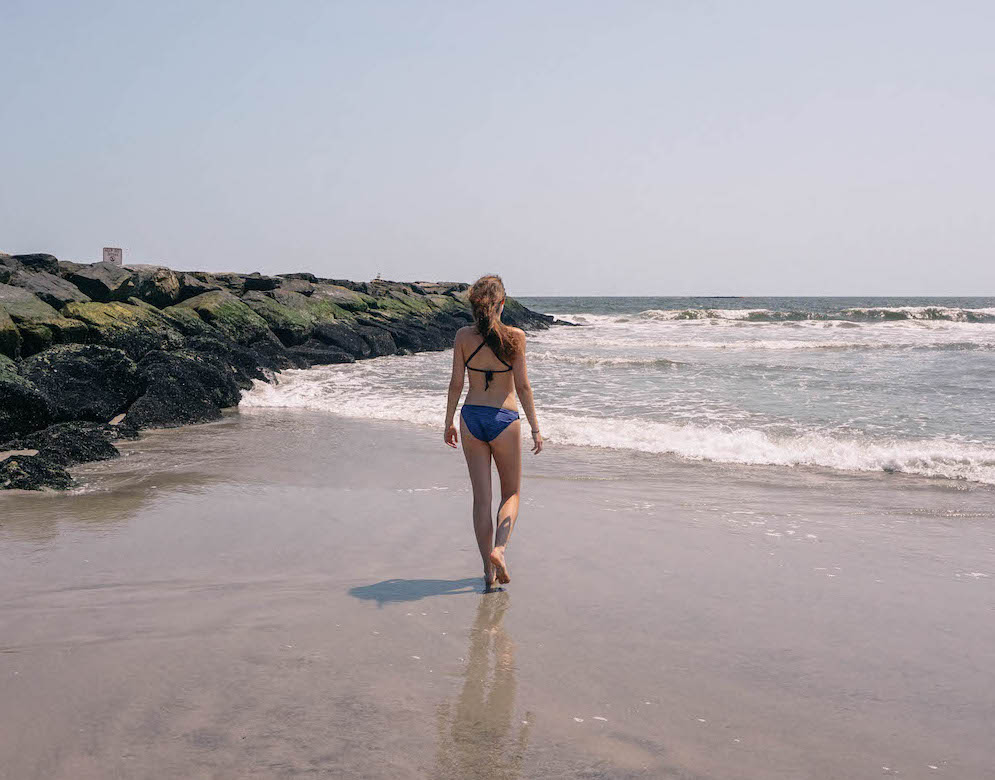 Most visitors don't realize that New York has lots of local beaches. Coney Island is a popular summer hangout spot, but I personally prefer Long Beach. It's a little quieter, and the boardwalk makes for a nice summer stroll.
If possible, I recommend taking a train from Grand Central to Long Beach. It'll be more expensive, but you'll save so much time by taking a train instead of the subway!
Bonus: Free Things to Do in NYC This Summer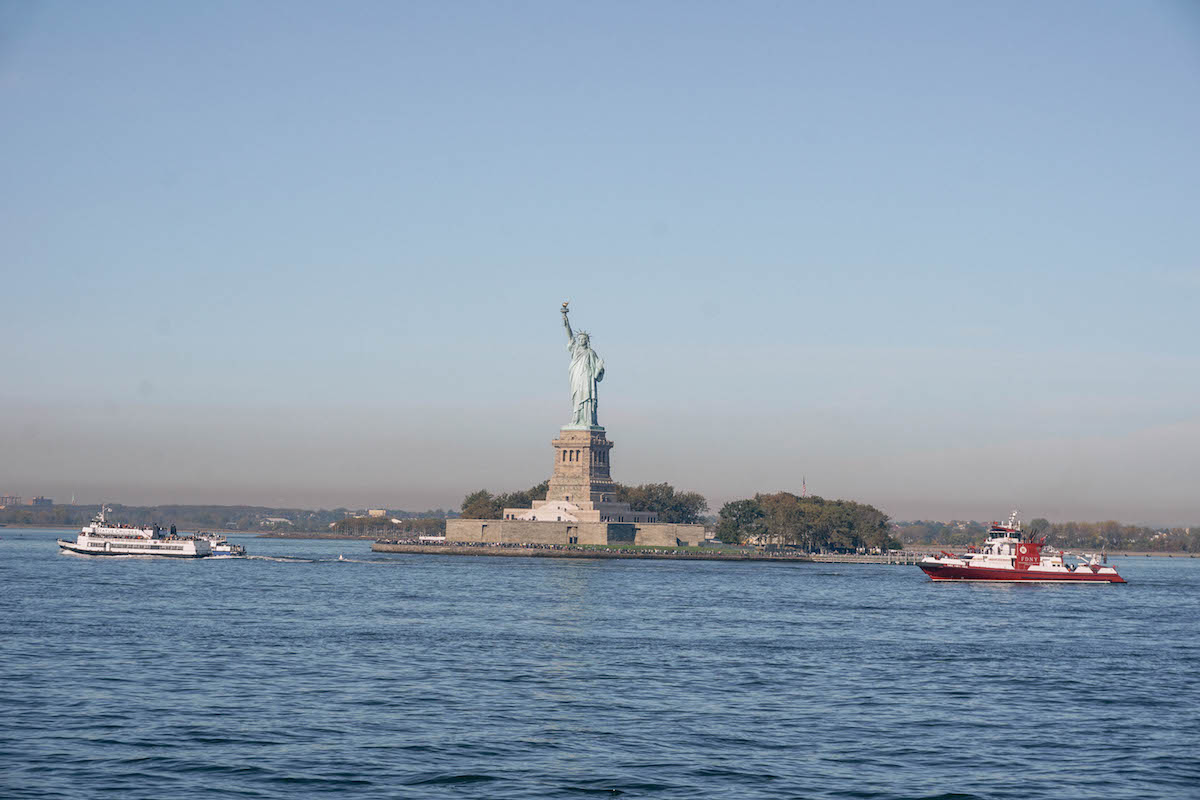 In my opinion, the best things to do in NYC in the summer (or any time of year, really) are FREE! I've actually written an entire guide to the best free things to do in NYC, so check it out for all of my recommendations.
Some of my favorite free NYC summer activities include:  
Riding the Staten Island ferry for a free view of the Statue of Liberty
Seeing the artifacts on exhibit inside the public library on Fifth Ave
Taking in the best free skyline views from different parts of the city
Visiting the interactive Irish Hunger Memorial
…and more!
FAQs About Visiting NYC in the Summer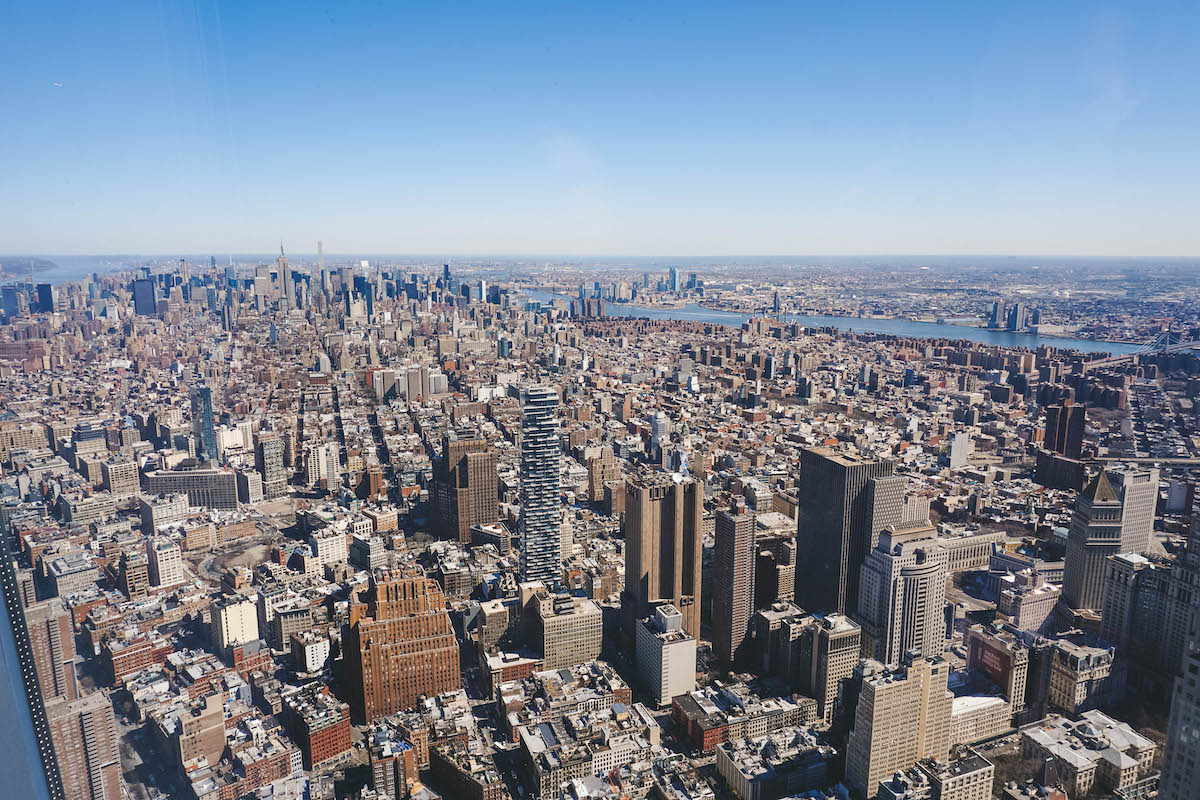 How hot does NYC get in the summer? HOT. From mid-June through August, you can usually count on it being at least 80ºF each day. Keep in mind that the steel and glass skyscrapers reflect light and make the bustling streets even hotter.
What to wear in NYC in the summer? Keep your clothing light and airy, if possible. When I lived in the city, I lived in linen and cotton summer dresses, white tennis shoes and / or Birkenstock sandals, and I always carried a stylish backpack with me so I could stash a giant water bottle on my person.
What to pack for NYC in the summer? Bring a reusable water bottle and sunscreen in your day bag or purse. Otherwise, shorts and t-shirts are great for daytime adventures. Pack something a little nicer if you plan on eating dinner out or attending a Broadway show. Definitely wear shoes that you can comfortably walk in for hours at a time!
What's the best way to get around NYC in the summer? On foot or via subway. I recommend buying either a day or week pass for the subway to make your life easier.
Is NYC crowded in the summer? Yes! It's one of the most popular times of year to visit the Big Apple. However, so long as you plan your days wisely (i.e. visit popular spots early in the day) you can avoid the worst of the crowds.
How many days are needed to see NYC? In a perfect world, I recommend spending 6 to 7 full days in NYC in the summer. However, 5 full days will give you enough time to get a feel for the city too.
Ready for Summer in NYC?
Summer in New York is my favorite time of year because sunshine and warm weather make any activity enjoyable. I could easily double this list of things to do in NYC this summer, but I honestly don't have time to write any more (and I don't think you have time to read a list that long!).
If you liked this post or have any questions about the NYC summer activities listed in this post, drop me a comment below!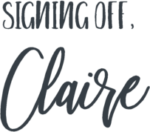 More Things to Do in NYC: