Visiting New York during Christmas? Get into the holiday spirit by visiting these 10+ gorgeous NYC Christmas trees!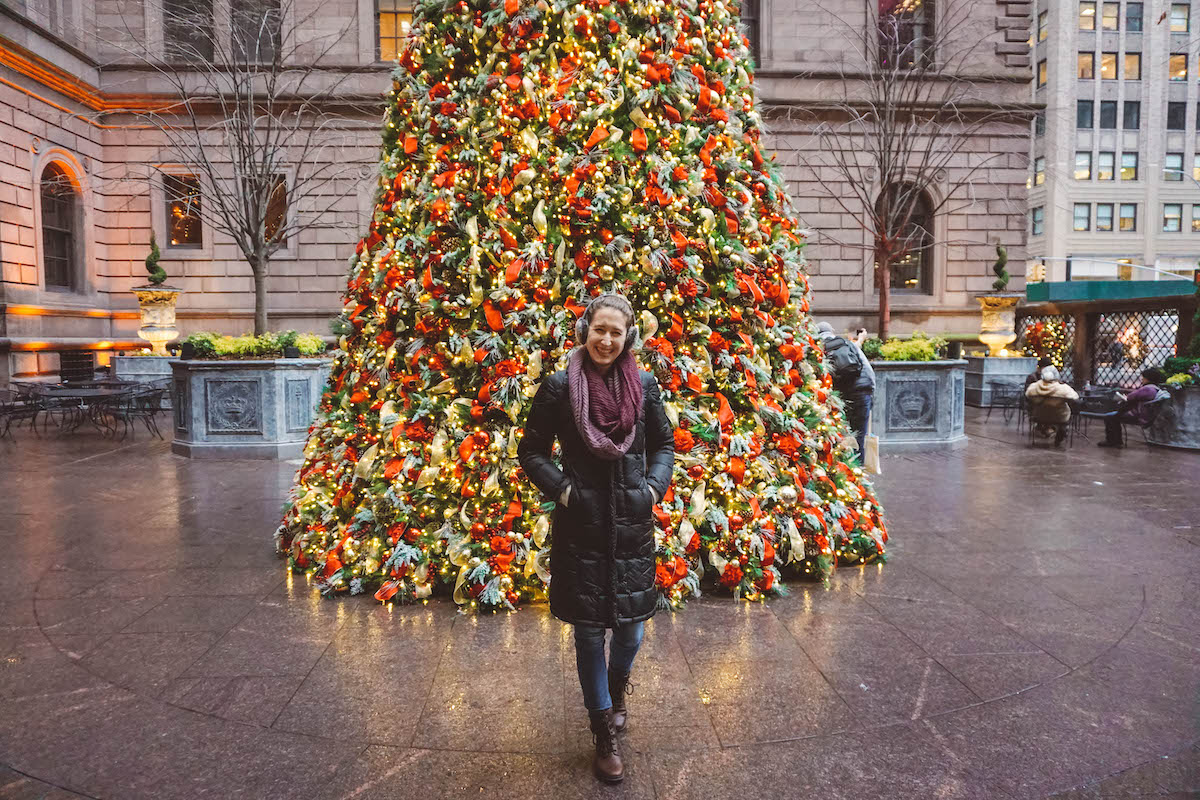 There's truly no place like New York City during Christmas! Midtown is decked in lights of every size and shade, storefronts are bursting with holiday displays, and it seems like there's a Christmas tree on every corner. While the Rockefeller Christmas tree gets most of the attention (for good reason!), there are plenty of other Christmas trees in the city worth making the pilgrimage to NYC to visit.
Almost all of the NYC Christmas trees on this list can be found outdoors, so you won't need to pay or wait in line to see them. However, I also included a few of my favorite indoor Christmas trees because they're just that special.
While you're in New York for the holidays, be sure to check out the following Christmas trees to really get into the festive spirit! 
1. Rockefeller Center Christmas Tree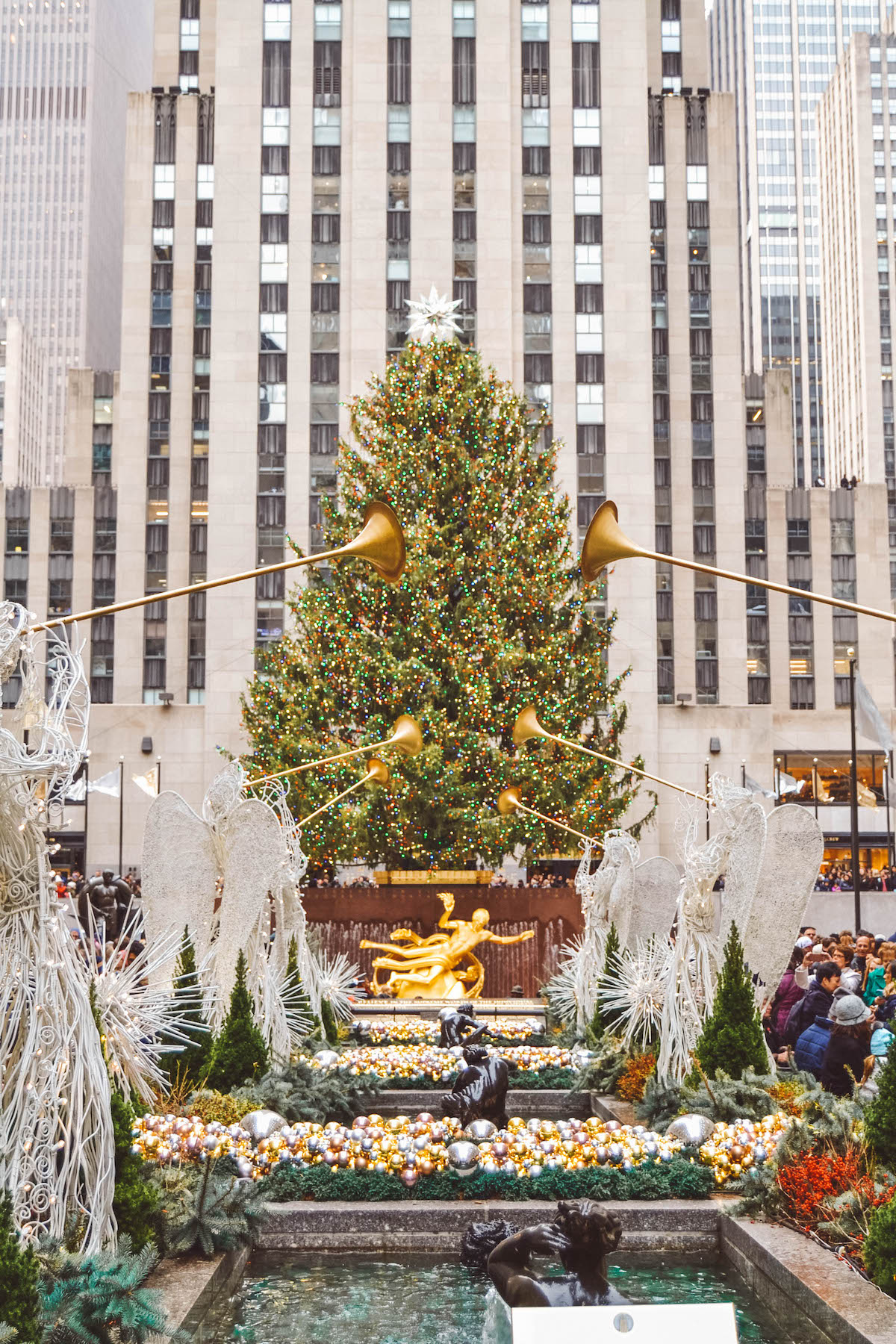 Location: 30 Rockefeller Plaza
Rockefeller Center is wall-to-wall people this time of year, but the Christmas tree is worth it! The first ever Christmas tree at Rockefeller Center was erected in 1931; a group of workers pooled their money together the purchase a 20-foot balsam fir. In 1933, Rockefeller Center held its first annual tree lighting ceremony, and it's put up a tree every year since then.
The Rockefeller Christmas tree lighting ceremony is held on December 1st and the tree stays up through New Year's Eve. The lights stay on until midnight each day, so you can visit the tree at any time! 
Tip: If you have the time and the budget, I highly recommend ice skating at the rink underneath the tree. It's pricey and you can only skate for a certain time slot, but it's a a fun holiday experience!
2. Bryant Park Christmas Tree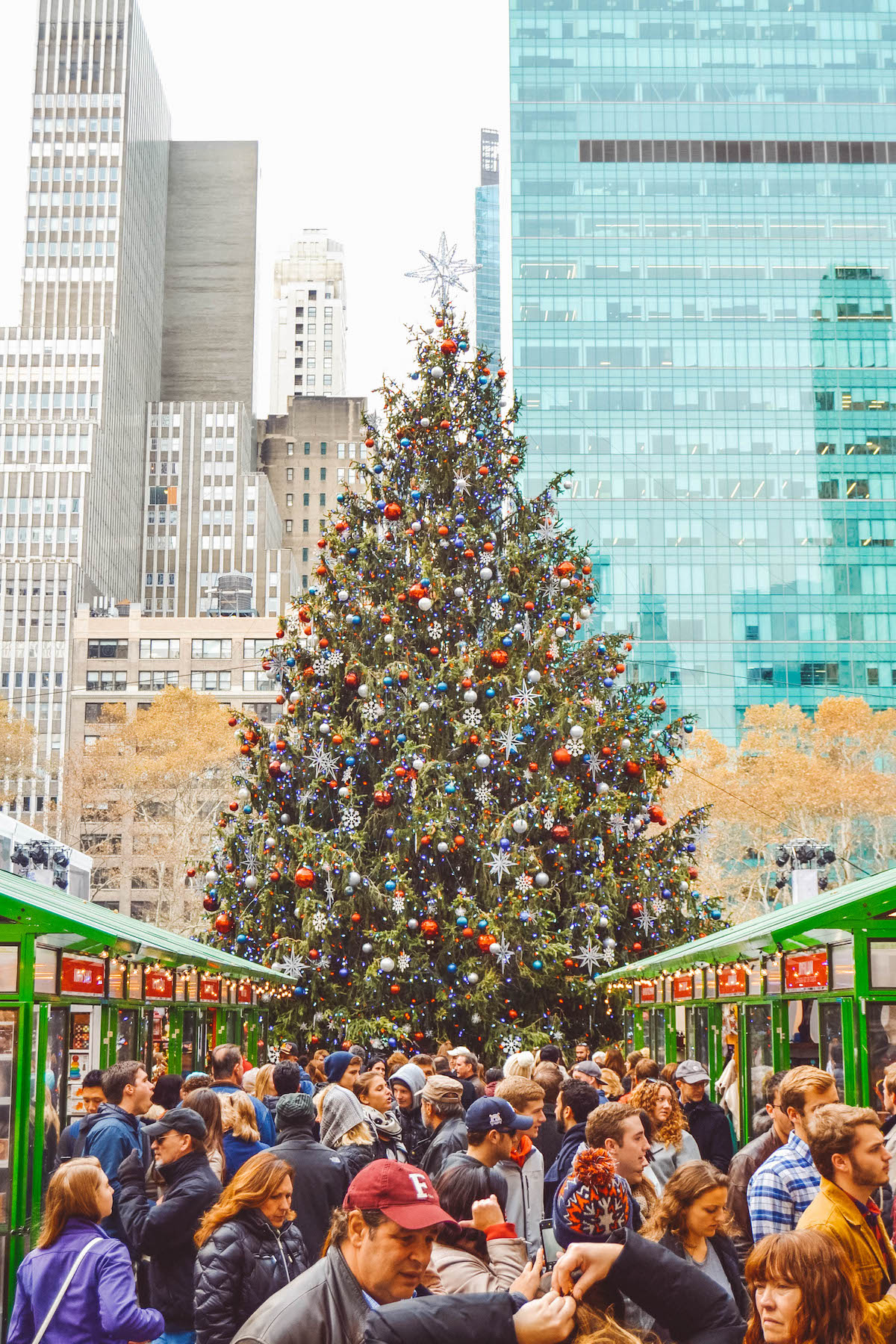 Location: 40th-42nd streets between 5th and 6th Avenue.
The tree at Bryant Park is absolutely spectacular. It's massive and decked out in giant baubles you can see your reflection in. The tree is in the middle of the Bryan Park Winter Village, which has a large selection of eateries and stalls selling handmade goods.
If Rockefeller Center's ice skating rink is packed with people, come to the Bryant Park Winter Village instead. It also gets fairly busy, but it's not nearly as bad as Rockefeller Center. Plus, the rink is larger and you'll still see the tree no matter where you are on the rink!
3. NYPL Christmas Tree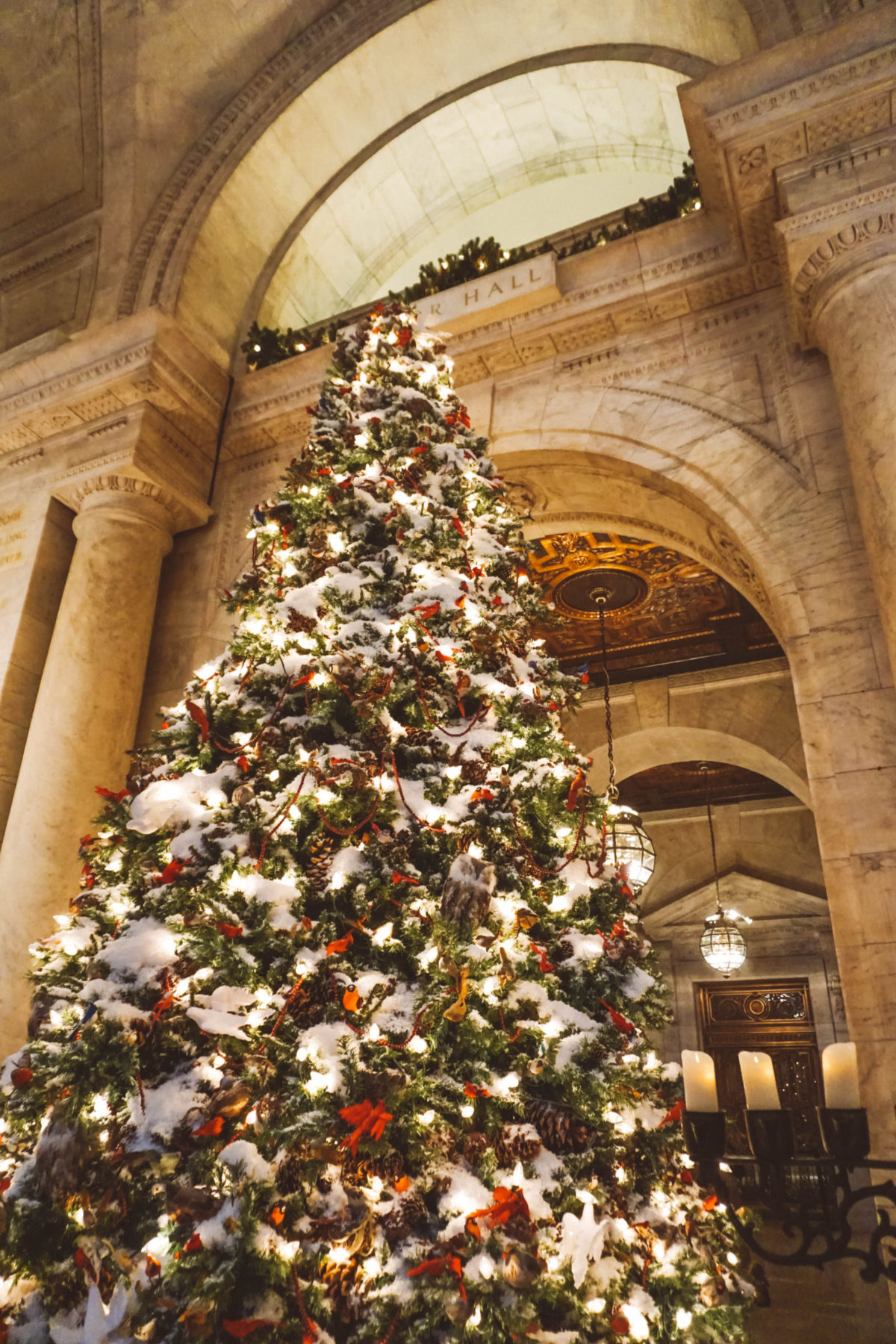 On the other side of the Bryant Park Winter Village, you'll find the main branch of the New York Public Library. Walk up the steps, past the wreath-bedecked stone lions, and into the foyer. Here you'll find a gorgeous Christmas tree that few tourists know is inside!
While you're inside the library, head up to the Rose Main Reading Room. It stretches the length of two city blocks and has soaring 52-foot-tall ceilings. It's typically not decorated for Christmas, but it's worth visiting once you've snapped some photos of the tree downstairs!
4. South Street Seaport Christmas Tree
Location: 89 South Street
It's a bit of a haul down to the Seaport, but it's one of my favorite places in NYC. In years past, they've had 60+ foot tall Christmas trees on display and they're always decked out to the max. Snap a few pics in front of the tree and pop across the street to see the ships docked there. Supposedly there are Christmas trees on the ships as well, but I've yet to confirm this myself.
The Seaport in general will be strung up with Christmas lights, so take your time exploring and window shopping. The Christmas ambience here is stunning!
5. Radio City Music Hall Christmas Lights Tree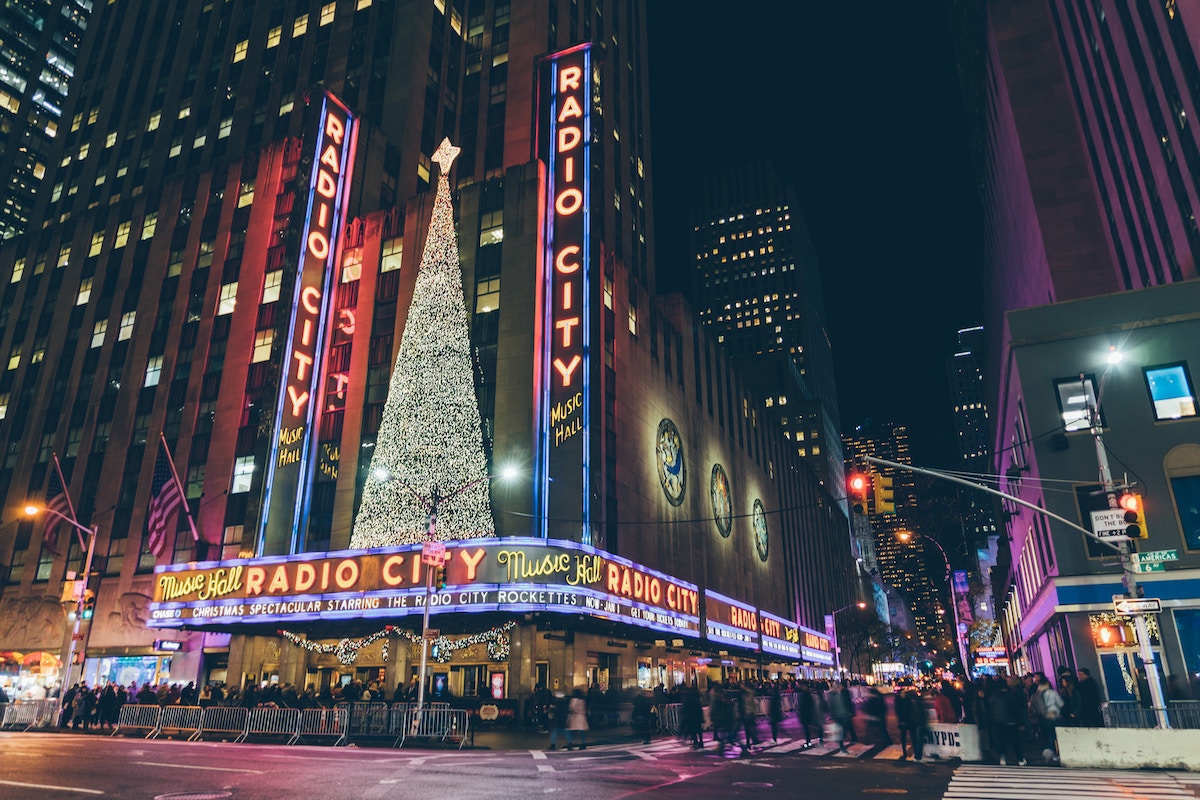 Location: 1260 6th Avenue
Radio City's tree is actually made of lights, but it looks so darn festive I had to put it on this list of NYC Christmas trees. You'd think there wouldn't be a ton of people across the street trying to get a good photo of it, but unfortunately there are.
The street here is so crowded with tourists during the holidays that police officers have to guard the crossings to let people through. This is all to say, snap a few pics and keep walking!
6. Saks Fifth Avenue Christmas Lights Tree
Across the street from Rockefeller Center is yet another New York icon: Saks Fifth Avenue. Do yourself a favor and stay on the Rockefeller side of the street and snap a photo of Saks' window display. Again, there's no real tree here, but there's an epic holiday lights display that typically features a massive tree made out of lights.
I also recommend popping into Saks Fifth Avenue to see their in-store holiday displays. It gets very crowded inside on the weekends, so try to visit during the work week if possible.
7. The Metropolitan Museum of Art Christmas Tree
Location: 1000 5th Avenue
The Christmas tree at the Met is my absolute favorite. It's a 20-foot blue spruce with an 18th century Neapolitan nativity scene at its base. You can find the tree in the medieval sculpture hall in front of an old choir screen. The nativity scene is one of a kind and has so many intricate details to it.
To see this NYC Christmas tree, you'll have to pay to enter the Met Museum. It used to be pay-what-you-want but now out of town visitors have to pay a steep entry fee. You can easily spend an entire day inside the Met Museum though, so it's money well spent!
8. American Museum of Natural History Origami Tree
Location: 200 Central Park West
The Origami Holiday Tree at the Museum of Natural History is an underrated Christmas tree worth adding to your NYC bucket list. I love this tree because you can tell how much time and attention went into making it.
Volunteers begin folding the origami decorations months in advance, and they've been doing so since the 1970s! The origami represents favorite exhibits in the museum, like dinosaurs, pianos, and more. It's a hodgepodge of decorations, but it's a real treat to see. Head up to the fourth floor to see this Christmas tree.
9. Lotte New York Palace Hotel Christmas Tree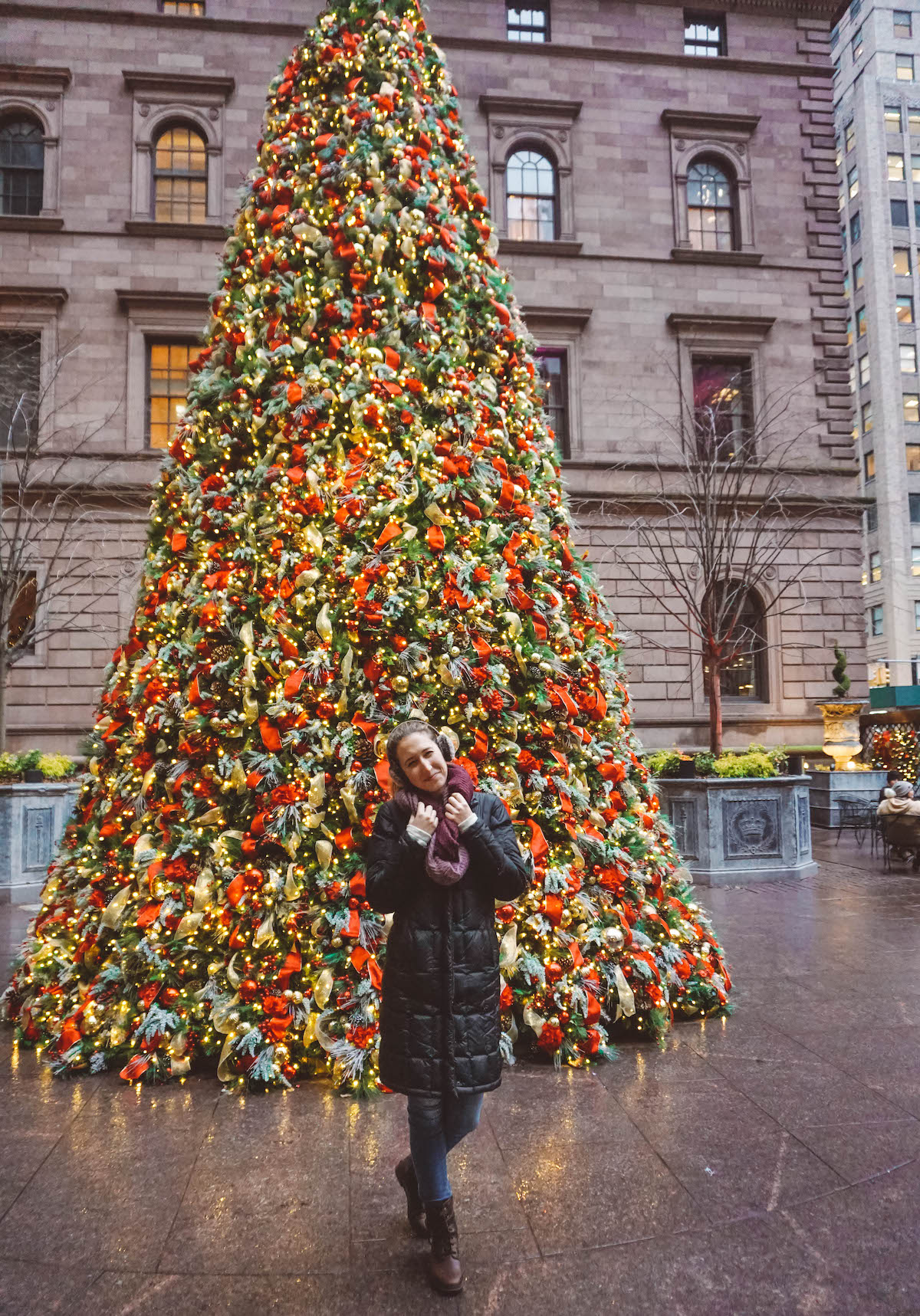 Location: 455 Madison Ave.
The 35-foot-tall Christmas tree in front of the Lotte New York Palace Hotel is perhaps the most Instagrammed tree in all of NYC (after the tree at Rockefeller Center, that is!). Gossip Girl fans may recognize this glitzy tree from the TV show. I stumbled upon this Christmas tree a few years ago when exploring Midtown in December, thinking I'd found a "hidden gem" — ha!
Although the Christmas tree at Lotte New York Palace Hotel is a favorite photo spot, I've rarely seen people taking photos in front of it. Maybe I've just gotten lucky with my timing, who knows. Regardless, it's a stunning Christmas tree in a gorgeous courtyard, so definitely swing by to take some pictures!
10. Washington Square Park Christmas Tree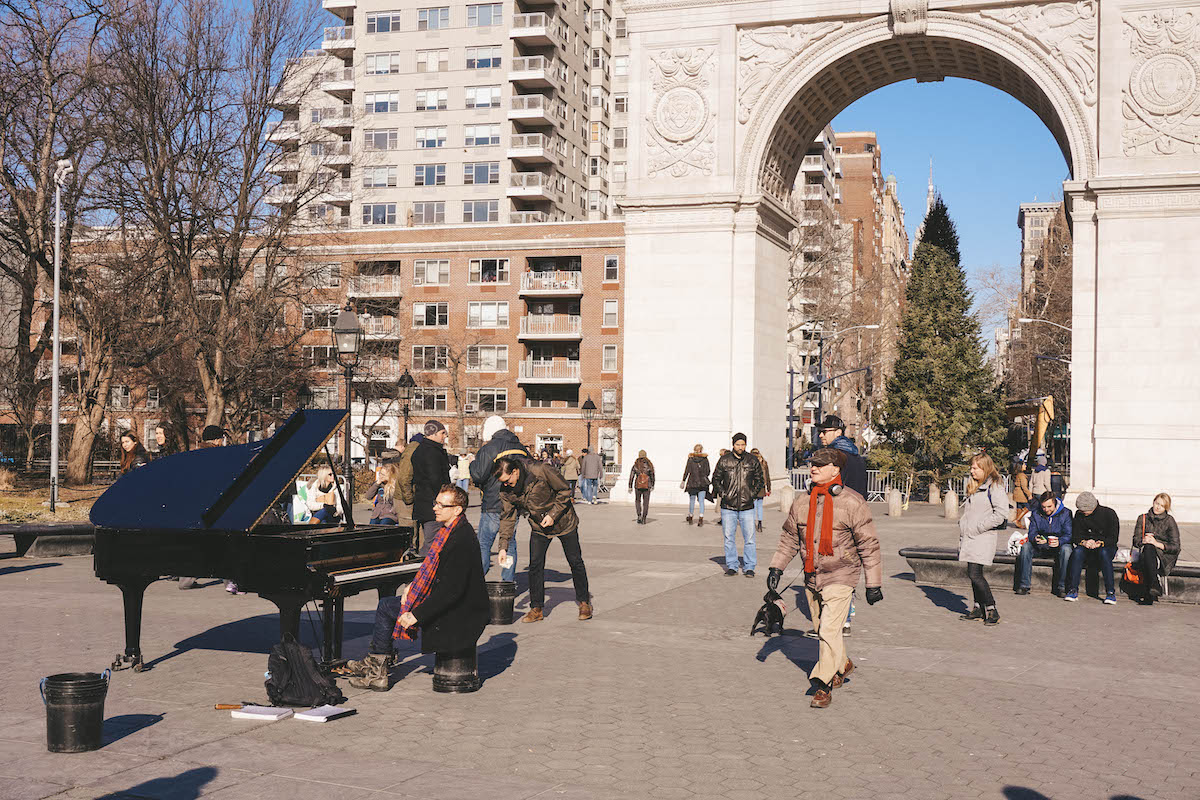 Location: Washington Square (Greenwich Village)
Boasting the second longest running tree lighting ceremony in NYC, the 45-foot-tall Christmas tree underneath the Washington Square Arch is just gorgeous. This year, the tree lighting ceremony will take place on December 8th. Fewer people know about the tree at Washington Square Park, and it feels more like a neighborhood event rather than a tourist attraction, if you know what I mean!
Honorable Mention: Lincoln Center Christmas Tree
Location: 10 Lincoln Center Plaza
Lincoln Center is the home of the Met Opera and the ballet, which are both beautiful buildings worth popping your head into. In the middle of the plaza, you'll find a towering Christmas tree hung with blue and white baubles. Lincoln Center is near Central Park, so consider stopping by on your way to or from the park!
Map of the Best Christmas Trees in NYC
Excited to Visit NYC During Christmas?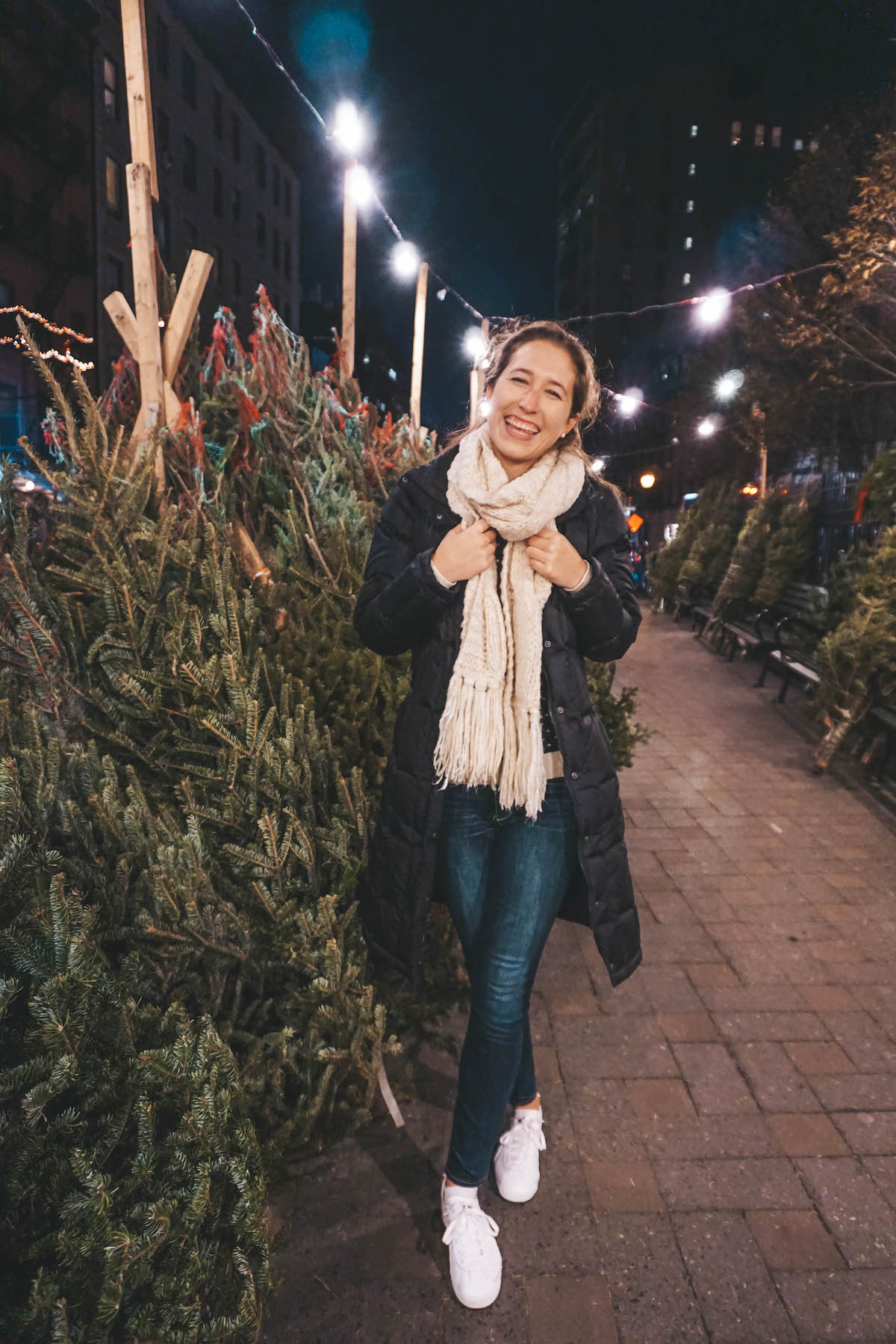 Seeing my favorite Christmas trees in NYC was one of my favorite holiday activities when I lived there. I hope this list gave you some ideas for places to visit in New York during Christmas. And don't forget, there are tons more things to do in NYC at Christmas in addition to admiring the Christmas trees!
Tell me: What are you most looking forward to over the holidays?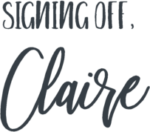 More posts you'll love:
Pin me!