The weather may be dreary, but that doesn't mean you have to spend the holidays shut up inside. Here are my favorite festive things to do in NYC at Christmas!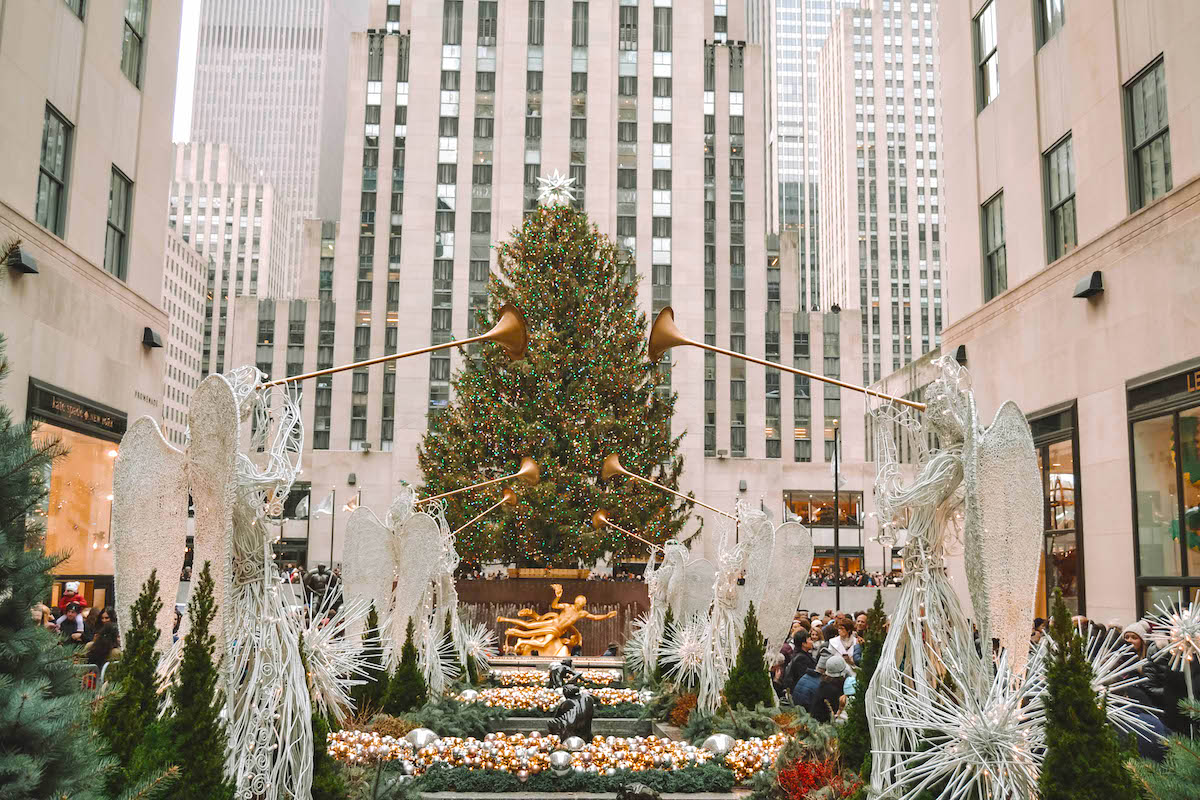 When I moved from NYC to Berlin in 2019, I wasn't expecting to miss New York winters so much. Yes, the bleak, dark days are a drag, but few places in the world do Christmas like New York City. For a few wonderful weeks, the city is strung with lights, Christmas trees are put up in all the parks, and the entire city gets a serious attitude adjustment. Christmas spirit, indeed!
Although I know I'm incredibly lucky to be living in the heart of Christmas market country now, a part of me still longs to celebrate the holidays in NYC. My friends and I had a few set NYC Christmas activities we did each year, and I find myself yearning for those festive days back on the East Coast.
I originally published this post on what to do in NYC at Christmas a few years back, but after three years of living in the city — and then moving away and missing it — I thought it was time to give this list a facelift. There are so many things to do in NYC at Christmas, and I wanted to make sure I touched on all the best ones!
In no particular order, here are my favorite Christmas activities in NYC.
1. Visit the Bryant Park Winter Village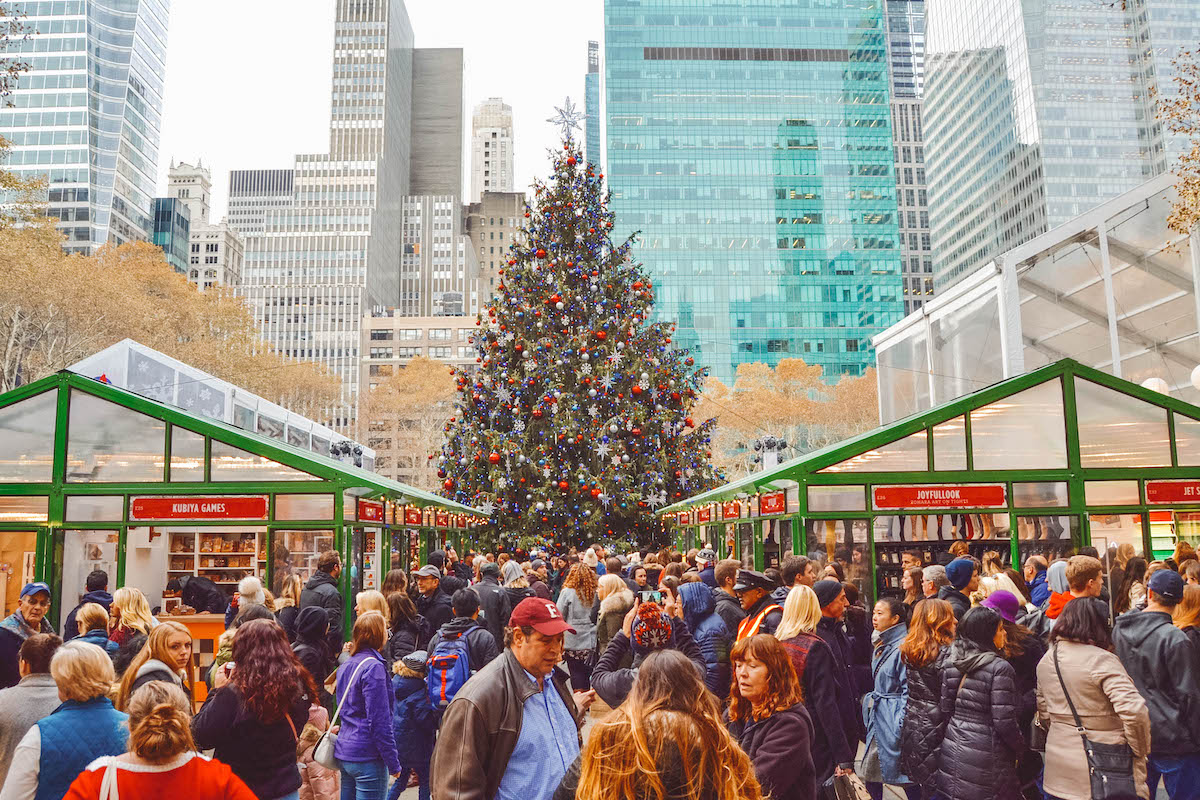 When I first moved to New York, I worked a few blocks away from Bryant Park and walked through it every day on my way to the office. In the winter, it transforms into this winter wonderland of shops. There's a good-sized ice skating rink in the center, plus a massive Christmas tree (seriously, it's huge).
The shops in the winter village sell mostly local goods and have items you'll actually want to purchase, like handmade soaps, shirts, jewelry, and more. The food options at the Winter Village are varied and not too pricey, although the lines are typically quite long at lunchtime and on the weekends.
Tip: If you don't handle crowds well, I don't recommend visiting the Winter Village on the weekends or on Friday nights because it's packed with people then.
2. Oogle the window displays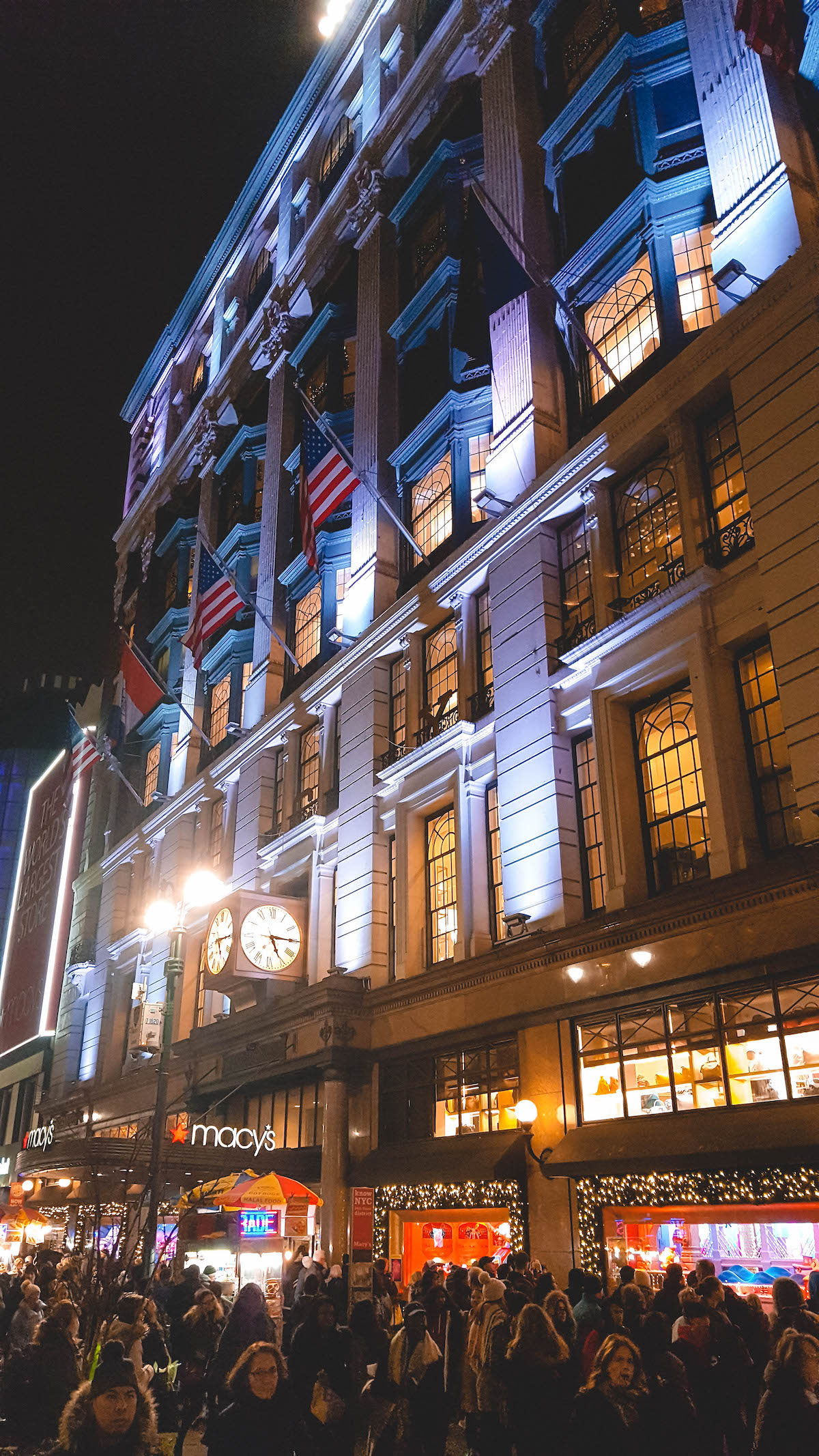 I'm a sucker for a good holiday display, and NYC stores go all out. I know window displays likely aren't at the top of your list of things to do in NYC during Christmas, but they really are spectacular here.
Macy's and Saks Fifth Avenue are just two of the stores with epic window displays, but pretty much any shop along Fifth Avenue will have lights up. There's almost always a crowd in front of both stores no matter what day it is, so be prepared to elbow your way through the crowd to get a good view. For the full effect, walk down Fifth Avenue near sunset so you can see the window displays light up.
Other NYC Christmas window displays worth admiring are:
Bloomingdale's
American Girl (ah, the childhood memories!)
Bergdorf Goodman
Cartier (the whole building gets wrapped up like a big present)
Tiffany & Co.
3. Go Ice Skating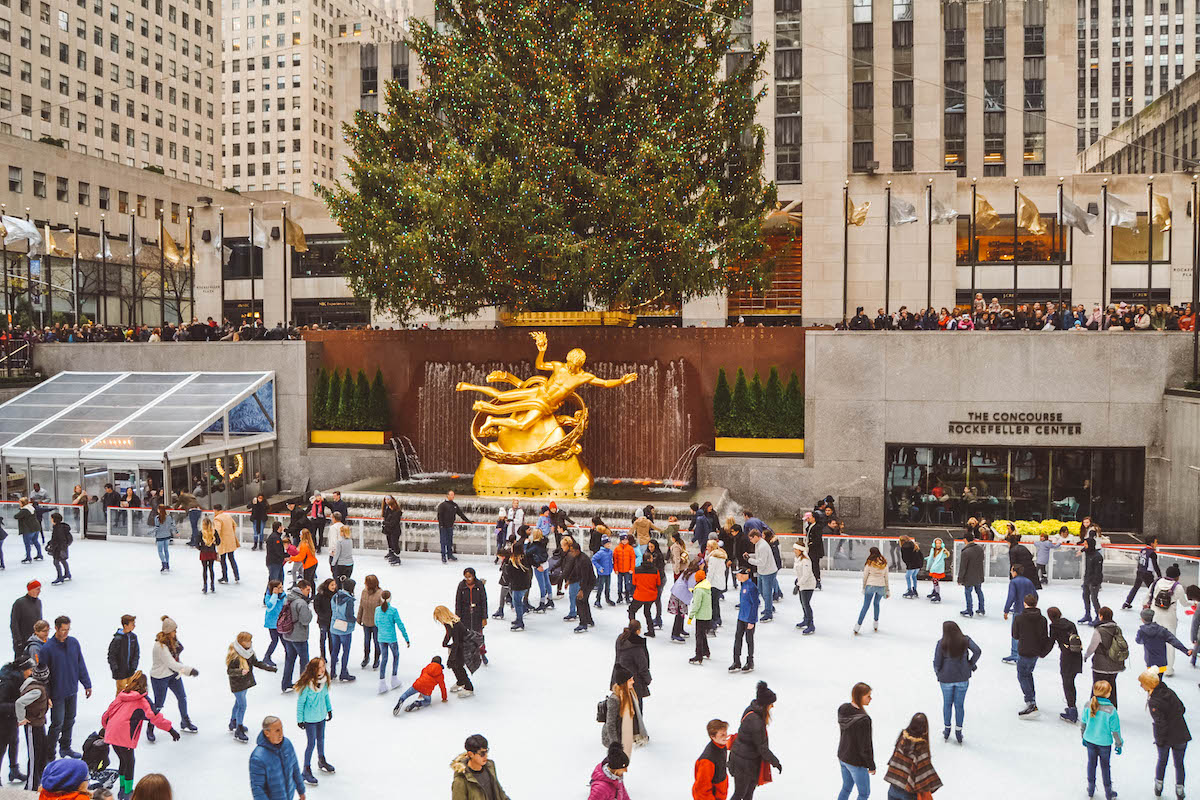 Rockefeller Center is absolutely stunning at Christmastime. There are decorations galore, the massive Christmas tree, plus an ice rink! The ice rink is fairly pricey to skate on and you'll want to buy tickets in advance. However, skating underneath the Rockefeller Center Christmas tree is an unforgettable experience, and one I recommend if you're looking for truly festive things to do in NYC at Christmas.
And call me a tourist, but I love ice-skating in Central Park, especially around the holidays. The rinks are often jam-packed on the weekends, but it's a great way to spend a sunny winter afternoon.
The Wollman Rink is the more popular of the two, as it's near the Central Park Zoo. If you've seen any picturesque photos of people ice-skating in the park, you were probably looking at a picture of the Wollman Rink. The NYC skyline peeks out from above the trees and is truly stunning.
Lasker Rink is further north and is cheaper than Wollman Rink. It's also slightly smaller, but this is where most locals skate since it's rarely overcrowded. Both rinks are cash only and can get pretty busy, but you really can't get more festive than ice-skating in Central Park in December. Wear your favorite ugly sweater to really get in the holiday spirit!
4. Attend the Rockefeller Center Christmas Tree Lighting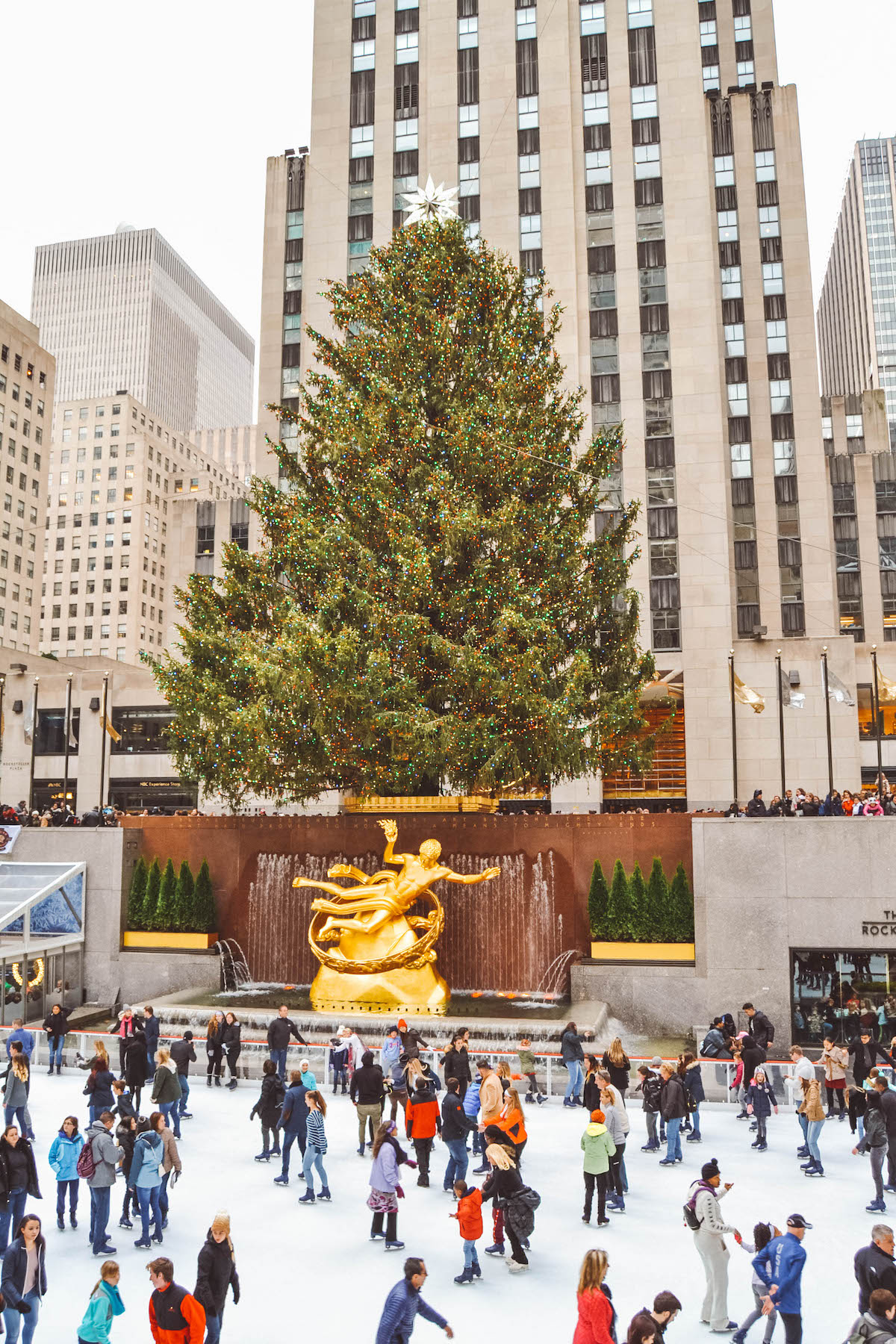 The tree at Rockefeller Center is the big Christmas tree in New York. Yes, hoards of people crowd around it to get photos, and yes, it's so worth visiting during the holidays!
If you're in the city on December 1st, see if you can attend the Christmas tree lighting at Rockefeller Center. There are more than 50,000 lights on the tree, so seeing it lit for the first time is truly spectacular.
Don't worry if you can't attend the Christmas tree lighting ceremony, though! The tree will be up through New Year's Eve. It wouldn't be Christmas in NYC without it!
5. Visit NYC's Most Popular Christmas Trees
I know the Rockefeller Christmas tree gets all the love, but NYC is littered with gorgeous trees. Parks, museums, hotels, you name it — there are so many trees to see around the city, which is why visiting each of them is one of my favorite Christmas activities in NYC.
A few years ago I actually planned my own Christmas tree crawl. My friends still poke fun at me about that crawl, but I know quite a few people who used my directions to visit all the Christmas trees too!
My all-time favorite Christmas tree in NYC is at The Metropolitan Museum of Art. Even if you're not an art lover, pop in during the holidays to see the huge Christmas tree in the Medieval sculpture hall. The tree is 20 feet tall and an 18th century Neapolitan nativity scene is at its base.
One last tip I'll give about seeing NYC's Christmas trees is to always ask around to see if there's a tree hiding somewhere. For example, not many visitors to the American Museum of Natural History know that there's a special origami tree on the top floor by the dinosaurs, or that volunteers spend months making the decorations by hand each year. Museums typically go all out with the décor, so it's worth asking if they have a special display up somewhere.
Read more: Where to Find the Best Christmas Trees in NYC
6. Attend the Radio City Christmas Spectacular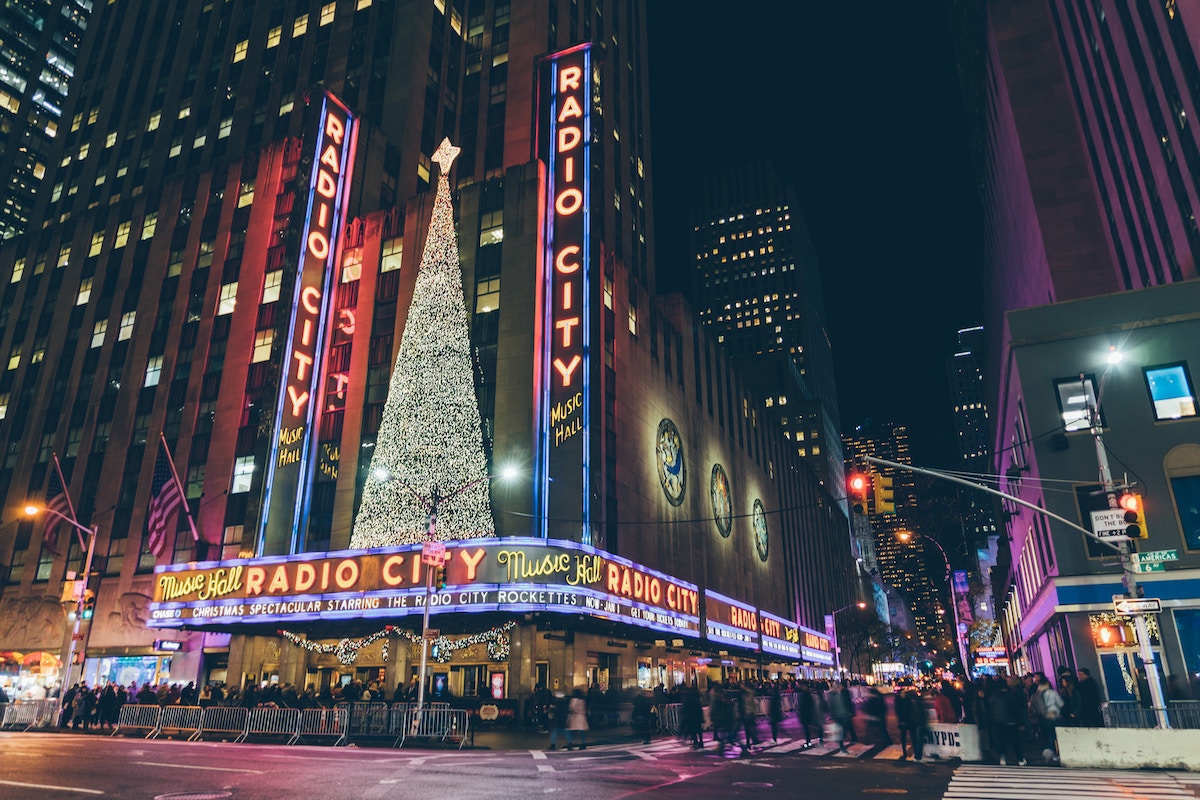 My mom and I finally got to attend the Radio City Christmas Spectacular in 2019, and I'll admit, it was pretty amazing. We both went into the experience thinking it'd be a bit of a letdown, simply because it's such a popular thing to do in NYC at Christmas (and overhyped things like this usually don't live up to our expectations).
But I'm happy to report that we LOVED the Christmas Spectacular. I somehow missed the memo that the Radio City Rockettes can sing and dance, so that alone wowed me since I thought they were strictly a dance troupe.
The Christmas Spectacular is definitely geared towards families, but the talent is wonderful and the whole experience got us both into the Christmas spirit. One word of warning though: your tickets will tell you to arrive crazy early for the performance, but you won't be able to go to your seats for a while. Definitely bring a book or something to entertain you; my mom and I waited around in a big crowd for a solid 45 minutes before the doors officially opened to get to our seats.
7. Visit the Union Square Holiday Market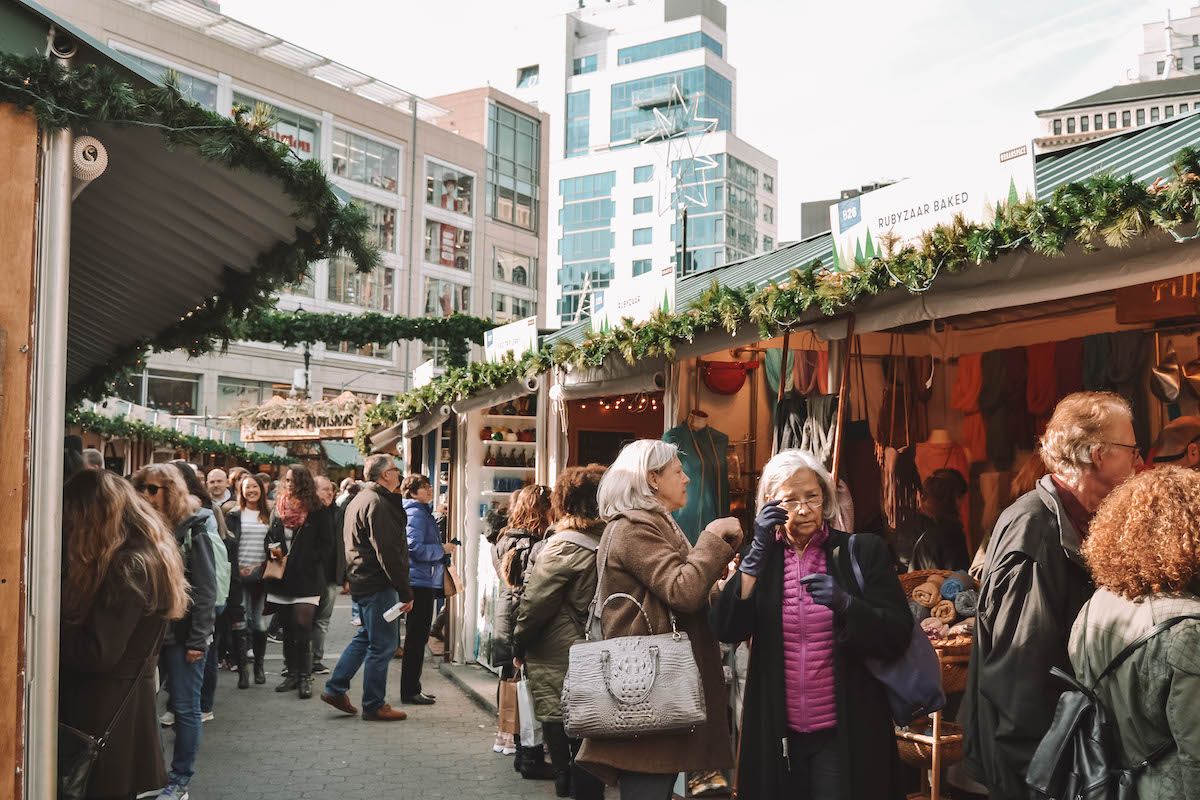 Open until December 24th, the Union Square Holiday Market is a must-visit NYC Christmas attraction. Although I love the Bryant Park Winter Village, Union Square's market is much larger, making it an even better place to shop for Christmas gifts. It gets just as crowded on the weekends though, so be sure to visit during the week if you're set on properly window shopping.
Note that there is some overlap with the Bryant Park Winter Village in the food and shopping options here, but I still think it's worth visiting. Union Square is a great jumping point for holiday shopping and dining in the area, so you might as well swing by the Holiday Market if you're in the area.
Tip: If you get cold while you're shopping, pop into the multi-story Barnes & Noble across the street and see if they have any good books in the sale section.
8. Attend The Nutcracker
The New York City Ballet puts on a terrific production of The Nutcracker. Tickets are a bit pricier (the fourth ring starts at $95), but it's an experience you can't miss out on.
I don't consider myself to be a "ballet person," but I thoroughly enjoyed the show. I read up on the story of the nutcracker before attending because I was worried that I wouldn't understand the plot, but I needn't have bothered. The bright costumes, stunning sets, and talented dancers showcase the story beautifully.
Seeing The Nutcracker in NYC is a once in a lifetime experience for many, and I highly recommend seeing it if it's within your budget. With only a two-hour runtime and lots of whimsical, fairytale scenes, it's great for kids and adults alike and will certainly keep you entertained. One thing to note: you don't need to get super dressed up for the ballet, but you do need to look nice. Don't wear ripped jeans or anything like that, otherwise you'll look out of place.
9. Do a Free Christmas Movie Walking Tour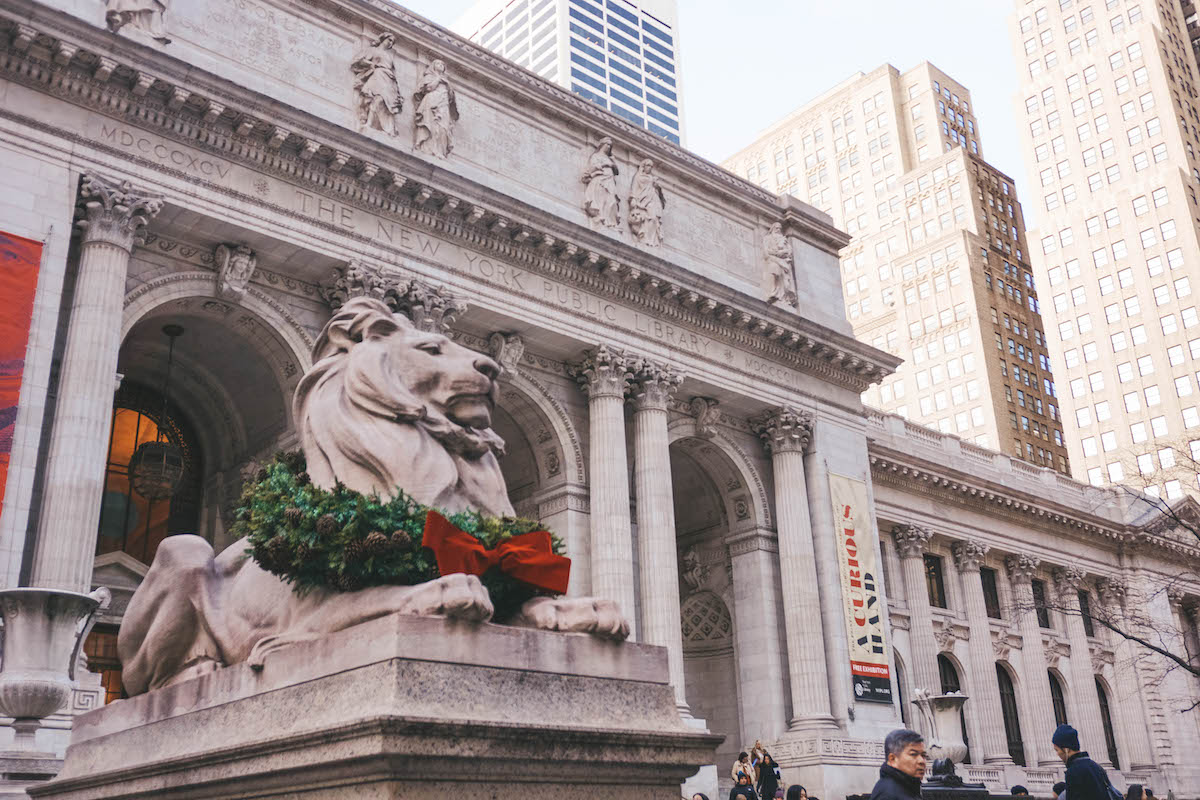 Free Tours By Foot is a company that sets up free walking tours around the world. I've done tours with them in New Orleans, London, and Brussels and loved all of them immensely.
If you're a Christmas movie fanatic, you'll love their Christmas Movie walking tour. It's only two hours long and takes you to places where famous scenes were shot for movies like Elf and Miracle on 34th Street. And if you're unable to squeeze onto their Christmas movie walking tour (it's very popular!), definitely check out one of their other tours instead.
I know walking outside for an extended period of time probably isn't your favorite thing to do on a chilly winter's day, but NYC goes all out for Christmas, and a walking tour — no matter what kind — is the perfect way to take it all in.
10. Sip Hot Chocolate at Jacque Torres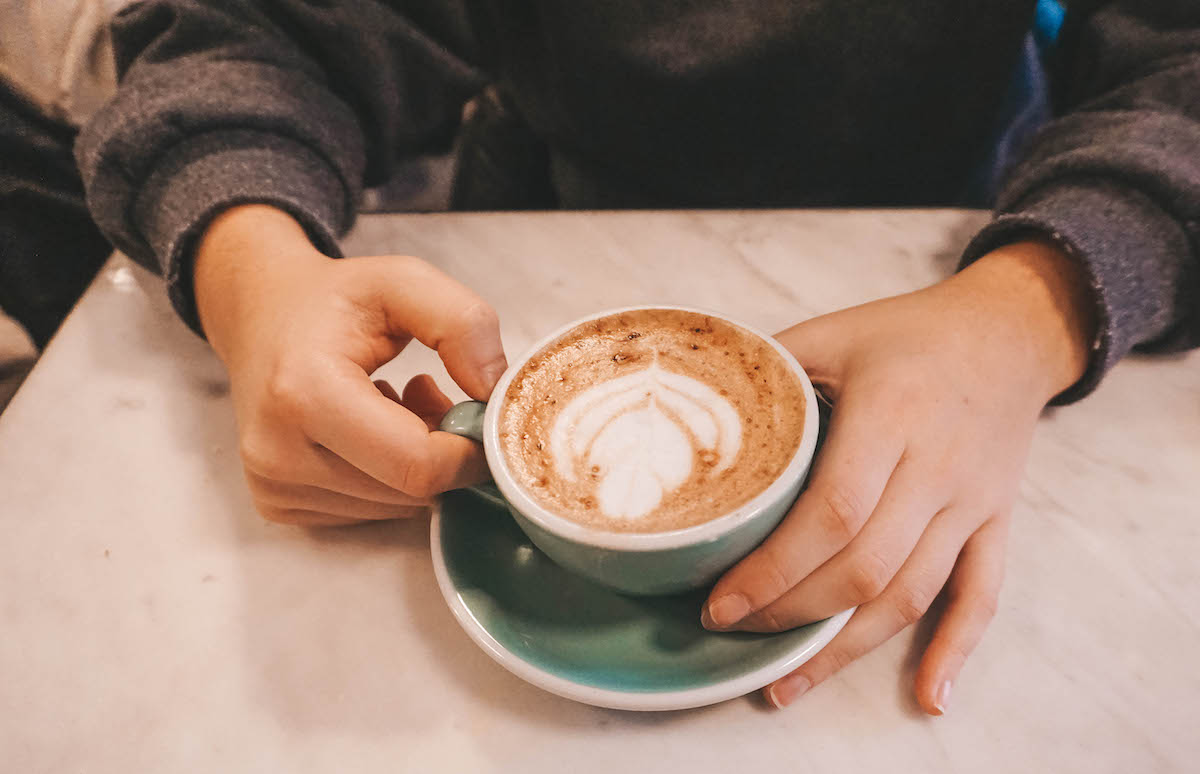 What's Christmas without a mug of hot chocolate? After checking off all the things to do in NYC at Christmas, you'll need something to warm you up. I suggest visiting one of Jacques Torres' locations for a steaming cup of hot chocolate.
Their hot chocolate is incredibly thick and rich, almost like a drinking chocolate. Go all out and ask for whipped cream on top — it's the holidays, after all! While you're there, check out their advent calendars and other goodies. Jacques Torres does some of the best gourmet chocolate in the city, and while the prices reflect their gold standard, let me assure you that anything you get here will be worth the money!
11. Admire the Christmas Lights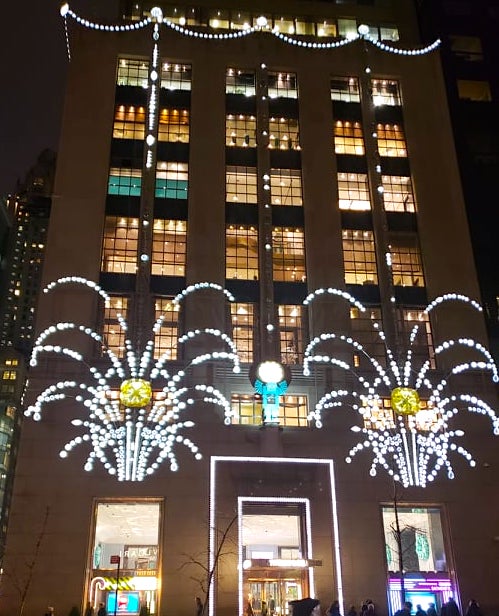 If you need a festive but budget-friendly activity while in NYC during Christmas, there's nothing better than exploring the city on foot after dark. NYC's Christmas lights are beautiful! Midtown is always decked out from November onwards since that's where lots of tourists stay when they visit the city. However, many neighborhoods in Manhattan, Brooklyn, Queens, and the Bronx go all out during the holidays.
Some of my favorite places to see Christmas lights in NYC are:
Saks Fifth Avenue
Little Italy
Rockefeller Center
Central Park (only a few areas of the park have lights up)
Pulitzer Fountain (across from the Plaza Hotel)
Brookfield Place Winter Garden (in FiDi)
12. Attend the Holiday Train Show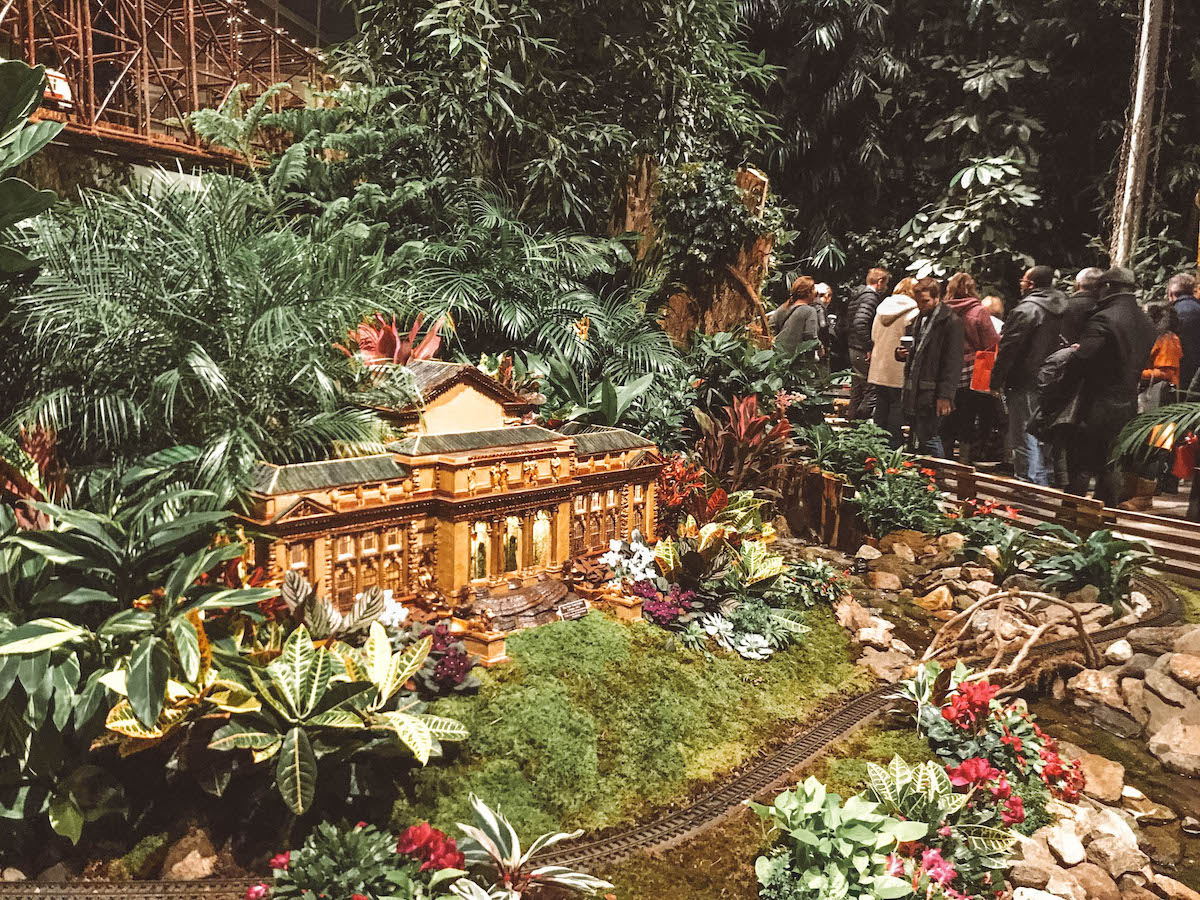 For 30 years, the New York Botanical Garden has put on the Holiday Train Show. Here you'll see more than 25 model trains stretch along nearly half a mile of tracks. The Holiday Train Show pays homage to NYC with over 175 of its best known landmarks and buildings displayed in miniature.
Don't think the train show is just for kids! It's a great Christmas activity for all ages and genders. Daytime tickets are cheaper than evening tickets, but no matter when you visit the lights and model trains will wow you.
Even More Things to Do in NYC at Christmas!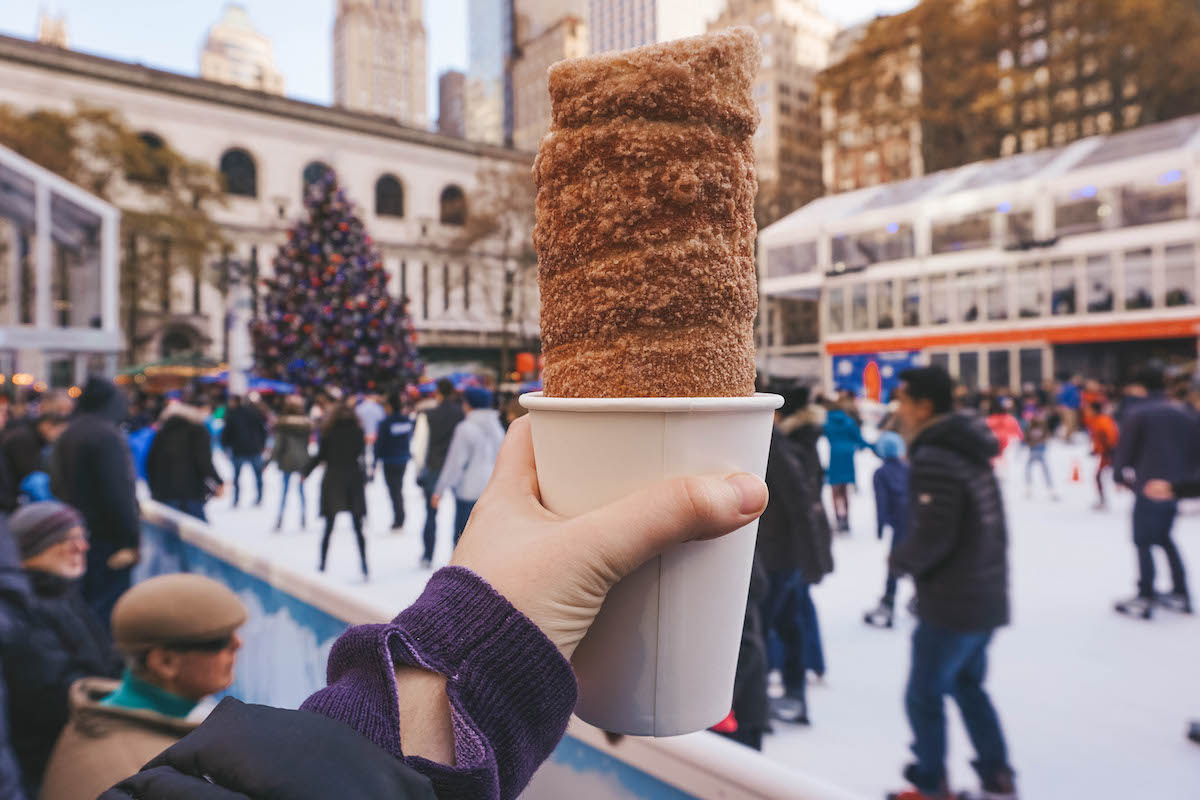 Despite having lived in the city for three years, I still haven't seen and done all there is to do in New York during Christmas. Additional Christmas activities in NYC that are on my bucket list are:
Enjoy Christmas tea at the Plaza — I love meeting friends for afternoon tea in the city, but I've yet to have tea at the Plaza (much less during the holidays!).
Eat at Rolf's — Rolf's is the Christmas restaurant in NYC. It's a gorgeous German restaurant that goes all out on the holiday decor. If you want to eat here, you should have made a reservation, like, yesterday.
See the Christmas lights at Dyker Heights — The houses here go all out (and then some) with the Christmas lights. I've heard only good things, but that it gets crowded!
FAQs About Visiting New York During Christmas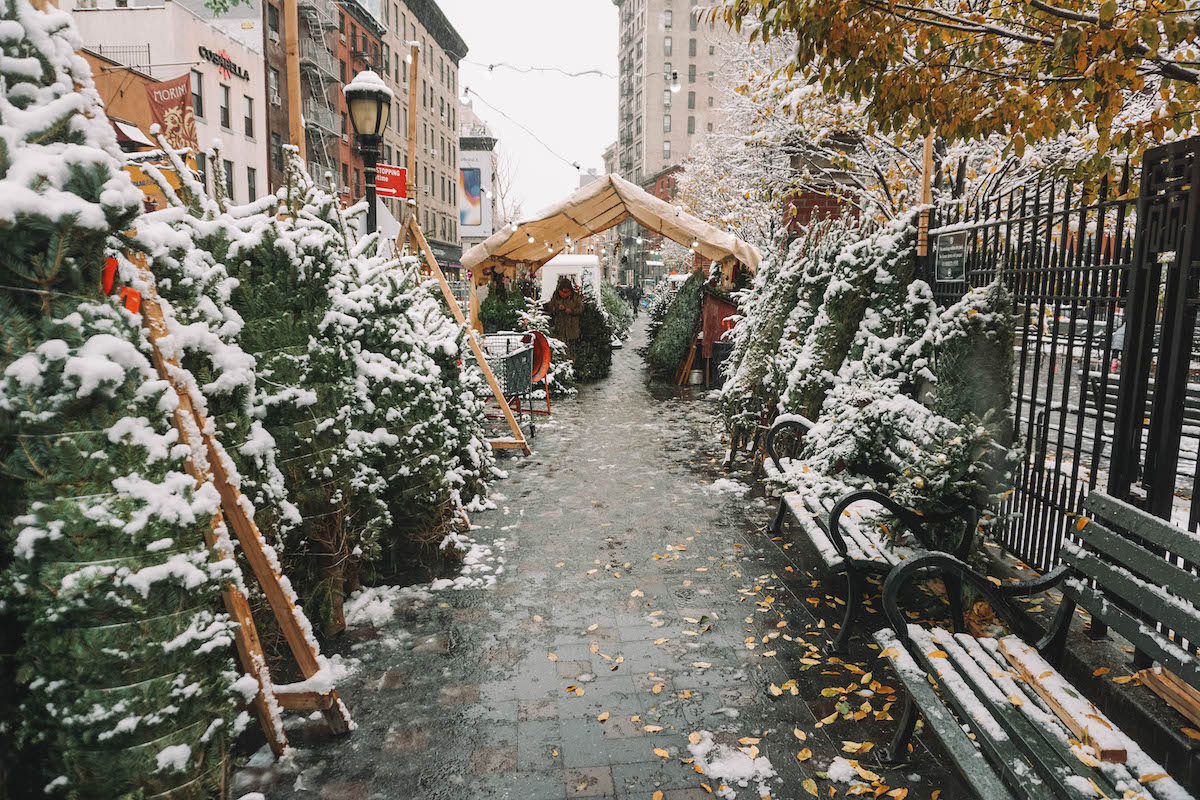 When does New York decorate for Christmas? Some of the Christmas markets are put up mid-November (Bryant Park and Union Square Park), but you can expect all of the decorations to be up right after Thanksgiving.
Where's the big Christmas Tree in NYC? Rockefeller Center. The tree is put up on December 1st and stays up through New Year's Eve. 
What's the weather like in NYC in December? Cold and gray. I recommend wearing sturdy, warm shoes and dressing in layers. Bring an umbrella too, because if it's not cold enough for snow it might just start sleeting.
Map of the Best NYC Christmas Activities 
Are You Filled with Christmas Cheer Yet?
I certainly hope so! If you have questions about any of the NYC Christmas activities listed above or have additional suggestions, don't hesitate to leave me a comment below. And if you need more things to do in NYC, here are my favorite things to do indoors in NYC (it's cold in December!) and my favorite general NYC winter activities.
Happy holidays, everyone!
Tell me: What are you most looking forward to during the holidays?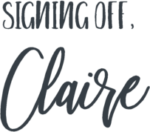 More posts you'll love:
Save this post to Pinterest!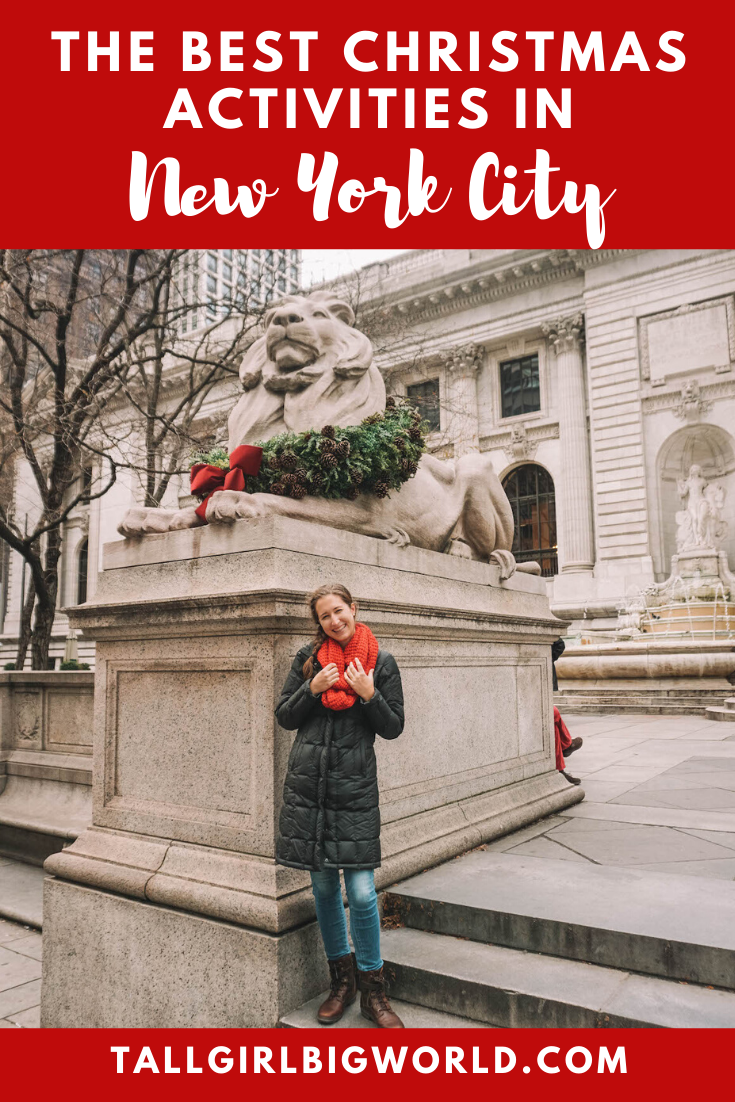 This post was originally published in November 2017 and was updated November 2021 to include new information.