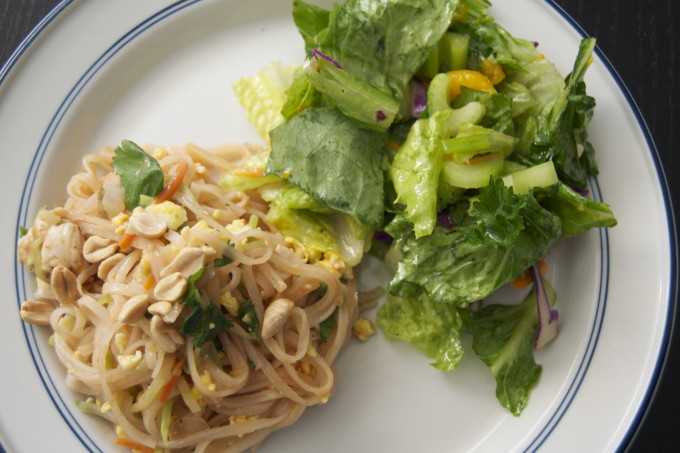 After a long week of essay writing and general stressing out about getting work done, few things could have tasted better than this chicken pad thai. My friend Meredith and I got together this afternoon for a much needed cooking break, and she found this awesome recipe from Creme de la Crumb that served as our inspiration. We fiddled with the amounts a little bit and substituted a slaw mix for the bean sprouts because we're rebellious like that.
We served this chicken pad thai with an ambiguously named "Asian side salad" that was oh so scrumptious. To end a great meal, my roommate let us mooch off her chocolate chip cookie bar leftovers (they had a layer of sweetened condensed milk in them and were utterly fabulous). I'm not sure why I told you about the cookies since I don't have a recipe for them, but I couldn't just leave you thinking I'd eaten only chicken pad thai and a salad for lunch. C'mon, you know me better than that.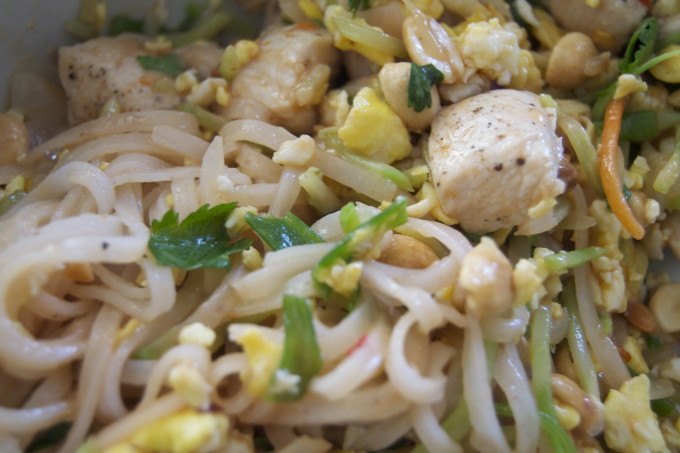 Ingredients:
4 ounces rice noodles
2 chicken breasts, cut into chunks
2 eggs
2 big handfuls of broccoli and carrot slaw mix (or just use shredded carrots)*
1 handful green onion, chopped
1/2 small white onion, chopped
1 handful cilantro
Peanuts
For the sauce:
2 TBS ketchup
1 TBS fish sauce (yum yum)
1/2 TBS sugar
1 tsp minced garlic
1 tsp peanut butter
1 tsp lime juice (or lemon–follow your heart)
1/2 tsp crushed red pepper flakes
Instructions:
Mix the sauce ingredients together in a bowl. Set aside.
Boil rice noodles according to the package's instructions. Set aside.
Season chicken with salt and pepper, then cook on skillet over medium heat until fully cooked. Set Aside.
Using the same skillet as the chicken, sauté the white onion and slaw mixture until the onion is translucent. Crack in two eggs and scramble.
Combine everything into one big bowl, including the cilantro, green onion, and peanuts. Garnish with peanuts to make your chicken pad thai extra fancy.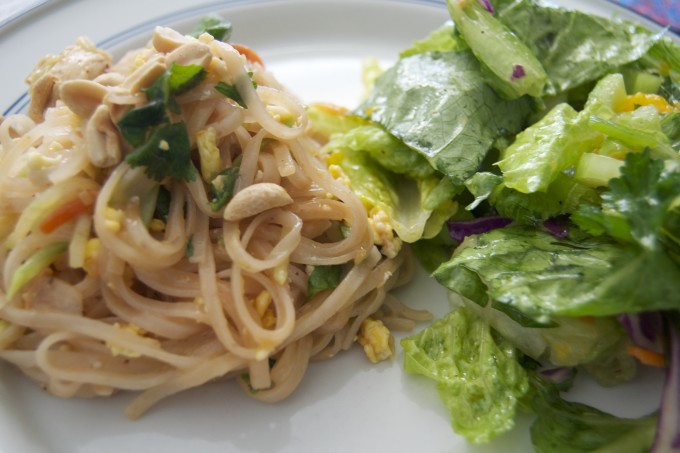 Are you a fan of Thai food? I absolutely love it, except when I make things too spicy. Last weekend, my roommate and I made red curry, and I added in a tablespoon too much of the red curry paste. It was so spicy our eyes were watering!
If you guys recreate this recipe, make sure to tag your photos with #TGBWCooks so I can see them. And leave me a comment down below telling me where in the world you want Food Friday to take you next!
Signing off,
Claire
*Note: although it's called a slaw mixture, there is no actual coleslaw dressing on this (It's just thinly sliced vegetables). Alternatively, you could use shredded carrots or any other shredded veggies. Or bean sprouts. The world is your oyster.